We Travel Not To Escape Life But For Life Not To Escape Us. Nainital is a small town in Uttarakhand (LAND OF GODS) and famous for its heart-melting mango-shaped Naini Lake and eye-catching nature & marvellous mountain ranges. The heart-melting mountains cover Nainital and bestow adventure lovers an excuse to travel this place, and also in the middle lies the centre of attraction, Naini Lake. Along with Naini Lake, The Queen of Uttarakhand also attracts you with Nainital Zoo, Cave Garden, Tiffin Top, Snow View Point, and so many. These places are perfect for a person who wants to relax in a cold breeze and refreshing temperature away from the hustle-bustle life. Let us take a ride with us on an unplanned trip.

NAINITAL: THE QUEEN OF UTTARAKHAND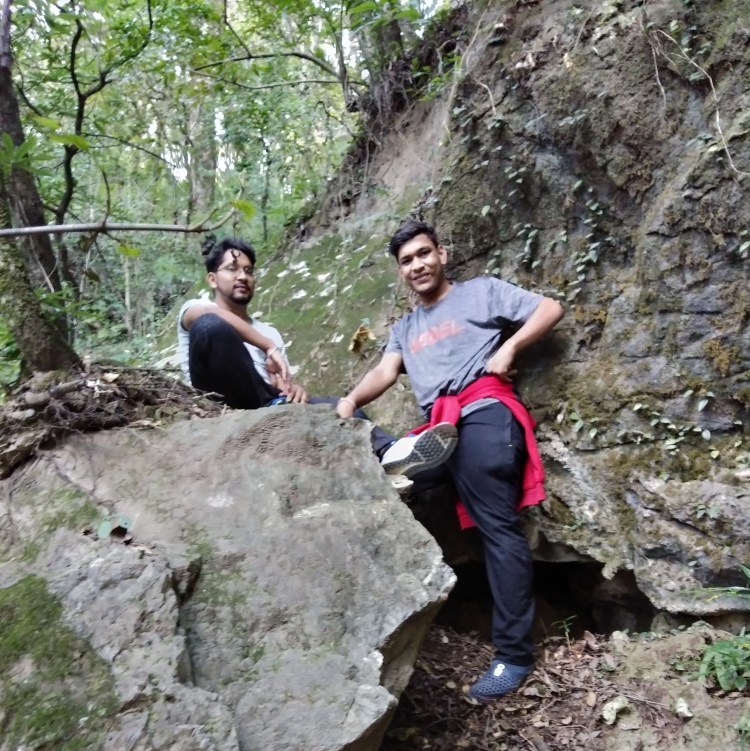 AN UNPLANNED TRIP: GURNEY'S HOUSE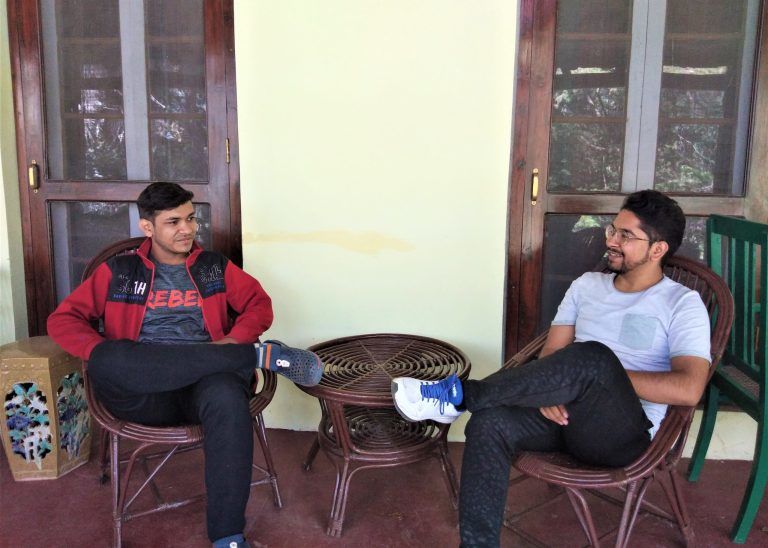 We travelled to Nainital on 16 Oct 2018. Nainital does not have direct connectivity to railways & airways. You have to take a cab or bus service from the nearest railway station Kathgodam. It was an unplanned trip but one of the memorable trips. We booked the train from Old Delhi railway station to Kathgodam using the tatkal service on IRCTC. Ranikhet Express is one of the best trains to travel Nainital as the boarding time is 8 PM and reach Kathgodam by cold breezing morning sleeping tight at your reserved seat. Although, we don't like staying in one place and start roaming on a train and enjoying the cold breeze and essence.
One of the Police officers showed up to think we were up to something and asked for the ticket & ID, and then he left. While travelling, one should get out of their comfort zone and explore not to retain a similar routine. If we travel with our family, they will never let you roam on the running train at night all by yourself. Our adrenaline did not stop at this only. We boarded the train night before 16 Oct, and our trip officially started.
AN UNPLANNED TRIP: NAINITAL ARRIVAL
We cover Thandi Sadak on the way to our hotel. Later at night, we cover the mall road. By the time we reached our hotel, The marvellous mountains, the chirping of birds, beautification of Naini Lake, cold breezing, and the rising sun were engaging and refreshing us. As we reached the hotel, we kept luggage in the cloakroom and freshened up.
AN UNPLANNED TRIP TO NAINITAL: DAY ONE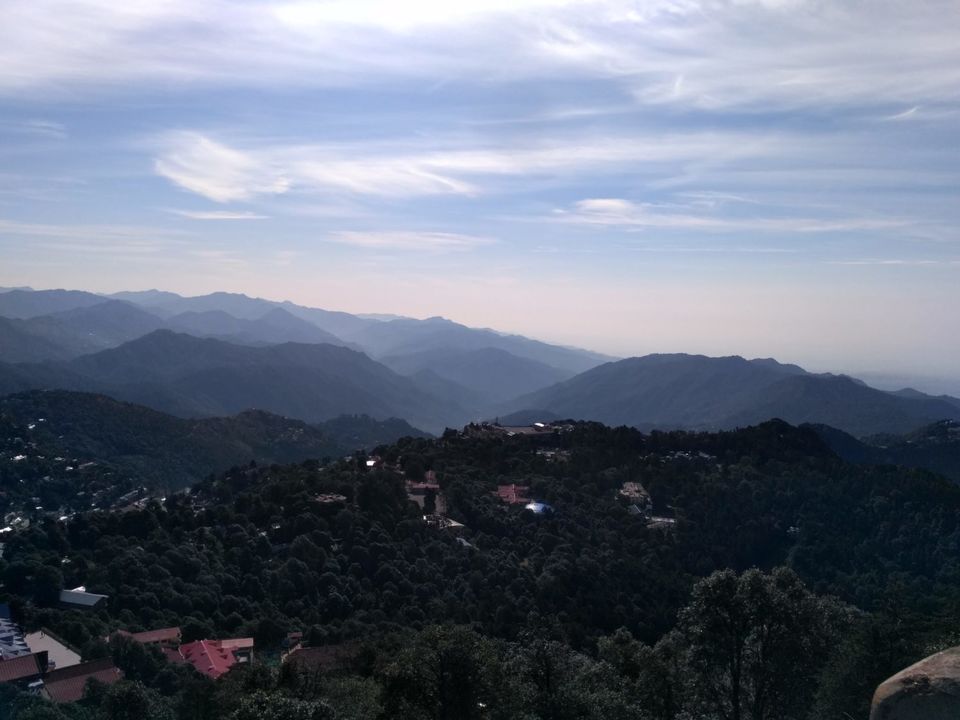 During climbing, at one point I was about to fall from the straight rock but Abhay held my hand and pulled me up. My adrenaline tucked me hard on this and threw out all my exciting adventures. As we reached at top of Tiffin Top, we all are starving. So we decided to have Maggie. It cost us around 60 bugs at the apex which used to be the cost of 20 bugs and relaxed for a while. It was an unplanned trip so everything was exploring a new experience every second.
After that while returning to the hotel we tale a tour of Gurney's House. It was the residence of hunter-conservationist and writer Jim Corbett. The Gurney House was full of old-fashioned, antique furniture and artefacts. The horns and skins of wild animals such as antelopes, deer, and wild beers hanged on the walls of that furnished house. The house is well maintained by the local native family. People who have a keen interest in history and wildlife should visit Gurney's House once.
On our return to the hotel, we got to know that the hotel we booked online was charging us more. Some travellers at Tiffin Top informed us about this. It was an unplanned trip so everything was exploring a new experience every second. So we decided to change the hotel. The next challenge was finding a good and furnished hotel. After roaming around for a while, we finally find a budgeted furnished hotel. This new hotel had an astonishing mountain view and was built at a classic location.
THE CAVE GARDENS OF NAINITAL
Candle Shop at Nainital Mall Road
A little walk on Mall road to Naini Lake on one side and a shop filled with stunning artefacts was a lifetime experience. It was an unplanned trip so everything was exploring a new experience every second. After having our dinner we head back to our hotel. The view of the town from the hotel was admirable at night. We go to bed and have a tight sleep.
AN UNPLANNED TRIP TO NAINITAL: DAY TWO
The next morning we woke up late from bed as we were all tired. We played party songs on TV and danced over the bed for a while. What do you expect 3 college friends to do. LOL! Our hotel manager provides our free pick-up and drops from the hotel to the mall road. This helps us save more time.
After resting for a while we walked for one naturalistic attraction of Nainital — Cave Garden. They are the natural caves that are now rehabilitated into a Cave Garden to attract tourists. The Cave Garden is for those people who especially admire adventure and trekking, where you pass through small rock and cramped routes. The caves were so cramped that only one person could pass through at one time. We also enjoyed the mechanical bull riding in the garden arena. It was an unplanned trip so everything was exploring a new experience every second.
NAINI LAKE: A MANGO SHAPED LAKE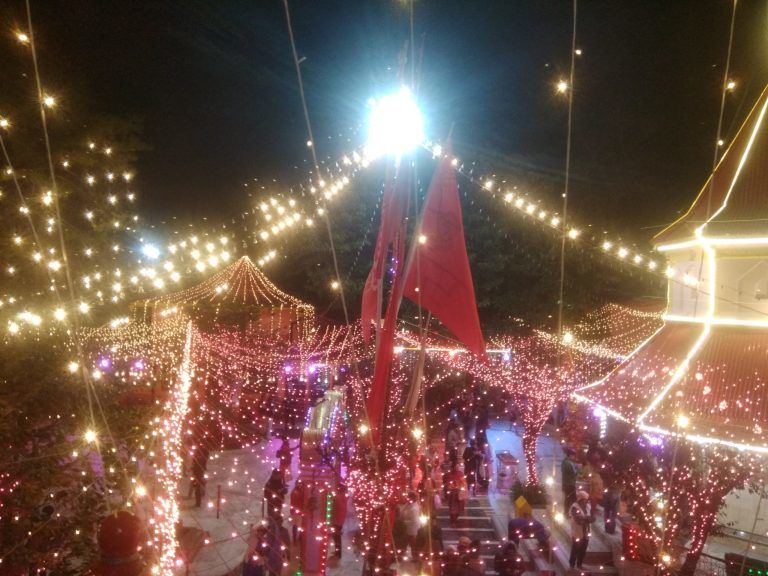 SNOW VIEWPOINT OF NAINITAL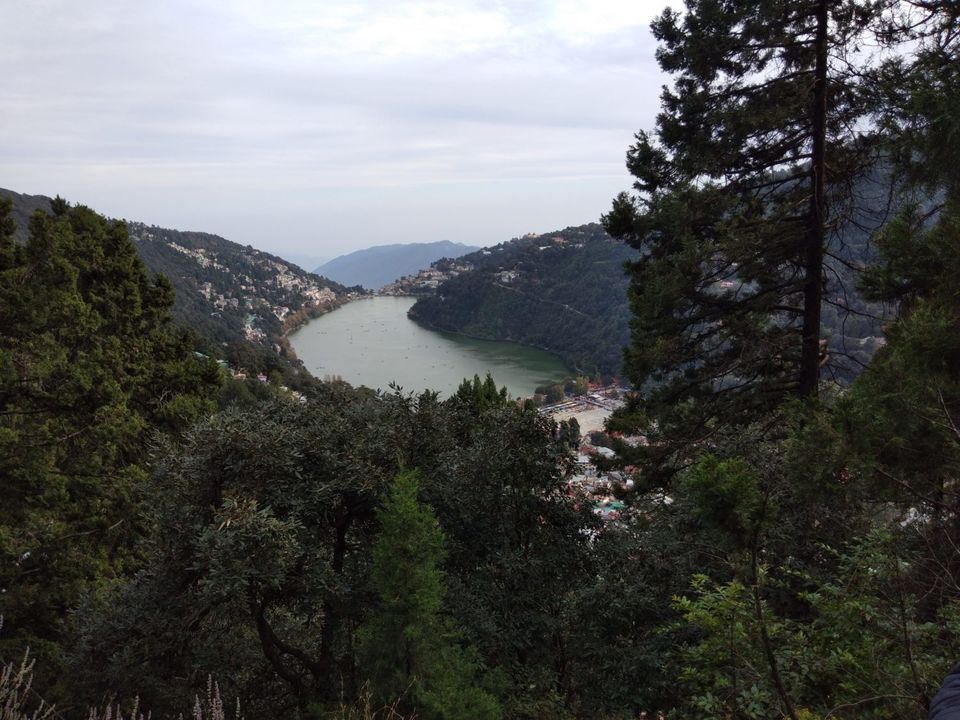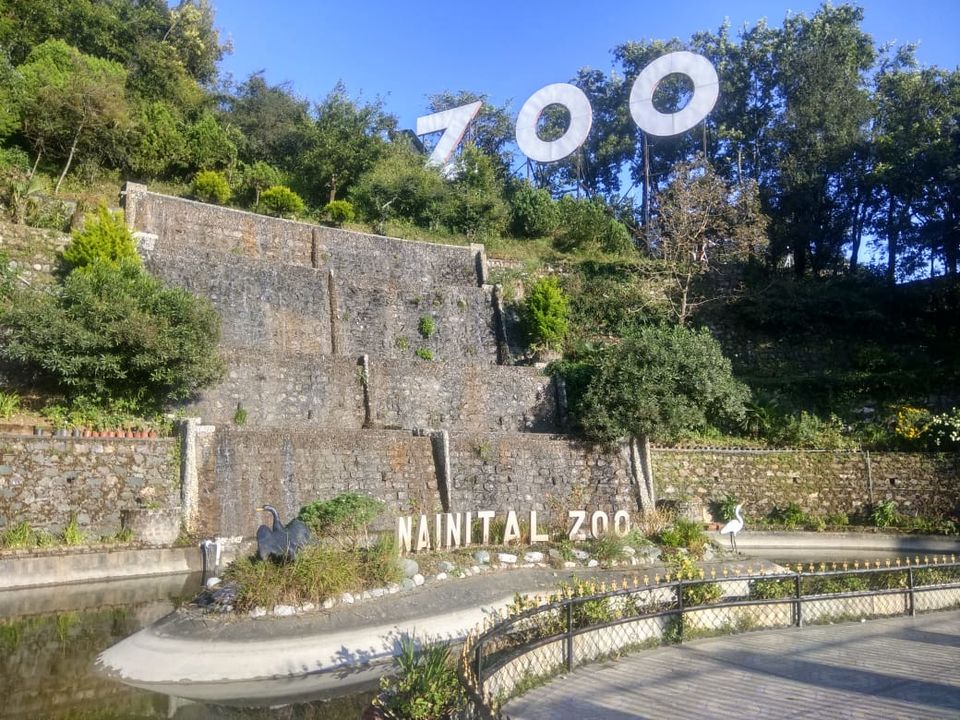 We enjoyed boating in the lake. It was a peaceful, refreshing, and wonderful experience. One of the best things a person can experience as you can imagine boating in a chilled mango shaped lake surrounded by marvelous mountains under the setting sun along with your best friend.
Later we go for a religious visit to Naino Devi Temple which was decorated with LED lights as the Navratri season was going on. Naino Devi Temple was filled with a lot of optimism one can experience the aura. Spending half an hour relaxing our minds and body there.
Later we travelled to the stalls market near Naino Devi Temple and had a refreshing tea and snacks break. We explored the Nainital Practice Stadium near Naini Lake. You can also visit Nainital Cinema Hall and watch movies but it will be a waste of time for you. Nainital is also famous for its fancy decorative candles and handicraft artefacts.
You can find any shape and design of the candle there. So it's incredible to see such a small town have a small industry growing and expanding its wings without any support.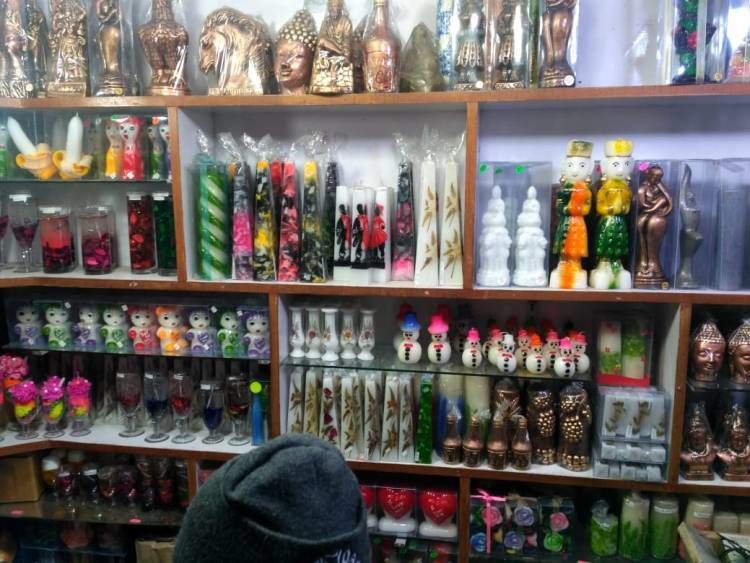 After freshening up and taking breakfast we headed towards our next destination - Snow Viewpoint. We hired a taxi from mall road which takes us to Snow Viewpoint, Naino Peak and Lake View Point, and many nearby unexplored spots which are difficult to travel to without proper guidance. You can also take the ropeway to the snow view point. First, we visited a Snow Viewpoint where we saw a clear sky and the whole range of the Himalayas. It was stunning to see the legendary mountain peaks.
After that, we covered many points such as Suicide Point, Lake View Point, etc. In between, there is a small rock developed cavity that lends hot air in winter and cold air in summer. Catching a glimpse of such miracles makes us think nature is full of surprise and there is so much left to explore.
After that, we decided to explore the other side of Nainital - Ayarpatta as we were on the one side of Nainital but there were born trekking hidden in all of us. We walked to the Governor House from the zoo. If you are a fast walker, believe me, this 2.5 km walk we will never forget for a lifetime. Unfortunately, when we reached the Governor's House and found that it was already closed.
We get upset and tired. But later on, we enlighten ourselves. We headed towards Naino Devi Temple and started walking on the roads and mountains of Ayarpatta. By the time we reached Naino Devi Temple, The marvellous mountains, the chirping of birds, beautification of Naini Lake, cold breezing and the setting sun was engaging and refreshing us. It was an unplanned trip so everything was exploring a new experience every second.
NAINITAL'S THANDI SADAK
We decided to take a walk around Naini Lake through Thandi Sadak, Entry Point, and Mall Road. We enjoyed the cold breeze in Thandi Sadak, window shopped at Mall Road and made fun of couples, etc. After having our dinner we head towards our hotel. By the time we freshened up, the hotel staff arranged a lightning Bonfire for us. It was unbelievable! as Bonfire made us feel amazing warmness in between giant mountains and cold freezing weather. We gossiped and pulled each other's leg down till the bonfire set down. It was an unplanned trip so everything was exploring a new experience every second. After that, we head back to our room and sleep.
RETURN FROM NAINITAL: DAY THREE
In the morning we grab our luggage and head back to our Hometown. The hotel staff was asleep so we had no choice rather than to jump over the main gate as it was locked. We walked to the Bus Stop as our train is at 8:45 AM. We hardly found any cab service from the hotel to the Bus Stop and also can't afford a cab as we were on a tight budget trip. So, we decided to walk to Mall Road. It also gives us an excuse to visit Thandi Sadak once more. I don't know why but that road has something in it. It has the power to heal negativity and refresh your mind. All because of its unique location.
Thanks for Reading!!!
Keep checking out the Blog on life & travel at Travliv360. Show your love and support in the comment section.
Written By: Mayank Aggarwal