We made a mistake. We thought 4 days would be enough for exploring Bhutan. We couldn't have been more wrong.
Bhutan is more than just a Buddhist kingdom. With about 80% of this landlocked nation being under forest cover, there is just so much to see, love and dive into here.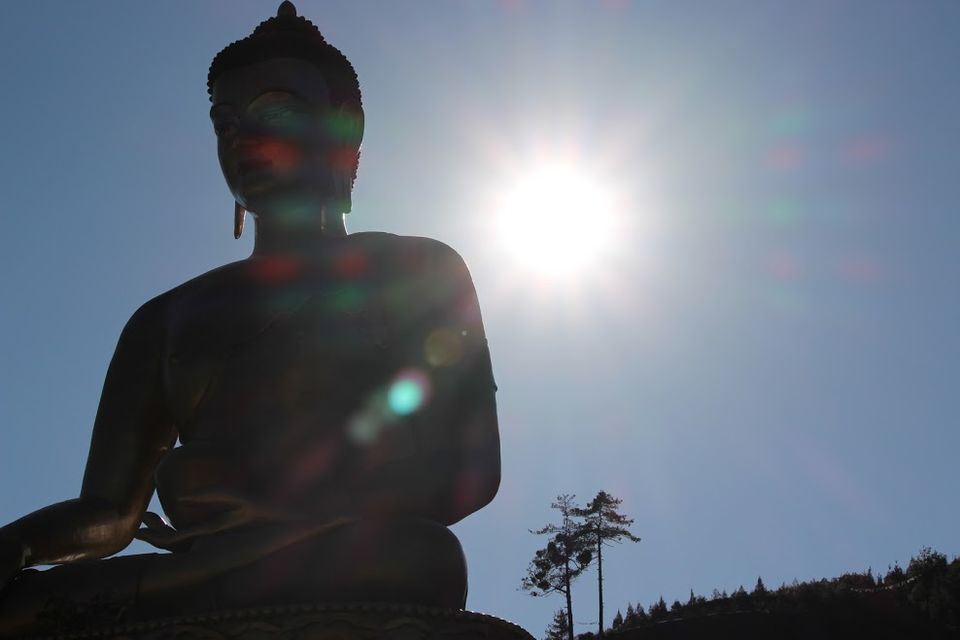 And so this guide is for those who have less days in hand and more to see.
How do I reach Bhutan?
You can travel to Bhutan from India either by road or air. If you have less days in hand, air will be the only option. Again, there aren't many direct flights available to Bhutan. We travelled from Bangalore and so had to first fly down to Kolkata via a domestic airline and then by Drukair to Paro, Bhutan.
Handy Tips: Make sure that you have at least 2 hours in between the connecting flights to cover time for transfer within terminals. Plus, would highly recommend that you grab something to eat at the airports. The snacks offered on Drukair are not impressive. We were served a cold bread-and-butter sandwich, juice, muffin and salted peanuts. Another tip - Because of the hilly terrain, the flight will be turbulent. So prepare your tummy for it and don't over-eat.
Should I carry Bhutan currency?
If you're travelling from India, this may not be required. Most vendors in Bhutan accept Indian currency, which they conveniently call IC. In fact, a few will request for it instead of BC (Bhutan currency).
Handy Tips: Bhutan no longer uses coins in its currency. So if you're into numismatics, explore some of the handicraft shops or some betel leaf vendors (you will find plenty of them) for some old coins. And don't forget to bargain.
What's the best time to visit Bhutan?
They say October to December is the best time to visit Bhutan. That said, we visited Bhutan in the end of January and the first week of February. The beauty is still as enigmatic and tourists are less. But on the flip side, it is seriously very cold. So if you don't mind exploring the kingdom when tourists are less, carry lots of warm clothes, including gloves, caps and socks. We layered up all the time.
Handy Tips: Make your travel plans around weekdays if you have less days in hand. Why? The government offices are closed over the weekend. You will need permits for places like Punakha.
Where should I stay?
There are lots of hotels available in Bhutan. Homestays are there as well, and these are highly recommended for personal interaction with the locals. Also, would recommend staying in Paro instead of Thimphu. Paro is where the beauty lies. Thimphu has a 'city' feel to it.
Handy Tips: Rent a bike and travel around. There is no better way to explore the bio-diversity than on the road. Every bend will give you a post-card moment. Also, look out for the creative quotes at every furlong from Project Dantak of the Border Roads Organization, a subdivision of the Indian Army Corps of Engineers that has been maintaining these roads. Sample this. 'If you're married, divorce speed', or 'Peep, Peep, Don't Sleep'.
How is the food?

Now this is one area that disappointed us. Bhutan food is basically red rice, lots of cheese and truckloads of red chillies. Any vegetable or meat is cooked with cheese and served as Datshi. We sampled Ema Datshi on our first day which is chillies with cheese and realized it needs a different palate.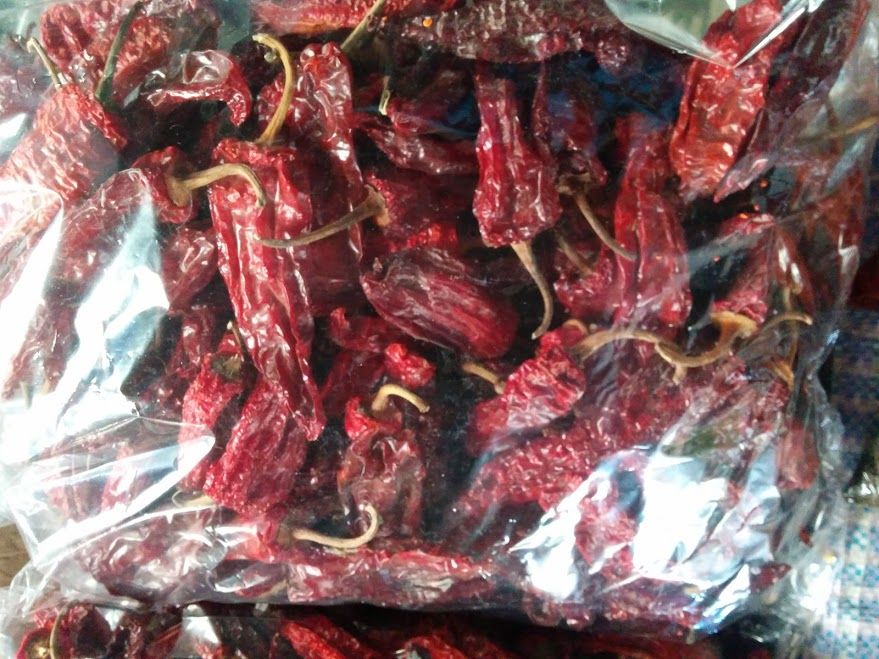 Handy Tips: Always ask the restaurants to make every dish mild for you. Also, try their local alcoholic beverage called Ara, made from fermented rice. Almost every household makes it. There is Singchang too, which is a fermented wheat based beverage. Point to note - No taxes on food here.
So what exactly should I do there?
1. Rent a bike. They charge about Rs. 2,500 for a day. It's worth it.
2. Don't miss the Taktsang monastery trek at Paro. Yes, it's tough (2.6 miles one way) and elevated. But it was built in 1692 and gives you a heightened sense of accomplishment on reaching the top. Rent a walking stick at the base. And keep in mind the lunch hours from 1 pm to 2 pm when it remains closed. There is a cafe mid-way but no restaurant at the top. So carry some water, snacks and your id proof. Don't forget to buy some knick-knacks at the base when you return. The handicrafts are inexpensive and beautiful. Takes about 3 hours to the top and and hour and a half to trek down.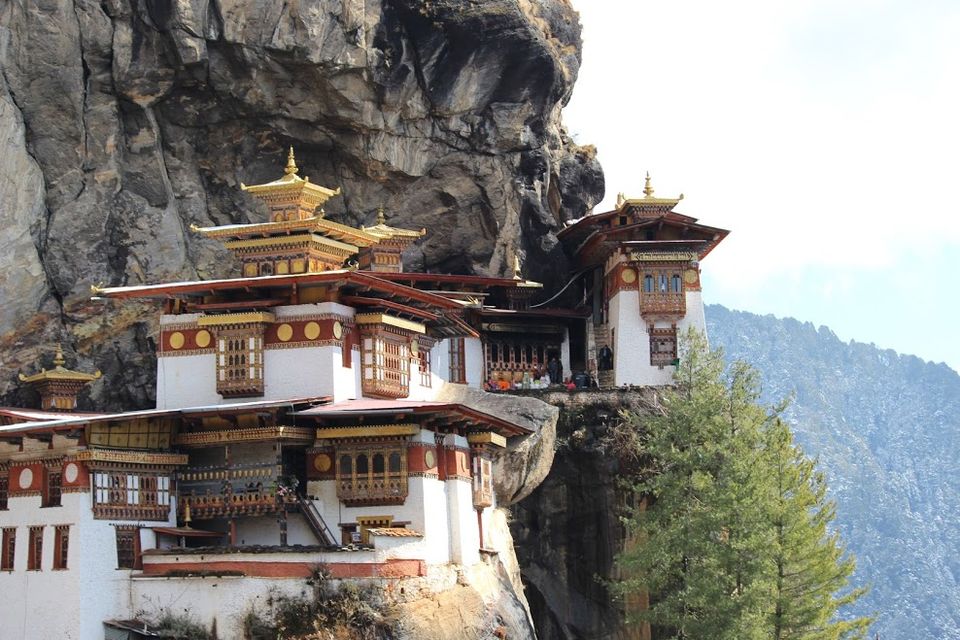 3. Try the hot stone water bath. Some hotels and homestays provide it. Well worth the experience.
4. If you're travelling in winter, do ask your hotel to provide you with electric mattresses. Will be a God-send at nights.
5. Negotiate at handicraft shops. You will find a lot of beautiful, creative stuff - paintings, Buddha statues, jewellery, wind chimes, Buddhist singing bowls and even Phallus. Honey is available at these shops too.
6. Just because it is known as the happiest place in the world, don't trust everyone blindly. Yes, the country is safe. And most people are nice. But don't forget to check with a few cabs for rates before finalizing on one or even going through your bills.
7. If you can, do go to Chelela Pass. It's the highest motorable road in Bhutan but remains covered in snow in the winters. The view from the top is breathtaking.
And finally, don't pollute. We came back from Bhutan wishing it stays as untouched from industrialization and pollution as it is now. Don't spoil what's ethereal.