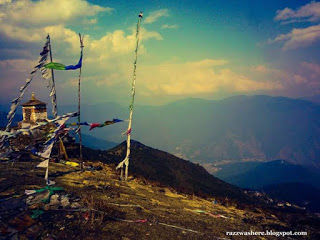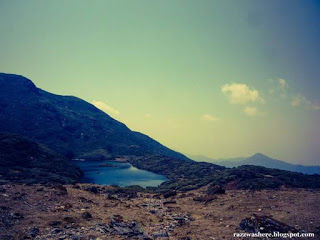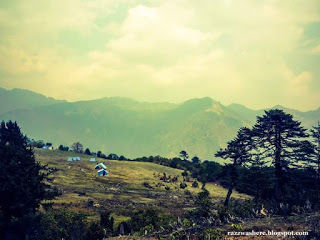 The Druk Path Trek is one of the most popular treks in the small yet beautiful country of Bhutan.Myself along with my friends did it last month. It was a wonderful experience.
Bhutan, especially in India, is very little known. Not many people consider going there. Trekking in Bhutan is even more unheard of which is a pity because Bhutan will leave you spellbound both in its cities and in the wilderness. Now with that short account of what I felt about out trip/trek let me move forward with the main intention of this post i.e., to throw some light on some important information about the Druk Path Trek, which will help you plan your own trip.
First, this is a Himalayan Trek, which starts from Paro and ends in Thimphu.This is not a 'summit' trek where the goal is to reach a peak or the highest point and from the base camp and then descend. This is an A to B trek. From one point to another traversing through some wonderful scenery. The path takes you through rhododendron and pine forests, some stunning lakes and old creaking monasteries.
Claim to Fame-
1. Beautiful lakes en route
2. Short and arguably most popular trek of Bhutan
3. Stunning views of Mt. Gangkar Puensum, the highest unscaled peak in the world.
Region-
The trek starts in Paro, which is in Chukha Dzongkhag and ends in Thimphu. Both of these cities lie in the western part of Bhutan.
Best time to do it-
There are two windows for this trek.
1.March-May.
2.September- November.
Duration- The whole trek starts from Paro and ends at Thimphu and typically takes five days. It can be done leisurely in 6 days too, or If you are fit, enough it can be done in 4 days also.
Distance- Around 50 to 60kms
Grade- This is described as a Moderate trek. There is some amount of physical work required but relatively speaking I found this easier than my last trek i.e., Roopkund trek. First timers can easily do it by doing some amount of training for it. Indiahikes formula of running 5km in 30 mins will be more than enough for this trek.
Medicines- Altitude Sickness plays a factor in this trek.So be prepared with medicines. Acute Mountain Sickness differs from person to person. Some may get affected by while some may remain completely free from it. I strongly advise everyone to carry a set of medicines with you. While Diamox is the medicine for AMS, the various trekking agencies have differing opinions about it; Some suggest taking it may cause more harm than good. The locals prefer taking roasted garlic for every problem.
Even if you are the sort of person who despises taking tablets I suggest you carry a strip of Paracetamol with you. Calpol 500mg or 250mg is a good option. Make sure it is pure paracetamol.It shouldn't be added with any other compound.You never know what side effects it may cause.
Equipment- No matter what the trek, equipment always plays a huge factor in how much you enjoy your trek. And remember always pack keeping in mind emergencies. 99% of the time you might not need them but prepare for that 1%.
My top 3 must have items on this trek apart from the usual sweaters, jackets, raincoats and rain pants are-
1.Torch (A torch is essential for movement in the night.Although there is no night time trekking involved having a torch is vital for movement between tents in the night)
2. At least five pairs of socks. With the many monasteries, you have to enter; it is better for everyone to have a good clean pair of socks on your legs.The moment you remove your shoes it shouldn't send the monks into a pain induced trance.Thank you.
3.Garbage bags (Do not underestimate the worth of garbage bags.They have some uses. They can be used to store wet clothes, your chappals, sometimes shoes, prevent ruining your valuables in rain.)
And finally the Trek Agency-
Choosing a trekking agency is very critical.Remember the following points when choosing an agency
1.They are responsible for your feeding and lodging all throughout the trek.You don't have other options once you start the trek.You solely depend on the agency.
2.They are responsible for your safety. The competency of your guide and his team is vital. Good guides are certified First Aiders and have undergone proper mountaineering courses.
3.You get to use their gear. Good agencies use good gear.Simple really.
4.Go with agencies that do treks with small groups.Easy to manage and ensures proper safety of all.
5.Choose established agencies as they have local contacts in the villagers and can be of huge help in case of emergencies.
Apart from the above points, you have to keep in mind one very important thing. In Bhutan, it is a policy to take the services of a local trek agency only. That means whatever Indian agency that is offering treks in Bhutan has a Bhutanese counterpart which is providing the actual services.
We did our trek with GIO. This was my third trip with GIO after doing Nagtibba Trek and Roopkund Trek. Their services are excellent, and there was a reason I was taking their services for this trek also. But GIO left me a tad bit disappointed this time. The Bhutanese agency which they engaged was simply not good.The food was not up to the mark and the hotels were disappointing.
Add to that the way GIO handled a couple of last minute changes in the Border regulations left me angry. I believe that it to be one of bad experience with GIO. I have written to them and am still awaiting an explanation from them. Anyway, the point is, be very careful in choosing an agency.Find out how many treks they have organised in Bhutan till date and always inquire about the Bhutanese agency which they will be employing.
A short plan of the trek-
Day 1: Paro to Jili Dzong (3450MSL)
Trek/4-5 hrsTotal Ascent-1090mtr Day 2:Jili dzong to Jang chulakha (3760MSL)
Trek/5-6 hrsAscent-310mtr Descent- 50mtr Day 3: Jang Chulakah to Jimilang Tsho -Jana Tsho(3956MSL)
Trek/7-8 hrsDescent- 230mtr Ascent- 330mtr Day 4: Jana Tsho to Phajoding (3600MSL)
Trek/6-7 hrsDay 5: Phajoding to Thimphu (2300MSL)
Trek/3-4 hrs.
This trip was originally published on Razzaq was Here
Frequent searches leading to this page:-
paragliding in Bhutan cost, bungee jumping in Bhutan, Bhutan trip cost from Delhi, best Bhutan honeymoon packages, top Bhutan tour package with price, Bhutan road trip with friends