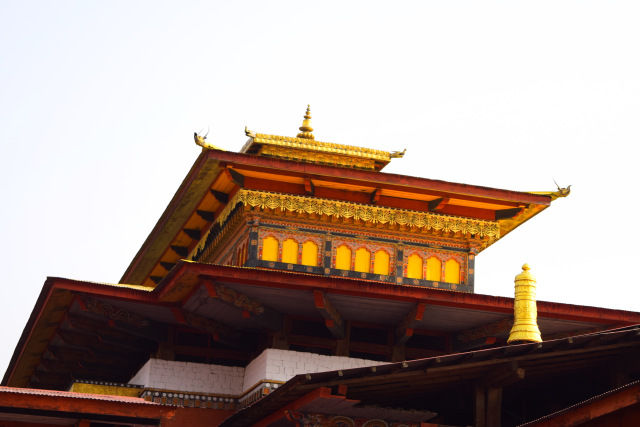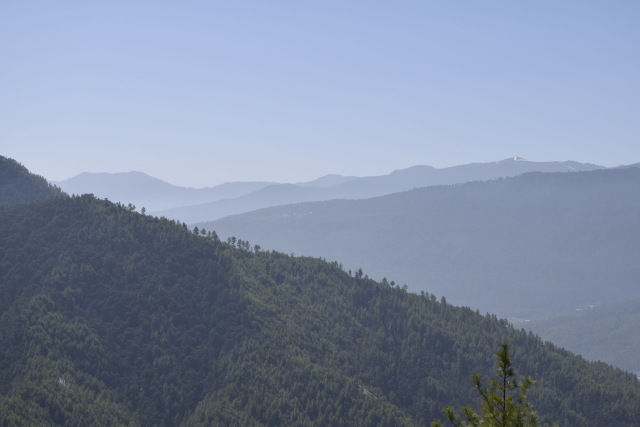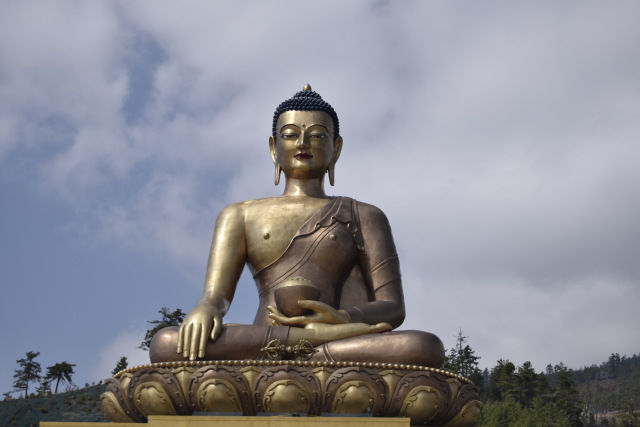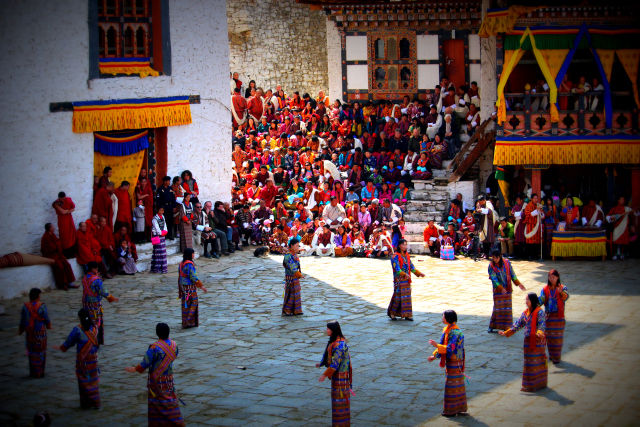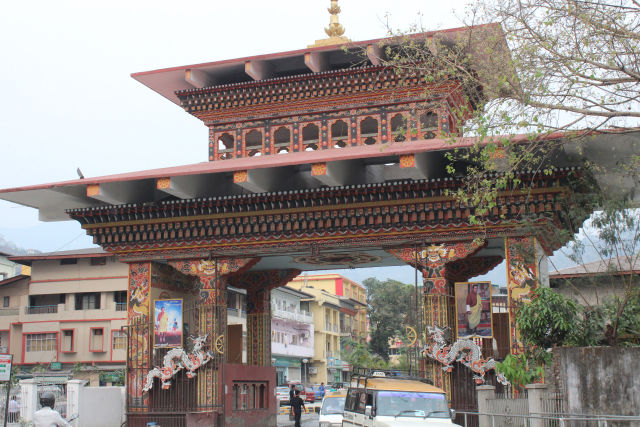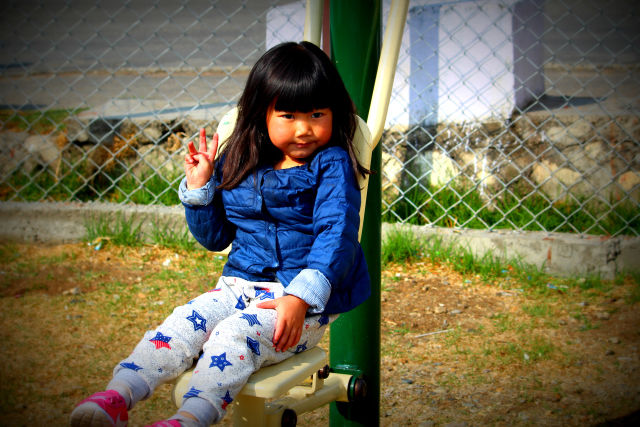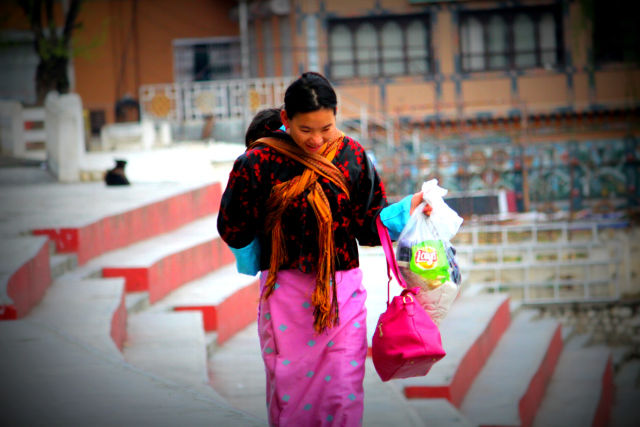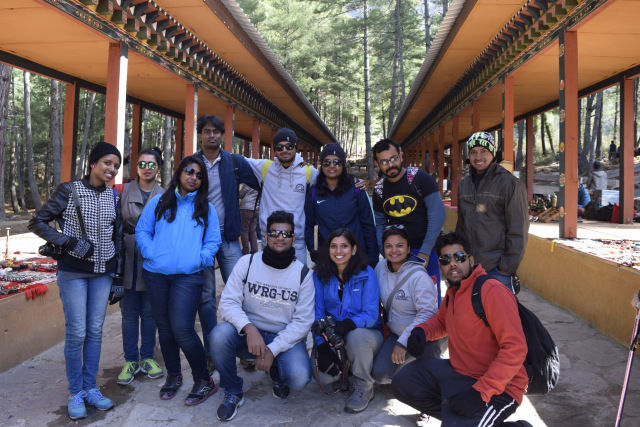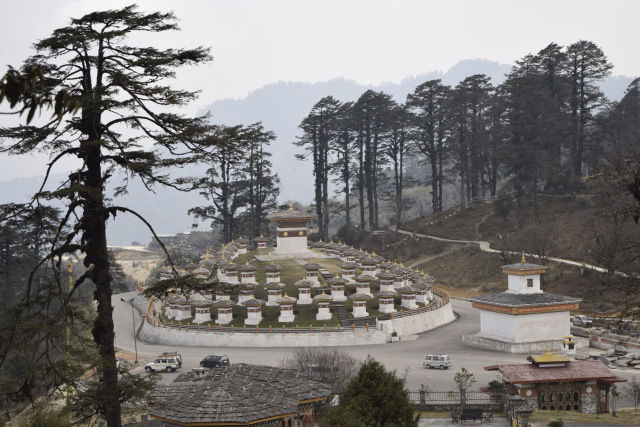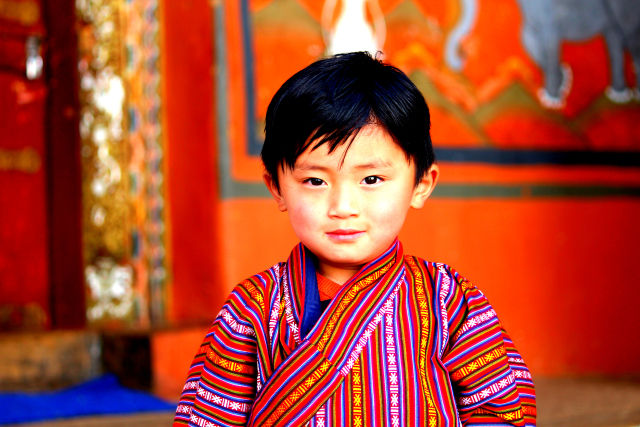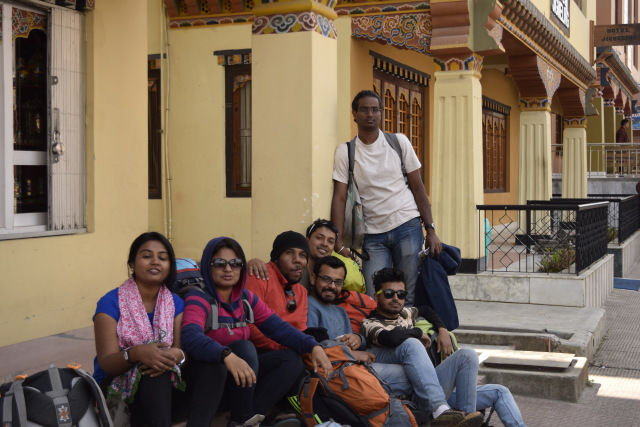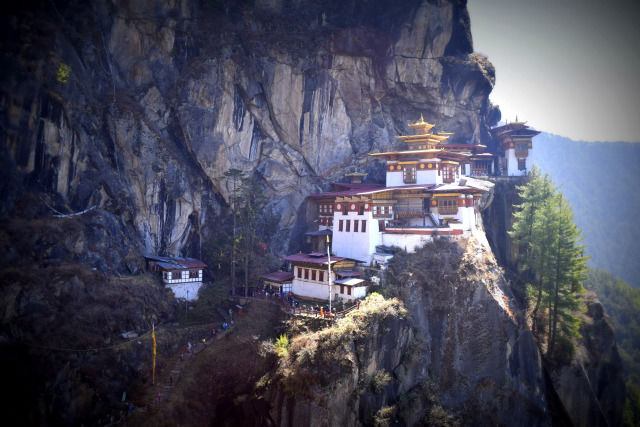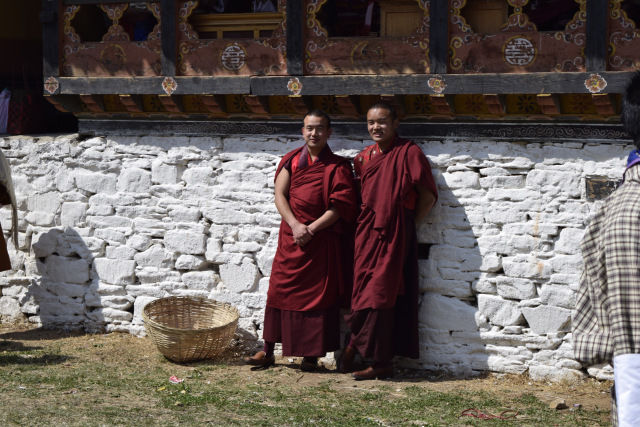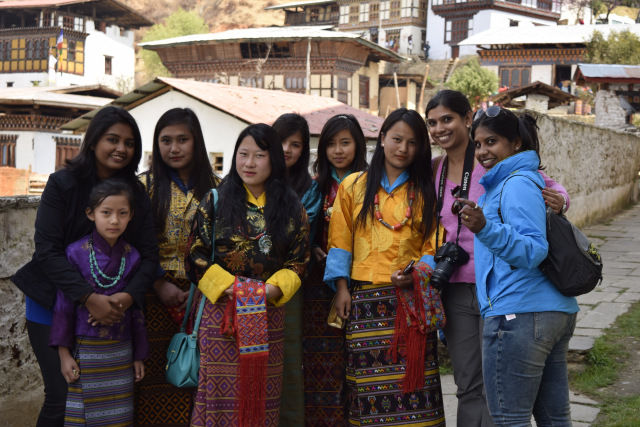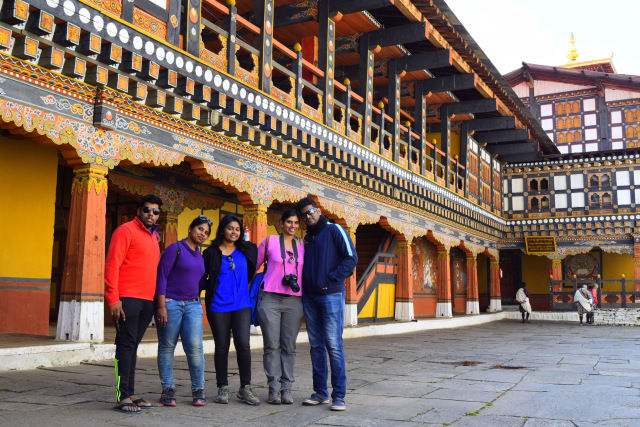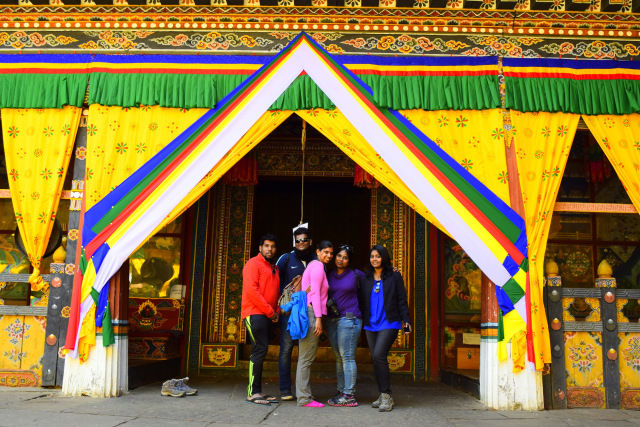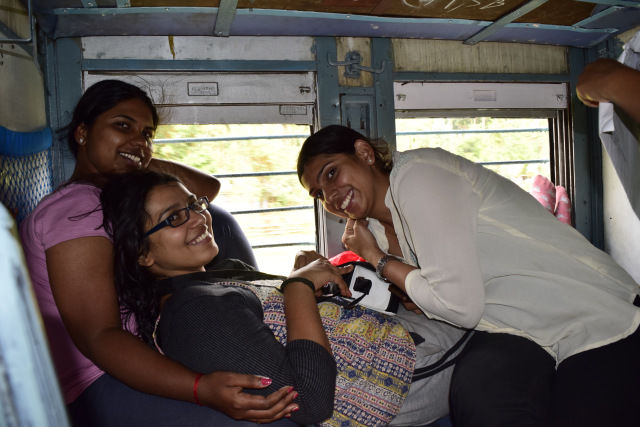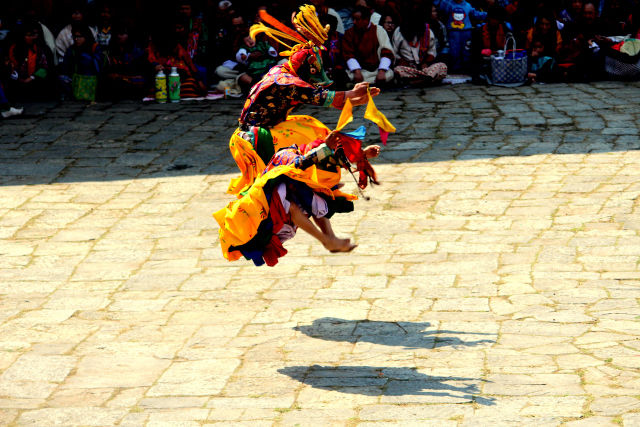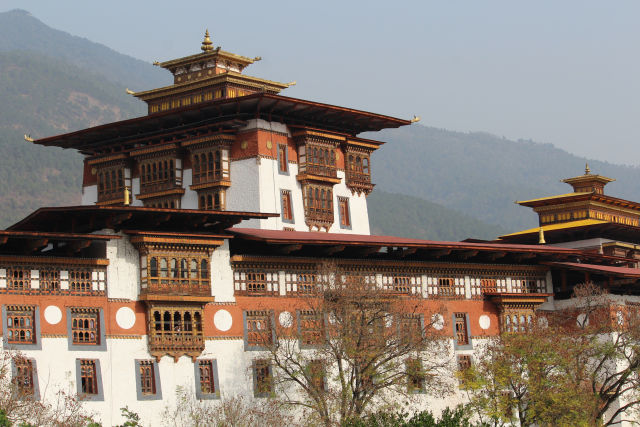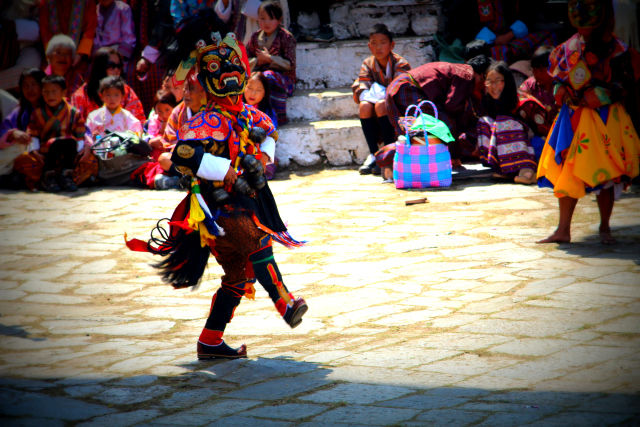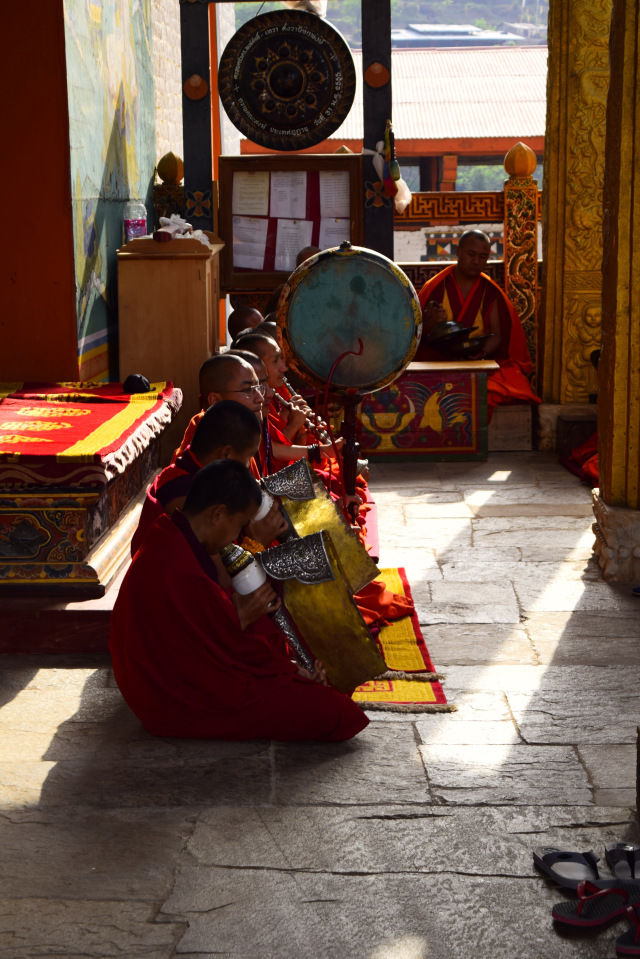 Every year we have been
witness to it: how the
world descends
into a rich mash, in order that
it may resume.
And therefore
who would cry out
to the petals on the ground
to stay,
knowing, as we must,
how the vivacity of what was is married
to the vitality of what will be?
I don't say
it's easy, but
what else will do
if the love one claims to have for the world
be true?
So let us go on
though the sun be swinging east,
and the ponds be cold and black,
and the sweets of the year be doomed.
This poem very elegantly describes Bhutan to me.
The poem, of course, describes the cycle of seasons and delicately, beautifully tells us about the hope that lies in the renewal of seasons that leads us to move ahead in the face of seeming disaster, because there is a wonderful future being born out of the signs of the closing season. Deeply spiritual, the country moves ahead with its concept of Gross National Happiness, offering hope for many other nations who admire or seek to emulate it. The Bhutanese believe happiness is achieved by being content in one's surroundings and everyday life without the aid of material possession and monetary gain, and this is very much evident from the towns you visit and the people you meet. Folks here are jovial, friendly and they take humanity more seriously than any other materialistic possessions. They challenge the world to dig deeper in the search of lifelong happiness rather than looking to fleeting elements that might bring joy only for a short period of time.
On a Friday morning a group of 12, met for the very first time at Yeshwantpur Railway Station to start their sojourn journey towards Bhutan with hopes to meet new and interesting people, experience authentic culture and expand one's horizon, enjoy freedom, share and listen to astounding stories, acquire new skills, make new memories and come back completely changed. Little did they know they will end up as thick as thieves.
An exploratory backpacking budget tour to Bhutan was organized by Kamal and Sonali from BTC for 10 days, with 6 days in Bhutan including 2 days stop at Phuentsholing for permits. The itinerary was designed to accommodate a new city everyday. Most of days goes by exploring various fortresses and monasteries, although it was the sheer natural beauty of the surrounding forested Himalayan foothills that was breathtaking. Due to the lack of modern development the whole area is simply beautiful and unexploited. Most of our days goes by something like this: exploring the trails of the city early morning, followed by visiting dzongs in the noon followed by another round of city exploration at night.
Lets start our voyage together to Bhutan, wherein I whisk you off on a journey into the pretty towns and mountainous meadows of beautiful Bhutan for a glimpse of its fascinating summertime traditions, that started from Phuentsholing and ended at Taktsang.
A slick line is what divides Bhutan from India; although the architecture, the people and the aura of Phuentsholing makes its very much evident that you are in a totally different country, even-though India is just 10 feet away. Walking on the streets of Phuentsholing was a sheer delight, an opportunity to explore the surrounding, chat up with the locals and to check on your options.
After receiving our permits for Bhutan, we hired a ride to Paro. Chilled weather and constant rain were our companions for the ride. We made it to Paro at night and found a cozy stay to park ourselves for the night. After fueling ourselves with rotis and sabjis we visited one of the night clubs in Paro for karaoke which was one of the highlights of our trip. Warmth was all we craved for in the wintry weather. We all retired to our respective rooms at mid-night, and inside the comfort of 4 walls, a heater and 4 layer blankets, all of us were fast asleep in no time. After a comfortable sleep, I woke up early morning, to explore the streets of Paro and to enjoy the chilly climate without the protection of warm cloths, which by the way was a very bad idea. One of the best things to do here is to walk on the empty streets of Bhutan early morning when Bhutan is still sleeping; walking along the Paro River, watching the picturesque raw landscape filled with thousands and thousands of prayer flags that blow and hum in the wind— carrying the wishes of the people up to the spirits above; it is spiritual and divine.
One of the most potent ways to get a sense of Bhutan's national character is through its charming local and national festivals. Each community having its own rich and ancient traditions, weaved and embellished over the years, and to experience people coming together to share in their customs is to get an impression of the country's personality. Through local tsechus (religious festivals), people are reminded of Buddhist teachings and enjoy the chance to pray together and receive blessings.
Ornate costumes…impressive masks…magical dance performances…beats of trumpets, and acts depicting the life of Padmasambhava (a literary character who was born from a lotus flower)…the imposing sight of the Bhutan Paro Festival is something beyond imagination. Witnessed by thousands of tourists every year, the much awaited Buddhist religious festival 'Paro Tsechus' is celebrated to commemorate Guru Rinpoche, who brought Tantric Buddhism, also known as Tibetan Buddhism, to Bhutan. The festival reveals a lot of color, music, dances, and drama as people from different parts of the country join the locals to enjoy the masked dance and other sacred rituals that take place during the festival. For someone who appreciates the ancient culture and tradition of Bhutan, the Paro Tsechu Festival is a wonderful gala to have an insight of Bhutanese traditions and values.
The next on our itinerary list was Rinpung Dzong which means "fortress that sits on a heap of jewels". The Rinpung Dzong is a fine example of Bhutanese architecture. The wood work on it is exceptional. Inside the Rinpung Dzong there are fourteen shrines and chapels. A beautiful wooden bridge leads to the Dzong. The Dzong is a cornucopia of vibrant colors with full of life.
After visiting Paro Dzong, we made our way back to the bus stand to catch our bus towards Thimphu.Unlike India, the buses that ply in Bhutan has only limited seats, and no one is allowed to stand or hang in the bus like we Indians do. So it is necessary to make the bookings in advance.
We reached Thimphu in couple of hours. Thimphu unlike Paro seemed a little modernized, although not as much as we would expect it to, which in a way is why this country stands out from others and is still able to maintain its innocence on the map. After asking around at a couple of places we found a stay place, freshened up, dumped our luggage's and started exploring Thimphu by walk. We spend some time at Thejha café sipping on hot chocolate to beat the cold; did some shopping, and visited the football ground to cheer the teams playing. We retired to bed by mid night.
The next day was reserved for Punakha. We hired 2 taxis, applied for the permit to visit Punakha, and while the processing took time, visited Buddha Statue. This massive Buddha Dordenma statue of Shakyamuni measures in at a height of 51.5 meters [169 feet], making it one of the largest statues of Buddha in the world. The statue is made of bronze and is gilded in gold. 125,000 smaller Buddha statues have been placed within the Buddha Dordenma statue, 100,000 8-inch-tall and 25,000 12-inch tall statues respectively. Each of these thousands of Buddhas have also been cast in bronze and gilded. The throne that the Buddha Dordenma sits upon is a large meditation hall. One can choose to trek to this point on foot which would be very serene and beautiful, but if you have time constraints I would recommend hiring a vehicle. We spend an hour here, clicked some photographs and went back to the immigration office to collect our permits.
We were on our way from Thimphu to warmer Punakha valley en route Dochula Pass (height 10000 feet, 3100 meters) where one could gaze at Himalayan ranges up to several miles. High on top of a mountain pass on the road, overlooking the Himalayas, is a concentration of 108 chortens (stupas) built in memory of Bhutanese soldiers killed in the 2003 war against insurgents from India. The Queen Mother, Ashi Dorji Wangmo Wangchuck, commissioned the monument after King Jigme Singye Wangchuck was victorious in the struggle to dislodge the rebels who were using Bhutan as a base to raid India.
Next stop was Punakha Dzong, constructed in 1637 it is the second oldest and second largest dzong (monastery) in Bhutan. The meaning of it's full title is "the palace of great happiness" and it was positioned in a majestic setting, located at the confluence of two rivers and surrounded by lush countryside. The monks were chanting and playing musical instruments. The overall sound was very hypnotic & trance like. After this we spend some time near the river. The weather was chilly, water was freezing cold, our feet's were numb, but the feeling was amazing. After a while we got back to our cab, and made our way back to Thimphu.
The next day was reserved for Tiger Nest aka Taktsang Monastery. It was the last leg of our itinerary. We had to trek to the iconic Taktsang Monastery (Tiger's nest) perched on the face of a sheer cliff at a height of 3120 meters in Paro. Legend says that Guru Rinpoche had flown here on the back of the tigress centuries ago. He had meditated in a cave and subdued the local demons. It's a steep climb to Taktsang, but the going is fairly easy if taken slowly, for the path is well constructed and maintained and the mountain air is fresh and cool. The final approach to the monastery after a climb of around two hours is over a bridge across a waterfall that drops 200 feet into a sacred pool. The entire area is wrapped in prayer flags, while crevices in the rock are crammed with tsa-tsas, small reliquaries containing ashes of the dead. One last brutal flight of steep steps hewn out of rock delivers pilgrims to the monastery, which for our visit was blanketed in low-hanging cloud, adding an aura of heaven to the place.
Entry to the sanctuary is granted on condition that shoes, cameras, cell phones and other electronic equipment are left at the gates. A security guard frisked us to make sure we were not smuggling cameras and he instructed us to button our jackets in respect. Inside we were given a tour of various temples and other chambers crammed with Buddhist icons and heaped offerings of food and money. Flickering traditional butter lamps cast a warm ethereal light. After spending an hour or so inside the monastery, we took another hour to descend. After resting for a while we gorged on some rotis and rice, bid farewell to Paro and traced our footsteps back to Phuentsholing, thus marking an end to our sojourn journey.
There is always a sense of happiness when you go on a backpacking trip with unknown people, for one, that you have a lot to share and you will never be at loss for topics. For second, that you get your space for tranquility when needed and for third, that backpacking always ends up being a cheap affair, one that you can pocket in happily (the entire trip cost us 9700/- for 10 days). My trip to Bhutan was something of a similar experience, a mixture of serenity & peacefulness, and an eye opener on my limits. The winding roads, the breathtaking view, miles and miles of unexploited landscape, rosy cheeks of Bhutanese kids, Kira adorned beautiful Bhutanese girls, sacred monks, curious eyes, loud over crowded Indian border, peaceful serene Bhutan border, morning walks on the roads of Paro and Thimphu, giggle buster at Thejha cafe, late night football in Thimphu, karaoke night at Paro, interaction with locals, beautiful Hindi speaking Bhutanese kids, Emma Datsi, butter momos, photoshoots; sums up my experience of Bhutan.
This post was originally published on 'I & My Flipflops'.