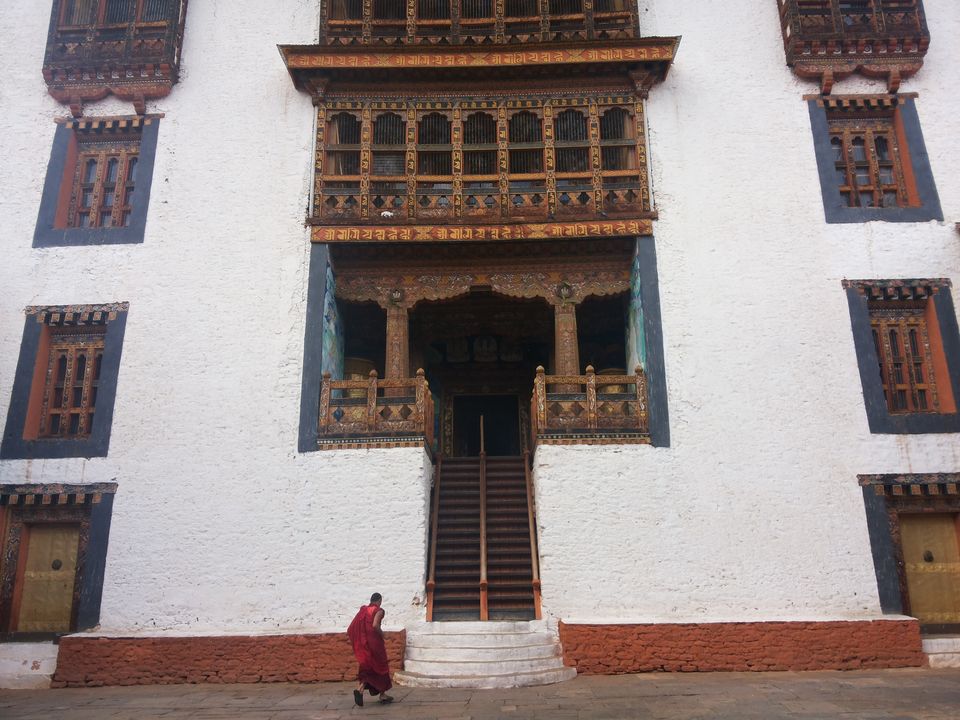 Traveled in August, 2013 for 6 days. Places been to: Thimphu – Paro – Punakha – Wangdue
Bhutan in recent times has seen a rise in the number of Indian tourists. Most make their arrangements and explore with a tour guide and some take to the roads in their own vehicle. But the idea of Backpacking/solo travel is still new in the country. It is mandatory to have a tour guide to travel within Bhutan except for travelers from India, Maldives & Bangladesh so be prepared to face questions at every turn as to why you do not have a guide and travelling solo.
To me the most interesting sights are concentrated on the western part of Bhutan and therefore planned all my 6 days in Western Bhutan. But if you have the luxury of time, try to include Gangtey, Bumthang from Central Bhutan.
Entry formalities for Backpacking Indian traveler: No VISA required. Voter ID/Passport is sufficient. At the Immigration desk you will receive a stamp for 7 days permitting travel within Paro, Thimphu & Phuentsholing. To explore anything additional or to extend days, permit has to be obtained from the Immigration office, Thimphu.
Stay: You can book one of the homestays listed in Bhutan tourism website – http://www.tourism.gov.bt/ (avg rate per night 500 to 600 INR) and enjoy everything authentic.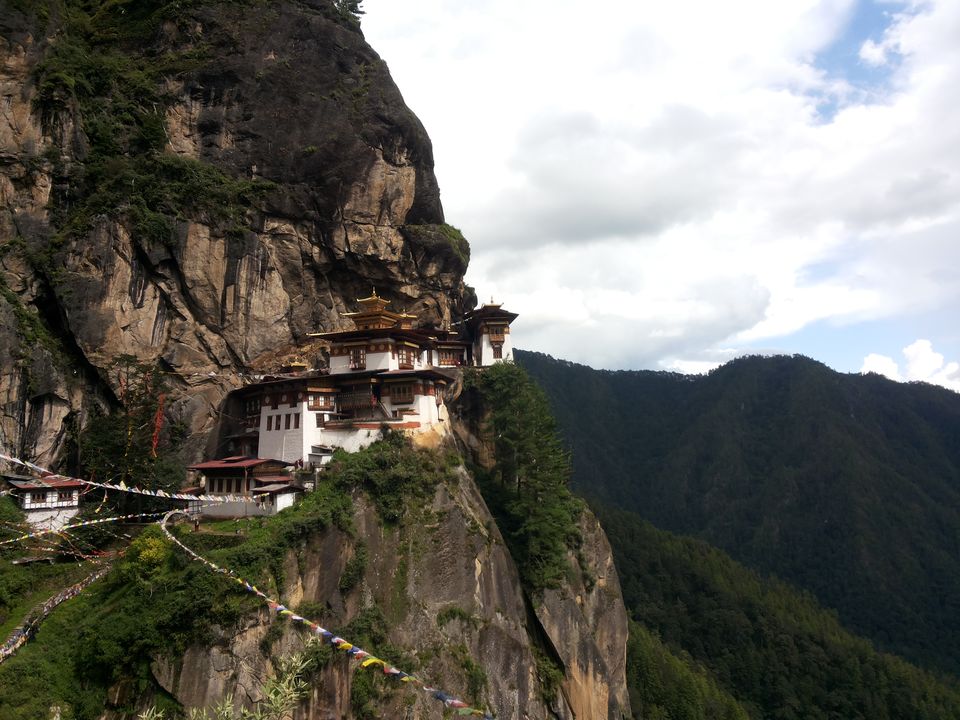 Tiger Nest Monastery, Paro
Getting around: Within the city, taxis run like shared autos. I was surprised to be charged the same rate as locals. Buses ply to different destinations once or twice a day. Don't get bogged down when people say the only mode of transport is taxi between cities. We backpackers' would'nt like that comfort, would we? So try the bus service. Download the routes pdf here – http://www.rsta.gov.bt/download/bus_schedule.pdf Reach the bus stop much in advance to book a seat.
Food: Ema datsi (cheese and chillies) and other forms of datsi. Suja (Butter tea, made from yak milk). These are delicacies. T.T Restaurant and Rice bowl in Thimphu are my favorites.
Currency & Shopping: Indian rupees can be used except 500 and 1000 rupee notes, you can buy handicrafts, post cards and wall hangings. Thangkha paintings are expensive since the artists use gold to paint.
Six-day itinerary that worked well for me:
19 Aug, 2013 – Day 1: Paro airport, (800 INR standard rate if you are the only person in the cab) to Thimphu (54 kms). After climbing up and down 4 hotels finalized on Hotel Welcome, Norzin Lam (700 INR per night – clean room & loo, shabby restaurant though). Lunch at Hotel New Grand on the same road and set out to get the permit for Punakha & Wangdue. This has to be obtained from the Immigration office at the end of Norzin Lam opposite to Textile Museum. In an hour of submitting the form received the permit and headed to the Textile museum. Recently opened, the museum exhibits clothes borrowed from the royal palace.
20 Aug, 2013 – Day 2: Sloppy breakfast at Julmohari restaurant – Archery tournament practice at Changlimitang stadium – Dochu la pass & Monastery – Chimi Lhakhang (Divine madman temple) – Punakha – Wangdue – Buddha view point – Thimphu.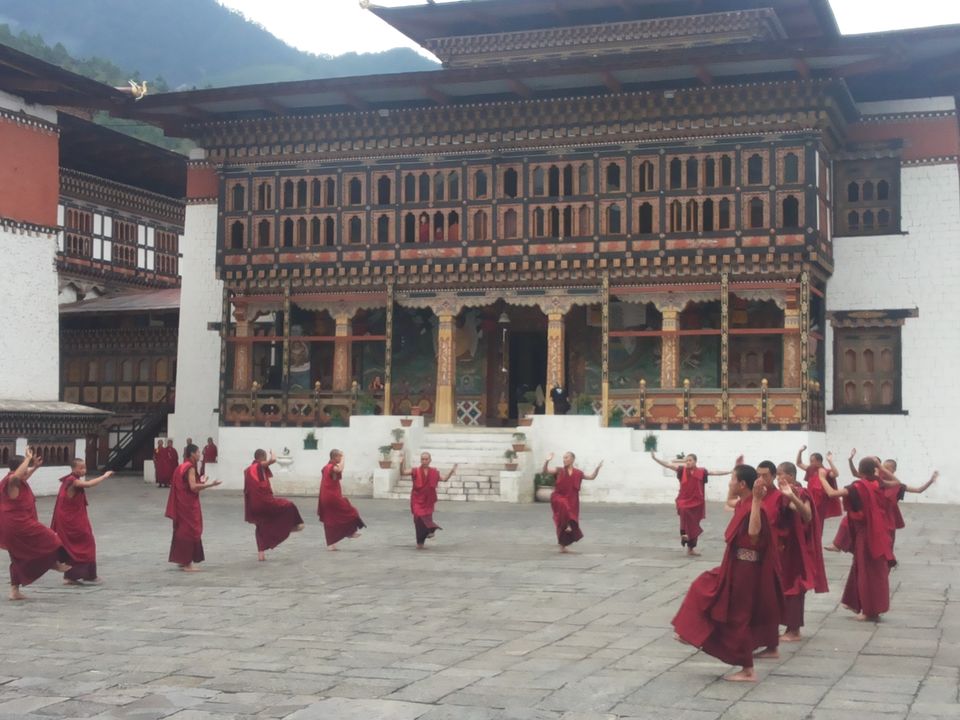 Monks practicing for the upcoming Tsechu in September
21 Aug, 2013 – Day 3: Zorig Chusum school – Zilukha nunnery – National library – Traditional handicrafts bazaar in Norzin Lam – Trashi Chhe Dzong – Shopping.
22 Aug, 2013 – Day 4: To Paro, stay at Hotel Jimlitang (1000 INR per night) – Paro dzong – National museum (KEEP THE TAXI WAITING OR SPEND THE NIGHT ON THE ROAD, telling you this from experience)
23 Aug, 2013 – Day 5: Tiger nest monastery. Again make arrangements for pick up in the evening or walk a couple of hours to get to the town after a full day serious tiresome uphill trek)
24 Aug, 2013 – Day 6: Check-out – Paro airport (500 INR for a 20 mins drive, no less – standard rate apparently)
What I missed: @Thimphu, the Takin reserve, @ Paro, Pema Gift shop (here you can wear traditional dress of Bhutanese men and women – Gho and Kira and have your photo taken at a cheap rate. It would make a great souvenir).