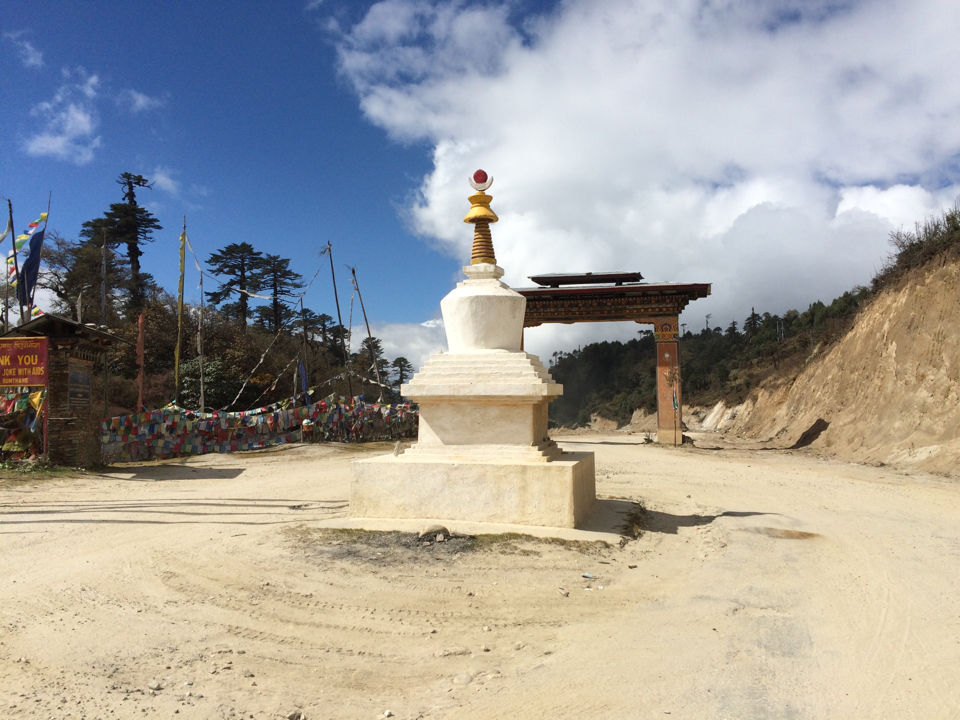 We left Thimphu comparatively late. It was a nice cloudy sky with chilly winds. We headed first to Dochula Pass which is a major crowd attraction. It has a big stupa in the centre with the road going round about it. It also has a beautiful dzong on one side where a lot of people come to offer prayers. The place offers a breathtaking view of the Himalayas and the pine forests below. We did an official photography session of the riders.
The ride ahead was smoother relatively with forest covers all along. Water bodies were flowing all along and we stopped at one of them to freshen and hydrate ourselves with natural mineral water. I wish we could maintain things the same way in our country.
Post lunch we crossed the Wangdue bridge reaching Tsirang by 4.30 in the evening covering about 180 kms. We stayed at the Subway Hotel and called it a day rather soon as we had to brace ourselves for the most challenging ride of the tour next day.
We woke up at the crack of the dawn and geared up to leave at 6. We had to cover over 330 kms pushing as hard as we could.
We had 2 immigration points on the way at Sarbang and Cheso Pani. In between one of our riders met with an accident near Galephu which is close to the Indian border. Later we got to know he faced multiple fractures in his right shin and had to be rushed to the nearest hospital immediately. He was nursed and sent back to India. Misfortune much.
While the crew members were taking care of the situation we had progressed ahead taking small intervals on the way. The road changed every possible way - Tarmac, gravel, sand, pebbles, slush and absolutely no road in some stretches. By 6 we reached Trongsa district and got stuck because of a landslide, no way out. Luckily one of us had met an official from Gammon India Ltd. which was working on a industrial tunnel for a Hydroelectric power plant project. The network of tunnels has been made within the mountains to channel water from the river to the turbines to generate about 720 MW of electricity. We approached the head of the project site and requested to let us pass. He obliged us after seeking permission from the government authorities which led us to a once in a lifetime experience.
We crossed the huge tunnel led by an escort vehicle, wading through knee deep water, particles falling from above and the grand boom from the blast happening right above us. Damn! Passing through was a strategical task, man marking man in line. Sadly I couldn't click any photos thanks to the red alert situation. We got out of the tunnel and headed to our destination. We reached Yankhil Resort around 9 and grabbed dinner immediately. What a day.
#TOB2016
#RoyalEnfield
#Himalayan
#REHimalayan