"Bhaiya rukna nahi hai, bhaagte Jana hai. Ruke toh mare!" - Keep running, don't stop. If you stop, we die. I could faintly hear my instructor screaming.
I was sure I was going to wet my pants. I start to shiver and tremble when I even think of standing at a height.
Moments ago my senses were so sharp that I could even hear the soft, silent wind blowing. But now my ears failed to register any sound, a single word yelled into my soul by the instructor right behind me.
HOW TO REACH
Giovanni - my friend from Indonesia, and I started from Delhi at 10.30 at night. By the time we reached Amrik Sukhdev dhaba at Murthal, my butt started to hurt already. But I told my butt that it should stay in place because we had to ride another 500 km.
Soon after Ambala, we lost our way - like I always do. I wanted to take the detour via Panchkula, but things took a wrong turn again before the big Simla redlight. This time the detour was another journey. I had to go all the way around from Bilaspur. After crossing the river Beas, and Bilaspur, as a small village started the way turned absolutely magical.
It looked like a lost Malgudi sort of a village. The fog made the visibility very low, but it was certainly one of the things that added to the magic of the village. Some things could not be explained and could only be experienced. Crossing this village was one of those things. Little kids had their bags on their backs as they left for their schools.
The ass-cracking ride was taking the toll on Gio, so we stopped at a tea shop. Gio had a polythene bag hanging peeping outside of his bag. The shopkeeper indicated us to keep the poly-bag inside, telling that it is banned there. Further when asked for routes, he enthusiastically drew a paper and pen from his drawer and panned out the entire map to us, probably to scale.
On the way, near Nagaon village as we crossed a narrow bridge to cross the beautiful Beas river, the road turned left. We wanted to soak in the landscape a little, so chose to stop there. And soon I spotted a kutcha raasta leading the way to a hidden temple. I'm not at all a religious person, and temples never attract me. But somehow this time I decided that I want to at least climb up and see the entrance. As I approached the temple stood magically in front of me. It had huge gates, but closed. On either sides were clear pictures of Shani Dev and Hanuman, and the temple was called Sankat Mochan Mandir.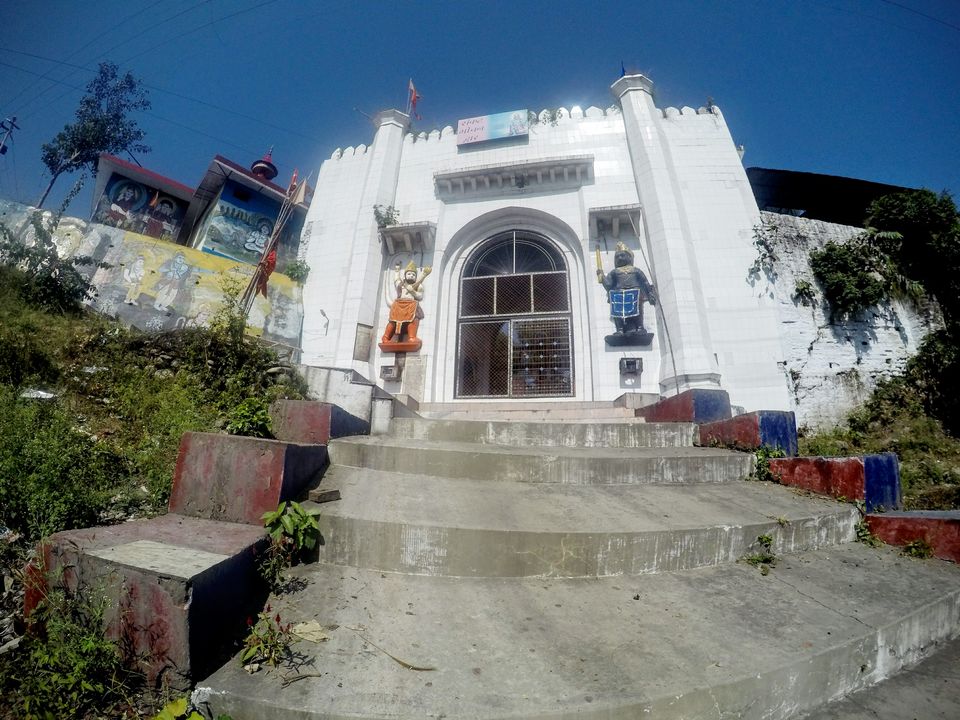 There was one more set of stairs going to the left of the temple. The temple had Lord Vishnu, Krishna, Shiva, Budhha and Sai Baba painted on the right side wall. I never saw something like that before. And then there were more individual little temples of different gods as I ascended unto the stairs. Further, it was a huge premises with a backyard garden, and only one panditji living in that place.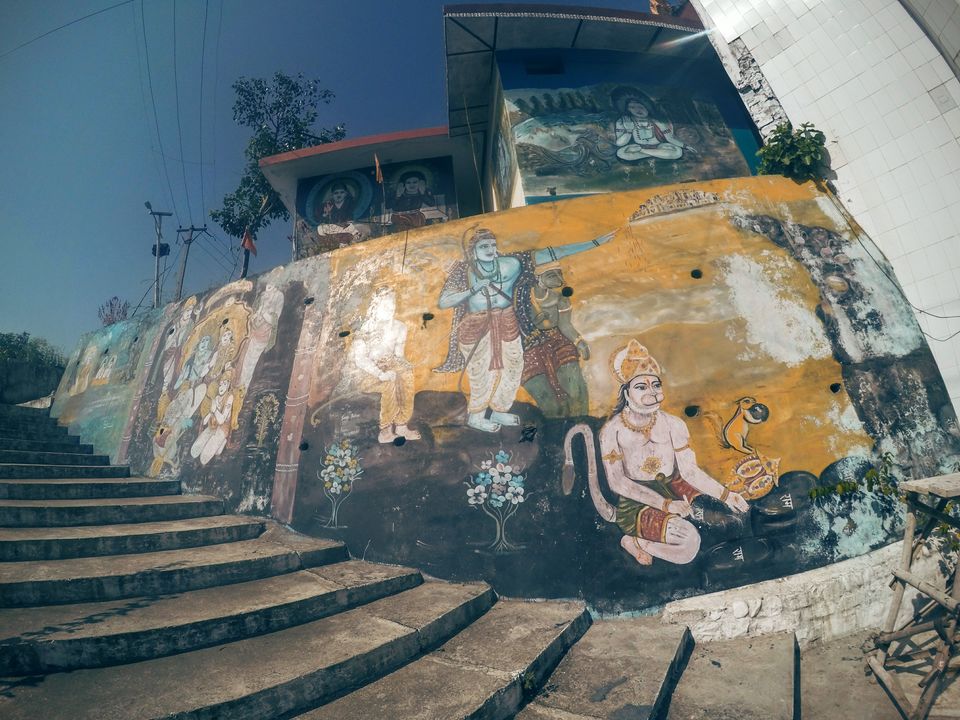 We came to one corner to some benches under a shed, and from here the view was absolutely serene. All the mountains, and the calm Beas could be seen flowing from between them. The cool breeze was so soothing there. My butt reminded me that it would make sense to take some rest after riding for 12 hours straight now. I only sat for a while, and before I knew, we wasted 1 full hour there sleeping. Or no, totally worth it.
Reaching Palampur was a respite. After riding for 15 hours non stop (that's my other name for just 1 stop), I knew 30 kilometers weren't going to last longer than any of my yawns.
As we approached the district Bir, the presence of army units could be felt on both sides of the road, and on the way.
And finally, a big sign board clearly tells us to take an immediate left turn for where we should be.
As we took left, once again, I was in Lalaland.
Beautiful road in front of my face, decorated by gliders in the sky all the way.
Bir
Finally by 5 pm we were in district Bir.
We kept riding as everybody kept gliding from over our heads.
After riding for 4 kilometers, on the right fork of the road there was Friends Tours & Travels. We stopped straightaway at them and asked if paragliding was happening. The response was positive and we were put in their jeep.
All of a sudden so much was happening. Only I knew how much I am scared of height.
The road to Billing was a narrow 14 km ride, with tight hairpin bends. But we took a long time mostly because it was a 2 way traffic road.
The view once again from the top was breathtaking. It is unfair what these mountains have been doing to me. Each mountain I go to, sets up a new sort of heaven in front of me. I was standing meters above clouds here, refusing to acknowledge that I'll have to jump off after a while. I wouldn't have made myself happy if I shied away from here.
And as fate would have it, the weather was declared inappropriate for paragliding, and the day was called off.
WHERE TO EAT
At night we decided to have dinner at proper Bir, and then go to Billing to camp for the night.
And as in small places, there are too less an eating joints, and then on top of that it was 9.30 at night. After walking around for a bit, we found a tiny eating facility having only two tables.
We entered the place, and figured that there was no menu to be found. I inquired of the only guy there, for what all was available there.
"Bhaiya dal hai, kadhi ho jayegi, gobhi bhi hai, aur roti laga dunga", he articulated his generosity.
I asked him to get one of all that he has, which got us a plate of momos, manchurian and chowmein too. The food was nice and homely, and momos absolutely fresh. After binging on it all like a monster, the bill was a mere 95 rupees.
I smiled and handed him a 100 rupee note, and a 20 more. He said a firm "nahi bhaiya" and returned the extra money.
In the morning, we thought of having breakfast at Bir itself before leaving for Delhi. I asked some locally made friends there for some recommendations, and they all suggested Surya Hotel. On reaching it was found that it was a classic restaurant sort of a place, of which I was in no mood. As we walked around, I found two little tea stalls together, with one table outside each. The one on the right looked like also serving north Indian food, while I spotted mucktoos (momo steamers) outside the other.
I chose to take myself to the latter, which soon turned out to be a sweet decision.
So this tea stall was bigger than it appeared from the outside. Much bigger. They had three more tables inside, and further a whole duplex sort of a house. The working party mainly involved two women, one in the front and the other back in the kitchen.
I ordered for veg momos, veg thukpa and a ginger honey lemon tea. Both the dishes once again, felt really fresh and tasty. But the tea took the cake which wasn't even there. Only for 30 rupees, the gorgeous looking tea tasted even better than it looked. It really woke me up for the day, and charged me up for the long ride in the day.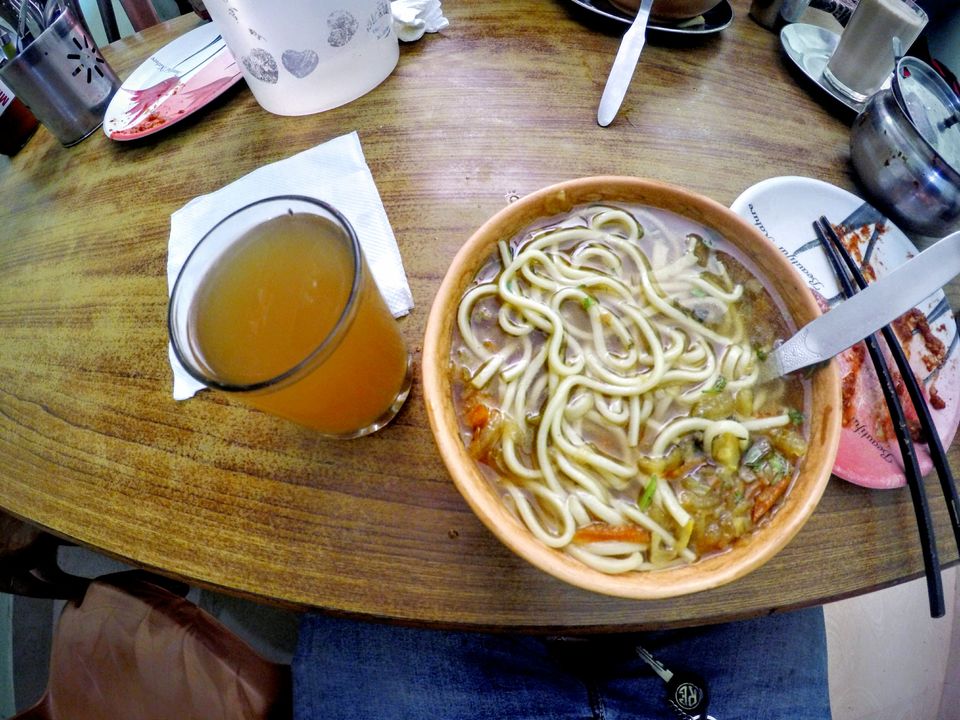 I got talking with the lady about the Paragliding World Cup that was going to happen there at Bir the next week, and to keep up with the small talk, suggested them to also sell souvenir, selling local and Tibetan products. To which she had to say,
"Hame toh bas khana banana aata hai. Logo ko khana khila ke sukh bhi milta hai, aur do chaar paise bhi kama lete hain. Isse zyaada paise Ka hume kya karna" It's the simplest of people that can make you feel the smallest.
OTHER OPTIONS
Garden Cafe, I've heard makes the best pastas, salads and sandwiches in the Bir Tibetan Colony.
Lhakpa Cafe serves the most sublime momos in Upper Bir, but only until the afternoon.
Four Tables Cafe will require a little bit of looking around in Upper Bir, but totally worth it.
WHERE TO STAY
There was this another solo traveler we met while having dinner. He pitched his camp around some trees on the way to Billing at around 5 pm. To be clear, the name of the district is Bir, while Billing is the top-most part of Bir, also known as upper-Bir. This also happens to be the take-off site for paragliding.
So this guy pitched his tent in the evening, while trying to shoo the monkeys away who were constantly trying to have fun with him. After putting the camp in place he took another hour to light fire. But by this time things he thought that he couldn't take the 'monkey menace' anymore. So he packed his camp and came down to lower BIlling and got himself a room at a guesthouse.

I told him that -
1. He should have not set up his camp near the trees, and in fact chosen a clear patch of ground, as wild animals are more reluctant about coming out in open.
2. Most animals, including monkeys don't act naughty at night and prefer sleeping.
So because of these things, he was at the wrong place at the wrong time. This time, I'm going to go up to camp, and he should come with me. But by now, he was too much against the idea.
My Thunderbird and my camp make me feel like the freest bird. They make me feel I can go anywhere and anytime I want, and stop anywhere I want.
So I rode in the night darkened by the dense trees all around me, to the peak of the district at 11.30. As we reached the top, the whole scene was different. No light was needed then. The moon was enough.
It was cold, and our shivering selves took half an hour to find a nice spot and pitch the camp. But after all the hard work, the camp was standing upright. I entered it proudly like entering my newly built house. Laid down, and stuck my head out and slept the night counting stars.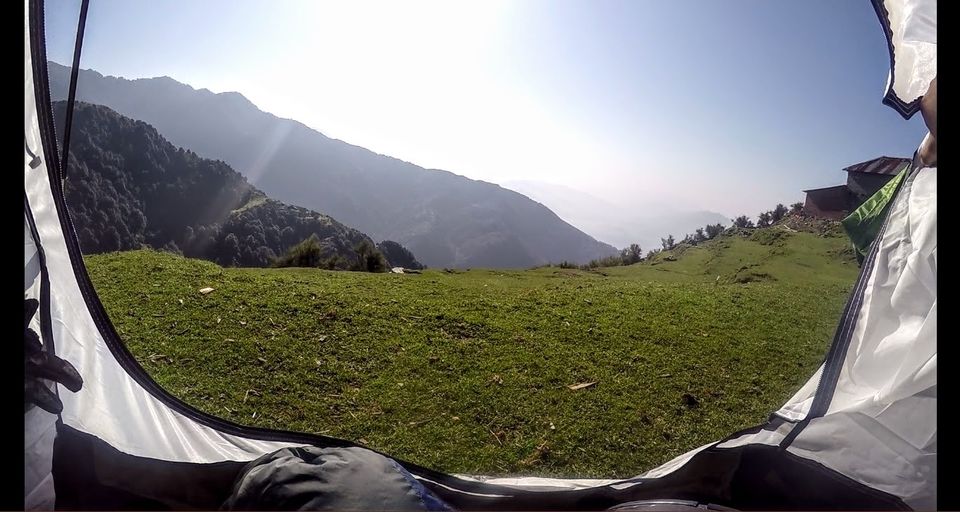 OTHER OPTIONS
Chokling Guesthouse is next to Chokling monastery in Bir Tibetan Colony. The rooms are decent and cheap, and they also serve nice food including veg sushi.
Dzongsar Guesthouse is situated near Deer Park, but will be an interesting choice because of the cave-like rooms it has on offer. Though seemingly made of stone, it can be quite cold in winter. Another cheap option.
Bhawani Guesthouse is in upper Bir, so the location has to be serene. The rooms are comfortable and cheap, but food will have to be ordered in advance.
Colonel's Resort, set amidst a tea garden in Chowgan, has an interesting location. It offers nice rooms and cottages with good quality food, and will be one of the most expensive options in the area.
GLIDING
I am shit scared of height. Still am. We both were.
When we reached Bir, the first thing we saw was a paragliding agency. Within the next two minutes, their jeep was taking us to Billing take-off site. Even the butterflies in my stomach were trembling. I knew I was going to back-out after reaching the top. But if I do, I'd still have to pay them 500 rupees. Even that wasn't acceptable to the stingy me.
It was a breathtaking 30 minute drive to the top, Billing. And now I was again amidst my beloved clouds. It was one more place I felt myself falling in love with. I was some clear meters above clouds, and absolutely on top of the entire area. Now I was shaking not only because I was scared, but also because it was extremely cold. I was nervous. I didn't want to glide. I could see myself falling just before the glider spreads itself, and thus probably dying. But I would sure be seen by everybody as a wuss, if I back out now. But then again, did I ever really care about what others thought of me?
Thankfully for me, soon flying was put on a halt. The weather was declared inappropriate for flying. Everybody started returning disappointed, and now like a real coward I started jumping around and taking pictures.
The next morning around 7 as we were still sleeping, I was taken as a surprise when my instructor from last evening was trying to wake us up from outside of our camp. When we didn't move, he started packing our camp already, yelling excitedly that the conditions couldn't get any better for gliding.
Usually after I wake up, I'm still sleepy for another two hours. But here, as soon as I stepped out, all my sleep vanished.
The scenery of Bir showed me one of the reasons why it is the second best locations for paragliding in the world.
Second after who? We never cared. Somewhere in Italy.
But most of us don't even know that there exists this place called Bir in India. And shamefully many of us aren't even aware that this part of India hosted the Paragliding World Cup not even a week ago.
So finally I was standing there, without even washing my face or brushing my teeth, but wearing the harness. I was shaking not only because of fear, but also because it was eerily cold.
I was still rubbing my sleepy eyes and then - "Bhaiya rukna nahi hai, bhaagte jana hai. Ruke toh mare!" - Keep running, don't stop. If you stop, we die. I could faintly hear my instructor screaming.
I was sure I was going to wet my pants. I start to shiver and tremble when I even think of standing at a height.
Moments ago there was such silence that I could even hear the soft wind blowing. But now my ears failed to register any sound.
My instructor continued saying some other things too, but it was hard to hear him through the noise of my pounding heart. My feet and stomach started feeling tickling. I really didn't want to do this. The fear of height was strangling and smothering me like a python.
'Okay bhaiya, start running', he was all ready and beckoned me to start off. I made my last remark like a dying goat "bhaiya please zyada tez mat udaana" - please don't make it fly too fast.
And finally the moment arrived! I started running to take off. The end of the cliff came really close. I should have still not stopped, but I really wanted to. I remembered if I stopped now, we'd crash for sure.
So, I now my closed my eyes and started running like a bull. And bam! I was flying!
I realised I was still trying to run even when I was in the air now, like Looney Toons.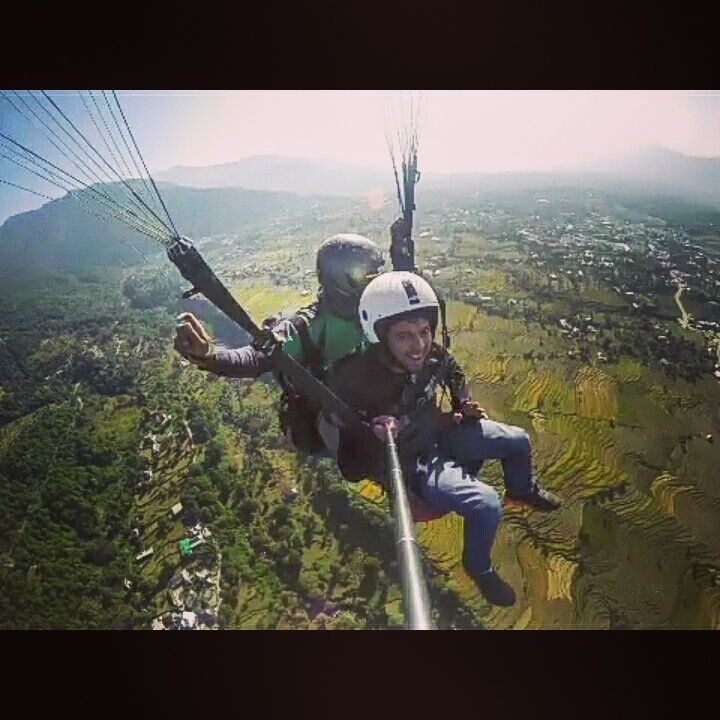 I started screaming at the top of my voice. But not out of fear this time, out of sheer joy. I don't know whether the feeling was unreal more or surreal more.
I could feel the wind brushing past my ears. I was cruising at that altitude, steering through the clouds.
I saw a bird flying next me, and I told her 'I see what you see.' All my life being scared of height, this was an amazing, freeing feeling. Still screaming, testing my lungs and my throat, my throat sure soon gave up.
The speed of the glider in normal conditions is usually around 20-30 kmph. The scary bit was only until the part where we have to keep running , and after that it was a smooth and comfortable ride. Apart from that, all the instructors are all certified and skilled. However, if you wish to glide without the instructor, then you'll first have to do a 15-day certificate course with them.
AROUND BIR
WALKING AROUND
One of my favourite things to do in Bir was just to soak in the place, walk around. It is truly a serene place, and each location gives a new feeling. It is more fun to walk and explore here because there is a good chance you will always find something new.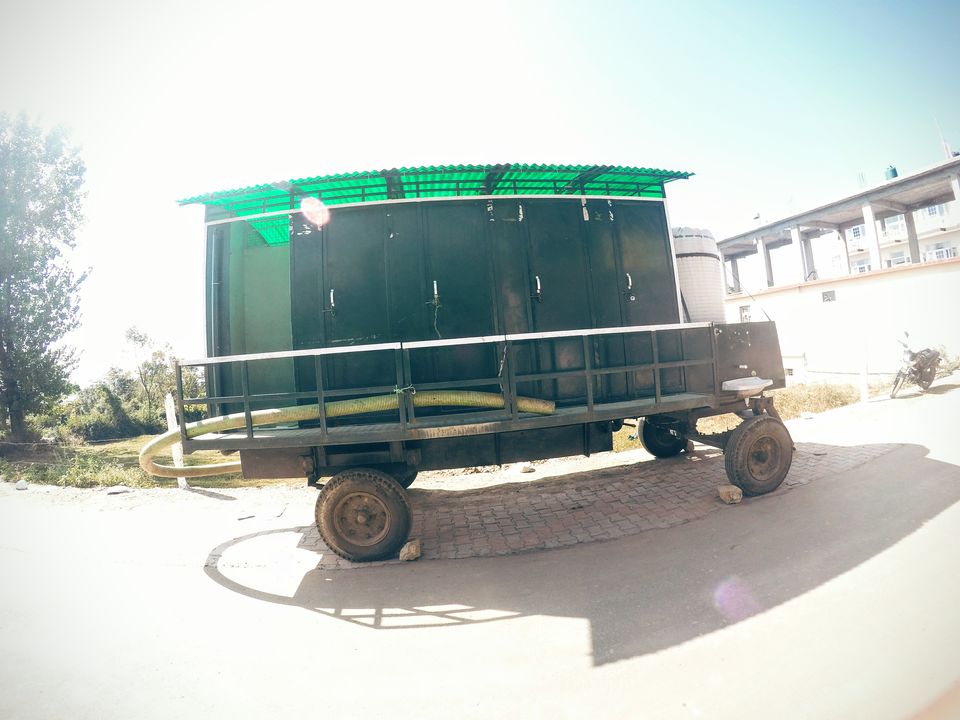 People here are really happy and humble, and believe in always keeping their town clean.
And in this small town too, they installed a portable toilet.
Young monks playing and running around is also a common site here. Happiness is the USP of this place.
MONASTERIES
There are a number of monasteries in and around Bir area. Two important ones being:
Chokling Monastery, which is situated right in the middle of Bir Tibetan Colony. It looks very attractive from the outside, and inside it has a large stupa and a beautiful looking statue of Padmasambhava.
Palpung Sherab Ling Monastery is Bhattu, near Bir.
It is the monastic seat of Kenting Tai Situ Rinpoche, offering periodic courses in Buddhist mediation and philosophy.
A MEDITATION RETREAT
The whole place is yours for the taking. Mountains or forest, take respite in whatever you like to get in touch with your inner self.
Also the Deer Park Institute, the Dharmalaya Institute, and Sherab Ling Monastery sometimes host (free) special courses in mediation, yoga, and periodic meditation retreats.
There are all the reasons why you should come to this place. Really, this is one place in this country that would never disappoint you. It is a bit far off from most cities ( not very far from the famous Dharamsala though), but totally worth it.
*
The whole trip was covered within the weekend, for only 3700 rupees.
Since we were two people on the bike, the fuel share of one person for the trip came out to be 1700 rupees. And paragliding cost us 1900 rupees. We didn't eat anything on the way, and eating twice in Bir made us shell out about only a 100 rupees. [And a stick of good quality hash for 1100 rupees per tola]
So all in all, the trip was worth every single penny.