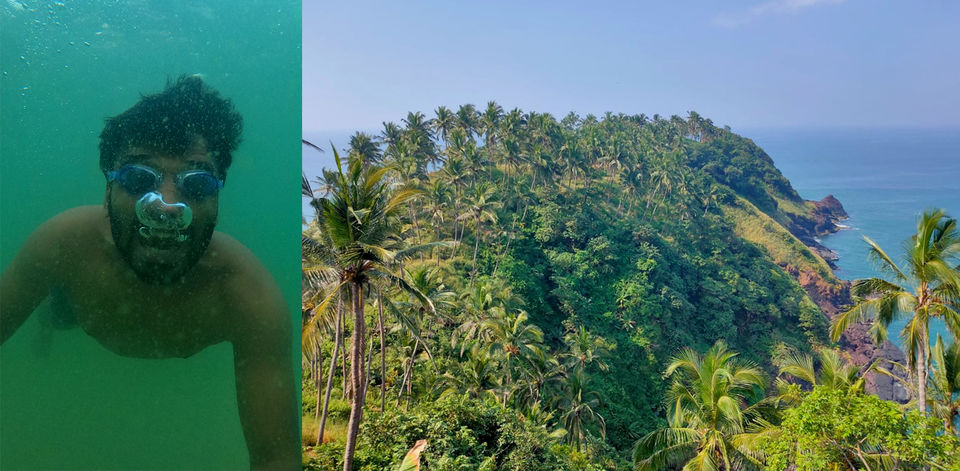 2020 has been an impactful year for both, humans and nature. While we are reminded by nature in its not-so-subtle ways, what the repercussions of exploiting it could be, nature has shown us its capacity to heal at a tremendous rate without human intervention.
It had already been an awfully long 10 months working from home, I desperately needed a change in environment and coincidentally, I got a project in Goa. I knew it had much more to offer than what I had seen in my previous trip to North Goa. I was sure about staying in South Goa. I had 26 days and a lot to explore!
I worked 5 days a week and explored on weekends. It definitely isn't as easy as it sounds, to immediately adapt working in a new environment and stick to the routine when you're staying 5 minutes from the beach. The water was cleaner than ever with commercial activities completely stopped during the lockdown.
Food: I didn't want to eat out daily, hence I requested a local to cook daily meals for me. They were more than happy to feed me local food for as low as Rs. 50 per meal!
Bike Rent: You'll find many bike rental services on way to Palolem beach main entrance. I rented a bike as per my need on daily basis. You can negotiate and crack good monthly deals if you need it more often.
Note: There aren't many Petrol Pumps in South Goa, so make sure you have enough petrol while riding longer distances. You'll easily find petrol bottles at shops though.
Listing down some of my favourite places, experiences, things to do there, tips in no specific order, or maybe secretly in the order of my likeliness ;)
Cabo de Rama: Probably my favourite location in South Goa, this little piece of heaven in Canacona isn't visited much by tourists. No, I'm not talking about the Cabo De Rama fort, but the piece of land which extends ahead of the fort, it is a treasure! Hike to the end/tip of this land extension for 270 degrees views of the Arabian Sea and some of the best landscapes in Goa - trust me when I say this!
You can be adventurous and hike down to the shore but most of it is rocky. We found a sweet spot, the way down and up is tricky, had a lot of pebbles and rocks. Came back with many scars but every second of it was worth it!
On one side of this land is a very small cave, you can get down here. One of the most unforgettable moments of the trip was spotting wild dolphins here, playing and flipping right in front of us!
Cabo De Rama also has a beautiful beach, a little away from the fort, can be reached via Google maps.
Tip: Carry water bottles, hat, sunglasses. Early Morning is the best time to visit this place. There's a restaurant right outside the fort.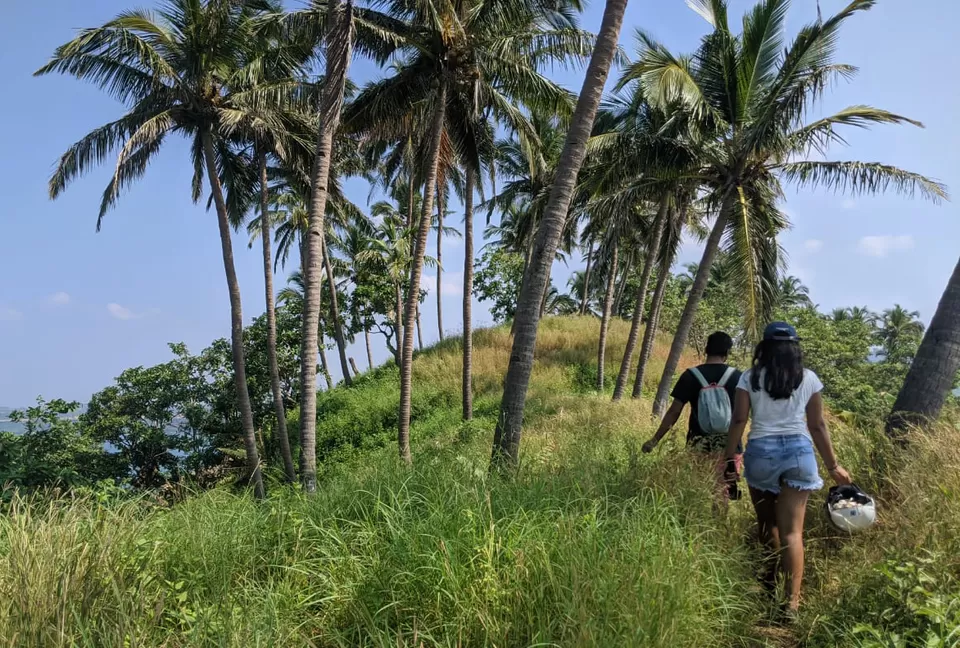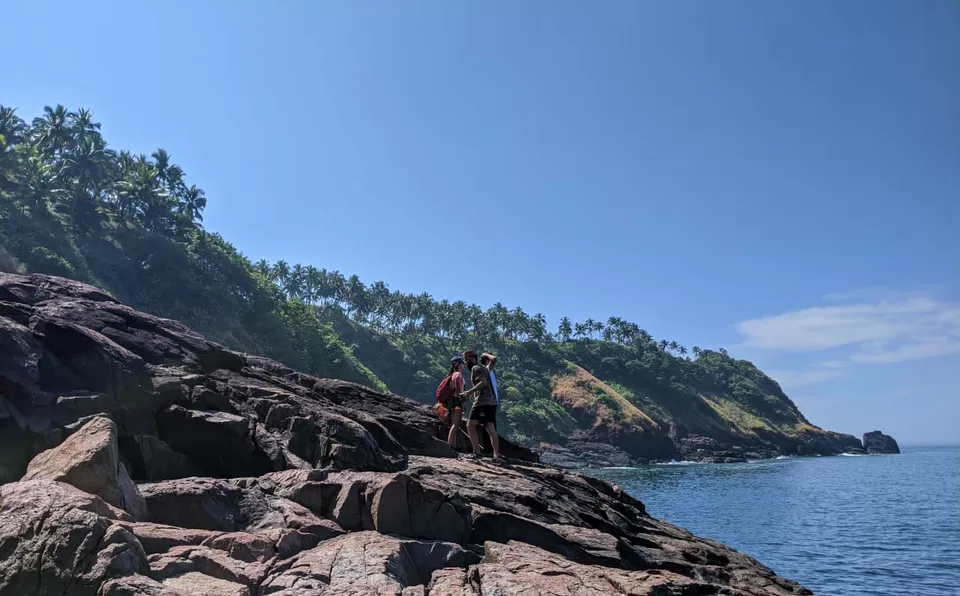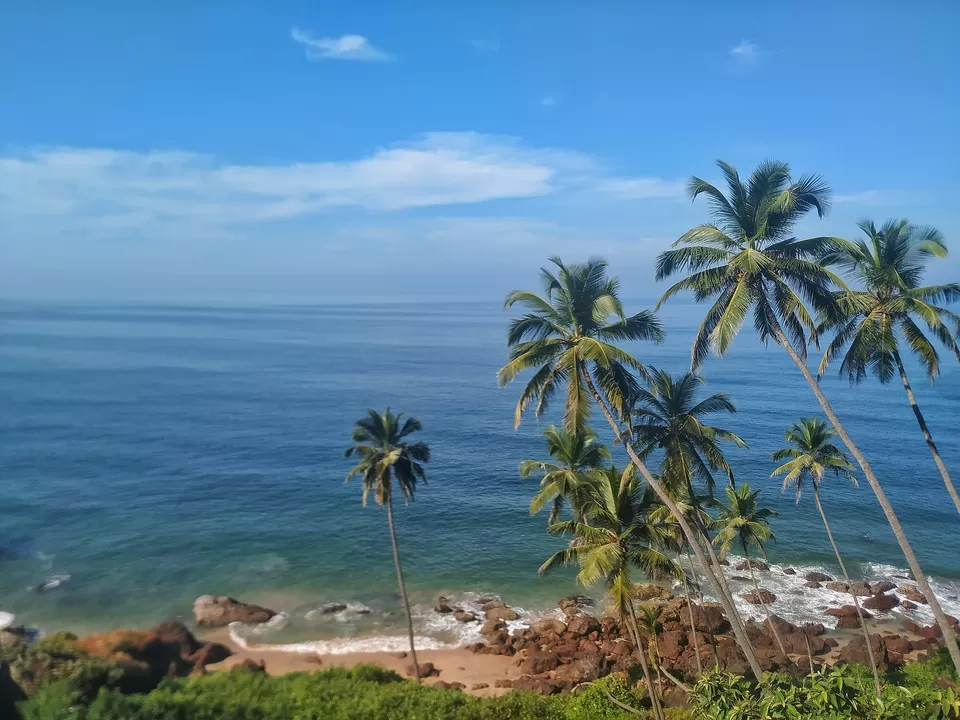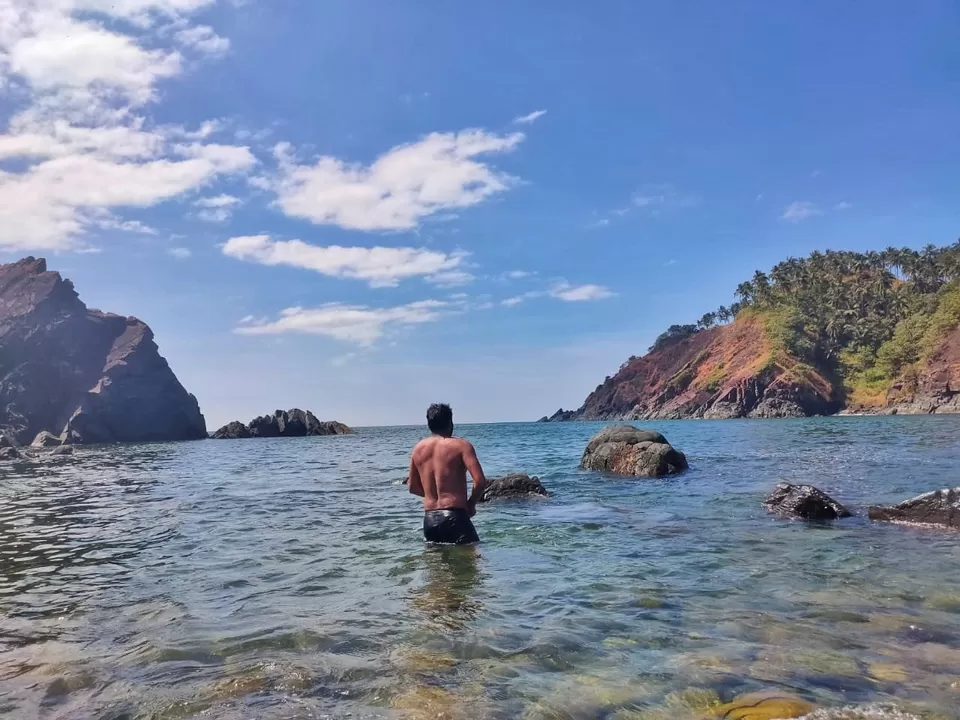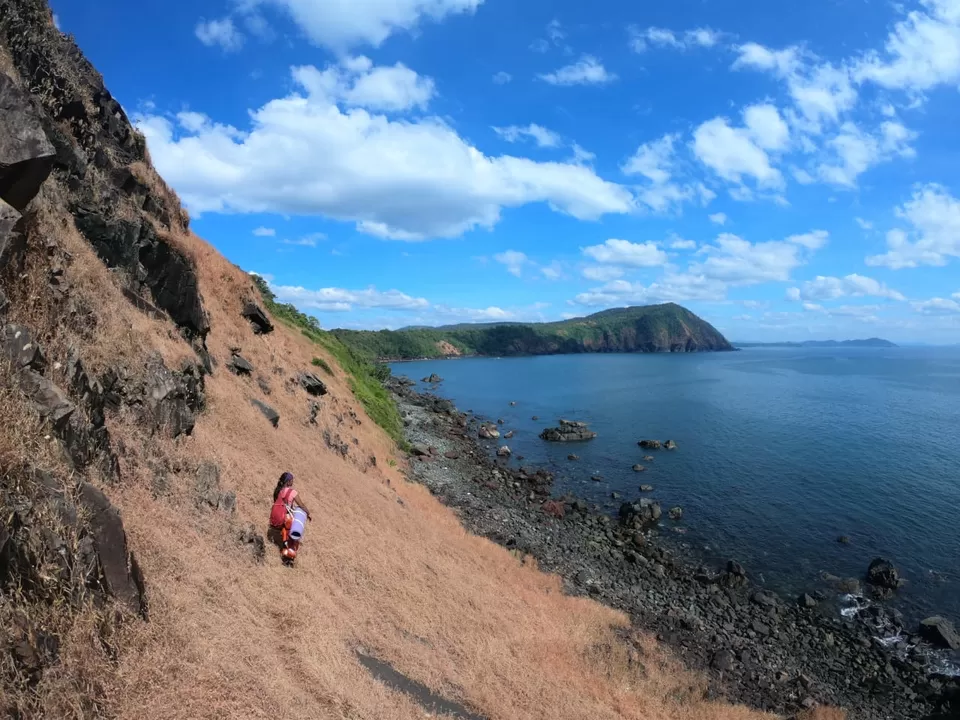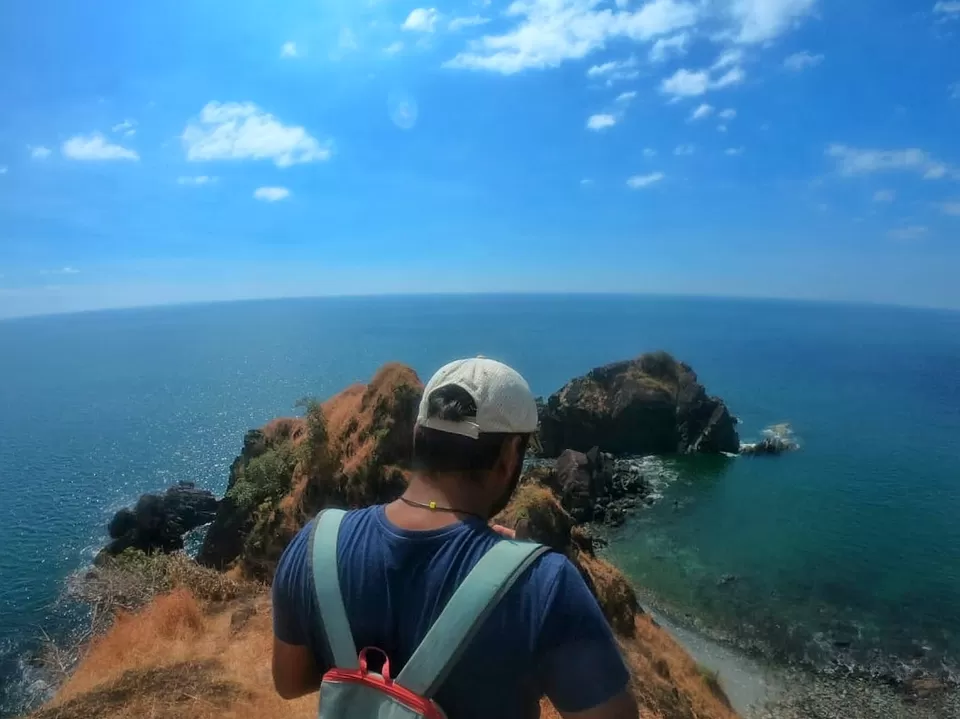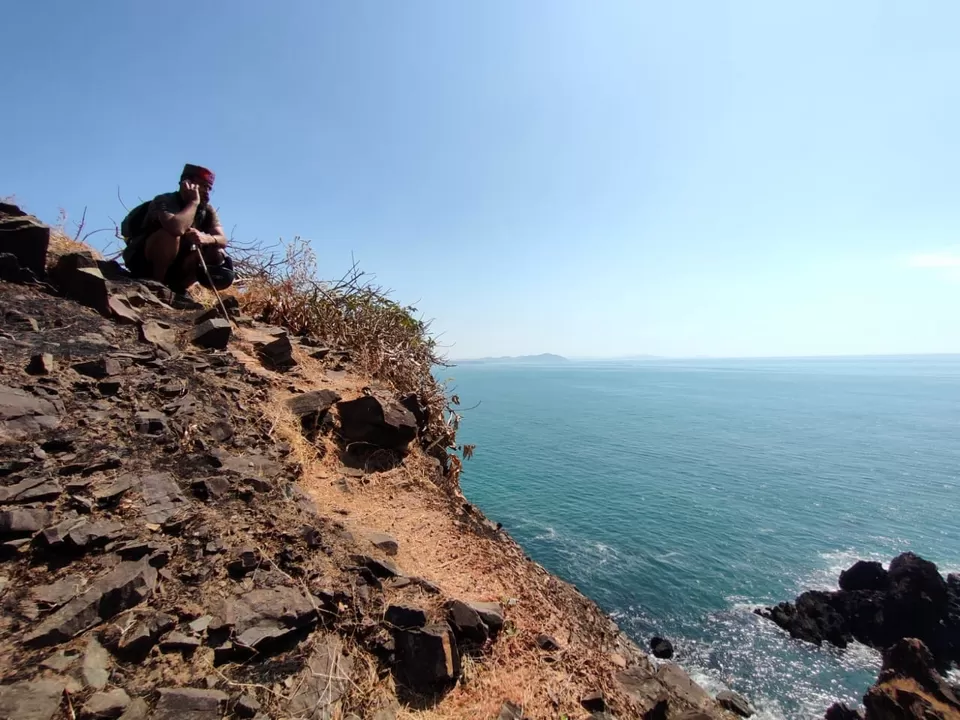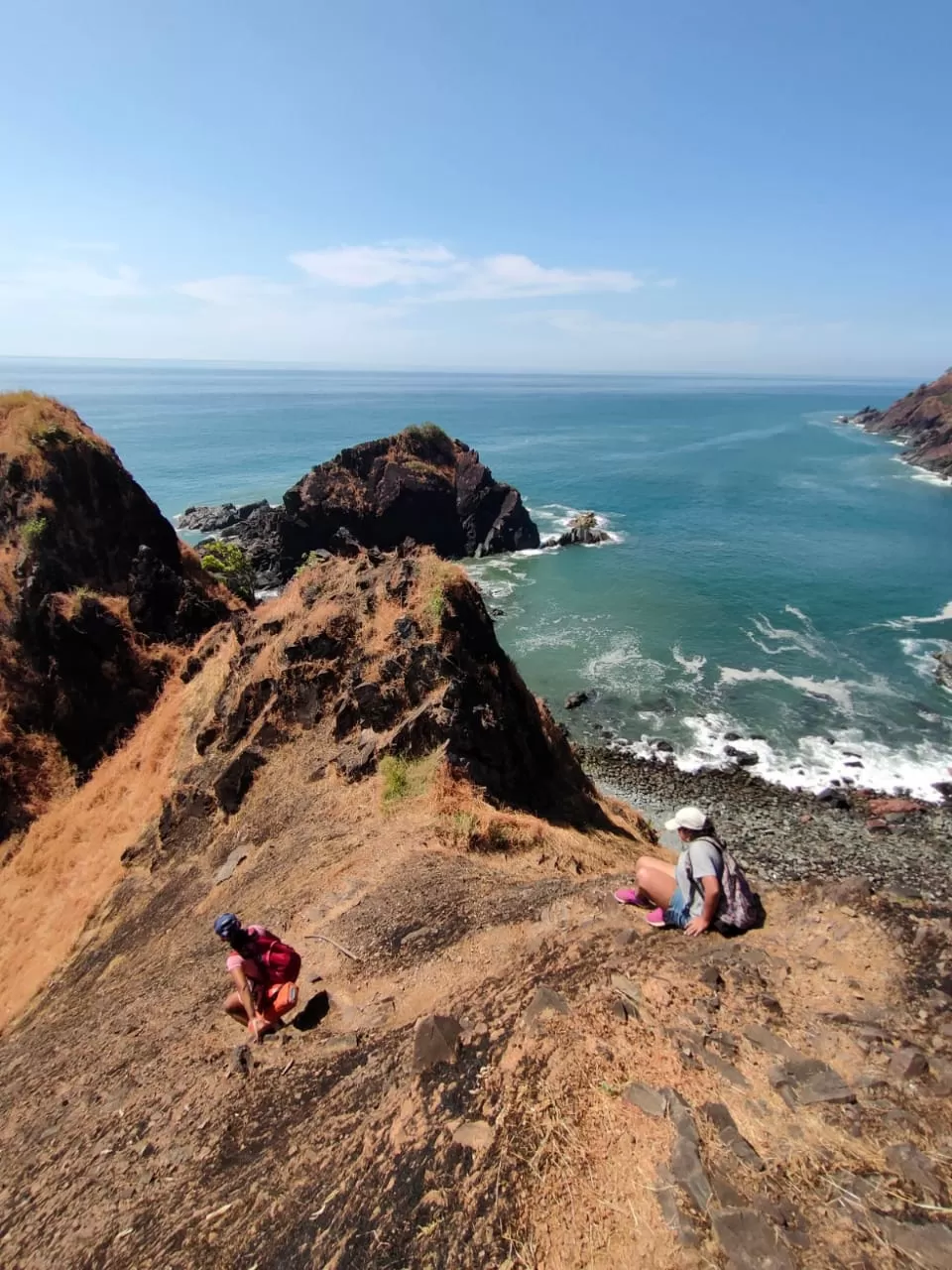 Kakolem: This one has a cute little waterfall right on the beach! You heard right, a waterfall on the beach! There's also one while you hike down to this hidden Beach. Swimming here is a bit scary, got rocks and slant beach into the sea makes the waves stronger. Spotted dolphins here as well but guess who stole the show, 4 otters! Reaching here can be tricky, google maps will take you a bit ahead of the diversion you need to take off the main road.
Recommend visiting this place early in the morning, around 7am.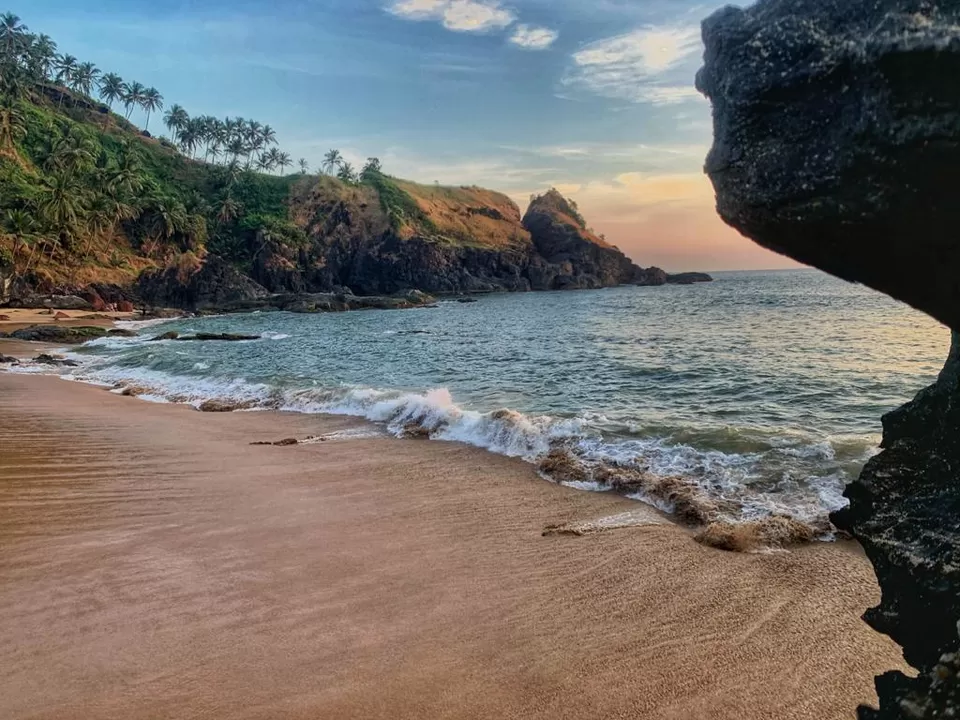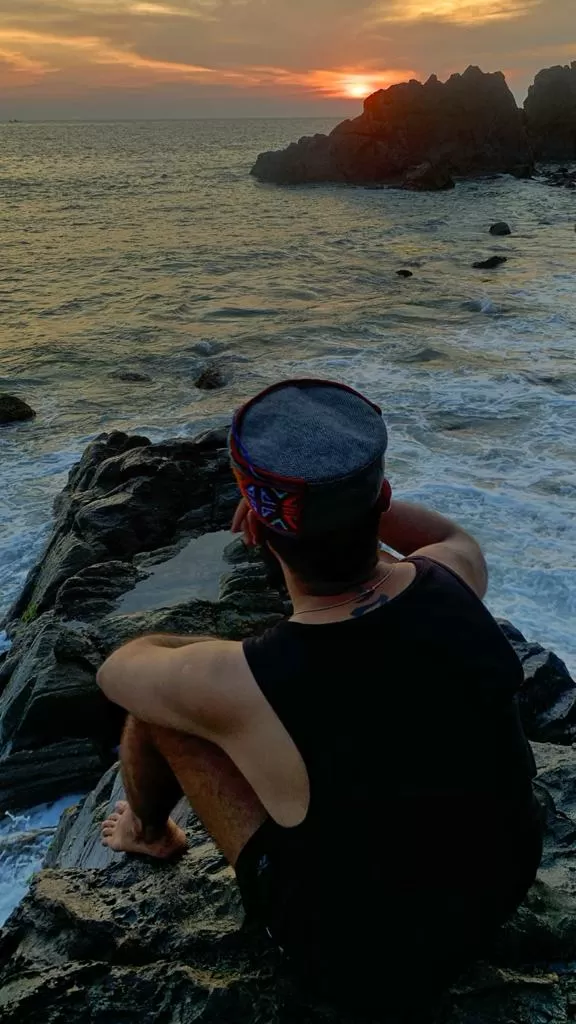 Butterfly Beach: This is another hidden Beach adjacent to Palolem beach and is a smaller version of Kakolem beach. You have to trek down a bit to reach this beach or you can take a boat ride from Palolem. For the more adventurous ones, you can kayak to the butterfly beach from Palolem beach. If you plan to do this, let me make you aware that it looks closer than it is. Once you cross Palolem beach, waves get stronger so do it of you're confident of pulling it off physically and mentally. Carry a phone in a dry bag if you're going alone, you'll have connectivity throughout, you can call the place you rented a kayak from in case of emergency. You'll be able to do this in high tide, in low tide you'll not be able to cross Palolem beach.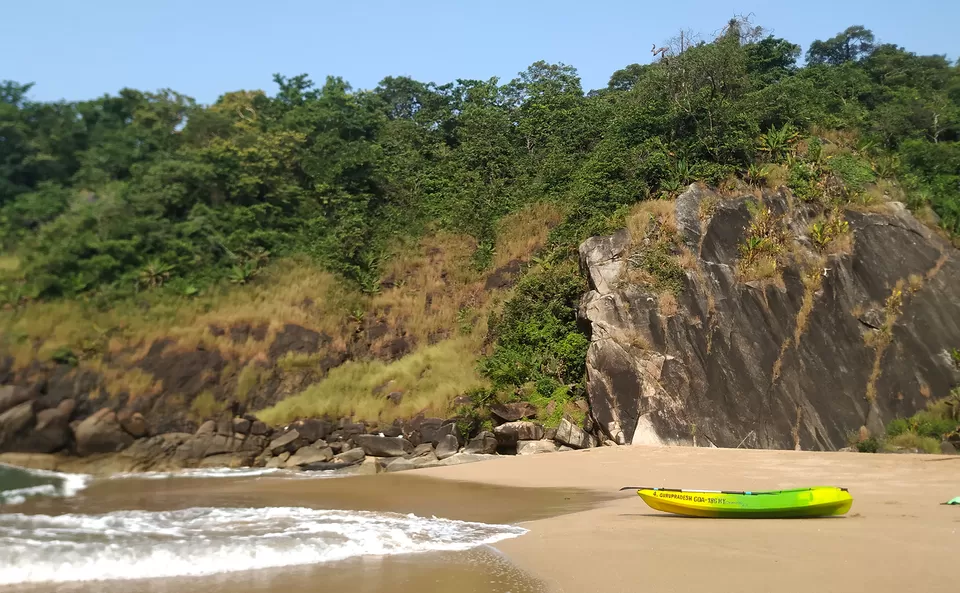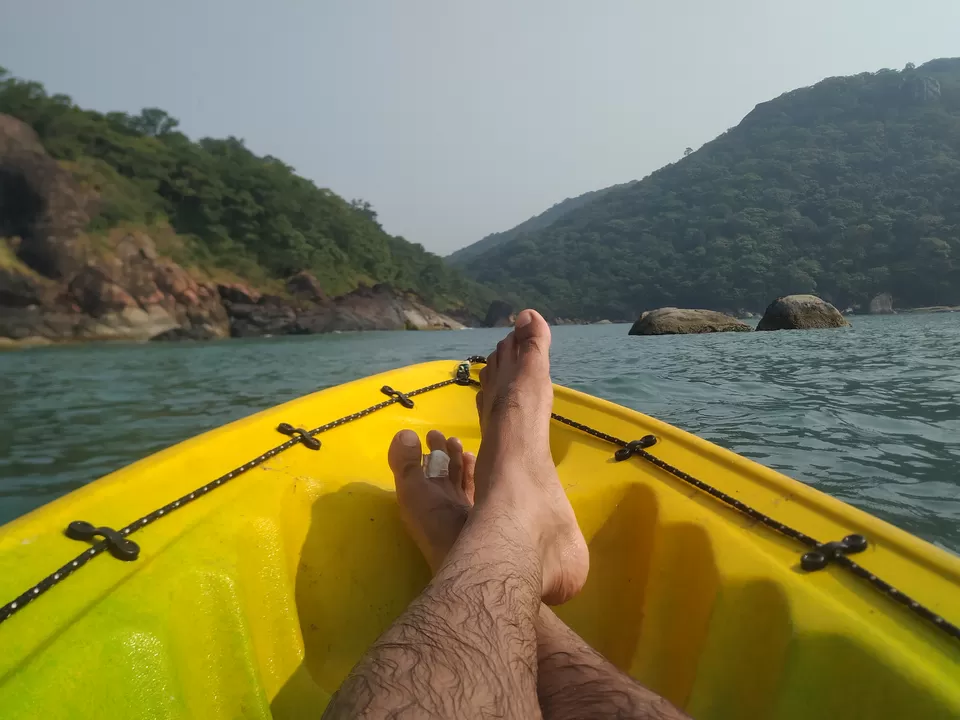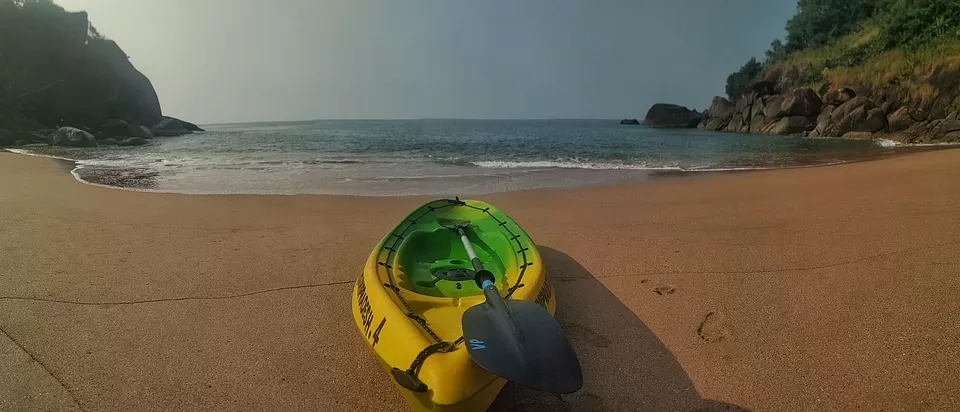 Agonda: This is a beautiful beach to chill! A very broad stretch of beach with shacks offering good food and sunset views. This beach is a good one for swimming, watching sunsets and just sitting on the beach in the night!
Recommend visiting in evening.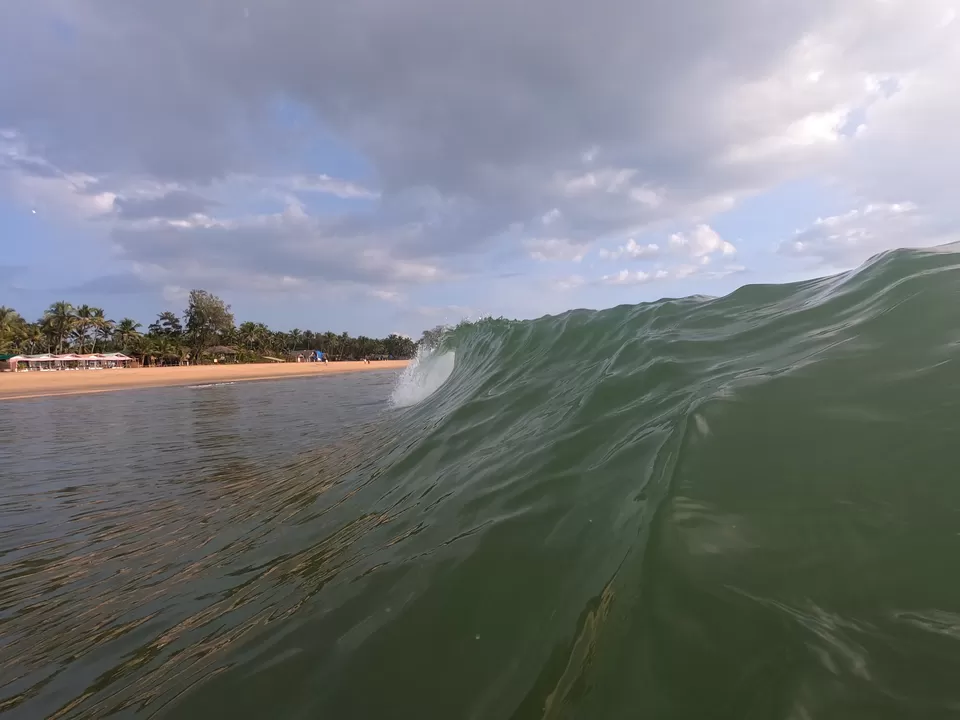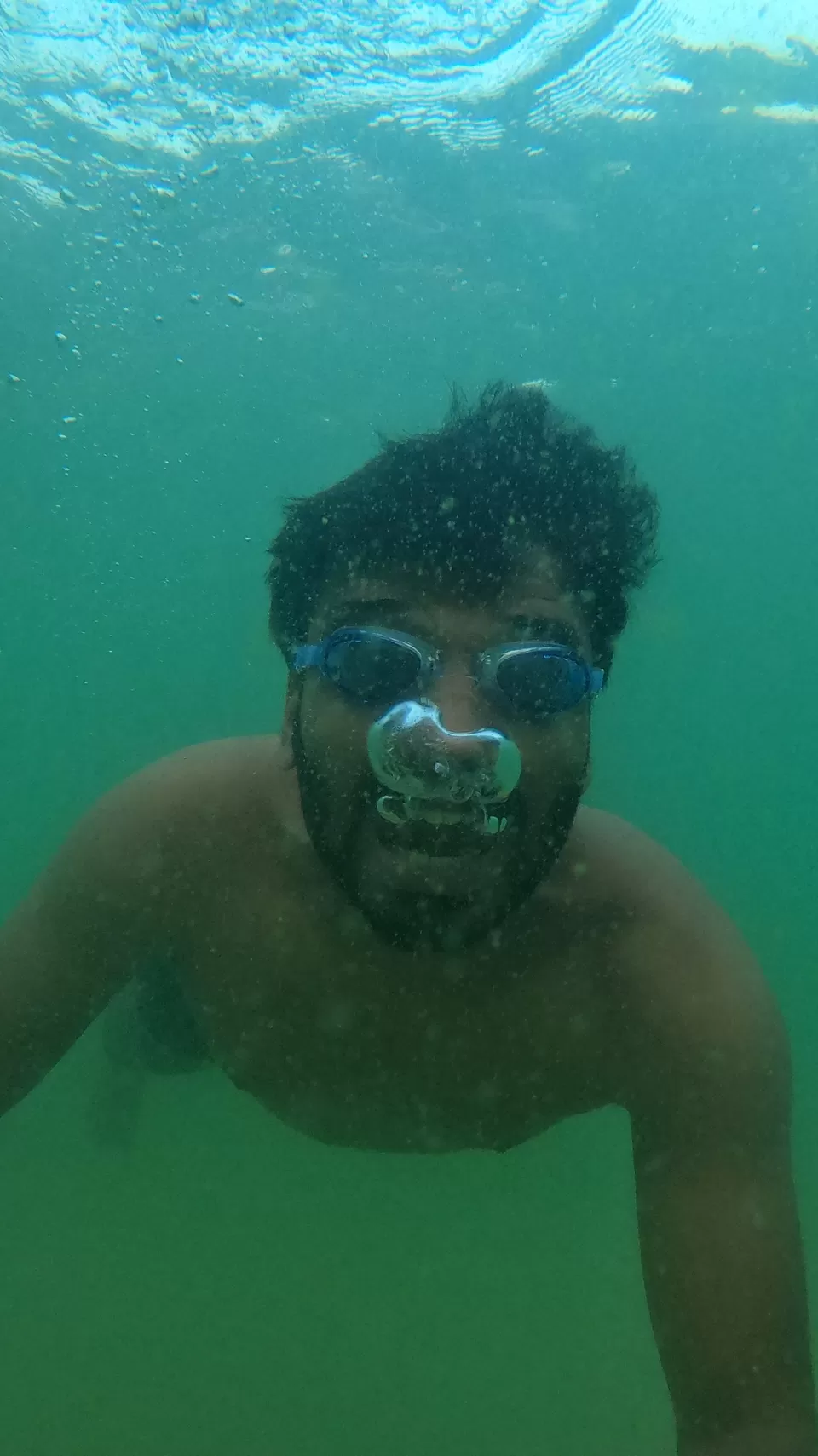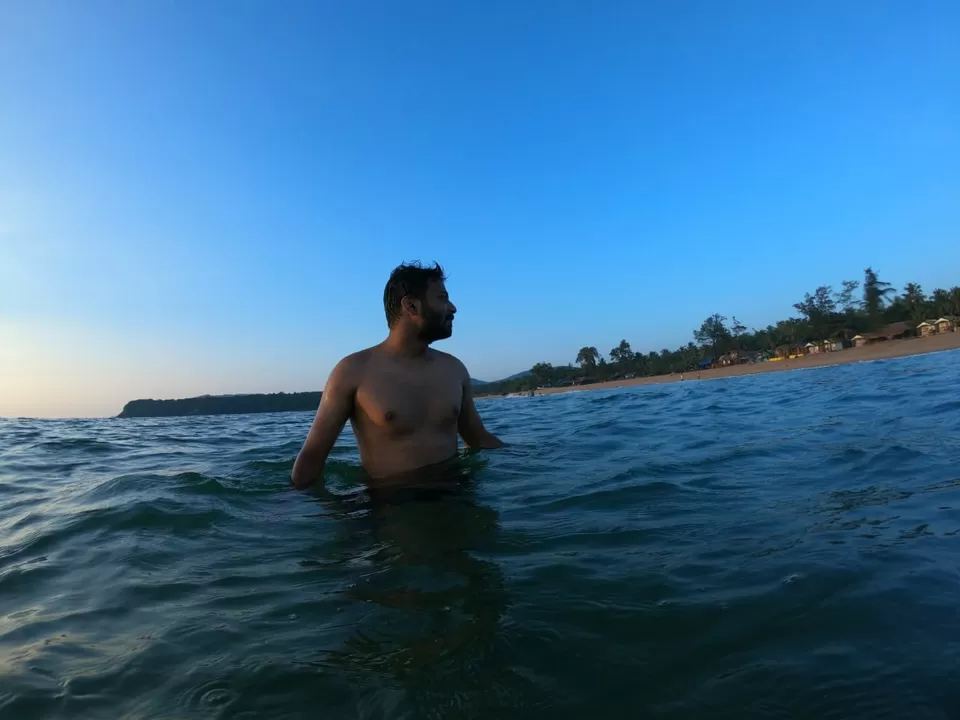 Palolem: My stay was 5 minutes from Palolem so this beach was a daily affair. This one's actually a beautiful beach with shallow water in one end for those who like spending time in the water but can't really swim and deep on the other, who like to venture inside! Palolem is probably the most visited beach in Canacona and extreme south of Goa. It's buzzing with tourists and locals alike. Here's where I'd go for my morning runs and evening dips.
On the right end of Palolem beach when you face the sea, is a little stream of water connecting the sea. You can kayak early in the morning in this mesmerising inlet! Be sure to spot small blue, white-breasted kingfishers, Brahmini kites, white-bellied sea eagles, herons, egrets, cormorants!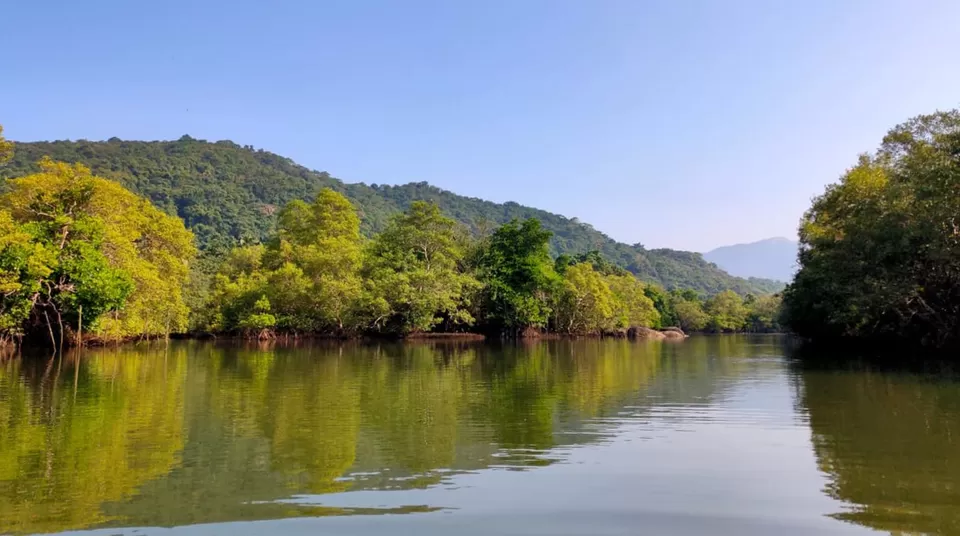 Food: Rococo, Arts cafe, Cafe Del mar, Ciarans are good beachside restaurants with good food and live performances in the night! Cow's corner and Bluebus are nicely done restaurants on way to Patnem beach. Karma cafe is a great breakfast option and so is Nireas, this one has vegan options too. Avocado, The mills are good options to work from during the day.
Stay: The Lost Hostel Palolem and Rainbow Lining Hostels are pretty much the best and only hostels in Palolem. Be sure to meet amazing people here! TLH has a cafe serving amazing food!
BEST TRIP MOMENT: It somehow had to be Palolem. One morning, I went for a quick dip 1n the sea, just as I came out of the water, someone on the beach "shouted look behind you"! I turned and spotted dolphins very close to the beach! So the thing with water is, things aren't as close as it seems! But damn, who would want to miss a chance swimming with the dolphins. I threw my towel and ran back into the water swimming towards the dolphins. Thankfully, there was a family already in the water with tubes, they were headed towards dolphins too. I was well aware that by the time I reach there, they could move on. But well, I was graciously greeted by a family of playful dolphins. We obviously didn't get too close, maintained a distance of at least 10 ft, but the visuals of those beautiful creatures diving right in front of my eyes with nothing but water beneath the feet, are somewhere etched in my memory. The return-to-the-shore seemed never ending as I had lost the track of distance in the momentary adrenaline rush!
Cola: This is a beach with a lagoon! Though I feel that the lagoon is a bit overrated, it still is extremely refreshing. There are a couple of shacks serving good food. There are two ways down to this beach, both are pathetic. One of them is smaller though, it is the path bang opposite this little home-run restaurant which serves heartwarming fish meals. It will be a torturous ride, but kinda worth it!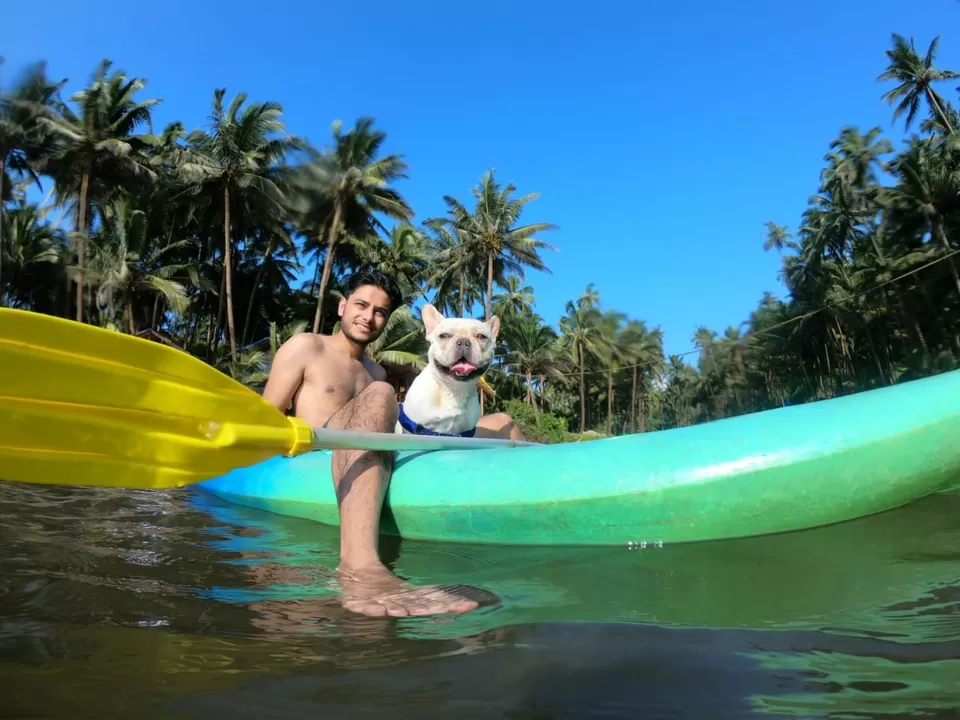 Galgibaga: Another beach where I loved watching sunsets. The best part about this beach is that there are no shacks and commercial activities aren't allowed as it is the nesting site for Olive Ridley turtles.
Rajbag: Right next to Galgibaga, this one has similar vibes as Galgibaga, though this isn't a nesting site for the turtles.
Patnem: A foreigner favourite! Patnem beach is next to Palolem beach. Foreigners staying in Palolem and Patnem stretch visit this beach often to avoid the crowded Palolem beach. This is another beach I visited often towards the end of my trip as South Goa suddenly started getting crowded after Diwali.
Cotigao Wildlife Sanctuary: Spent a morning at this beautiful wildlife sanctuary. There's a treehouse worth visiting here. Keep an eye for giant Malabar squirrels. Though I missed out on Netravalli WLS which houses some beautiful waterfalls!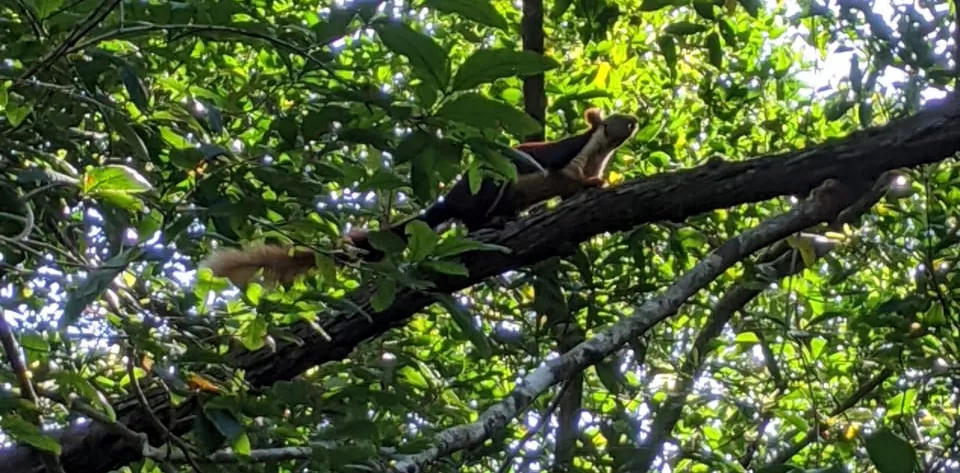 Travel restrictions were pretty eased in November, hence I could fly without any hassle, without having to provide covid-19 test reports.
I'm glad you made it till here. Be a responsible traveler. Don't litter/pollute the places you visit. Carry your waste. Try to practice sustainable traveling.
Visit Profile for more blogs. Find me on Instagram