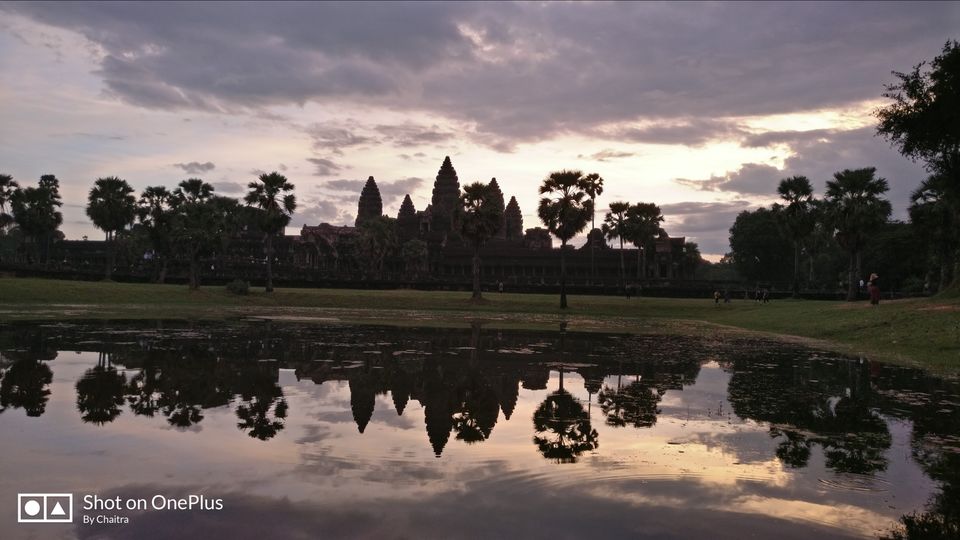 Life has too many goals, but the goals which are set and are to be executed for the first time in your life are challenge in itself. When you attain these goals with challenges you feel proud of yourself and that's the feeling I am getting today. Since long time I was planning for an international trip and finally I could plan one this year with my friends to Cambodia which was on my bucket list . Though I have many countries to visit in my bucket list, I chose Cambodia for the sole reason i.e "Angkor Wat".
For the people who aren't aware of Cambodia as a country let me tell you that  this is a small country near Vietnam and Thailand located in South East Asia. The country's traditions date many centuries back, and the combination of Buddhist and Hindu customs create unique rituals that are distinctly Cambodian. Cambodia has stunning historical monuments and thought-provoking history of Hindu Buddhism and Khmer. Though this nation had gained Independence in 1953, the Cambodians were going through the pain till 1979 i.e till the end of Khmer Rouge regime. When almost all nations in the world were independent, Cambodian people were facing civil. Each place in Cambodia has a story concomitant with it.
Only people intent in history and seeing historical monuments will like this place to visit, for others it would just be a placed with distorted buildings.
Ways to reach Cambodia:
Book the flight to Siem Reap or Phnom Penh which has layover in Malaysia or Thailand. (If you are not going out of the Malaysia or Thailand airport no transit visa is required)
Book the flight to Thailand and then from Thailand take the bus to Siem Reap. Regular buses ply between Thailand and Siem Reap. This is the cheapest option but you need Thailand Visa for this which you can apply at the airport itself for the countries which are listed for Visa on arrival. Visa fees is 30USD/1000 Baht.
Book flight from India to Thailand and from Thailand to Siem Reap.
Last option is to club with the Vietnam or Laos. This is possible if your agenda is to cover only eminent places in 3 nations. If you want to explore all these countries, would recommend separate trips to Cambodia, Laos and Vietnam
Visa Process:
Visa on arrival process in Cambodia is very easy and fast. Just submit the filled forms, passport and pay the Visa fee, your visa goes for stamping to the next desk. Within 15-20 mins you get the passport back with the visa.
Accommodation;
For accommodation you can use Agoda.com or Booking.com where you can get the cheapest accommodation options.
Internal transfers and sightseeing;
We booked a cab from Day 1 to Day 10 for 775USD for a group of 5.Contact details below:
Chan -+855 17 653 429
This was the best quote for 5 people. But he quoted us 835USD if we were a group of 6.
During my research i also found few more contacts which can be useful for people who would like to visit Cambodia;
Davuth- +855 12 686 743 (He quoted us 800USD for 5 or 6 people)
Jose- +855 12 881 943
Chhatra - : +855 70 999 965
Day 1:
We all were excited like a kid and waiting for our Driver to pick us from hotel. Driver came on time at 9.00 AM. The first thing to do was to take Angkor Pass. Passes for Angkor are available near the Angkor museum which is about 3 kms from city center.
Types of passes;
There are 3 types of passes available at Angkor . Each pass is categorized based on their validity which is in no of days.
1 Day pass: 37USD is the fee for one day pass. Tourist can utilize this pass only for a single day to see temples in the Angkor area
3 Day pass: 62USD is for 3 day pass. This pass is recommended to see all the important temples in Angkor for which you at least need 3 days to visit.
7 Day pass: 75USD is for 7 day pass. The tourist who wants to visit each and every temple in Angkor can opt for the 7 day pass.
We bought 3 days pass for Angkor. 3 days pass is enough to cover utmost places in Angkor. As the itinerary was already shared with the Driver, he was well aware of the places we wanted to visit on our first day. The first place we visited was Kbal spean which is about 50kms from Siem Reap city centre.
Kbal Spean
Kbal Spean is commonly known as River of Thousand Lingas . It is based in deep forest to the Northwest of Angkor. Sahasra Linga i.e Thousand Lingas are elaborately carved in the riverbed alongwith images of Hindu dieties which were discovered in 1969.
The way to kbal spean is a 30 mins uphill walk . On the way there are interesting boulders and huge Banyan trees with aerial prop roots on which you can swing.
The area near the Lingas and the carved images is roped to protect them from distruction. To explore kbal spean at its best, start with the river carvings and walk down to the waterfall where you can see carvings of Vishnu, other Hindu dieties and animal.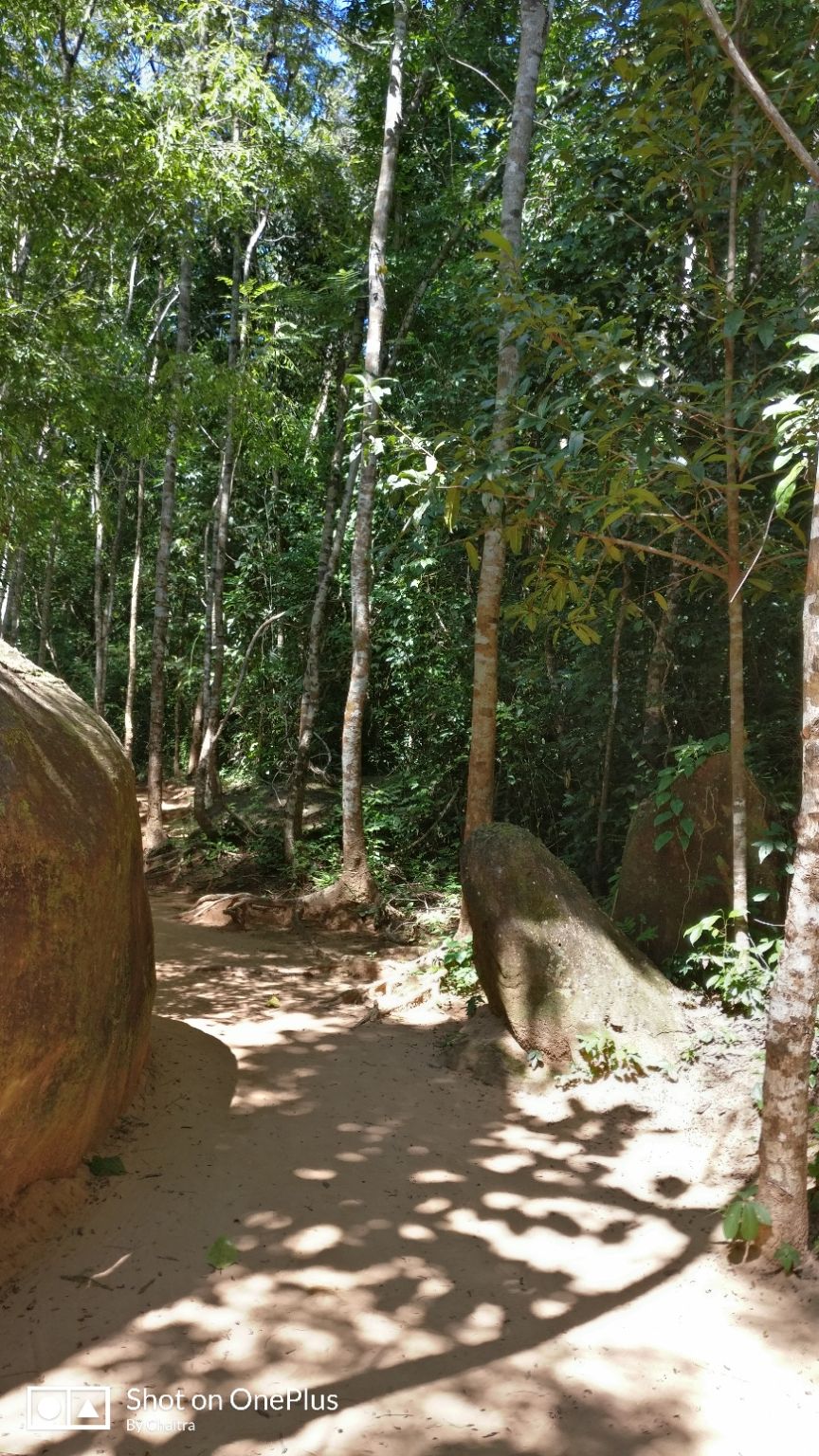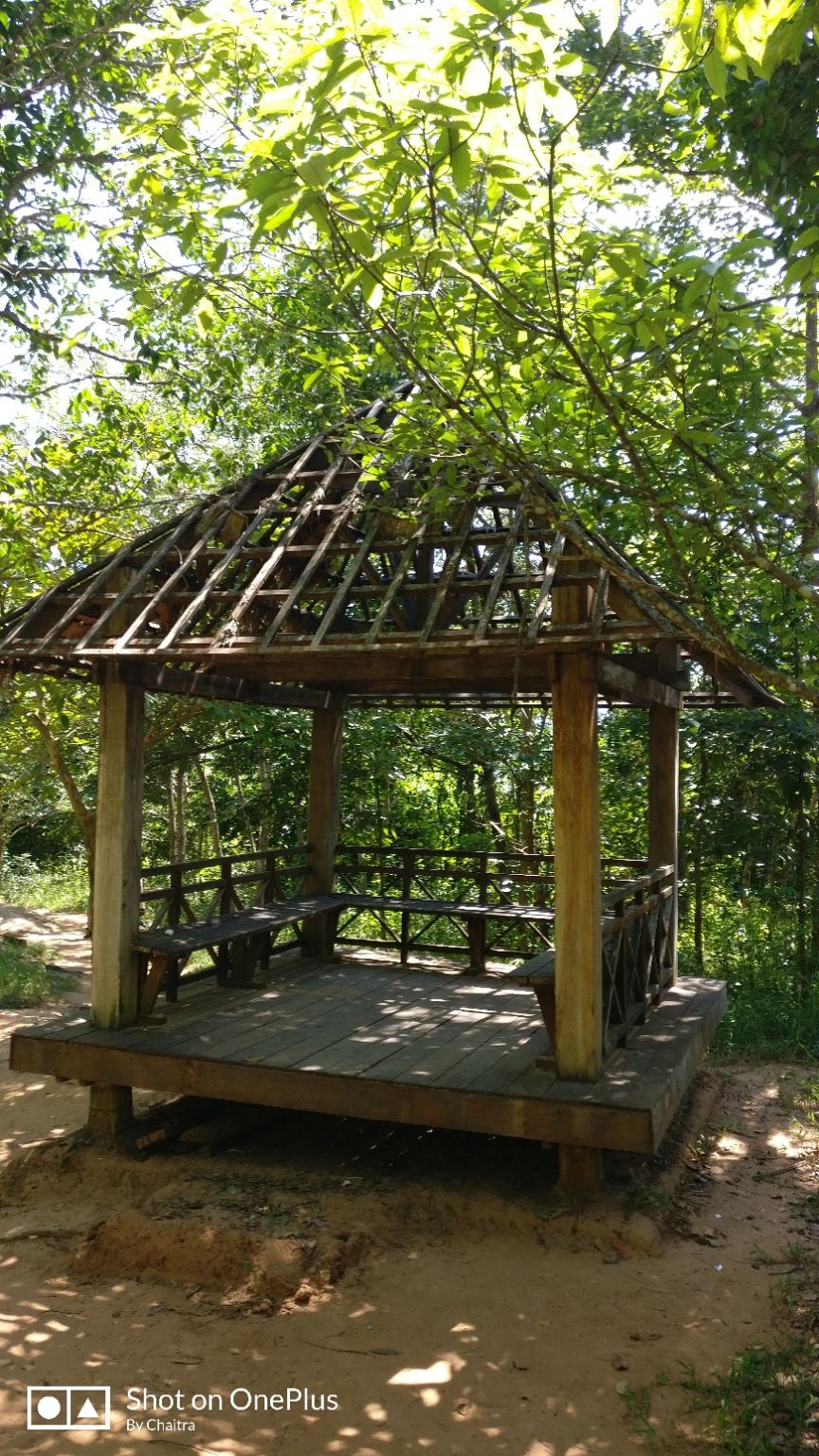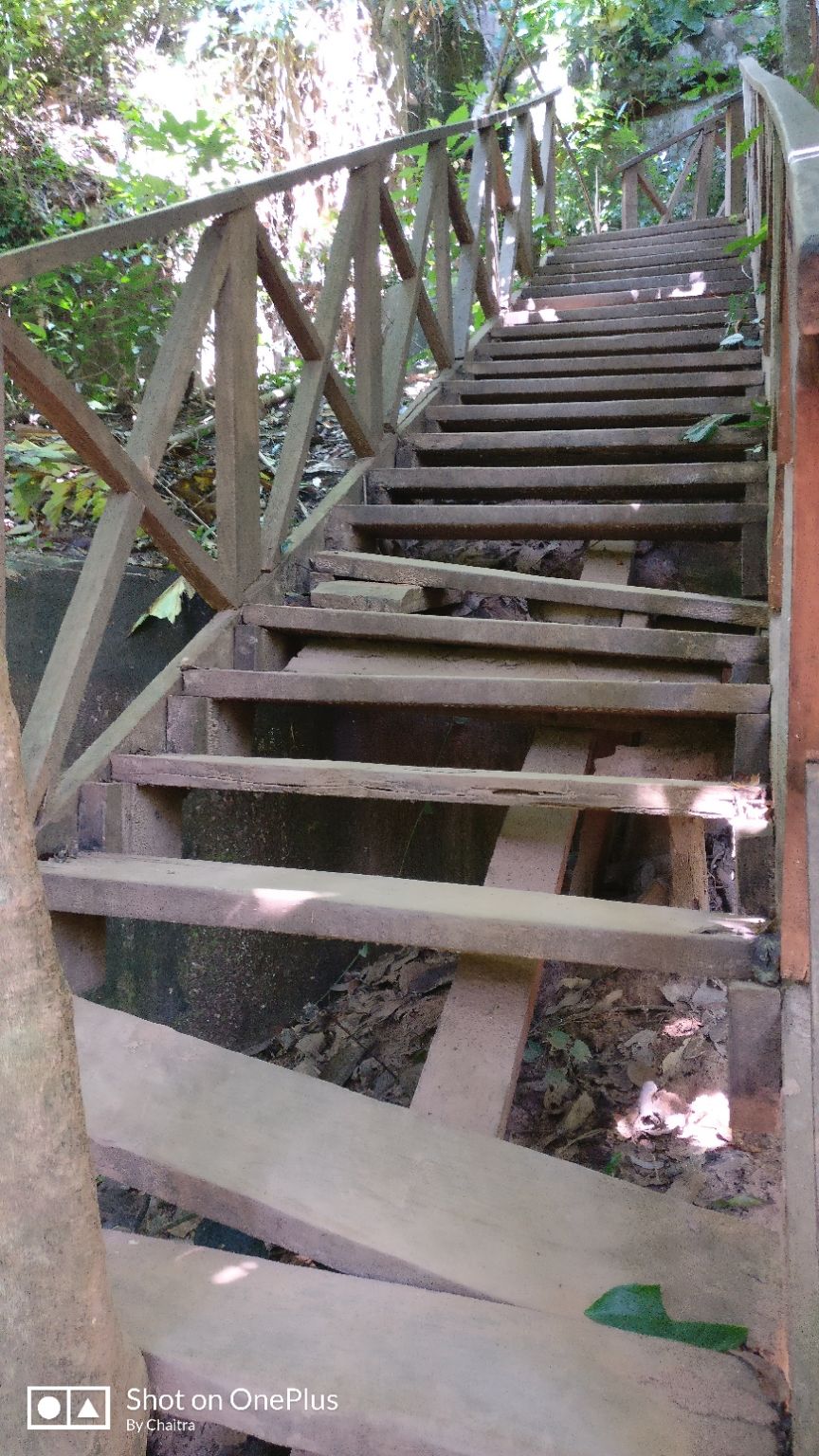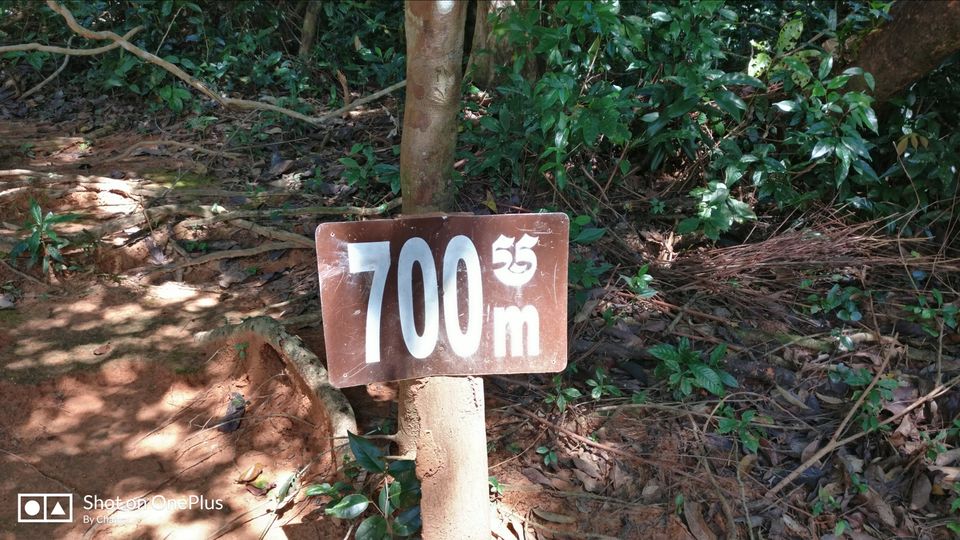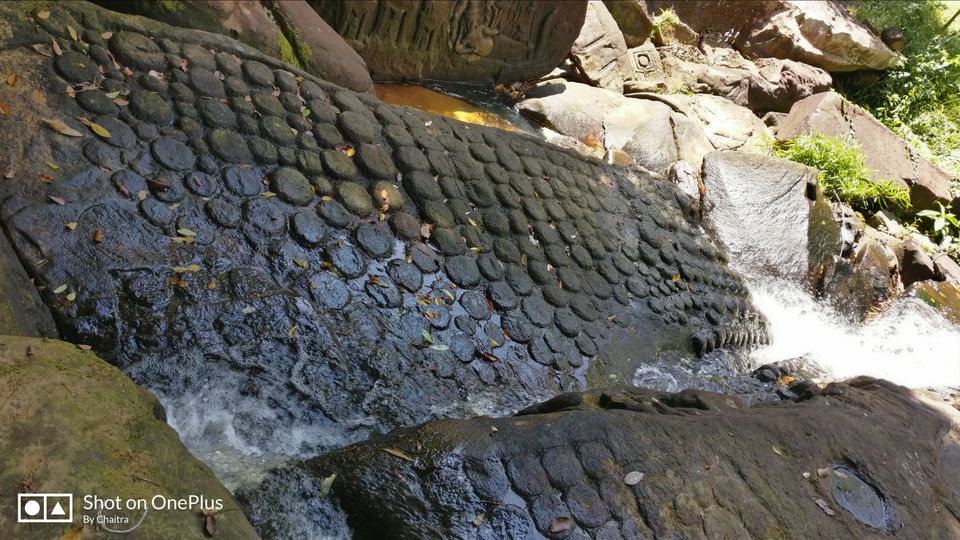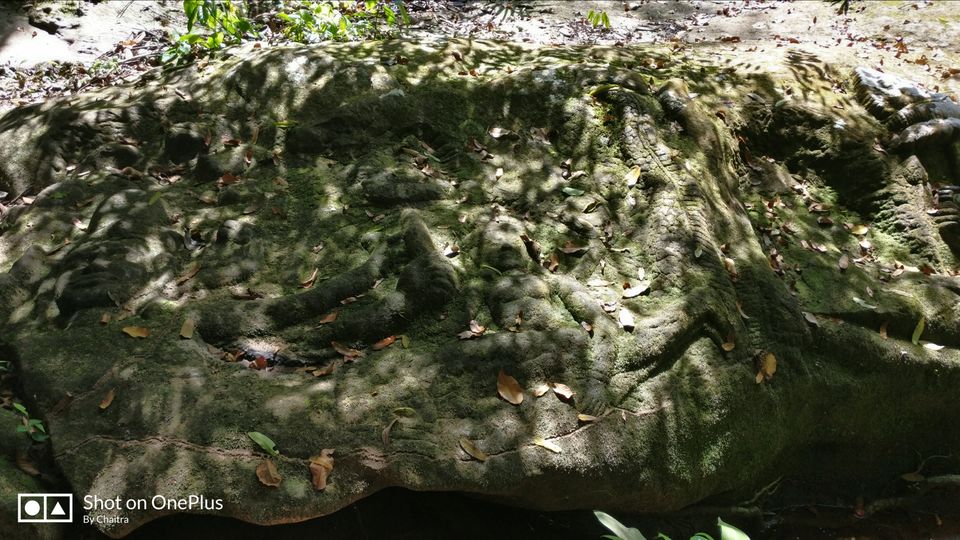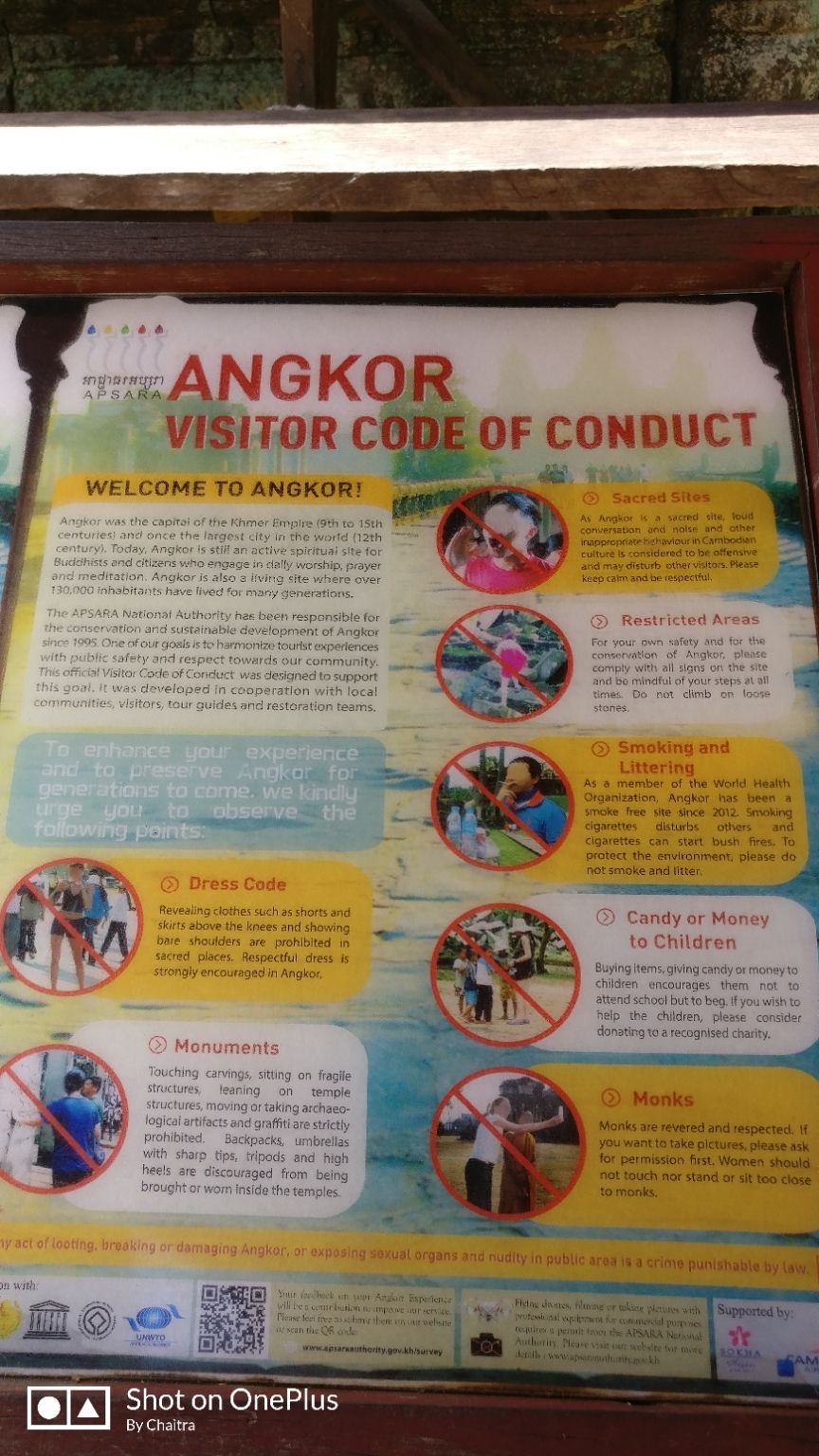 Banteay Srei Temple
Banteay srei or Srey also known as pink temple is located away from the main Angkor temples. The stone used for construction of this temple is pink sandstone hence the name pink temple. This temple was rediscovered in year 1914.On the way we stopped to understand the process of making palm jaggery which was quite interesting but unfortunately we weren't able to see the process live.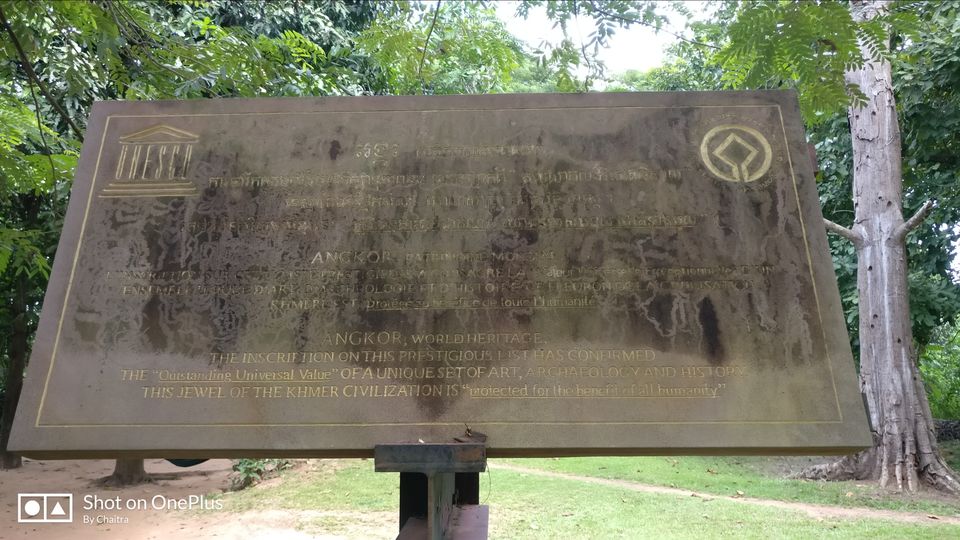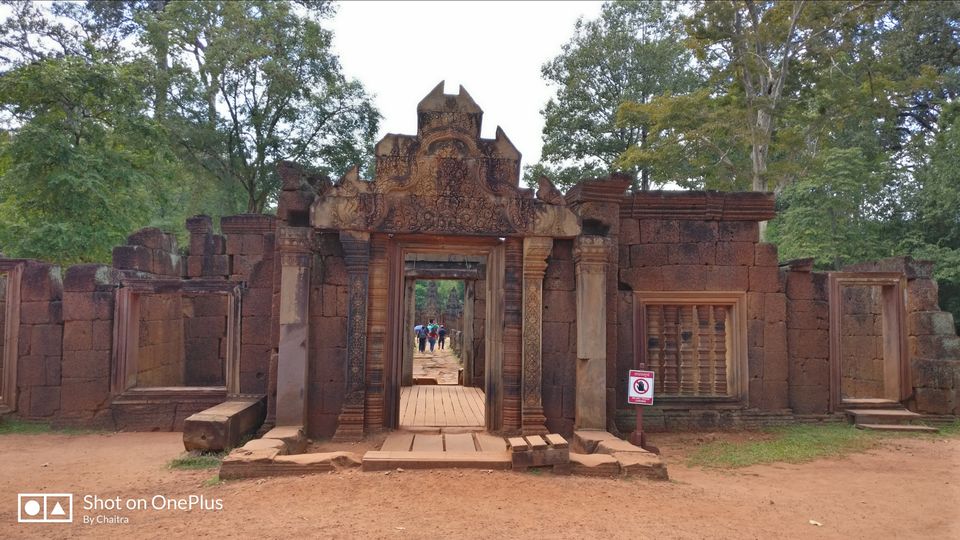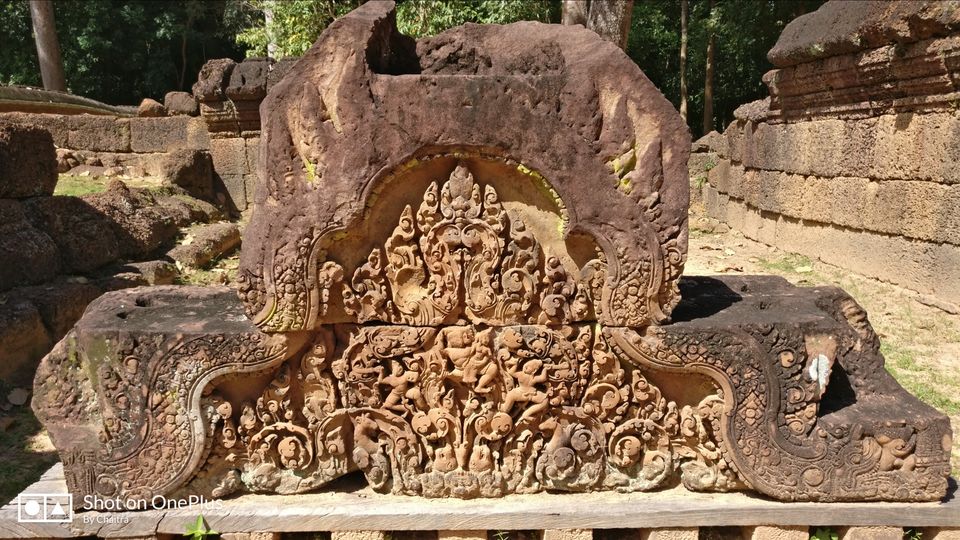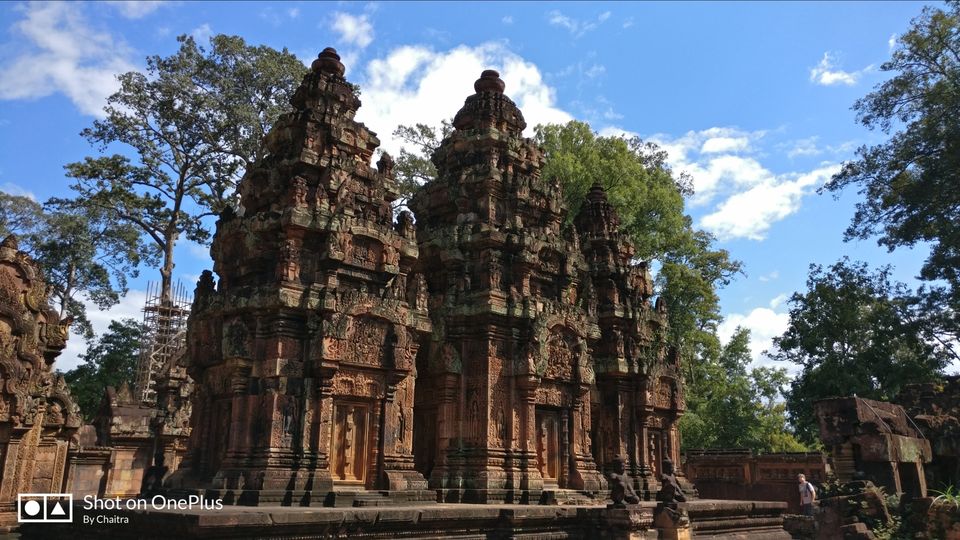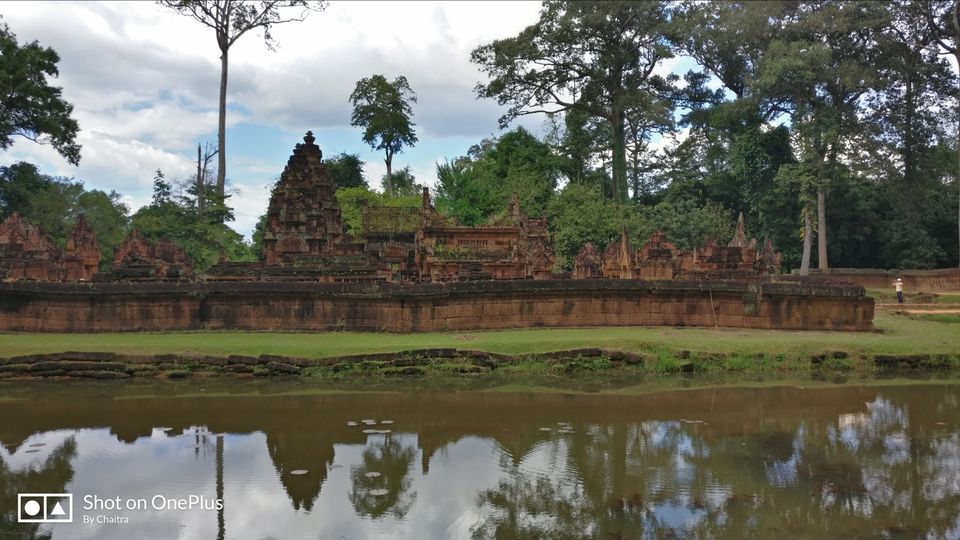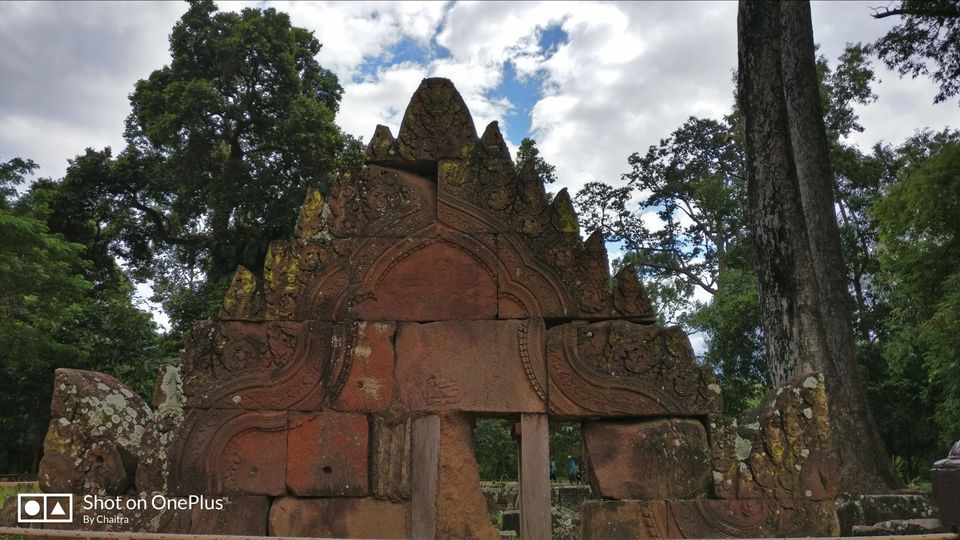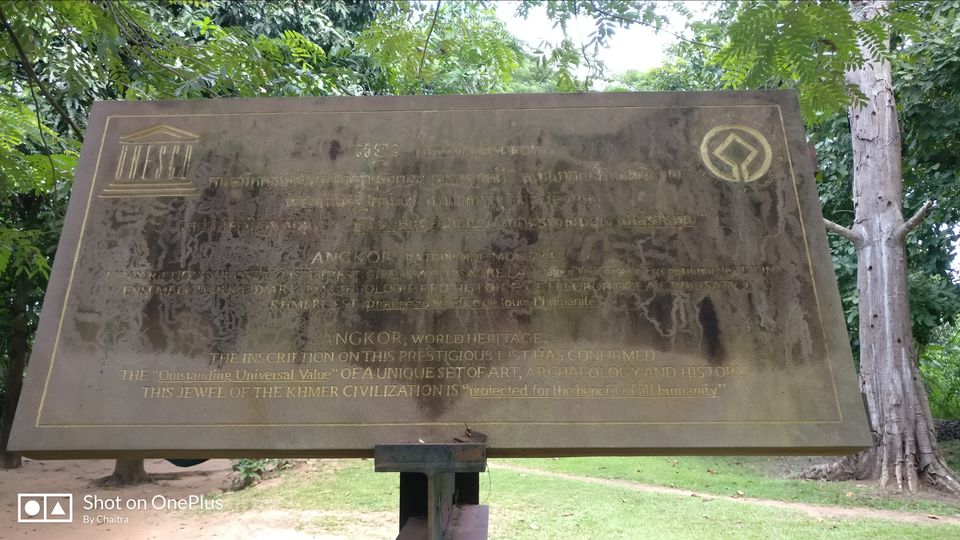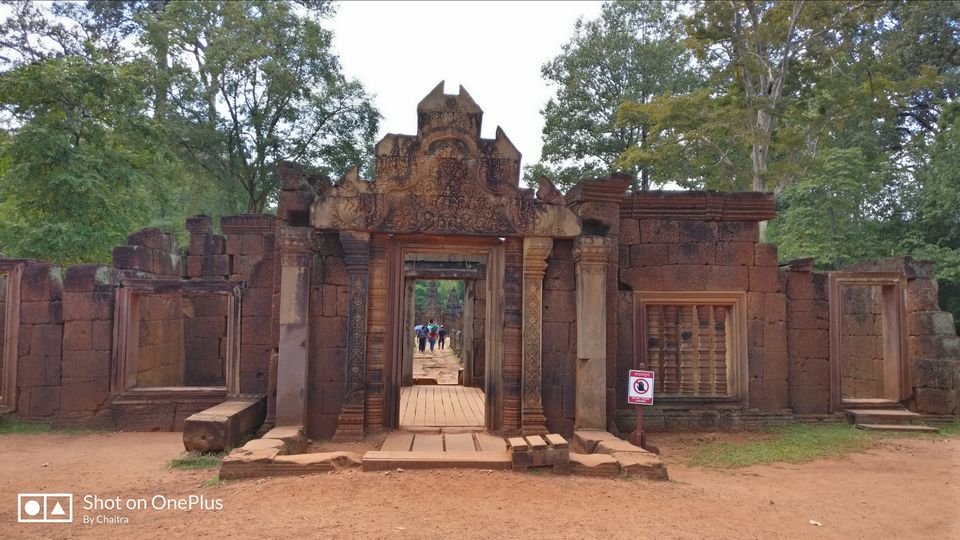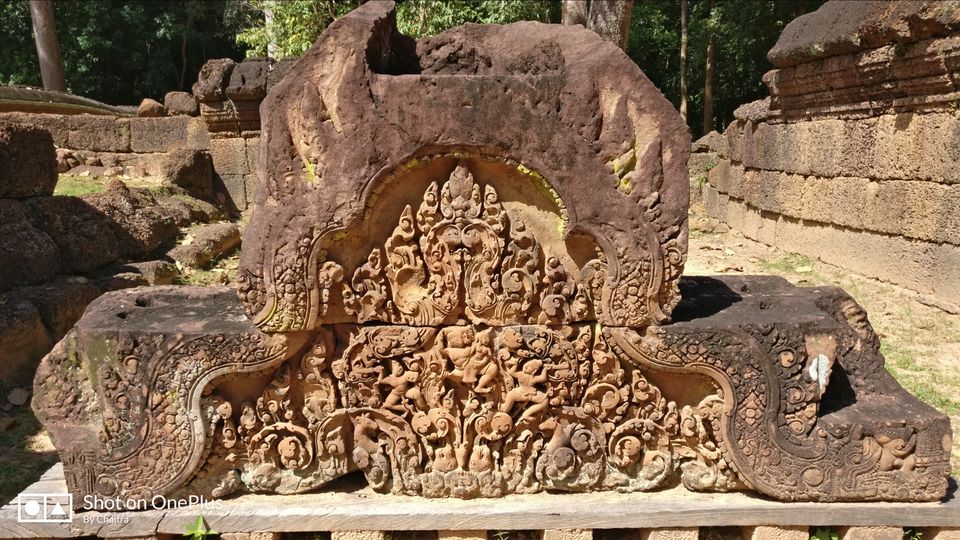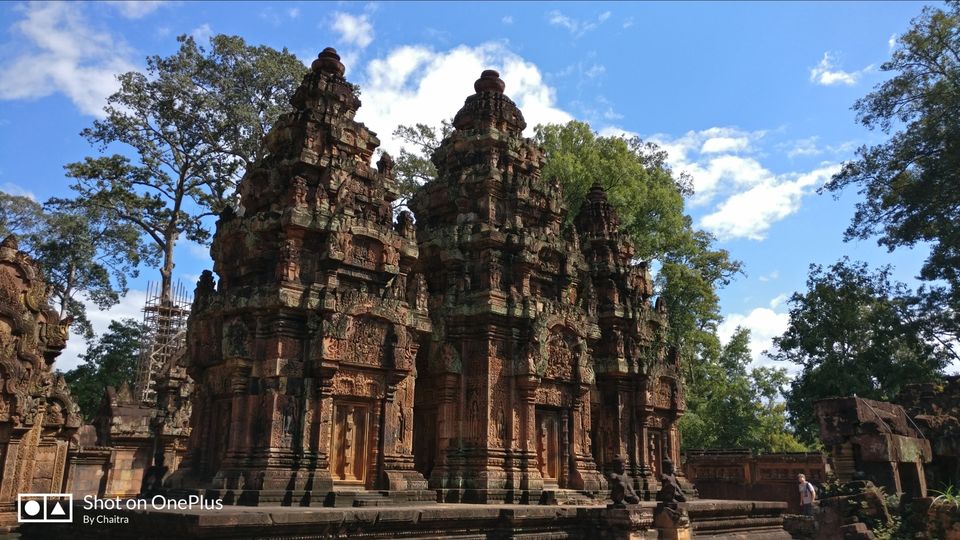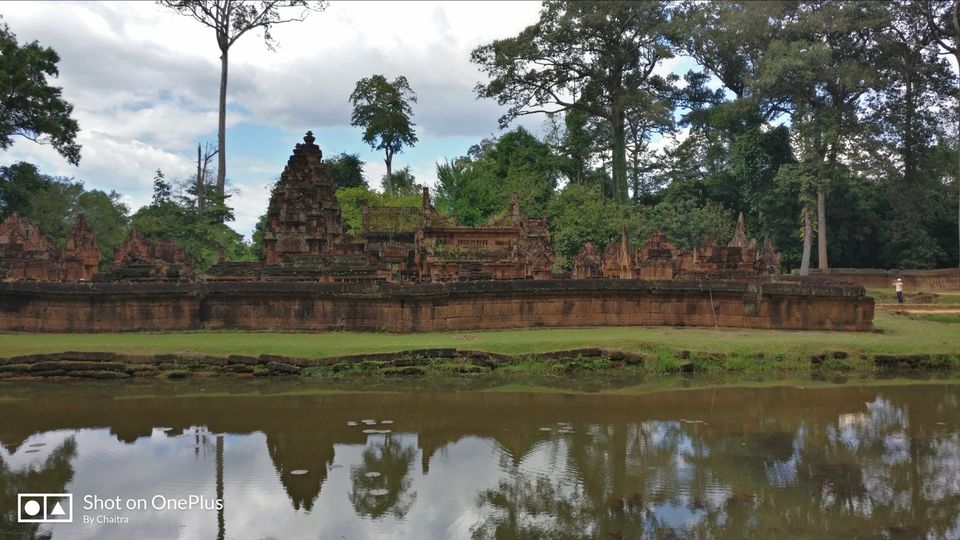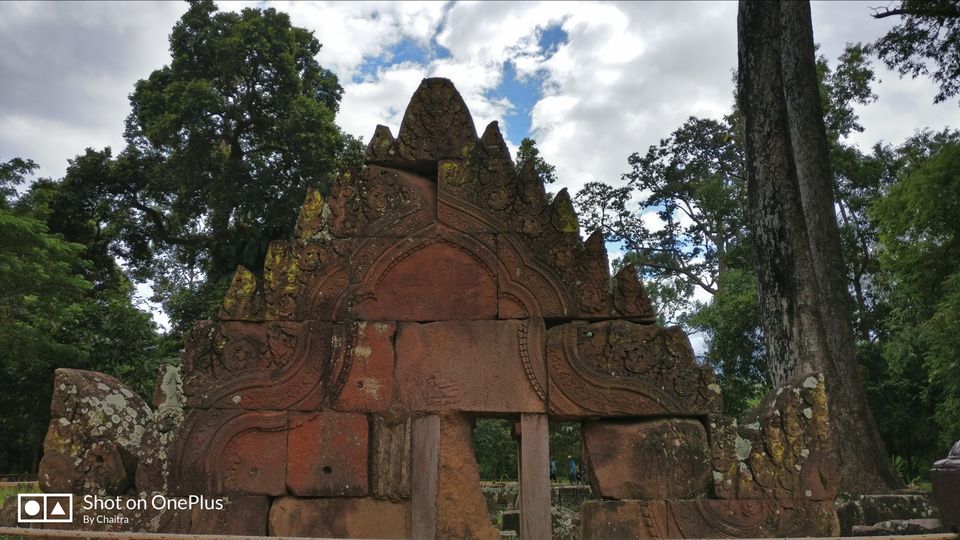 Baeteay Samre
The name samre refers to an ethnic group of mountain people. Banteay Samre is the one of the most complete complexes at Angkor due to restoration. Unfortunately most of the temples in Angkor were neglected and No attention was given for their restoration for past 20yrs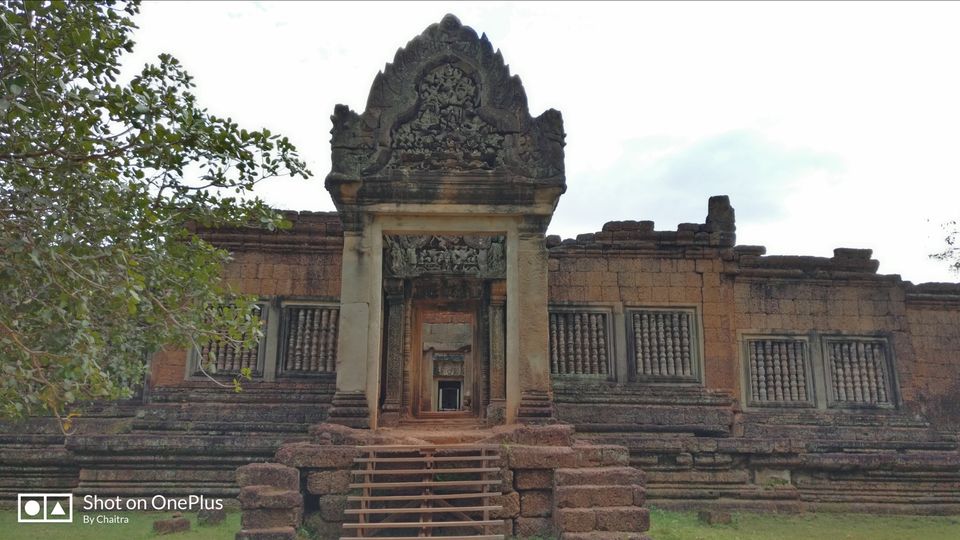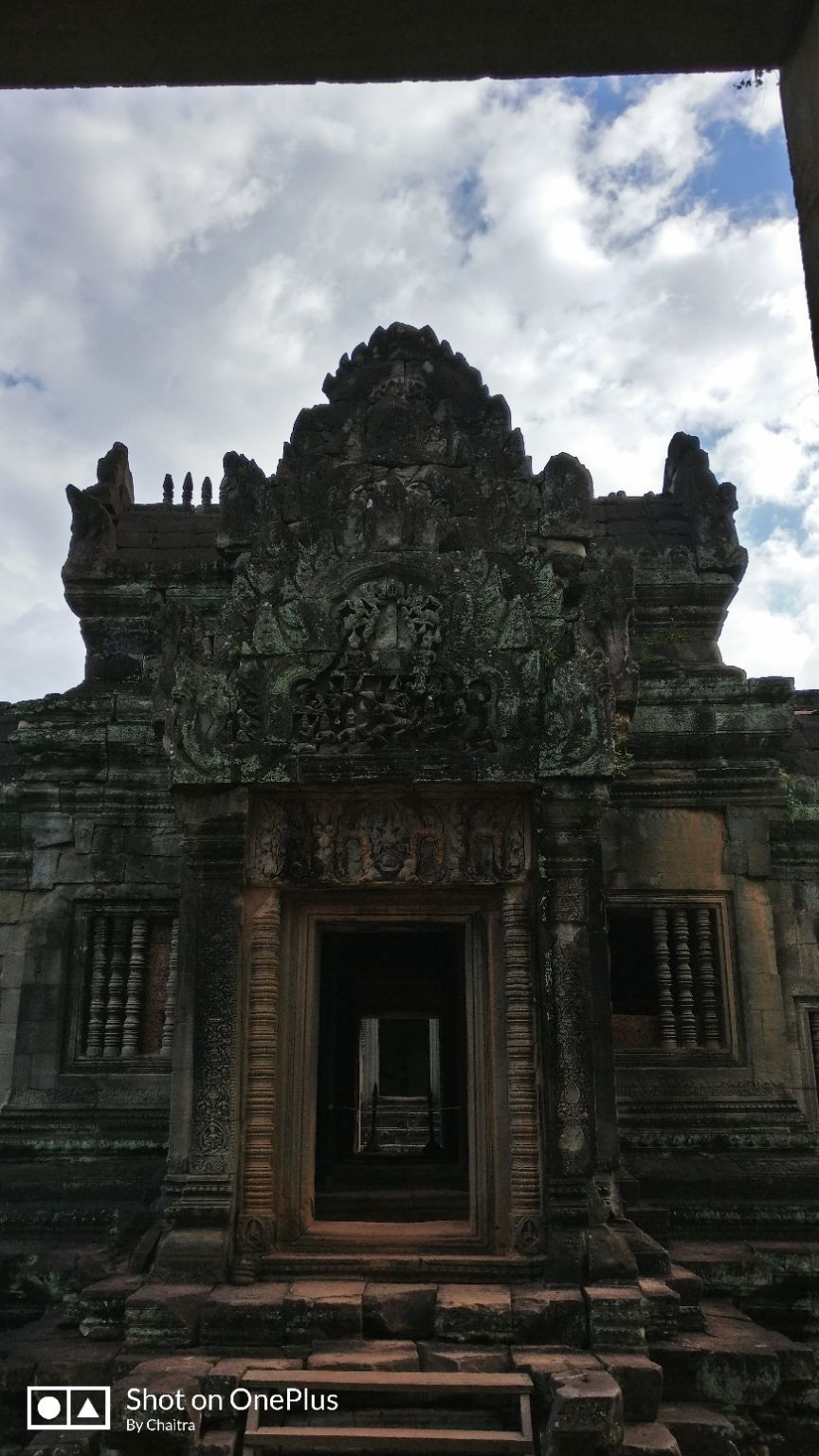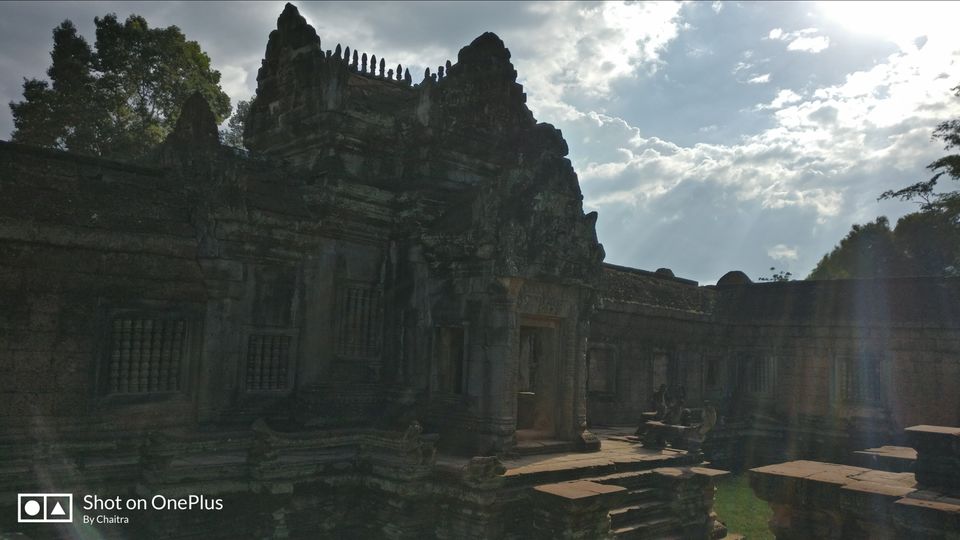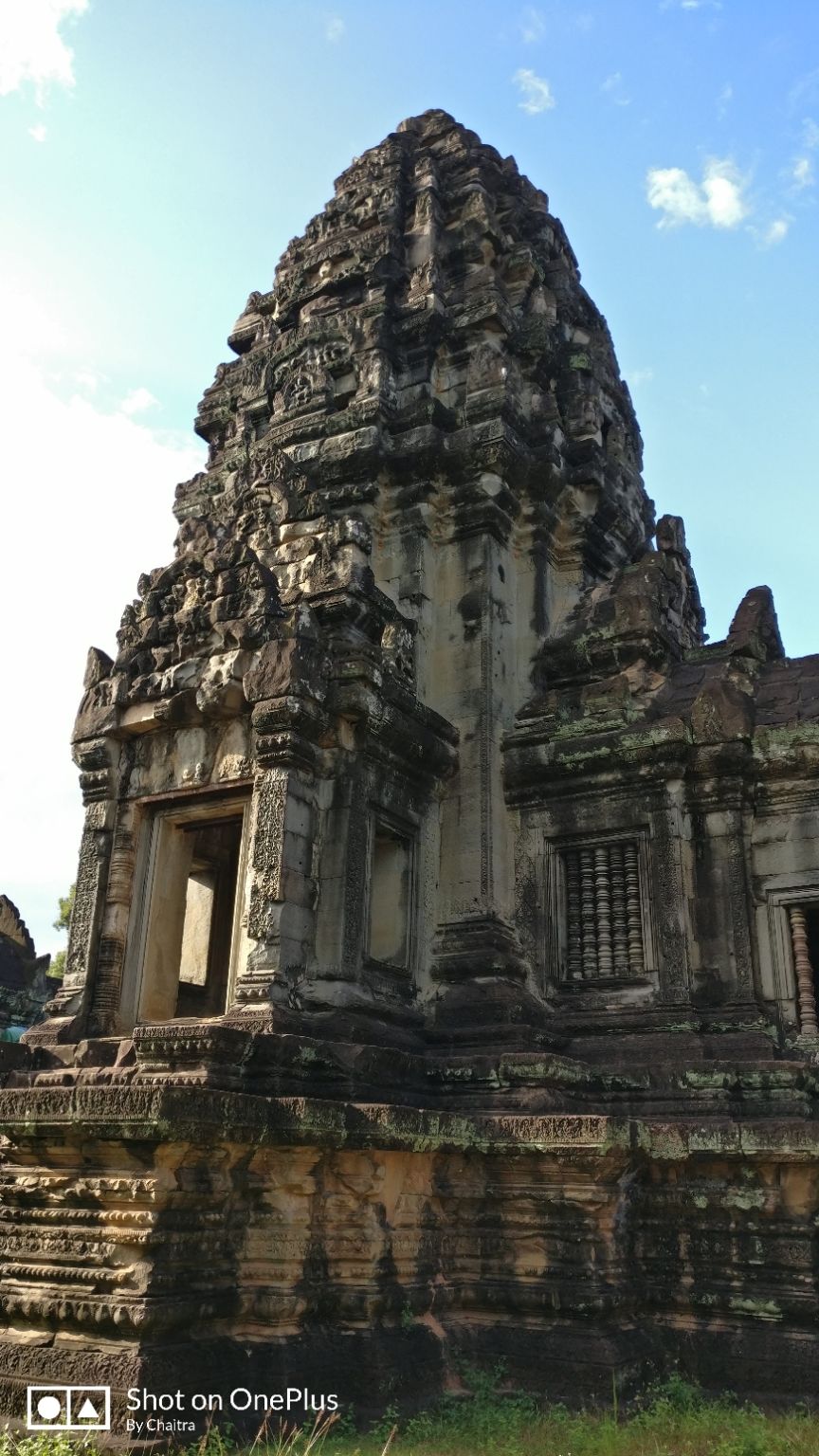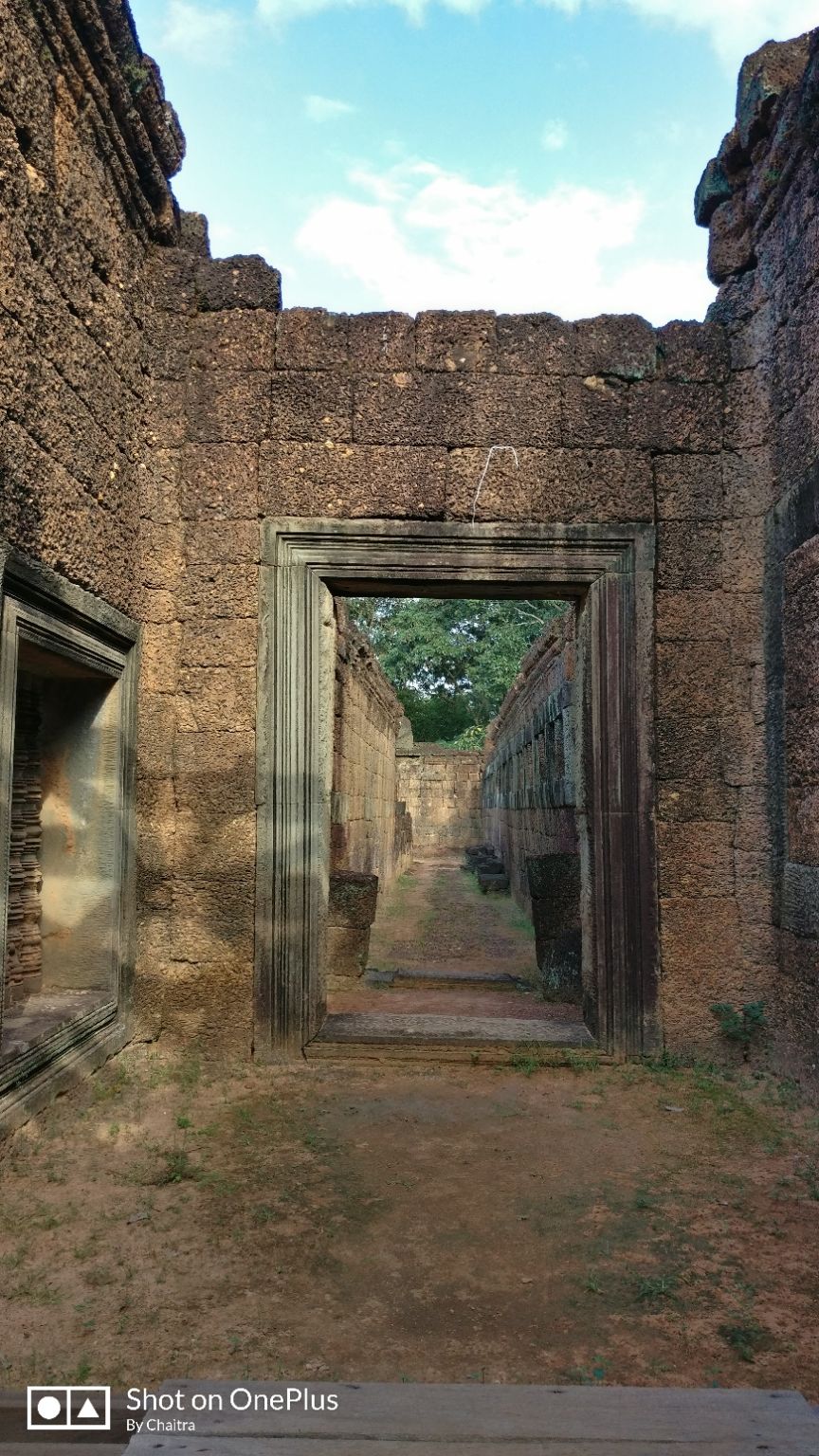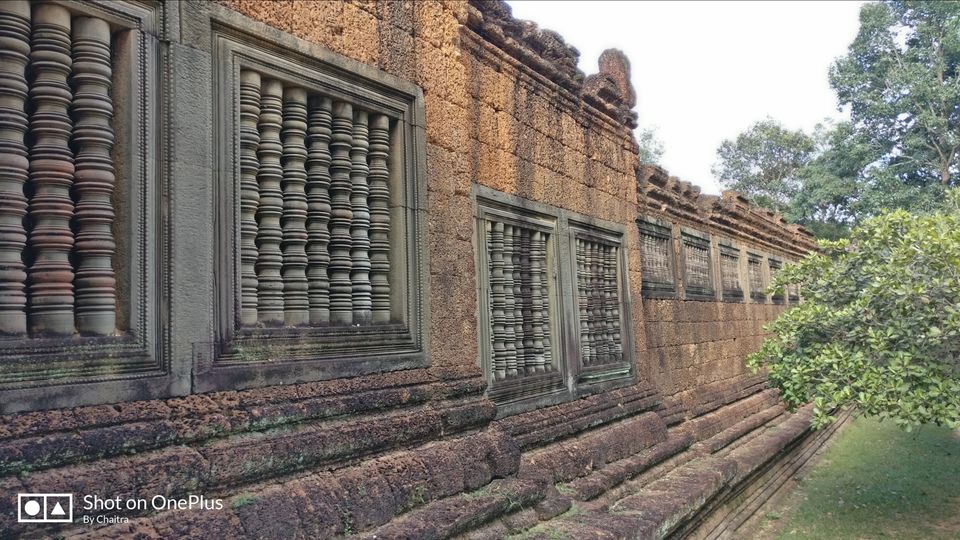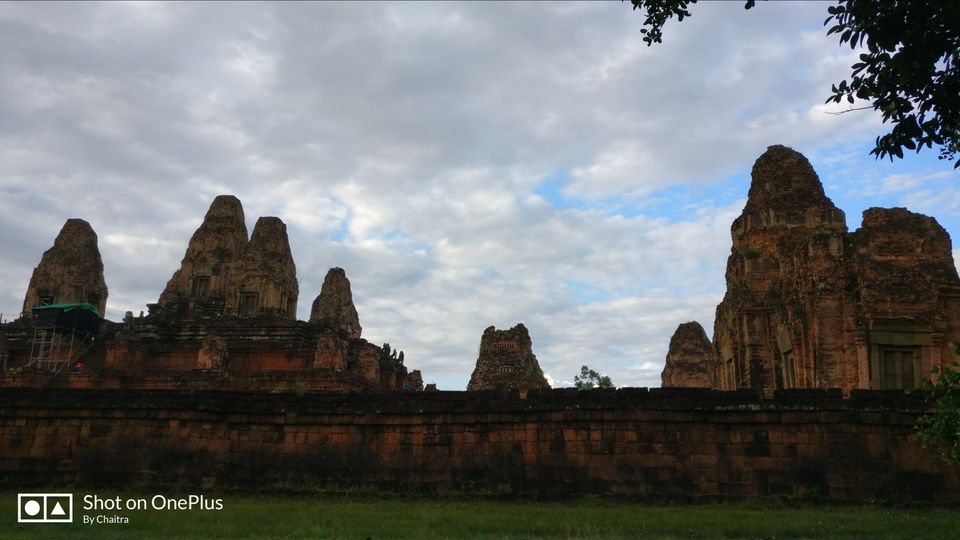 Pre Rup Temple
This was the last temple we sightsaw for the day. Pre rup is covered under Angkor area and same Angkor pass can be used. Pre rup means turning the body which refers to traditional methods of cremation and also suggests that this place was earlier served as royal crematorium. The place is popular spot for sun set around Angkor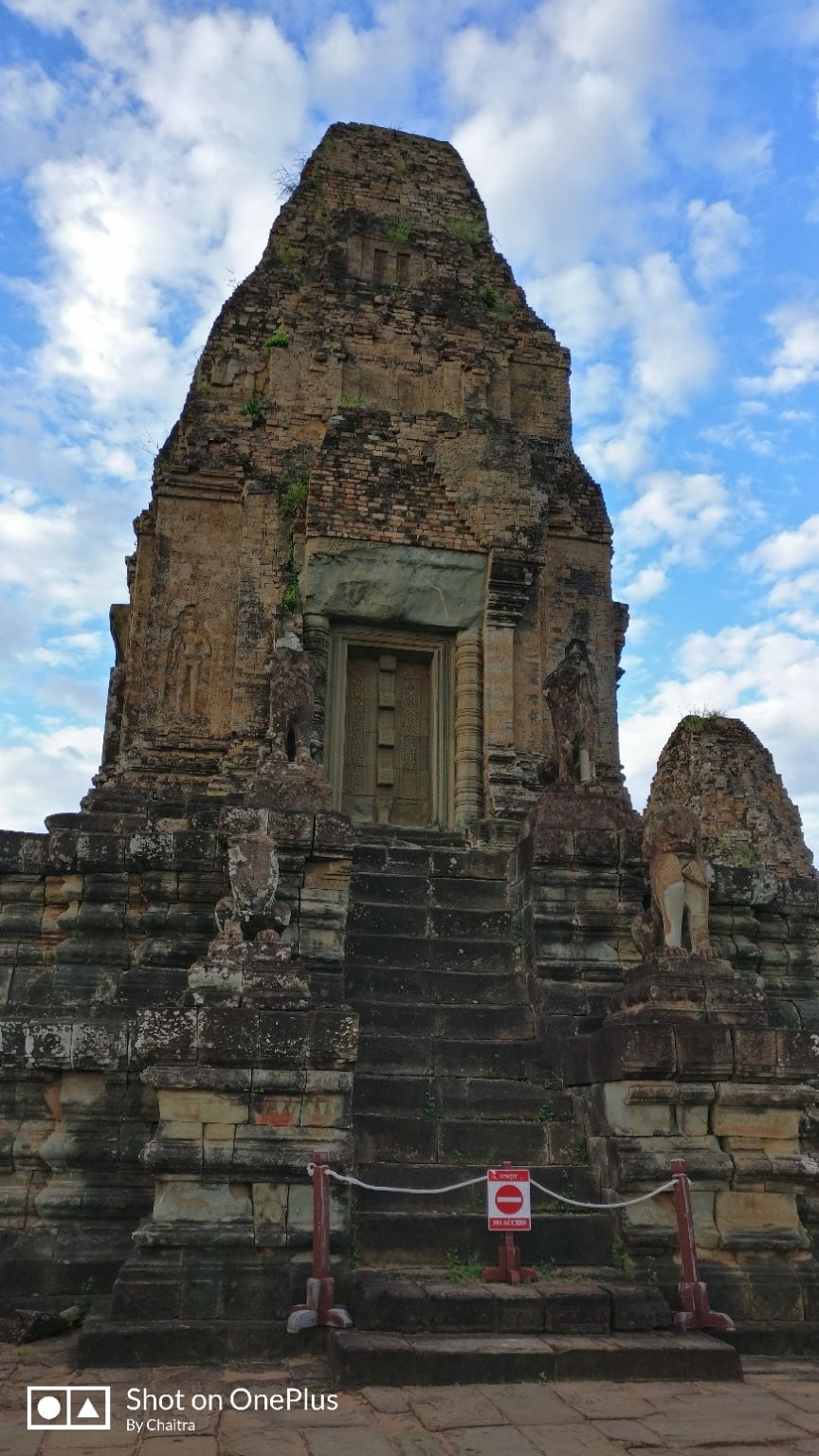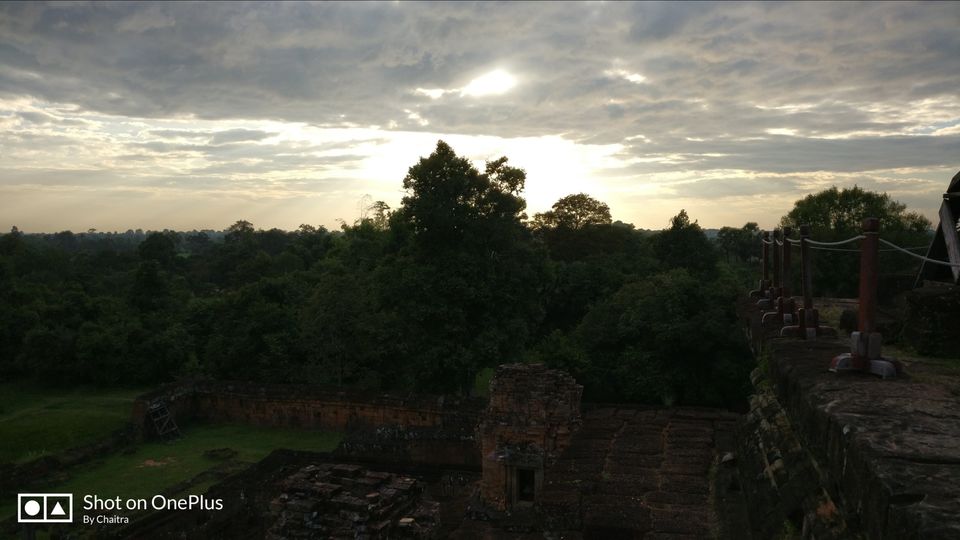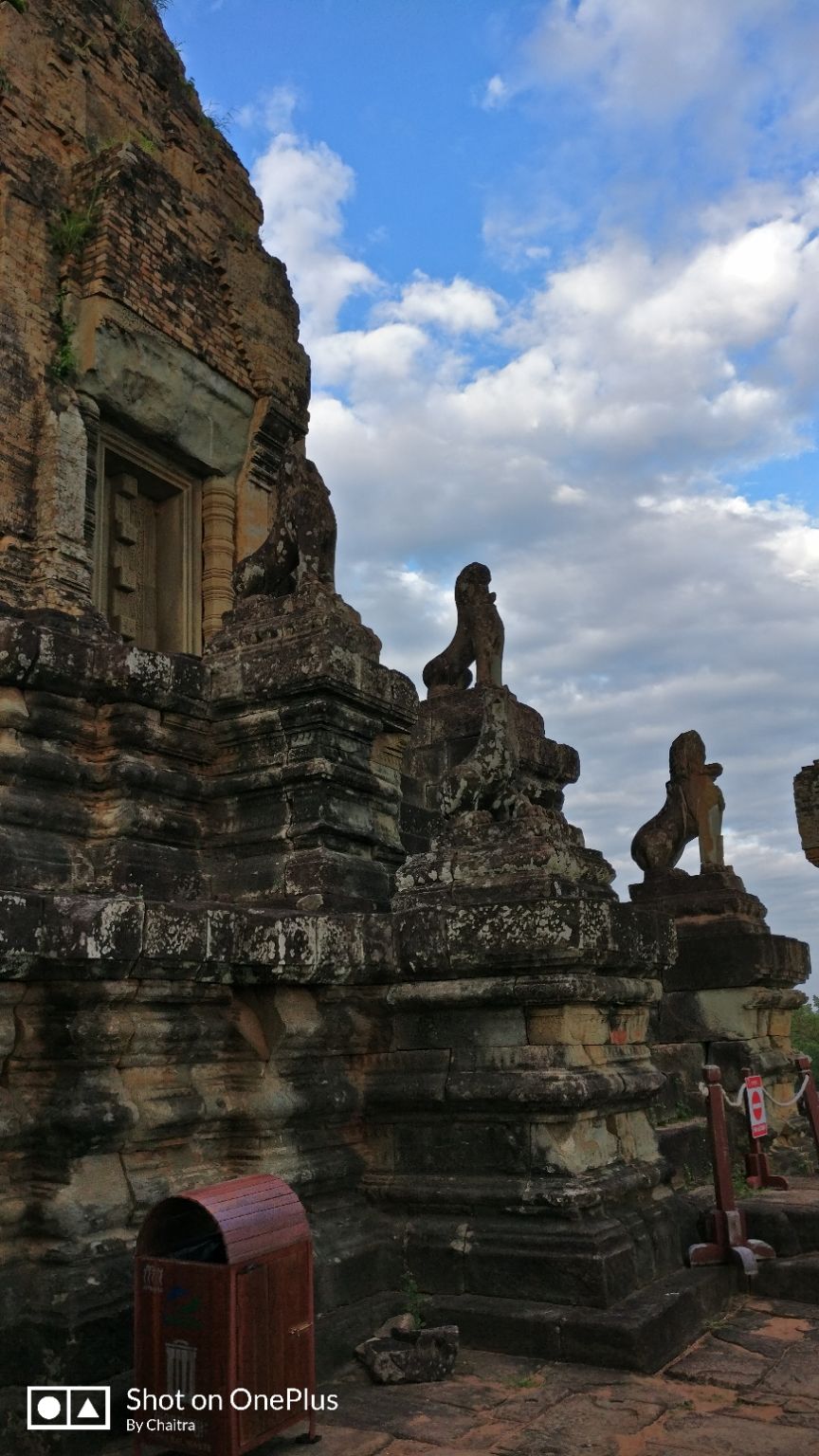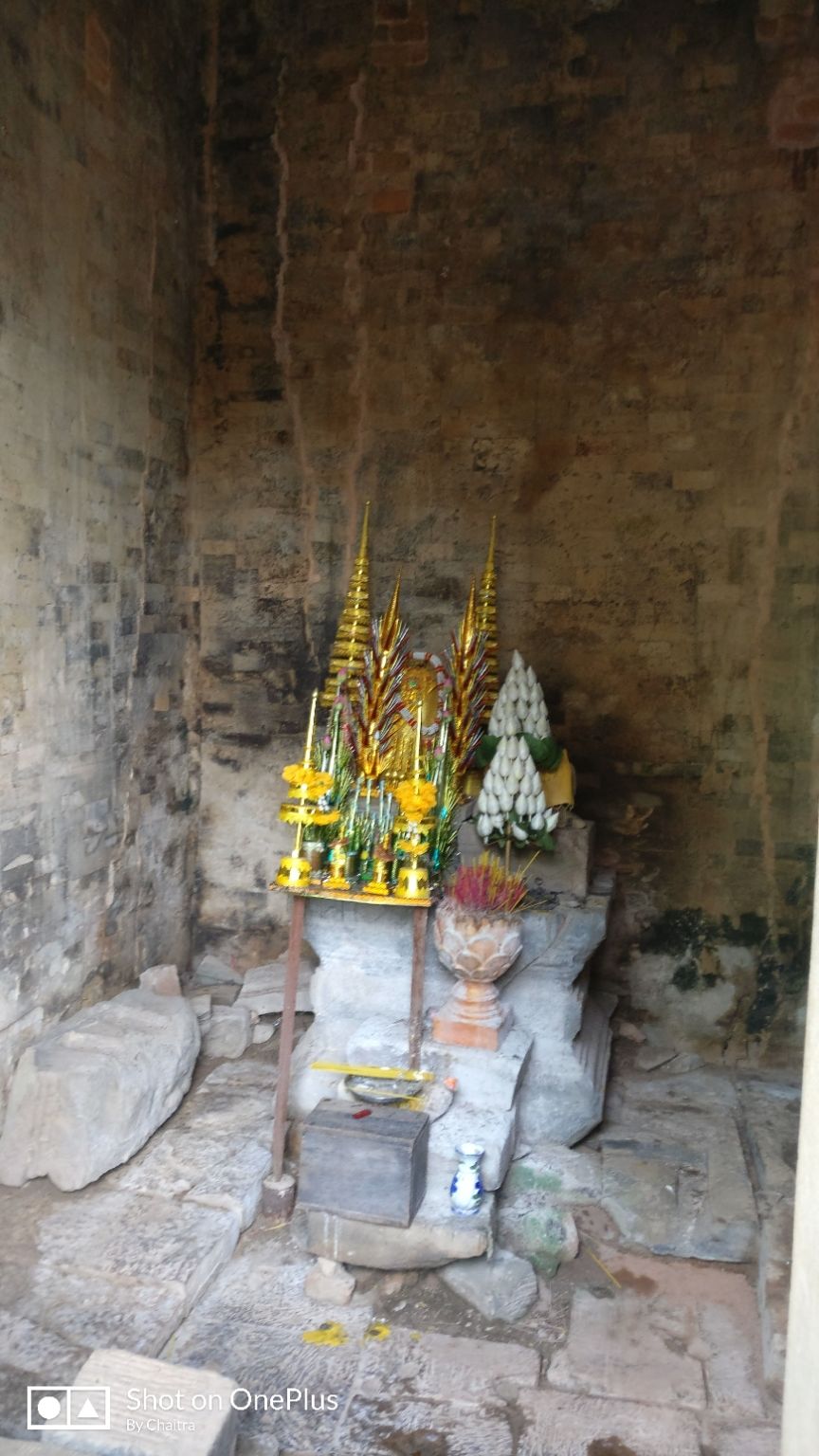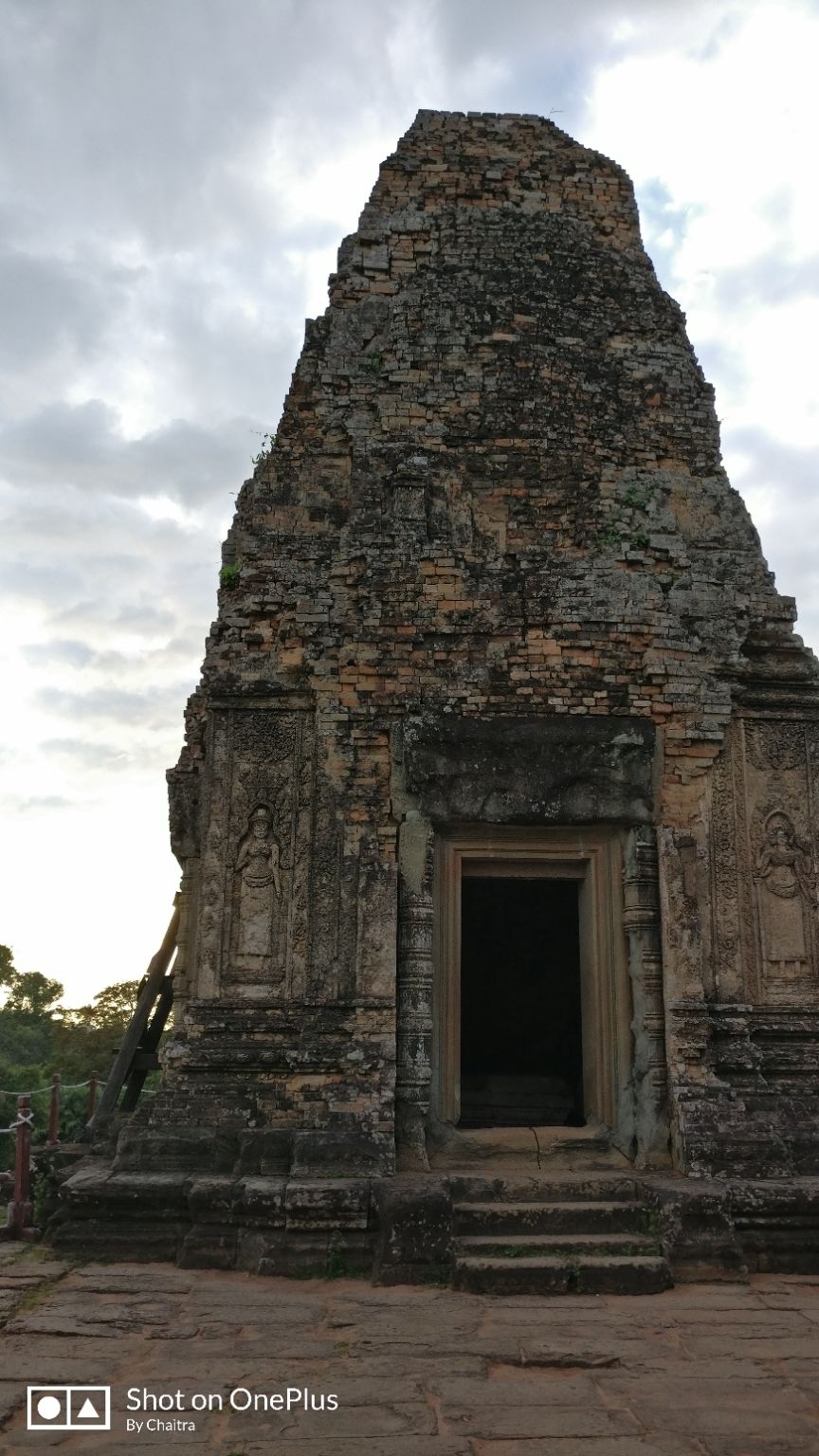 The big day has finally arrived. Early morning we woke up to watch sun rising behind Angkor Wat and capturing the mesmerizing picture of Angkor Wat reflection in the moat.
Angkor Wat
Angkor wat was built by king Suryavarman II in 12th Century which is an architectural masterpiece. It took around 30 years to construct this huge temple dedicated to Vishnu. Apparently Angkor Wat is the biggest Hindu temple in the world occupying a rectangular area of about 208 hectres. The height of Angkor Wat from ground to top of the central tower is 213 meters. The central tower symbolizes the mythical mountain Meru and its five towers correspond to the peaks of Meru.
Wat is the khmer name for temple which was added to Angkor when it became Theravada Buddhist monument in 16th century. The temple is at the top of the high classical style of Khmer architecture. It has become a symbol of Cambodia, appearing on its national flag, and it is the country's prime attraction for visitors.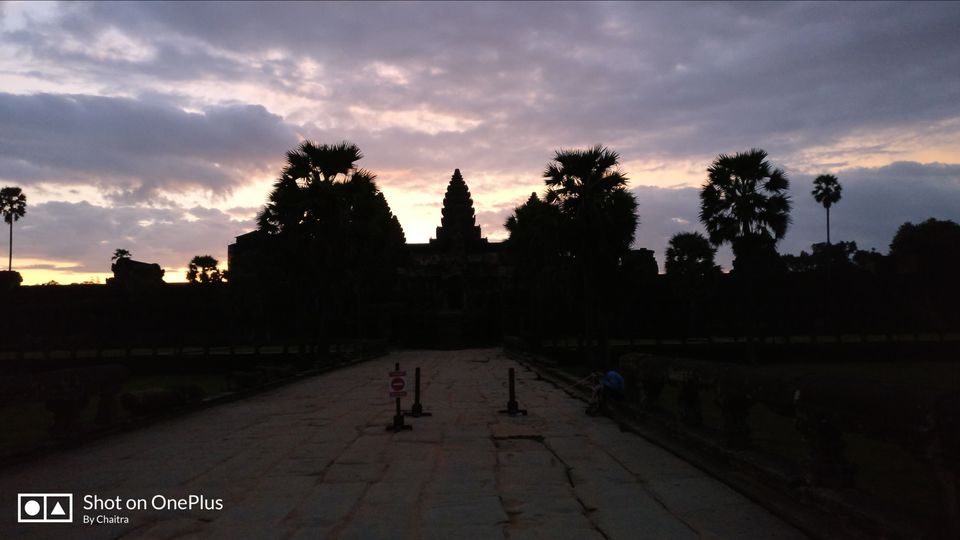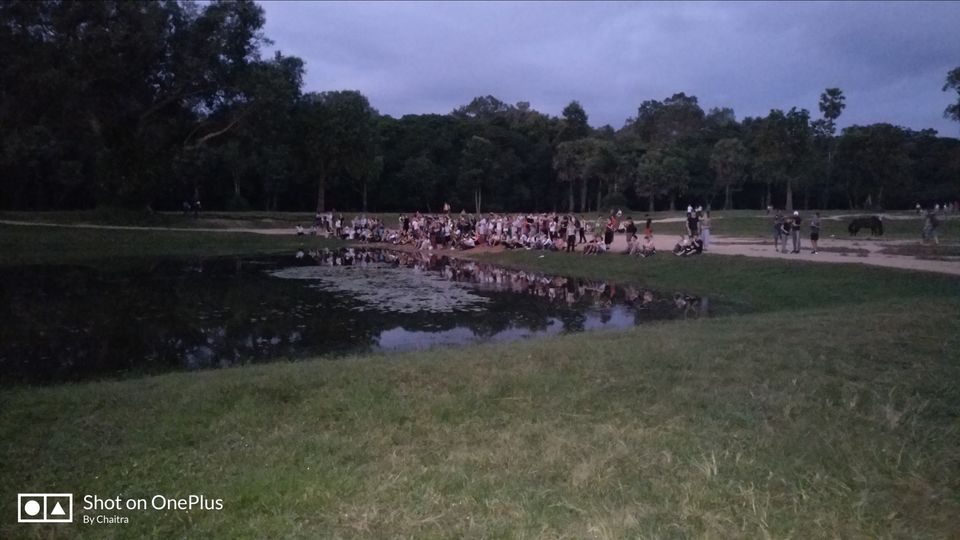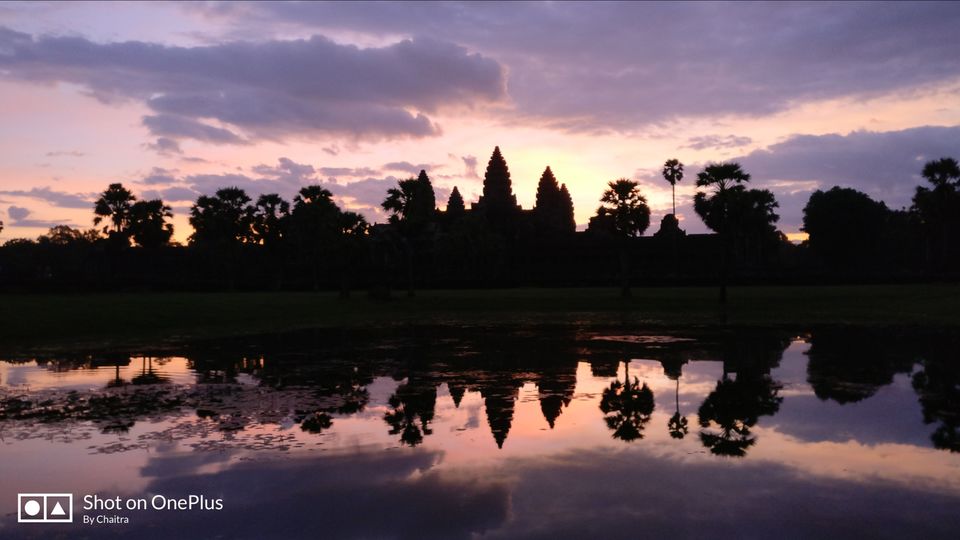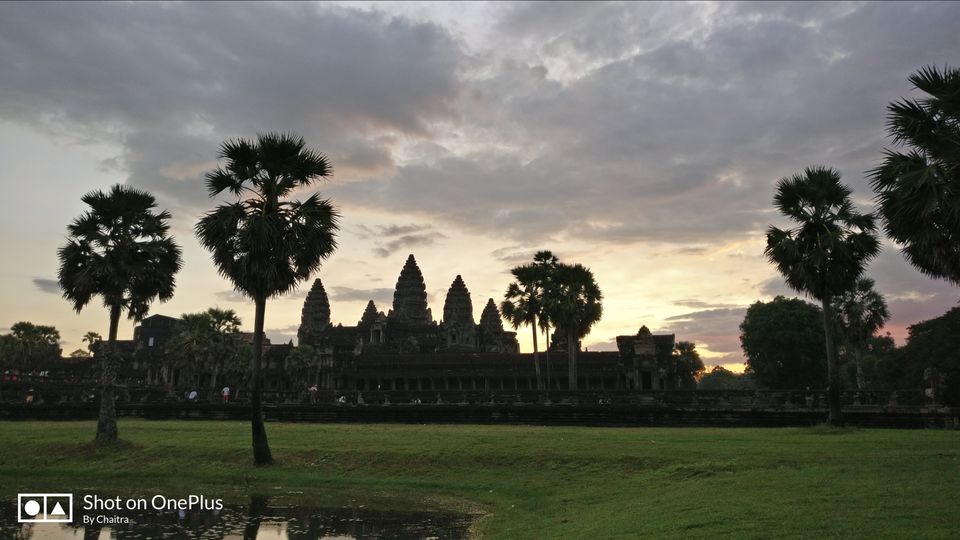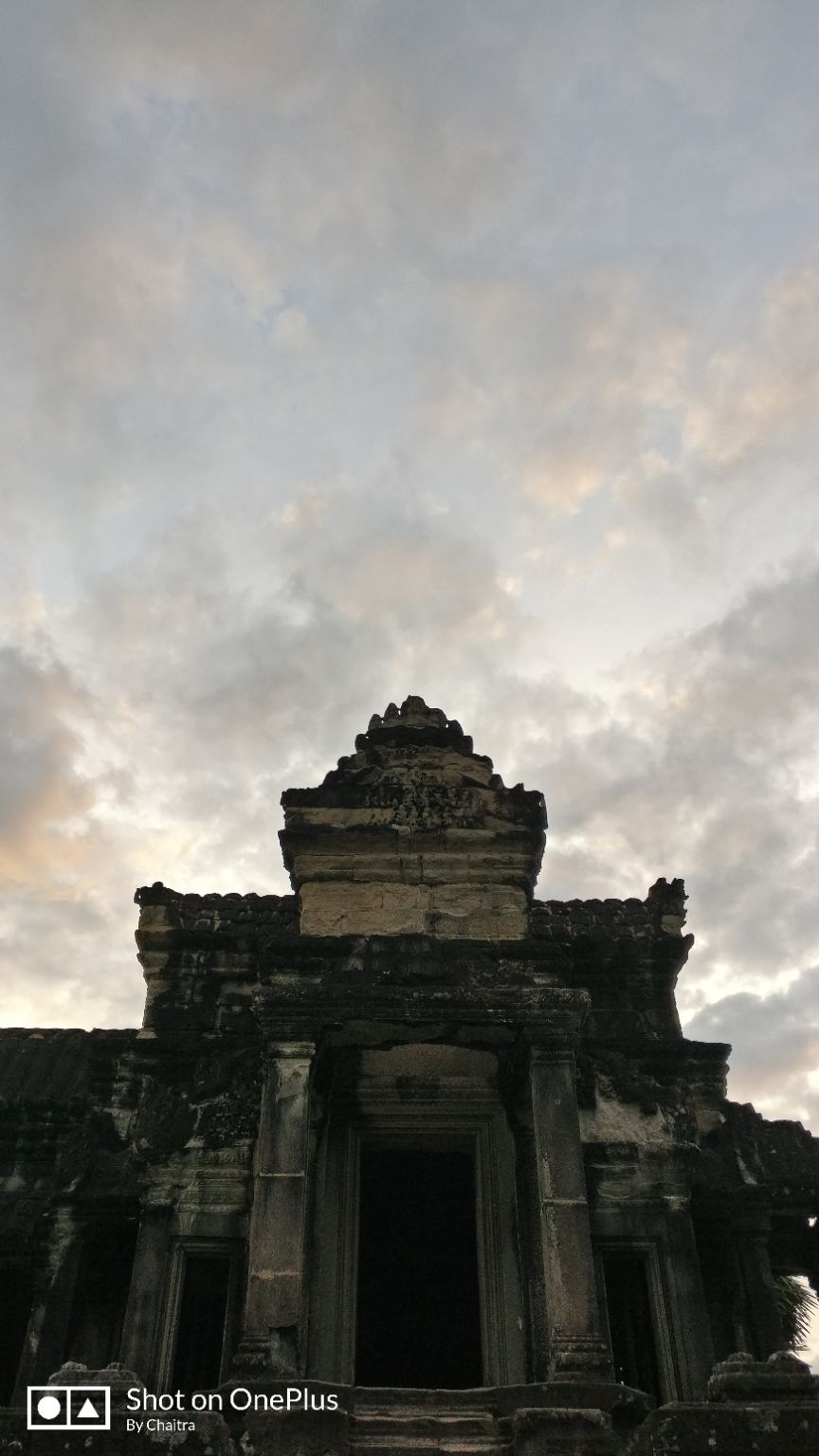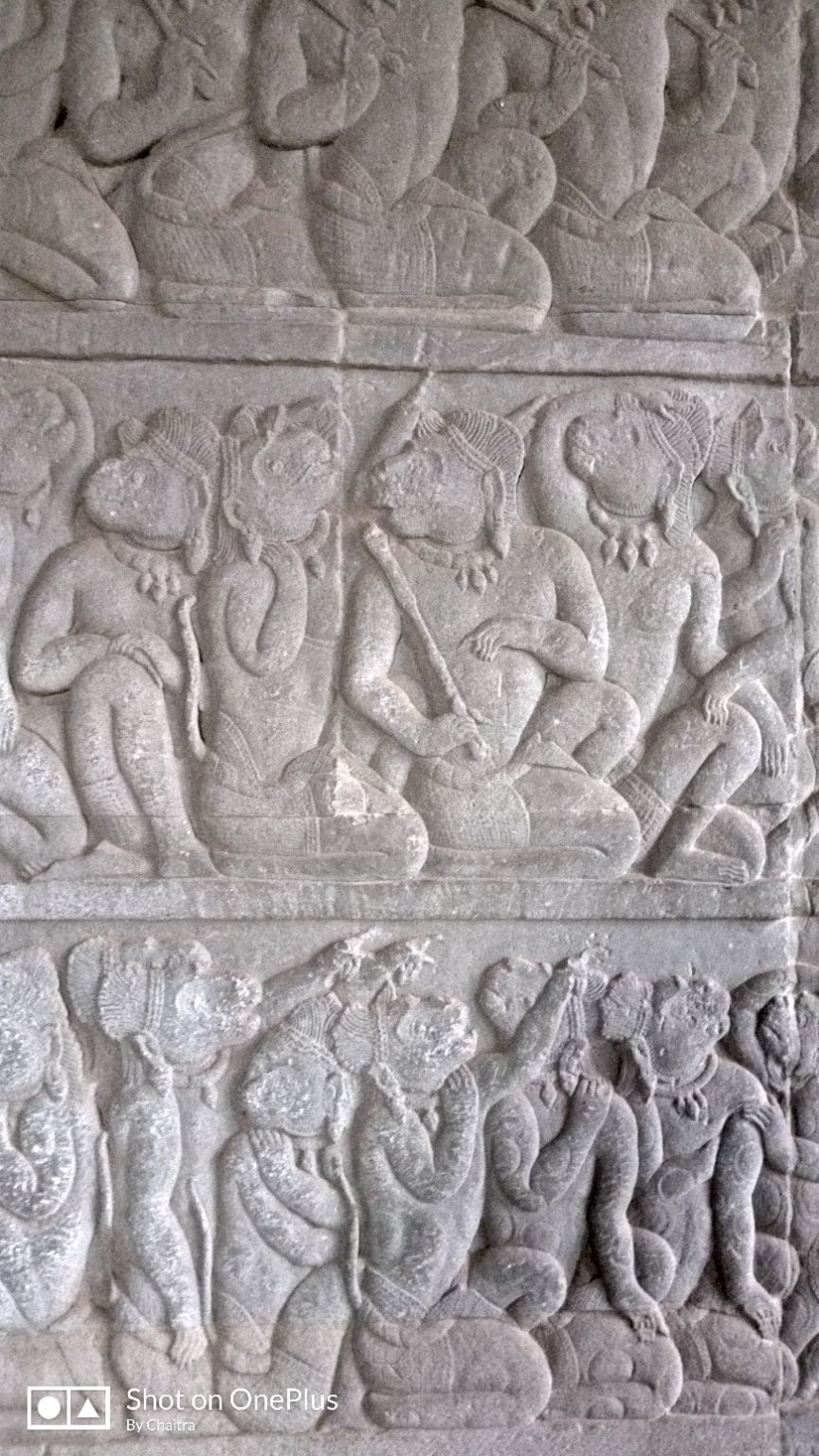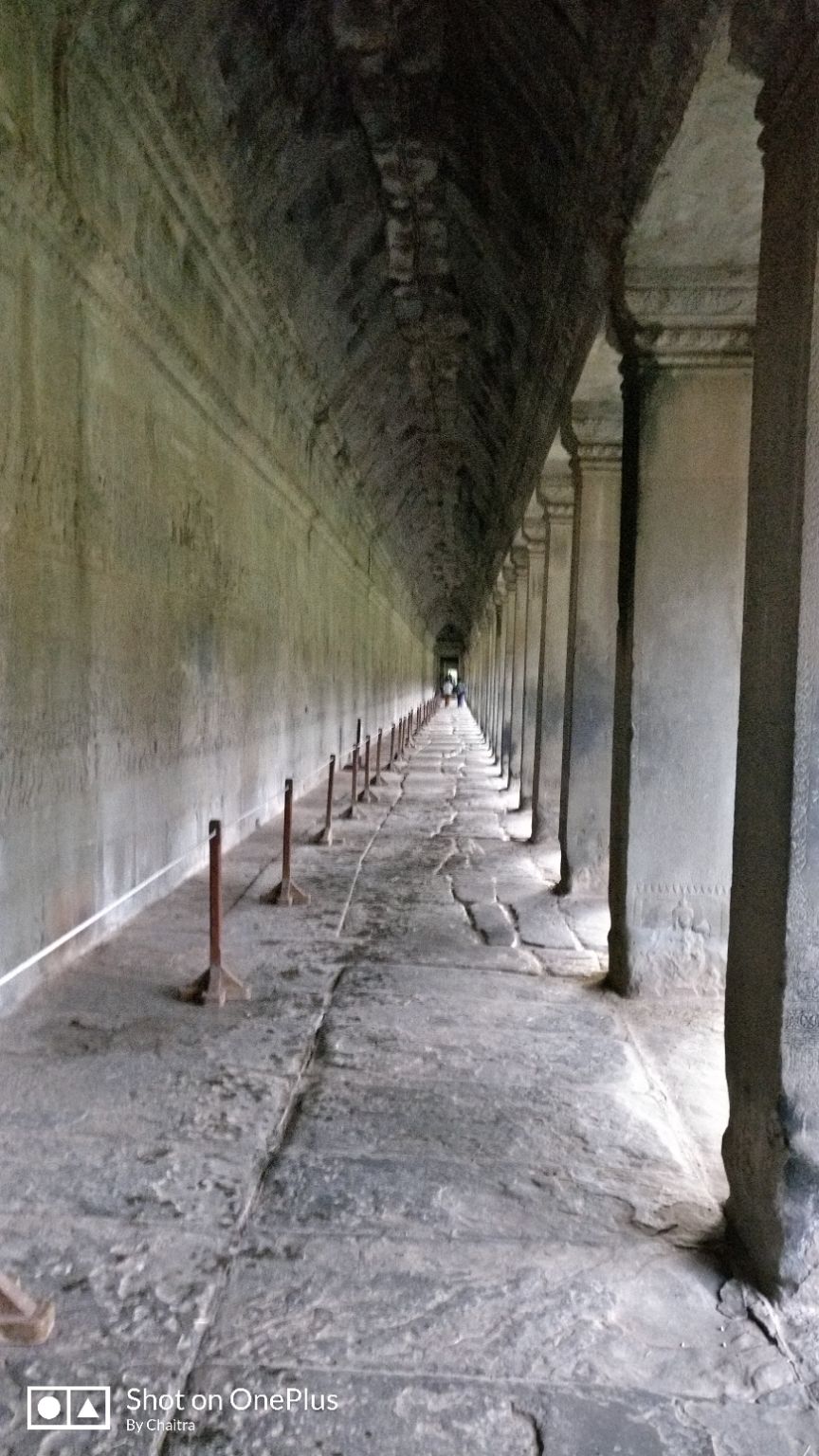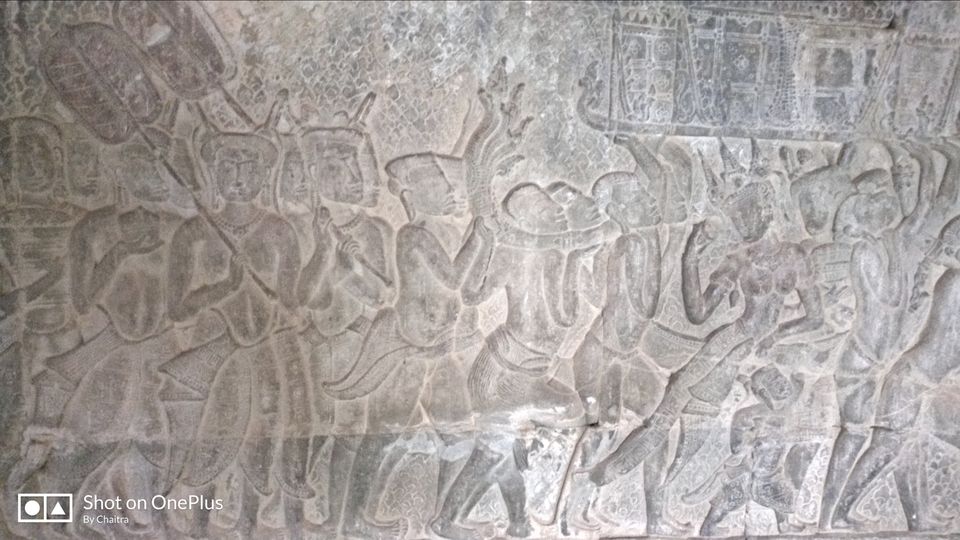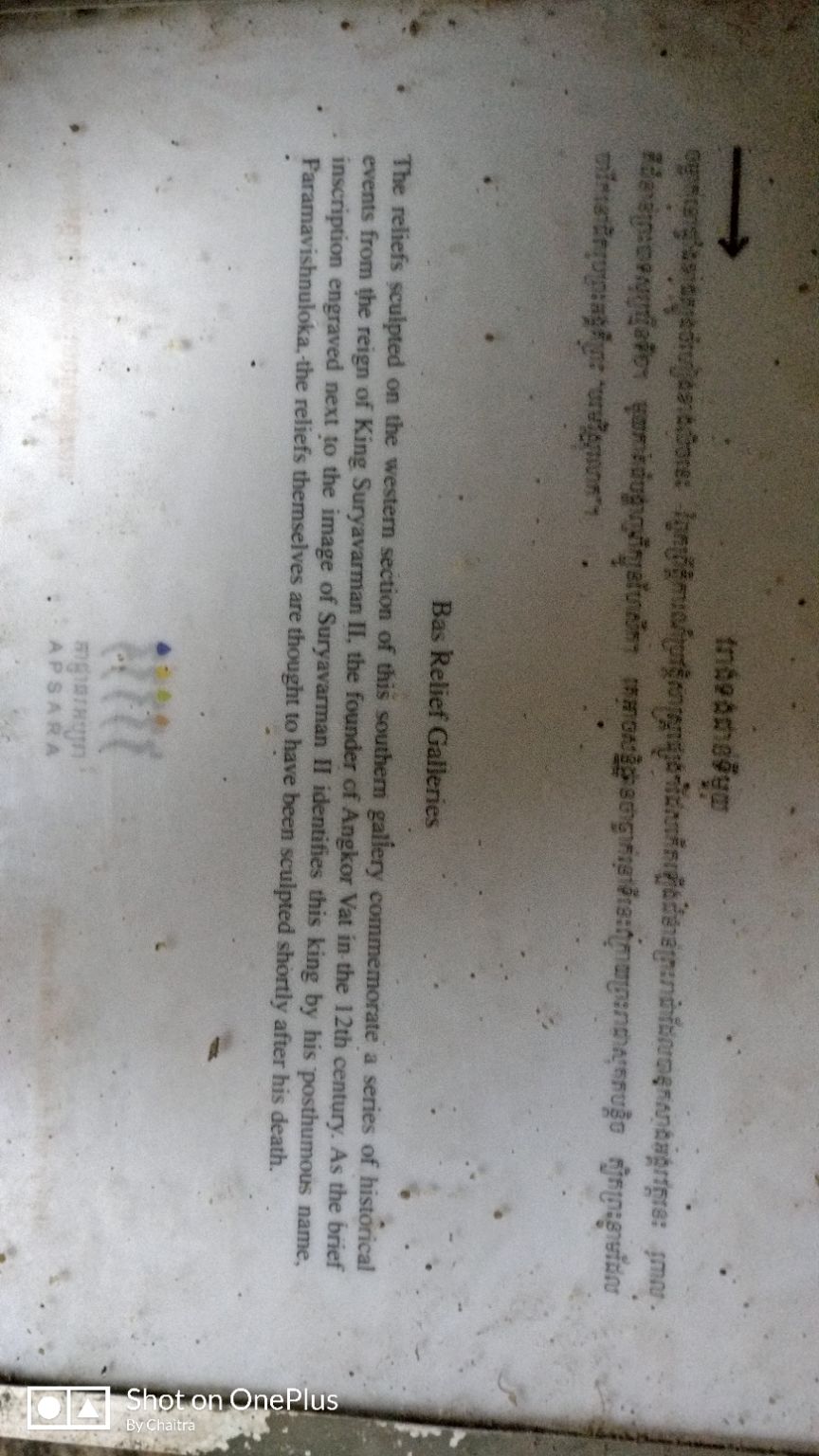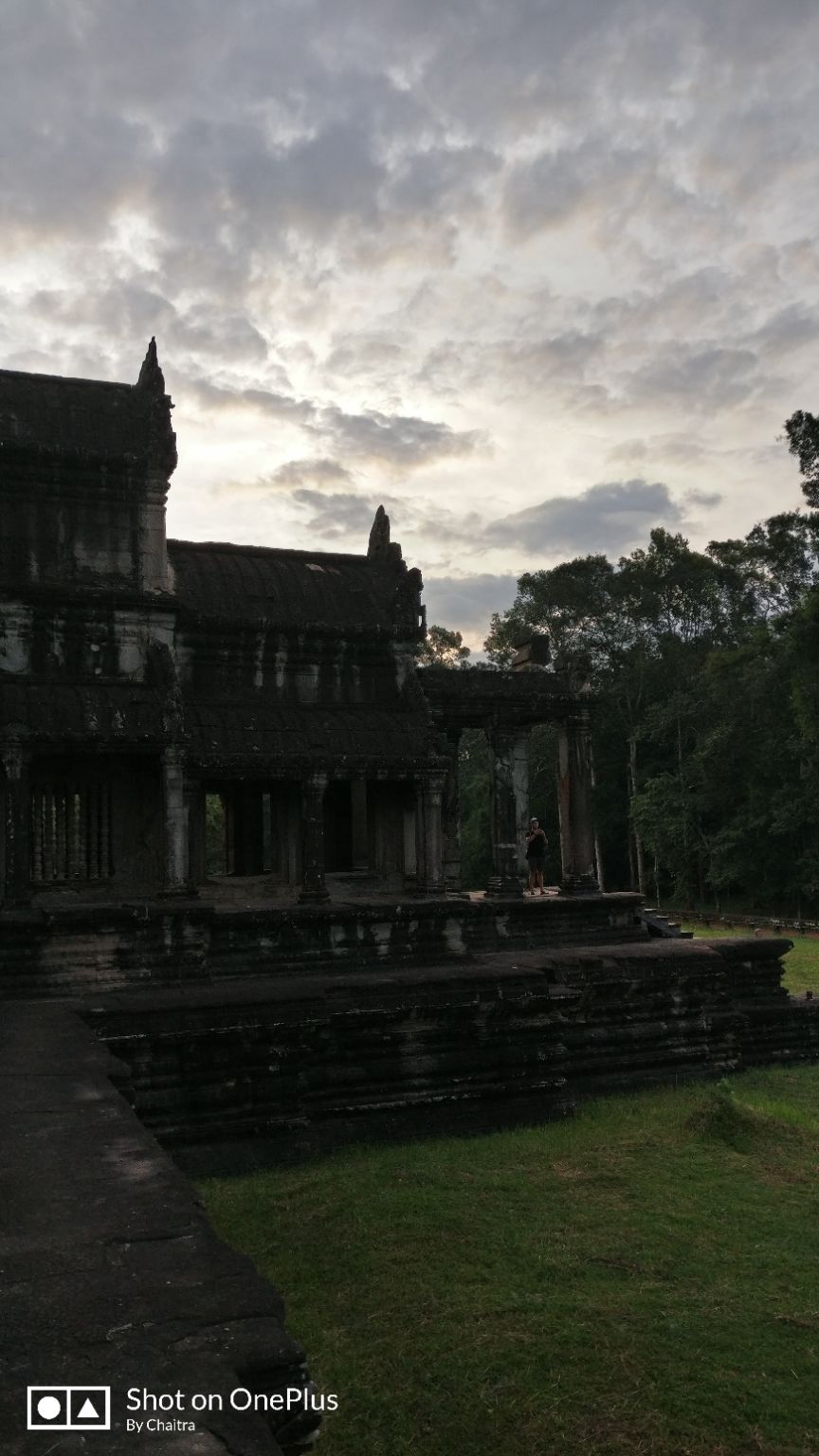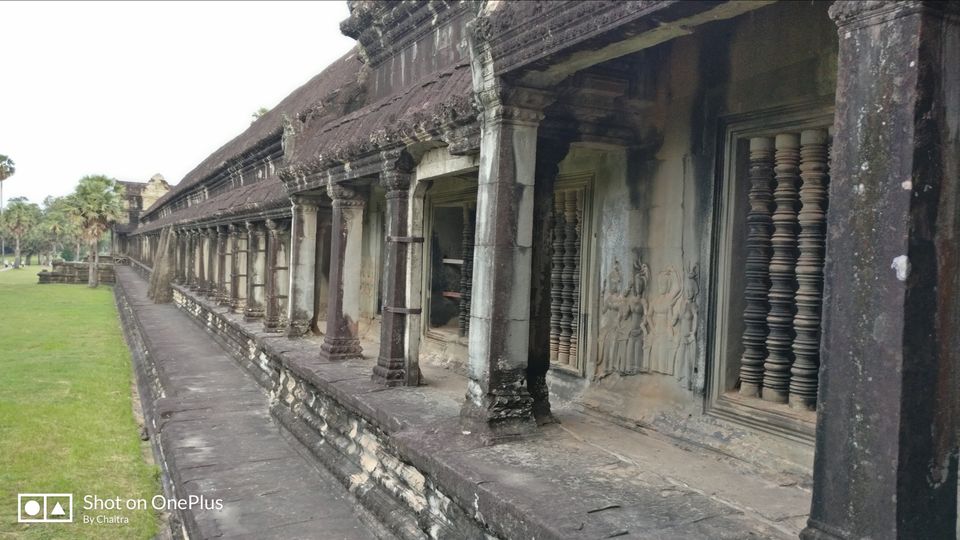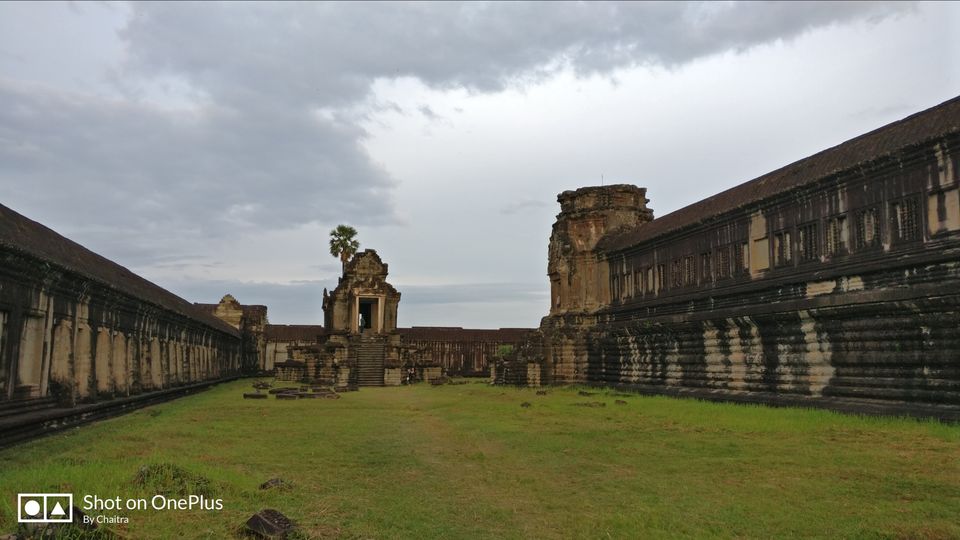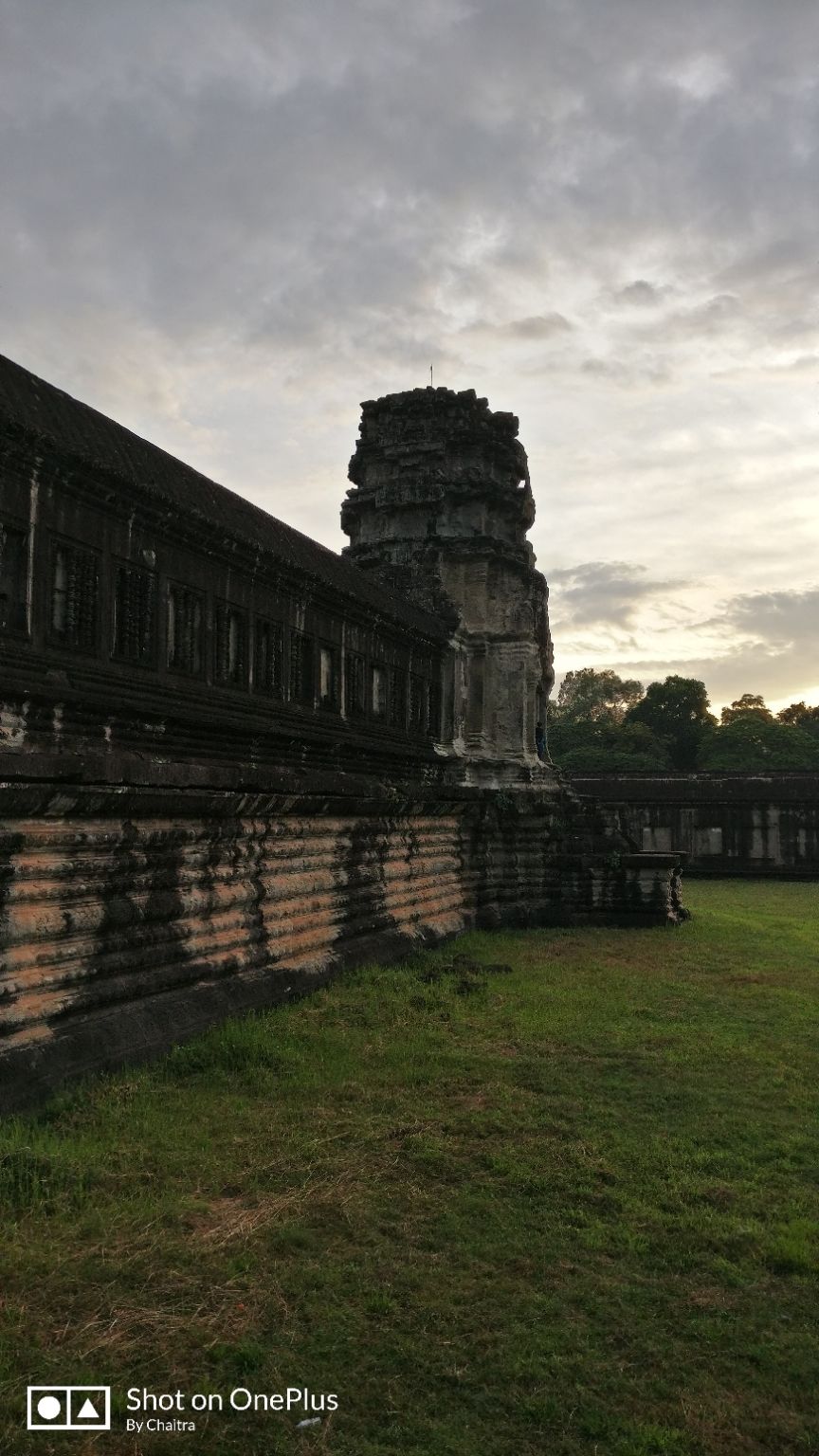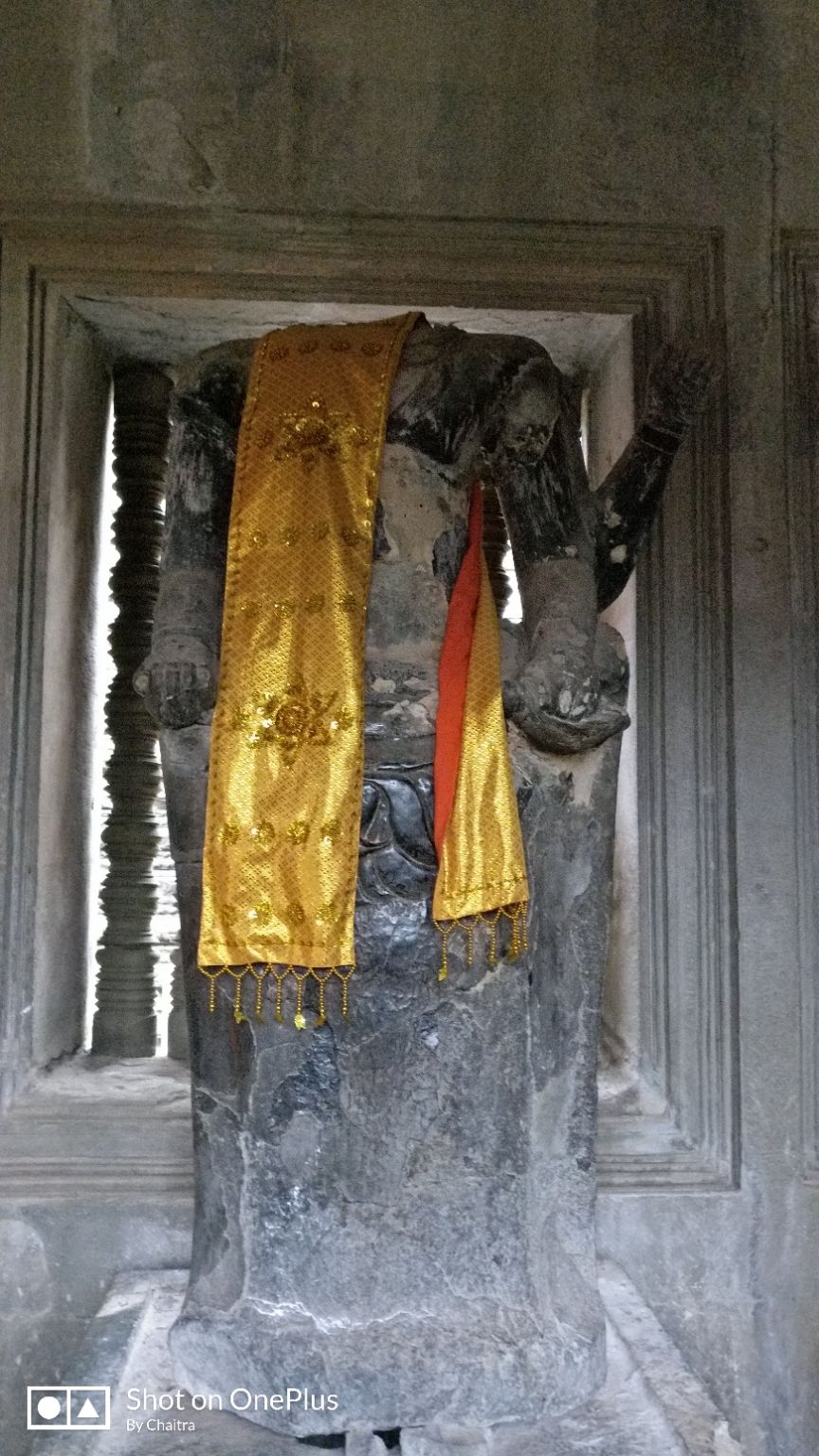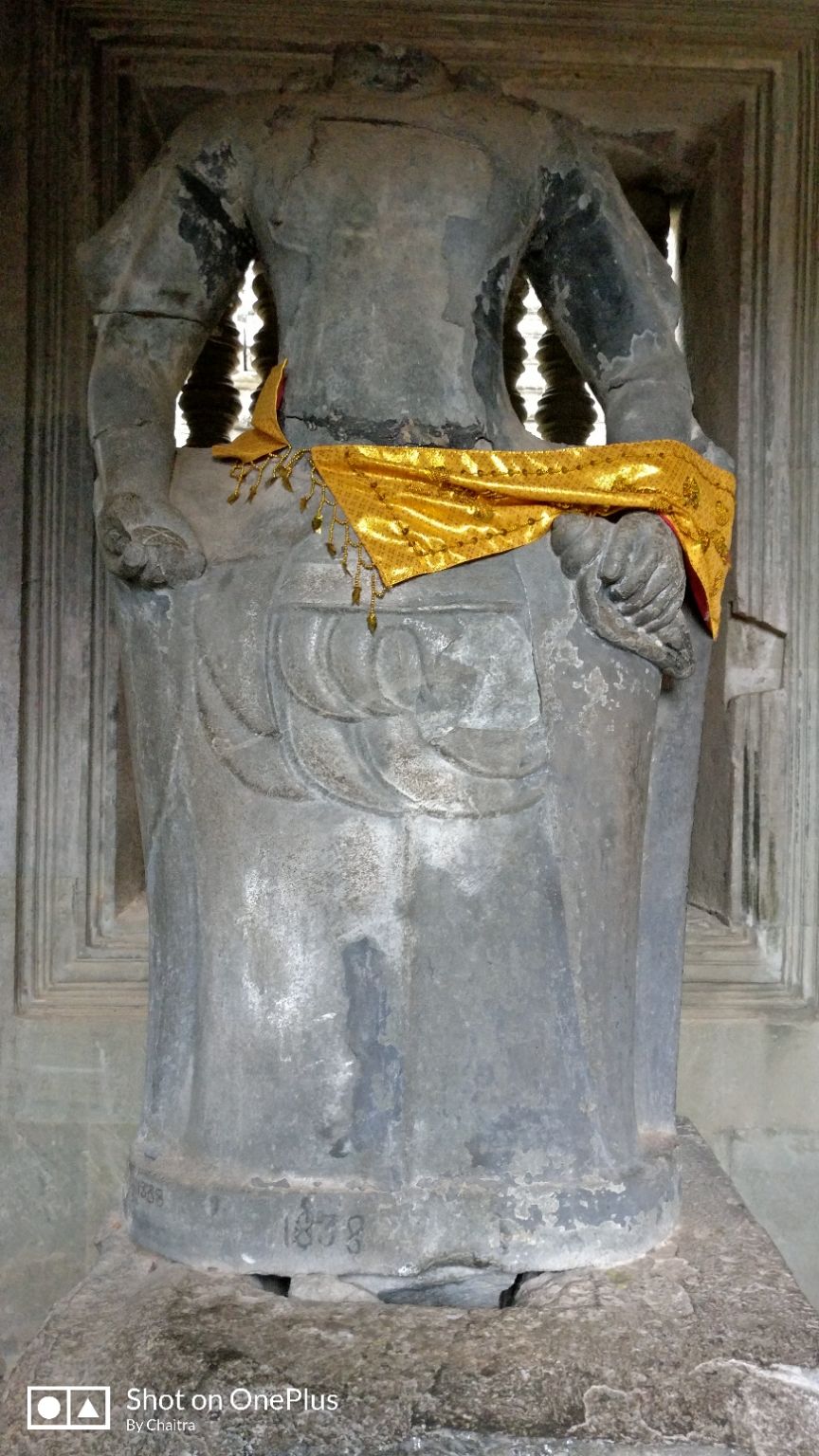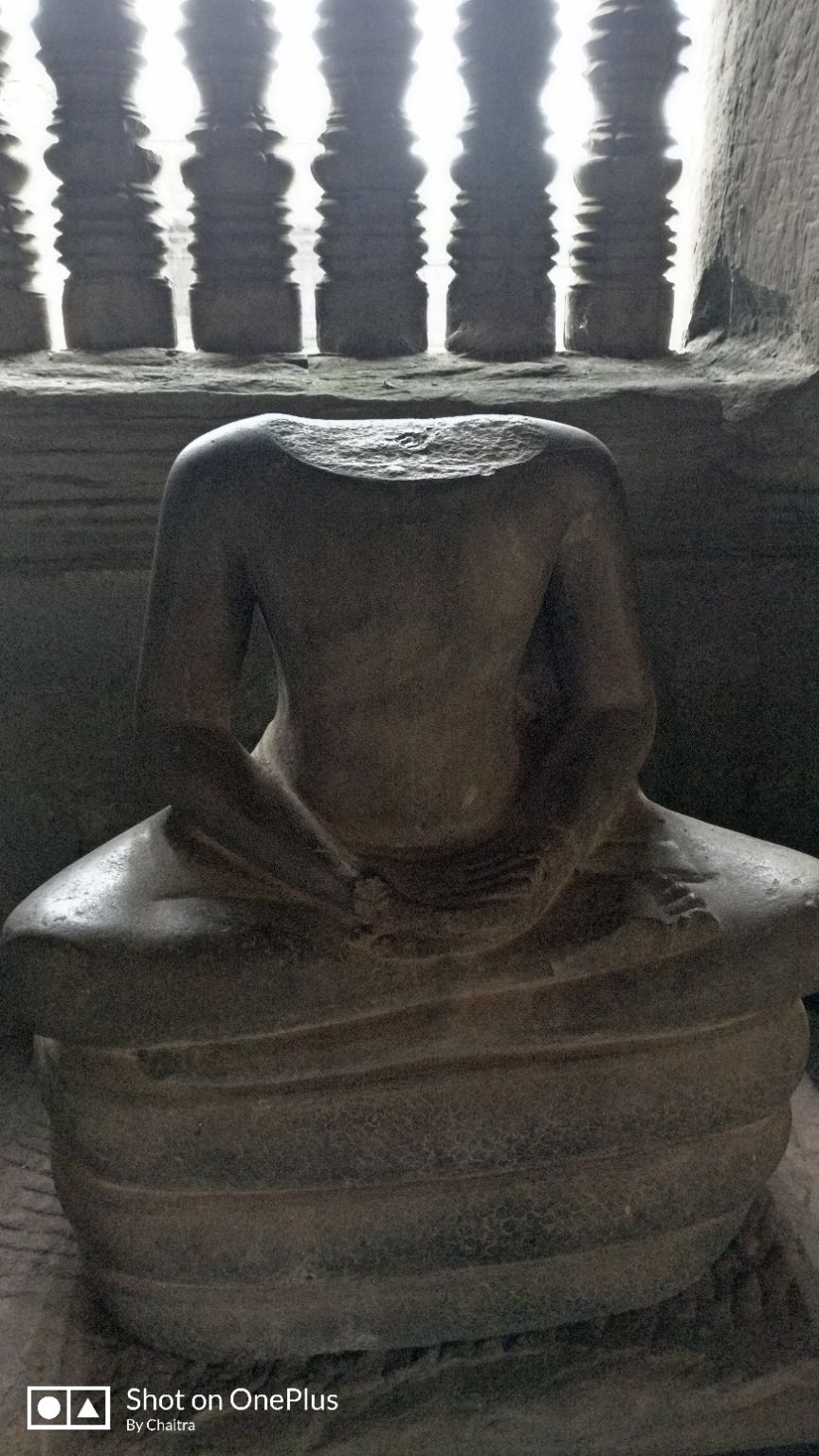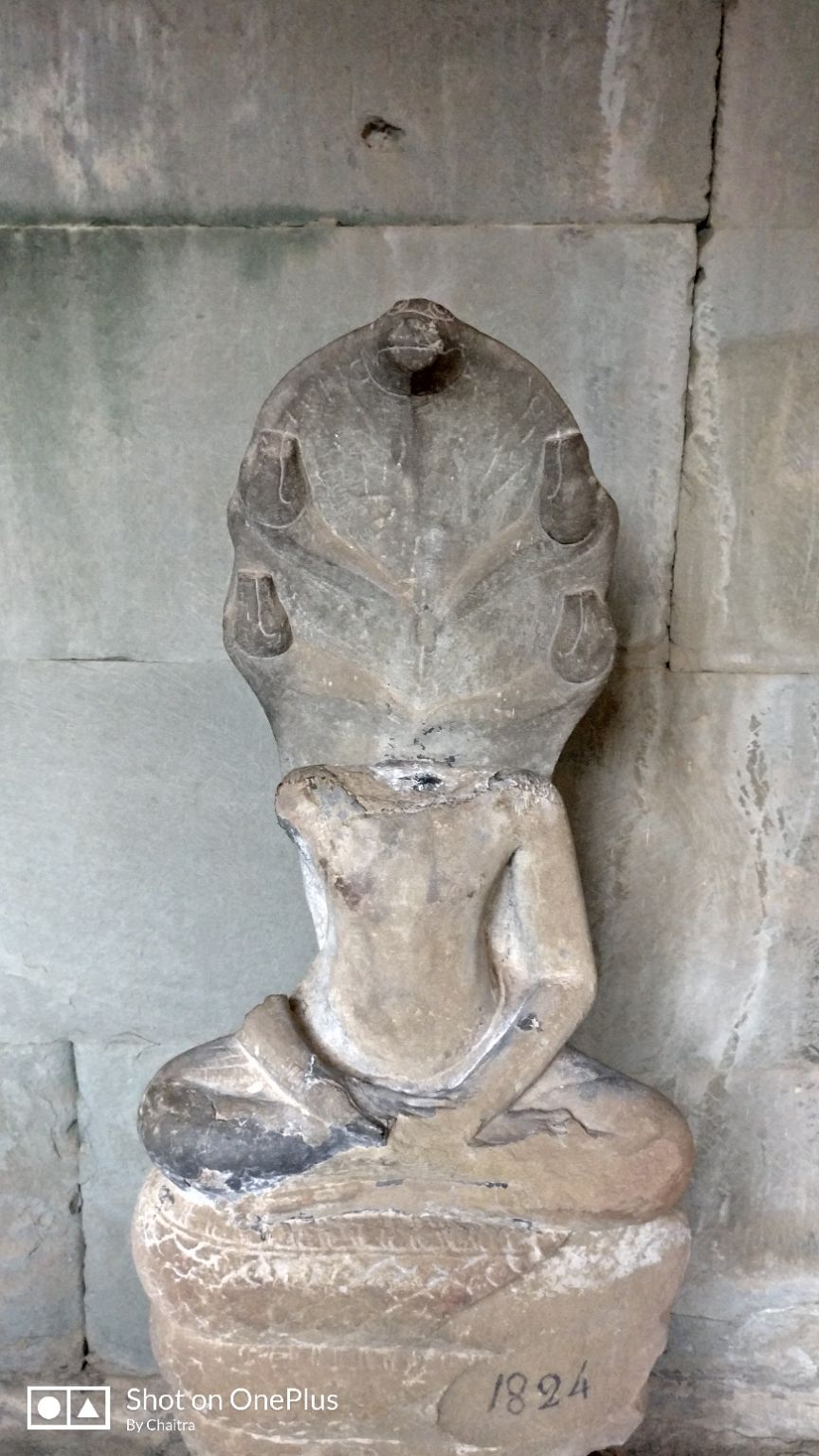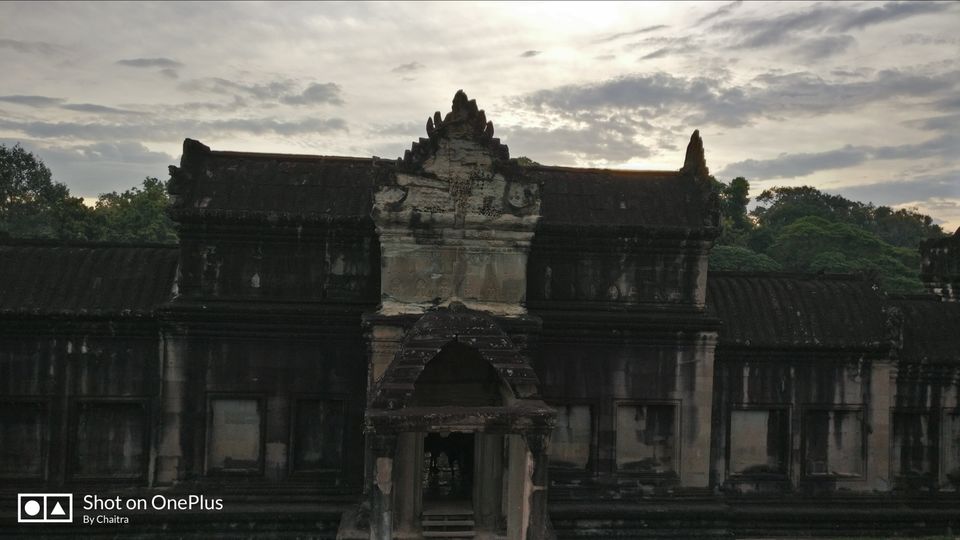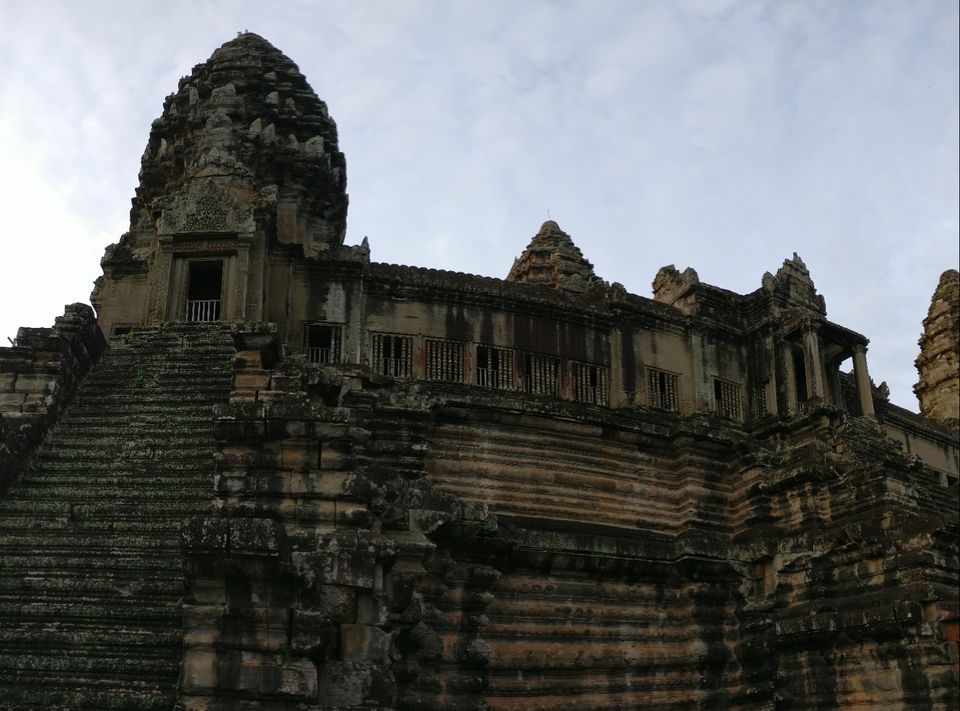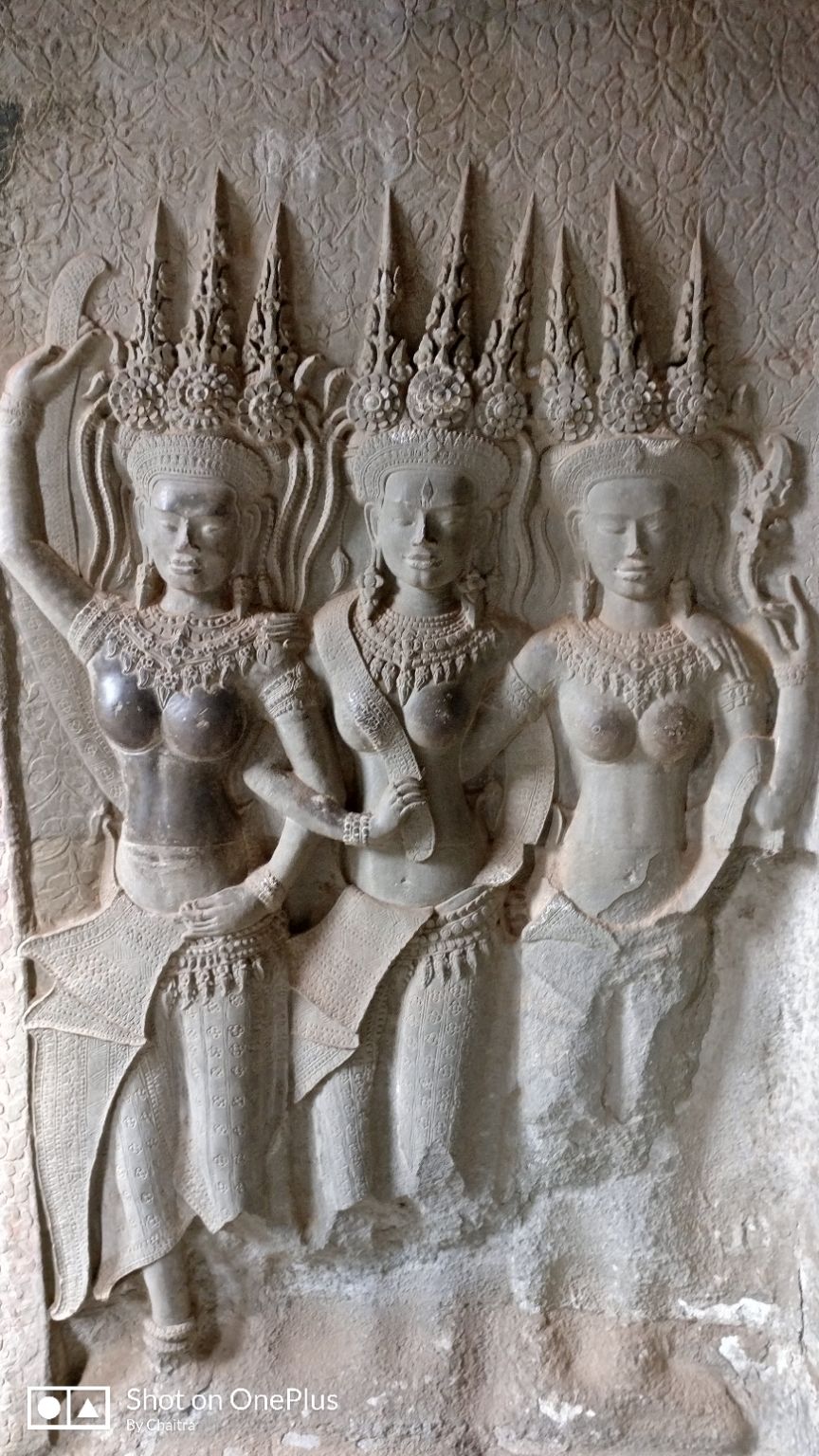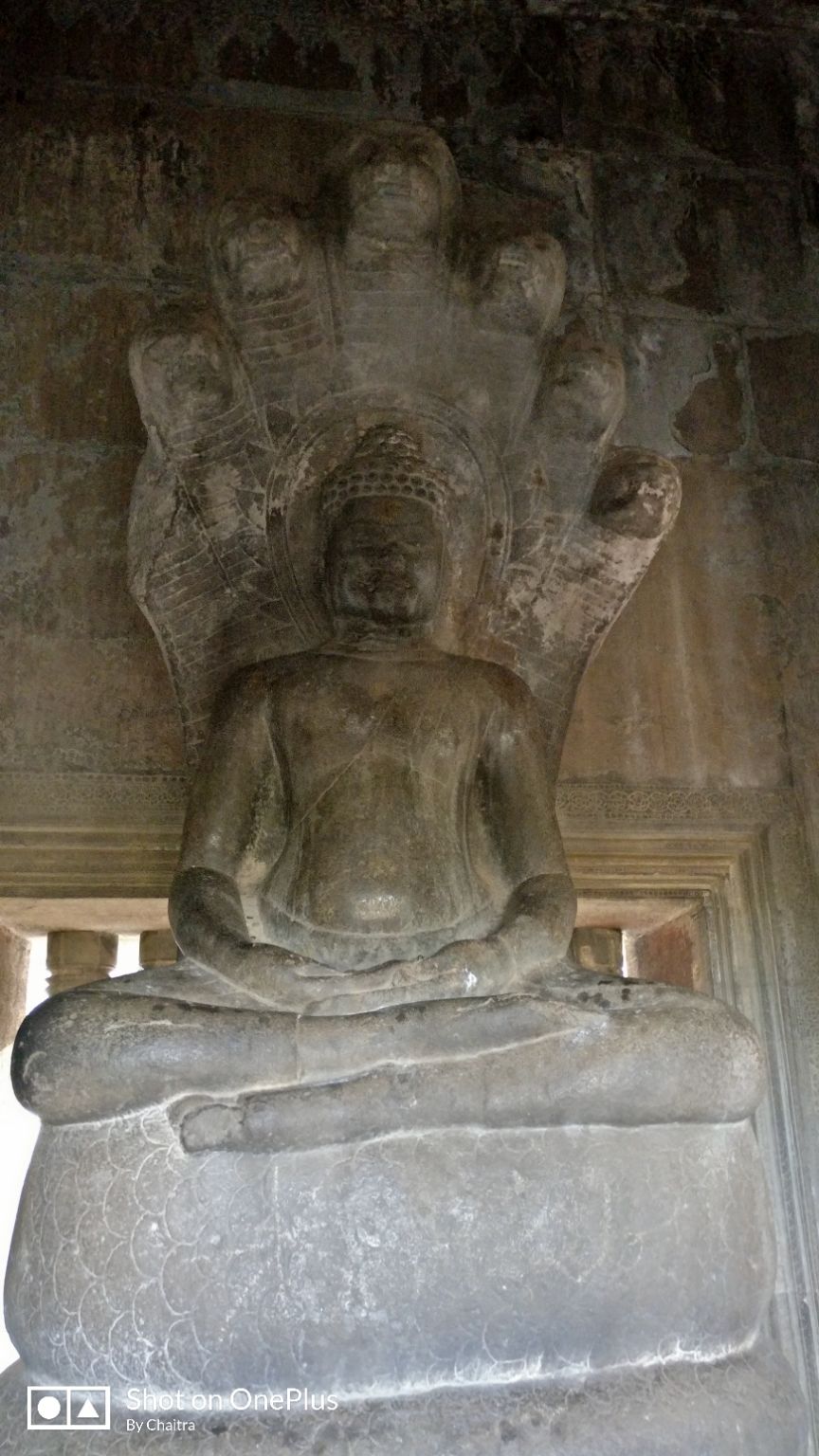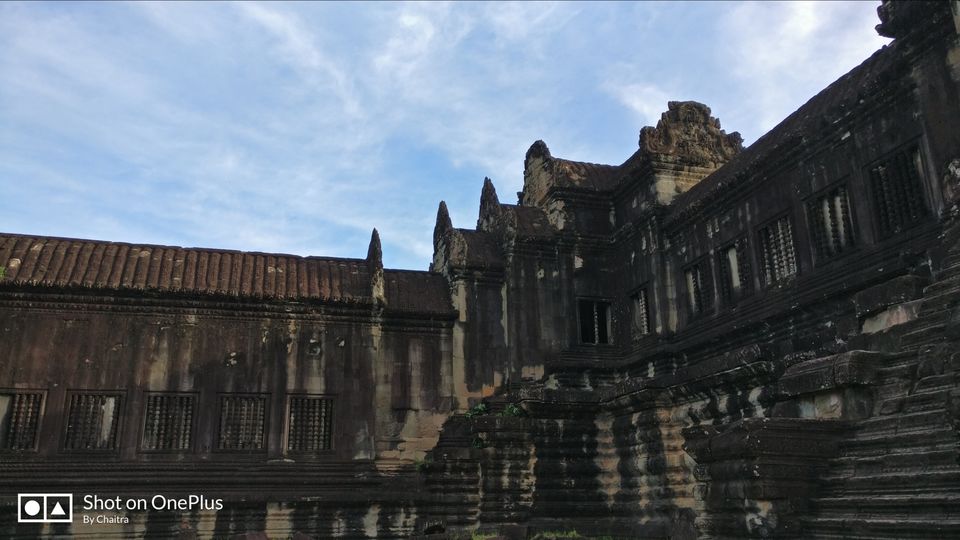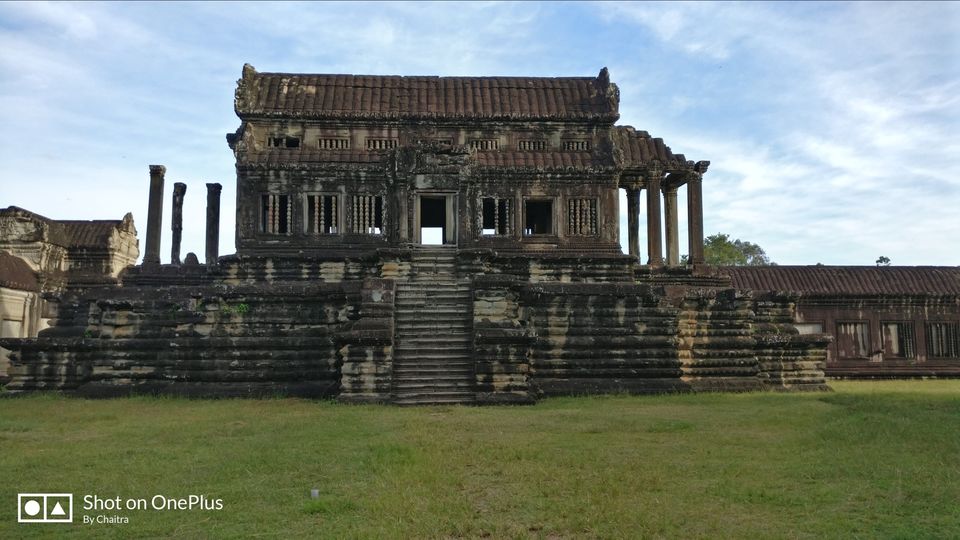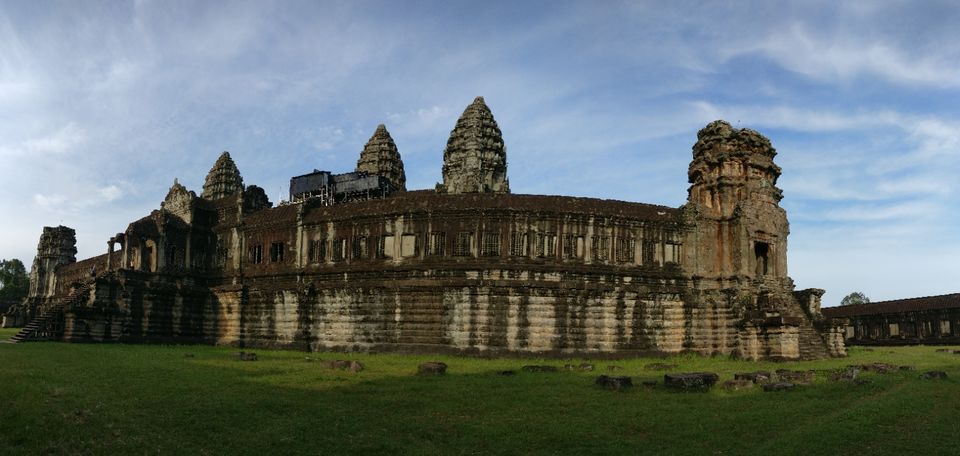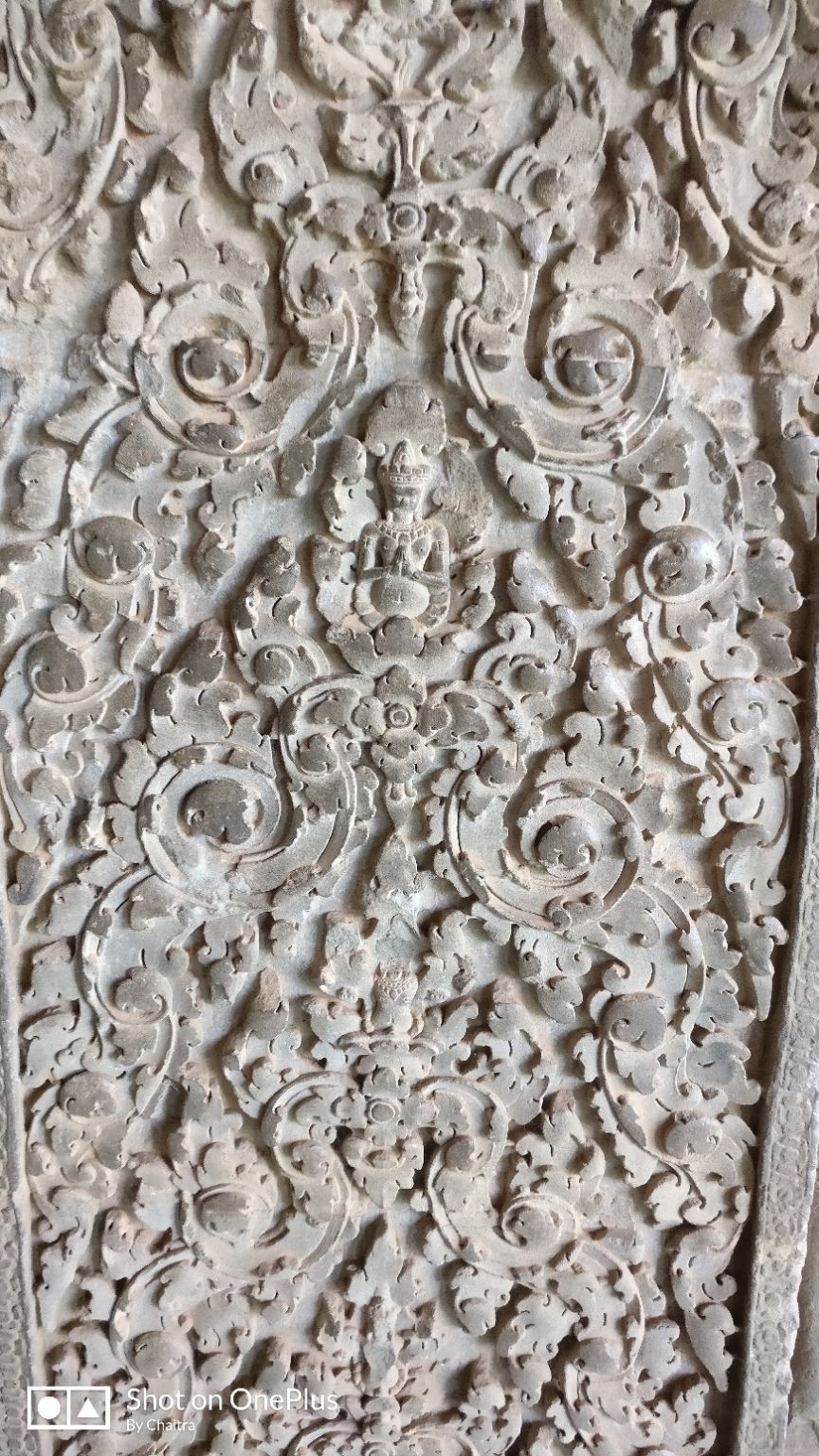 Angkor Thom
Angkor Thom was formerly known as Nokor Thom. Nokor means Nagara in Sanskrit and Thom means city in Khmer. Angkor thom was capital of Jayavarman VII empire. A causeway spans the moat in front of each tower: these have a row of devas on the left and asuras on the right, each row holding a naga in the attitude of a tug-of-war. This appears to be a reference to the myth, popular in Angkor, of Samudra Mantahan. There are 5 gates at Angkor Thom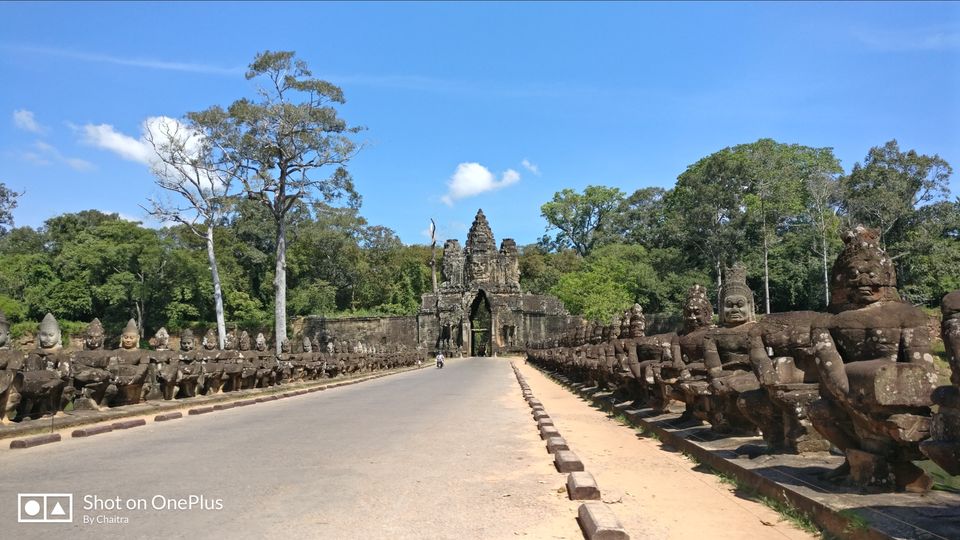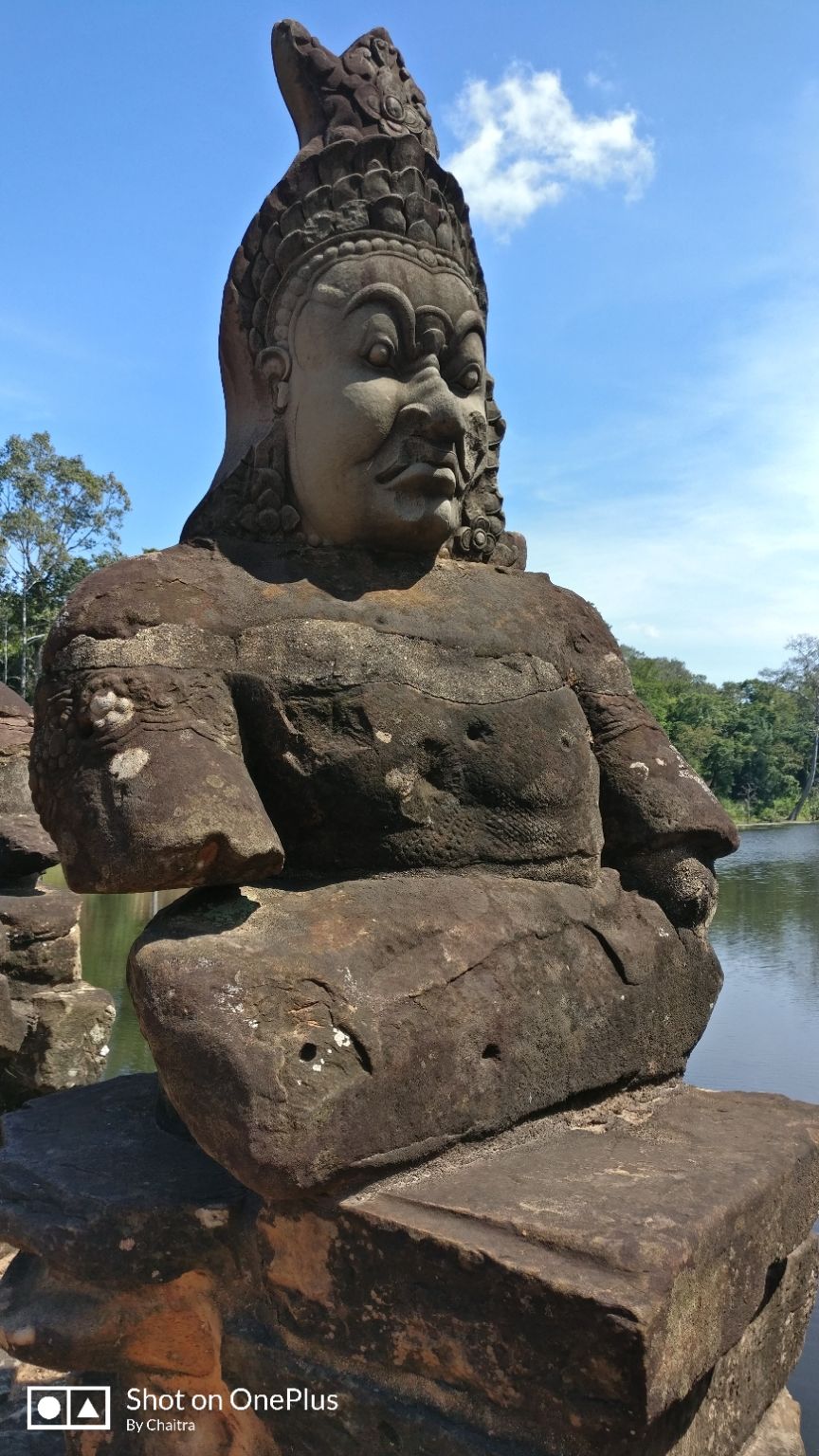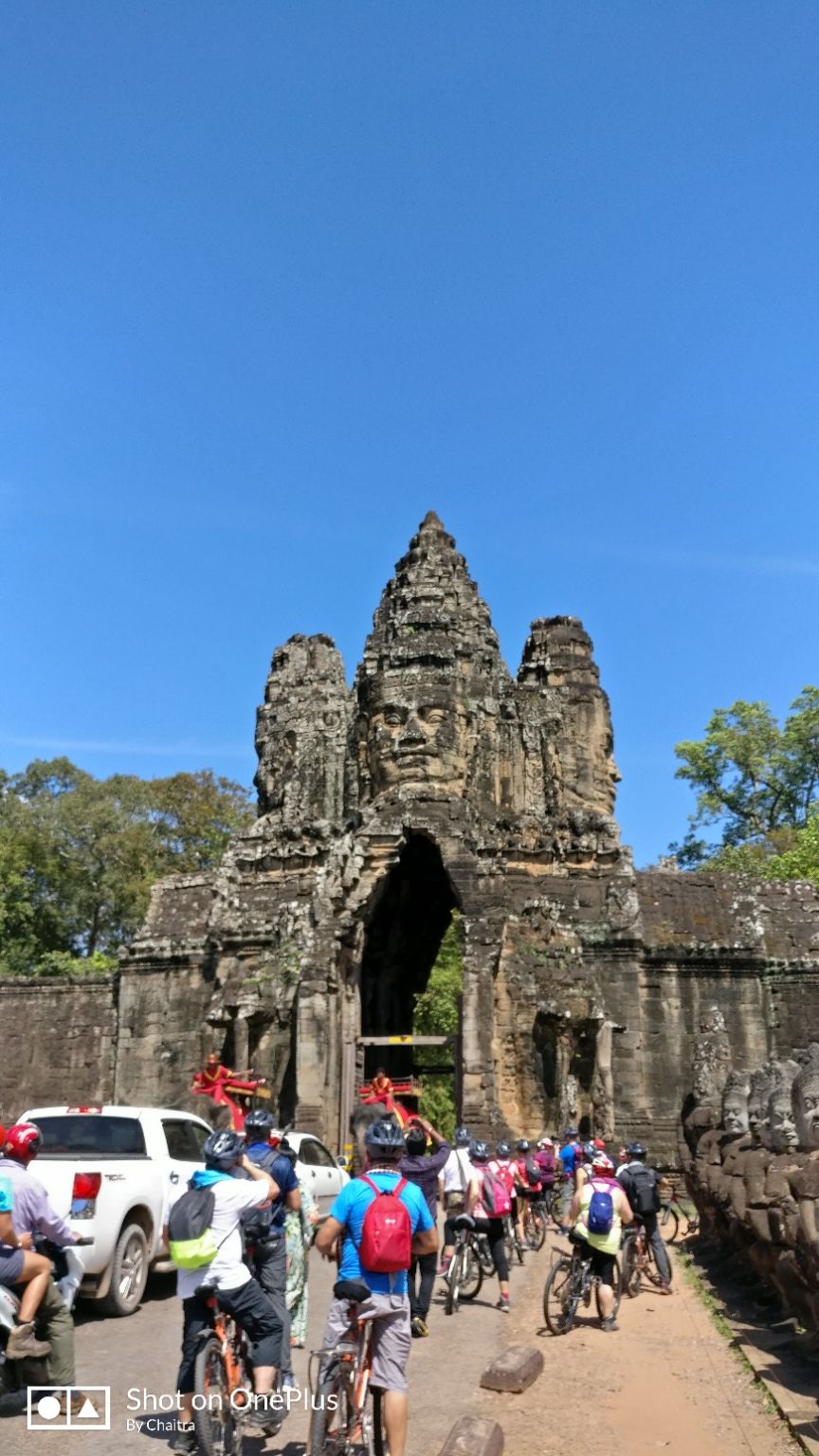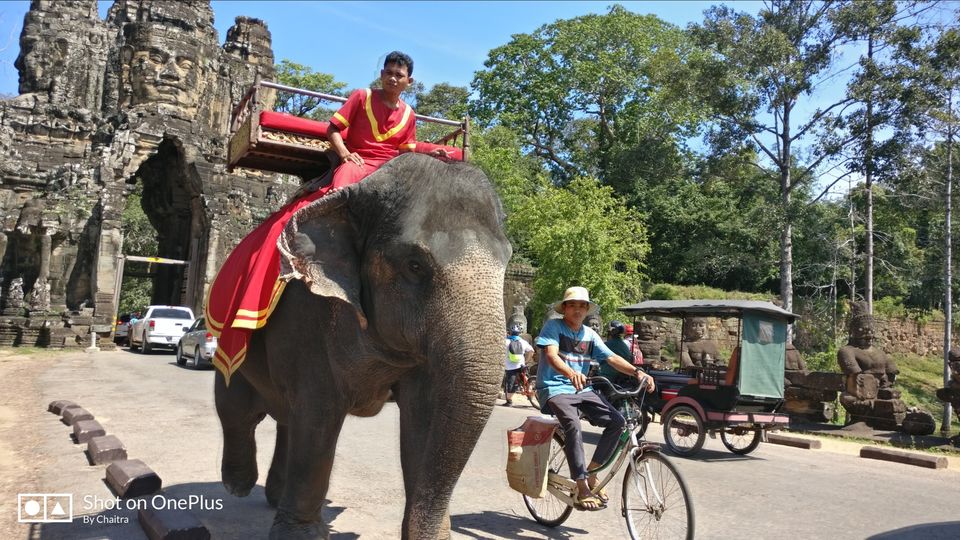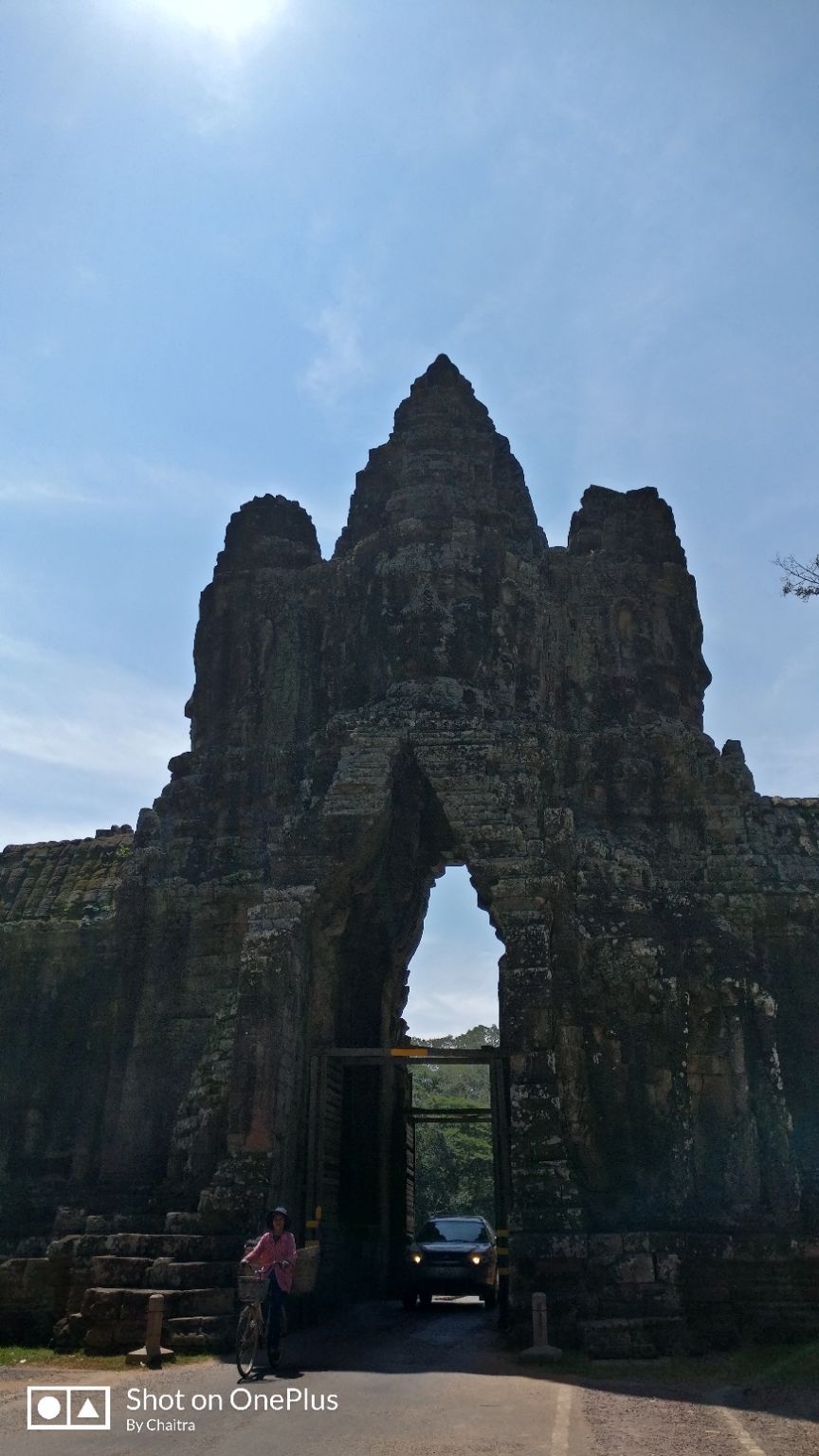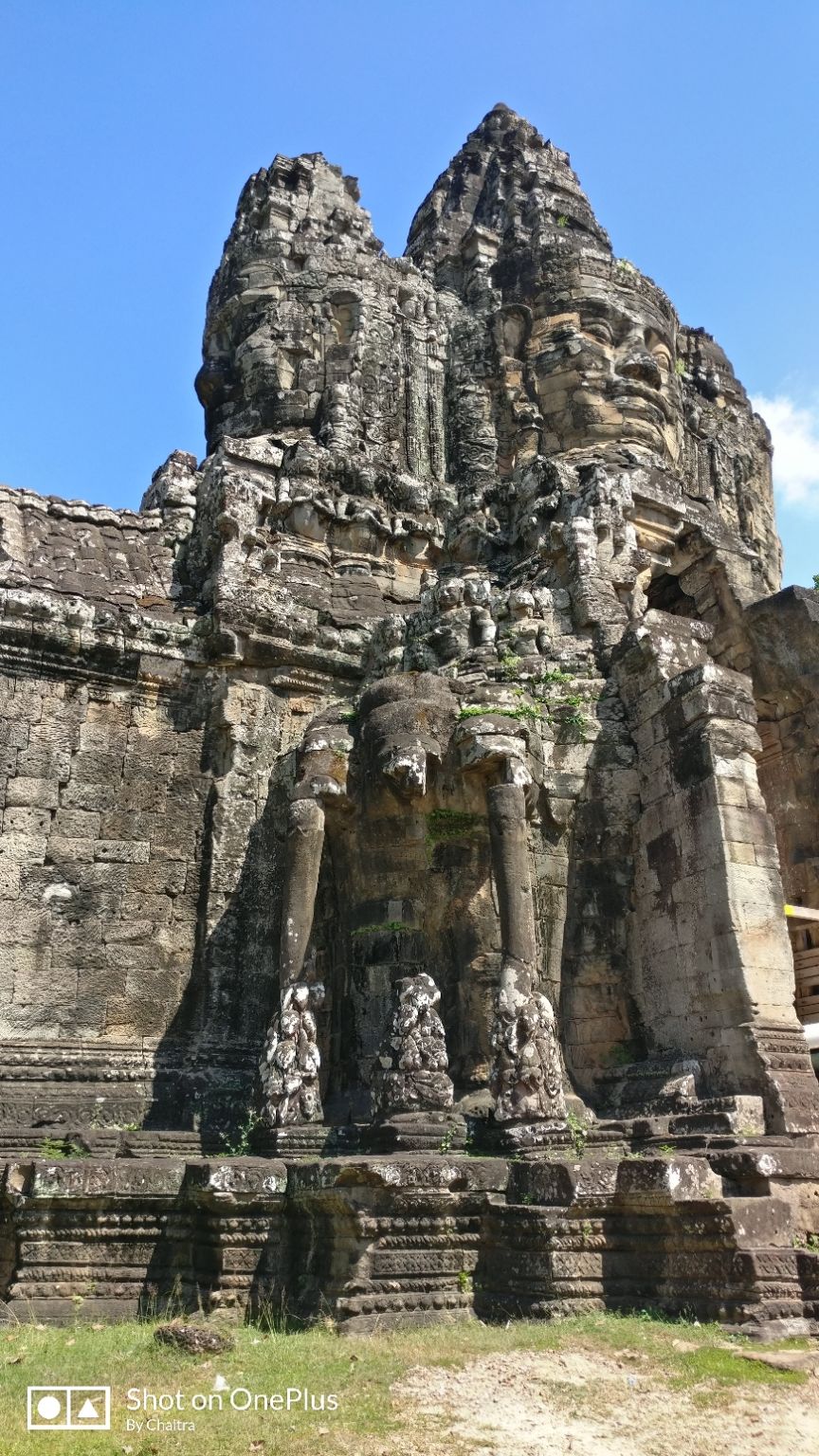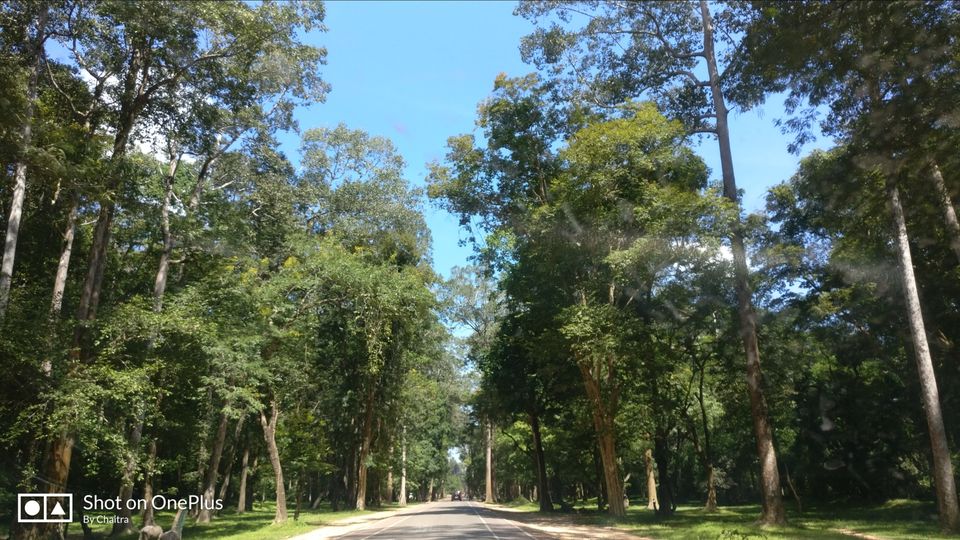 Bayon temple
Bayon is renowned, ornately decked and last built temple in Angkor which positions in the midpoint of Jayavarman's capital Angkor Thom. Though this temple was built by a Hindu king .Post his death the temple was modified and augmented later by Hindu and Theravada Buddhist king. You will see 216 gigantic faces carved on the domes in all four directions out of which half the faces are at north are Buddhism and others at south are Hinduism. Compassion, equality, symbiosis and charity are the fundamentals on which the domes are built.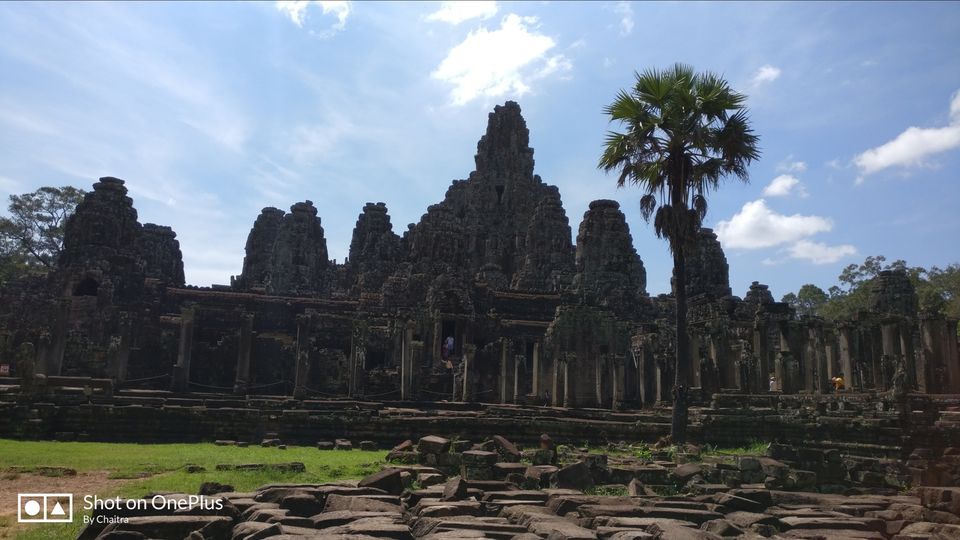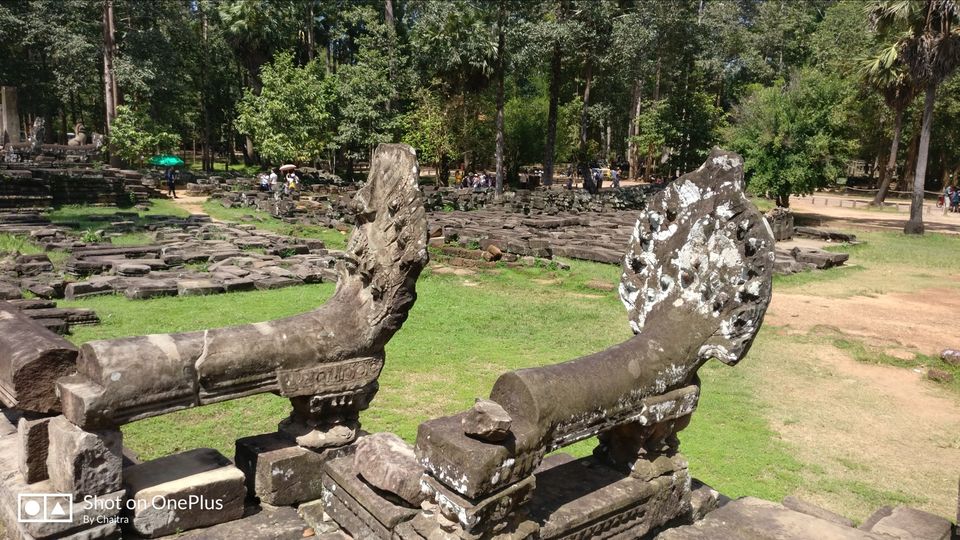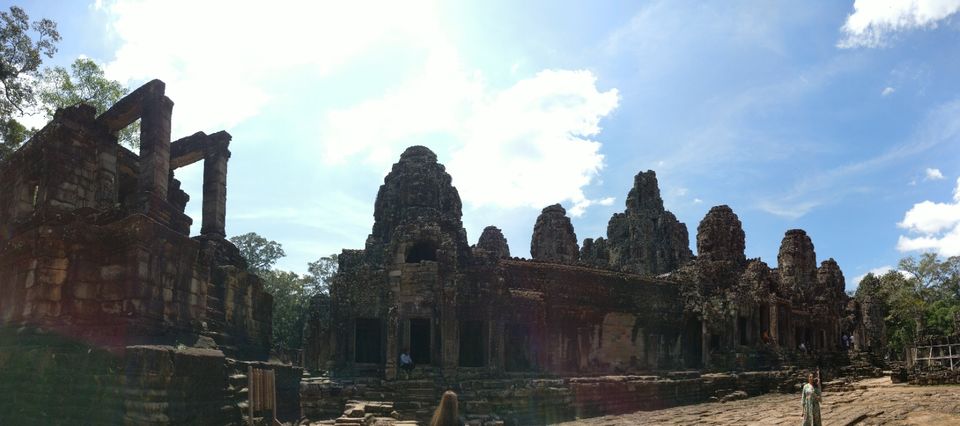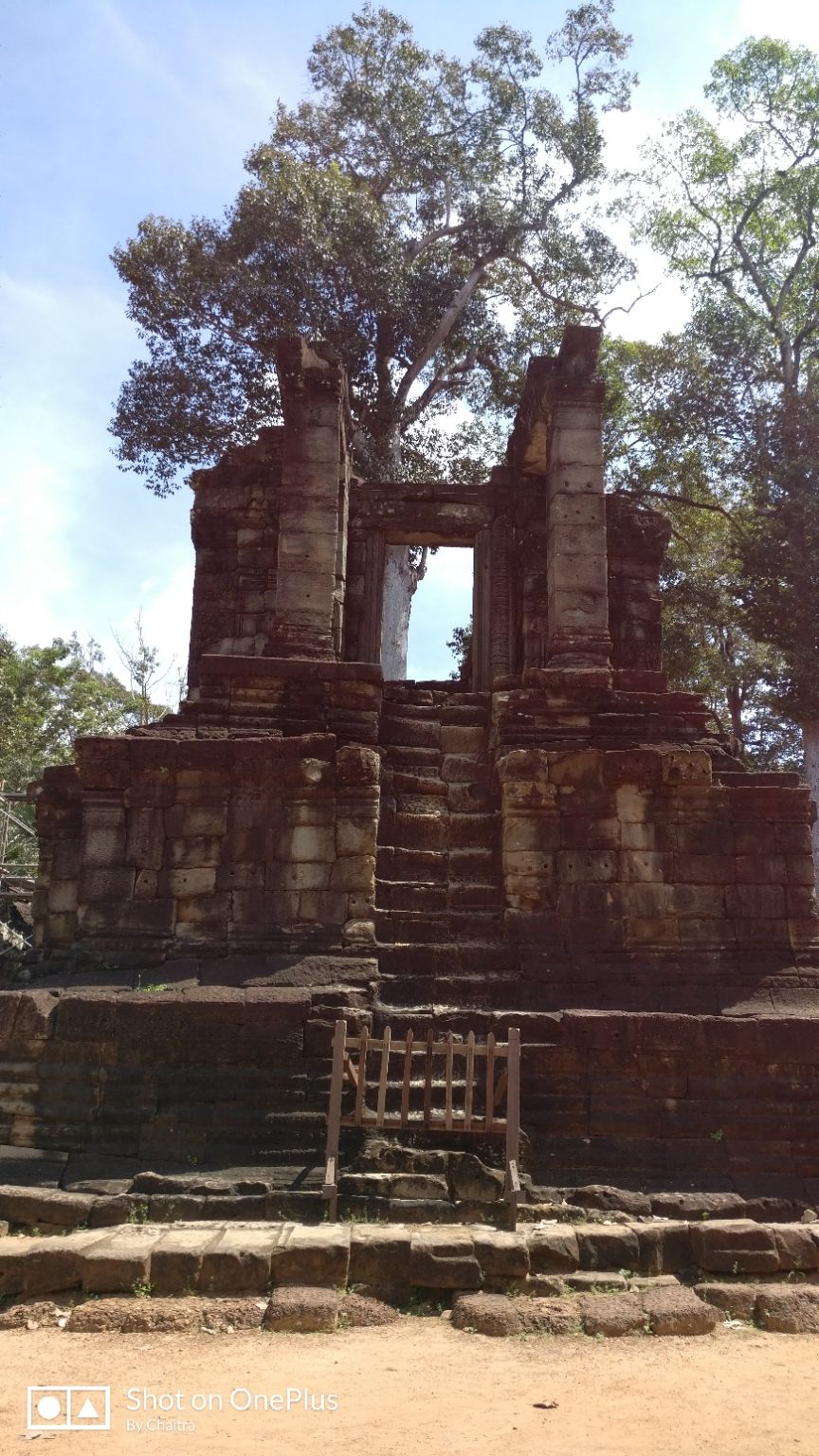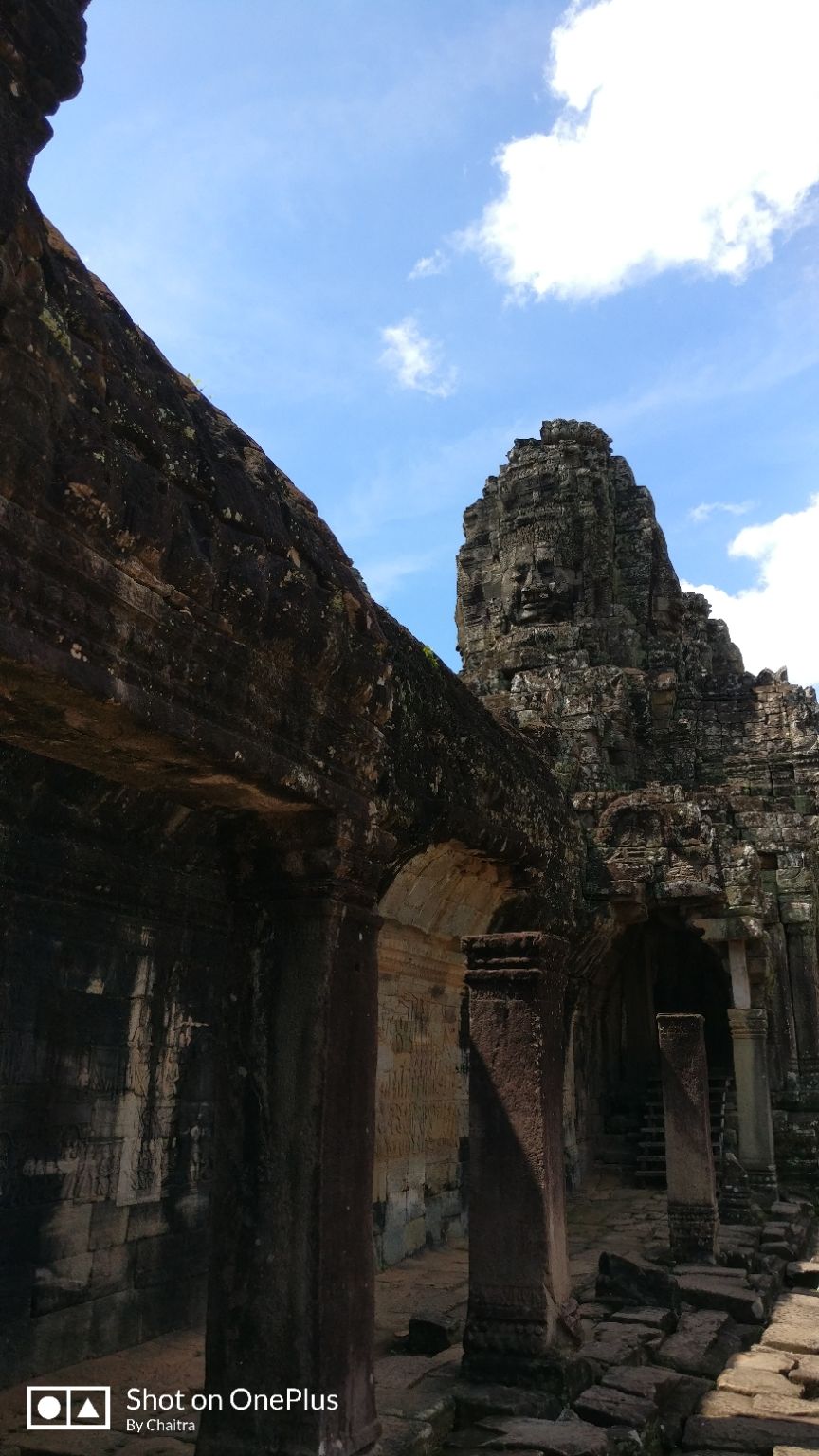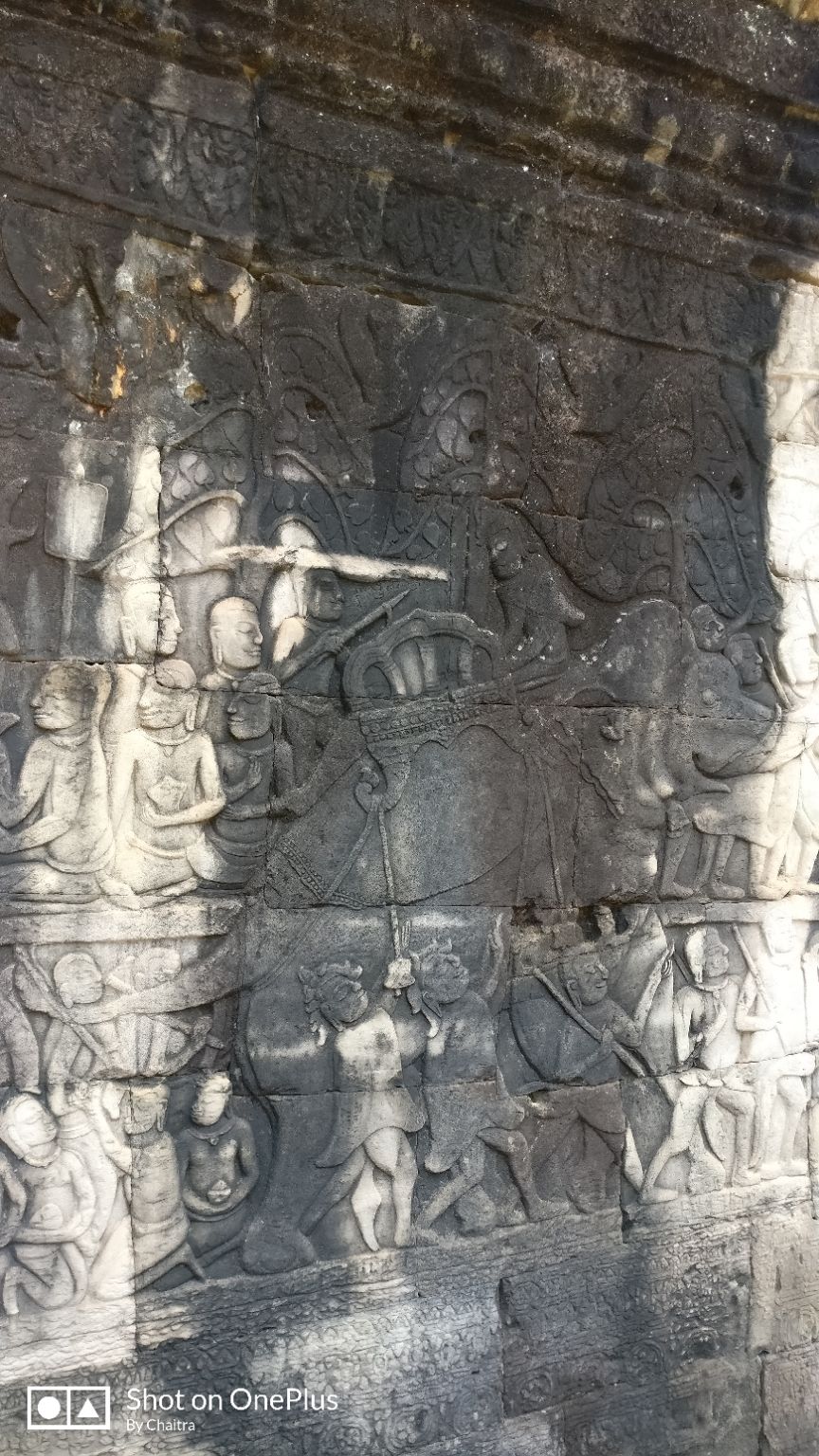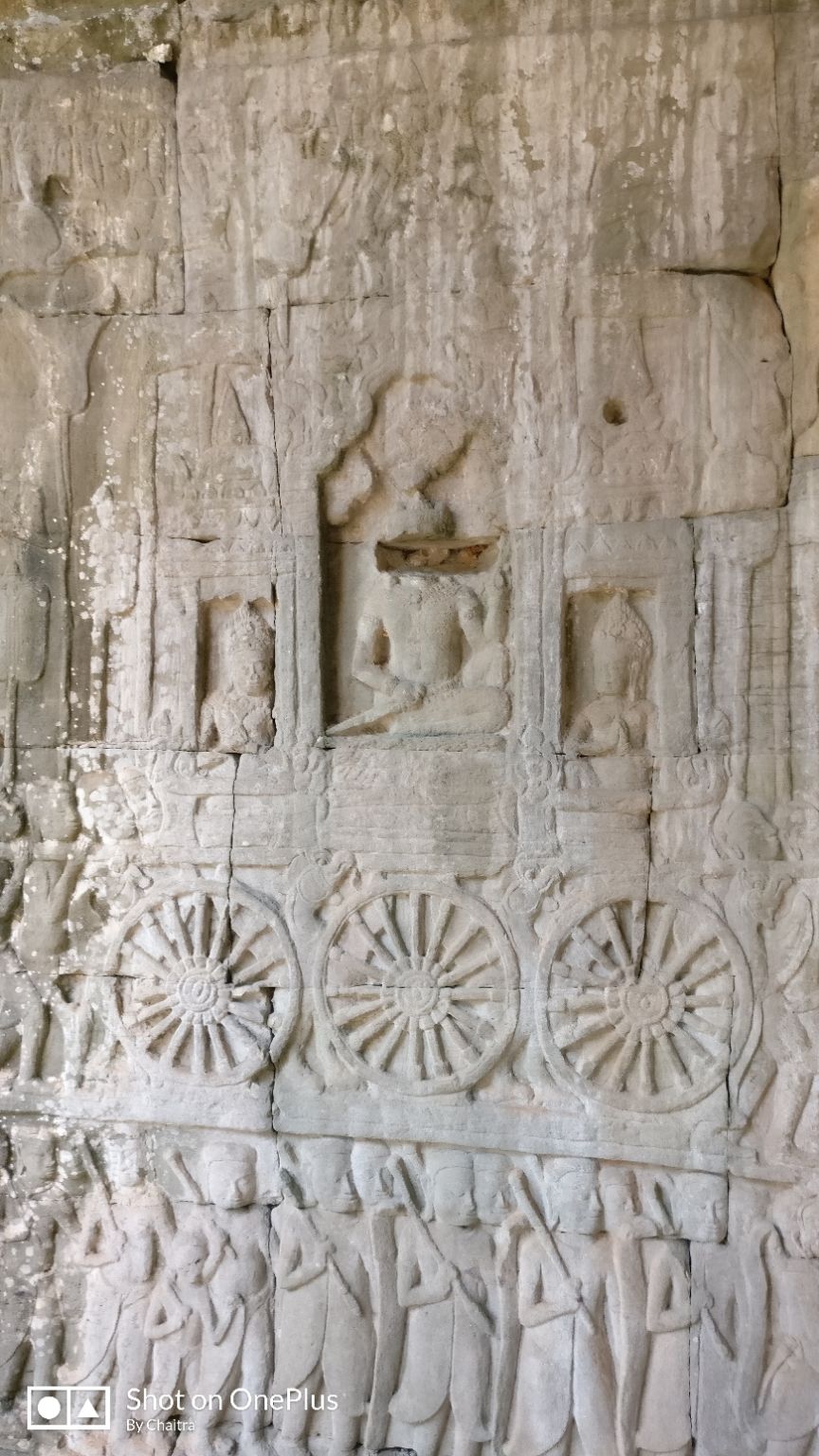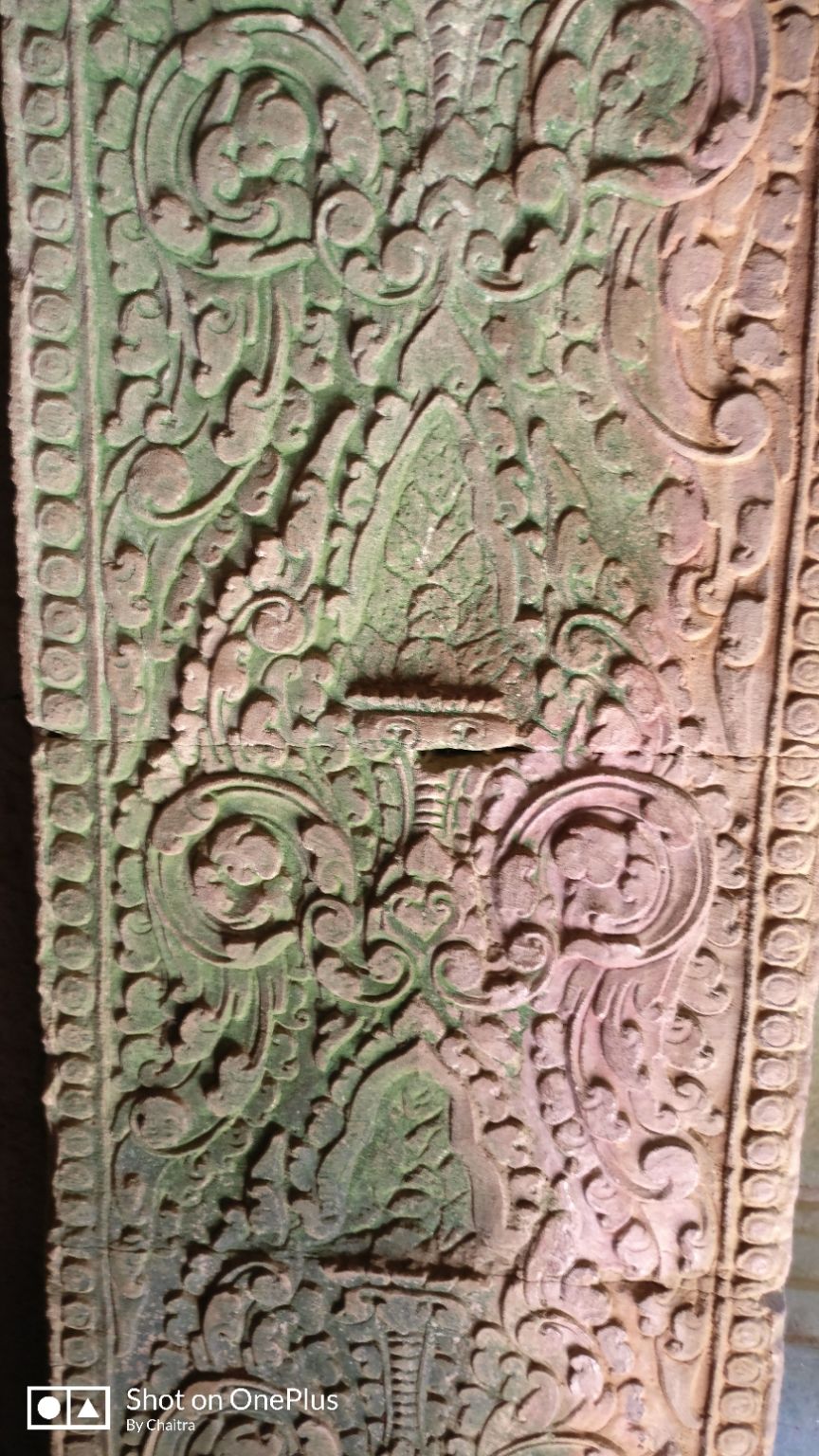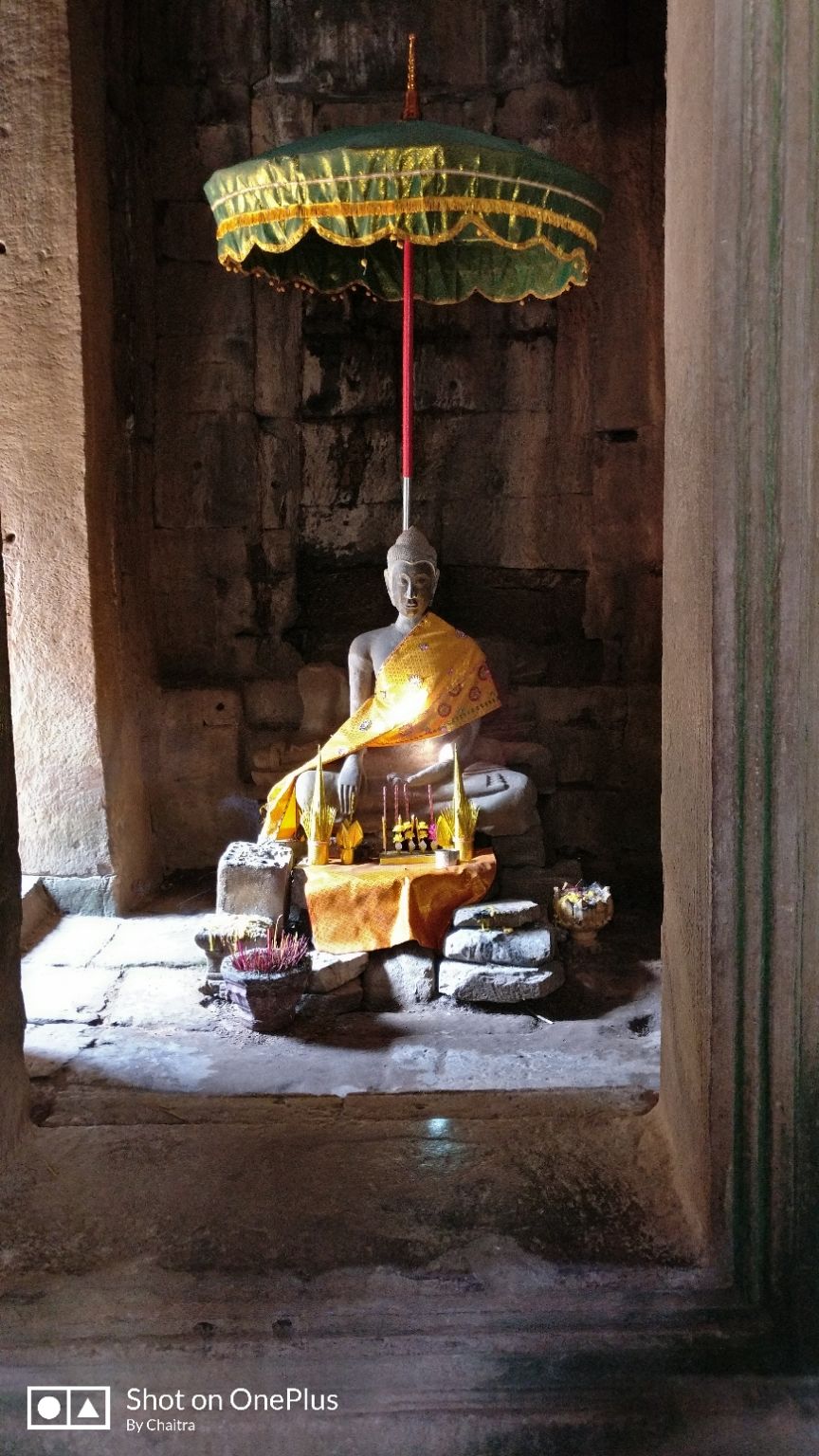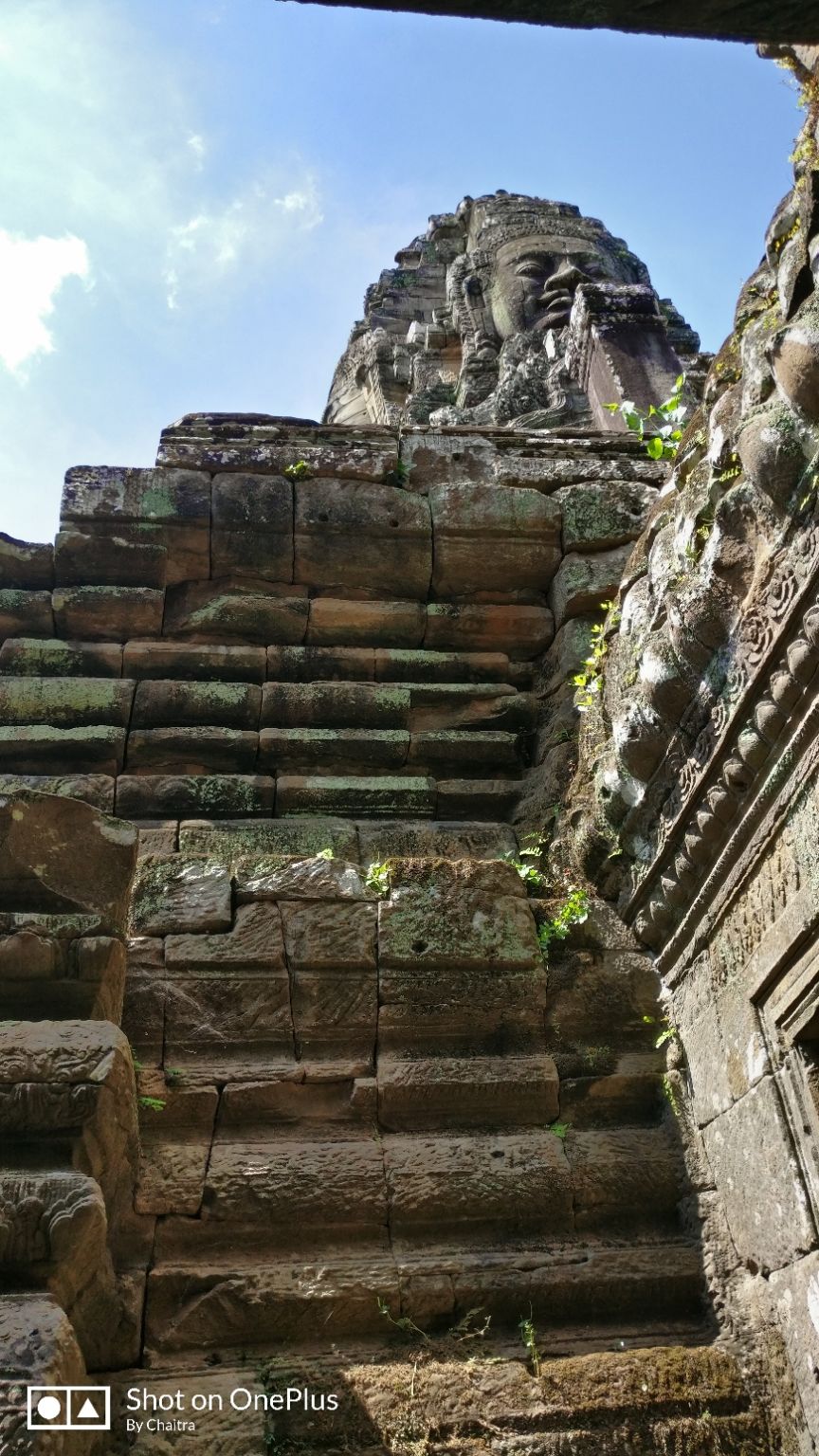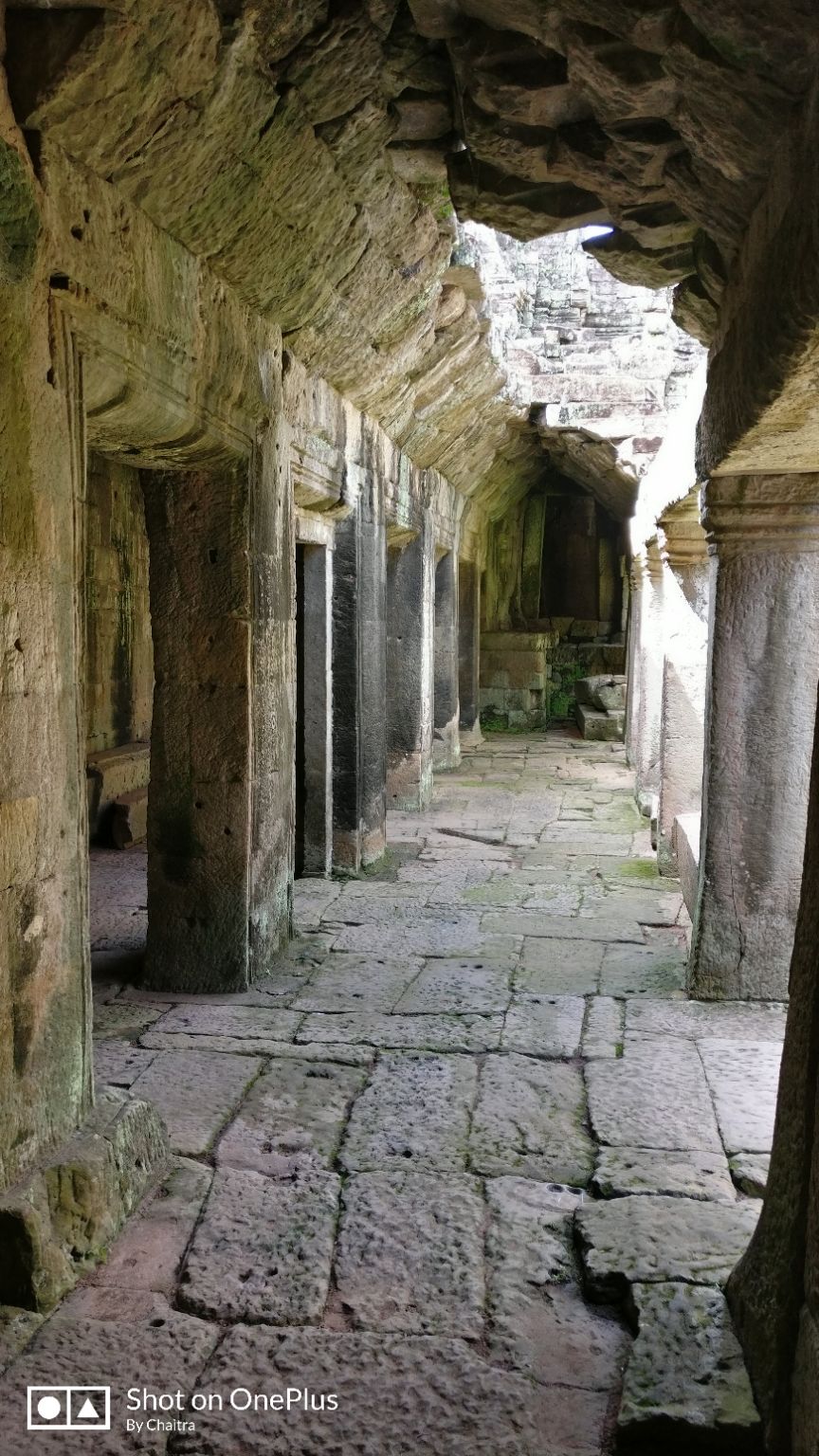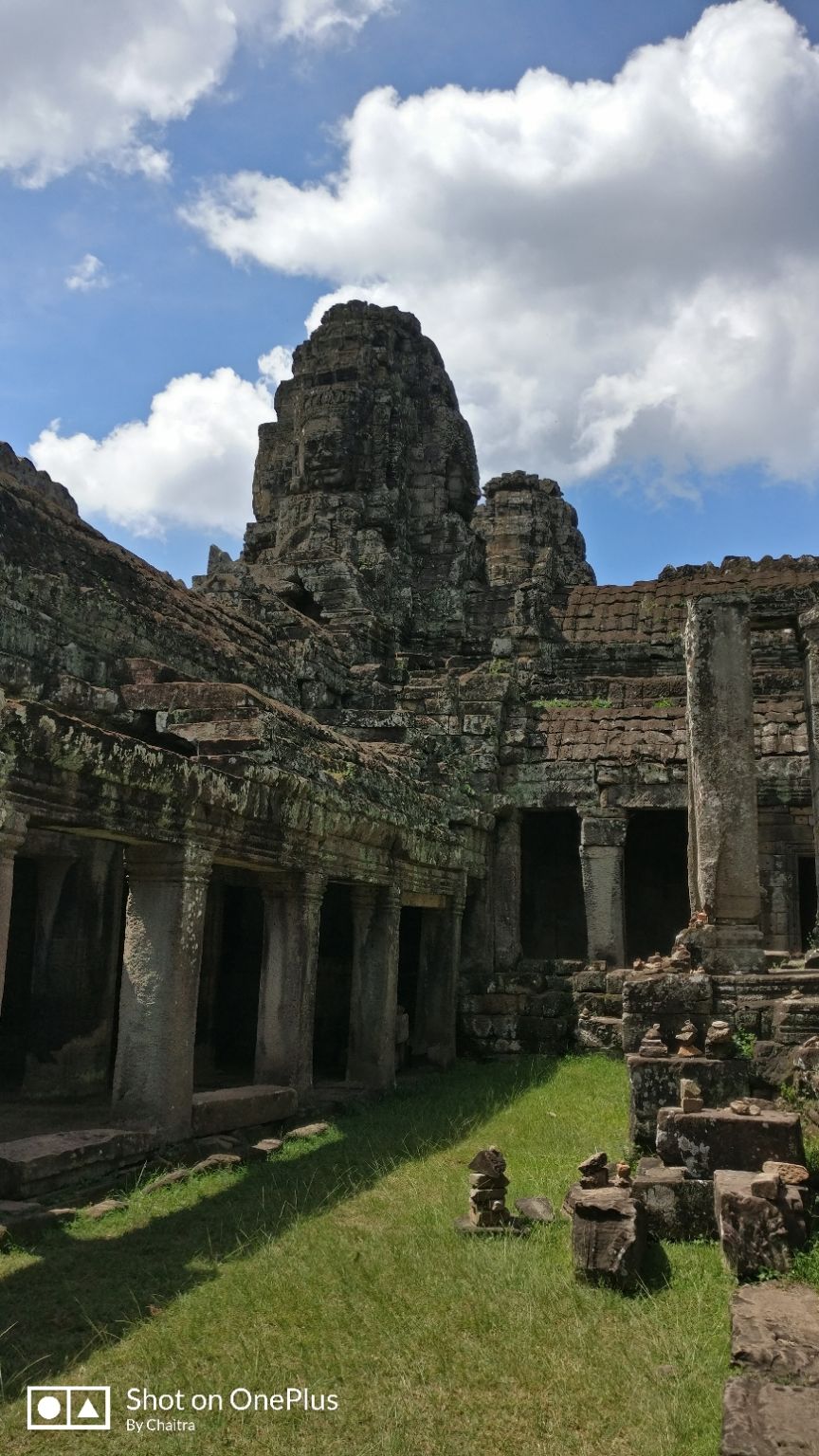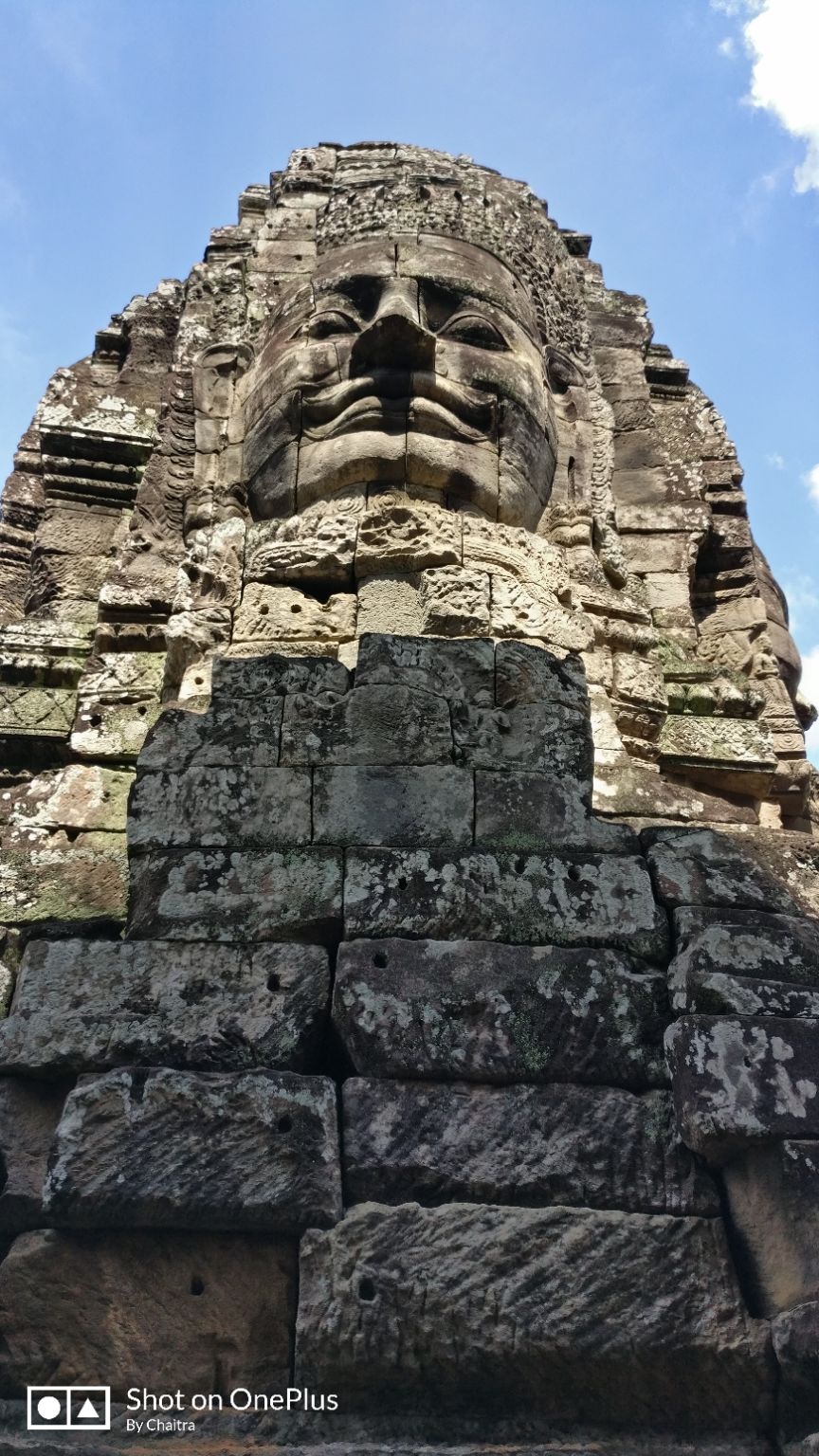 Baphoun Temple
Baphoun is a three tiered temple mountain in the Angkor Thom dedicated to the Hindu God Shiva. In late 15th century this temple was converted to a Buddhist temple. You will find the statue of reclining Buddha in this temple. The temple was going through restoration in late 1960's but the same was abandoned after civil war broke out in 1970. When the economy was trying to cope up again the project of restoration started. It took the team, 16 years to complete this project and became popular as largest 3D jigsaw puzzle in the world. Finally the temple reopened formally in 2011.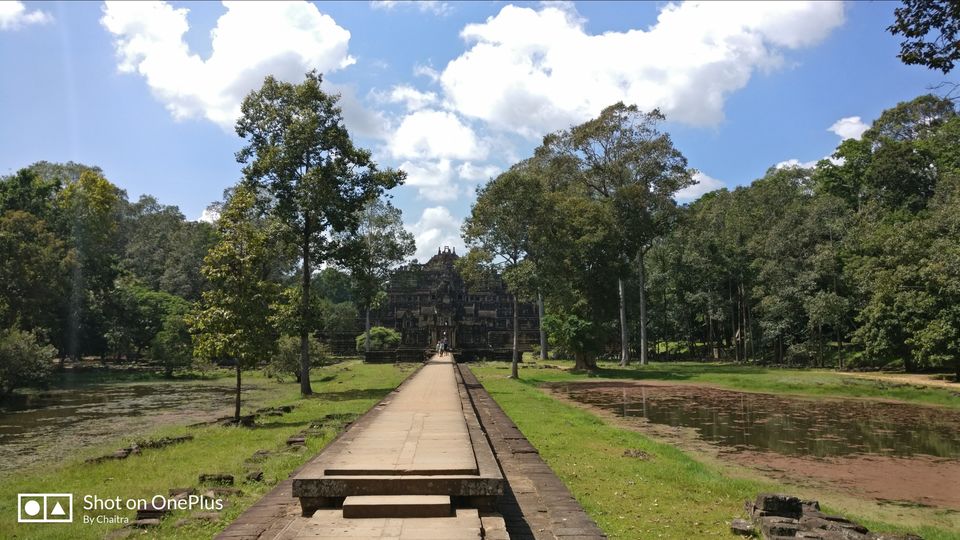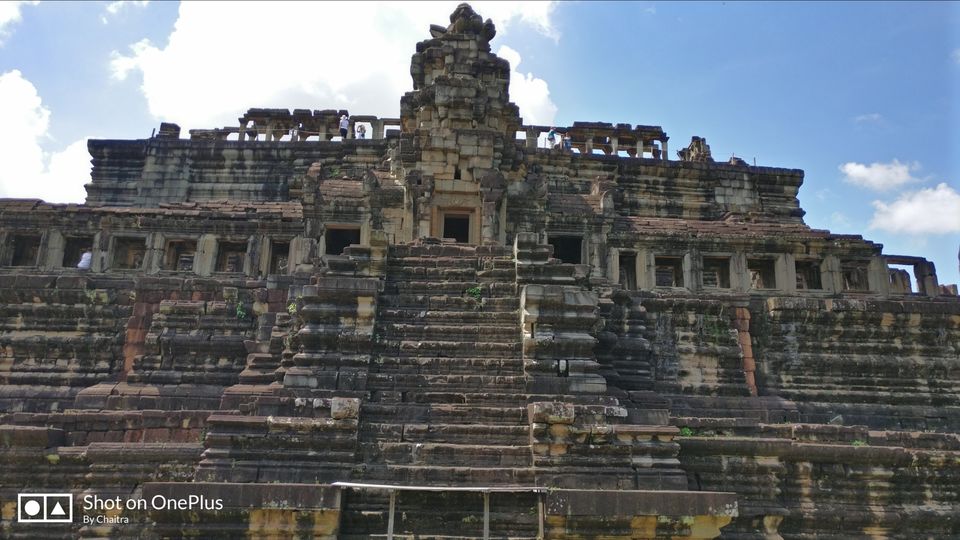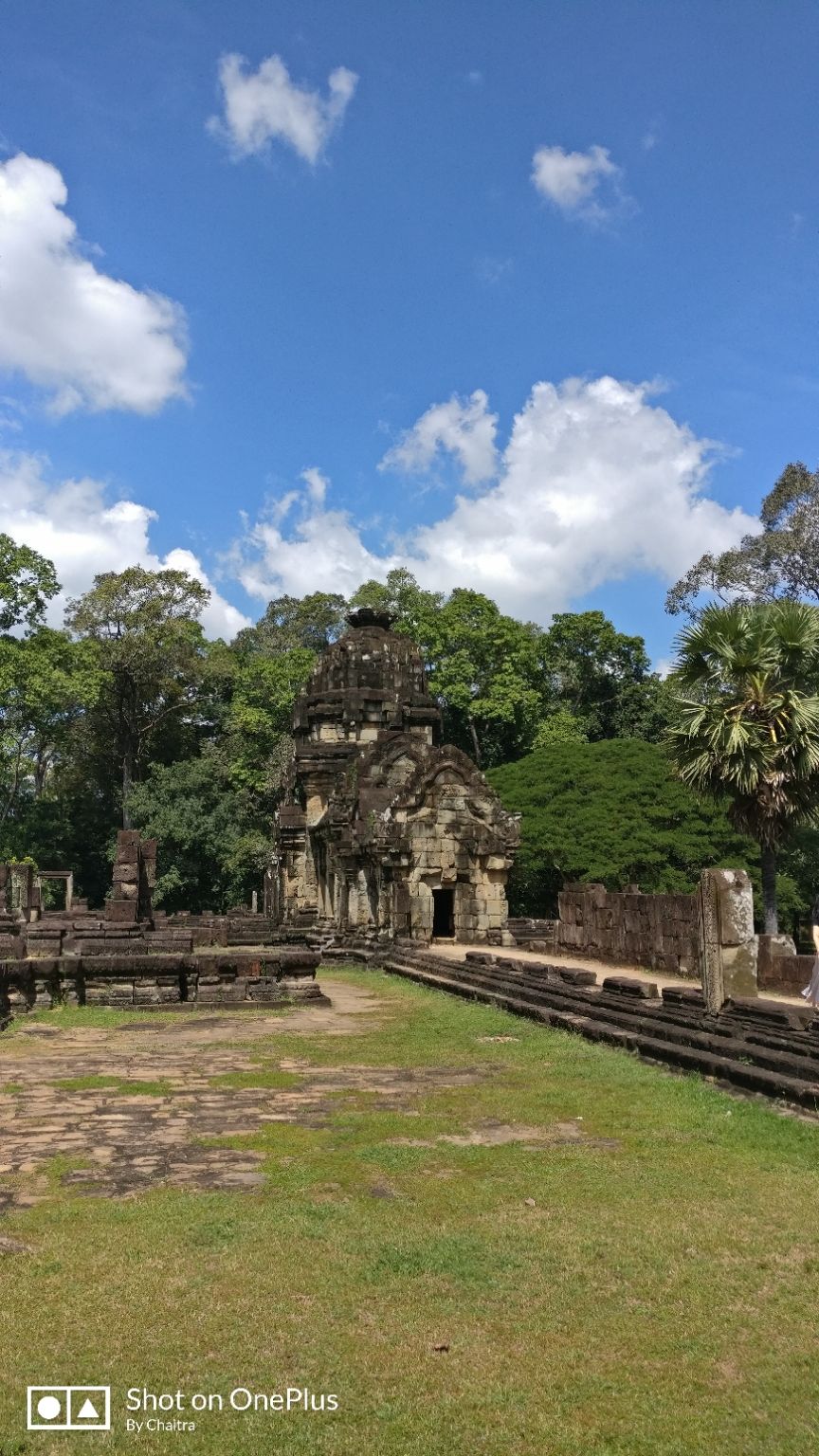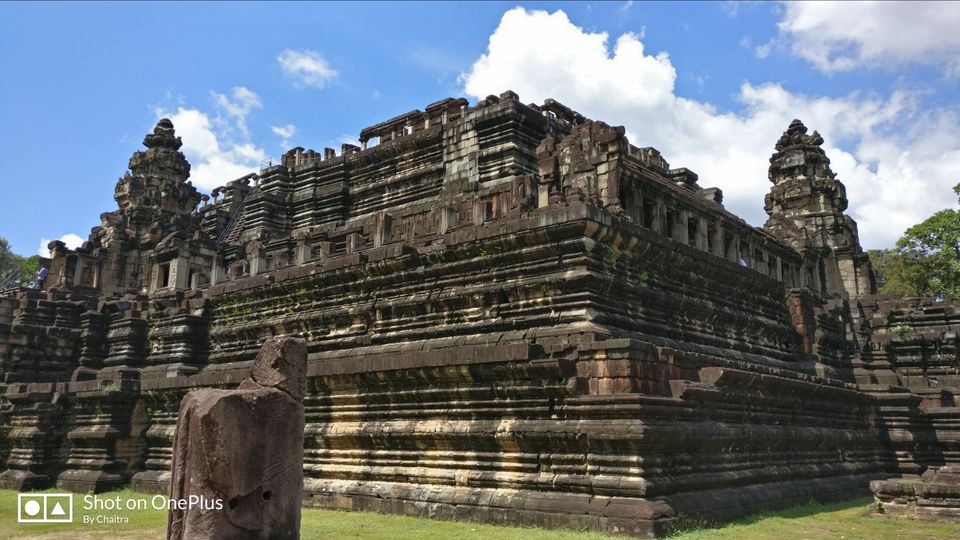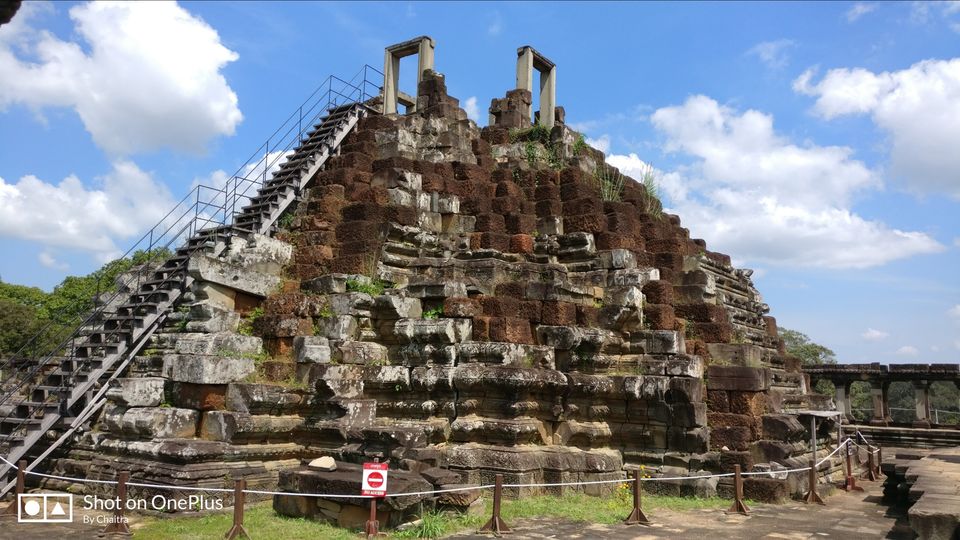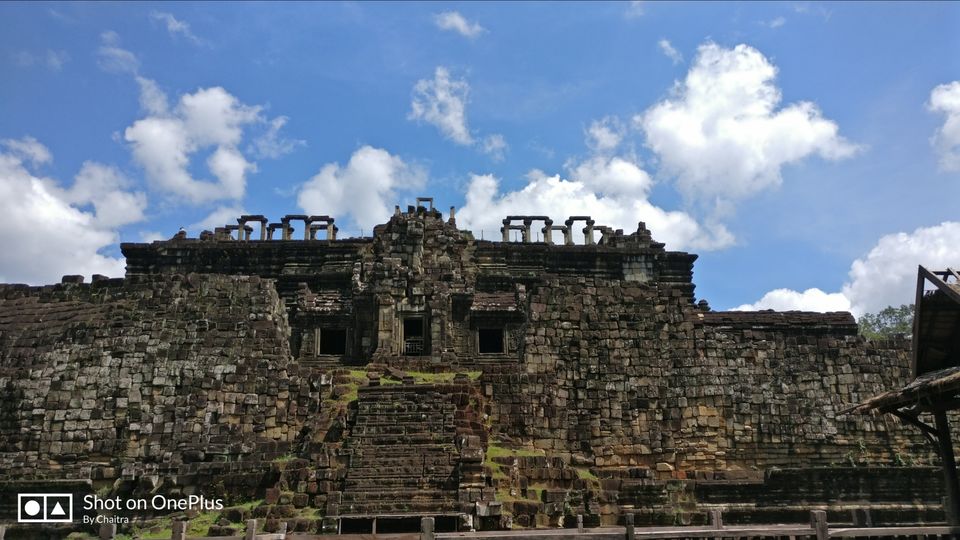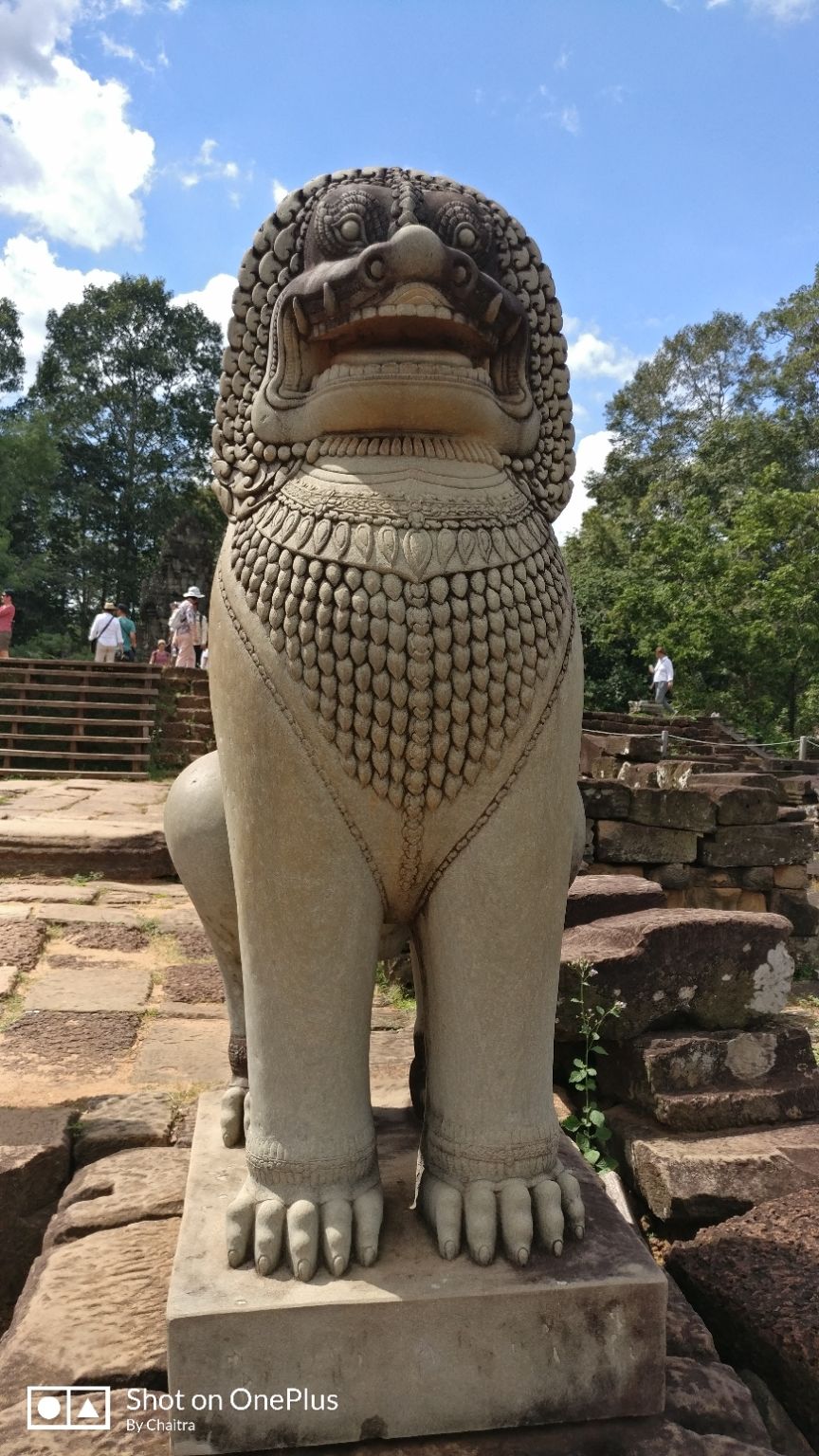 Phimeanakas or Vimeanakas
Phimeanakas or Vimeanakas also known as celestial temple was built in 10th Century by Rajendravarman and was completed by Suryavarman. This temple is a three tier pyramid like most of the other temples in Angkor.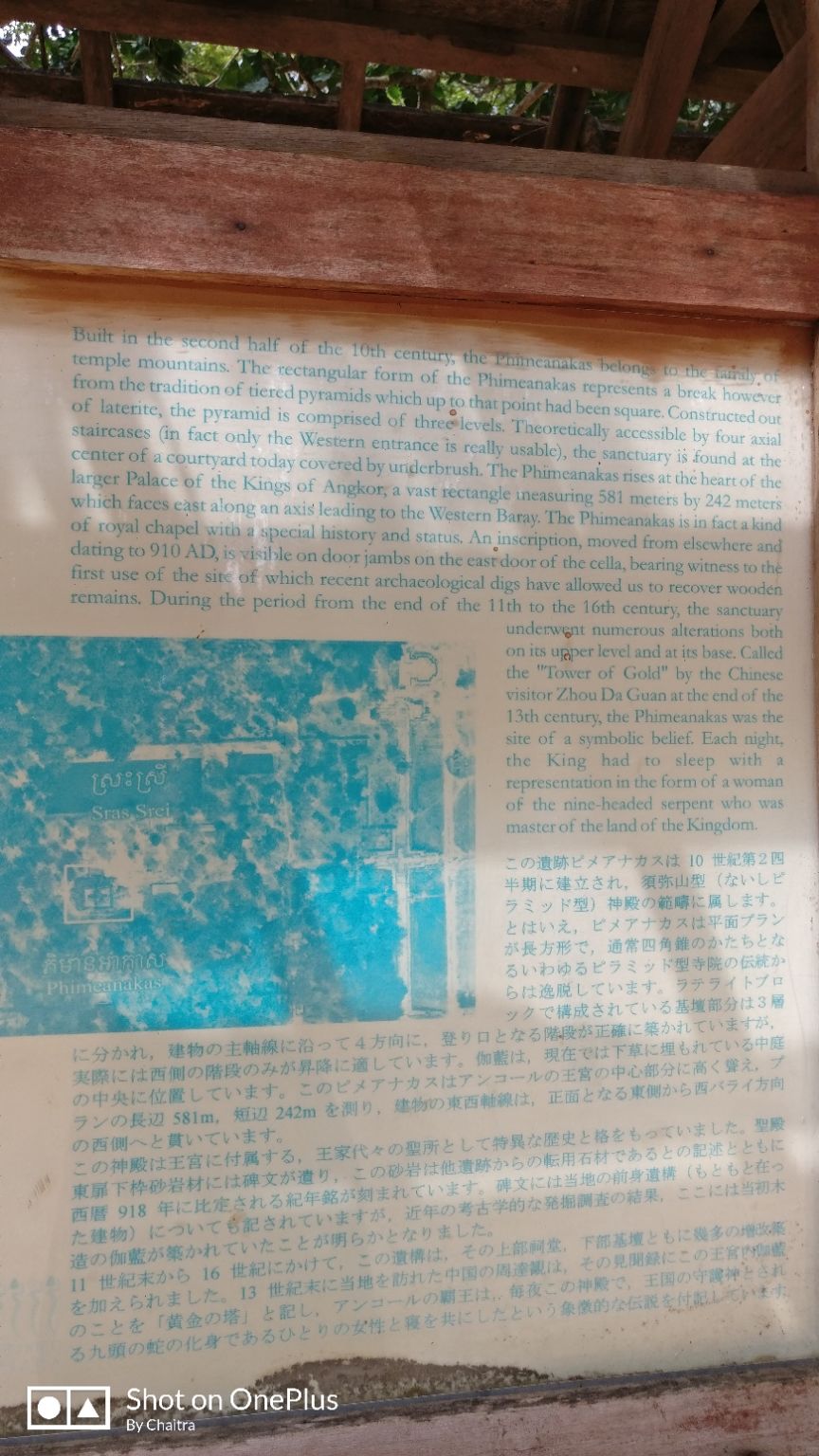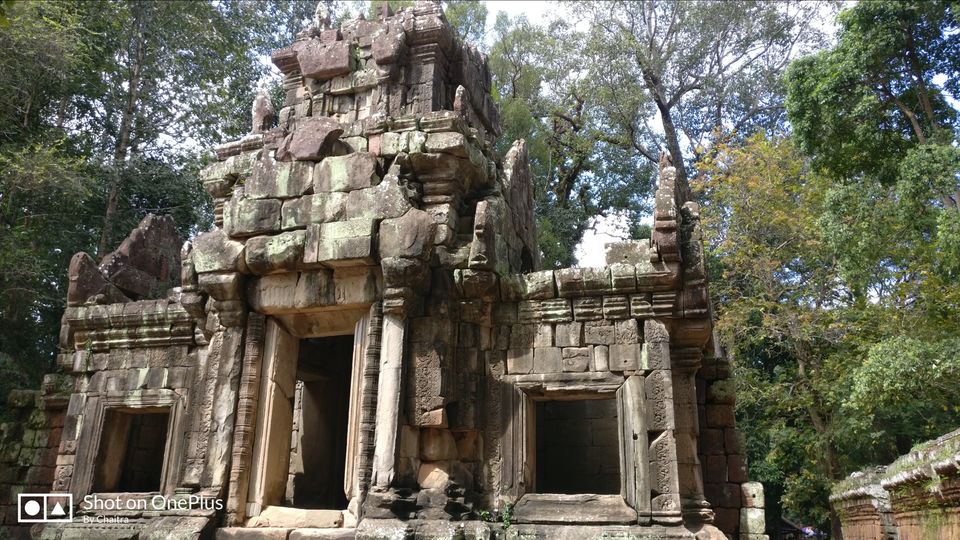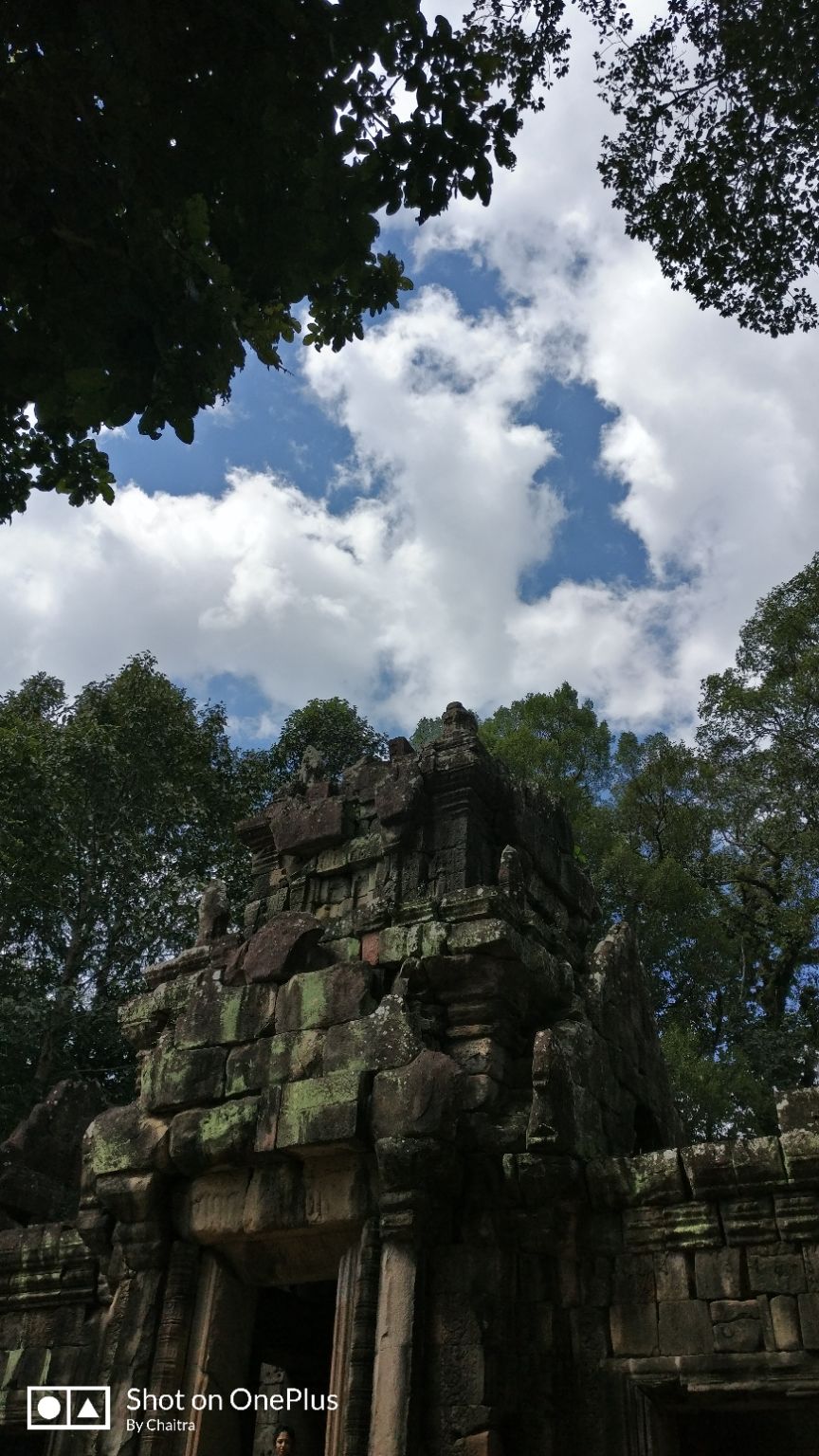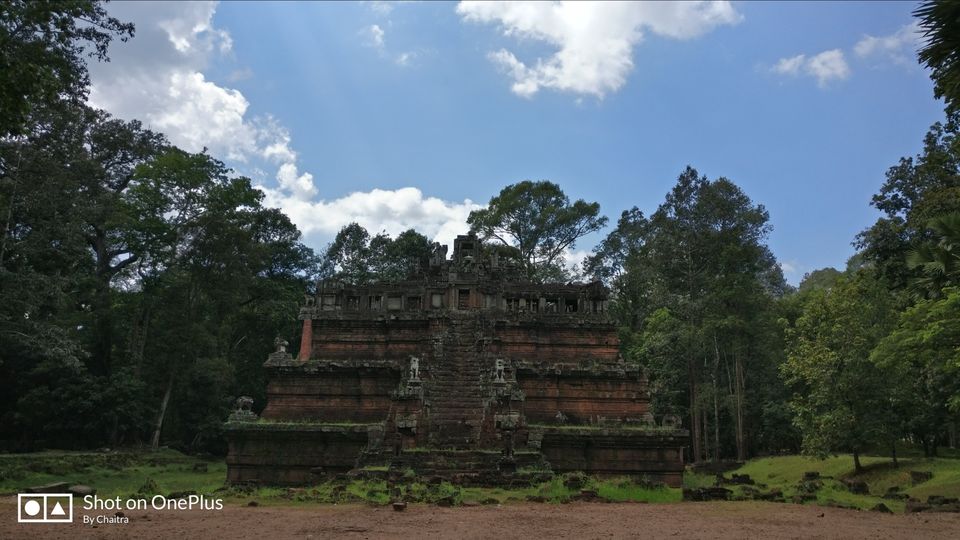 Terraces of Elephants and leopards
A terrace of Elephants and leopards was a walkway used byJayavarman VII to view the triumphant army returning. The terrace is named for the carvings of elephants on it. Called the "Leper King" because discoloration and moss growing on it was reminiscent of a person with leprosy, and also because it fit in with a Cambodian legend of an Angkorian king Yasovarman I who had leprosy.
Preah Khan
Preah Khan is located in a dense forest and occupies 138 acres of land. This place is been left unrestored with copious trees and other vegetation growing in the ruins.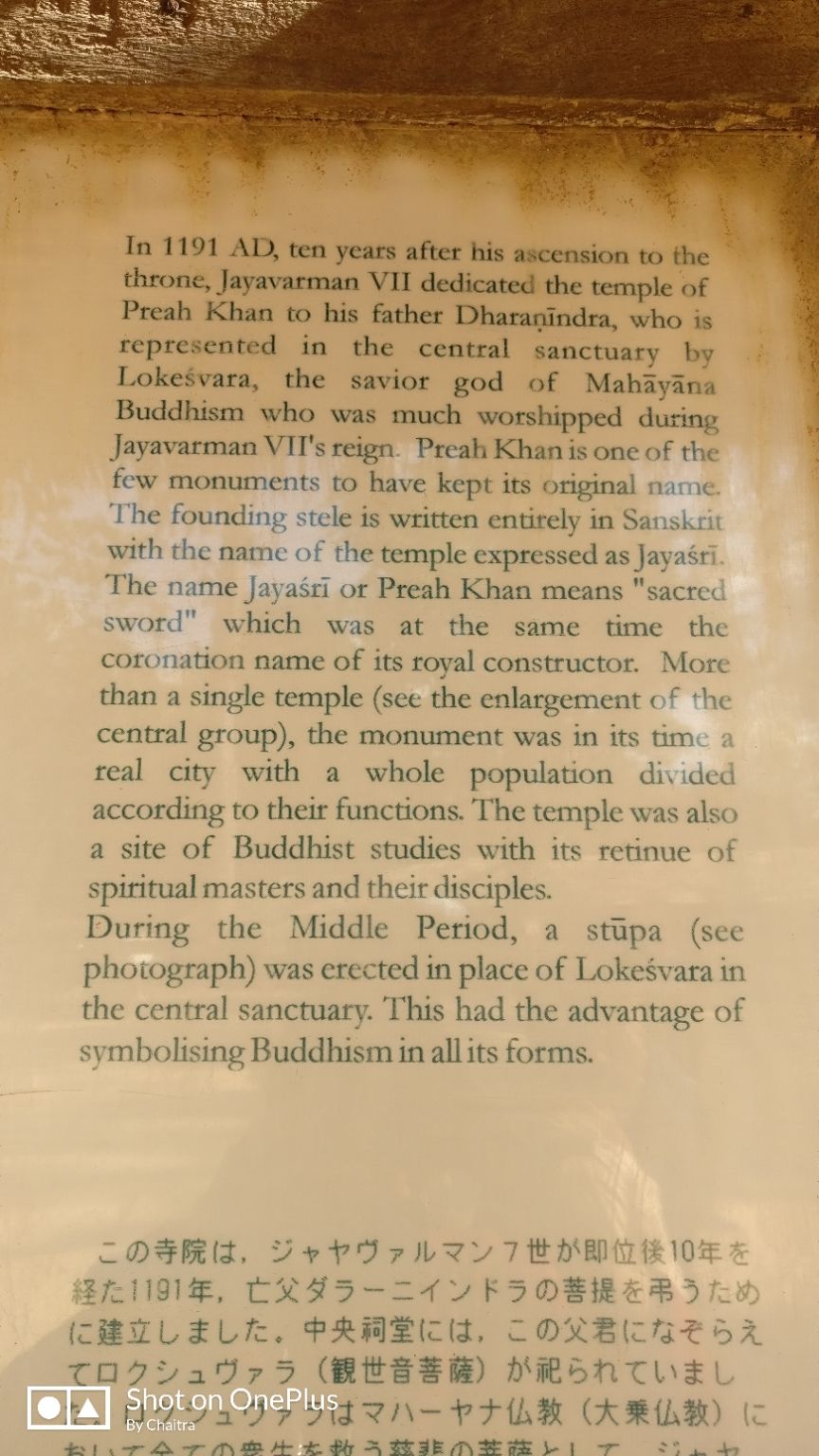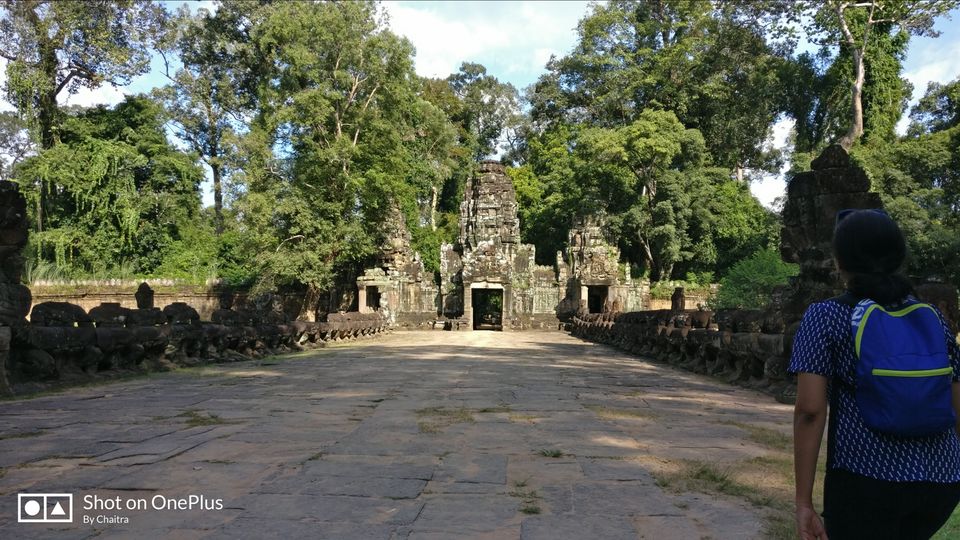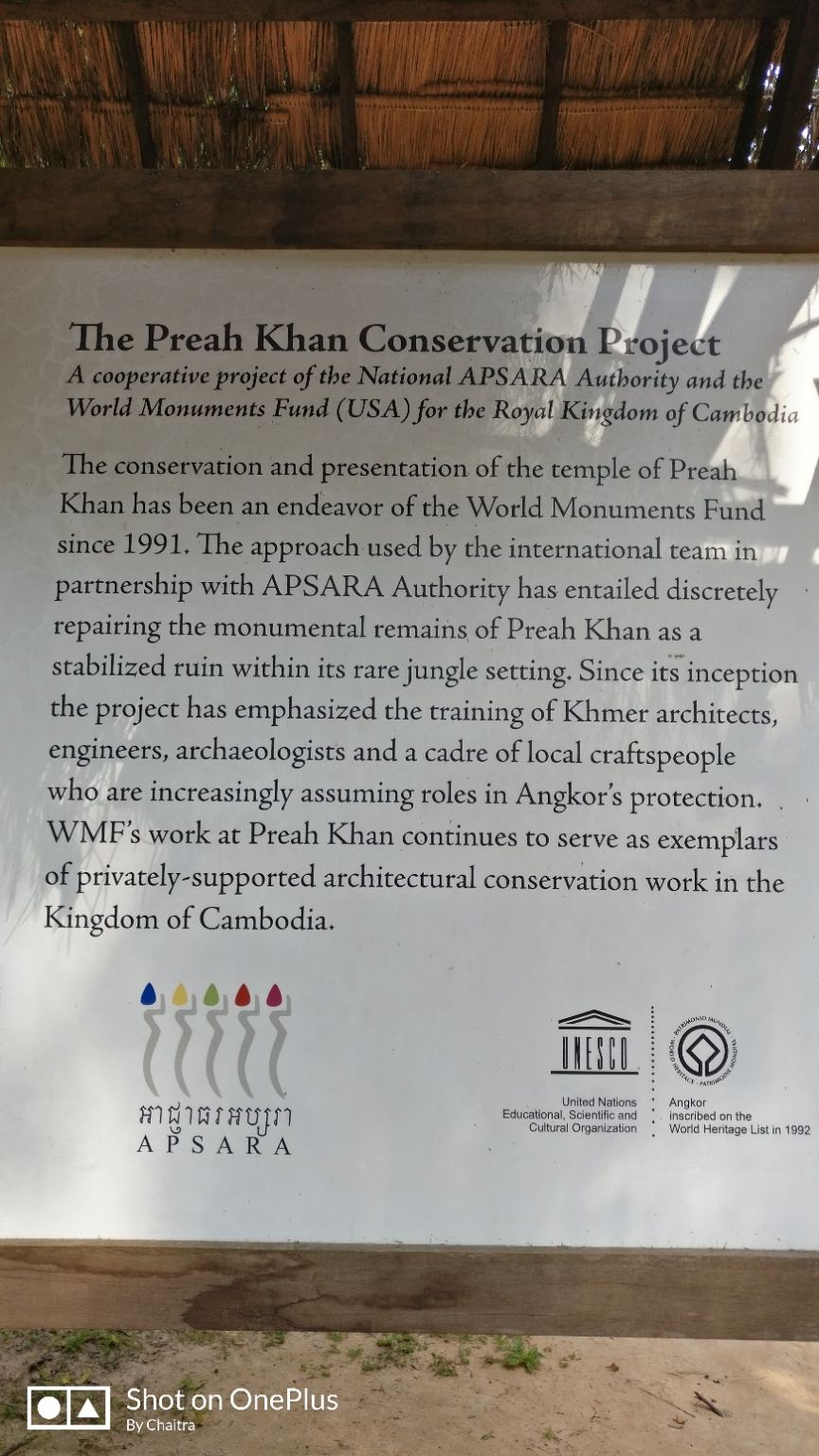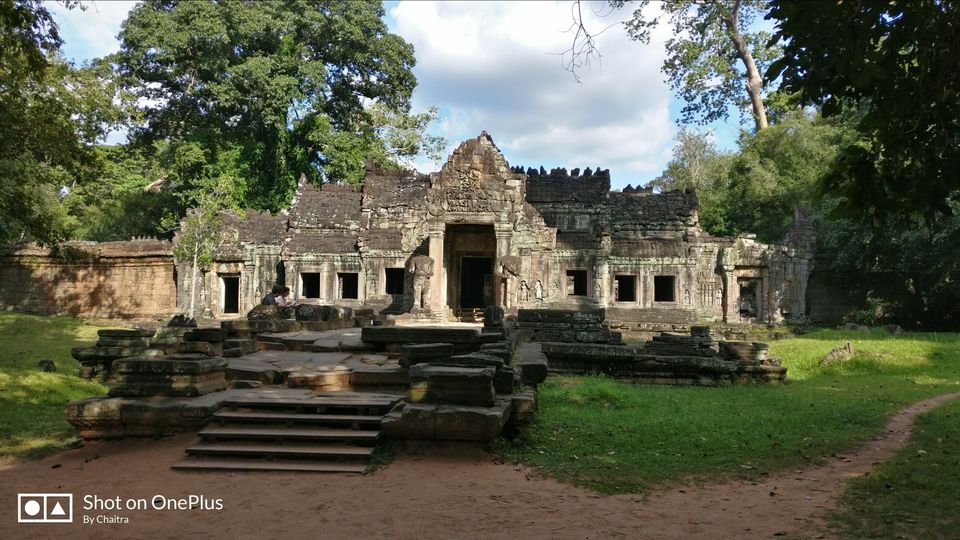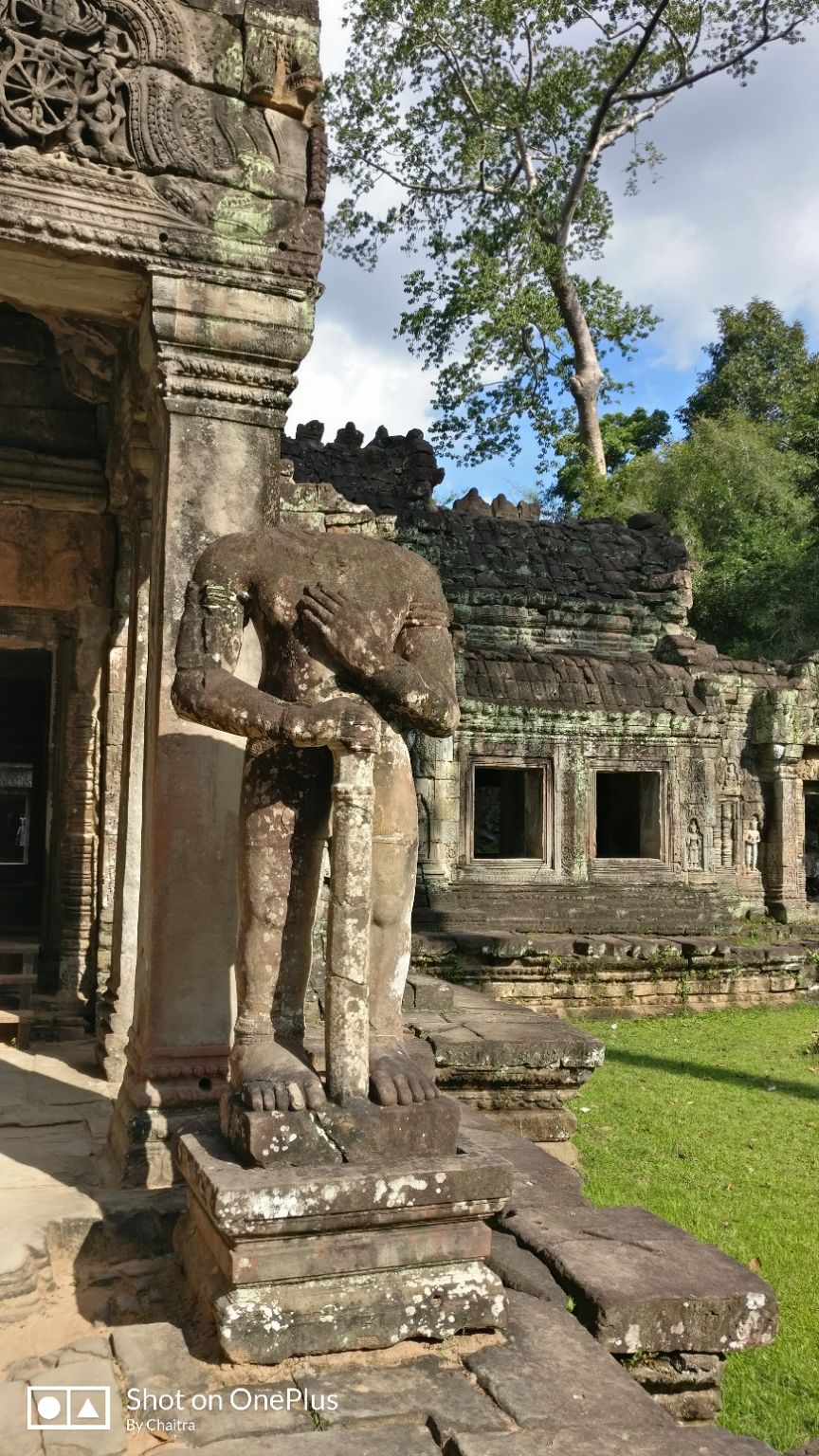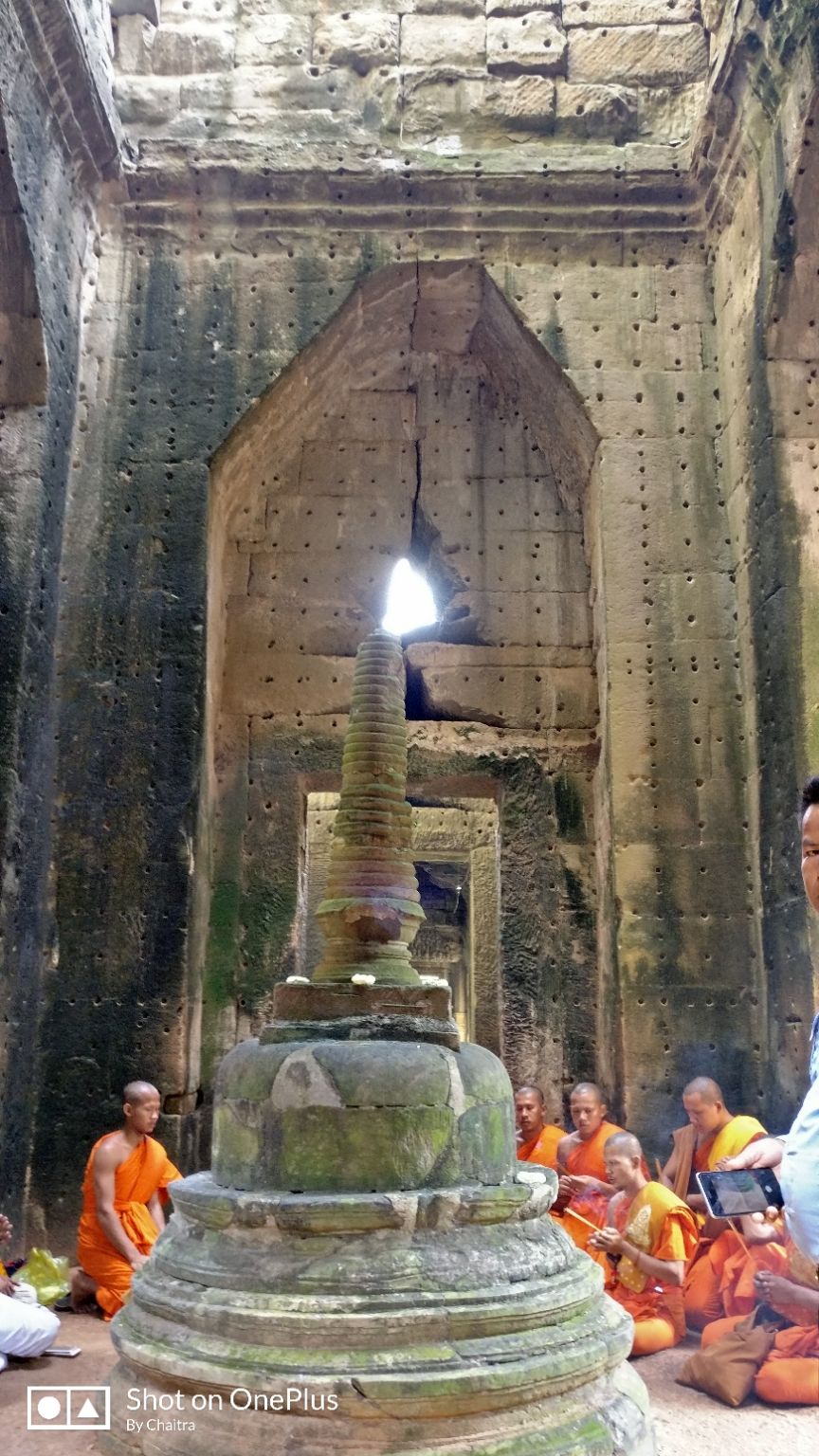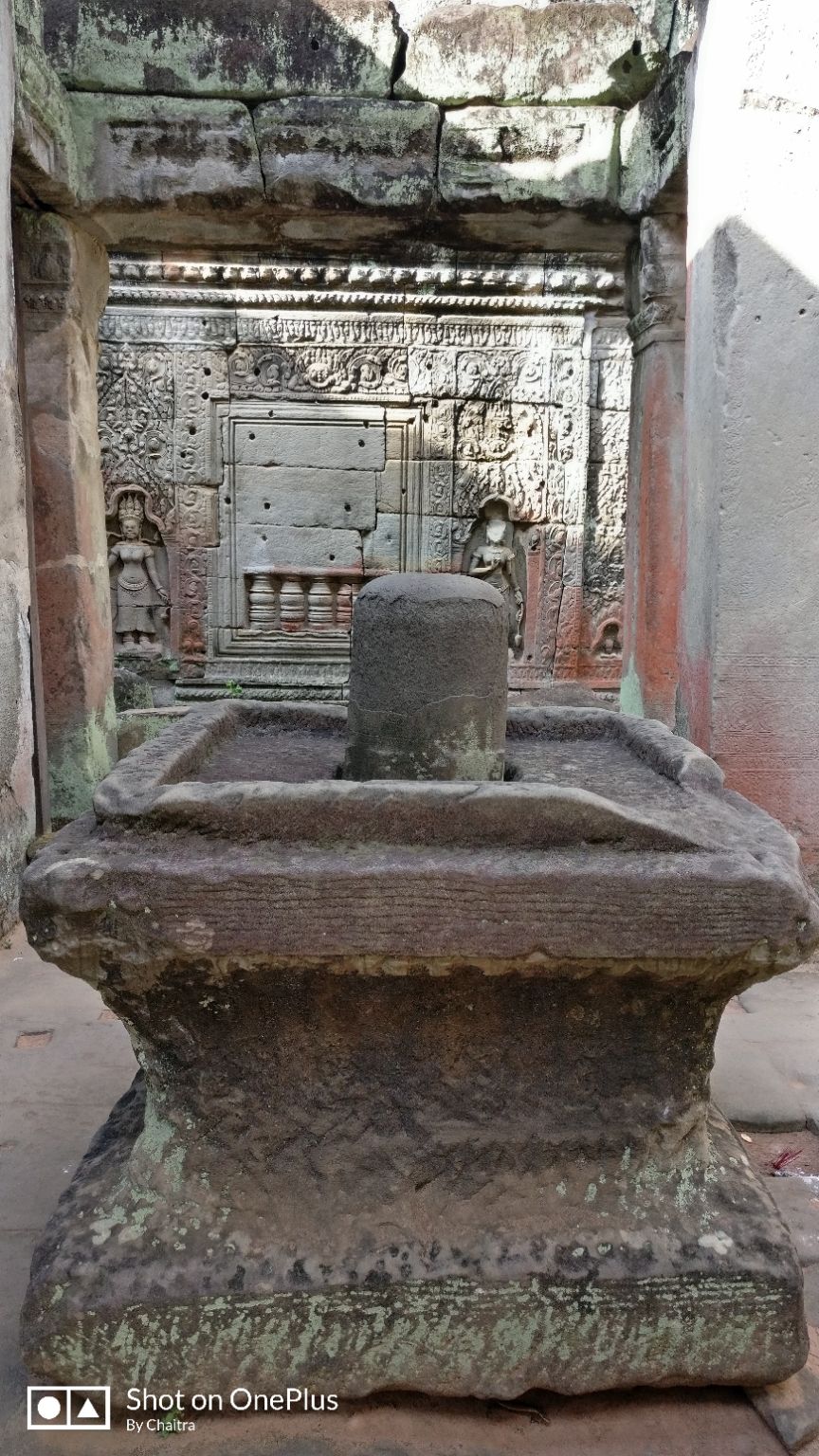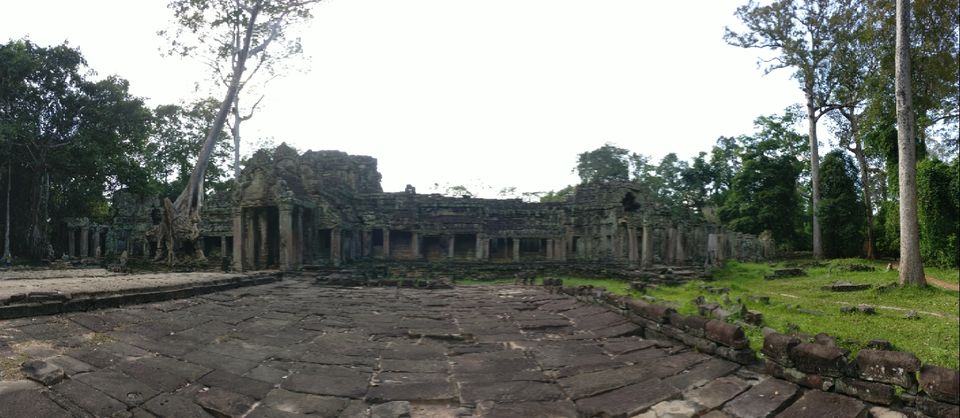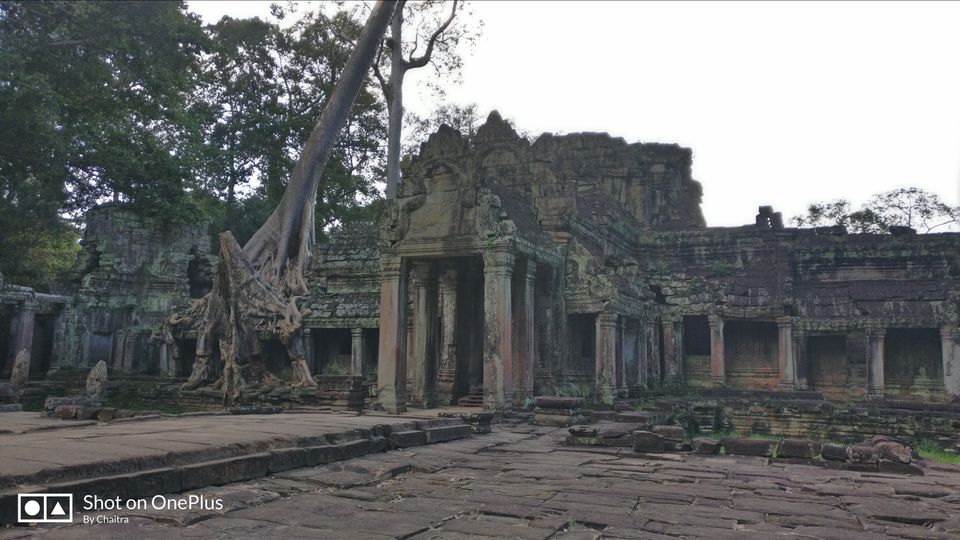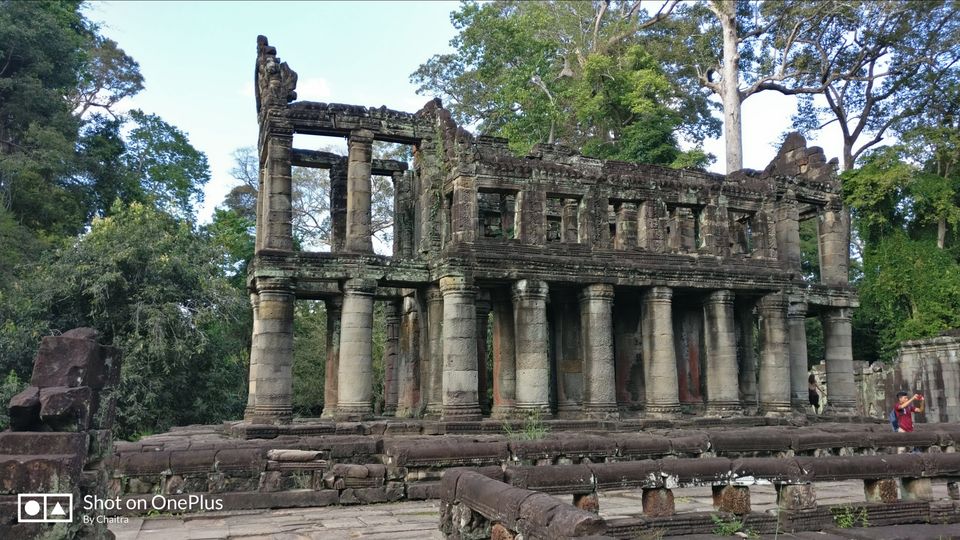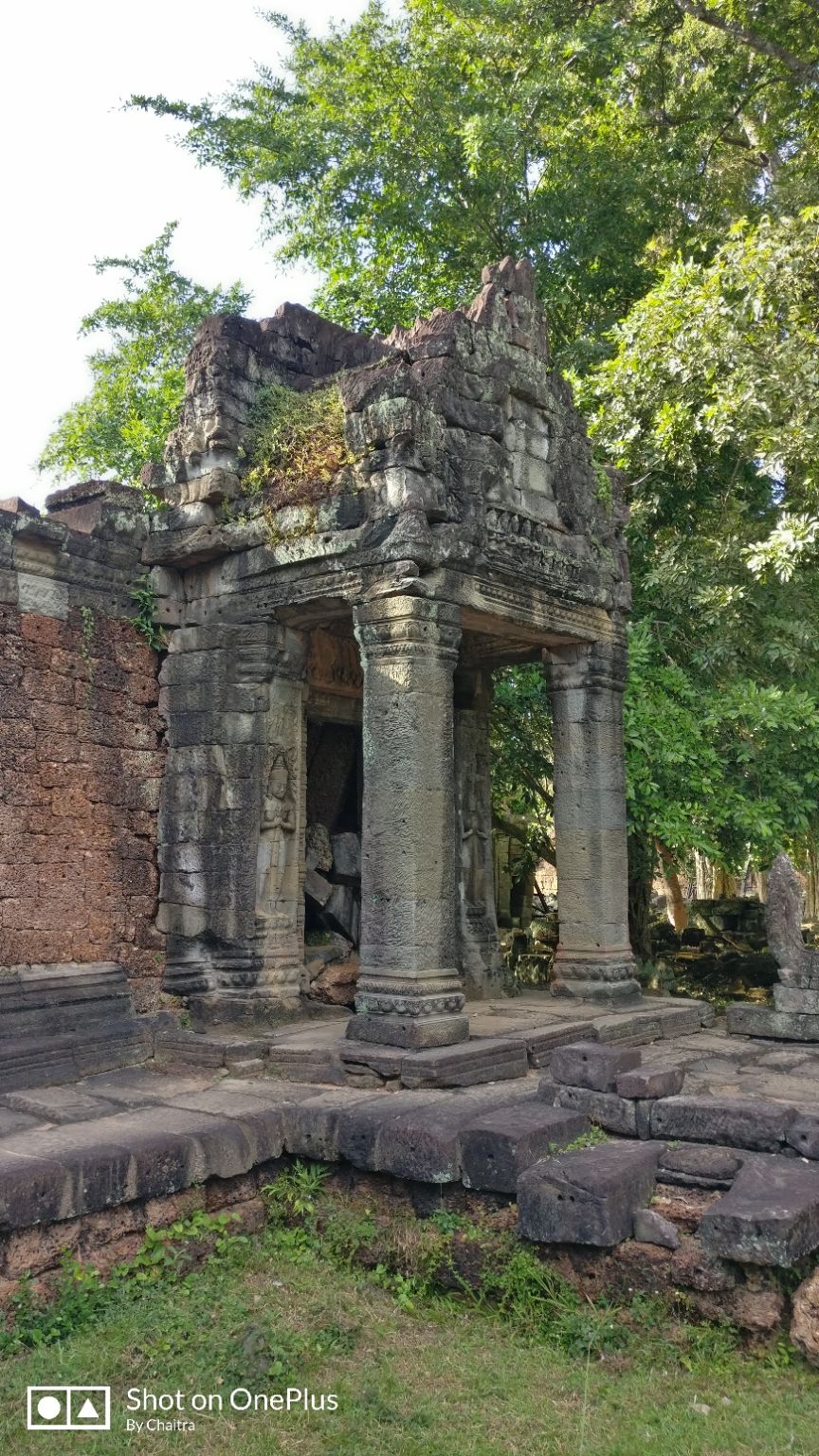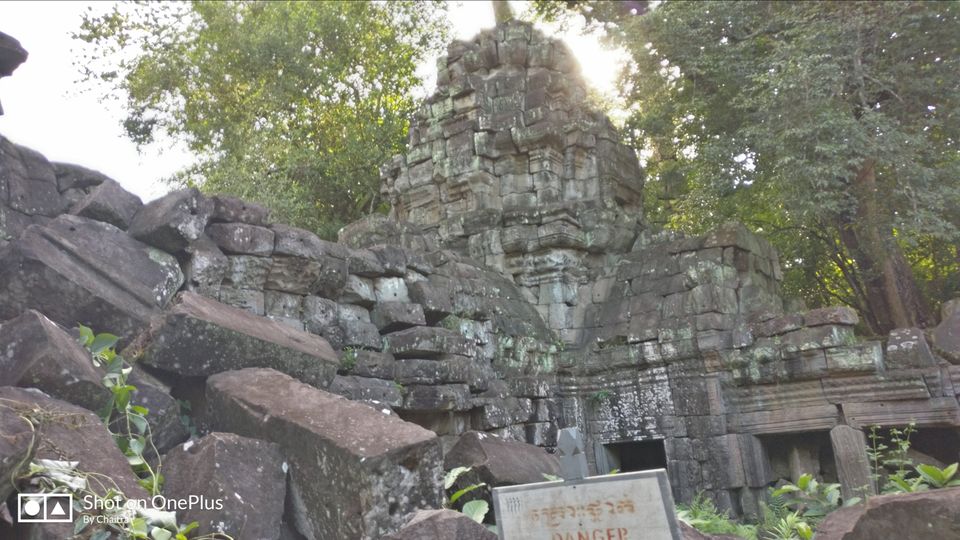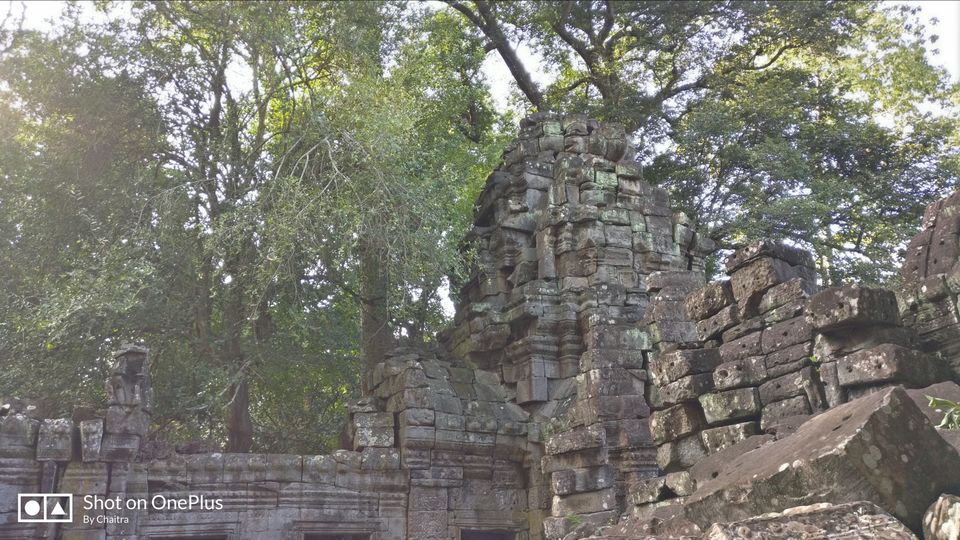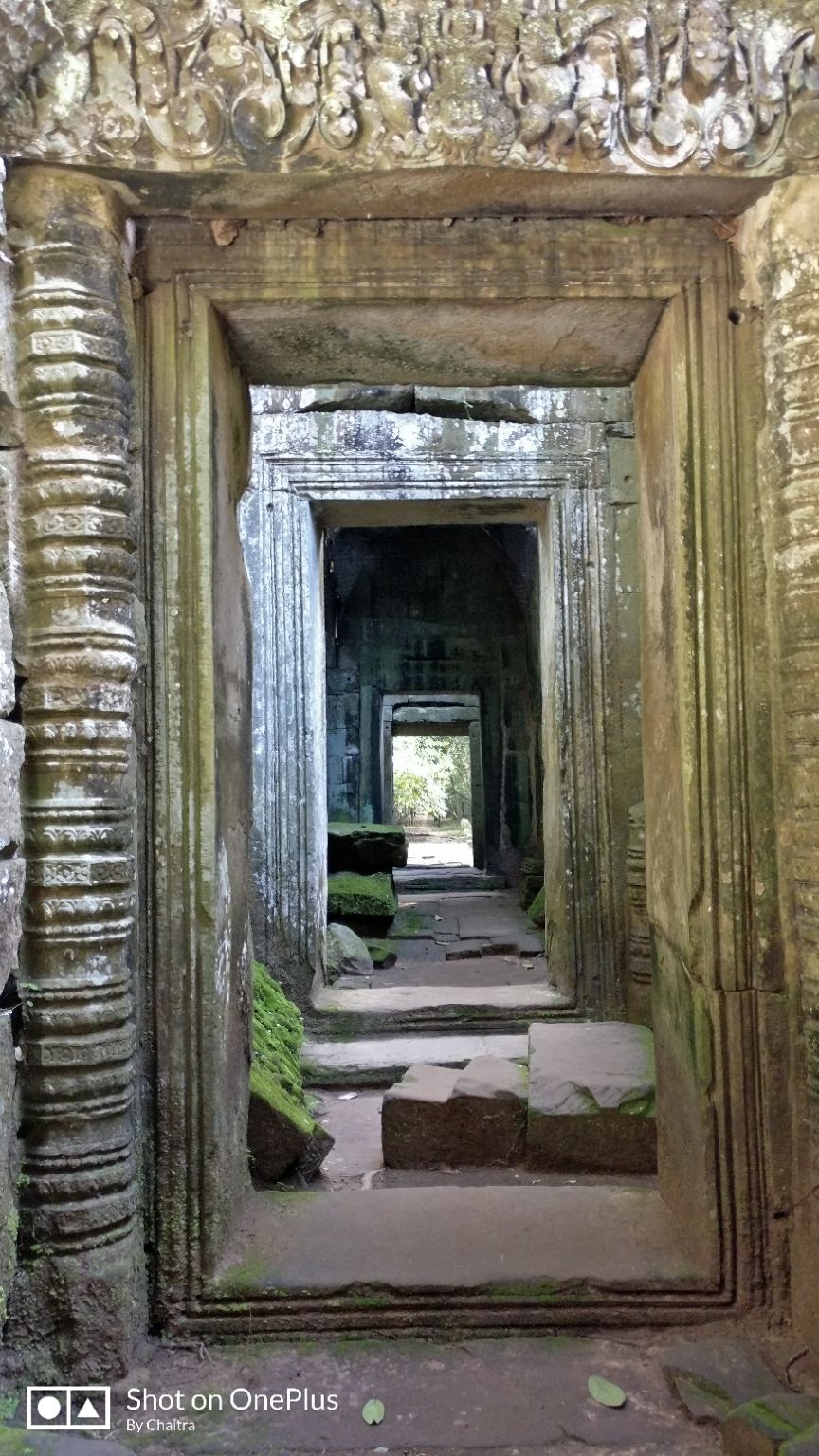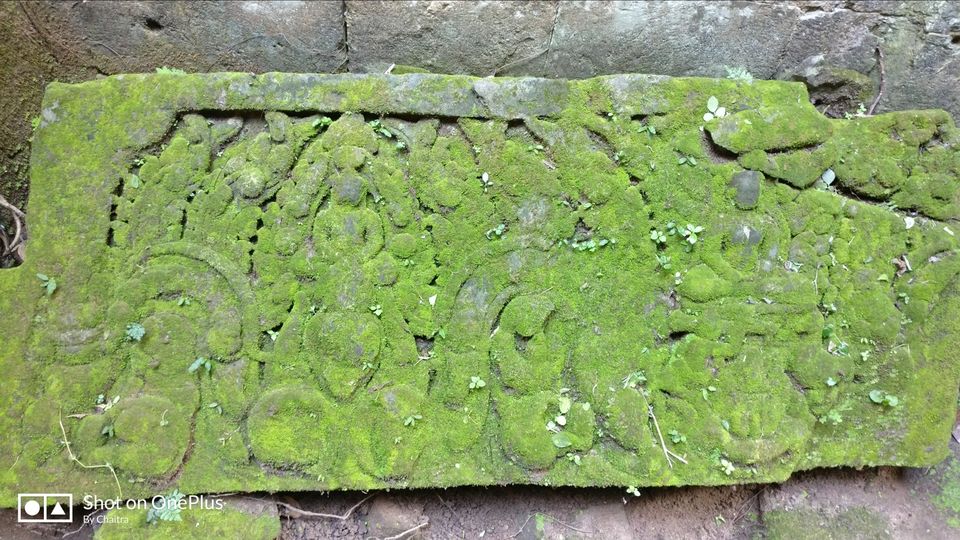 Phnom Bakheng
Phnom Bakheng is again a form of mountain temple dedicated to Shiva initially. The main attaraction at Phnom Bakheng is sunset view over Angkor wat. There is a small uphill walk to reach this temple. One has to reach this place much before the sunset. Only 100 visitors are allowed in the temple rest have to stand in queue. Knowing very few chances of going in we decided to go back and watch the sunset midway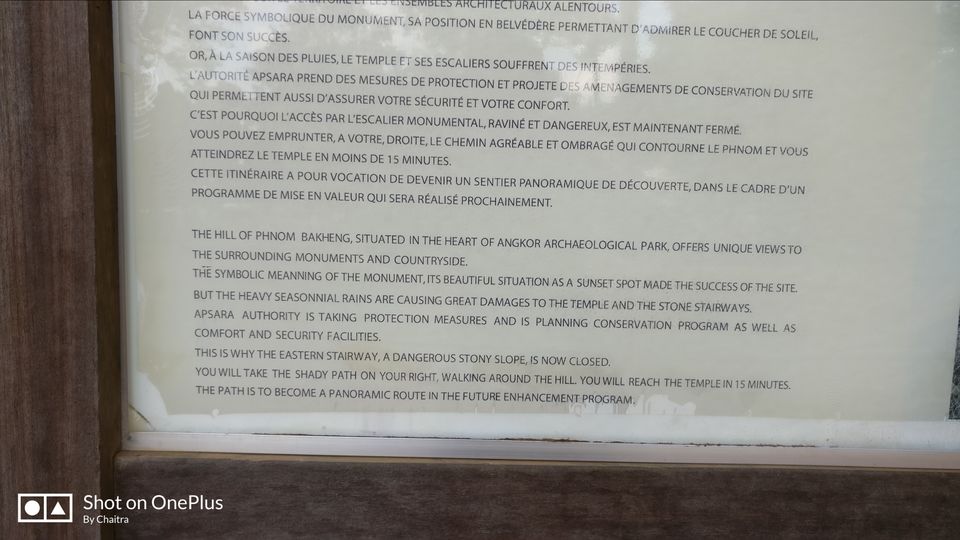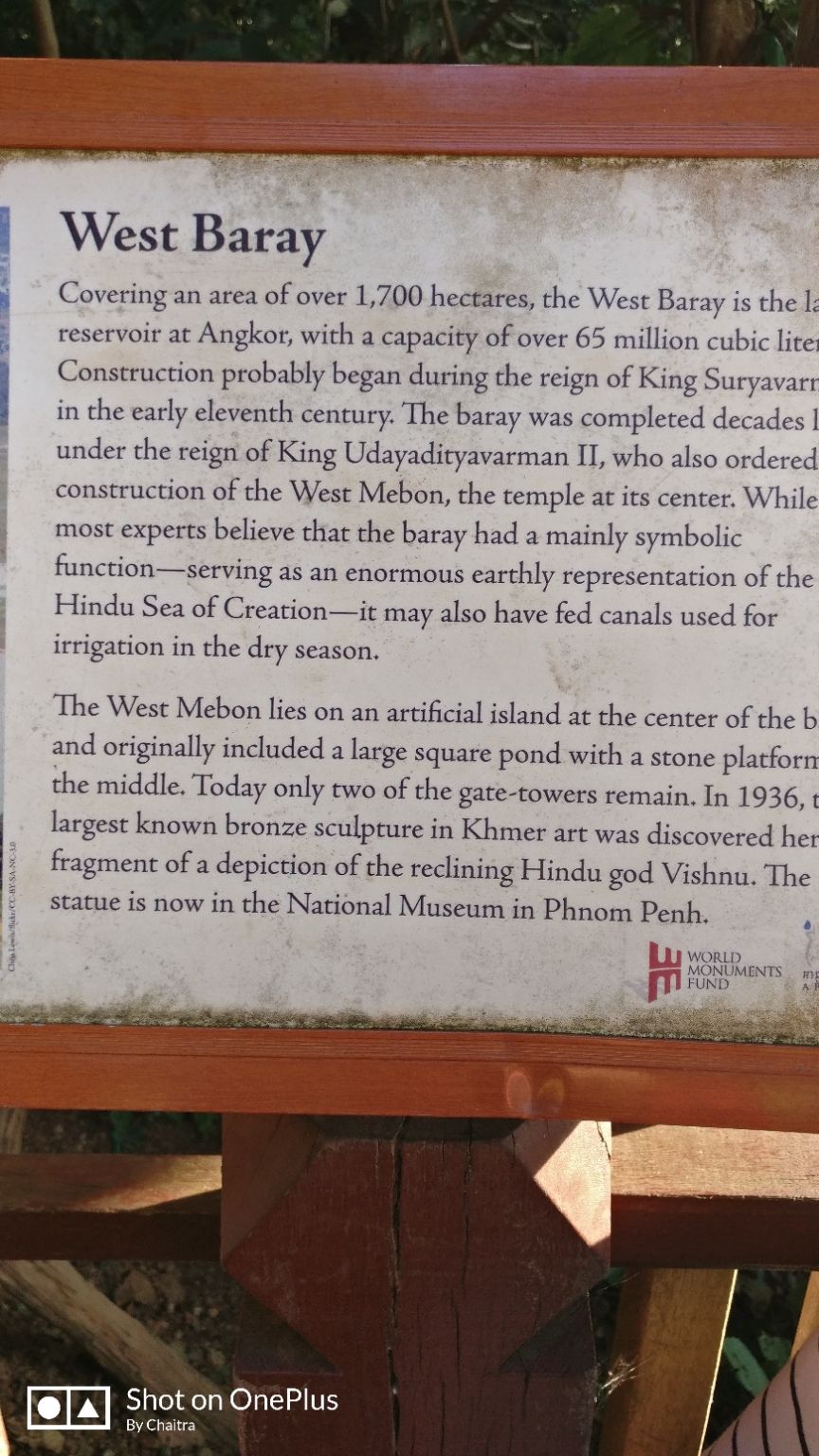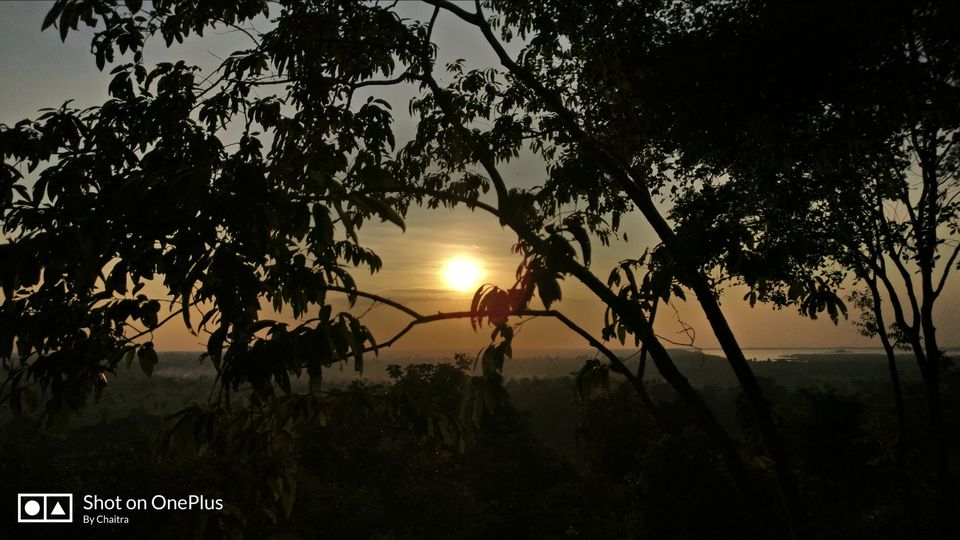 Phnom Kulen
Entry fee: 20USD
Phnom Kulen is a small mountain which houses the statues of Hindu Gods and Buddha. The name means mountain of the lychees and is formed of sandstone.  There is a waterfall located here and also houses with1000 Lingas in the river.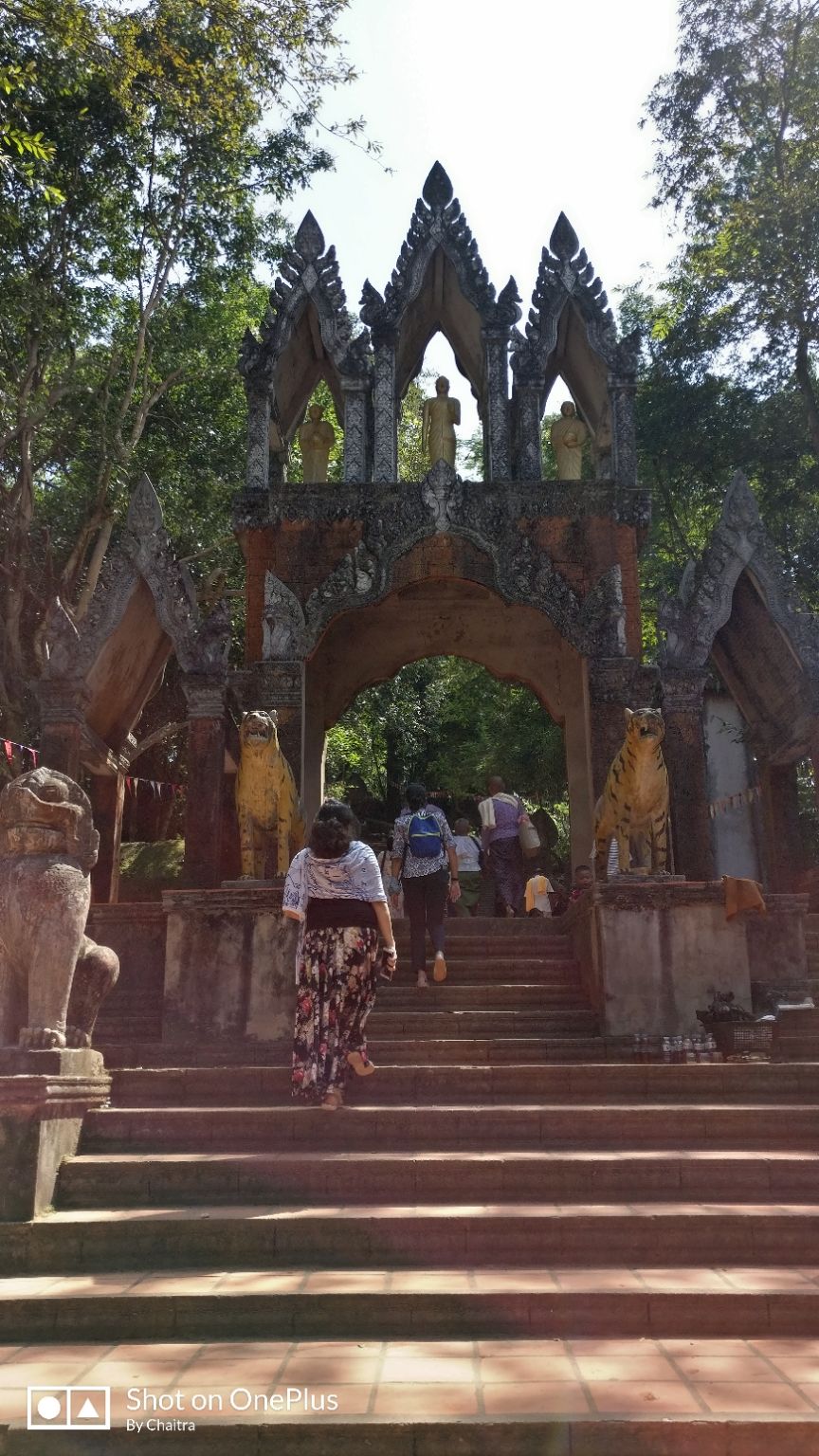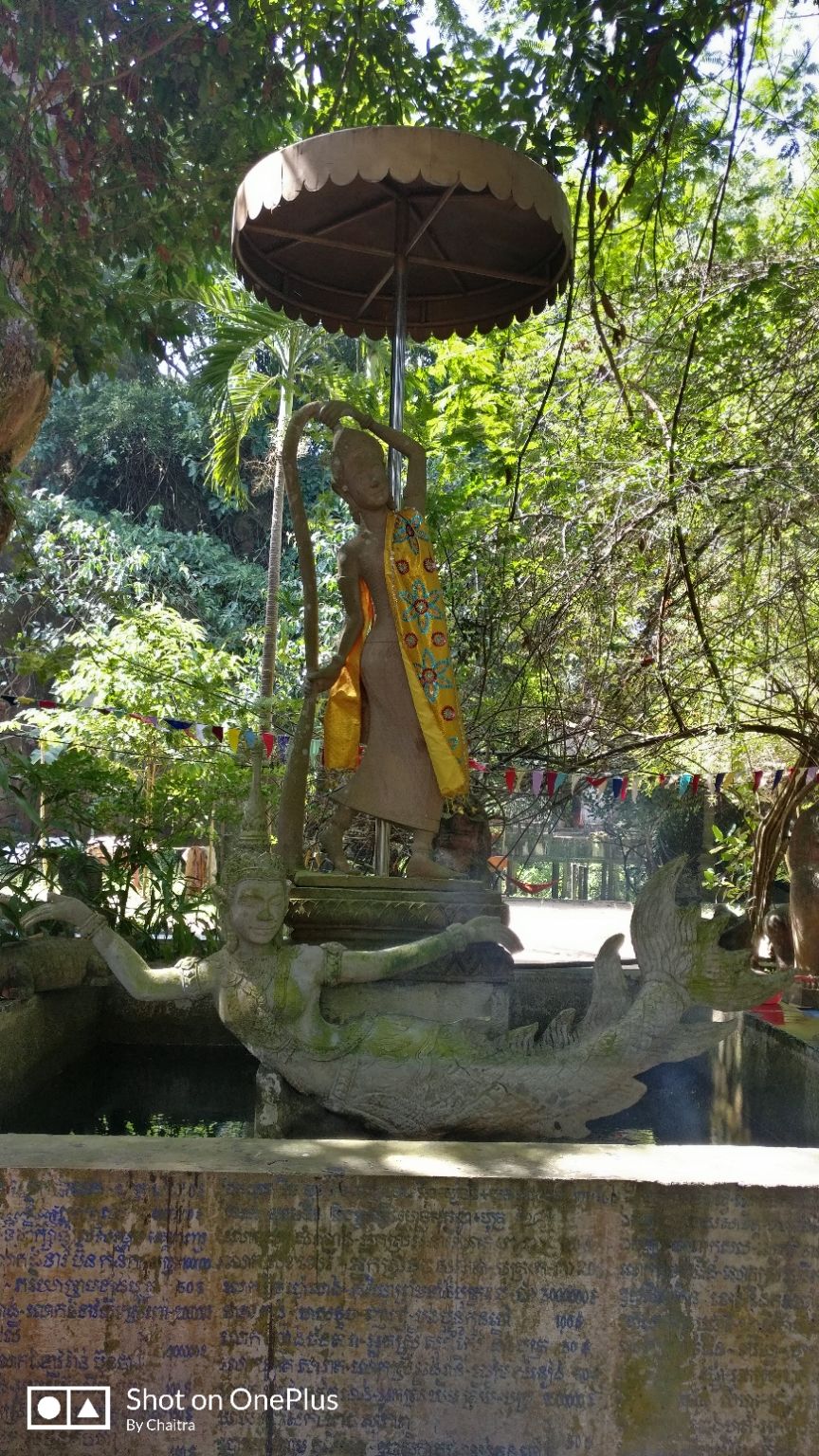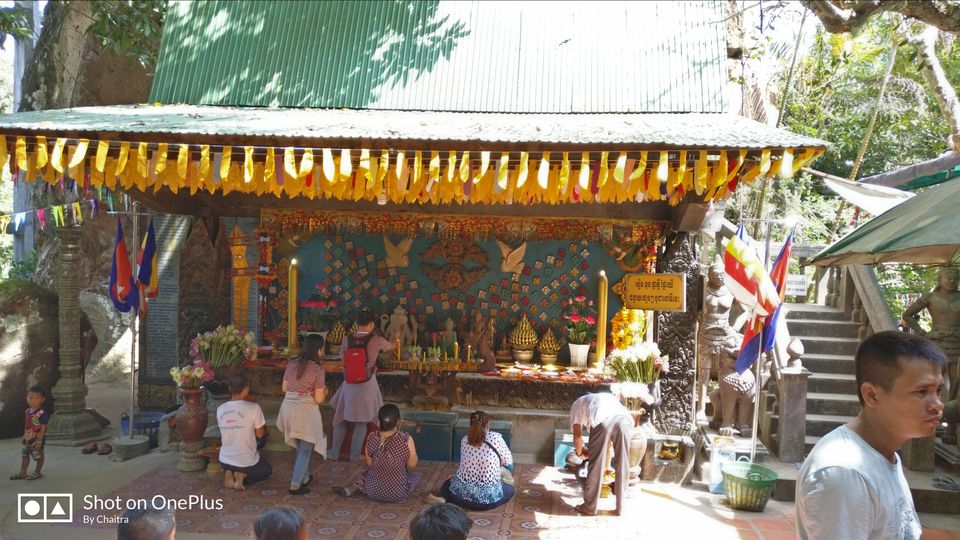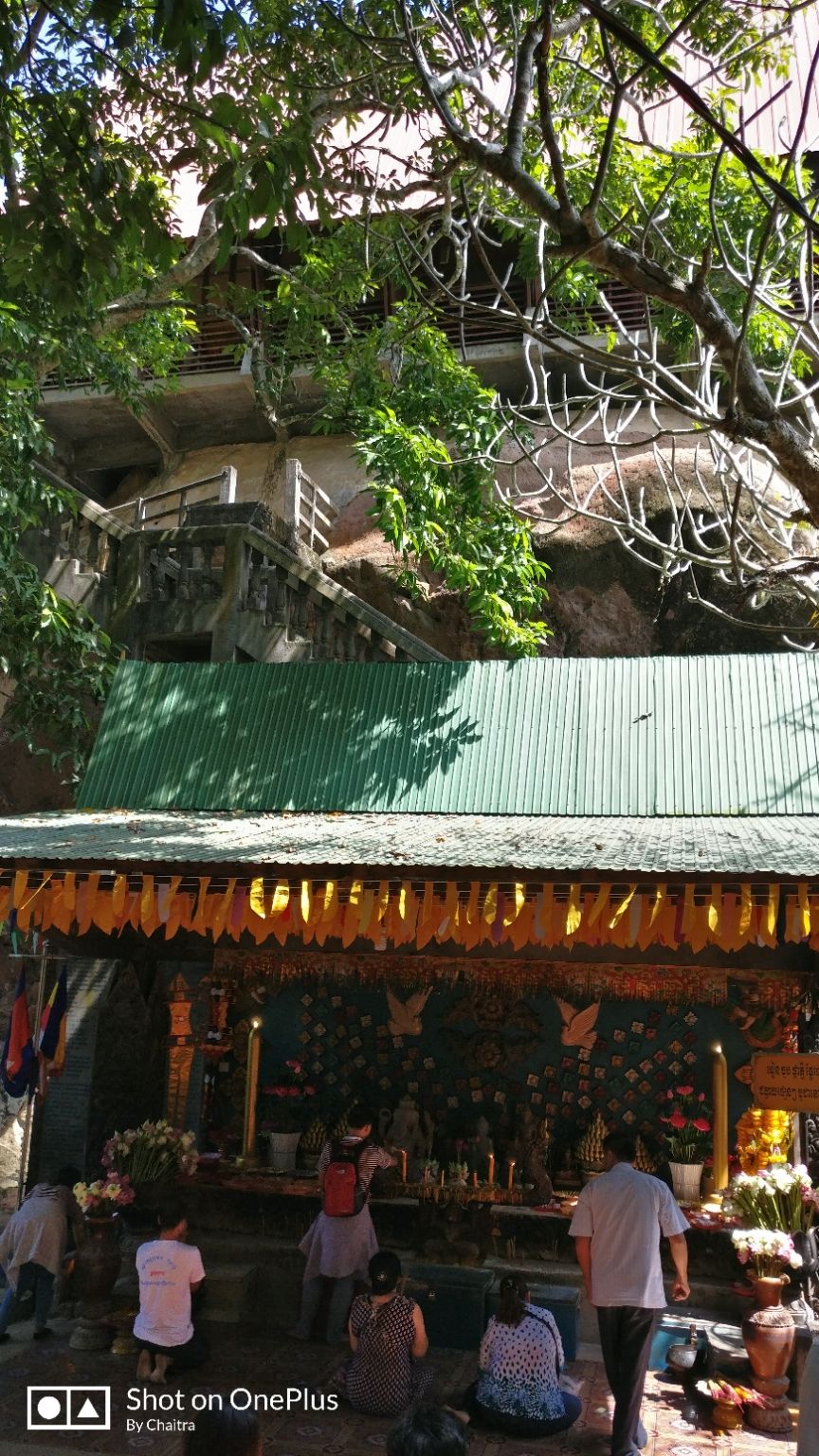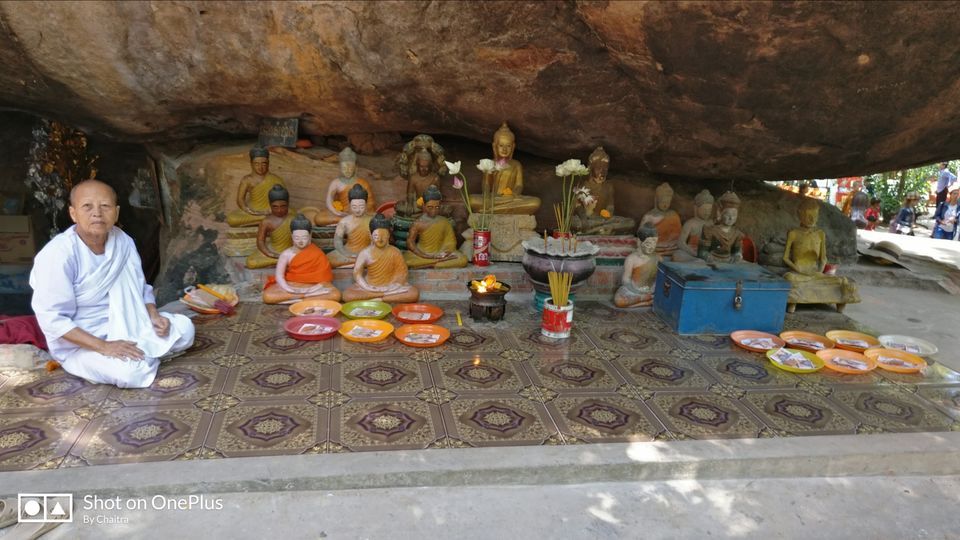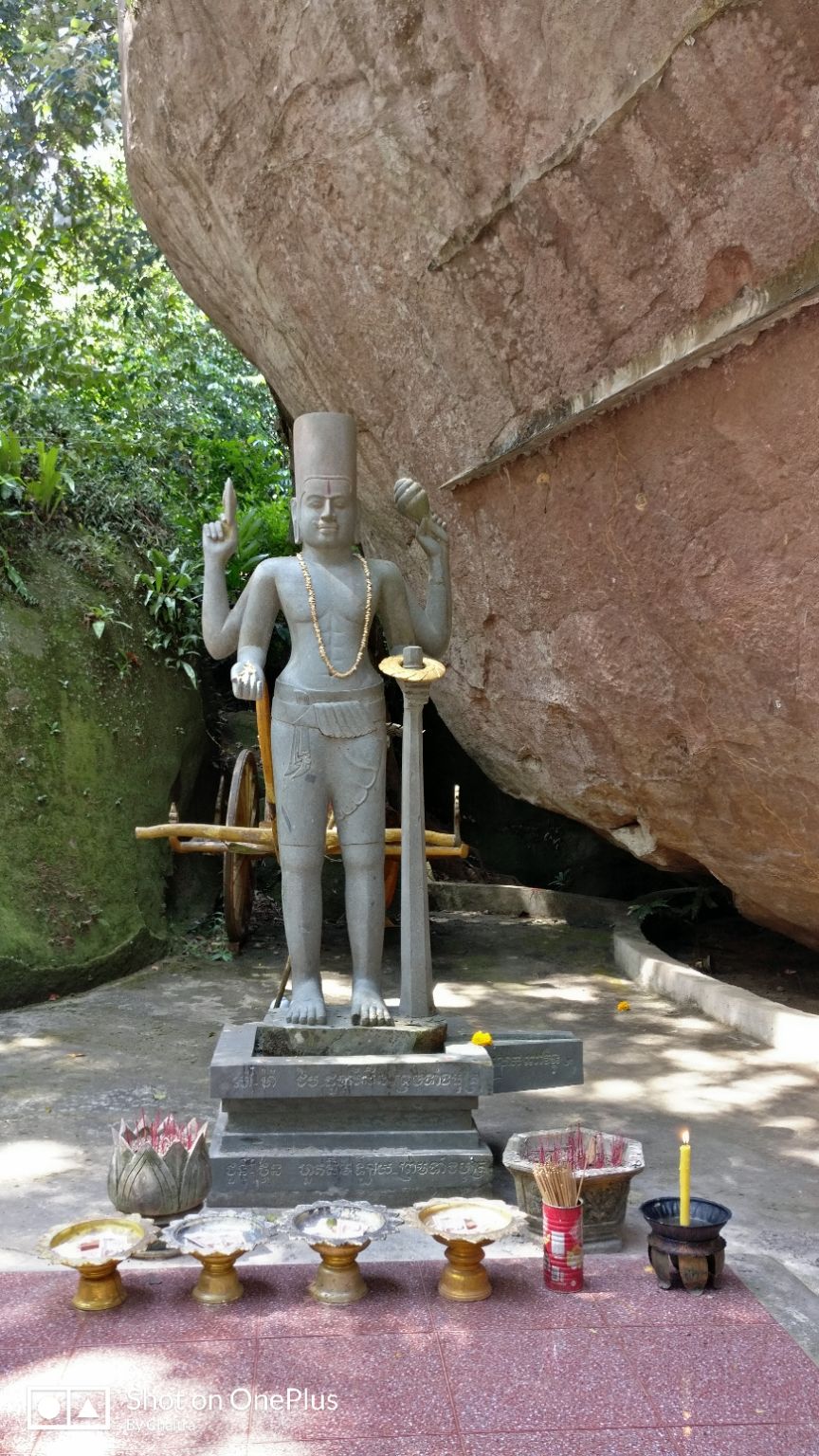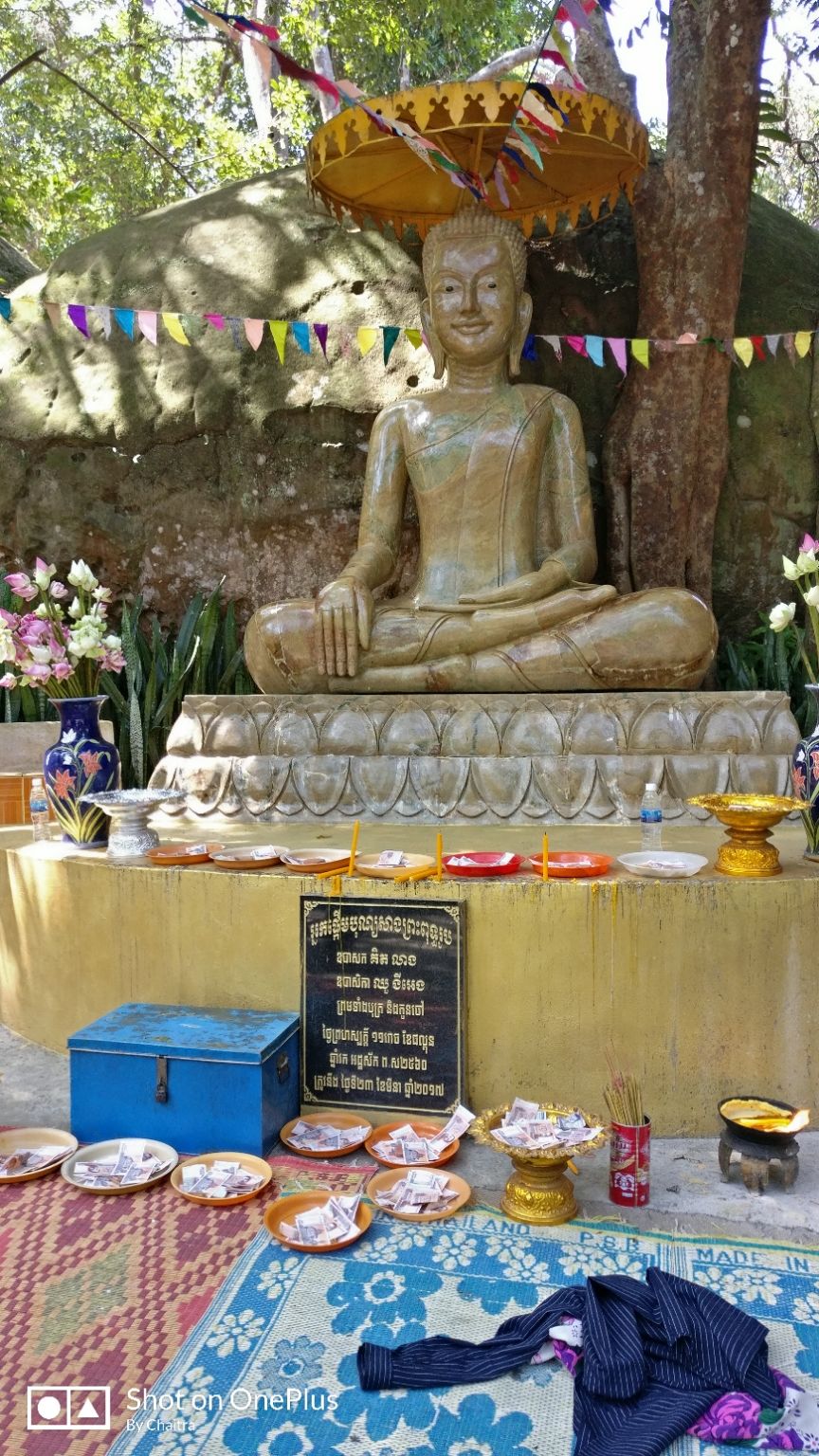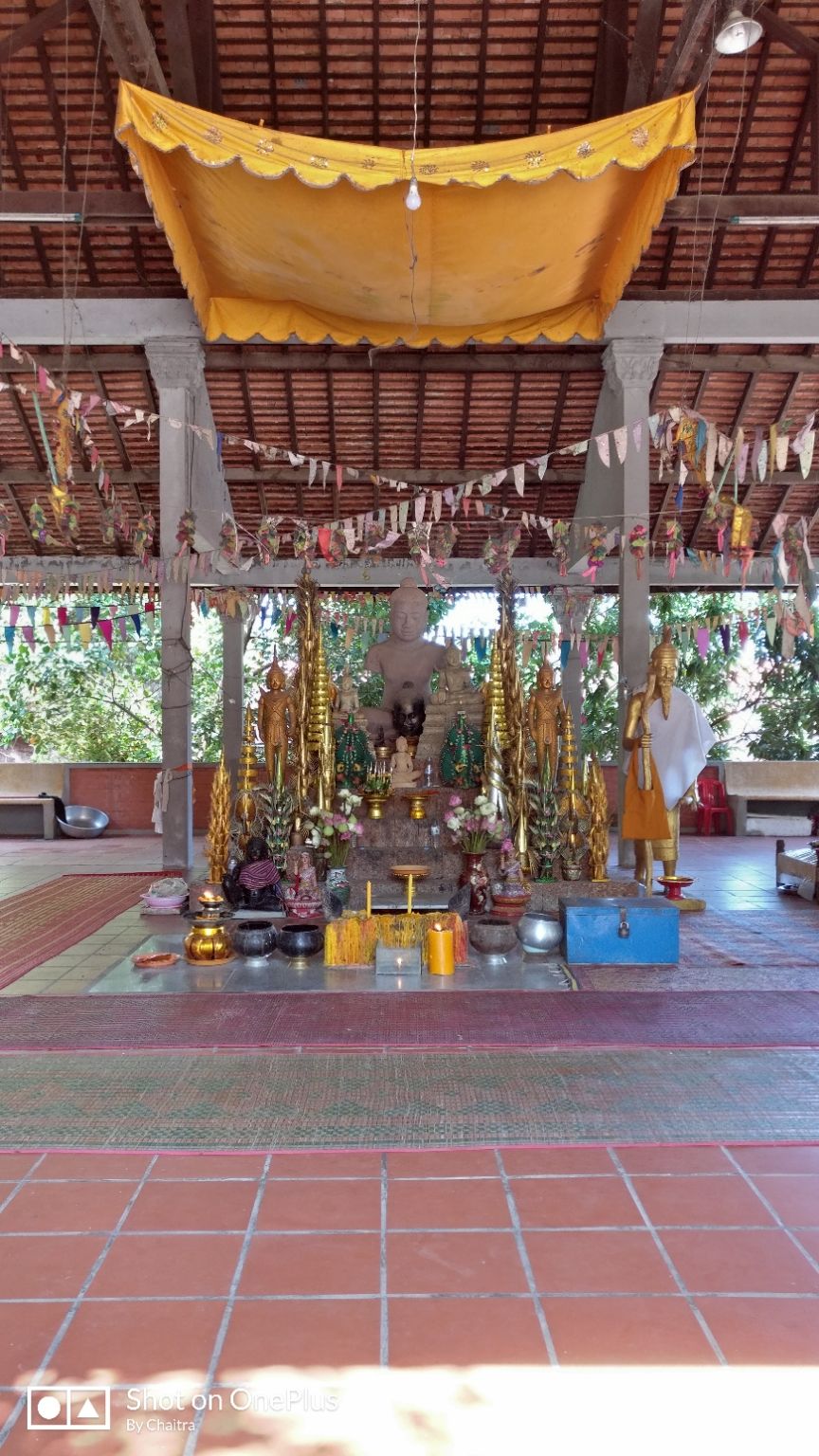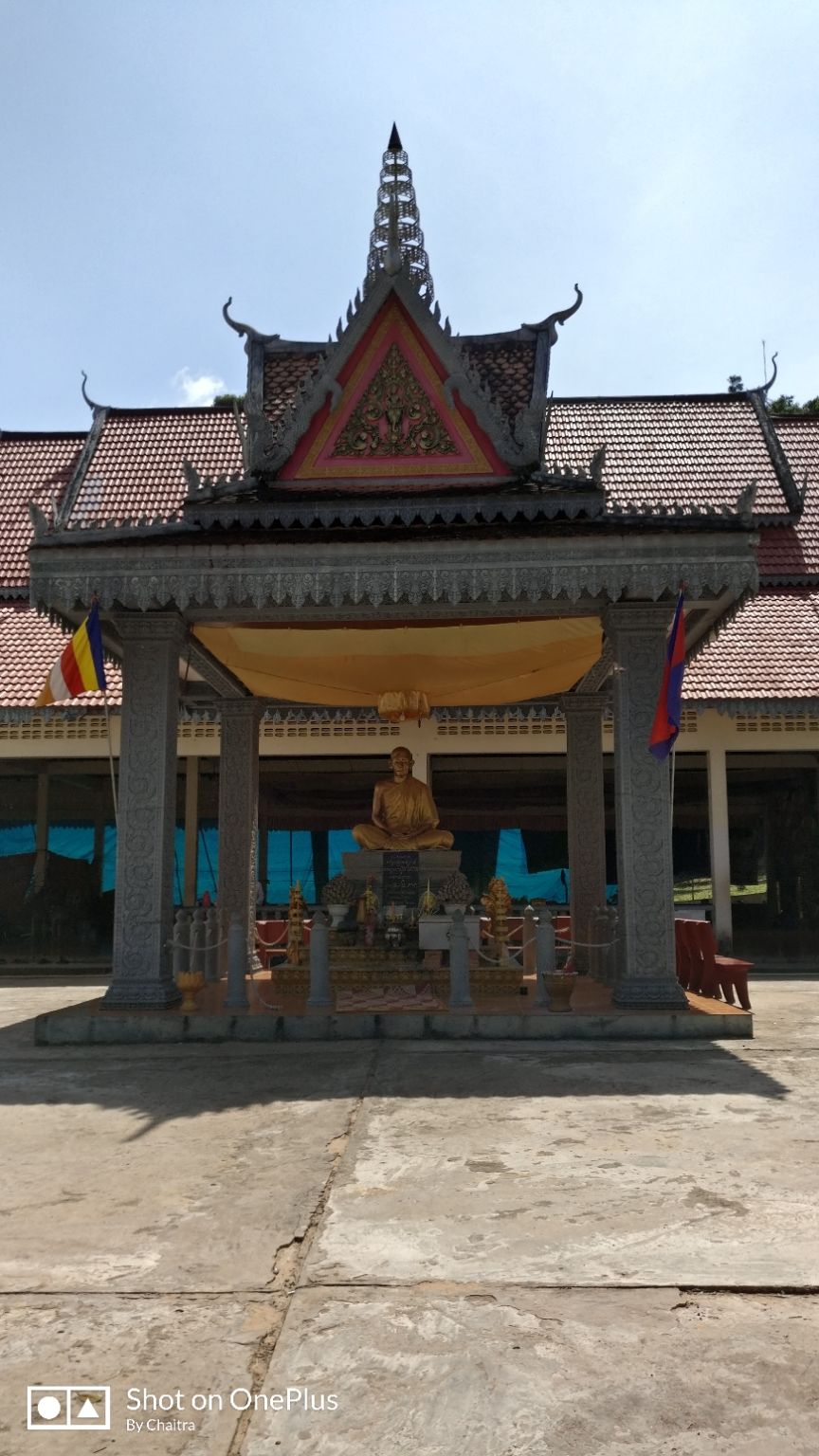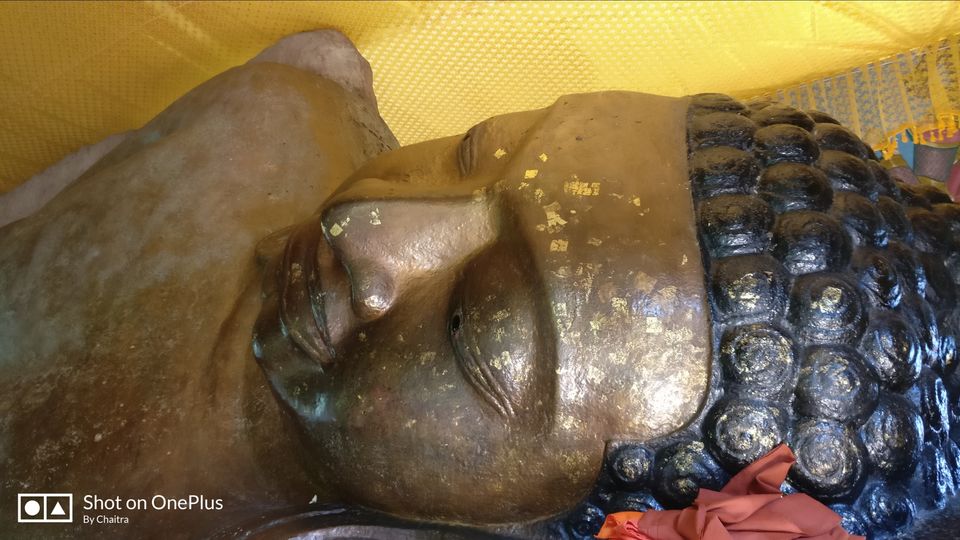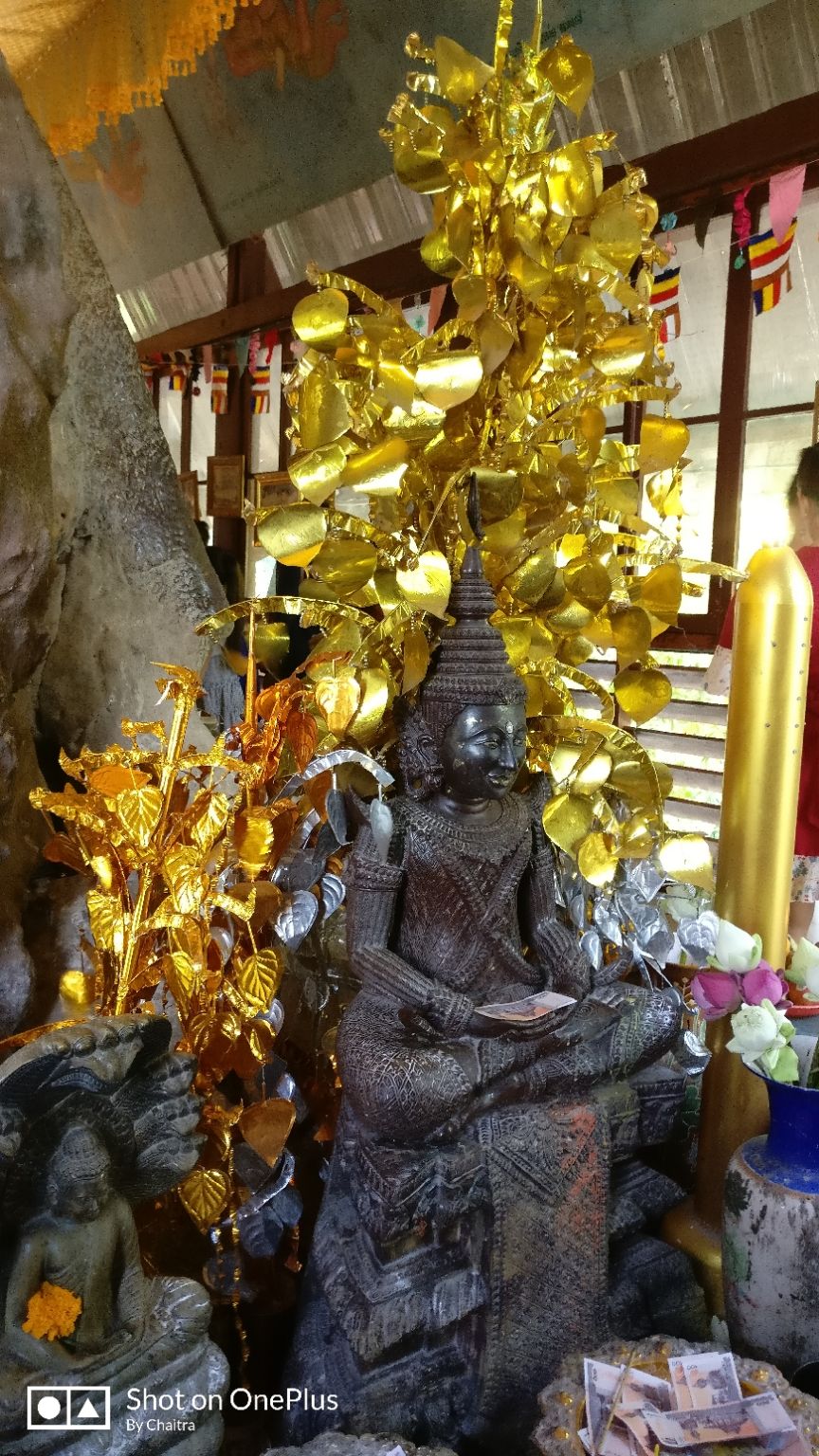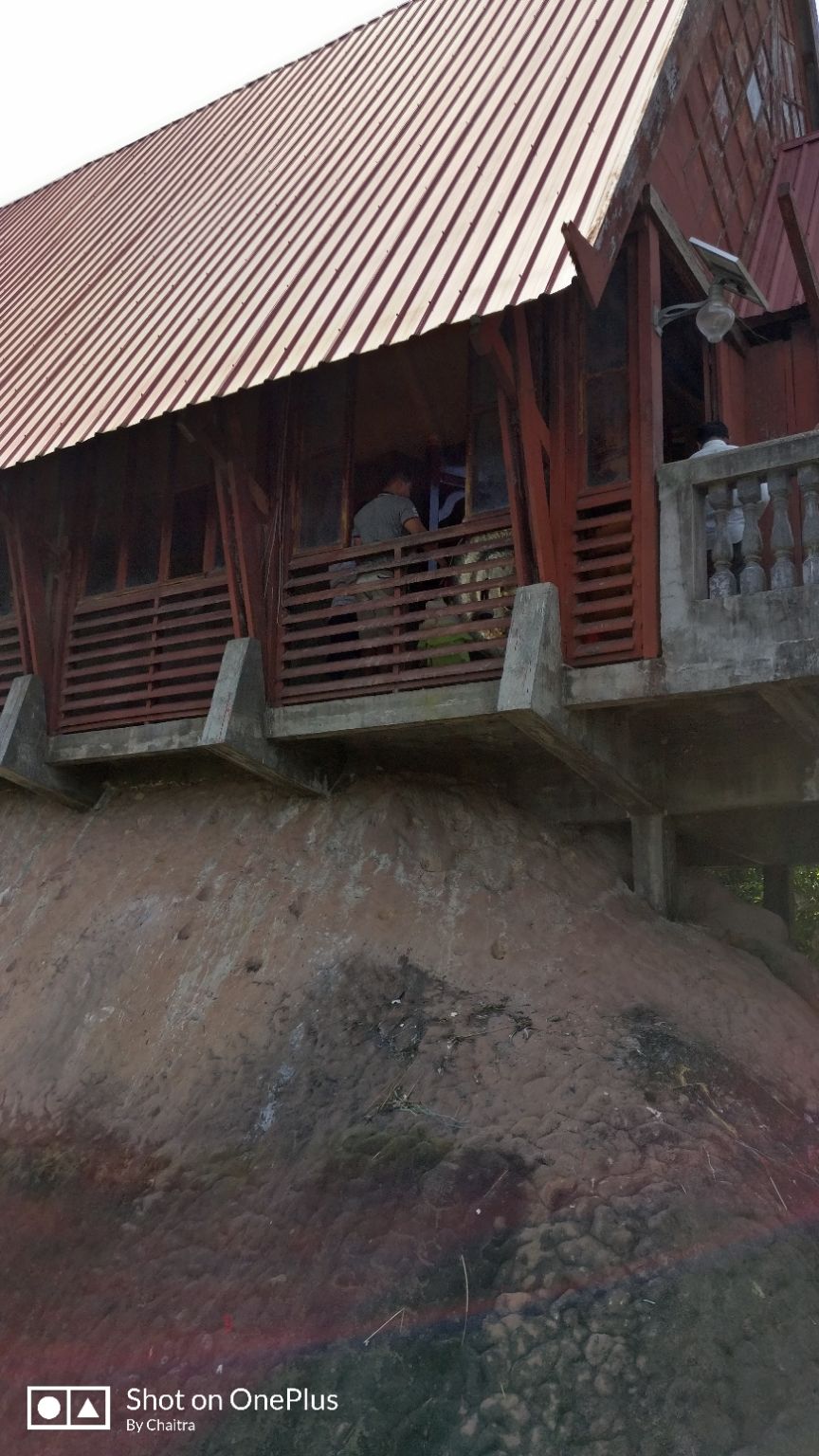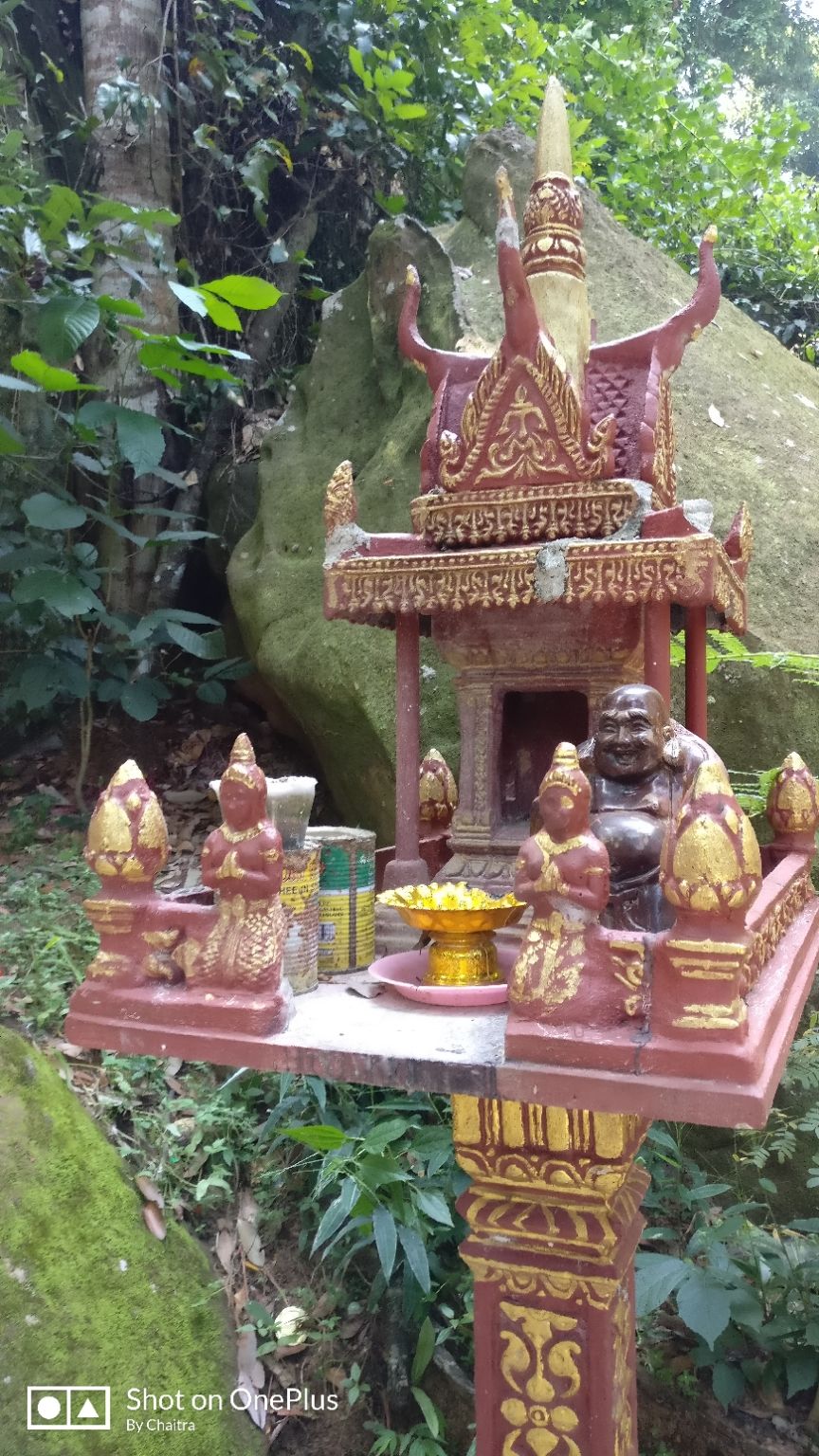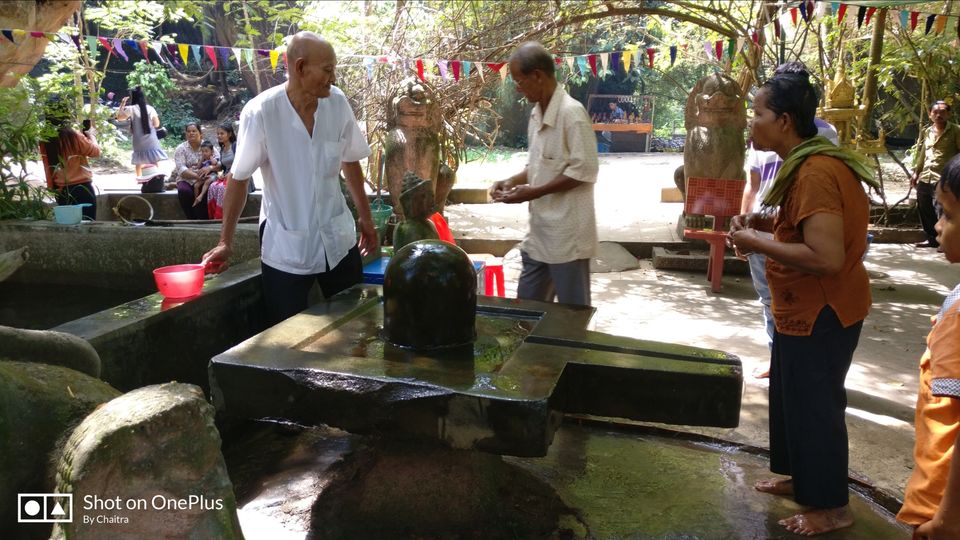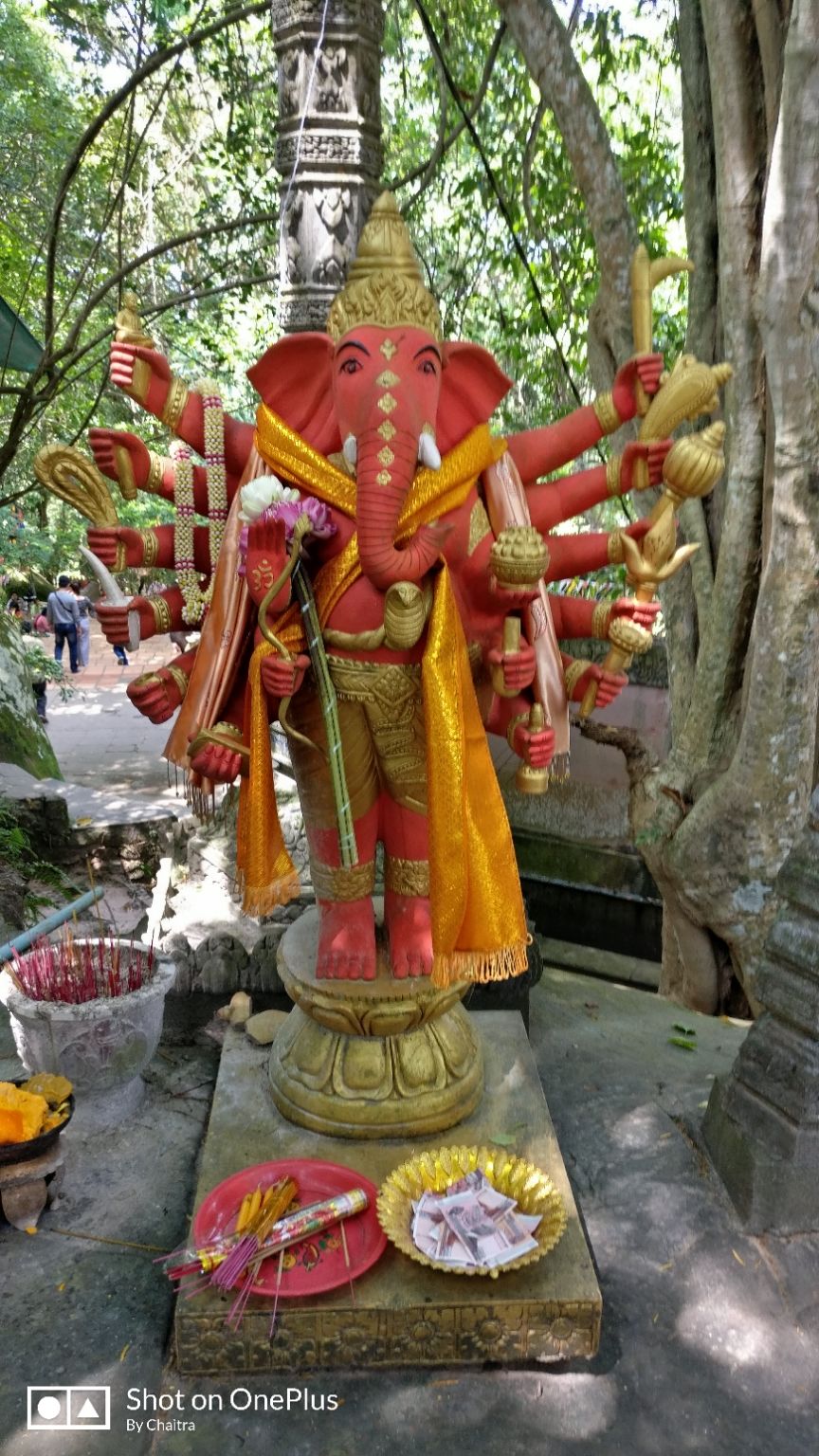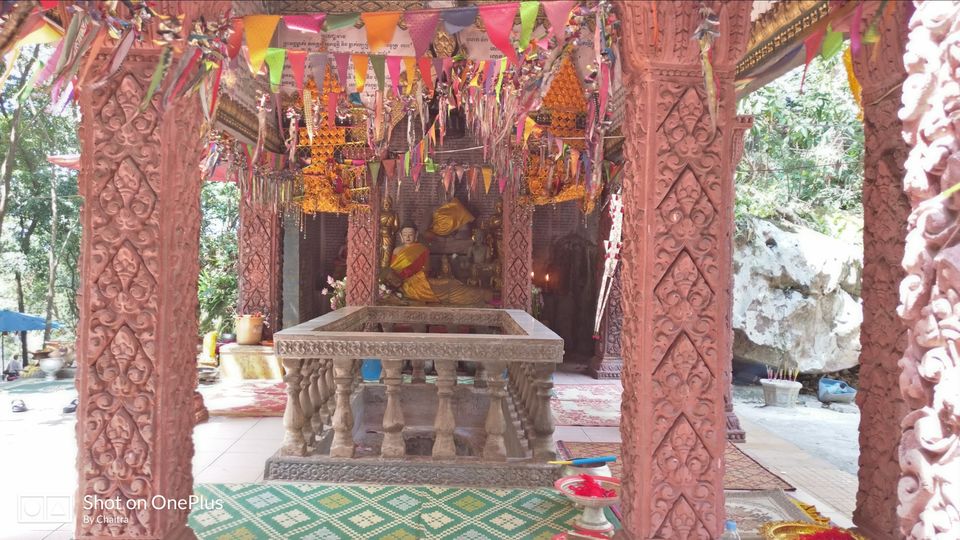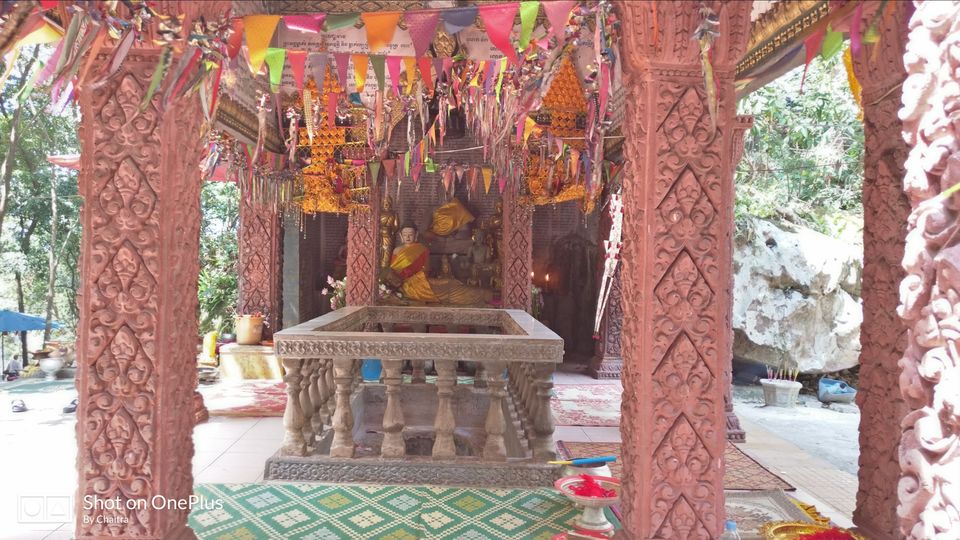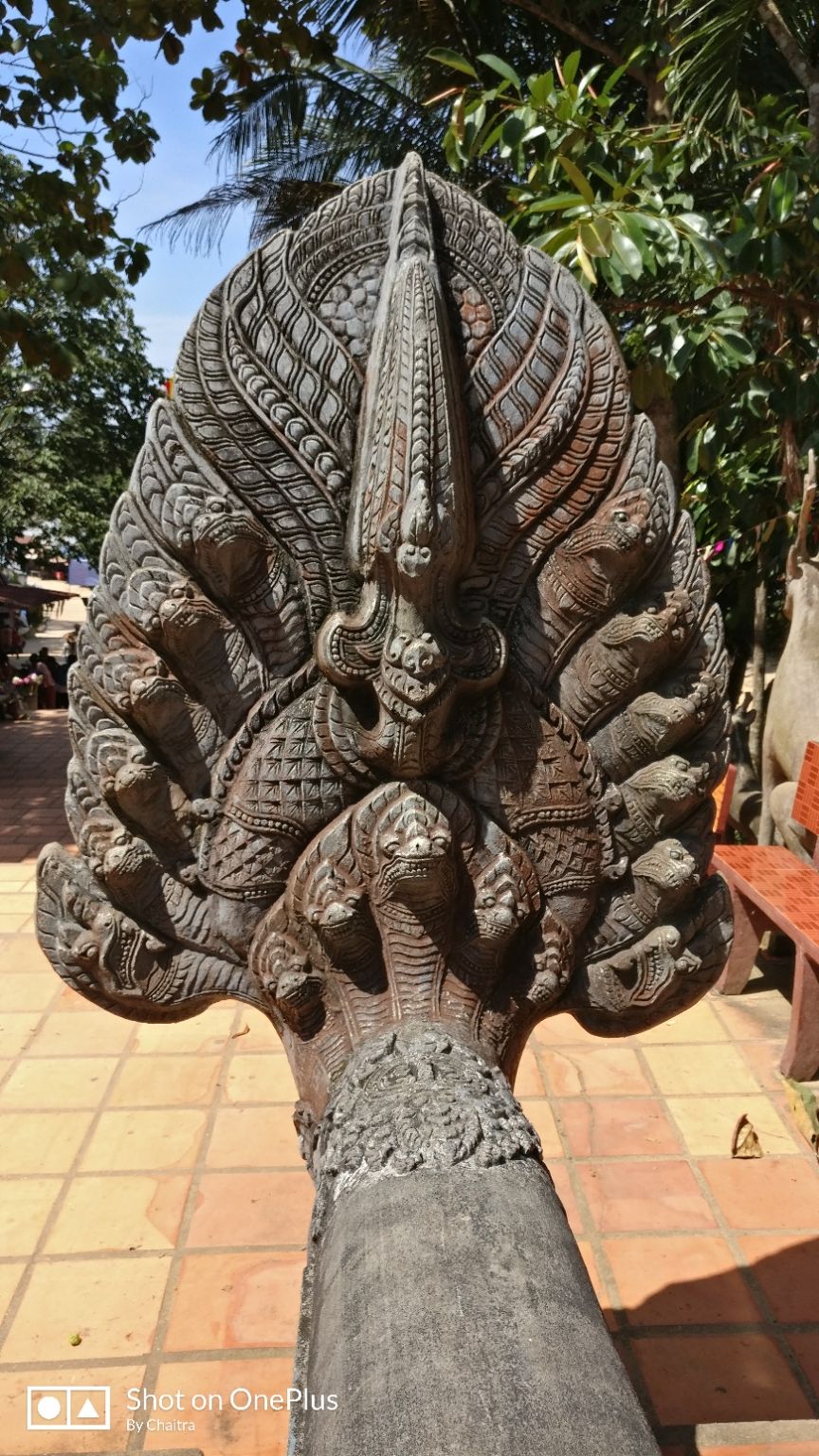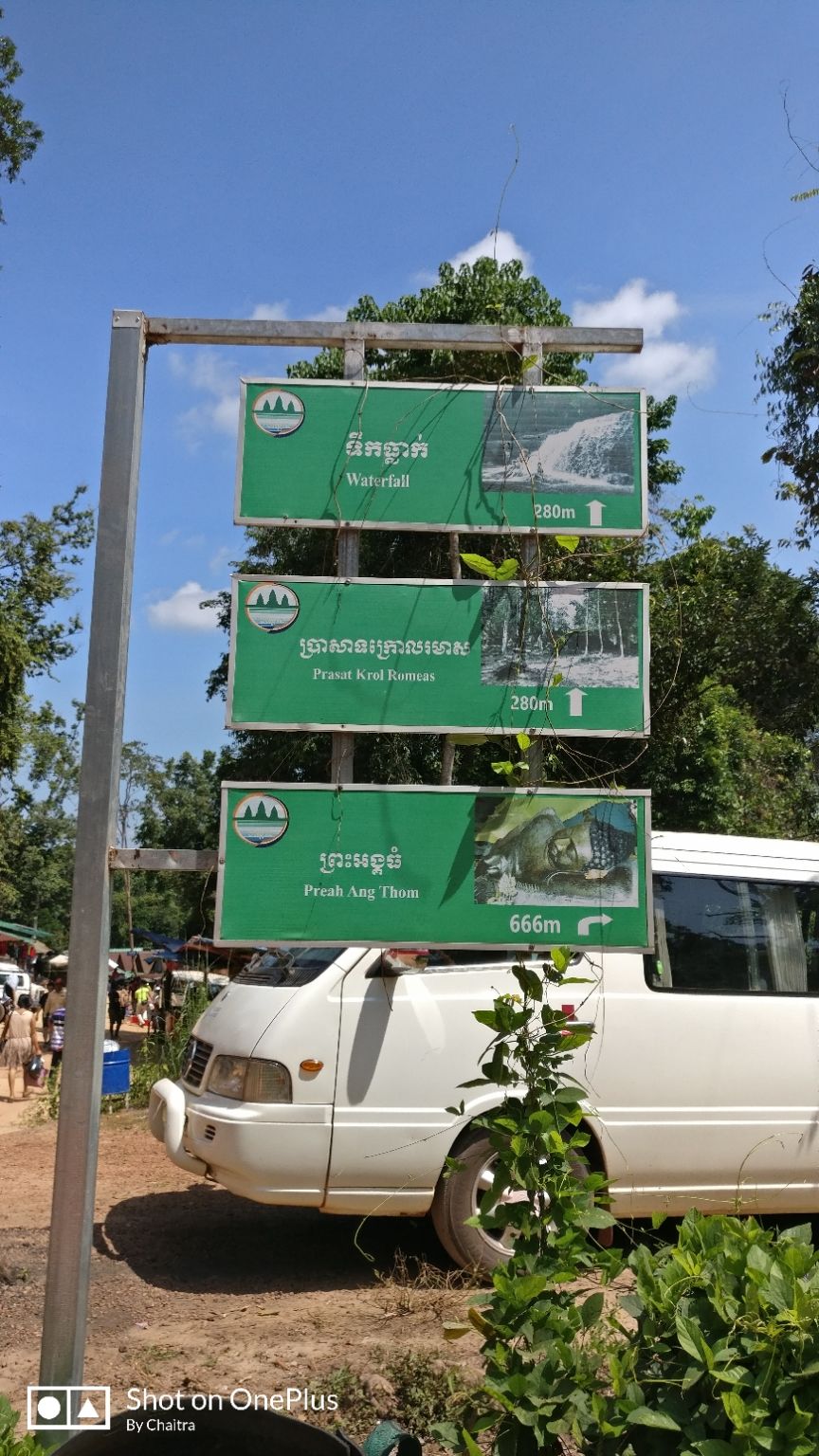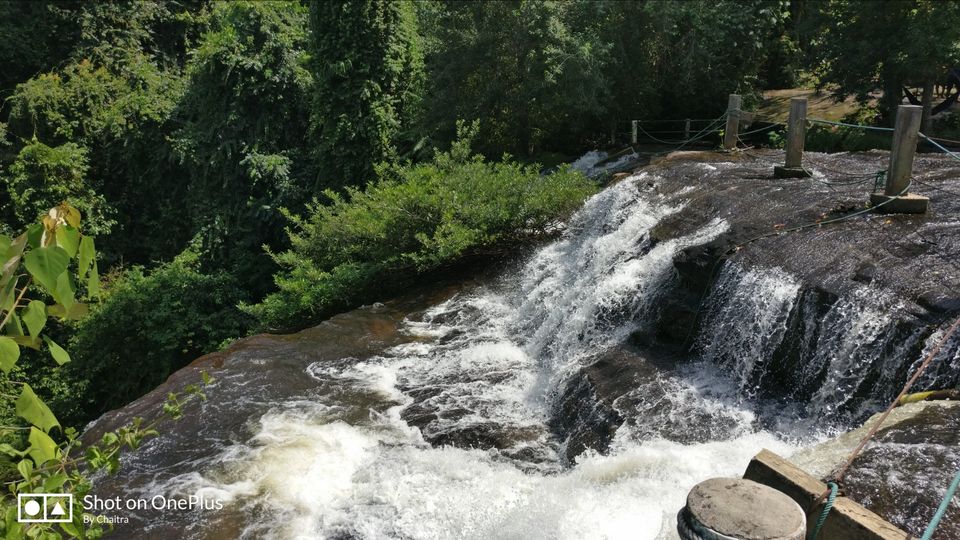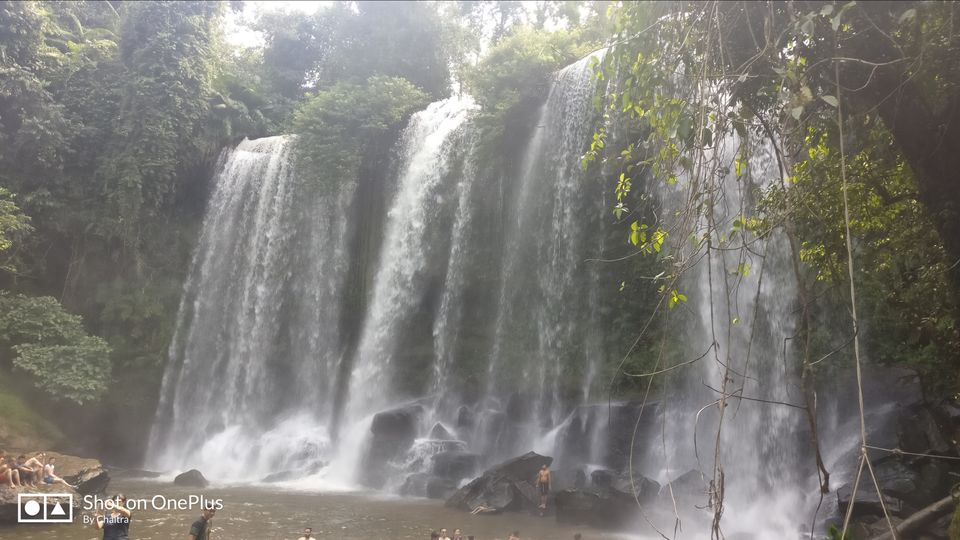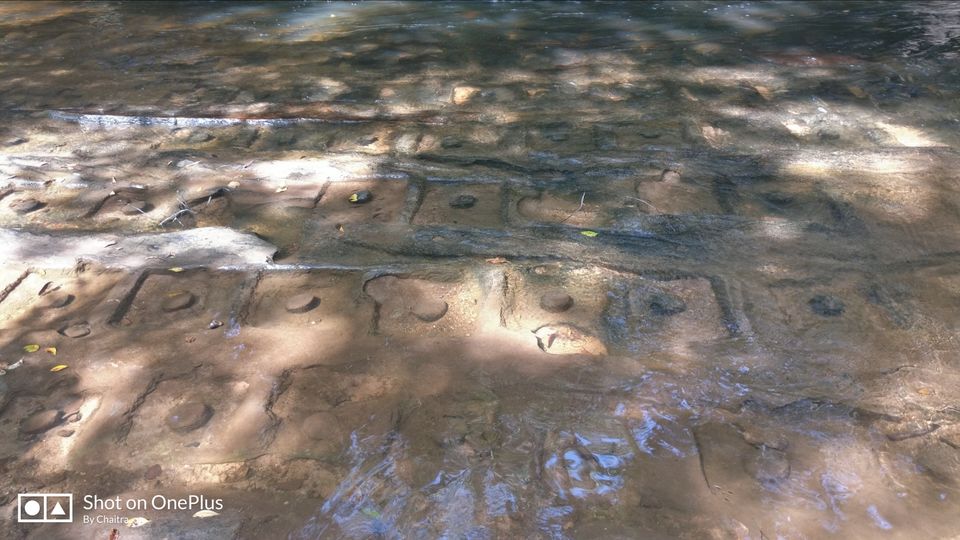 Beng Meleang
Entry Fee: 5USD
Beng Meleang is most mysterious temple at Angkor and is 68 Km from Siem reap center. Most of the part of this temple is completely collapsed and the restoration work is going on. A large wooden walkway is constructed for visitors to explore the temple.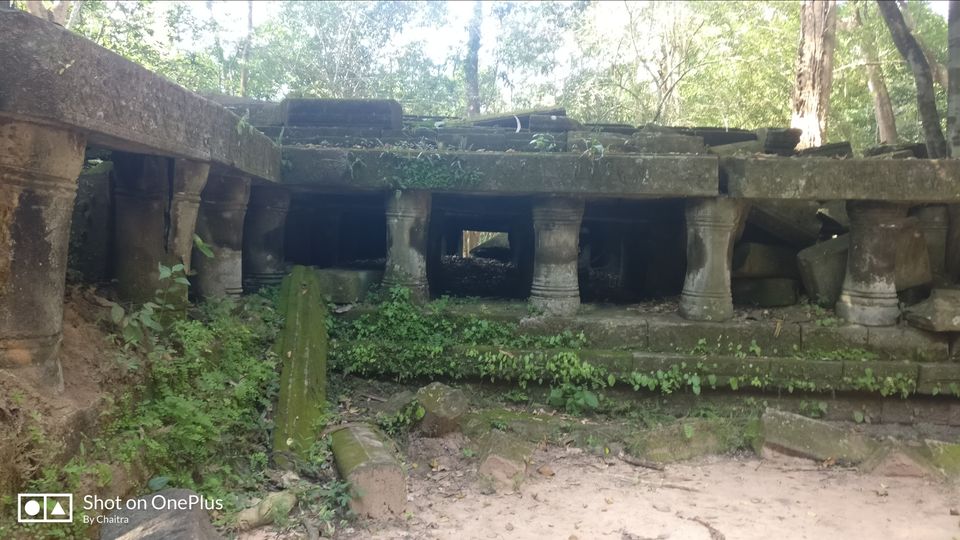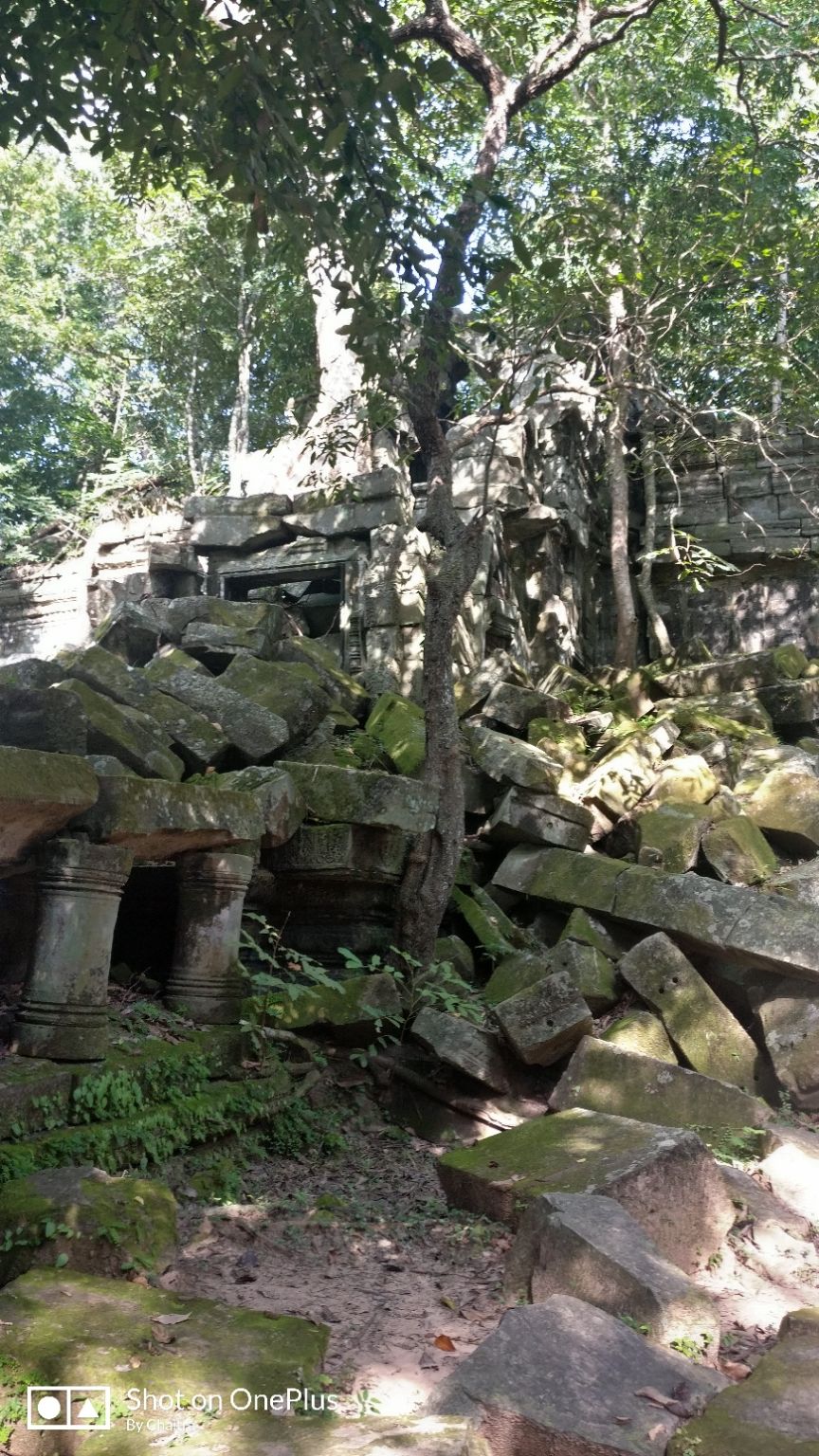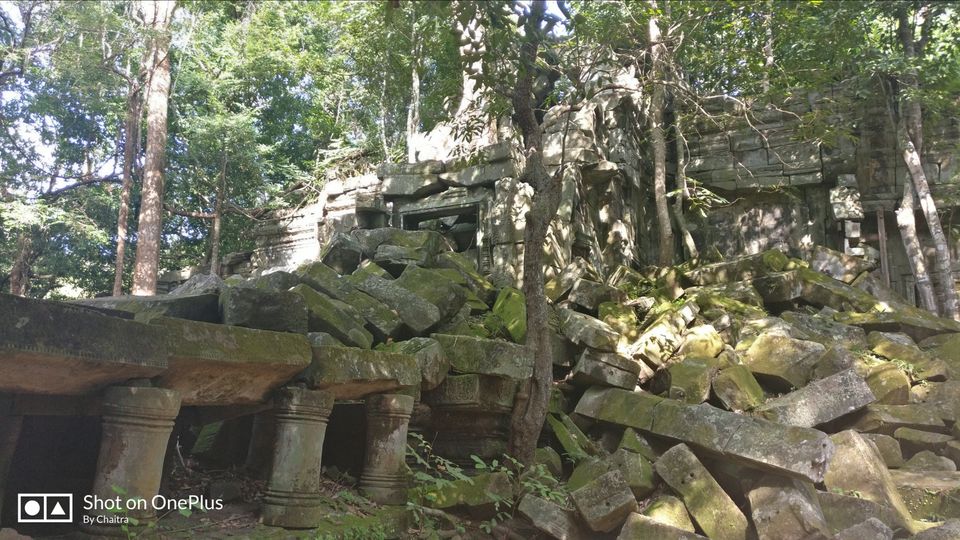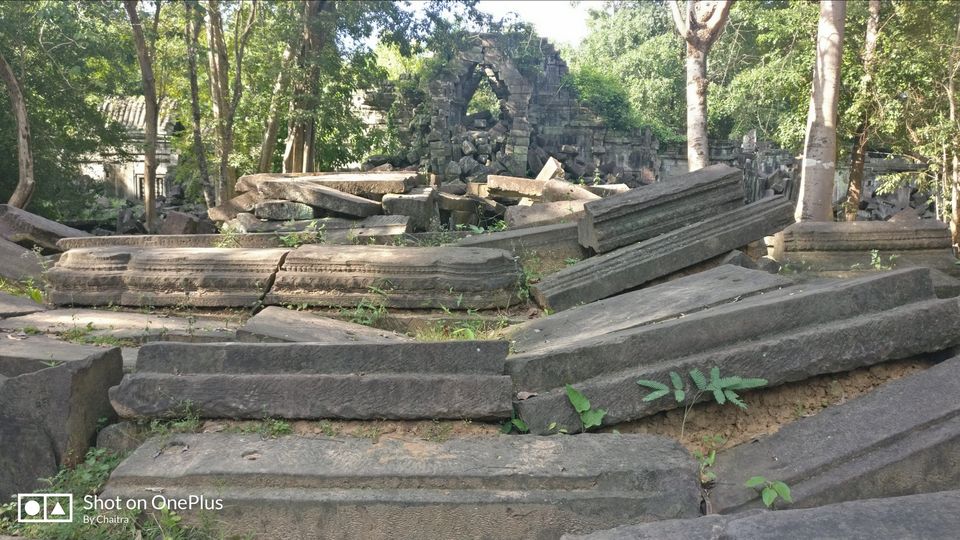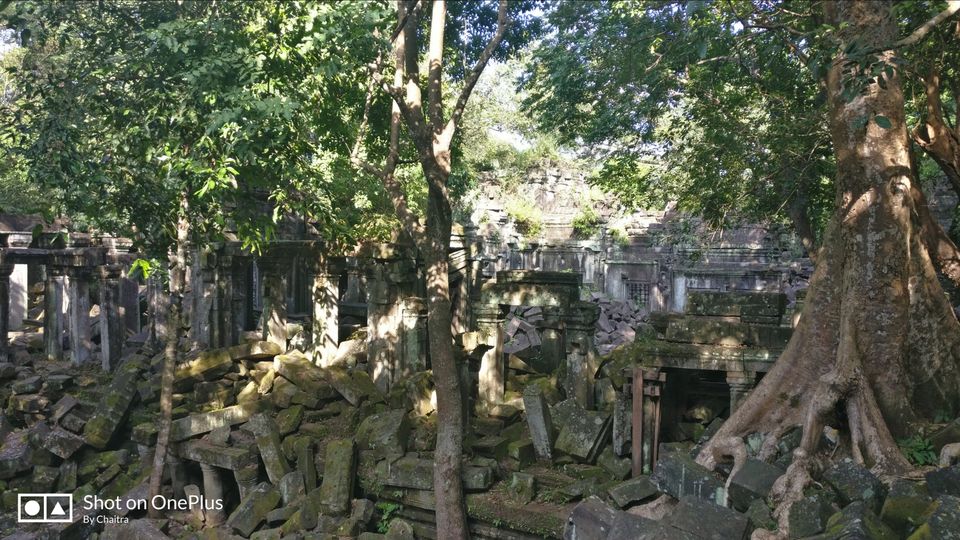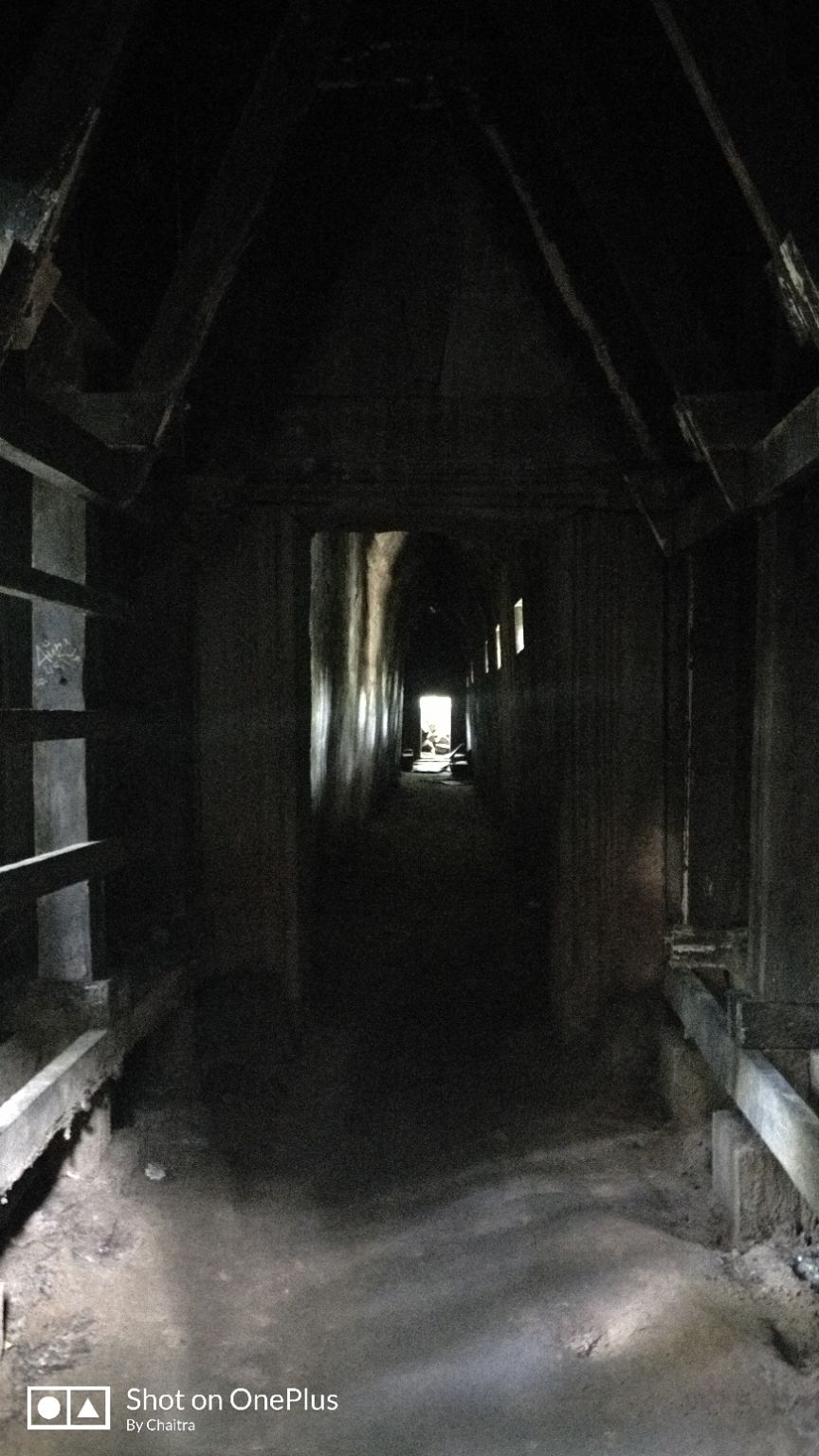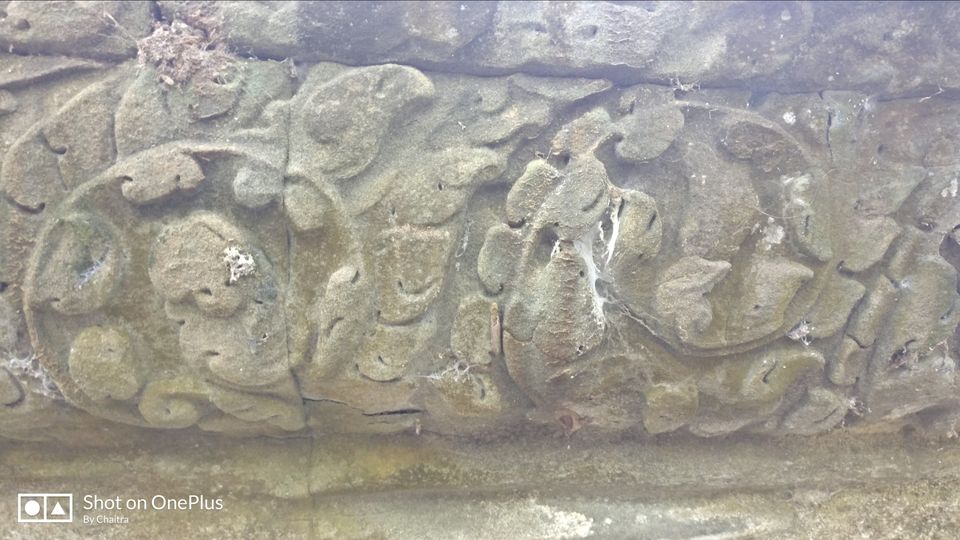 Tonle Sap Lake
Entry fee for Floating Village: 20USD
Tonle Sap Lake is the largest fresh water lake in South East Asia and is 15 km away from siem reap. The lake expands its surface to 10000 Sq Km during rains and sizes to 3000 Sq Km in dry season. There is a floating village towering stilted houses which is know as Chong Khneas. The boat trip through the floating village takes approximately two hours. You will explore the different of Khmer, Muslim and Vietnamese floating households and the floating markets, fisheries, clinics, schools, basketball course, pigsty and other boatloads of tourists. We were not so keen to spend 20USD just to see the floating village so we decided to just walk on the road and see the sunset on the way.
Night Market
Angkor night market is the must place to visit if you are a shopaholic and also if you want to buy souvenirs for your dear one's. Most of the items available are paintings, wood carvings, silk, Clothes, Souvenirs and local delicacies. There are also a few massage and spa bars for those who need a little more pampering after a day of exploring the city. You need to be good at bargaining here only then you get things cheap else you end up paying more the worth of product. If a product is told for 20 USD don't hesitate to bring it down to 2-3 USD and also check in 2-3 shops to check the minimum price offered to you.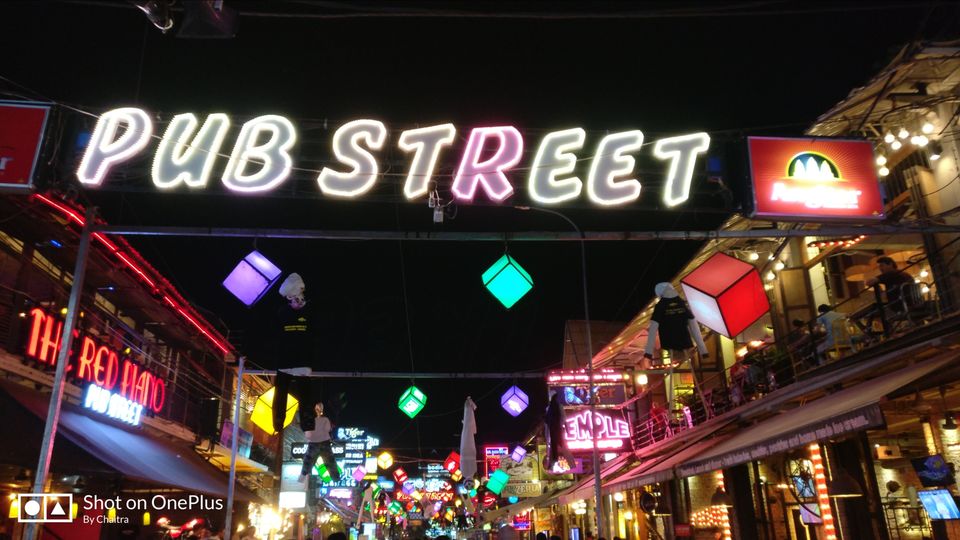 Today we left for Battambang from Siem reap which is 165 Km. Battambang is second most popular city in Cambodia and is the capital of Battambang province. Battambang flip-flopped back and forth between Thailand and Cambodia. Its been part of Thailand most of the time since 15th Century but after World War II in 1947 this was part of Cambodia
Silk Farm
Visit to silk farm will enlighten you with the entire process of silk formation to the cloth preparation. Silk Farm is located just 5-10 kms away from siem reap and on the way to Battambang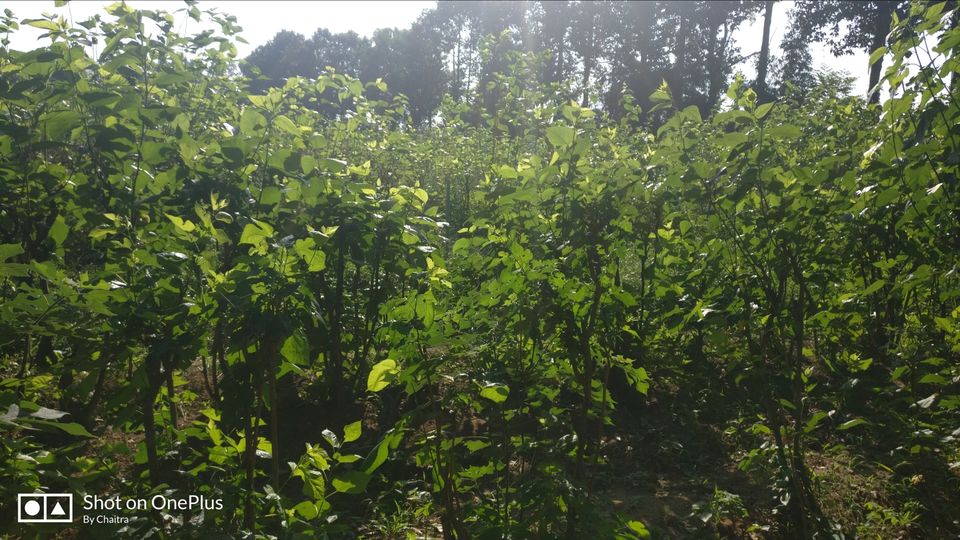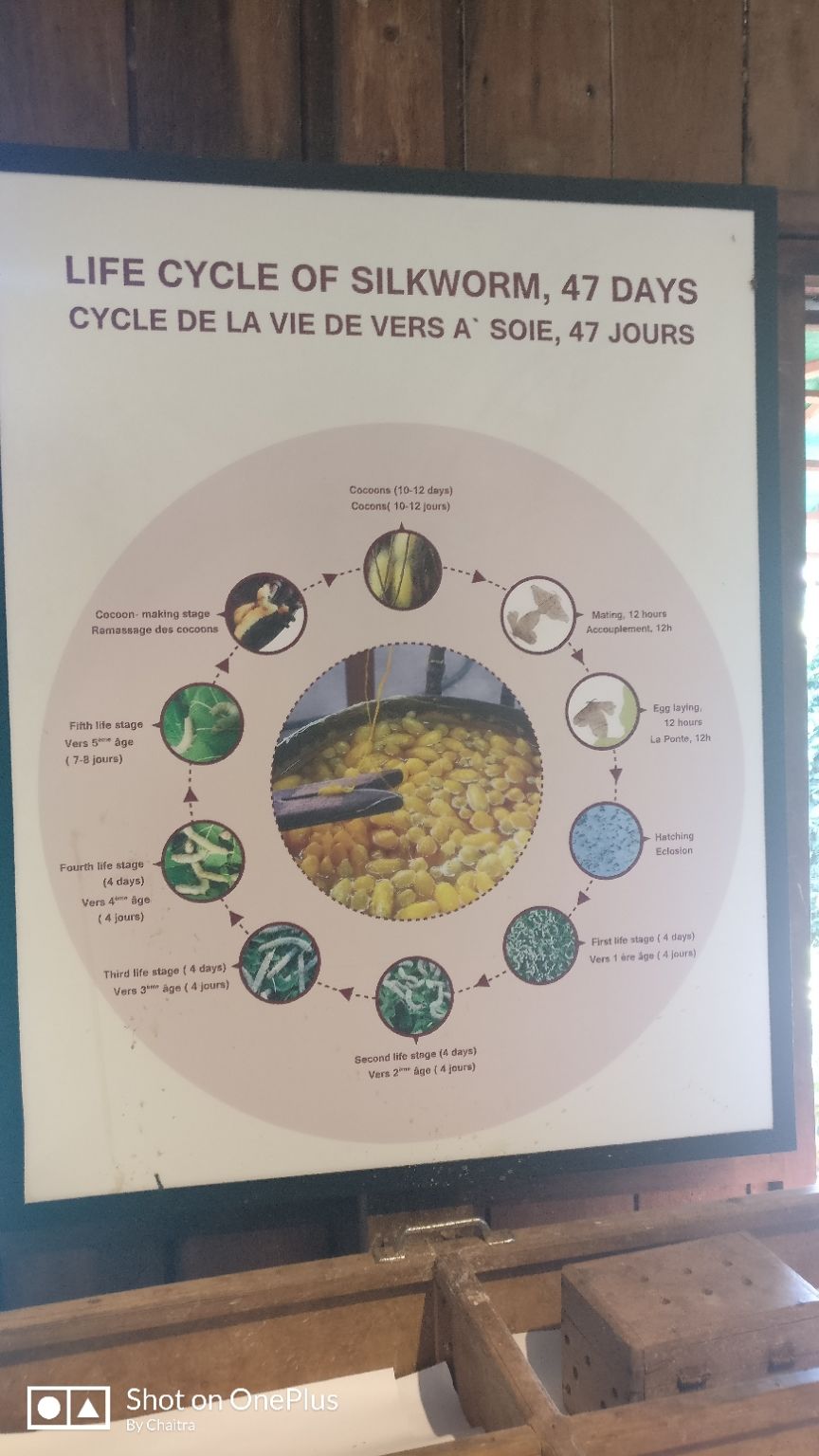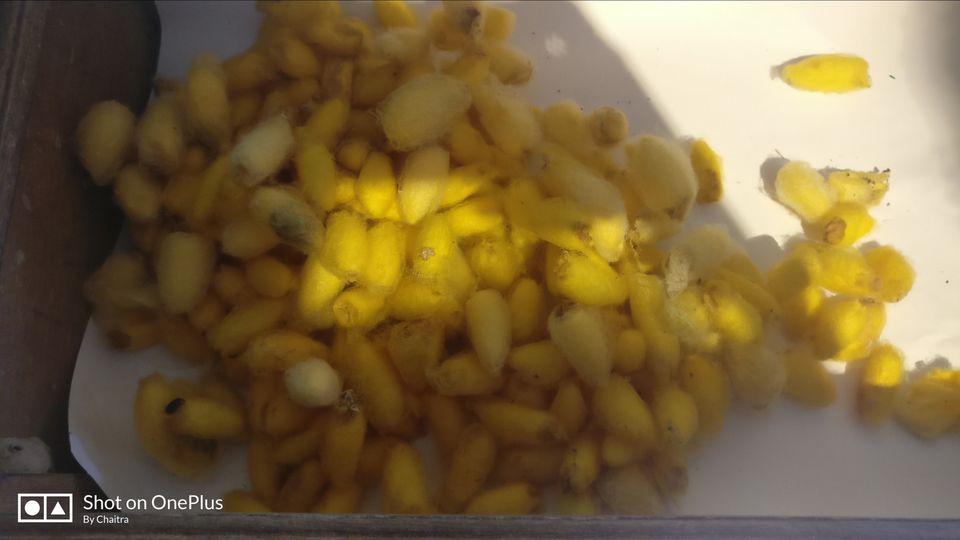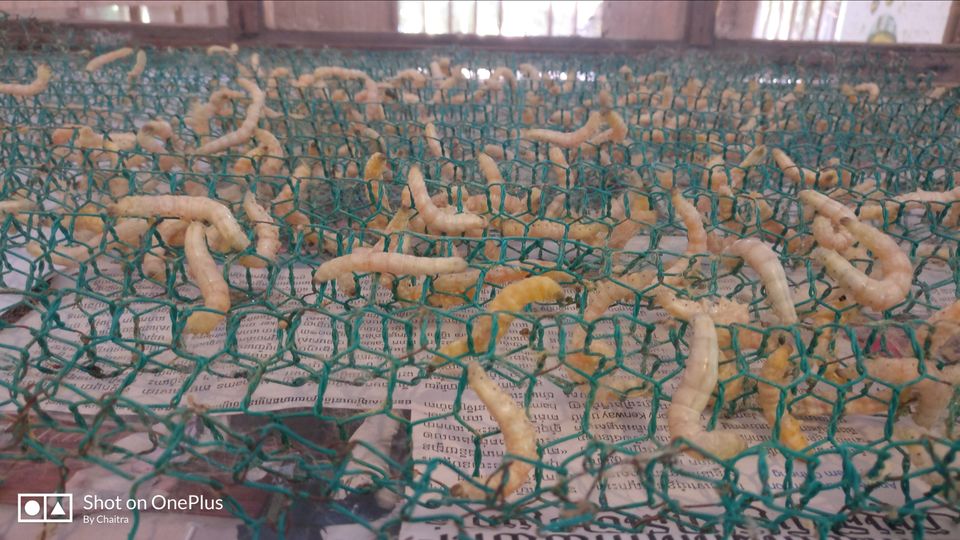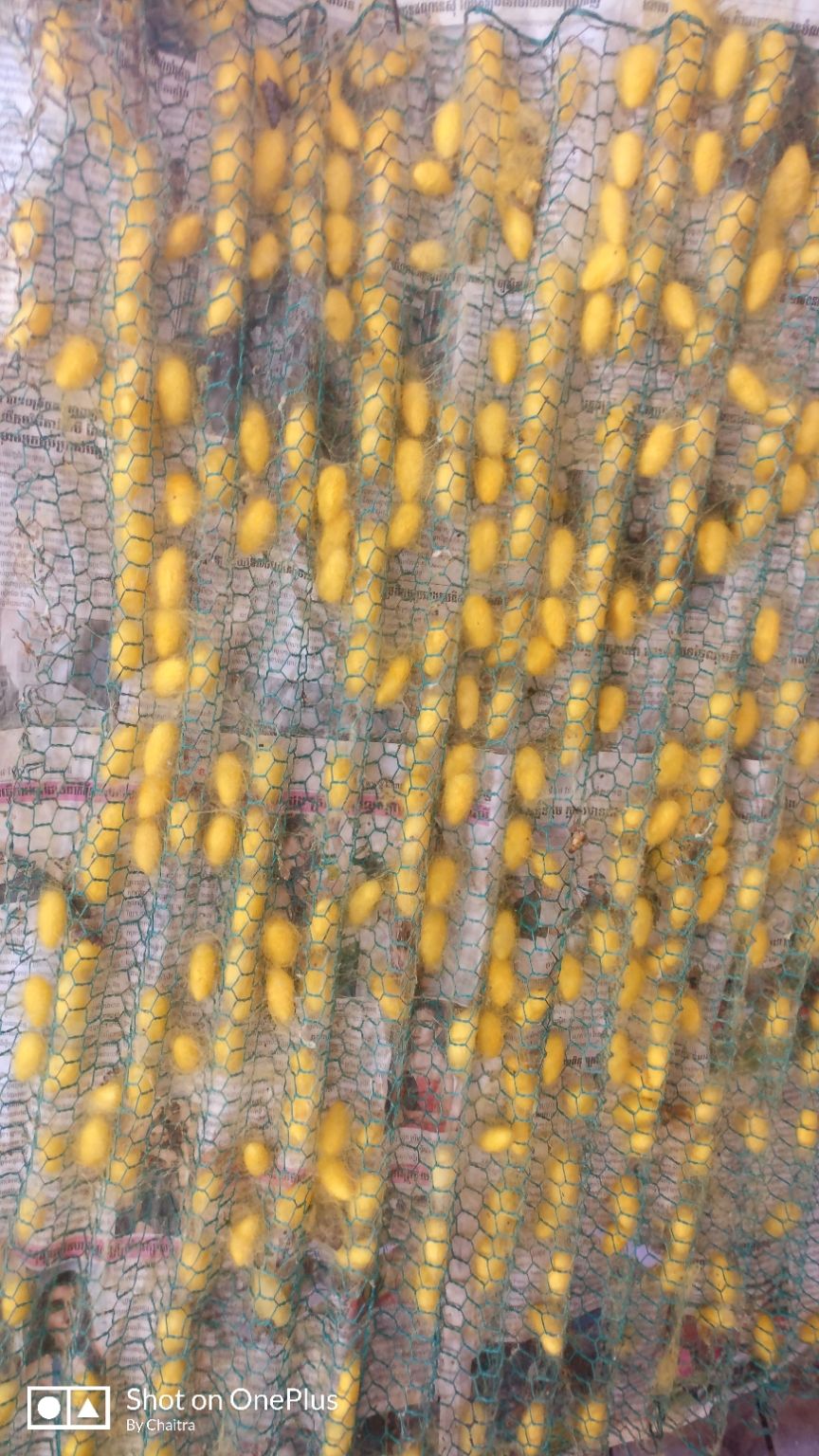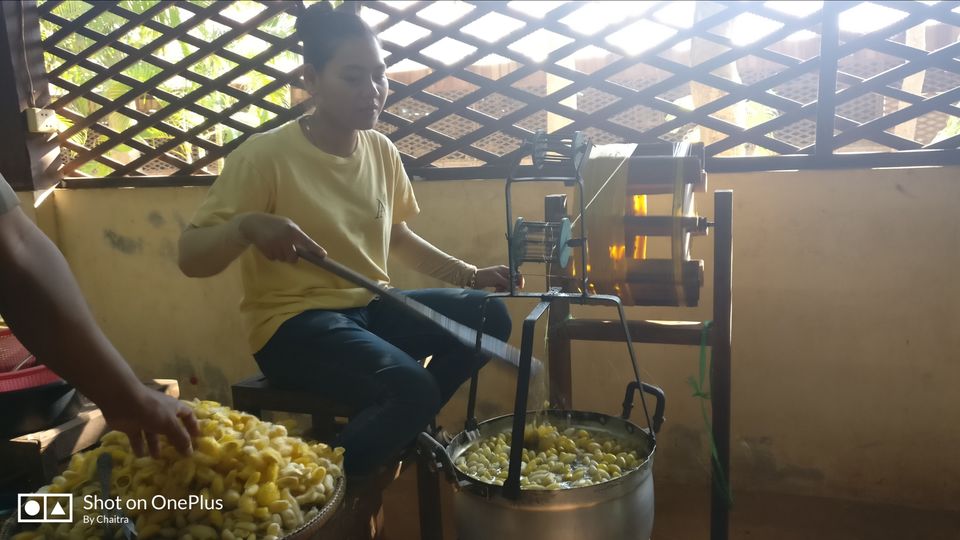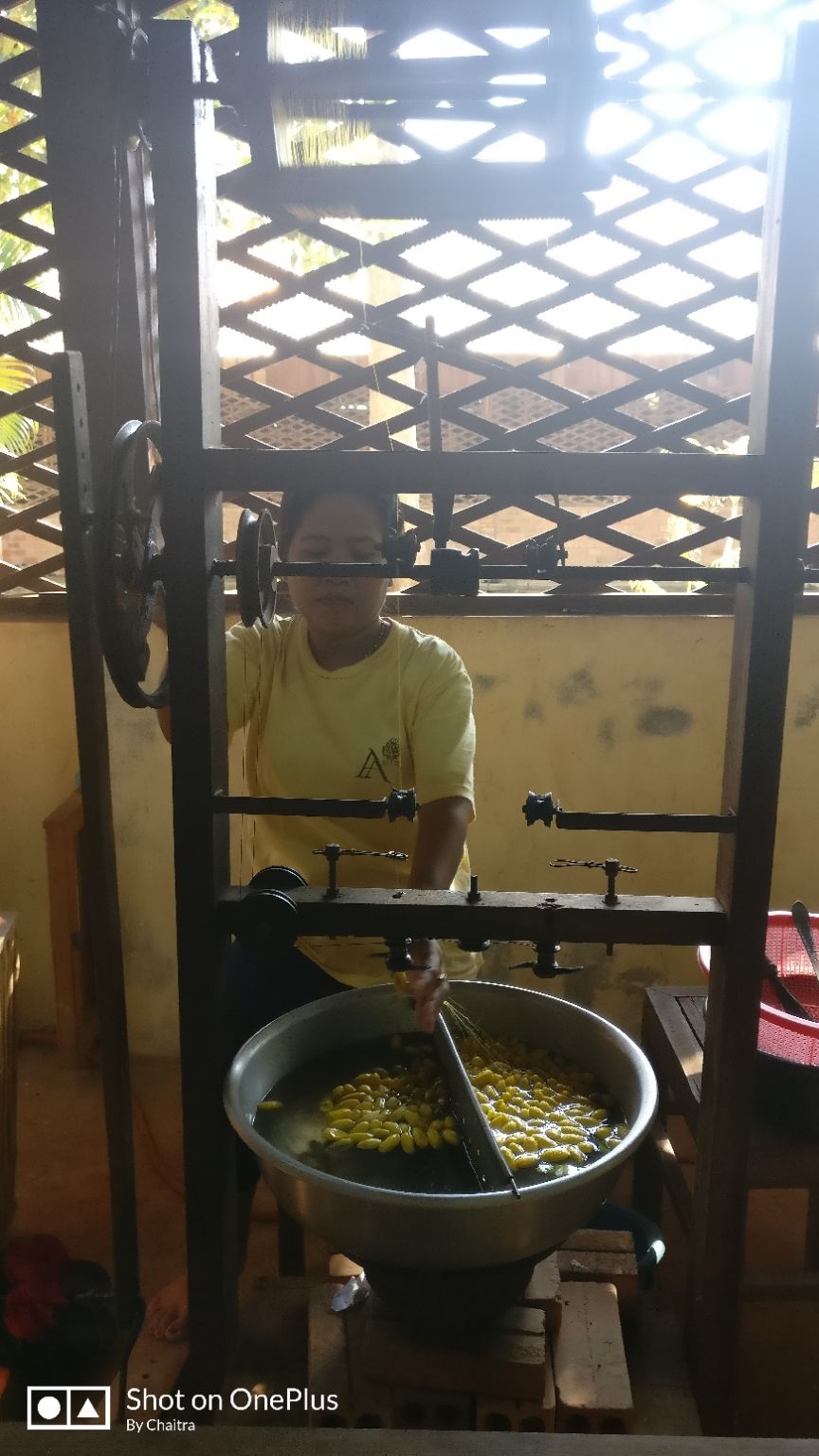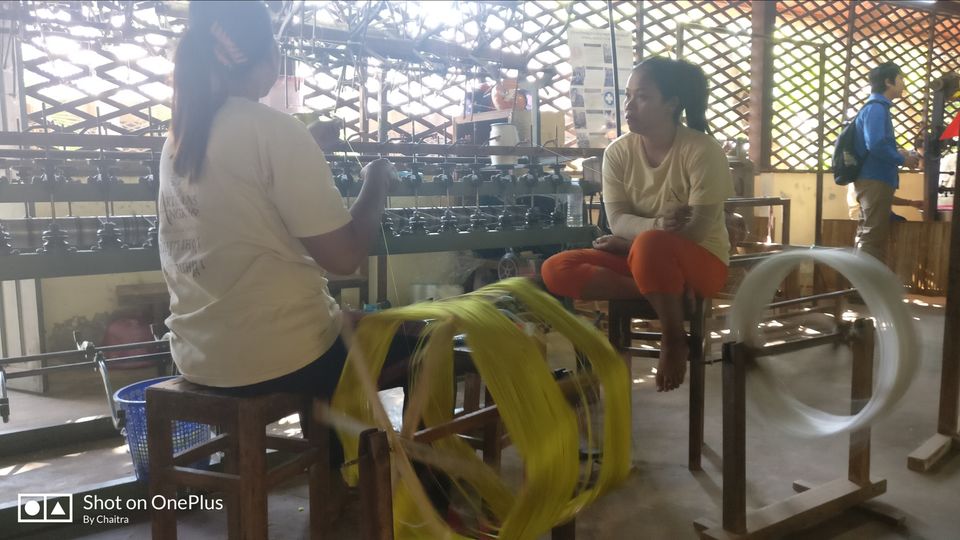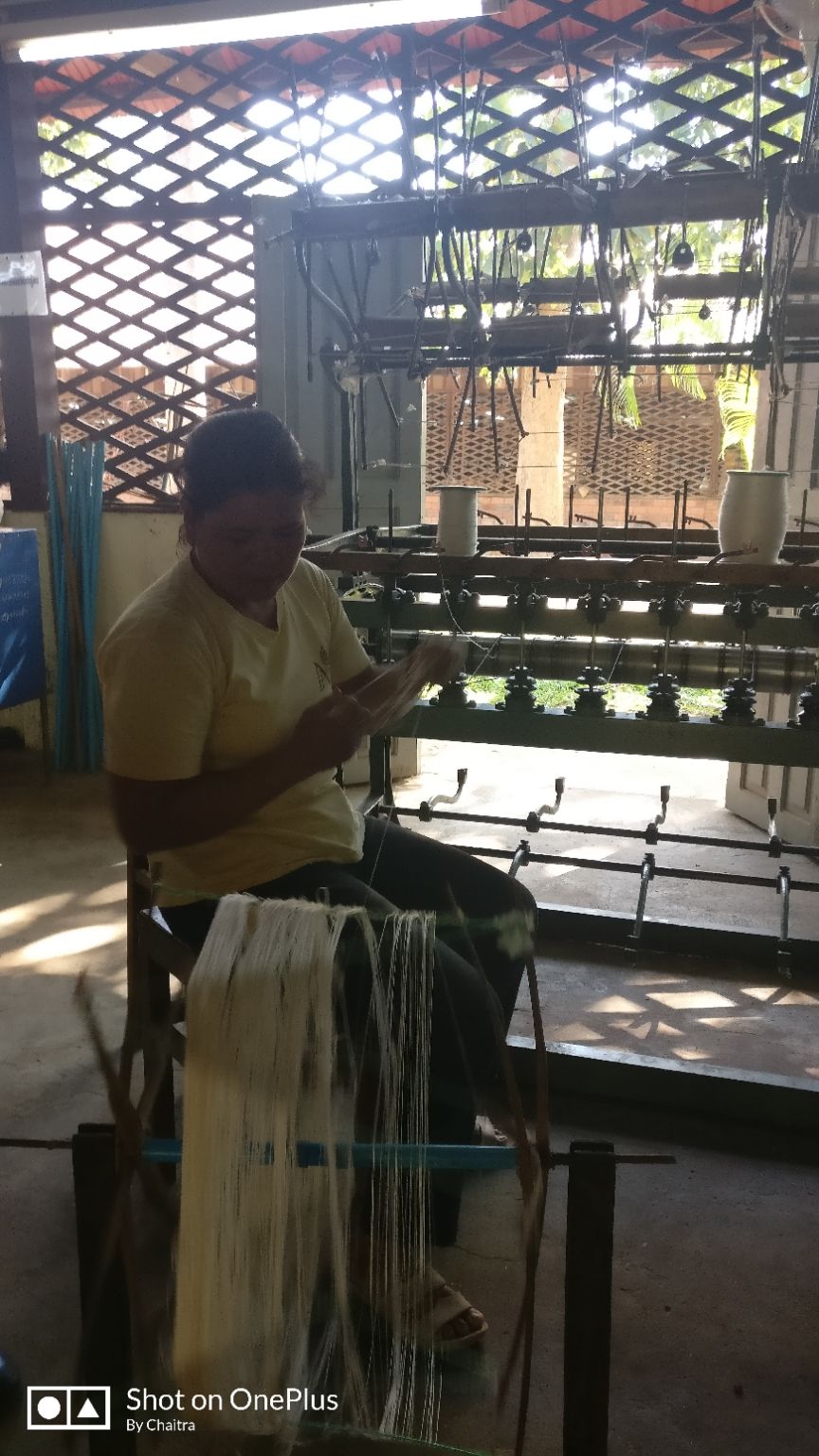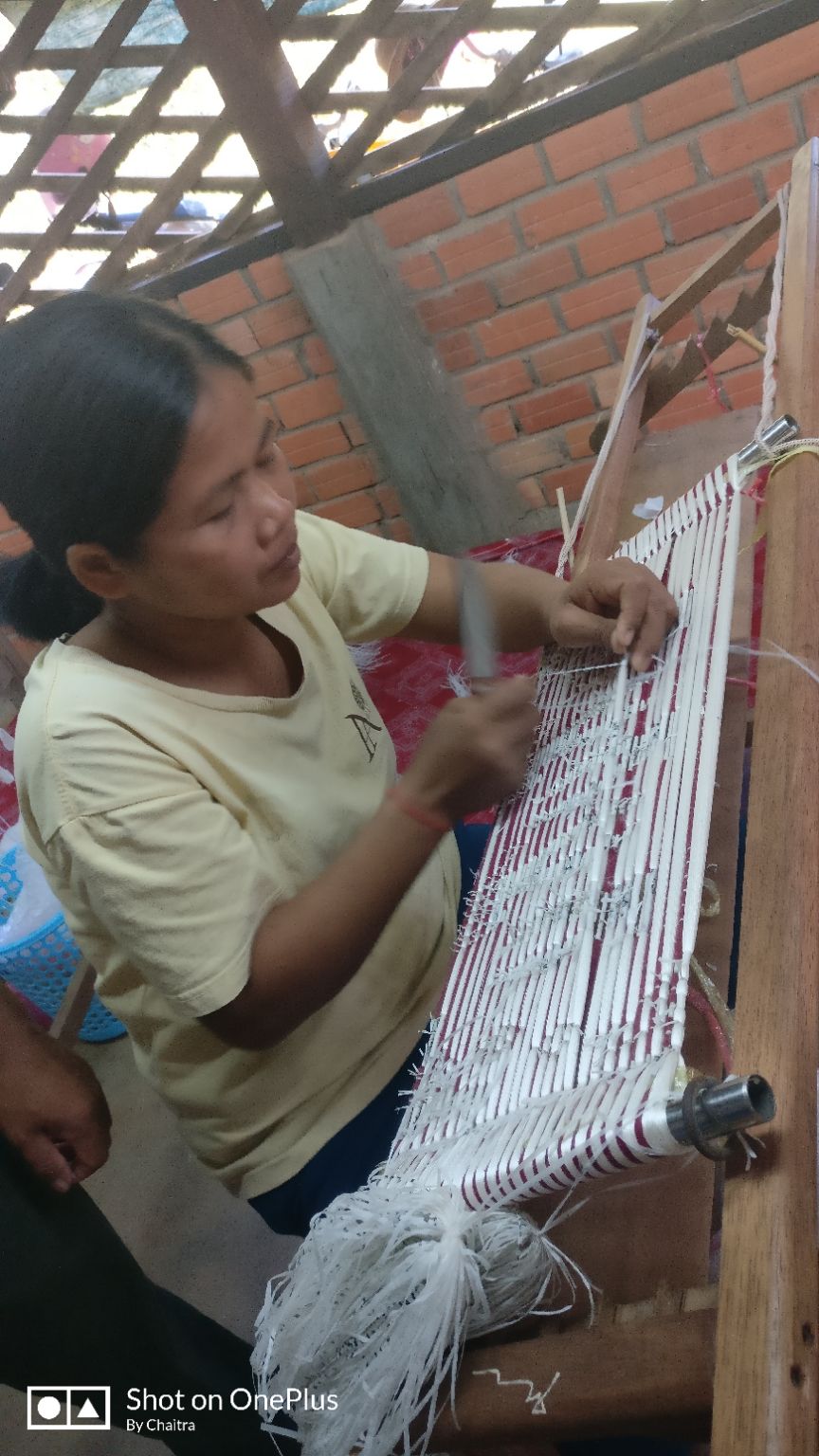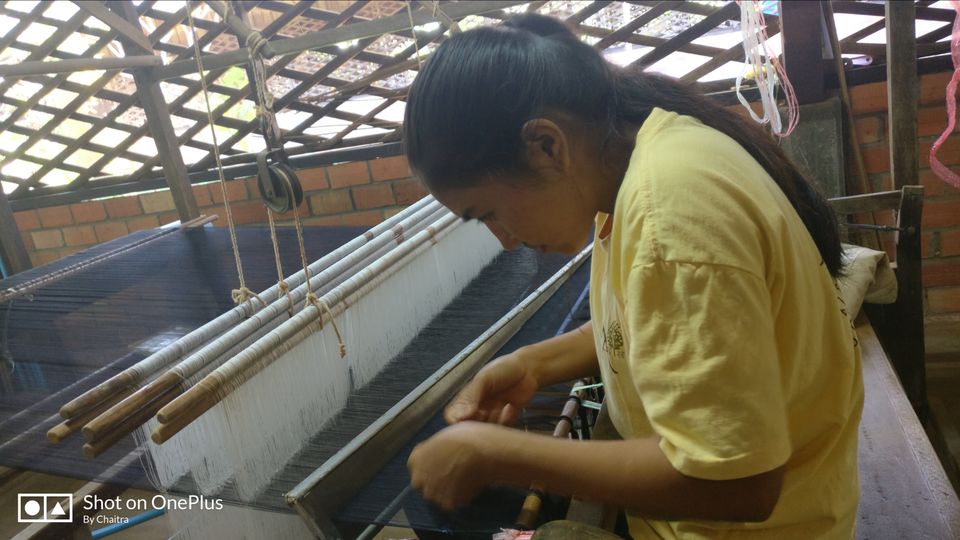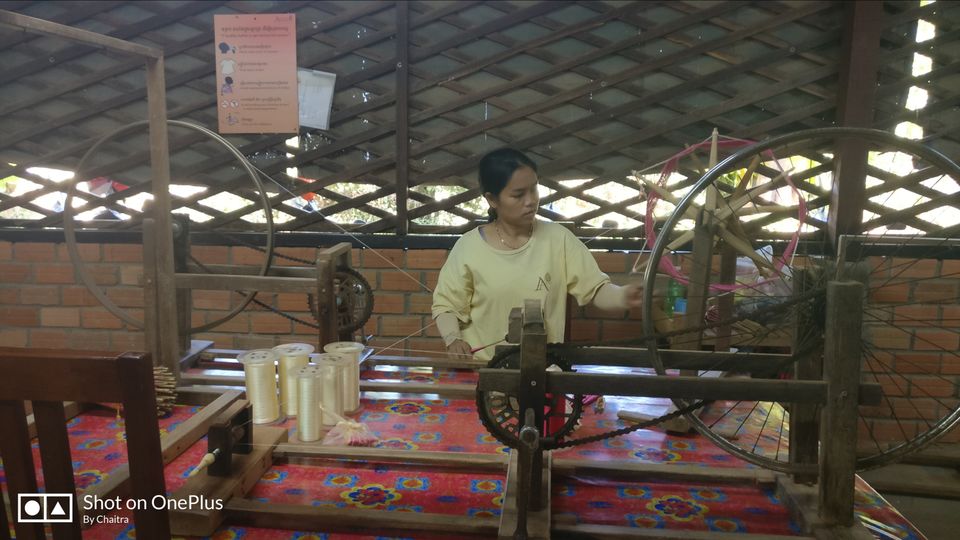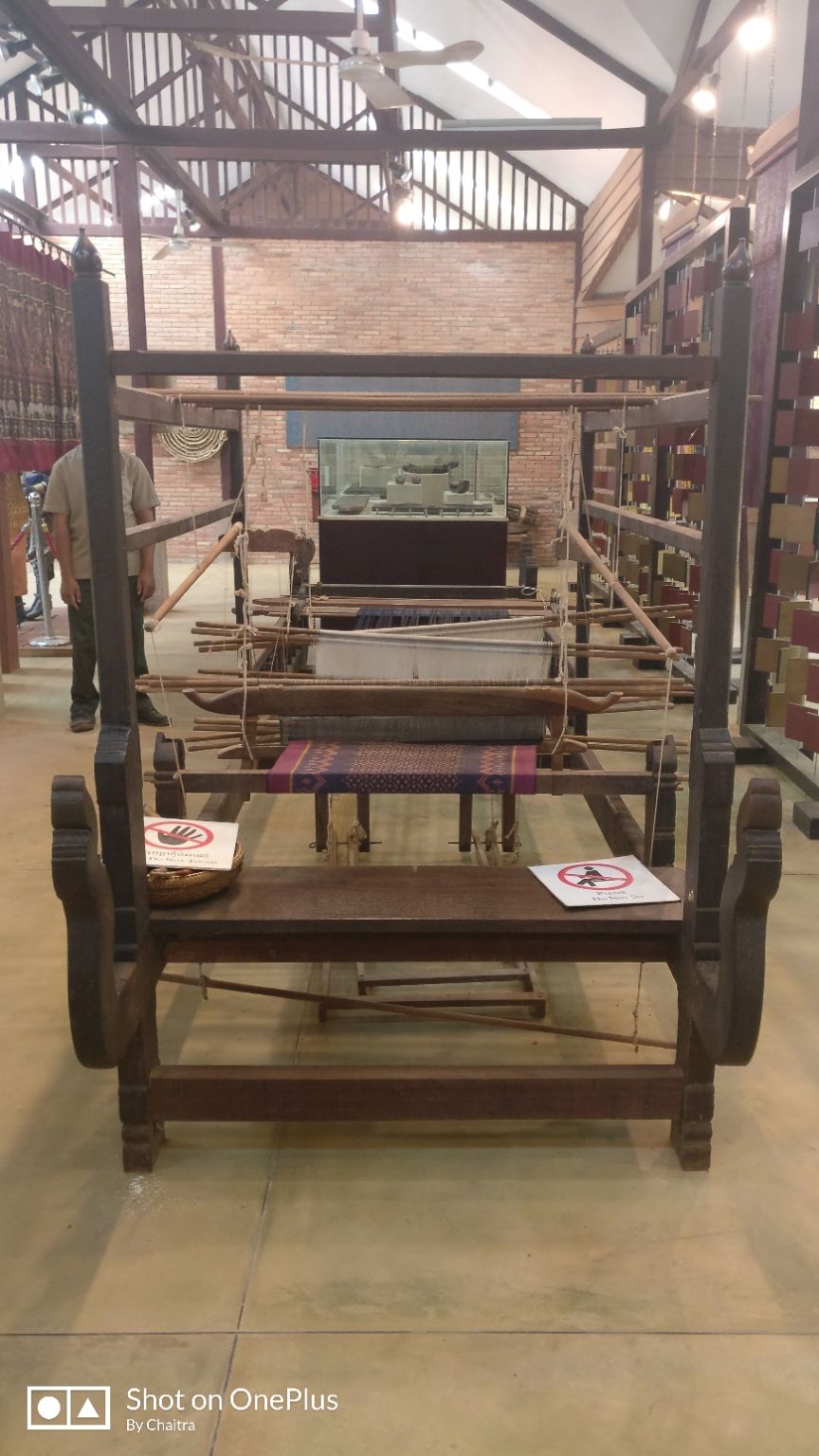 Banon Temple
Entry Fee: 1USD
Banon temple is a mountain temple. There are about 350 laterite stone steps to get atop. According to the inscriptions found there were 5 dolomite and sandstone temples built upon mountain in 11th Century. If you take a walk on the top you will notice the ruined, remnants of stairwells and a forest covering one side of the hill.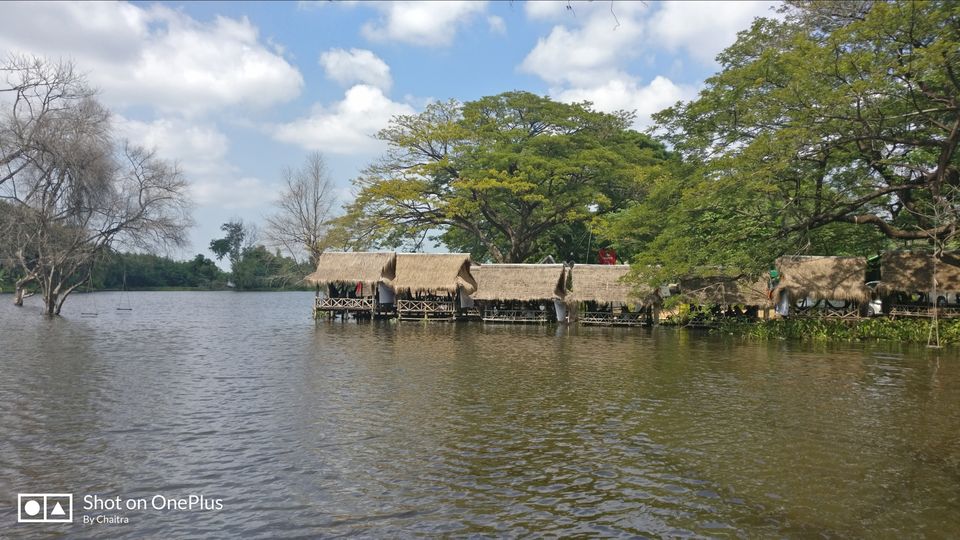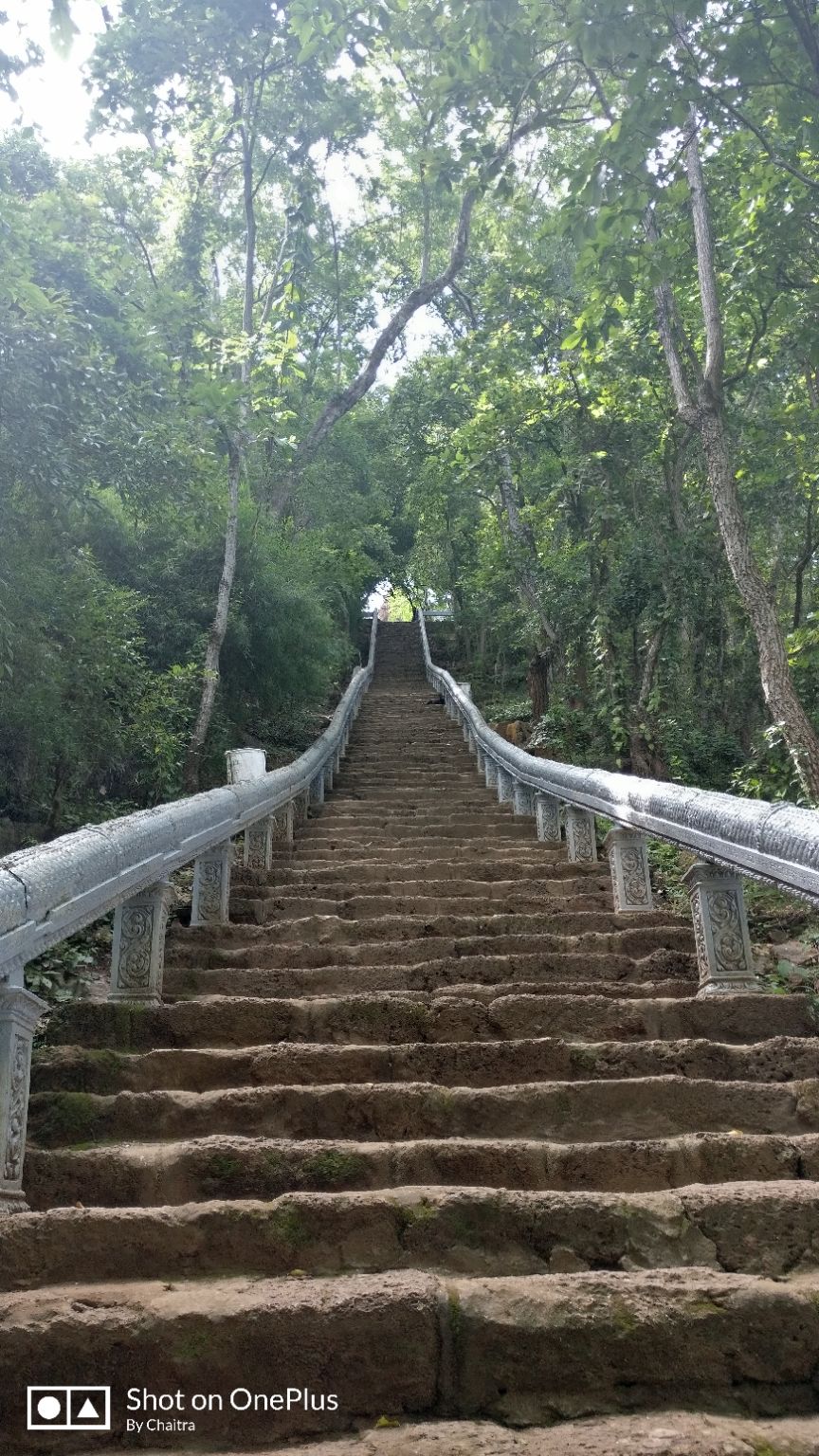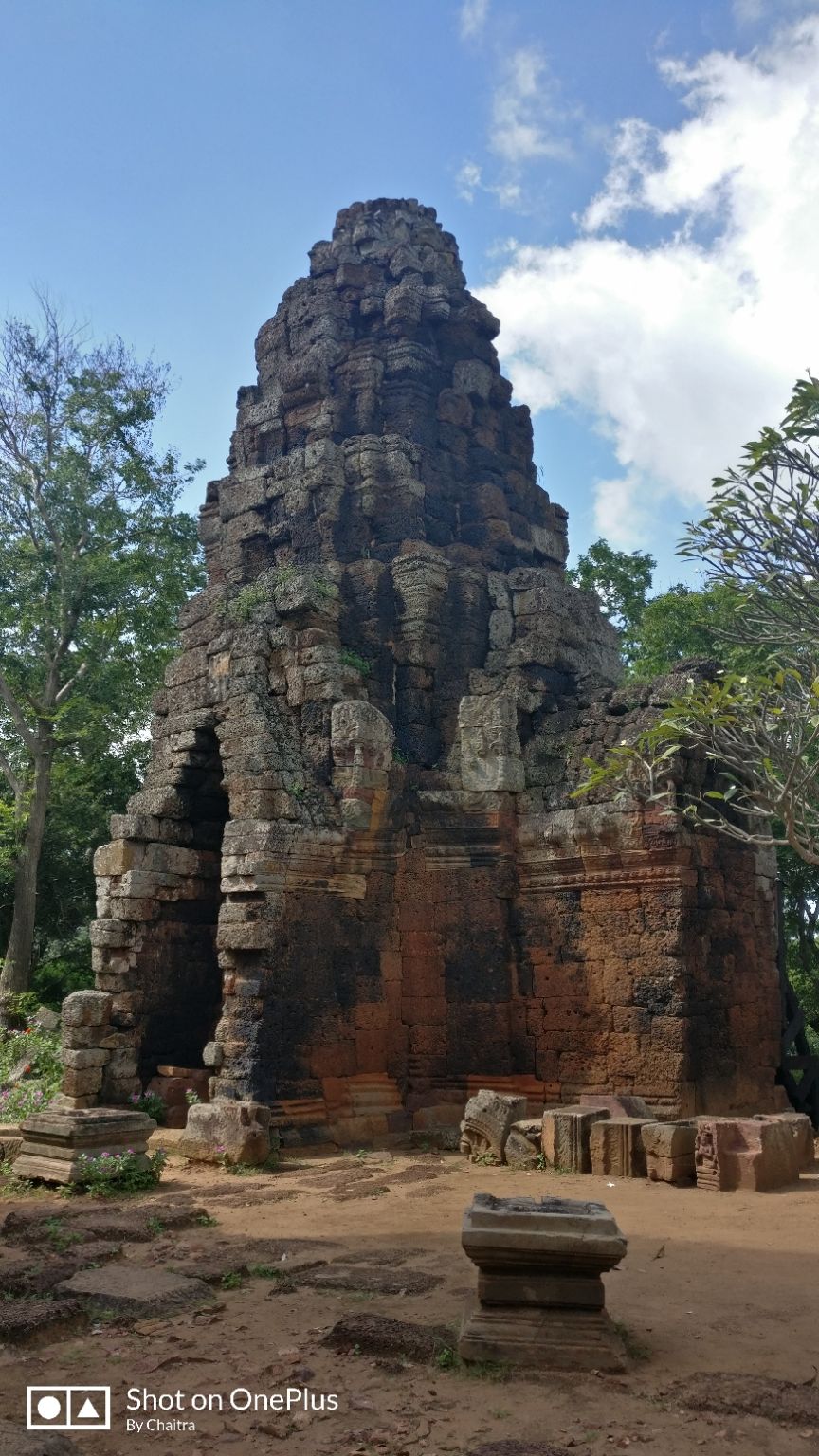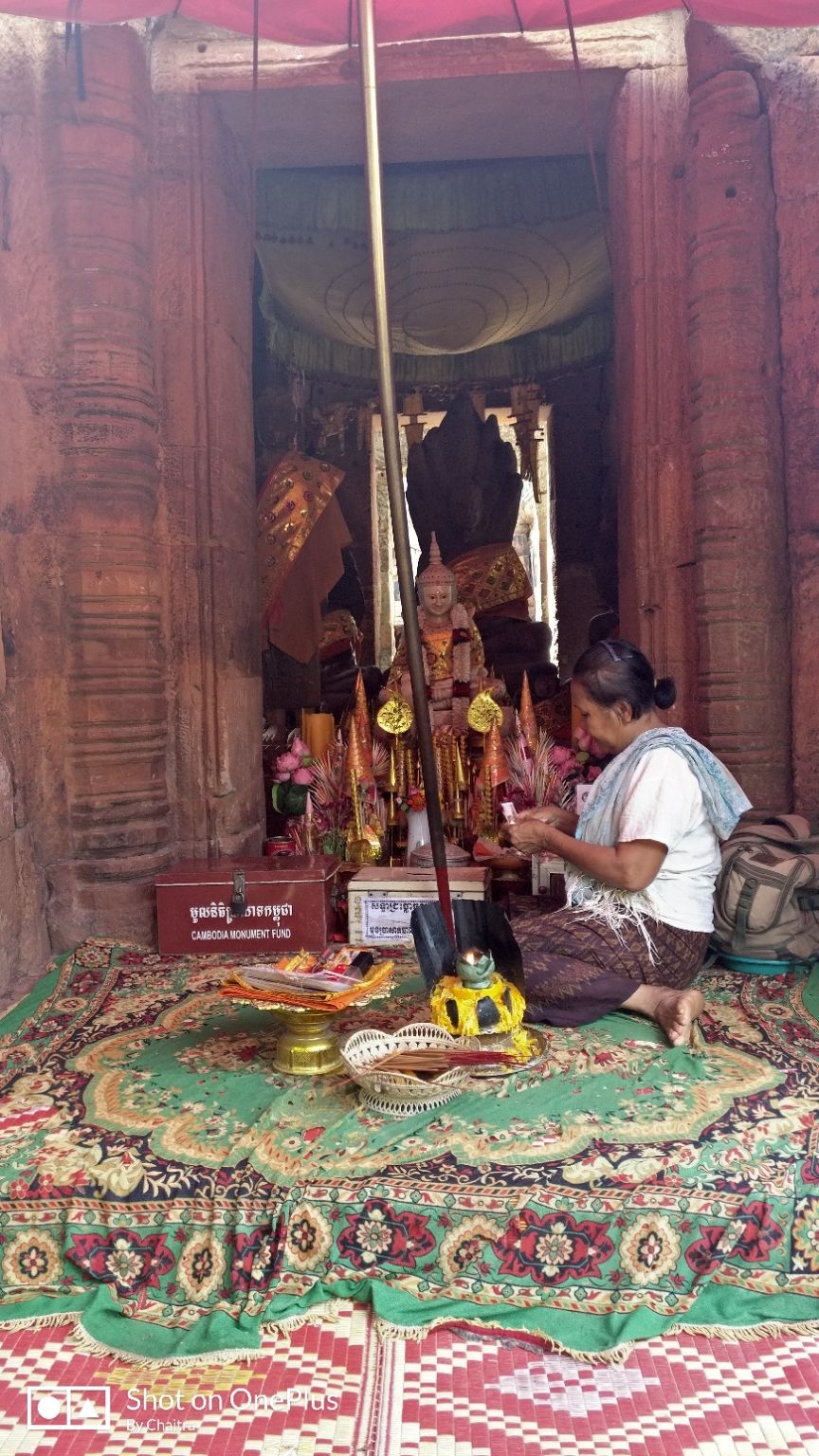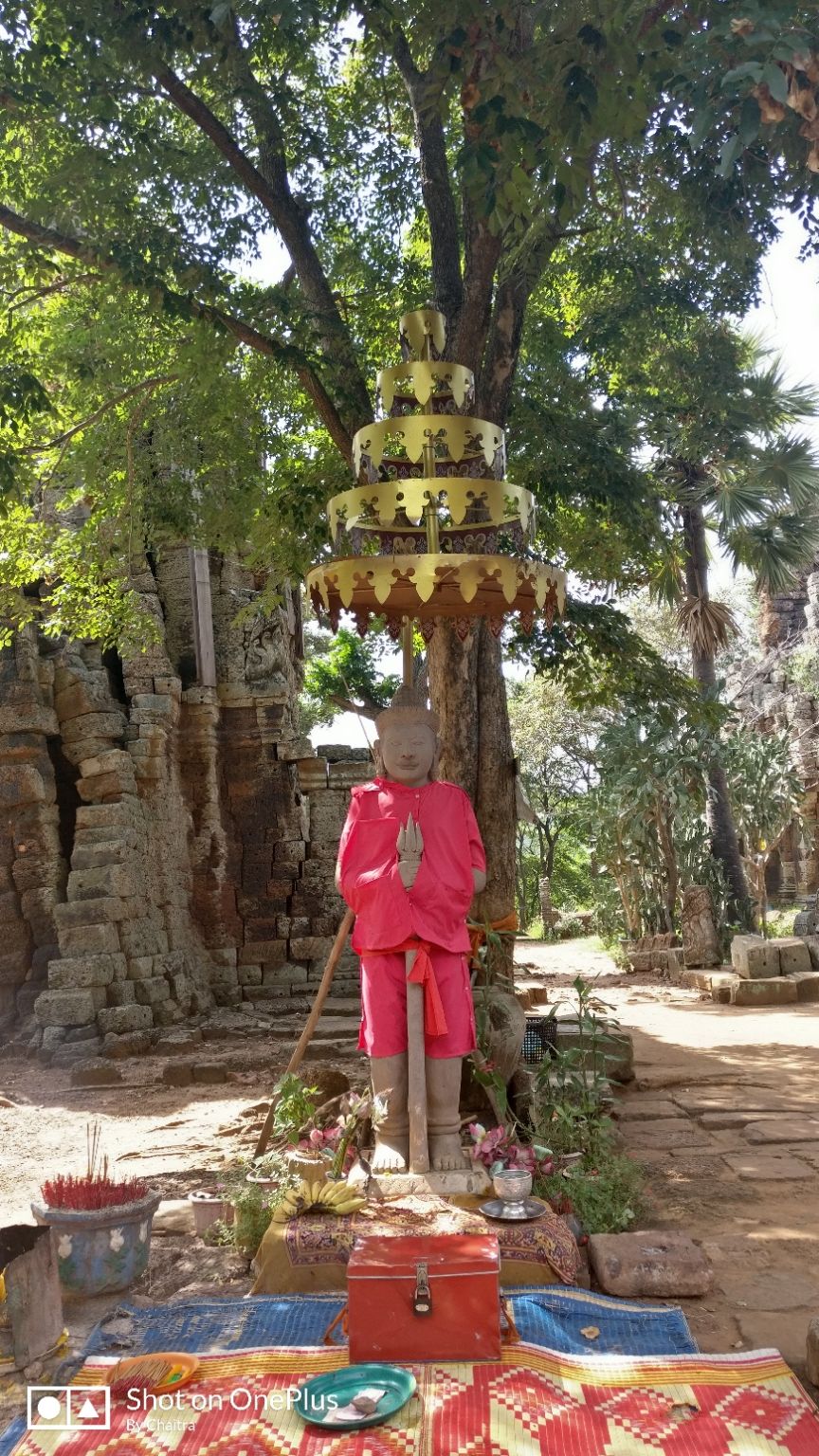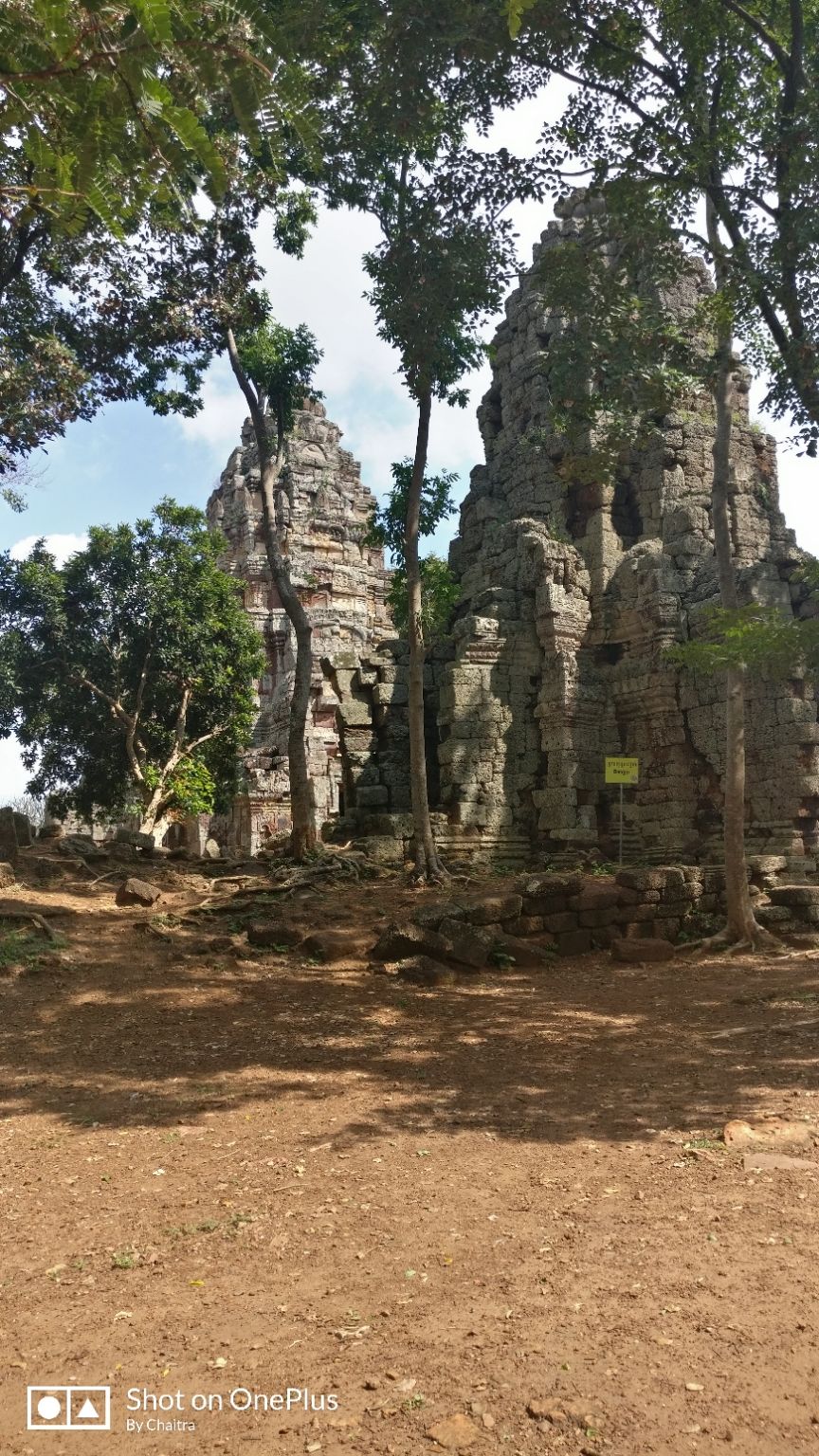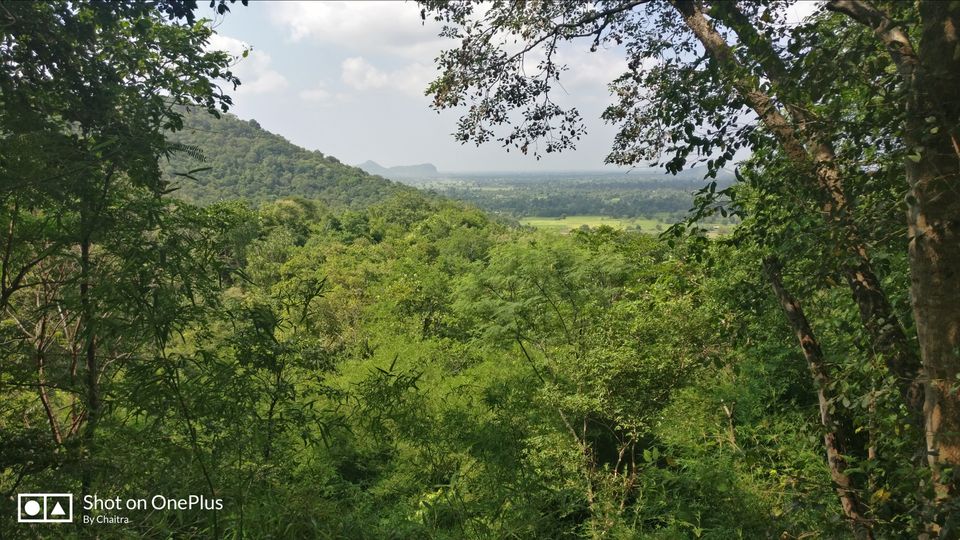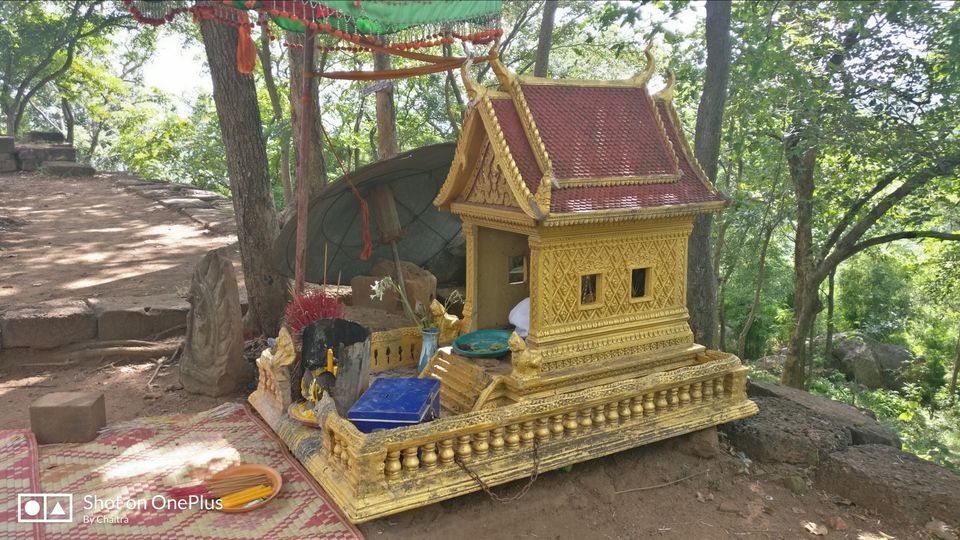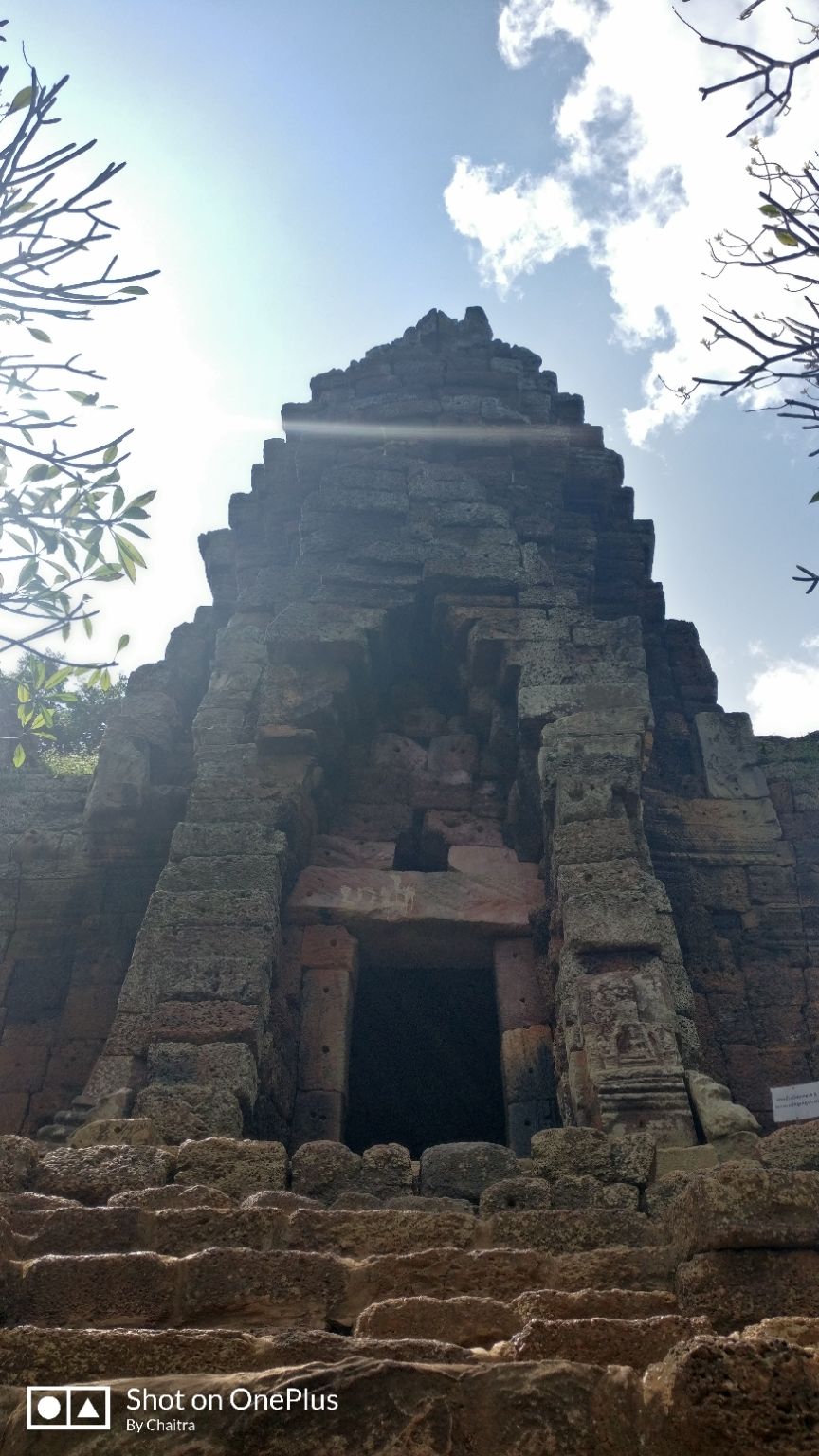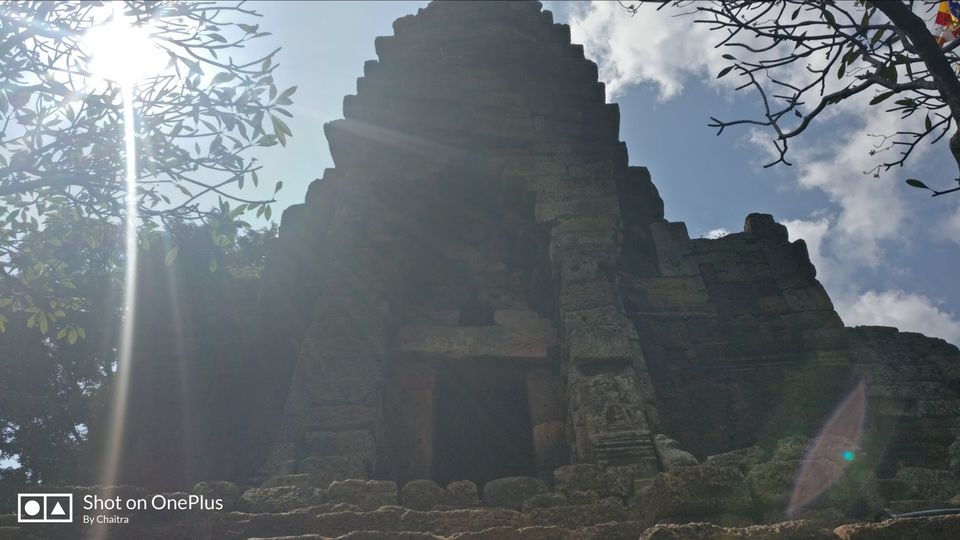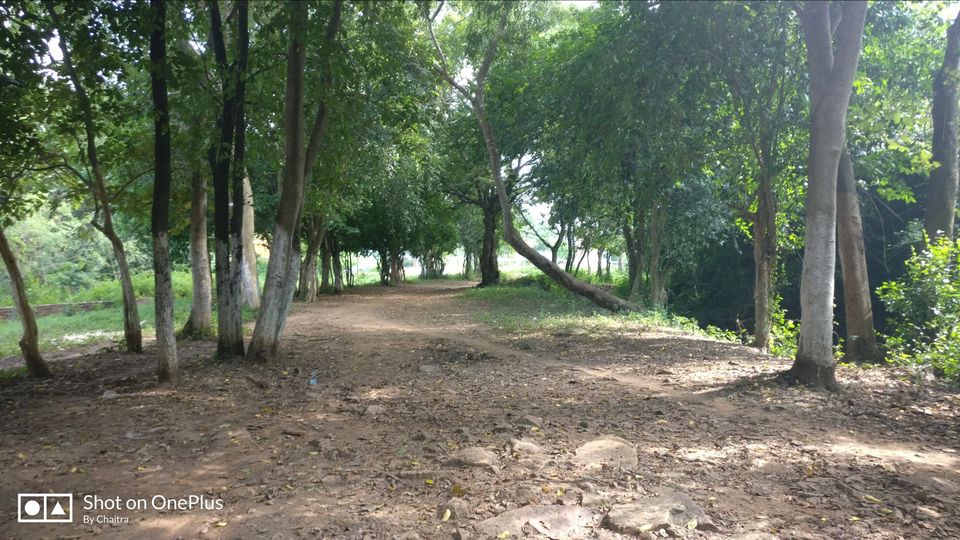 Killing caves of Phnom Sampeau
Entry Fee: 2 USD
Phnom sampeau is about 12 kms from Battambang city. One has to either walk or hire a cab to explore the Phnom Sampeau Mountain. Mid way up, there is a temple and the killing caves. The temple has lot murals which are interesting to see and then there is a short path which leads to the killing caves. The history connected with this area is sad with one of the temples used as a prison during the Khmer Rouge reign. People were taken from the temple handcuffed and blindfolded to the top of a cave opening. Here they were hit on the head and fell to the bottom of the cave which lead to death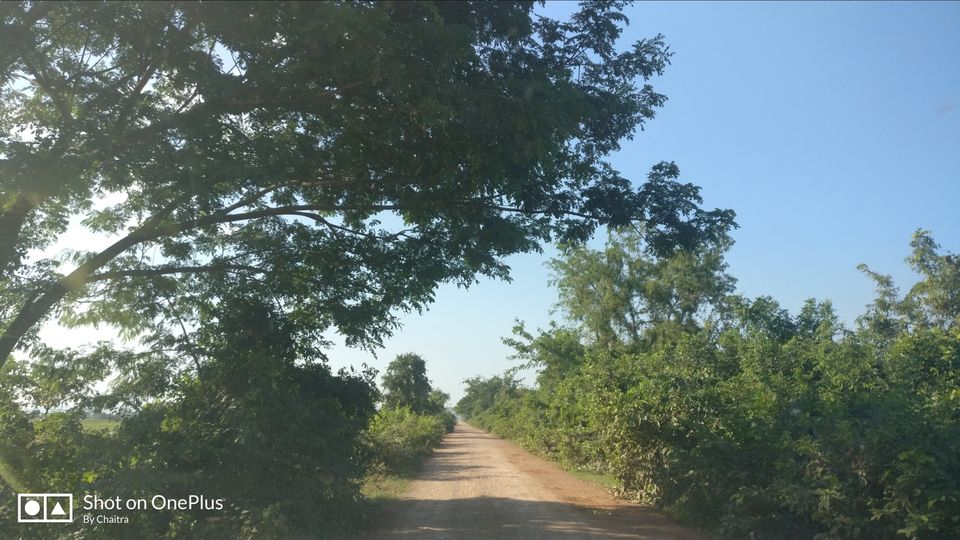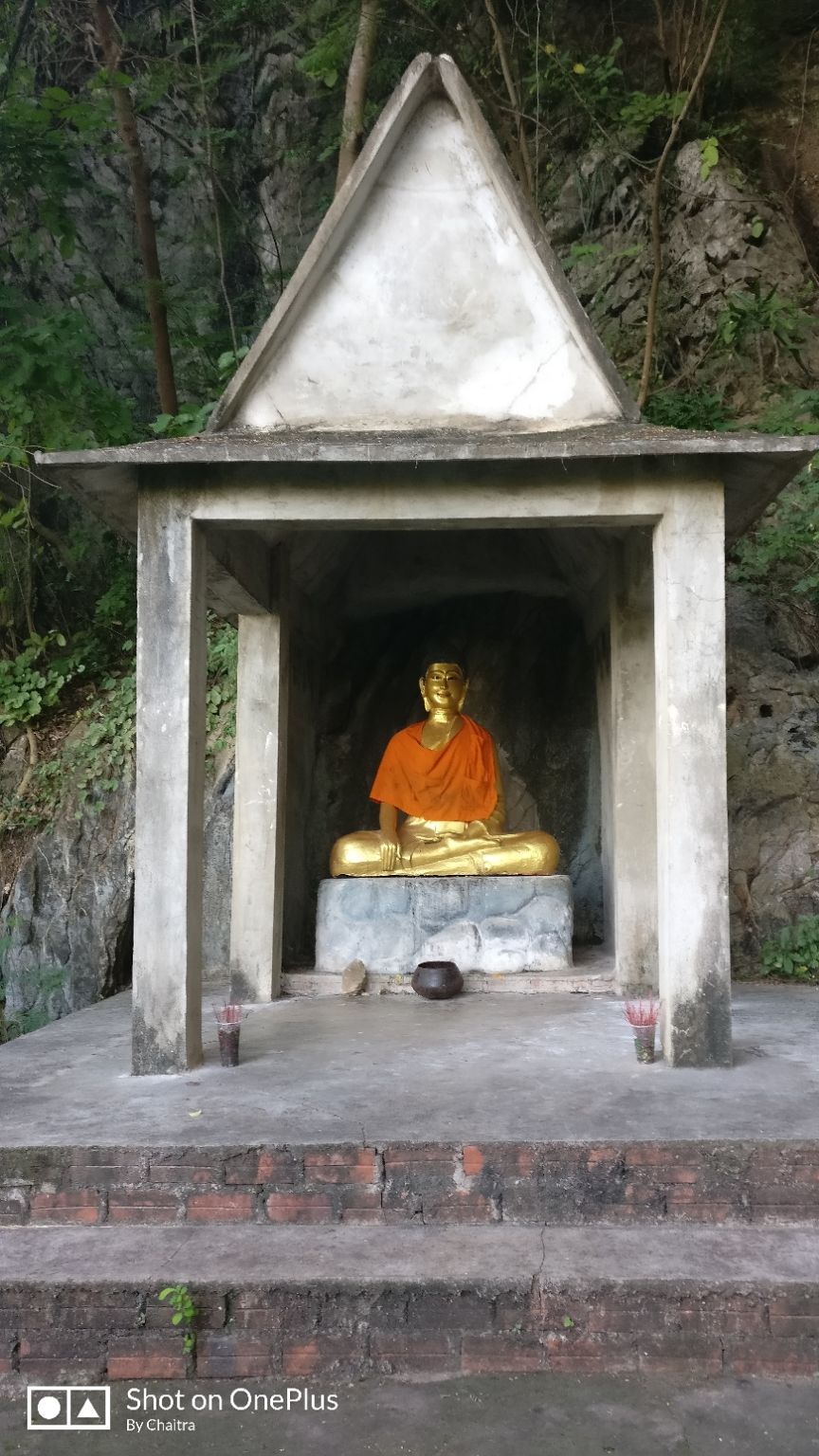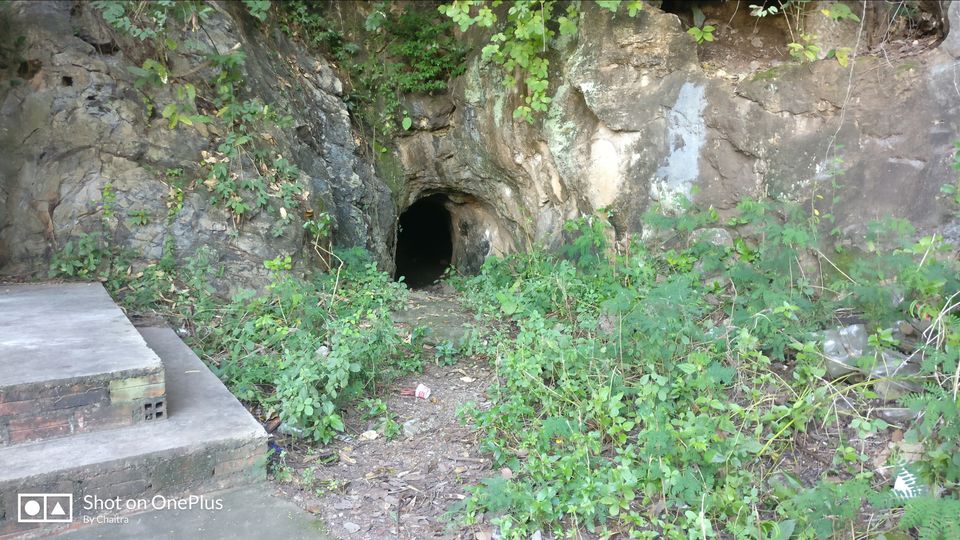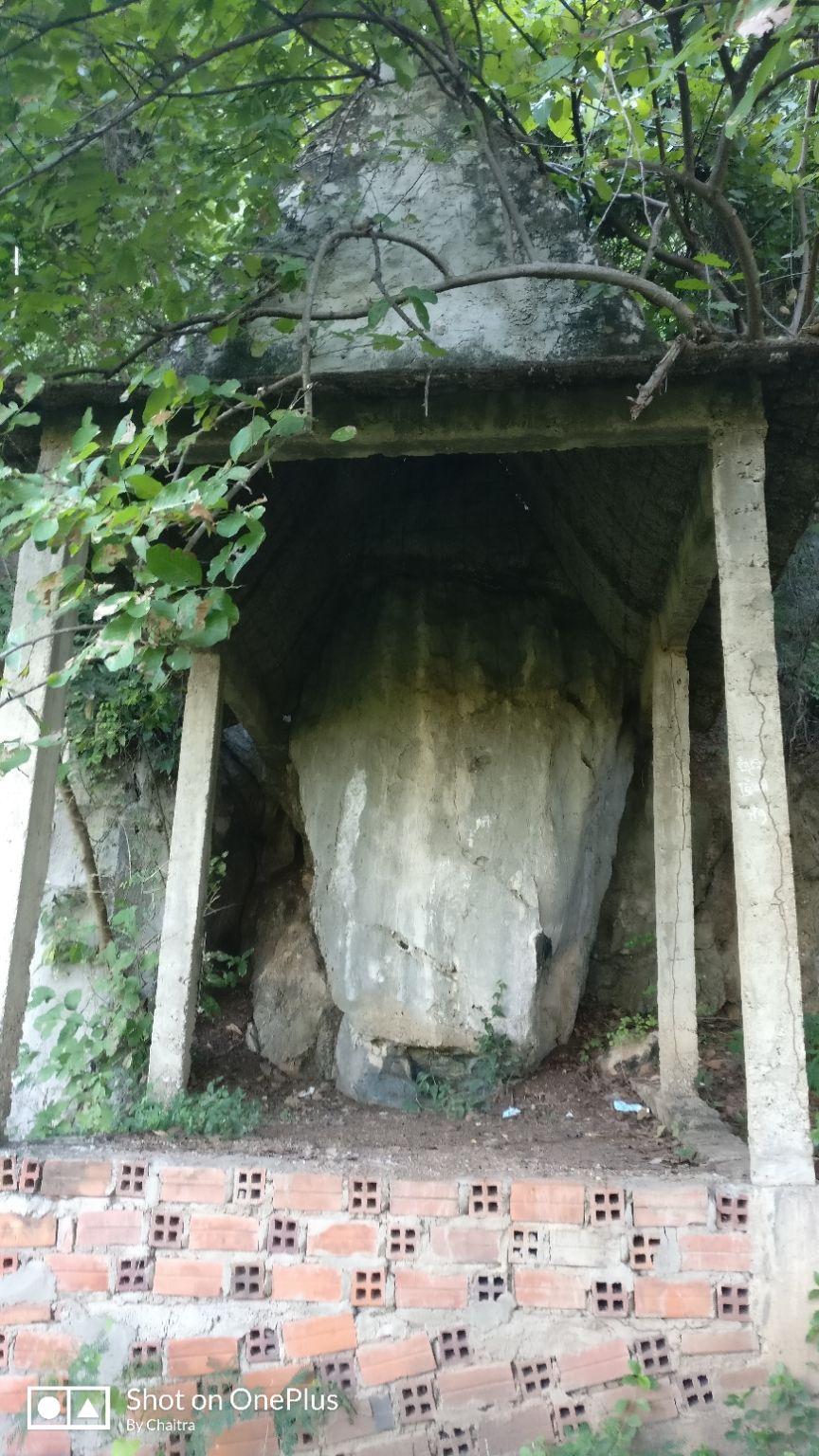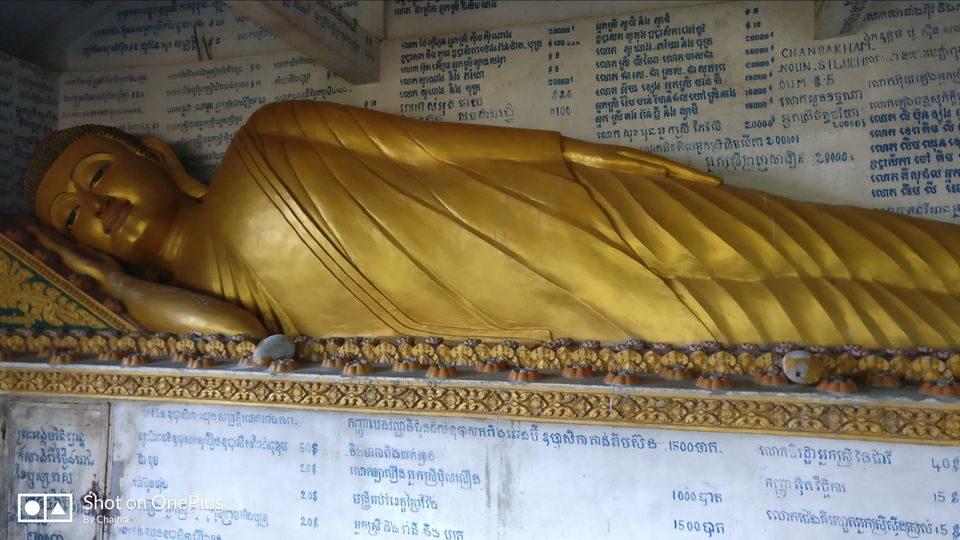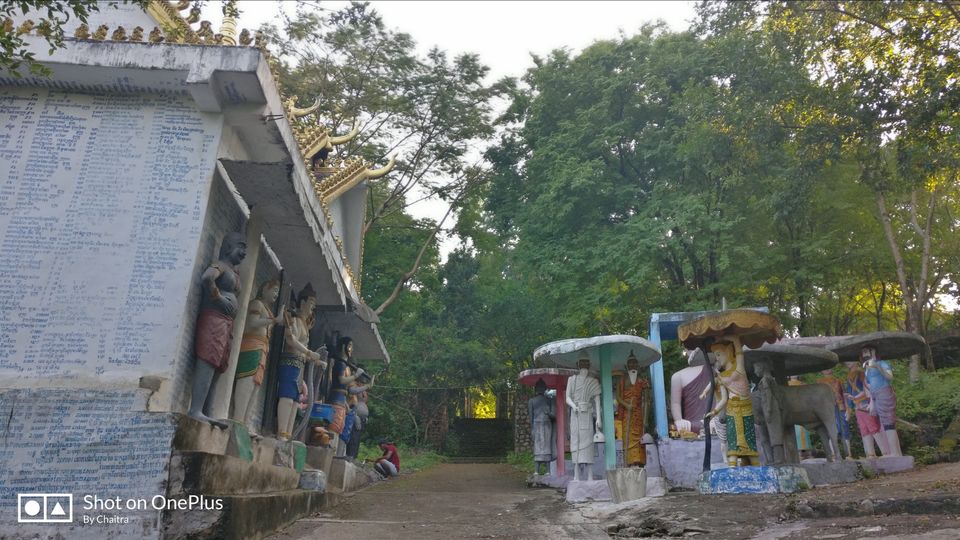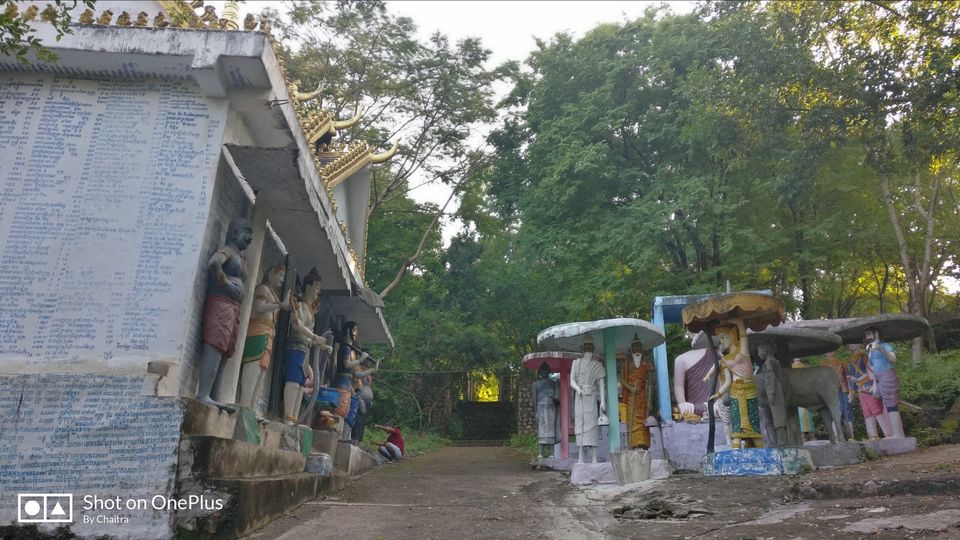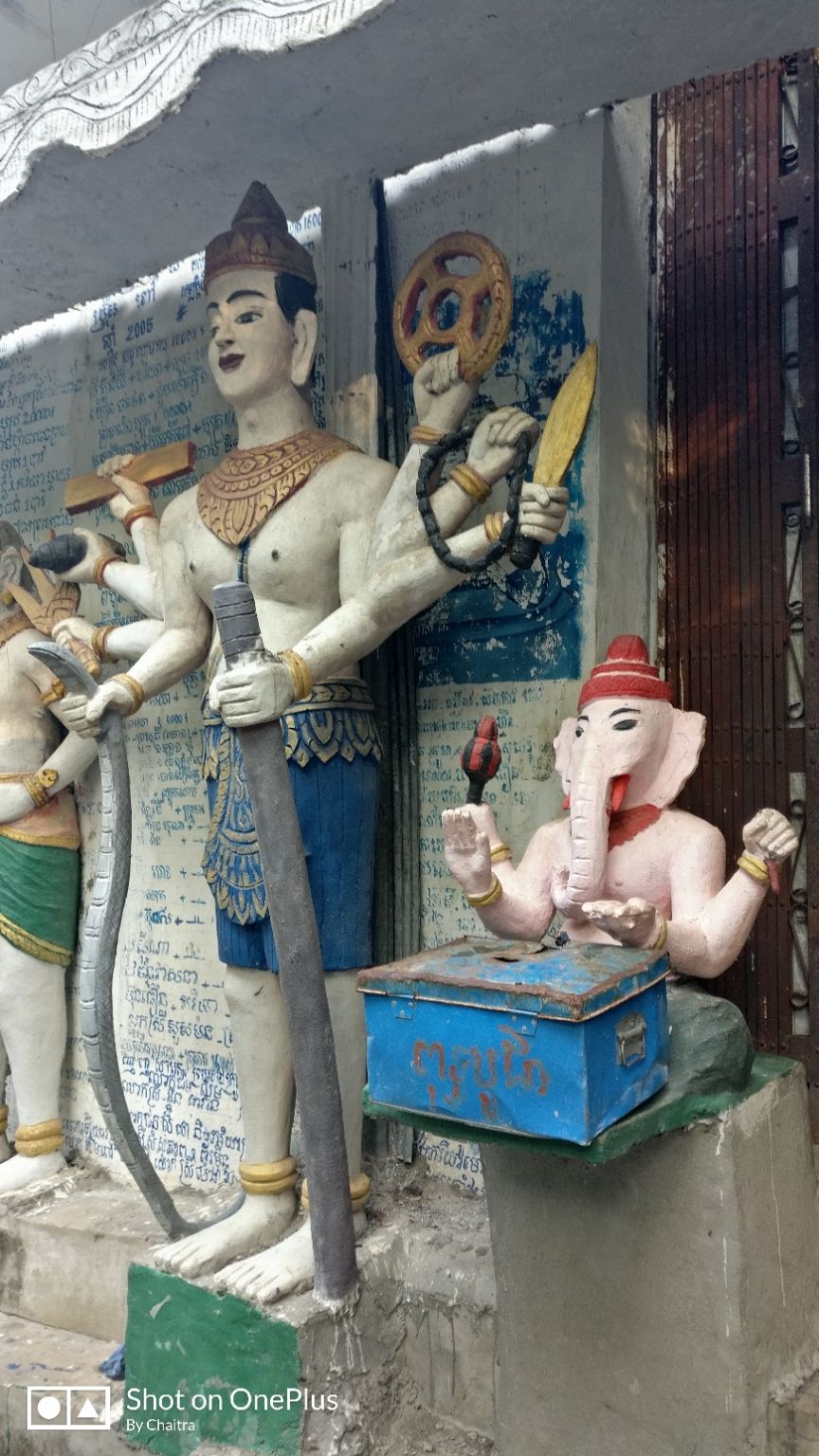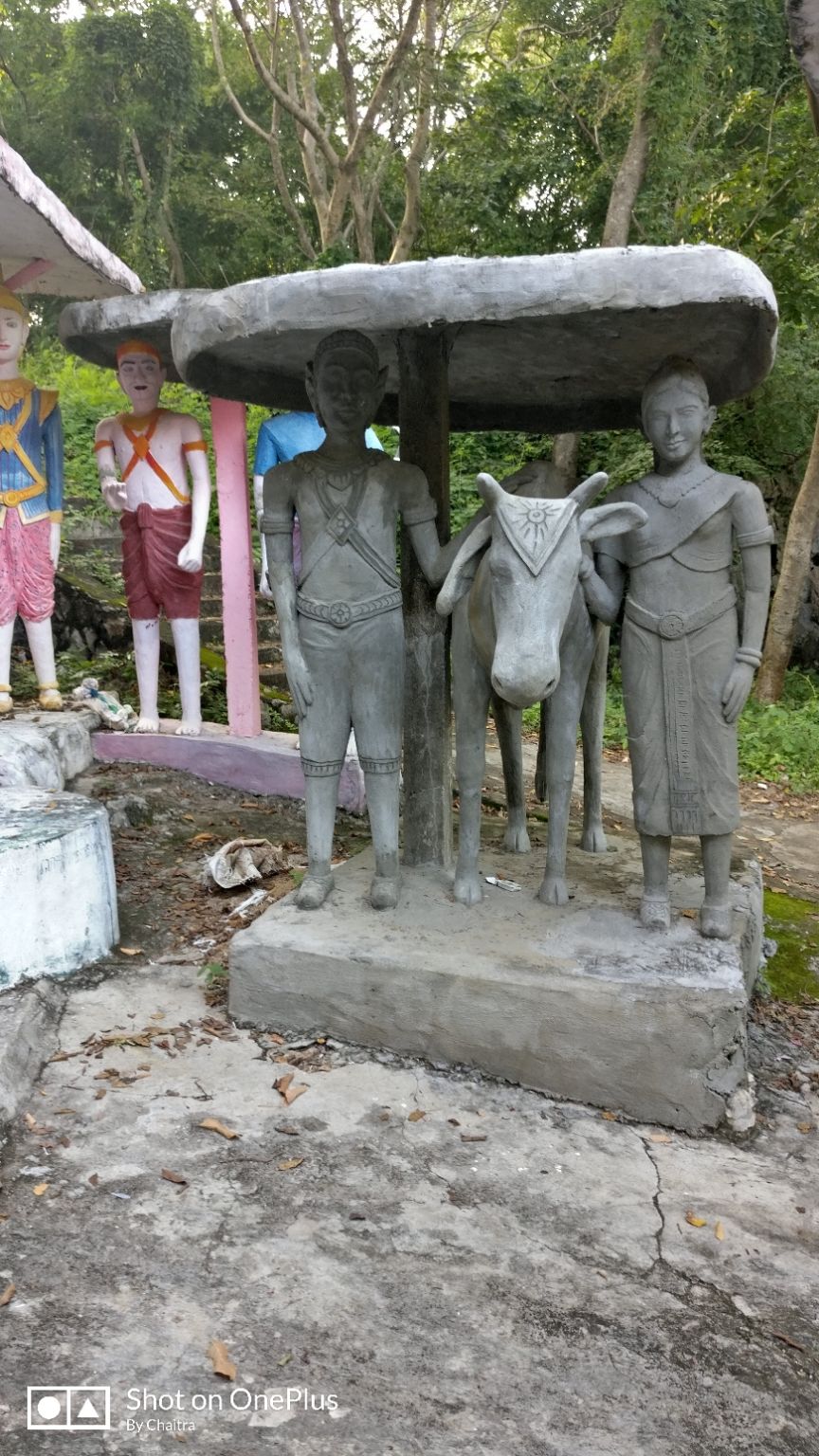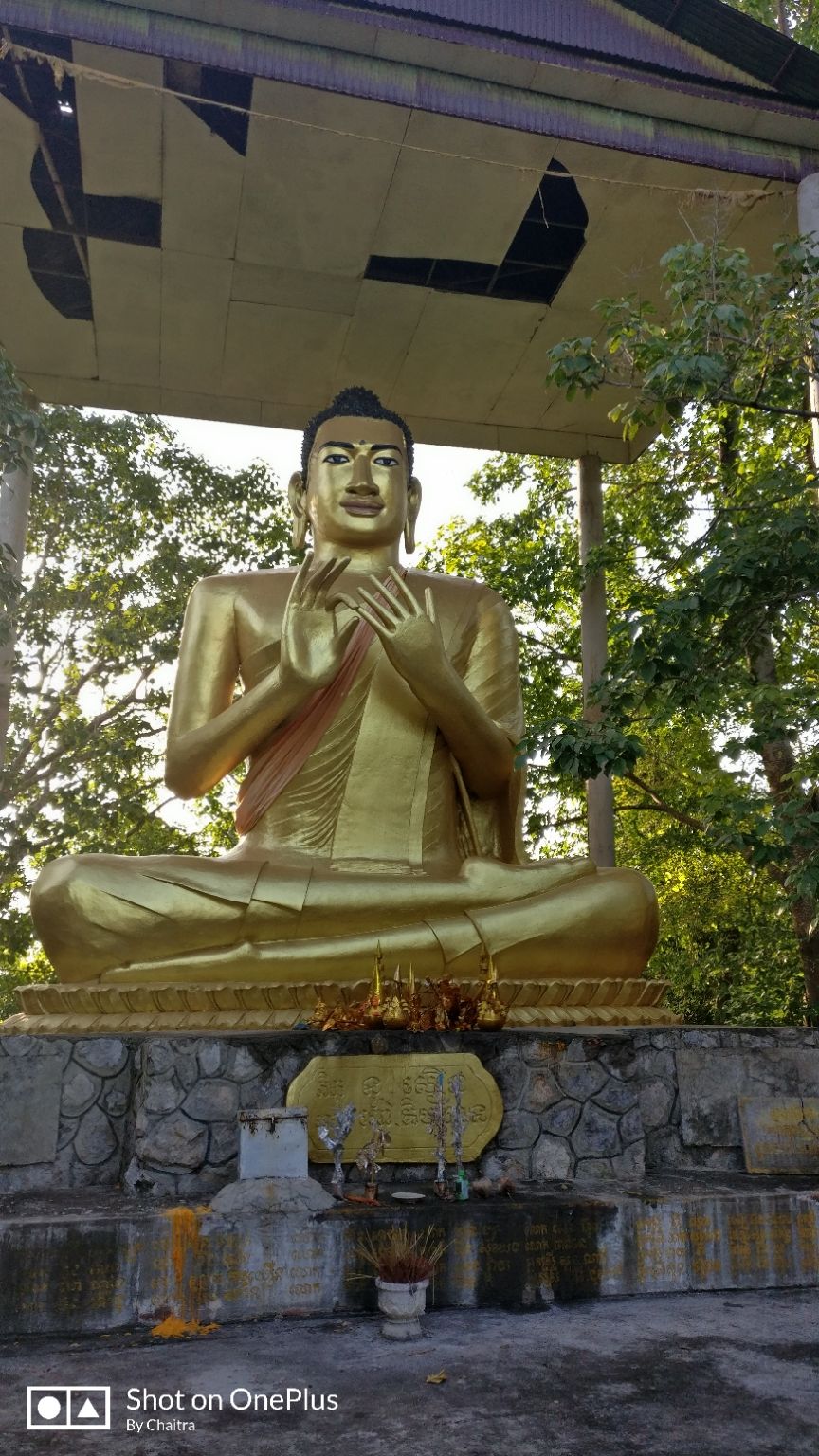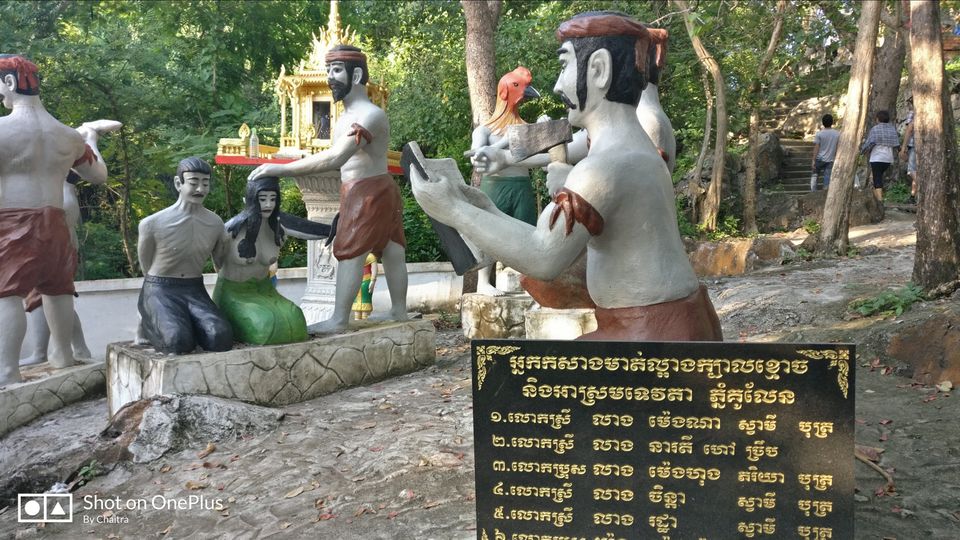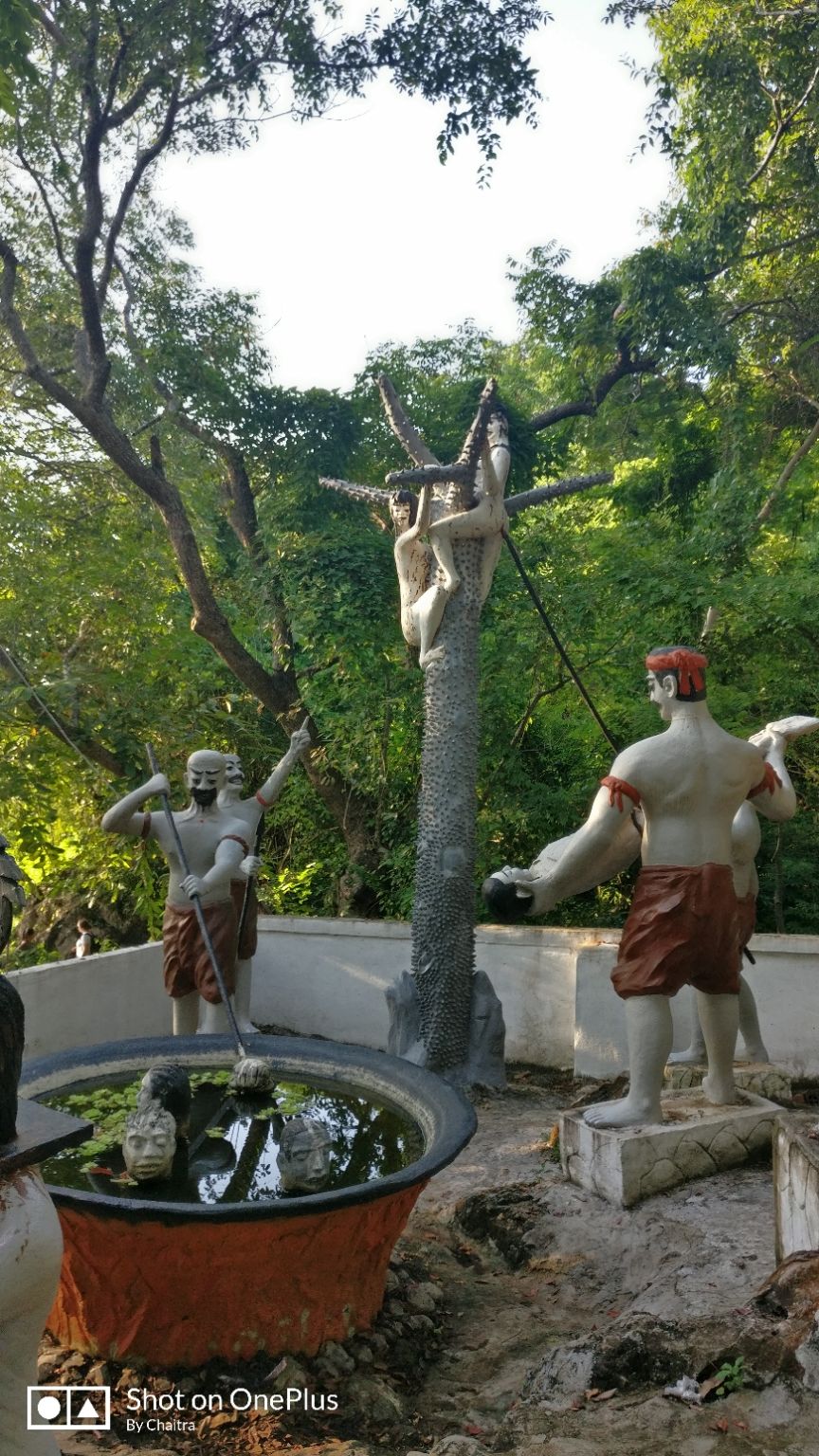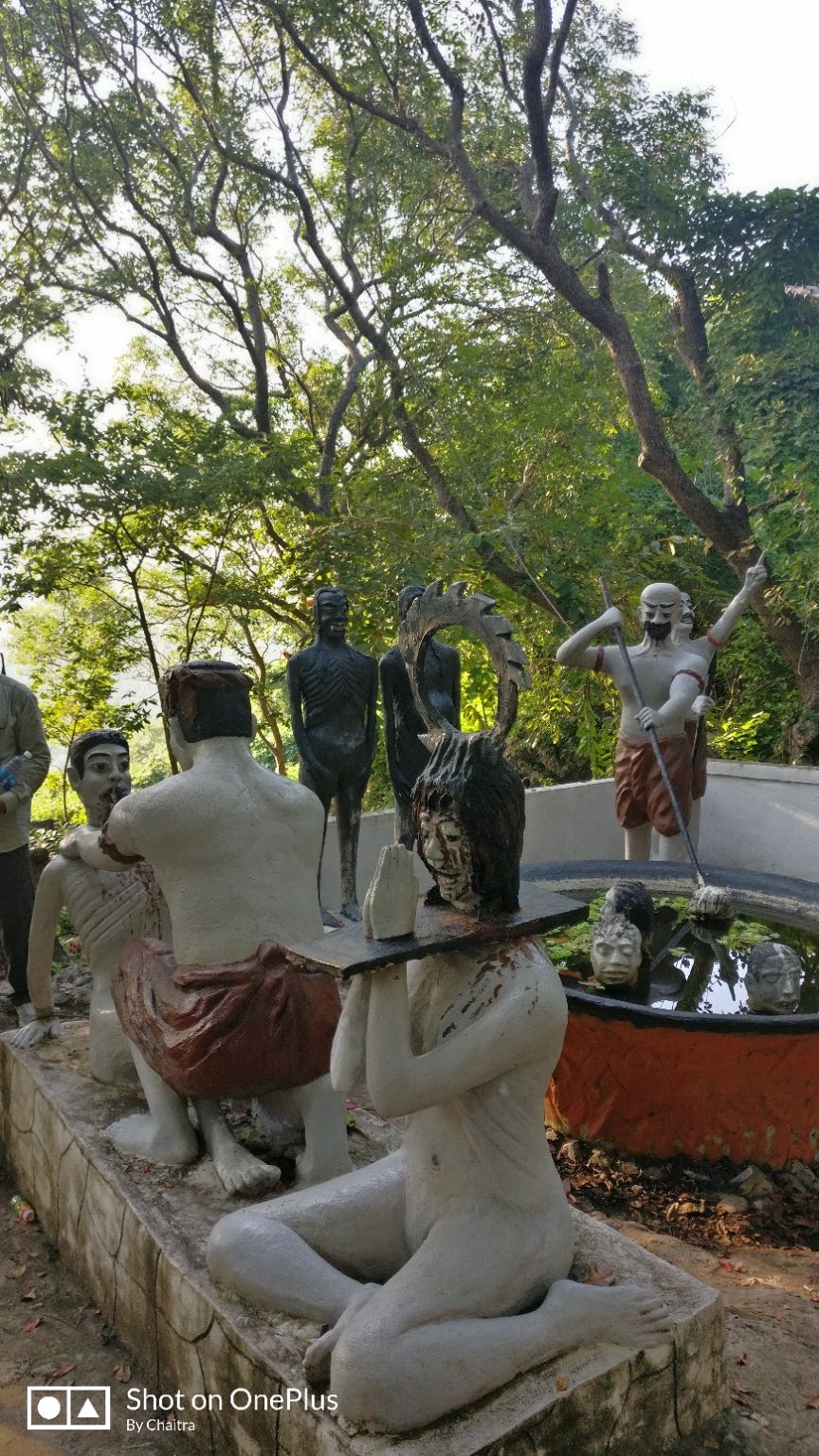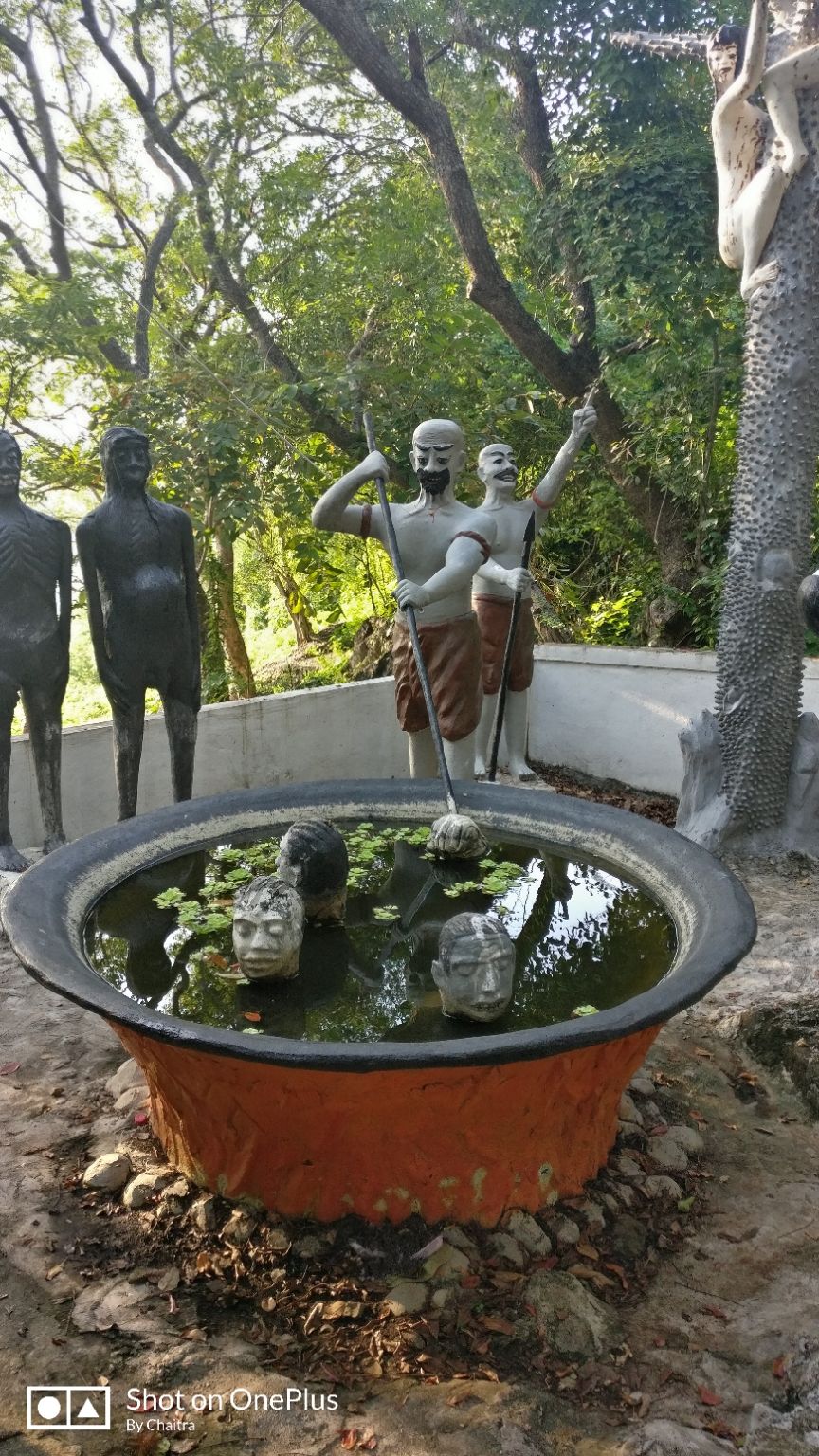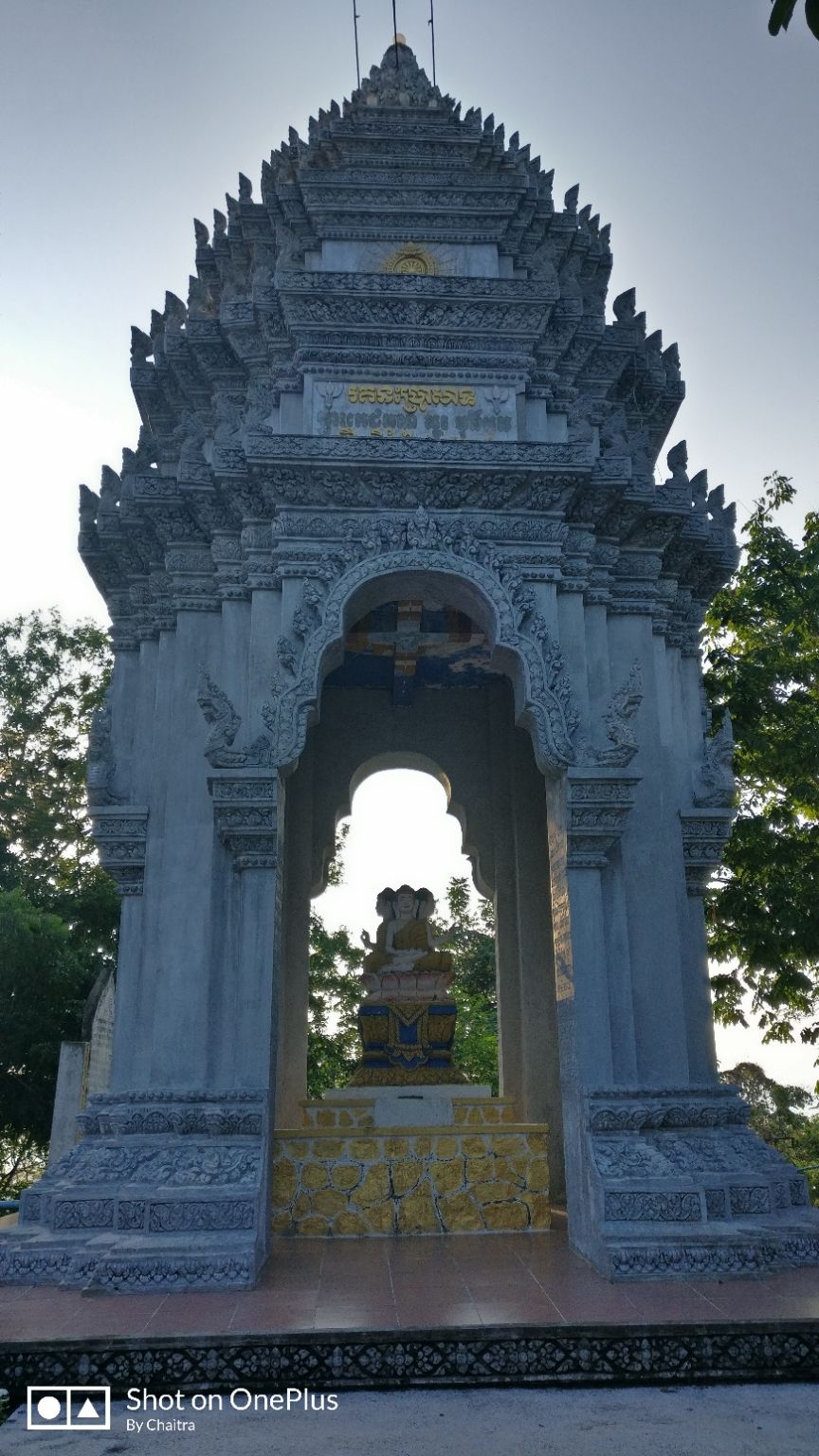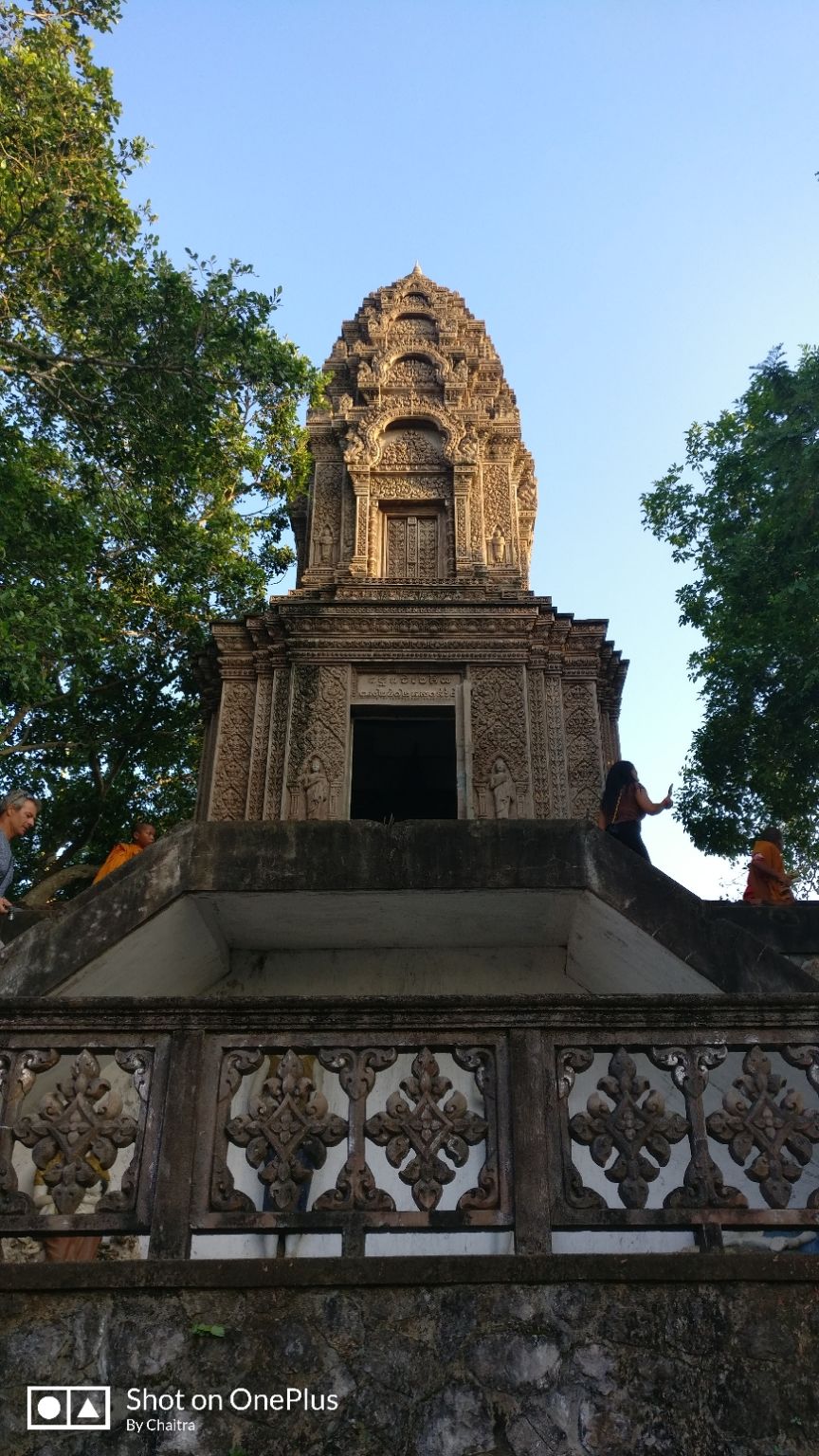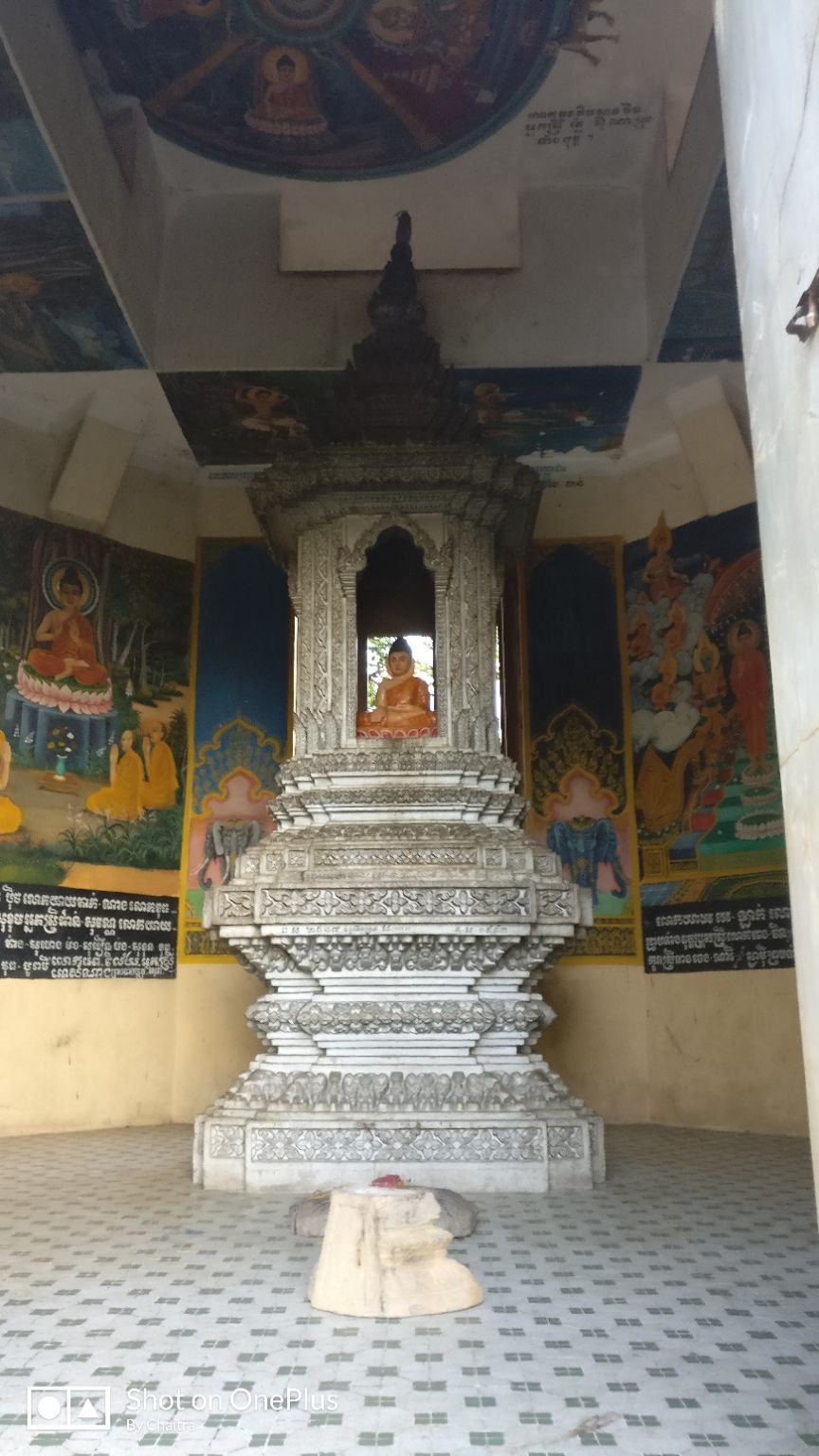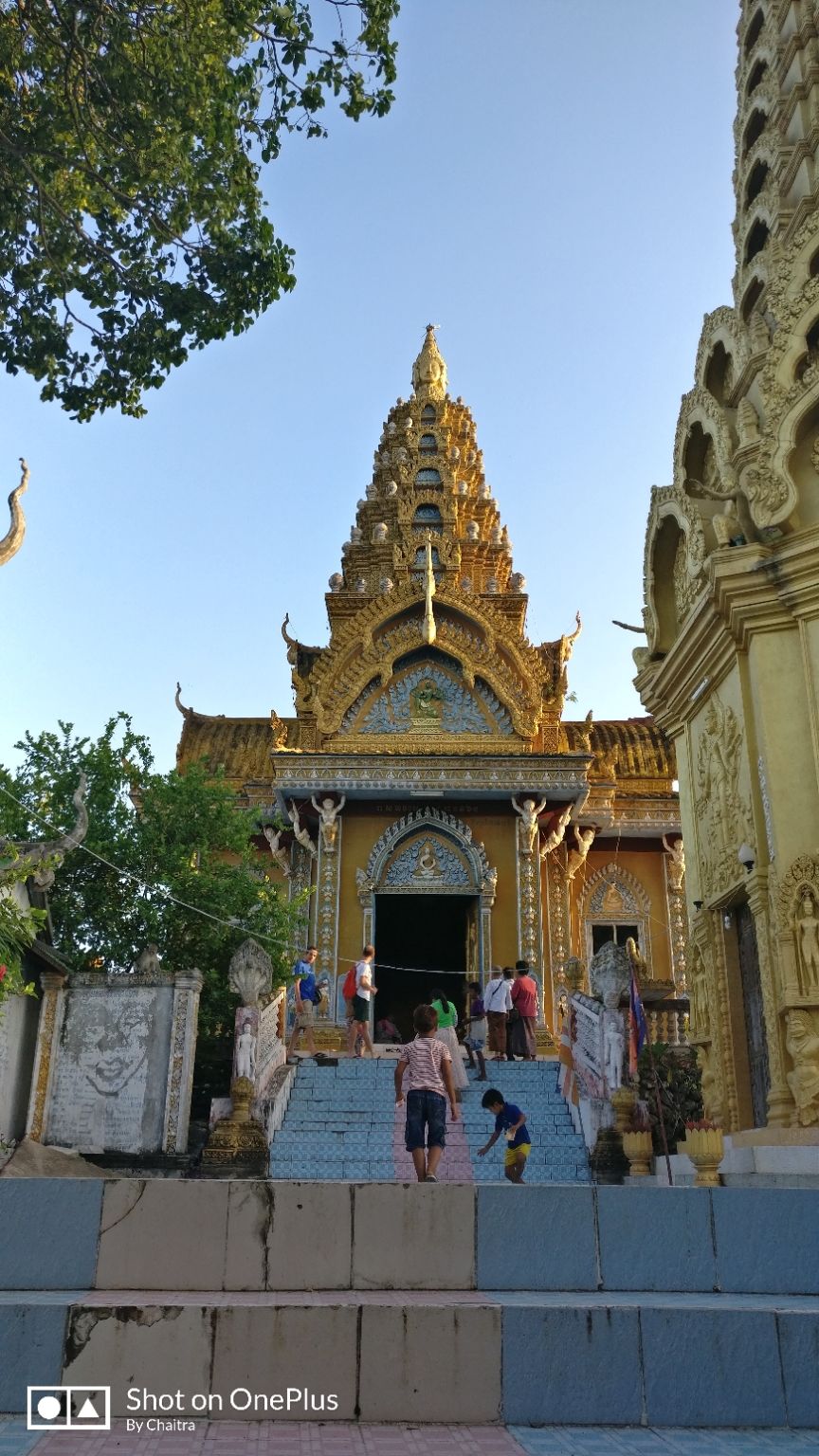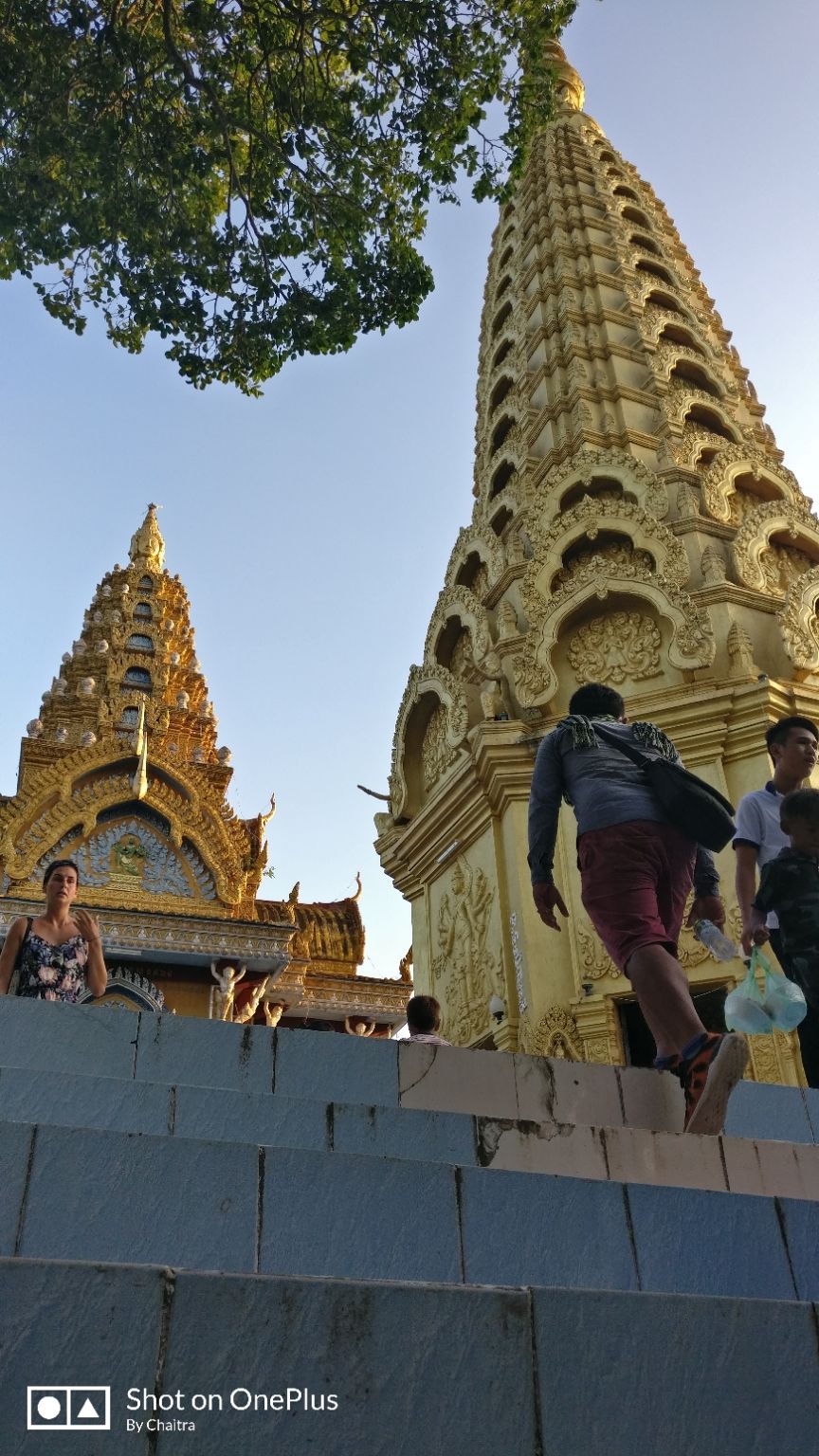 Bat Caves
The bat cave offers an amazing view after sunset each day- millions of bats leave the cave and zoom into the sky as dusk falls. The bat population being so high it takes around 30-40 minutes for the cave to clear.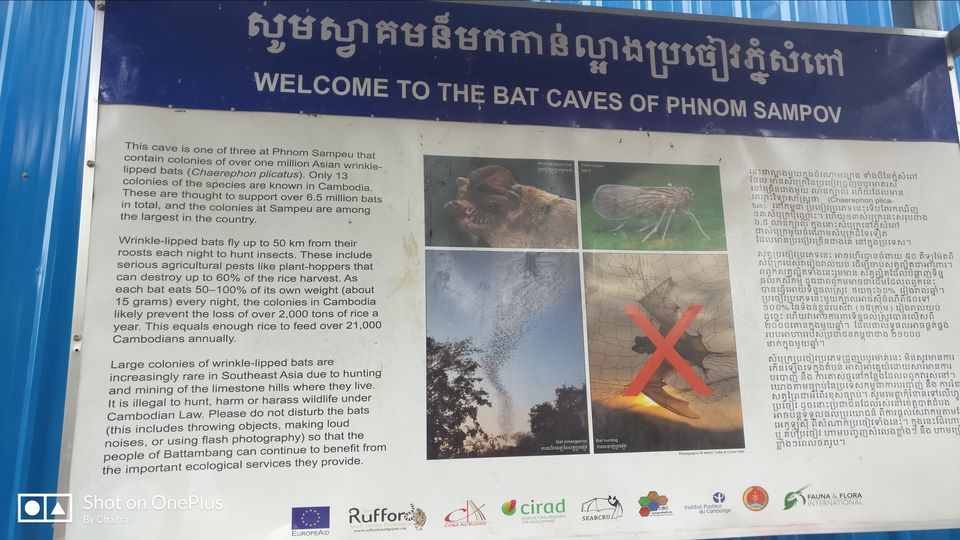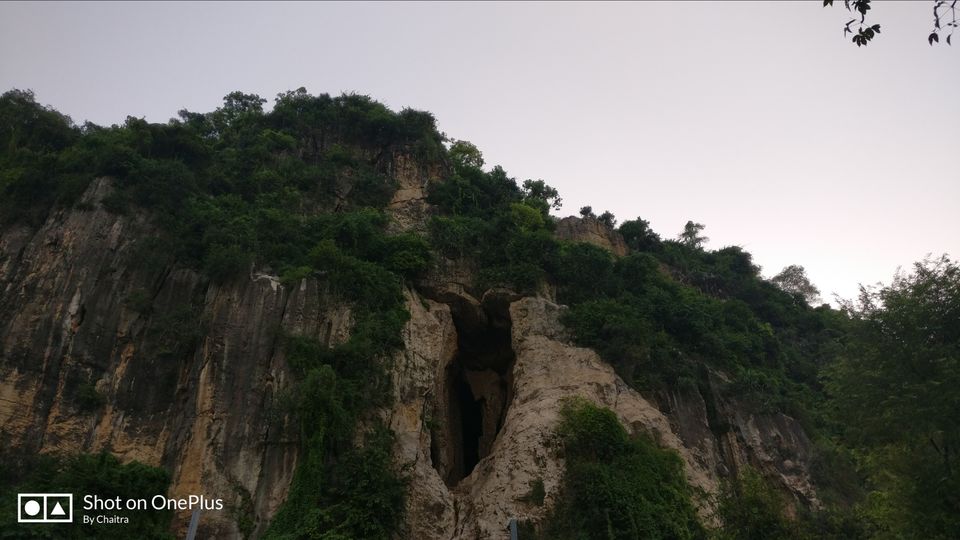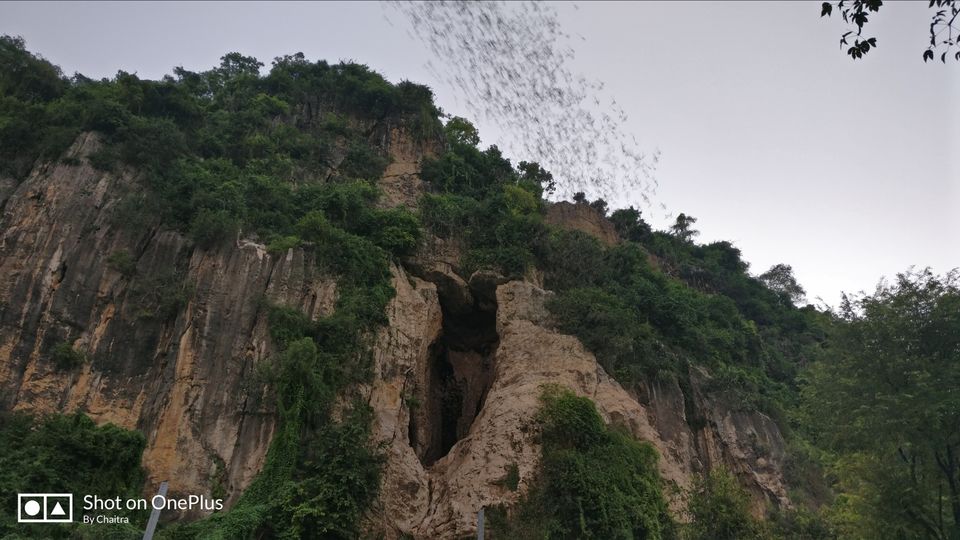 Today early morning we were left for Phnom Penh from Battambang which is 293 Km. Phnom Penh is the capital of Cambodia and is located at the confluence of Mekong River, Bassac River and Tonle Sap River.
One has to take precaution while your stay in Phnom penh as it there is a potential danger by hold-up and drive-by theft by motorcycle-riding tandems. There have been incidents of bag snatching in Phnom Penh in the last few years and the motorbike thieves don't let go, dragging passengers off motos (motorcycle taxis) and endangering lives. Smartphones are a particular target, so avoid using your smartphone in public, especially at night, as you'll be susceptible to drive-by thieves
Today early morning we were left for Phnom Penh from Battambang which is 293 Km. Phnom Penh is the capital of Cambodia and is located at the confluence of Mekong River, Bassac River and Tonle Sap River.
One has to take precaution while your stay in Phnom penh as it there is a potential danger by hold-up and drive-by theft by motorcycle-riding tandems. There have been incidents of bag snatching in Phnom Penh in the last few years and the motorbike thieves don't let go, dragging passengers off motos (motorcycle taxis) and endangering lives. Smartphones are a particular target, so avoid using your smartphone in public, especially at night, as you'll be susceptible to drive-by thieves
Odung Mountain
Entry Fee: 5USD
Odung is situated about 40 kms from Phnom penh. So before entering Phnom penh from Battambang you can visit Odung. Odung was royal residence and capital of Cambodia for 250 years. To reach the Stupa and the view of beautiful temples and scenic view from top one has to climb 500 steps. Be careful with the kids who will run after you to provide the information or hand fan without you even asking to do so. Post reaching a certain steps they will demand for 5-10 dollars. Don't be kind and offer them money as they promote the illiteracy and child labour.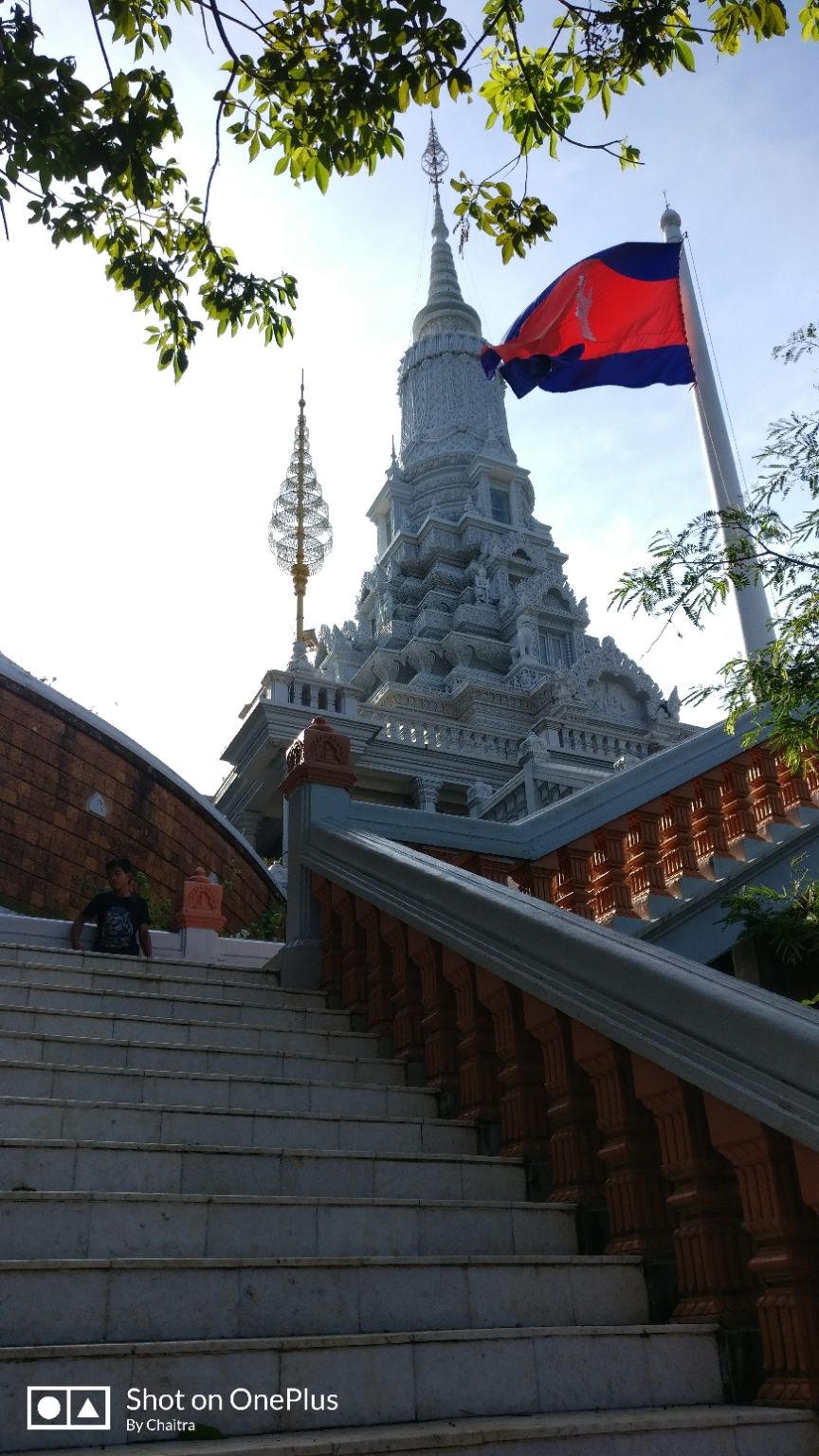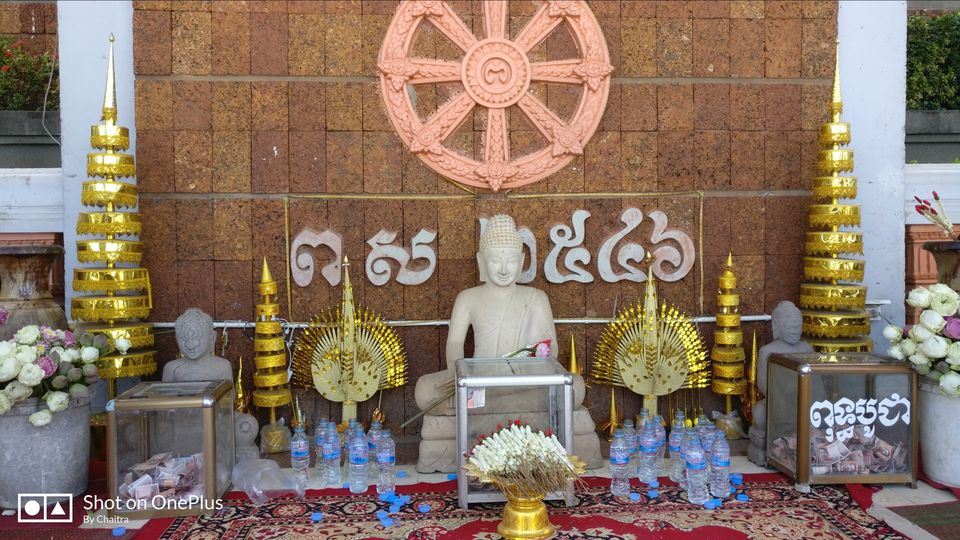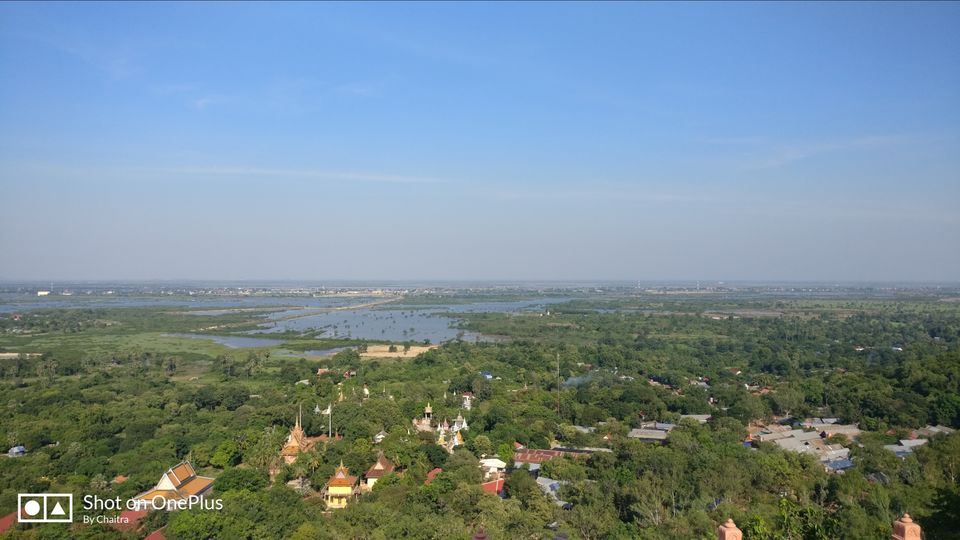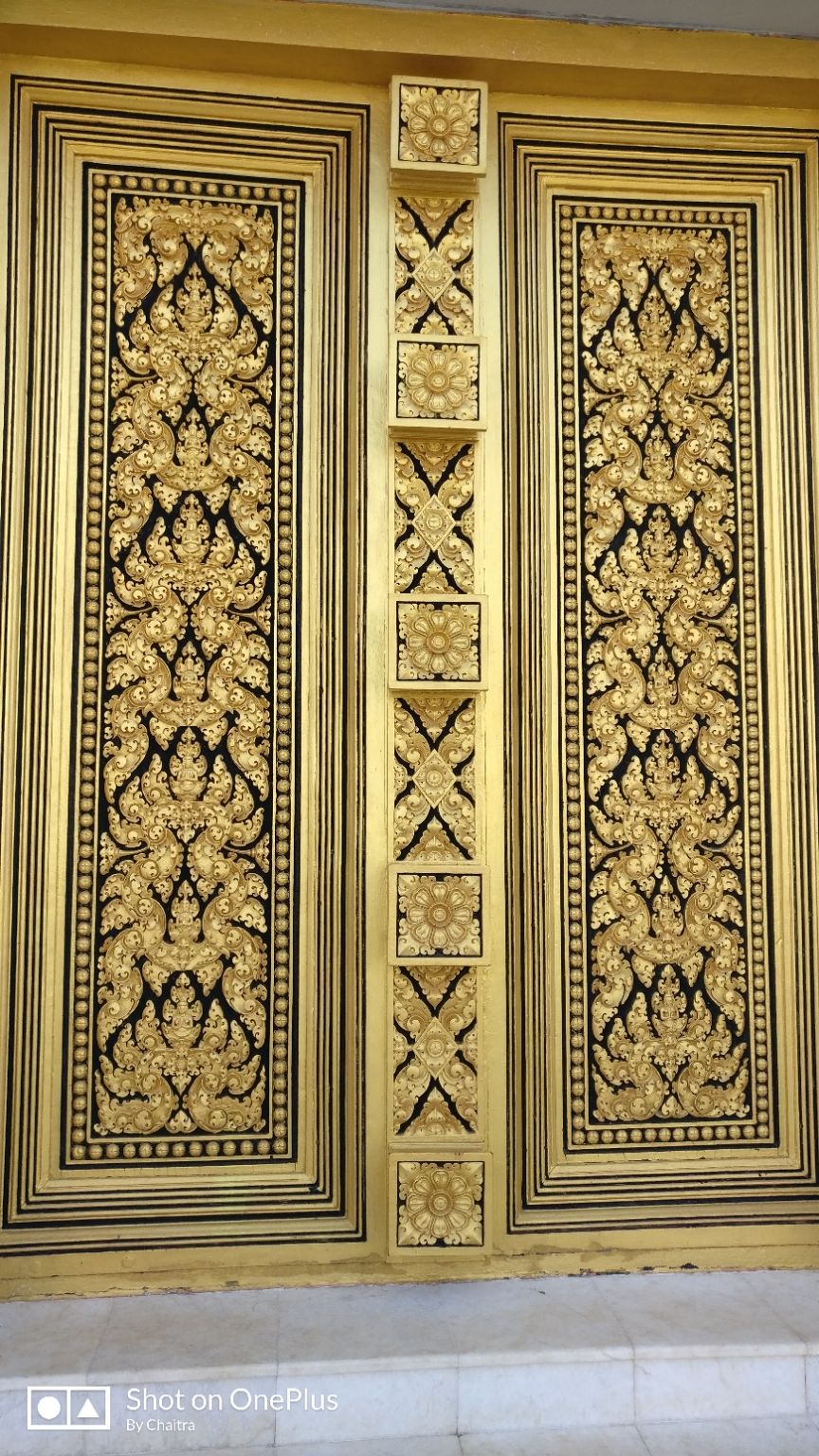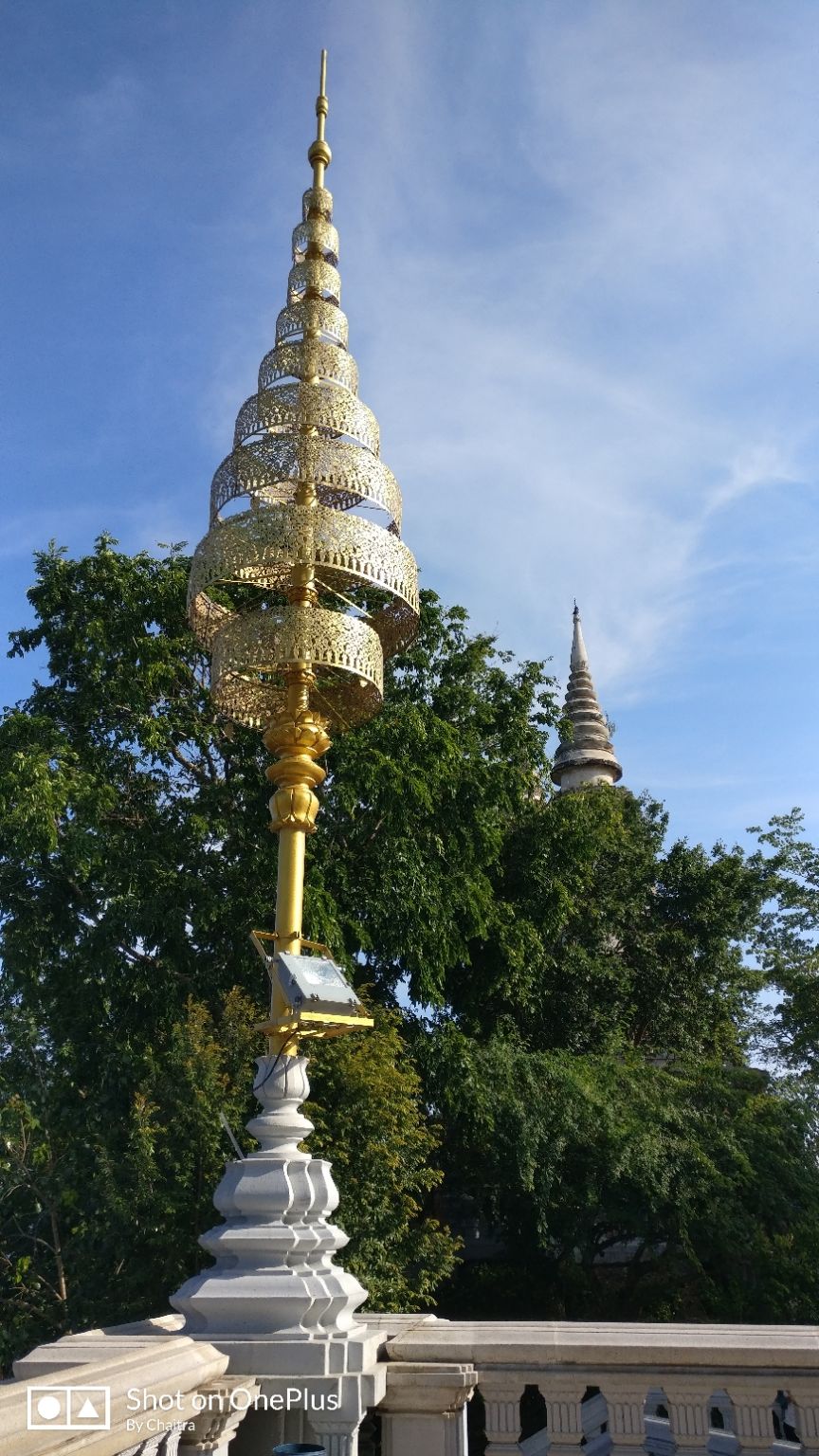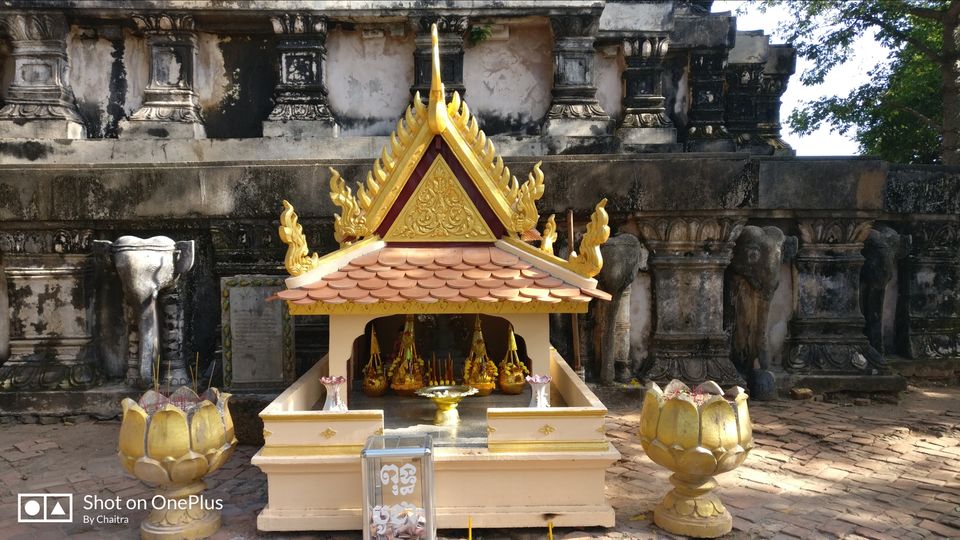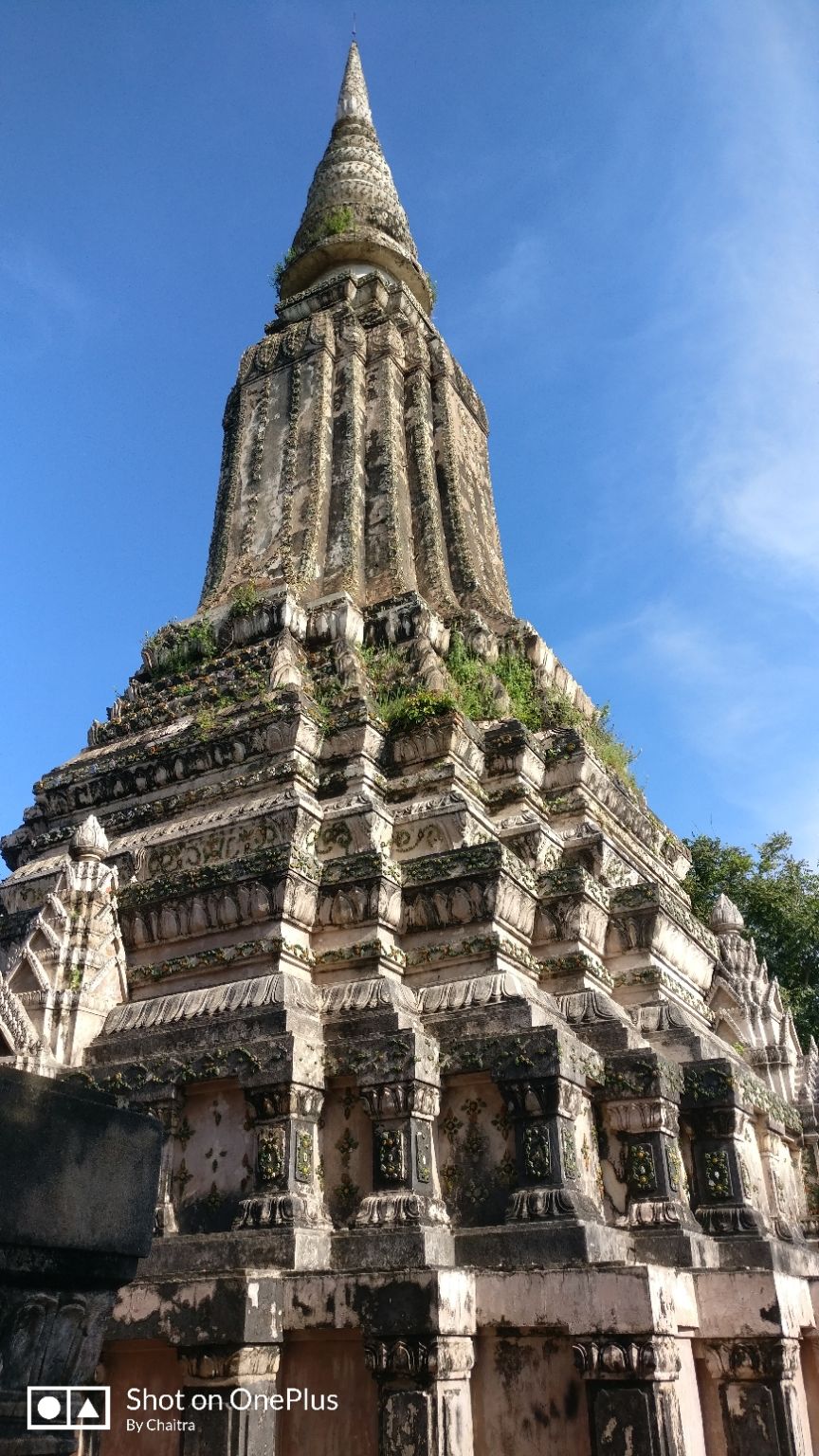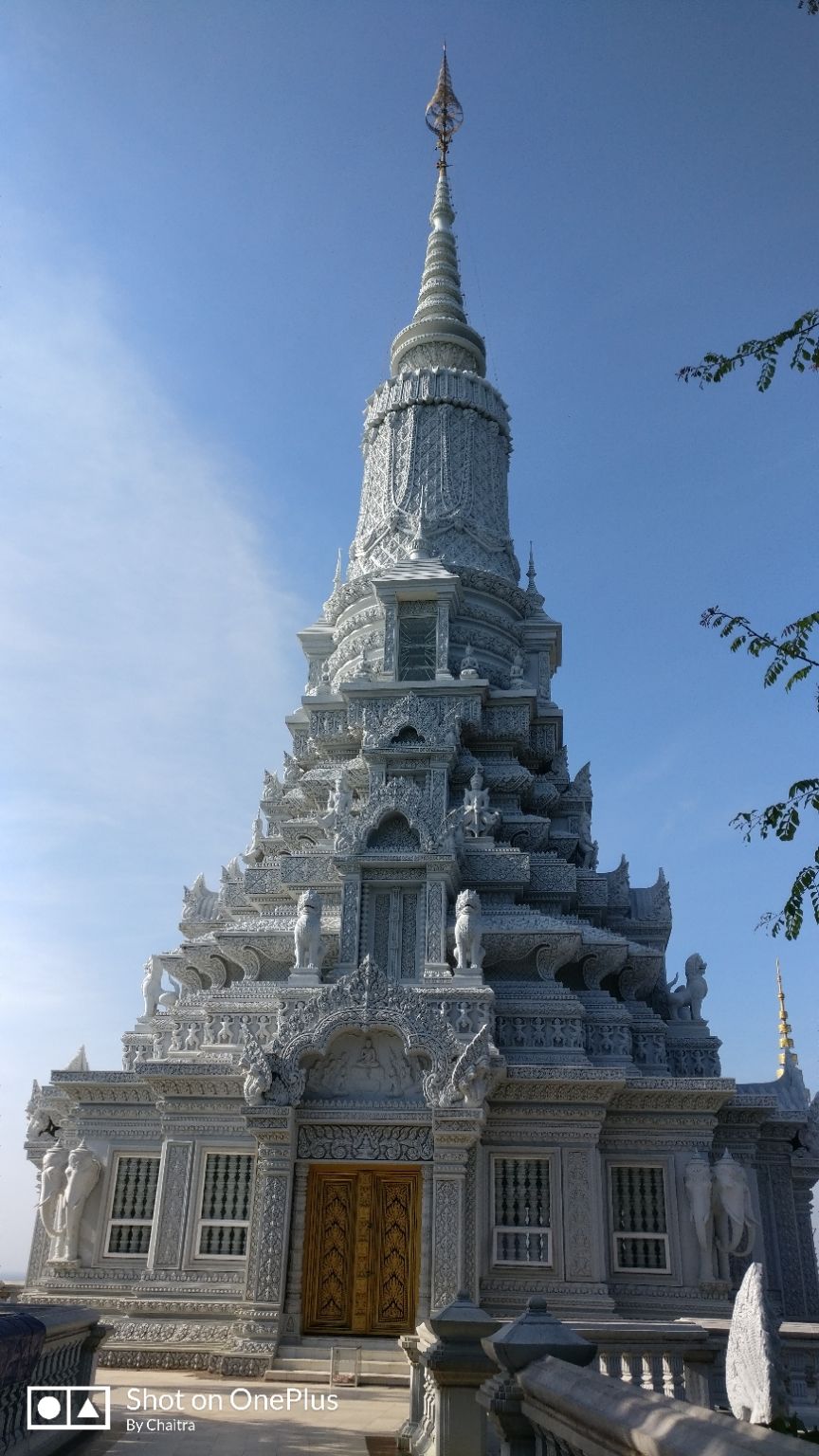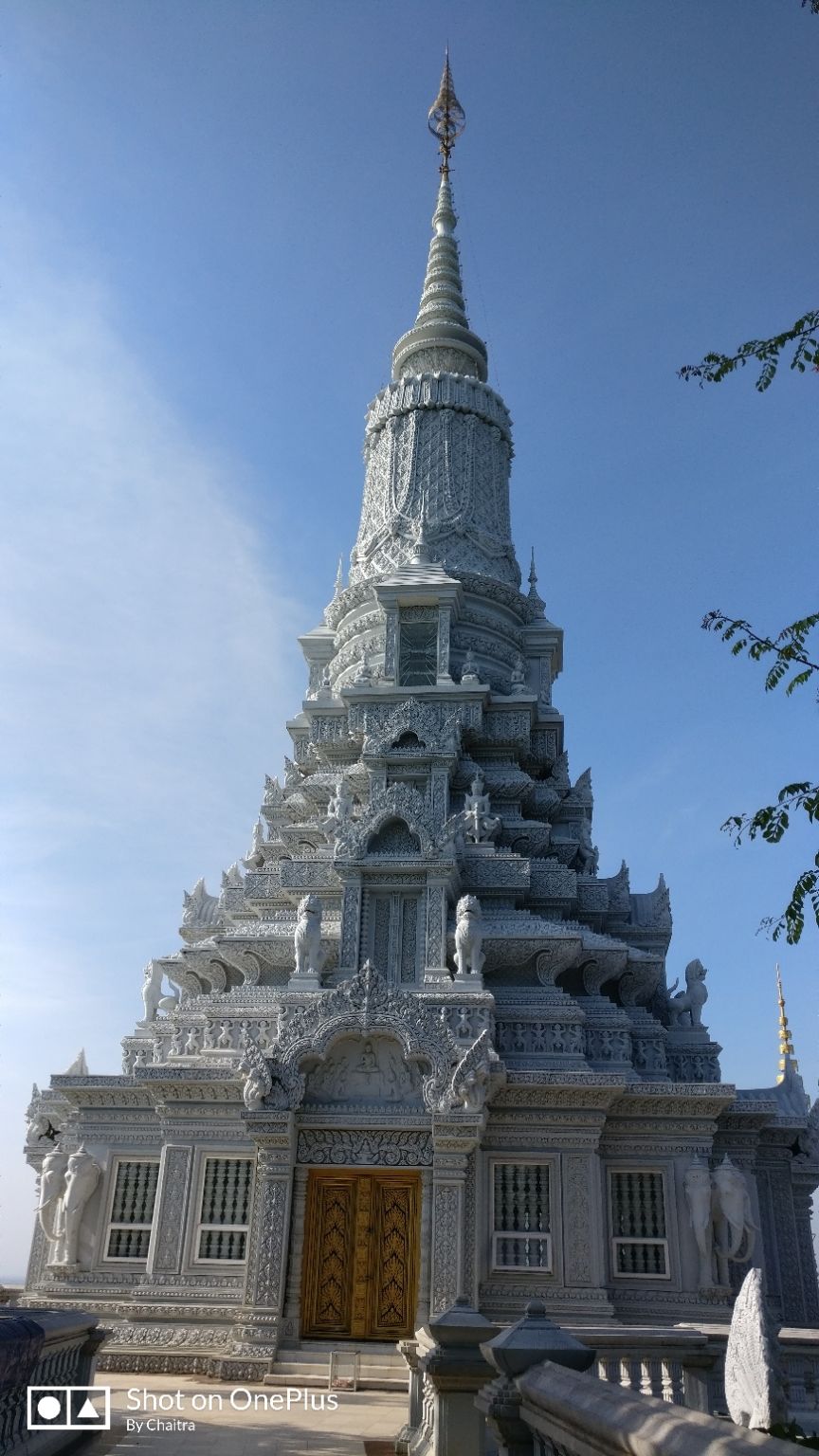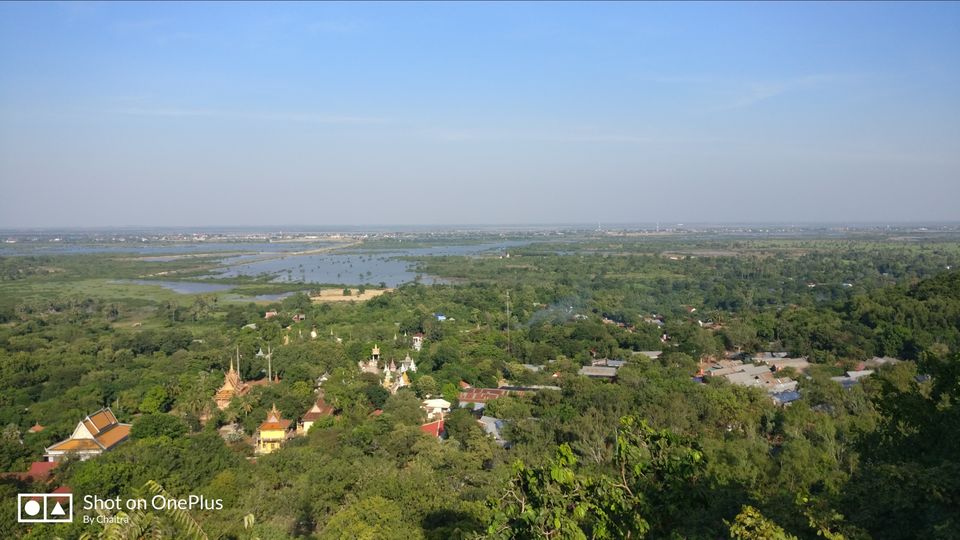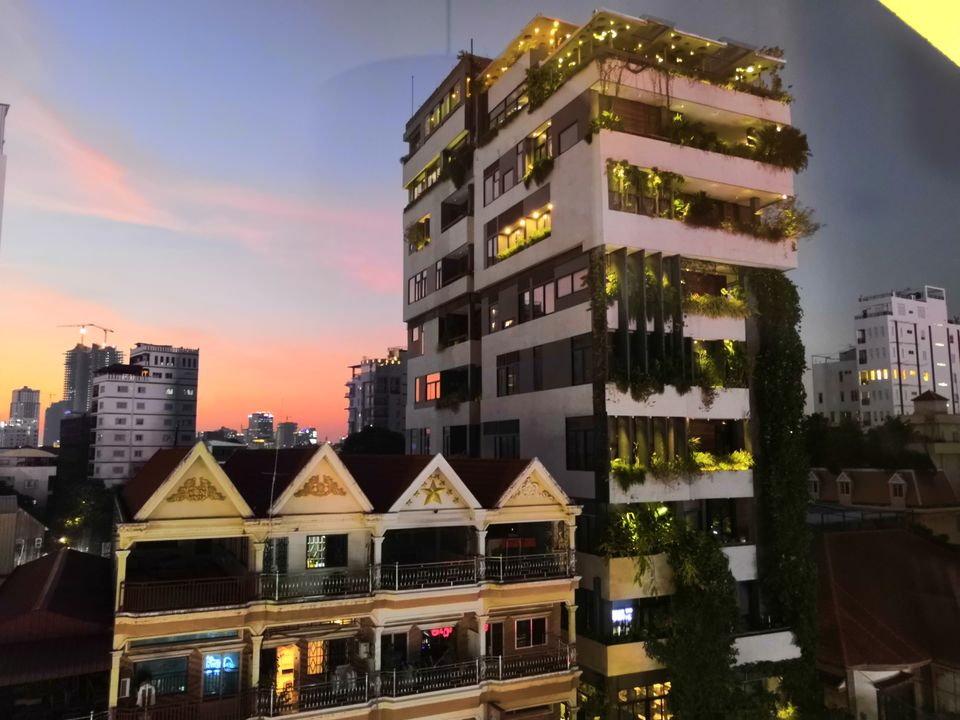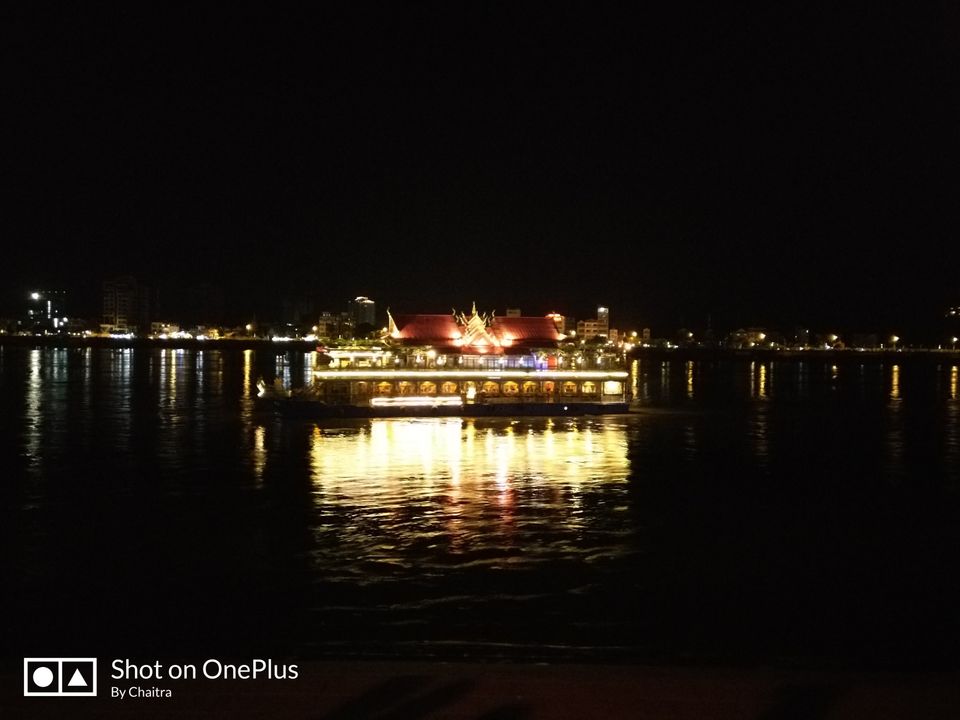 Cheung Ek killing fields
Entry Fee: 6USD
Duration: 2-3 hours
Cheung Ek killing fields is located 15 kms from Phnom Penh city. There are many things to see while visiting Cheung Ek killing fields which have a horrific past.  Here more than 17000 civilians were killed and buried in the mass graves during Khmer Rouge regime. Many of them were transferred here post the detention and torture in Toul Sleng. The Khmer Rouge had turned the peaceful and beautiful Cheung Ek village into the infamous and miserable killing fields. There is a stupa which stands in center which houses 8000 skulls taken out from the mass graves. Visitors are provided with the audio guided tour which educates with the visitor s with the history of this place.
Don't miss the short film shown in the auditorium in the same campus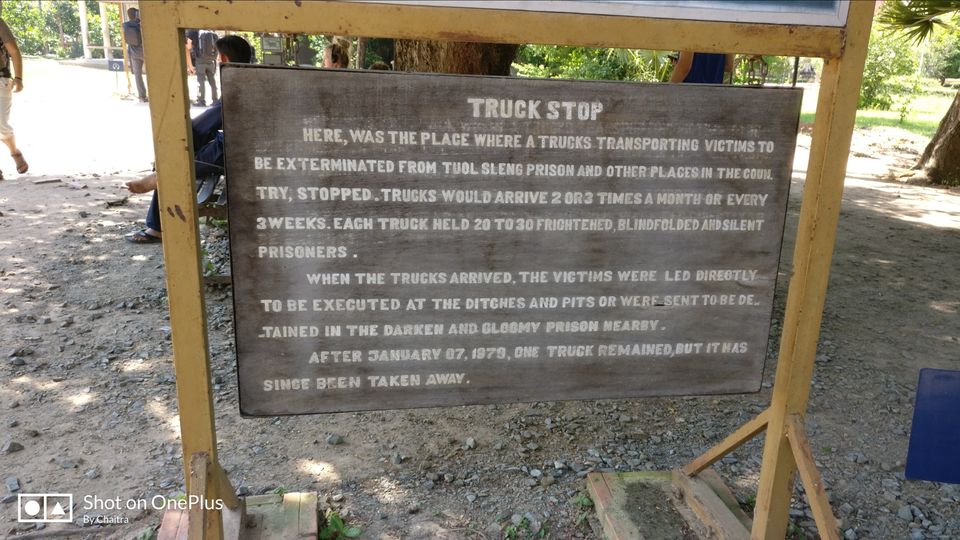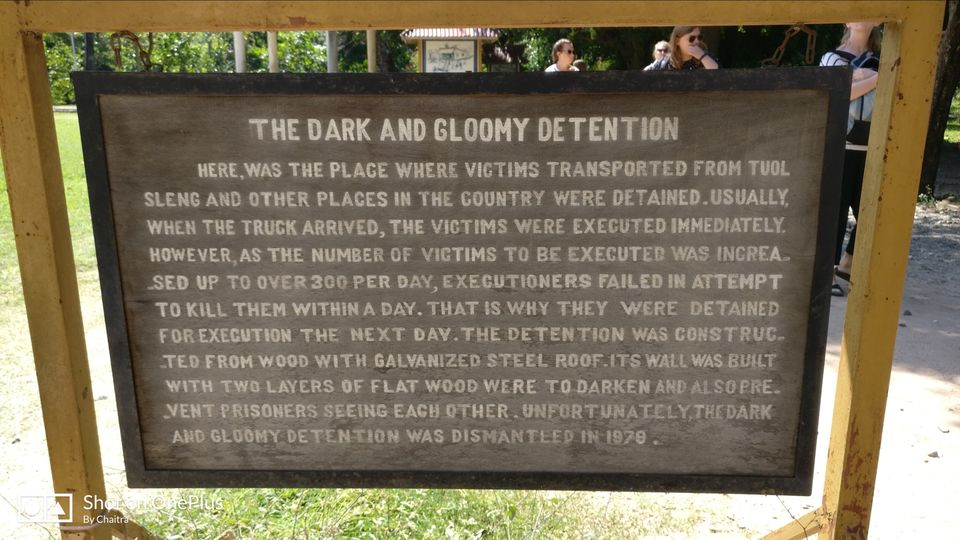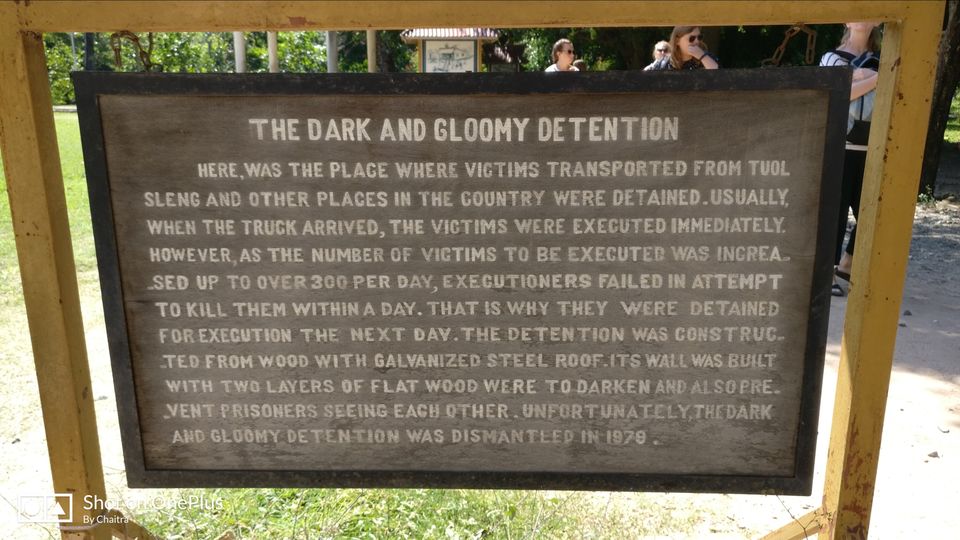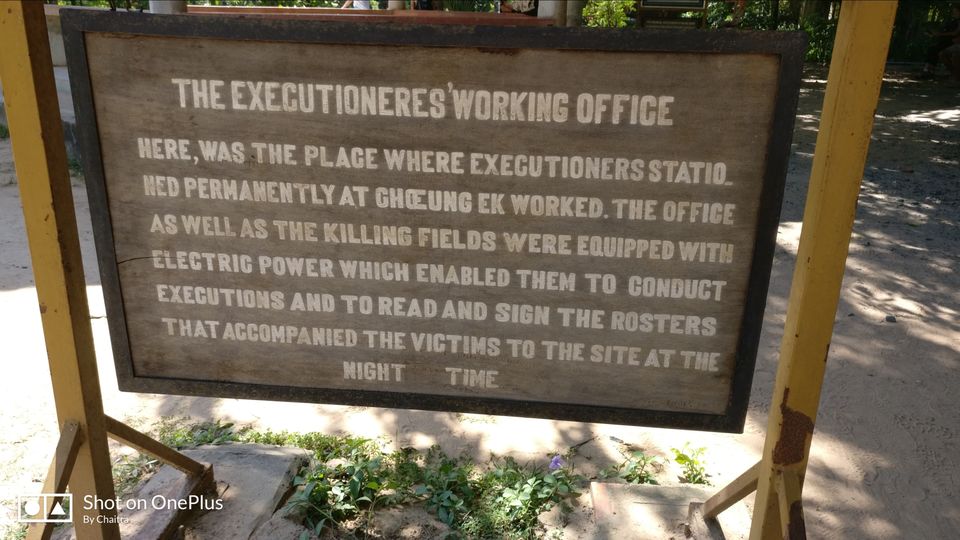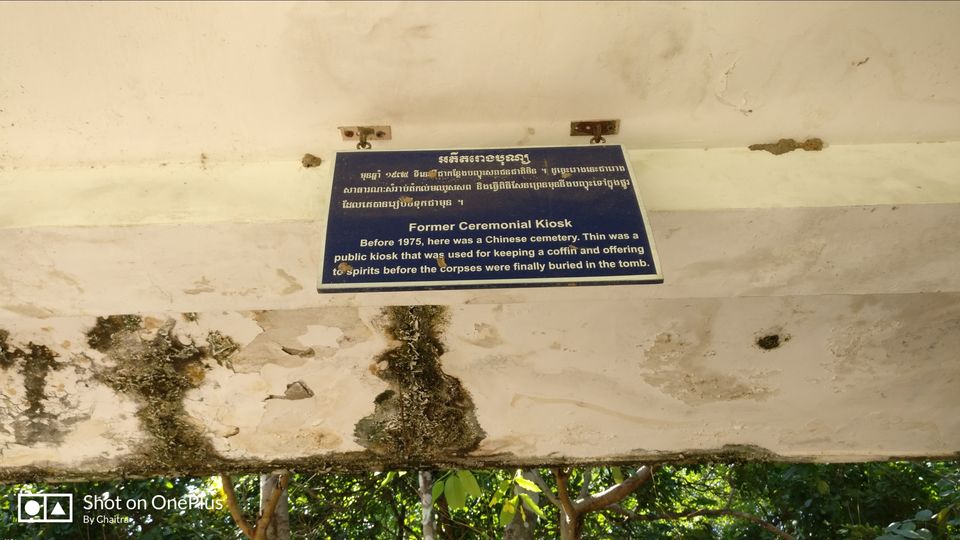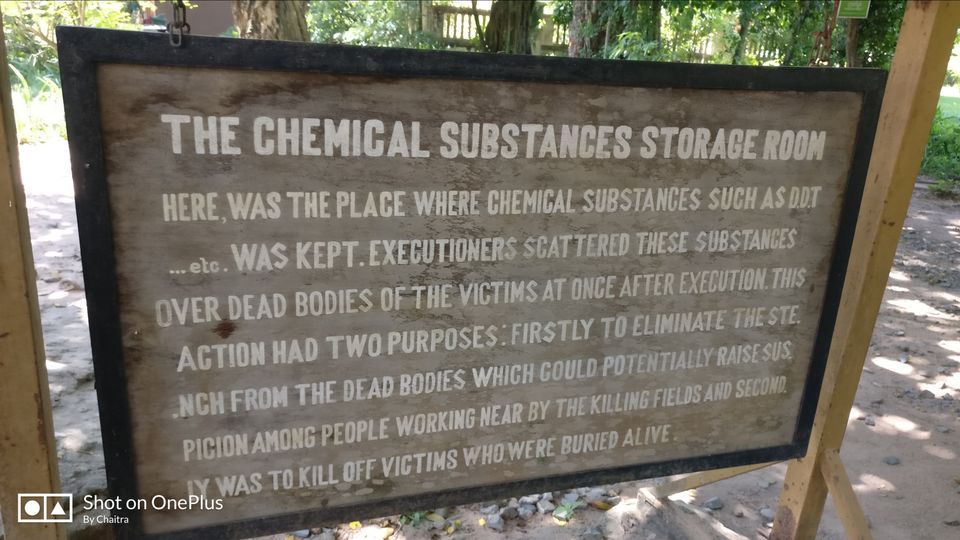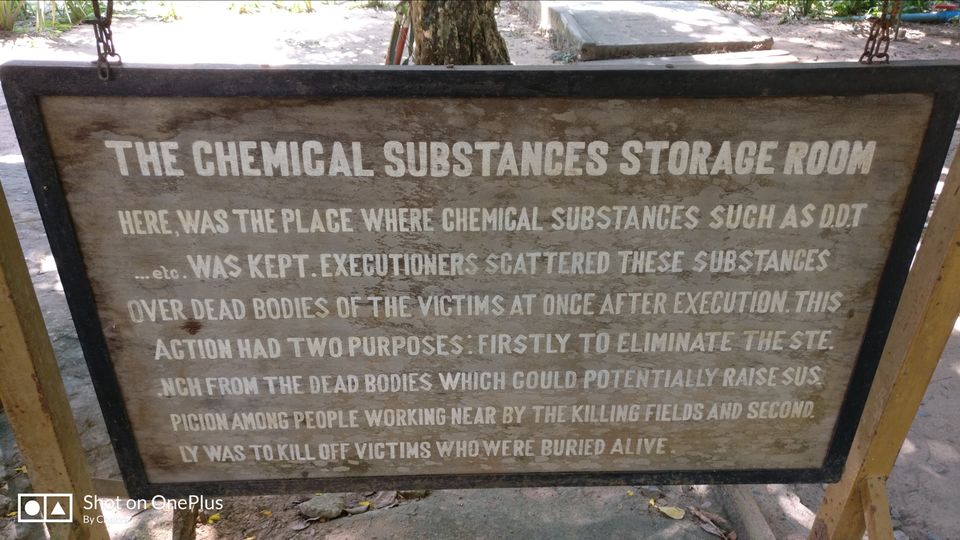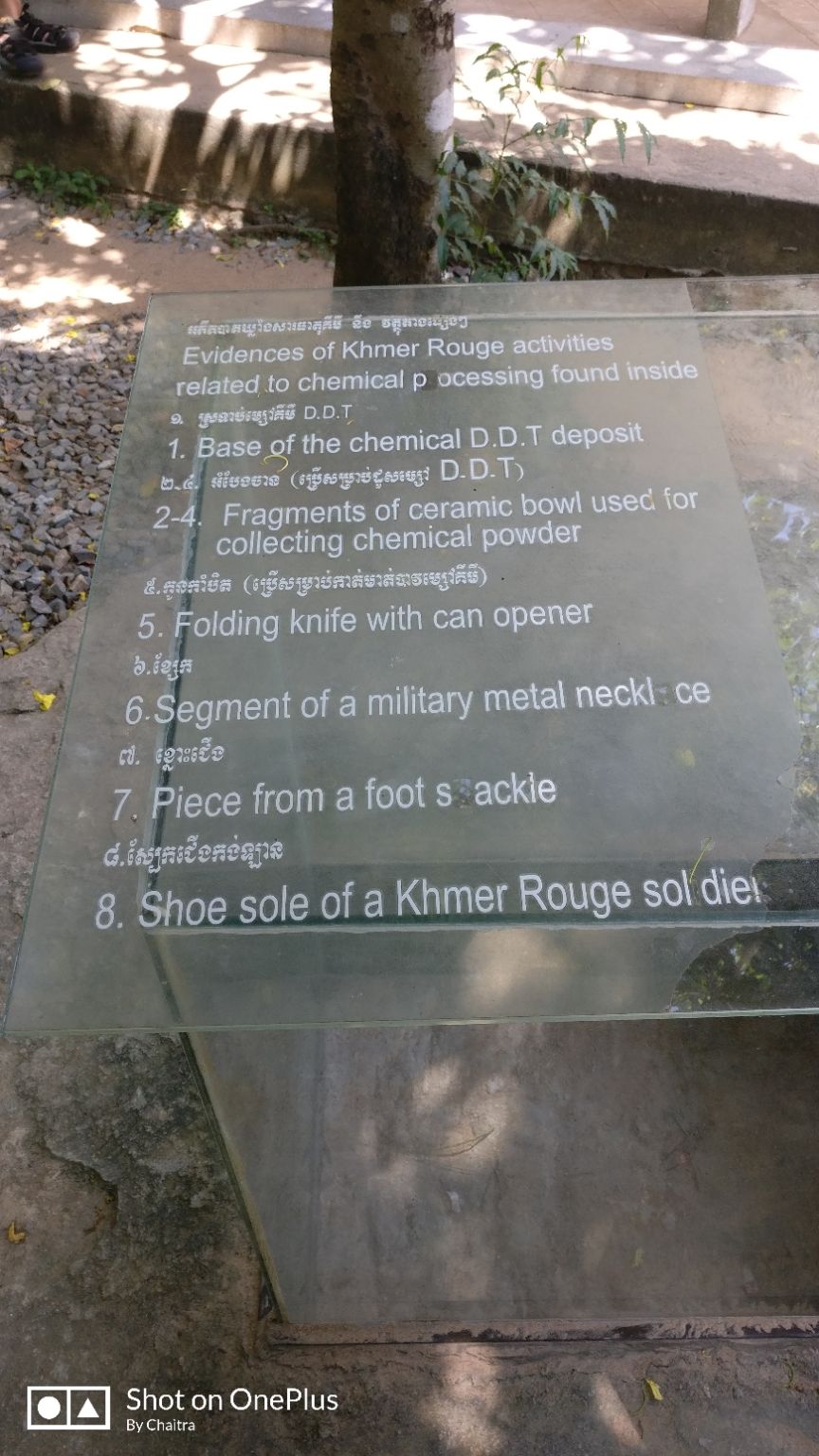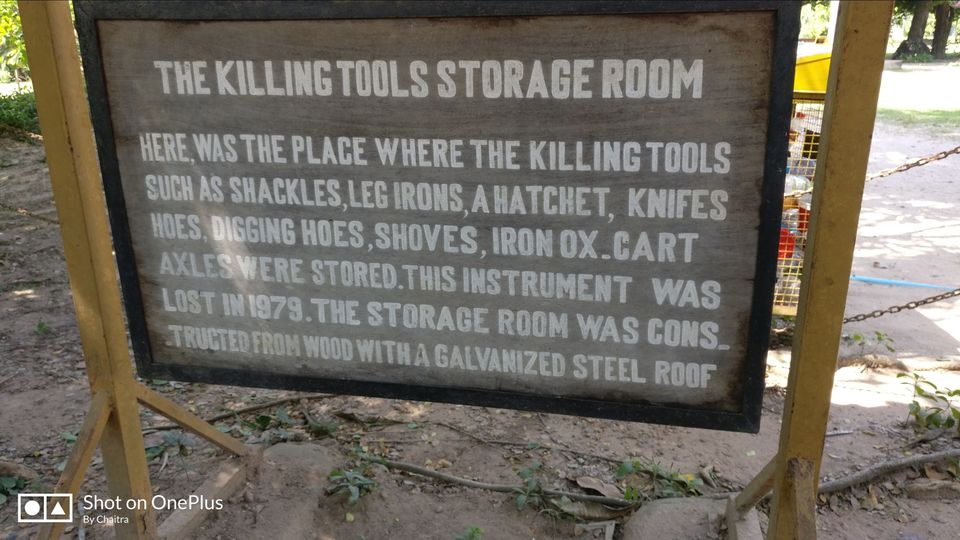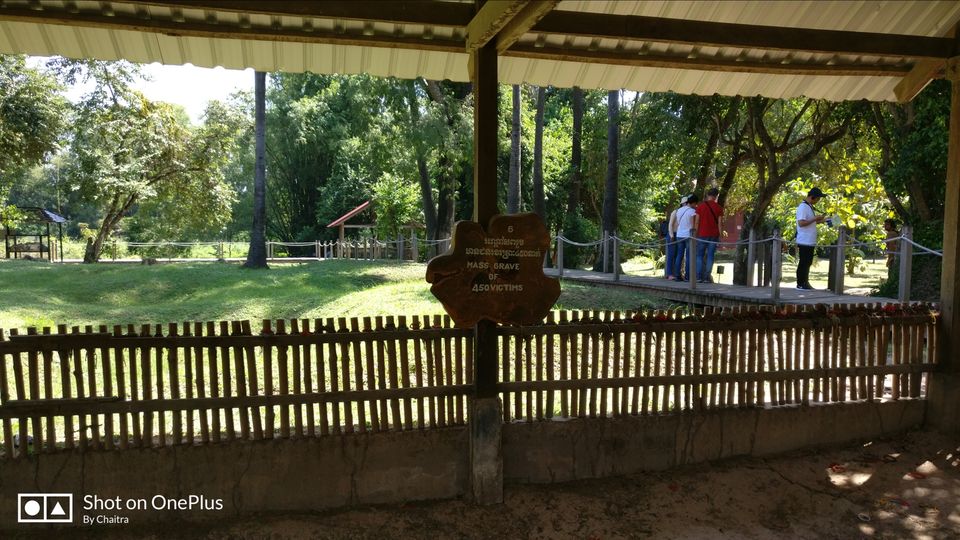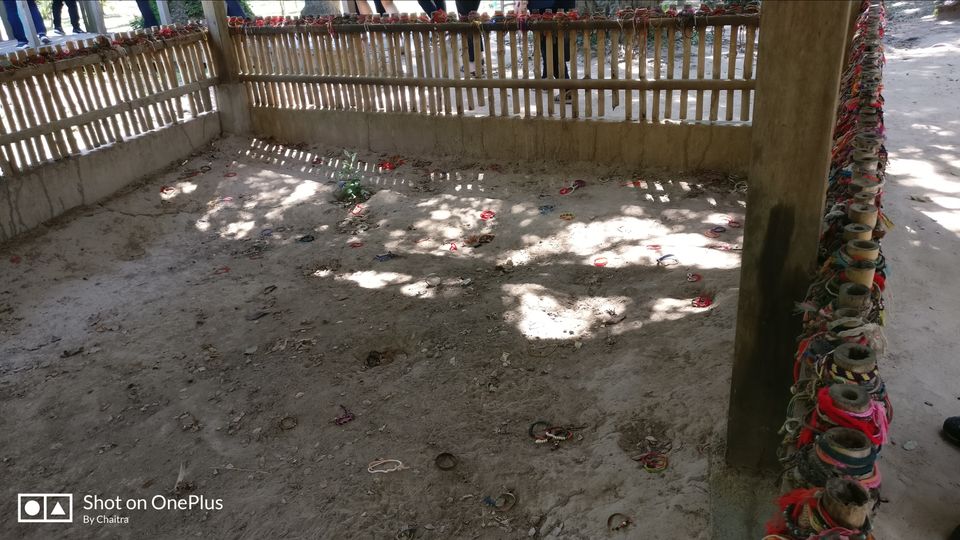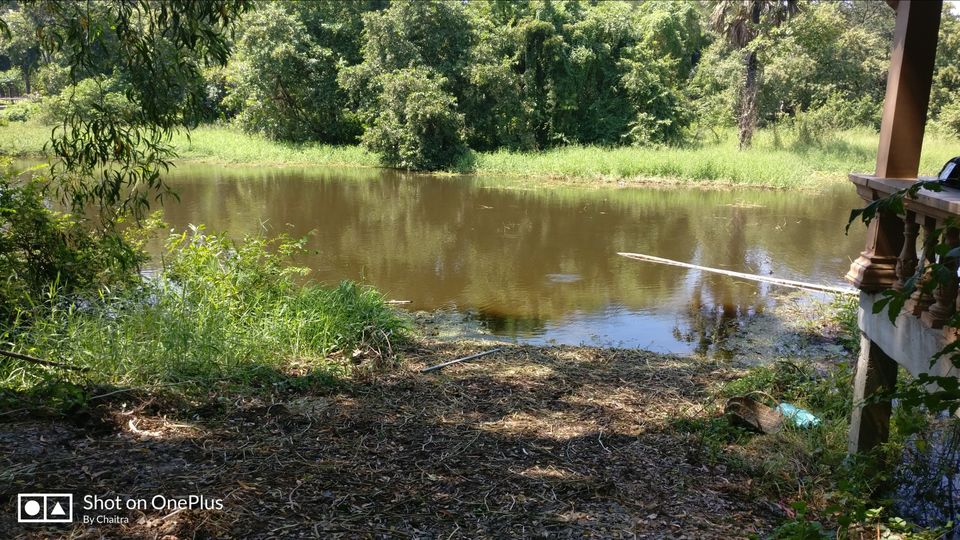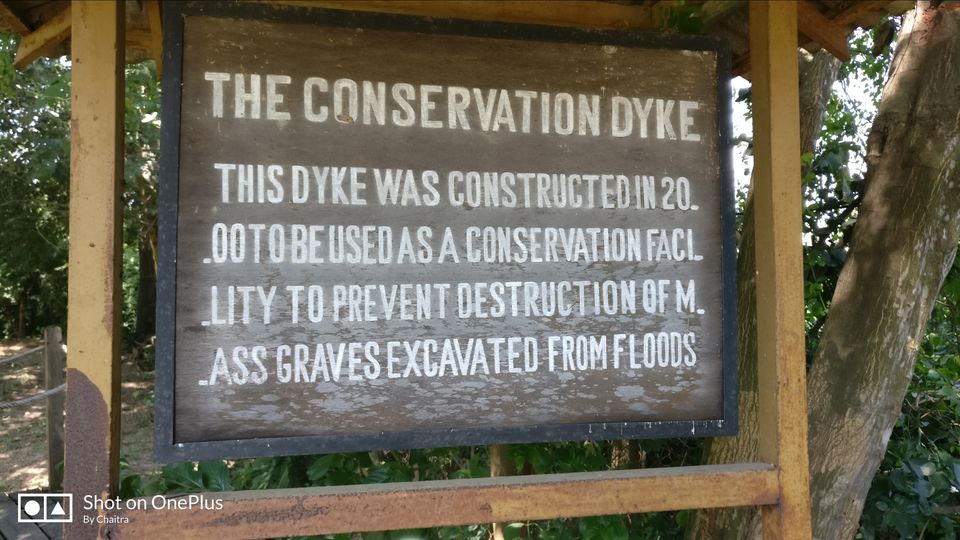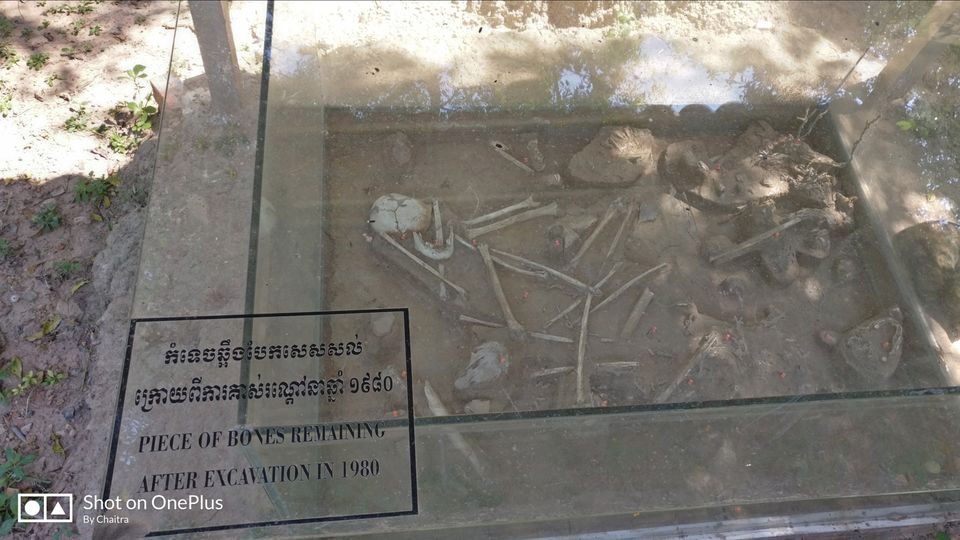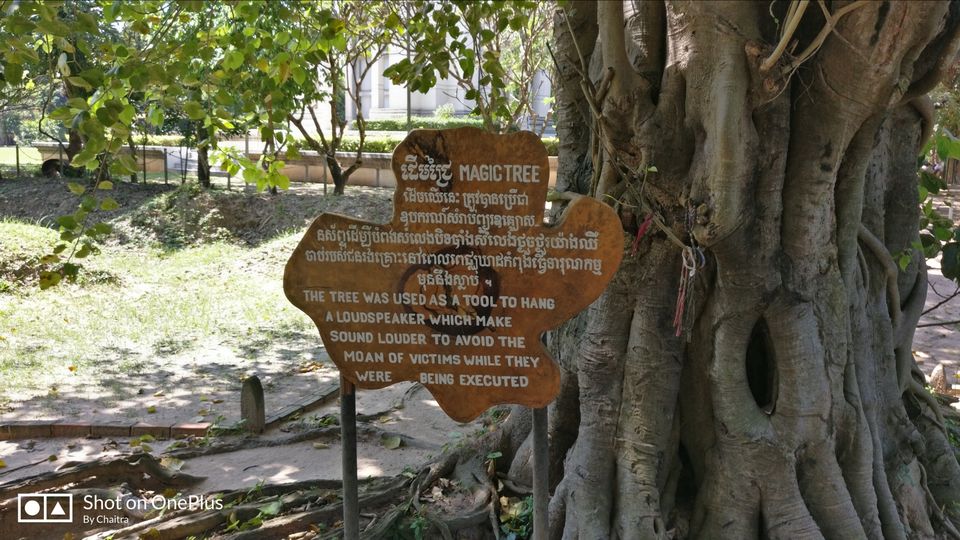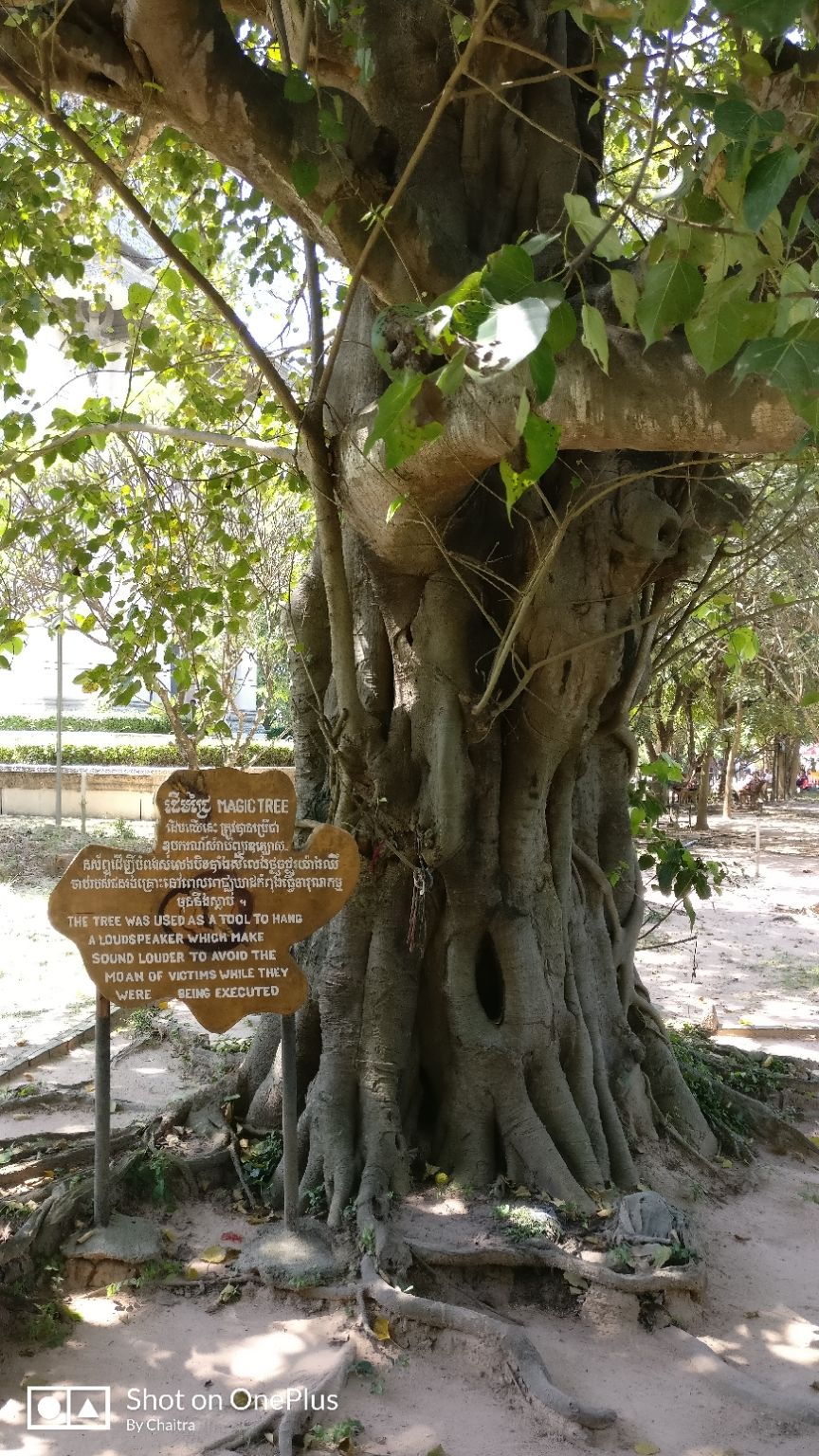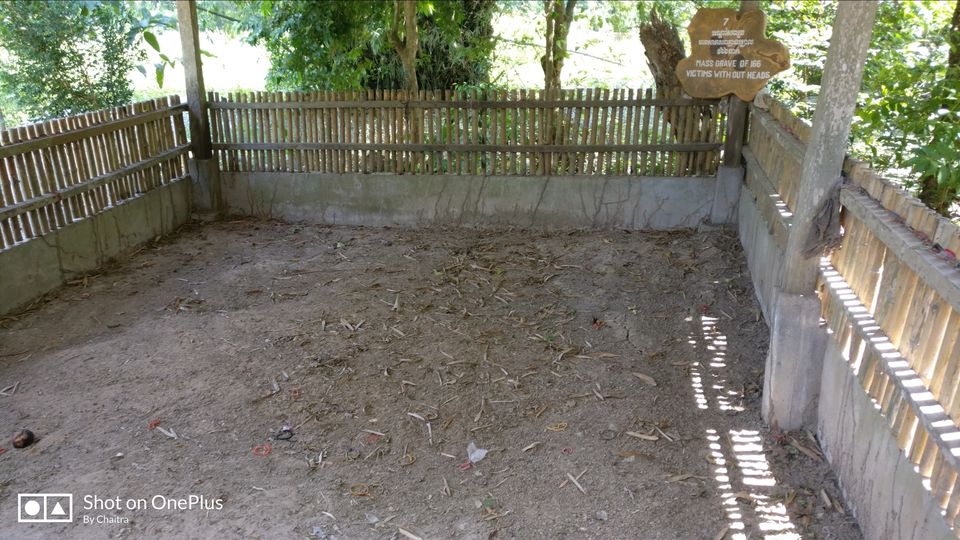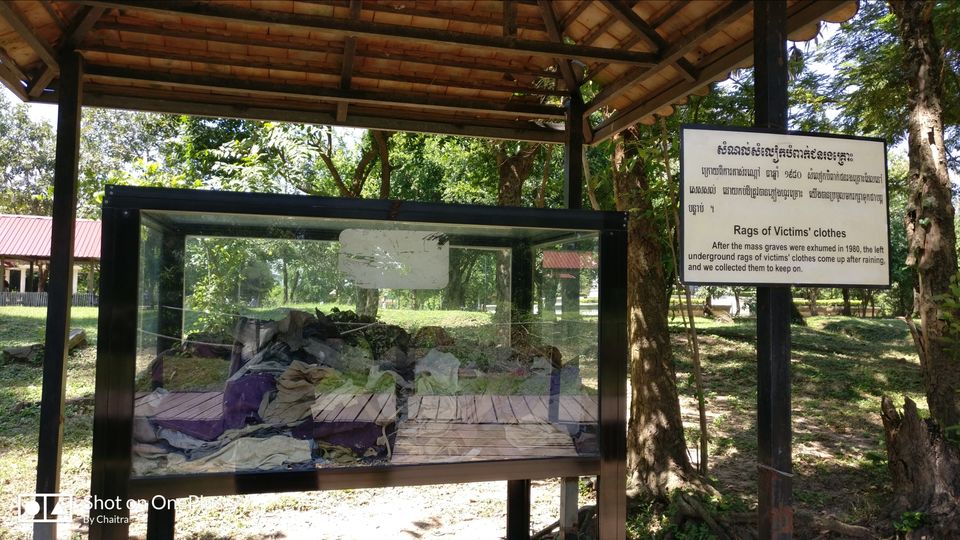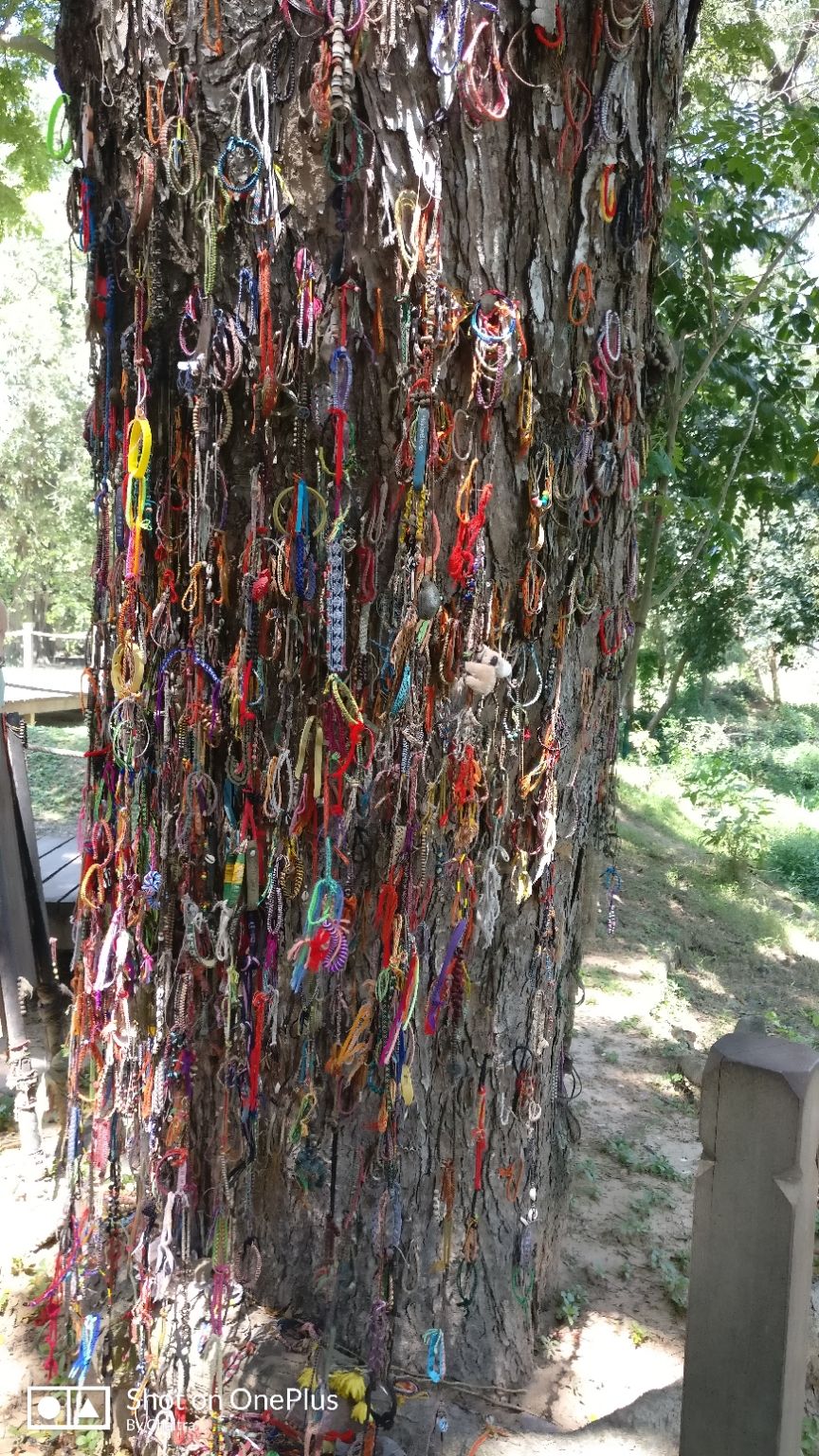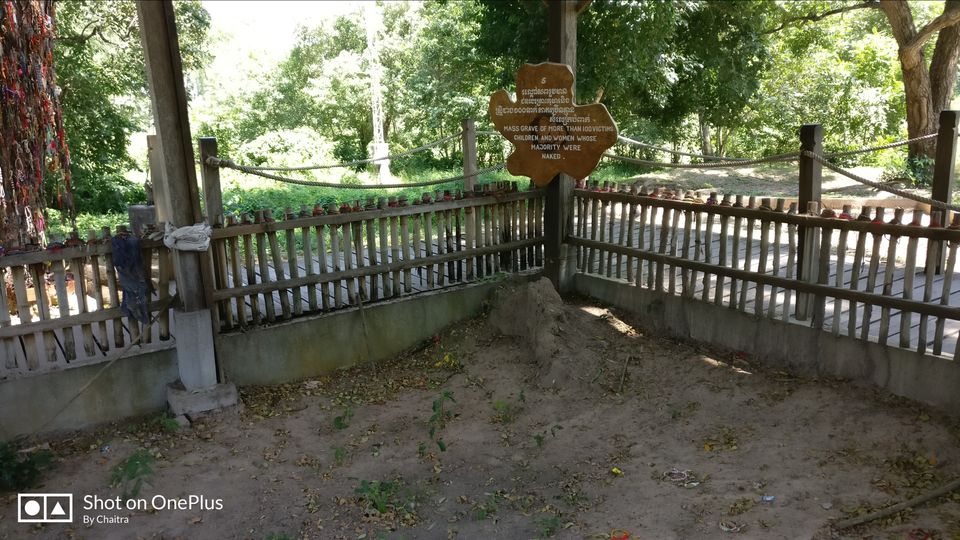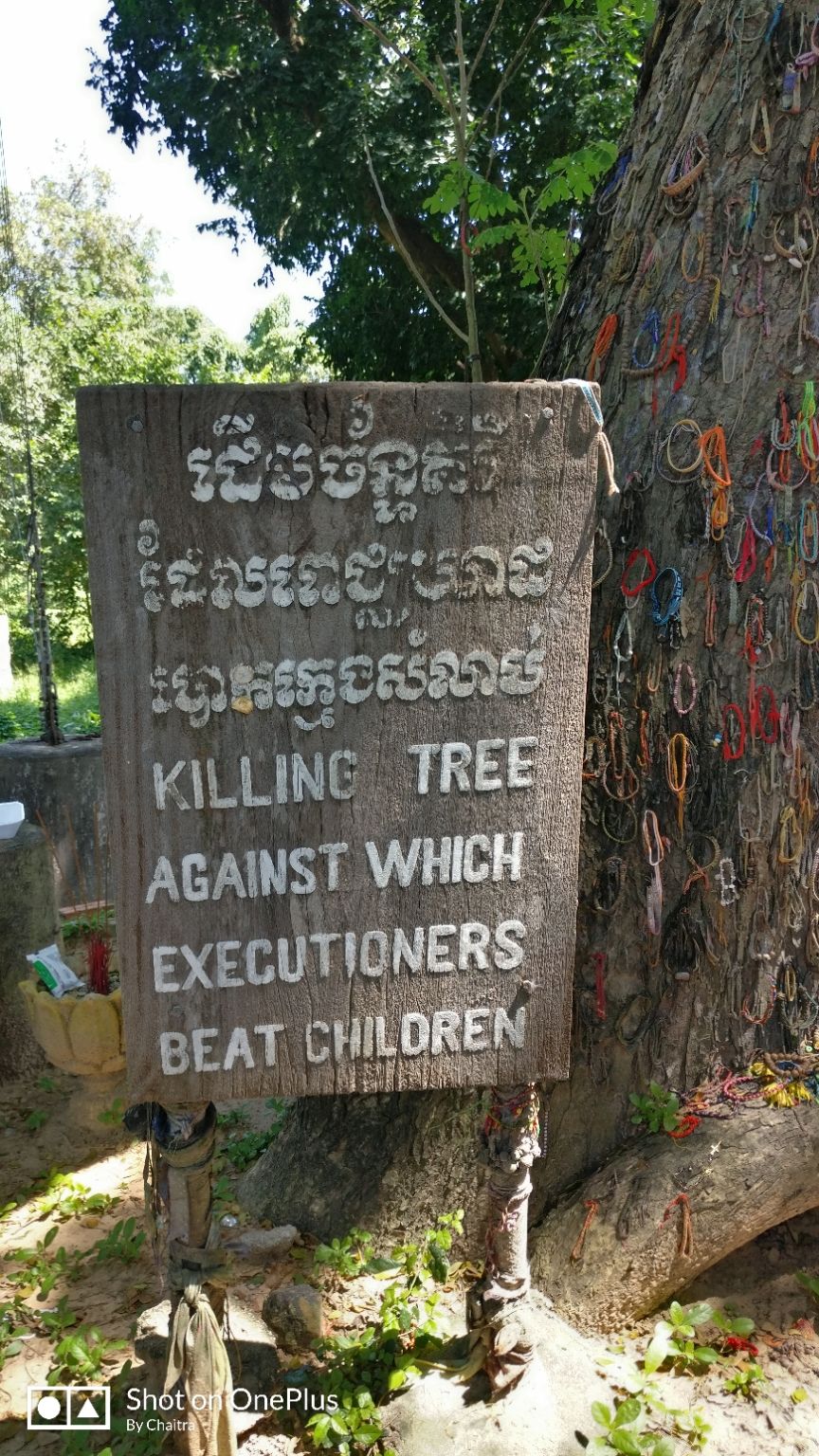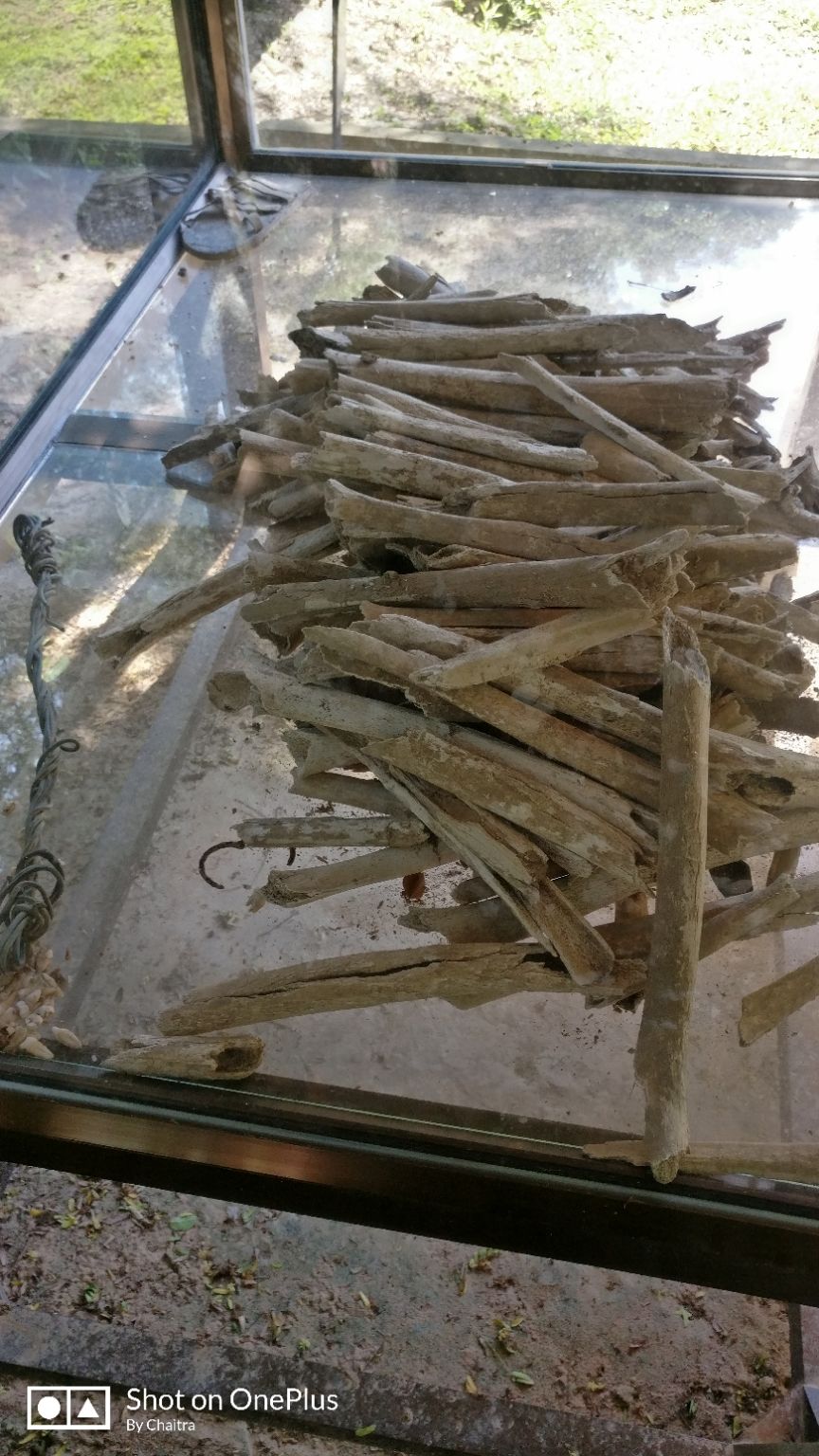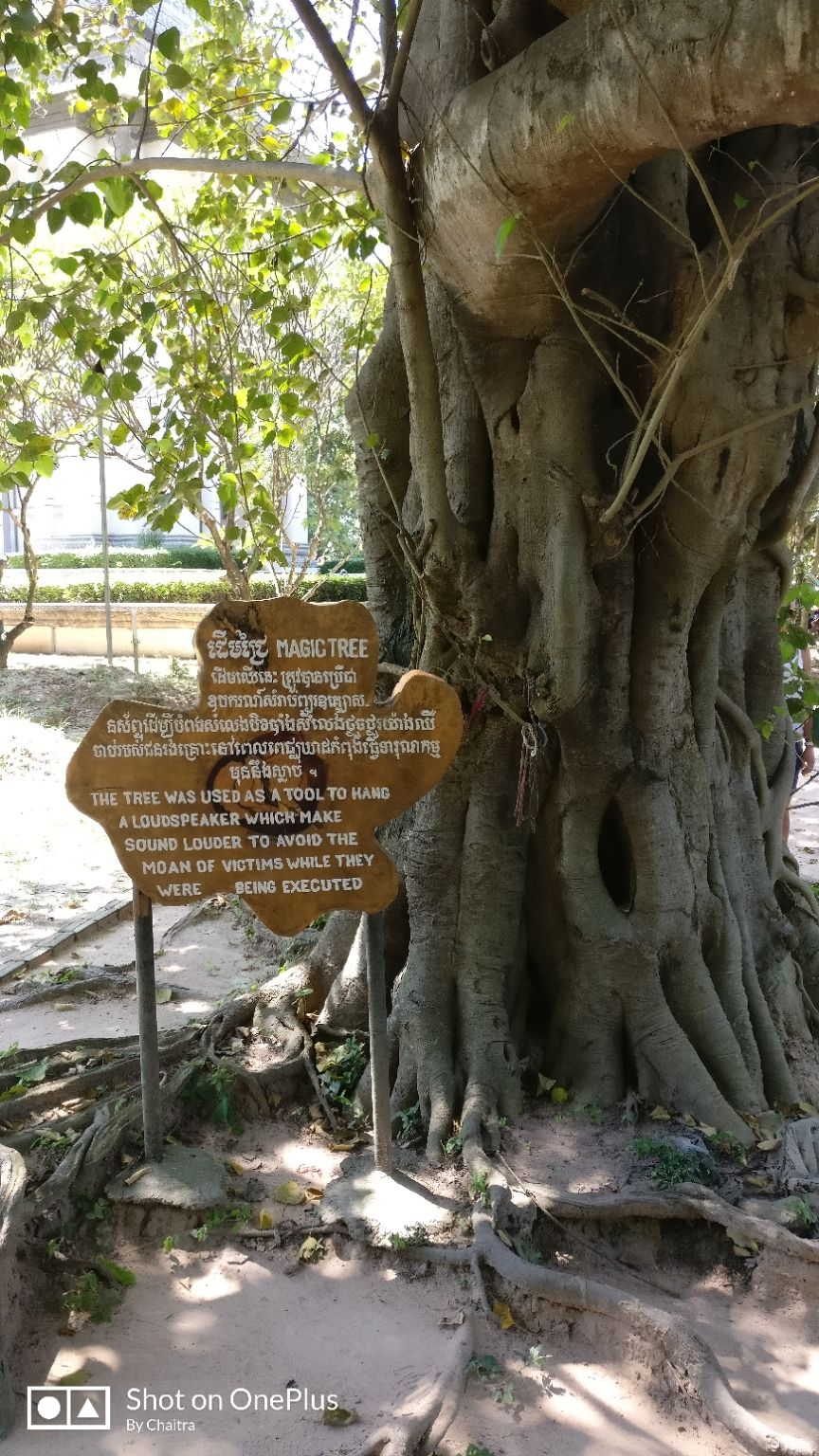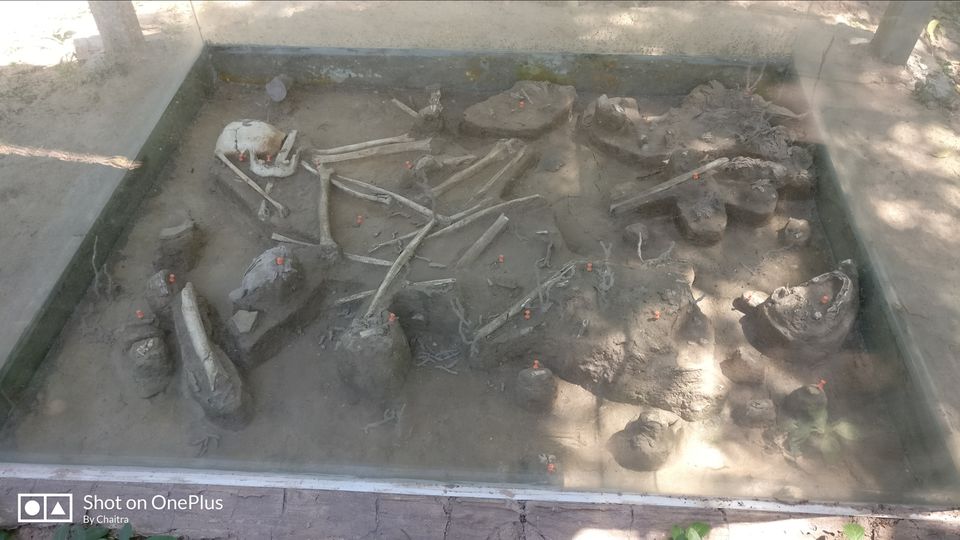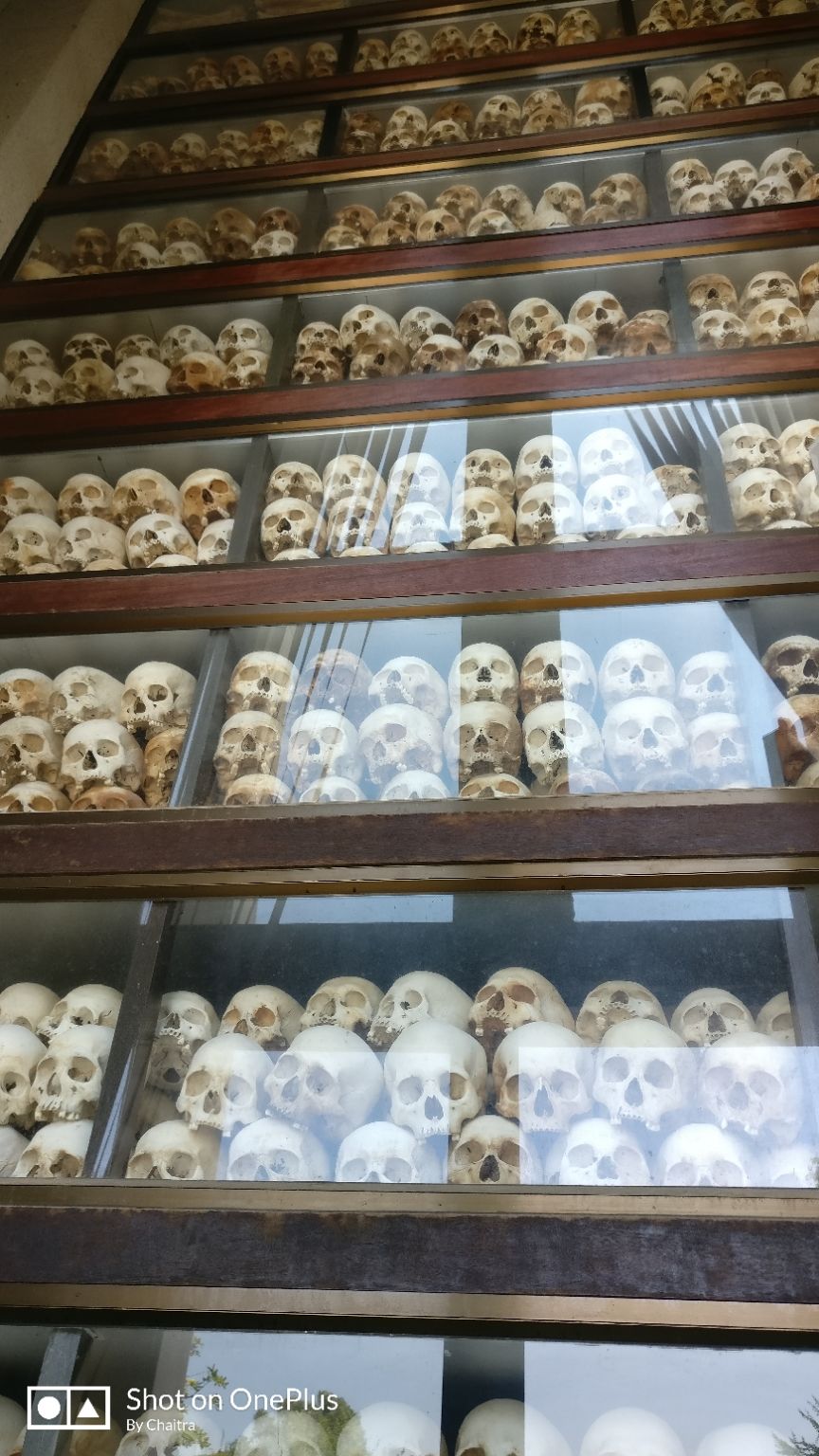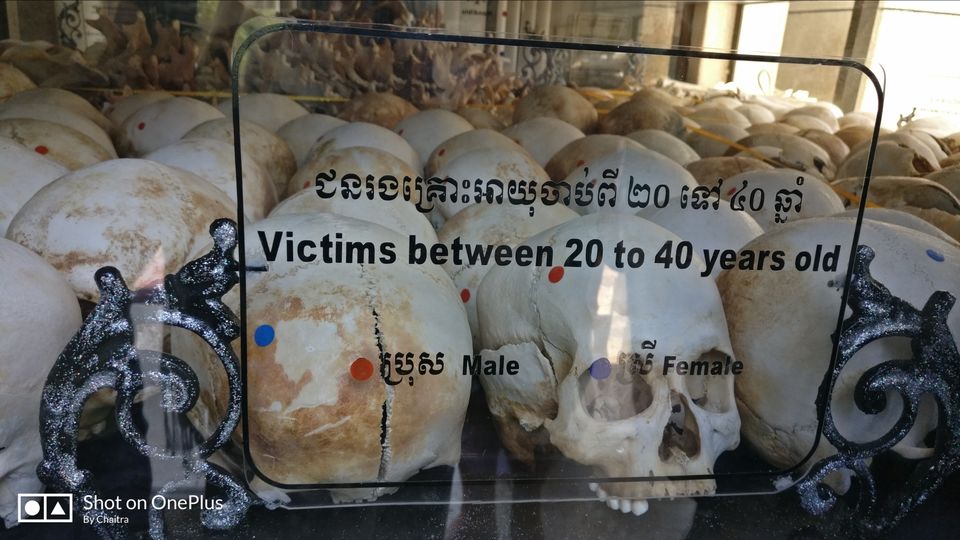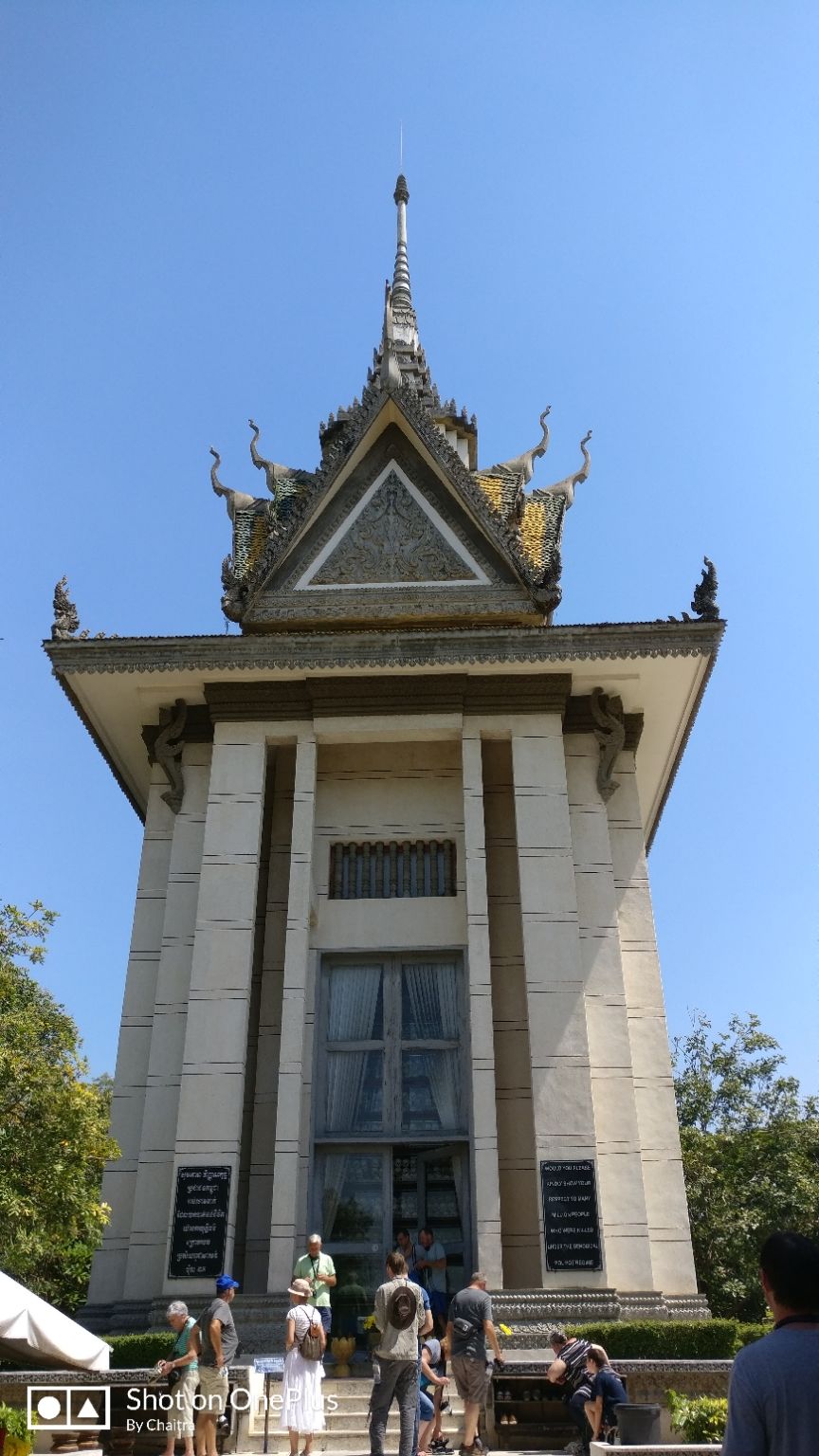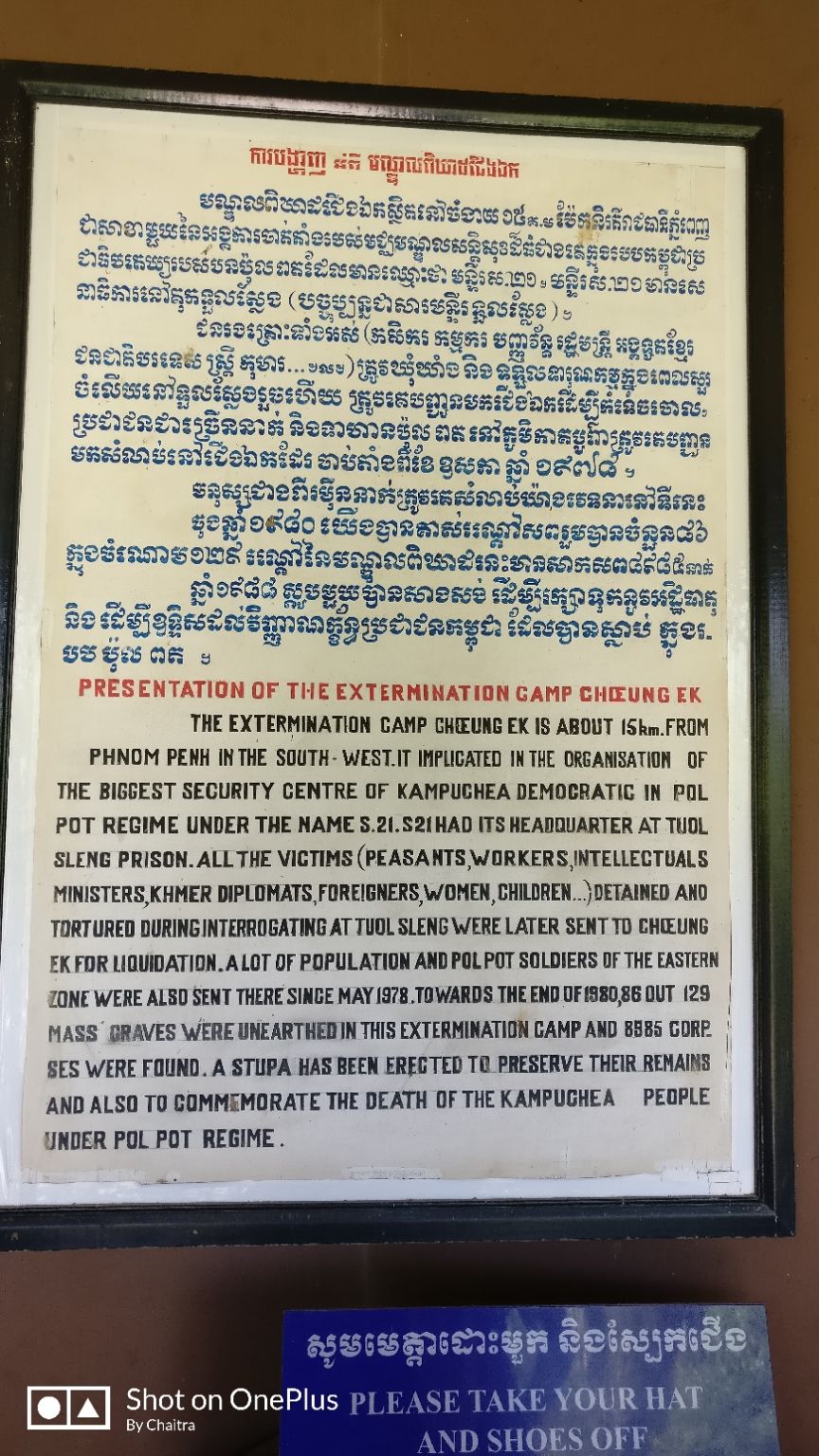 Toul Sleng museum
Entry Fee: 5USD
Duration: 1 hour
Toul Sleng was originally a school and then prison S21. A visit here goes hand in hand with the visit to Cheung Ek Killing fields in order to get the full picture of the Cambodian history in 70's. All the rooms have photos of the victims before and after torture, this also includes children. One block houses the torture trappings and graphics of how they were used Visit to both Cheung Ek killing fields and Toul Sleng museum is neither for the easily distressed nor for children.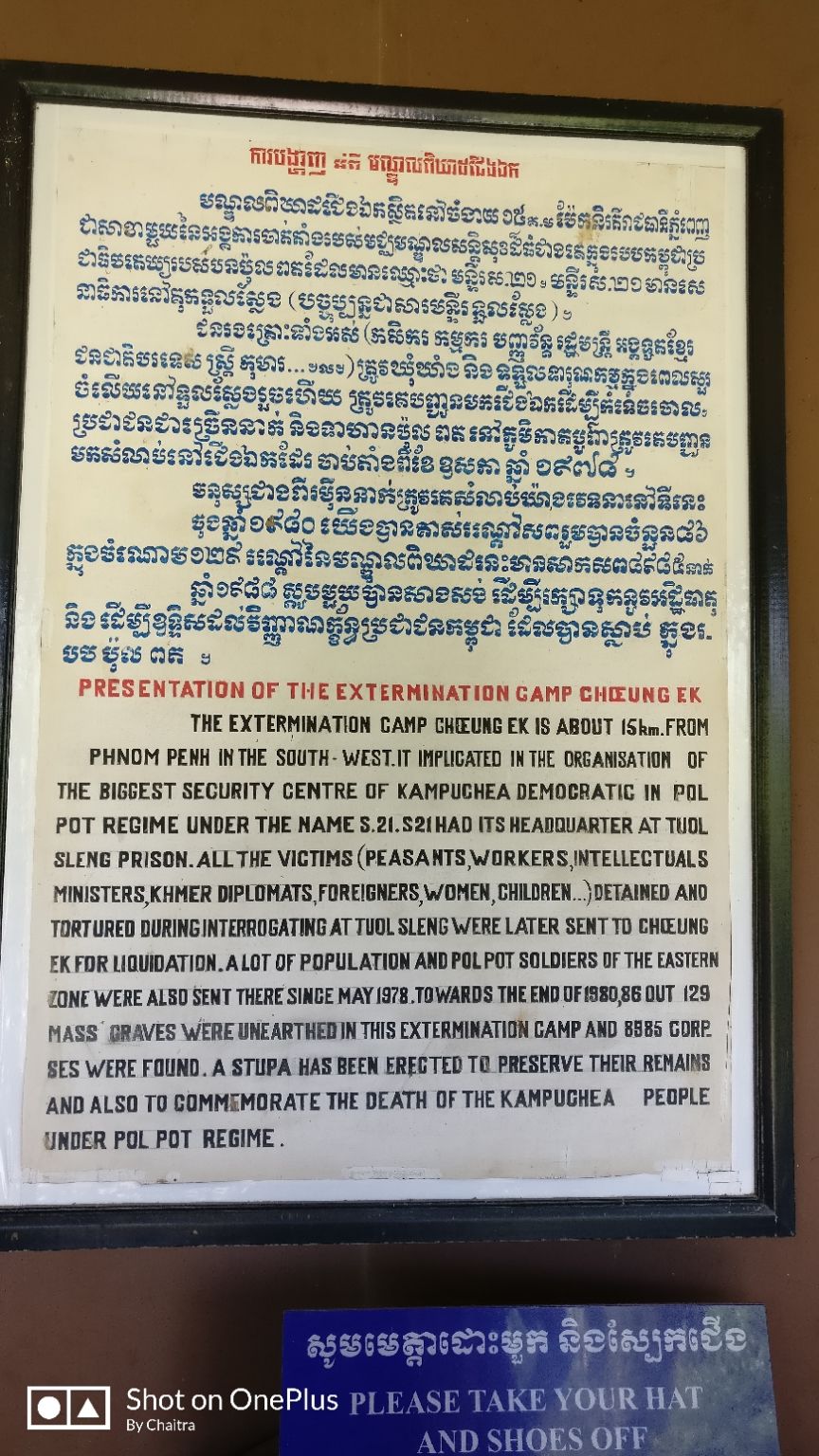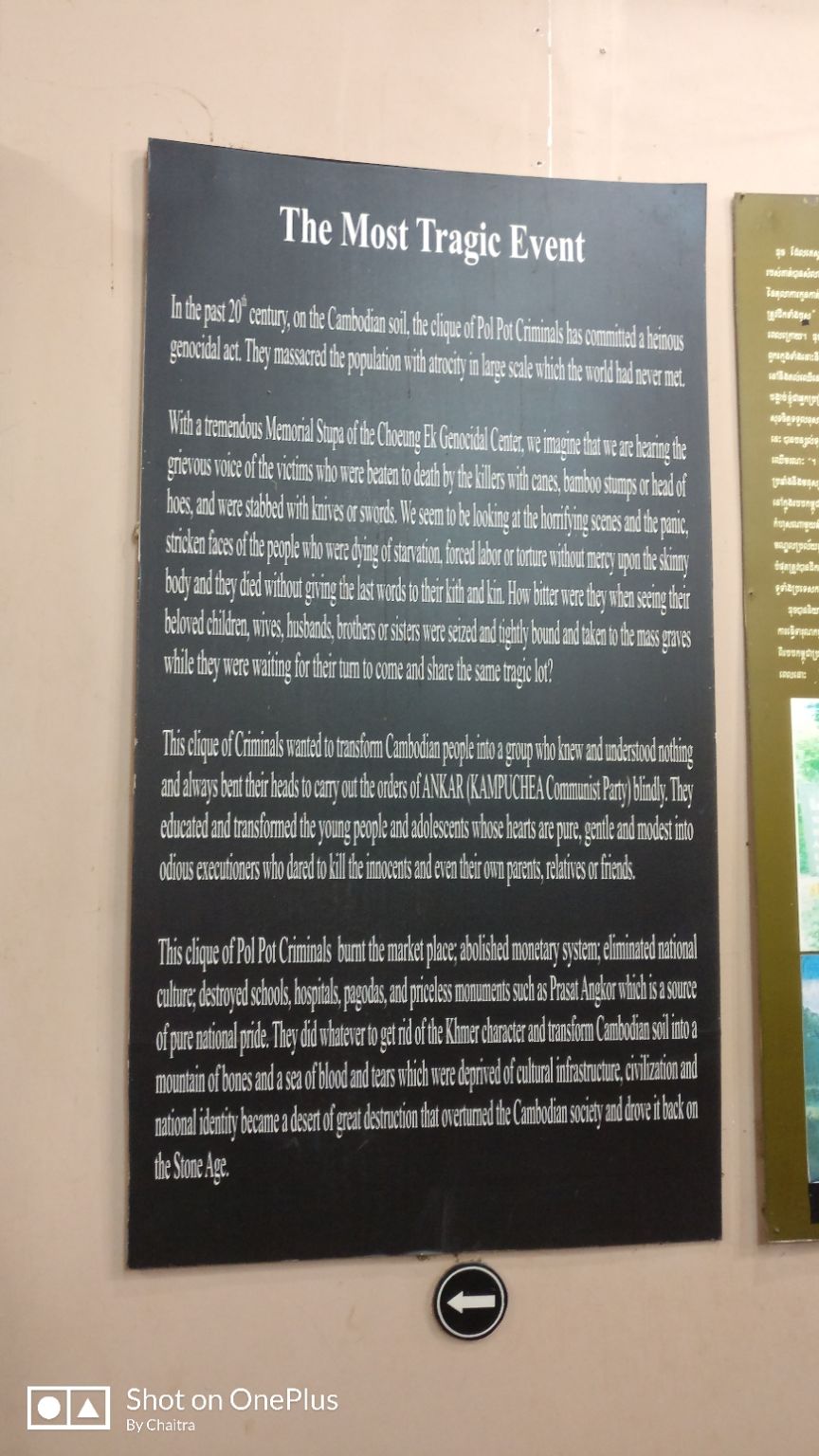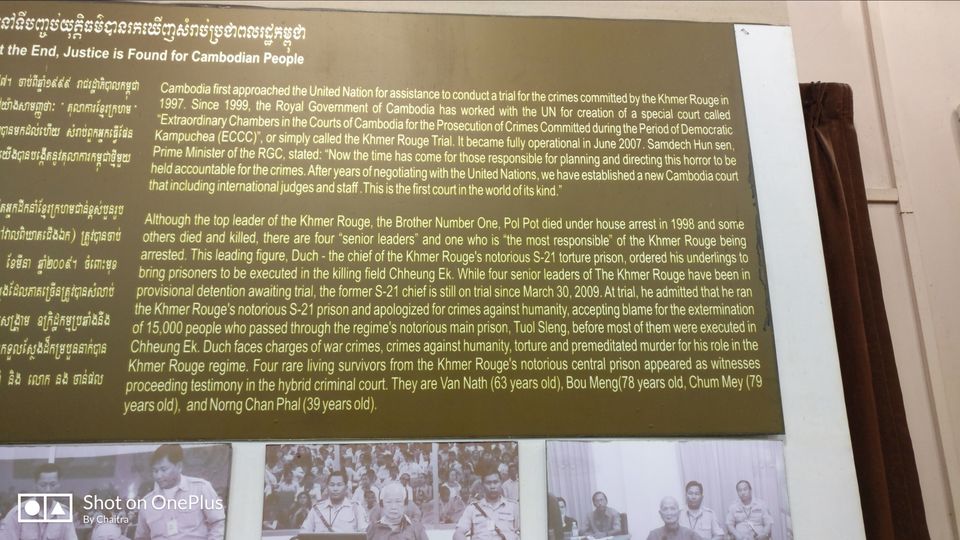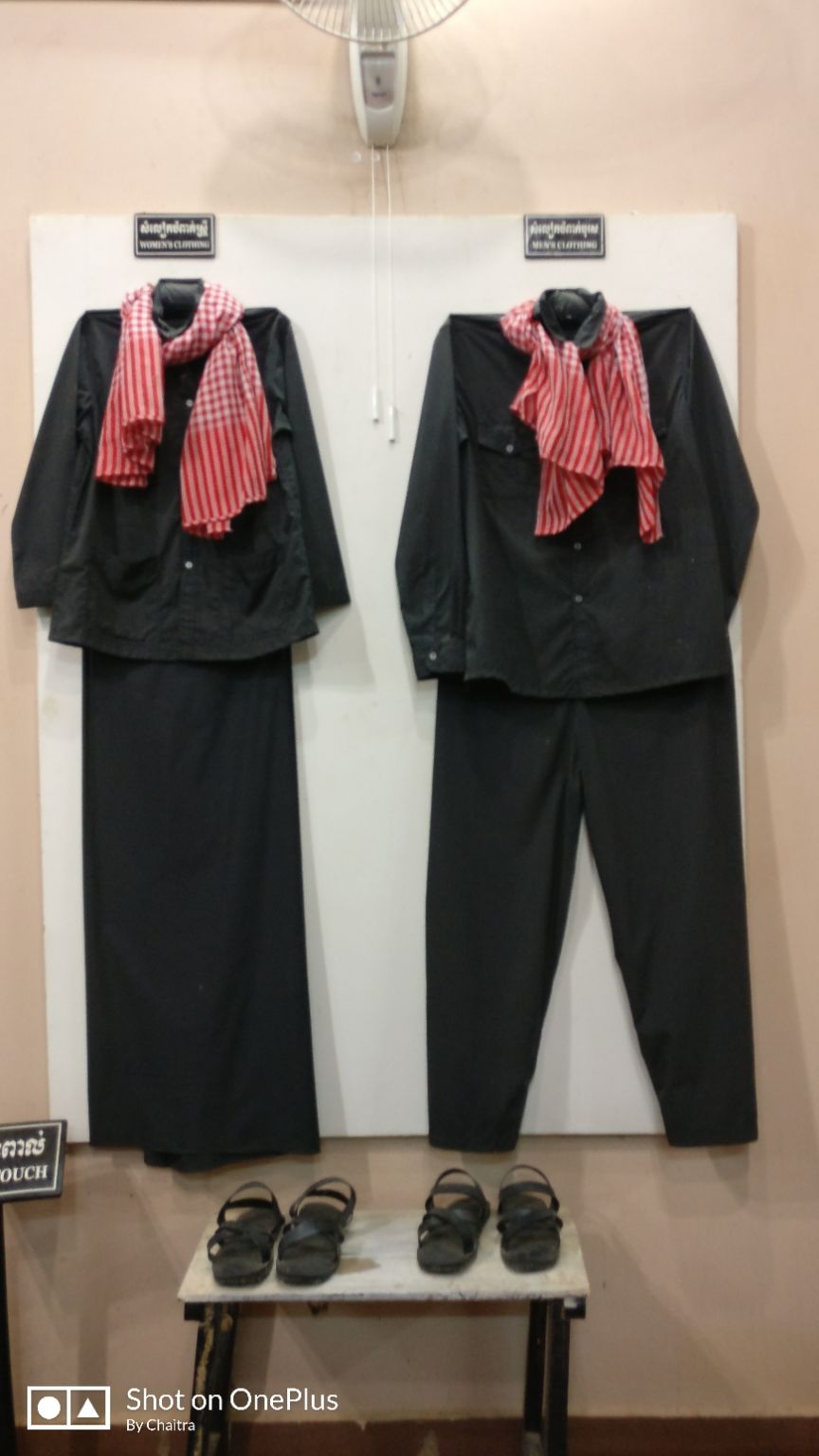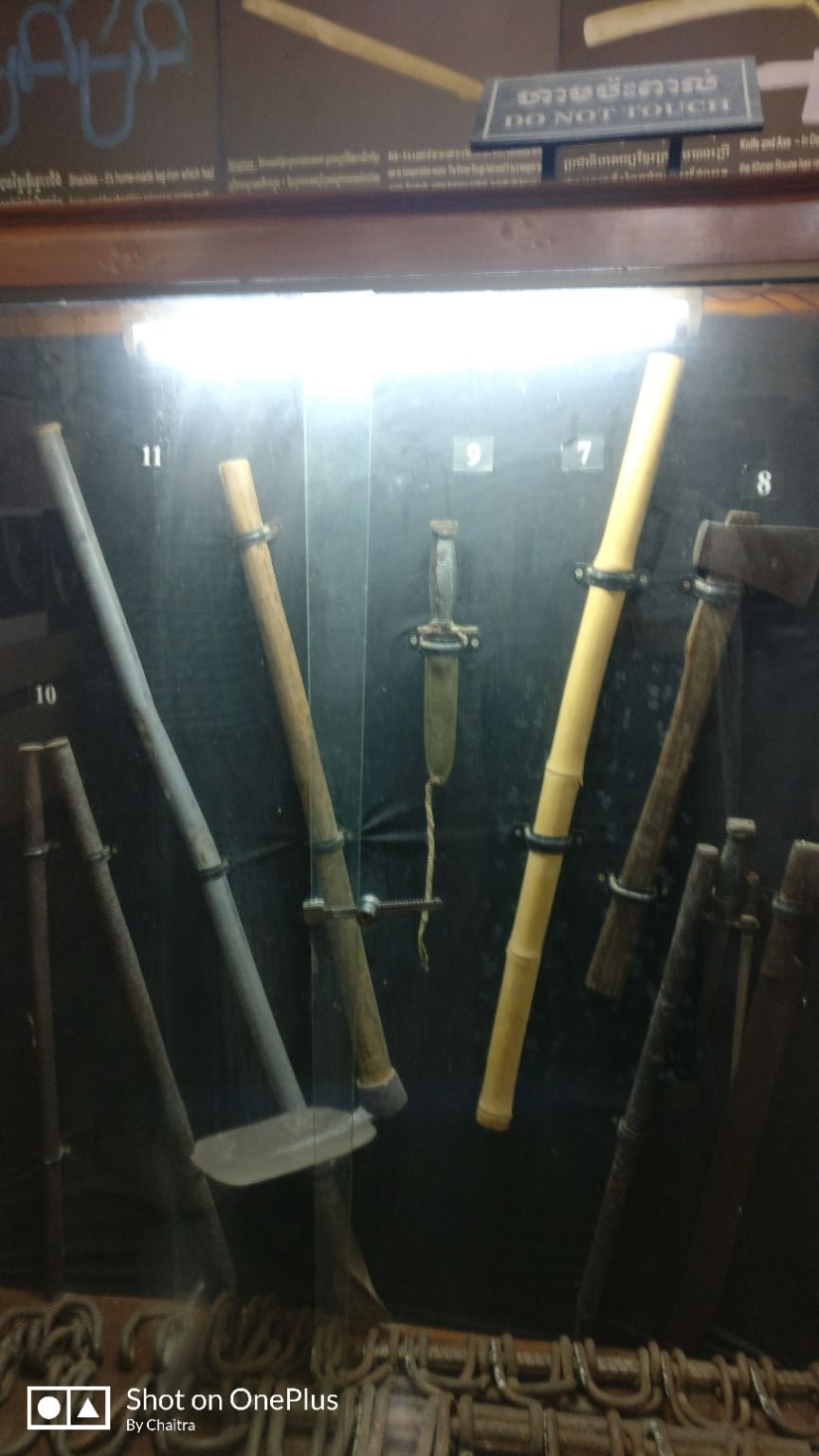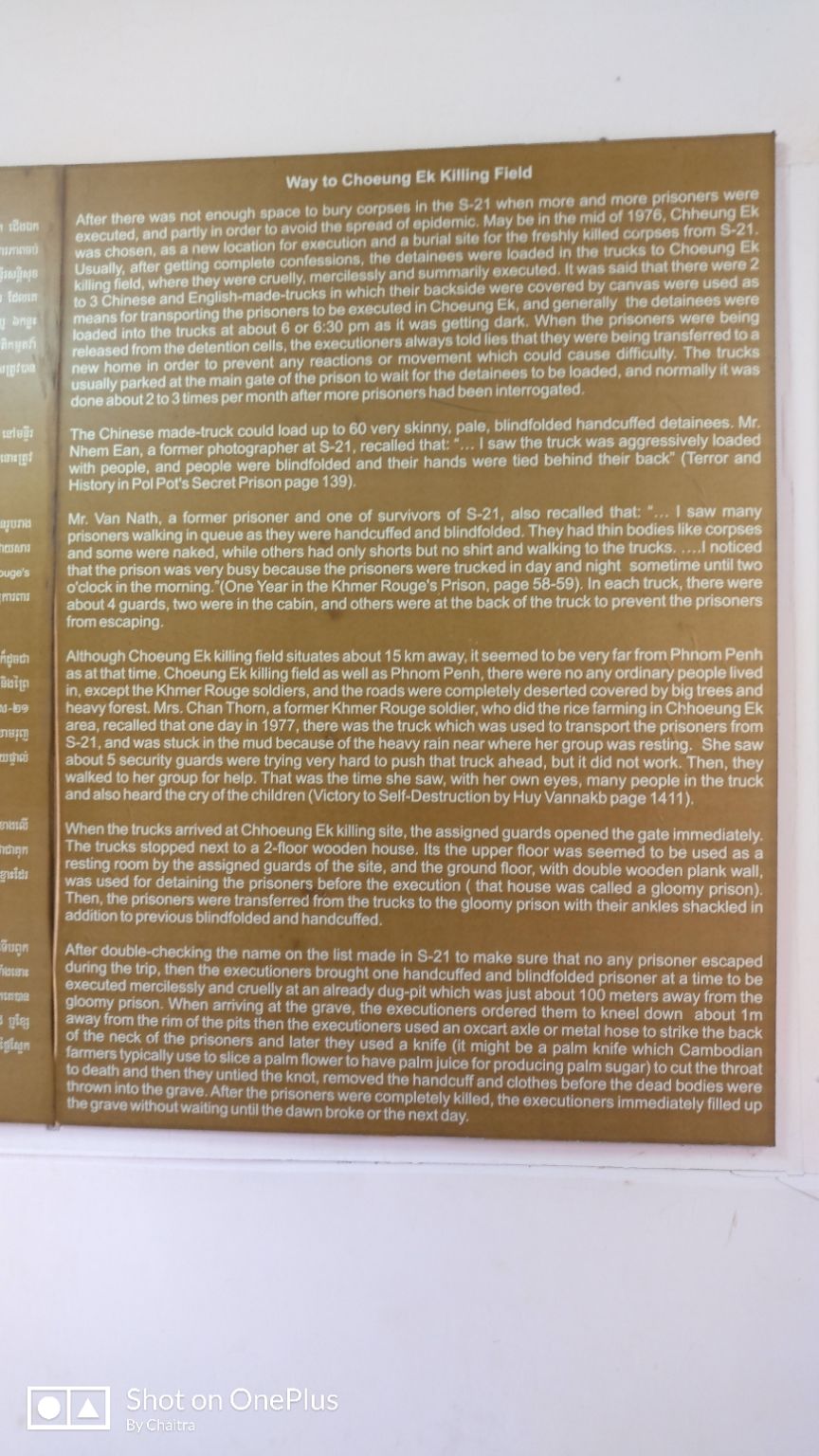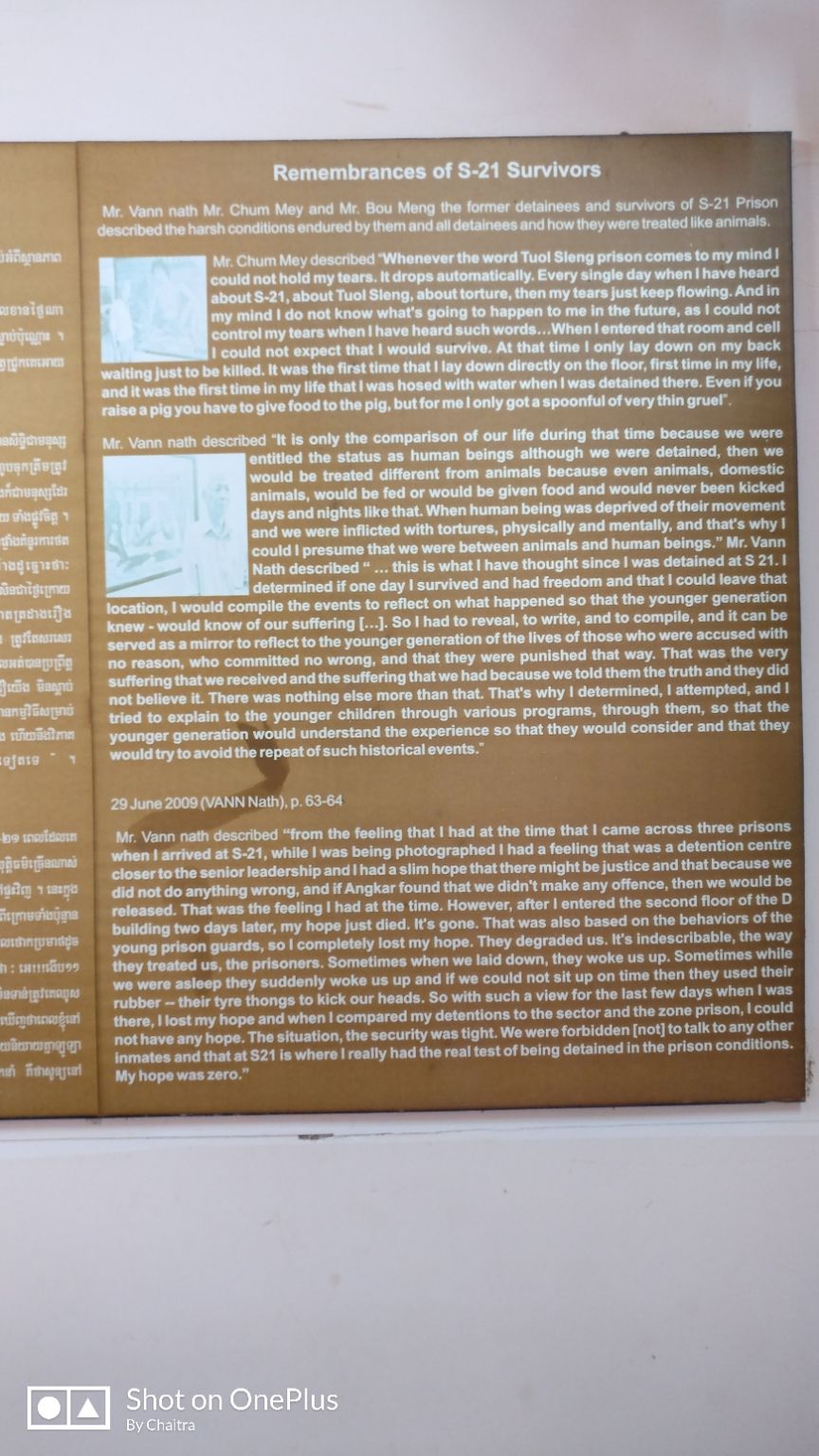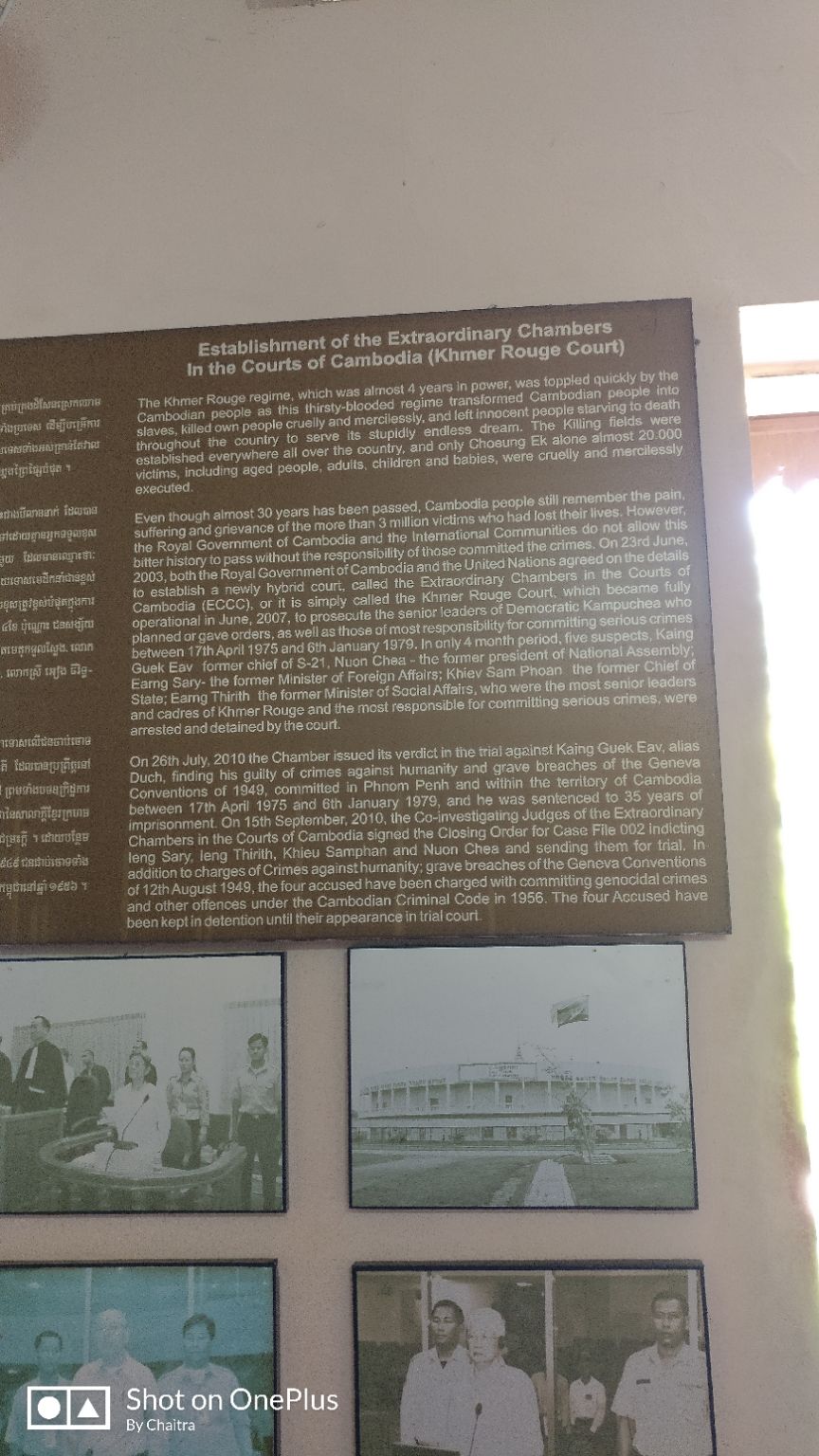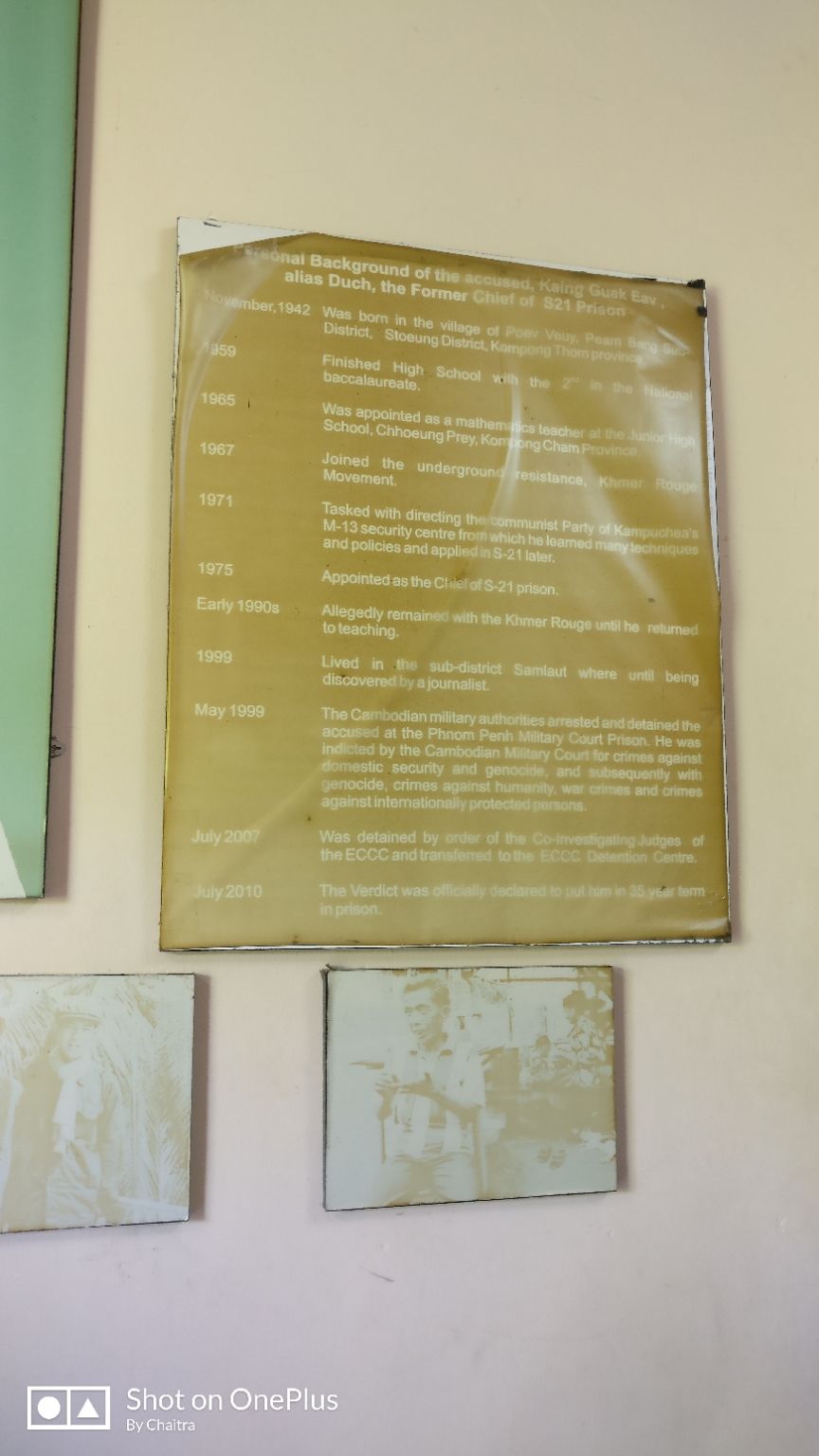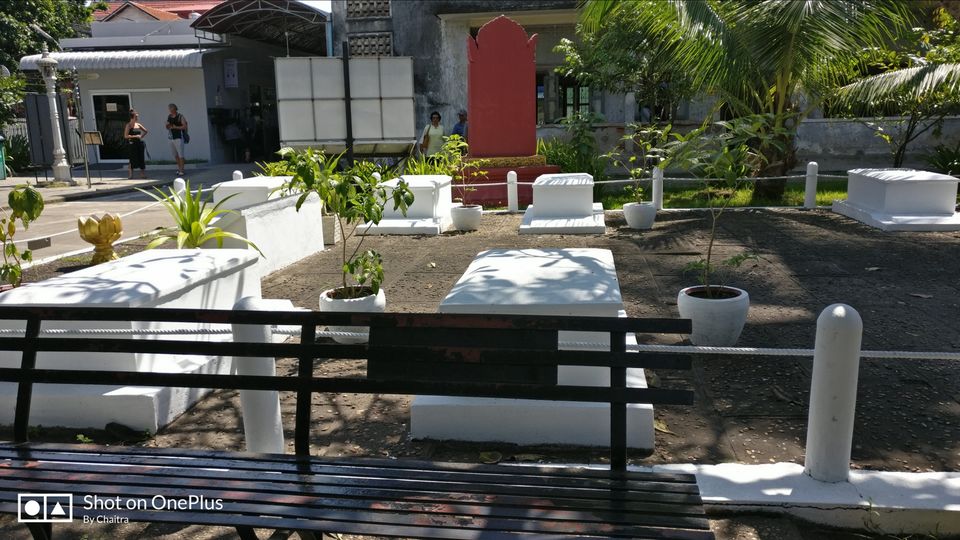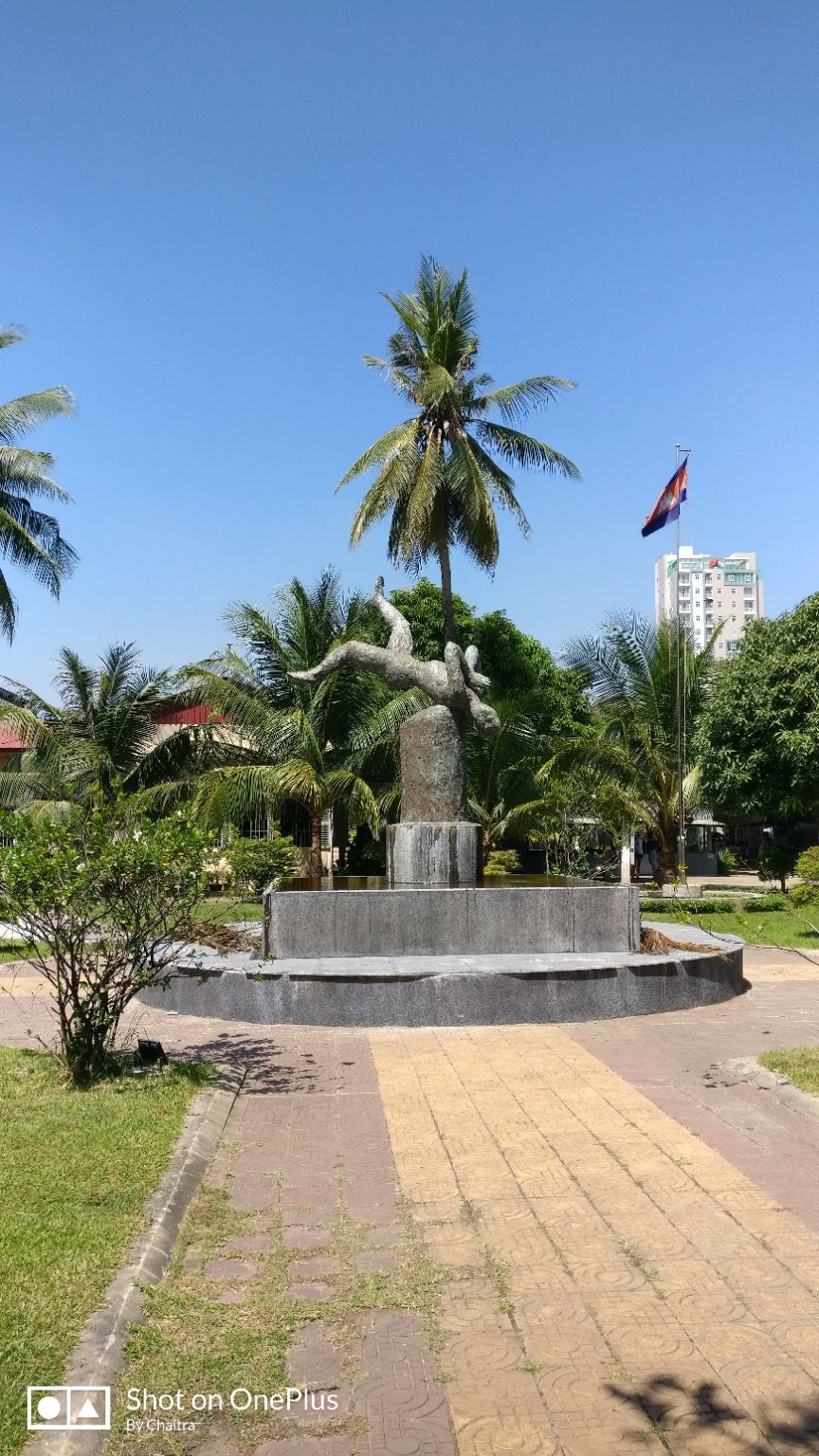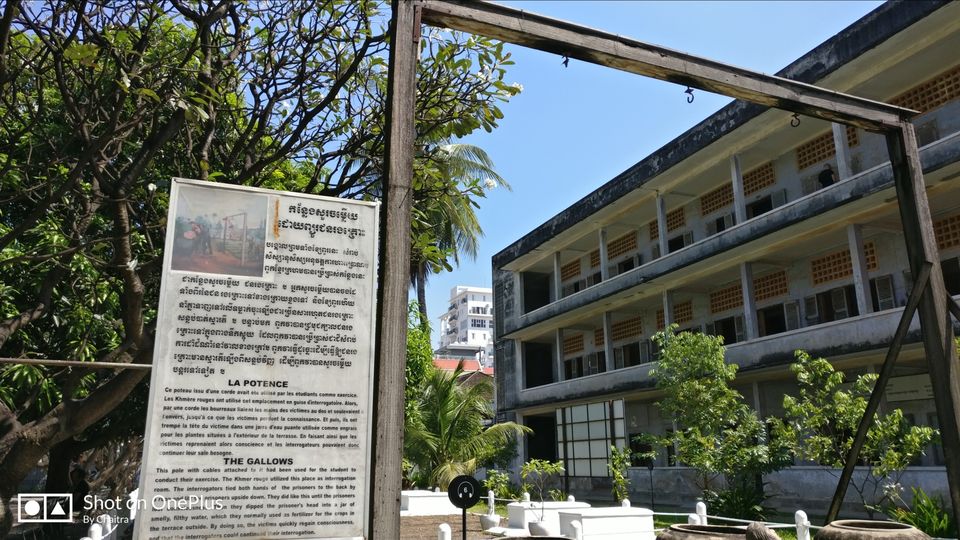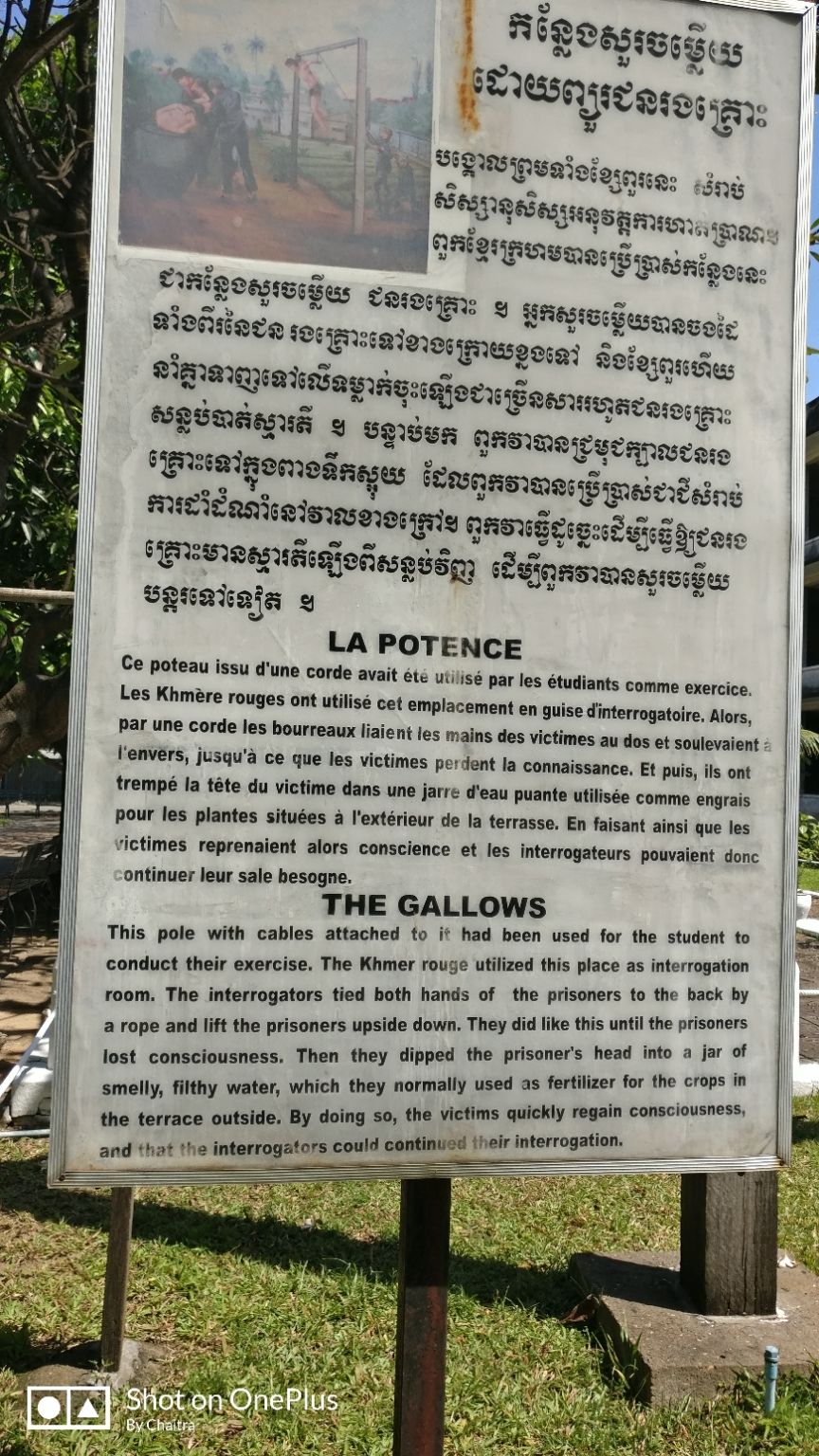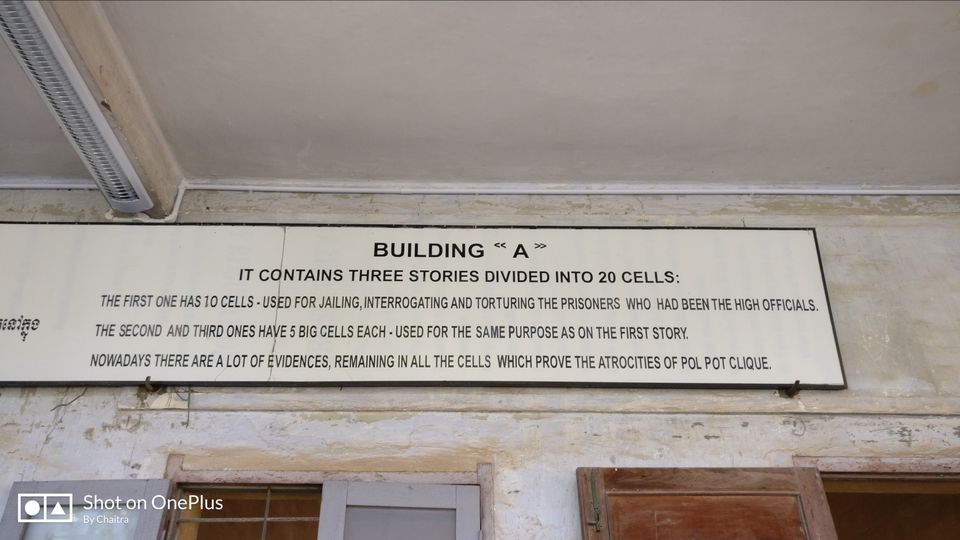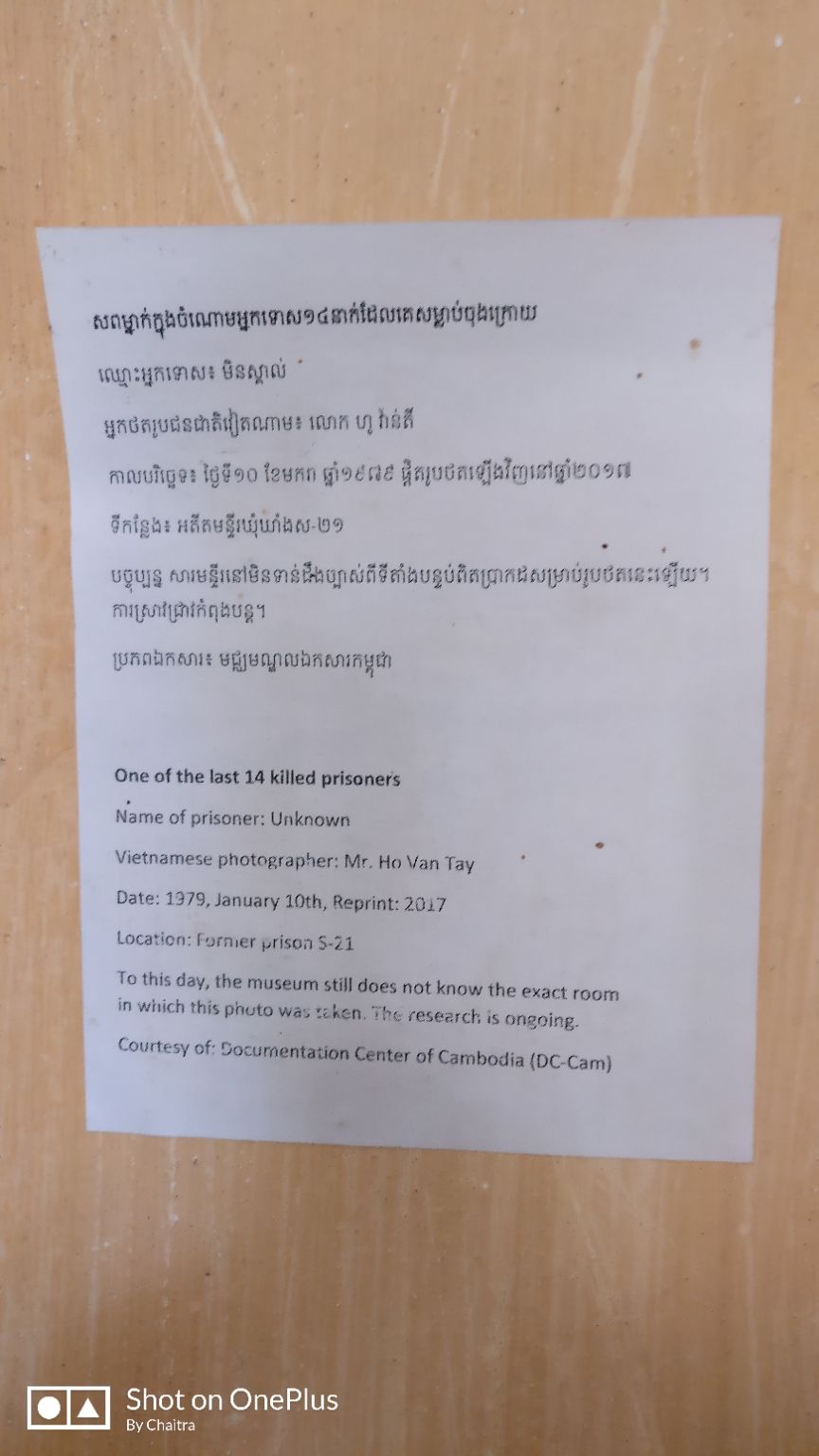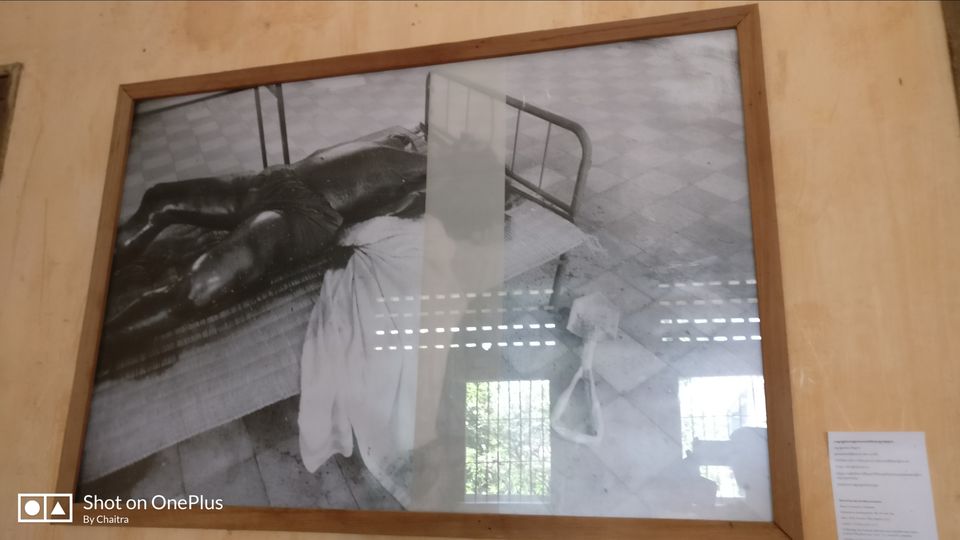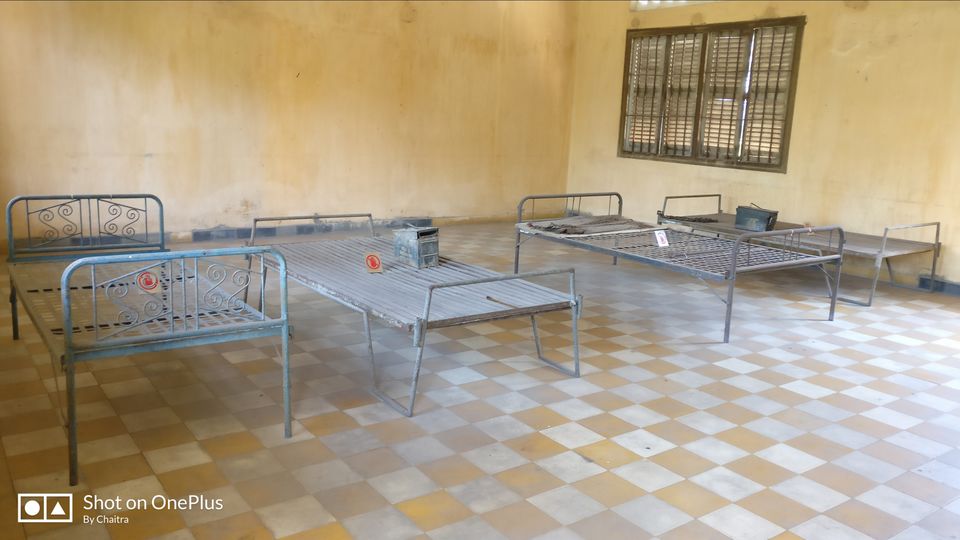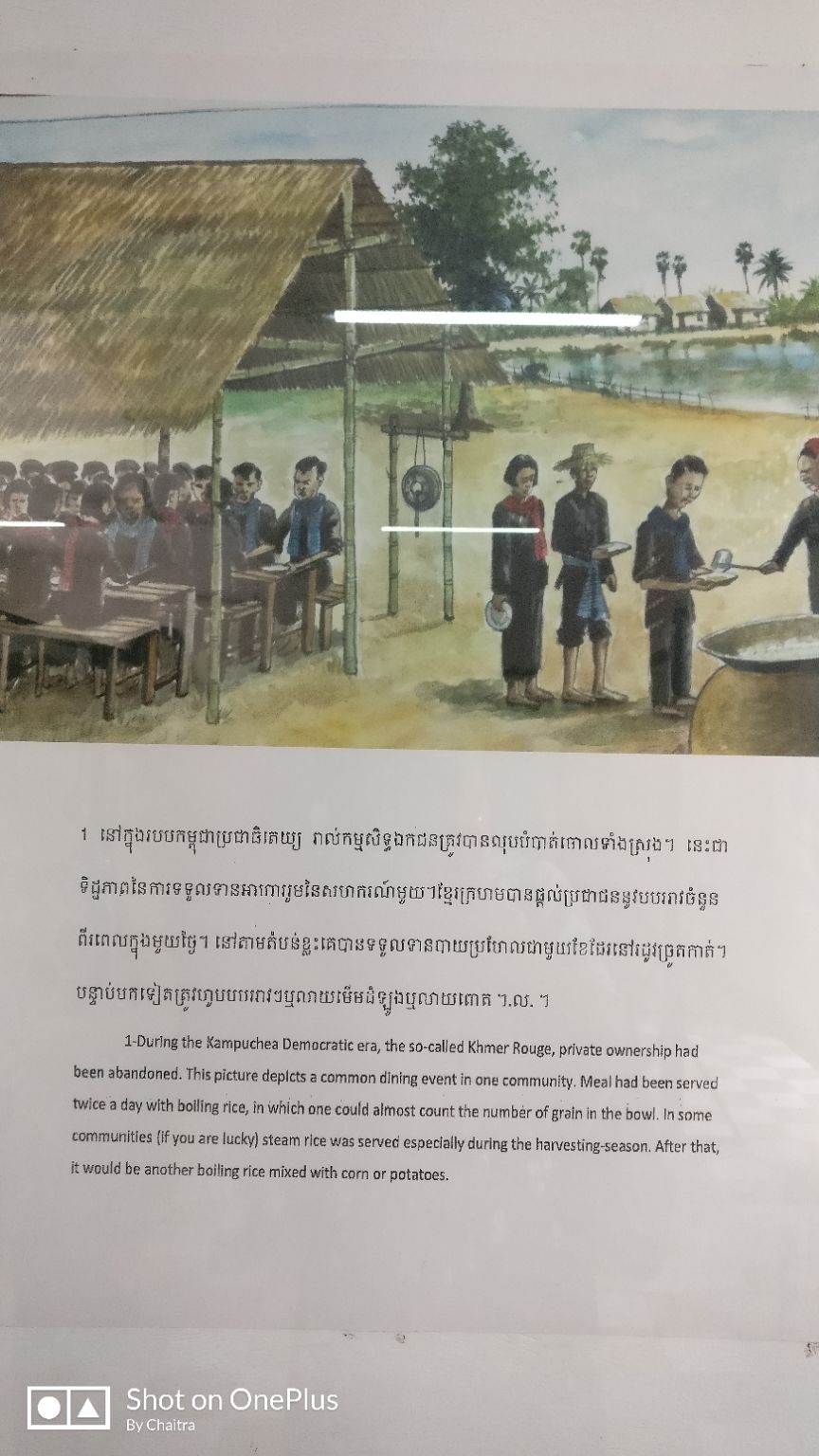 Royal Palace & Silver Pagoda
Entry Fee: 10USD
Dress code: Knees and shoulders should be covered
Duration: 1-2 hours
Royal Palace and Silver Pagoda are positioned together opposite to the riverfront. The royal palace serves as kings residence, a venue for court ceremony and as a symbol of kingdom.
Silver pagoda is separated by a walled pavement. The actual name of silver pagoda is Wat preah keo Morokat which means temple of the emerald Buddha. The Pagoda compound as a whole contains several structures like library, stupas, shrines, museum and gardens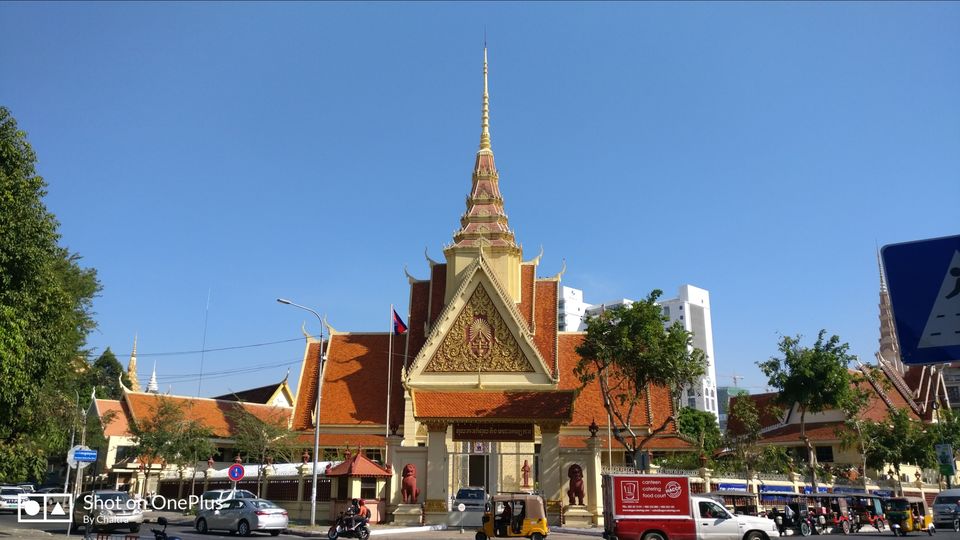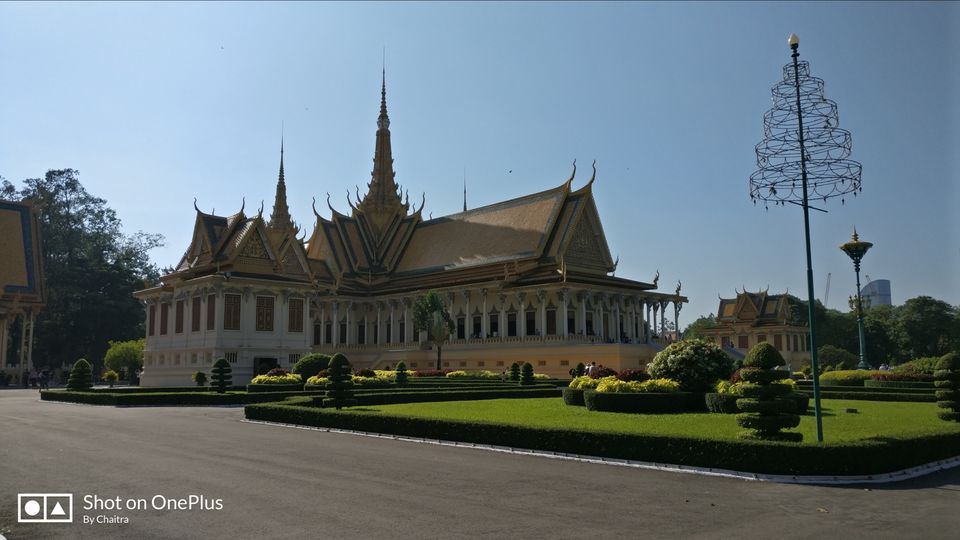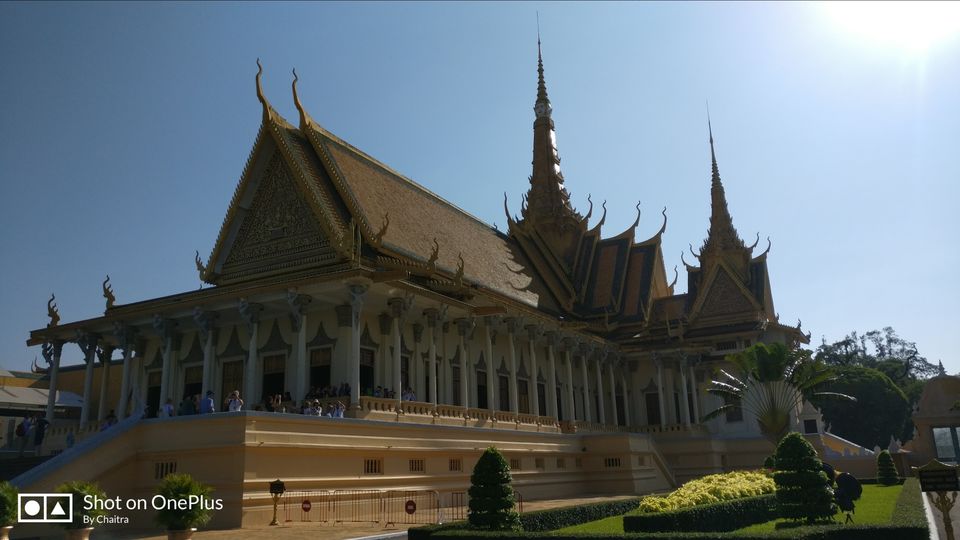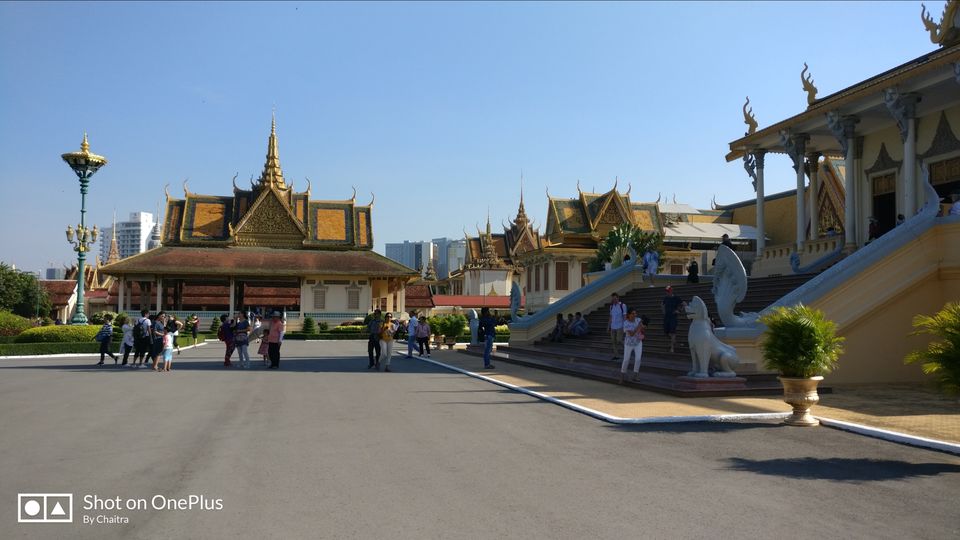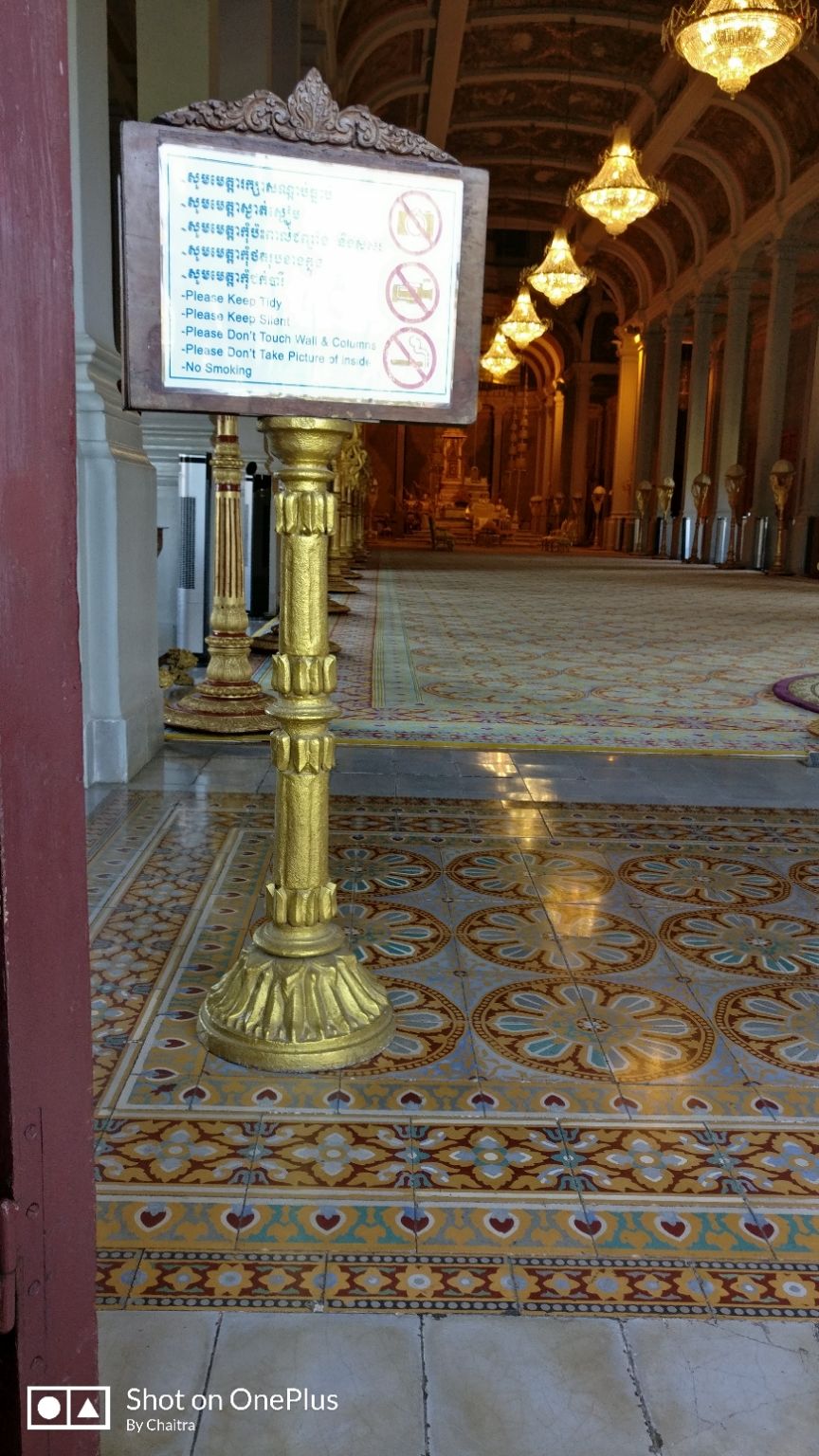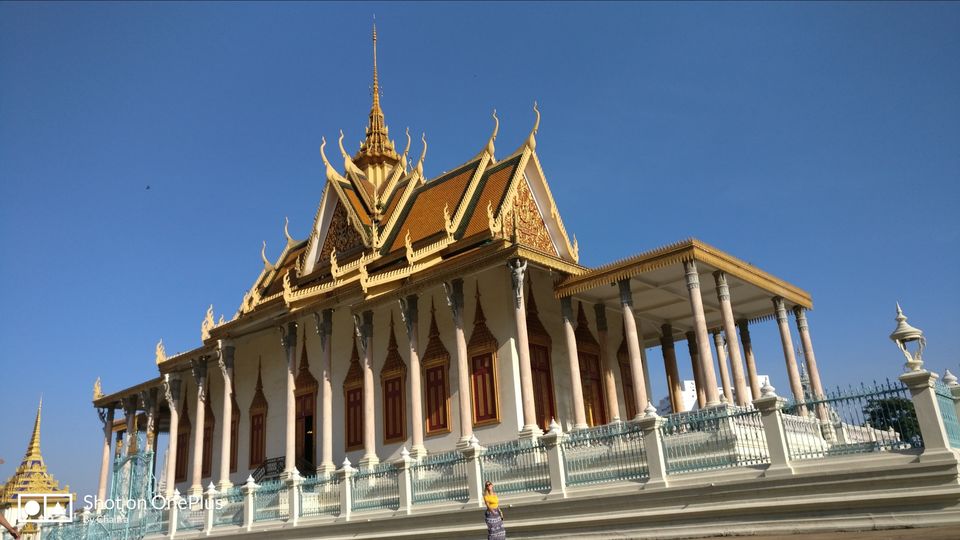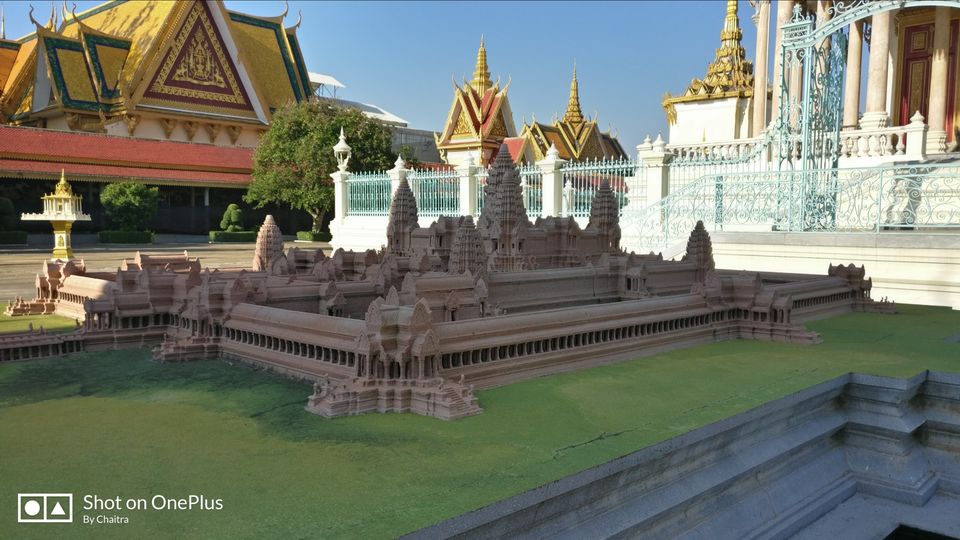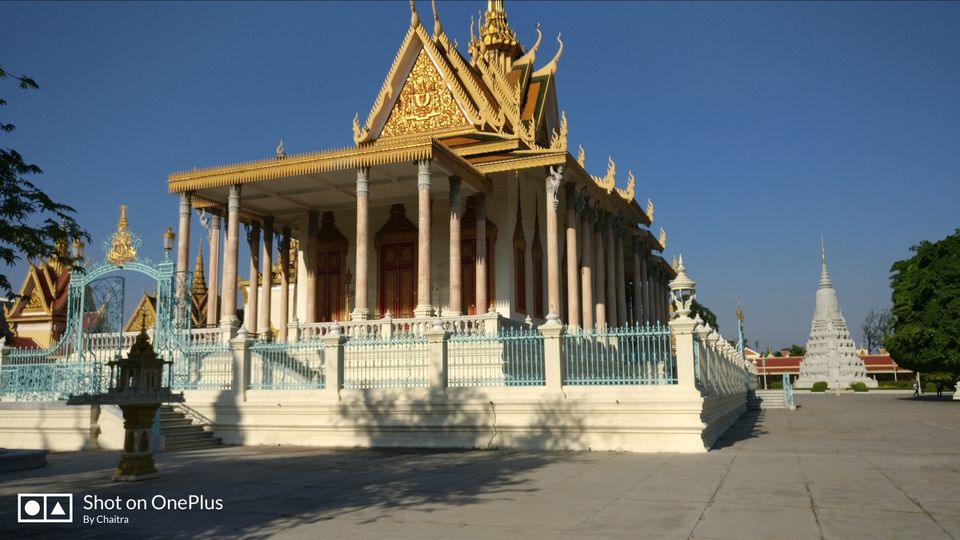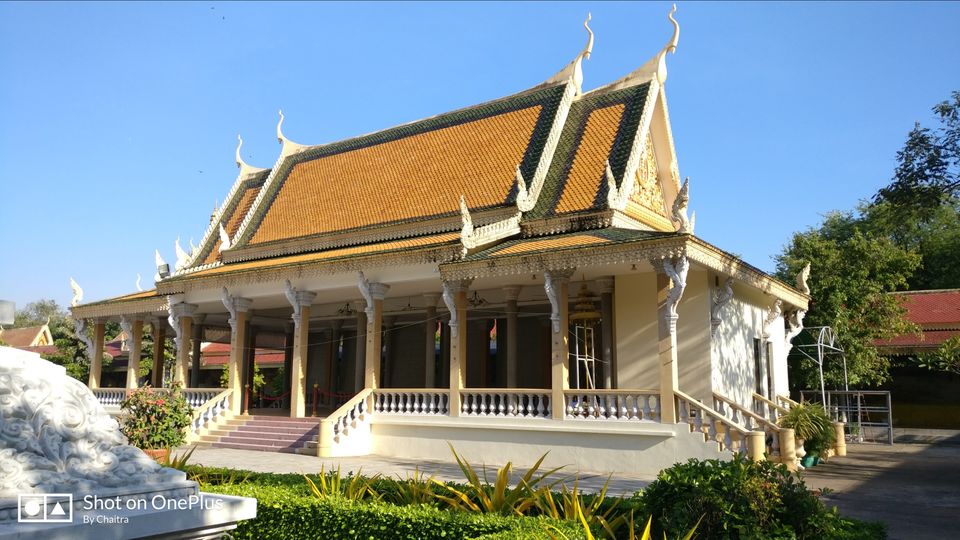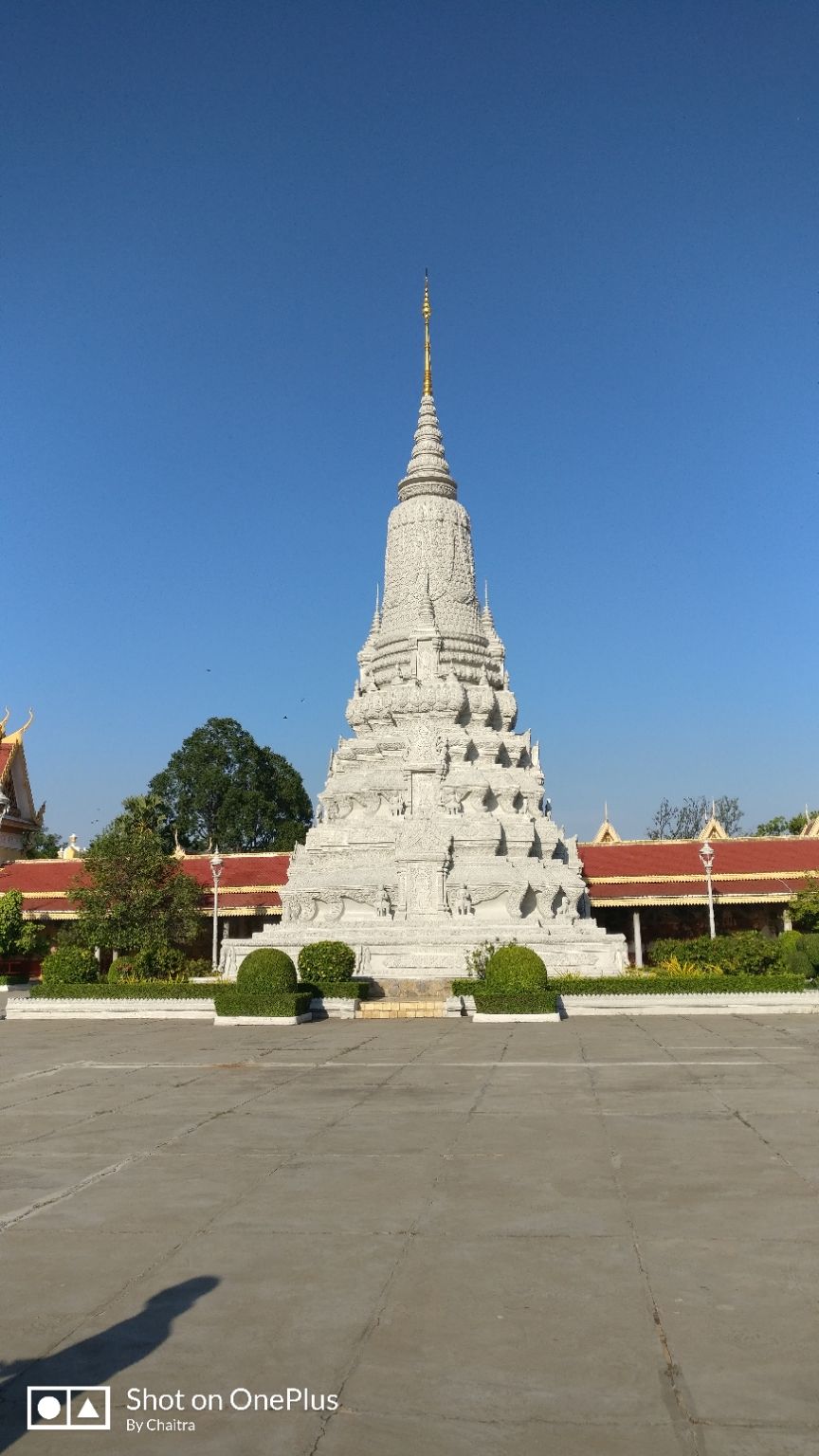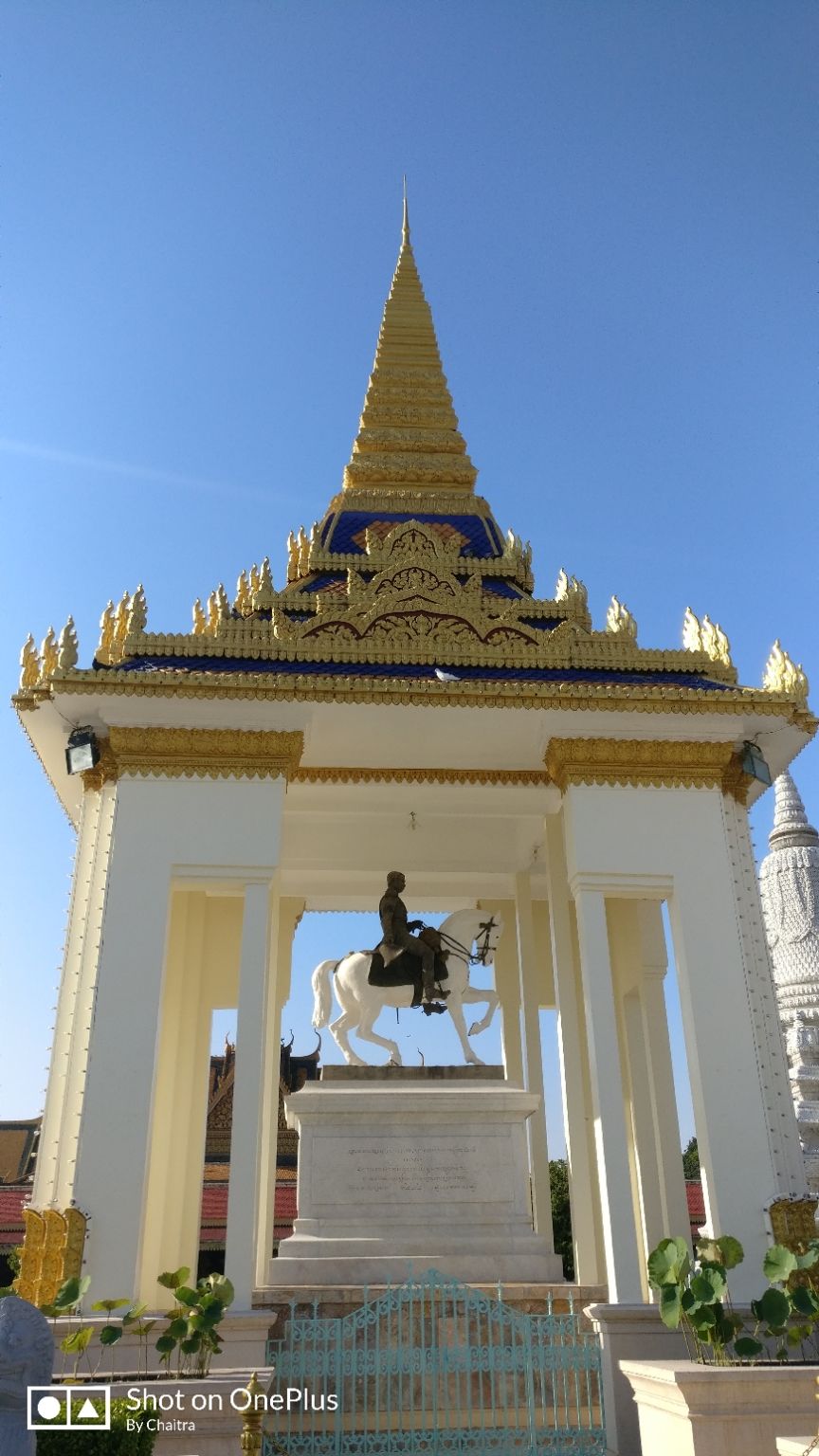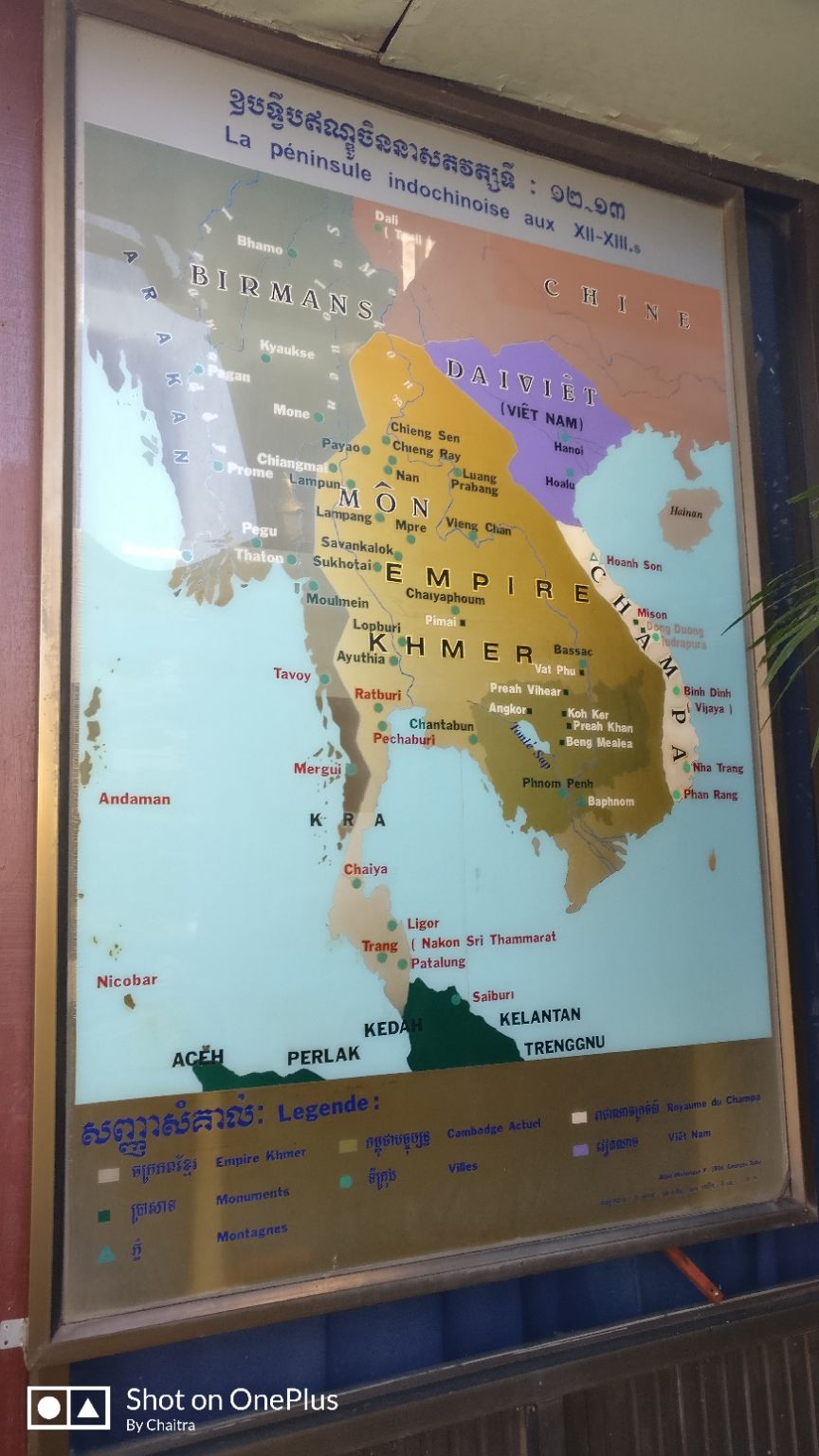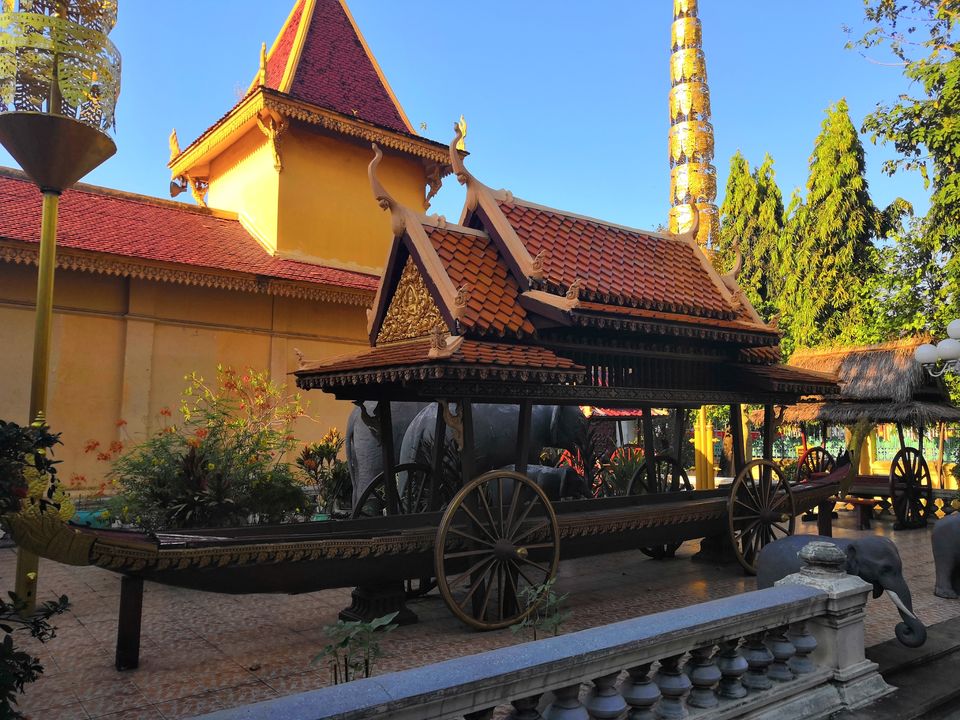 Post exploring the monuments you can take out some time shopping at night market in Phnom Penh. Clothes are very cheap here and there is lot to shop.
Today we started our journey from Phnom Penh to Sihanoukvile which is 226km. Sihanoukville in Cambodia stands distinctly as one of the yet unexplored beach destinations in Asia. The main attaraction here is beaches, boat rides to the islands and the Kbal Chhay Waterfall which is 15 km from Sihanoukvile. Entry fee for Kbal Chhay is 25cents per person. The road going to the waterfall is in worst condition.
Post your visit on the way to Kbal Chhay for amazing sunset you can go to the Otres beach/Independence beach/Serendipity beach. All the beaches are clean and serene.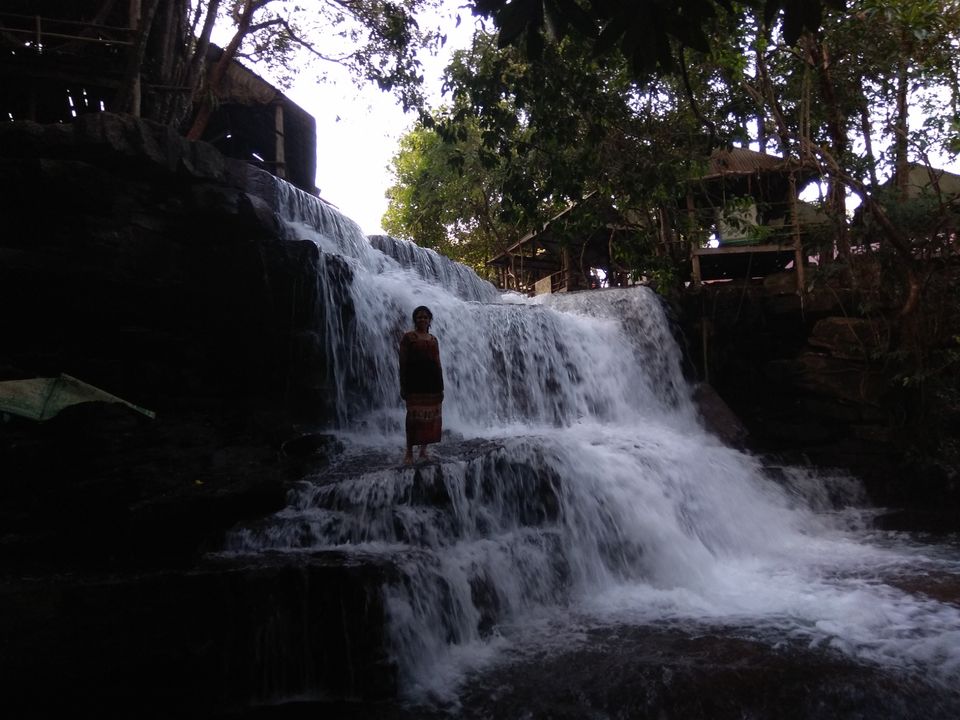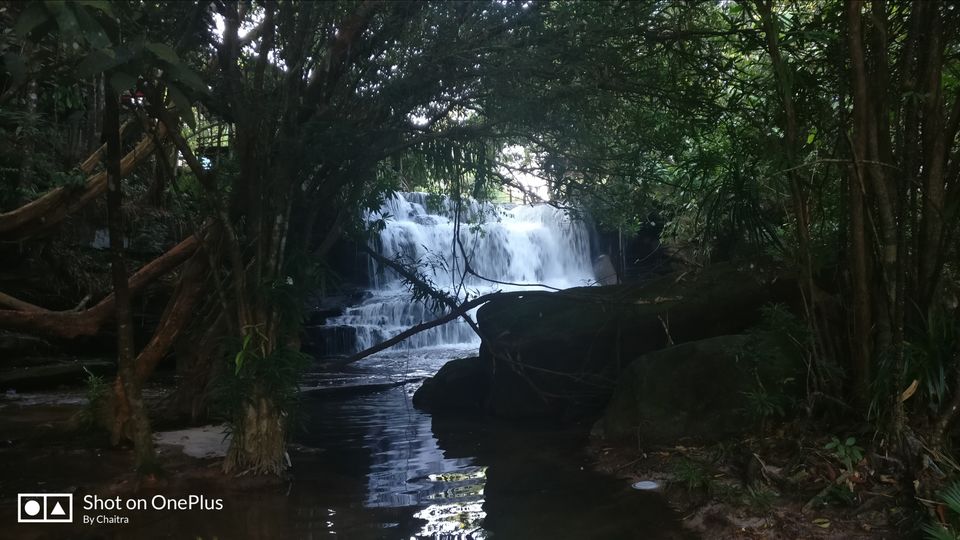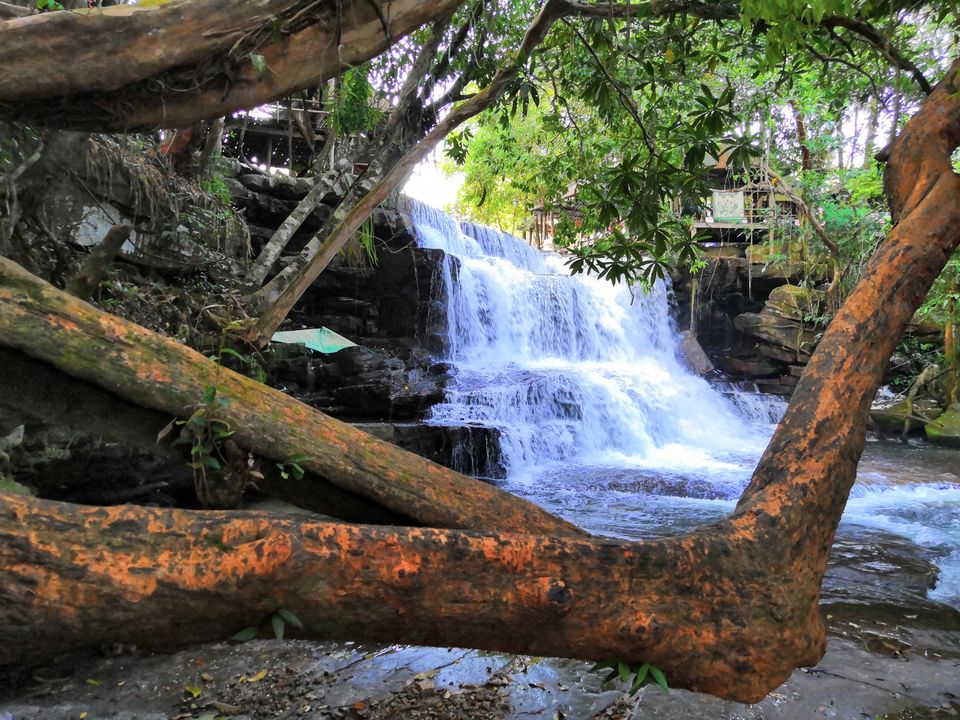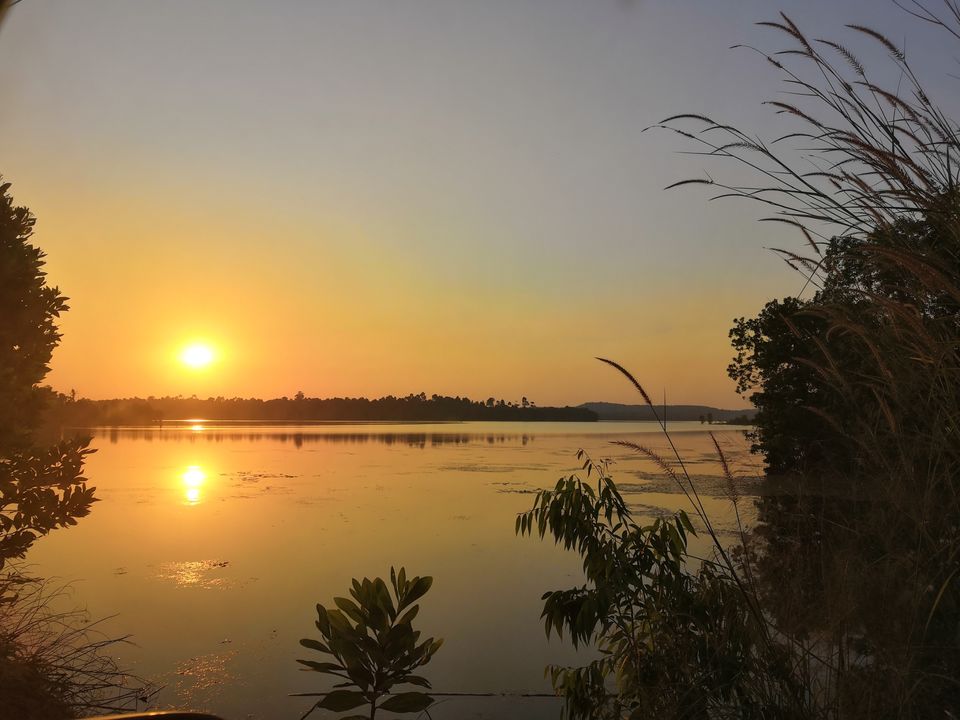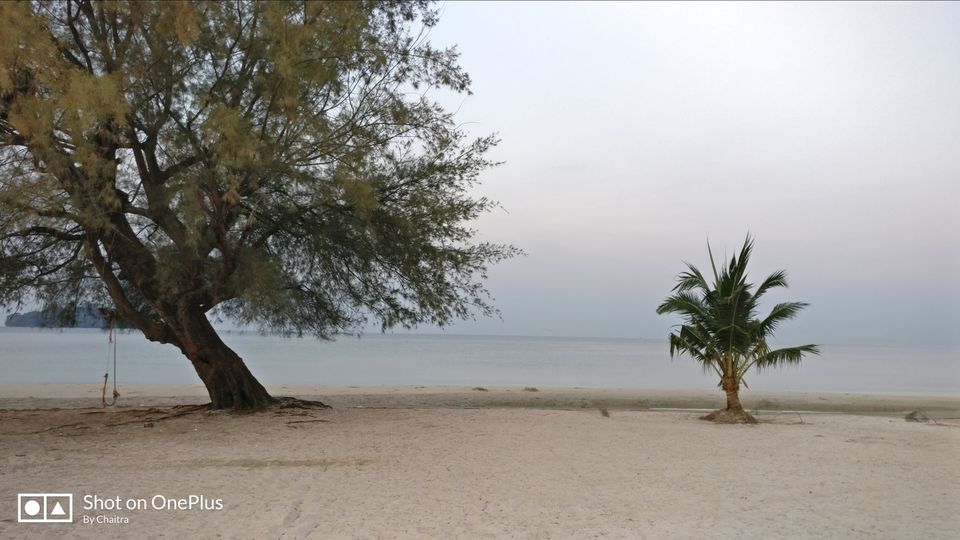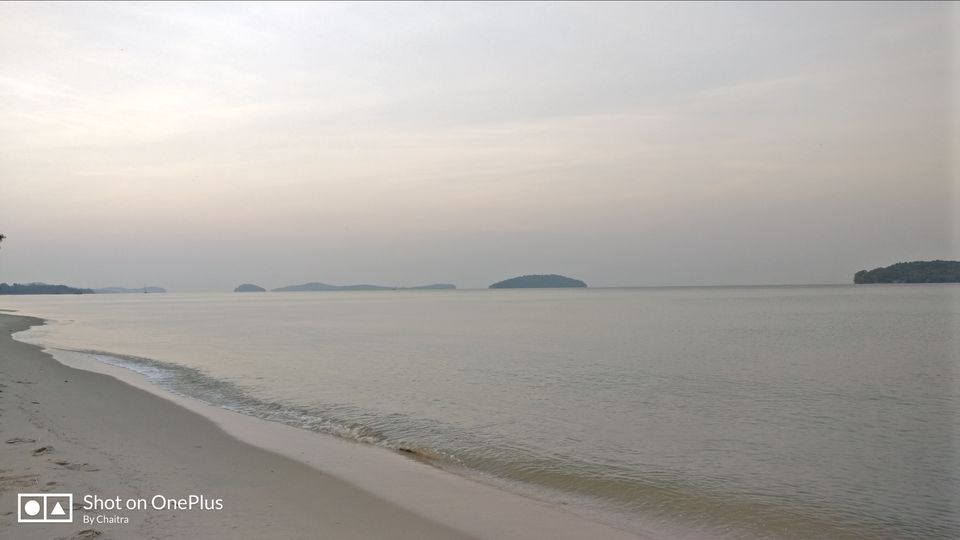 Transfer to Siem Reap from Sihanoukvile which takes about 10 hours to cover the distance of 526 Km. Whole day of ours was consumed in travelling, so post reaching Siem reap we went to night market for shopping. We had to waste one day because we had booked our return tickets from Siem Reap. Had we booked it from Phnom Penh we could have got at least half day to Phnom Penh. Other option was to take a flight from Sihanoukvile to Siem Reap which costs approx.100USD.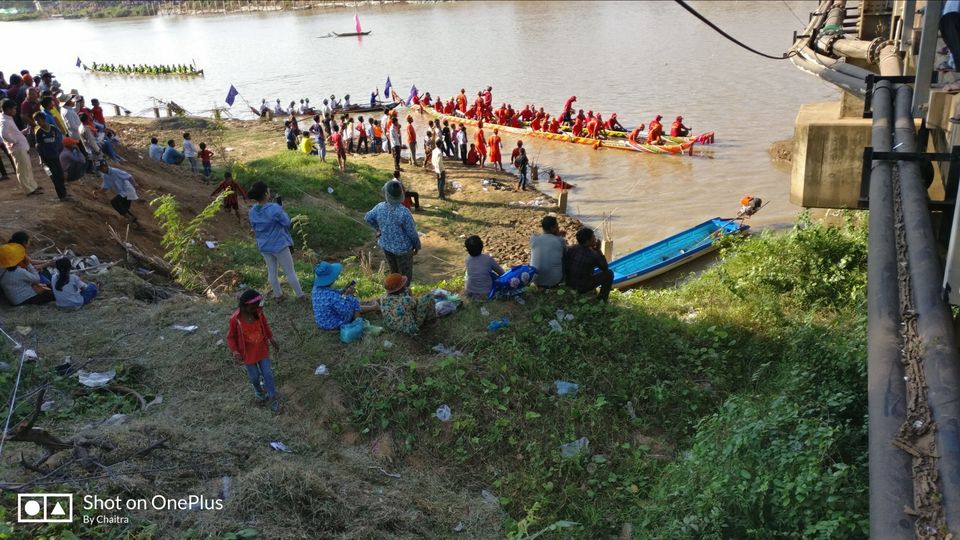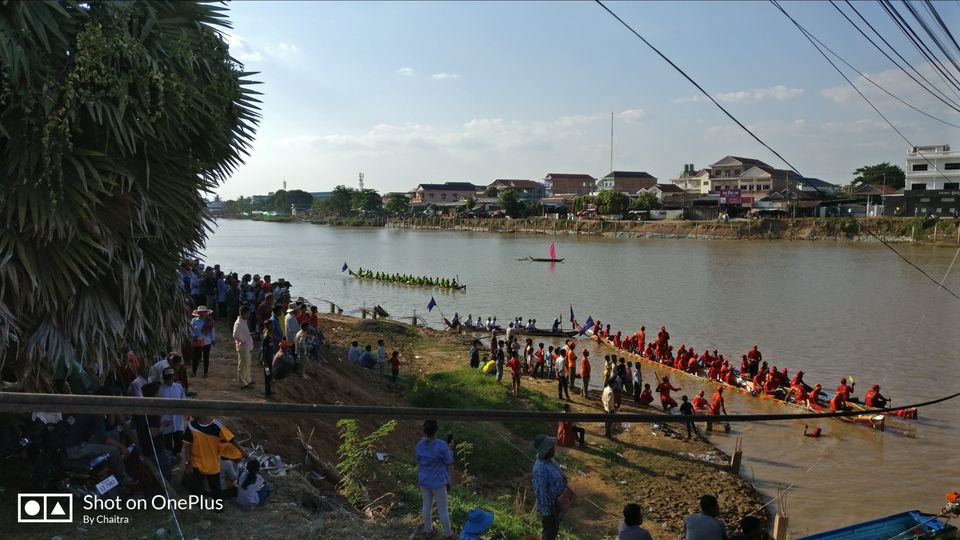 Today was our last day in Cambodia. We had mixed feelings, we were happy that we were going back and sad because our vacation is over. We only had 2 places on our list to see as we had evening flight for Mumbai. Unfortunately due to time constraint we could only cover Ta Phrom and not visit War museum.
Ta Phrom
Ta Phrom is among the largest of the monuments in Angkor complex which includes 260 statues of Gods, 39 towers with pinnacles and 566 groups of residences. Currently only traces of the wall are visible. As of 2013, Archaeological Survey of India has restored most parts of the temple out of which some are constructed from scratch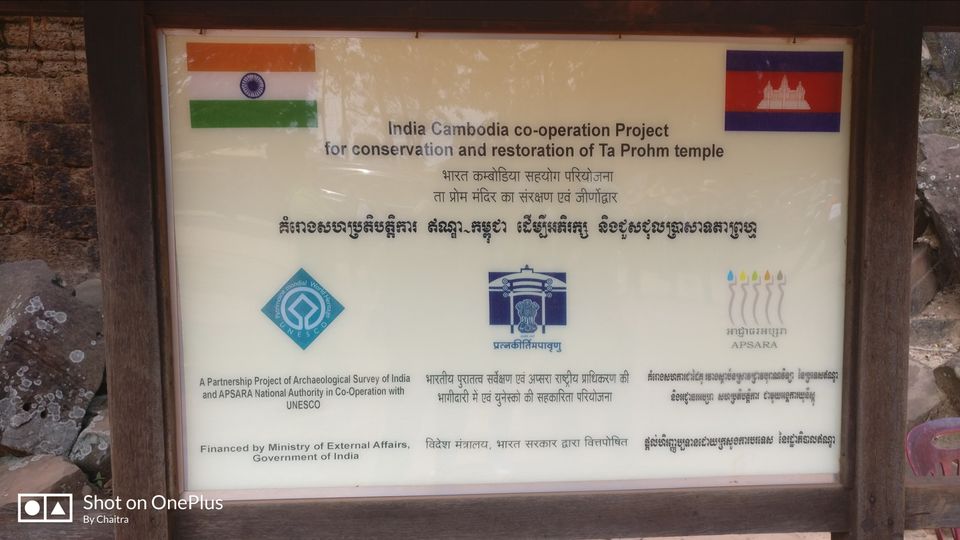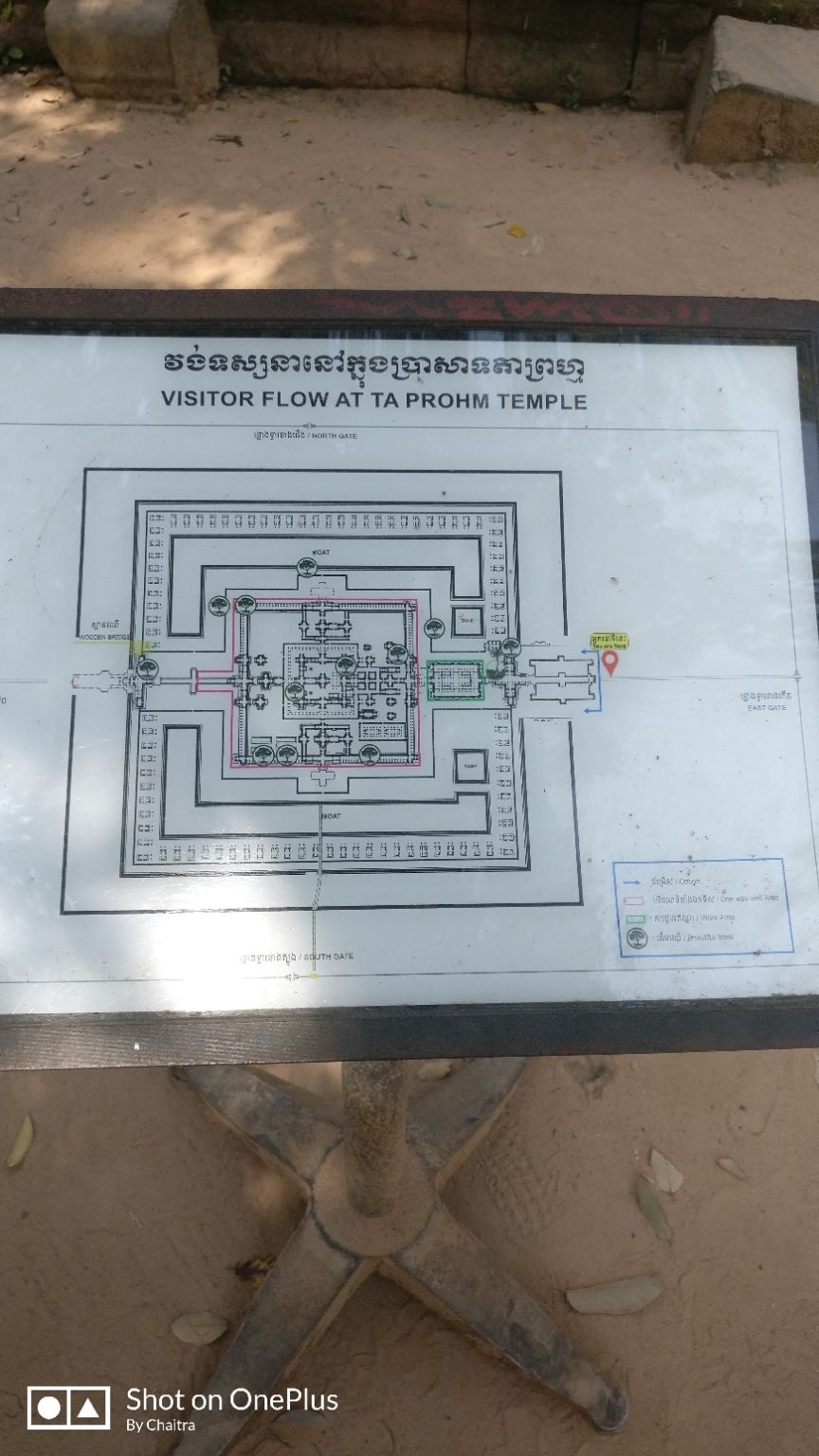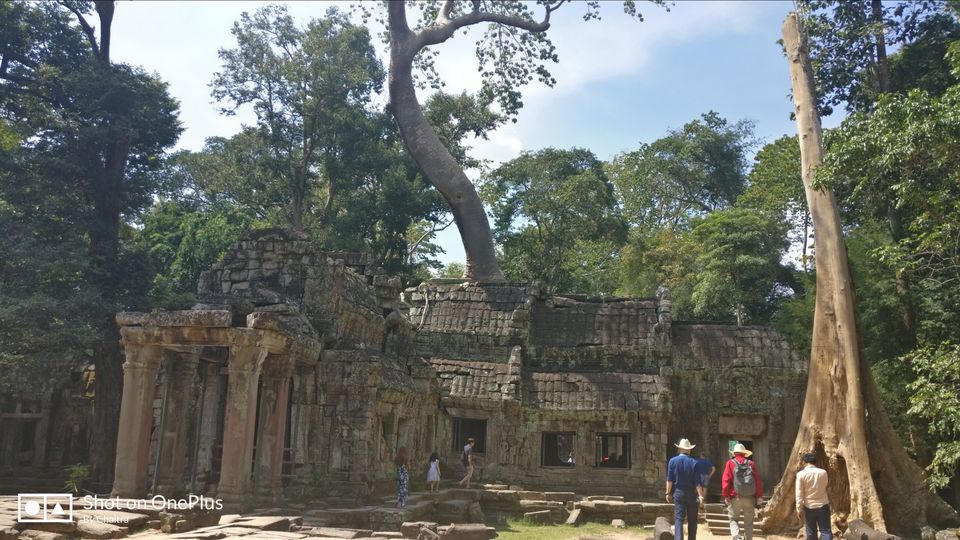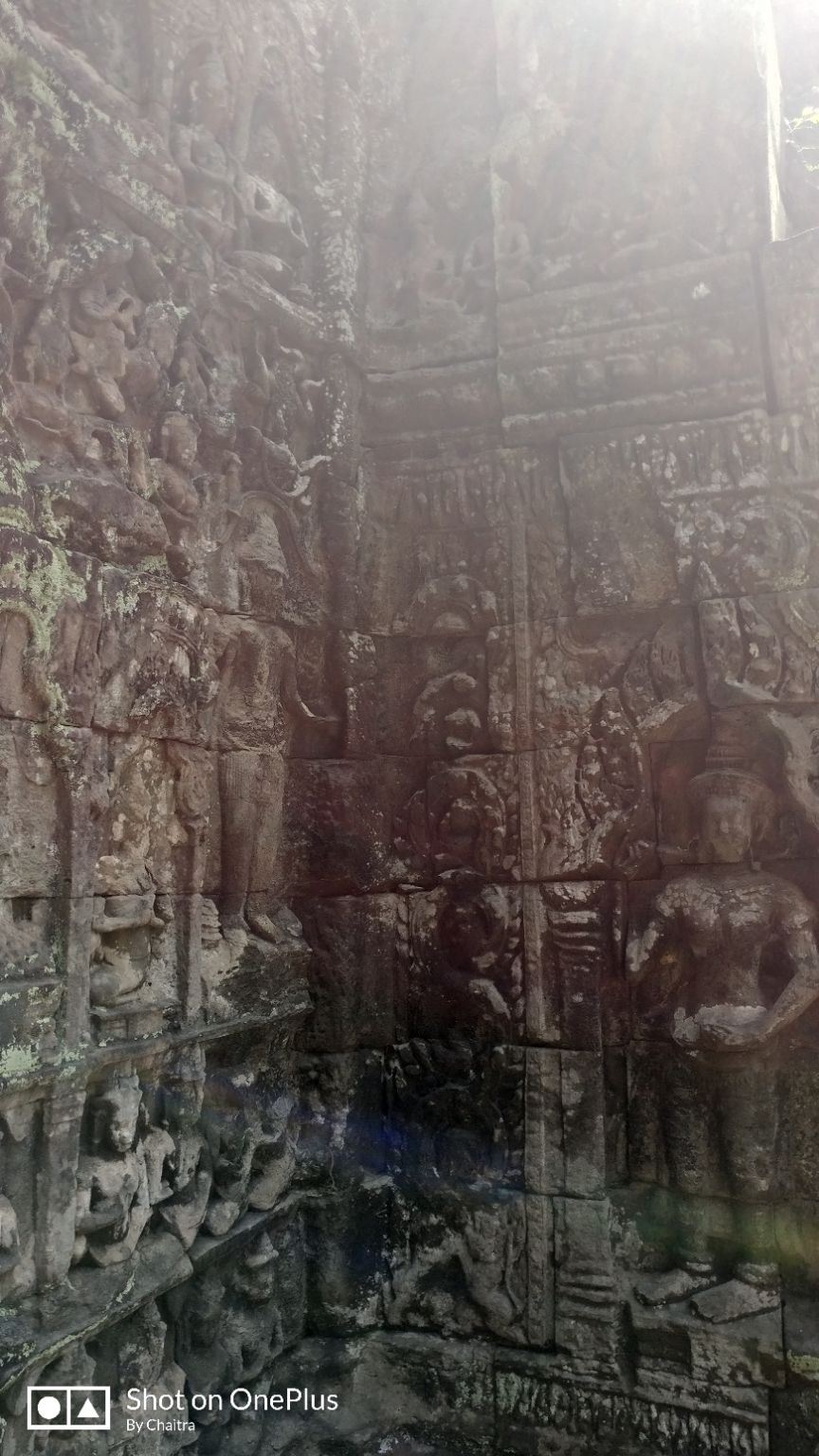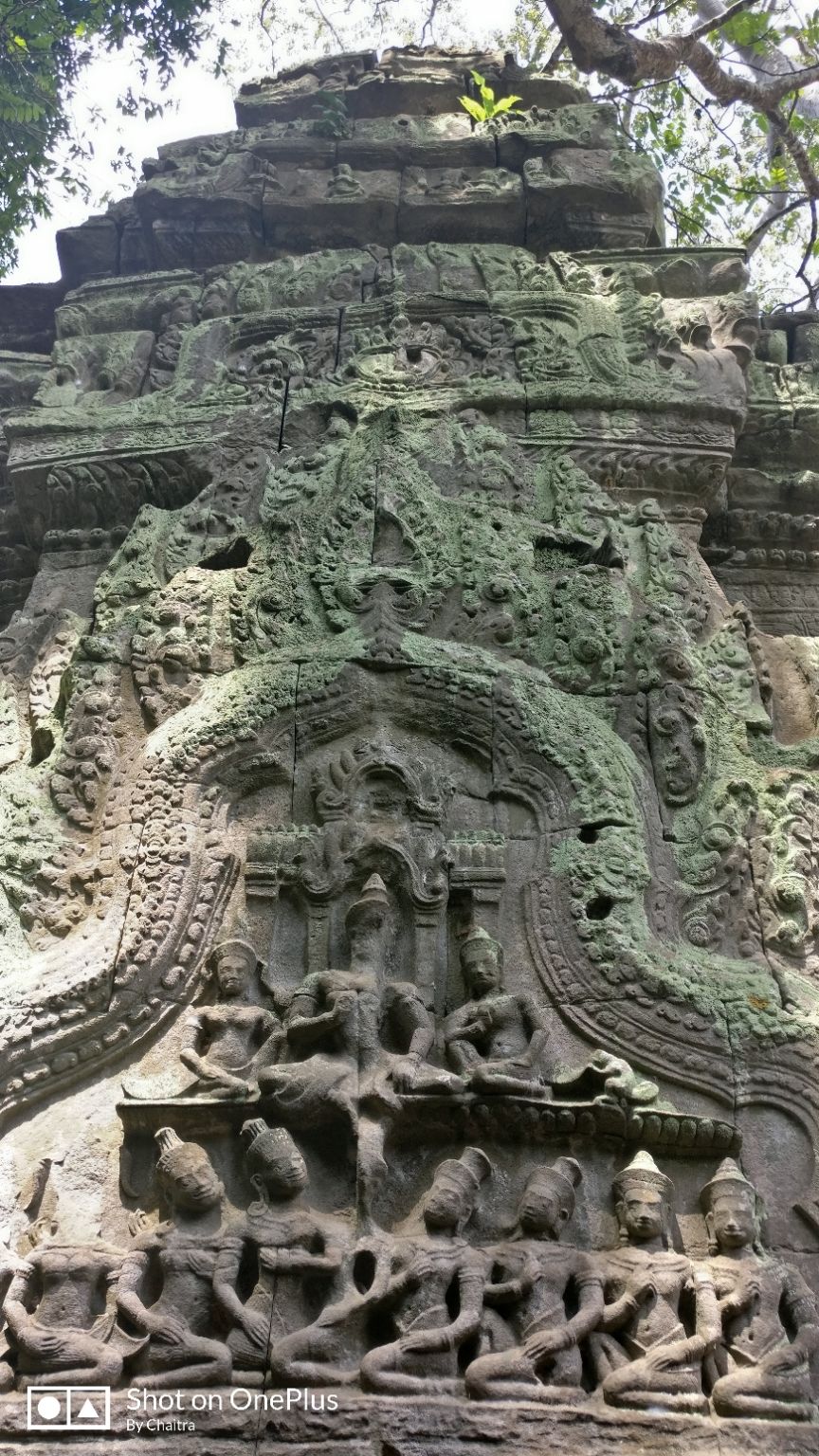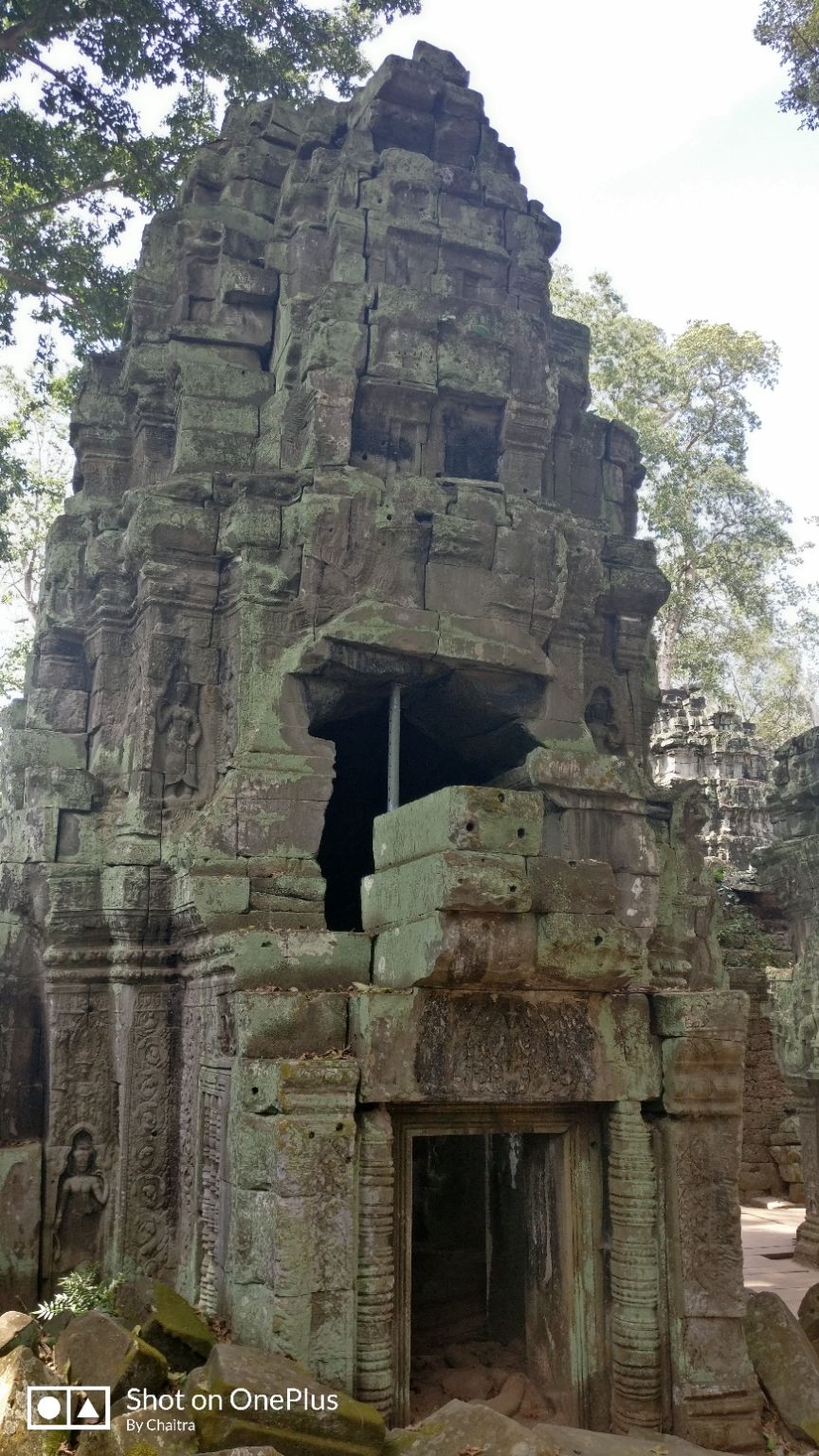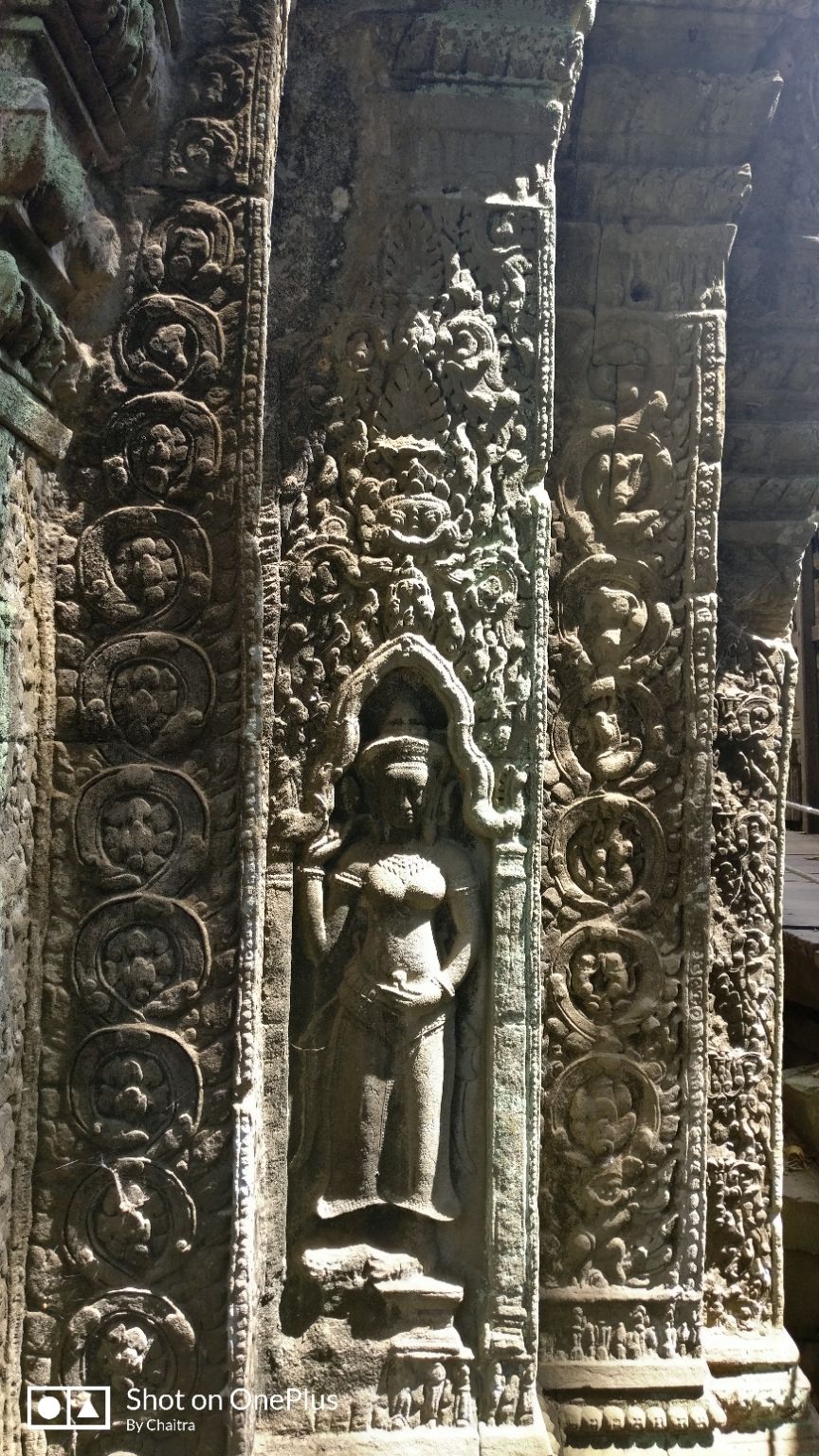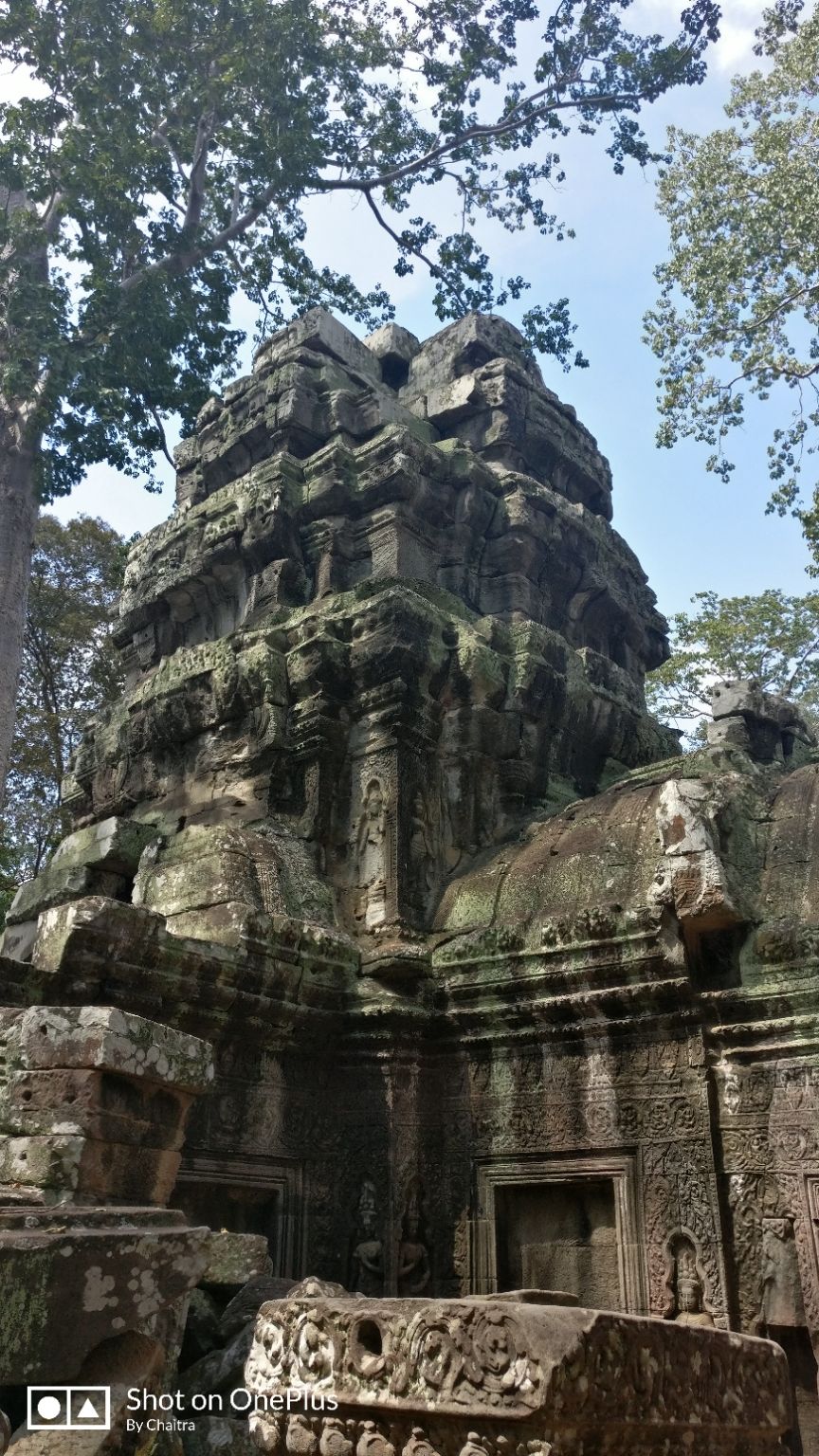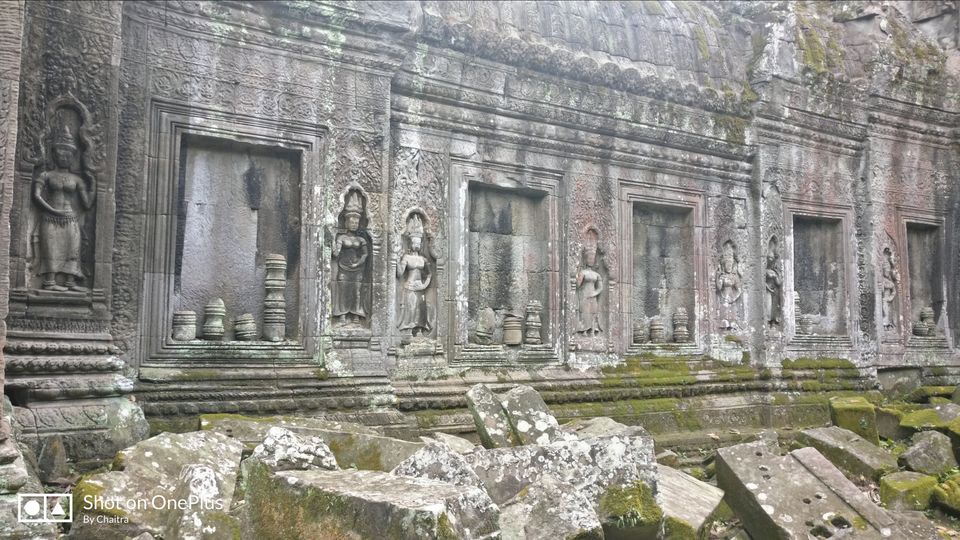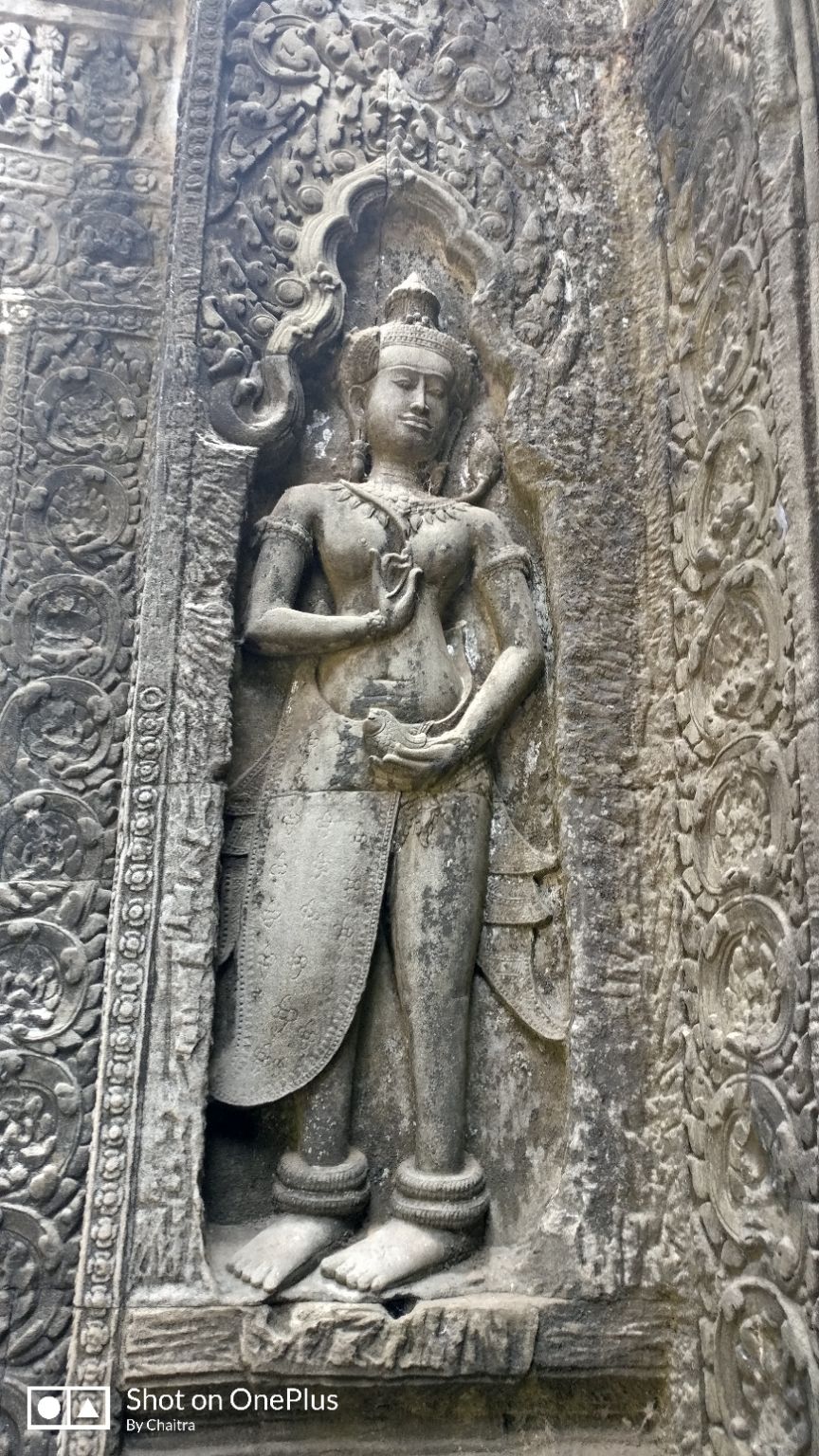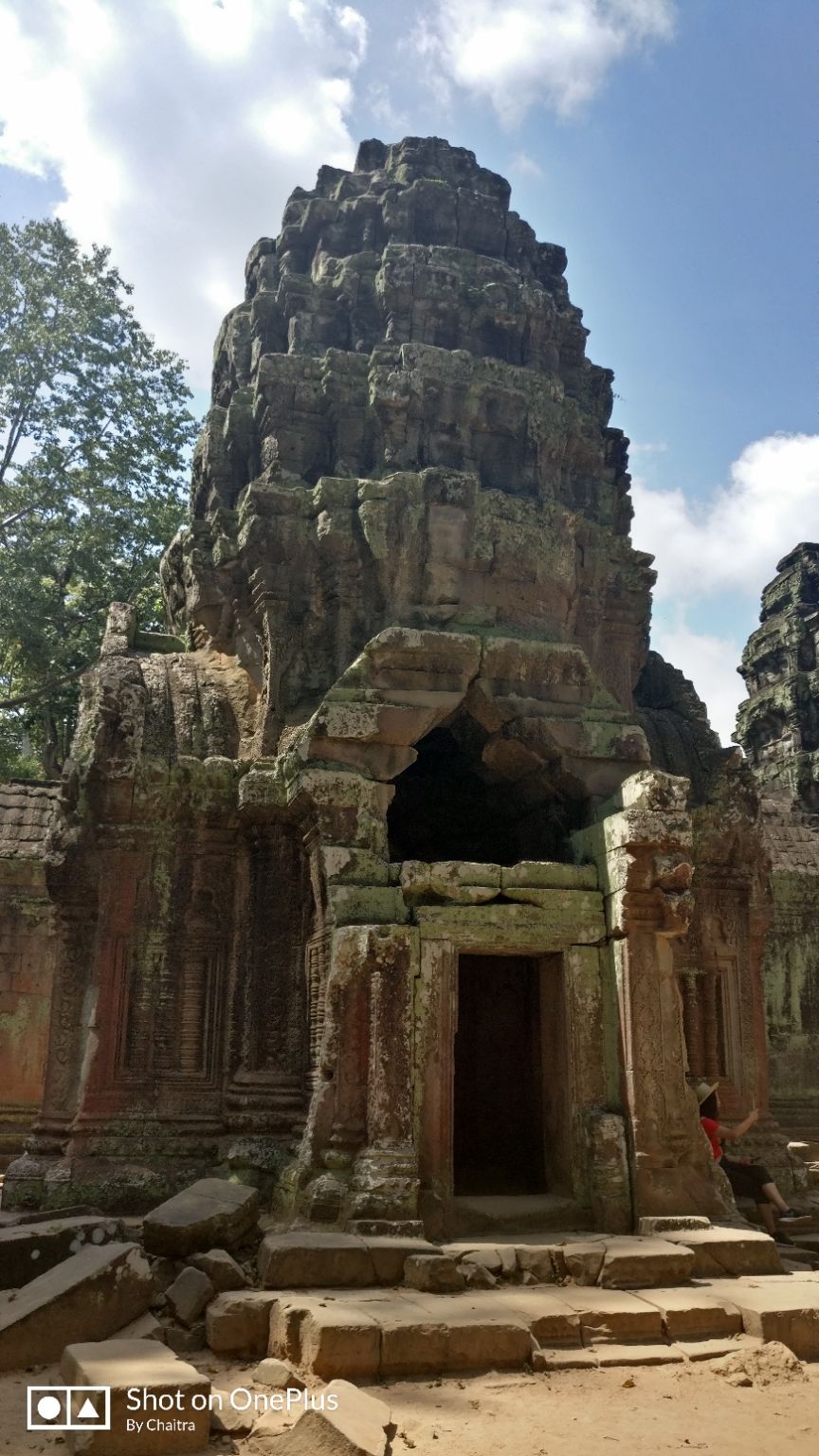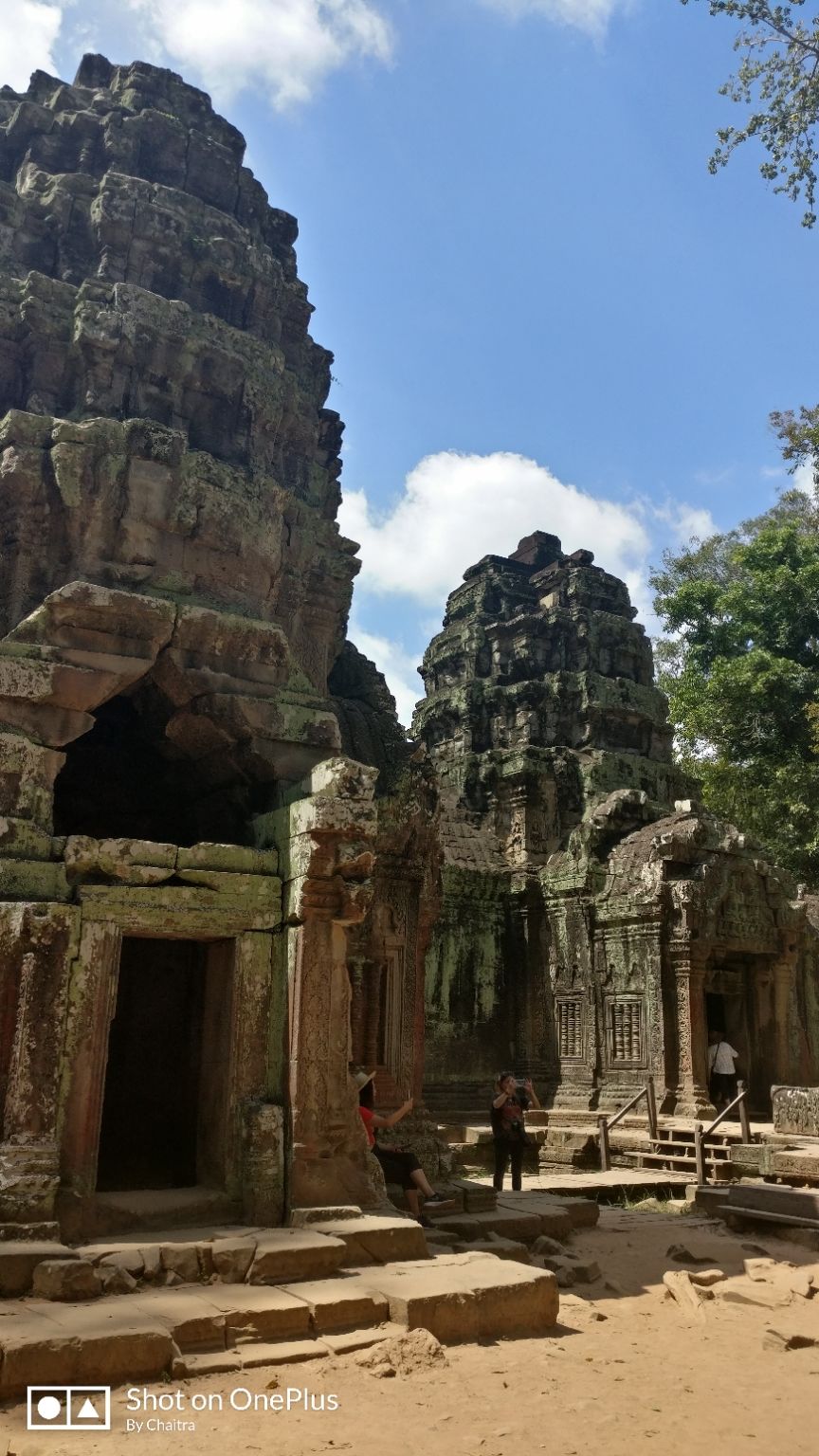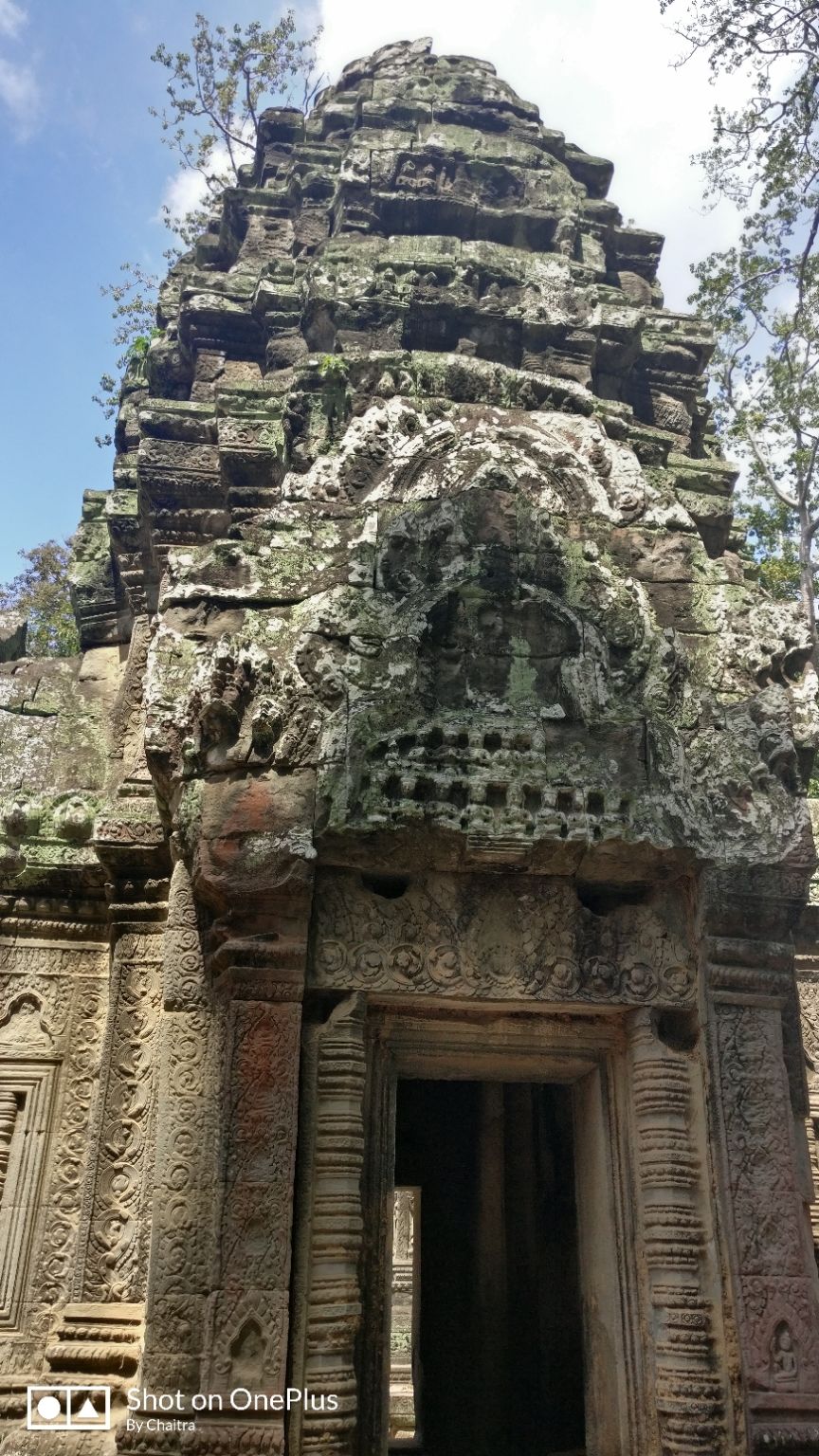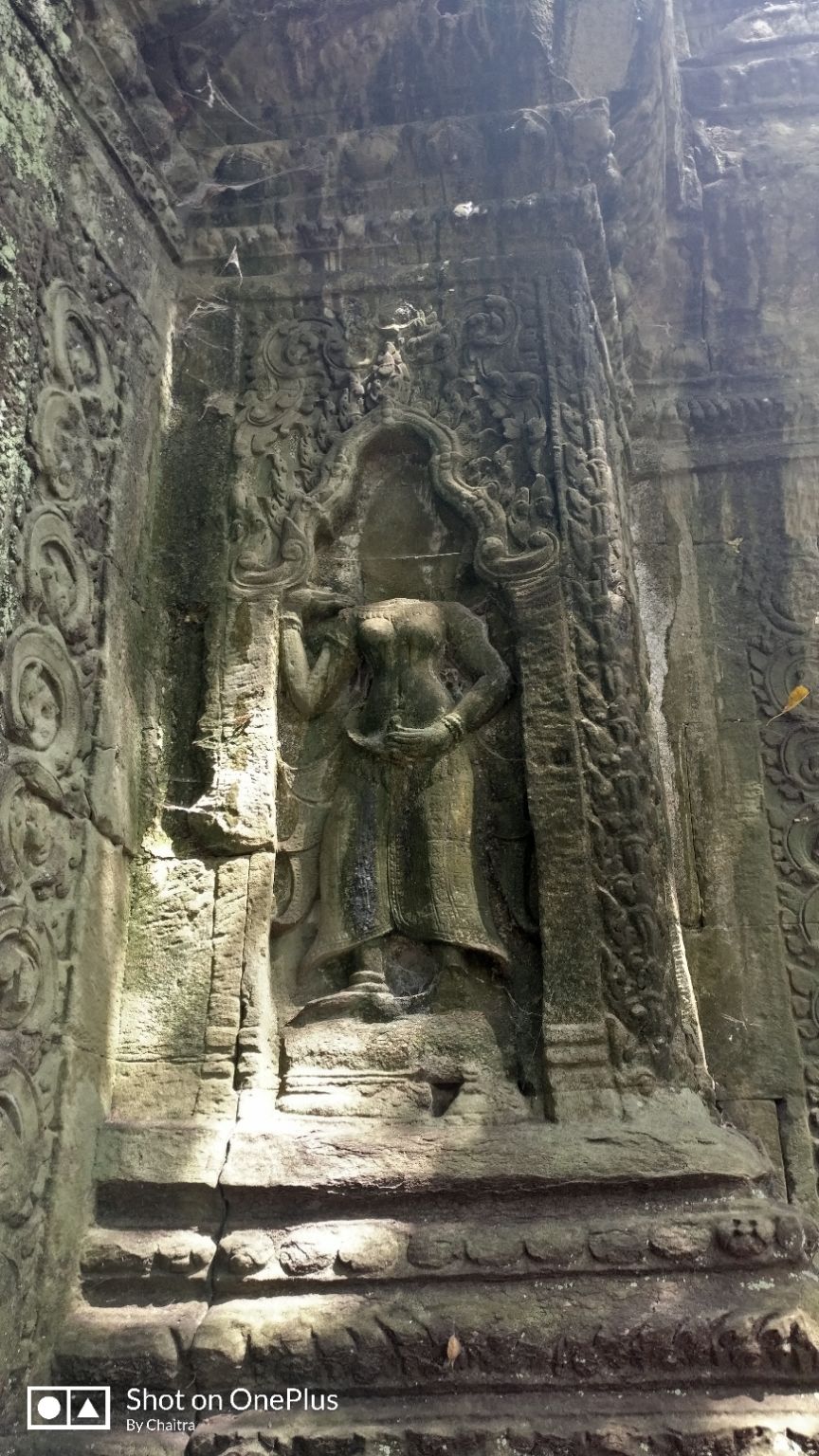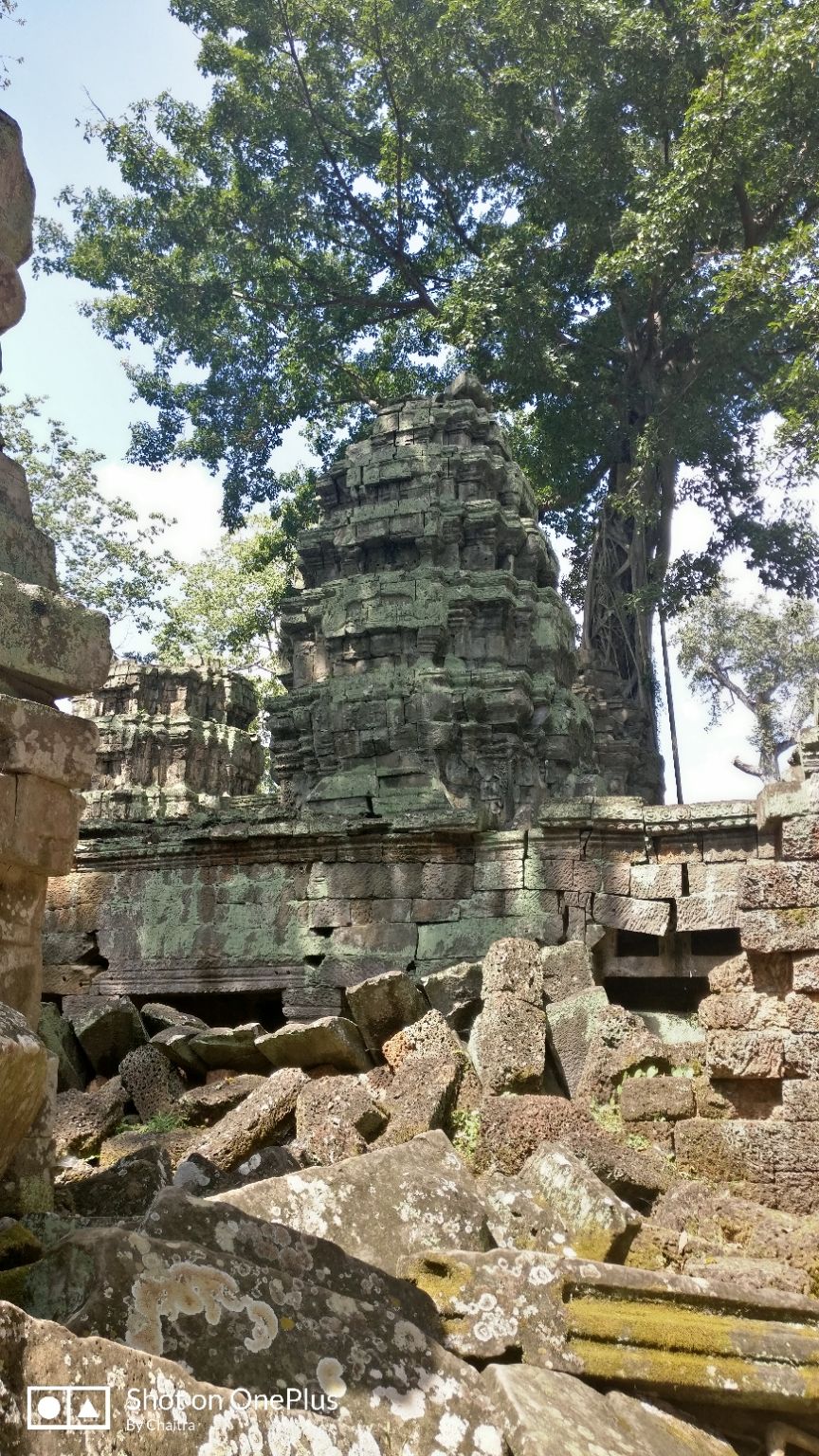 There is no real ending for the traveler. It's just the place where we stopped our story; and we were back to India with splendid pictures videos and off course worthy memories to cherish life long.