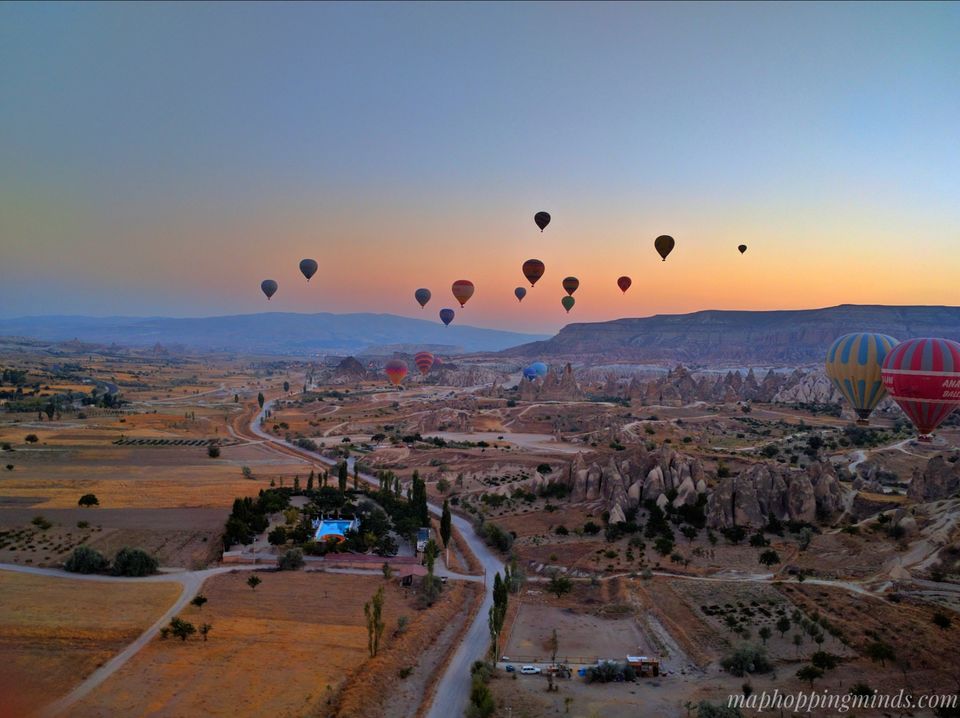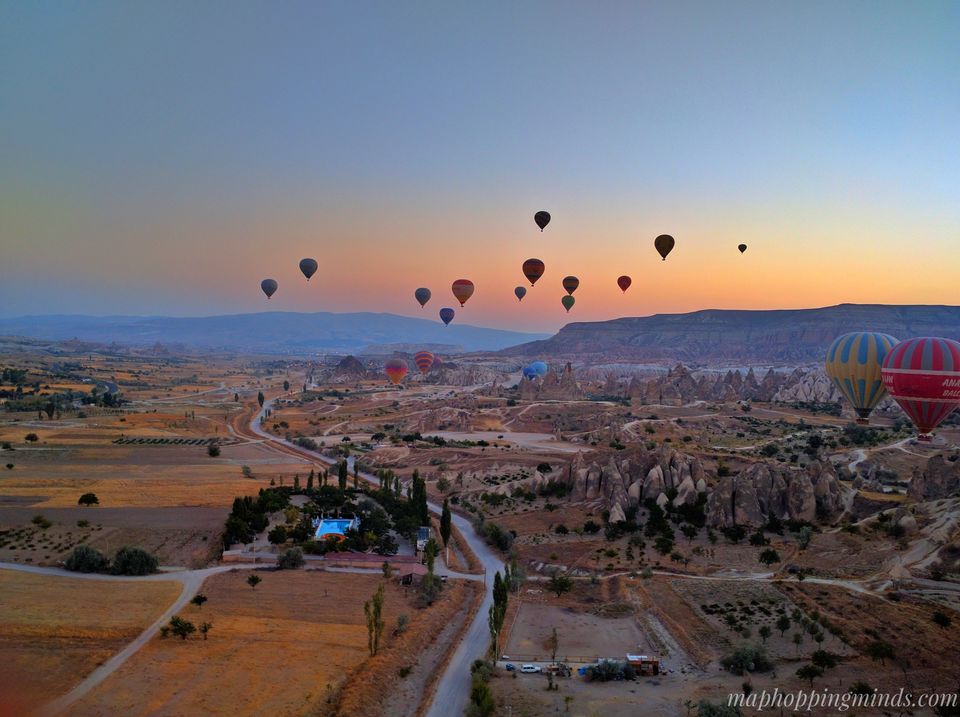 A sense of blissfulness hovers in your mind when you strike things off your to-do-list… Hot Air Balloon Ride being one of them for us.
The main reason for us to visit Cappadocia was to experience the Hot Air Balloon Ride. And why not, going high-up in the air with magnificent backdrop literally takes one's breath away.
Though we both were keen for the ride the next morning, Rasu was altogether more excited as that was the only skyline escapade that she could do being afraid of other high-adrenaline adventure sports like paragliding, skydiving, etc.
The day:
Sleeping for just three hours and waking up early at 3:30 AM was never so exciting. A mere thought of experiencing our first hot air balloon ride lifted our spirits up. We were picked-up by the company shuttle at 04:35 AM from our hotel, and in short time we arrived at the take-off area. We were welcomed with a small breakfast comprising tea, coffee, cookies and cakes.
Eagerly waiting to witness the surreal, we saw our balloon (un-inflated state) arriving in a truck. The crew started preparing the ride. Wow… Awesome… we yelled, witnessing the flames filling up the balloon with hot air. It was an enthralling process to see the balloon growing big.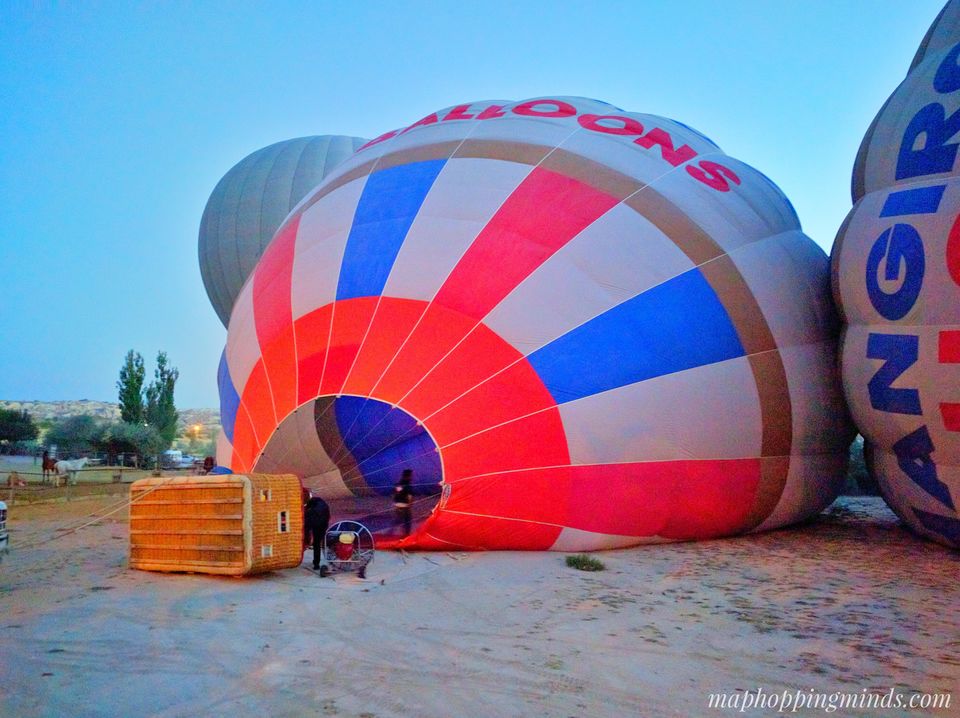 Moments later, the fully inflated balloon was standing tall, ready to take us up in the sky. We were then assisted into the basket followed by quick safety guidance from our pilot, Dennis.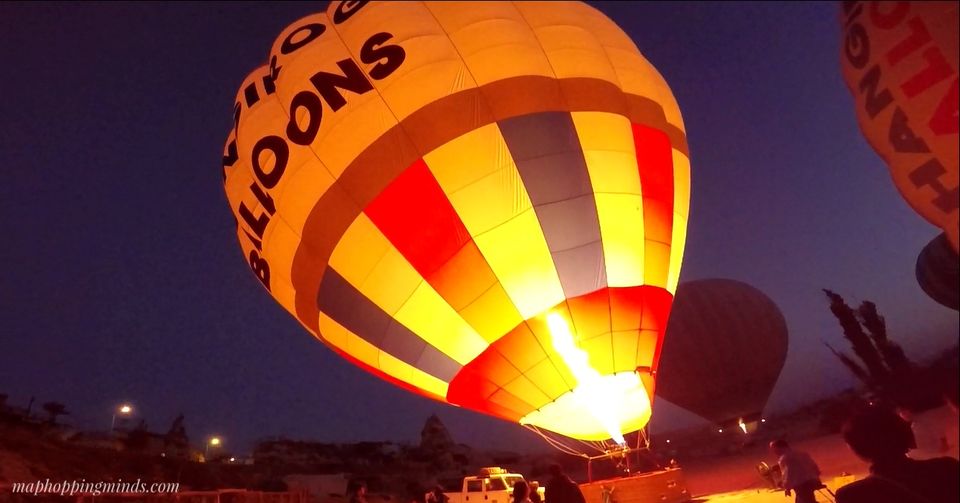 Safety is the foremost thing for these balloons, and none of the balloon company can start their flights unless the Aviation Department gives them a signal to go ahead. So, if you are in Cappodocia for just one morning, you need to be lucky to get a good weather for flying; and we happened to be amongst those.
Our balloon took-off… Wohooo!! And within few minutes we were floating onto a new space altogether, away from where we came. It was a treat to watch hundreds of balloons of various beautiful colors rising up in the sky. It felt like the joy of the region was blooming over the blue. Awestruck by the view, we pulled out our cameras in a jiffy and started clicking selfies and pictures.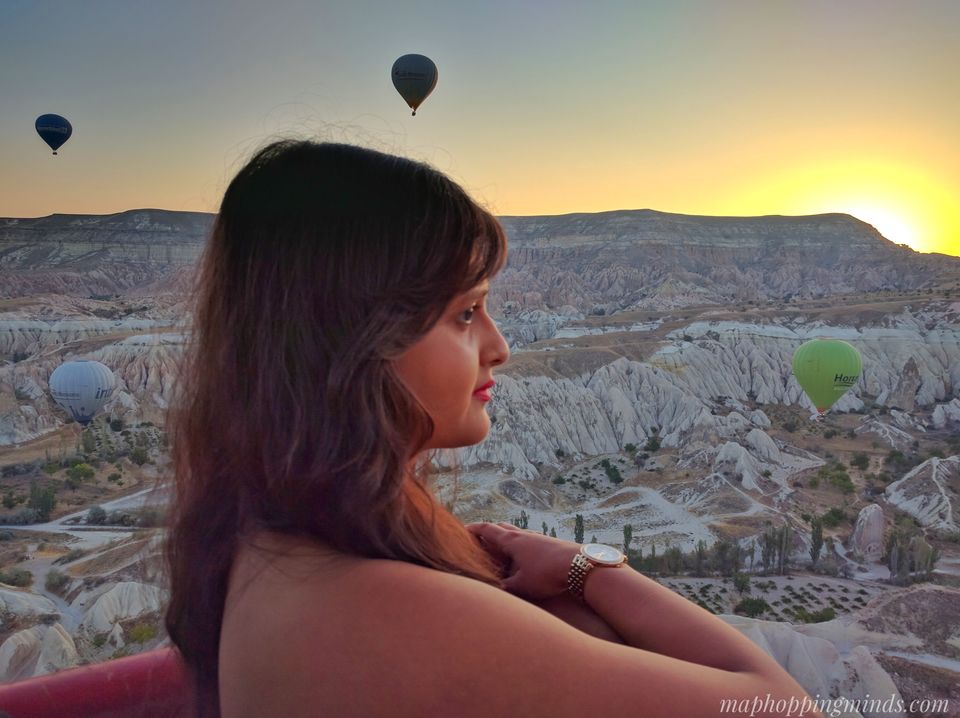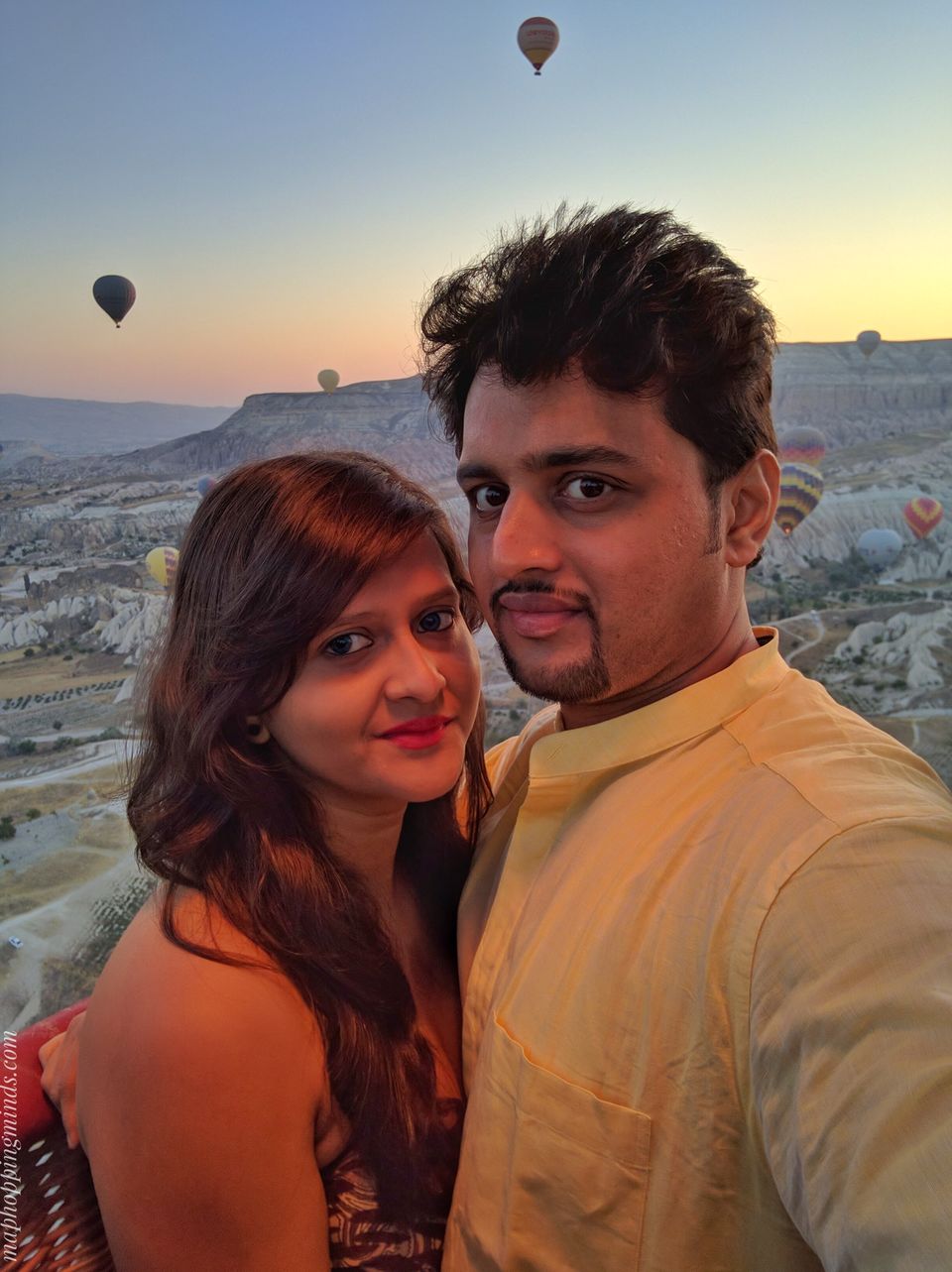 We were flying over the rippled valleys of Cappadocia which we planned to visit later on the same day. We saw Rose valley, Pigeon valley, Open Air Goreme Museum, etc.; all from a bird's eye view. A pilot can only guide the balloon vertically, as the horizontal path is clearly directed by the wind around. Dennis was professional and fluent in English and was properly describing about the sights we were flying over. He had years of experience in flying the balloon and we felt absolutely safe while flying with him.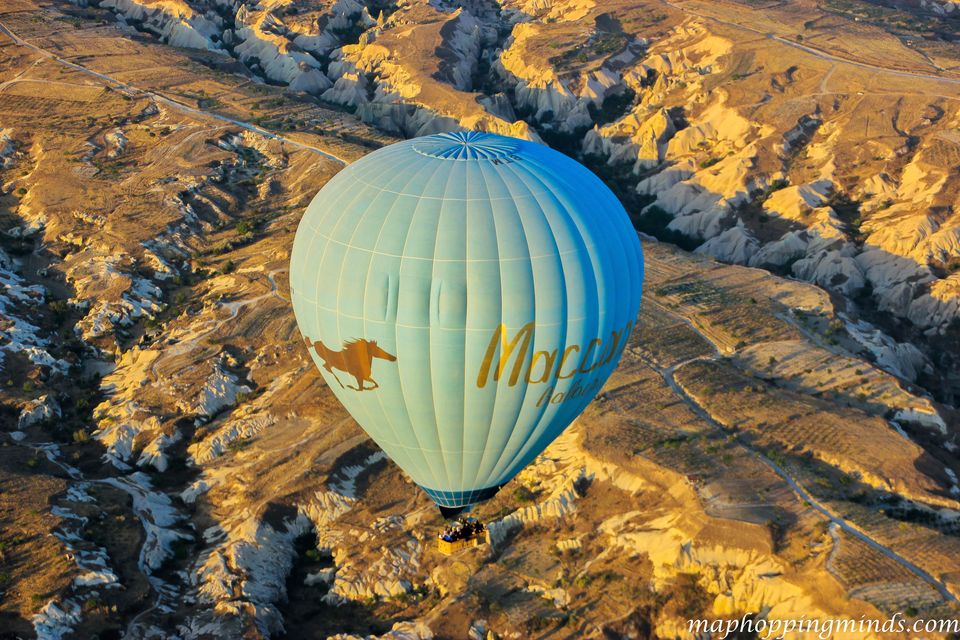 With the clock ticking we went higher and higher, and with every ascend the place looked more splendid, and all our smiles grew bigger and bigger. Over the mountain the sun was rising, illuminating the beauty of the region. Minutes later while scaling upwards we stopped and Dennis informed us that we were at the maximum height any balloon can go… 3,500 feet above the ground… Surreal!!!! First time ever in our life, we had seen a sunrise from this height. Looking down… we had butterflies in our stomach; nevertheless the view was spectacular.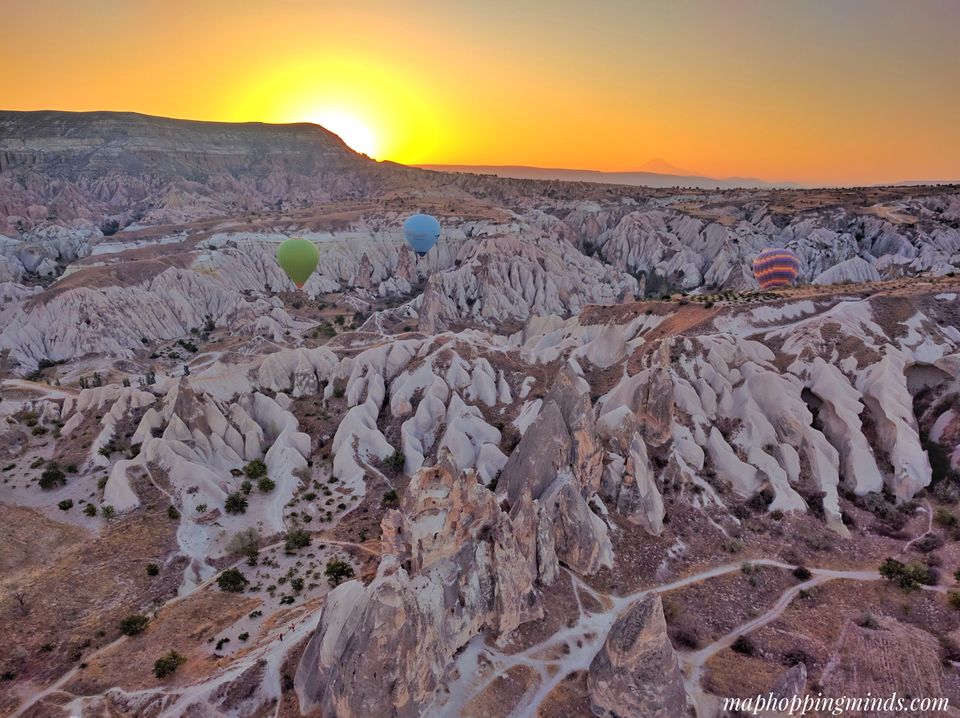 On our course downwards, Dennis took us really close to the valleys like almost touching distance. While landing, he wasn't getting the right wind flow which took us a little longer. Later, the crew member guided the flight with the ropes, and Dennis made a smooth and perfect landing directly onto the truck.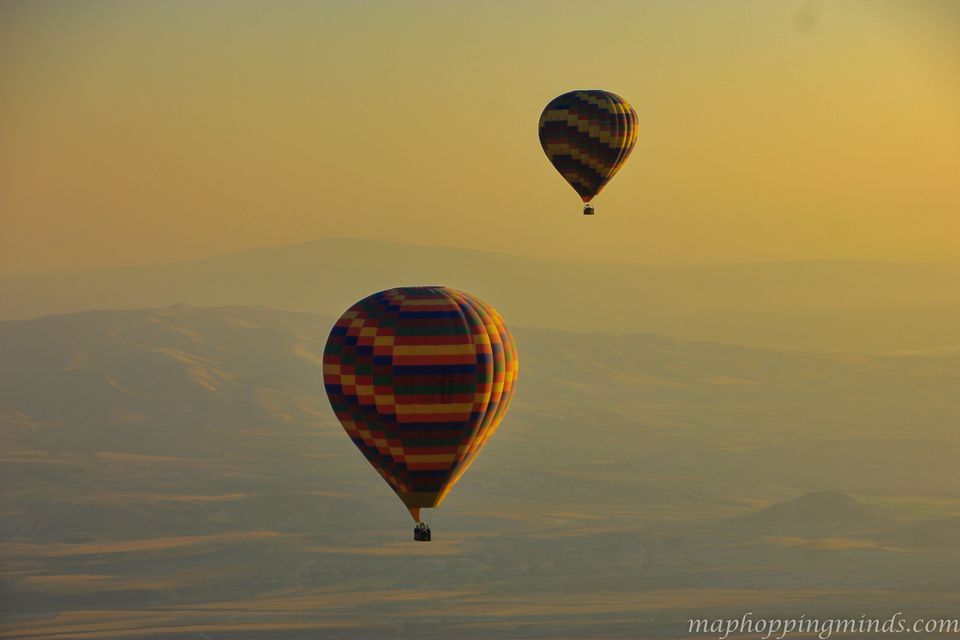 Our balloon journey ended, but the celebration didn't. When the crew was pushing the air out of the balloon by stepping on it, we rushed to join them and were more than happy to help. Champagne was served and we all raised a toast to this wonderful ride. Dennis then awarded medals to all the participants for completing the journey.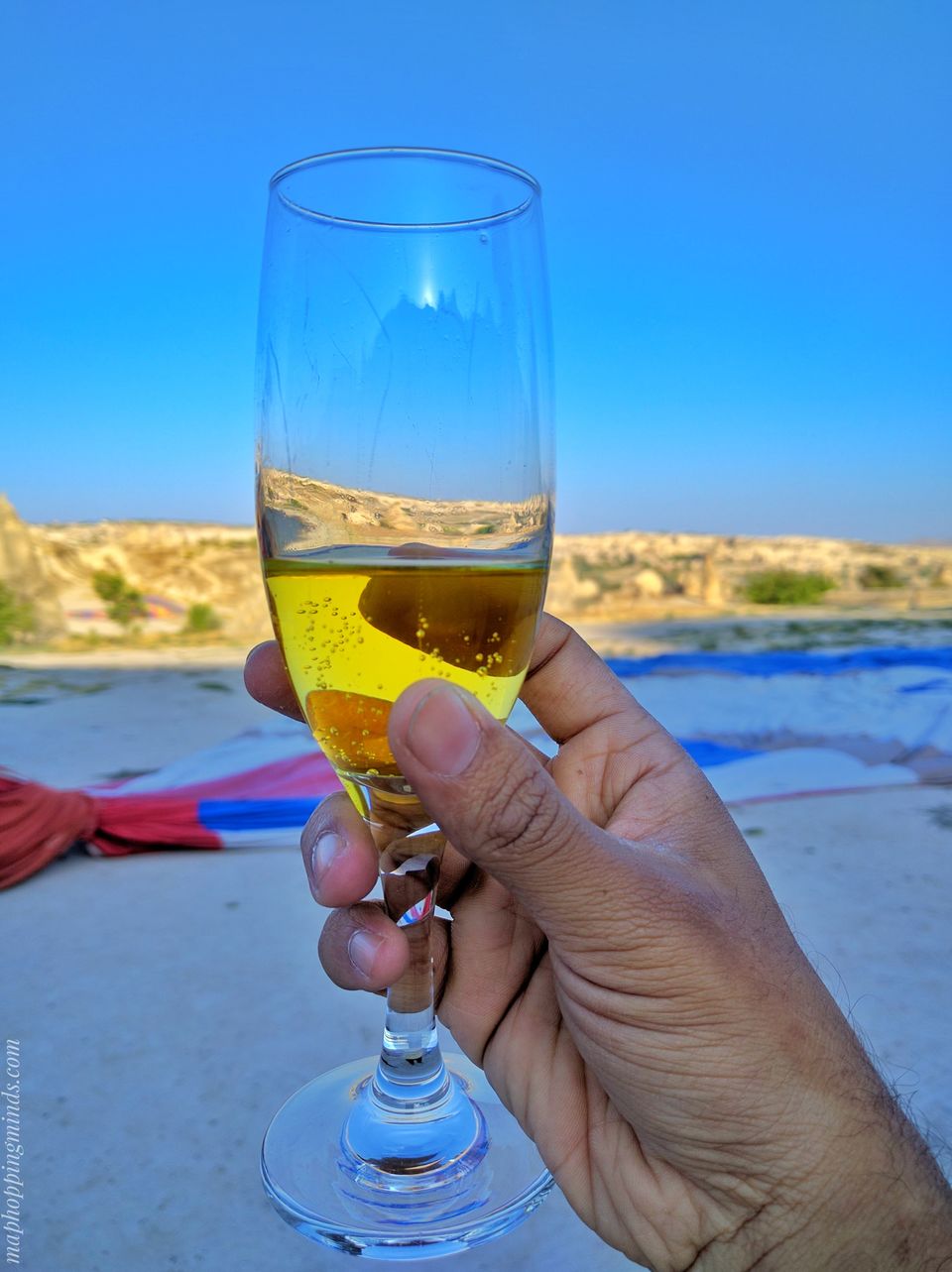 The crew also offered us our souvenir photos at a marginal cost. The entire experience was captivating and we took home not just lots of pictures but memories forever.
It's not just any "Been here, done that" activity but a dream come true.
About Cihangiroglu Balloon Company:
Before meeting our driver-cum-guide, Yasar, in Cappadocia, we had earlier decided to book one of the top two companies for our flight. But as he suggested and promised that we would have the best experience, we booked our flight with Cihangiroglu.
The basket we got was small one for 12 people and we were 10, but were comfortable enough to enjoy as well as to take photos. Initially, we were little worried as how would the ride be, as it was not amongst the top-rated companies (as per Tripadvisor). But, as we went higher, we found that almost all the balloons were flying over similar areas even though the take-off areas differed. Even the heights that these balloons were flying were more or less the same. At the end, we could say that we had an amazing experience while saving some money on hand.
Few tips for balloon ride:
1. There's really no need to splurge on higher-priced Balloon Companies. Also, the prices on the companies' websites are much higher than you'll get it directly. So, book your rides on arrival and directly at their office. Do bargain for better rate; you can get it for as low as 70 EUR depending upon season. There are numerous balloon companies in the Goreme market area.
2. Do not worry about the brand name of the Balloon Company, as all of them are approved by Aviation Department with regards to the safety standards. They have professional pilots, and usually they fly in the same area.
3. As you start very early in the morning, the climate could be cold even in summers, so carry a jacket or stole.
4. Preferably, book a basket where only maximum 2 peoples are accommodated in one cabin.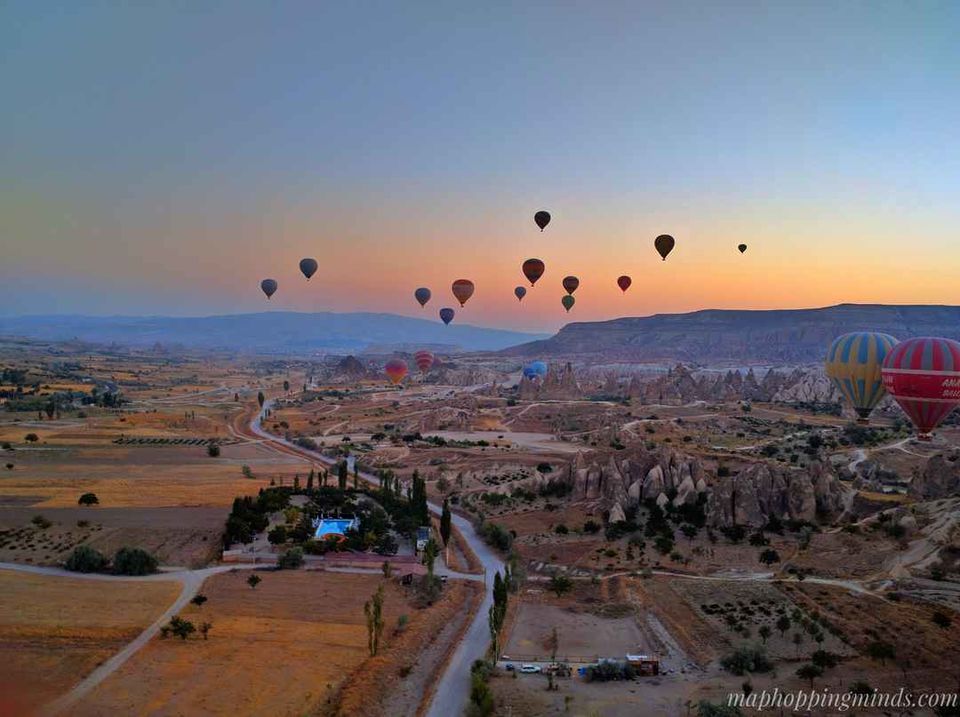 This blog was originally published on Map Hopping Minds.
Frequent Searches Leading To This Page:-
things to do in turkey for couples, adventurous things to do in turkey, turkey family adventure holidays, 5 offbeat things to do in turkey, things to do in turkey for couples, food not to miss in turkey, what is famous in turkey, places to visit in turkey istanbul, top turkey tour packages with price