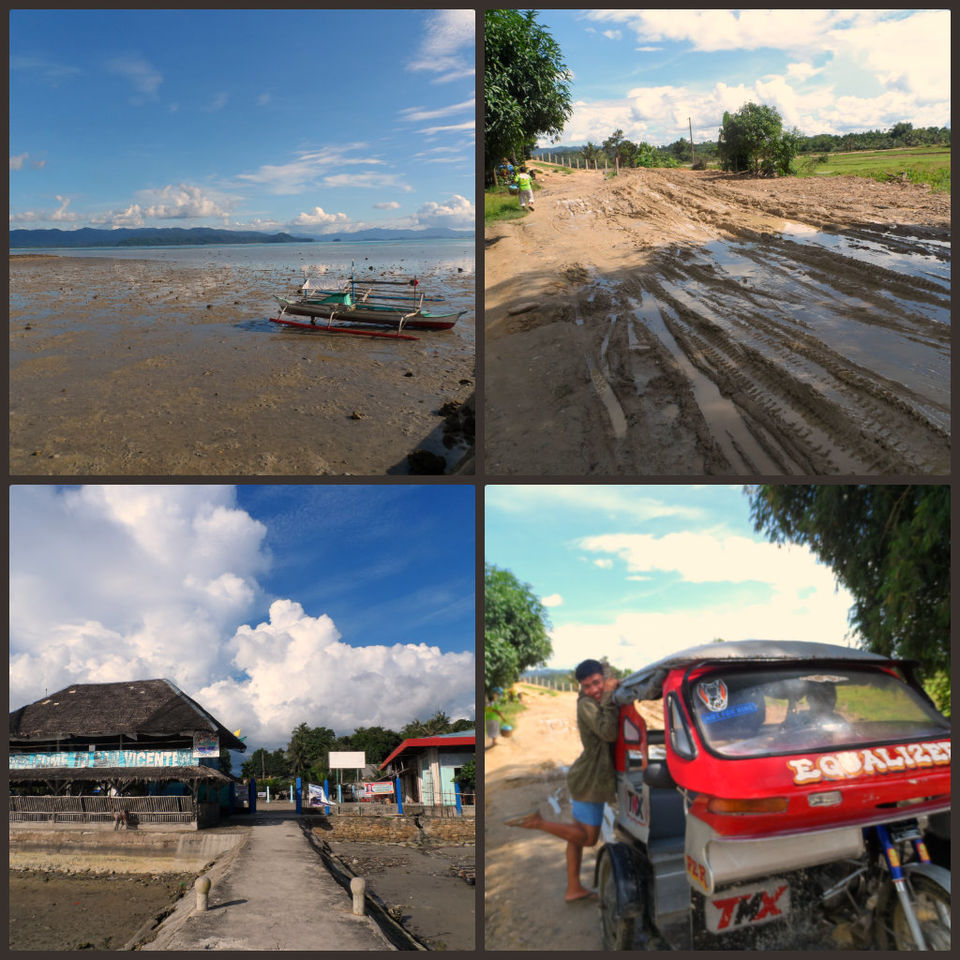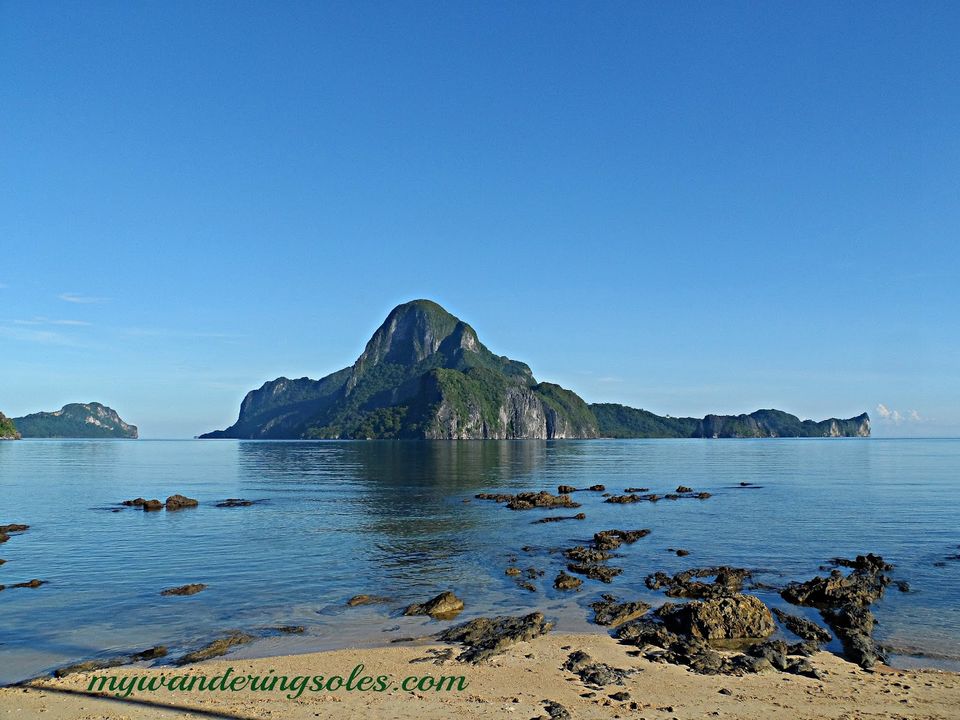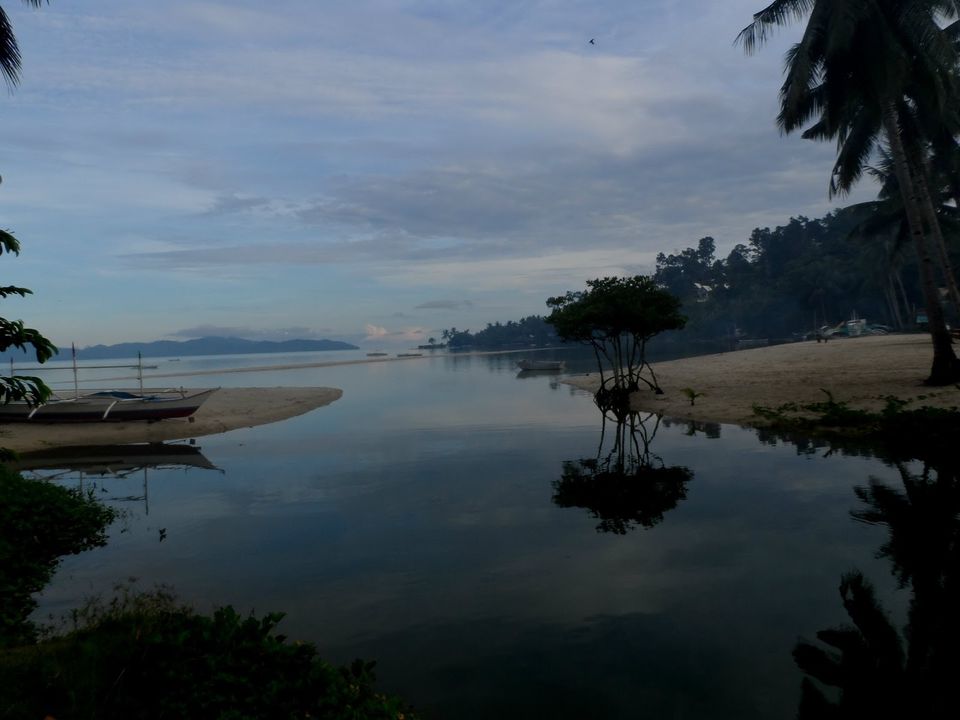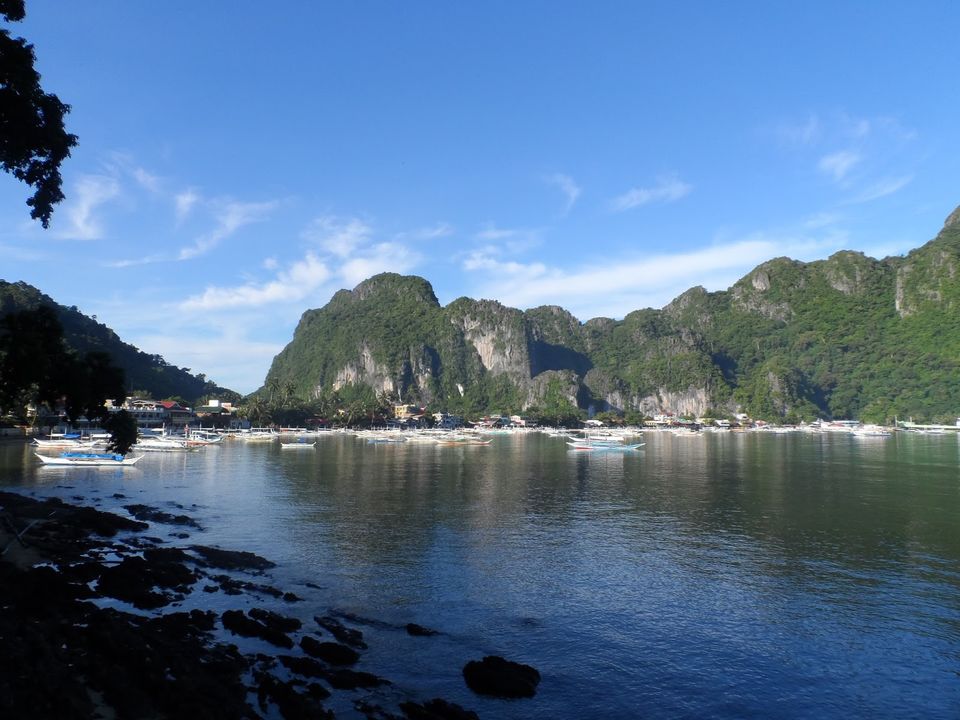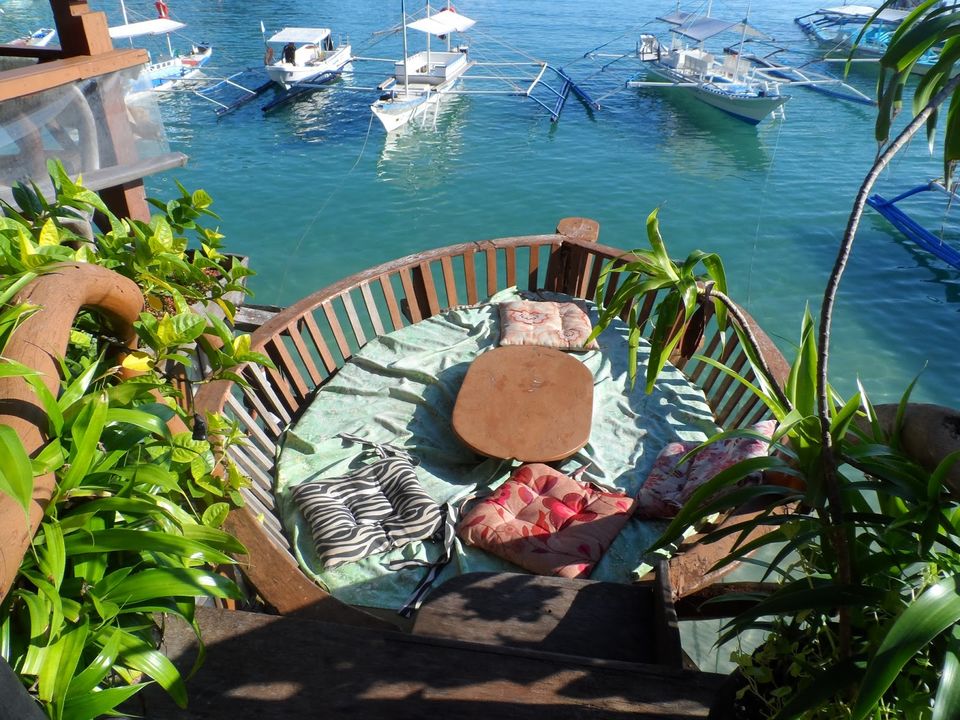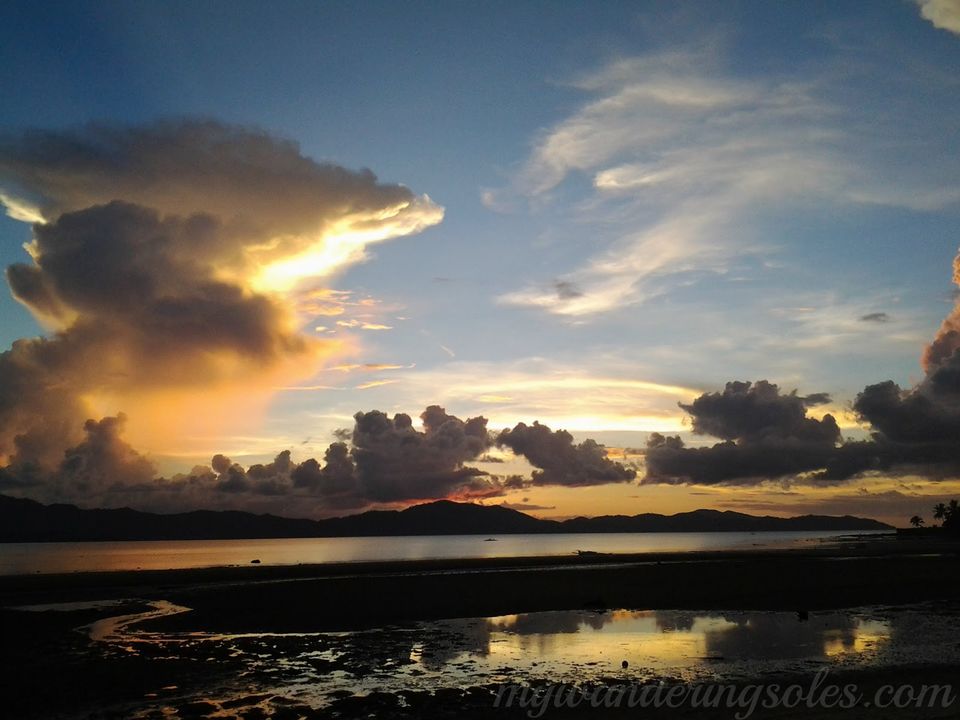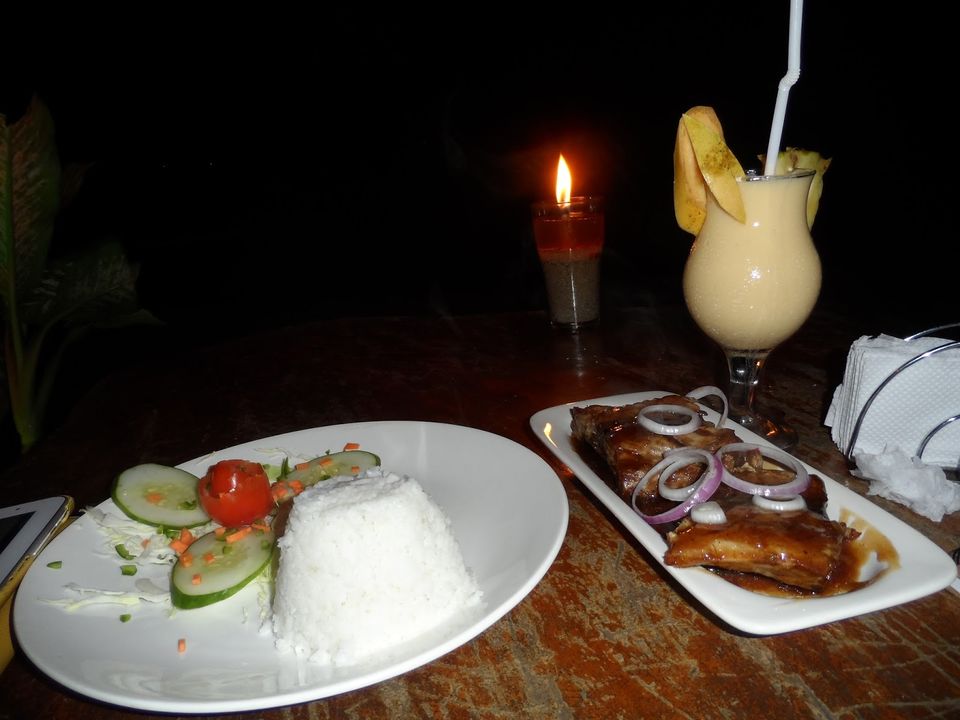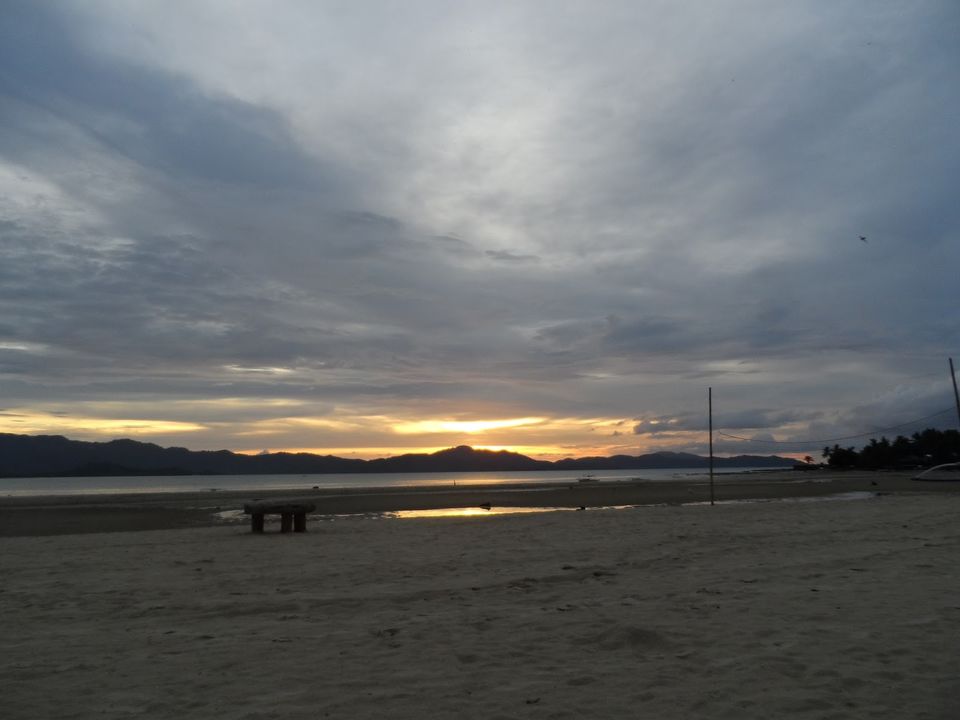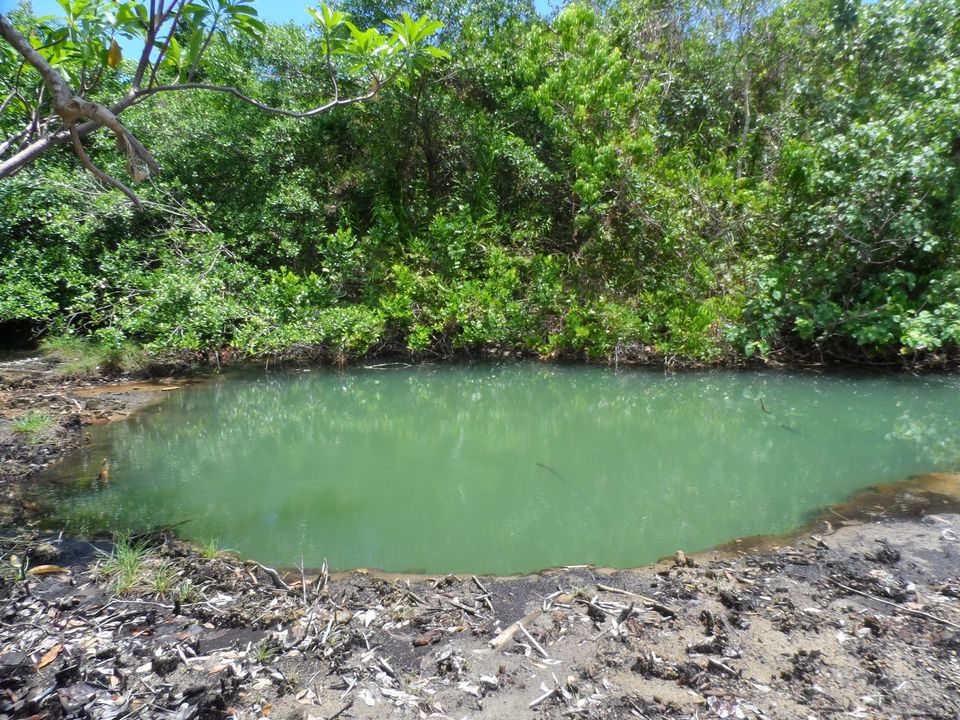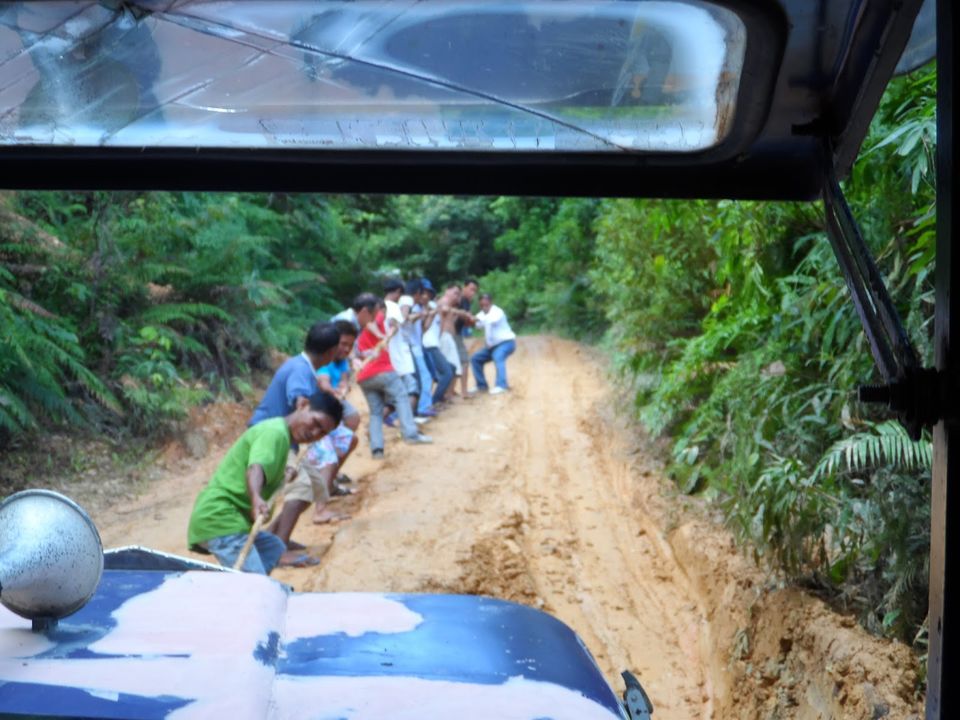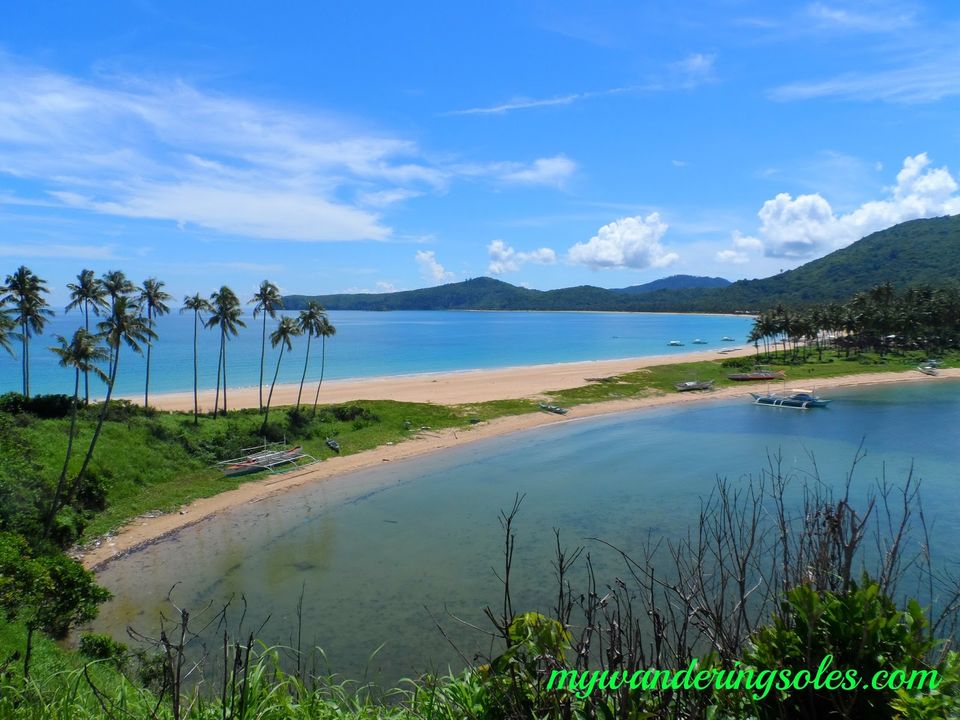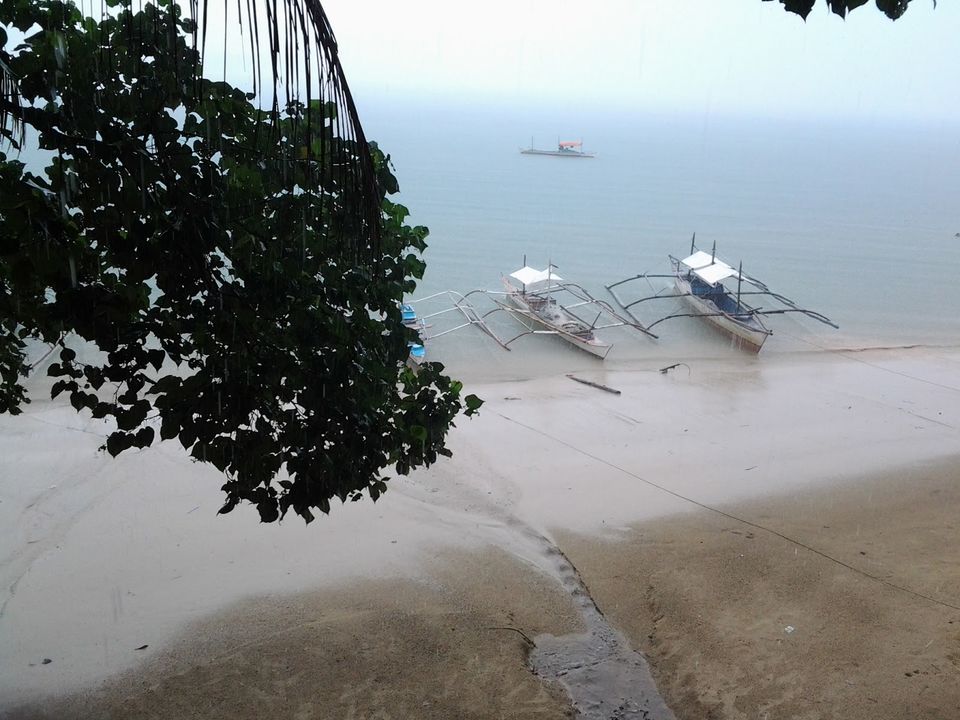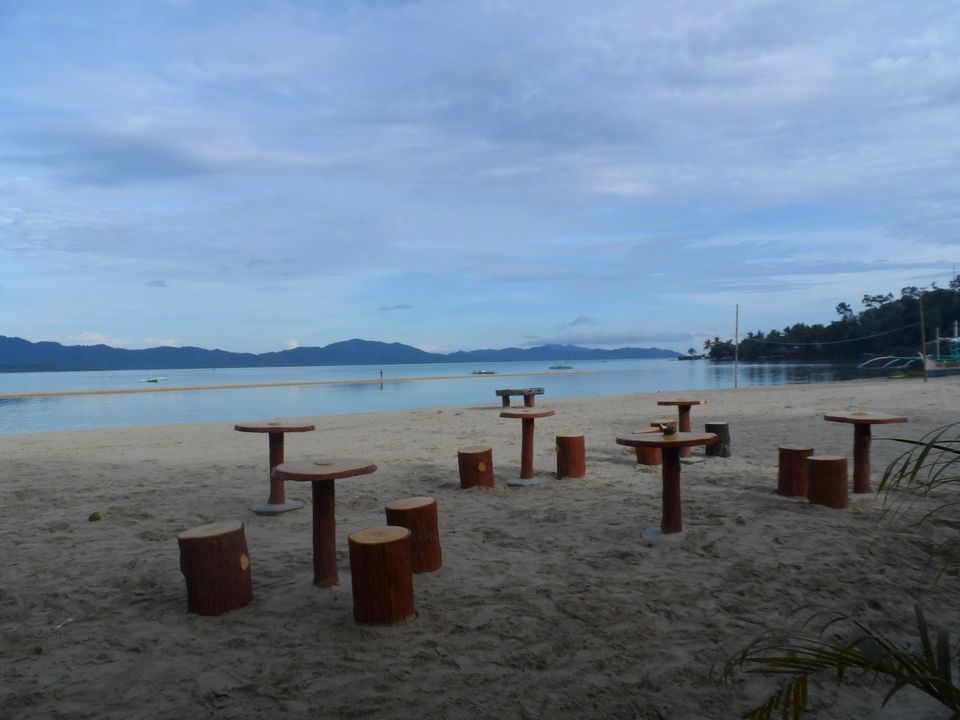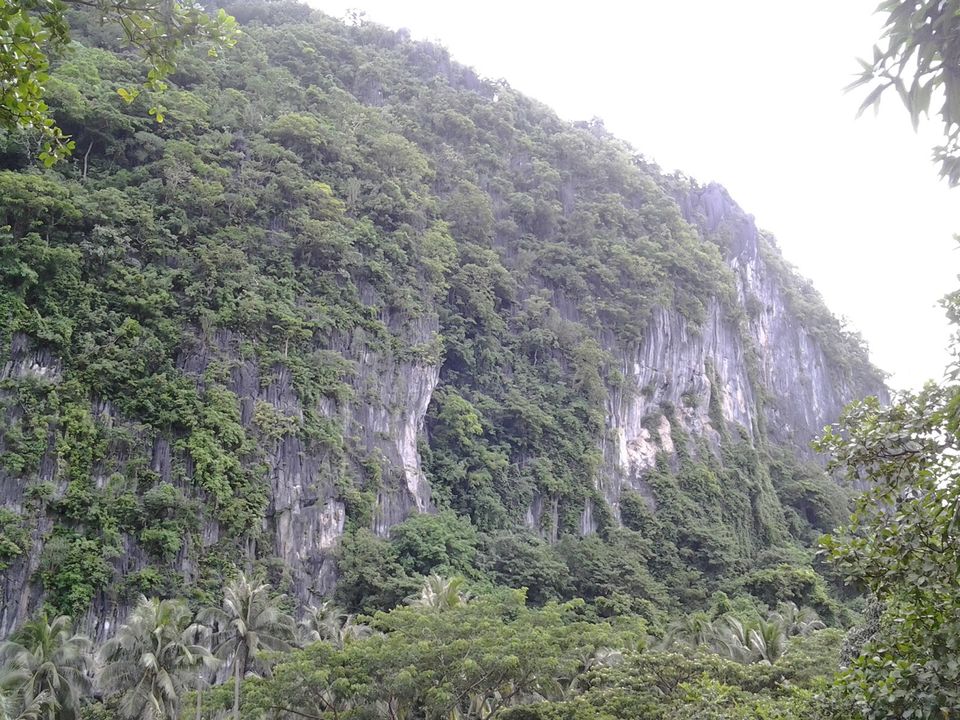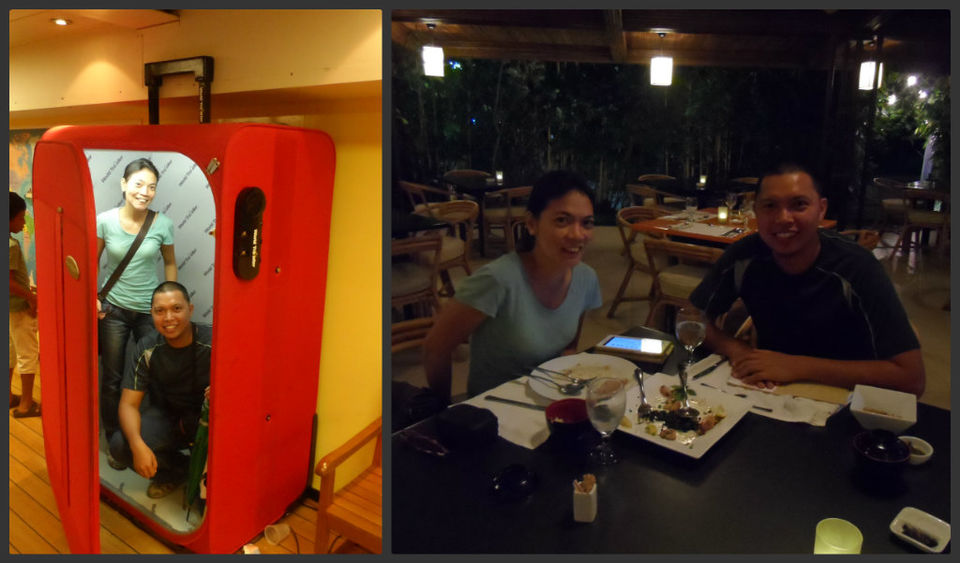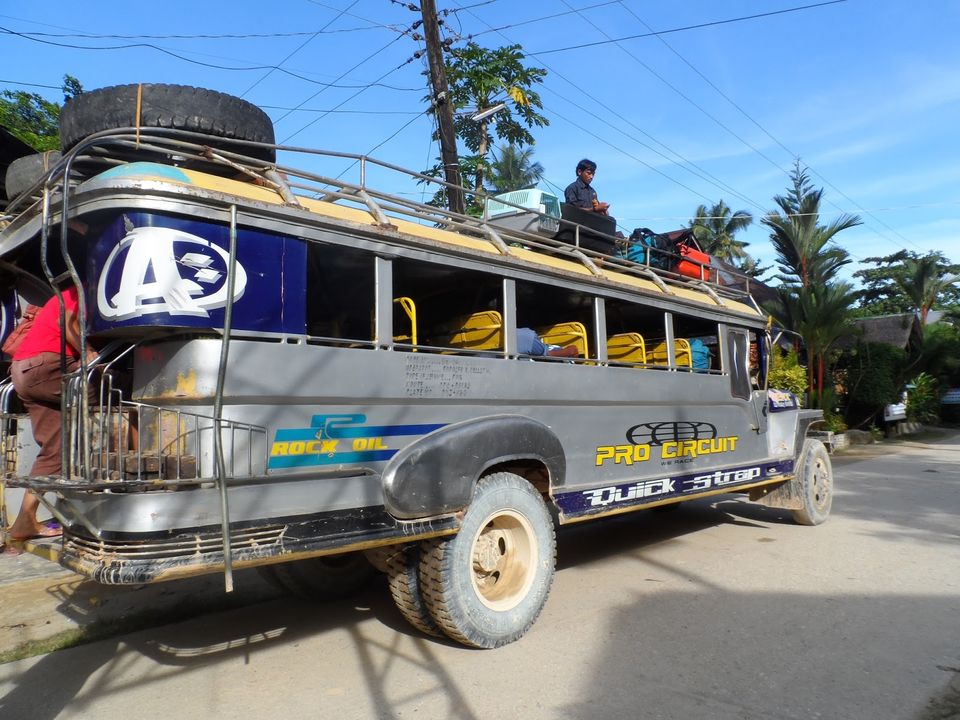 It was in 2010 when I first set foot solo in this side of  Palawan, I was able to visit Puerto Princesa and El Nido then. This time, I was too lazy to make itinerary but I was able to pull it off and had a grand time in Port Barton and San Vicente and was able to return to Puerto Princesa and El Nido without busting my allotted budget.
Day 1: Saturday, July 6
Puerto Princesa City : Something old something new
Just as we're about to deplane I received an sms from Josiah asking my whereabouts, a fellow travel blogger who is currently relocated in Roxas, Palawan. Met Josiah around 2:00pm after I settled and rested a bit at Dallas Inn, my home in Puerto Princesa. He treated me a bowl of Chaolong (Viet poh) for lunch at Bona's. With no itinerary and had been to the touristy spots around the city, Josiah suggested we check out MV Logos the floating library where he bought a book. We then roam on foot around the boulevard and into the city proper and ended up at Heavenly Desserts by Dorothy, I so love cheesecakes but their Ube cheesecake was so so. We had dinner at La Terrasse a posh restaurant near the airport,  surprisingly it has a cozy ambiance in spite its location right in bustling main city street, the food was great and all organic. It was late when we went back to the city proper so he ended up staying for the night at Dallas Inn. 

Day 2: Sunday, July 7
Port Barton : Love at first sight
So I decided to travel to Port Barton first, we left for San Jose bus terminal around eight as the jeepney/bus for Port Barton is schedule to leave at nine. Good thing we arrived early for we were able to secure seats. The jeepney finally left around ten in the morning, Josiah shared the ride with me until the junction to Port Barton where he'll wait for a bus to Roxas. It was around two in the afternoon when the jeepney halted at the tourist assistant center of Port Barton, its last stop. I was at the tourism office steps  just in time when the rain poured so hard and I was stuck for about 15 minutes. Josiah recommended a resort but forgot its name all he remembered was its location, the second to the last resort on your right facing the ocean from the tourist center with sunset something on its name..haha The tourism officer was kind enough to map out the location worried about the rain, she suggested I should stay with other resorts near the center but I insisted on checking El Dorado first since it's on the quieter side of town.
Day 3: Monday, July 8
Port Barton & San Vicente : Of muddy ride and a quack doctor
Woke up early and decided to jog at the beach, I was able to cover the powdery stretch of town's beach front. Received a lot of good mornings and smiles from the locals, it was a lovely morning indeed. My plan was to bum around and trek to the waterfalls but was not able to do so because Ate Lucy invited me to join her to San Vicente town while I was having my breakfast. I hastily agree because I also wanted to visit the place.We left Port Barton around 10am in a small outrigger boat that fits 4 pax owned by Ate Lucy, we arrived an hour after just as the rain poured in, had lunch at Arielle's Ate Lucy former cook who is currently studying college at San Vicente. We hired a tricycle to bring us to place called "Landing" in search for a quack doctor for Ate Lucy's skin allergies, it was one hell of a ride and we were stuck several times due to the muddy roads and only to find out the the quack doctor was no longer there and is currently residing in front of the town cemetery. We left for Port Barton around five right after an hour with the quack doctor.

Day 4: Tuesday, July 9
Roxas and El Nido : Of friends and homestays
The jeepney for Roxas left around nine in the morning an hour late that its usual schedule. I arrived at Roxas around ten and was able to board a bus bound for El Nido around noon after checking my emails and some stuff needed at work. There are a lot of buses and vans to El Nido unlike before, thus making the trip a lot shorter and more comfortable. Arrived at the El Nido bus terminal around four in the afternoon it is located outside the town center much closer to Corong Corong, hailed a tric to Ate Aurey's place near the public school, forgot to inform Ate Aurey that I'll be arriving since I got no concrete itinerary so I was not able to get a room from her but was kind enough to call and arrange a room for me at her friend's homestay located besides Hillside Resort.
Day 5: Wednesday, July 10
El Nido : Twin beaches and spring
I was supposed to have breakfast at Ate Aurey's but she was still asleep when I went to here place so I decided to roam around town and had breakfast at the Alternative Cafe instead. No more island hopping this time as I was able to cover most of the islands the last time I was in El Nido, I asked Ate Saning if I can rent a motorbike with guide to bring me to Napcan and Calitang Beach, the couple agreed to tour me around El Nido town on their motorike. We we're able to visit Napcan and Calitang Beaches then a side trip to Makinit Hot Spring.
Had dinner at Bacuit Grill one of my favorite restos in El Nido, though the food is avarage for me, but I love the ambiance and the view of Bacuit Bay. 
 
Day 6: Thursday, July 11
Puerto Princesa : Nuts over cashew nuts
Left El Nido for Puerto Princesa around ten in the morning, I was supposed to spend a night in Sabang but we arrived at the San Jose bus terminal late than I expected so I decided to just stay at Puerto Princesa for the night for my flight back to Cebu the following day. Spent the rest of the day shopping for pasalubong mostly cashew nuts and I regret not bringing home more kilos of it.
 
Day 7: Friday, July 12
2:45pm Fly back to Cebu City
 
 
In a nutshell:
El Nido town in spite its current crowded state never fails to amaze me still..