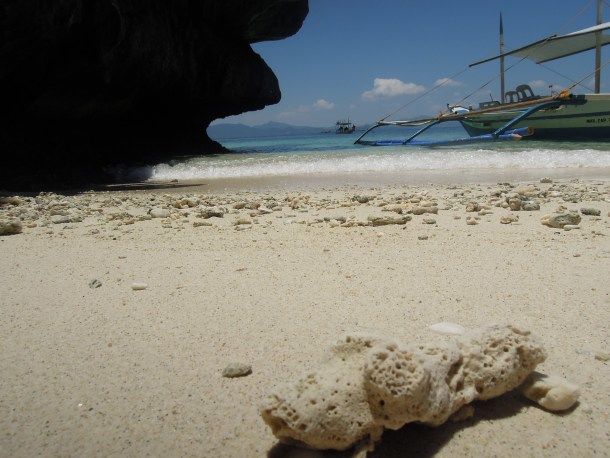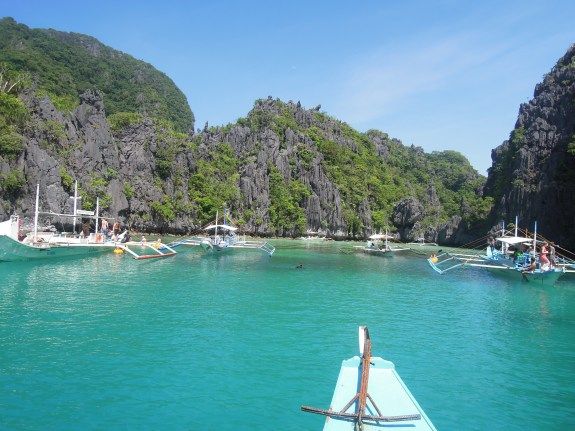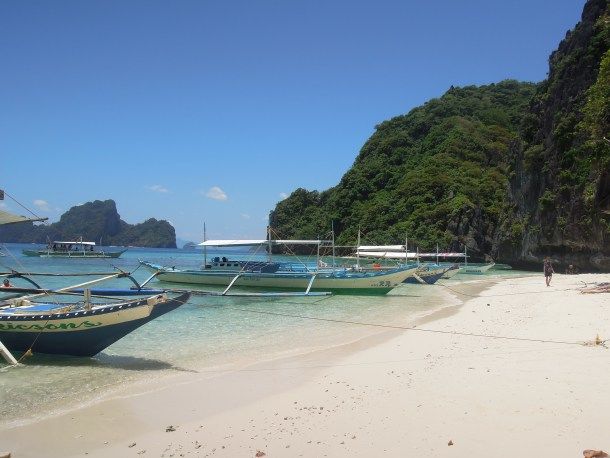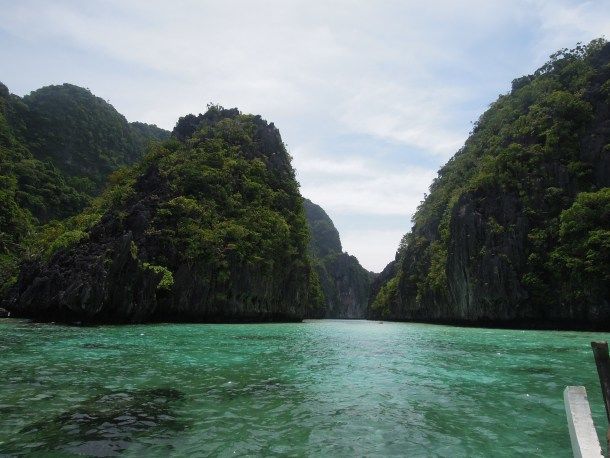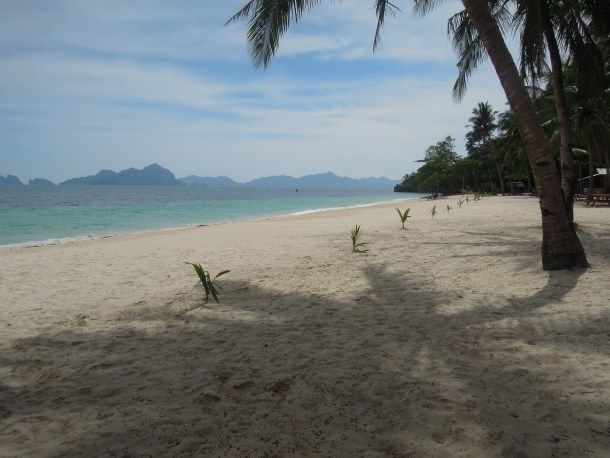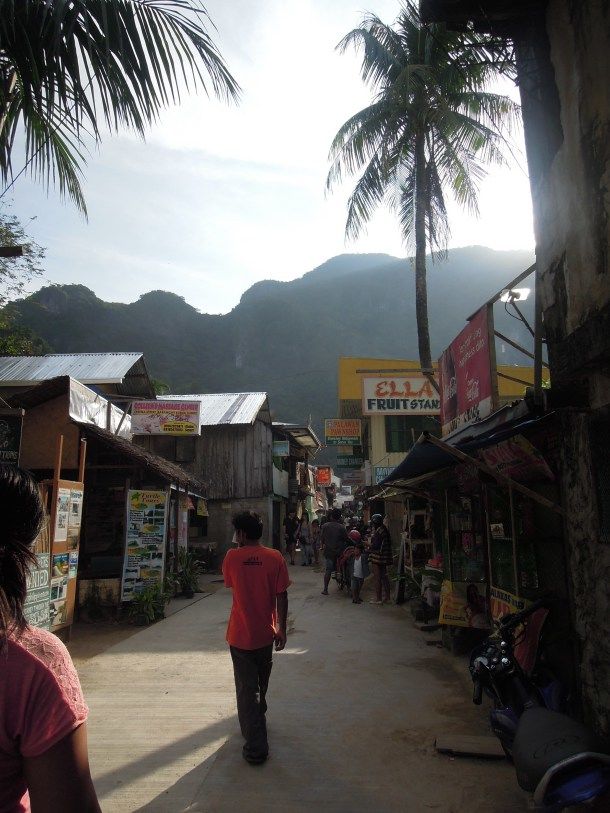 We did not expect that the booking we made last March was to fall on days that heavy rains was pouring in Central Luzon. But, the flight was already booked and plans were already made Kaiye (my travel buddy extraordinaire). We made our way to Diosdado Macapagal Airport to catch our flight to Puerto Princesa City. Our flight was via Air Asia, they fly everyday to Puerto Princesa and they offer the cheap flights. The flight to Palawan is a bit rough, but the sun welcomed upon arriving to the Puerto Princesa Airport.
As we make our way out of the airport and we we're greeted by local tricycle drivers offering services. The tricycle driver took us to the Fort Wally FX Station in Puerto Princesa City station to start our six hour journey towards El Nido. Our van driver Kuya Bobot, is a seasoned driver, we were joined by foreigners an Italian, 4 Spaniards and a Balik-bayan. The Balik-bayan gave us tips for us to enjoy our El Nido experience. The path to El Nido was a real challenge, a few hours of uphills and downhills; plus an hour of rough road will really make you feel dizzy.
We arrived at the Fort Wally Terminal in El Nido at around 8:30 pm and we immediately took a tricycle en route to Tay Miloy's Pension Inn. The owner of the lodging house Kuya Rodrigo greeted us and he escorted us to our room. After placing our things we headed out to check the beach or aplaya and to scout for a place to eat. In the beach there were beach front rest houses and some restaurants where local and foreign guest are dining, there were also boats anchored in the seaside. One can also see some groups of people who are hanging around the beach front while drinking and chatting.There are also some children playing in the beach. The town center is really interesting, it is a close knit community where everyone knows each other. You can pretty much go around town center by talking a 30 minute walk. We went a local burger joint to order 2 footlongs, since some eateries are already closed. We slept at fan room which was very affordable.
At 9:00 am the next day, we we're met by kuya rod to escort us to the aplaya to start our island hopping expedtion. Upon arriving at the boat we were joined by some french and a korean; our guides lance and jr were locals. Our itenerary features 5 destinations, so at around 915am we headed out to the sea.
Our first destination was the small lagoon. Water in the area is shallow so we had to swim to enter the area. Fortunately, there were life vest and snorkeling gears provided by the tour guides so after a tips on using the gears we headed out the lagoon. El nido was place to admre and behold it was one of the most beautiful places i've set my eyes on. The swim towards the lagoon was not that smooth, it was my first time to snorkel but i was really excited to see the view. The view in the lagoon was really breathtaking, it has very clear waters that lets you see the fishes and corals.
The second stop to our journey was the secret beach. We had a little trouble going ashore because the waves are quite high. We entered a small opening on the rocks that leads to a shallow pool.
The 3rd stop was shizumi island, it is named after a japanese driver that was found dead in the island during the 1970s. We stopped to rest in beach while our guides prepared our food. Dishes like grilled pork, fish and squid; were prepared. There was also rice, fruits such as pineapple, bananas and watermelon was served. There are also sliced cucumbers and tomatoes as side dishes.
After lunch, we left shizumi island to go to our next stop at the big lagoon. Unlike the small lagoon where we have to swim to reach the area; the big lagoon only allows visitors to take the boat.
The last stop of our island hopping was the 7 commandos island, this is were travellers can play beach volley ball, sunbathe or enjoy a drink of fresh coconut juice. Guest may also enjoy chitchats under the shade of the coconut trees. We stayed there until 4 pm; then we joined the other tourist to return to the mainland.
That night we strolled the town to look for a cheap place to eat; we came across an eatery that serves full meals at75 pesos each. After dinner we strolled around the beachfront to set our sights on whats happening in the restaurants. Restaurants may feature entertainment by local musicians as well as a wide variety of dishes from italian dishes to indian dishes. This shows the diversity of the travellers that are making their way to el nido.
The next day we visited the local bakery to buy bread for our breakfast. Our choice bread was ensaimada; and the beverage of preference was 3-in-1 coffee. Hot water was provided by kuya rod from the inn. We now prepared for our journey to return to Puerto princesa via lexus van.
Yes, we may not have a lot of money to spend in El Nido, but you don't need a lot of money there… The scenery is priceless. We can't wait to go there again next year!