The First Thing to know about Chakrata is that it is pronounced "Chakarota" by the locals, I've asked couple of people how to get to Chakrata but got the reply as there is no such place near Dehradun. There are a lot of places to visit in Chakrata that can be explored on a weekend getaway from Delhi.
After completing one huge and exhaustive task I reached my home at 8 in the night sitting and thinking what to do, then a notification from my phone from redbus "Go and explore Manali !"
Then I started packing and went to Kashmiri Gate ISBT as fast as I can to see the closed ticket counter of Himachal Transport. There was no tickets for Dehradun bus also as Mussoorie was my backup plan, my brain wanted me to return home before the last metro leaves the station and my heart wanted me to stay and try. As usual my brain won and i was getting out of the bus stand, a dehradun bus came from no where and stopped in front of me (Yup like in the movies!). The bus got filled in 2 minutes and I was so confused as i have visited Mussoorie so many times. The Internet came to the help, Chakrata!! but I was getting only little info about this place and not much about places to visit in Chakrata and I couldn't any means to reach this place as all the blog's I saw went there with their own transport. Them I asked the local sitting next to me how to go to "Chakrata" and he told me he doesn't know any place like that near Dehradun (see!).
The morning I reached Dehradun, the climate was fantastic with cold breeze and as I always do I went to the nearest tea shop for a refreshing masala chai asked the chaiwala about Chakrata, same reply from the guy "never heard of a place like that". What?!? directly went to the enquiry office and asked them, there I got my preaching it is called "Chakarota" and buses will be available from Vikas nagar which is 25 kms from dehradun and lot of local buses are there to reach Vikas nagar.
I was about to leave and I heard a guy asking the same question "How to reach Chakrata", I met Anuj and Shashank 2 guys from Delhi just like me wanted to escape from the concrete jungle. We all planned to travel together as we are going to the same place, we reached vikar nagar by bus and found out that the morning bus had already left and no bus till evening. And then a really stout guy came to us and asked "Chakarota jaana kya?" and the led us to a Force Trax 10 seater, I got a seat in middle row and cramped with 4 people. Suddenly the car was filled with 20 people with 2 sitting on the top (yeah top!). Then the first 2 hours of boredom was overtaken by the next hour by greenery and cloudy mountains.
The car stopped in the stand opposite to the army canteen and I finally got to stretch my legs only to find a flight of steps to enter the town. The air was sweet and cold to soothe the tiredness of journey and the steps came to an end with a hotel MRB Residency, but not within our budget so we asked in a tailor shop nearby for cheap rooms, surprisingly he took us to his attic where we found our perfect stay for 600. The attic had 3 rooms in which we took the big room which had space for 3 beds and window in place of a wall overlooking the valley outside. "Rana Ji Guest House"
With ton of photographs and happy memory we came back to have snack in the army canteen near bus stand. Try the local snack there which was awesome! Again after the crampy ride back to Dehradun, we had dinner in my favorite Bhatia dhaba (Yummy!) to go back to our Routine life. Unlike my previous solo trips I came with four good friends this time, it was an amazing trip to the untouched part of India with smiling and more helpful people around and plenty of places to visit in Chakrata made it worthwhile.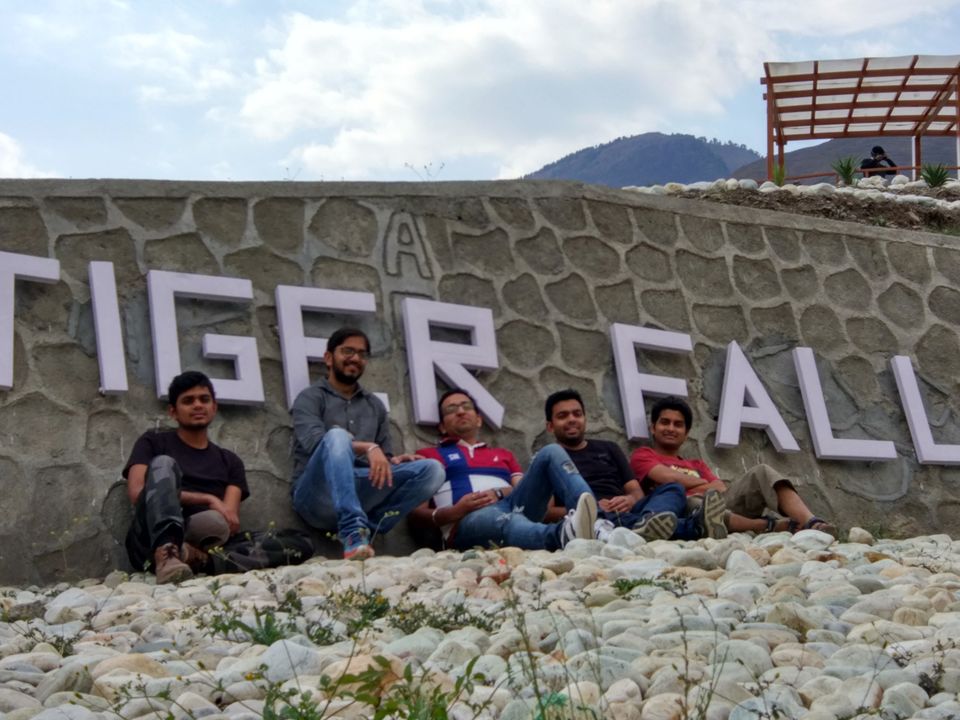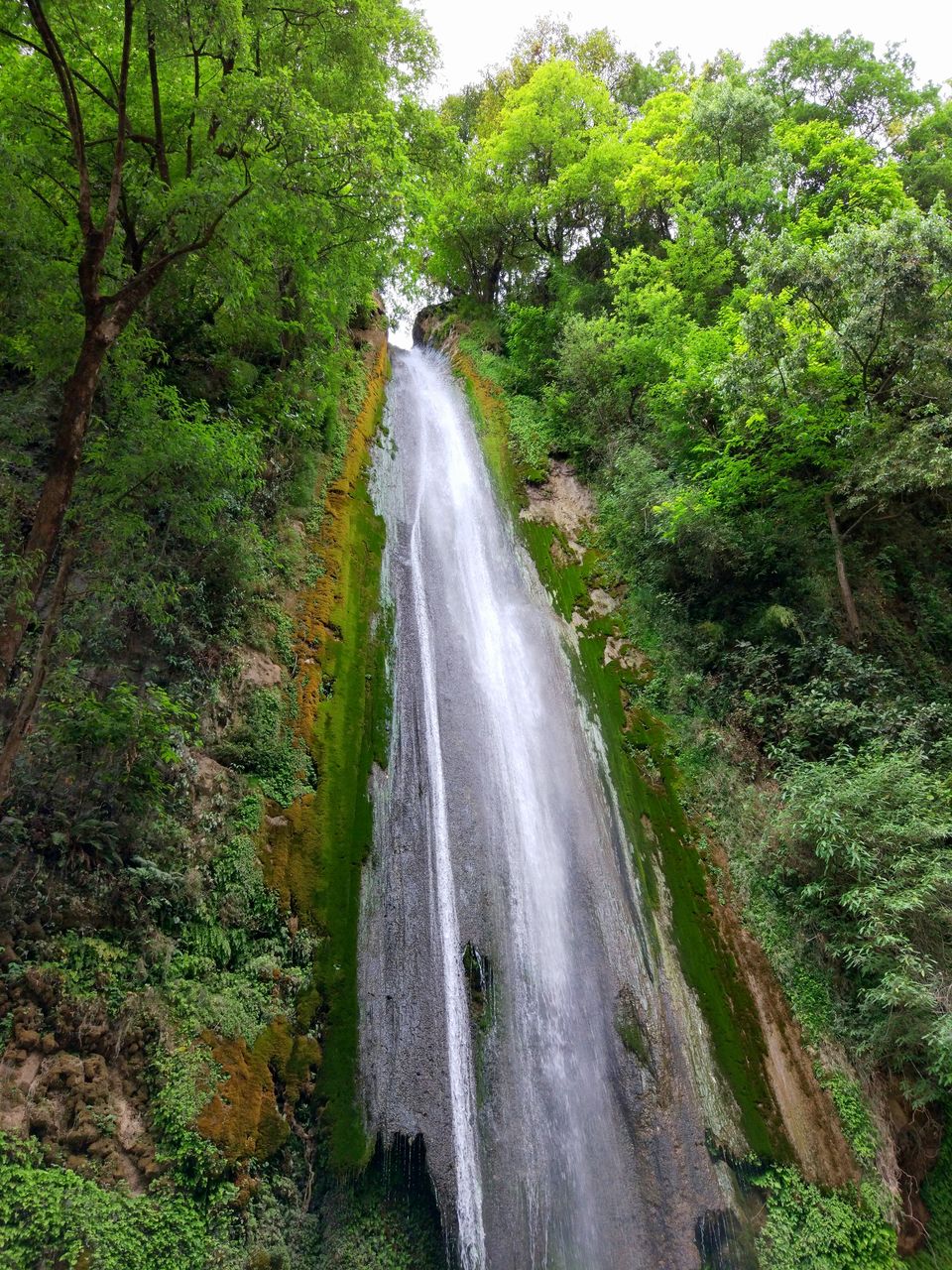 Then after breakfast of 2 big parathas for Rs.20 we started off to Tiger Falls which was supposed to be 15 minute downhill trek as per locals, after an hour going down passing scary empty huts and a graveyard without any sign of waterfall we decided that we are lost and on top of it the sky threatening to rain. The a voice of a kid gave us hope, we saw a family going down the hill and ensured it is another 15 mins to waterfall. Then after another hour we finally heard the sound of water in distant.
Places to visit in Chakrata
Sighing a relief, we reached near the fall and it started raining and we saw each other thinking the same "how the hell we are going to return to room" The sun betrayed us and rain slowly stopped.
It is the Most Artistic Falls I've ever seen (total 6), A long stream of water in the green background. Threw the bag and clothes and ran into the water to came back even faster. The water was freezing but madness won an we went back to the falling water.
As it was like something scripted Vaibhav and Karanjeet came from Chandigarh in their car to Chakarota for their weekend and was searching a room, we met them in waterfall and got a ride back to the town (Thank God!) and they got a room too. We went out to a Shiva temple, one of the places to visit in Chakrata and the Mall road in not an area to be missed, Lot of cheap and good quality items.
The next day after Breakfast and bye-bye Vaibhav and Karanjeet left to chandigarh, we took a cab and started off to Budher Meadows as the road to Deoban was closed. The one hour ride upto Forest rest house will be full of forest, mountain and valley's to treat. After that it is time to trek! the one and half hour trek will lead to a Lustful Greeny Medow with a backdrop of snowy Himalayan range, one of the best places to visit in Chakrata. It was so blissful and the air was so pure! there was an endless cave too (too dark to explore).
The shepherds we saw there has spent their 70 years there and never went out of the town!.
Frequent searches leading to this page:-
best hotels for unmarried couples in dehradun, dehradun mussoorie tour package, nainital mussoorie tour packages from Mumbai, places to visit in dehradun, dehradun tourism