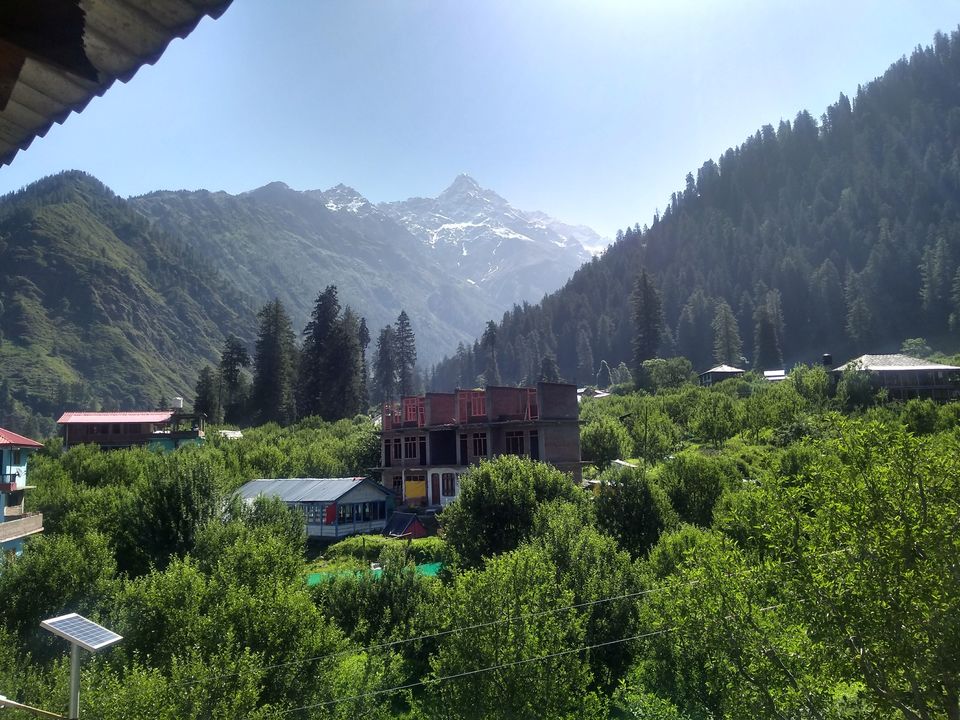 Wanderlust has become the new trend in our world. And this has led to all kinds of pollution in almost all the tourist places. In that case, I decided to travel this time 'with a purpose', a purpose to clean the trails I pass and to create awareness among the locals as well as the travellers about the Land pollution.
To start with, I joined hands with a Group called "Healing Himalayas" which is lead by Mr. Pradeep Sangwan. More information about this NGO is available on the Internet.
The trek which we covered is the easiest one called Kheerganga. We started from the base camp, Kalga at around 9AM. It was the month of June, and the weather was quite amazing. It was neither too hot nor too cold. After crossing the base village, we entered the dense alpine forest. Walking through pine trees, playing hide & seek with the sun-rays, as we moved further on the trail, signs of tourists became visible.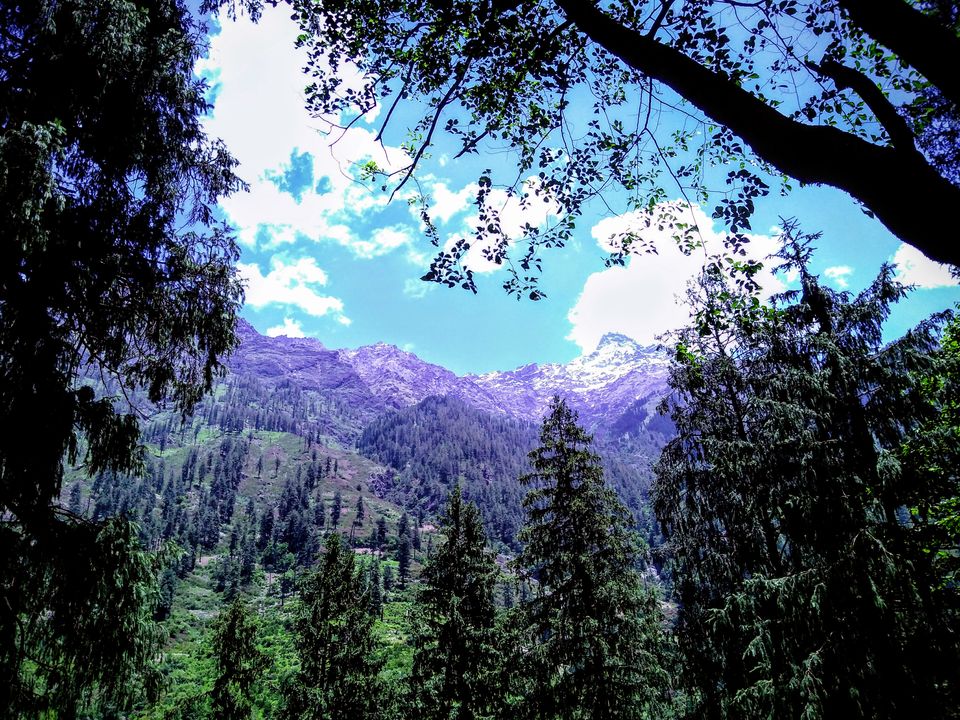 Empty Bisleri Bottles/ Chocolate wrappers/ Lays-Kurkure-Bingo and what not!!! How can we forget Beer Bottles!! All these were scattered around the path.
If you are a responsible traveller and are in a beautiful place but the breathtaking views are blocked by such trash, you instinctively start picking them up.
We had dust-bags in our hands and rucksacks on our shoulders. Those dust-bags which were full with trash were kept carefully beside the dense roots of some tree or any recognisable place. The idea was to pick them while returning from the trek.
Trash was spread not only on the walking trail but was also thrown down the valley towards the flowing River. We tried to descend as much as we can, holding each others' hand and tried to pull the trash, so that it doesn't get into the river. No doubt, somewhere it was too risky.
After few hours, we reached a big waterfall locally called as Kheerganga Waterfall. We freshened ourselves here and had tea in a small cafe beside the fall. I was having my tea looking at the starting point of the fall and its height. Many were busy in clicking pictures and few were relaxing with their feet in water & suddenly, something was seen falling down with a thud. We all rushed to a safer place as a thick branch of a tree had fallen from above. It could have been a big accident but fortunately everyone was fine. We all thanked God and moved forward with our dustbags in hand.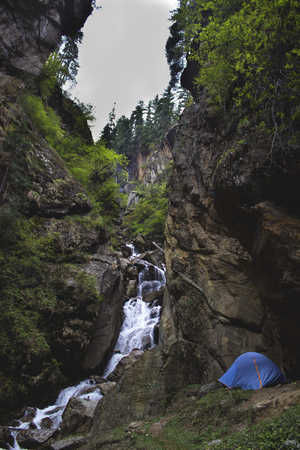 Weather was becoming moist and soon Rain emerged for our rescue. :) Light rain drizzled down time to time and made the trek more enjoyable (atleast for me :P ).
We reached a cafe where we had to stop for the lunch but my focus was wholly on that big rock facing the giant mountain. I climbed on that rock with a cup of tea.
What beautiful feeling was that!!! Light Rain, a cup of tea and those mountains in front of me. I hummed songs while sitting on this huge rock, with my new friends (Sumit & Satpal). Soon, Meenakshi joined us and clicked me a beautiful picture here. :) I wanted to stay there but we had almost completed the trek and it was time to reach the top.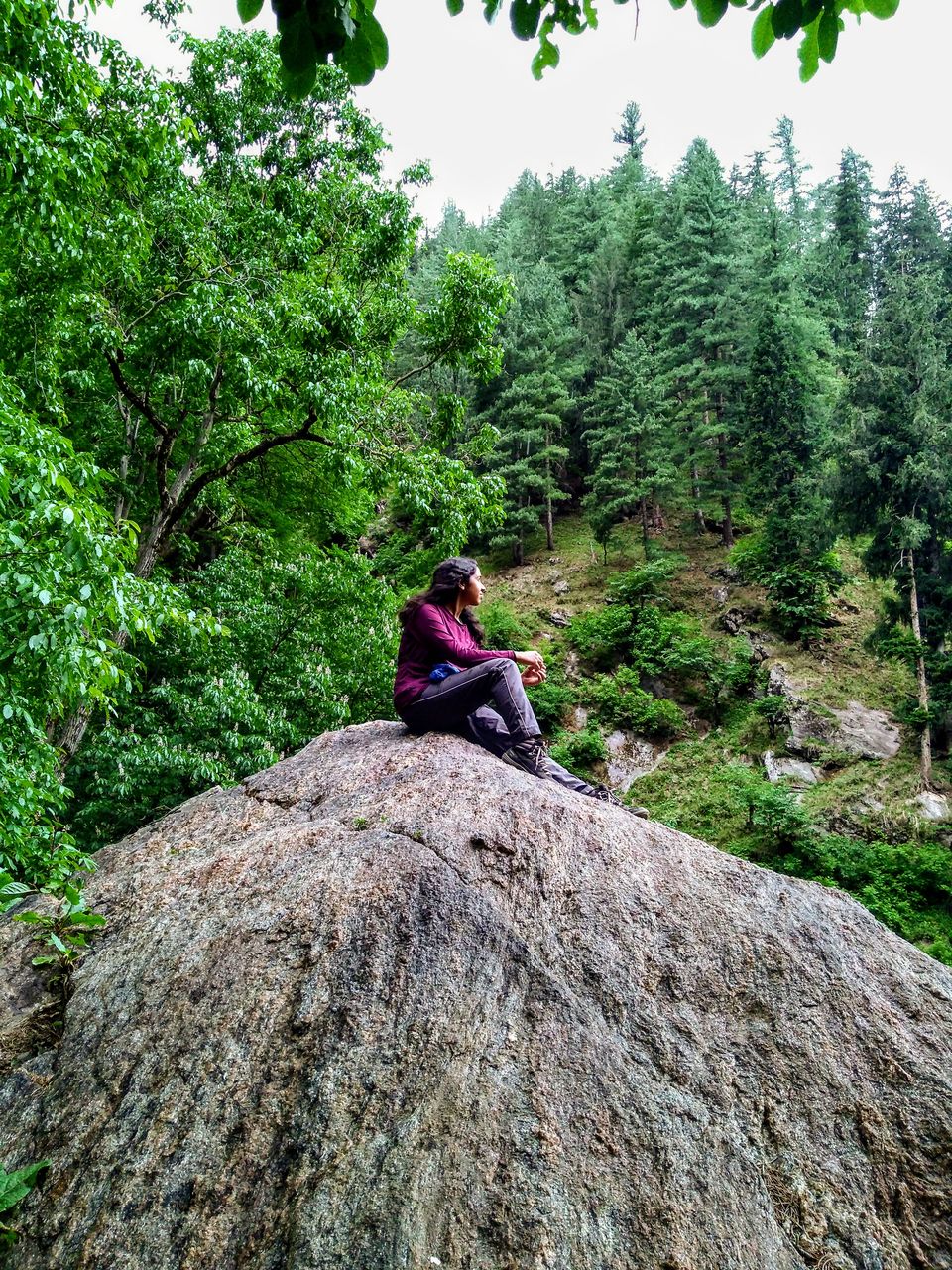 Trees surrounding us were so dense that the Sun was not visible anymore. Trail had become quite narrow and we encountered numerous waterfalls in between. Gradually we were moving towards a steep path which was leading us to a place with hundreds of tents, vendor shops and bonfire space. "Yeah, we have reached. This is Kheerganga" - Sandeep told me.
Frankly speaking, i didn't expect this. I had no idea that this place has become just another Camp where tourists come, party, play loud music, drink Alcohol and throw their trash and soon I laughed at myself for not having this idea. Of course, this is a far easy trek, with breathtaking views and not very far from Delhi, Chandigarh and Manali. So, this has to be a commercial trekking destination just like Triund.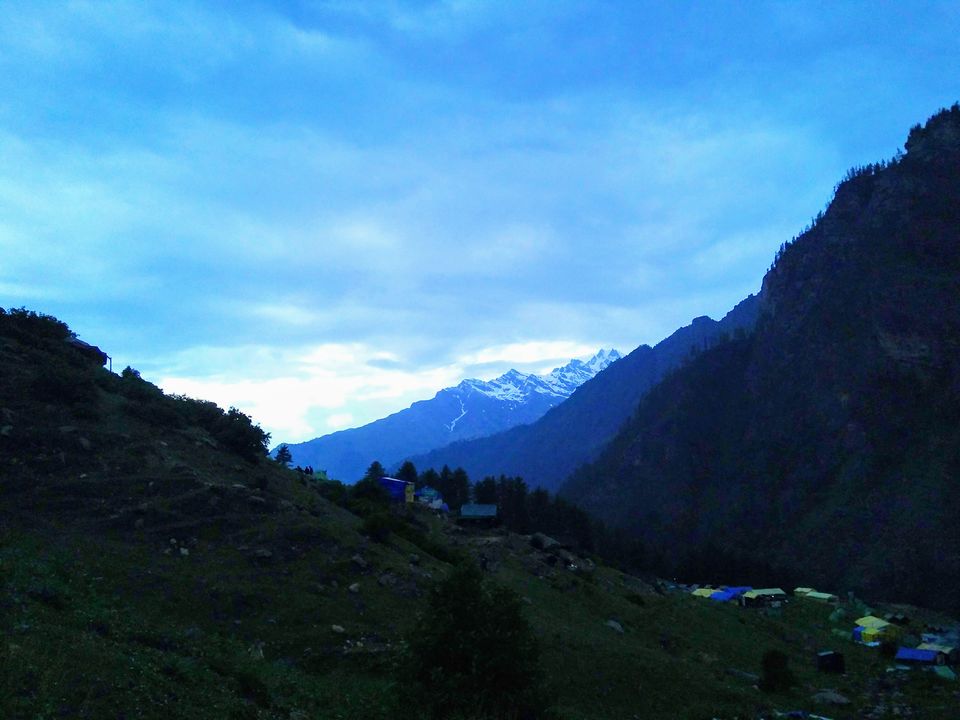 The team of Healing Himalayas had already arranged tents for us from where the famous Kheerganga hot water spring was closer.
Amidst all the chaos, I totally forgot to notice the beautiful landscape I was surrounded by. While standing infront of my tent, I gazed at the snow clad mountain peaks as if they are welcoming me in their arms. Behind me was the cliff to reach the Hot water Spring and the Shiva Temple.
The golden sun was setting behind the peaks and a layer of white fog beneath the sun made it one of the most beautiful sunset I have ever seen.
Around the Bonfire, Pradeep introduced us to the basic objective of Healing Himalayas and how we can help these trails remain clean. I felt huge respect for this man and his companions, his family as well, who supported him to take this journey in his life.
Bonfire was not as peaceful as i have always witnessed in Himalayas as there were the sounds of loud music playing around the cafes on which trekkers were dancing. But I thought, we can do that in our cities as well, right?
but in cities, we can never have the opportunity to witness millions of stars, the nocturnal sounds of birds and that peaceful feeling of sleeping around the alpine trees, in front of the high peaks of Himachal.
After spending the night in that cozy tent, everyone went for a refreshing dip in Holy hot water Spring, had breakfast and again collecting the trash on the way, descended to the Base village. While descending, we met various trekkers who helped us in collecting trash and appreciated us. In return, we urged them not to throw Plastic materials wherever they go.
It had started raining heavily till we reached the base village and in few hours, I had a bus to catch from kasol. For the last time, Sanju bhaiya (Our host of the Homestay) lovingly served honey lemon tea and we bid farewell to the lovely place.
This experience changed my outlook towards trekking. I decided to do all my treks with dustbag in my hand, even if i am trekking solo.
I request everyone of you to reduce Plastic usage as much as possible. Even if you are using it, please dispose it properly and don't throw it on trails, tourist spots.
Let us try to keep our Mountains clean and garbage free.
For regular stories like this, let's get connected on Instagram @anu_rovingaround. :)
Things to keep in mind for this trek:
1. As I trekked in June, a single Jacket worked (for the cold nights), but if you are planning in Winter, carry sufficient warm clothes as it would be too cold up there.
2. There are enough accommodation available on the top, even if you don't have an advanced booking.
3. As food is expensive up there, you can carry your own food but please try to avoid preservative items. (it is unhealthy and create plastic pollution).
4. Please avoid buying Bisleri Bottles. You can re-fill your water bottle from any hotel or cafe on the way or can also rely on waterfalls. I prefer that :)
5. Please respect locals and their traditions. 
6. If you wanna join any campaign of Healing Himalayas or want to donate for the NGO, you can click on this link and get information. https://healinghimalayas.org/