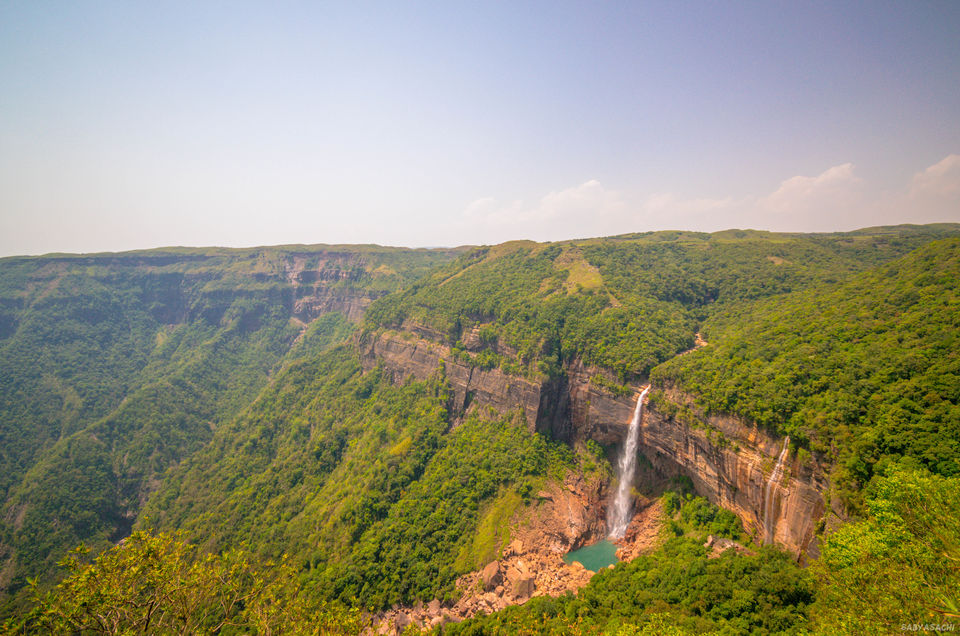 Nohkalikai Waterfalls is around 5 km from Sohra(Cherrapunji) City and is the fourth highest waterfall in the world. The snow like foam created by water falling from a height of around 1,100 ft is a great attraction of Sohra.
How to Reach

By Air: Borjhar airport in Guwahati, about 166 km north, is the nearest airport. One can hire a taxi or board a bus to reach Nohkalikai Falls.
By Road: From Guwahati it's a 4 hour journey to Shillong, the Capital of Meghalaya, from where its about 54 kms distance to Cherrapunji. From Cherrapunji main town its a 10 mins journey to the falls. One can also hire a taxi to reach the falls.
By Train: The nearest station is Guwahati which is at a distance of 99 kms from Cherrapunji.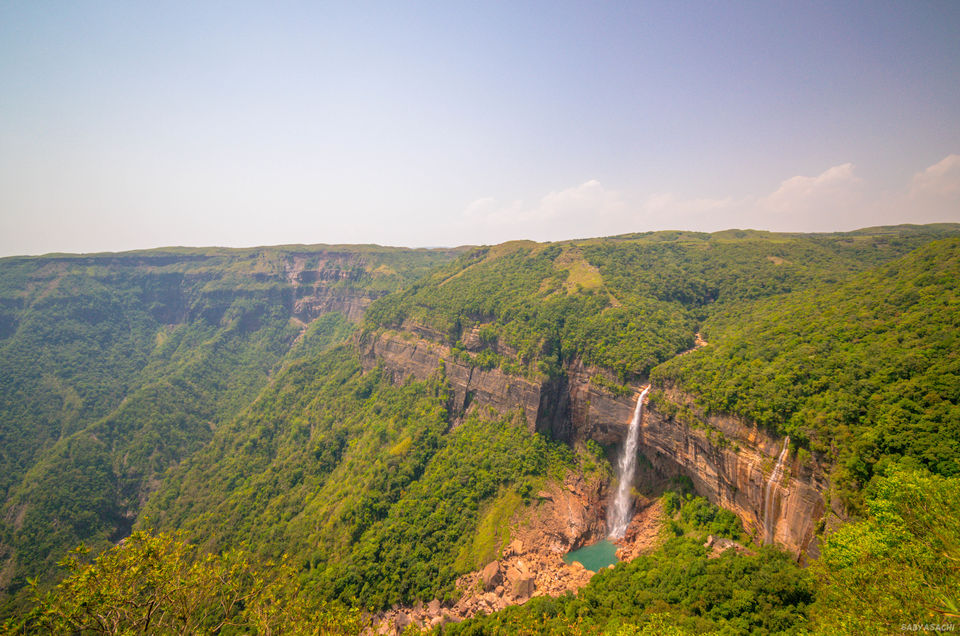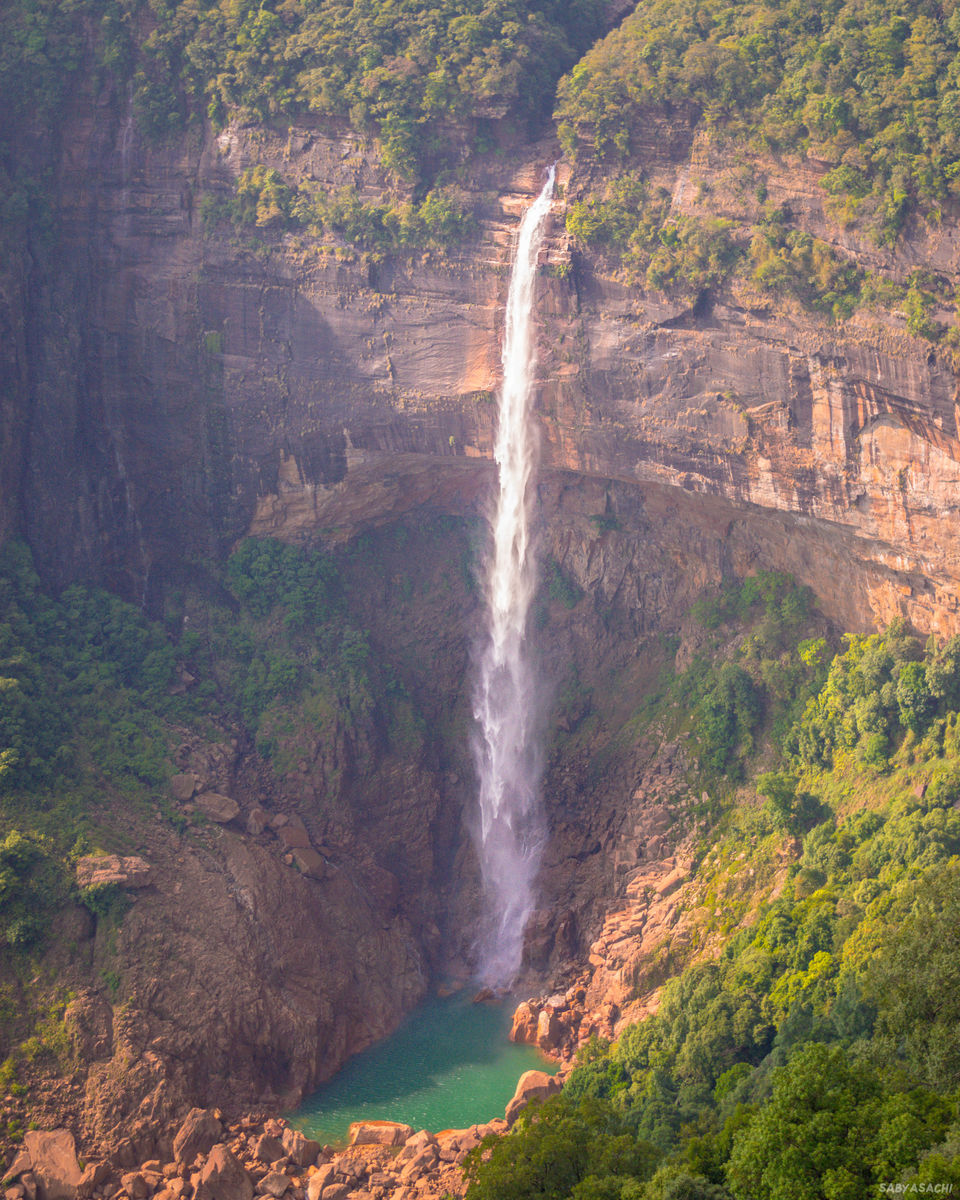 The drive to Nohkalikai Falls is through an elevated table-land that leads to small hill and then you have to hike a short distance to a viewpoint from where you can have the enchanting views of the beautiful Nohkalikai waterfall plunging down into an ultramarine pool….. many hundred feet below.
The ideal time to visit Nohkalikai is during the monsoon, when the falls are at its most spectacular.
A viewing gallery is constructed for visitor to savor the beauty of the place. There are stairs, which take tourist down to various other viewing points, but trekking is bit strenuous. In many places these stairs are missing and you might need to take a leap of faith to cross those trenches.
Being a place that accounts maximum rainfall in India, it has an astonishing waterfall streaming from a height of 340 meters. Down the falls there forms a plunge pool that has green color water. Photography enthusiasts can get some of the classic shots here. You can simply rejoice here in the serenity of nature!!!
Legend behind the name of Nohkalikai waterfalls
There is a depressing story behind the naming of this waterfall. Noh Ka Likai, in local Khasi tribe's language means 'the leap of Likai'. It is believed that a woman named Ka Likai was a widow and had a daughter from this marriage. She remarried so that her daughter can have the love of a father, on the contrary, her new husband hated the daughter as Ka Likai gave all her time to her little one. Once when she was away for work, he killed the little girl and cooked her flesh as meal. When Ka Likai was back from work, she was astonished not see her daughter around but was happy that her husband had cooked a meal for her. Satisfied that her daughter would be out playing, she enjoyed the food. Later, as she picked up the betel nut basket she found her daughter's fingers in it. Filled with remorse, sadness and grief, she rushed to the cliff and threw herself down. And, so the fall was named after her Nohkalikai waterfalls.
Entrance Fees: Rs 10
Timings: Open Every day - 8:00 AM - 6:00 PM.
Average time spent at Nohkalikai Falls: 2 hours