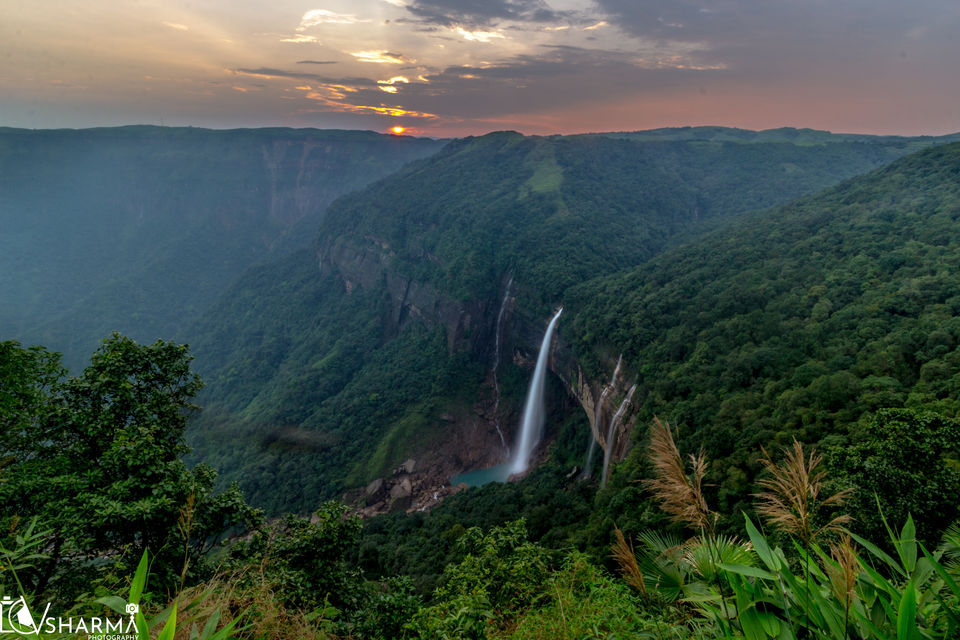 Nohkalikai, one of the tallest plunge waterfalls with a magnificent panorama, is located 5km away from Cherrapunjee. Falling from an altitude of 1,115 ft, it mostly procures its ale from the clouds. The pool formed from the thrust with verdant and misty clouds above makes it sumptuous. But, this alluring landscape is affixed with an appalling story. The Khasi name "Nohkalikai" translates to "Leap of Likai". That's right, Likai is the leading character of the tragic story that I am about to unfold.
And the story begins... Widowed at a very young age, Likai was the mother of a beautiful baby girl who needed her mother's attention. They lived in the village of Rangjyrteh, based nearby the waterfall. Her impoverished condition compelled her to become a porter, which was the job of her deceased husband. Due to which the baby girl couldn't receive her complete attention although she used to spend all her time with her daughter once she was home. This is when other women of the village started persuading her for a re-marriage. They insisted her saying the little girl needs attention and care of a father, to which Likai agreed and got married to a man. But this new husband was found to be trivial and jealous of all the attention that his wife drizzled on her baby when she was home. And this bitterness, resulted in the horrendous deed he executed.
Like regular days, Likai returns home after a long day of work and finds her husband waiting with inviting food. She was glad to see a caring side of her husband, but little did she know it was momentary. She started looking around for her baby only to find her nowhere. She presumed for her baby to be in the neighborhoods and settled for the meal her husband cooked. After the hearty meal, she sat for her routine beetle leaves and nuts when she saw a tiny finger near the basket of beetle leaves and had realized what must have happened. Her new husband, who was supposed to take care of their daughter, had chopped the poor baby into pieces and fed his wife. Terror-stricken and furious Likai, without an accusation started running until she reached the edge and jumped off the waterfall to her own death.
And, this was the legendary tale of the 4th highest waterfall in the world. When you visit this breath-taking site, you'll feel the agony and pain of Likai still lingering in its air. But, this miserable event should not prevent you from the nature that flourishes at its best.