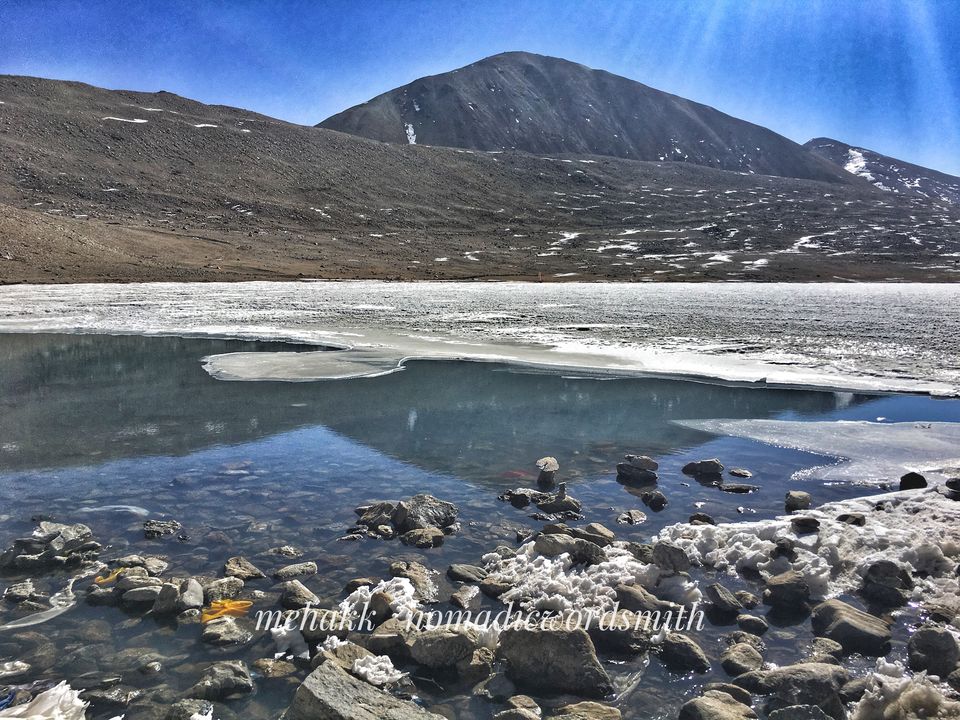 1. Sangestsar Tso Lake alias Madhuri Lake: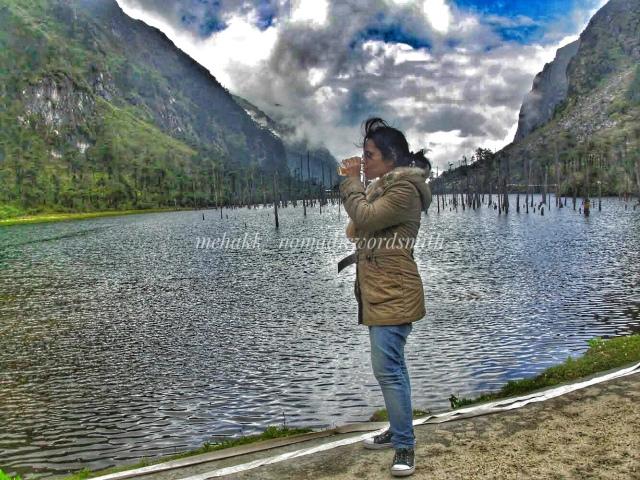 Location: In a way from Tawang to Bum La Pass (Indo-China Border), Tawang District, Arunachal Pradesh, 16,500 ft above sea level. (Breathlessness? Yes! Can have dark chocolates and garlic).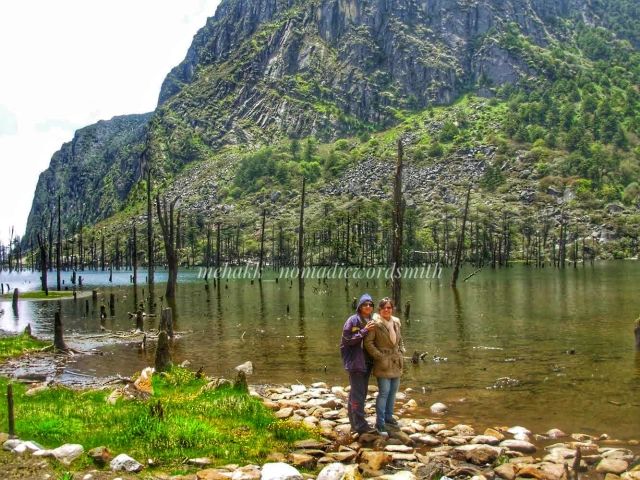 Apologue: It was the afternoon of May 2011, when we planned a visit to Sangetsar lake. This remotest lake is ambushed by rocky mountains and greenery all around. Breathtaking as it was, it also had a little story behind it's otherwise name The Madhuri Lake after a very famous Indian Bollywood actress Madhuri Dixit.
Anybody could have guessed that she must have shot a scene or two for one of her movies, hence the name. Obviously, the Google God has answers to all our questions without ever actually visiting the place. However, to unearth a bit more, you actually have to be physically present there.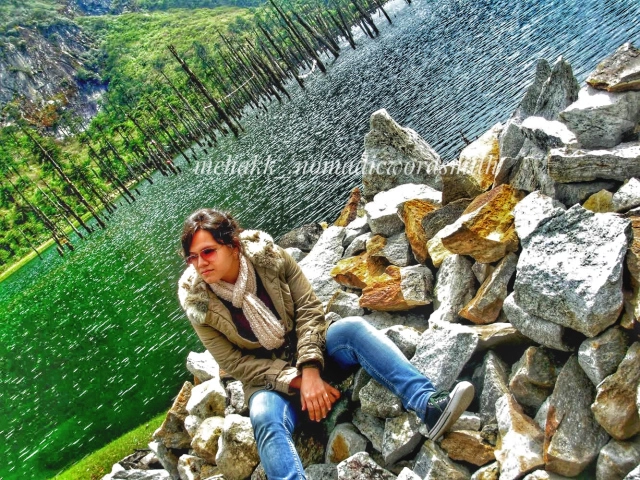 As per the story narrated by a local, Madhuri Dixit and Shah Rukh Khan's song 'Tanhai Tanhai' from the movie 'Koyla' had been shot here. One of the scenes required Madhuri Dixit to take a dip in the lake. Obviously, the water was freezing cold, hence the scene was shot by her duplicate instead, who died while doing so because of the scarcity of oxygen and freezing cold water. Hence, the name was given Madhuri Lake on the memory of the girl who died in the lake. Well, all I can say is she was the unsung Madhuri.
Also, in order to unearth the story behind the name of the lake, I ended up having weird sensations as the stillness is beautiful but the sound of stillness junked by weird voices in your head is not!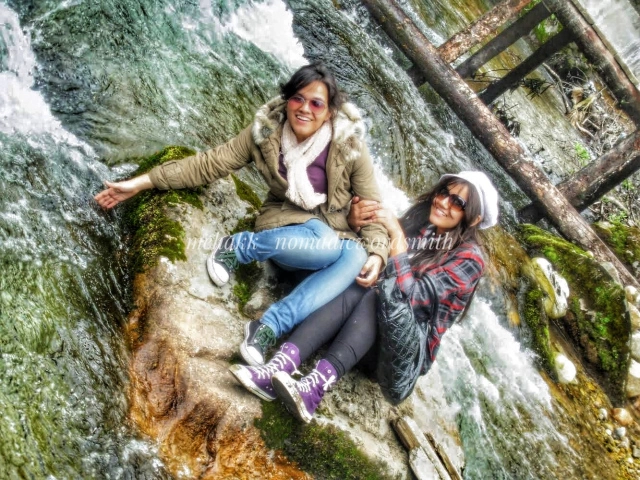 Such beauties with stories ain't that easily reachable. So, how to reach Madhuri Lake?
Air: The Nearest airport is Guwahati, approx 480 km from Tawang. The road is well connected, so one can hire a cab or bus to Tezpur and further to Tawang.
Rail: The nearest railway station is at Tezpur. One can further hire a cab or bus up till Tawang.
Road: As mentioned earlier roads to Tawang are well connected with all the major cities of North-East, hence one can either book ASPRTC buses, private buses or hire a cab.
Best time to visit Madhuri Lake: From October to May. Rest of the months are either raining or freezing.
2. Jaswantgarh War Memorial: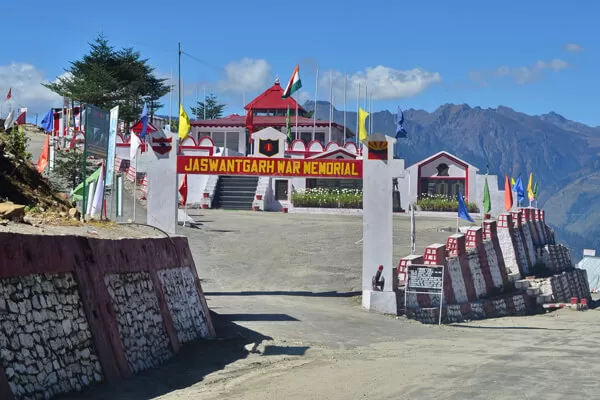 Apologue: En route Tawang in the year May 2011, we had* to visit Jaswantgarh War Memorial. Why an asterisk on 'had'? Well, we were running a little late so thought of bypassing the memorial until we realized it was not a very good idea. Before narrating my experience Rifleman Jaswant Singh deserves an introduction.
Jaswant Singh Rawat was an Indian rifleman soldier of 4 Garhwal Rifles from Uttarakhand. He was awarded Maha Vir Chakra posthumously for the bravery he bestowed in the Battle of Nuranang during 1962 Indo-China War.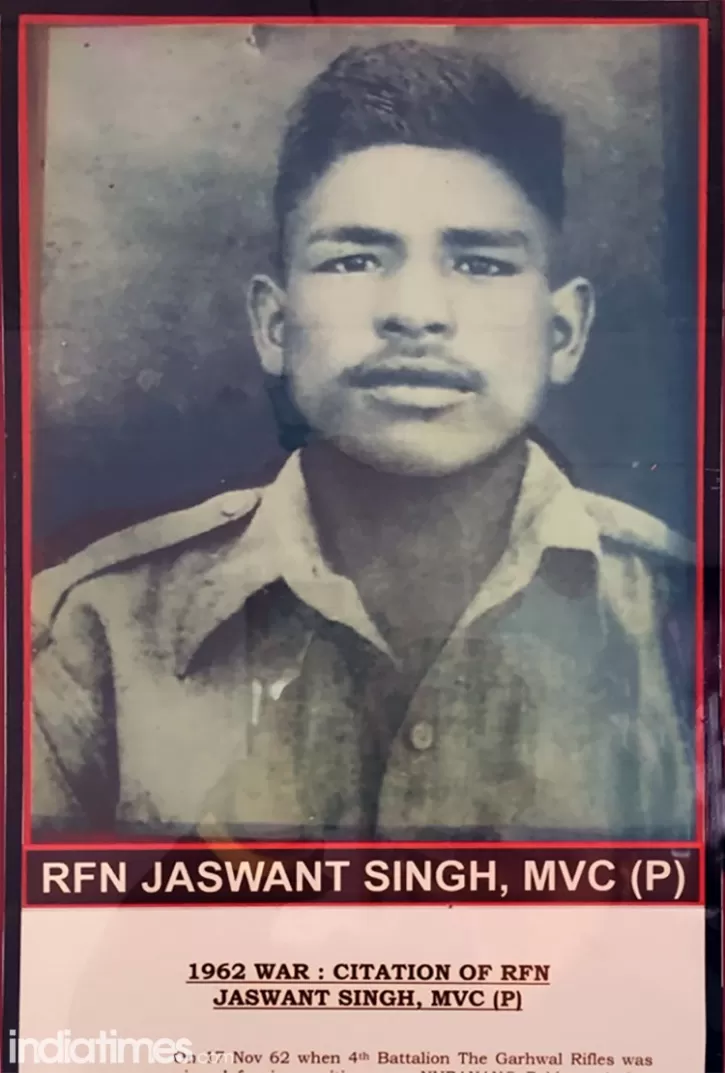 The legend goes as 4 Garhwal Rifles was ordered a retreat from Nuranang, but Rifleman Jaswant Singh stood his ground and retaliated Chinese troops for 3 continuous days. He had positioned rifles in such a manner which convinced the Chinese troops that the post had many soldiers. He was assisted by two village girls Sela and Nura, who used to provide him with information on the Chinese movement. As per the legend he killed approximately 150 Chinese Soldiers single-handedly.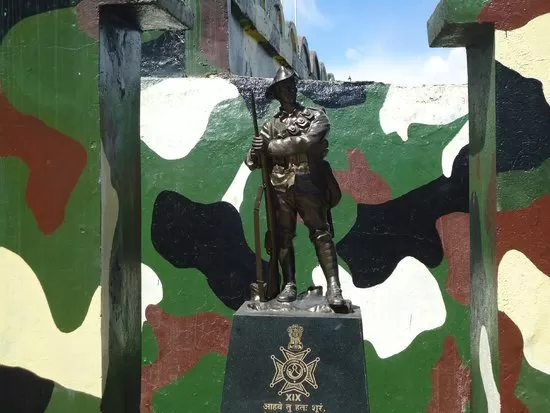 Unfortunately, the man who provided ration to Jaswant Singh was seized by the Chinese troops and that is when they learned that in reality there was only one man guiding that post. Also, Sela and Nura were arrested and killed by the Chinese troops by pushing them from the high cliff. Infuriated, the Chinese ambushed Jaswant Singh and shot him in the head. They were so fumed that they cut off his head and took it back to China. However, bravery knows no borders, hence after the ceasefire with the Chinese, they returned his head along with the brass bust of Jaswant Singh.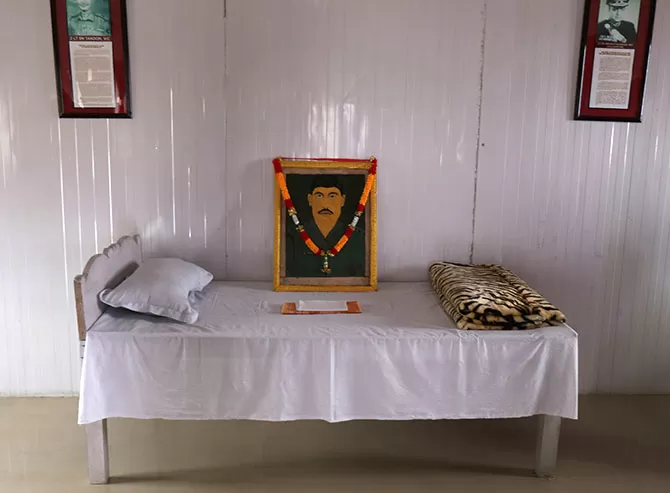 Now, here goes my story. Despite being told by our driver over and over again that we should pay a visit to the memorial, we were adamant on bypassing it. As we crossed the memorial right after 1 km our car broke down. It ceased to start. Our driver started humming "Sorry baba sorry baba" to himself. He insisted us to pay a visit at the memorial. We finally walked a km and went inside the memorial, heard the legends of his bravery and witnessed few peculiar events.
Such as the Indian army keeps half a dozen personnel to take care of Jaswant Singh as if he were alive. He is served morning tea, breakfast, and dinner in his private room. His boots are shined, linens are washed and towel is changed. Soldiers who polished his boots claim that they are often found covered in mud as if Jaswant Singh is still walking around at night. Also, Jaswant Singh has been honored as a Holy Saint by the locals and claim that he still protects this region.
Awed by the story we paid our respect to Jaswant Singh and finally headed back to our vehicle asking for a help. I was a non-believer in the holy spirits until the car suddenly started again the moment we sat in it.
How to reach Jaswantgargh War Memorial?
It is located approximately 25 km from Tawang in Nuranang district. One can pay visit en route Tawang by road.
Best time to visit Jaswantgargh War Memorial: Around the year.
3. Nohkalikai Falls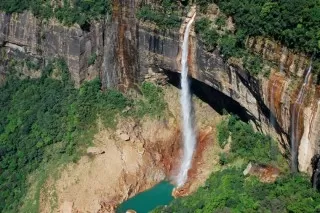 Location: East Khasi Hills, Cherrapunji, Meghalaya
Apologue: The visit to Nohkalikai falls was around May 2011. It is the tallest plunge waterfall in India with 1,115 ft height located near Cherrapunji the wettest place on earth. These falls are fed by insane rainwater and form a small plunge lake below with a peculiar green color.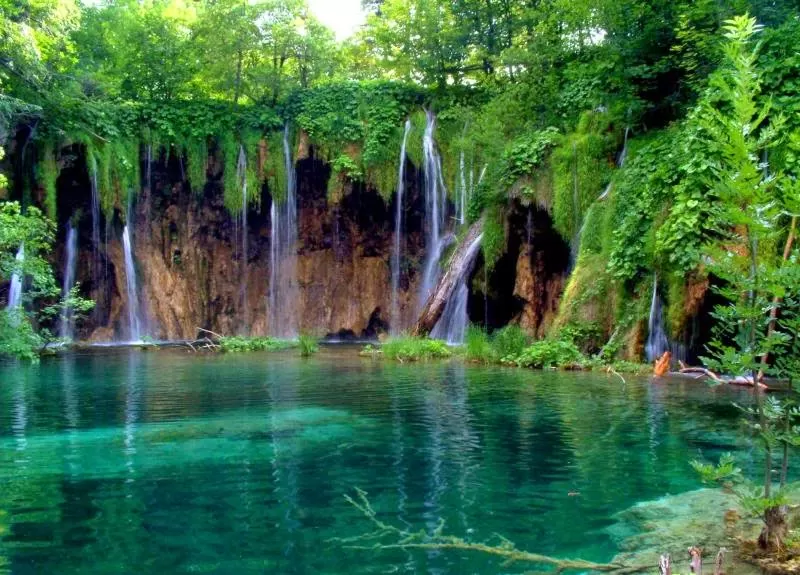 To see the waterfall reservoir I had to descend around 200 to 300 steps. So, enthusiastically I started the downward journey, least did I know that I'll start the upward journey in no time. While descending the stairs I felt a sudden suffocation enclosing me. It was definitely not the scarcity of oxygen. I could feel a little heaviness and warmth around my eyes. I clicked a picture or two and ascended back. I'm a nature lover, but something seemed off about this place.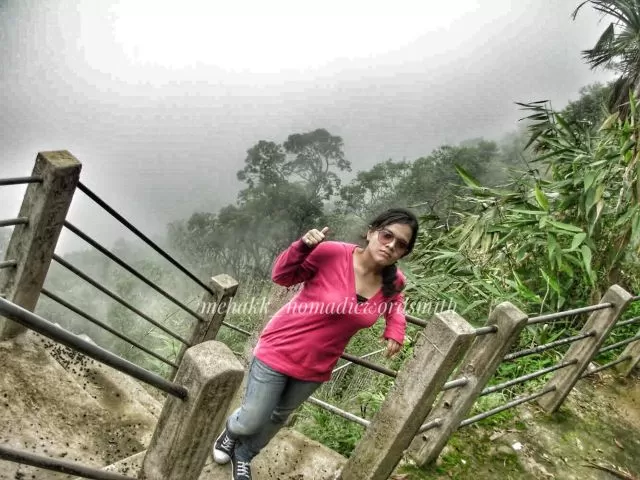 My eccentricity was contested by the story of Nohkalikai Falls which was mentioned in the brochure available at the entrance. The falls were breathtaking and so was the story behind it. As per the legends there lived an orphan girl named Ka Likai. She was the most loved in the village. As she reached adolescence she married the love of her life and soon got blessed with a baby girl.
But, unfortunately, her husband died a sudden death. As she had an infant to take care, so she decided to remarry. But, they hardly earned any income, hence she decided to become a porter herself where she had to leave her daughter with her second husband for a long time during the day. However, she would compensate the separation by spending rest of the time with her infant. This routine forbade her to spend time with her second husband and consequently, differences started emerging between them.
On one of the mundane days Ka Likai returned from work extremely tired and for a change, her second husband had cooked meat and rice for her. Overwhelmed, tired and hungry she binged on the food and suddenly realized that she had not yet met her daughter. She usually used to consume betel leaf after her meals. To her wreck, she saw a small severed finger in the basket where the betel leaves were kept. She realized that the finger was of her daughter's and her second husband out of jealousy had killed her daughter, cooked her meat and made Ka Likai consume it.
Having consumed her own daughter she went mad with rage, fury, and grief, swung a hatchet in her hand and ran hysterically off the edge of the plateau and jumped from the waterfall. That waterfall is thus named after Ka Likai where Noh means 'jump', hence the name Nohkalikai Falls.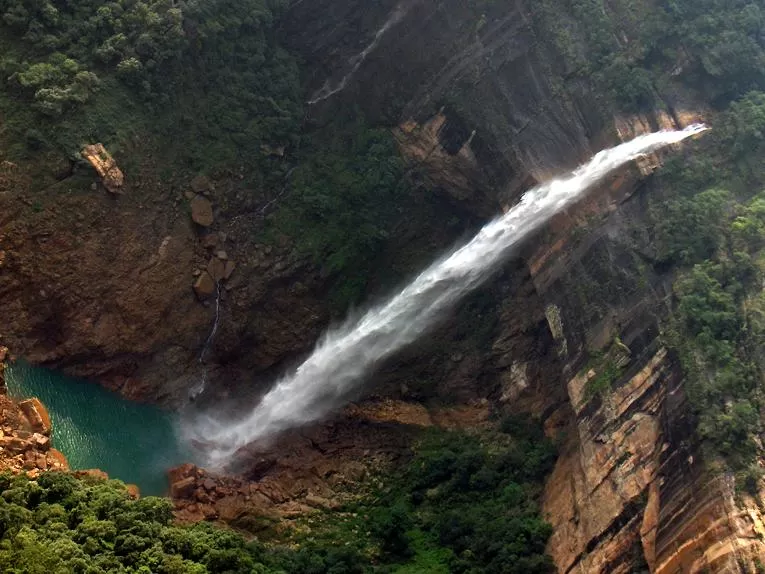 The above story confirmed the ominous feeling I had while descending towards the plunge of the waterfall. Legend says that she still exists where her jump terminated as the jump took her life but not the emotions she went through. I'm not sure if I felt scared but I felt morose, maybe a pinch of emotion which she might have felt at that point in time.
You still wish to visit? If yes, then below are the options.
Air: The nearest airport is Guwahati and the falls are 166 km north of the airport. One can hire a cab to reach here.
Road: Book a cab from Guwahati to Shillong capital of Meghalaya which is a 4-hour journey. From Shillong, the falls are further 54 km in Cherrapunji.
Rail: Nearest railway station is in Guwahati and then by road from Guwahati to Cherrapunji.
Best time to visit: From June to November. Rest of the months is raining.
4. Baba Harbhajan Singh Memorial Temple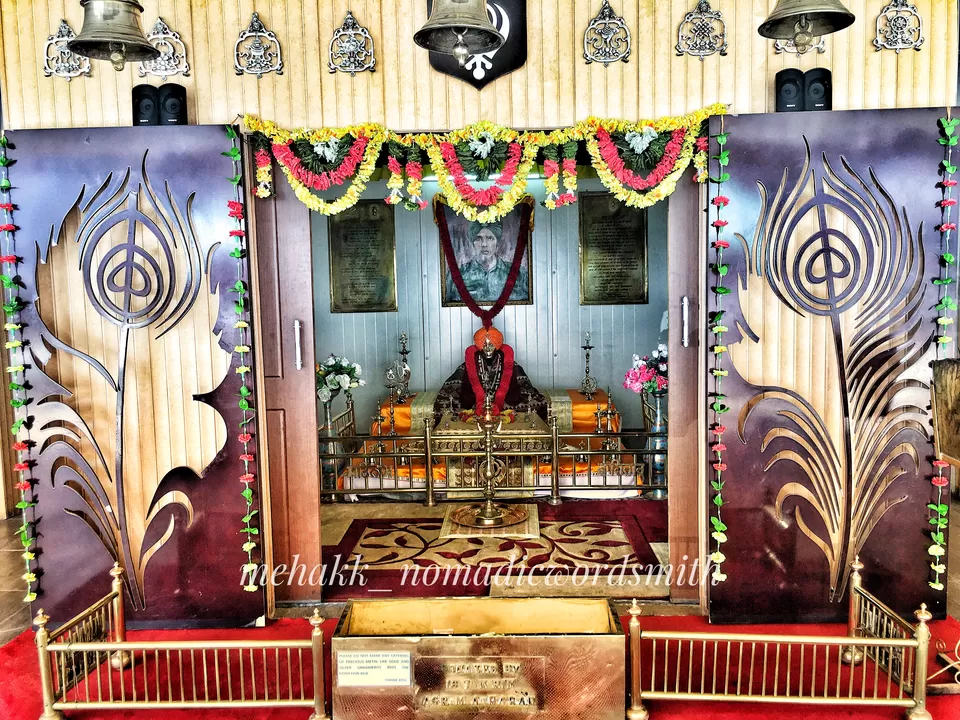 Location: Between Nathu La and Jelepa Pass at 13,123 ft height, 52 km from Gangtok, Sikkim, India.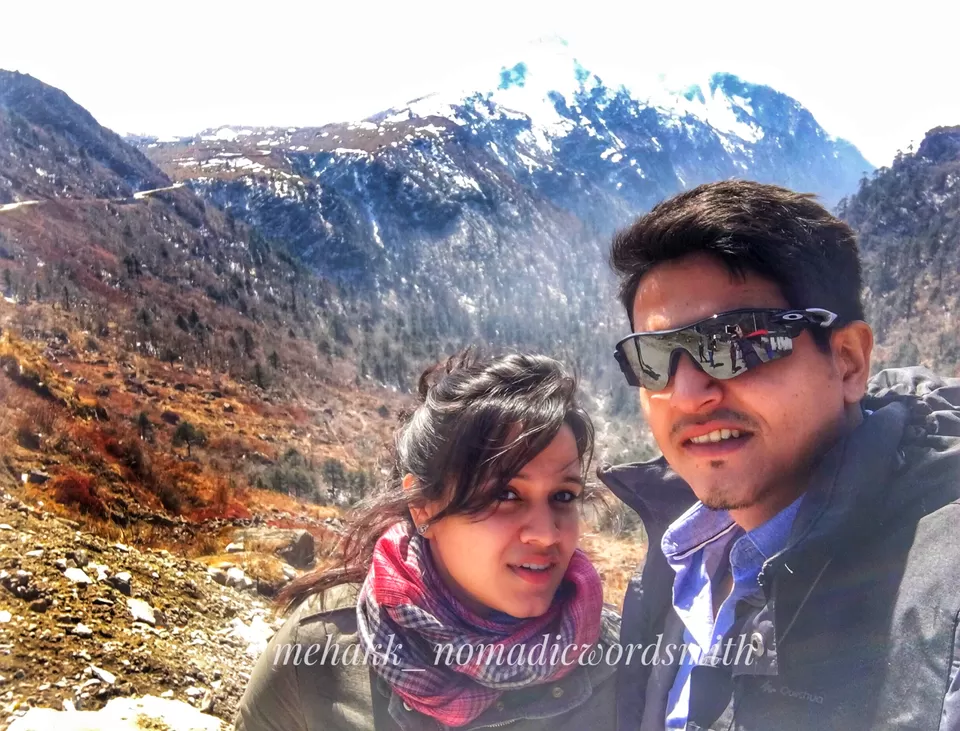 Apologue: Harbhajan Singh also famously known as the hero of Nathu La Pass whose ghost still guards the Indian border. Harbhajan Singh was an Indian Army soldier who died in 1968 near Nathu La, Sikkim, India. As per the legends Singh drowned in a glacier at 14,500 ft height where he was leading the flock of mules carrying supplies to the remote outpost. Three days later his remains were found near Nathu La. Legends further claim that the late Singh himself helped the search party find his body. On 26th January 1969, he was cremated with full military honors.
Later through a dream, he also instructed one of his colleagues to construct a shrine on his memory. Some Indian soldiers claim that during India and China war, Singh would warn the soldiers 3 days prior the attack. And this may sound a little funny but any army official not maintaining a clean and disciplined uniform gets a slap from Singh. :D. Also, his own attire is self-cleaned strangely.
He still exists in that region as per the legends and protects what is ours, even the then Chinese soldiers used to believe the same. Also, during flag meetings at Nathula La, the Chinese themselves set a chair aside for him to honor him. Why? Do they feel his existence or scared of a 'slap' they might get. :D.
Also, do not forget to visit the Cafe 13K, which stands right opposite to the temple. A hot cup of coffee is a great reliever from the cold so biting. And needless to say please do buy the souvenirs from a small emporium next to the cafe for remembrance.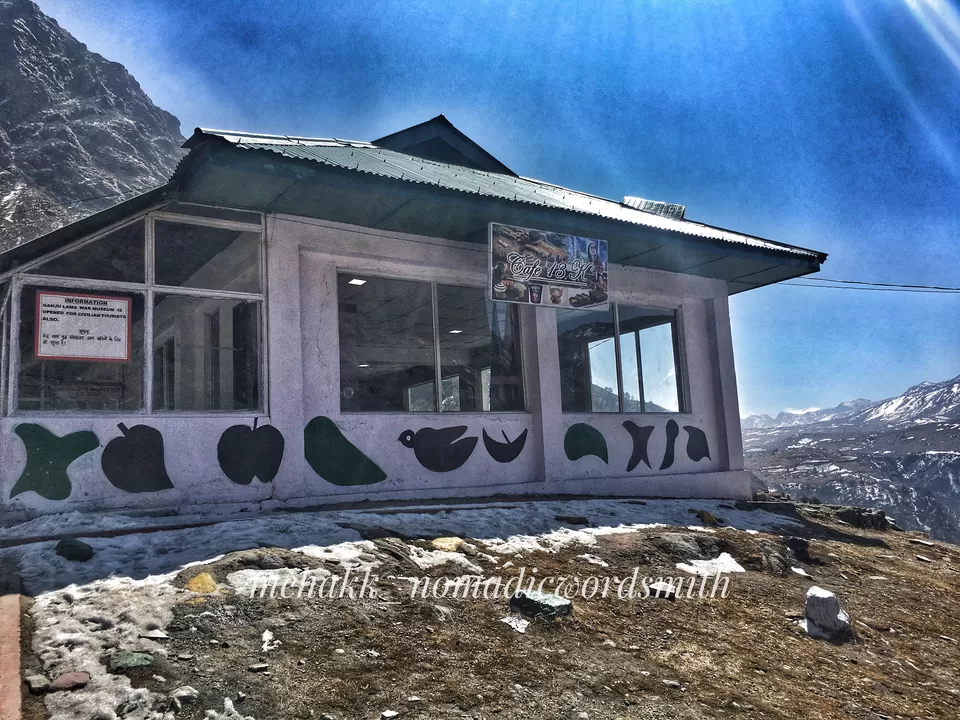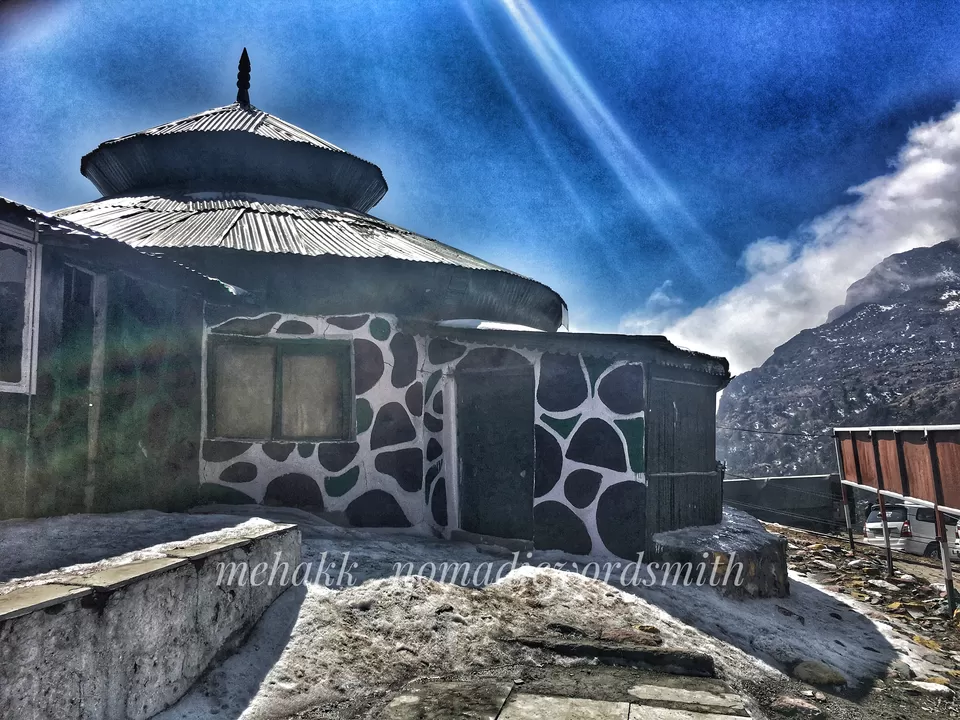 How to reach Baba Harbhajan Singh Memorial?
Air: The nearest airport is Bagdogra, West Bengal. One can hire a cab from Bagdogra to Gangtok (123 km) and the from Gangtok to Baba Harbhajan Singh Memorial (52 km) via Tsomgo Lake (must visit).Road: Road connectivity to Gangtok from major cities is very good. Hence, one can hire a cab and travel by road up till Gangtok and then to the destination.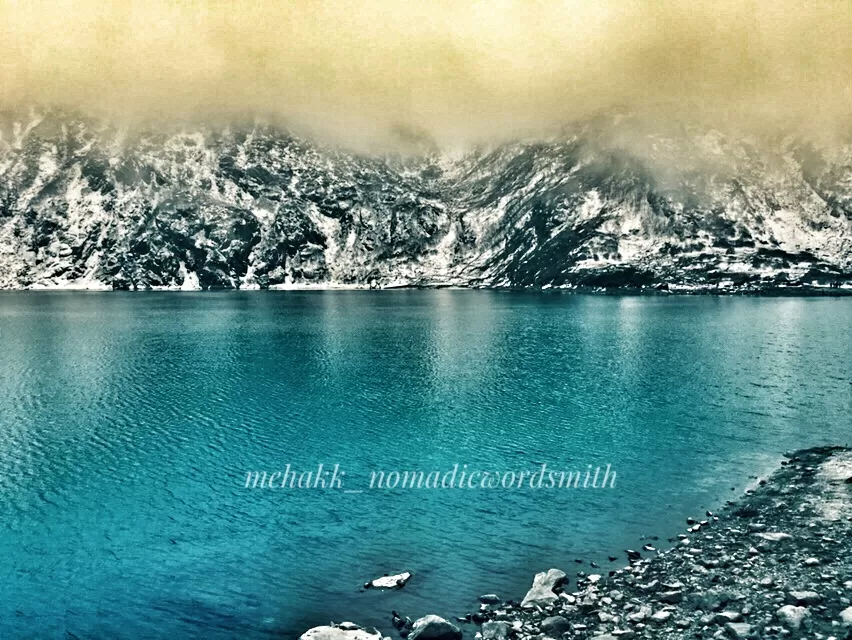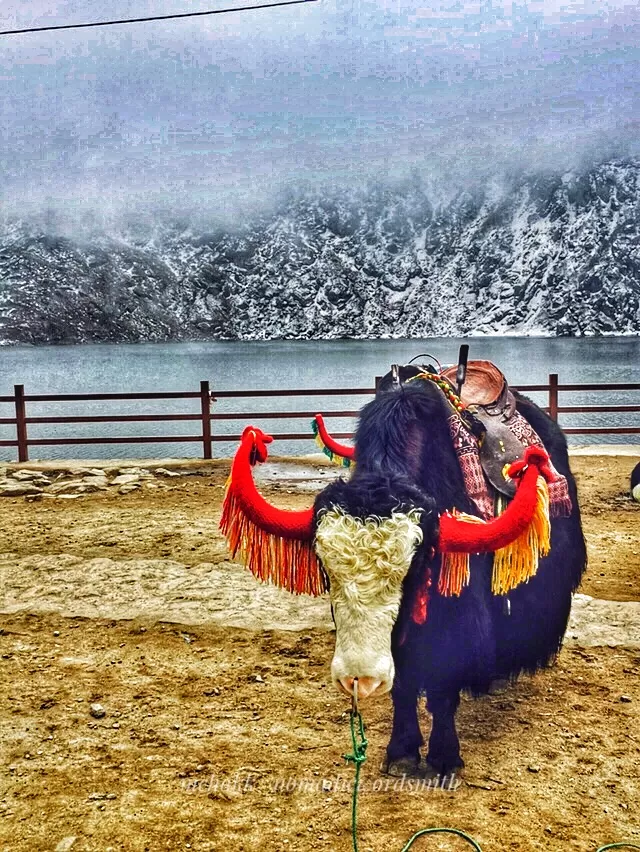 Road: Road connectivity to Gangtok from major cities is very good. Hence, one can hire a cab and travel by road up till Gangtok and then to the destination.
Rail: The nearest railway station is 148 km from Gangtok in Siliguri, West Bengal. The station is well connected to major cities like Kolkata and New Delhi. Once you reach Siliguri, the trip is on the road as mentioned above.
Best time to visit Baba Harbhajan Singh Memorial: From April to November. Also please acclimatize yourself in Gangtok for a day at least, as the memorial is at a significant height and one may face scarcity of oxygen or heavy breathing. To combat the breathlessness keep a stock of chocolates and garlic. Also, do not forget to have Thukpa (authentic dish) en route. Other than these every nook and corner sells the 'monk which is old' to combat the cold. :D.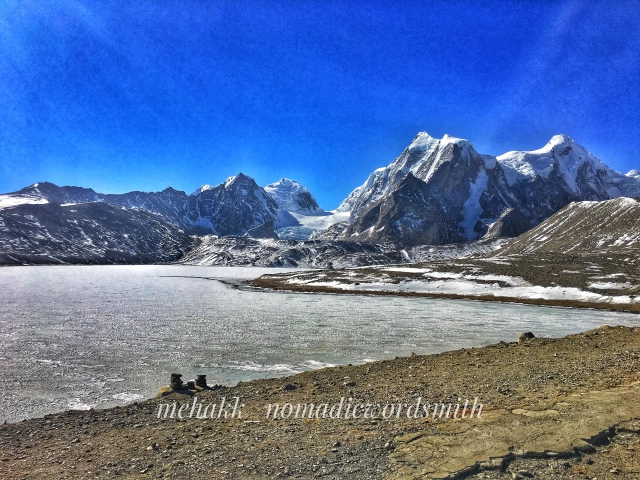 Location: 68 km from Lachen, North Sikkim, India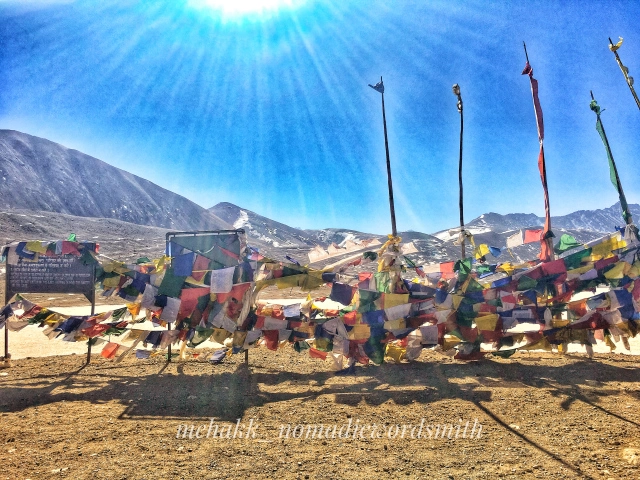 Apologue: The visit to this corner most lake in India was in Feb 2017. It is one of the highest lakes in the world at an altitude of 17,800 ft. It is a pseudo north pole feel. We halted a day at Lachen and then began our journey at 4:00 AM sharp to Guru Dongmar Lake. Leaving at 4:00 AM sharp is compulsory no matter what time of the month you visit. The reason is the terrain to the lake is both beautiful and hostile. The return journey from the lake should not exceed 9:00 AM as the snow storm starts inflicting the area approximately post 9:00 AM.

What so special about this lake apart from the hostile conditions and existence of water at such a height?
The legend says that Guru Padmasambhava visited this lake on his way back from Tibet. The lake remained frozen most of the year, hence there was hardly any source of drinking water at such an altitude. The villagers appealed to the Guru to help them. It is said that the Guru using his spiritual powers had placed his hands on a part of the lake which stopped freezing during the winters. Since then this lake has been considered sacred.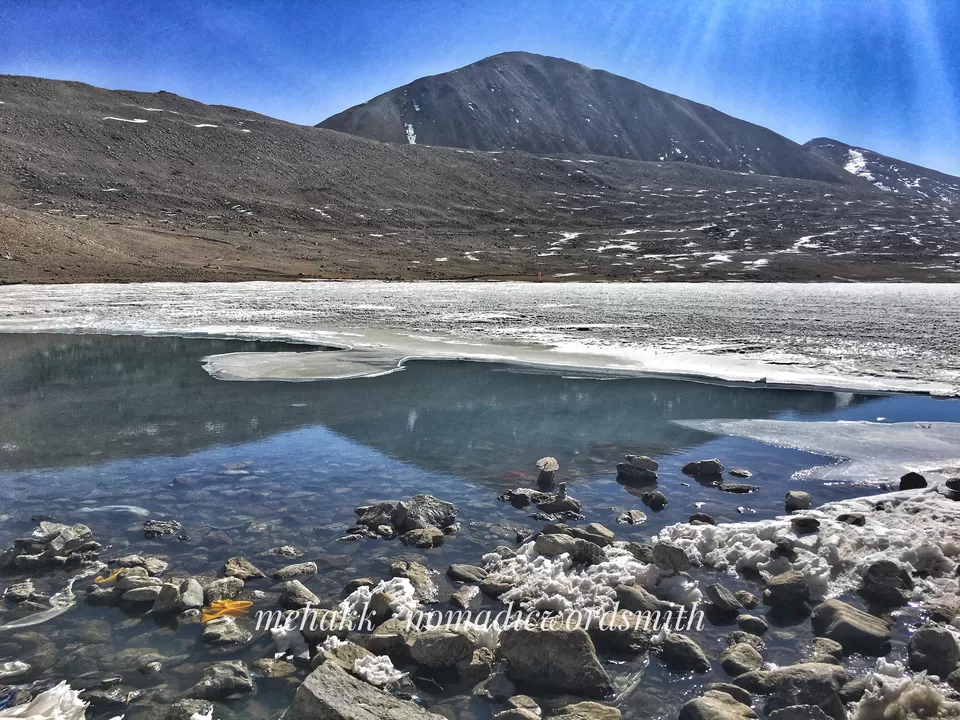 Another legend claims that Sikh Guru Nanak Dev Ji had passed through this lake on his return journey from Tibet. As appealed by the villagers to make this frozen lake a source of drinking water. Hence, he touched the part of the lake with his walking stick and liquified the lake throughout the year. He is also said to have blessed the water and announced to the villagers that whoever drinks this water will get strength and agility.
However, the latter legend is disputed by Namgyal Institute of Tibetology.
My story

For a change there was nothing spooky there, but how can an adventure not be there when I am not around. To visit the lake one has to descend down around 30 to 40 stairs. Hailing from the mountains I decided to run down and drink the water of this sacred lake. Whether it was the lake water or the overdose of dark chocolate I started running up the stairs with vigor, yes, I tried this stunt at 17,800 ft. (Please try it at home only and not in Guru Dongmar Lake). And as a result, I became breathless as if I had sprunt 400 m. I could feel oxygen evading from me for at least 5 minutes. It was serious that time, but funny later. The below picture depicts my over-enthusiastic attitude at such an altitude.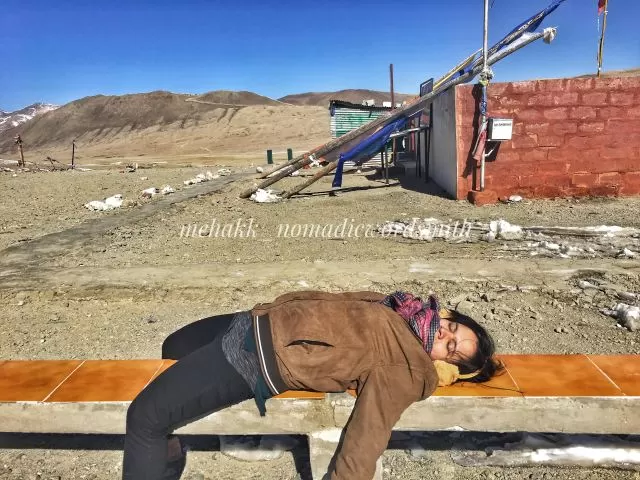 The journey from Lachen to Guru Dongmar Lake is breathtaking. So, how to reach Guru Dongmar Lake?
Air: The nearest airport is in Bagdogra, West Bengal. One can hire a cab from Bagdogra to Gangtok (123 km), Gangtok to Lachen (107 km) and then from Lachen to Guru Dongmar Lake (66 km).
Road: connectivity to Gangtok from major cities is very good. Hence, one can hire a cab and travel by road up till Gangtok to then Lachen and then to the destination.
Rail: The nearest railway station is 148 km from Gangtok in Siliguri, West Bengal. The station is well connected to major cities like Kolkata and New Delhi. Once you reach Siliguri, the trip is on the road as mentioned above.
Best time to visit Guru Dongmar Lake: From November to June. Also as mentioned earlier do not forget to acclimatize at a lower altitude and always carry a stock of dark chocolates and garlic.
Enjoy the voyage!