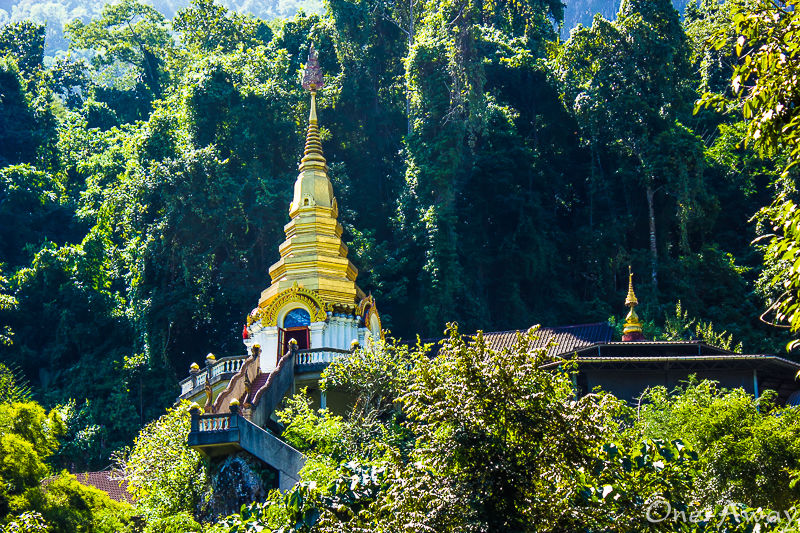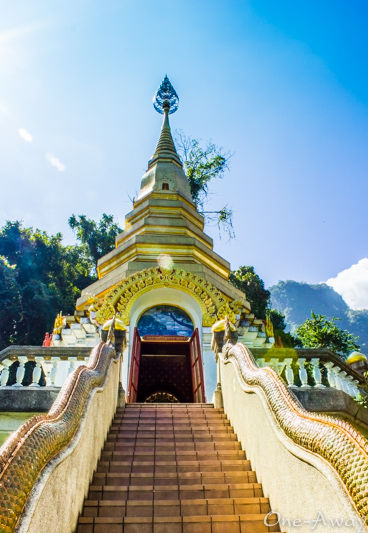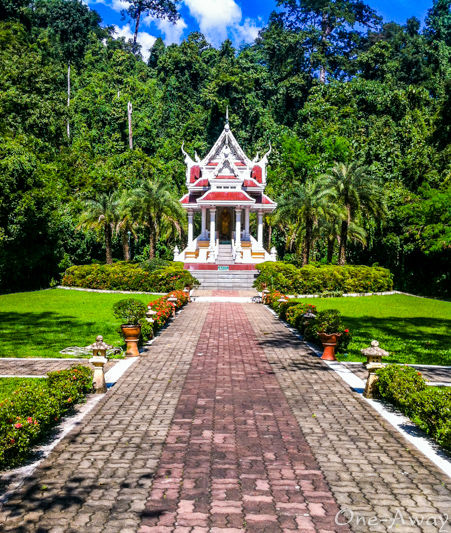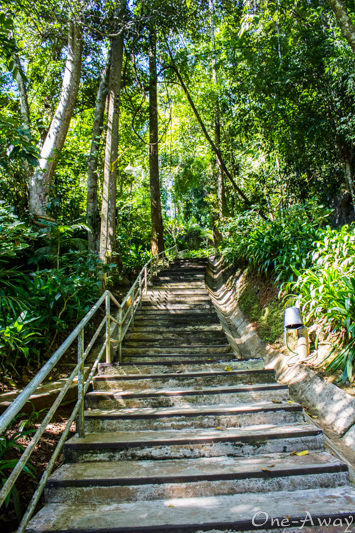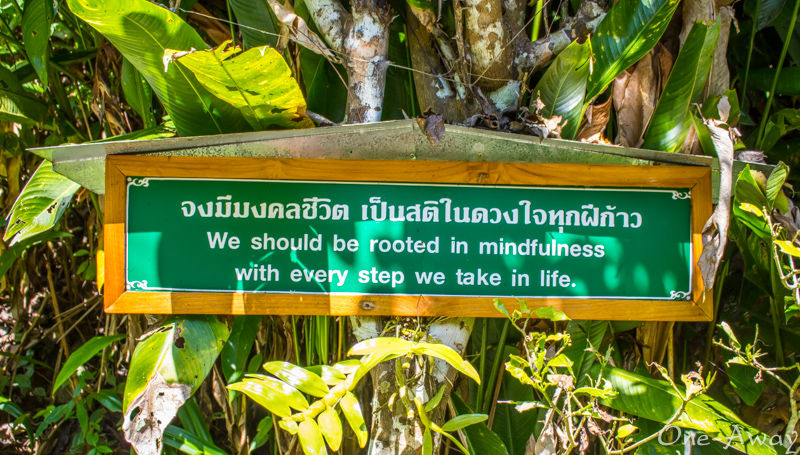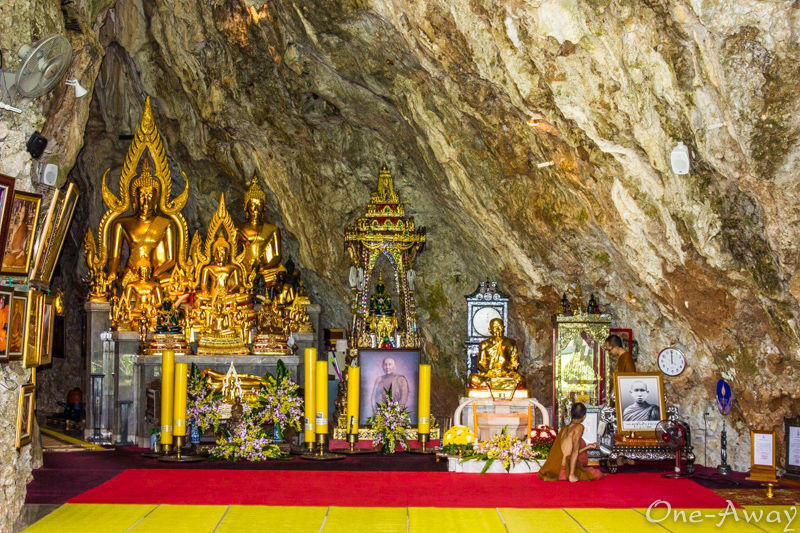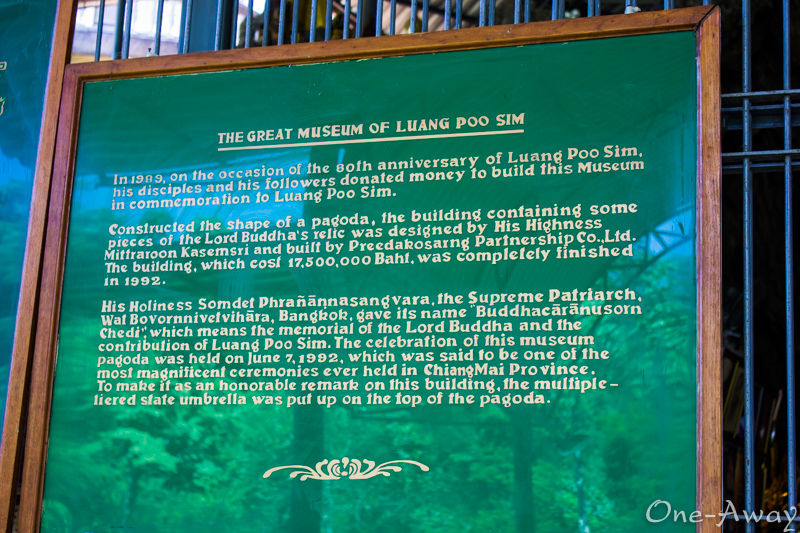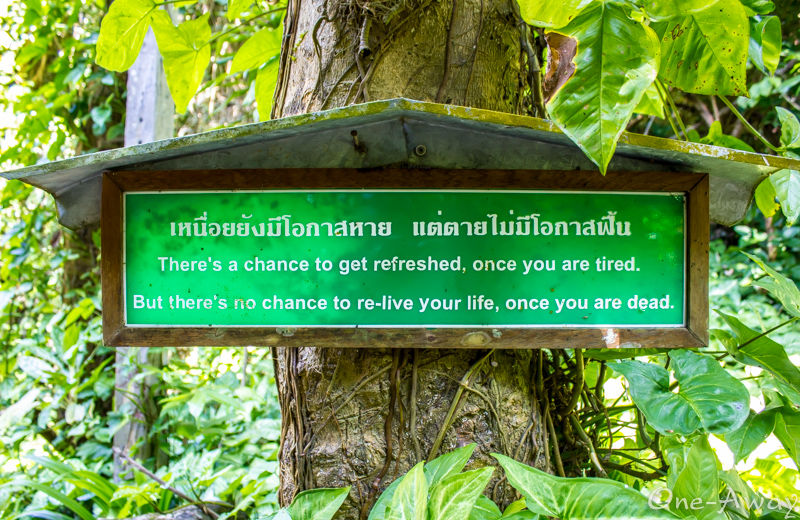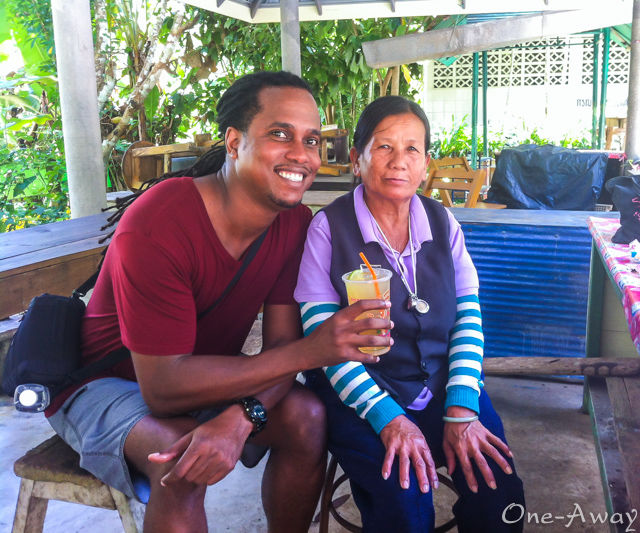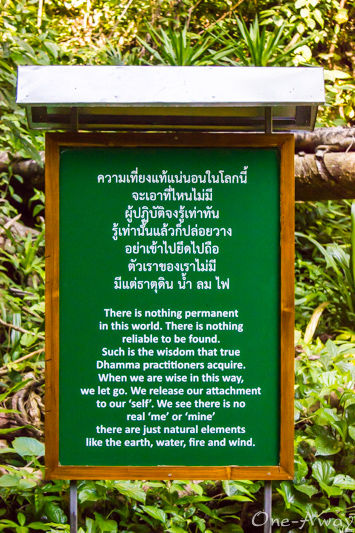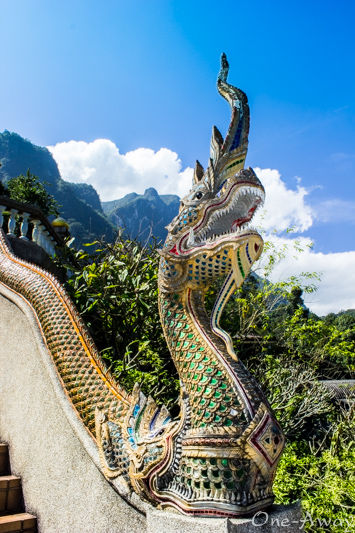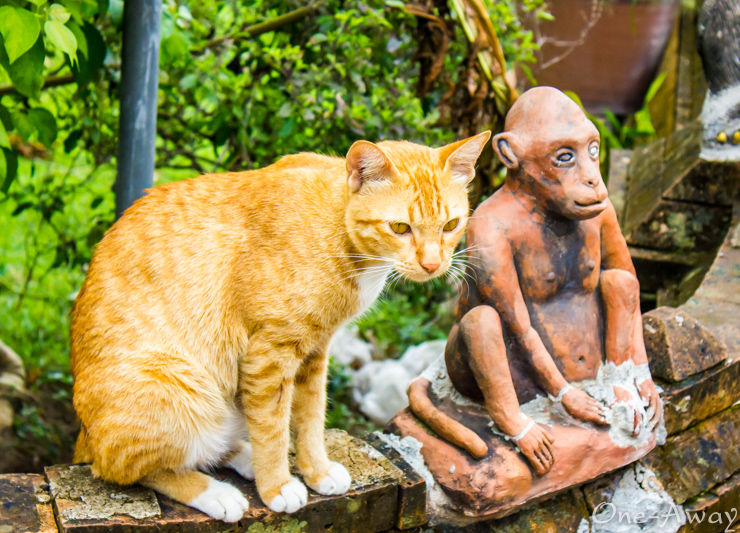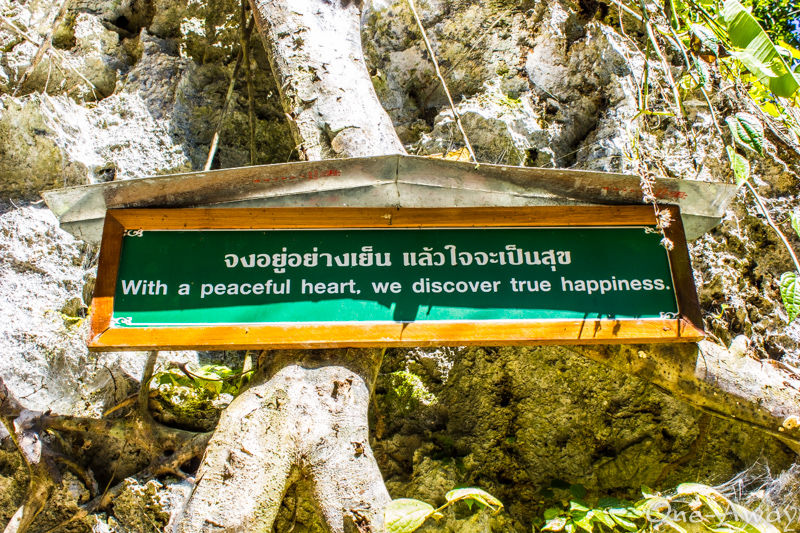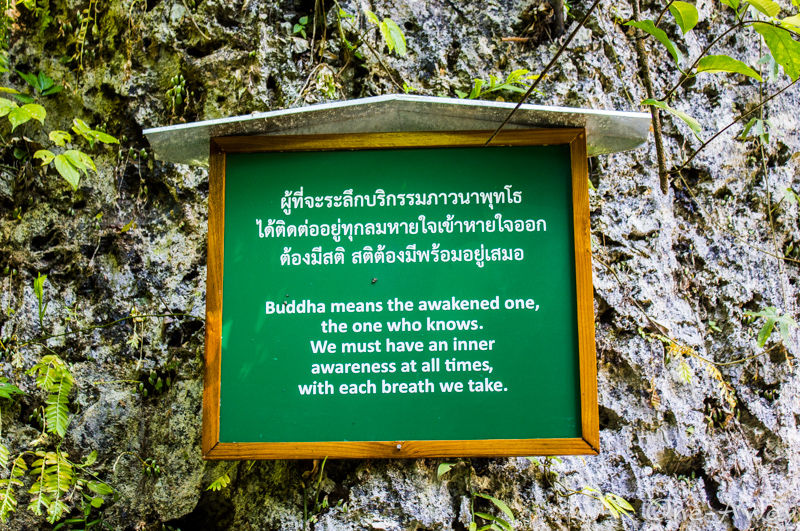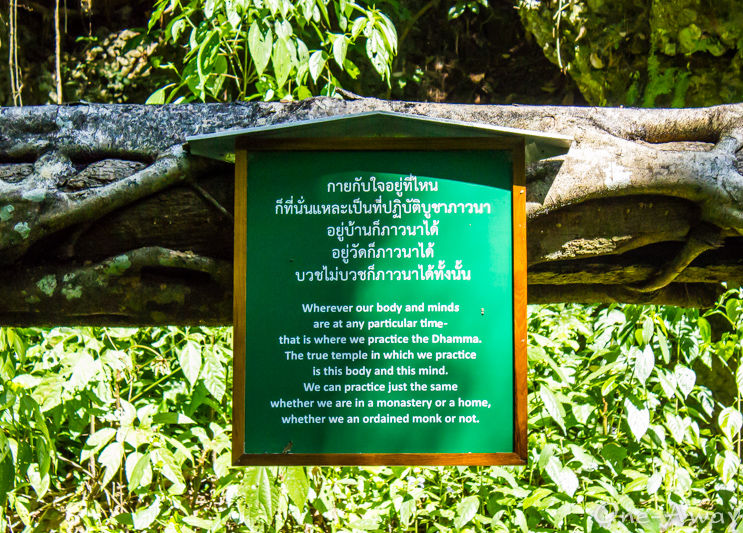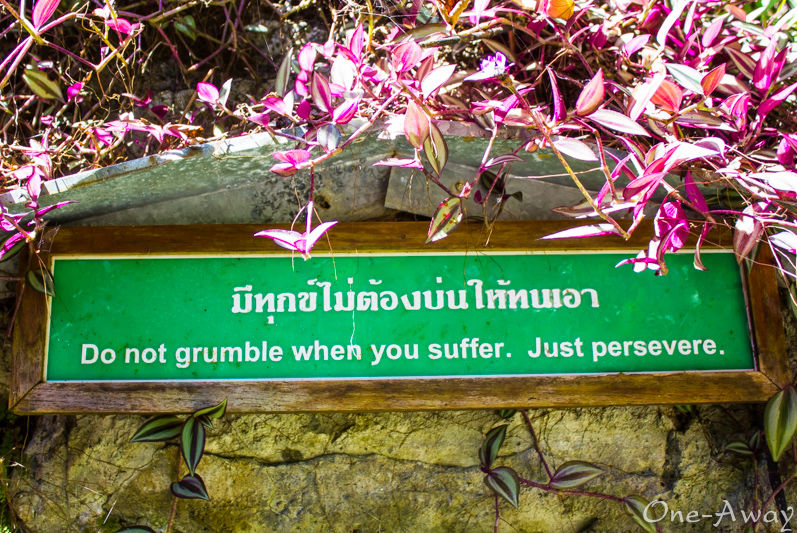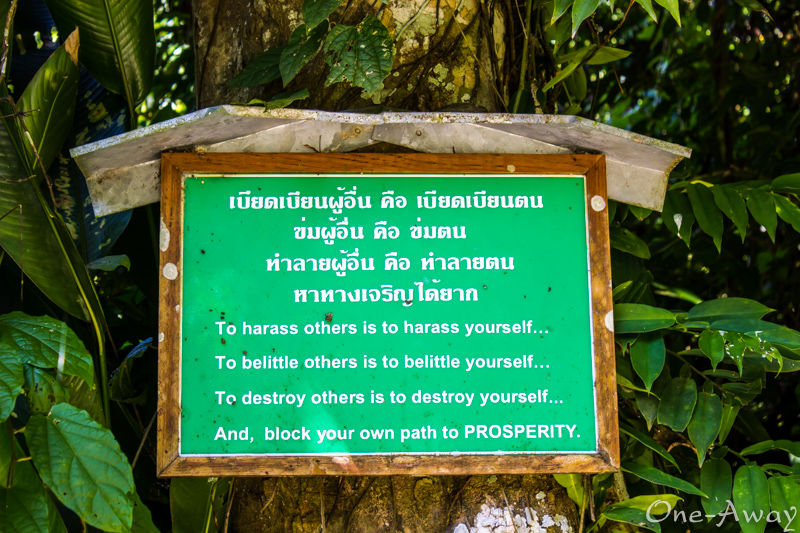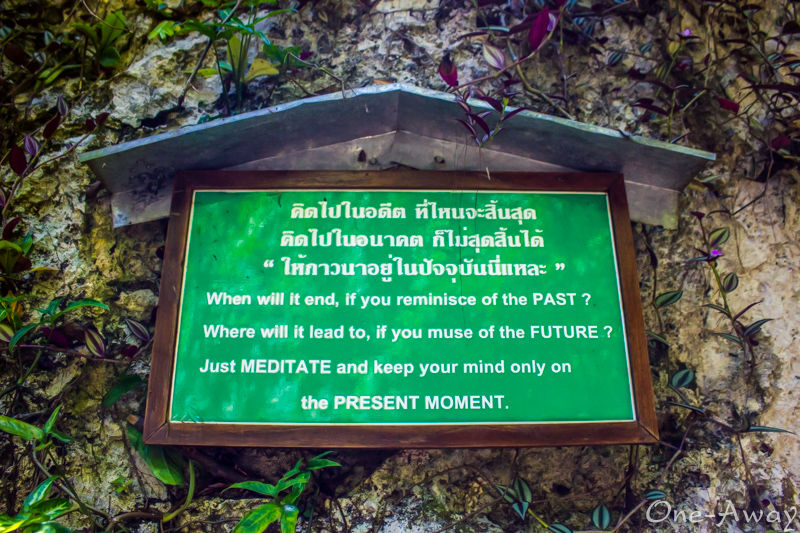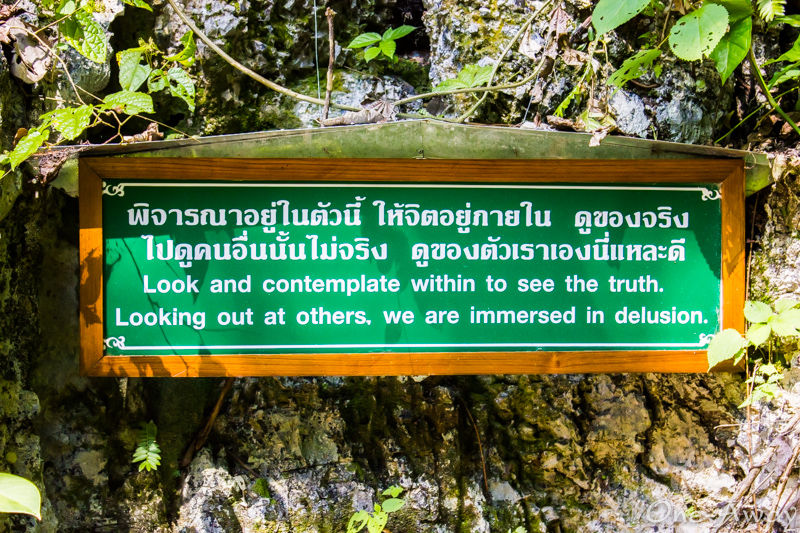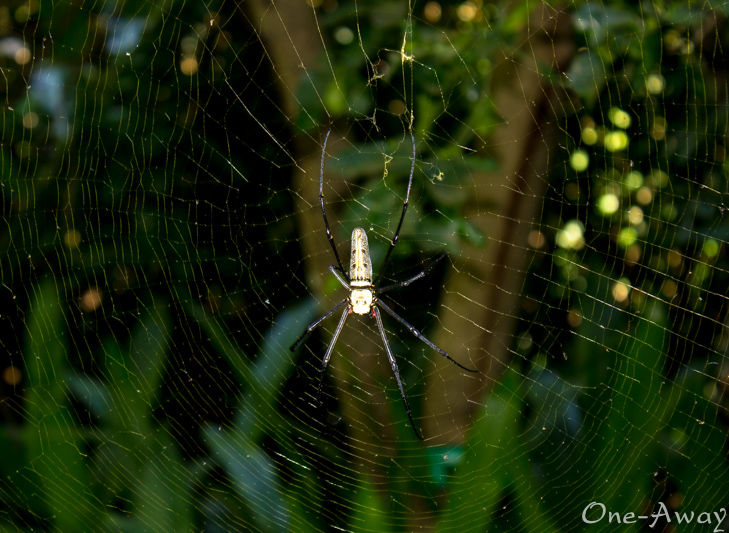 WAT THAM PHA PLONG
My trip to Chiang Dao included a peaceful afternoon walk up a mountainside to see Wat Tham Pha Plong. It is in an interesting location. The golden stupa is located above and in front of the actual temple inside the cave.
It was a beautifully bright day, and I intended to hike a short trail through the mountains but when I found the very dense, dark opening I just couldn't imagine that I was in the right place. There was actually a sign and a path that led to what looked like a dead end and a steep muddy gully! So, I decided I would walk to the temple and pray/meditate instead.
I actually walked from Malee's Bungalows to find the hiking trail, but changed my mind once I found it. I only had to walk a little further to reach the temple entrance. There was no one except a Thai lady setting up some goods to sell near the entrance of the parking lot and one car.
I looked over to my right and noticed a very pretty white temple or shrine? I am not sure of the difference with these smaller structures that I usually see around much larger temples.
A 500 step concrete staircase led me through a shaded forest to some breathtaking views at the top.
The long stairway has encouraging and uplifting words of wisdom from the Dhamma(or Dharma) posted on trees along the way. When you reach the top you will enter a cave where many monks have studied, taught and prayed.
A well-known and revered monk named Looang Boo Sim Buddhacaro once lived at this temple.
THAI FREEDOM HOUSE
On the way up the long staircase I ran into a fellow American, a nice young lady named Lisa who began a non-profit, non government organization named Thai Freedom House. It is actually a language and arts community learning center that supports Burmese refugees and also minority Thai families.
I spoke to her for a few minutes and got her card and continued up to the temple.
As I climbed up the steps I thought to myself that I would definitely visit the Thai Freedom House, or at least visit the Freebird Café who happens to sponsor this organization. But somehow, I didn't make the effort to find them in the last few weeks I was there, which I still regret.
After I toured the temple took some pics and video, I came back down to where the Thai lady and now Lisa where sitting having a conversation and drinking cold fresh Lemon Iced Tea. It was very hot that day and I immediately asked for a drink and sat down on a wooden bench to join them.
I noticed Lisa could speak Thai very well. We sat there for some time talking about all sorts of things, family and business mostly. The Thai lady would speak and Lisa would translate for me, and I would answer a few of the Thai lady's questions and I learned some new words in Thai as well.
It was such a nice experience to have that translation from Lisa, I didn't always have that. Although many of my Thai friends could speak some English I feel, I could probably learn a lot more if I understood their language better, and believe me I tried!
I didn't find Lisa's card until I got back to the states, but now I've been in contact thru email and Facebook. I hope to help out the Thai Freedom House in the future. After all, don't you believe you meet certain people for a reason? I do.
TEMPLE RUNNER
"I've seen so many temples, I think I am templed out."
"I have seen enough temples to last me a lifetime."
These are not my words but the words of my fellow travelers. I heard it many times when meeting new friends traveling through Northern Thailand.
Well, I have heard enough tourists and backpackers complain about how many temples they have seen.
It's like saying, " I have seen enough sunsets, seen enough art, surfed enough waves, been to enough beaches and I've seen enough plates of delicious food to eat every day."
"Plus, I am sick and tired of playing with cute puppies and kittens!"
Well I understand a temple doesn't equate to cute puppies, but I guess if you are just visiting them, to say you did, then you are just wasting your own time. There are plenty of other things you can do in Thailand, if you don't like touring temple after temple. I visited a few in Chiang Mai, and each were very beautiful and unique.
I had no intention of seeing every famous temple, but it was nice when I visited a new area to check out a temple in that city. It's a good time to just be quiet and reflect. There is so much noise and disturbances in our every day lives, that I look forward to those quiet moments on temple grounds, with no technology, but that's just me. (except for my camera)
I won't avoid another temple just because I've been to so many now. When I visit Europe I look forward to seeing all of the historic churches and cathedrals, especially in Italy and Germany. Its not about religion, for me, I enjoy the historical side and the spiritual side.
The truth is the truth, no matter who speaks it, so I don't discount wisdom, just because it wasn't discussed in the religion, I grew up with. We should all be able to discern the differences between good and evil, but unfortunately so much evil has been perpetuated in the name of religion.
There is much to be thankful for and so much to appreciate in this world. The creativity and uniqueness seen in nature itself blows my mind.
These last words of wisdom, have been resonating with me the most, for several months now, since the first time I saw them.
Especially since returning to the U.S. I find that so many people really are shaped and molded by what they see on television, especially my generation and down.
They are influenced primarily by what they learn from their peers at work and in church, and even though we live in an information age, we refuse to check the facts for ourselves and instead rely on information from people who do not have our best interest in mind….
For more information on Thai Freedom House and how you can volunteer or donate
Please visit their website: http://thaifreedomhouse.org/
This post was originally published on One Away.