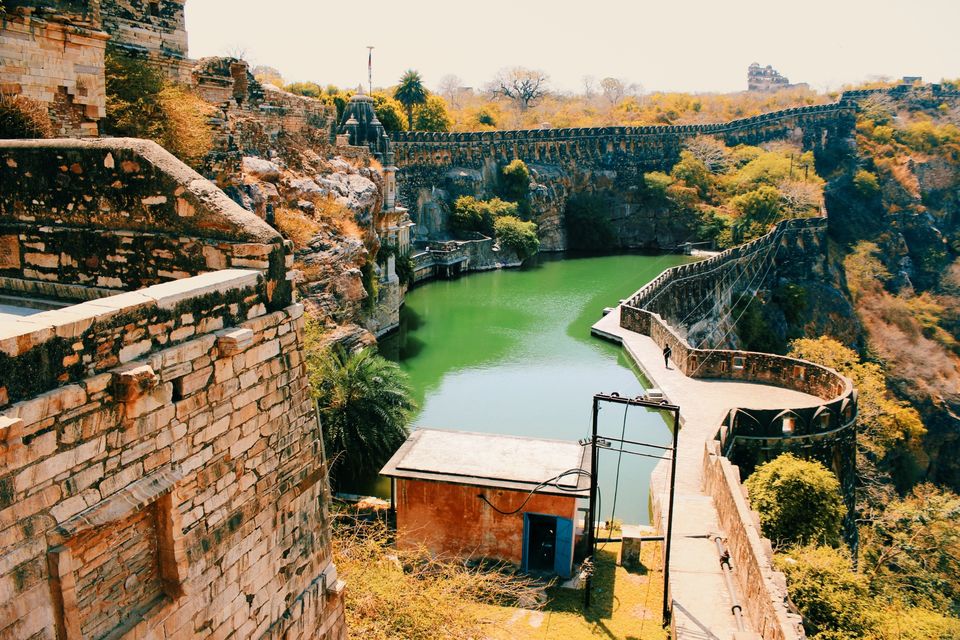 This is my 7th blog under "capture rajasthan". Capture rajasthan is basically a project that I'm doing for Indian film and TV industry to provide them beautiful and unexplored locations for shooting purposes.
From Bhainsrorgadh fort we moved to Chittorgarh to capture chittor fort.
Welcome to the "pride of rajasthan."
Chittorgadh is always remembered for great heroism and sacrifice by Rajput men and women in the intermittent battles against invaders.
WHY TRAVEL?
Yup I know this fort is widely explored but the main reason for visiting is it's massive hilltop fort and marvelous architecture which include beautiful massive fort perched atop180 meters high hill and the fort covers an area of 700 Acres!! (which makes it not only most outstanding and biggest fort in India but also in Asia) , out of which 40% of 700 acres given over to 84 water bodies!! (including talabs (ponds), kunds (wells), and baories (stepwells) and for this reason Chittorgarh fort is also called as water fort), it's temples , Vijay stambh , it's history as old as from 7th century and how come we forget Chittorgarh is a depiction of Rajput culture and values.
We reached Chittorgarh at around 11 midnight and stayed in a hotel nearby fort. I requested hotel staff to take me to terrace and from there I can see this beautiful massive fort on hilltop , shining from lights like a diamond in crown. I was waiting eagerly for morning to come so that I can visit this proud historic fort.
WHAT TO EAT?
Both hotel and food here are pocket friendly.
If you are in Chittorgarh than don't forget to taste famous dishes here like for vegetarian like me try dal bati churma, gatte ki khichdi , badam (almond) halwa and poha and for non vegetarian laal mass and mohan mass.
REPORT FROM GROUND ZERO 😉
In morning we left for fort, the one mile long serpentine road to the fort is quite steep and exhastive. While climbing (obviously by car) to the fort we went through seven huge pols (gateways) which are guarded by watch tower and massive iron spiked doors.
On the main entrance we met our local guy narayan Singh who was our guide and coordinator. Narayan Singh asked us to hydrate properly as to capture 700 acres needs strenght.
First we visited Rana kumbha Mahal which is ruined now but still you can assume its magnitude by its ruined structure. It is said that cellars where rani padmini and others commited jauhar lie somewhere underneath Rama kumbha Mahal. You will also find meerabai temple here as once meerabai ,one of the greatest bhakt of lord krishna once lived here. The honey color of the fort was just magical and awesome for photography.
Then we moved to Jain temple, temple of adinatha with 52 devkulikas, which is heritage and truly an state of art .
From there we moved to the most proud monument standing tall after centuries "Vijay stambh" which is a 9 storyed tower with sculptures of hindu deities around built by Maharana kumbha for his victory over Mohamed Khilji. Narayan Singh told us now a days the passage to top of this tower is banned and from the top you get a beautiful view of whole city and topmost story features image of padmavati.
When I heard the word padmavati , I curiously asked him about sanjay leela bhansali "padmavat" , and he said will show us padmini palace , padmavat temple but took a promise from us for our safety. He said don't tell anyone you are from film industry as after that incident locals over here are very upset and angry , even don't bring your camera's inside and crew followed his instructions.
From Vijay stambh we moved towards gaumukh reservoir which is situated at the edge of the cliff and is among the 84 water bodies. From Gaumukh reservoir you will find a very beautiful angle of the whole town and this view is worth capturing in the camera.
From there we moved to padmavat temple and then to padmini palace. Located amidst water bodies, padmini palace is the place where Alauddin was permitted to see the mirror image of Rani Padmini, wife of Maharana Rattan Singh.
While visiting we saw lots of water bodies here and our local guy told us that 40 percent of this fort is given over to water bodies means if taken together these reservoirs can store about 4 billion liters of water means an army of 50,000 could live in the fort for four years without fear of thirst!!
TIME AND FESTIVALS TO VISIT.
You can visit here throughout the year but August to March is preferable because of good weather.
There are many festivals out of which 5 festivals are major.
1)Maharana pratap jayanti- as he has gained amazing respect and honors and his birth anniversary is celebrated as festival every year and several cultural programs.
2) Meera Mahotsav - Meera Bai was a devout follower of Lord Krishna. Every year for 3 days meera mahotsav is celebrated followed by many famous musicians and singers to sing bhajan's in this celebration. The 3 days celebration also features puja's, discussions, dances, fire works etc.
3)Teej - Teej is celebrated with great enthusiasm in August and it is the festival of swings. Swings are hung from trees and decorated with flowers. Young girls and women dressed in green clothes sing songs in celebration.
4) Jauhar Mela - It is the biggest Rajput festival. It takes place every year on the anniversary of one of the jauhars. This festival is held to celebrate the bravery of Rajput ancestors and all three jauhars which happened at Chittorgarh Fort. A huge number of Rajputs, including descendants of most of the princely families, hold a procession to celebrate the Jauhar.
5) Rang Teras - Rang Teras is a big colorful fair and huge gathering of tribal to rejoice the harvest of wheat has been celebrating Rang Teras is customary since 15th century. It is a thanksgiving festival of farmers. Young men in village perform their valiant skills while dancing.
I was wondering that after so many wars this fort still stands tall and tells its history of courage and valour of Chittorgarh. Each and every wall of this fort echoes Rajput pride, their heroism, sacrifices, romance and spirit. It is easy to have victory over forts but you can't break someone proud, courage and wisdom.