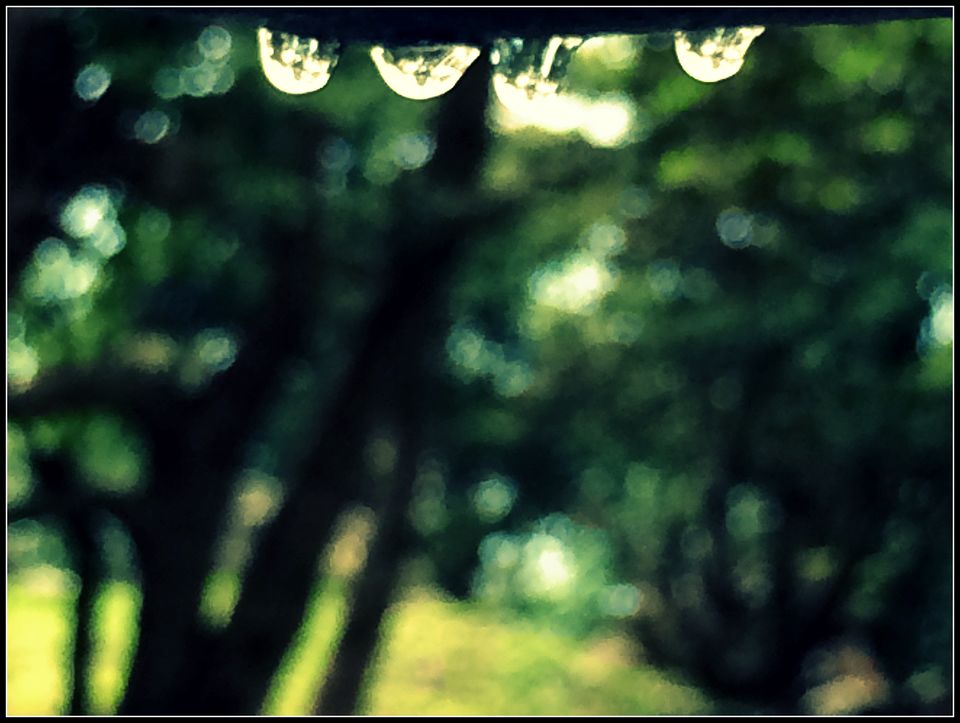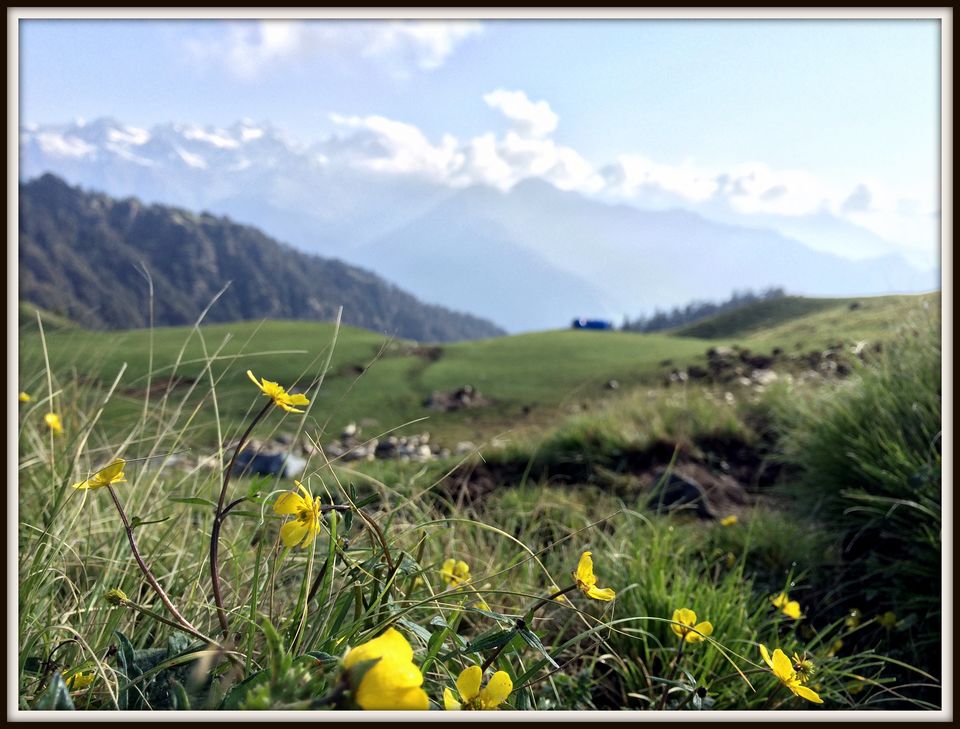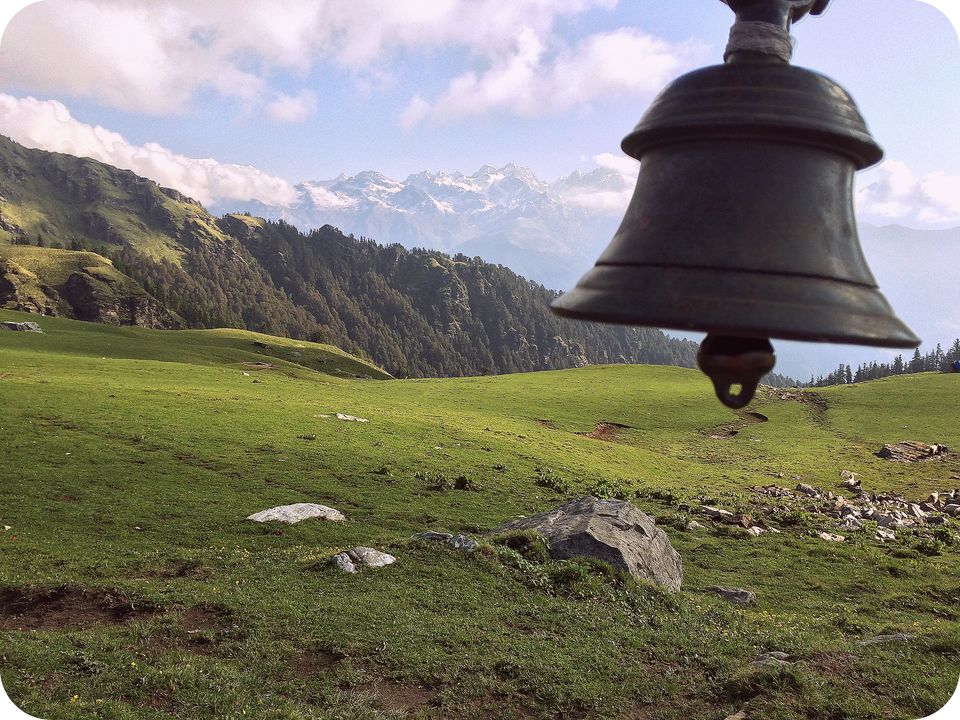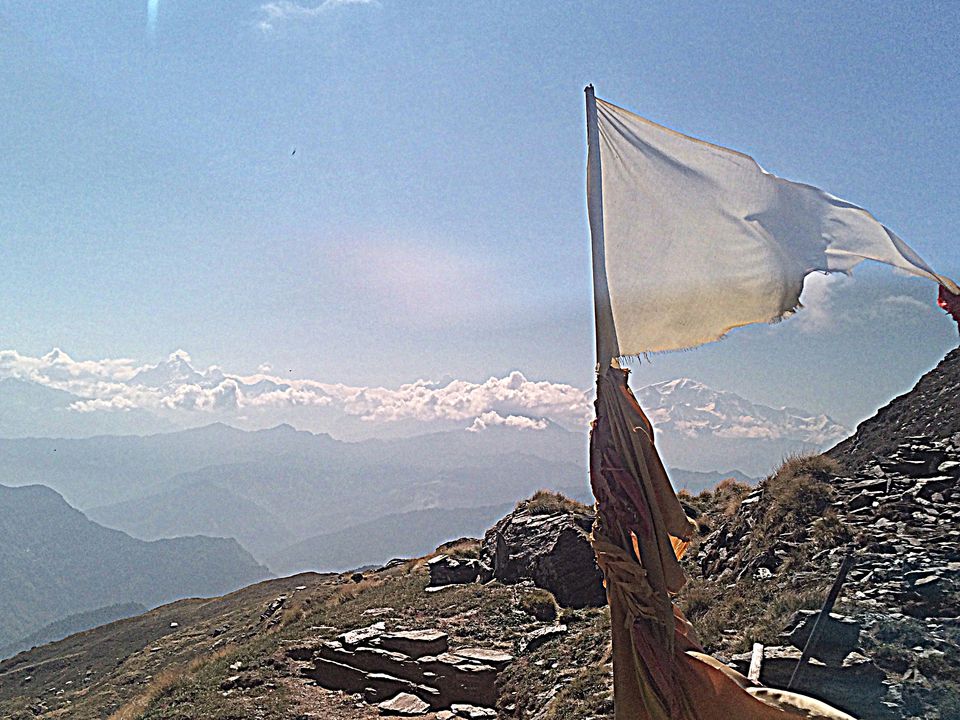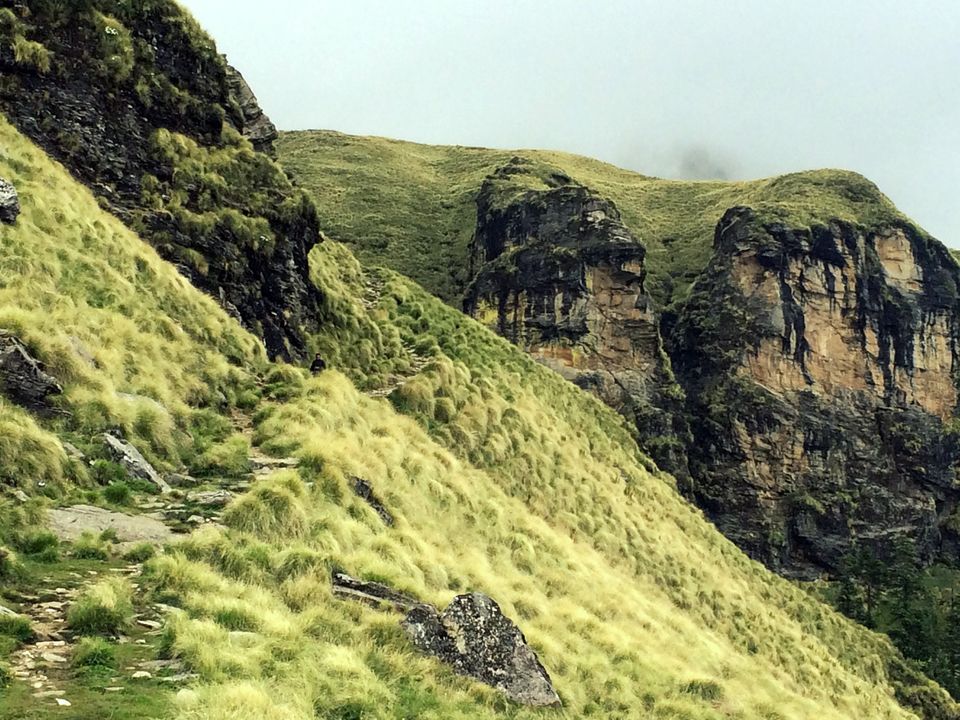 I was looking forward for the journey which can not only give me sense of adventure but could strengthen the spiritual fire in me. I had come this far in this wilderness to run away from the mundane chores of life, to get lost….to find new horizons….or maybe I wanted to walk along just myself. I was looking out for answers of those unsaid questions which keep coming to my mind. It's always the enigmatic charisma of mountains which binds me towards them and I was adamant to stronger my relationship with those Mountains.
(for reaching Tungnath and Rudranath please refer TUNGNATH : HIGHEST ABODE OF SHIVA )
After descending down from Tungnath hill we deiced to trek for Rudranath shrine ….same day in afternoon. Taxi left us at Hariyali village. We strapped up and started our trek along the unpaved trek. Hariyali was the small village on the foothills of the Rudranath hill. Along our trek through the village we could see some old façade of houses made from stone and mud, seemed like they were howling out the stories of the endless time wrapped in their muddy walls. We stopped along our way in village, in the local shop to fill the water and confirmed our path from the women who were working in the fields. It was the typical village of the Gharwal region were women could be seen working in the fields, bringing woods from forest, grazing cattles and doing household chores, I wonder whether it represented representing strong matriarchal society or otherwise ……!!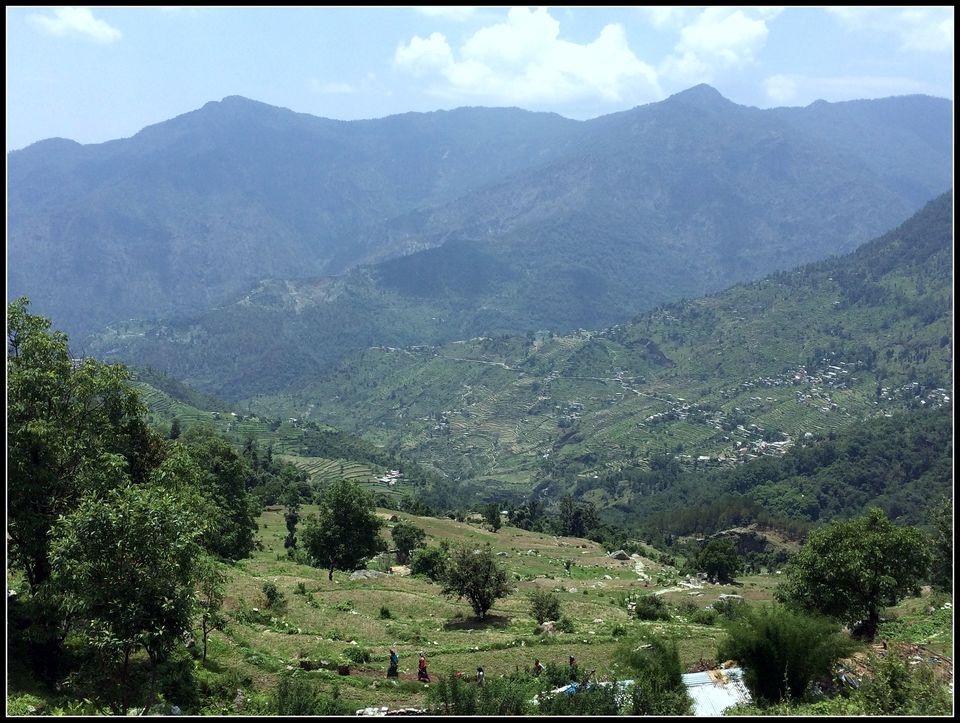 Initial trek was steep climb towards the forest. I stopped and looked towards the peak …but I couldn't , it was all covered with the drifting clouds. Village elevation was approx 1800m and I knew shrine was above 3600m and 18-20 kms away therefore we decided to take break after every 1km. I don't remember the last when I heard those chirruping of birds and rustling of leaves…or brimming sound of a rivulet crossing our way. Sun was nowhere to be seen. Overhead sky was covered with the clouds. Soon we could hear tapping sound of drops on the leaves and felt the music of nature which was being created and felt the momentary bliss which took our tiredness away.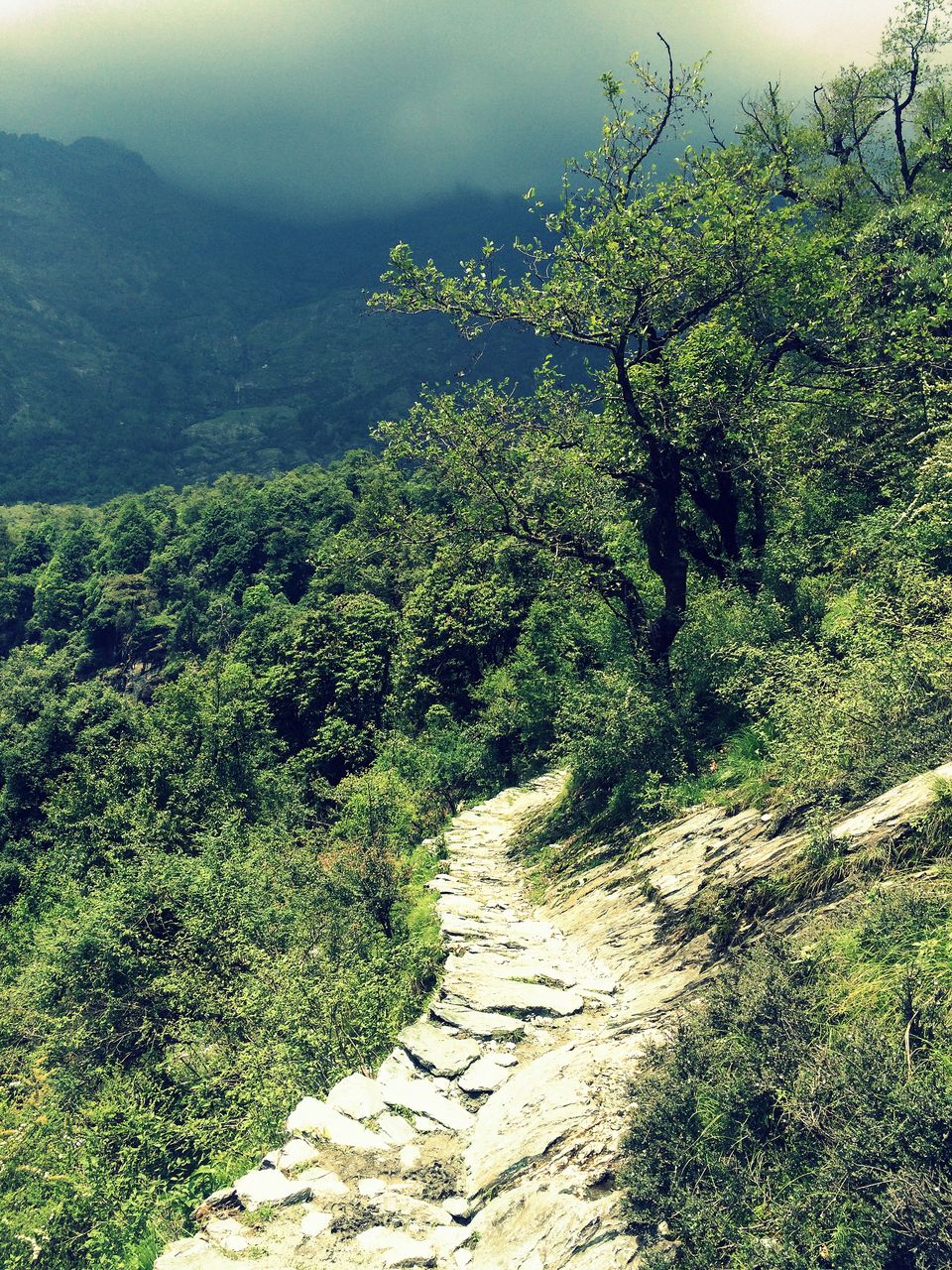 Covering 6 kms through village and forest our path lead us to sudden opening amidst the dense flora. It was small opening into grassland right at foot of the Mountain we were climbing. I still cannot see the pinnacle, it was hidden beneath the umbrella of clouds but could only see the trail of white fall between the vertical rocks as if emerging from clouds. Light drizzling had filled this scene with soothing calmness.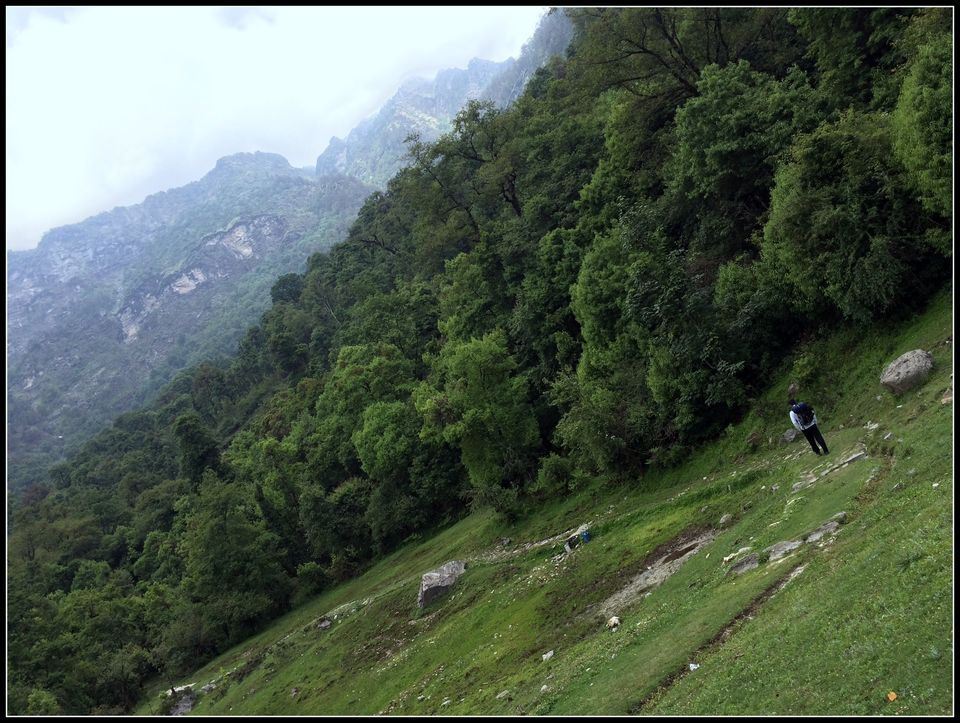 We started climbing along the steep trail……trail laden on unshaped rocks somewhere between the branches of trees. It looked as if trail was wearing brown cape made of fallen leaves beaconing us on our way.
We kept ascending and gaining height. After four hours of ardent climb we halted for break. We had some chocolates and water in bag-pack. I could look beneath, the panorama was filled with hills laden with puff of clouds, western sky was embellished with the dusky red colour preparing for serene sunset. I wanted to climb higher before the sun could set and enjoy its every moment of hiding behind the mountains.
Path was getting more steeper and steps were getting slower as we crossed the tree-line of fir trees behind. After an hour of trekking, still pinnacle was not in sight. Sudden gust of cold wind mixed with drop of sweat when touched me through the skin, feeling of tiredness went past me and I felt the breathe of a fresh cold air. Weather changes very fast in these hill and also monsoon season add to the vulnerabilities of a trekker. Soon we found ourselves drained partly by sweat and partly by first wave of monsoon shower. Cloud drifted along with us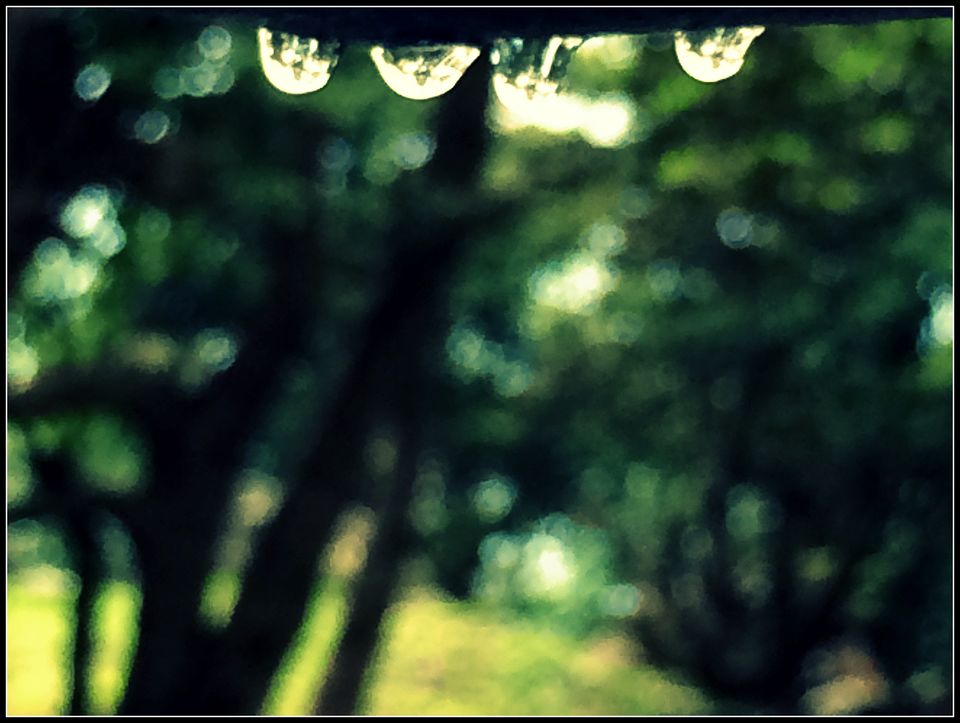 now quenching our thirst. I felt contemplated looking at drenching sky, trying to the catch the silver drops on my palm……… I knew that I would not be able but still I tried… felt an old feeling as drops melted leaving a glistening wetness ..... We found a shack on somewhat a clear area called Molly on a upslope. Nothing felt better than the hot cup of tea. Shack at Molly was run by Jai Singh. Sun had set. We were at last climb of 3km to reach Panar from where Meadows start. Weather was also packing up. So we decided to make a night halt at Jai Singh's shack and pitch our tent nearby. The darkness was stealthily taking birth, from the womb of night and I could see its umbilical cord spreading along the horizon, somewhere behind the silhouette of terrain. Blackness spreading its paw on horizon, appeared as if my past was prowling over me. I stood there , trying to absorb the serenity of dusk. Roof of sky was filled with the millions of stars, momentarily smiling upon me. Albeit, I search for piece of Moon but I couldn't find him and my old thoughts like my faithful friend from past returned to me. But I was cherishing this aloofness. It was giving me peace to be with my thoughts……………..!!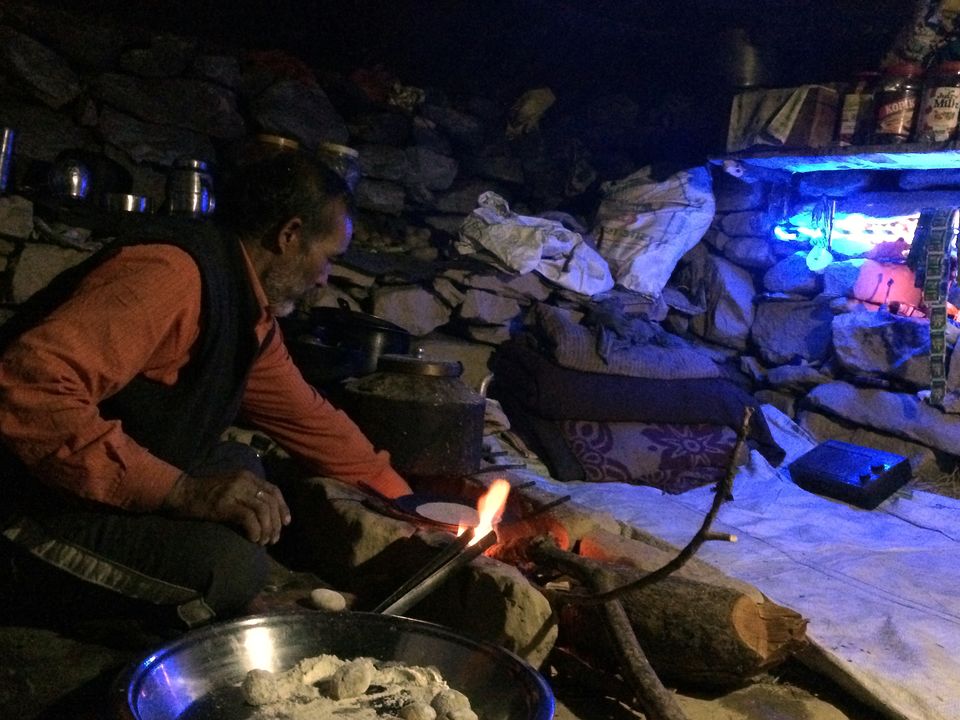 All of sudden Jai Singh call for food brought me back from the oceans of thought. Food had the taste, smell and warmth of burning red coal. But the warmth of the affection with which he served us food, like he knows us since long and been waiting to attend us, rekindled the fire of thoughts in me about the common relation that we share and I couldn't think any better than humanity. Voice from All India Radio mixed with crackling sound of coal was breaking the silence in a dimly lit shack. We just ate, hungrily. With the constant music played by insects and fireflies, we decided to shift into our two men tent and into our sleeping bags which were comfortable enough for to give us shelter and a night sleep.
We started early in the morning for our destination and bid Jai Singh goodbye the only thing queer I will remember of him, besides his warm food, would be the smile …. which was always on his face overlooking from wrinkles of his skin. Last 3kms of climb was left to reach Panar. We climbed fast under clear blue sky. Unpaved stone steps were leading us up and up …. sometimes seemed never ending …I wondered whether it was a staircase to heaven.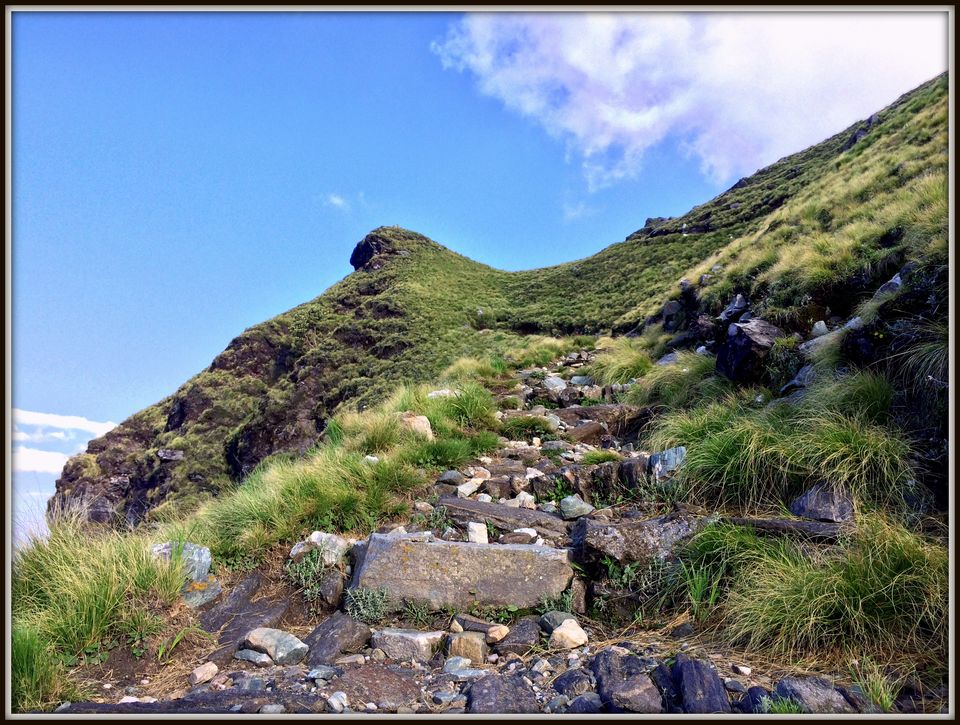 First view of Panar was breathtaking snow laden Himalayas never looked so close . Light green carpet offered panoramic view . We got reason to take a maggie break in a another shack here while adoring the beauty of nature which seemed never ending. Every inch of climb and ounce of sweat was worth reaching to this point which left us at elevation of approx 3600m and 8kms still from shrine. We continued on a thin trek in the middle of bugyal or green meadows, on a very different landscape. Trek now was leading towards the Himalayas.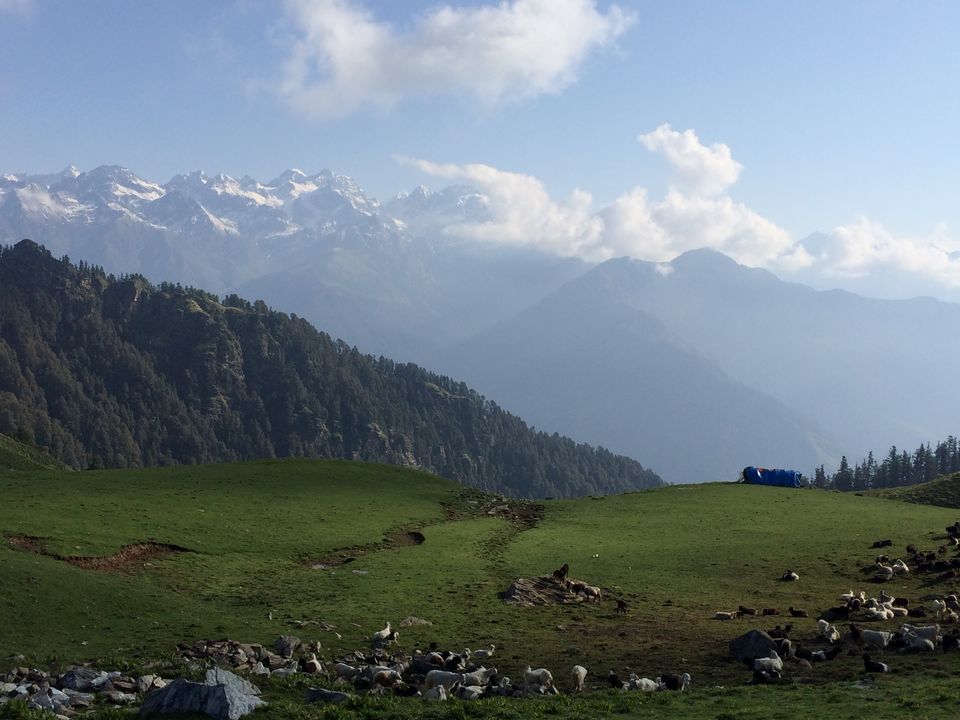 Path nothing more than doodle of some scrapbook made us gradual climb up to 3900m. We were encircling the Rudranth mountain now. Pinnacle was playing hide and seek with us hiding behind the drifting clouds and we were inching towards it. We spotted pair Himalayan eagle …at same height along with us. We were also excited to spot Musk Deers which are endangered species.
Trek lead us to a highest point of 3920m. Winds were unfurling flags along with bells beaconing from the on the highest point were making the place enigmatic.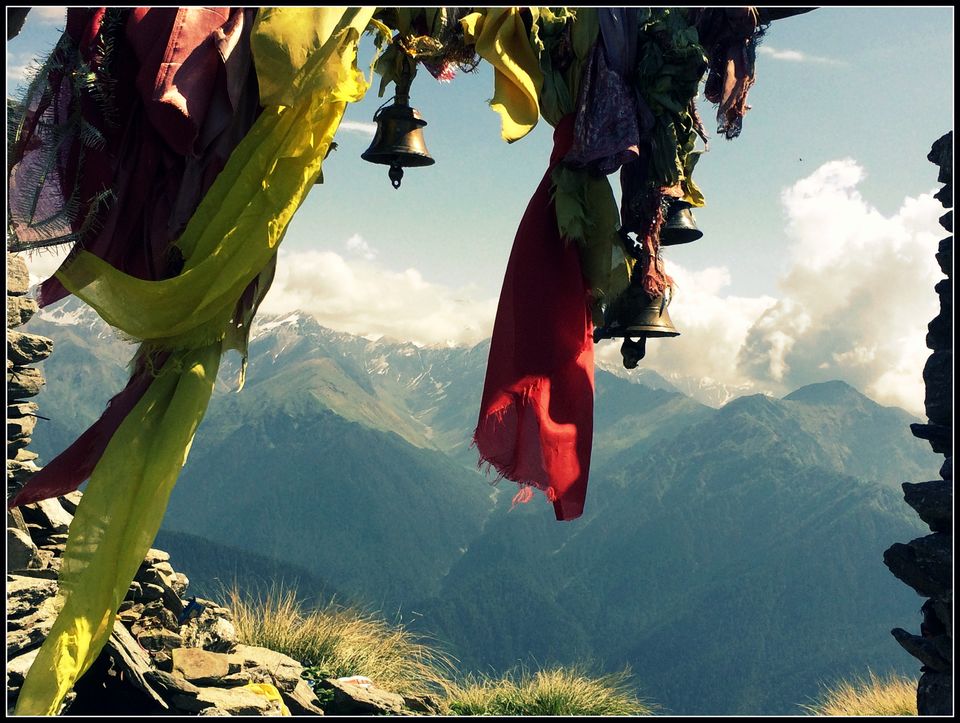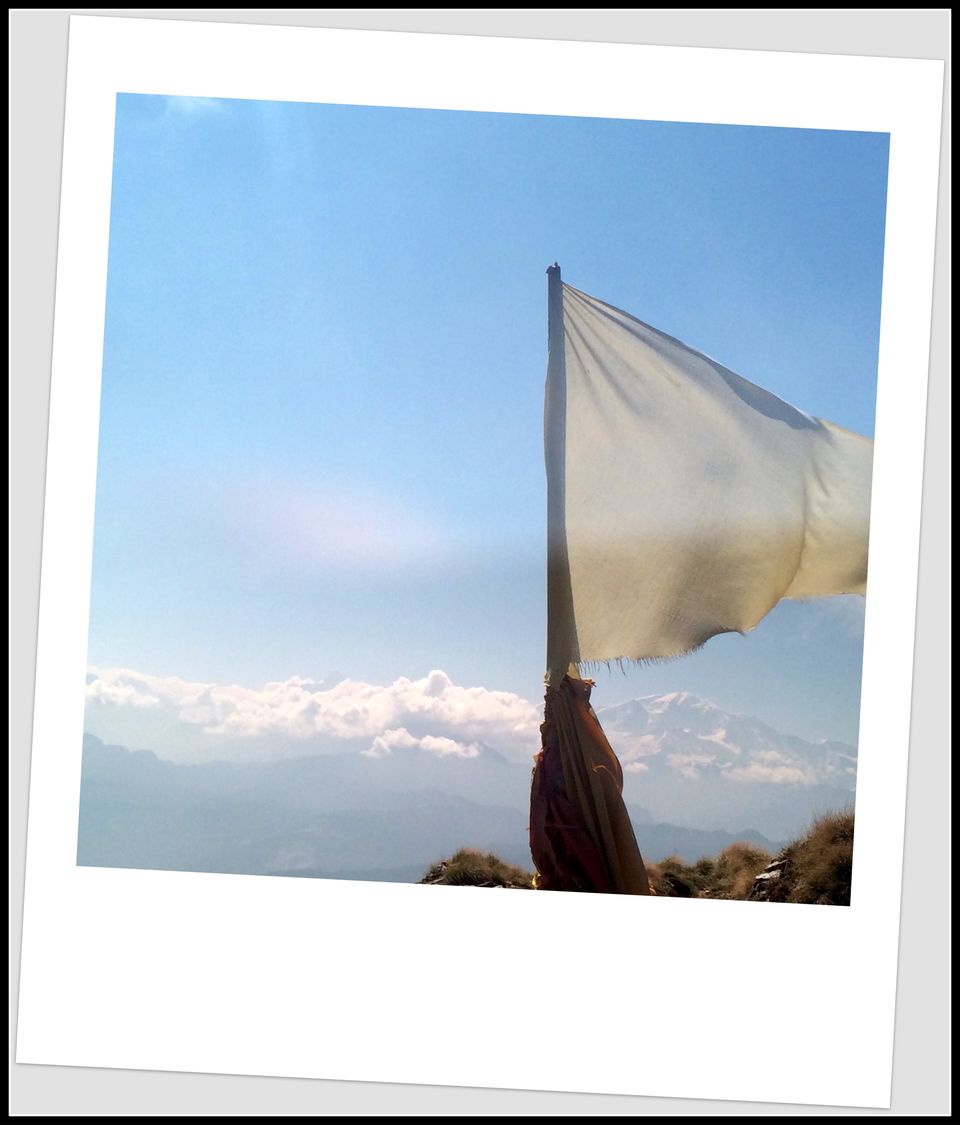 Another 5kms away was Paraw which was another open meadow and a favorite spot for tent pitching along with shepherd shack which can provide tea and food. We halted for a tea break. Shepherd whole family was living and working along with him. His children had come up-to him on a summer break from their school …used to graze cattle on those meadows besides selling hot cup of tea to tired travelers. A part of me …felt envy at their adobe but at same time I respected their daunting will to live devoid of all basic amenities in those snow laden hills.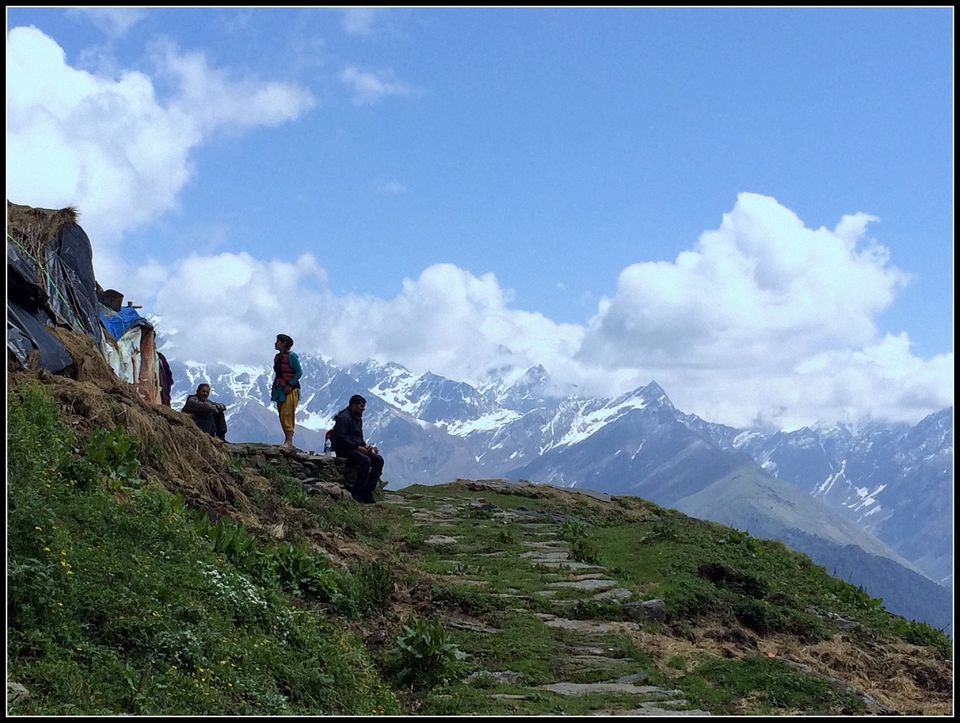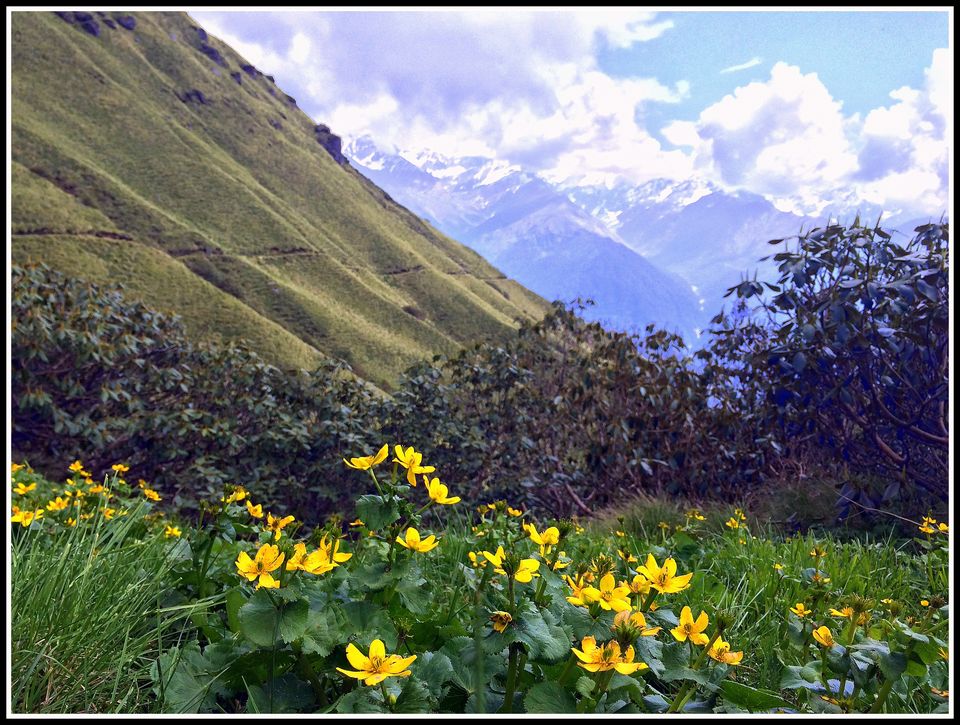 Again clouds started following us ……. And we entered in the slopes and drizzle felled everywhere. There was some untroubled uniformity in the drops. It felled over tin shack nearby, it felled over gradual hump in green meadows, it felled over soft petals of flowers and dripping further over green carpet of grass, it felled over rugged stone of trek………it felled over us rather in disolate uniformity.
We kept on walking. I could only imagine what this place would transform into during winter with snow and spring season with flowers. It seemed clouds continued following our footsteps.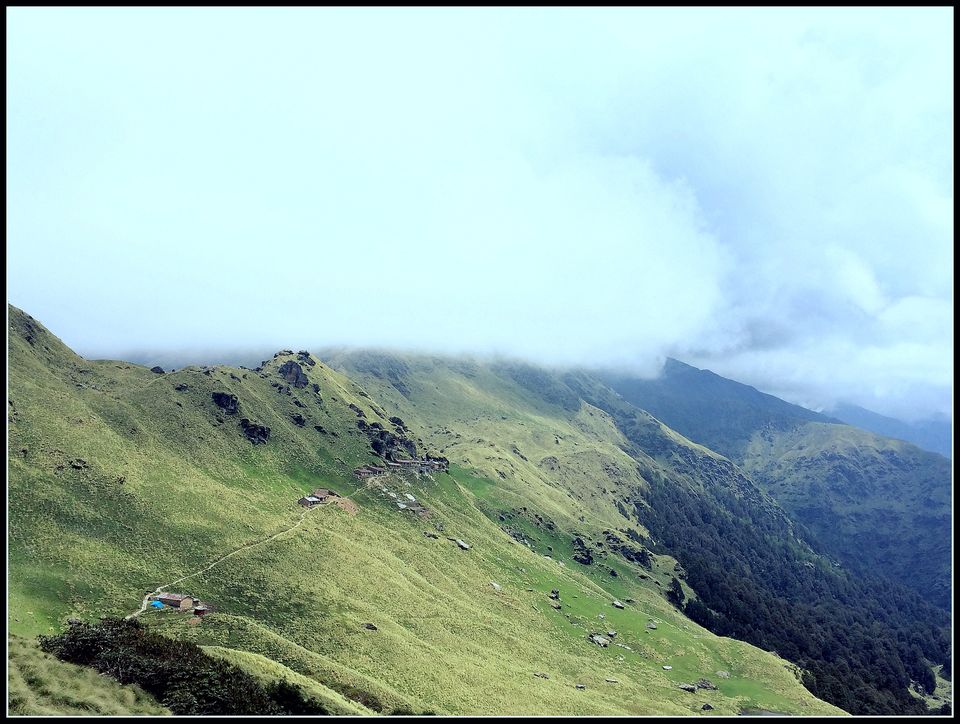 Rudranath Temple gives its appearance in last two kms of trek. Mountain donned the clouds and the path towards shrine like a wrapped shawl gave it a divine look. Priest welcomed us. We seek the blessing of the Lord Kedar Shiva. We were the only people present in the temple that time. We were among the few of travelers who reach up to this place. Priest offered us tea. We sat there watching the lifting clouds around…. I could feel the lifting thoughts in me with each breathe I inhaled. Strange quietude was filled in serenity , abating the storms of past that had grew in me. I found it as a symbol of hope in the quagmire of this illusionary life. Finally I felt at peace....!!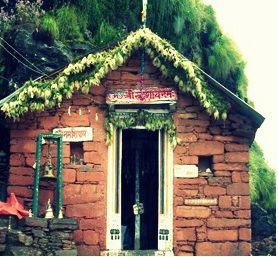 We finally bid him goodbye but I knew I was leaving some part of me in these mountains. And I knew I will be back again in these realms of tranquility trying to find my trust in divine providence.