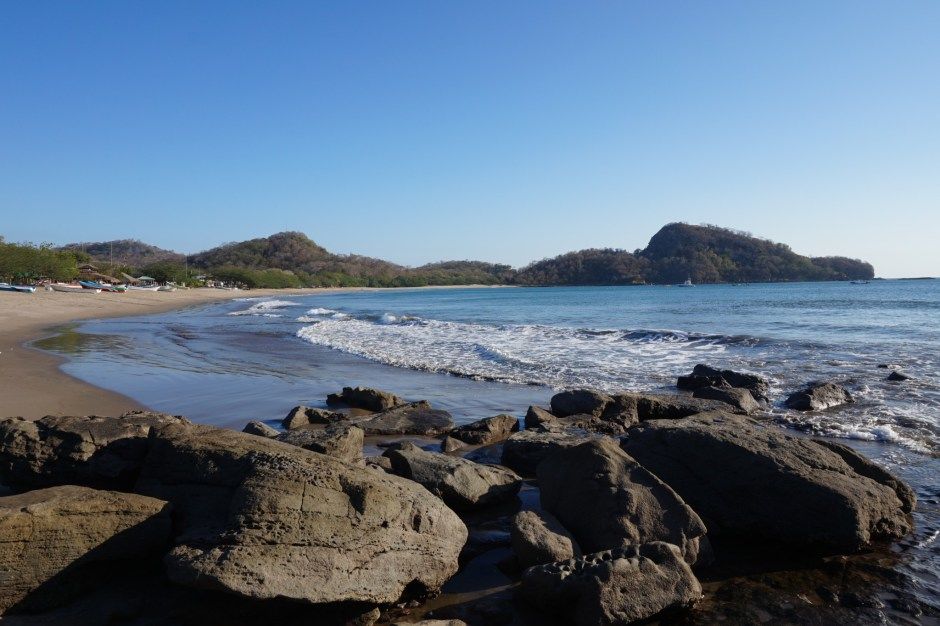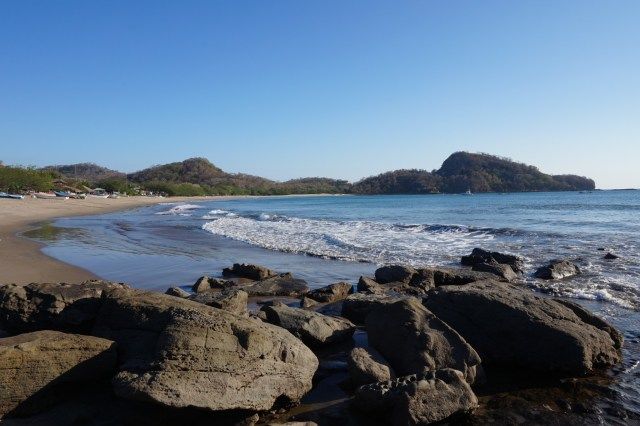 From Lake Nicaragua to the beautiful Pacific Coast of Nicaragua we traded freshwater for the salty water bay of Playa Gigante. While most people believe the beach is made for lounging, catching up on books, or getting some much needed R & R, there is so much that can be done. We thought we would stay for 2 days and ended up looking at real estate (we didn't buy anything but we were tempted) and stayed for a week. So why'd we leave? We found out we were over our 30 day visa stamp. No worries though as this is happens frequently especially when you find a slice of paradise. The immigration officer didn't seem to mind either and simply told us to pay the $2 a day fine when we crossed the border. Had we known it would have been this easy we might have stayed even longer.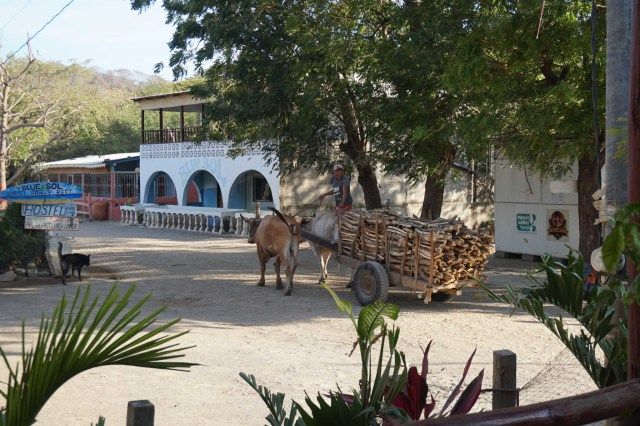 This picture sums up the pace of the town on the main cross "roads" that runs parallel to the beach. Life moves slow out here and you shouldn't expect it to speed up anytime soon. Nicaragua is easily 10 maybe 20 years behind the tourism boom of Costa Rica.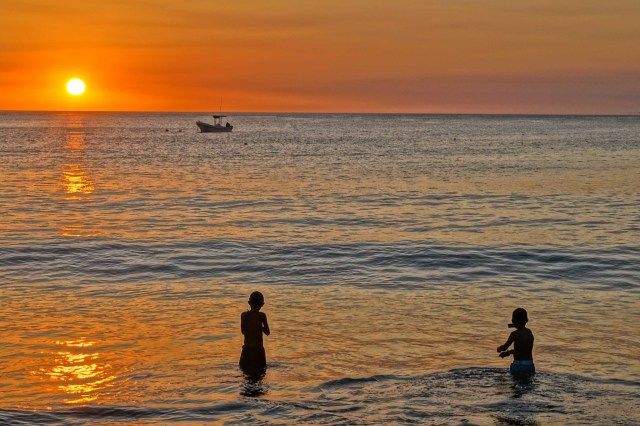 On our first day we checked in to Camino del Gigante, a great hostel on the beach, exactly where this sunset picture was taken. Being a travel day we pretty much did nothing but jump in and out of the ocean and stared at the view of sunset. Each afternoon and early evening local kids would come out and cast fishing lines in what we assumed was their next meal.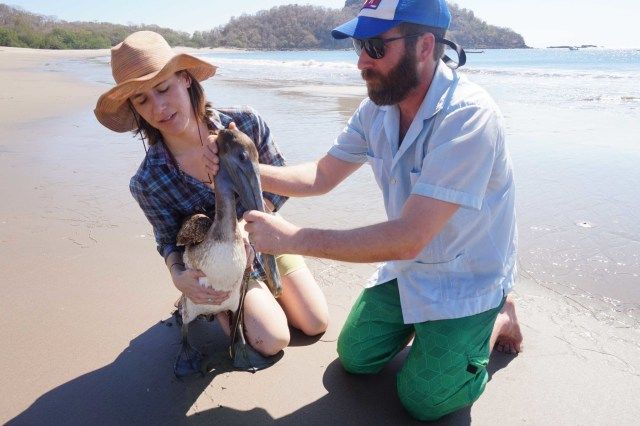 Of course once in awhile a bird needs a hero because once in awhile those kids fishing accidentally get the wrong catch. One day while going out for a swim we had to rescue a pelican. This guy was not happy and kept snapping his beak. We convinced one of the kids to put their hand in and unhook the line while we pried the beak open. Needless to say when heroes are needed heroes are found!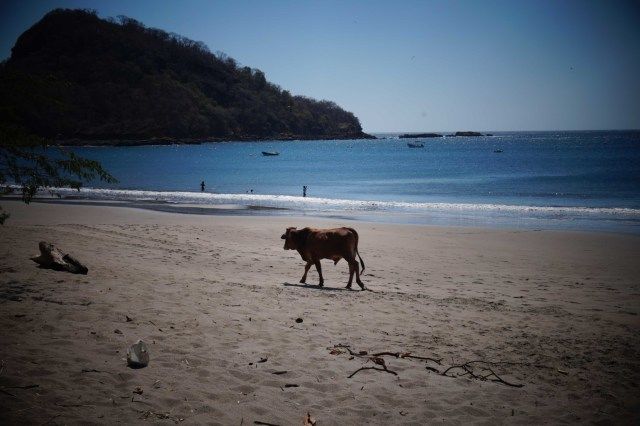 When not saving pelicans we would look out for local wildlife include this native vaka (Spanish for cow).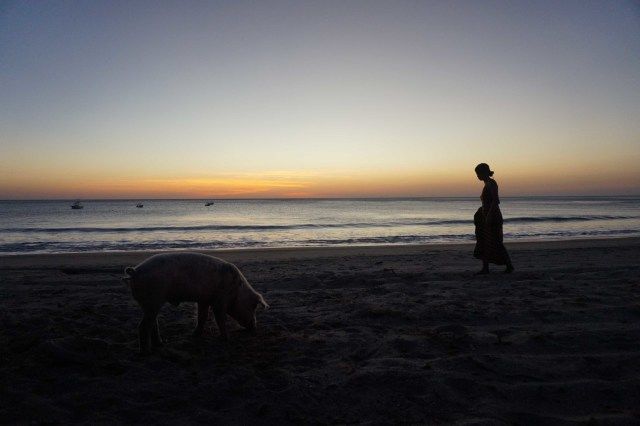 On night time beach safaris we would encounter these nocturnal creatures, known to the locals as cerdo (pig).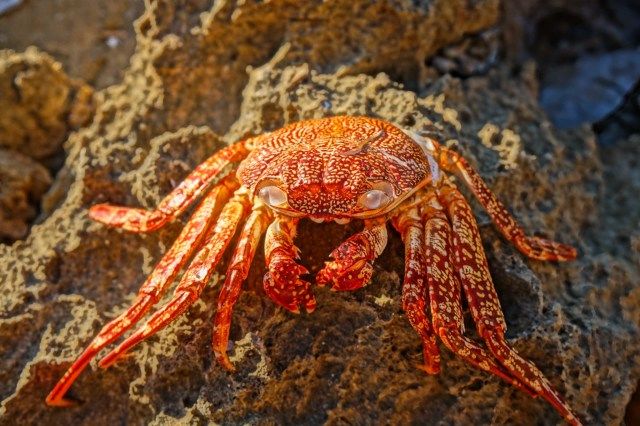 This guy was encountered on a beach hike to the neighboring beaches, Playa Amarillo and Playa Colorado.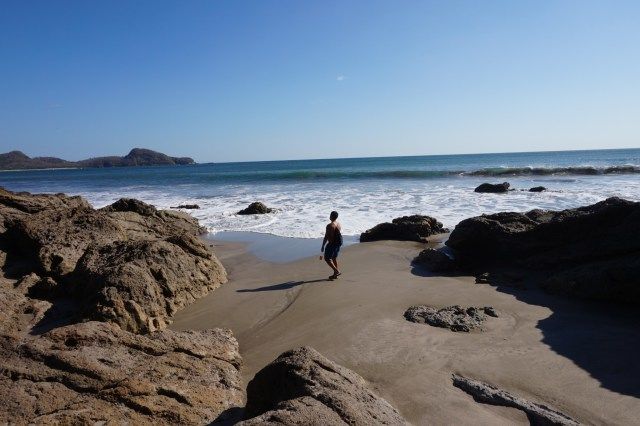 While it's easy to sit on your butt all day we encourage the 10 minute walk up the hill in between Gigante and Amarillo. You can easily go down below and make your way over to Amarillo.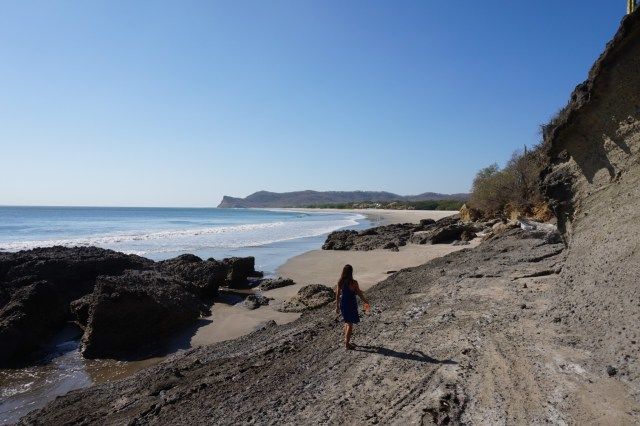 Walk between Playa Amarillo and Playa Colorado was best thing to do when the tide is low.
This beach is just beautiful.. Planned to stay for a couple of days and after 4days we're still here. Im seriously thinking if we should stay here forever.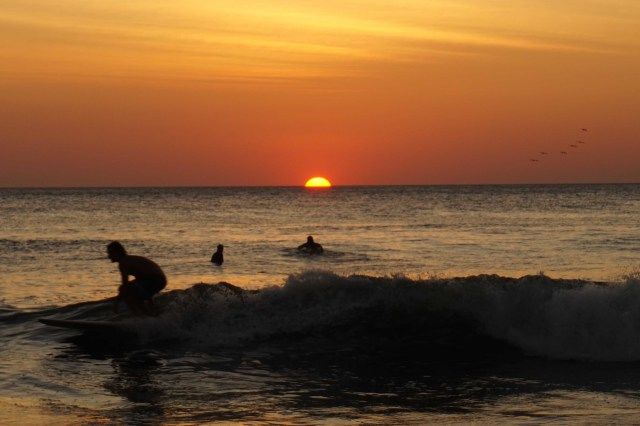 Given Gigante's bay location there isn't any surfing but Amarillo provides a good place for beginners to try it out (there are two surf schools in town). If your not into surfing it's fun to watch first timers eat it while locals carve the waves. Go during the day for a run and you'll have the entire beach to yourself, at sunset and depending on the tide you'll likely be sharing.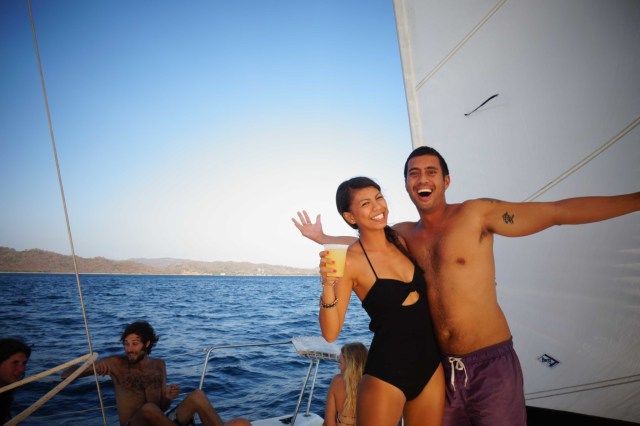 Of the beach we were able to go on a sunset booze cruise. Go through Camino del Gigante on a Tuesday and you'll get a great deal at $10 including booze. On the boat there are many activities aside from drinking.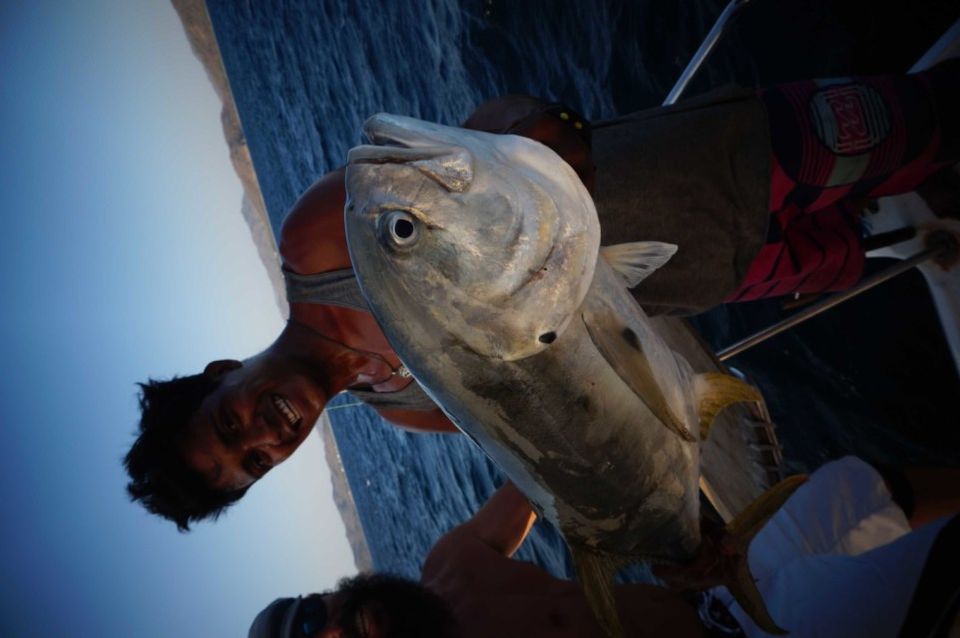 For example, go fishing. This happy fish was caught and released during our trip.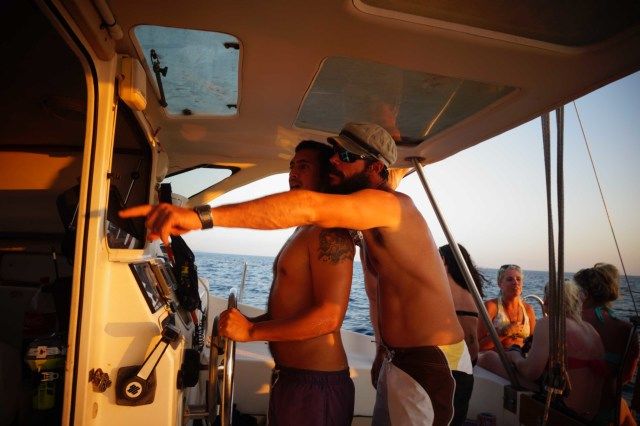 Mark got sailing lessons from Captain Jon included in his $10. Of course the sun was setting so it was time for the bromance to end and the romance to continue, another 365 travel dates date.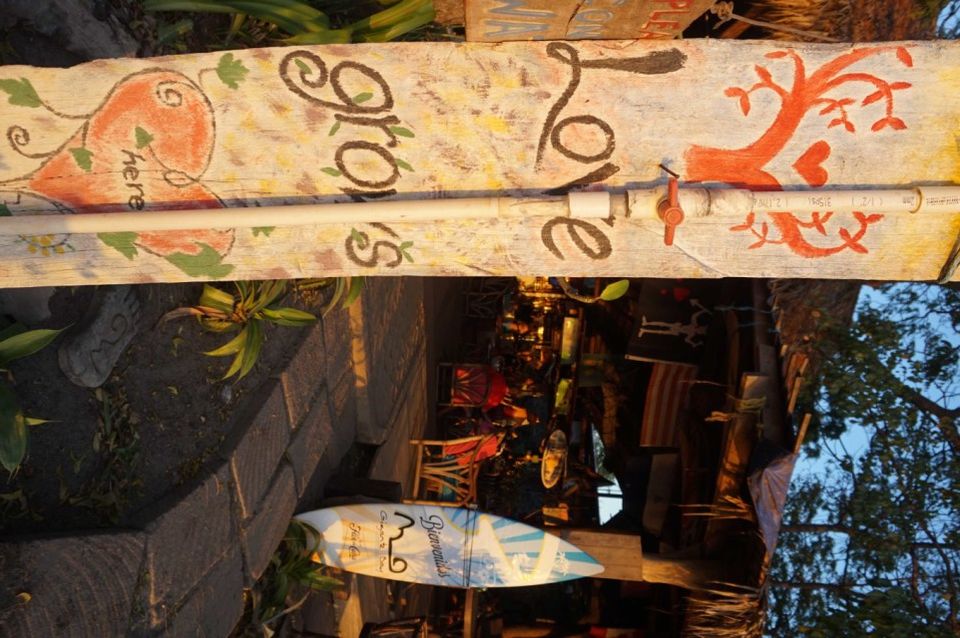 Love grows here. We agree. If it weren't for a volunteer commitment in Costa Rica and our visa expiring we would have continued growing in love with this place but we will be back!
TRAVEL LOGISTICS
Things you need to know before you go.
Money– THERE ARE NO ATMs IN TOWN.
We ran out of cash and didn't realize there were no ATMs. Fortunately we were able to get cash back (charge extra on the credit card and receive cash) from Camino del Gigante, though they charged us 10% on the cash back. We got $100 cash and got charged $10. It was worth the convenience but come prepared. We also heard that Hotel Brio gives cash back and charges less…
Transportation
Getting there: From Granada or Managua take a bus to Rivas. From Rivas to Playa Gigante you can take a taxi (shouldn't be more than $15-20 depending on your bargaining skills). Or if you get to the bus station before 1:00pm there should be a chicken bus going in ($1-2).
Getting out: Every morning (excluding Sunday) at 7:30 am there's a chicken bus $1 that goes to Tola and Rivas.
Stay
Hospedaje Cabanas de Gigante- $20 for a private room or $10 per person. Big clean rooms with private bathroom, you also have the option of using the A/C which will double the price. Located right in the middle of "town" across from Mar y Mar Restaurant. We stayed here for 5 nights and loved the local family that owned the place. You can also pay by credit card in case you run out of cash.
Hotel Brio– starting at $35 for a private room. Located up the hill from the town center, has an amazing view and a pool. Lovely owners and pricey food but worth every dollar.
Camino del Gigante– $12 for a dorm bed, $30 for a private room (two single beds) shared bathroom. Private rooms with private bathroom are also available. Reservations recommended. Located at the southern end of the beach. The only party hostel in town, which is literally right on the beach, good crowd but expect island service. Free coffee for guests each morning.
Eat
Party Wave– great healthy options (especially the smoothies and power drinks) but also good daily specials and deserts. Their chocolate chip cookies  are to die for and probably the best we've had in our lives. We also heard their banana bread is good, we only got to taste their carrot raisin cake which was delightful. Their Green Monster smoothie is the most refreshing drink you'll ever have, super healthy and delicious. Good internet and a great book exchange. Take note:the restaurant closes at 4pm so come early. Price range: 50-180 cords. Awesome owner and great staff!
Camino del Gigante- Their pizza is a must try, thin crust and oh so good, be sure to order ahead because it takes awhile but worth the wait. Nachos and pasta are also a good option. We ate the pesto pasta with chicken a couple of times. They also have buffet breakfast once a week for $5 per person simply but if you have a big appetite could be worth it. Price range: 100 cords and up
Giant's Foot Surf- next to to Camino del Gigante hostel has delicious burger nights on Saturdays. It's the only night their open. A burger and fries runs about $6-9 but well worth it if you haven't had a good burger in awhile.
Mar y Mar- great fish at a great price. The owners are lovely but expect island time on your service (like most of the restaurants in town). Their Whole Fried Fish is the best in town for the price 130cords includes salad, fries and rice; portions are definitely good for sharing. Best thing is they take credit cards. Same owners of Cabanas de Gigante
Margarita's Mirador- Said to have the freshest seafood in town. We had shrimp in garlic which was a pretty good portion for 300 cords. Not the best ambiance but also right on the beach. Price range: 130-300 cords
Dona Lynn- at the northern end of the beach. Mama Lynn serves up fish and other seafood though when we got our shrimp it seemed like it was frozen shrimp rather than fresh from the sea. She's a sweet lady and the shrimp ended up not being bad. 300 cords for a plate of shrimp which was the same price as other local restaurants. Price range: 130-300 cords
Hotel Brio- The nachos (baked) are amazing! This is a good place if you've just been eating local food and are craving some good western food. Price range: $8-16
Fruit truck- the cheapest option in town for fruits. They drive around every couple of days and you'll hear them over a loudspeaker. Oranges, avocados, melons, bananas, and more depending on the day.
Pulperia- your only option for "grocery" shopping.
Things To Do:
1. Tuesday Sunset Booze Cruise for $10 per person.
2. Walk to nearby beaches – Playa Amarillo right next door 5 minute walk, Playa Colorado 30 minute leisure walk
3. Surf at Amarillo beach – no hotels on the beach simply you and the ocean.
4. Rappelling 90 meters down on Gigante's foot
5. Fishing trips
6. Learn Spanish right on the beach. Inquire at Dona Lynn.
7. Horse ridding
8. Swim – best swimming beach in  Nicaragua, calm and refreshing waters.
9. Find friends and stay forever :) (look for real estate)
This trip was originally published on 365 Travel Dates.