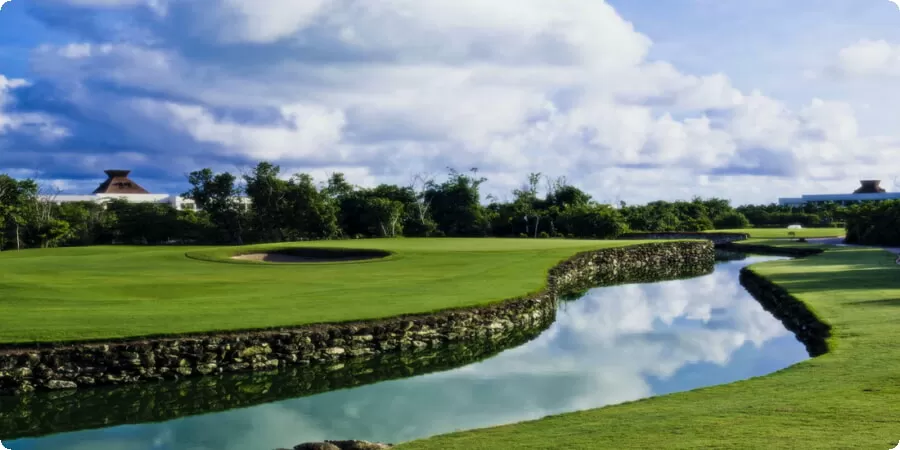 Cancun is perhaps a paradise in the contradictory Mexican land. A large resort town is located in the state of Quintana Roo, on the coast of the Riviera Maya. It is famous for its beaches, numerous hotel complexes and nightlife. If you are a fan of a classic lazy beach holiday, then you can surely go here, the world is not limited to Dubai and the Maldives.
However, the popularity of Cancun became a big draw in the 70s, when Americans began to invest in a tourist infrastructure: hotels, spas, restaurants, etc. In a word, they created a wonderful environment for a cultural elite holiday. And when it comes to sports, the first thing associated with Cancun is golf. Actually, this article will inform where a golf fan can put his skills to work.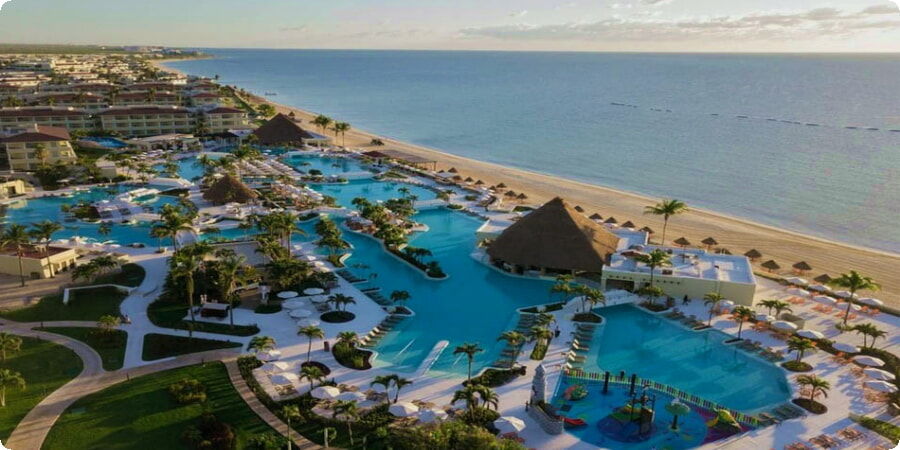 How to travel around Cancun?
If you arrived to Cancun for both golf tourism and good touristic infrastructure, then the best choice would be to rent a car.It is possible to rent a car right at the airport, and there are a few car rental offices to assist you in it. Here you can pre-book a car according to your taste and budget. You can choose the time period when you need a car, as well as a rental point.
Where exactly it is possible to play Golf?
If to take a look at the map, it will be possible to appreciate the geography of Cancun's golf clubs, and there are many of them there.
Golf courses are evenly scattered throughout the city, so wherever you live, you will always find the opportunity to play golf. It is possible to count here about 16 golf courses. Certainly it is unreasonable to talk about all of them, it's just better go through the best of them.
l Camaleón Mayakoba Golf Course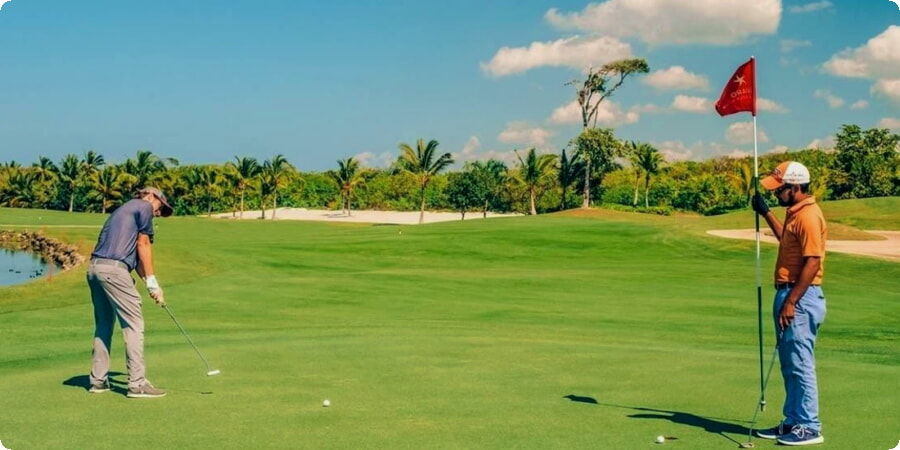 Location: Carretera Fed. Chetumal, Pto. Juarez km. 298, Solidaridad, 77710 Playa del Carmen
This field is located in a rather exotic area, namely in the tropics. You can play golf surrounded by cenotes, mangroves, and lagoons. There is no qualification here, and regardless of your level of play, you can take part in any tournament. The field has 18 holes, the total area is 7024 yards, or about 5900 square meters.
In order to improve a level of play there is the Jim McLean School, where one can take a few lessons. Here it's easy to learn about the training system, hours, practice, etc. So it's possible work up a good appetite while going from hole to hole.
Speaking of which. There is a good restaurant on the golf course. Who is already thinking about what they would taste there, here is their website. It is worth mentioning that there can be found everything: both fast food and haute cuisine.
Cancun Golf Club at Pok ta Pok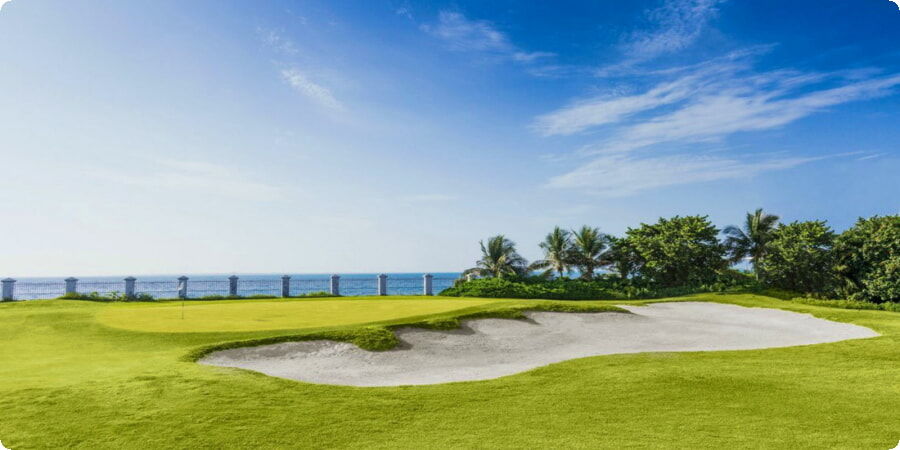 Location: Blvd. Kukulcan Km. 7.5, Punta Cancun, Zona Hotelera, 77500 Cancún
This 18-hole golf course is one of the oldest in Cancun, and is notable for being located among the ruins of the Mayan civilization, which gives the game a special charm. It was designed by Robert Trent Jones Jr. He has designed over 500 golf courses spread across 40 states of America and 35 other countries around the world. So no one will get bored while playing on this field.
By the way, the field was named after the Mexican ball game, which is considered the progenitor of basketball. You probably could see her if you watched the cartoon «The Adventures of the Emperor». If you are interested, you can read more about it here.
It is also one of the most accessible courses in the hotel area, located about an hour from the city center and nestled between the sea and the Nichupte lagoon. During the low season from May to October, the fee is reduced even more.
By the way, in order to learn more about the cost of games on these fields, there is a resource that works on the tee time bookings system.
Gran Coyote Golf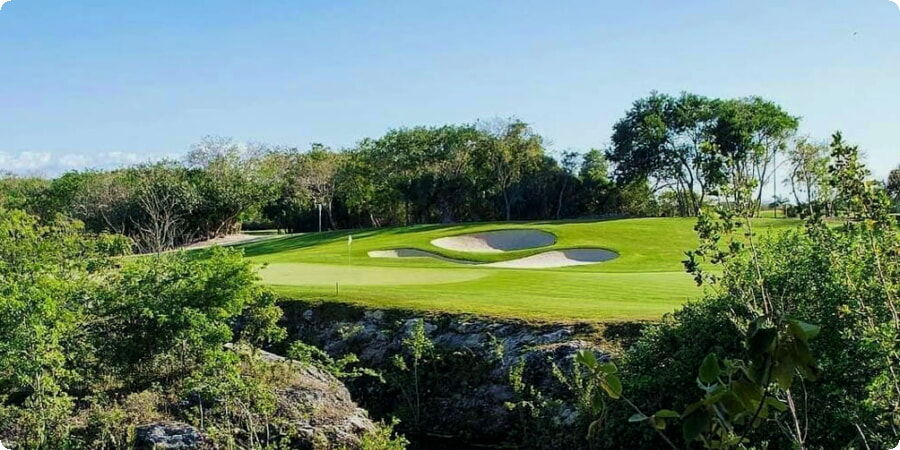 Location: México 307 km 294, Solidaridad, 77710 Playa del Carmen
This golf course was designed by a team of specialists led by Nick Price. In addition to him, a team of wildlife consultants and biologists, environmental experts and civil engineers participated in order not to disturb the natural landscape.
As a result, the course challenges golfers with treacherous winds, strategic bunkering, and seven acres of water hazards scattered throughout the course. The facilities at Gran Coyote Golf are first class and the price includes the use of the clubhouse and the beach club with its many amenities.
The open-air Coyote Grill is located under a large shady tree next to the clubhouse. Serving a wide selection of grilled tacos, New York steaks, sirloin burgers, pulled pork sandwiches and various specials of the day.
Riviera Cancun Golf Club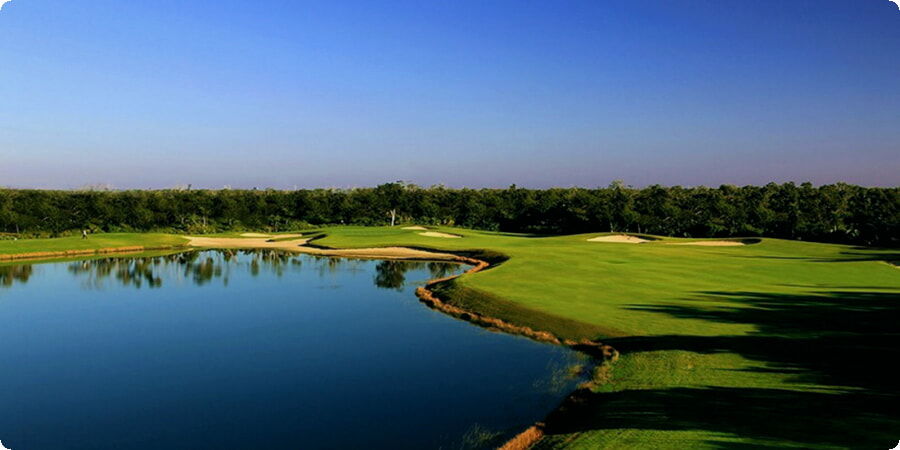 Location: Blvd. Kukulcan 25.3, Zona Hotelera, 77500 Cancún
The Riviera Cancun Golf Club is an 18-hole (par 72) golf course designed by Jack Nicklaus and located in Cancun's hotel zone.
The club is surrounded by the natural fauna and flora of the region, and the views from it are simply amazing, because the surrounding areas are protected by natural mangroves and lagoons, including magnificent ocean views.
Moon Palace Golf and Spa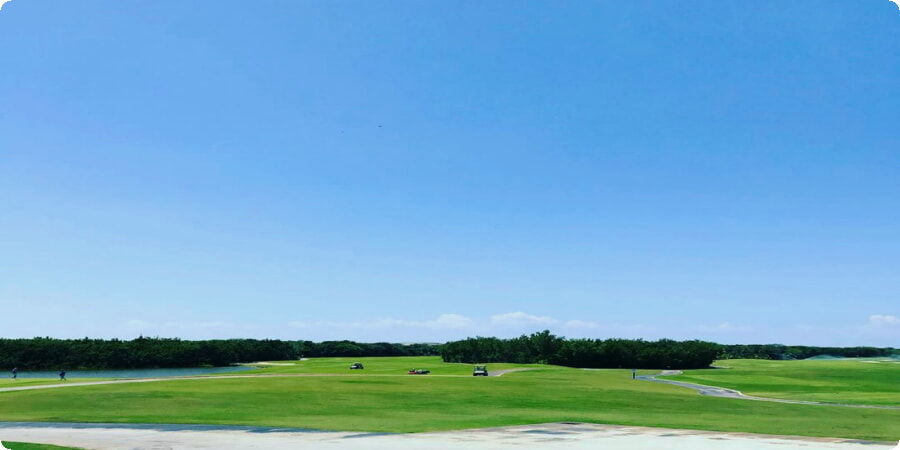 Location: Cancun - Chetumal Km 340, Riviera Maya, 77500 Cancún
This is not just a golf course, but a real resort. If to stay at one of the resorts associated with the golf course, it's easy to take an advantage of free transportation to and from the golf course. However, only Palace Resorts guests can play here.
By paying for the Golfpass, you get food and drinks for free. The club offers a driving range, putting greens, chipping greens, showers, changing rooms, club storage, a complete pro shop and a golf academy for those looking to hone their game.
This field is also notable for the fact that perhaps one of the most interesting restaurants is located here. This is an oasis of international cuisine where one can taste dishes from Brazil, Lebanon, Italy, and all Mediterranean cuisine.
Vidanta Golf
Location: Carretera Federal Cancún Playa del Carmen Km 52, 77710 Playa del Carmen
This golf course was the first to receive the Green Globe Award for its achievements in developing sustainable tourism, which is part of the UN's sustainable development goals.
One of a kind 17-hole field is surrounded by a lake, two sand traps on each side and one more in the center of the green. This course has predominant trade winds that demand accuracy and challenges even the most experienced of players. Facilities include equipment rental, a driving range and putting green, a pro shop and a snack bar.
To summarize a little
Almost all of above courses are affiliated with the Caribbean Golf Association, and on their website it's possible to get more information on this topic, as well as all possible tournaments.
Here are some final tips:
• It is not recommended to bring golf clubs: rent will cost about 30-40 dollars.
• Do not spend money on expensive balls, there is a high probability of losing them among all this jungle, especially if you are an inexperienced player.
• Playing golf is more enjoyable in cooler afternoons, but it's nearly impossible to play all 18 holes before dark.
• It is possible to book a game in the afternoon at reduced rates, however, not all fields have a security service and there is a possibility of meeting a tipsy company on the field.
And a little bonus
In order to find out what else to see in Cancun, so travelling around the area will be a good solution.
And this way a huge number of Mayan architectural monuments could be found. For example, Chichen Itza: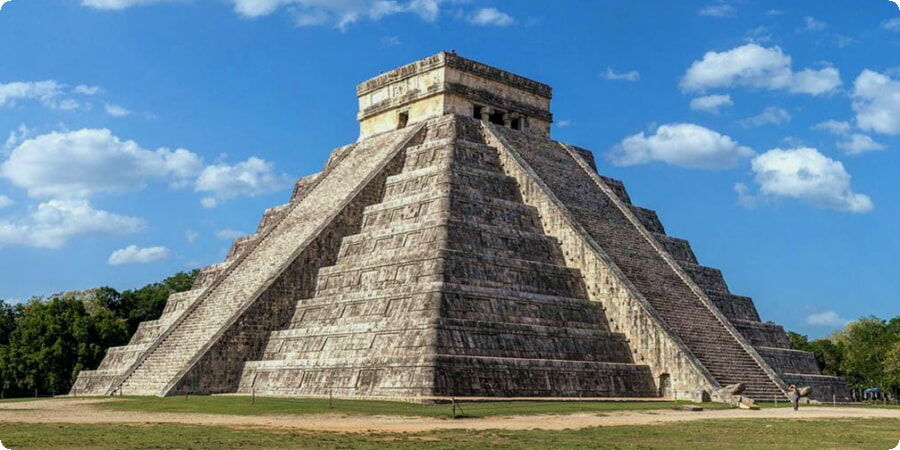 Those who are interested in the history of the construction of this colossus can read this article.
Of course, these sights are not the only ones. There is a huge number of attractions, and more details about them can be found during an excursion with a local guide.