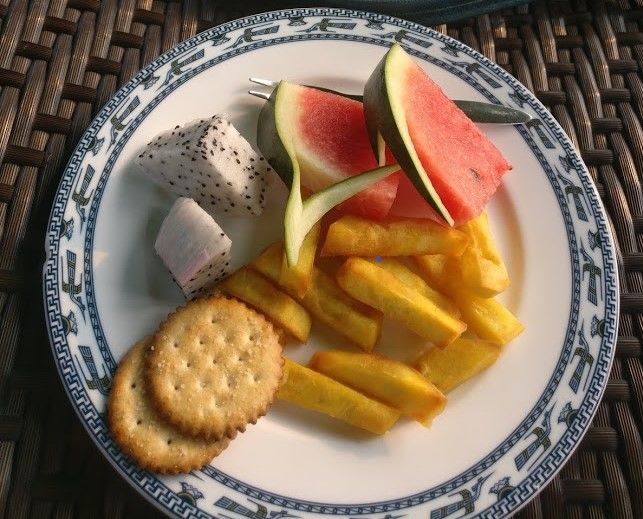 Hi, do you have a veg burger? Without ham, chicken, fish...yeah without egg too? Oh! No problem. I would like to order a Margherita (it is a cheese and tomato pizza, simplest of all) in that case. What? Do you put the chicken in that too? You cannot customise it? Fine.
You will be able to relate hilariously to these questions and situations if you are a vegetarian...
Being an Indian, where around 40% of the total population is vegetarian, I find it extremely difficult to come to terms with the fact that I might not get the same delicious vegetarian food in a foreign country. After travelling to around 11 countries, I go well prepared to handle the 'food' part of travel better.
There are a few practical tips that I would like to share with the vegetarians.
1) Instant food and Non-perishable food items
The most helpful, of course, is to take instant food packets and non-perishable food items. Most of us, most of the time, think that we will figure out something after reaching the destination. We will eat fruits and salads there, if nothing else...or we can have milk, croissants etc. Guys, this is difficult to do in real. You need at least 1 big meal in a day to truly satisfy your hunger, especially when you are travelling. So, stock up on instant meals and cup noodles. The instant food like cup noodles, rice flakes(poha), upma, sabudana khichdi, tea, coffee etc. are the best as the only thing that is required to cook these items is a cup of hot water.
Other healthy non-perishable food items that you could carry are oats bar/cookies, dark chocolate, dry fruits, dried berries, homemade snacks (potato/banana chips, roasted chickpeas, etc.
2) Make the best use of breakfast spread
Most of the hotels provide complimentary breakfast. A few things that you can find in the spread for yourself would be bread, croissant, tea/coffee, fruits, salads etc.
Most of us (vegetarians) end up having butter toast, tea or juice, maybe a fruit...
Now, there are a few things that we can do to have a good heavy breakfast, the most important meal of the day.
Have Milk and Muesli, if the same is available in the spread. This is absolutely the best breakfast that you can have. If you have cucumber, tomatoes, lettuce, cheese slice etc. in the spread, just put them between two toasted slices of bread and eat the sandwich. This is a healthy option too. Generally, the fruits in the breakfast spread are not fresh cut, which can be harmful. However, if fruits like apple, banana are available in whole form, nothing like it. Have these fruits along with milk. If none of the above is available, you are left with no option but to have those banana cakes, bread jam, brownie etc. This is the least healthy option.
3) Do your homework well
Before travelling, you should know a few vegetarian restaurants in the area where you will be staying and roaming. This small exercise will not only save your time while travelling but will also help you to plan the quantity of food that you need to carry from your home country.
4) Supermarket - The saver
Find out the supermarkets near your accommodation. You can have a great variety to choose from. You can always get chips, biscuits, cookies etc. here. However, you still might not be able to find veg cup noodles in a lot of countries.
5) Cook your own food
Airbnb properties, Hostels and Homestays generally have kitchens where you can cook your own food. After all, cooking is a stressbuster too.
Also, look out for properties that have a small refrigerator in the room. It helps to store the groceries for the next couple of days.