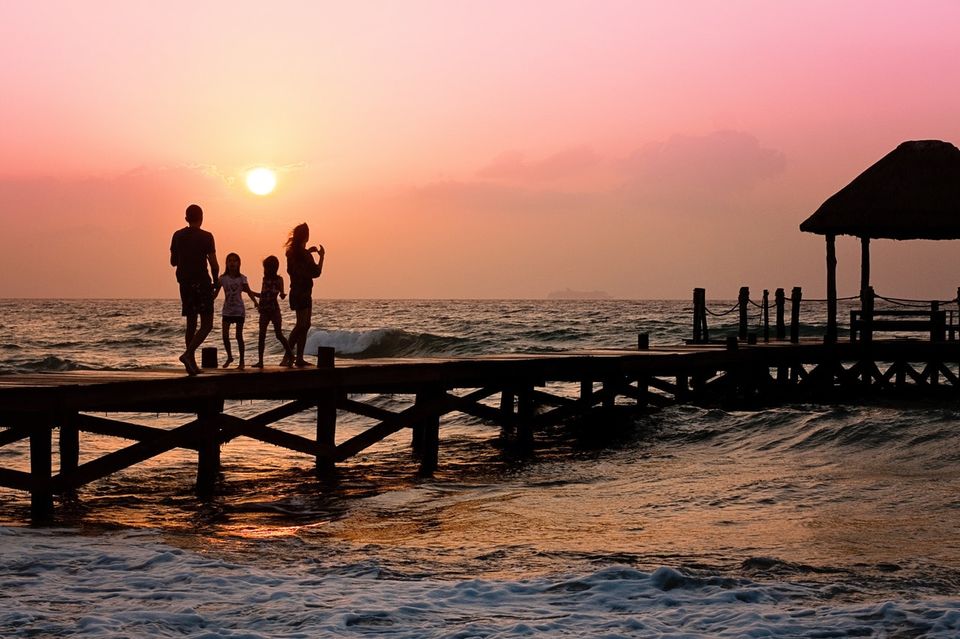 While there is nothing that can beat the thrill of travelling to a new country with your family, international travel does come with its own share of challenges. The biggest challenge of them all is the big question—how much of foreign currency should one carry? To add to that, there's always the fluctuating currency rates and availability of reliable exchanges. However, with HDFC's ForexPlus Card, you can travel anywhere in the world without having to worry about any of that! Just top up your Forex Card and use them to get local currency anywhere in the world, and what's even better is that you won't even have to worry about exchange rates!
Now that such a major problem is out of the way, there should be nothing stopping you from treating yourself and your family to a memorable luxury vacation. Here are some of the best destinations you should be heading to with your loved ones this summer:
Considering how harsh summers can get in India, a beach vacation can more often than not be the answer to all your problems. The Indonesian island of Bali is lined with pristine white sand beaches and luxury resorts which make it an ideal place to visit this summer. To add to that, the island also boasts of dramatic volcanoes and hillside temples best explored in the company of your loved ones. Culture, nature, art, spirituality and luxury—you name it and Bali has it all!
Top things to see and do: Indulge in water sports at Kuta Beach; offer your prayers at Bali's most prominent Hindu temple at Tanah Lot; marvel at Bali's rich flora and fauna at Ubud Monkey Forest and hike up the famous Mount Batur.
Flight cost: Round trips between New Delhi and Bali start at ₹25,000 per person. Book early to get the best deals!
Daily budget: ₹4,000 per person per day (approx.)
Best time to visit: The best time to visit Bali are the months of April, May, June and September, just before and after the peak season.
If there's one thing that beats a beach vacation in the sweltering heat, its an escape to the hills! And when it comes to mountain escapes, you just cannot go wrong with Switzerland. Located against the mighty Swiss Alps, Zurich beautifully blends the charm of a simple hillside town with modern art galleries, theatres and happening nightlife, making it the perfect family destination you should visit this year. And needless to say, the town is a almost a pilgrimage spot of sorts for Bollywood fanatics—so go on, recreate your Raj and Simran moments this summer!
Top things to see and do: Take a walk through the historic old town of Altstadt; visit Fraumünster Church to witness the famous Chagall windows; catch an opera show at Zurich Opera House; take a cable car ride to Felsenegg for best views of the city and take a boat ride on River Limmat.
Flight cost: If you book your trip in advance, a round trip flight between New Delhi and Zurich will cost you about ₹37,000 per person.
Daily budget: Since accommodation can be quite expensive in Zurich, you might have to shell out about ₹12,000 per person per day.
Best time to visit: The summer months of June to August are the best time to visit Zurich with temperatures ranging around 20 degree Celsius.
If you're in the mood to go all out splurging, Dubai is the ultimate destination you should be heading to this summer. One of the most visited cities in the world, Dubai beautifully combines culture and traditions with the comforts of a futuristic town. In what is simply a shoppers' paradise, the city has, both, street markets where you can test your bargaining skills and sprawling malls that offer an unmatched shopping experience. Since carrying so much cash for all the shopping can be quite a task, top up your HDFC ForexPlus Card and travel hassle free without having to worry about fluctuating currency rates.
Top things to see and do: Go shopping in Dubai Mall; take a desert safari with your family; visit the unique underwater zoo; unwind at Kite Beach and visit the iconic Burj Khalifa.
Flight cost: There are several daily direct flights between New Delhi and Dubai. A round trip between the two cities starts at just ₹12,000.
Daily budget: You'd need about 1000 dirhams, or about ₹17,000 per person per day in Dubai.
Best time to visit: Dubai experiences extremely hot weather throughout the year. Though the months between November to March are slightly better, visit in the summers if you don't mind the heat. Not only will you end up saving money but also avoid the rush at tourist spots.
Italy's capital city, Rome is a land soaked in history, culture and traditions, making it the ideal family destination if your kids happen to be history fanatics. Take a walk through the city, soaking in the haunting ruins that coexist with a vibrant street life, making Rome a must visit this summer. On the outskirts of the centre is Old Rome, featuring the Pantheon, stunning cathedrals, plazas and Renaissance architecture. To add to that, the city also has one of the best art cultures in the world and is lined with plush art galleries.
Top things to see and do: Visit the mighty Colosseum, an ancient gladiator arena; head to the 2000-year-old ancient temple of Pantheon; offer your prayers at St Peter's Basilica; explore ancient ruins of Roman Forum and marvel at the fine artworks at Vatican Museums.
Flight cost: Round flights between New Delhi and Rome start at ₹32,000 per person. Book early to grab the best deals.
Daily budget: ₹10,000 per person (approx.)
Best time to visit: Rome experiences the onset of summer between May and July with temperatures hovering between 25-30 degree Celsius making it an ideal time to explore the region.
Despite its comparatively small size, the island country of Singapore boasts of a strong diversity in cultures and traditions making it one of the most popular tourist destinations in the world. A quintessential summer destination to travel to with your family, Singapore has something for just about everyone—eco parks, amusement worlds, religious centres and an infectious nightlife. And if you have a travel partner like HDFC's ForexPlus Card, you can explore all of it without having to worry about running around to find the best currency exchange rates—just top up from your bank account and you're good to go!
Top things to see and do: Spend a day at Universal Studios; experience luxury at Sentosa Island resort; take a walk through the futuristic Gardens By the Bay; marvel at Singapore's skyline from the Singapore Flyer and experience the nightlife at Marina Bay.
Flight cost: Round trip flights between New Delhi and Singapore start at just ₹20,000.
Daily budget: ₹7,000 per person per day (approx.)
Best time to visit: February to April is the best time to visit Singapore as the pleasant weather makes it ideal to explore the beautiful destination. On the other hand, Singapore experiences a moderate summer with temperatures hovering around 30 degrees Celsius. So if you can brave that, you may plan a trip between May to July as well.
The HDFC ForexPlus Card is the best travelling companion for your family vacations. From simple straight-from-bank top up to great exchange rates, the HDFC ForexPlus makes sure that your family trip is seamless!
What is the most memorable holiday you have ever taken with your family? Write in here to share all those lovely memories with the Tripoto Community. Don't forget to visit our YouTube channel for some amazing travel videos from around the world.
In association with HDFC Bank.