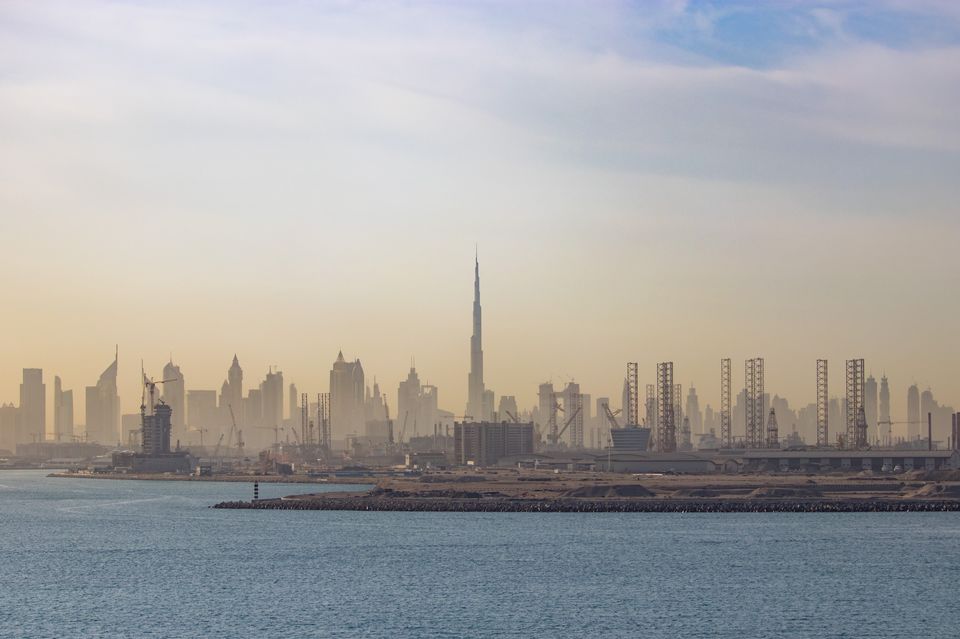 UAE is one of the most popular travel destinations. It is centrally located and connected to many parts of the world, so Reaching here is not a challenge. But real question is - how to plan your trip, and make it most memorable as well as most affordable. Most of the times, people are at the mercy of the travel consultants and tour guides for planning their trips. We have so many examples of our friends and family that they did not have a good experience in their tours. Because many of the tour operators will just take you to places which give them the best discounts. So we thought to make a video on our YouTube Channel to help you plan your own customized trip which you will enjoy the most. Here is the video in a blog format to help you read and really get into the finer details of your trip planning!
How to plan your UAE trip
There are some basic questions which we will answer for you.
1. When to travel
2. For how long
3. How to get visa
4. Where to Stay
5. Where to go
6. How to move around
And of course the most important question, Budget. Most of us first decide the budget and then see what all can fit in that budget. We will cover that too!
1. When to Travel
If you have a flexibility to choose when to travel to UAE, you would want to avoid the summers here. You may be aware of that best time to travel to UAE is from November till April, although people travel to UAE round the clock, throughout the year. So how would you choose when to come?
Let's look at certain pros and cons to make this clearer
Nov to April - Peak tourist season
Pro:
Good weather
More attractions are open including outdoors, like Global village and miracle garden
Festivities and entertainment
Dubai Shopping festival and other sale events
Con:
Higher airfares
Hotels will have Higher rates for stay
Gets crowded
May to Oct – Off Season
Pro:
Comparatively Cheaper airfares
Hotels have cheaper rates due to off season
Less crowd
Con:
Hot and humid
Only indoor attractions open
2. How long to Stay
Ideal stay duration in UAE is 7 to 8 days as a tourist, which is also most cost effective.
Some tour operators give packages of 4 to 5 day UAE trip, according to us that is very hectic so we won't recommend you to do that.
Also, based on your budget, you can stretch your trip to cover more attractions of UAE. For your trip beyond 10 days, we will recommend you to have a day or at least half a day off just to unwind and relax.
3. How to get visa
This is looks like a simple step – obtaining a visa, but there are various options available to you. One disclaimer here that please do your research before you travel for the latest update on the visa rules and your eligibility for visa.
For tourists, the most common type of visa is tourist visa. You can apply for either 30 days or 90 days Validity, based on your requirements. You can apply for tourist visa through authorized travel agents. If you are flying with any of the UAE Airlines, they can get your tourist visa on your behalf. The cost changes from country to country sometimes, but in India, it costs around 300 AED or 6000 INR. These visas are extendable one time, if you wish to extend your stay.
With Visa on arrival, you will get 14 days validity. Citizens of certain countries including US, UK and Europe and many more are eligible for this type of visa. For Indian travelers, if you have a valid green card, US or UK travel visa, or residency of European counties, you can get visa on arrival at UAE. This will cost you around 35 USD or 100 AED.
So if you are coming from India and you want to stay here for more than 14 days, we would recommend you to take tourist visa instead of visa on arrival, even if you are eligible for it.
In all cases, you should have at least 6 month validity of your passport.
4. Where to stay
Ideally you would need 4-5nights in Dubai, 2 nights in Abu Dhabi. So let's talk about where to stay in these two cities.
There are 4 types of stay options available to you.
1. Luxury hotels
2. Affordable or budget hotels
3. Hotel or service apartments
4. Home Stays
You will get more options of stay in Dubai as compare to Abu Dhabi. If you are aiming to affordable or budget hotels, or service apartments in Dubai, you can find these hotels in Bur Dubai, Deira or Al Barsha, and have a metro connectivity.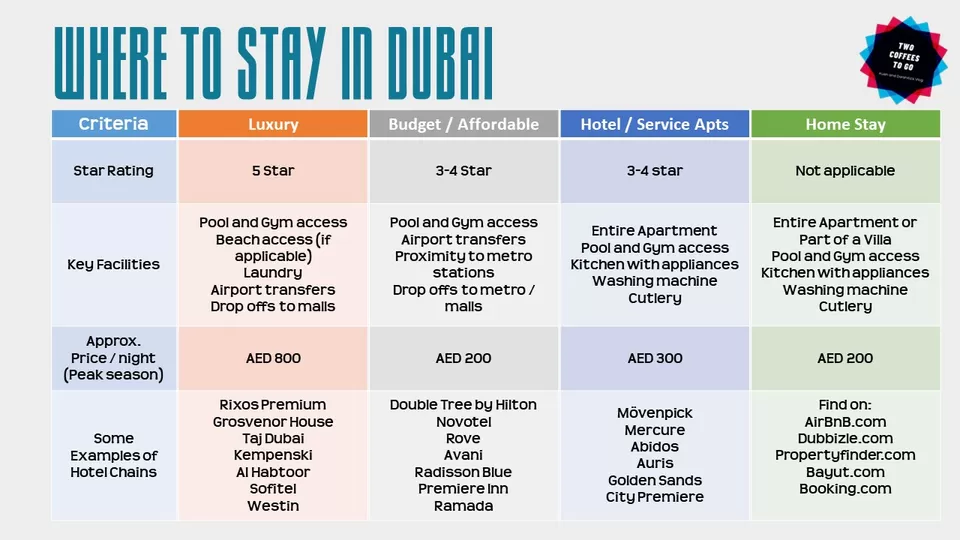 5. How to move around in UAE
If you are visiting UAE, then public transport is your safest bet. Let's look at the available travel options for you in Dubai and Abu Dhabi.
For travel within Dubai, you have multiple modes of transport. Most reliable and convenient option is Dubai Metro.
Cabs are also easily available 24/7 and are fairly economical.
Dubai tram runs only in Dubai Marina Area, and Monorail runs only in Palm Jumeirah.
Places which are not accessible by Metro, you can reach there by Public buses.
For leisure and small distance travels, public bikes and e-scooters are available.
Ferry or a water taxi is also one of the best ways to enjoy the skyline of Dubai, without any traffic.
If you have a family of 4, or you have less time in UAE, it is better to rent a car for self drive, or hire a car (which means there will be a dedicated driver to take you around). Although, for driving a car here, you would need an international driving license and you should be familiar with left hand driving, local parking rules and speed limits, because speed cameras are installed everywhere in the UAE. You can use this car to travel to Abu Dhabi as well.
For Abu Dhabi, taxi is the best and reliable option to travel within the city. Between Abu Dhabi and Dubai, there are public buses available, which will take you from one city to the other, for around 25 AED per person.
For small distances, in Abu Dhabi as well, there are e-scooters and bikes are available within the city. Although in summers, they are not very comfortable because of extreme heat.
If you need more information on this section or each travel mode, do let me know!
6. Where to go
So let's assume you are coming here for a 7 day holiday. Where all you should go?
For that, we have made a must-do itinerary just for you, and understand the budget for this. You can keep adding days and activities over and above this as per your interests.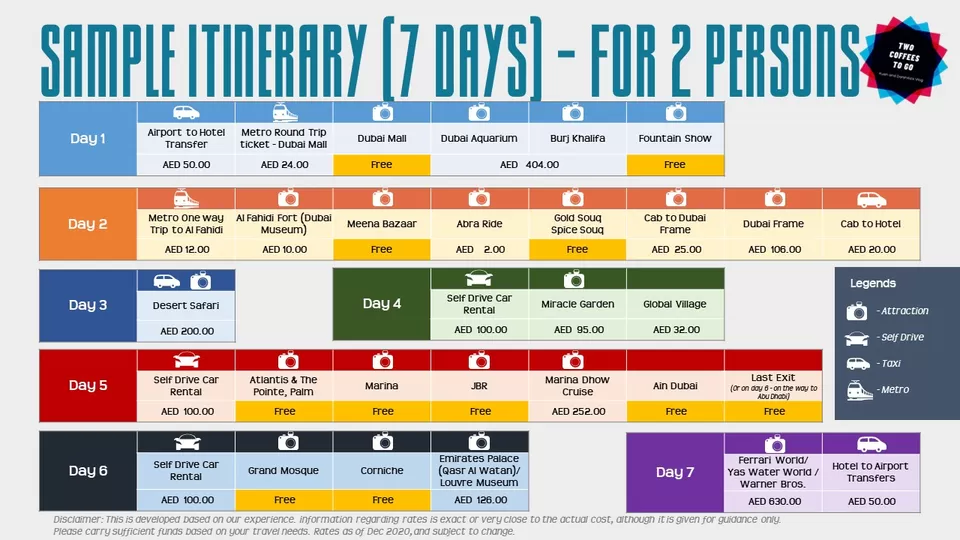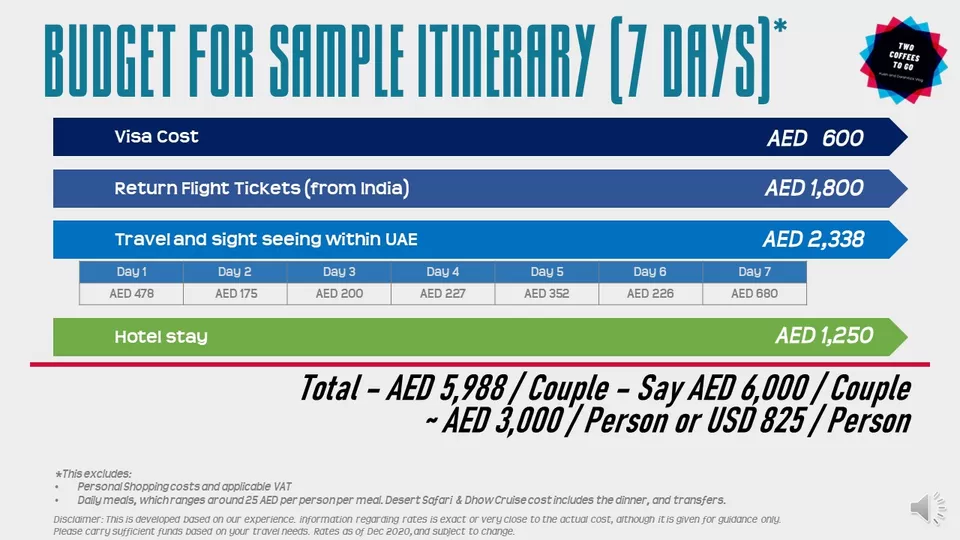 So that's all you need to know before you plan your trip. This was more focused on Dubai and Abu Dhabi, because these two cities have so many places to visit and most importantly, easy to move around. The other emirates also have some interesting places to visit, but you need to have more time and a mode of transportation to cover them. We will talk about those places some time later.
About the budget, the itinerary we have given might be slightly more than the cost of the normal package offered by some of the travel agents, but we are sure that the way we have planned the trip is the most affordable and value for money. Also, if you are travelling to UAE and visiting your family members there, you might get a good company as well as some comfort in moving around.
Hope you have liked this no-nonsense guide and now you get to plan your UAE trip better. We also have our YouTube channel which have some good guides for various places in UAE. Let us know your feedback in the comments section below.
We will see you in the next blog. Find us on YouTube or on Insta!
Till then, stay happy!
- Kush Vyas
Two Coffees To Go