Dahab it is!! The tourist heaven of Egypt, some folks also call it 'Da-hub'!!😉
Dahab is famous for quite a lot of things, one of them being the 'Blue Hole'. It is a huge crater created in the Red Sea coast by a meteorite, almost 100 meters deep. Known as one of the most dangerous diving spot in the world having taken the lives of over 150 divers in the last 10 years. Of course I did not risk diving, but I snorkeled along the edges of the blue hole filled with coral reefs and marine life. The variety of species I got to witness here were much more than that of Marsa Alam.
Snorkeling in this area was so much fun!! I completely lost track of time. Having spent almost an hour, I came out out of the water with wrinkled hands. As soon as I started drying up, my skin started becoming rough. Ahh!!! the only downside of being in salty water. ( TRAVELERS TIP : Always carry a moisturizer to apply after being in salty water)
Honestly speaking, before going to the blue hole, I had assumed that it would be the same as Marsa Alam. Here's the truth, a snorkeling experience in a different place will always be different and wonderful regardless of however magical your previous experience was. Each place has its own charm. So never give up an opportunity just because you've experienced something similar before. You never know what new kind of things you might learn.
OK. Enough motivational metaphors. Time to head back. I'm tired, I'm sleepy, but most of all, I'm hungry. Quick shout out to 'Ali Baba' restaurant. This place was recommended by a lot of people, and guess what, they didn't disappoint.
The food was really delicious and the view from this place is just amazing.
They are also one of the few places to accept card payment in case you are not able to get cash from an ATM nearby.
SINAI MOUNTAINS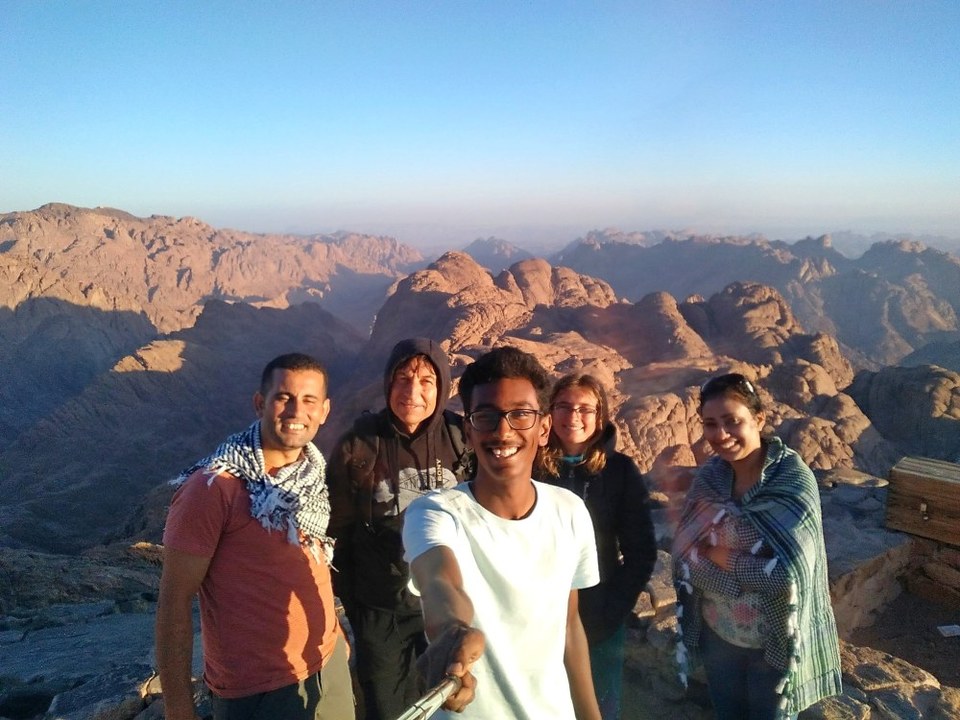 After a nice long rest in the evening, it was time to head west from Dahab towards the Sinai mountains.
The aim of the trek on Sinai mountains is to reach the top to visit the St. Catherines Church and watch the amazing sunrise.
So we started from Dahab in a minivan late at night around 12. We reached the mountains in about 2 hours. It was chilly!! When we got off our van, I immediately regreted not bringing a jacket. We got ourselves a guide and started our 7 km climb to the top of the mountains where we were to find the St. Catherines Church and the sun, rising between mountain peaks. We've all seen it in pictures, videos, movies,etc. etc. But I'd yet to see it in real life.
The climb till the top was very fun!!! For me atleast. Physical fitness was not the strongest suit for my fellow companions.
We got to encounter a lot of camels along the way.
This slideshow requires JavaScript.
As we reached the top of the mountain near the church we saw a lot of people already gathered way before us to watch the sunrise. Seeing so many people in one spot made this place feel more touristy.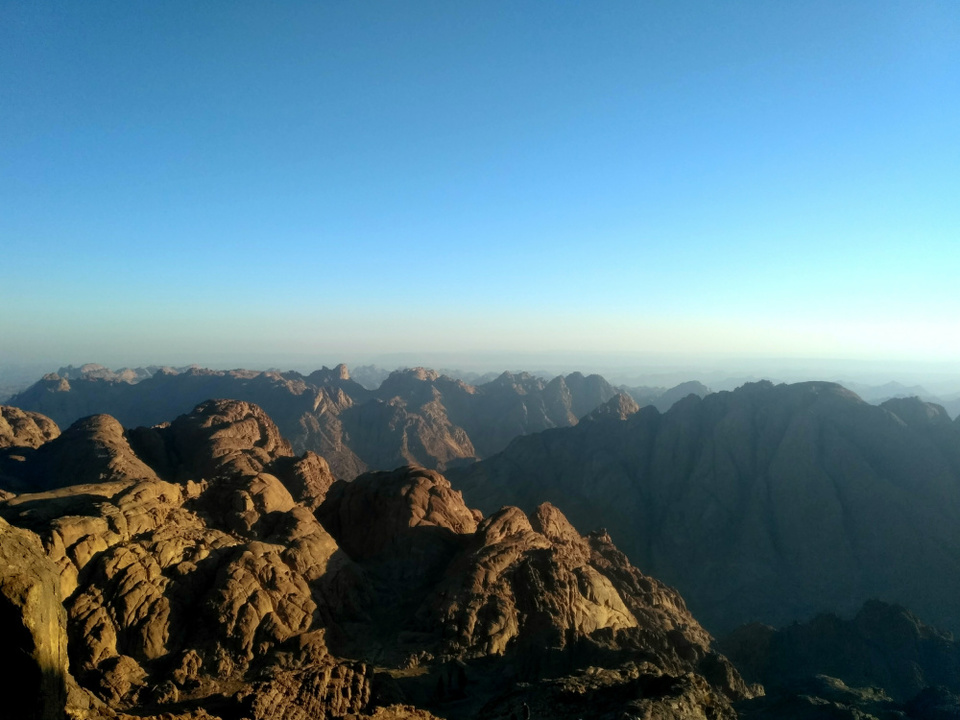 As the sun started rising, all of a sudden there was pin drop silence. Every single person was engaged in watching the sun come out of hiding. It literally felt like everyone either forgot how to talk, or I lost my hearing capability. The moment didn't last very long, and soon it felt like there were people around. It was.... It was...... Umm.... sorry I've run out of words. Go to Egypt, experience it!! And thank me later 😉.
SCUBA DIVING
Ever watched the movie, ' Zindagi Na Milegi Dobara'? Pretty much the diving scene in that movie was my experience, except the cheesy monologue at the end of it.
QUAD-BIKING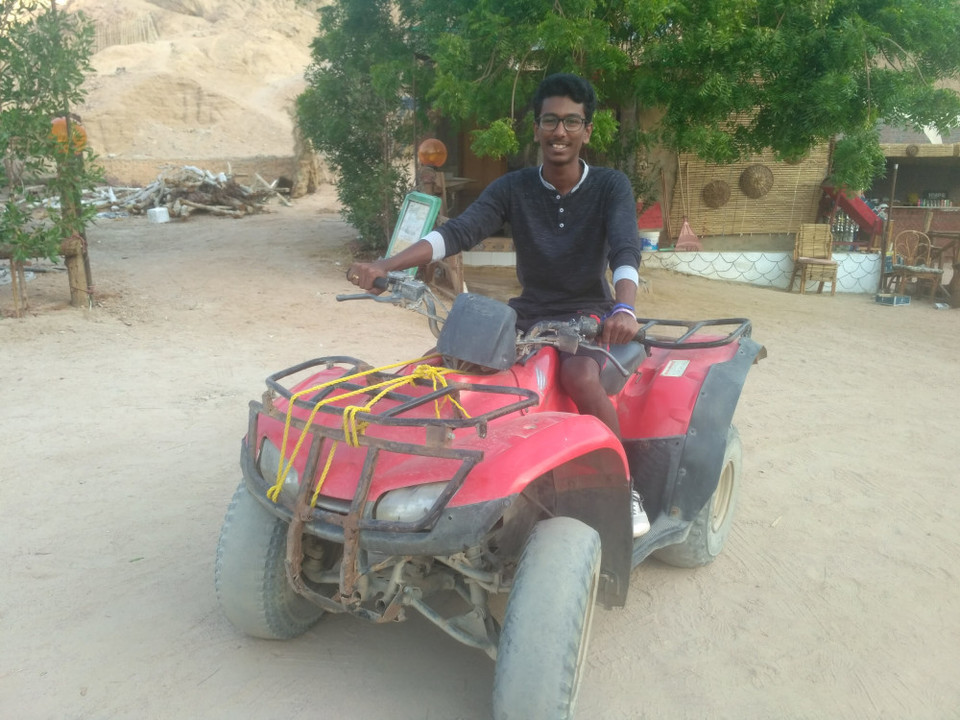 Head over to the YouTube channel of Travelog where I'll soon be uploading all my quad-biking footage. What can I say... It was really fun!! And I'm thankful I didn't flip it over in the desert terrain :p
This concludes all my activities in Dahab. I wish I had more time as there is so much more to do in this place. Well, no worries though, this just gives me another reason to come back!!