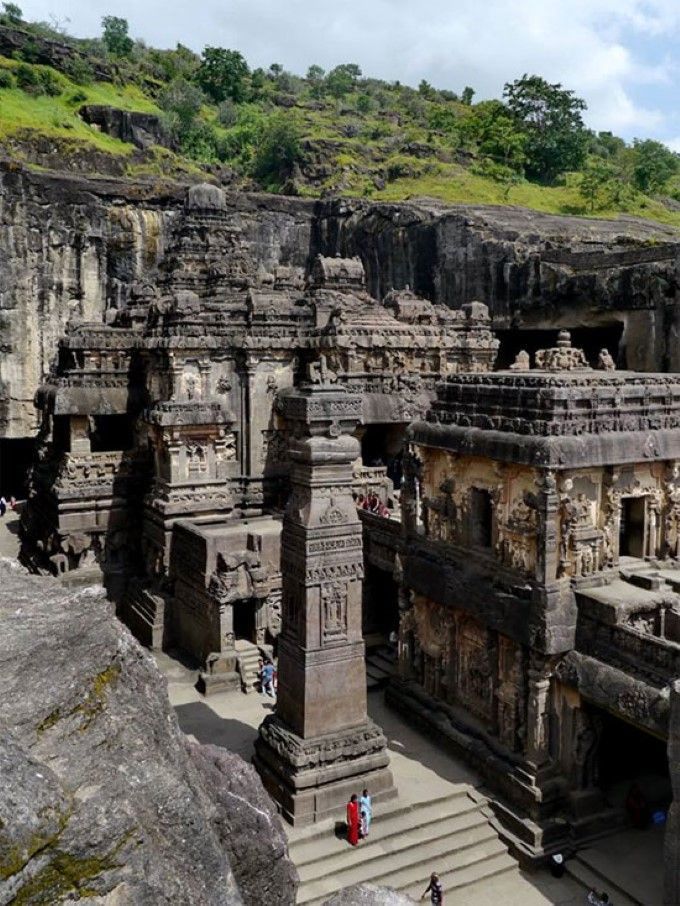 Obeisance to the golden-wombed Lord, the Creator of everything.
Obeisance to Thee, the Sustainer, the Omnipresent and the Omniscient,
Obeisance to Thee of Destroyer's form, the Annihilator of living beings.
Lord Shiva- the most mysterious, the bestower of salvation, the primordial, possesses such a miraculous personality that makes Him off-centre from any other god. So is the matter with his temples that are best known for their gigantic, indelible structure. Imagine a temple, to build which 400,000 tons of rock was scooped out, covering an area of 60,000 square feet, and rising to a height of about 100 feet, taking almost 150 years to complete! Doesn't this give you goosebumps? Or make your heart terrified? Sounds like a fanciful Tollywood Epic film shot! But that's what happened when the enormous structure of Kailasa temple in Ellora came into existence.
It was the month of September in the year 2014 when I had an opportunity to visit this incredible temple of lord Shiva. I took an overnight MSRTC bus from Nagpur to Aurangabad and reached hotel Vivanta by Taj- just can't describe its grandeur in words! Vivanta offers wonderful tour packages to its guests and to utilise one of them, I decided to pay a call on the world famous Kailasa in Ellora. As the journey to Ellora began, I found myself in a different world. My car travelled through the sugarcane fields, the hills that looked like swelling on the earth, and narrow gates built during Mughal empire. I imagined Mughal cavalry bearing well ornamented armour riding elephants through the gates having unique architectural style. I understood the reason that Aurangabad is known as "the city of gates". It is said that Aurangzeb built a wall round the city to protect it from the invasions of Marathas and the wall had been pierced with thirteen gateways including the famous Bhadkal gate. In India at present, while we have advanced technology, it's still a herculean task for us to build such kind of protection for a city; how could a Mughal emperor get an idea like that in an era when there was no modern facility?
Awestruck by the architectural mastery of Mughal period, I finally reached the place that filled my heart with spiritual and transcendental enlightenment for eternity. As it wasn't a time of summer or Diwali vacation in India, the Kailasa temple did not have a large number of tourists. Most of the tourists were students from European universities who were doing research in Architecture or History. I found them touching and feeling the rocks with their experienced fingers a number of times and writing the details in their handy notebooks. I wanted to have a conversation with them, but I did not want to disturb their meditative state of studying. I began to roam around the temple like the only daughter of an ancient head priest. The magical atmosphere inside the temple premise made me believe that I, too, possess some divine power. To me, every rock was a philosopher's stone and every stair was a guide to eternal happiness.
There were some descriptions by the Archaeological Survey of India inside the temple. They said that the gigantic monolithic temple of Kailasa was cut out from the top a huge rock. Earlier, the temple only belonged to the Hindus but then some changes were made by Buddhist and Jainese monks. The Ellora caves stand for a true epitome of Secularism as one can find Hindu, Jain and Buddhist carvings throughout the temple. There are 34 caves in the whole premise and the main temple is the sixteenth one. All of these caves are spiritual dwellings that were excavated manually. There is a 100 feet tall stupendous pillar in front of the main temple that reminds of the mega-structures like Stonehenge or Sphinx in Egypt.
As I stepped inside the main temple, I was taken aback by a huge Nandi and then a prodigious Shivlingum. I felt as if each pillar inside the temple had a divine language of its own and had been performing a confidential telepathic conversation with the time they were built in. I visualised the ancient priests chanting vedic mantras in a special rhythm inside the mysterious walls of the main temple and the sound of their chanting resonating, vibrating against the walls, echoing and connecting to the cosmos. It was magical!
India is a land of love and Ellora caves aren't unstirred by it. There are numerous erotic carvings throughout the temple glorifying the art of love-making. The lively statutes of lovers embracing each other in their arms make one realise the perpetual glory of love.
It appeared to me that elephants must be an important part of then civilisation as I found many elephant structures guarding the entire place. Although there are some minor damages done to the elephants due to a number of Mughal attacks, they still seem as if they will just be alive and move forward with majesty in each step.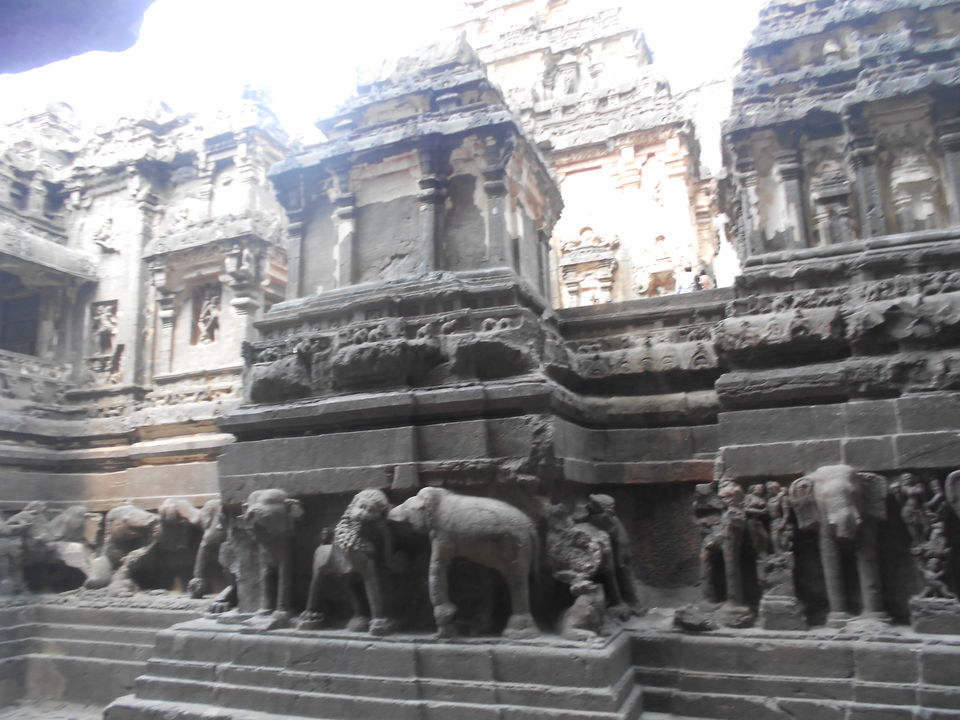 My six hours long journey to Ellora ended with a new spiritual delight in my mind. Those beautiful shafts, enormous pillars, vigorous statues, and alluring lanes cannot be built by ordinary humans. Only some pious and omnipotent people could have built those. They are divine!
How to reach: The best and most affordable way to reach here is to take an MSRTC bus to Aurangabad and then book a private taxi to explore Ajantha and Ellora on two consecutive days.