Destination weddings are wonderful opportunities to explore places that usually don't feature on our travel lists. I received one such opportunity when my friend got married in Aurangabad late December last year.
My husband and I along with a friend and his wife started on a road trip to Aurangabad from Pune at around 7 am. We took the route to Aurangabad via Ahmednagar and it was a pleasant drive. The roads are in good condition and by starting early we were successful in beating traffic at Wagholi and Shirdi.
The route has many restaurants along the way and for misal lovers, a must visit restaurant is Shivneri Misal after Ahmednagar. We had one of the best and memorable misal at this restaurant.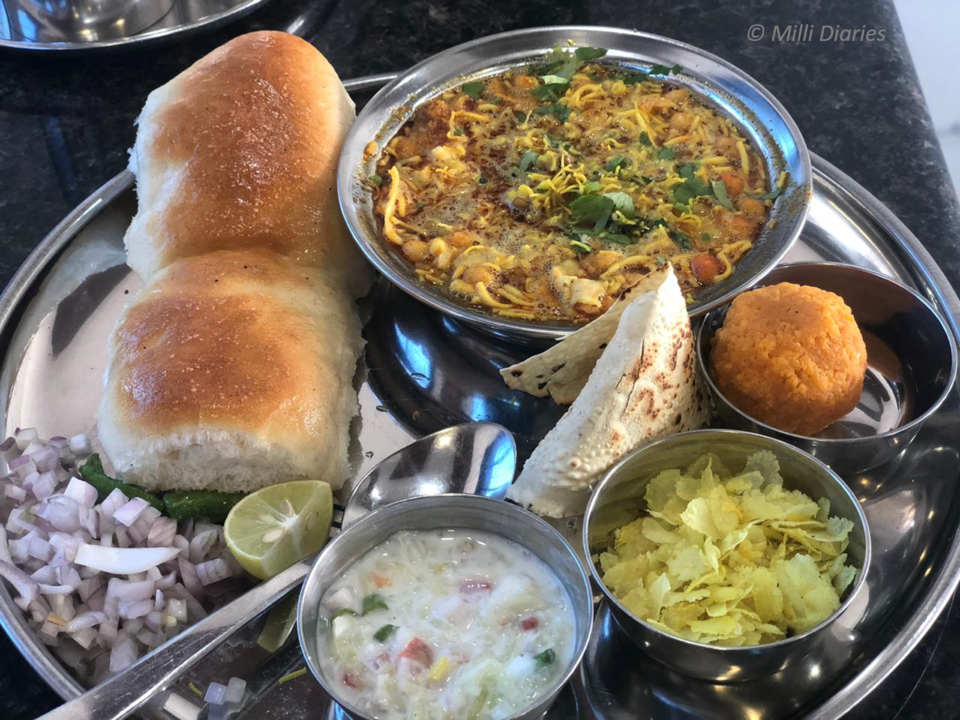 With one brief stop for breakfast, we reached Aurangabad by 12.30 pm covering a distance of 230kms. We had to attend the engagement party in evening and we had few hours to spare before that. So after checking in our hotel, we decided to do some touristy stuff.
First on our list was visit to Ellora caves, a UNESCO World Heritage site. Ellora caves are situated at a distance of 30kms from Aurangabad. It consists of 34 caves temples and monasteries and it will take atleast 2-3 hrs to visit all of them. Since we were short on time, we directly went to the main attraction, cave number 16, the Kailasa Temple. The temple is an architectural wonder which was built starting from the top. This temple is a monolithic constructed by King Krishna I in 720 AD. Sculptures throughout the temple depict various stories of the Ramayana, the Mahabharata and Lord Krishna.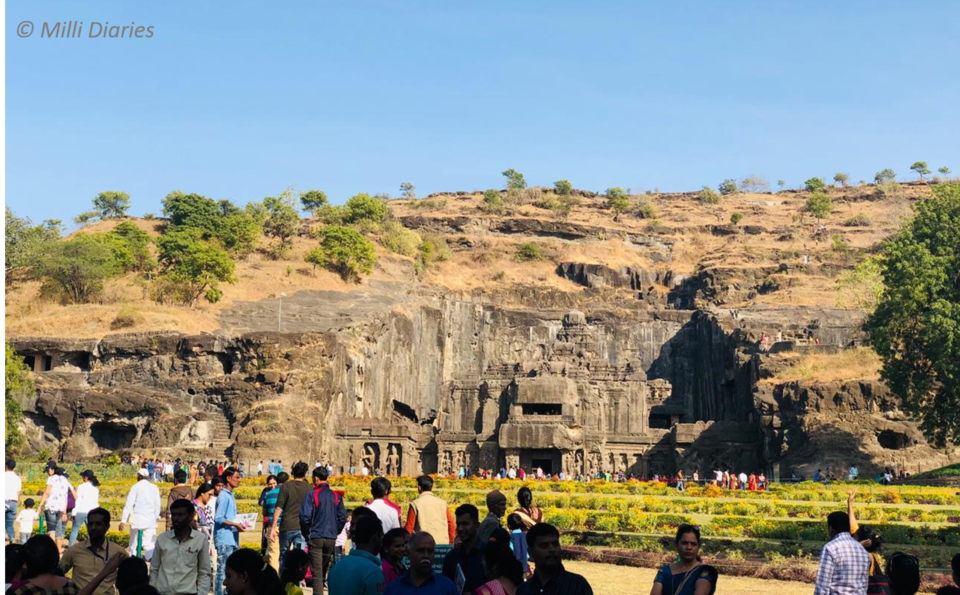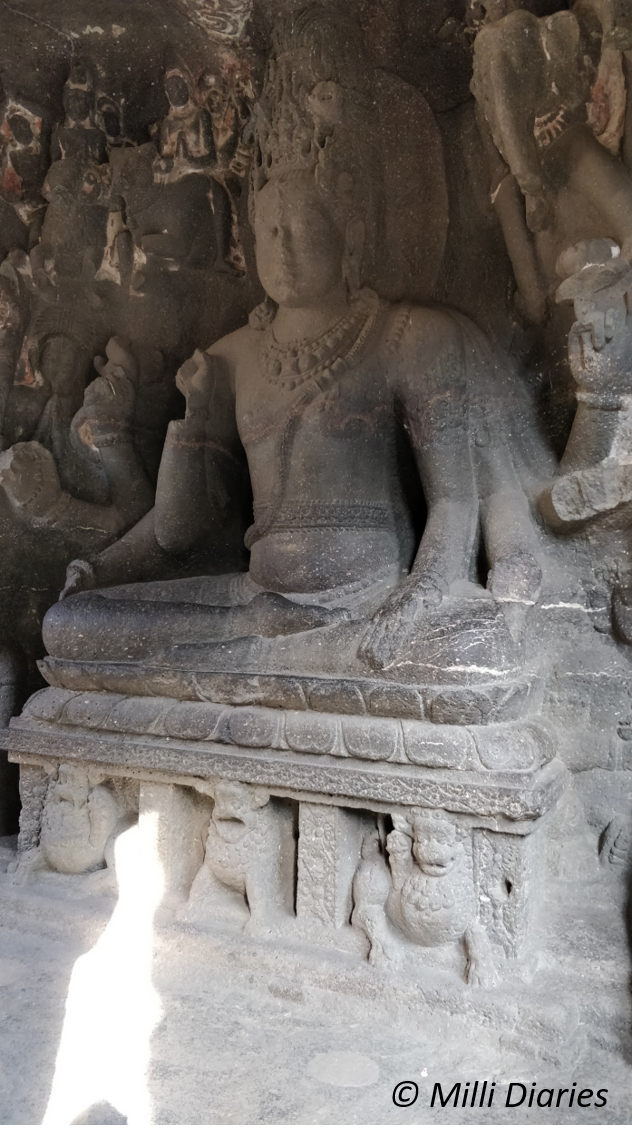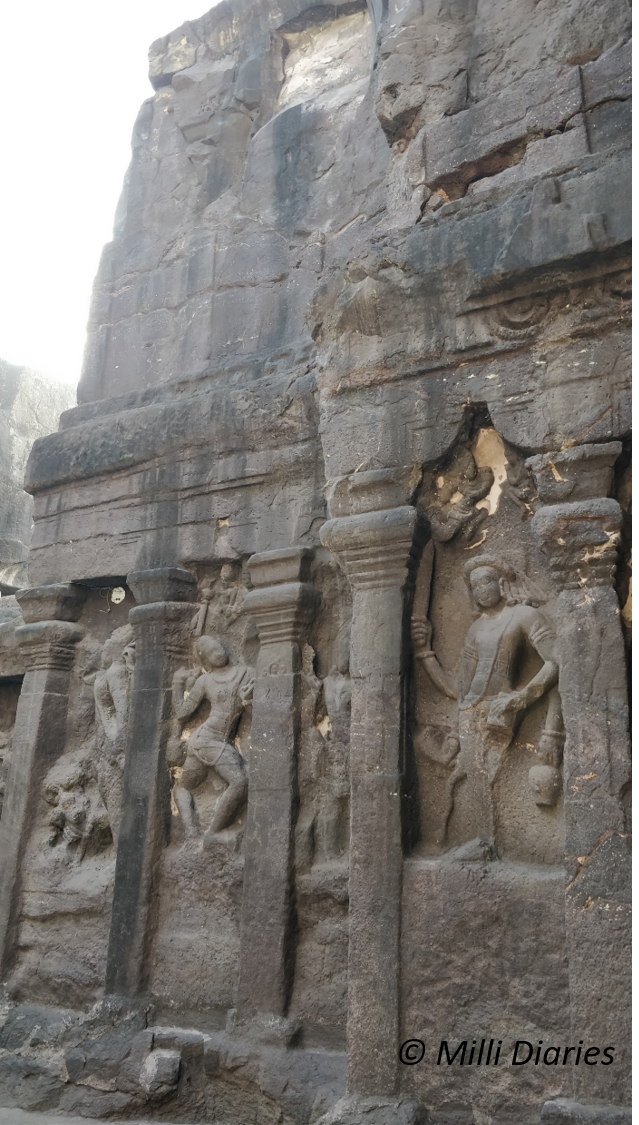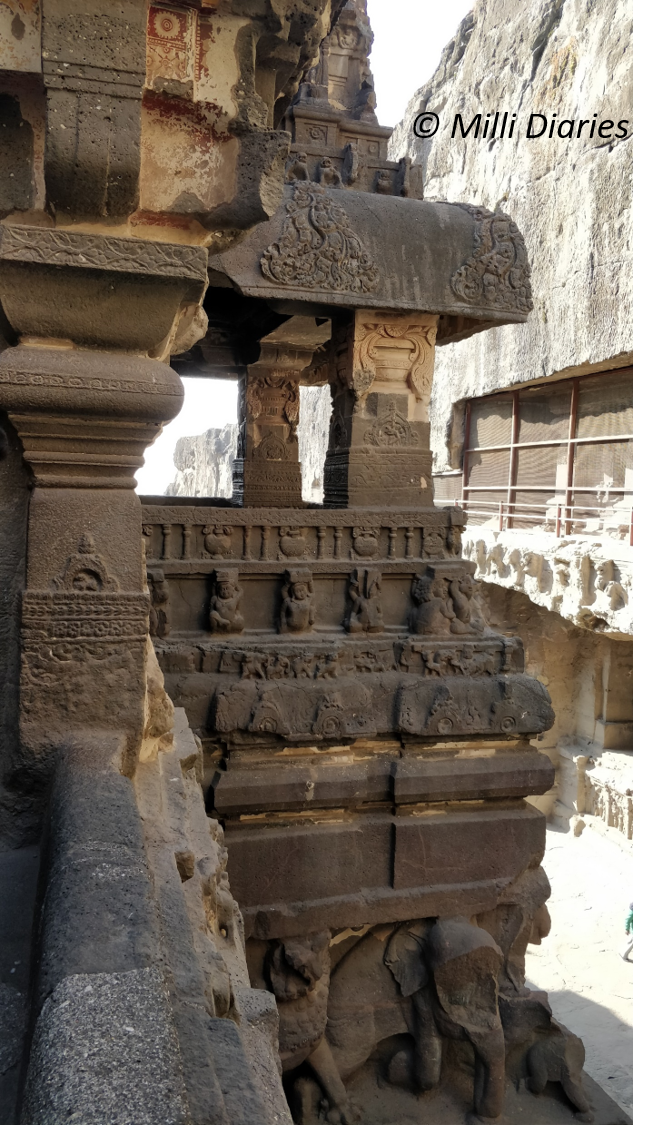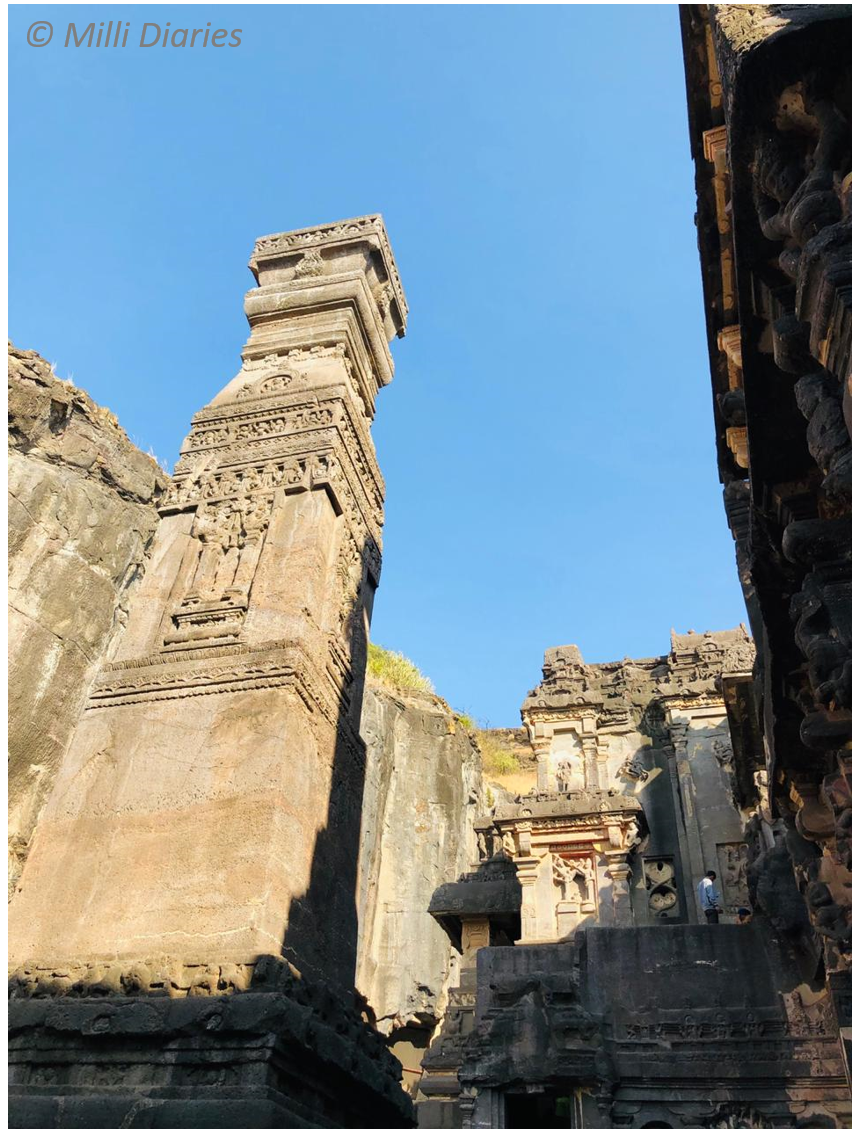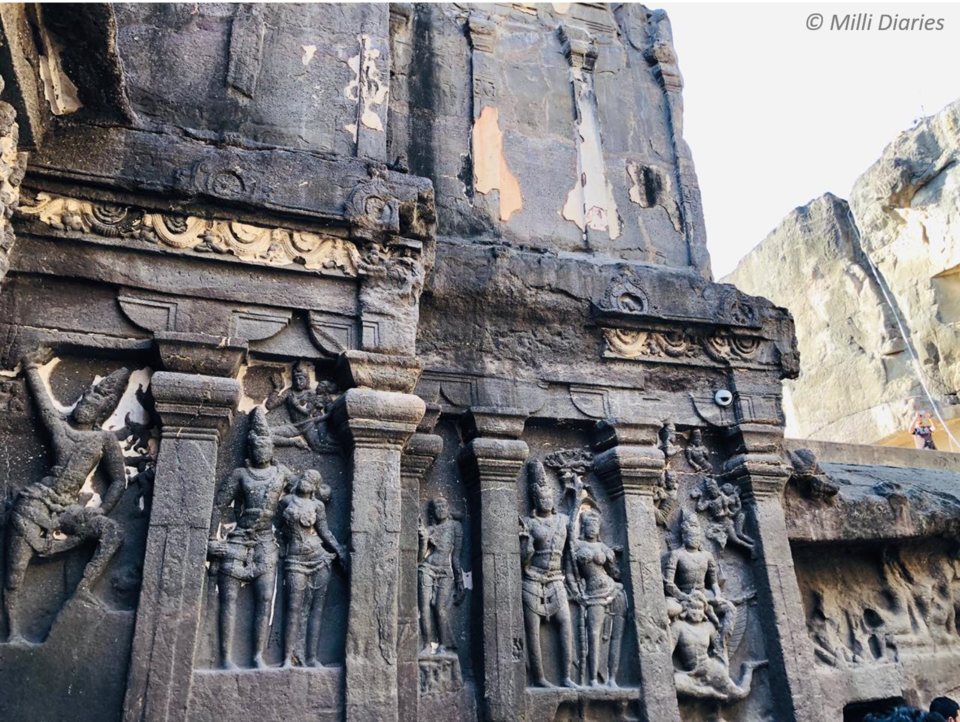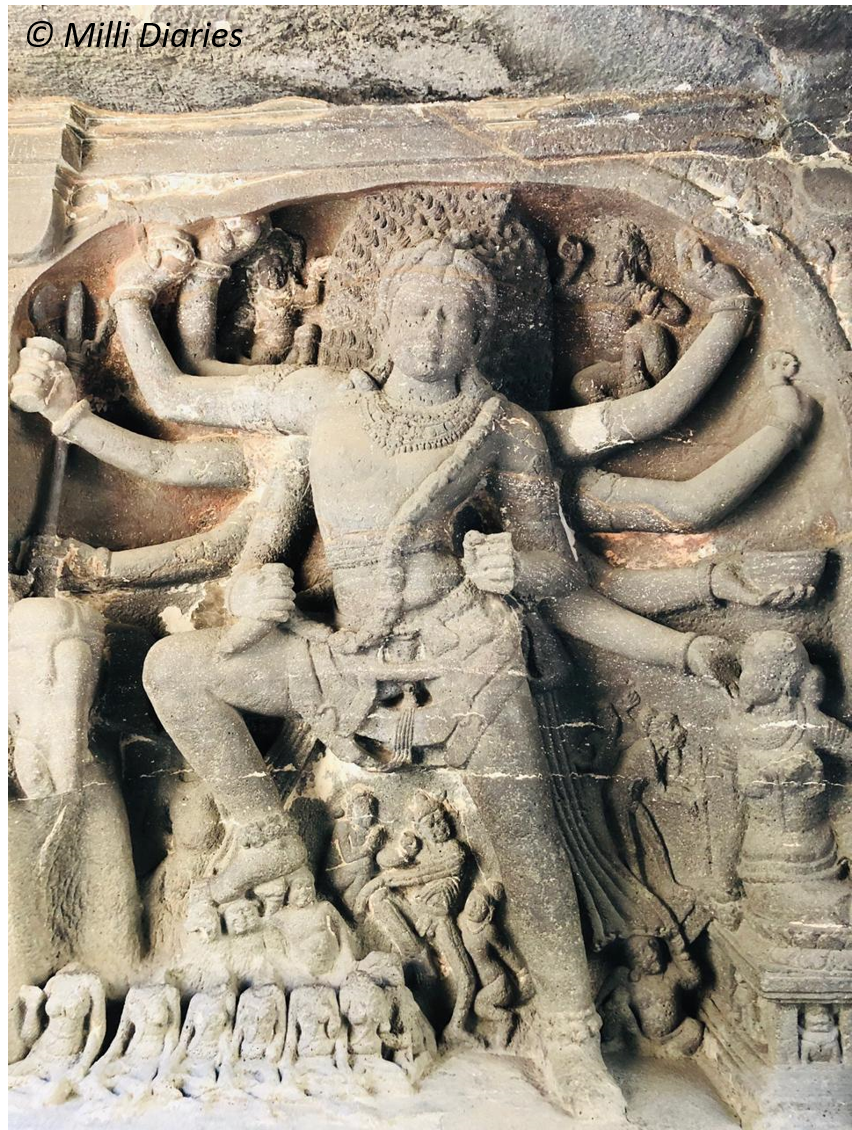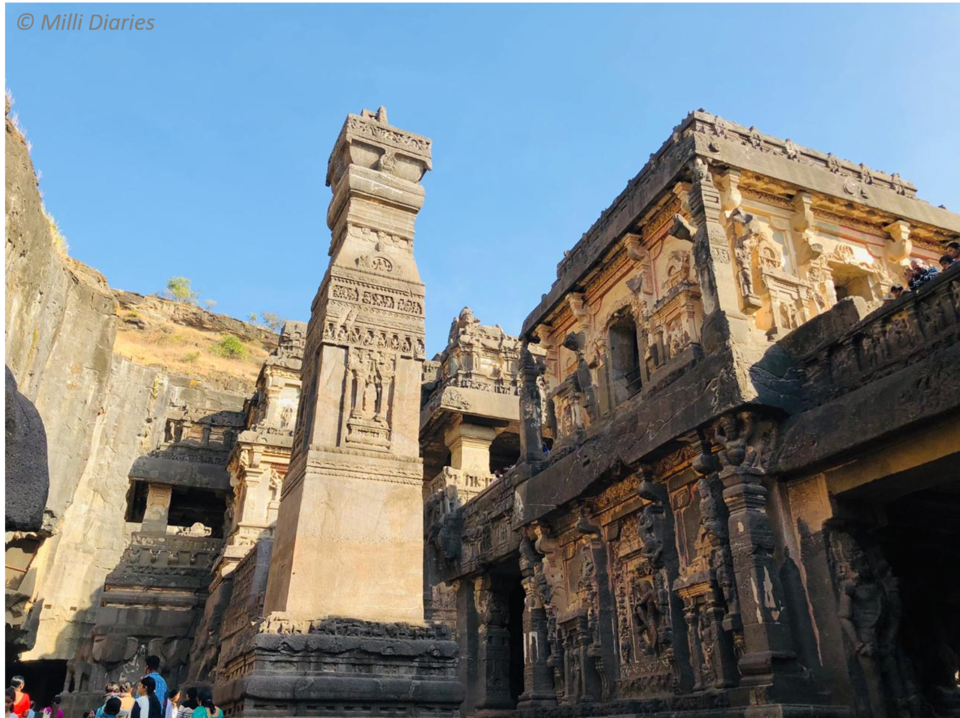 We were truly mesmerized by the temple's engineering. The Mughal emperor Aurangzeb tried to destroy the temple for almost 3 years, but he could only disfigure some of the sculptures. Such was the strength of the temple!!!! Magnificent sculptures depicting the Indian mythological stories were a treat to the eyes!
(PS: If you are short on time or not interested in walking a lot, then visit just Cave number 16 at Ellora and it will be enough.)
After quickly visiting cave numbers 1-15, we left Ellora and proceeded to visit a Jyotirlinga temple, Grishneshwar.
Grishneshwar is at a distance of less than 1km from Ellora caves. It is one of the 12 Jyotirlinga temples with Lord Shiva as the main deity. This temple is an important pilgrim place for the Hindus. After taking our blessings we started back to our hotel.
Day 2 at Aurangabad was the day of wedding. The wedding was a simple and beautiful event with only the family and close friends in attendance. In contrast to the elaborate Indian weddings with tons of rituals, this wedding was just an official registration where the bride and groom exchanged vows and signed the documents. It symbolized what is actually needed in a wedding, Love and Blessings!!! Best wedding I had ever attended.
After the wedding it was time to head back to Pune. On the way, we decided to visit another attraction of Aurangabad, Bibi Ka Maqbara.
It is a tomb built by Emperor Aurangzeb's son in memory of his mother. It was built to resemble the Taj mahal at Agra.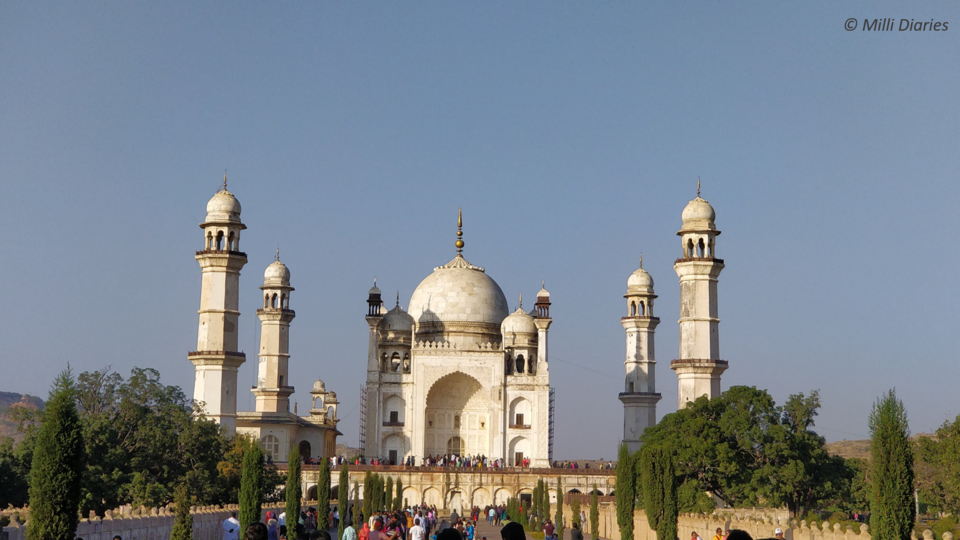 Bibi Ka Maqbara is a smaller replica of the Taj Mahal. However, it cannot be compared in any way to the beauty and magnificence of Taj Mahal. For those who have not seen the Taj Mahal will definitely enjoy the place, but those who have seen Taj Mahal, can give this place a miss and instead explore some street food of Aurangabad!!!
One suggestion would be to visit the Tara Paan Centre which servers a variety of Betel leaf delicacies. They have paan starting from Rs.10 to Rs.5000. They even export to countries like Saudi Arabia, Kuwait and Dubai. I am not a paan fan, but my friends surely enjoyed them on both days!
I was looking forward to the weekend at Aurangabad since months to get a break from daily routine and it turned out to be a fun filled one. The long drive, company of good friends, the wedding, the food and of course the visit to historical places was all just perfect. Wonder where my next weekend getaway will be ????
As always, please leave your comments on this blog in the comments section and hit the follow button to get further updates on my blogs.
You can view more of my blogs on my website https://millidiary.com