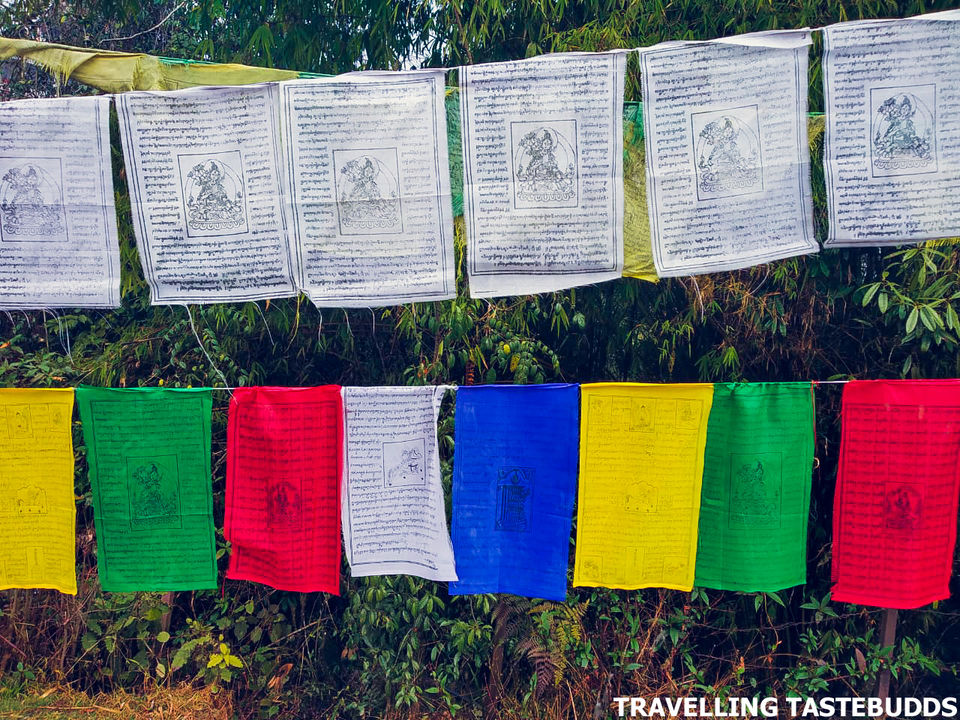 Gangtok, the north-east Indian beauty and the capital of Sikkim state is a very famous Buddhist Pilgrimage site. The name Gangtok means 'hillside' and the place does complete justice to its name. It is a fascinating place and the locals are even more so.
The colourful city of Gangtok is a delight to the eyes. The place is decorated with Tibetan flags all over it. Everywhere you go in the city you will see prayer flags unfurling their positivity and blessings to the surrounding area and the people. Oh, The people are gems I tell you. They are outright warm, helping and so very welcoming. Apart from all these amazing facts, Gangtok is also one of the cleanest cities in India. It has become a famous tourist spot due to the presence of Stupas and Monasteries and rose to prominence as a major Buddhist Pilgrimage site after the Enchey Monestry got built in the 1800s.
And not just that, if Gangtok enumerates peace and love then it also calls for adventure lovers and adrenaline junkies. This place is a hotspot for everyone who is planning for a hike or trek to the Sikkim's Himalayan range. It has attracted many adventure-loving folks through the years as it is the base for hikers organizing the permits and transportation for treks.
My Experience
I Priyanka Roy (The elder one) recently visited this wonderful city on a solo trip(my first) and had the greatest of times. If you ask me if one should go on a solo trip and how my experience was then I would say one should definitely give it a try at least once in their life. But as fun, as it can be for people who are a lone wolf, I for one would not like to go on a solo trip again. I enjoyed my time in Sikkim hugely but it was also a tad tiring and at times I got lonely and worried.
Well, that's that, it was my solo trip because this trip was planned on the last moment and thus I preferred to travel with the Indian Railways (Eastern Railways). I booked a seat on The North-East Express departing from Anand Vihar railway station at 6:50 AM. It took almost 27 hrs to reach New Jalpaiguri Station from Delhi for it was late by 2 hours. After deboarding I exited the station, there was a cab stand adjacent to it. I hired a cab and reached Gangtok in 5 hrs i.e around 4 PM.
On my way to Gangtok
The most mesmerizing thing on the way to Gangtok was the Teesta river with a mystical colour combination of dark-bluish-green flowing through the mountains, running with the roads, blowing with the wind, giving away everything it has got. Roads are the only way to reach Gangtok either from Bagdogra airport or from New Jalpaiguri station and where there is a road there is a journey and there are moments which cannot be captured in a plane or a train.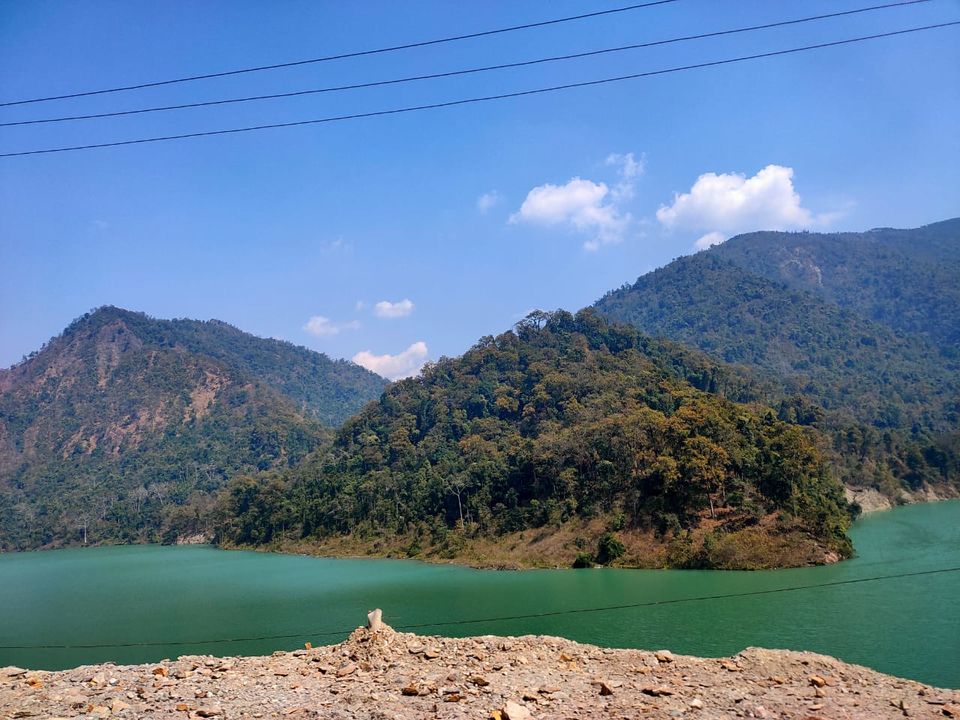 I booked my hotel with OYO using the OYO app, being more or less the most affordable hotels you can find in India and have branches all over the country. Talking about OYO, I have been to many hotels by OYO in different states and cities and have never been disappointed. Their services are really good as per the prices. The rooms are always clean and well maintained, the hotel's general area is always welcoming and orderly and most of the hotels have basic facilities such as AC and Tv etc. So if you ever visit India and are looking for a good affordable stay, then choose OYO. I stayed at the 'Soyang hotel', located at 5 mins uphill walk from the main market i.e MG Marg. The hotel was exquisitely decorated with dragon 3D art and paintings.
I took some rest for a couple of hours after checking-in, then in the evening, I hit the main markets of Gangtok. There are two famous markets there – MG Marg Market and Lal market. I visited both of them that evening and as exciting as the markets were, my experience got even richer as it started drizzling, and I love rain.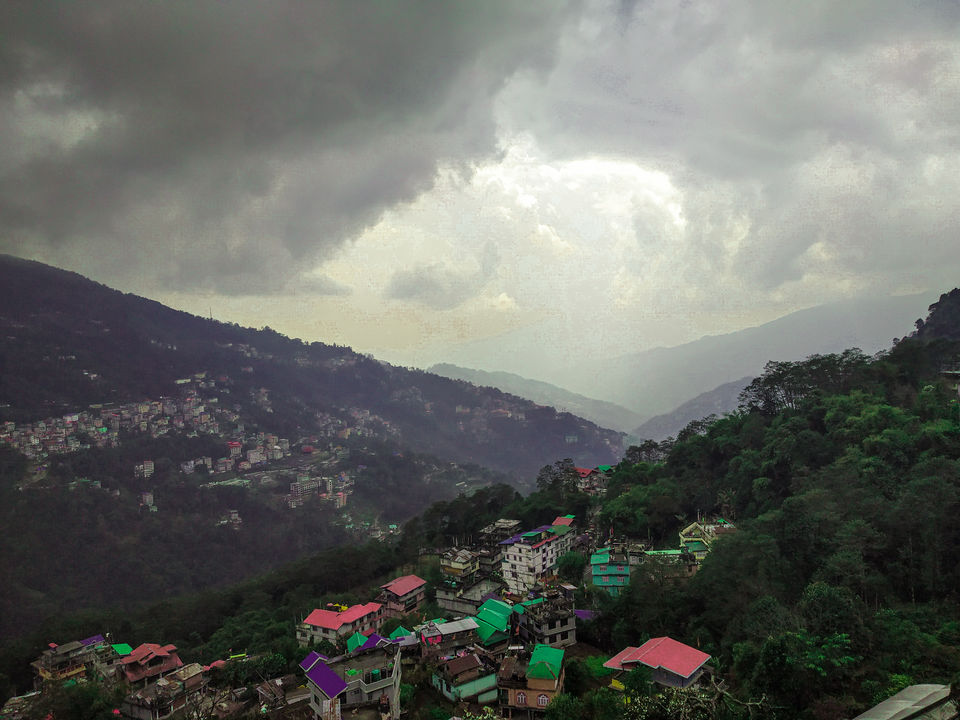 Lal market is much for local stuff and apparels and it is situated on huge steps going downwards from MG Marg. I first went to MG Marg and found Lal market while I was halfway through it, then decided to go to Lal market and came back to complete the tour to MG Marg. I was completely exhausted. The steps of Lal market are huge and very wide and steep. All the shops are stationed on the steps and each step has one shop whose size is dependable on the size of the step. The wider the step the bigger the shop.
Then I strolled on the MG Marg from one end to the other, it is a pedestrian-only avenue and pretty organised as no moving vehicles are allowed on the road. At the main entrance of MG Marg, there is a tourist information centre and main Taxi stand connecting other cities. I was amazed to see most of the famous fashion brands out there, unlike other hill stations. It was lit up very brightly and I could hear soft music in the background. This time I was travelling solo so I must miss my friends or family, but instead, this market gave me a very fresh and lively feeling. On MG Marg there were little stalls selling prayer flags, key chain, fridge magnet etc at very moderate prices so I bought a few for my family and friends.
Food To Try
I am a big-time foodie and I love to explore new cuisines and dishes at new places, I decided to have Thupka and the famous Sikkim momos I have heard so much about. I saw a big banner Roll House – For best rolls and momos, I went there and it was too crowded; it is a very known outlet for Momos and Rolls on MG Marg. I tried Mushroom- Corn momos and Fried Chicken Thaipo, well Thaipo is a type of momo only, thrice the regular size and thrice the regular taste! Then I tried Chicken Thupka- and Oh it was mind-blowing. The taste was basically of soupy hot noodles mixed with vegetables or Chicken. After exploring the market and food, my day ended with hot Chicken biryani served with cold raita at the Biryani corner on MG Marg.
Sightseeing Schedule
I had a fresh and adventurous start of day 2 in Gangtok. I hired a cab for sightseeing from Royal Sikkim website at a very agreeable price. The driver picked me up from my hotel and my journey began.
My first stop was The Botanical Garden in Gangtok which is famous for its exquisite variety of flowers. I explored the place for a bit then moved to the next stop which was Hanuman Tok.
Hanuman Tok
It is a temple located on an altitude of 7200 FT in East Sikkim. Legends say according to Hindu Mythology that when Lord Hanuman was flying with Dronagiri Parvata which had Sanjeevani herbs to save Lord Laxman, he rested on this spot for a while. Therefore in tribute, this temple was built and now maintained by the Indian Army.
Ganesh Tok
My next stop was Ganesh Tok, it is situated at 6500 meters above the sea level. It has a spectacular view of the city on a cloudless day adorned with colourful prayer flags hung alongside the roads. At the entrance of Ganesh Tok, you can rent the traditional outfit of Sikkim called Honju at a very fair price. I did and felt blissful. The outfit was simply gorgeous and colourful if not anything more pristine.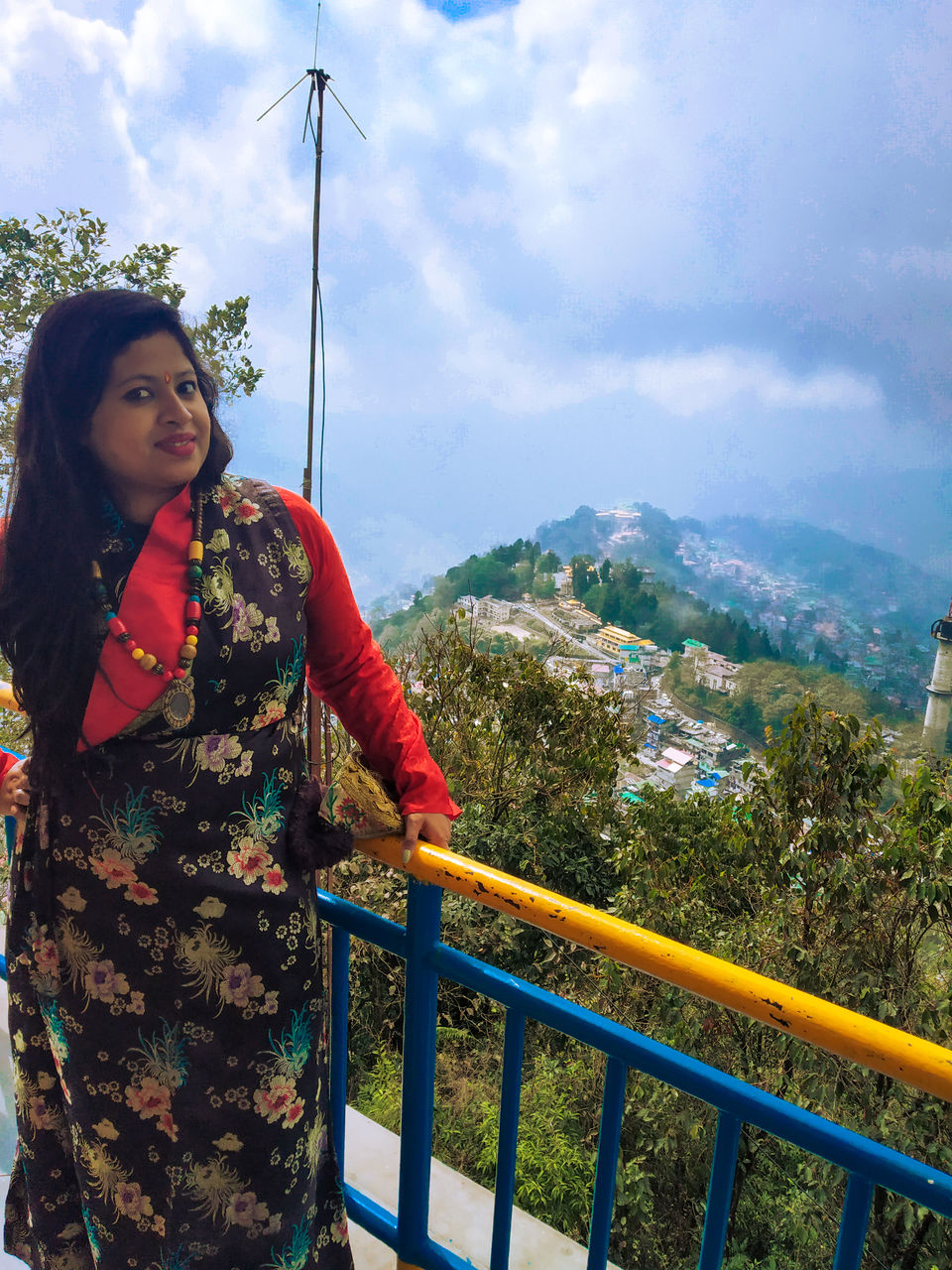 I went inside the temple wearing the dress and getting the vibe of the local Sikkim-ian. I found the temple to be outright tranquil and pacific. There is a circular sitting area exactly opposite of the temple to sit and enjoy the view. I sat there for a while, reflecting the peaceful surrounding then I hopped into my car again and went to the Tashi viewpoint.
OM MA NI PADME HUM – Praying Flags
My driver was very interactive and kept on telling and informing me of all the details and significance of all the places. From Tashi viewpoint, you can see the whole city, and understand how colourful the city actually is. The place resembles the colours of the Tibetan Praying flags. The colours blue, white, red, green and yellow can be seen everywhere in that particular fashion bearing either prayers or the words: OM MA NI PADME HUM. I had to climb a few stairs to reach the point but it was totally worth it.
Gonjang Monastery
Then I visited the Gonjang monastery. I had to walk steep down the road to reach the place, it was a pleasure to the eye to watch the city view from there and especially the monastery which is a beauty inside-out. There was a big praying wheel, I spun it like everyone else and the sound was very loud and very soothing.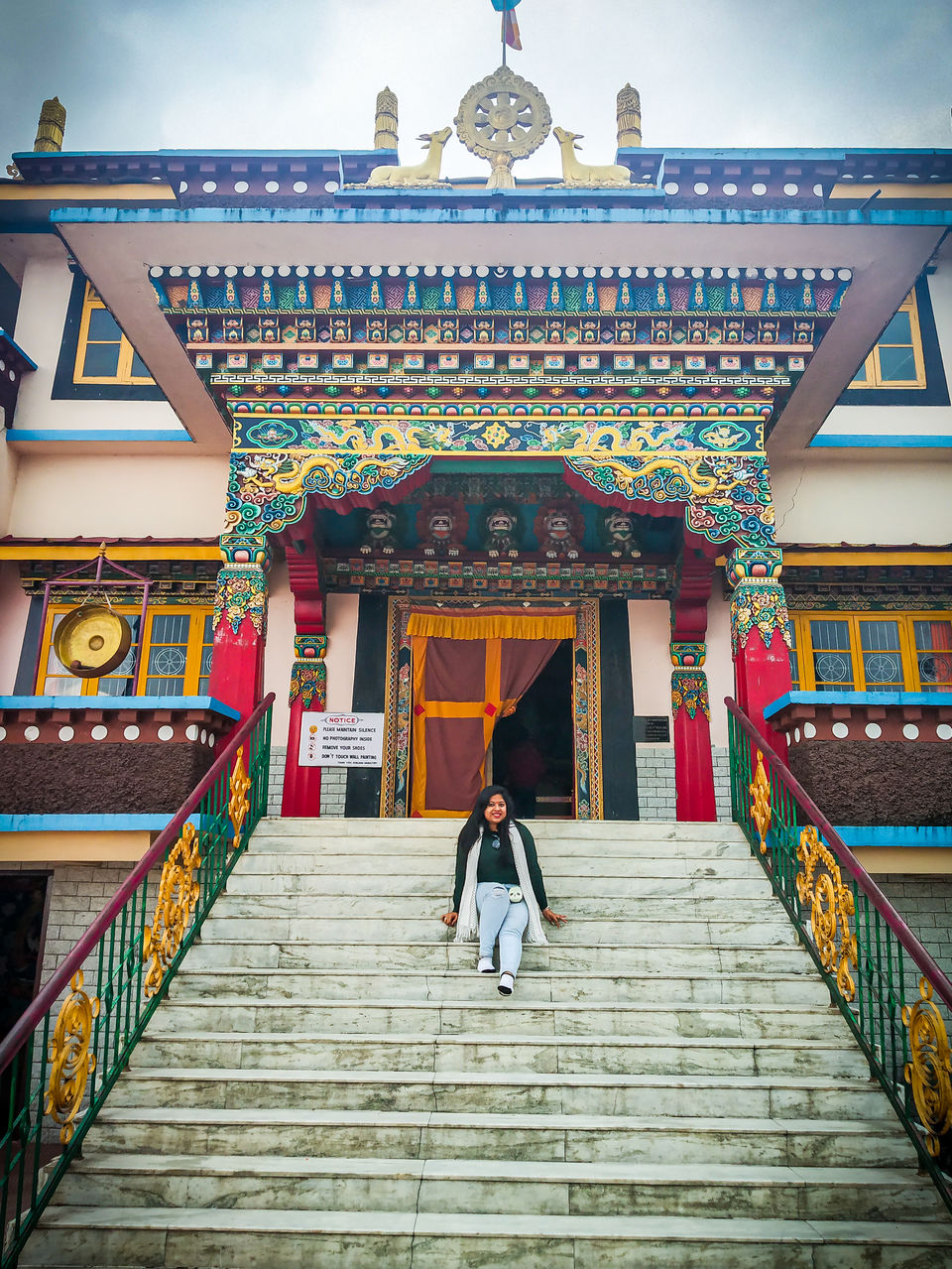 Banjhakri Waterfall
Then I went to the Banjhakri Waterfall, everything in Gangtok is always either steep upwards or steep downwards, so you need to walk to reach any destination as your vehicle will drop you a little bit far away from it. So here my challenge was to climb the stairs and as it was almost lunchtime, I was starving thus it became quite difficult for me. Finally, I reached the waterfall, I was having fun pictures there but the water was falling at a crazy speed so it was tricky to stand near the fall for a long time otherwise you will get drenched head to toe for sure. I came down afterwards and I had my lunch i.e egg Maggi, the soul food of every hill station.
Rumtek Monastery
Then I was headed towards the Golden Stupa- Rumtek monastery which was located at the outer skirts of east Gangtok, so it took around 45 mins to reach. At the starting point of this monastery, there was a checkpoint guarded by army people, they checked my ID and allowed me to enter. Yet again a long walk from the main gate to the entrance gate of the monastery. It is all golden from outside and shines with the Sun. I saw many boys there of different ages wearing Kasaya or Buddhism robes. I believe all of them were the students of the institute in the premises of The Golden Stupa. While walking down the road I rotated every praying wheel placed on the sides, it was so fun and soothing for some reason.
Finally, my day was to put an end to with one last destination in the city itself but unfortunately, I couldn't reach there in time due to heavy rain and traffic. So my cab driver dropped me at my hotel, then I took some rest and went back to the MG Marg market for dinner. The night was quiet and tiring so I packed all my stuff and slept so that I could get up early the next day.
The Departure
So this was my last day and I hadn't had any plans for this day because I was to board my train back to Delhi. I went to the taxi stand which was 15 mins walk from my hotel and took a cab to New Jalpaiguri station. It took 6 hrs to reach the station then I waited for almost 3 hours in a waiting room as my train, The Northeast Express was at 5:25 PM from New Jalpaiguri to Anand vihar.
I bid goodbye to the city and boarded the train with plenty of immeasurable memories. I will always cherish as well as will be thrilled with this trip because it was my first solo trip. I reached home after a journey of 28 -30 hrs as the train was running late but luckily I got some great company in the train so I did not get bored at all in this long ride.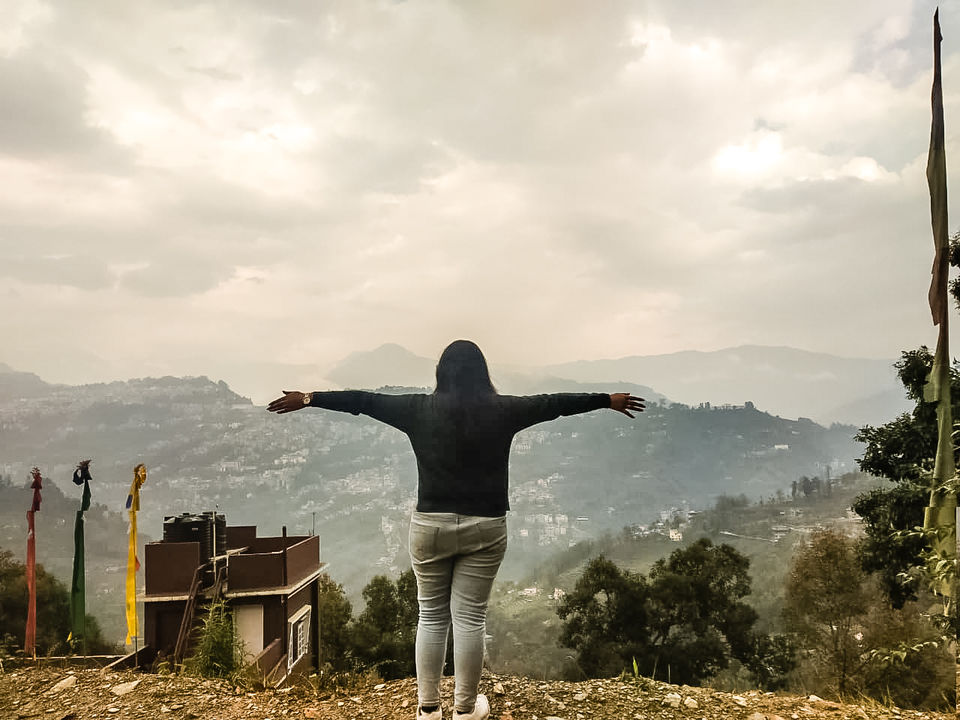 A Note Of Gratitude
One thing I would very much want to mention separately is how lucky I was to get so many wonderfully helping people on this trip. It becomes extremely difficult for a woman in India to go on a solo trip. It was difficult for me too but the only reason I had such a good time and didn't feel misplaced was because of the people I met along the way. Everybody I met in Sikkim was beyond warm and welcoming. I'm so thrilled about it because I would have gone crazy if they would have not been there to help me.
So I would like to thank all of them. The people I met in the train on both journeys, the cab drivers, the hotel staff, the humble shopkeepers, the tourists who clicked so many beautiful pictures of me so passionately, and the locals in general. I had a successful, safe and wonderful trip all because of you. All of these people may never read these or even if they do, probably won't recognise me, but I believe my love and regards would reach them.
I had an amazing experience and would recommend Sikkim if you are planning for a solo trip and searching for a safe destination.
Tips :
The best time visit Sikkim is either between March to May or between October to December.
Start your sightseeing journey by sharp 9 because every monastery or sightseeing point get closed between 4- 5 pm.
No plastic bags can be sold or used in Gangtok.
Spitting, littering or smoking in public areas of Sikkim is a punishable offence and can incur a large fine.
I hope you guys are doing well during this pandemic and are safe in your homes. I hope you like the blog and my experience, please share yours and let me know if I missed something or drop any other kind of suggestions!
I hope you guys are doing well during this pandemic and are safe in your homes. I hope you like the blog and my experience, please share yours and let me know if I missed something or drop any other kind of suggestions!
Follow us on the links below for more updates:
http://travellingtastebudds.com/
https://www.instagram.com/travellingtastebudds/
https://www.facebook.com/travellingtastebudds/
https://www.youtube.com/channel/UCgvi-f4YxwNak1-ZzjFiEFA/videos?view_as=subscriber