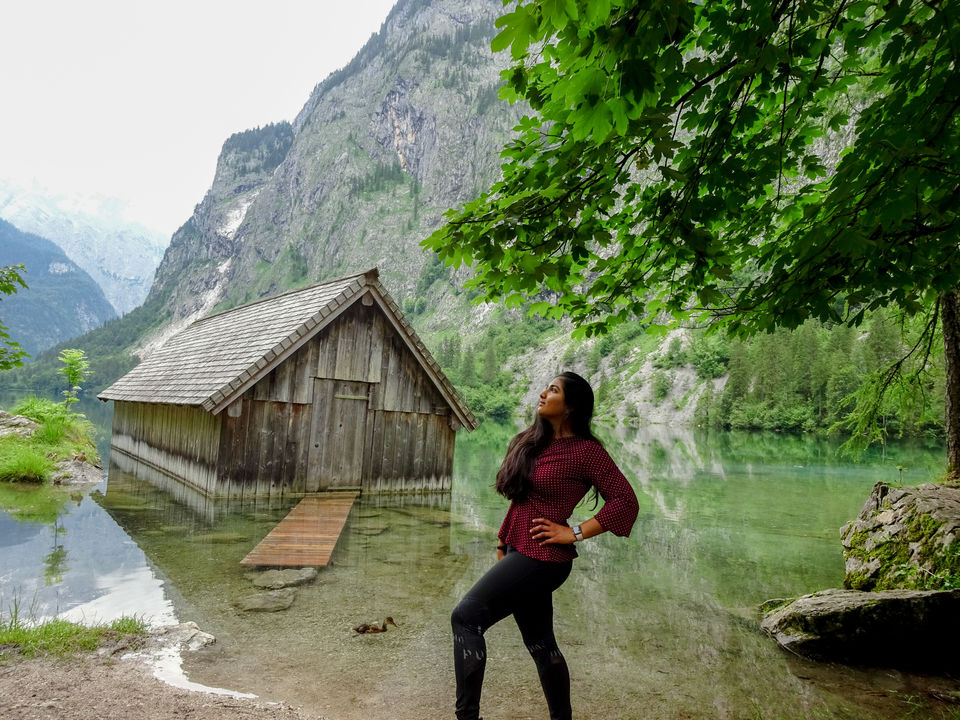 Interested in how I executed my great German road trip adventure despite Covid19? Read on...
It was not until Thursday that I decided I should go on a road trip starting Friday the 12th of June 2020. Yes, it was amidst the covid19 global pandemic. In fact the pandemic is a real threat even now as I write this. Since less is more in this time I opted to go solo and believe me (or not) when I say that all the photos posted are self shot.
I have summarized my experiences, logistics and things I took into consideration for the trip, especially the extra precautions regarding covid19 (you can skip to the bottom if you wish to read this).


Starting Point: Frankfurt am Main
Ending Point: Nuremberg
Hours on Road: ~3.5
My first stop on my road trip was the altstadt of Rothenburg ob der Tauber, an old town situated along the river Tauber. I was surprised how crowded it was given the situation. Masks are required indoors and not on the streets so I tried to stay a safe distance from people. 'Human person 6 feet away'
It is indeed such a beautiful town, with colourful facades and roses, roses, roses everywhere. It was convenient to find parking and a very clean, fully equipped with sanitizers public toilet near the parking. I spent about 3 hours in the city, took plenty of photos, and then started my 1 hour journey to Nuremberg via the beautiful country roads.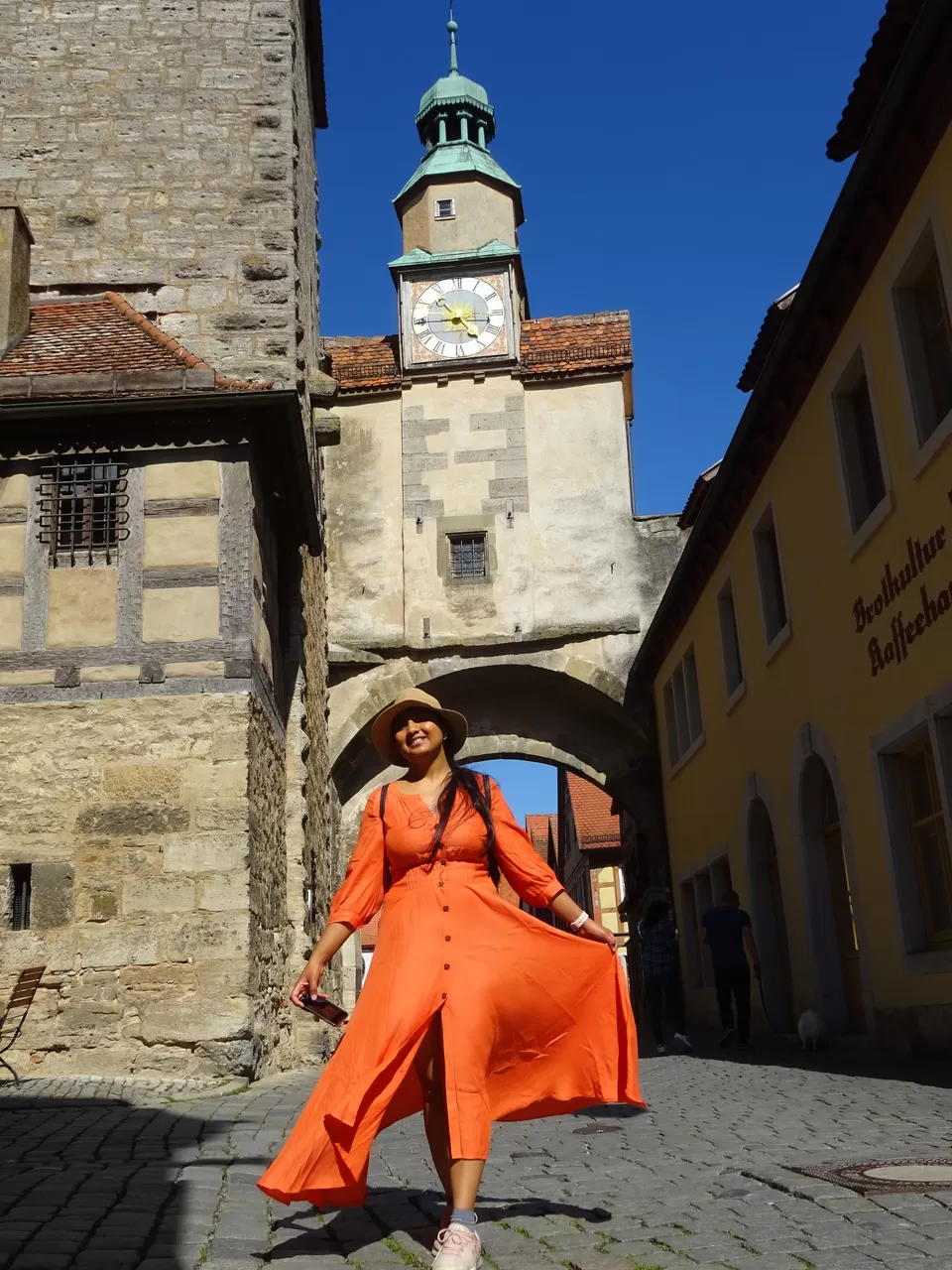 Starting Point: Nuremberg
Ending Point: Aschau im Chiemgau
Hours on Road: ~3.5
Next up, with my cousin (who was gonna spend the day with me) on board I headed south toward Munich for quick stop there, we also happened to pass a strawberry field and decided to pick ourselves a snack for the way. The next stop was about an hour from Munich, the Sylvensteinsee (Lake reservoir created by a dam). The pristine waters of the lake radiated in turquoise blue in the evening sun. Definitely made for a great photo opp location.
It was a good thing we headed there after 4PM as more of the traffic was headed back to Munich, and it was really easy to find parking and enjoy a stroll along the lake bed.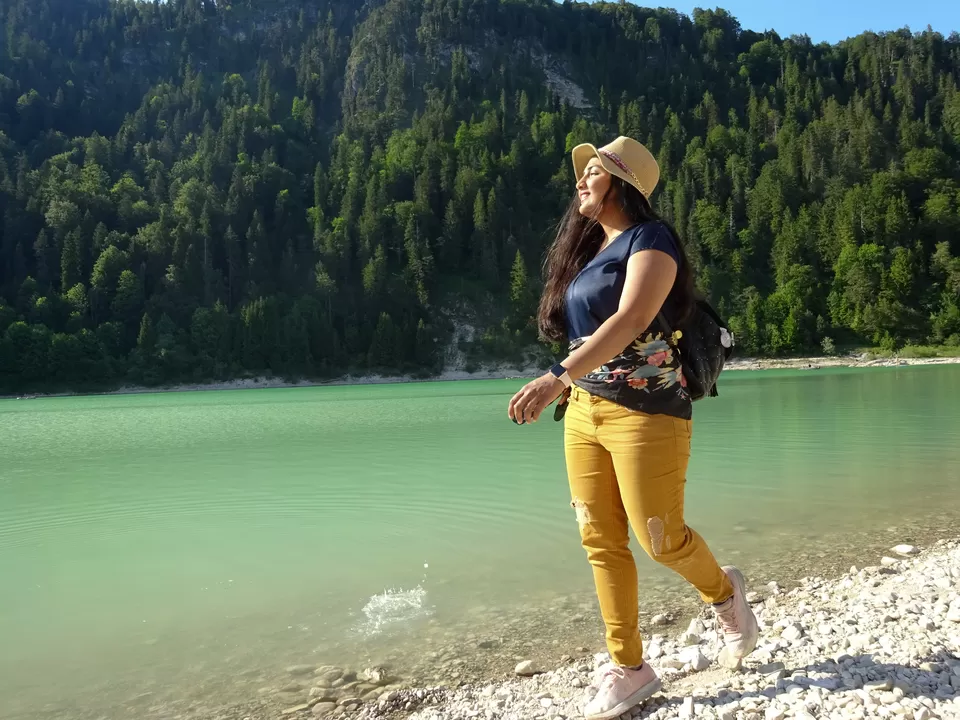 Hours on Road: 0
I was only passing this place but the beauty of it made me stay an extra night and relaxed my driving muscles as I walked around to most places.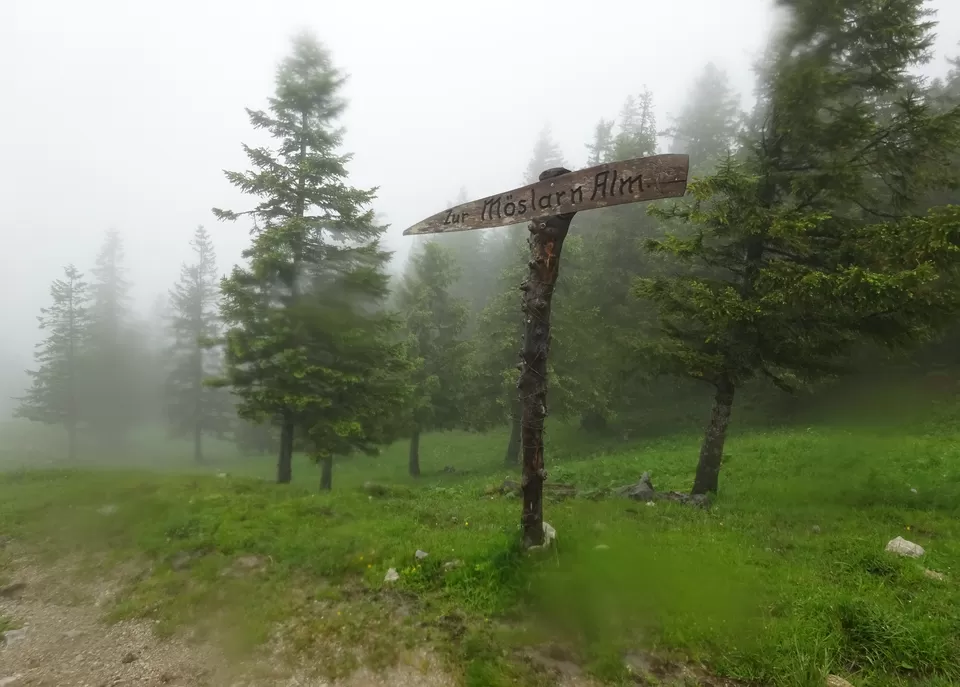 A peaceful stroll at the foot hills of the Alps , enjoying clear streams of water and a historic castle view was an unexpected but pleasant experience. The cable car that was right next to the place I stayed seemed inconspicuous at first, but when I did start a ride on it, it really was a thrilling ride all the way up the 1000+ft Mountain. It went way up high, where the Yeti live.
When I finally arrived amidst the clouds, I heard the soothing sounds of bells, and I followed the sounds till I met my first ever Alpine cow. They were such adorable creatures. The place which I would think would be much crowded on a sunny day was now deserted. I hoped I may get an apparition as I was the only person there with the cows, but I did not. After a short mountaintop experience I headed right back down on the cable car. This was another unplanned experience. Nature does know that I like surprises.
I finally understood why the locals call Aschau 'A Schau' which means a Show or Program.
Starting Point: Aschau im Chiemgau
Ending Point: Ainring
Hours on Road: ~1.5
Another wonder of King Ludwig II (the Mad King as he was called) of Bavaria is the Schloss Herrenchiemsee. It is a mini version of Versailles but placed in an Island. It was a dreamy place and how I wished I were a royal that can actuall enjoy the facility :)
It had an indoor and outdoor pool and it had an elevator for the food from the kitchen to the dining floor so that it doesn't get cold while being brought up. It was an boat ride from Prine am Chiemsee to the Herren Insel (Men's Island). There was also a Frauen Insel (Women's island) which I didn't visit during this trip.
After a dose of royalty I continued on to my next halt which was about an hour away from Chiemsee but only half an hour from the 'Berchtesgadener Land' my furthest destination of this trip.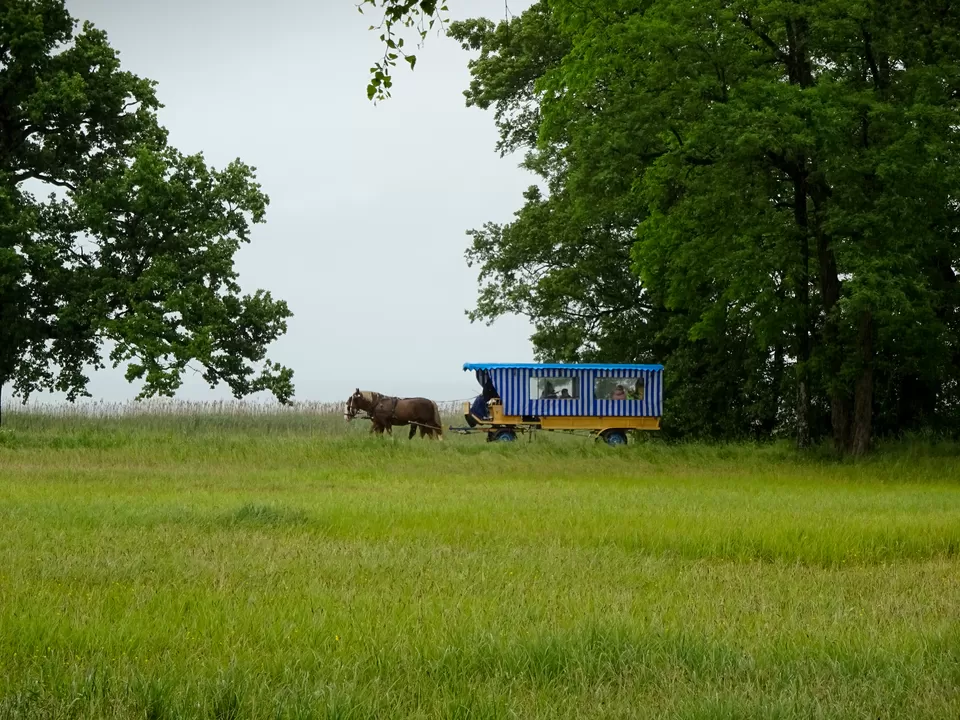 Starting Point: Ainring, DE
Ending Point: Bishofswiessen Berchtesgadener Land

It was the day after the borders to Austria opened for tourism, and after ensuring that I am allowed to return to Germany without any restrictions, I ventured to crosss the border and went to the other side of the Salzach which is a river that defined the international border in many parts of the region. It was only a 20 minute drive to Salzburg and I found a parking lot within the Altstadt, little did I expect the whole parking lot to be carved into the mountain.
I spent 3 hours walking in the city, and without my telephone network, I managed to spot the Mirable Palace, lock bridge and Domplatz and other beautiful spots in the city. The clouds dominated the day but the sun did make some special appearances now and then.
I returned to Ainring for the night as it was conveniently located at the border between Germany and Austria and close to the Berchtestgaden National Park.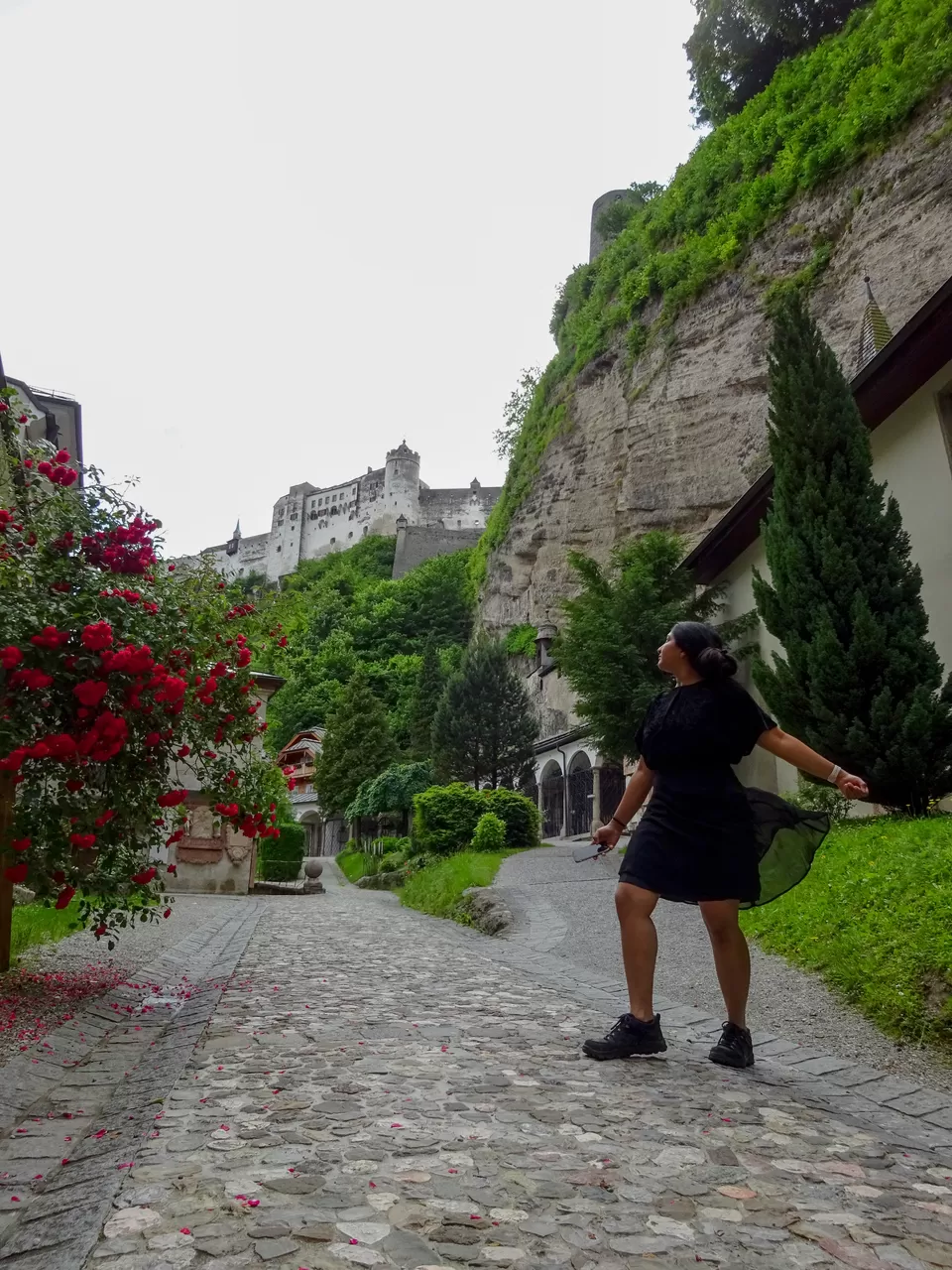 Starting Point: Berchtesgadener Land
Hours on Road:0
The next morning I wanted to make the most of the day before it started raining in the afternoon. I was at the Konigsee Schiffahrt (Boating) by 9:30 and there were ateast 100 other people there! Man, this place must be popular if there are so many travelers even in Corona time. Most of the visitors seemed to be from within Germany.
I was feeling excited and anxious about this, this place was going to be the highlight of my whole road trip and I have seen so many beautiful photos in this location that I wanted to recreate them. After a 55 minute boat ride (with masks on) on the deepest lake in Germany, we reached the other end of the lake and after a 10 minute hike, reached the Obersee (Upper lake) which was shallow, extremely still and photogenic! I found my photo spot and successfully took my much awaited photos. I was equipped to take my self portrait thanks to my tripod and camera with remote control.
Following which I went on a hike to the waterfalls further into the national park. By now I had expected it to rain, but it was as sunny as southern Florida. On my way back to the boat dock while singing 'the hills are alive with the sound of music', I stopped at an Alm (It is the name given to a shelter near an animal pasture usually situated in the mountains) and had Frische Milch (Fresh milk) from the alpine cows hanging out on these pastures .. yumm!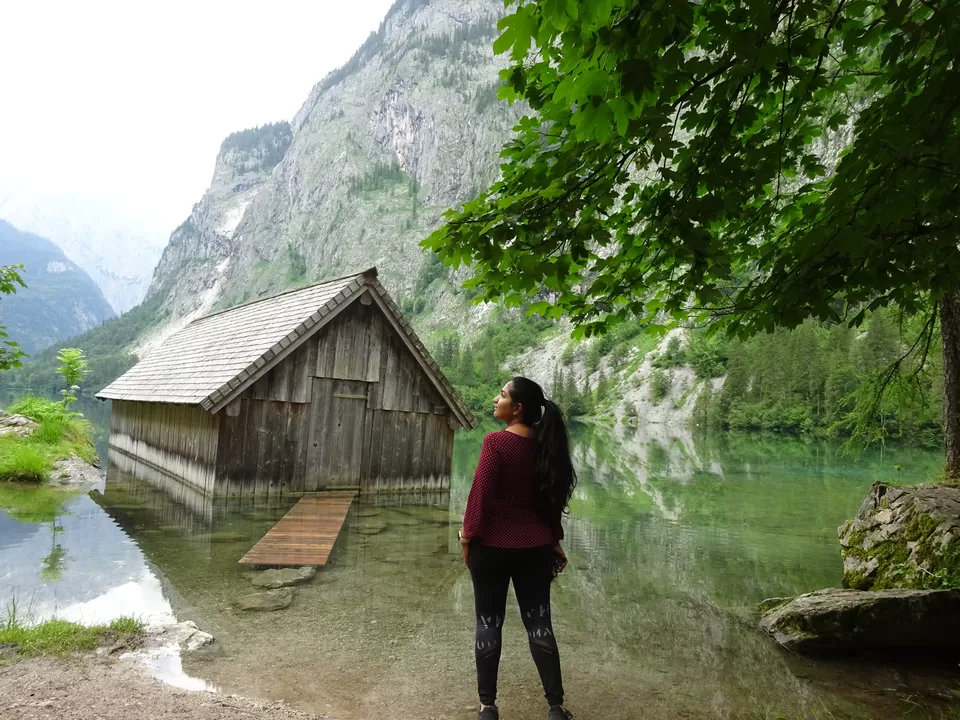 Now I was all energized for my return trip, took some photos and headed out. By 6 PM I was in the car driving to the place I was going to stay the night, a place within the Berctesgadener Land, an amazing place it was. As usual I went in and left my clean and unclean (unexposed and potentially exposed to the contagion) things in a separate corners, left my shoe outside and took a shower. As I came out of the shower, it was pouring. I have been lucky to enjoy the park in good weather.
Starting Point: Bishofswiessen Berchtesgadener Land
Ending Point: Nuremberg
Hours on Road: ~3
I would stay here forever, I thought, but I had to start my journey back north today afternoon.
But I made the most of the morning to relax at the balcony and enjoy the mountain view for a few hours. I watched as more and more peaks came into view as the clouds mode out and others disappearing behind the clouds. This truly was a vacation I dreamed of and of course well deserved :)
At 1:30PM I started toward the Berchtesgaden Salzbergwerks (Salt mines). It was educational but also a fun roller coaster ride. I am ashamed to admit that the salt I used everyday and that read Alpine Salt actually came from salt sediments taken from within these mountains. The mines a several klometers longs and are over 500 years old and still in operation. This was also when I realized why Salzburg (Salt Mountain) is named so.
I started my long journey toward Nuremberg after the tour and thanks to the absence of speed limit on safe regions of the German autobahn, It took me 3 hours instead of 3.5hours to reach Nuremberg.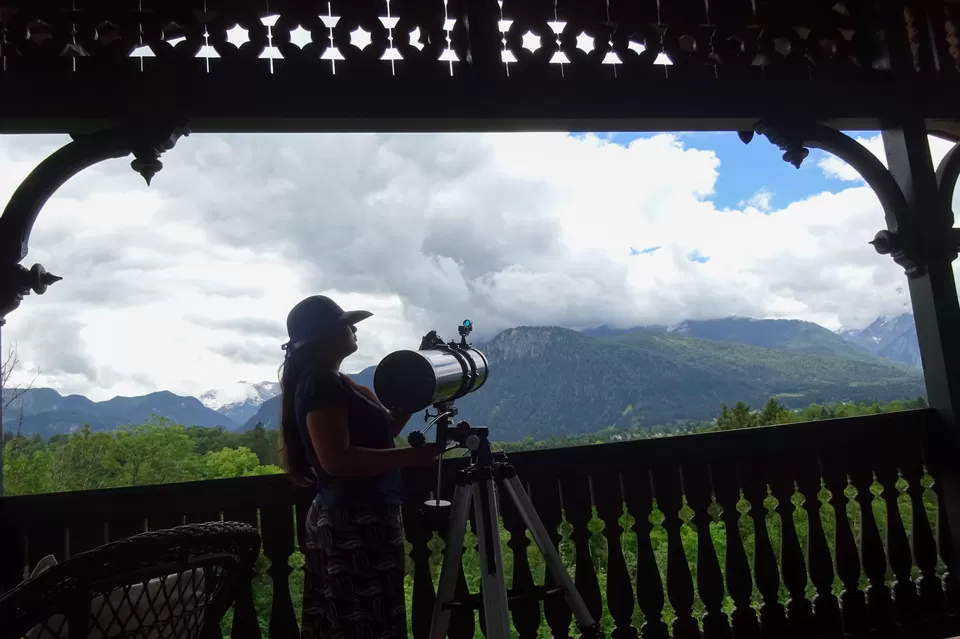 Stay in Nuremberg
I pretty much had a lazy day with my cousin, we ate and chilled all day. In the evening we explored a nearby park and a great sushi place. 'It's ok to take a break from vacationing' I told myself.
Starting Point: Nuremberg
Ending Point: Bad Frankenhausen (Erfurt)
Hours on road: ~4
Thanks to my laziness I was one day behind and had to cover parts of Thuringen and then take the fairy tale road back home to Frankfurt. I already knew it was too ambitious and hence had to skip a lot of the spots.
After an hour of driving north from Nuremberg, I reached the city of Bamberg. Quite a charming town and has a popular Rathause (City Hall) with the river flowing on either side.
Once again the weather forecast had failed me as I was dressed in a sweatter and it was burning hot. Not only did the sweater make me sweat like crazy as I walked around, it didn't do well in my photos. Moving on, I found myself in one of the most crowded places I have ever been since the start of the pandemic, I wanted to move away as quickly as possible and then voila a nice street with colorful umbrellas hanging from the sky. I quickly entered a nearby clothing store and bought a new dress that would not take up too much off my budget, then again I can use this dress on other occasions too right? After taking some dreamy photos of myself, I realized that I am already behind schedule.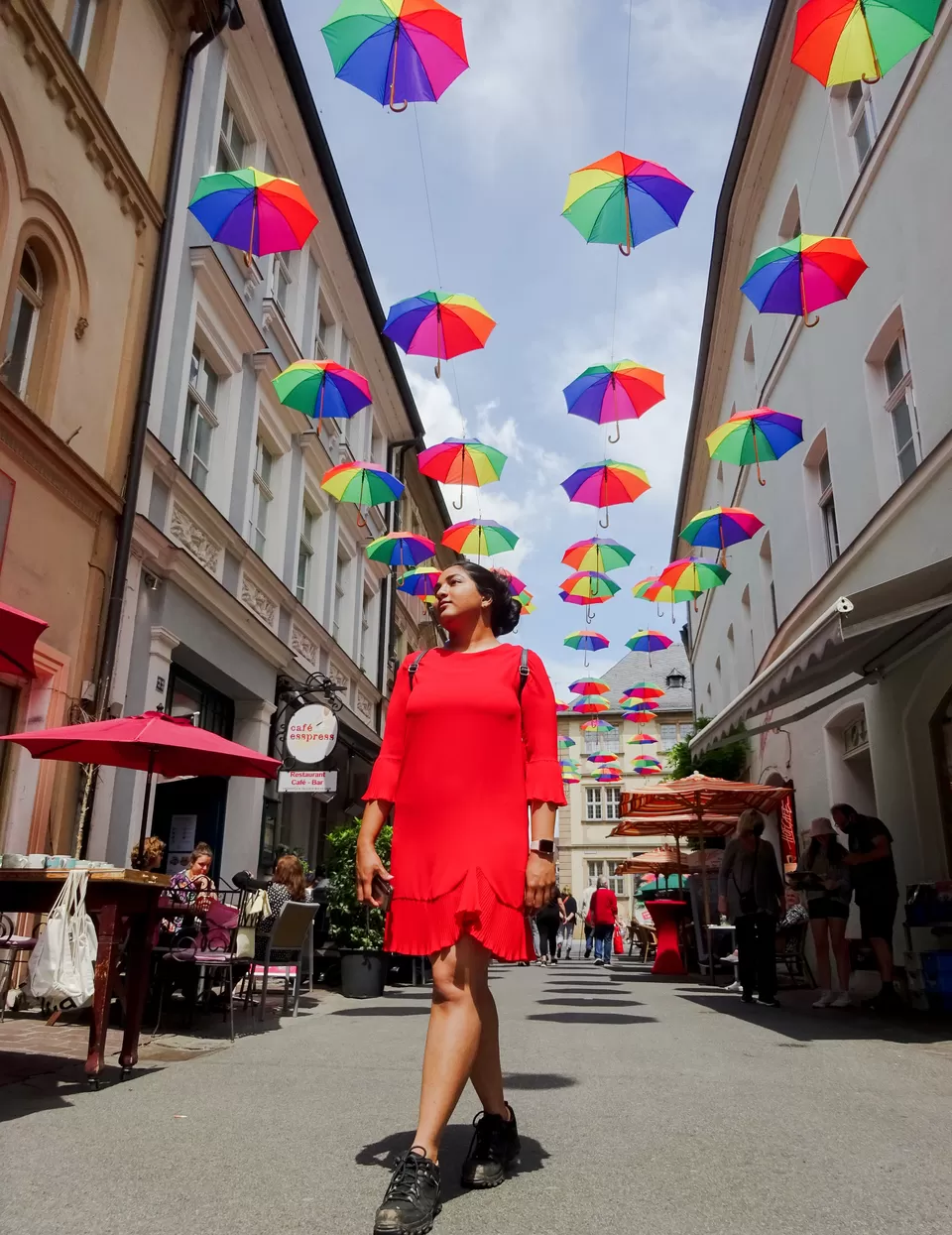 I headed back to the car and drove away, telling myself I should visit this place again.
Next stop was Thüringerwald (the forest in the state of Thüringen). I was eyeing this one place that had a tower in the middle of the forest, a place which, after some research, I found out where it was located. It took me 1.5 hour to reach the forest, and while I was in the middle of the forest with only trees all around me and the road narrowing before me, I hear "You have arrived!" Uhm... there is nothing here. Disappointing, I think of what I can do.
I parked and set up to launch. 50 m above the land I reached above the trees and there it was hiding in the woods. I took the much awaited photos of it with my drone and in 30 minutes I was ready to head out. (if you like this aerial image, see more on my instagram page @DroneGirlFly )
I started toward Bad Frankenhauses where I knew a person who offered to host me. Reaching there, he showed me around the town and we cooked a great dinner to enjoy. It was the longest day on the road, 4 hours.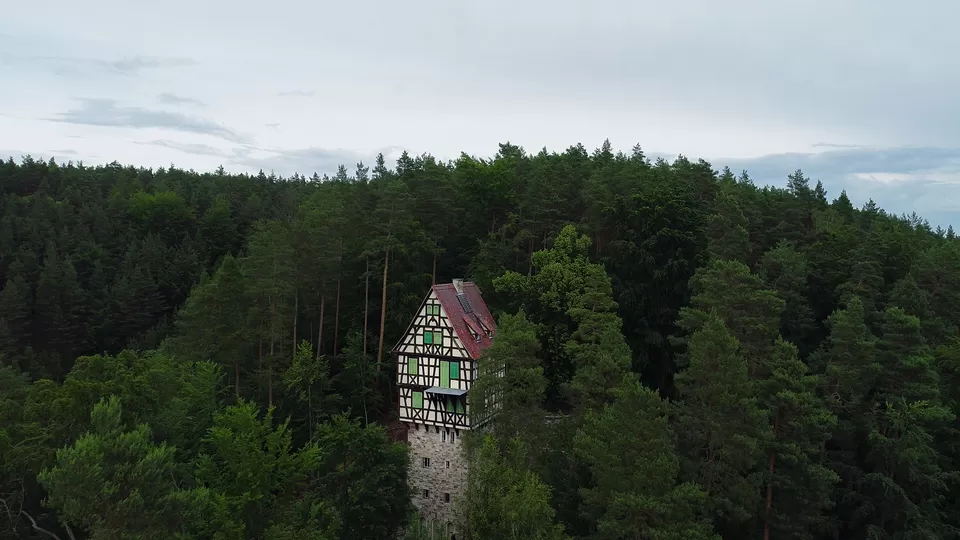 Starting Point: Bad Frankenhausen (Erfurt)
Ending Point: Kassel
Hours on road: ~1.5
I woke up at 8AM, and attended mass at 10:30 in the chapel. And after a satisfying lunch it was too late to go along the fairy tale rode. Today was the last day of my trip. So I settled for one spot which was Kassel and visited the Grimm Welt (Grimm World) named after Brother Grimm who wrote the amazing fairy tales, to name a few Little Red Riding Hood, Rapunzel, Sleeping Beauty, Snow White, Pied Piper and Hansel and Gretel. The places that inspired these tales were along the fairy tale route and I am saving it for another time.
In Kassel, which seemed like a busy industrial town with plenty to do, I spotted the part of it that was still preserved form era of the monarchs. The palace grounds of Wilhelmshoehe ending in a tall monument of the demigod Hercules. One might want to visit the monument in the morning unlike myself as I saw the well lit back of Hercules. The monument is lit up at night and can be seen from most parts of Kassel.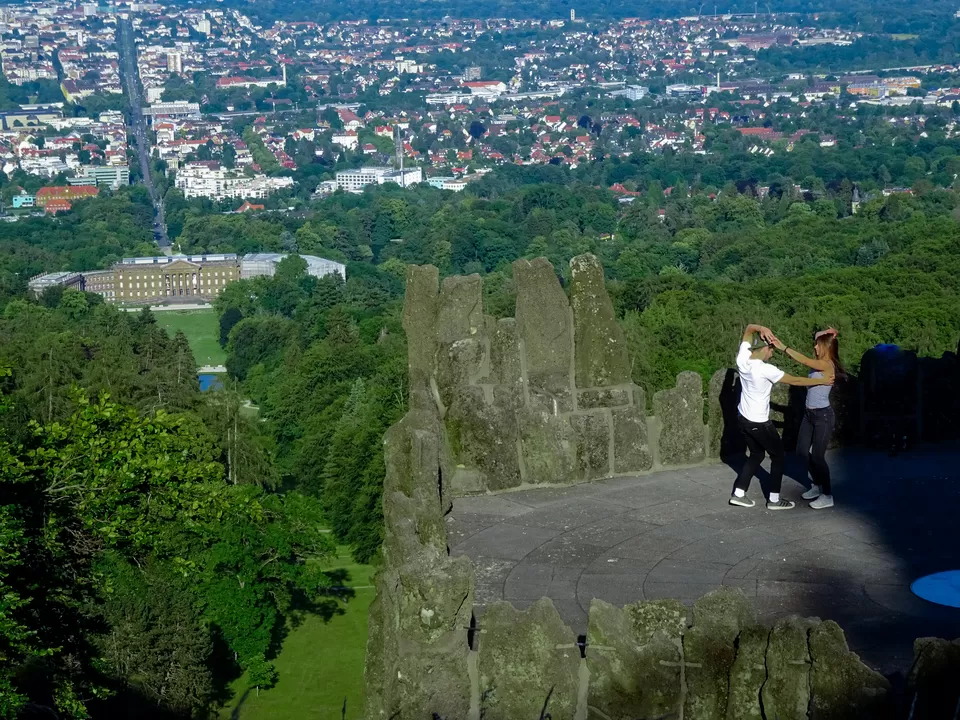 Starting Point: Kassel
Ending Point: Frankfurt am Main
Hours on road: ~2
After resting the night in Kassel, I drove back to Frankfurt in the morning. As I entered the city limits, my joy knew no bounds and I thanked God for bringing me back home safe.
I loved the trip, and can't wait to plan my next one.
Covid19 special care:
- Packing list: Sanitizer spray, sanitizer hand gel, paper towels, a face mask or two
- First I wanted to make sure that the vehicle I drove in (rental car) was clean so I sanitized the heck out of it.
- I also sanitized my shoe sole and hands and if applicable jacket cuffs every time I entered the car so I always kept the car as a clean space.
- I separate clean(no germ) from not clean (potentially exposed) in separate bags or suitcases and in specific regions in the room or car
- As a rule of thumb, whenever I completed my trip for the day, I take a shower and only touch the clean part after doing so
- Even if there are no germs in most places, there will definitely be plenty on your shoe soles, so I sanitize them before I step into clean spaces and my car, and I also were slippers when I walk indoors. I sanitize the slipper soles before packing them back in for the next leg of the journey.
- I wore a face mask when there are people around me indoor and outdoor and wherever required.. (I took them off briefly for photos )
- I carried a pillow as I often sleep with my face down
- I carried a hand sanitizer to use anytime I touch unknown surfaces like door knobs, buttons, parking machines, water taps, when possible I try to use a tissue or paper towel to touch the surfaces
- I also carried a spray bottle filled with sanitizer to spay on the things I carry on me (phones, camera, backpack, wallet, shades) during my excursion
- Be generous with that sanitizer
- Upon returning home I am trying a soft self quarantine (although it is not legally required) for the next couple weeks just to be sure I am not carrying the contagion unknowingly
(Retrospectively, these things I did, they worked, but really were an overkill:)