Goan holiday is once a year affair for me since last 5 year, sometimes its twice or thrice too. Hence, whenever I get together with friends and if we are planning a holiday my first suggestion for a destination is always Goa. Goan vacation for me is all about lazing, soaking in the sun, exploring, guzzling gallons of beer and consuming tons of beef,chips and fish. But my latest goan holiday was not only about the things I have been doing all these years, it was also about a lot of observing, acquainting and knowing some things funny and some things weird I would never come across in my daily routine life or even for that matter in any of my other vacations.
ADVENTURE GALORE!!!
As at all times I am itching to go to Goa, so was kind of harassing my partner in crime to the core till she finally said yes one fine day in the hot month of May. I had never been to Goa during summers, my visits before has been either in the raining month of August or festival month of December, so this time i was expecting to come back a chochlate colourd boy. When its goa we always prefer a cheap goan holiday, so no flights for us nor any 5 star stay. Its always the bus, train or drive, stay in a decent but luxrious place and enjoy lavish food and drinks in the shacks put up throughout every nook and corner of Goa. The moment I got a go-ahead, we fixed on a weekend, I immediately applied for a one day holiday, booked the bus tickets, booked ourselves in a good hotel and we were all set to rock and roll. We decided to leave on a Thursday night to reach Goa the next day early morning, but things were not really going as per plan. The bus left Bangalore a good 5 hours late and to add to our misery it broke down at 4 in the morning somewhere close to Hubli, about 300 kms away from Goa. The people repairing the bus informed they had arranged an alternate transport for us which was supposed to arrive at 10 in the morning, so if we are supposed to wait for the transport we would reach goa not before 3-4 pm the same day, which would be a complete waste of our day. Therefore, we decide to hitch a ride in the next available transport device that goes by, even if it was a bullock cart. But to our luck, it was a KSRTC bus that was going the same way we wanted to travel uptil Karwar, the conductor of the bus was kind enough to stop for us and also guided us on how to reach Goa from Karwar. We had to take another bus ride to Goa about 100 kms from Karwar and we finally reached Panjim, Goa at 11 am. I must say it was a terrible but one of the most adventurous journey for us and although would not love to do it again but we did love the complete experience.
MELTING POINTS!!!
At Panjim I hired a bike to reach our hotel near Candolim beach and this bike was also our much needed mode of transport to travel around Goa for the next three days we were there. Marina Bay was the hotel we had booked for ourselves, owned by an english couple from UK. They had come to goa about 4 years back for a holiday and they fell so much in love with Goa that they decided to extend their holiday for life, so to earn a living for themselves while they holiday they decided to build this hotel. We had a cosy and spacious suite booked for ourselves and the room was spanky clean and nicely done by the couple themselves.
After a refreshing hot water bath and a hot cup of tea we were in our colourful goa outfit and ready to ride to my holy place in goa "Brittos". Brittos is a shack in the crowded Baga beach, its one of the most popular joint serving good food and chilled beer all through out the day. For me it's a must visit on my every trip to goa, cos other than the beer and view of the beautiful blue sea I come here to devour one of my favourite dish – the mixed grill, its basically an assortment of all kind of meat, chicken and fish served with a tangy sauce and chips. Brittos also serves some exceptionally good Indian cuisine and home made caramel custrads. After spending a good 5 hours at Brittos we decided to take a stroll at the baga beach, do some shopping at the baga market and go for some tea and pasteries at another of my another favourite and popular place "Infantaria" on calangute-baga road. Infantaria is simply unassuming, but you will only realize once you are inside how great a place it is for some very good Goan food, especially pork sorpatel, beef burgers, cheese croissants and home-cooked brownies which are just too yummy. After riding a little bit around Calangute and Baga, we decided to continue with our evening back in the hotel. The party in the hotel went on till 11pm, but finally after a dramatic and exploratory day we felt the exhaustion creeping in and we decided to wind up and hit the bed instantaneously.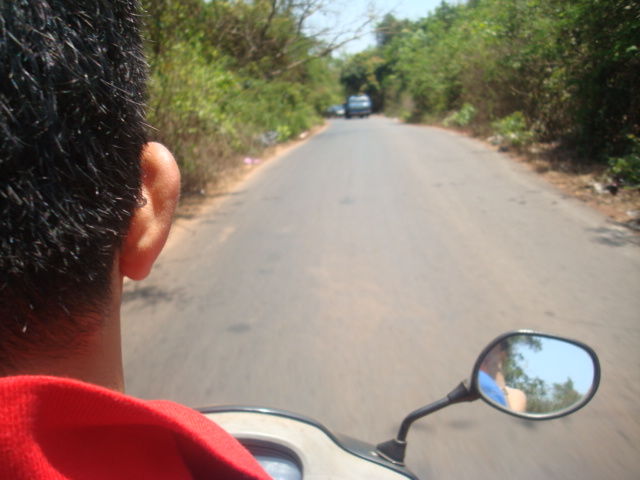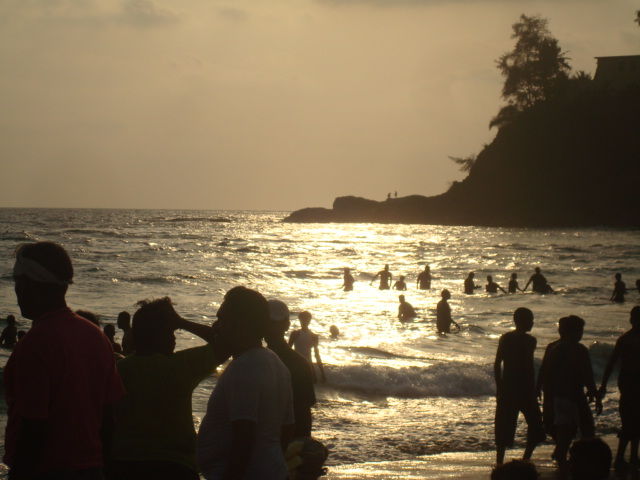 From today is when is when I started noticing, observing and knowing a lot of funny incidents and things. It was a beautiful second day and after a hearty breakfast we decided to just ride around not knowing where to go. Riding in Goa is an exceptional experience, with narrow roads, gorgeous greenery, tiny bridges running over watercourse, no traffic lights and no pollution you can ride around all day long and explore the beauty of Goa. While riding, in one of the direction board we noticed a place called Morjim located in North Goa, we had not been to this place before so just wanted to check it out. When we reached there, it was a beautiful surprise for us. Morjim has an almost virgin beach with hardly any crowd and tiny shacks which had their beach bed placed on the sand to just lay down, laze under the sun and enjoy the beautiful calmness of the sea while sipping on some chilled beer. It was all silent and peaceful till the first funny & irritating case in point happened. A full-size family from some place North came and spoilt the party for us by playing cricket and shouting their lungs out for no reason when playing. The females in the group too where loud for nothing while enjoying their swim in the sea. The funny part was they had got their tiffin boxes for lunch, which they washed in the sea water after their meal and once done with all the playing and eating almost all of them went of to sleep on the beach beds. Looking at them I am just wondering "People….If this is what you came to do in Goa, than why take the pain of coming to Goa."
THE DROOLING CURSE
Simultaneously, there was another funny occurrence which I coudnt help but notice in Morjim beach. Three russian chics wearing a two piece bikini suit just next to our beach bed where enjoying the beautiful afternoon by the beach, till one of them decided to go for a swim. Little far away a group of 5 men saw this girl go for her swim, assuming these men had a fetish for white skin and moreover seeing the girl getting into the sea alone, two of the pot-belly men from the group decided to follow her. They followed the girl in the same direction she was trying to swim in, but the girl without paying any attention was enjoying her swim. The girl went a little deep into the sea and I guess the two guys did not know how to swim, so they just stood there lusting for her. After a little while I could see the two men coming back with a dejected look on their face which clearly stated "Aisa kaise ho gaya…Hum dono handsome hunk ko ladki ne ghaas hi nahi daala…ham mein aisi kya kami thi". The next time another of the russian girl from the same group decided to go for a swim and it was a similar pattern followed by other guys in the group. At the end of it, the girls had a good laugh and time teasing the pot bellied men in a weird way I had noticed for the first time and more over the russina chics basked in the glory of clicking some sultry pictures in front of those men to take back home to Russia as memories.
EXPLORING IS KEY!!!
After Morjim, we were itching to explore some more new places around and we ended up in a shack named "Calamari" in Candolim, behind the Kingfisher Villa. The shack was at a height and we had to run down to enjoy a swim in the beach, but we were not really in a mood to get into the water again after Morjim. So we just decided to relax in the shack, again drinking some beer (I hate to drink water when in goa, I feel it's a crime). This was another peaceful place were you could enjoy the beautiful sea in a serene environment. We decided to stay at this place for the rest of the evening and it was a beauftiful sight of the sun going down just before we left the shack. Since it was a Saturday night evening, we decided to do some pub and shack hoping for the rest of the evening.
DAY IN A GOAN SHACK NAMED LUCKY!!!
On our last day in Goa, since we had our travel back to Bangalore in the evening, we decided to go easy and did not want to do much of travelling around. So we decided to go to Baga again and sit in a shack to sip on some beer, converse and hog. While doing what we came to do, we noticed a lot of weird things happening around us and it was all happening in and around this shack.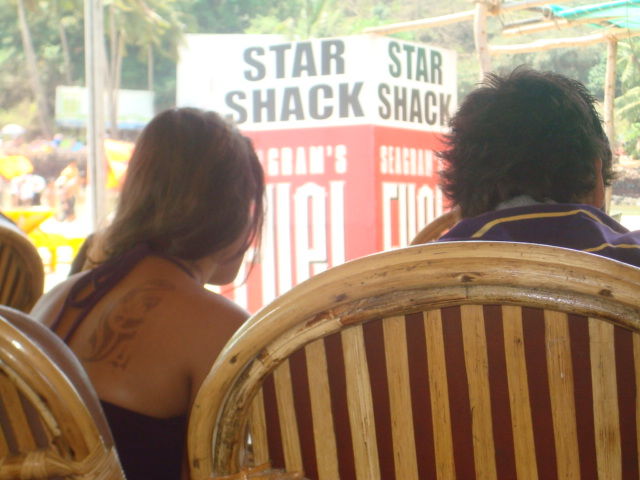 The first observation here was about this young couple and when I say young they looked as if they had just passed out of school and had come to Goa on their honeymoon after effecting their child marriage rituals back home. They were a couple, but they were trying so hard to be or look like a couple. They did not know what or how to talk, so both were least interested in looking at each other and rather preferred looking all around the shack and beach. For food, like a good boy and girl they called for some typical north Indian paneer and capsicum dish and juices to drink. The 30 mins or so they were in the shack, the only words they spoke was when placing an order for food. Again I wonder "Why..why..why come to Goa if you don't want to enjoy Goa. And if you don't enjoy each other's company at least you can try to enjoy the food and drink in Goa"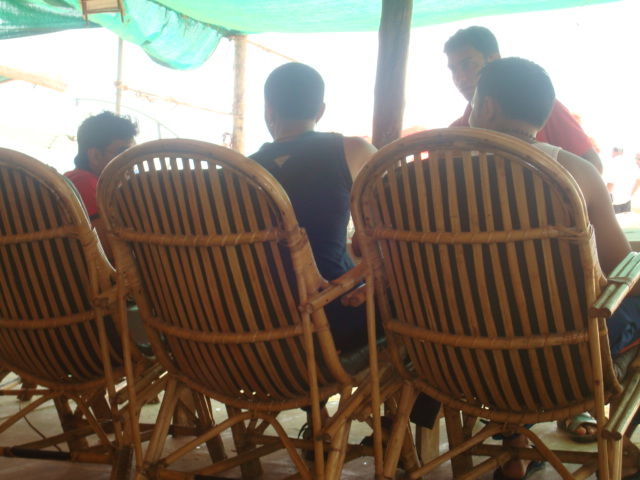 Moving on, a group of about 10-12 Gujju boys occupy a table next to ours. As usual they were loud in their conversations and all of them where boasting about the tattoos they had got for themselves on different parts of their body. They were feeling totally elated and proud about getting tattoos on their body which was temporary. Suddenly, all go quiet and I wondered why, the reason was this big size American national with arnie like build and long hair walks inside the shack and the dude had permanent tattoos all over his body. Our gujju boys are drooling at him and are now discussing "aye, uske haath ka tattoo dekh, uske per ka tattoo dekh, uske chest ka tattoo dekh". They go berserk and just couldn't stop staring or talking about this guy, the next thing they do is one by one all the gujju boys get up and want to click pictures with this arnie dude and when clicking pictures all boys were trying hard to hide their small temporary tattoos, which they were very happy and proud till a few minutes back.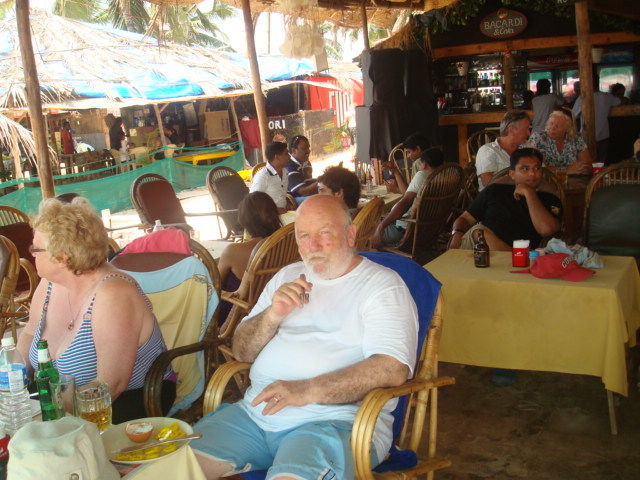 This next incident is the funniest of all I observed. An English couple walks inside the shack and are looking for a table to sit, the couple was in their late 50's and had a plump body. One of the waiters from the shack helps the couple with a table and is all nice and sweet to them, makes conversation with them in English and is giggling and laughing with them. I guess the couple had ordered for a bottle of water, so just as the waiter is done talking to the couple he turns around and shouts out loud to his colleague "Moti paka rahi hai yaar, ek paani ka bottle de Moti ko" and I just go "Huhhhhhhhhh!!!! What just happened". But this English couple was an instant hit among all the underprivileged kids around the shack, they were buying coke/pepsi from the shacks and offering it to all the kids. Another foreign national who is a regular to this shack walks in and one of the waiter is smiling at this foreigner and shouting to his colleague "Tera Buddha Agaya, sambhaal ise". Weird and it happens only in Goa.
One thing is for sure the more you visit Goa the more it is beautiful, the more it is interesting and there is always more to do.
This blog was originally published on 'Travel....and everything will balance out.'