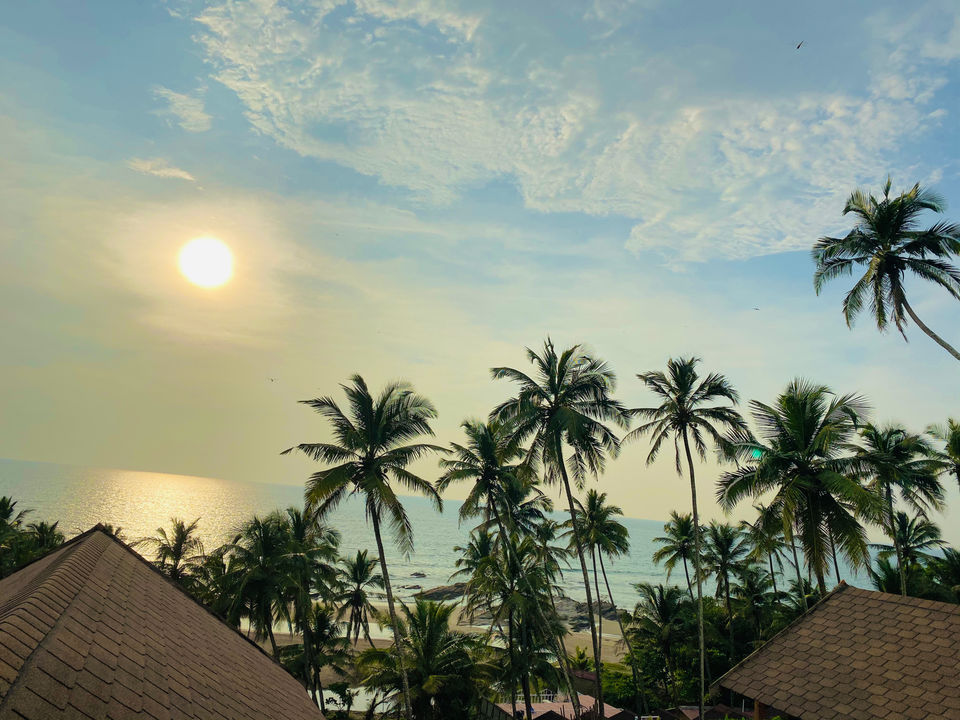 This was one of our best trips in life ,we wanted a break so we decided me and my bestie to take a break and refresh ourself in our favourite place Goa as always.
we started our journey from bangalore as usual 1 hr flight and we landed in Goa airport it was Wednesday night at around 8 o clock . our journey begins from here and we had to reach Holiday street in Goa .
if you get down in Goa airport, there are lot of transportation options available to head towards Calagunte . we recommend you to download Goa Miles and book your cab which may cost you around 1000Rs ,also if you get out of the airport lot of cab drivers would approach you and don't you forget to bargain . There are also shared cabs available in half rate .As we were two girls we looked upon safety first and we got a shared cab along with a couple and we started from there, the cab driver was very friendly and helpful so as the couple. we dint even realise the time and soon we reached our hotel , it will take around 1 hr to reach north goa from airport and the best part is cab driver was kannadiga and we spoke to him about our return timing and if he can drop us to airport on Monday morning and he agreed .
we checked in to our hotel called kingstork in holiday street, this is our favourite street. we always stay in this area as beach is at walkable distance and also a silent area with no much of crowd and is also accessible for everything in terms of food, alcohol, pastry hubs and small joints where live music is played.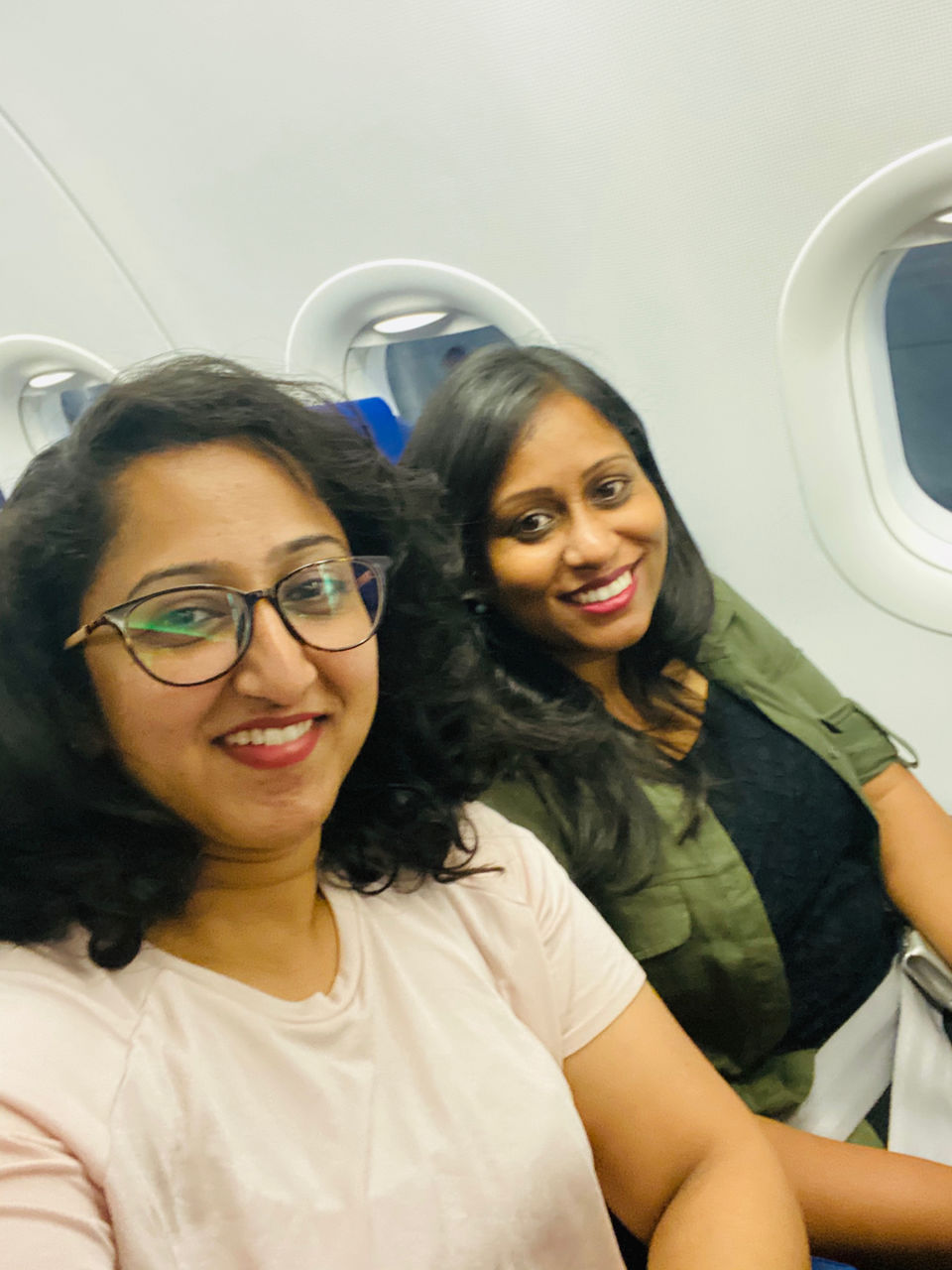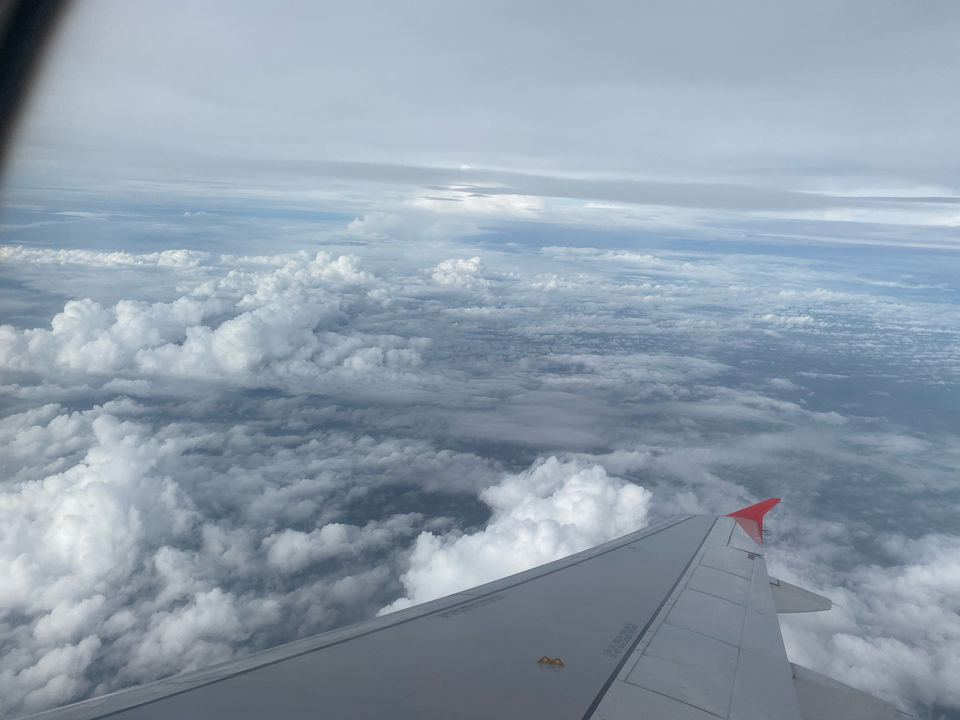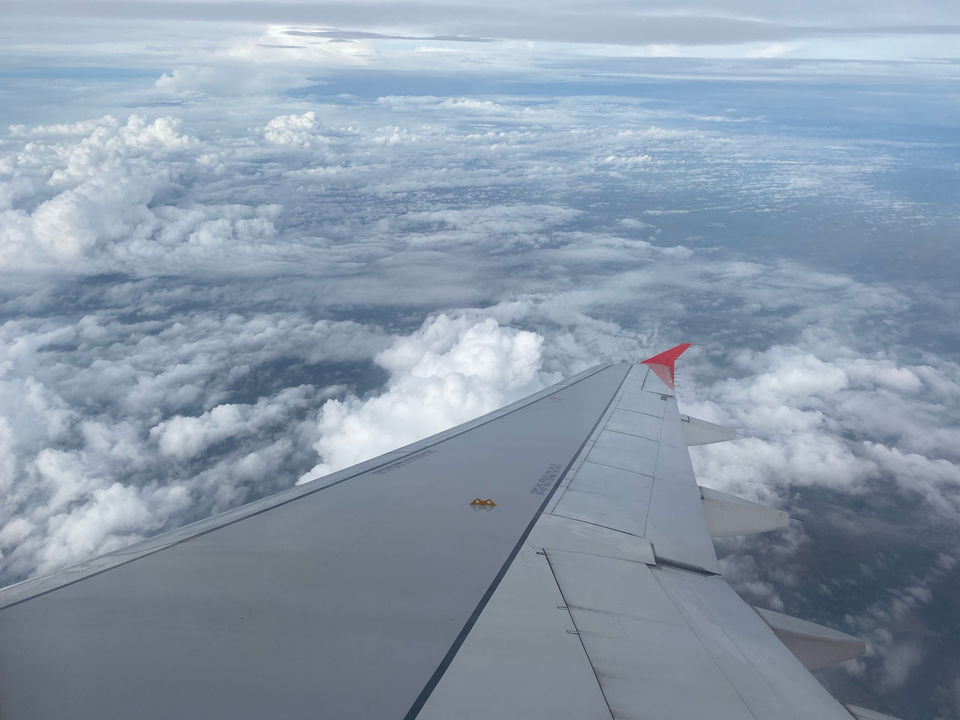 our day kick started from here , fresh morning weather was humid we got up late as we were tired of previous day journey ,freshen up and we decided to walk to the beach .calagunte beach has a different entry apart from the main busy area. where we were staying was less of crowd. we then walked down to beach which is just 5 mins from our hotel . we were hungry as well and decided to sit in a shack and enjoy the view . our favourite beach shack flying dolphin.
we had chicken noodles trust me you should definitely try and recommended along with a sip of chilled beer . you can also get foot massage for 200 rs while sit back relax enjoy the view and massage heavenly feeling trust me . we were like everyday visitors to this shack all the staff are very friendly you can
sit for how many ever hours you want to they will not question you .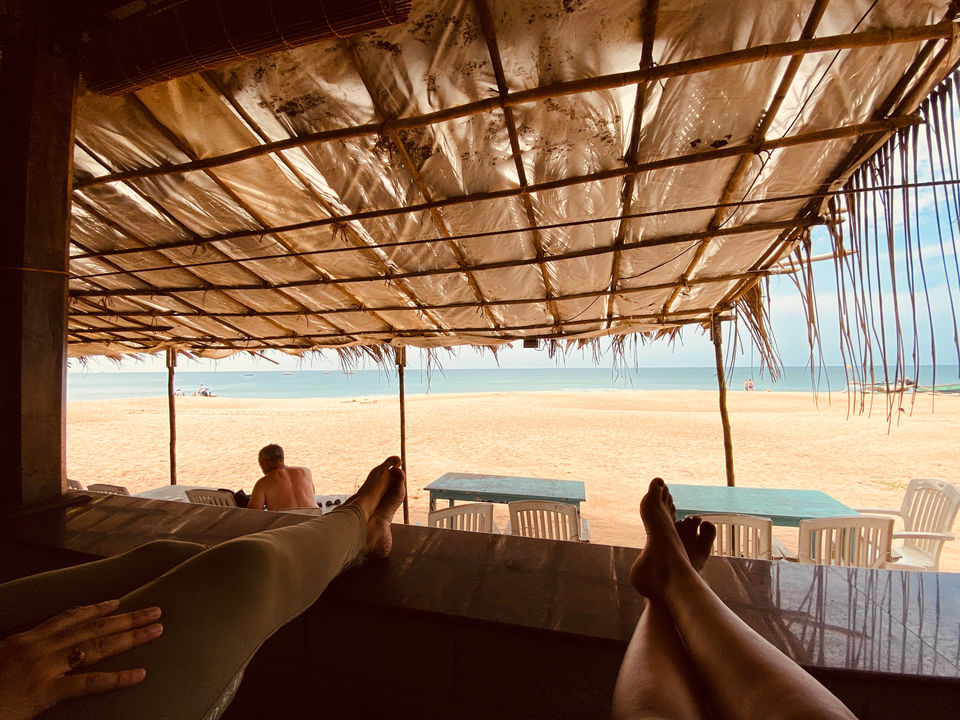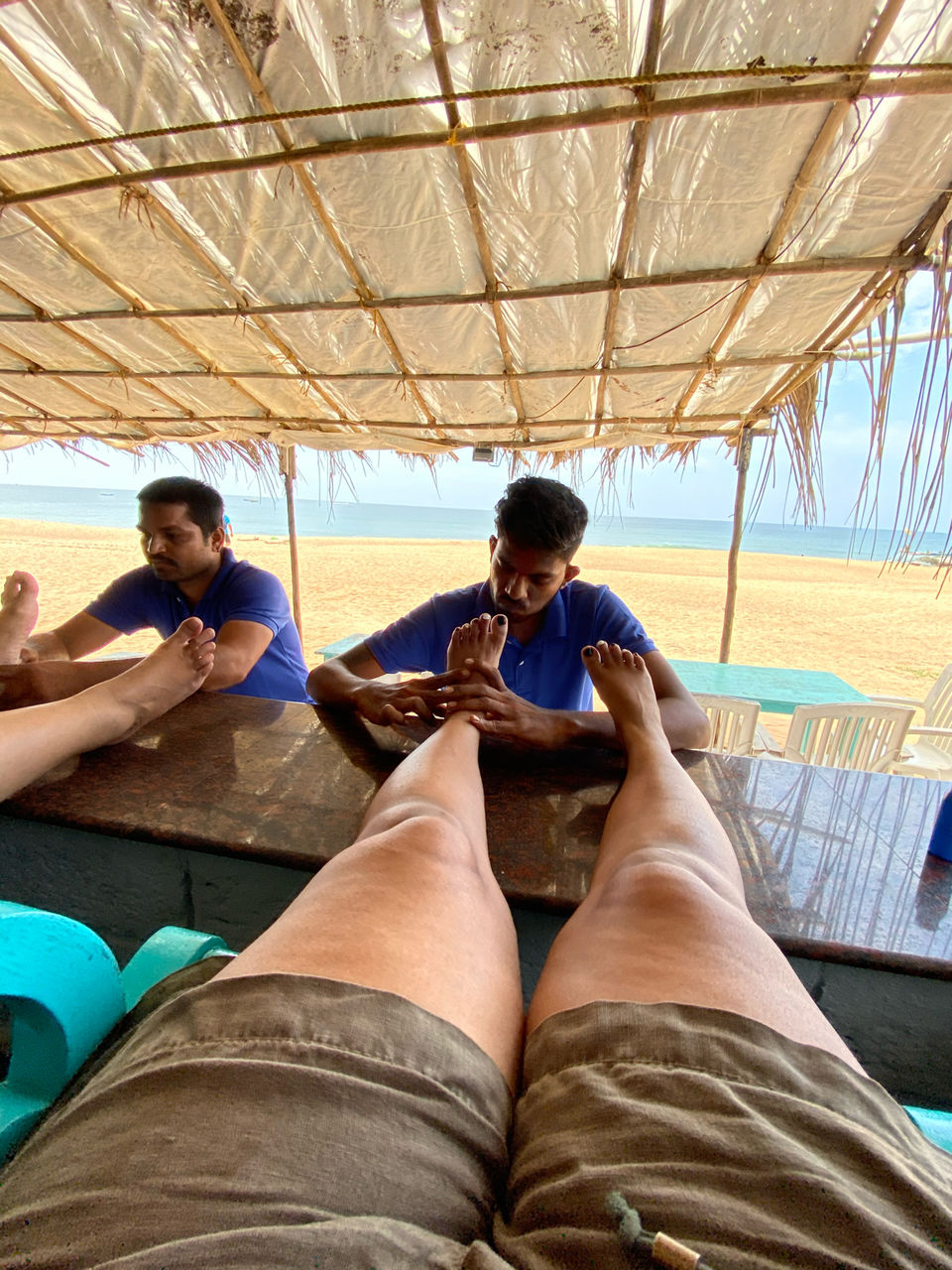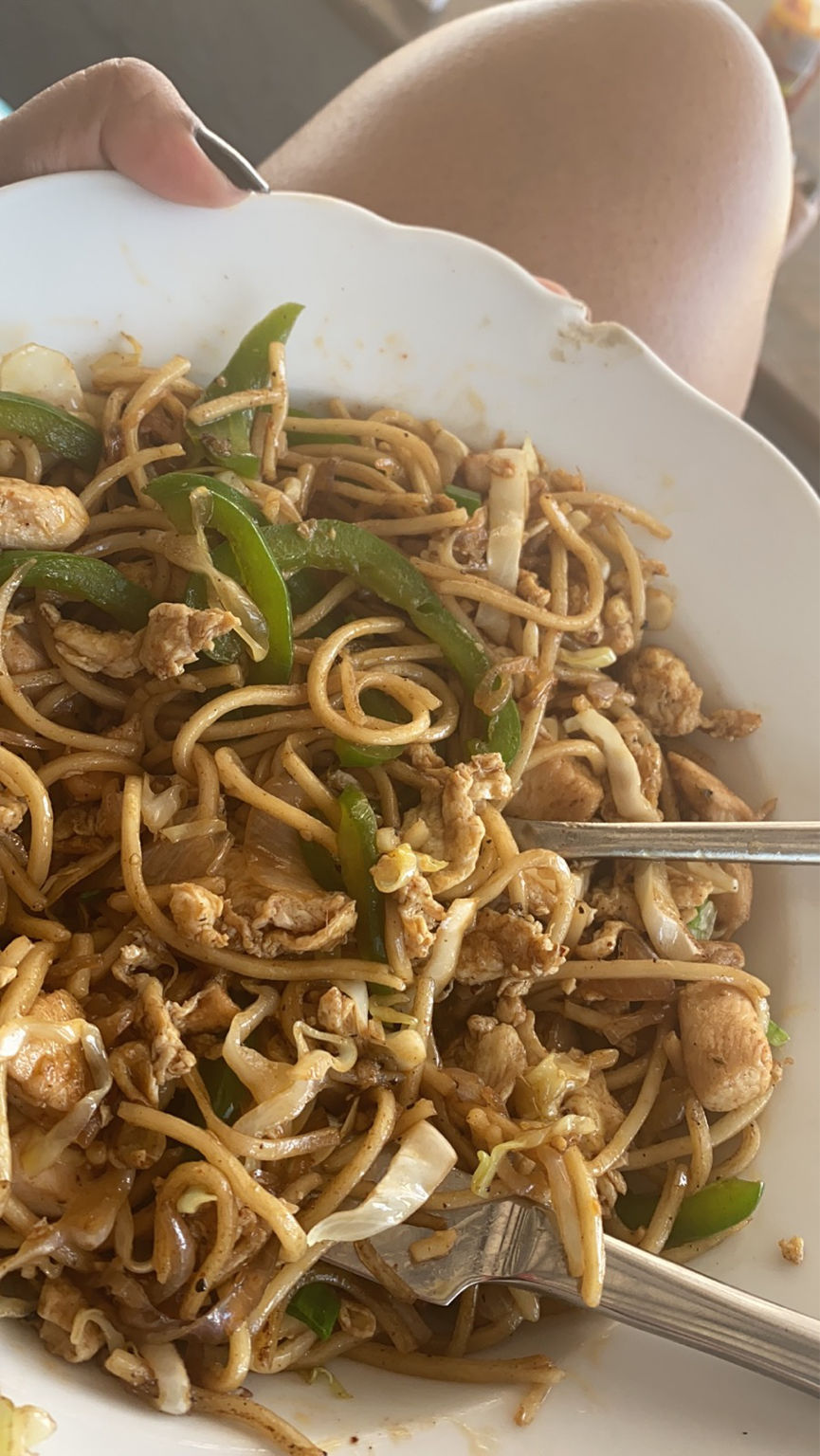 one of the best place to stay, very clean and this place is owned by a couple who are very friendly and welcoming.Average price is between 3 to 4 k depends and changes as per season you can book in goibibo and other travel websites .property has a swimming pool , restaurant and whatever required is just round the corner.
after our brunch we went back to the room got ready and we hired 2 wheeler which will cost you around 300 rs per day and you have to give 1000 rs advance as deposit along with one of your Id proof which will be with them . 1 liter petrol will be there when they give you the vehicle for extra you can fill in petrol pump or you can also get it from road side vendors who sells 1 liter petrol for 70 rs . From holiday stret we decide to go to vagator beach and explore which is about 10 kms .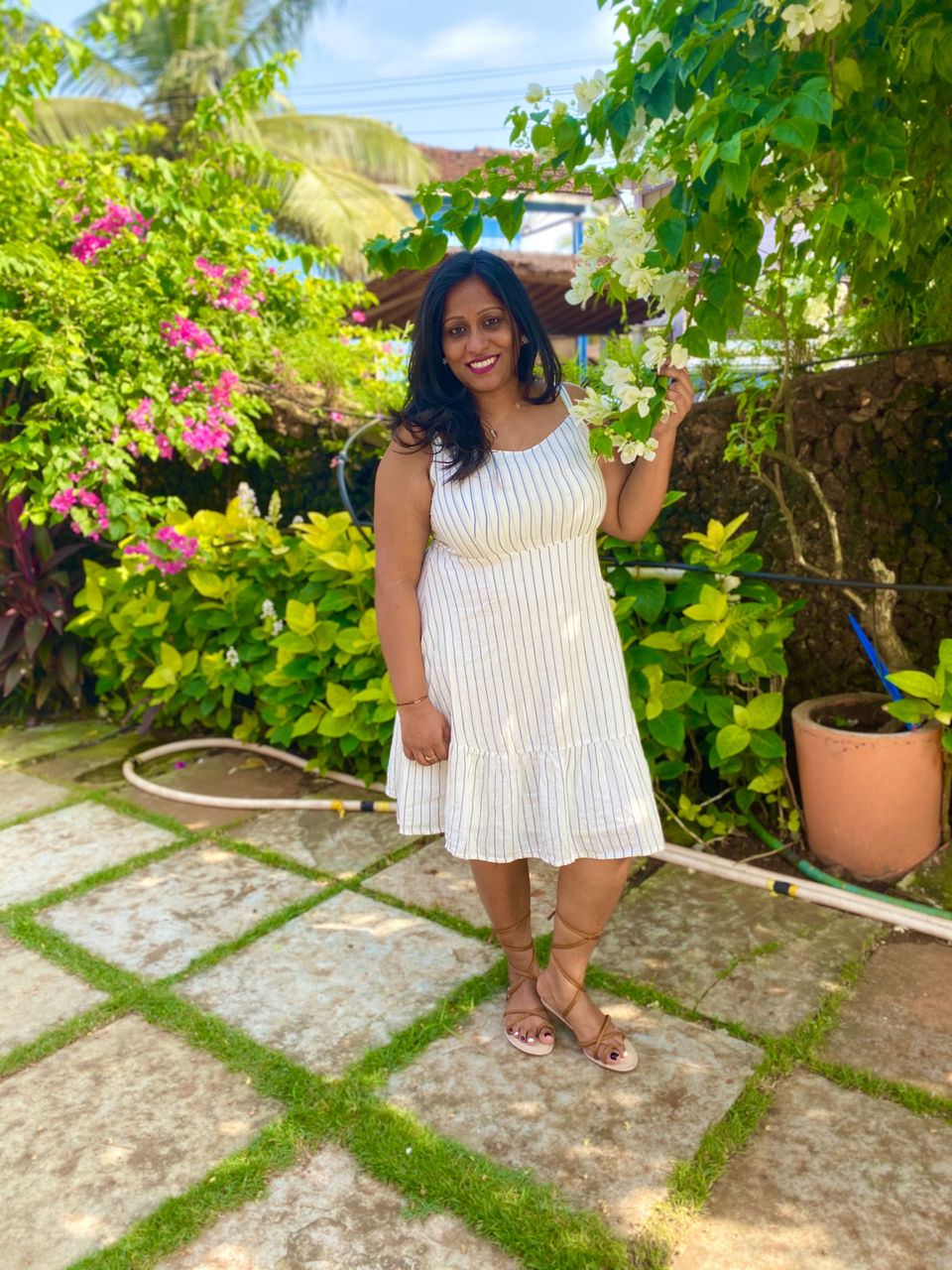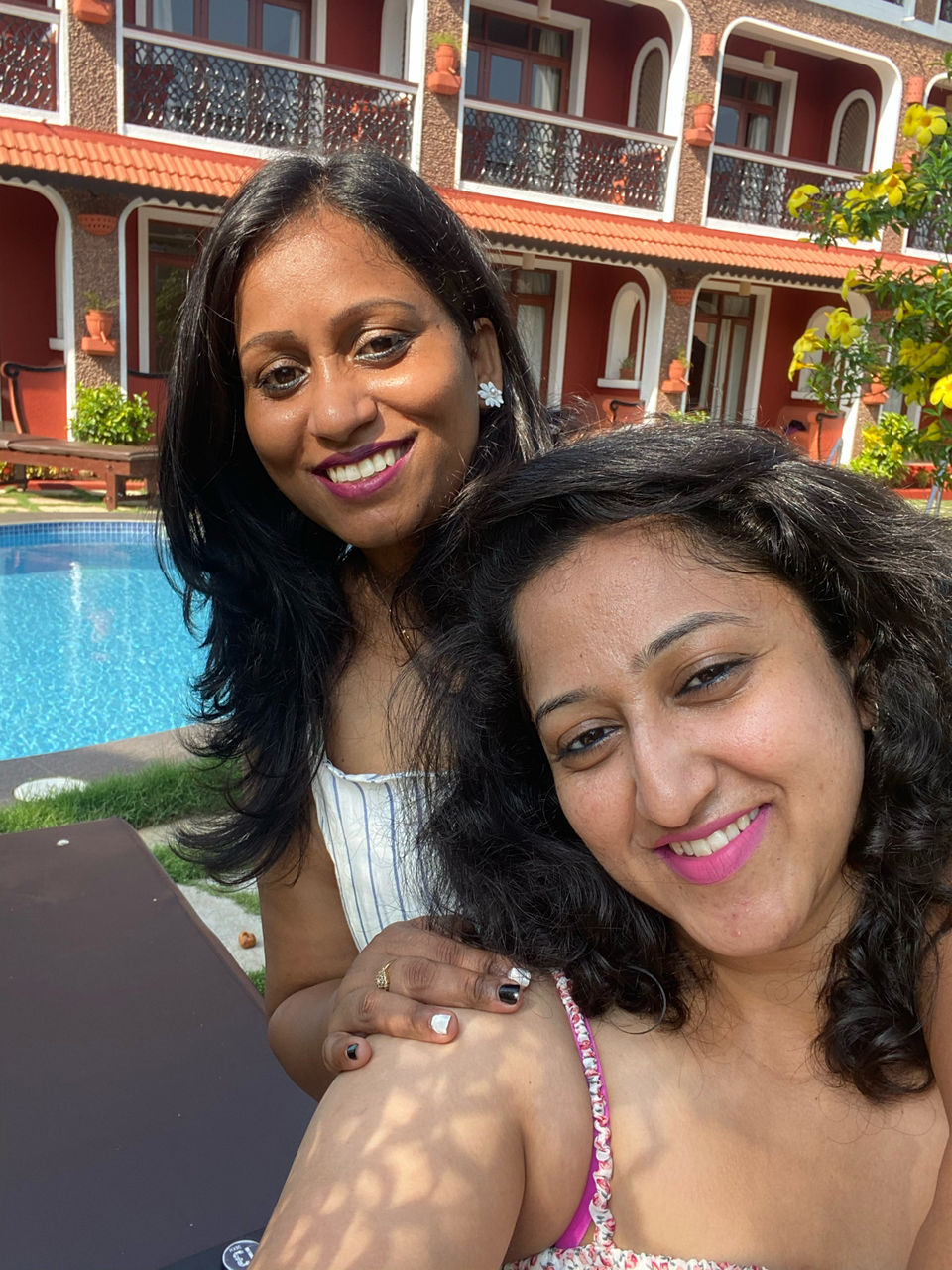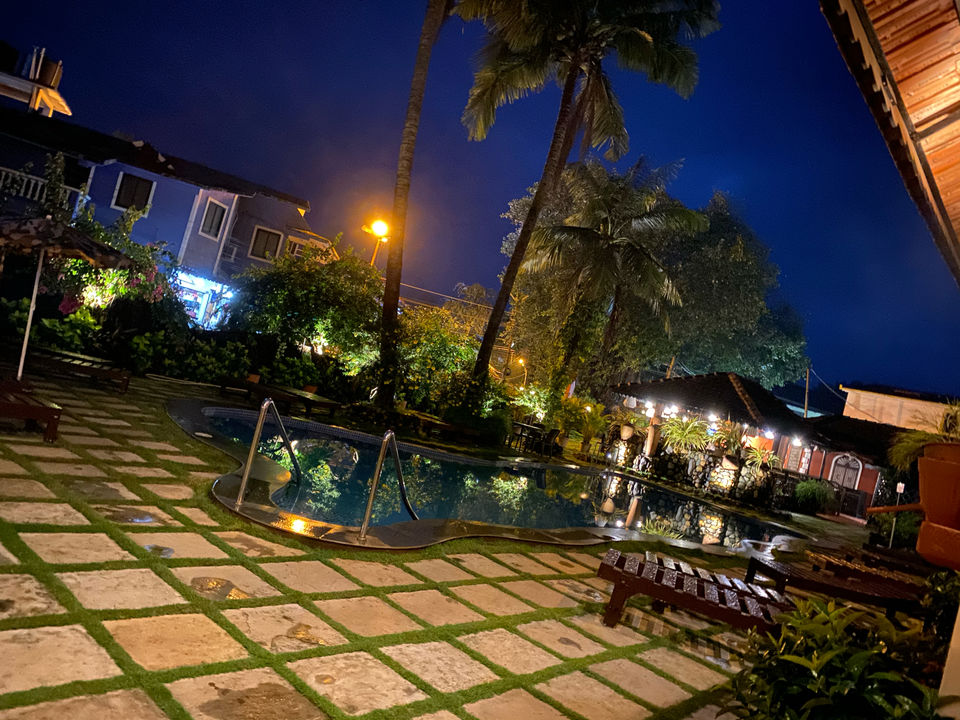 we reached ozran beach area and we found out his awesome place called Larive resort which has a restaurant , they also organise pool parties and ladies night what not ...omg what a breath taking view , visual treat . check out the photos looks like some foreign destination. words cannot describe this place .
we had some starters , spent some good time enjoying the sunset and left from there and decide to go to Baga street to enjoy the night life.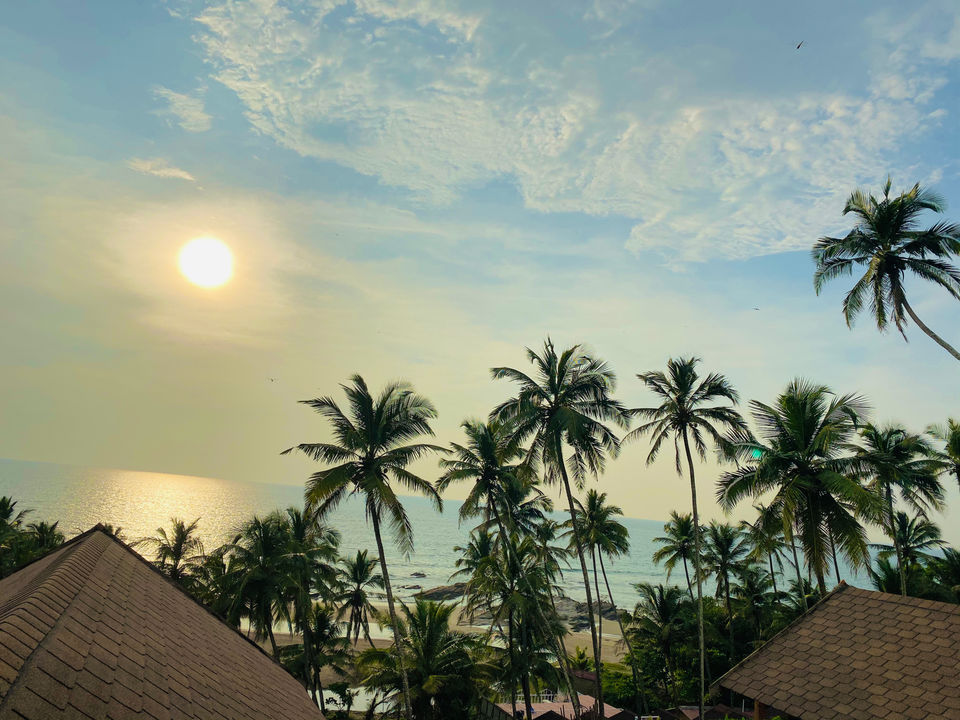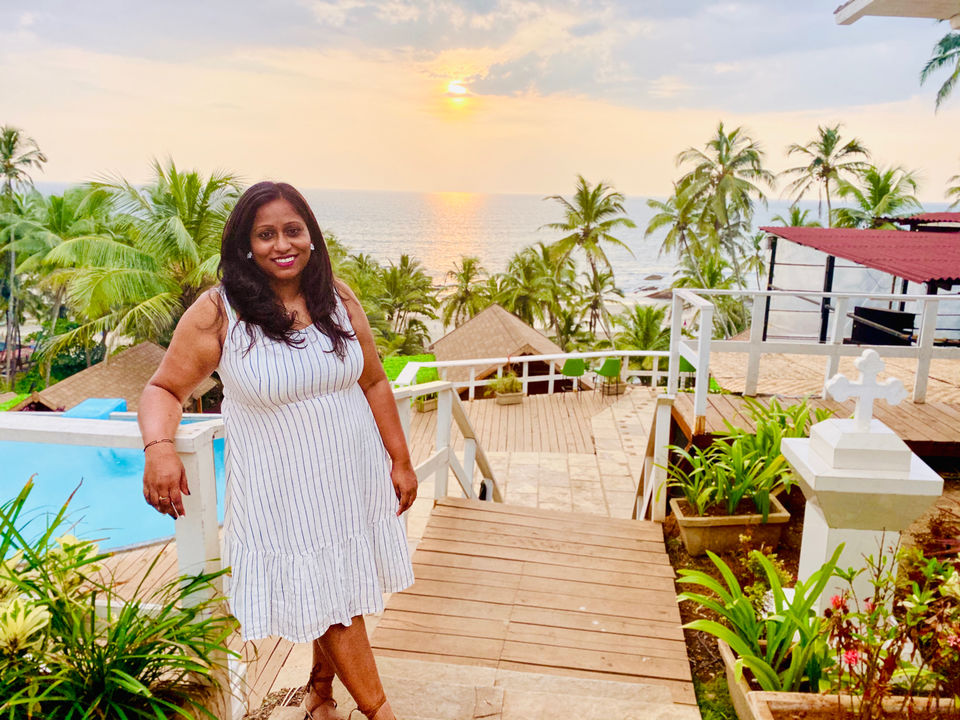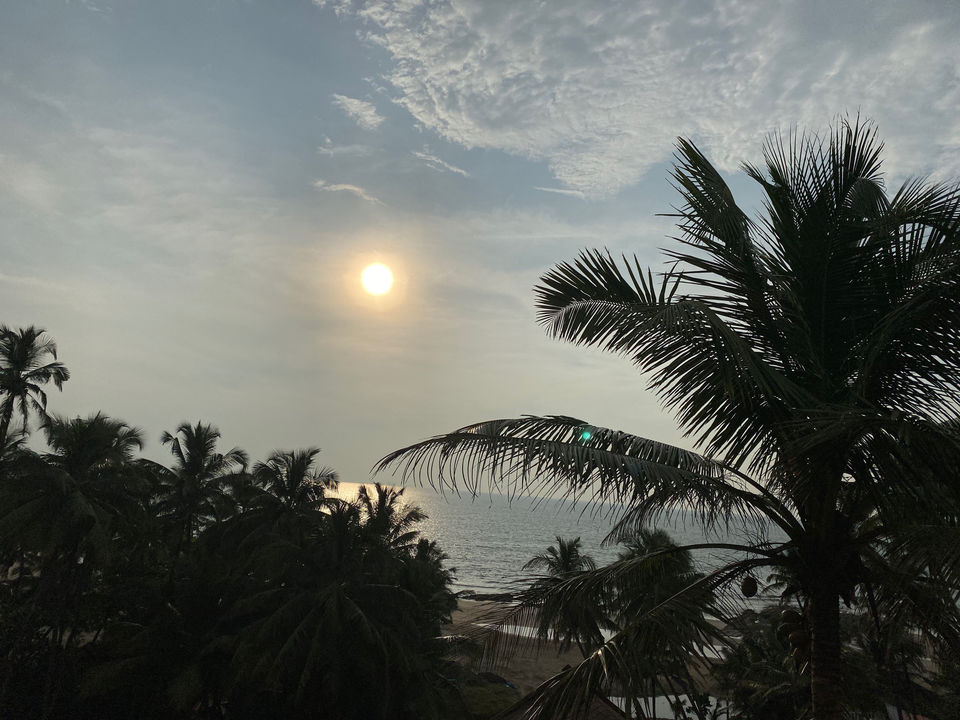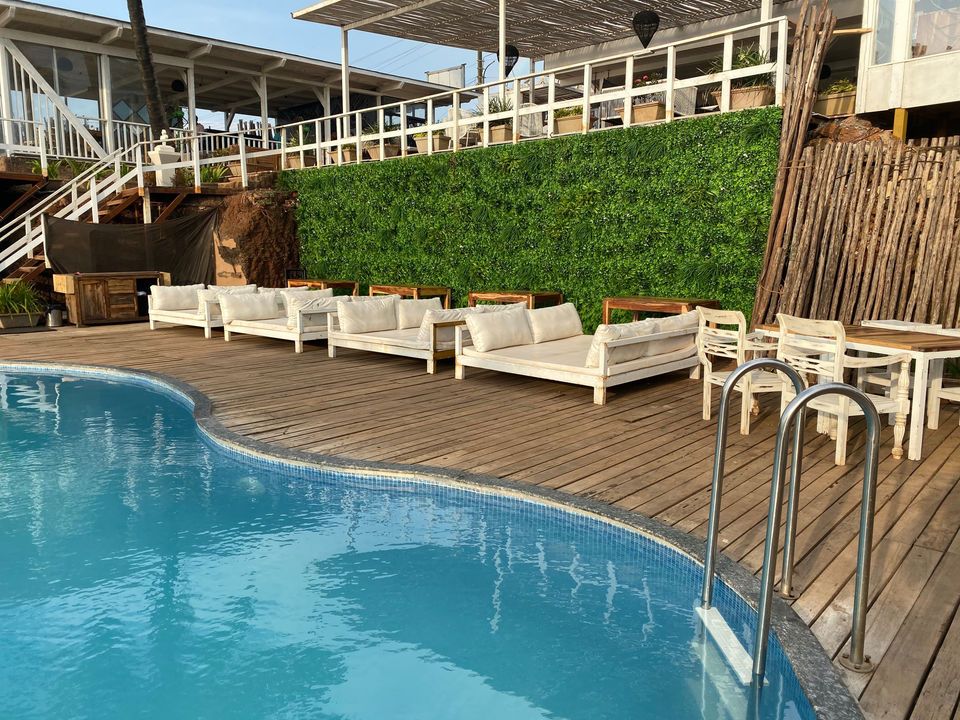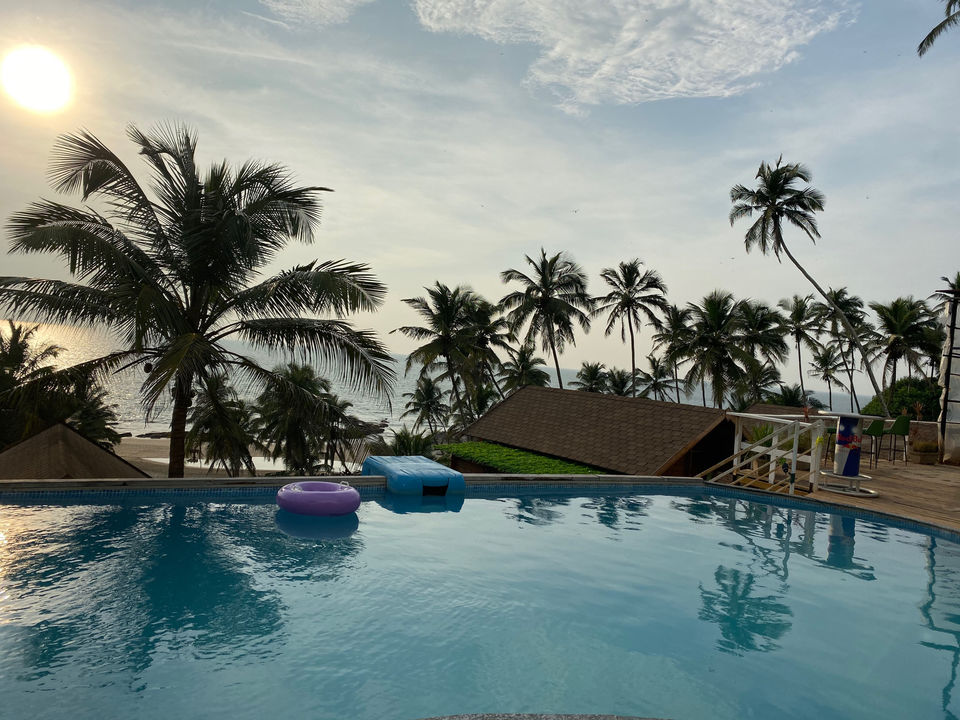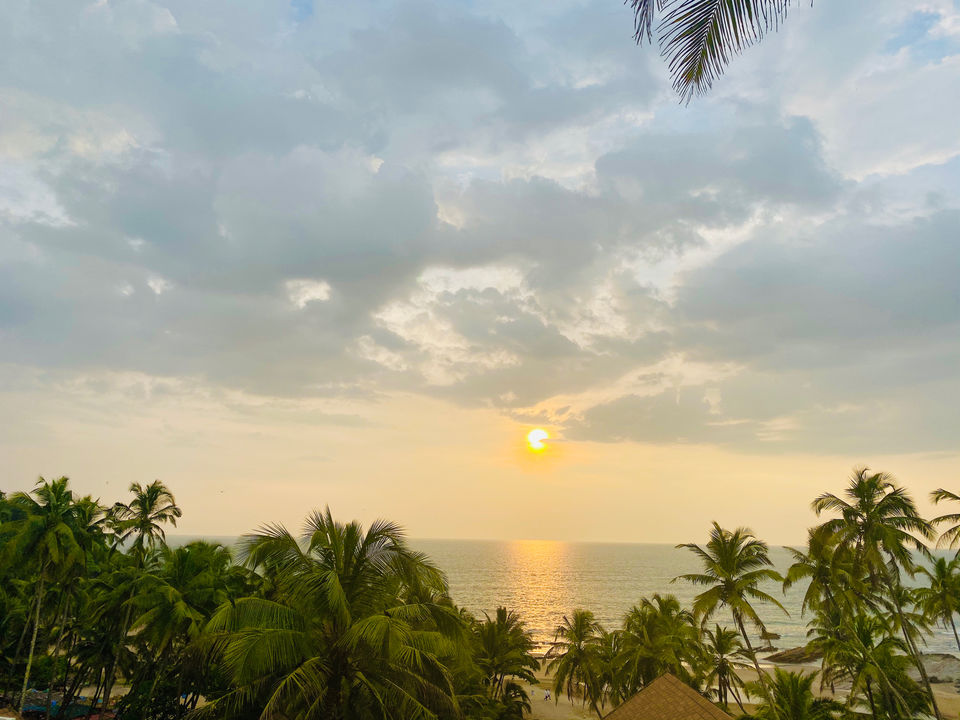 Baga beach known for the night life and street has lot of pubs like Titos ,Mambos and many more. we thought lets go to beach first and then decide.
we went to las olas and relaxed with beach view ., breeze and music wow what a day ... Baga beach is filled with tourist , especially Indian tourist.. these shacks closes only after 2 am .
we sat there till about 1 am and then came back to room and crashed...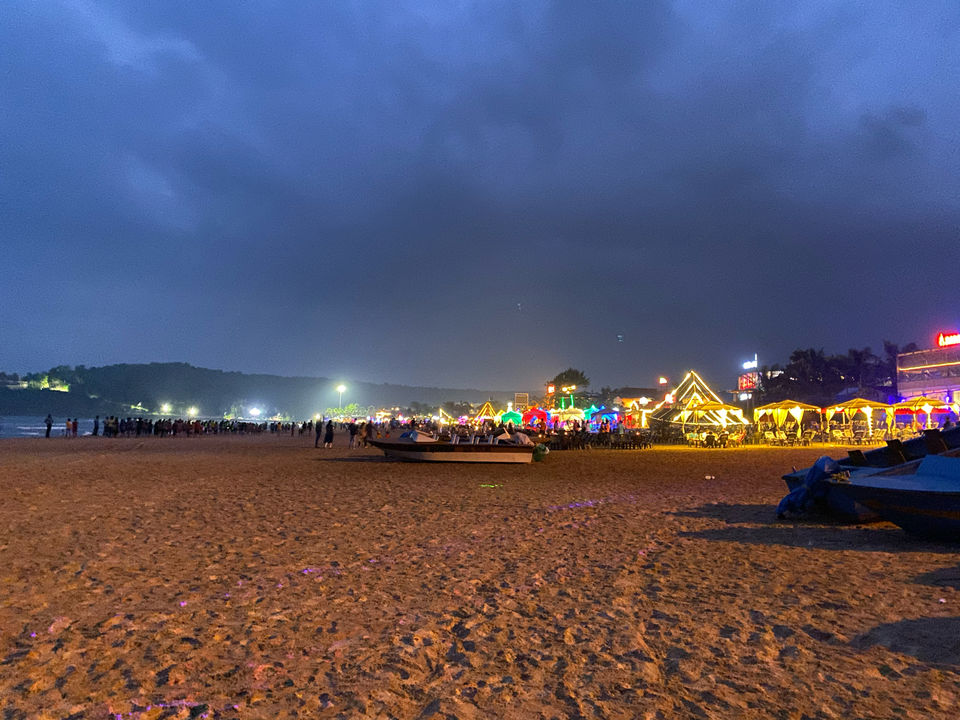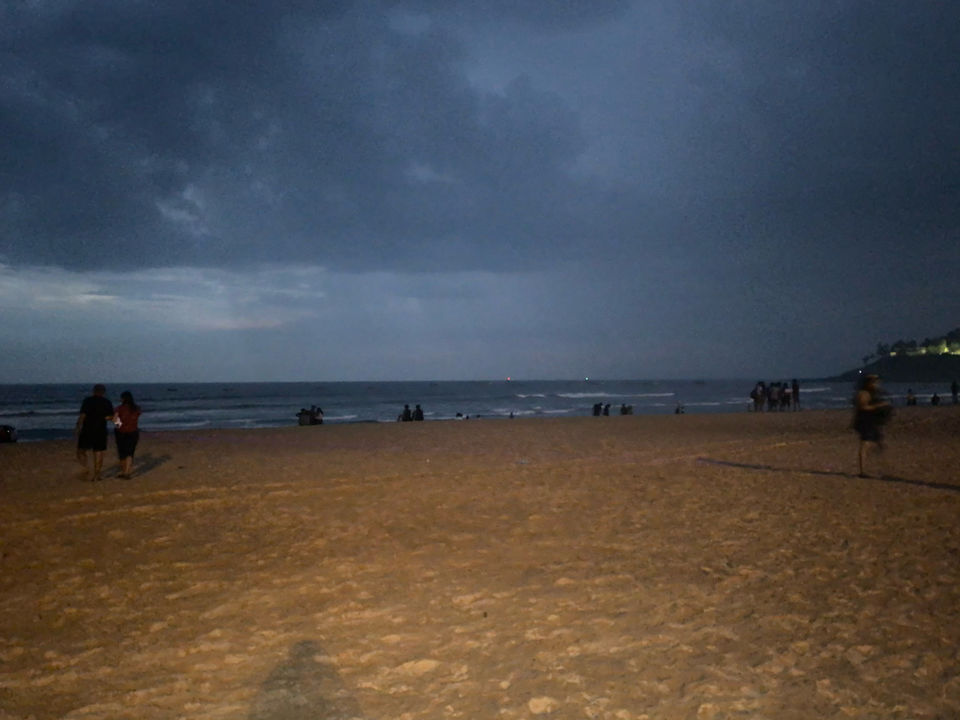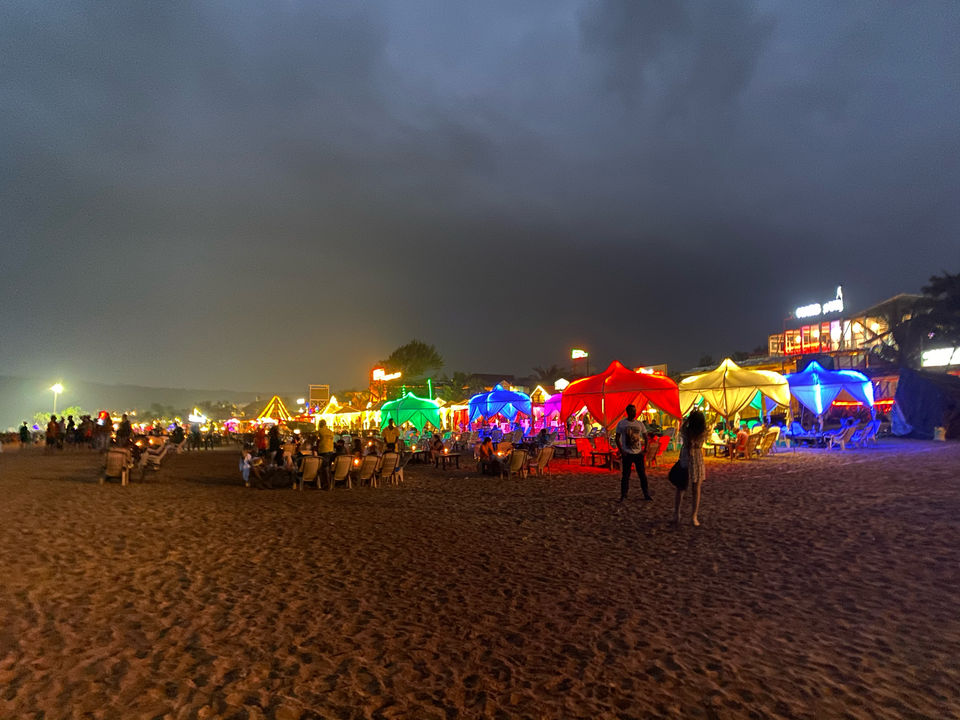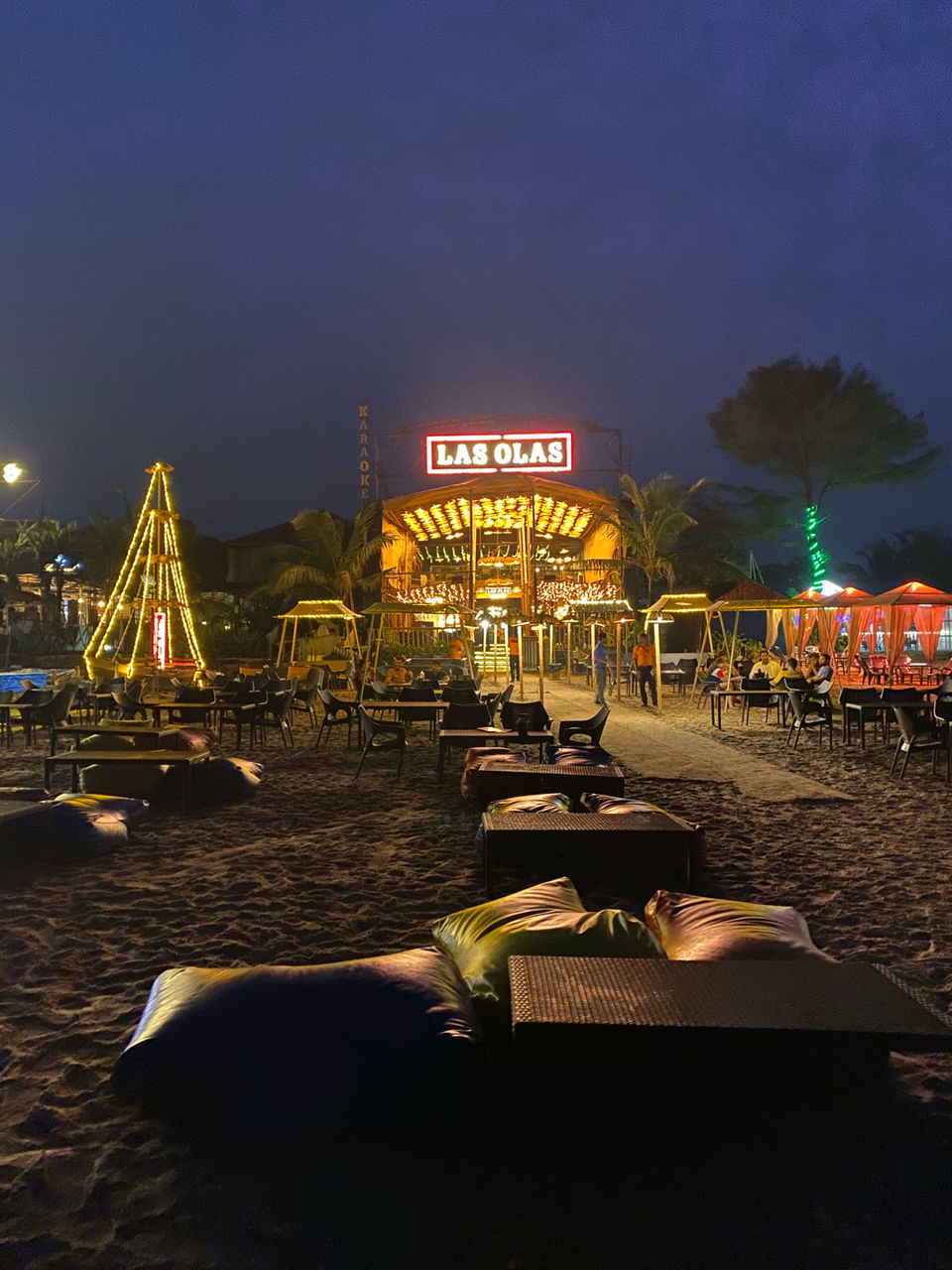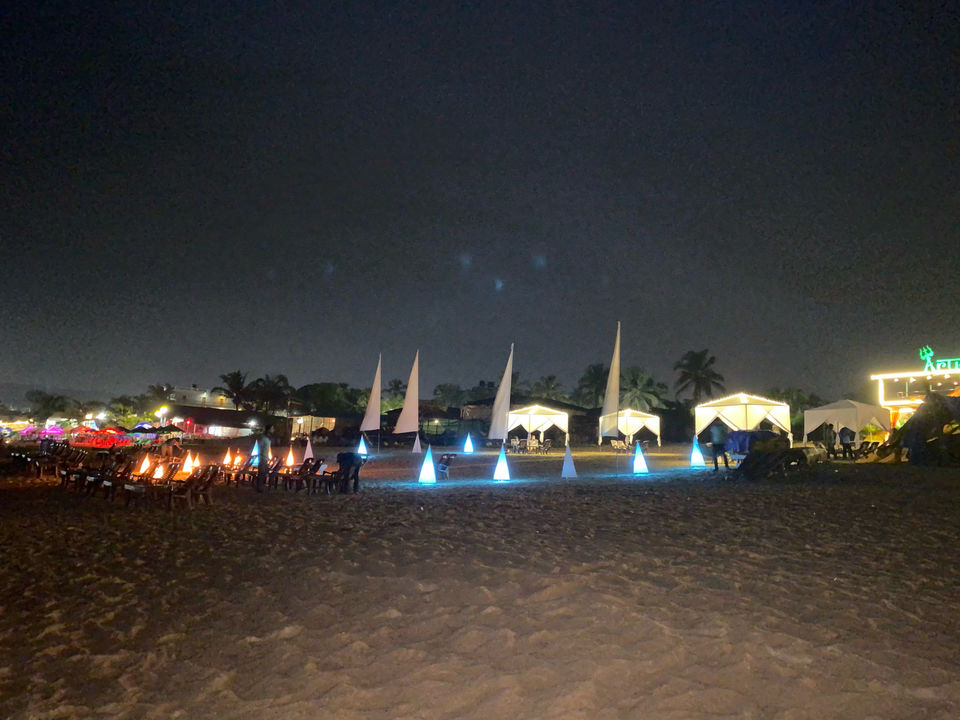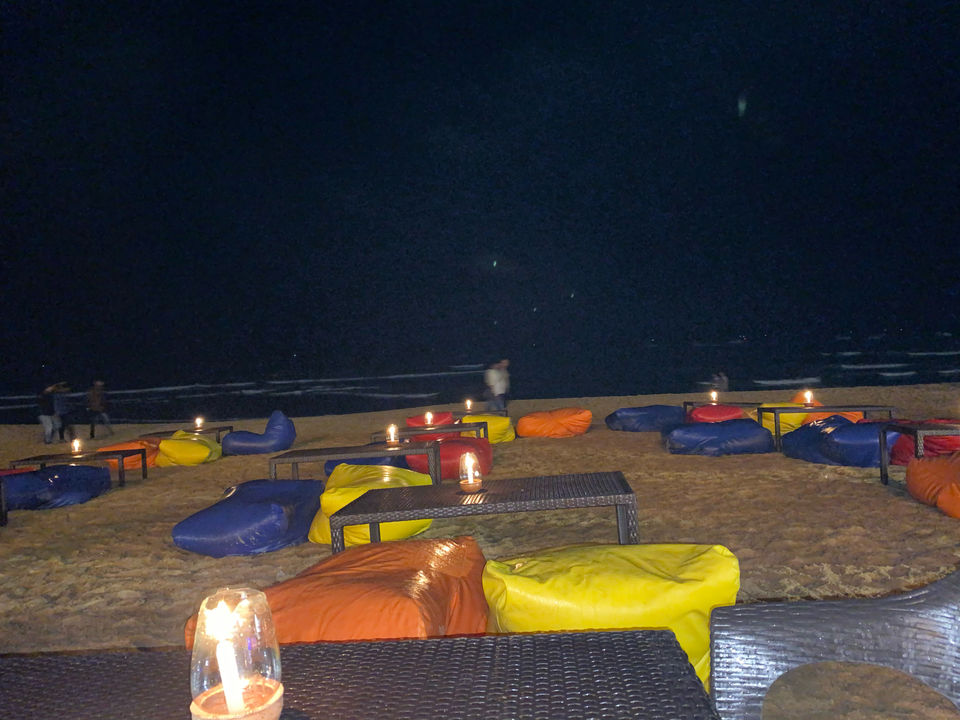 A new day lot more to see , explore yeah !!! we decide to get ready and head out for breakfast .
we decided to go to Brittos in Baga beach for delicious breakfast .
you must try Cheese Garlic Bread.. as its starting of October it started to drizzle . Rain , Beach view, tasty food , soothing music and breeze couldn't ask for more , It was just perfect.
we spent sometime there untill then rain stopped and we decide to go towards Arambol beach its almost 23 kms and it was all cloudy . still we thought lets go and see whats there and we started in our blue color fasino.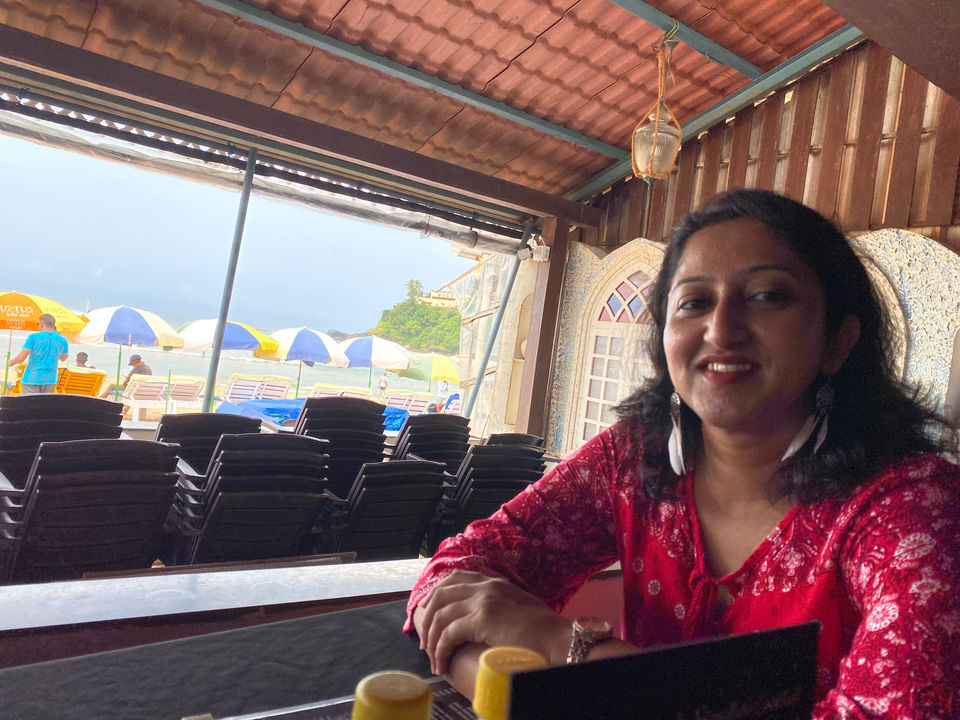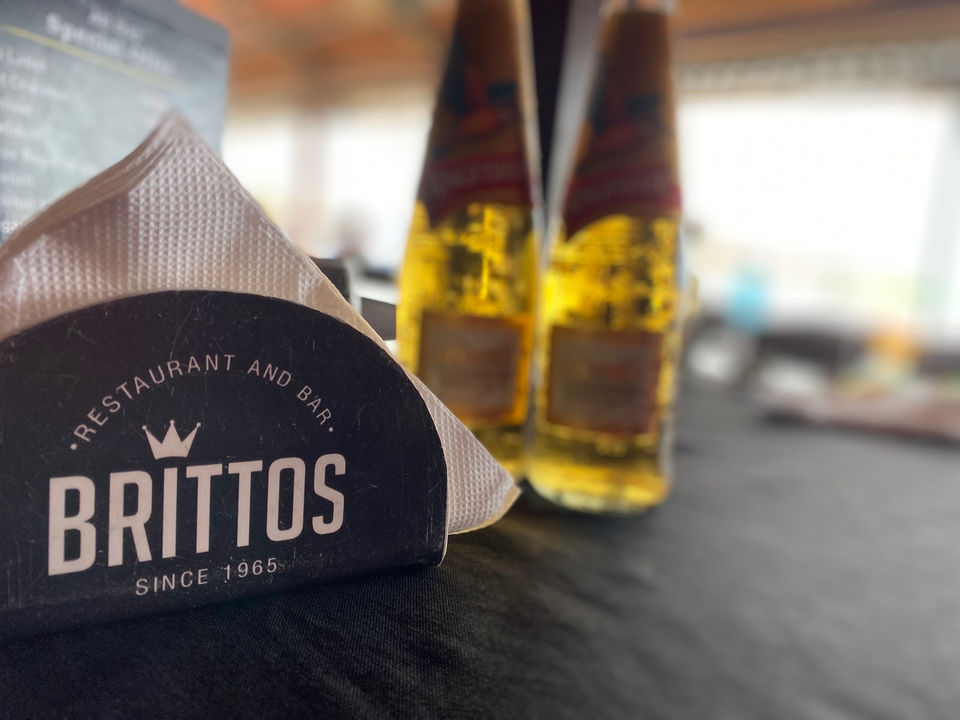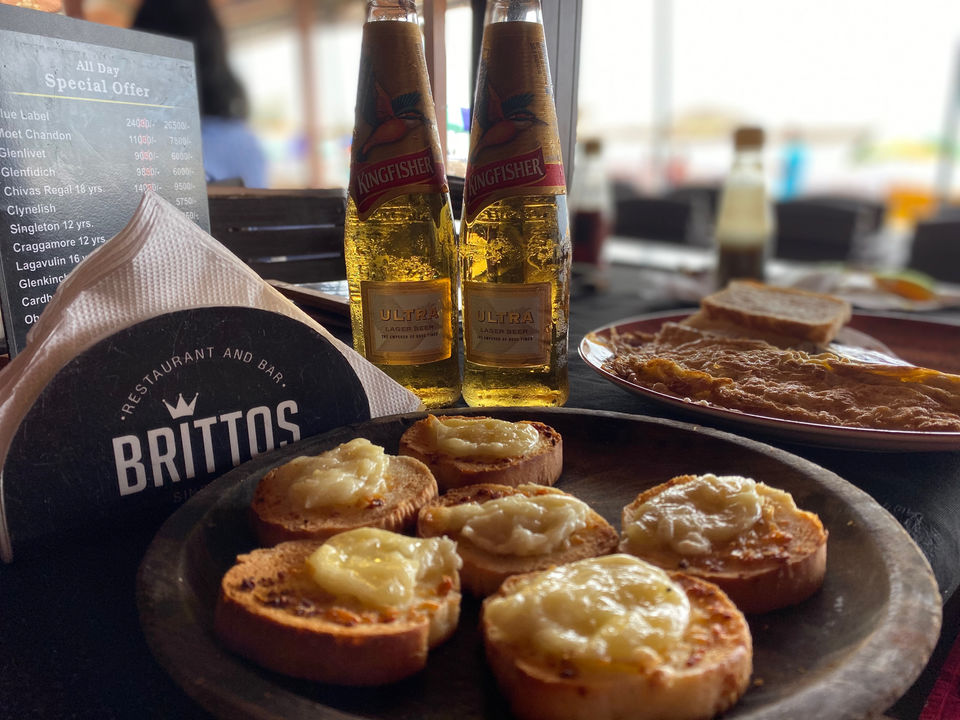 it took almost 45 mins to reach arambol beach from baga. weather was cloudy and beach was clean.
we started walking in the beach for 10 mins and reached other corner where you can see a hill, rocks and if you cross that elevated area which is full of street shopping you will have a surprise waiting.
we walked through the street and were damn tired. still with excitement of exploring . we went ahead and saw that path way was blocked by waves because of high tides. we were searching different way to reach other part of the beach and luckily we found one person who works in the other side of the shack and we followed him he took us through the hilly area and scary too , shortcut inside the forest, he was telling he lives there from childhood and know all routes and not be scared and to follow him .we were 2 girls following this person inside the forest was scary. somehow we managed to reach with his help and he also told this beach is also called nude beach and lot of foreigners come here for mud bath, speciality of this sweet water . inside the forest foreigner have camps and stay weeks together and enjoy the fresh water stream and mud bath .this sweet water lake on the other side of the beach was the surprise and water was very cold and clear . we washed our face took a beach bed and relaxed for sometime as we were damn tired . you will get lot of fresh fruits , tender coconut .
spent sometime and we decided to head back as its was full of cloudy and might start raining and we have to travel far as we had come in fasino .
Rain god dint show any mercy on us and it started drizzling we thought lets start and stop on the way if it becomes more .we got drenched badly and we couldn't ride further we decided to stop by and we saw a resort and asked if restaurant is open so that we can wait until rain stops .luckily it was .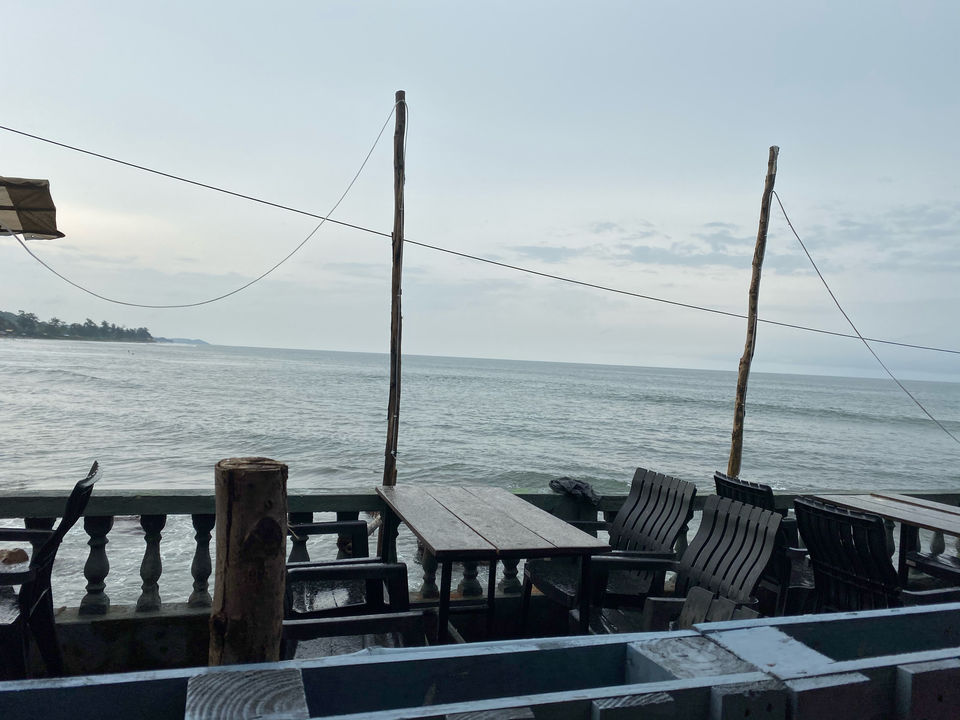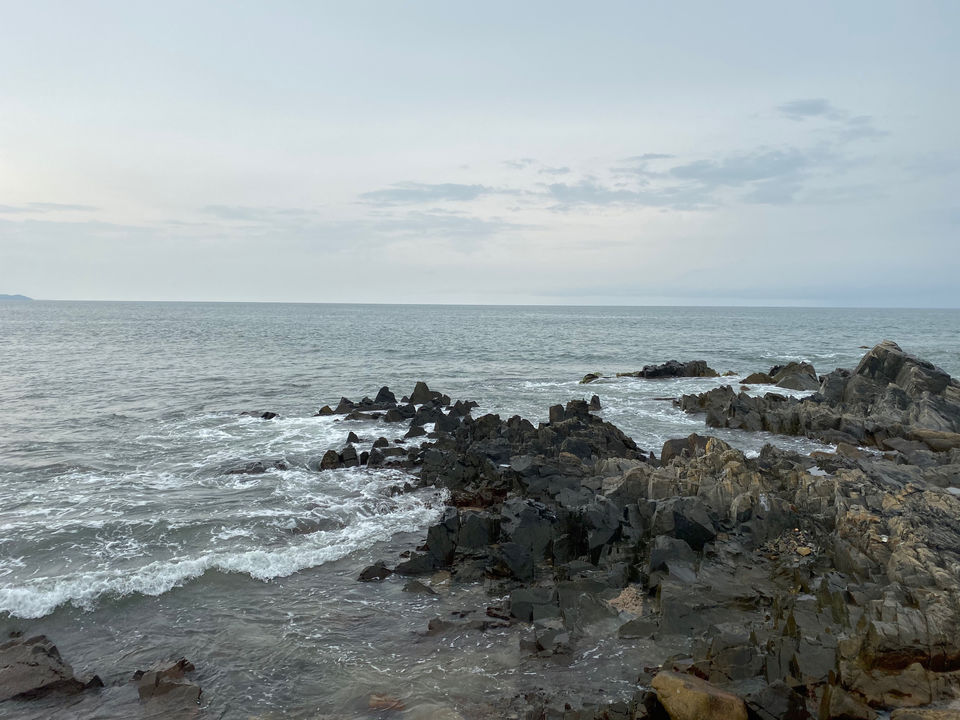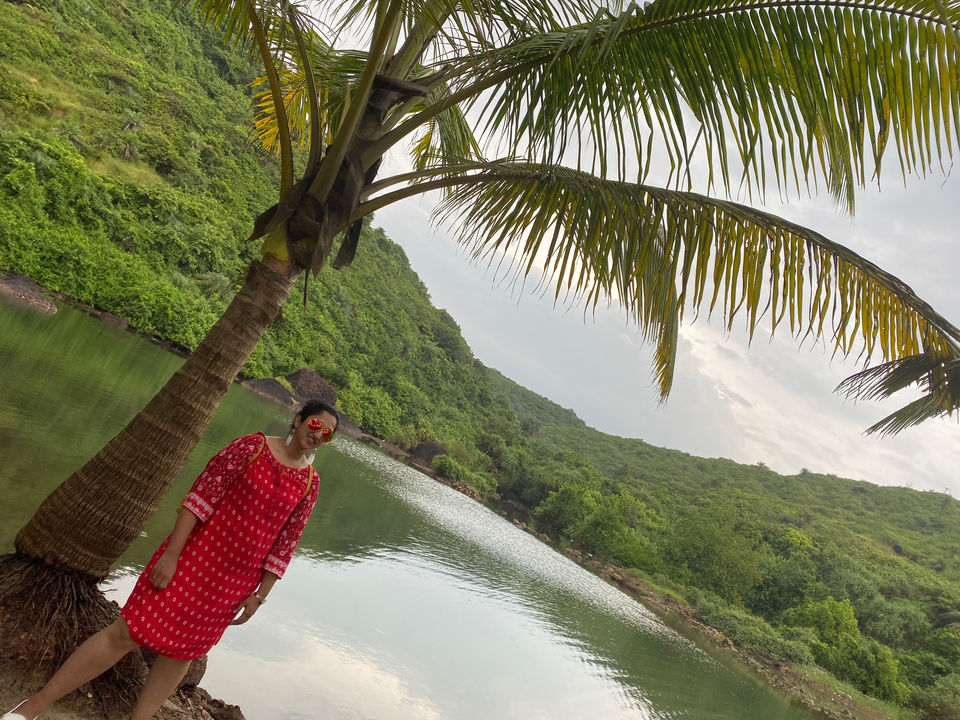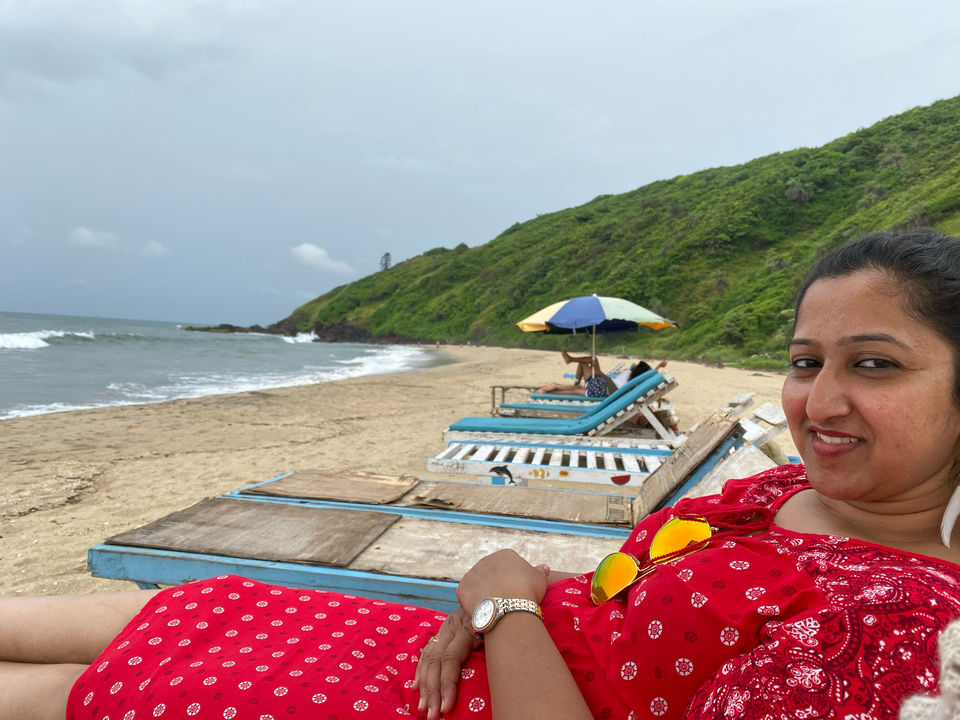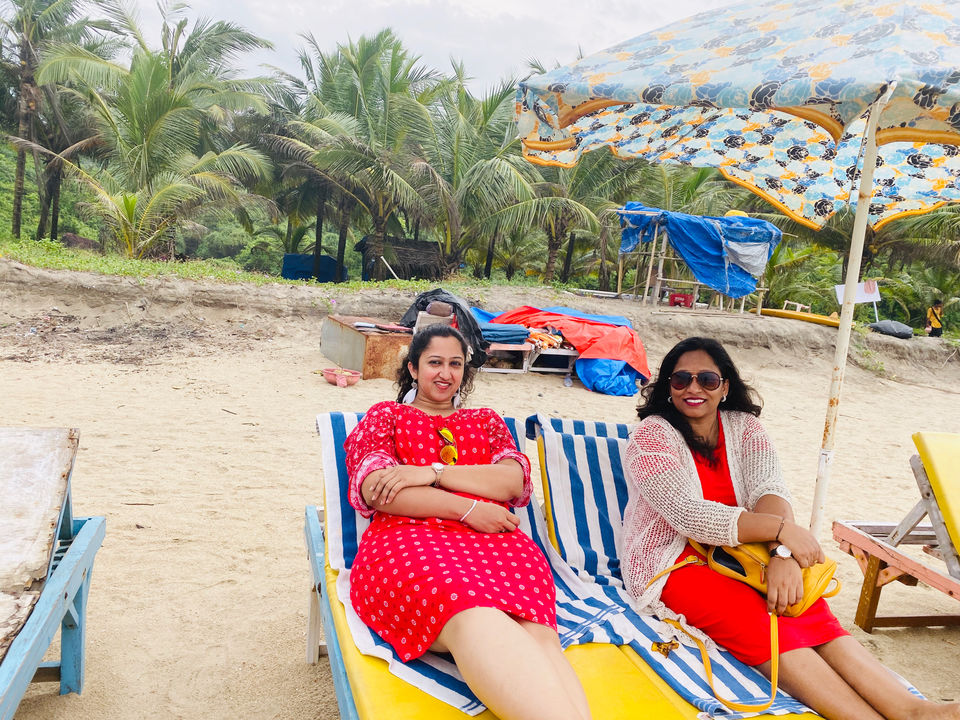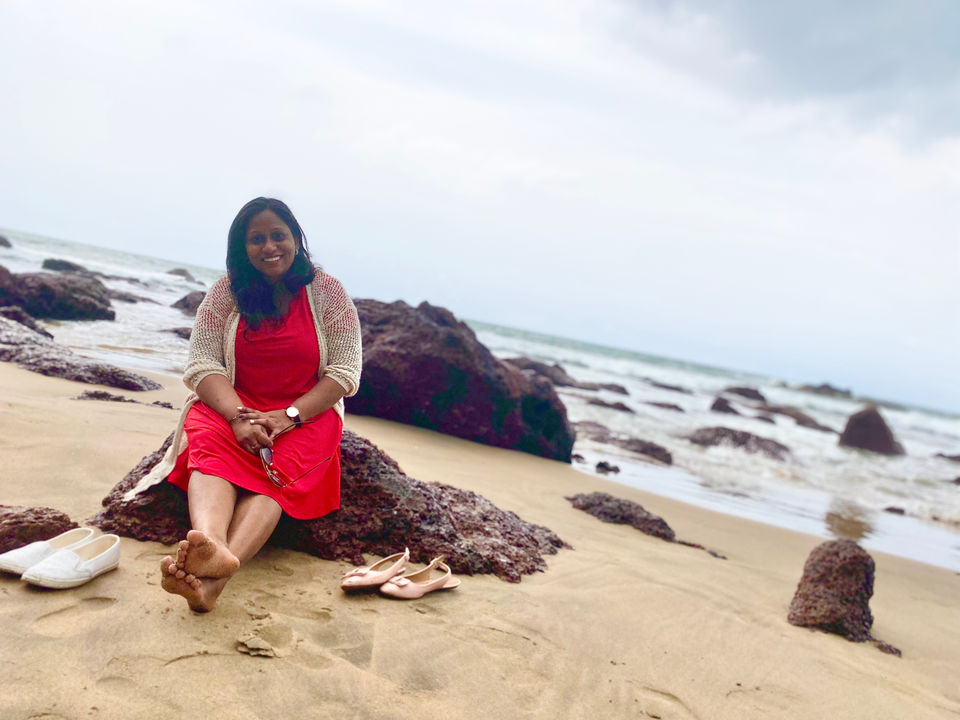 it was an amazing place . we grabbed some hot finger chips and a peg of hot drink to sustain in the cold and rain. god grace after some time rain stopped and we reached our room.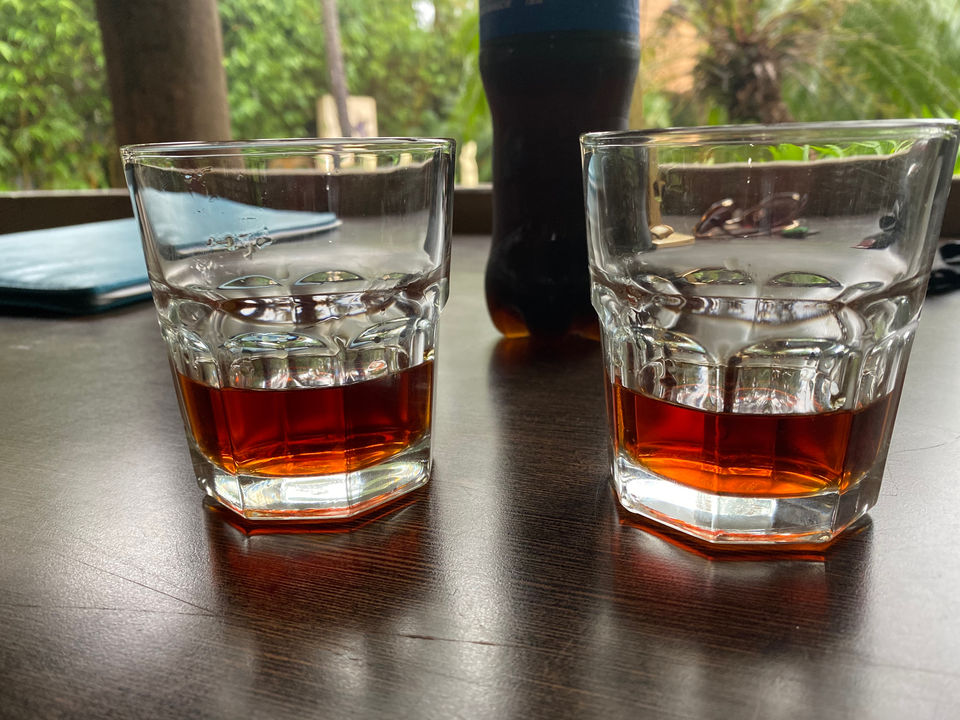 we decided to get into the pool . swim and relax for sometime and then we decide to get ready to go out but it started raining again and then we decided to saty back in room and enjoy the music and night view of the resort.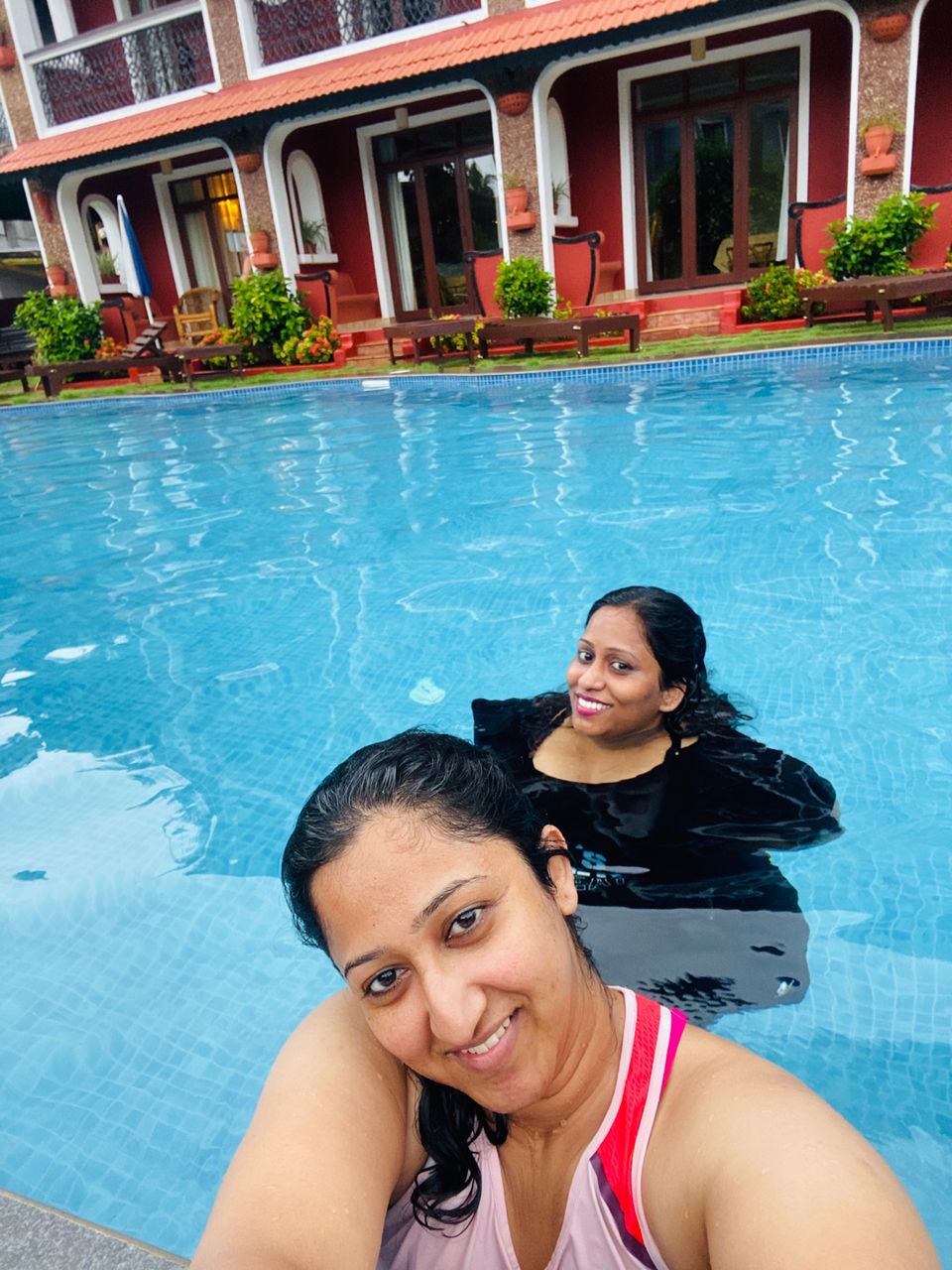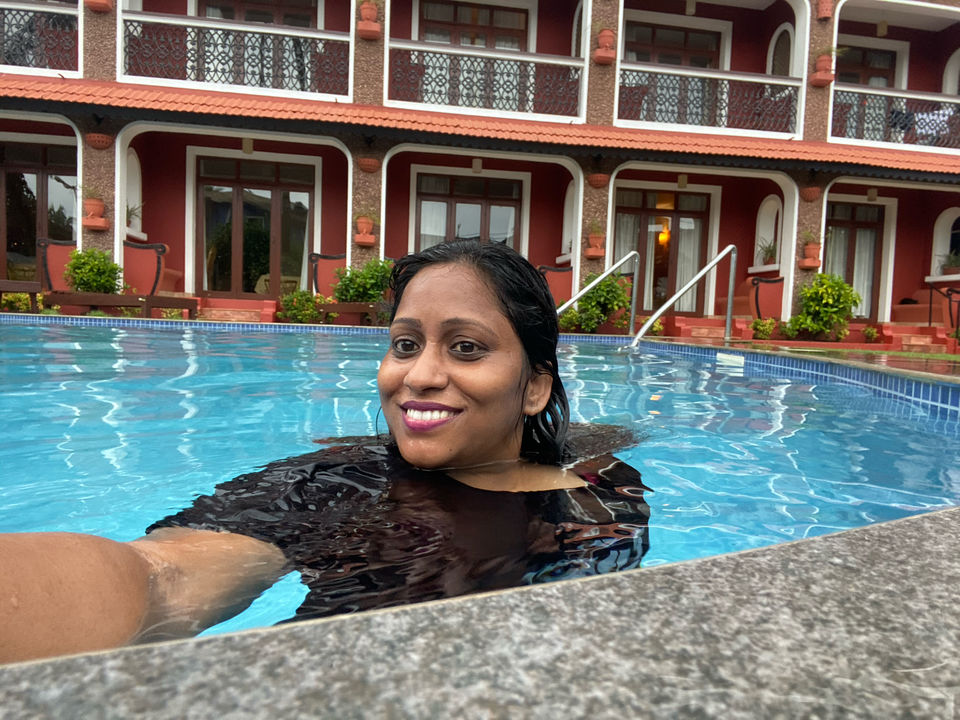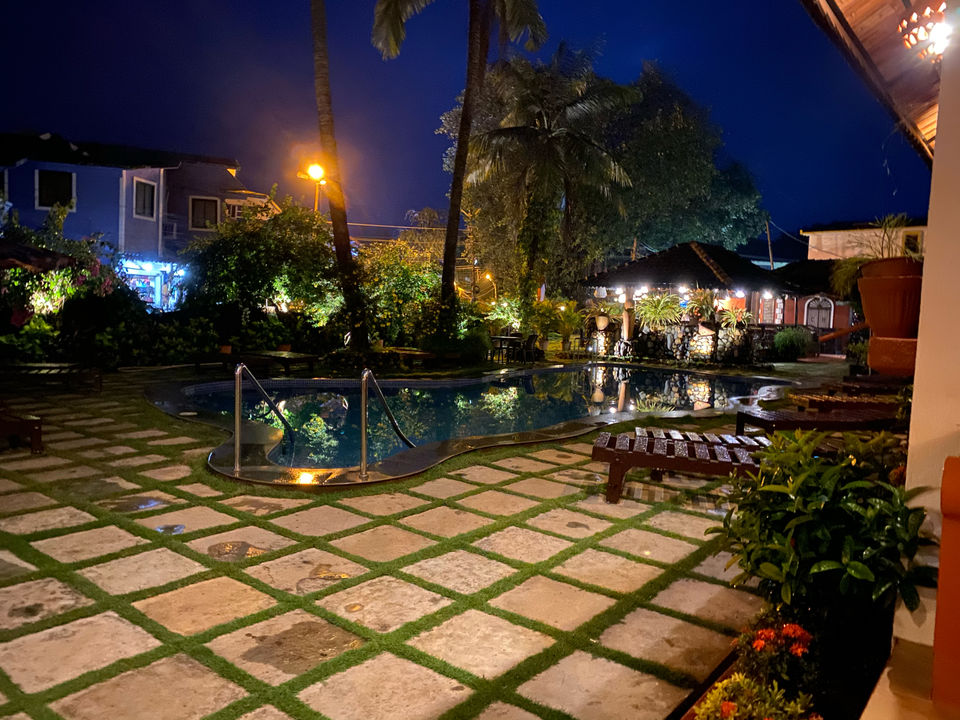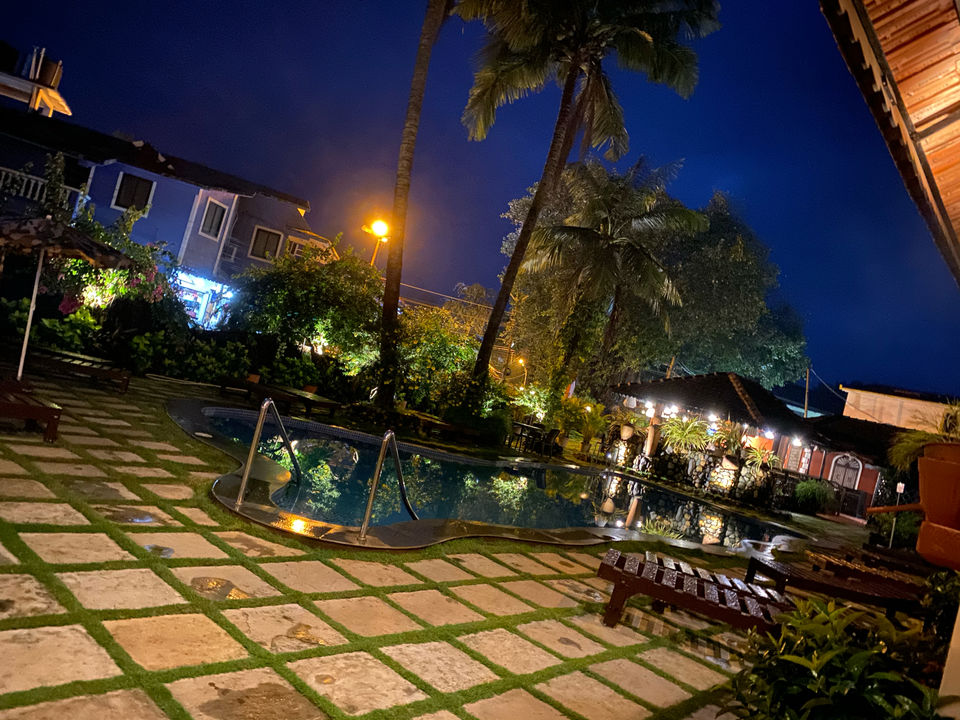 Third day of the trip we decided to go for dolphin spotting. we reached coco beach parked our vehicle and once you enter the beach you can see ticket counter . For single person they charge 300 rs which will include 1 hr boat ( 20 seater ) trip with dolphin spotting. our boat journey begins , water splash ,hot sun all this was ignored in the excitement of seeing dolphin . they take you to certain distance and ask you not to make noise and maintain silence that's when you can see dolphin.
wow amazing we saw dolphins and after some time back to the beach .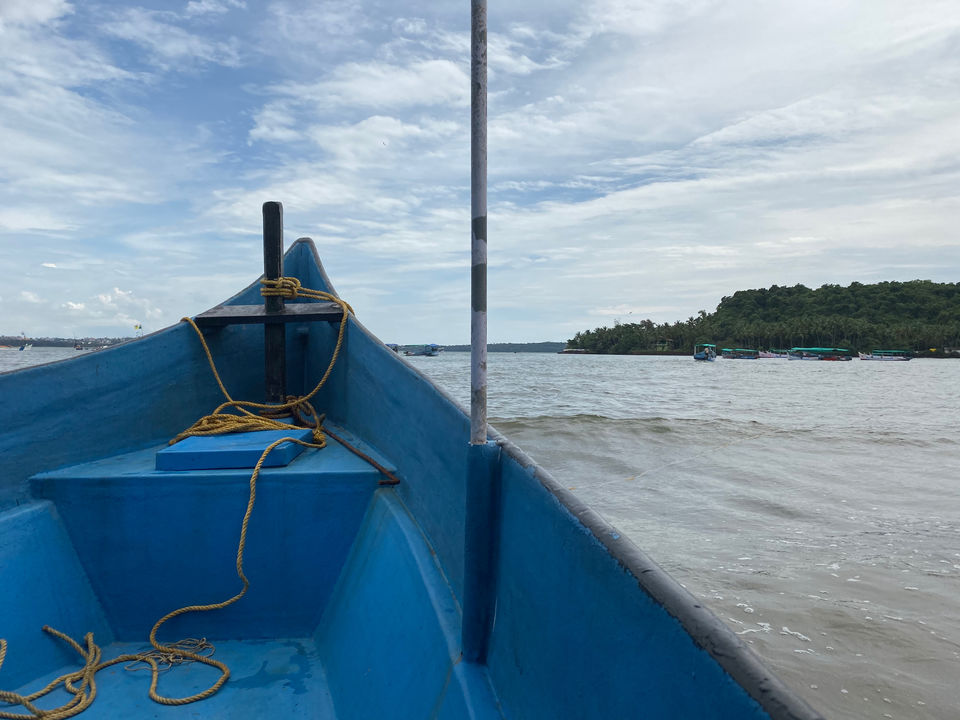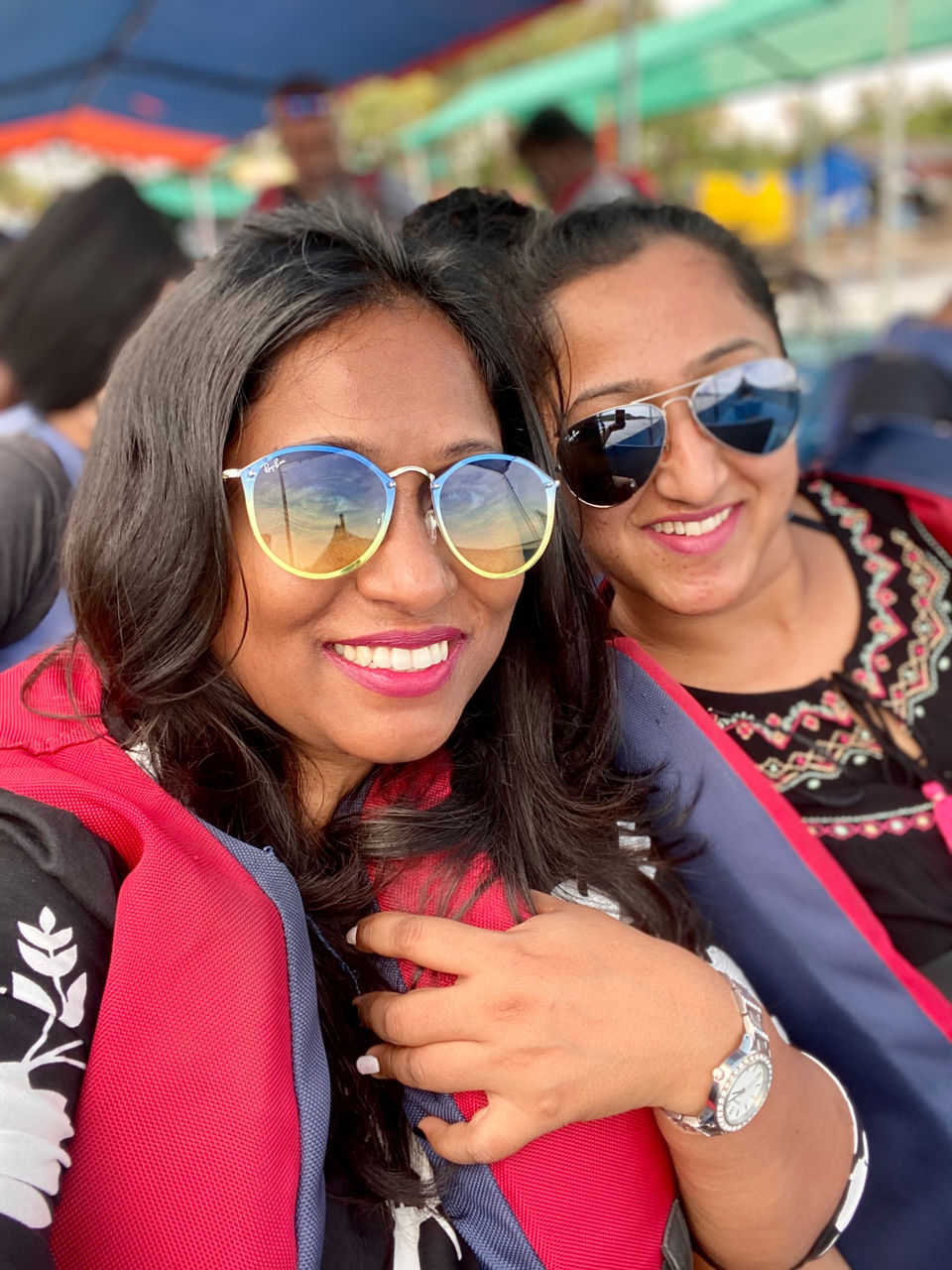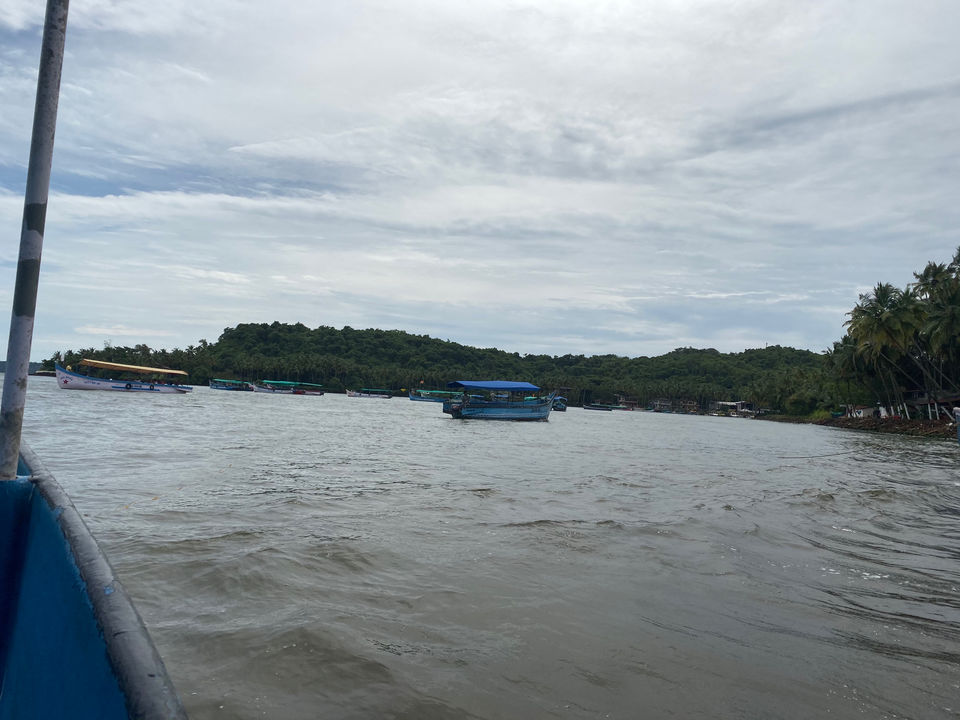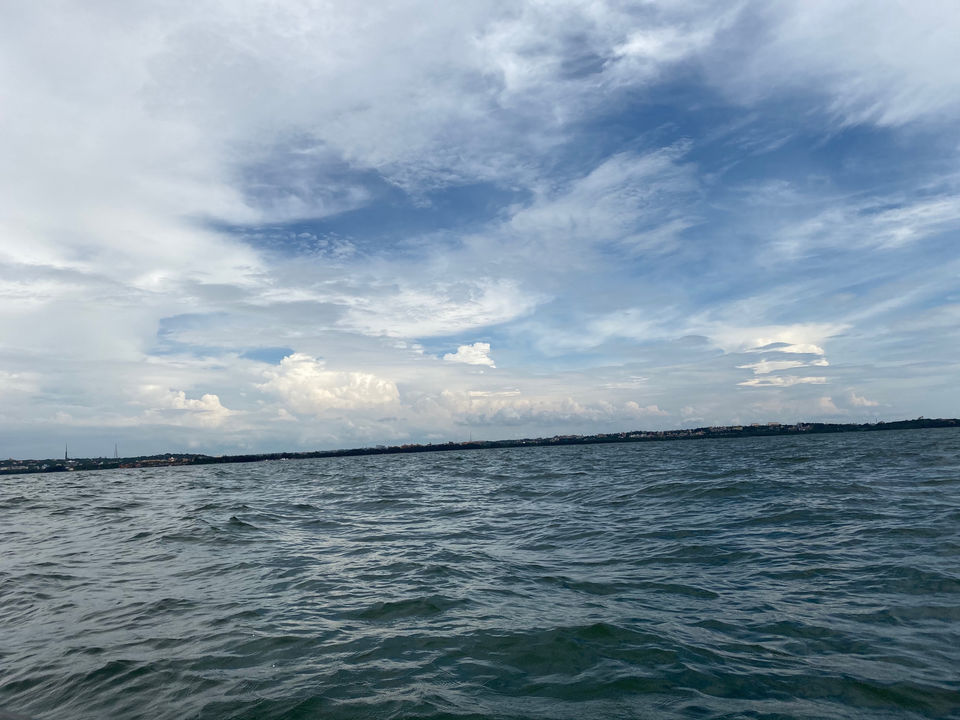 From coco beach we started towards Anjuna beach on the way you will find one pani puri stall its a must try , such mouthwatering pani puri i never had in goa . it was sopper spicy tasty yummmm just yumm and from there we wanted to go to this Eva cafe .
its a kutty small place but the cafe is amazing every thing are maintained so well . pictures speak everything have a look at them .
we spent some good time and had awesome cocktails please try them if you visit there .
and we went back to our room relaxed for sometime and came out to eat something .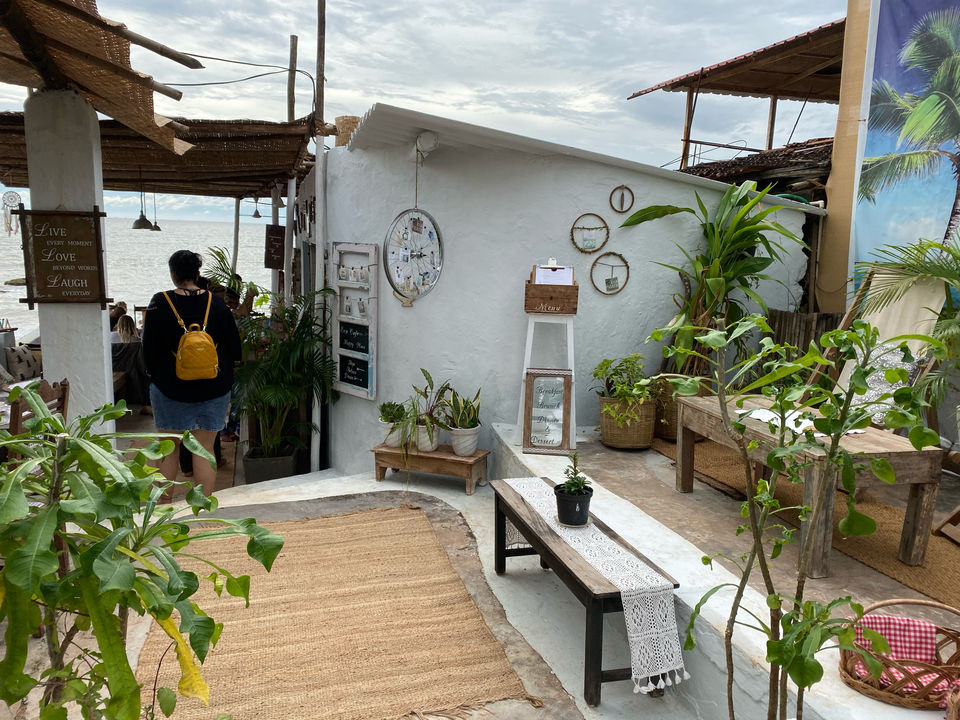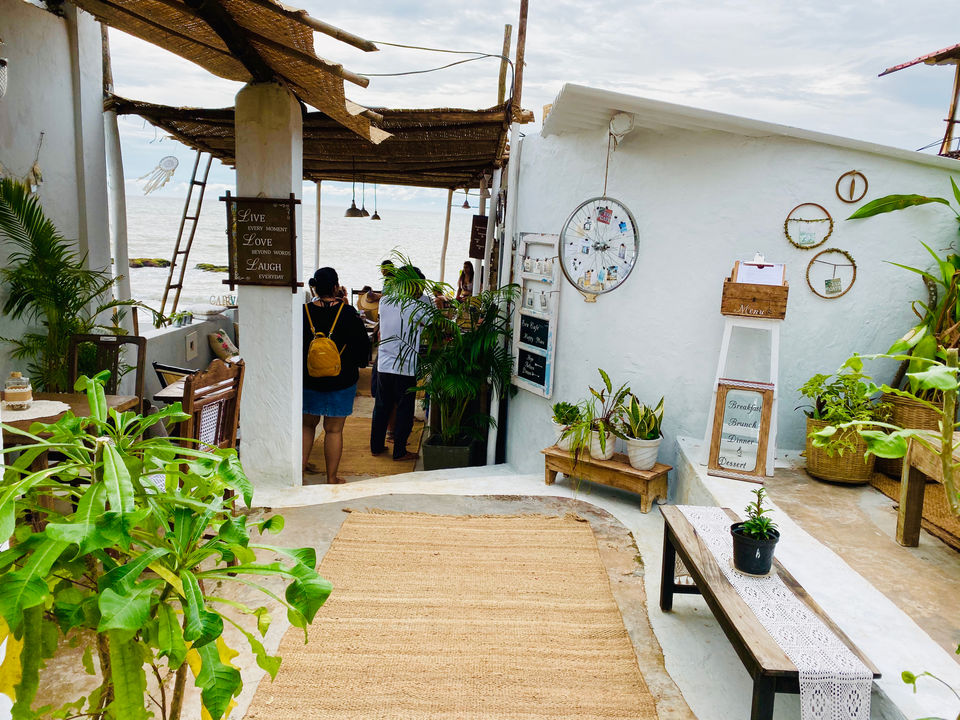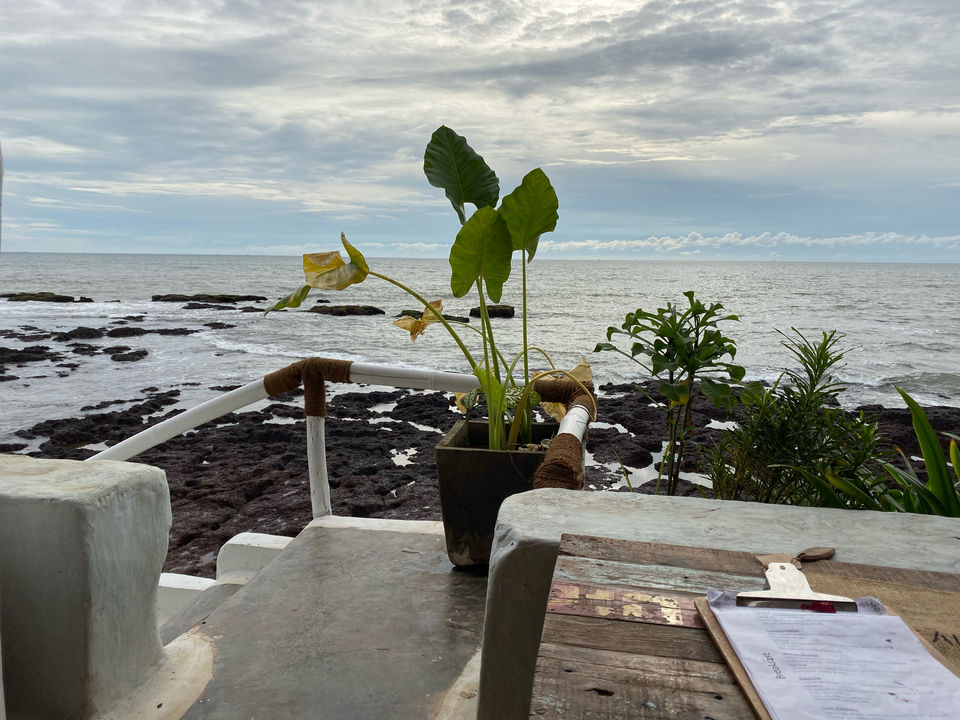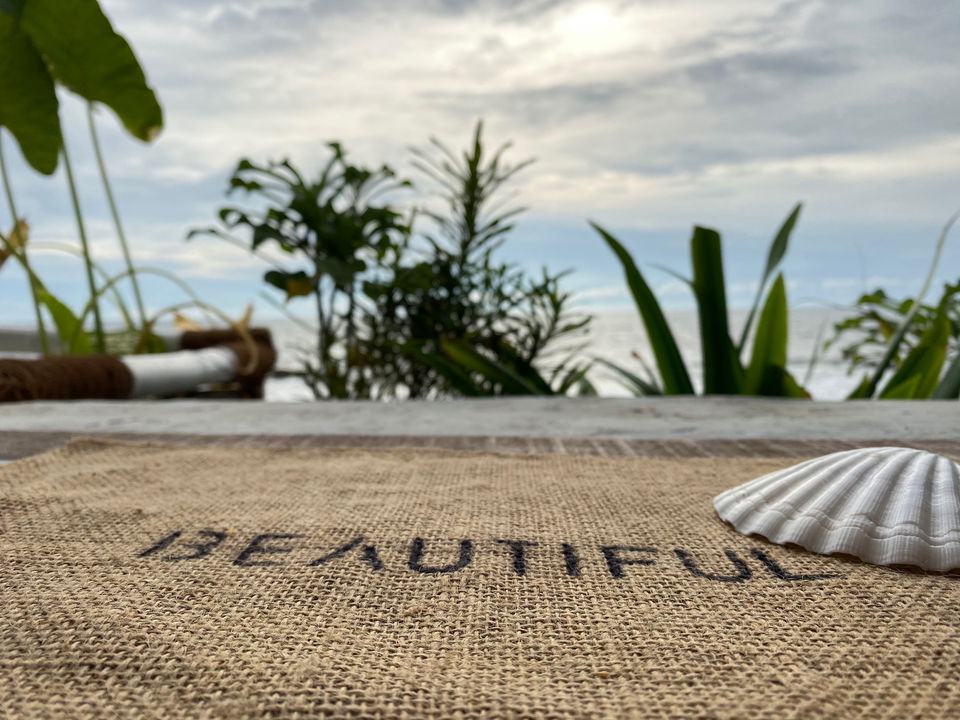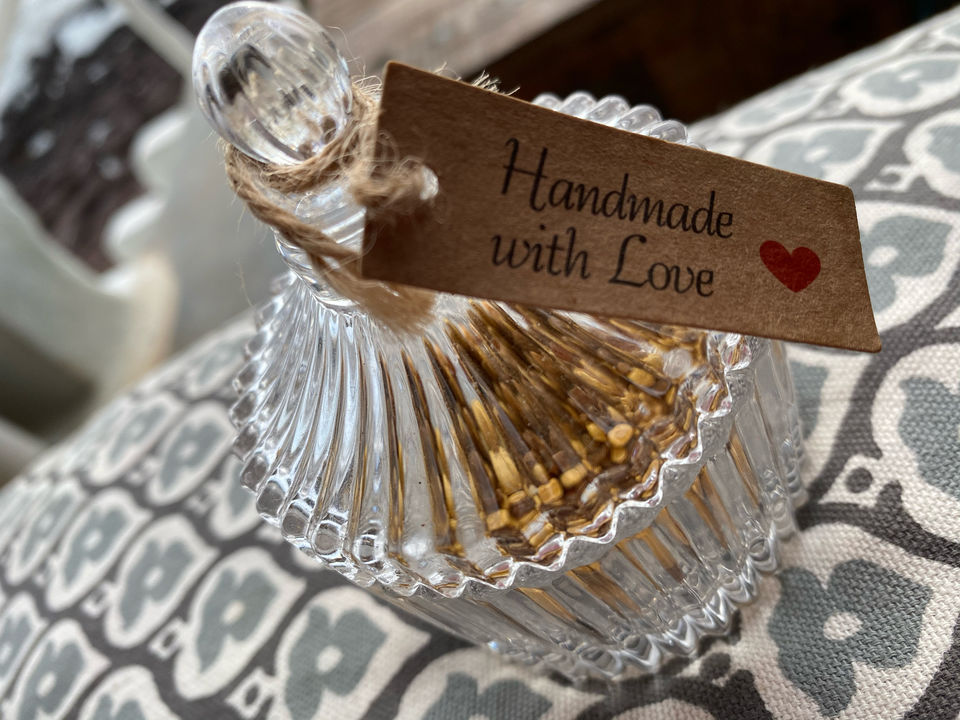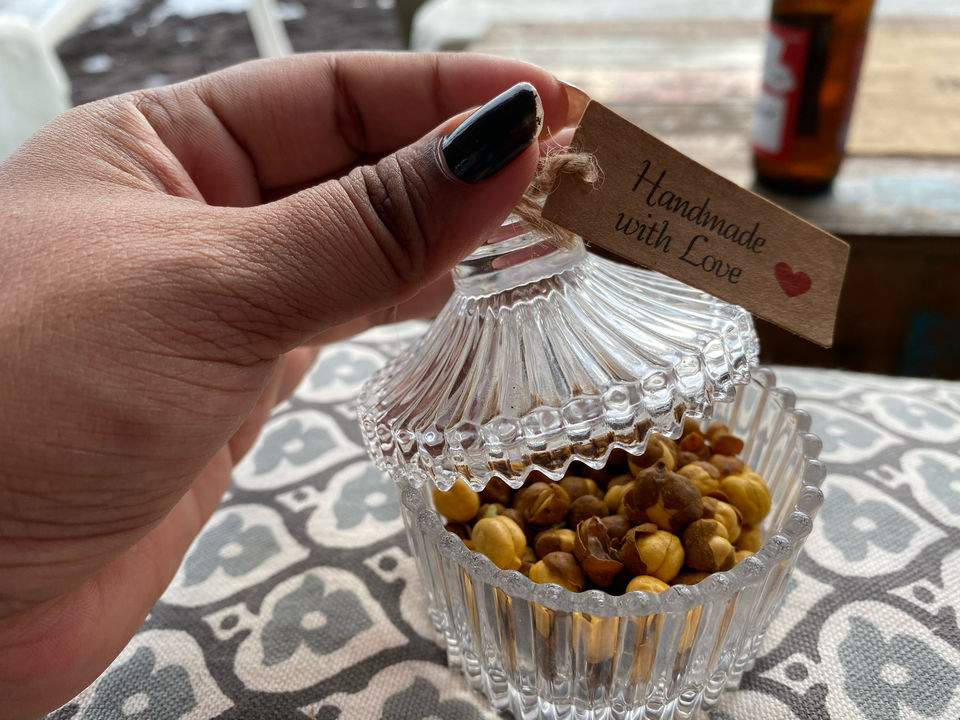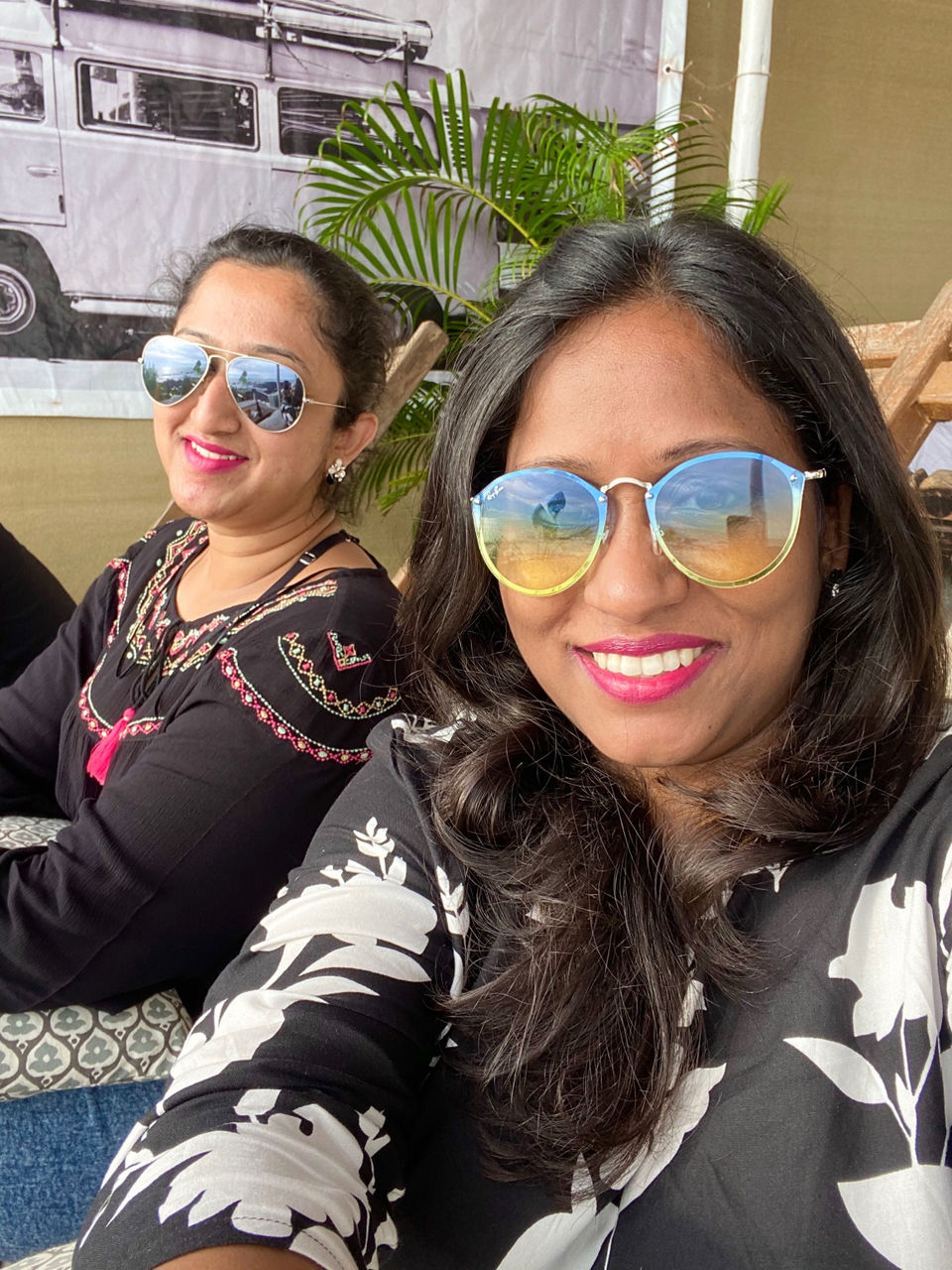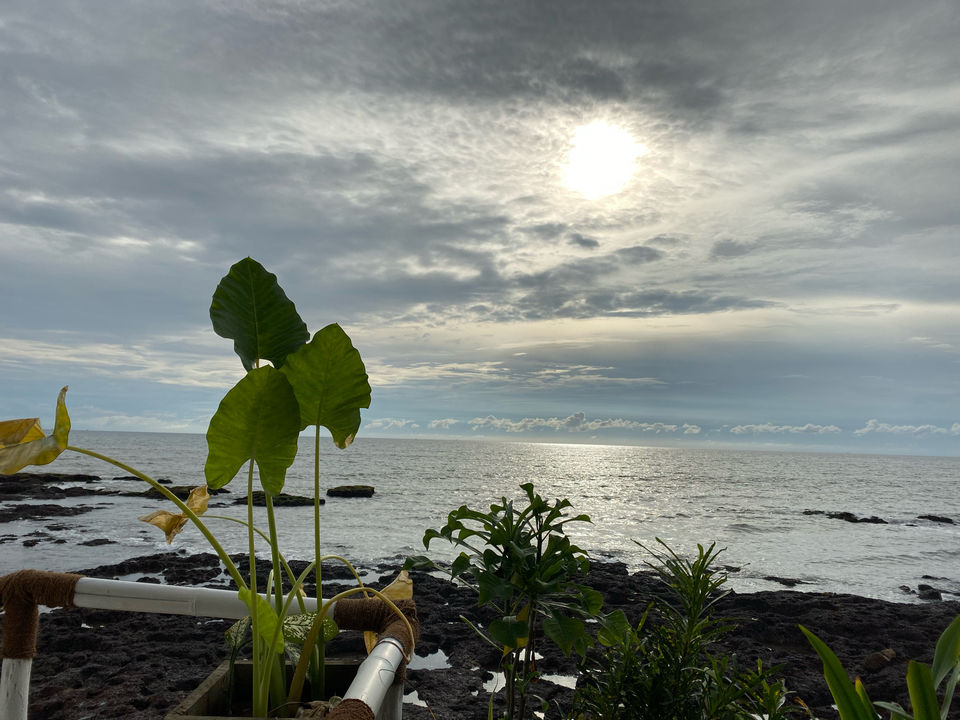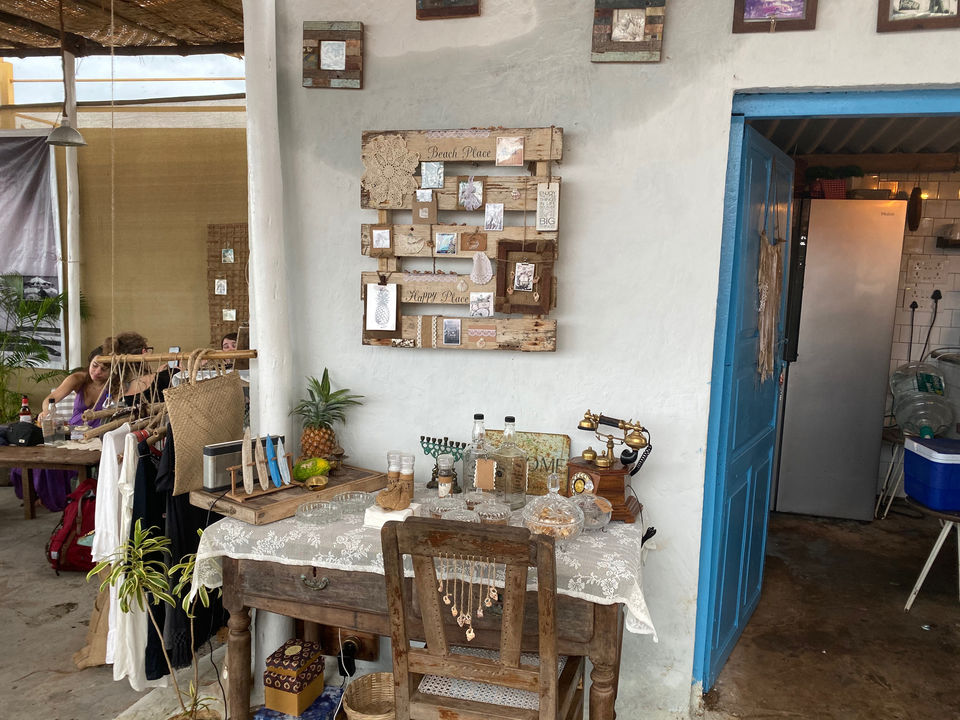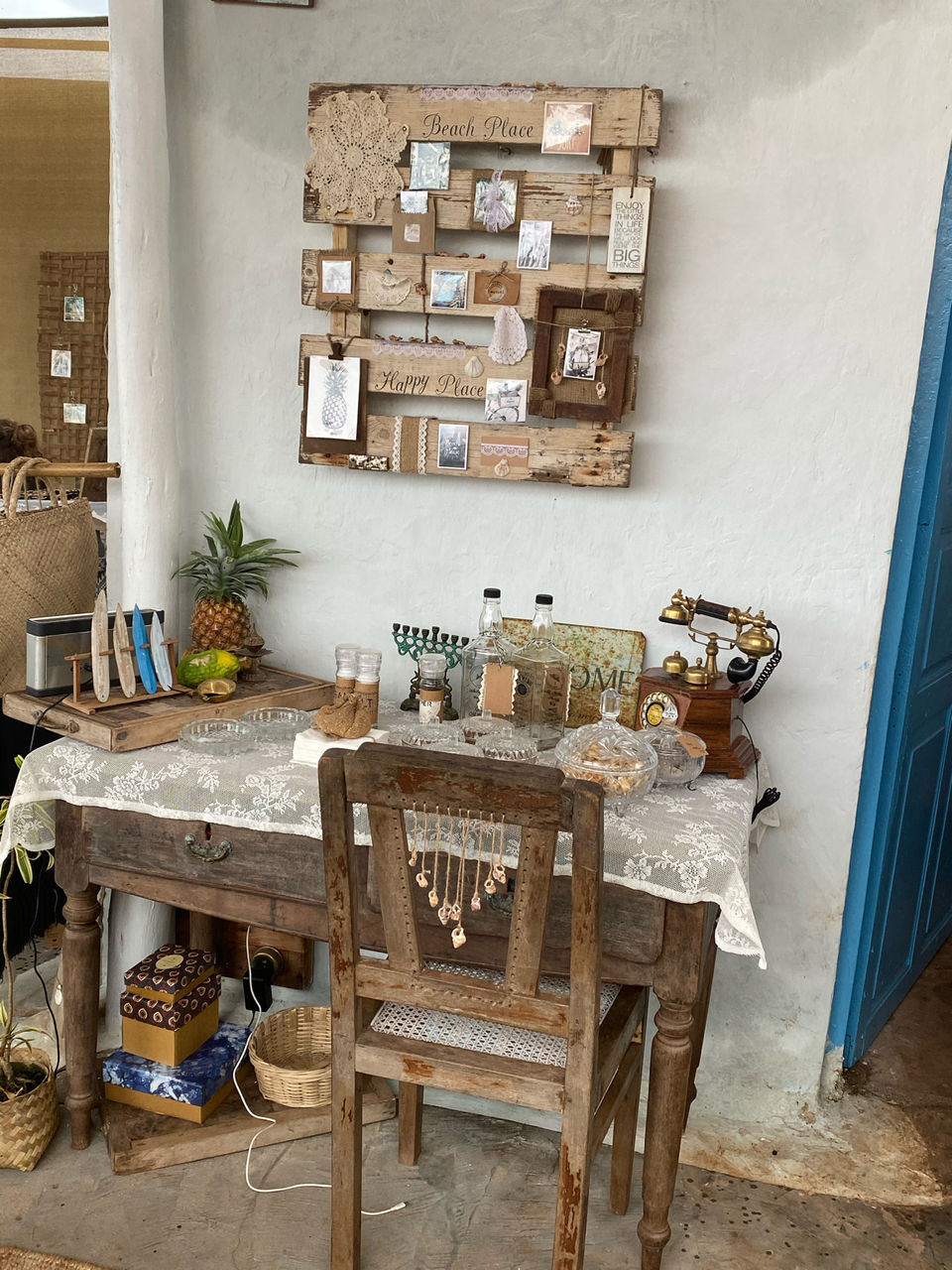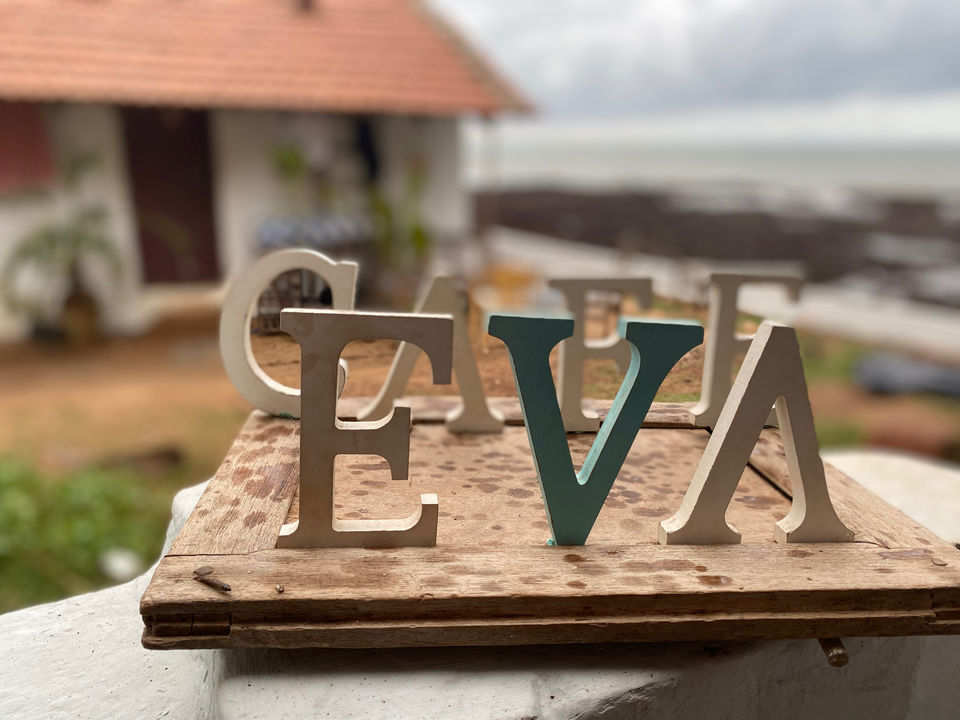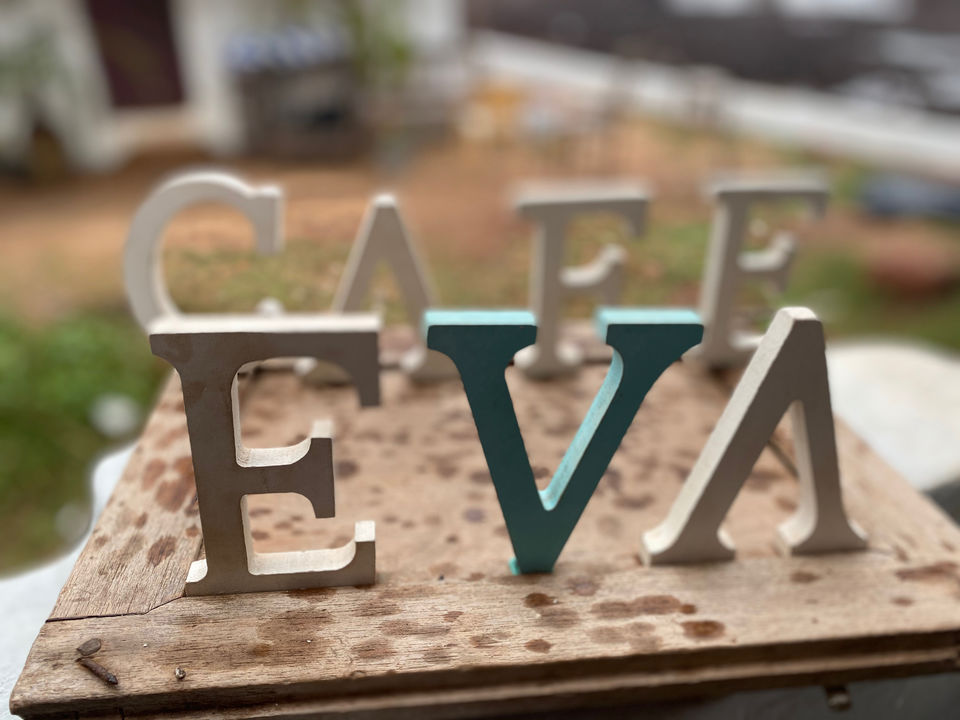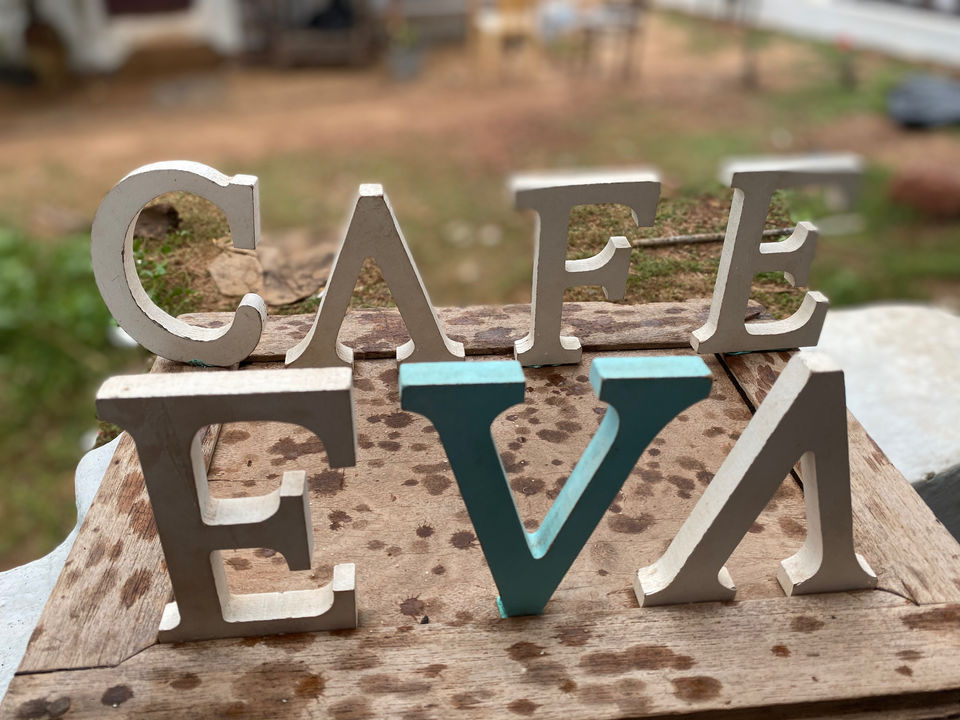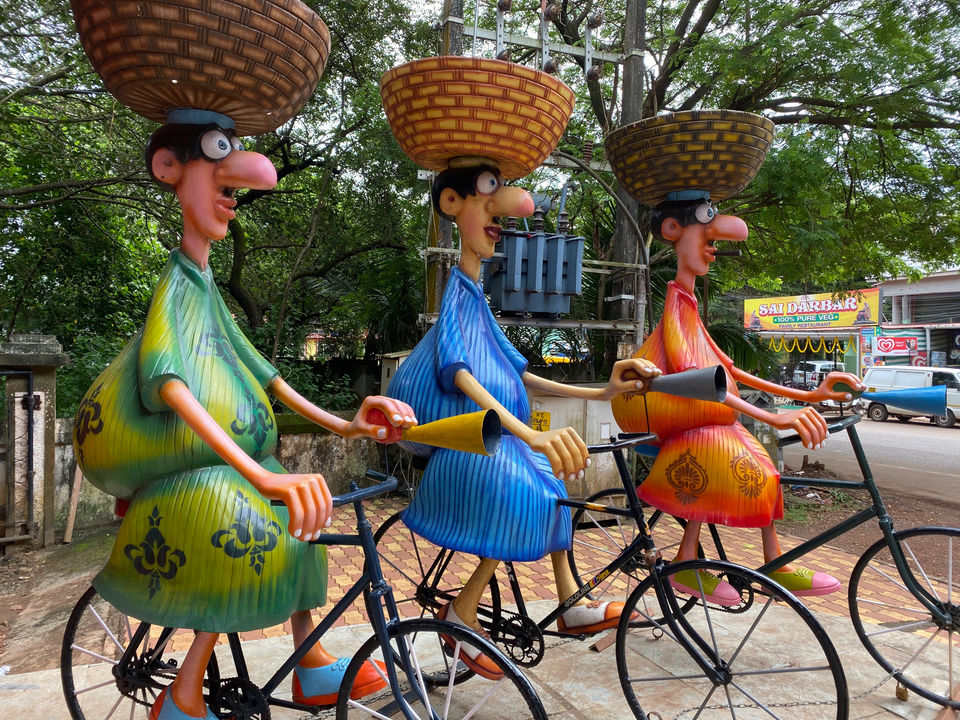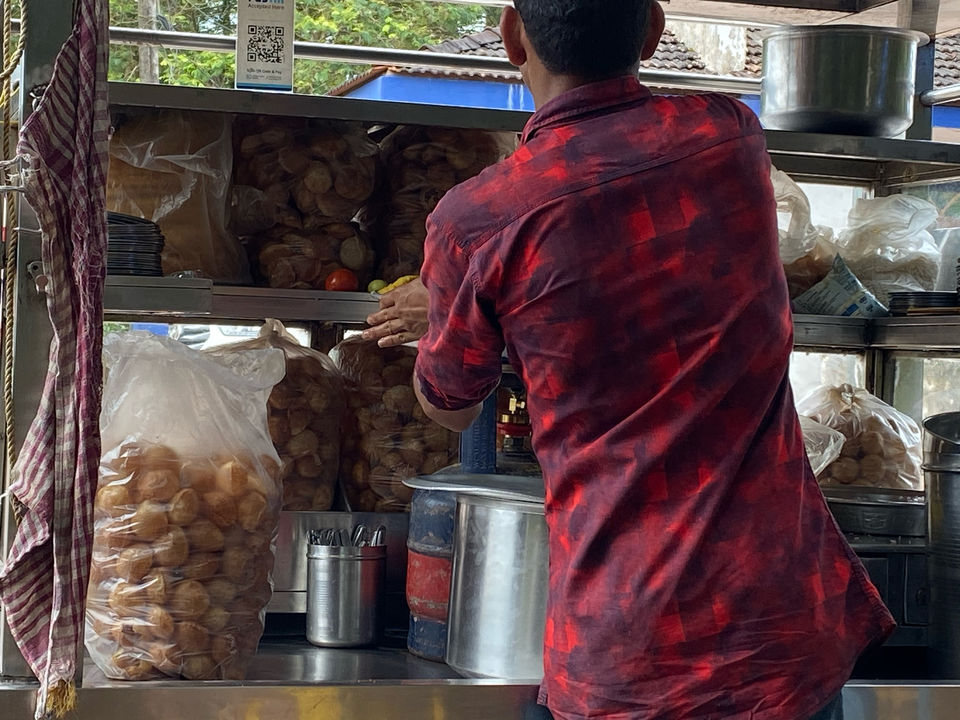 we found this place with live singing Taste of india . omg dont ask me ,,, the singer was too good and singing all old bollywood songs . his names is bors bey what an amazing voice he has . we became fan of him and decided going forward this will be a must visit place whenever we come to goa . its in the main road they serve Hookha and good food .he was taking request for songs we also requested our all time favourite phir mohabat karne chala hain song and he sung it so well , hardcore fan of bors .
live singing starts from 7 pm to 11 pm . we had to rush back by 10 pm as we had to give our scooter back today as we had taken only for 3 days .
we got our deposit and id card back and came to room. we both were like today is last chance to party and let go to pub lets not sit in the room , although it was raining and 11 pm in the night and we dint had scooter too .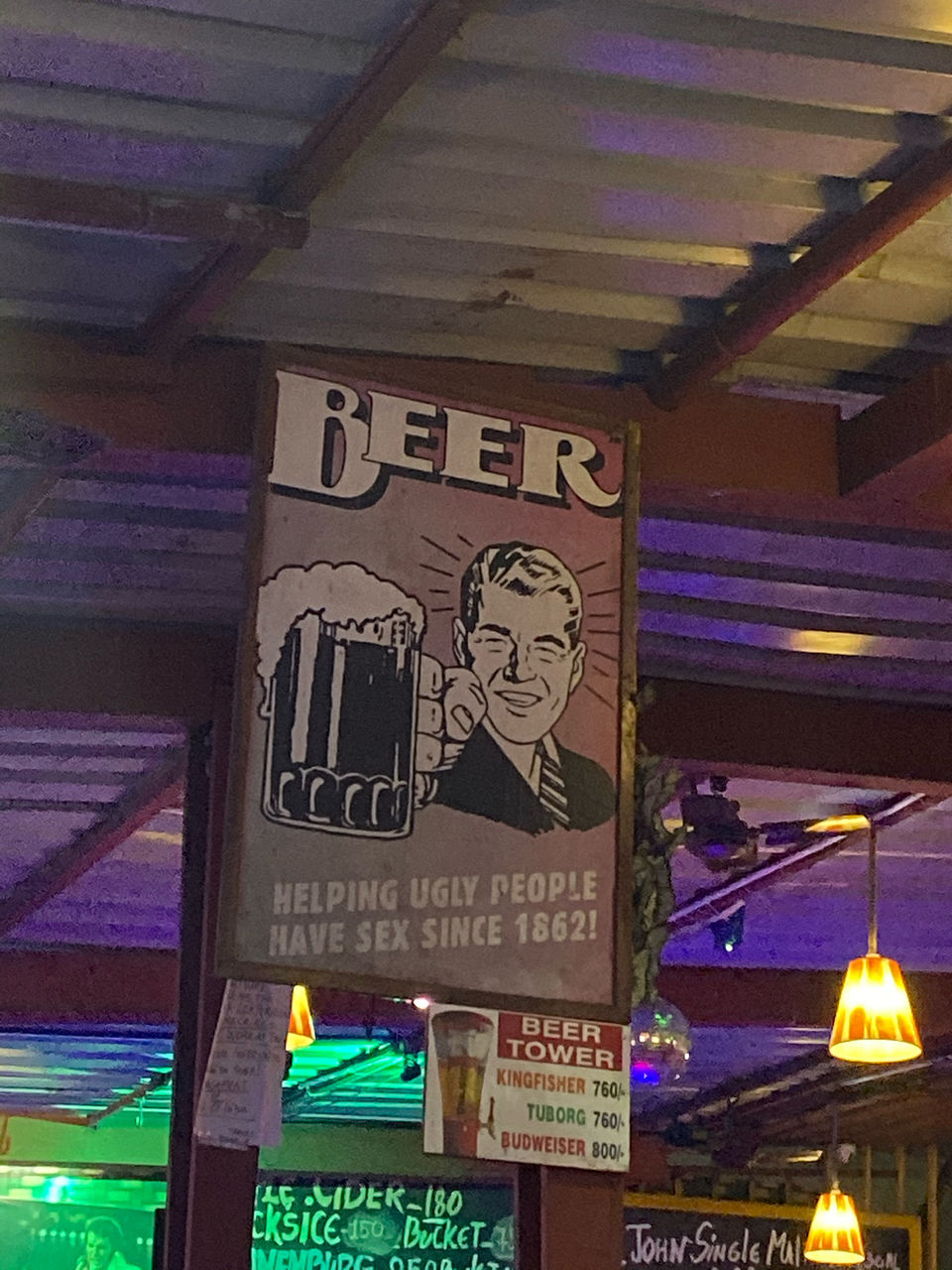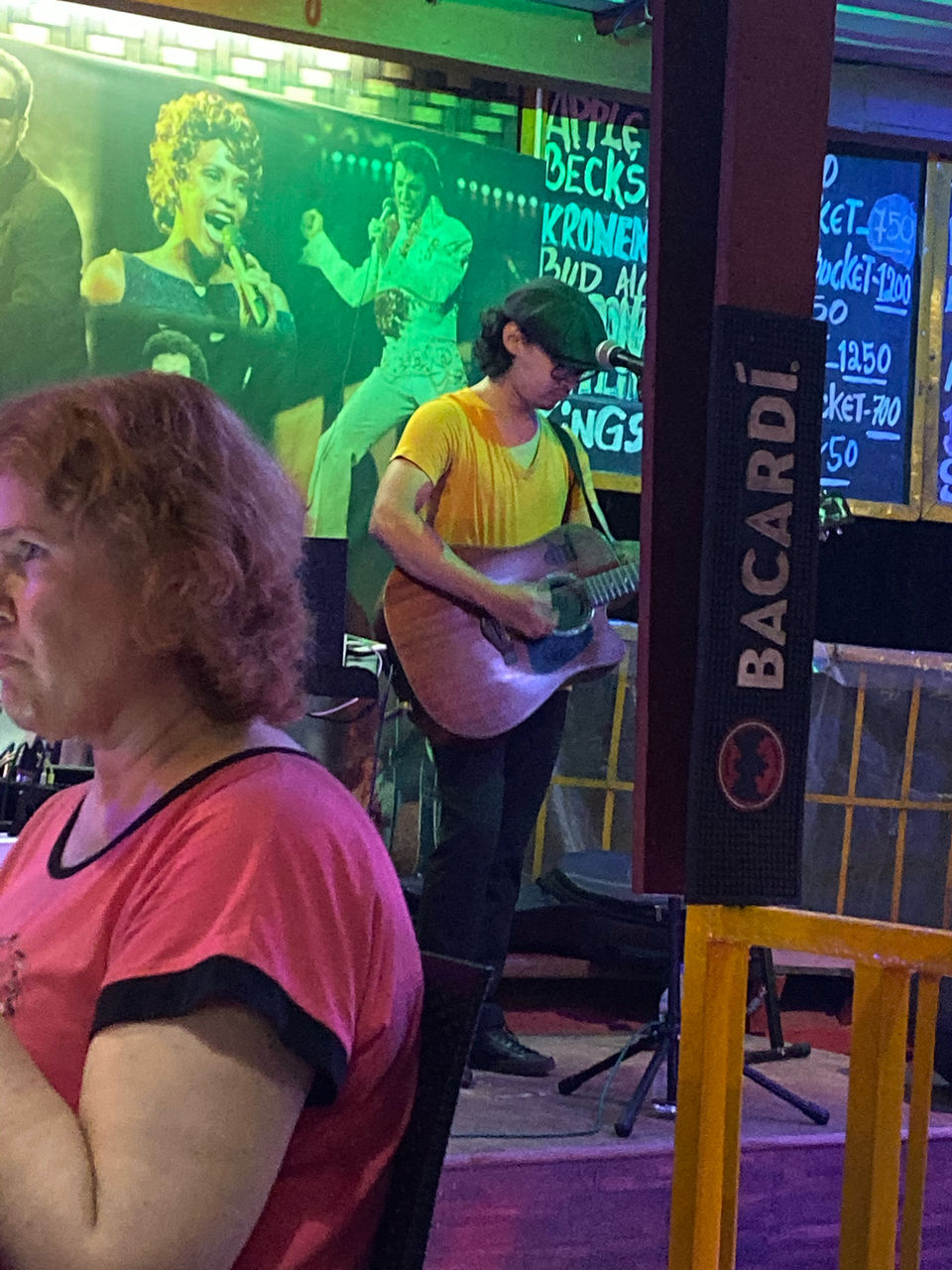 we decided to go to sinq which was nearest of all pubs not taking risk as it was raining. we enquired for cab in the resort and they arranged for us and charged 500 rs for 4 kms as it was raining and 12 am so had to agree with no other options left. cab driver dropped us to the sinq club , it was Bollywood night . we danced till our legs started paining and dint realise it was 4.30 am in the morning.
we got information that we will get lot cabs outside the club not to worry.but when we came out we couldn't find one cab also. we waited for 10 mins then decided to walk with our heels in hand , its was dark scary although. we also had fun asking lift but no help at last we found one cab and he asked 500 rs after getting into the cab i started negotiating telling take 300rs then we kept quite thinking with lot of difficulty we have got cab and lets not lose it kinds. we reached room and crashed .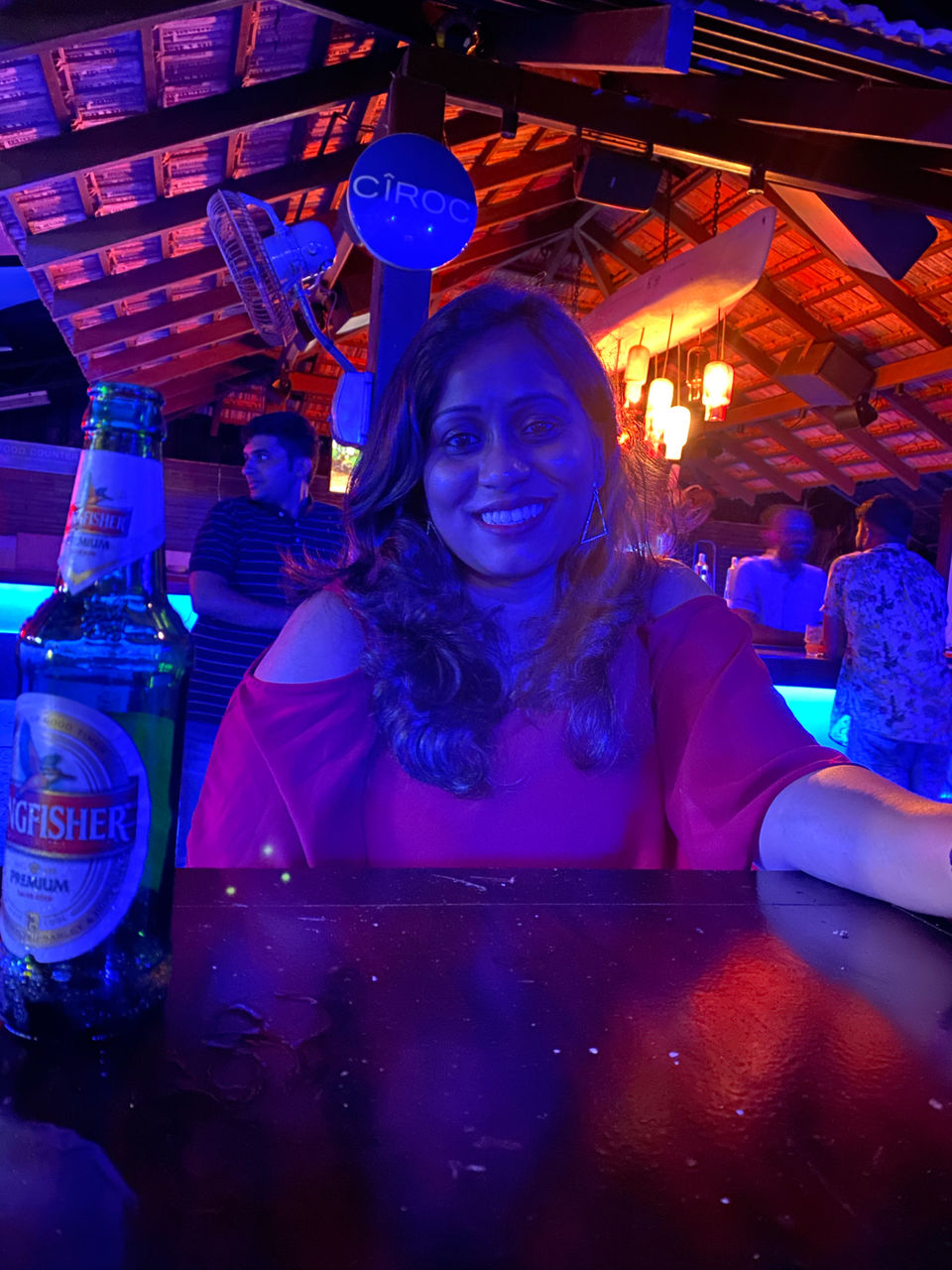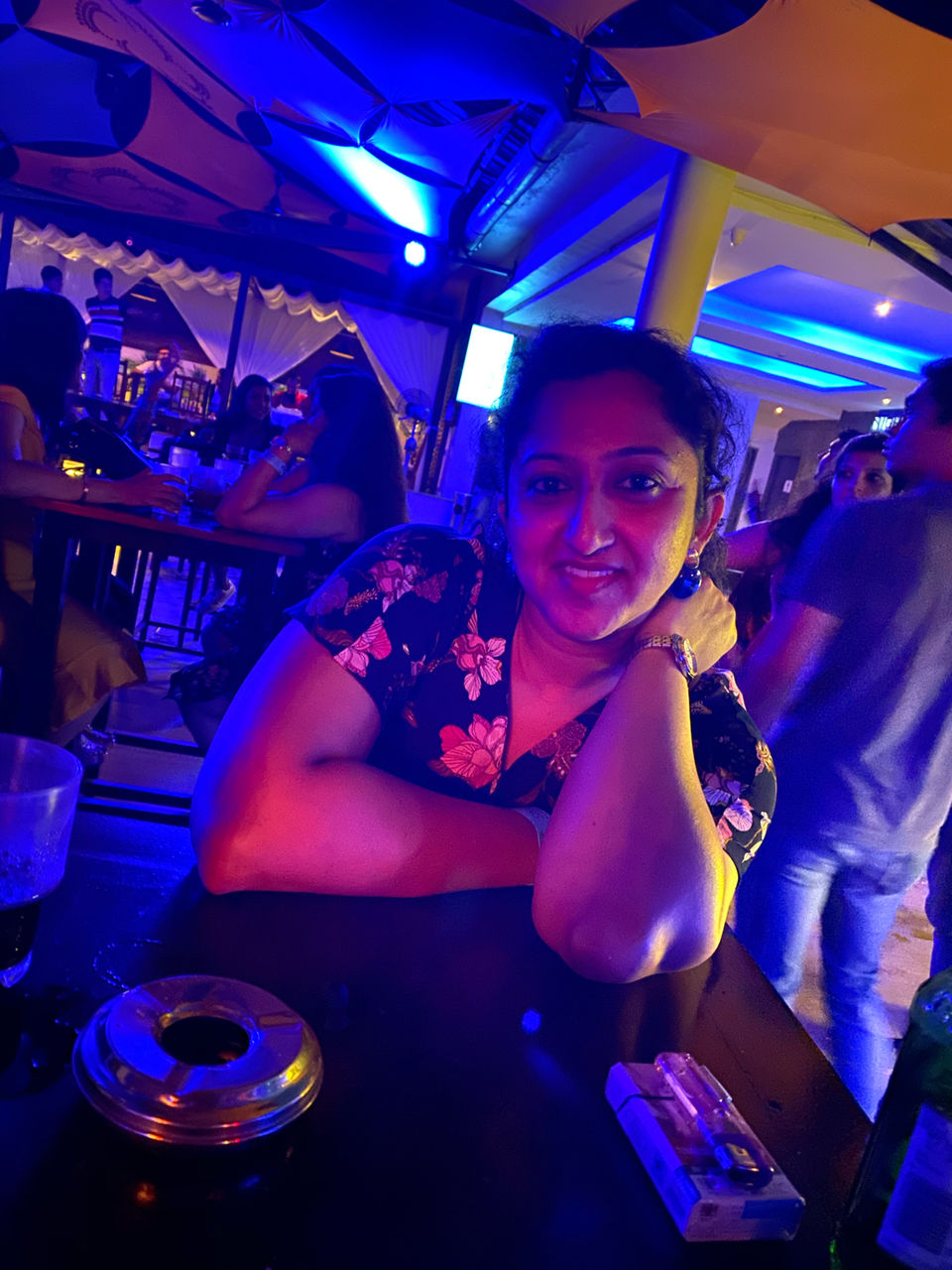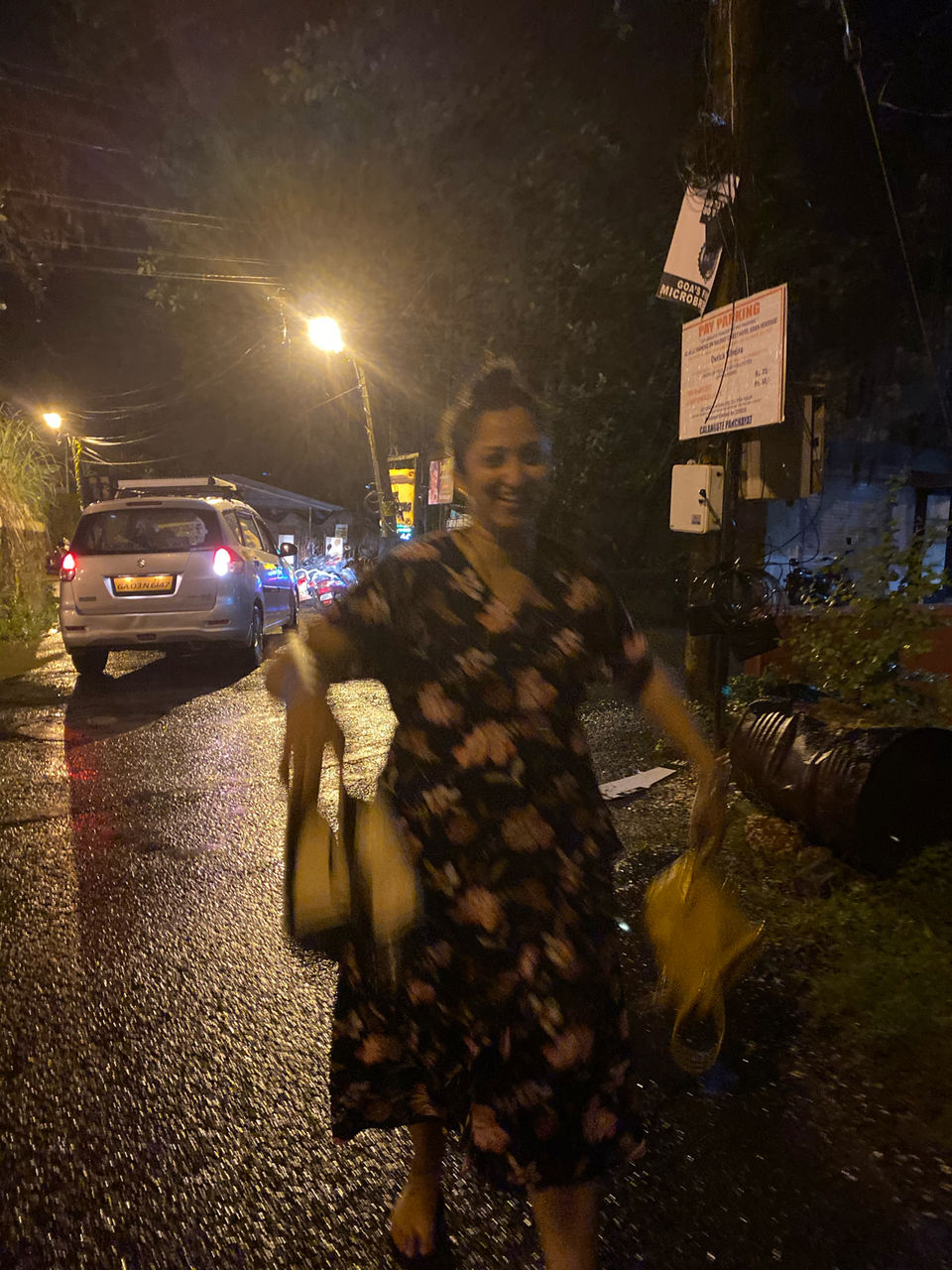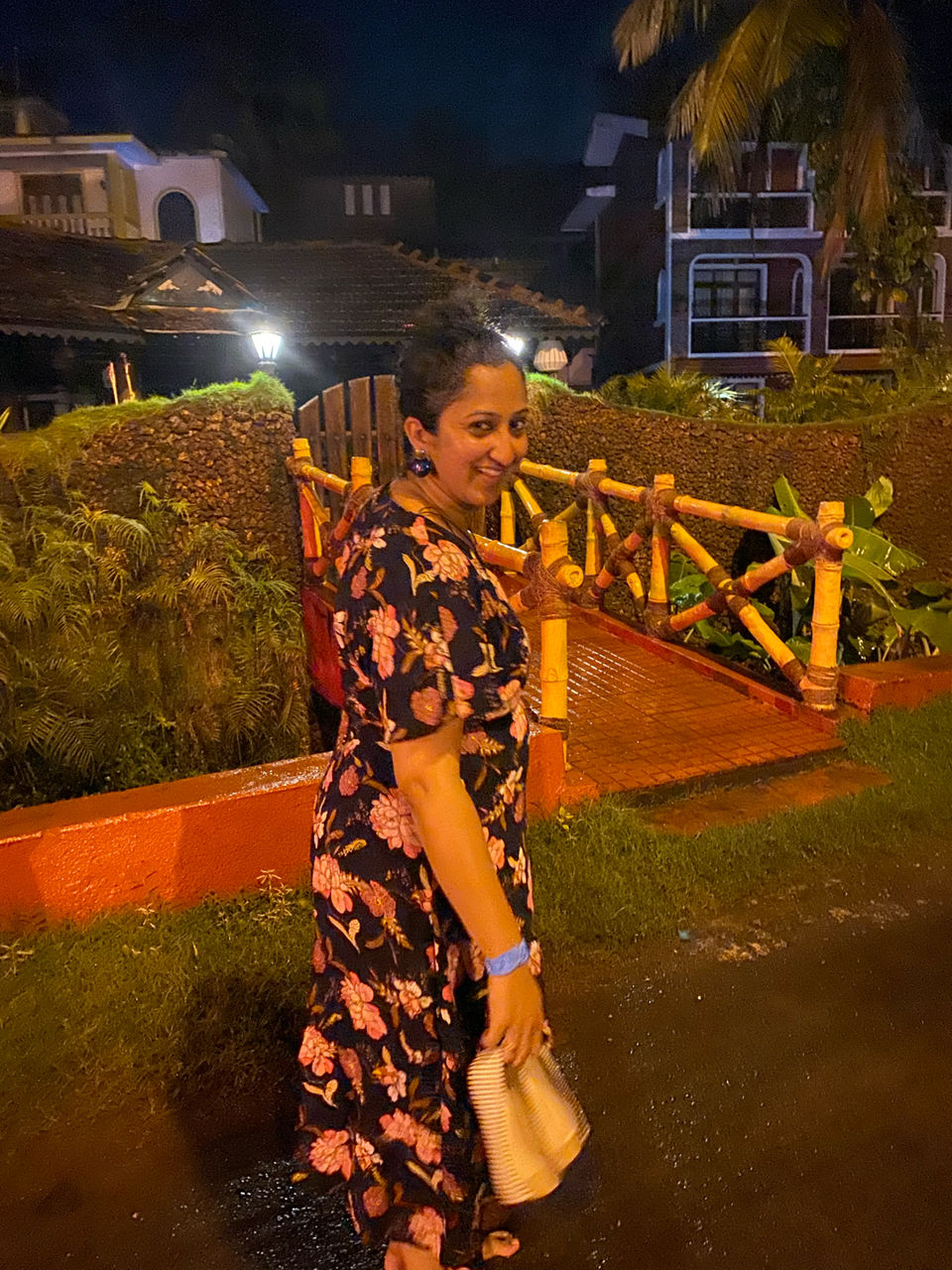 Last day of our happening trip , we were sad as it was almost ending.we decide to relax and planned accordingly we had our brunch in flying dolphin again and played in beach enjoyed the waves , sand , sun bathing and then came to resort dipped ourself in the pool for some time got ready and went out for shopping . street shopping , kaju and alcohol bottle all was in the list . we finished all of this and reached room. after then i wanted a cover up tatooo which i got it done by a known artist.
with this our joyful trip came to an end , we went back with a heavy heart but decided to come back soon.
love you goa and you never disappoint us everytime we come and go with lot of memories.
apologies for lengthy story but i wanted you guys to read enjoy and live every moment and cherish it .