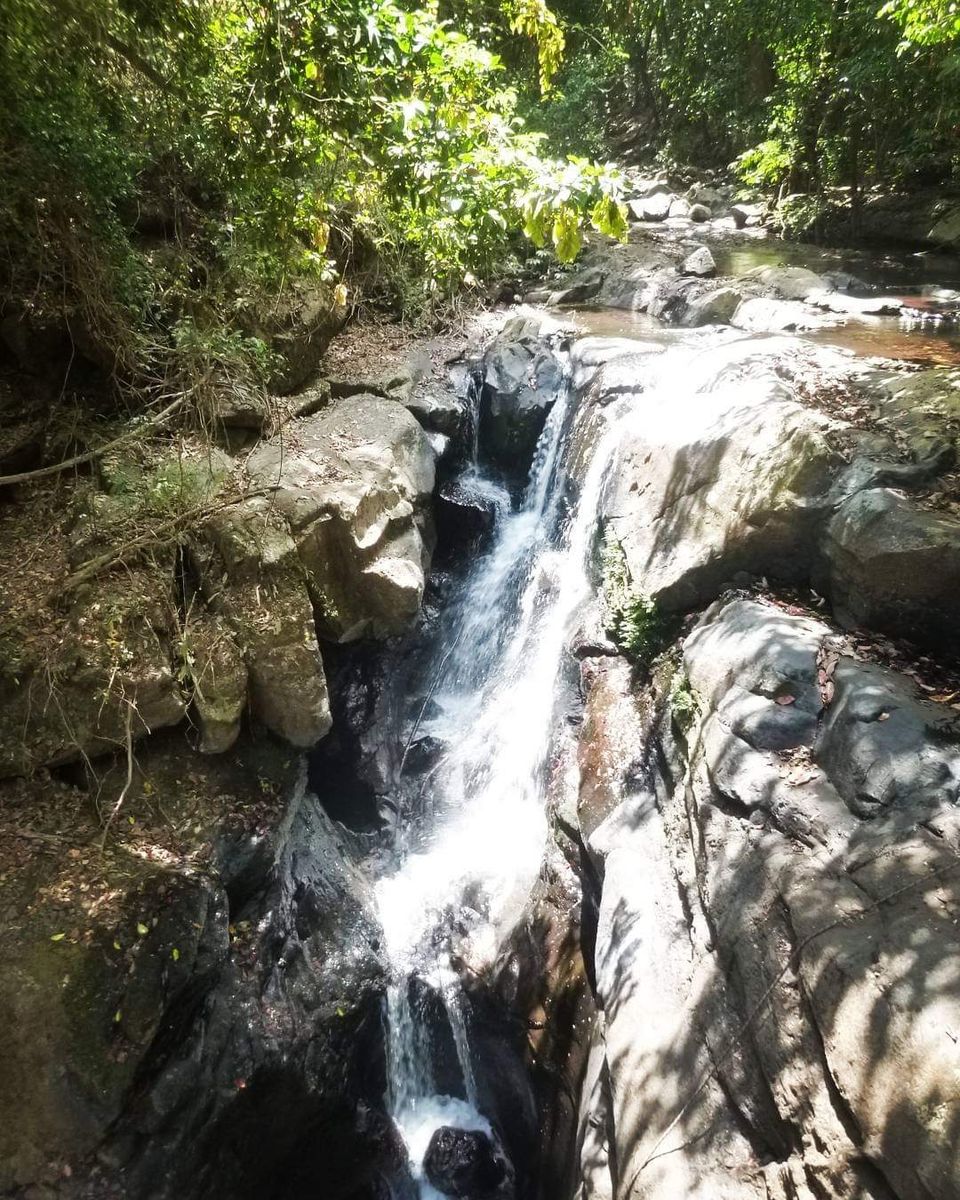 Goa, it's almost synonymous with beaches and party. Although they are great, I am going to let you in on a peek of the Goa that I experienced.
I am going to take you through a journey, to a part of South goa, away from the beaches and into the jungle. I speak of the upper sauri waterfall.
There is something about a waterfall that makes me smile like a little kid. The sight of nature's might, rushing and crashing through the wilderness making a path of its own. You feel this power the moment you lay eyes on it. The water plummeting down from great heights. Its hard to not feel mesmerized. Now imagine travelling down the same path, being a part of all that might.
We came to know about it via Google, "Canyoning in Goa". It took us some effort to get the right contact, and had to convince them quite a bit to get the right slots that fit our goa itinerary. The day before the adventure, they sent us the location that took us to their frowzy but cozy office/storeroom/home waala place, a few minutes away from Palolem beach. We were met by a couple of French nationals, Clem and Max, who were to be our instructors and guides for the day. A quick chat with them let us know that they hop to a different country every year to do canyoning before returning to their country. A prospect that appealed to us but was a distant reality.
The journey took us from Palolem in an open jeep that would take us through the Nethravalli wildlife sanctuary. A few minutes into the sanctuary, right next to a hairpin, a board read, "the Upper Sauri".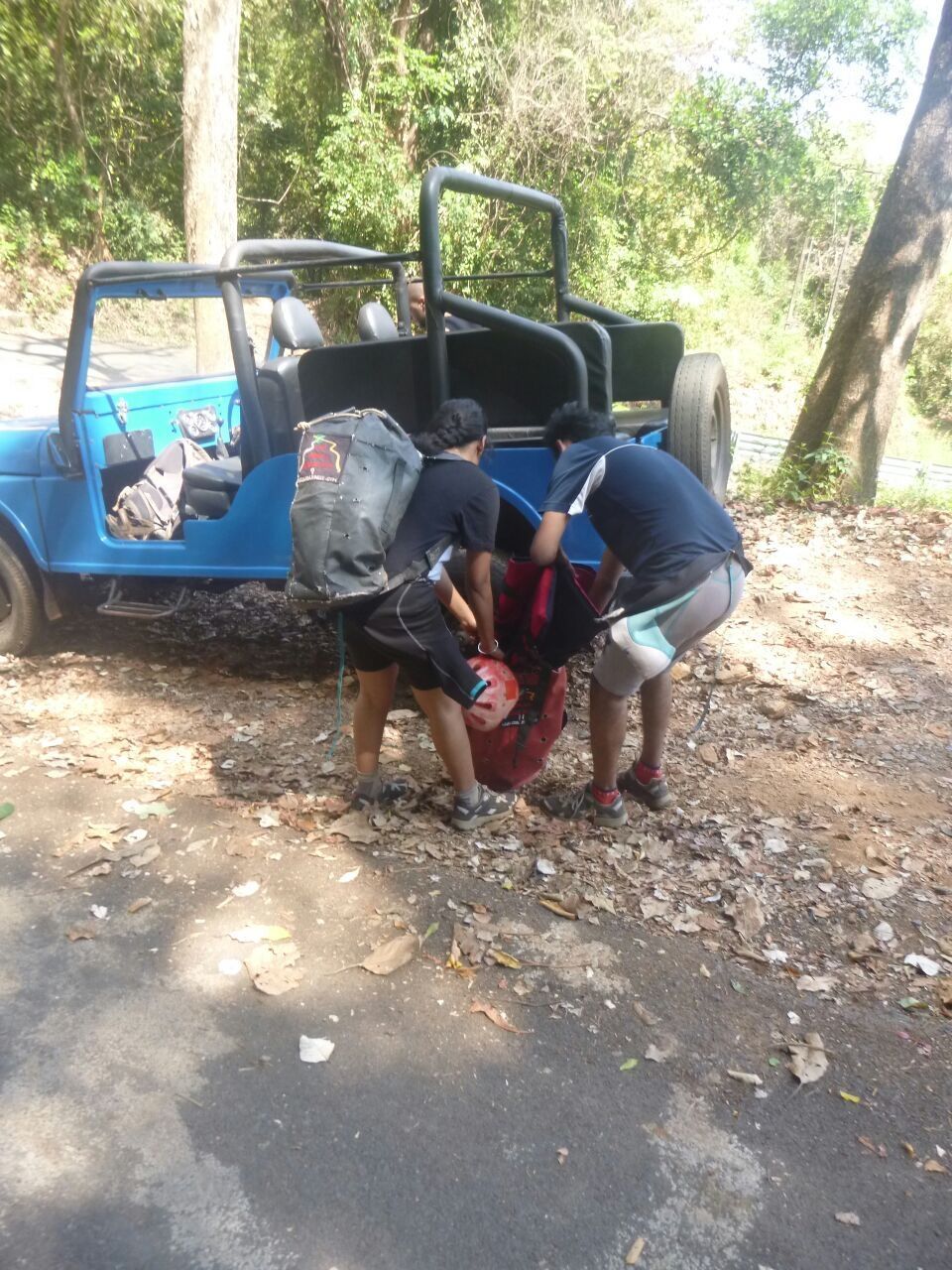 We reached our destination and happened to meet with another group. They too had come to see the upper Sauri falls in all its wonder. But as soon as we stepped out of the road and into the forests, our paths led in opposite directions. They wondered as to where we were going, so did we, as the route we were taking, seemed to be leading us away from the Upper Sauri.
The trek took us deep into the jungle. For a while, there seemed to be a clear and comfortable path. This did not last long though, as the paths were soon being reclaimed by the forests and the steep climb and summer heat started taking its toll on us, but there was always the muffled sound of a burbling river that spurred us on.
A couple of hours in, we had finally reached our start point.We geared up, pulling on our wet suits and putting on life jackets(we opted for the non-swimmers package because we were terrified to jump without life jackets), and a bag that carried our canyoning needs.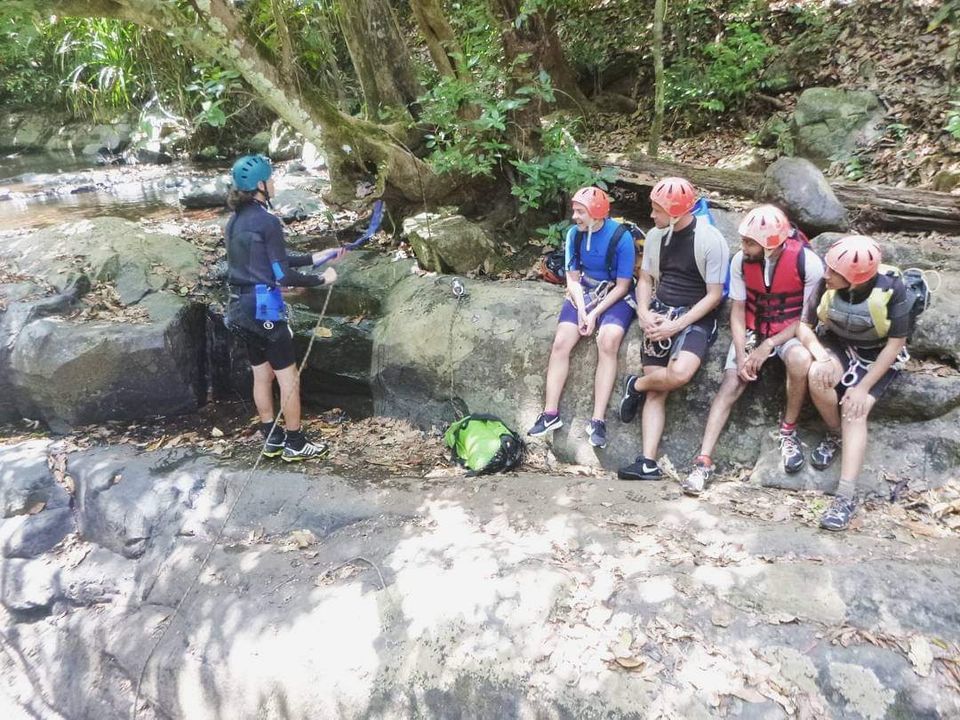 Rappelling down a cliff, we got to a small ledge that overlooked the river. This was where we would be given the training on abseiling and the jumps, that would help us all the way. We were a few feet, maybe 5, above the river. The instructors point us to a point upon the river, our target point. "Jump a little to the left and you will hit shallow waters. A little to the right and you could hit the boulders. Don't jump far enough and you will scrape through the cliff side. Jump with all your heart in it or u might loose your footing". The instructions were clear. It was now time for action.
The point when both your feet lose contact of earth and all you see is a deep river below, and a small falls beside you, something just ticks in you and reminds you this is not what you are used to. You can't help but tell yourself **this is awesome**. You wait for that impact. Shield your chests with your hands crossed. The water envelopes you. You then fight back and rise to the surface with a smile that says it all, I wanna do that again.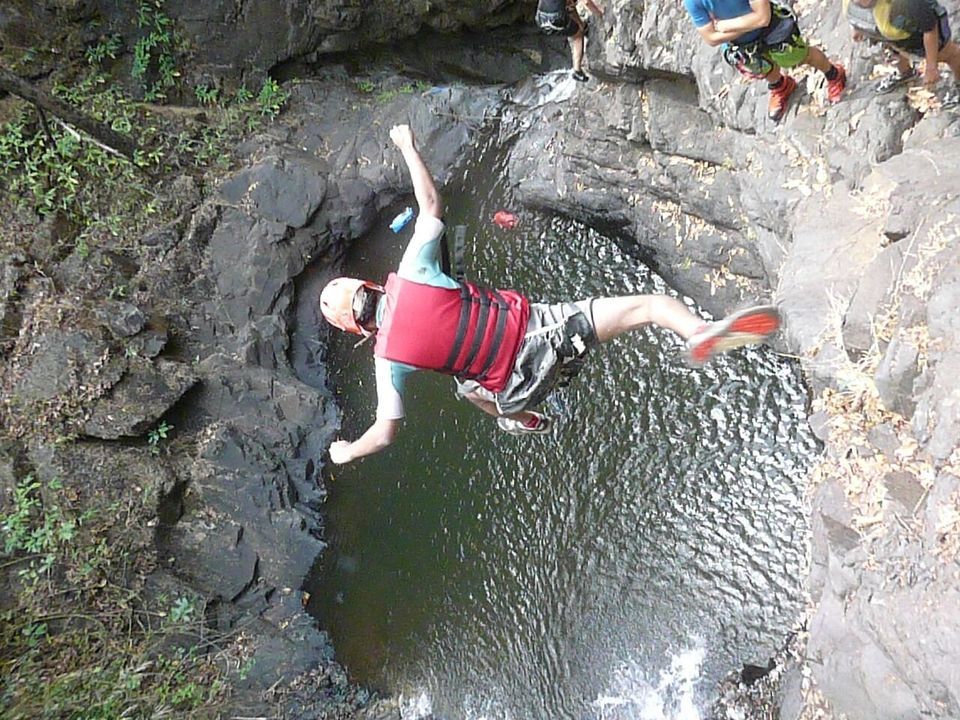 We were now racing through the river downstream. Wading through the waters. If there was a steep cliff standing in our way, We knew what we had to do, just jump. With each jump, the drops started increasing, soon it wasn't that easy to aim down the sweet spot. A little extra force and the parabolic trajectory took me some distance ahead than I had expected. It was now starting to get challenging, but still every bit exciting. The jumps varied from 5 feet to a staggering 13 feet through the run. The river put up enough challenges that jumping all the cliffs were simply too risky. We slid(not a very smooth slide) and rappelled down cliffs and found points where jumping in wouldn't cross the risk barrier.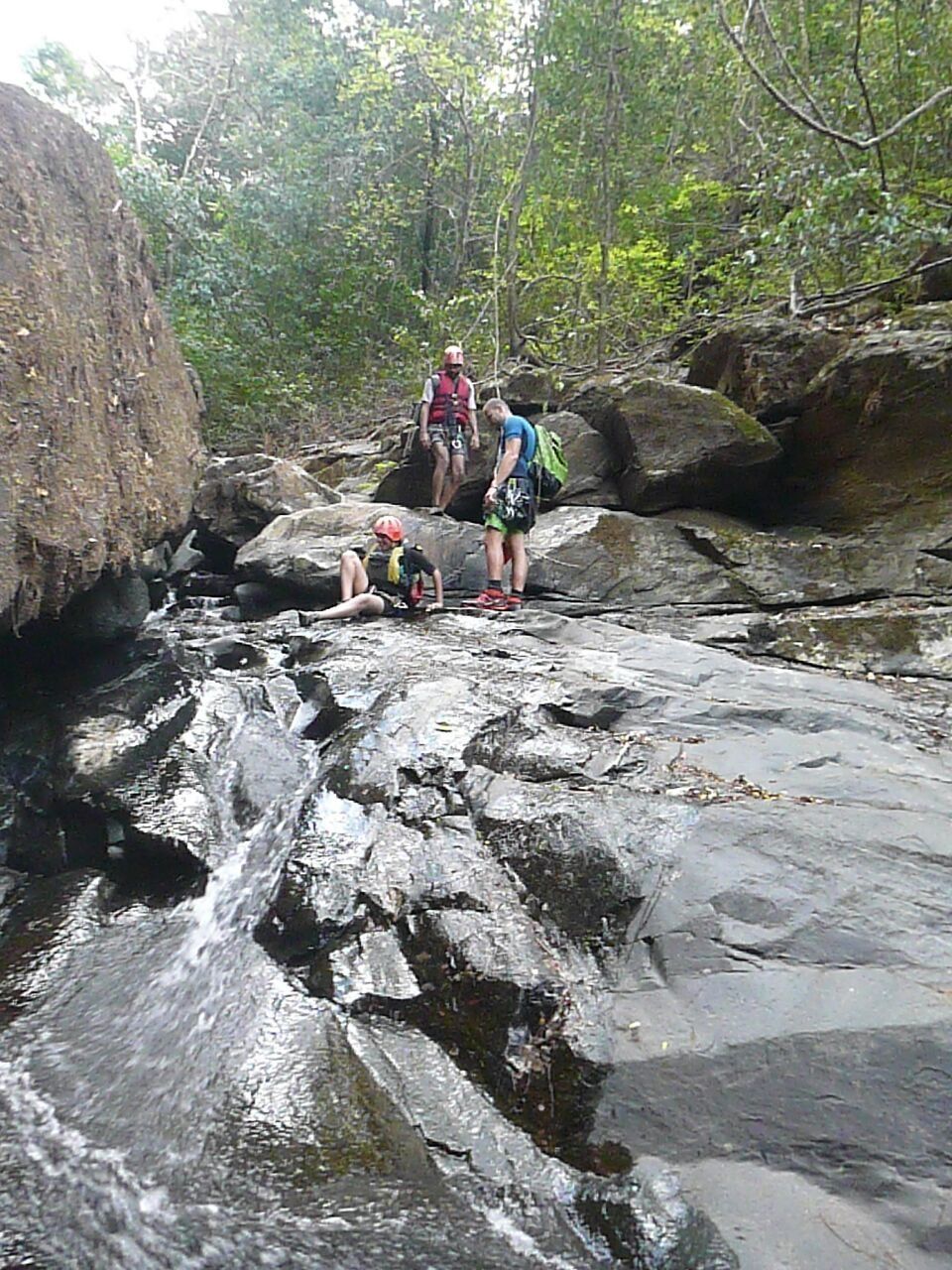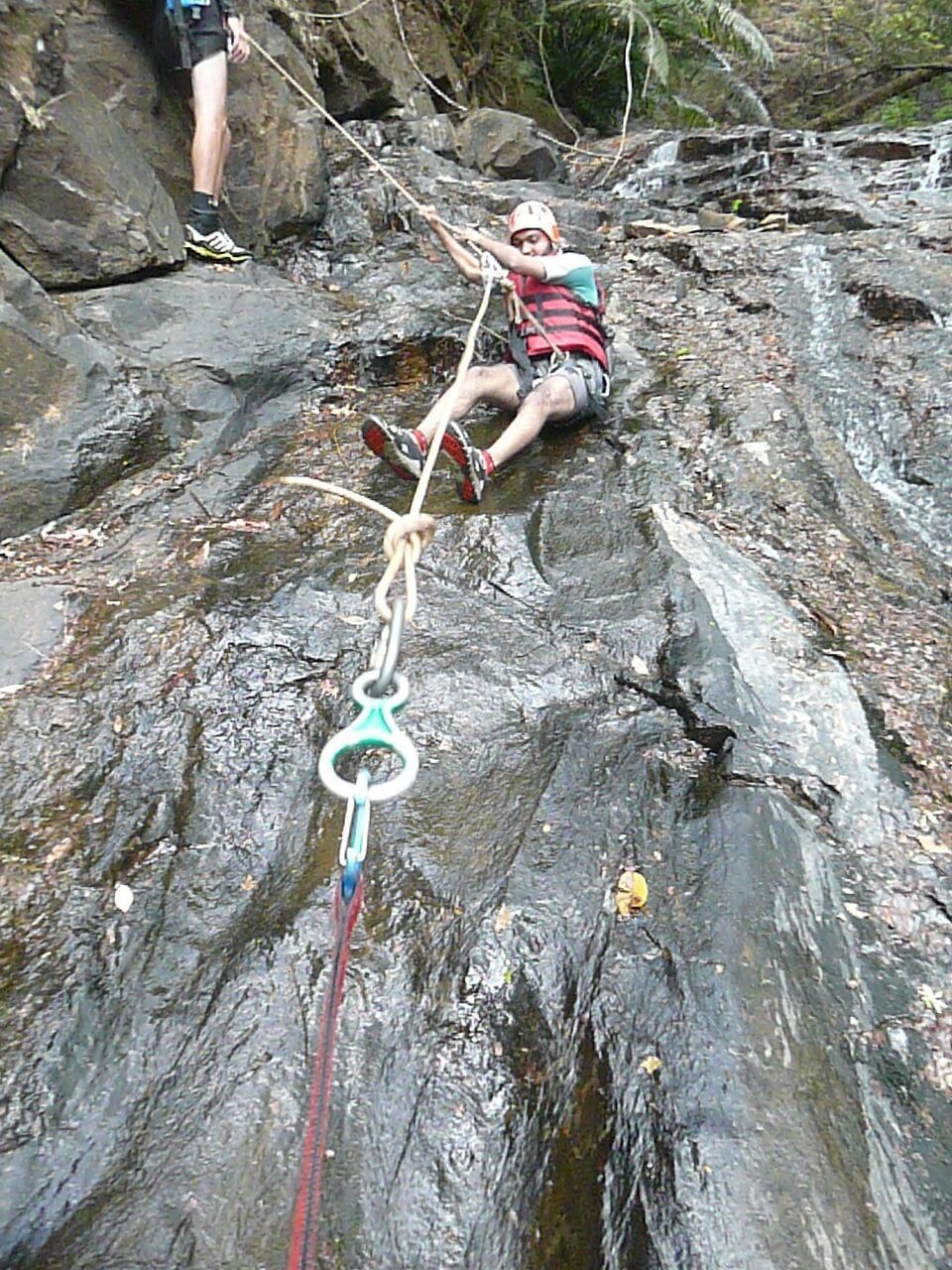 Halfway through, we stopped for lunch. Following the river was hard work, replenishment was essential as the last stretch was upon us. We sat down at as pretty a location as you can get. Right on top of a small falls,high enough that you can see the vast plains ahead, the current strong enough that the water churns and turns white as it flows through the rocks. It was the perfect place to rest.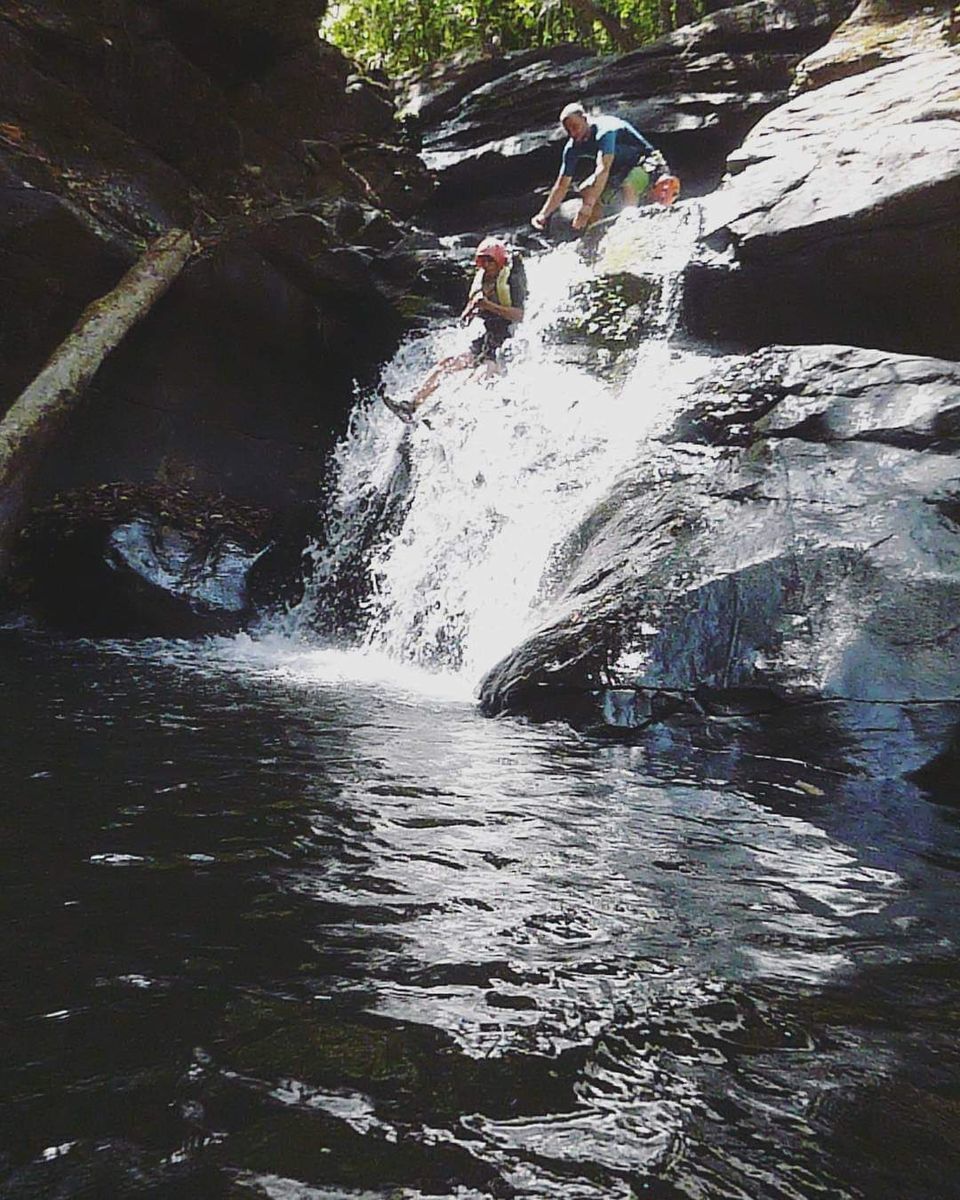 Canyoning is definitely not for the lighthearted. The risks are ever present. A slip of the foot can result in a twisted ankle or worse, a broken one. It's also easy for one to get panicked during the course of the adventure. It might be due to the currents that pull you back when you try to swim to the bank after a jump, or even more so, it might be a contact with a snake during your descend into the waters. Clem, our daredevil of a guide, actually always searches for his pet snake in one of the many pools. Luckily, for us, his friend was no where to be seen that day. This guy always found a higher base to jump into each pool than the rest of us, making our accomplishment look minuscule. We would be standing there awestruck wondering how he manages to do so with this height and all the rocks around. Its crazy and dangerous but very cool at the same time(to watch).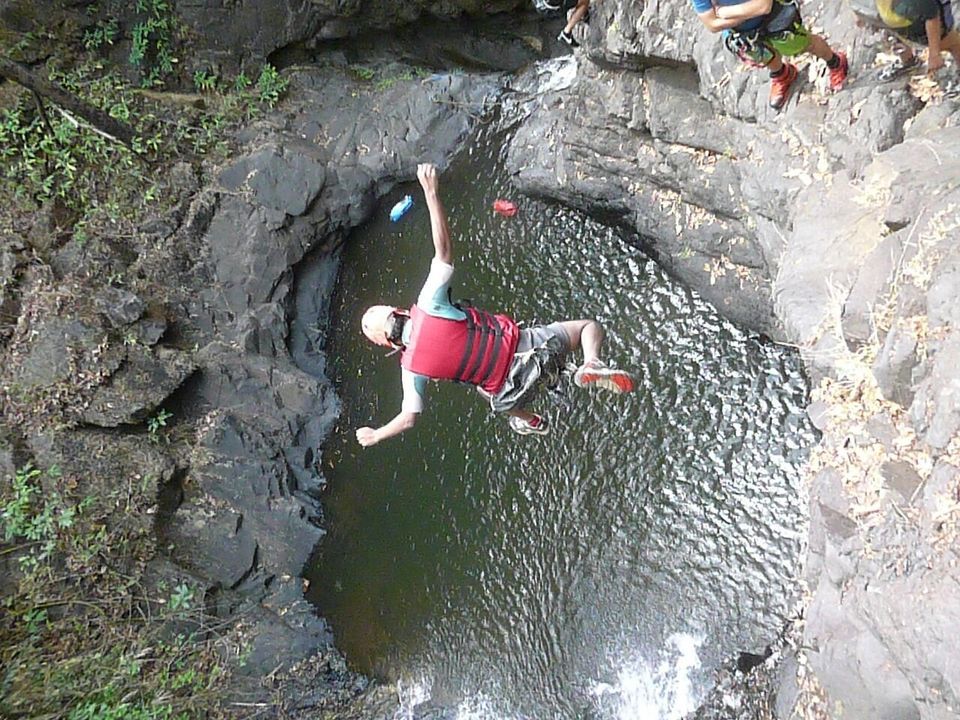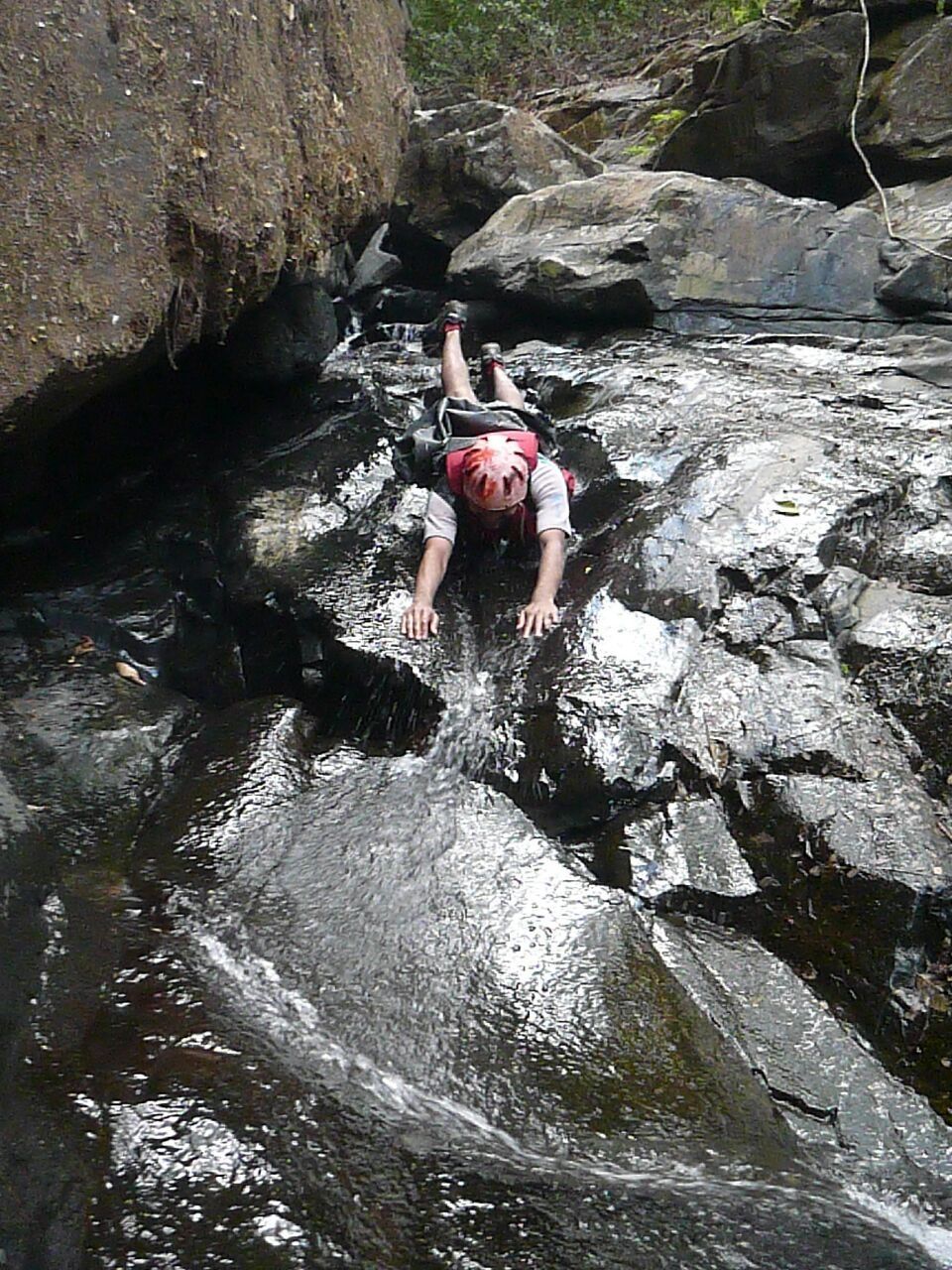 Watching the Upper Sauri is definitely mesmerizing. The water plummeting from great heights. But there are two vantage points to see this from, And we had taken the unusual one. We were witness to this nature's might from on top of the Upper Sauri itself. All the way down, we saw people, maybe the same group we saw at the start. Both groups had an amazing view of the upper sauri. But there was simply something special about the view we had. We sat upon a cliff overlooking the Upper Sauri.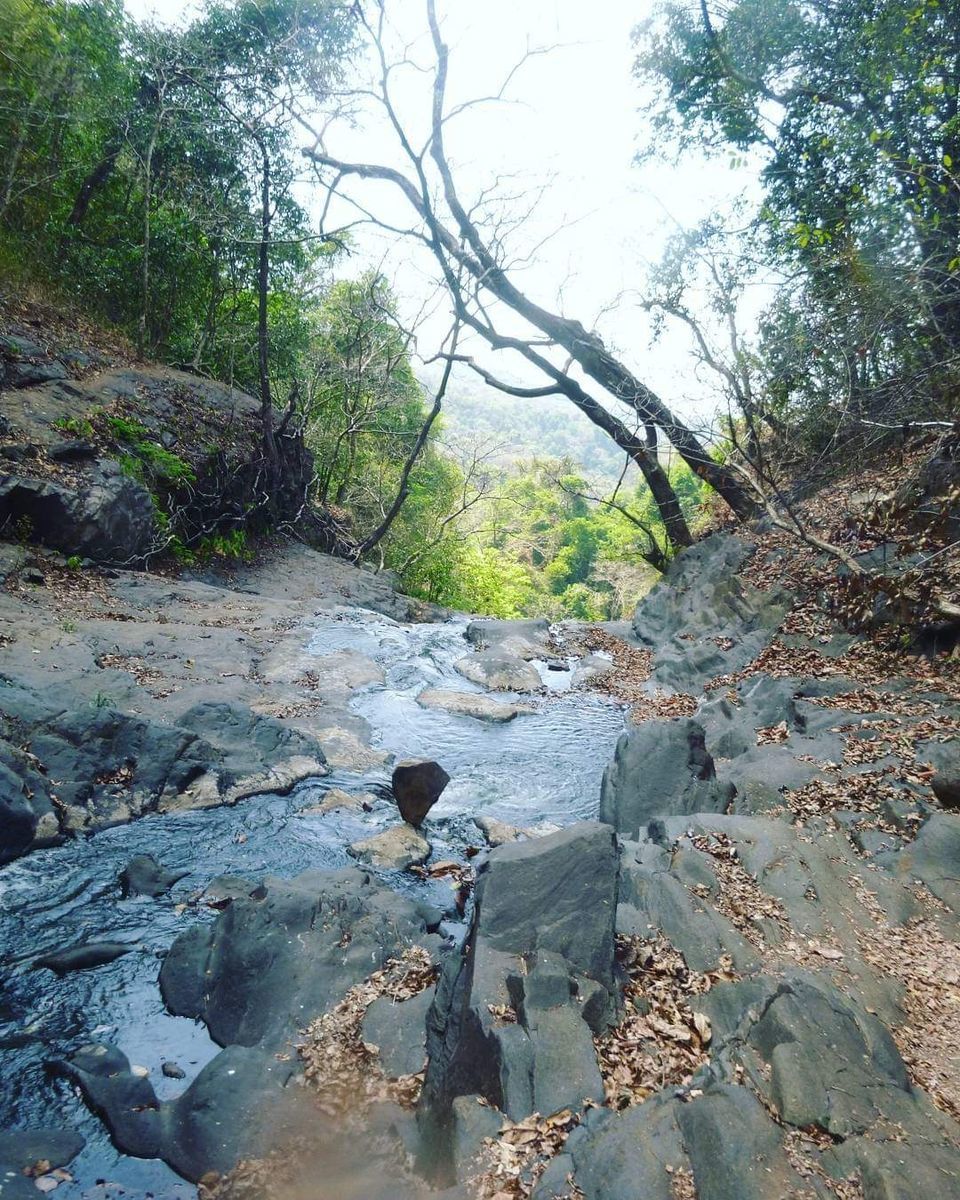 Our trek back to the Jeep was the most tiring part because we had to climb up and go all the way back to where we started. Trust me, you would be walking back feeling proud about the little achievements and the adventure you had moments before.
Who thought there would be goa beyond beaches and booze. Never in my dreams had I imagined I would just travel to goa for a jungle adventure. It was such a bliss!!
~A&A