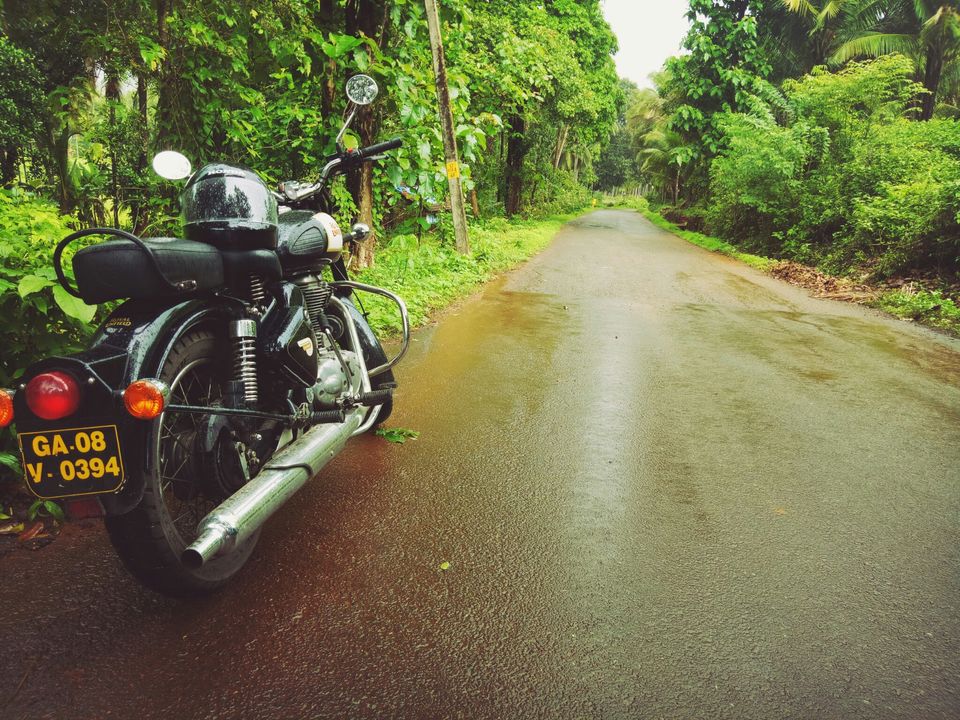 The new lullaby putting me to sleep from the past ten days is riding through the ride I just recently did with a friend through the highway, villages and green forests in South Goa. Getting over it has become a task for me. The forests are screaming loud and calling me back.
Entering this beauty took us about 2.5 hours of a ride through the city traffic followed by the highway and villages and close to 60kms or might be a li'l more. We missed the count of kilometers we travelled cuz we were already high on the greenery we were soaking in coupled with the showers of rain and after a while google maps were of no use. Our best guides were the localites and the villagers and that is what I like most about the people of Goa, they guide you to the right places you want to see and with love.
The paddy fields and the straight roads were the highlights with the landscapes on one side and the mountains on the other. You surely need to know what else to get high on when you're in Goa. Bingo!
Now you get to know the funniest element of this astounding experience.. I was riding Suzuki Access 125 and my friend was riding a Royal Enfield, imagine what efforts he had to make to match up with my bike's speed which couldn't go beyond 80kmph, killing all his desires of a rider who won't stop until he reaches his destination! Yes, we rode together till we're back home.
Reaching at the forest gate just in time was an achievement for us. We started our journey at about 2.30pm and reached the forest gate a little before 5pm. Beyond that was the path that lead us to the serene waterfall. Yes, that is the place we had come all the way to see.
From the gate to the waterfall I was getting overpowered by the absolute exquisiteness of the cosmic revelations around me.
The forest trails were getting deeper and greener, the sound of waterfall took us to a truth in its absolute existence, the creek out there was even more inviting. About that moment and time Amazed was my friend and he couldn't come up with another cannotation. Amazed was I too and amazed will be the world around for it's beauty kept me quiet and sounds of my mind were shrunk to breathlessness.
I have believed that I am a tiny little creature and mountains have crushed my ego and nature has quashed my wittiness now I can only face humans. And this I have felt not once but many times when I have been close to the nature.
We headed out of the waterfall vicinity following the whistling call from a creepy creature. We don't know if that was of a human or of an inhabitant from the forest or of a traveller of a different kind.
I would be a fool or a writer if I could actually be able to pen down my story of this experience even when I am drunk. Remember what I mentioned what we were high on?
I have done no justice to bringing this out to you guys and don't trust me on this, please, just go and experience it all by yourself!
We did manage to click a couple of pictures though and trust me for once, ok, atleast when I am asking for it! That none of the pictures could capture the depth of what I am talking about. I feel like 🙈 hiding behind one of those walloping trees in that drunken green forest.
Ok, let's now know how the journey back to home was like. It was already 6pm and we're hungry, we only had some khakra, green salad and a tiny piece of tandoori chicken for the entire day. After, all the journey we embarked and achievements we made we deserved a plate full of soulful #foodporn and we found a giver on our way back through a small village in a small hut cleaner than what you see "in the city hotels/restaurants". This giver was a God in disguise. We had a plate full of omelette rassa with pav, a very Goan dish. You'll only find it when you know what else to get high on when you're in Goa next time. Trust me once again! (Blink)! We were swayed by the God's hospitality. You'll find the right God only at the right places and only when you know the right things to get high on 😬
We were fed well and were ready to ride back, it started pouring. We were left with no other choices than to start riding. Absolutely unaware of the fact that 54km ride as per the google map would turn out to be a 65 -70km of ride. Like I said earlier we lost the track of kilometers again when we lost the way as well, just by a small turn that we missed. We met angels on the way who not just showed us the right route but also added to our day by saying "go safe". Why on earth would they care for strangers like us from some far off land.
The rain Gods blessed us with the best they had in store for us. Even the raincoats couldn't express how they felt at the end of it. The lights were with us till we're on the right road, we lost the way and the darkness followed. It happened with us when we missed a small correct turn on our way.
Blessings by the Rain Gods didn't make me realize when the rain was stopped in some patches. I was truely a part of the process. At one point of time I also felt if I was reaching home that night, the darkness around and the silhouette of mountains I noticed were enough for me to give up but I knew only one thing that night, Riding is my religion today and I am gonna live for it!
I remember my friend also mentioning this later that at one point of time he also felt if we're reaching home well.
And now I am sharing a piece of that experience, enough for you all to know that we reached home with our heads held high in awe of the mountains and nature, Thanking every single being who was a part of this story with our faces all glimmered up with the joy of soaking ourselves into the light of the green forest.