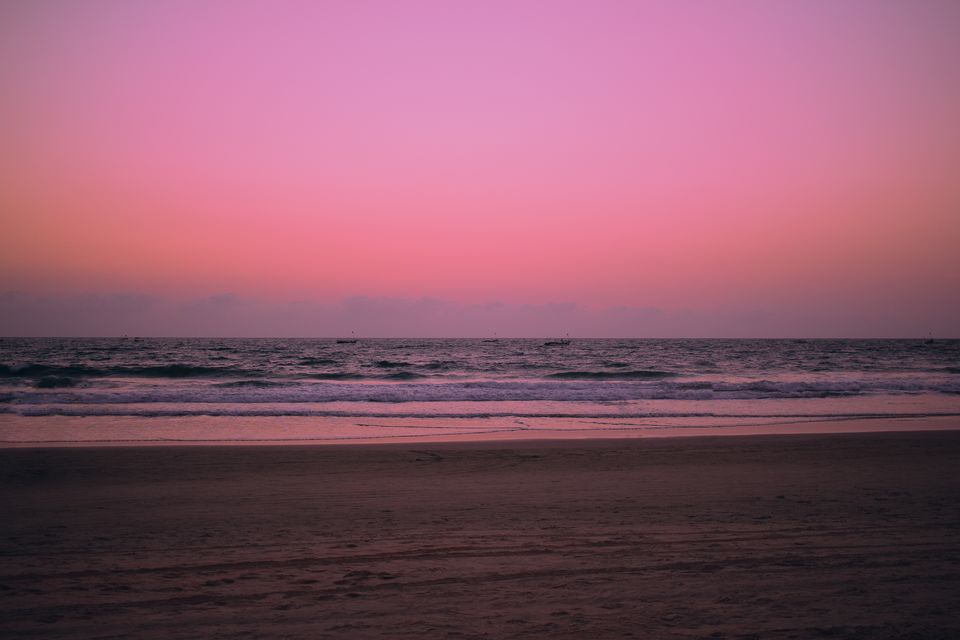 GOA! One of the biggest beach holiday destinations of India. Famous for its serene beaches, mesmerizing sunsets, Portuguese architecture, finger licking sea food, thrilling water sports and the not-to-miss wild and happening parties. Usually, the best time to visit Goa is Mid-October to Mid-February. Reasons: One, the weather during this time is pleasant and perfect to spend time at the beaches, enjoy water sports and parties. Two, all the beach shacks and restaurants are open in full swing and serve you round the clock (well, almost)! Also, people come in huge numbers during the Christmas and New Year.
Generally, April to September is considered as the Off Season in Goa. It's unbearably hot during May which makes it difficult to spend time outdoors. Monsoons hit by early or mid-June which means, no water sports, no beach swimming, less beach shacks and missing parties. While I listed the pros and cons of visiting Goa in its respective Peak and Off Season, will now share the opposites.
We went on a 4 Nights 5 Days trip to Goa during September end. Considering the fact that we are heading to Goa in off season, made us a bit unsure of the experiences we'll be having on our trip. But, it turned out beautiful. The off season is perfect for people who prefer tranquility, away from the hustle of city life, in the midst of silence and experience calmness from within.
DAY 1:
We took our Go Air flight from New Delhi at around 10:30 in the morning. We landed in Goa at around 1. Soon after collecting the luggage, we booked a taxi from the prepaid booth at the airport. (Pro Tip: If you're travelling in a large group, request the hotel for free pickup from the airport. Most resorts/hotels do not arrange free pickup for small groups or couples. They do, but on charged basis, which is way too expensive than the prepaid taxis. So, if you're travelling solo or a couple, prepaid taxi is the best option.) The taxi drove us to Phoenix Park Inn Resort, Candolim where we chose to stay.
Candolim Beach is quite near to the very popular and crowded Baga & Calangute Beaches. The property is approximately 3-4 minutes away from the beautiful (and clean!) Candolim Beach. After the very smooth and quick check-in (remember, off season!! :-) ) we took some time to relax. In the evening, the first thing we did was to hire a scooty. Yes, all those, who've been to Goa, will swear by this. Normally, scooty rent for a day in Goa varies from 400-600 in peak seasons, it is as low as 300-400 per day in the off season. (PS: No matter what time of the day you hire a scooty, that particular day is counted as one full day. Yes, even if you hire at 8 in the night, they'll still charge you with a full day inclusion.) The moment we got our scooty, we decided to go to the popular Baga Beach.
I remember the first gentle splash of the sea waves tickling my feet & the wind caressing my face. It was as refreshing and peaceful as the view of the orange blue hued sky above. After spending some time enjoying in the waters, it was time for our very first meal at the beach!
We chose St. Anthony's and took an outdoor table at the shack. What's Goa without some good chilled Beer!? We had Spicy Prawn Masala Goan Fry and Tandoori Fish which was absolutely delicious.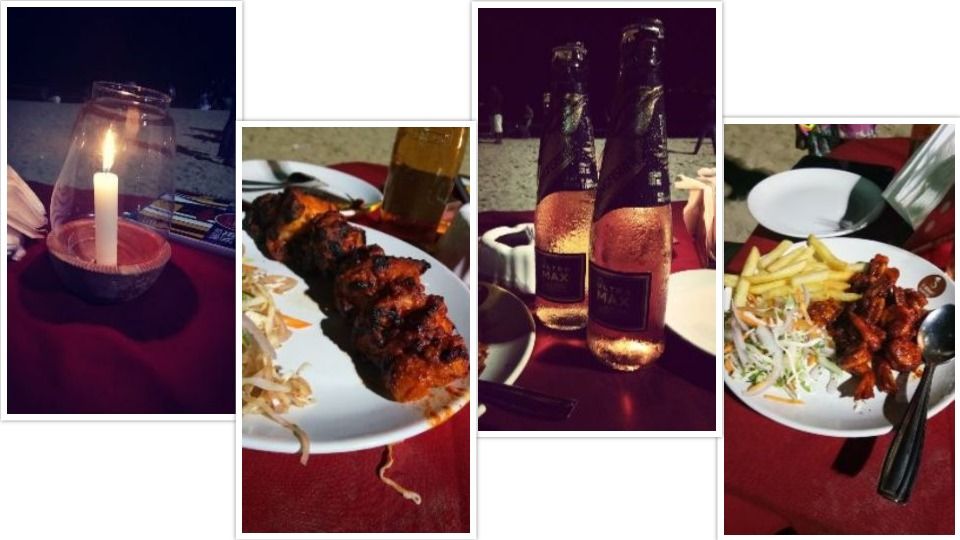 You must be aware of the fact that you don't get sea food during off seasons in Goa which has a simple logic behind this. Monsoons are breeding time for fishes and that is why eating sea food is prohibited during this period. However, by the time, we had reached Goa, monsoons had already cleared and that's the reason, sea food was readily available everywhere.
DAY 2:
I have to admit, I simply love the breakfast buffets and I make it a point to never miss them. So, on day two, after filling ourselves up with sumptuous breakfast, we decided to do some beach hopping. As, I mentioned earlier, our resort was near the Candolim Beach, so, we went there first. Bright crisp morning made the sea waves look brighter and beautiful. Soon after, we took a locker in the convenience center at the beach (this is available at all beaches across Goa. Lockers are a good choice to keep your stuff safe while you enjoy at the beaches. Clean washrooms & bathrooms to freshen up & bathe off the excess sand of the beach). Then what? Without wasting time, we simply jumped into the sea!! (Pro tip: Sunscreens are the saviors when at beaches! Make sure you apply good layers of an effective waterproof sunscreen. It'll save you all the sun burn & skin peeling. Though, some tan is obvious to happen, thanks to the Goa Sun!!)
Usually water sports & activities begin in October, but due to timely clearance of monsoon and clear weather, the activities started almost 2 week in advance. So, you can say that we were lucky as we got to do all the water fun in September itself. We did Jet ski, water scooter and para sailing at a very competitive price as compared to the peak season price. The whole experience was super thrilling especially para sailing, as you get to fly in the sky above with occasional dips into the sea below you. Once we were done with these, we made a booking for scuba diving! I am not a swimmer and this thought of going deep down the sea gave some serious chills down my spine, but still was super excited for the whole experience (more about this on Day 3).
After spending time at Candolim, we took a quick shower and made our way to the Vagator Beach. It took us approximately 20-25 minutes to reach Vagator beach The route to vagator from Candolim was peaceful and covered with lush greenery all around, thanks to the recent rains. Vagator Beach was very calm & peaceful as very less crowd could be seen in the afternoon. We decided to have a light lunch at Olive Bar & Kitchen, Vagator Beach. This place has a perfect setting of the beach mood. Jazz music, white and sea blue interiors, amazing view of the beautiful Vagator beach, perfect for a relaxed time over viewing the sea along with some refreshing drinks and delectable food.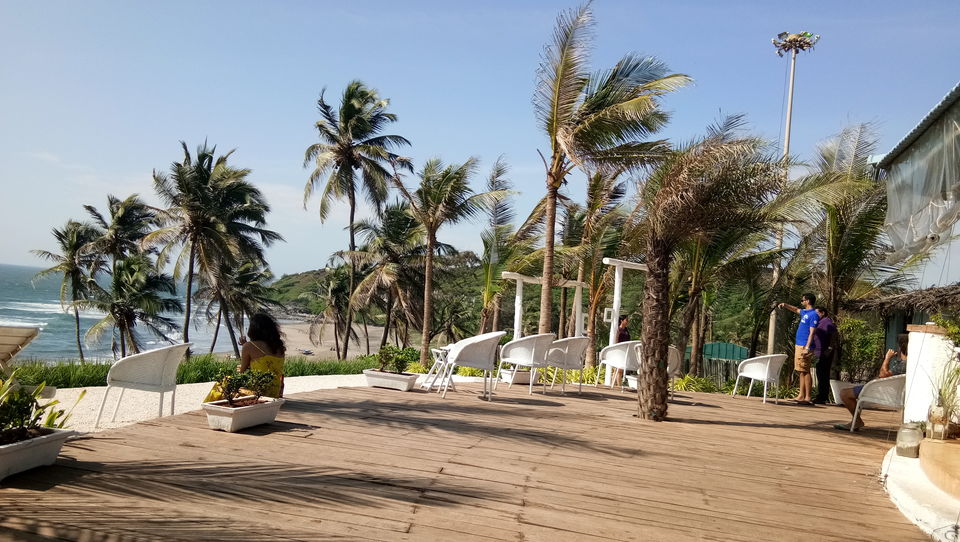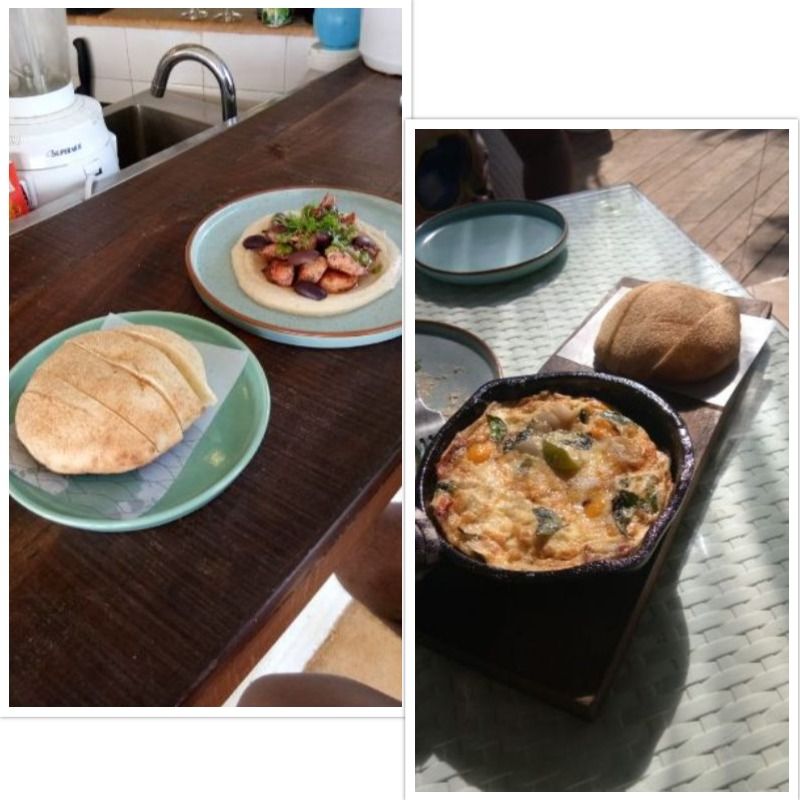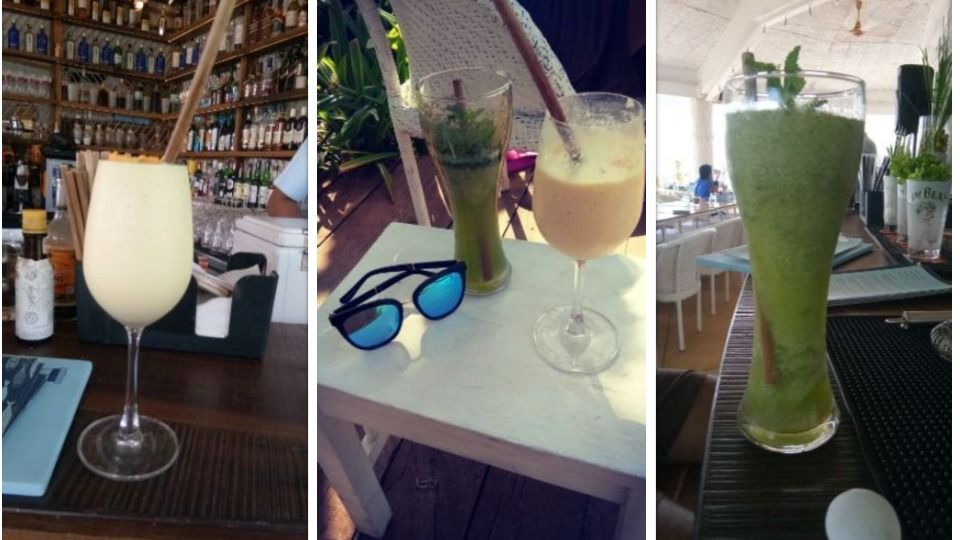 We ordered a Fritata with Poi and Chicken Tender with Classic Hummus which is also served with classic Goan Poi bread along with Beachcomber lemonade and Mongo & Pineapple smoothie. Olive Bar & Kitchen is open all round the year and the quality of food served here is simply amazing. You cannot ask for anything better than having a deliciously heart filling meal with an extremely delightful ambiance at Olive (a Must Try indeed!!). On our way back to resort, we bought passes for Club Love Passion Karma (Club LPK)(Pro Tip: If you're planning to head to Club LPK, it is advisable to buy passes from outdoor vendors selling passes at much cheaper rates as compared to the ones available at the club itself. This includes free alcohol along with an appetizer. Buying the passes from the club will cost you approx. 700-900 extra). If you go by my opinion, I personally found LPK a bit too overrated. The service is not that great and the food is quite average. Apart from this, the music was the only thing which was worth it.
Excited for Scuba Diving, we got up quite on time, had light breakfast and hopped in to the taxi which was allotted to take us to Malvan, Maharashtra which is approximately 103km away from Candolim, Goa and takes around 3 hours to reach. Though the whole route is extremely rough and dense, the journey to Malvan was quite tiring, but we were so excited for the adventure, that we did not pay much heed to the tiresome journey. After reaching Malvan, it took us another 3-3.5 hours to reach the scuba diving spot where trained Scuba Divers took people for a dive turn wise. It was indeed a lifetime experience. The coral reefs, colorful and magnificent fishes crossing over were extremely beautiful. The Scuba Diving package cost us Rs.4500 included meals & transport (you cannot expect great quality meals in such packages).
It took us almost 3.5 hours to reach Candolim. We headed straight to our room, took hot showers and fell into deep sleep the moment we hit the bed! After all, it was a long thrilling and tiring day. Later in the night, we got ready and headed to Tito's Lane. Tito's lane is the go to place for all party lovers in Goa & is named after the very popular Tito's Club. Being an off season, a few restaurants and discos were empty, but the few famous ones always manage to get the whole party crowd. Being one of them, Cafe Mambo's hip EDM grooves, made us enter the party animals' paradise. Trust me when I say, that one could really not say that it was an off season in Goa at that point of time. The place was packed, dance floor filled with people high on music and alcohol (quite obvious). We ordered a chicken pizza (I don't remember the exact name though) and chicken lollipops with chilled drought beer.
Later on our way back to resort we had a Chicken Frankie from a roll and shawarma outlet on the Tito's Lane itself & Chicken Biryani from a local dhaba (It was 2:45am and yes, eateries were still open!).
DAY 4:
The holiday was coming to an end, but this didn't mean the fun would fade away. After breakfast and a light stroll in the beautiful resort property, we decided to dip in the pool for some relaxed time. Later, we got ready and headed to Aguada Fort (a Portugese fort along with a light house which is situated at the Sinquerim Beach overlooking the Arabian Sea). The last day was a bit humid which made us a bit uncomfortable outdoors. However, the fresh air at the Aguada Fort is sure to refresh you along with the breath taking view of the Arabian Sea.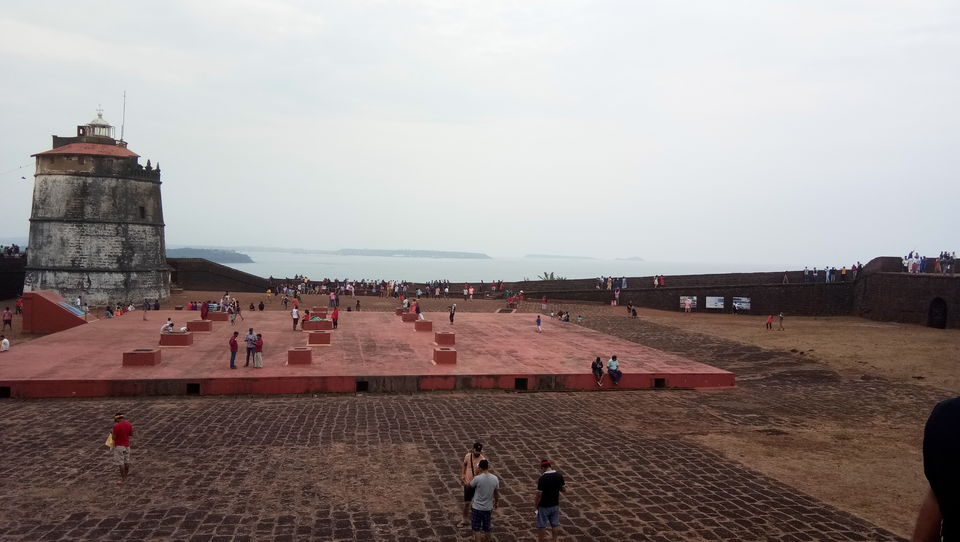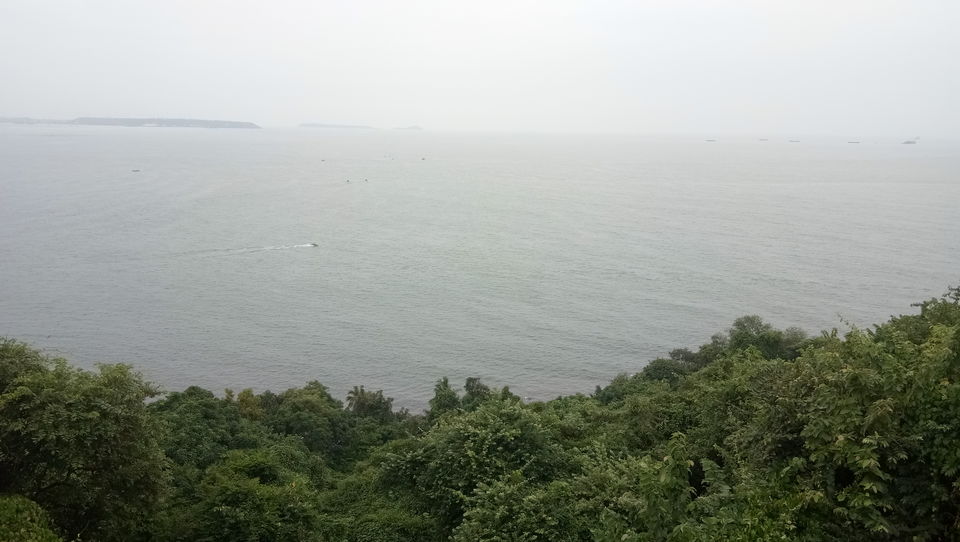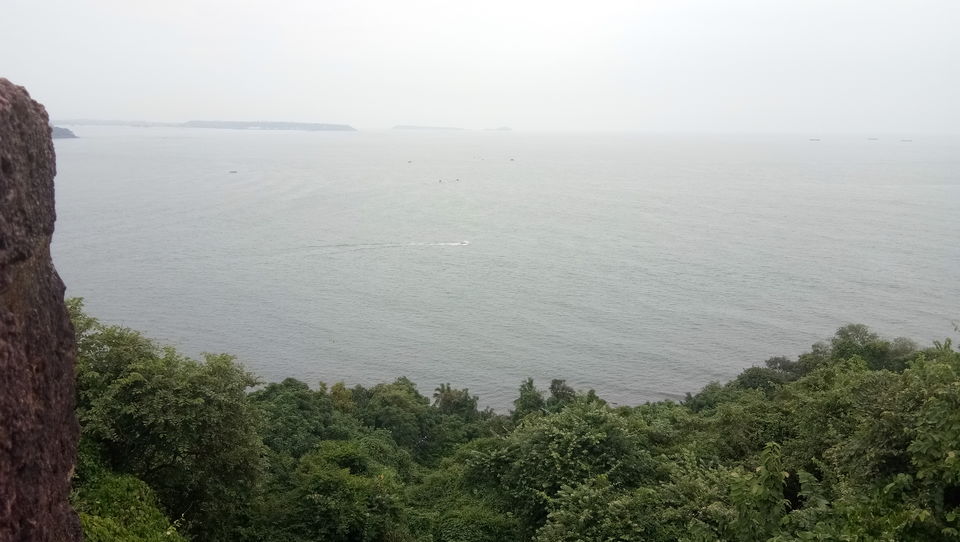 After spending around an hour at the Aguada Fort, we went to the Calangute beach to have a relaxed time at the beach listening to the waves. But to our dismay, it was incredibly crowded with loud music, loads of trash and waste over the beach. This is the reason I mentioned (in the start) that Candolim was much cleaner and less crowded beach for a perfect peaceful time at the beach. However, people were seen enjoying at the beach shacks grooving on the music along with food and beer. I wanted the last evening to end with a view of the sunset relaxing at the beach beds. Yes I did experience the beautiful sunset minus all the peace and relaxation! We decided to eat our last dinner of the holiday at Fisherman's Cove at Fort Aguada Road, Candolim. Amazingly lively place with great live music and ambiance for a lovely evening. We ordered, Rawa Masala Fry Prawns, Fish Fingers and Masala Fry Crab along with Beer and cocktails. The taste was extremely delicious, however, the quantity is variably less as compared to its pricing. All in all, one should definitely try the prawns here and enjoy the mood of the place.
DAY 5:
We checked out of the resort & took our flight back to Delhi. With this, our Goa holiday came to an end with loads of memories in our hearts and big smiles on our faces!
"Thanks for reading my story. I've tried sharing as much info as I can, please do leave a comment if you have any suggestions!"
Travel Miles | Spread Smiles
Frequent Searches Leading To This Page:-
Best Tour Packages for Goa, Goa Tour Package for Couple, Best Travel Packages for Goa, Best Goa Trip Packages, Goa Holiday Tour Packages, Top Goa Packages for Family, Goa Honeymoon Packages from Delhi