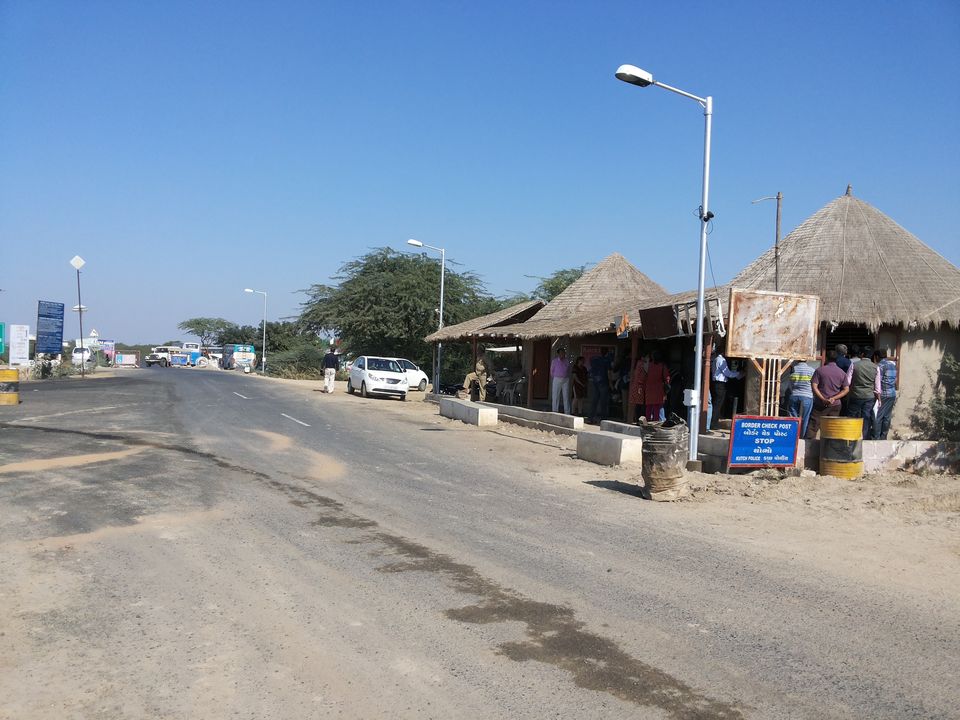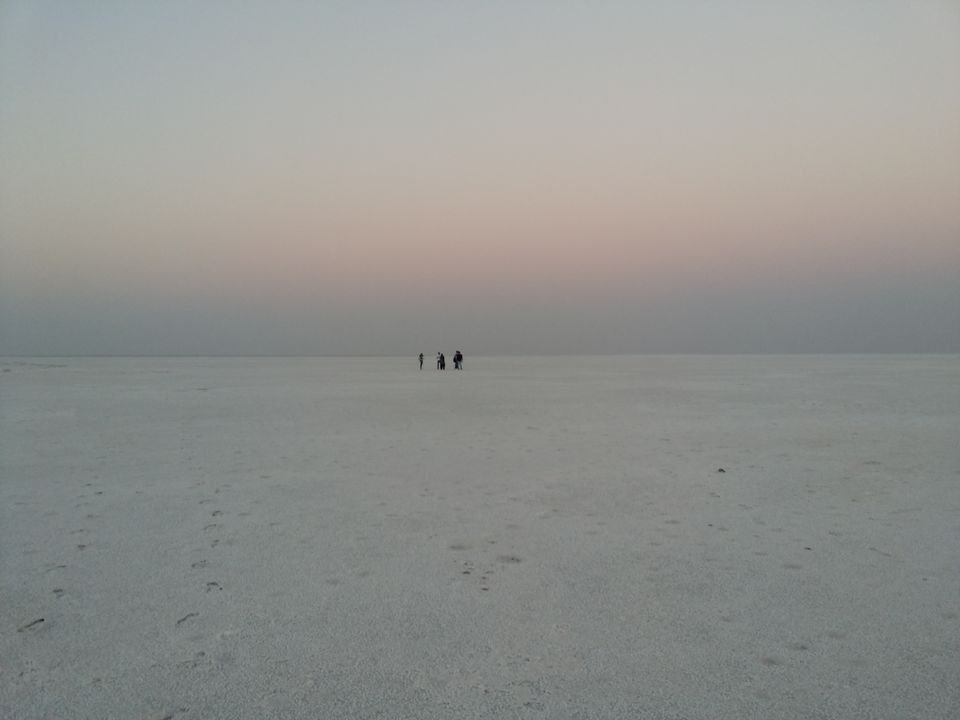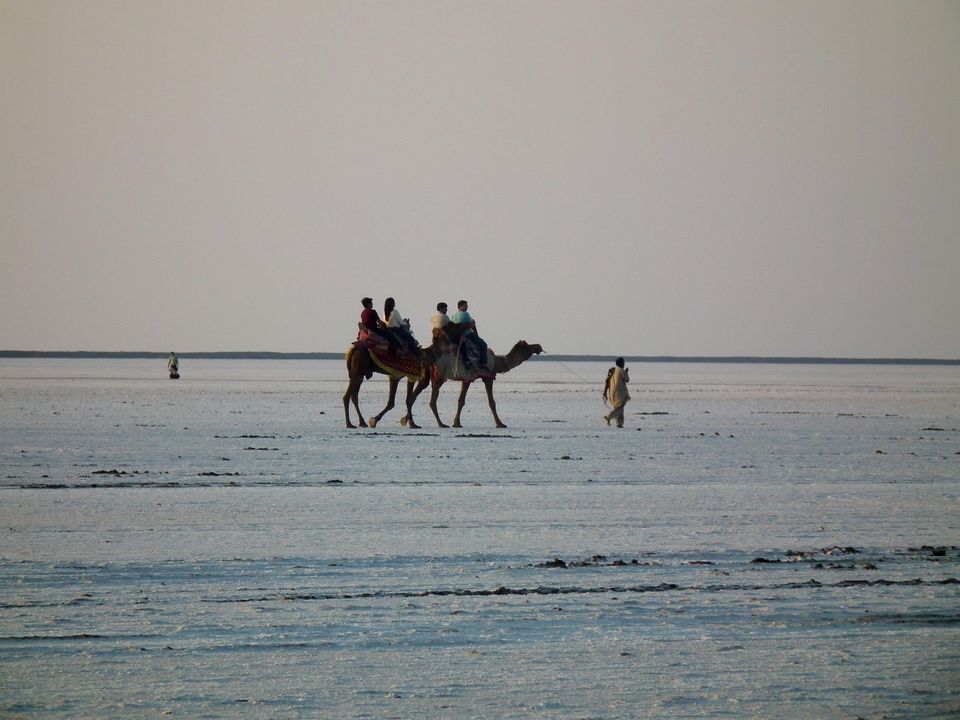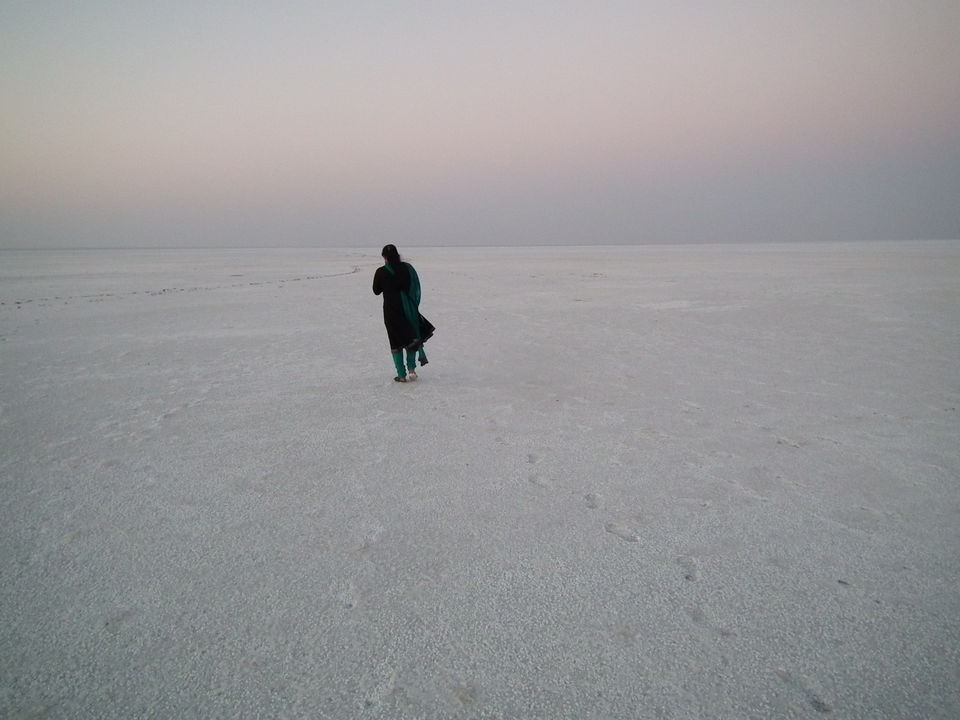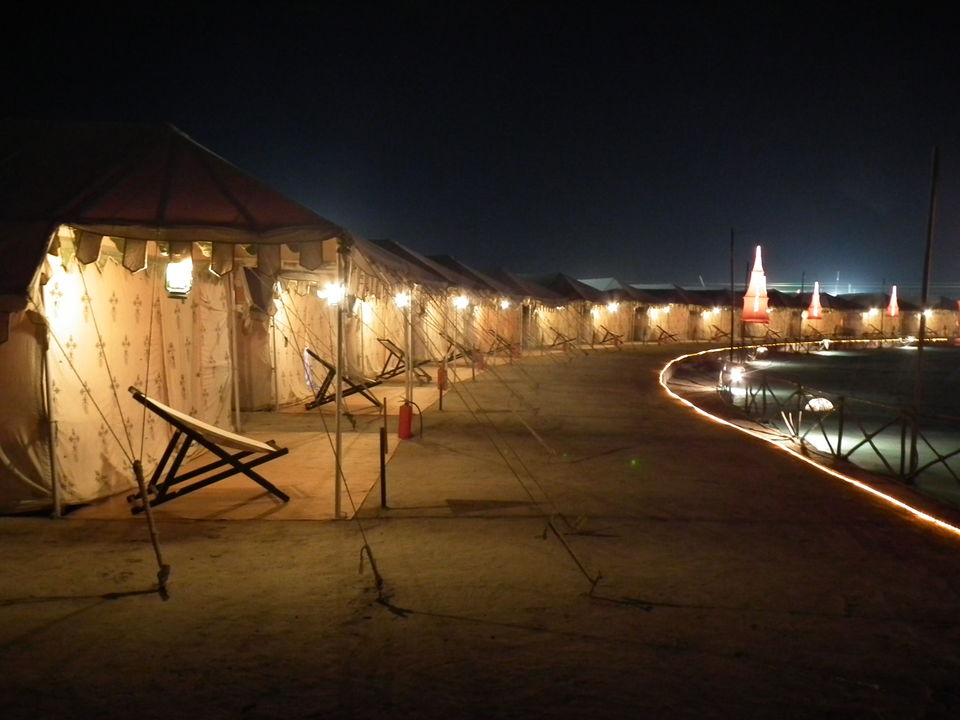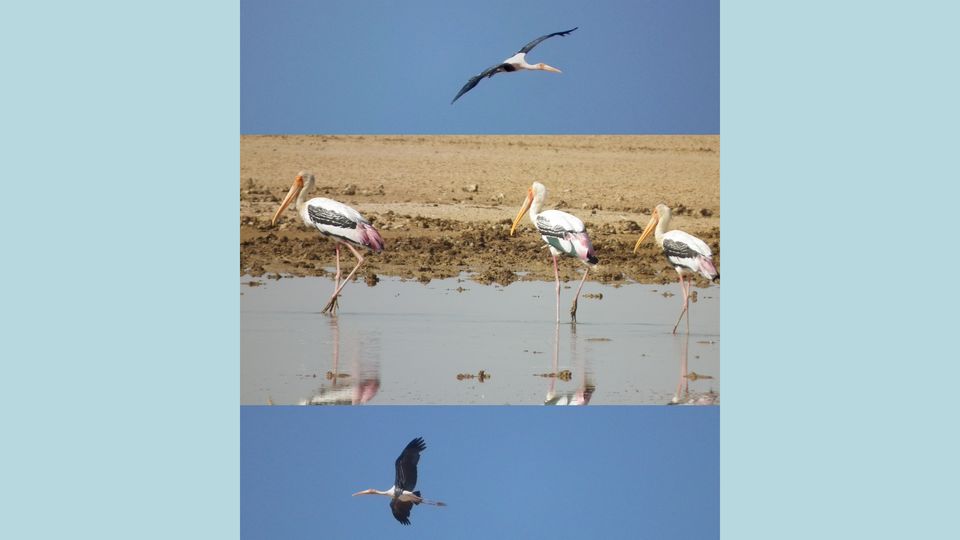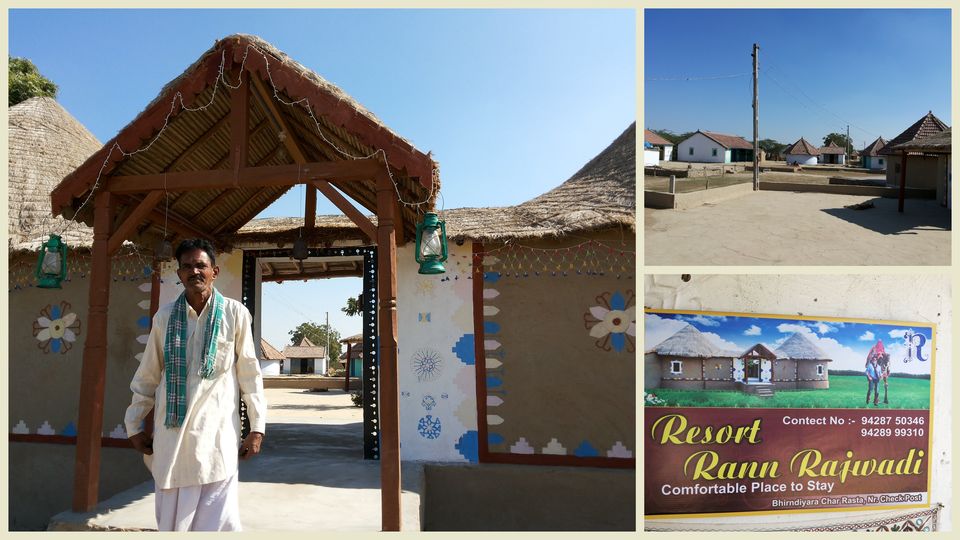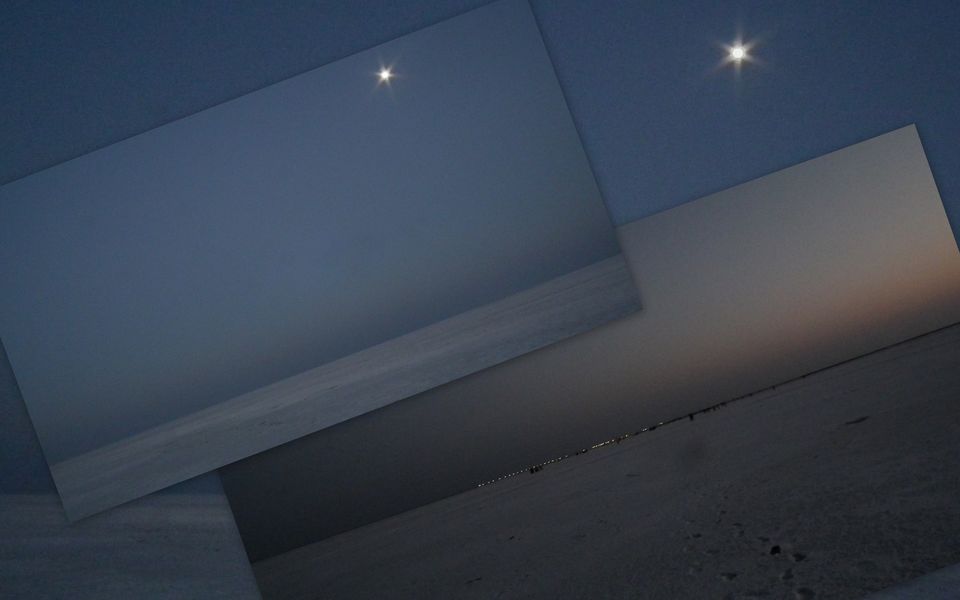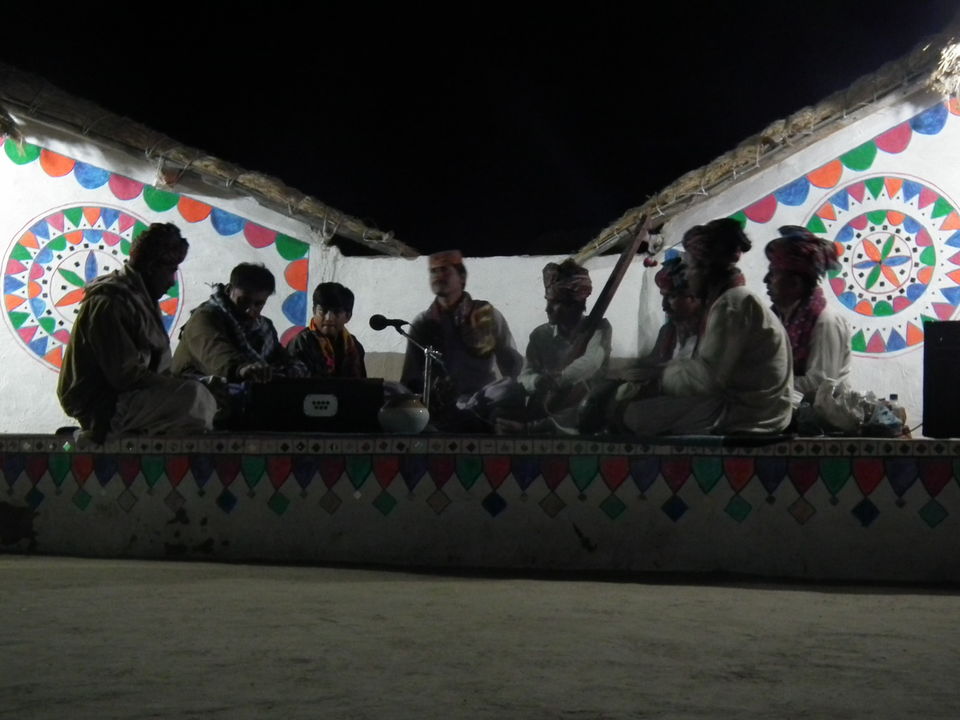 White Rann of Kutch (Bhuj), is incredible in every aspect, specially under the full moon. Bhuj being a city of desert, migratory birds, numerous artists & temples/mosques; have lots to discover.
Spanned across an area of 7,000 sq.km on the India-Pakistan border of Gujarat, the Rann is reputed to be the largest salt desert in the world as per Wikipedia and it looks awesome, magnificent under the moonlight. Located about 100 km away from the main city (Bhuj), is the white salt marsh which becomes hard enough to walk during a short window of December to early March. A well developed tourist spot started in 2009 by Gujarat govt as "Rann Utsav" has everything to enjoy about its culture. It has become so popular that it needs to be booked 2 months before the start of this festival. I went there in Dec' 2013 with my wife. It requires a government pass to visit the Rann as is located on Indo-Pak border. Bhirandiyra village, located on Bhuj-Khavda road, has a checkpost where you can get the passes easily on all working days during the festival. One person in the group needs to show a photo id card (take also one xerox copy along with) to get the passes. The pass costs Rs. 100 per person and Rs. 50 per vehicle (2013 fees) for a day. If you want to visit the Rann for two or three days, make sure to ask them to make pass for your all dates.
Dhordo, being the last village of Bhuj on its way to white desert, has many resorts on its route. However, the Tent city set up by Gujarat govt. is a very beautiful place and is nearest (just 3 km) from white desert. Gateway to Rann resort located just beside the Tent city is another highly recommended place to stay. We stayed there in our trip. All information are easily available on their site. We hired an indica from Dharmesh ji (+91 9426136955) for three days with the rent of Rs. 2200 per day. Staying closer to desert has one good advantage of spending more time at Rann during the night, though after a specific time in the evening, nobody is allowed to stay at the desert. The vastness of desert will make you crazy for a long walk along the horizon. Its perfect white colour gets merged into the sky at a faraway distance when the sun starts setting . Then, all you need to do is to wait for moonlight and its reflection from the crystals of salt. A must place to visit. During the night, all these resorts / tent city organize cultural programmes of its folk songs and dances
We sat there for an hour to listen and then visited Tent city and its different shopping / food stalls. It remains open to everybody. Before leaving for Bhuj the next day, we went again to white desert in the morning just to say, see you again. Bhuj is not only famous for its salt land, but has many things to look around. The famous Kala Dungar temple located on a small hill, has a spectacular view of Rann of Kutch. My driver told me that everyday fox come there (a few distance away from temple premises) to get a feast. However, we missed to see that as we arrived late. Chari Dand, a wetland area is a habitat of many migratory birds. It is located 40 km from Bhirandiyra checkpost (take a left from the main road). The roads to Chari Dand are not good and small vehicle is not advisable to hire. Take the help of locals (from that village & not from Bhuj city as they may also not know about the way) to reach that location. Although I didn't visit the village because of my short trip, but had opportunity to see few birds on our way. We visited many villages along the highways and saw their work of embroidery and wood carpenting. They live on their art in such a remote areas. Talking with them made our journey more worthful. We met Haribai at his Rajwadi Resort for some shopping and then I asked for putting his resort information on internet as it was not available at that time. It costs Rs. 3500 per night including all meals In the evening, we reached Bhuj city and saw Aina mahal & Prag mahal. Although I don't find my interest in king's palaces, but somehow it was good to see the imprints of their kingdom. We stayed at Hotel KBN, on the station road Bhuj. A very nice place to stay and my rating goes 4 out of 5 for the price you pay. There is a famous hindu temple, Ashapura Mata Mandir or Mata Nu Madh located 80 km from city on Bhuj - Narayan sarovar road. We went there in next morning and spent around 10-20 min in the temple premises which made our smile bigger for our trip.