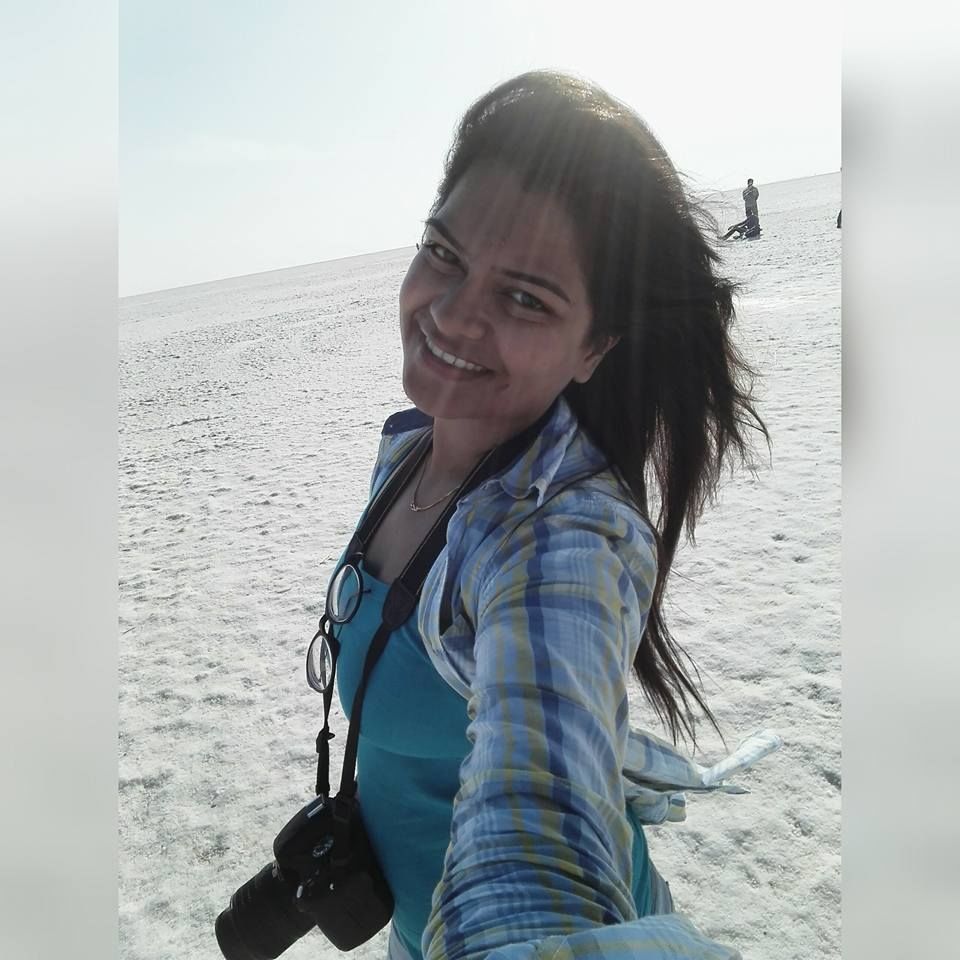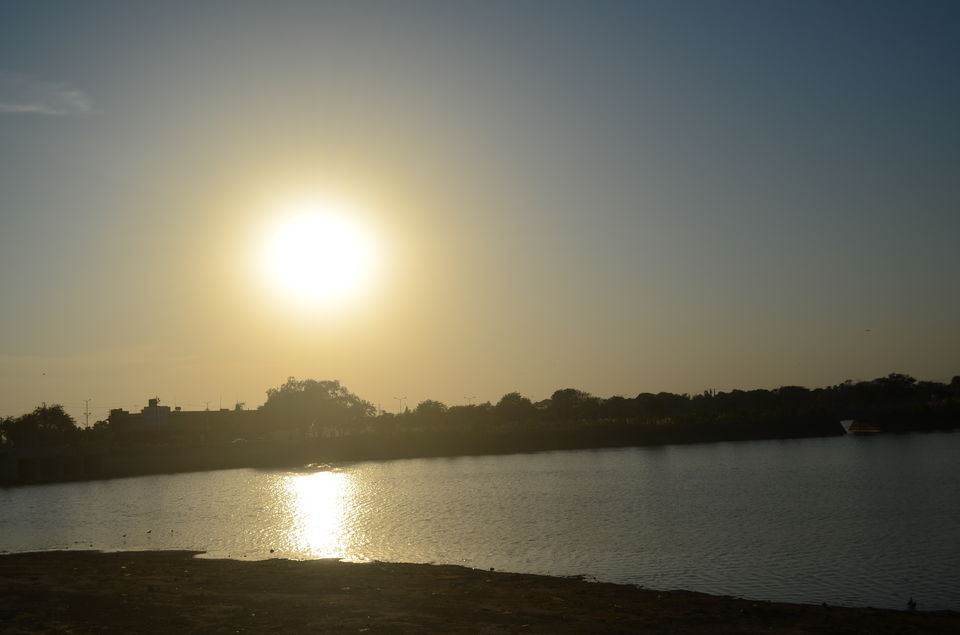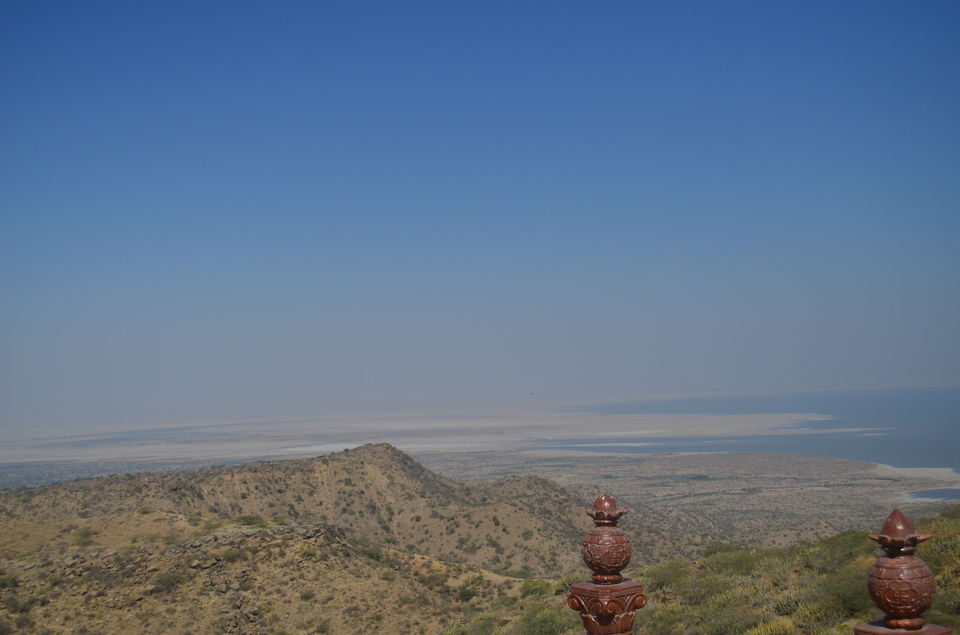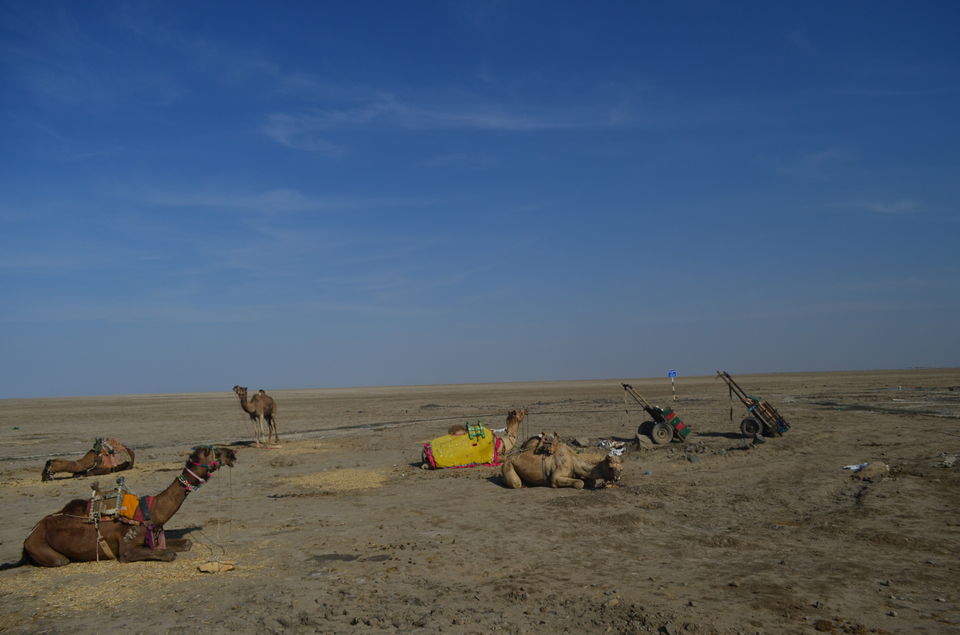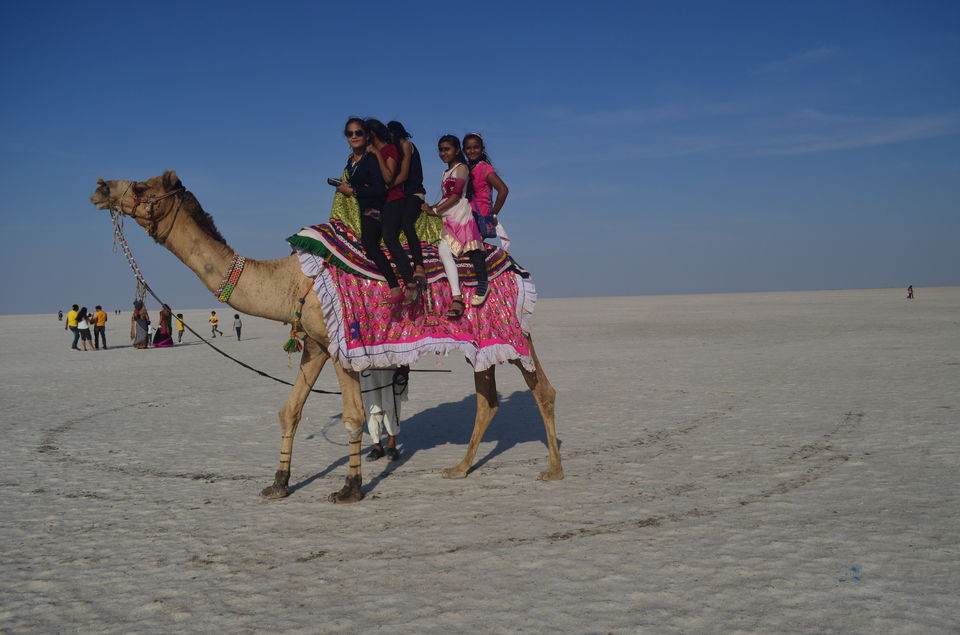 Being renowned as one of the largest salt deserts in the world, The White Rann (Desert) of Kutch fascinates avid travellers to visit this place as it had hauled my attention long back when I had first witnessed its alluring pictures on the pages of our Geography book. The White Rann of Kutch has widely occupied the landscape area of 8,000 square kilometres with its packed salt desert. Situated in the Gujarat state of India, The White Rann of Kutch was once poorly destroyed due to Earthquake, happened in the year 2001 however it again recovered from such a terrible natural calamity. It represents scattered rural sides of western Gujarat & its backwards Kutchi community's culture (one of the ancient tribal communities of India) which is still untouched by massive urbanisation. Because of its geographical connectivity to the Indo-Pak Border, A visit to the White Rann of Kutch requires legal written permission from Indian tourist department, however, I didn't go myself to take any permission as I was travelling in private tourist Ac bus which had already taken care of all the legal formalities.
It was the month of February, which was probably the best time to visit The White Rann of Kutch. Escaping myself from city's hustle-bustle, I headed towards Bhuj city of Gujarat, which was apparently one of the closest places to reach The White Rann of Kutch. The day I reached Bhuj city, I hadn't made any prior bus bookings to go to The White Rann of Kutch however one bus driver agreed & allowed me to sit comfortably beside him. Other passengers were also accompanying me to the White Rann of Kutch but the only difference was that they were known to each other as it was their family trip. After 10 minutes, one of the family members requested me to sit inside as I was alone sitting next to the driver. Though it was their family trip, they happily welcomed me to sit with them & took utmost care of me throughout my journey. I started my journey by capturing beautiful parts of Kutch & its cultural stories around me. After 2 hours exhausting journey on the highway, we reached our destination "the White Rann of Kutch".
The Tent City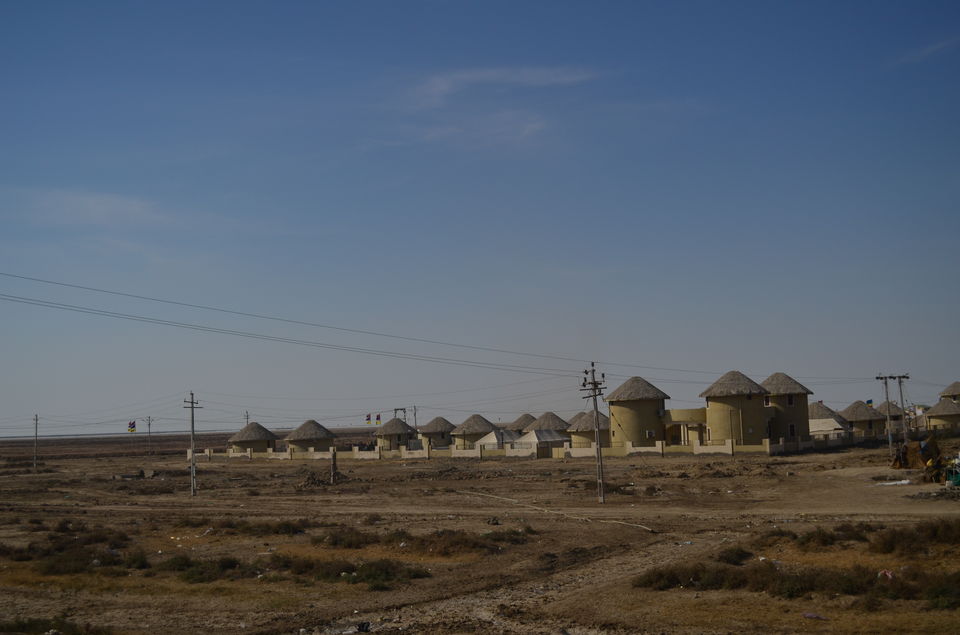 As I entered the territory of Rann, one lady behind me eagerly shouted: "Look at the Tent City" however I could only enjoy a glimpse of the beautiful Tent City from my window seat as everyone is not allowed to go inside until you have booked an expensive stay at the Tent City. The Tent City is basically a place which is comprised of Mud huts & Tents for tourist coming to enjoy Rann Kutch Festival. It is situated at the distance 4 Kilometres (approximately) from the White Rann of Kutch. Apart from accommodation, they organise campfire, dance performances & parties for their guest. The whole idea of the Tent City was generated to provide a luxurious stay to the guest during Rann Festival however prior bookings are mandatory. Few guest travels to experience only Rann Festival whereas few guest books their stay in the Tent City to enjoy Rann Festival.
ÂÂ
At the Entrance Gate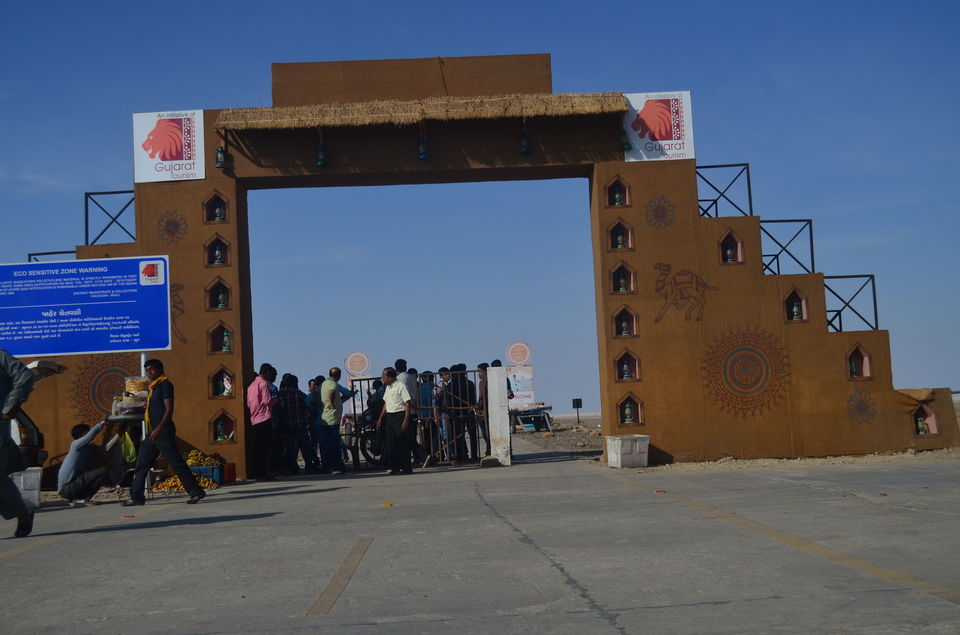 Our bus stopped exactly at the entrance gate around 4 PM in the evening where we all got down with huge excitement. one head family member instructed us regarding the time limit as we were expected to come back from the desert by sharp 6 PM. I glanced at my watch & took a panoramic view of the place. For a moment, I questioned myself "Does this place actually exist ?" then amusingly I gave a full stop to my blooming thoughts. Our guide quickly informed us that The White salt desert is located at the distance of 10 Kilometres from the entrance point, however, vehicles, camel & horse rides are available if you're not willing to walk. As I started walking closer to the entrance gate which looked amazing as it was comprised of tiny lanterns, carving paintings, miniatures & puppets. While people were posing in front of the entrance gate, I preferred to walk with my camera to enjoy the peaceful walkway but heavy sun rays didn't allow me to save my energy for a long period. After 30 minutes walk, I was surrounded by the endless white salt desert which brought a relief on my face along with a wide smile. Without wasting a single second, I started capturing this tranquil place with different angles.
Camel Safari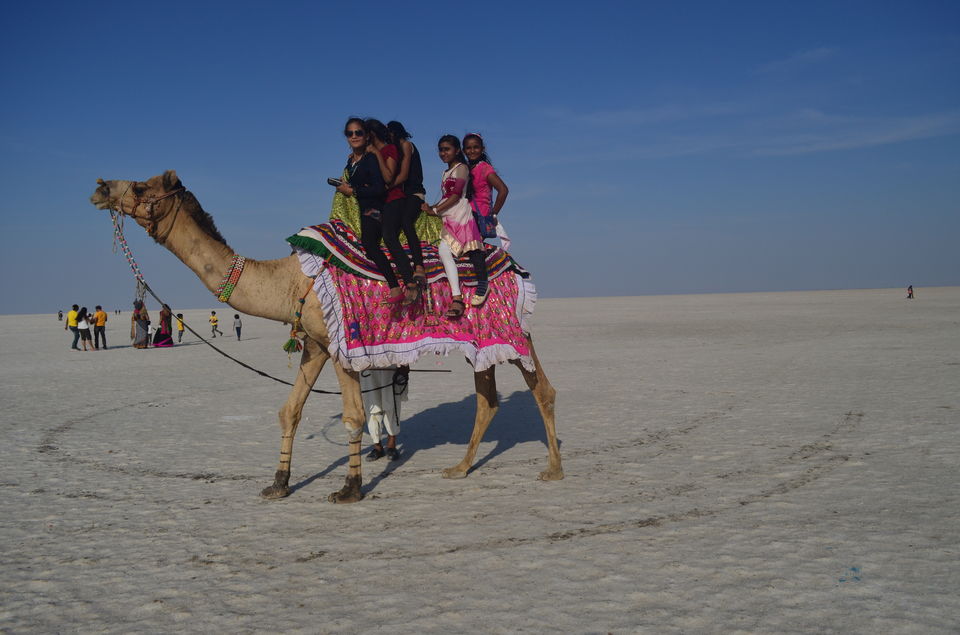 An exhilarating camel ride, especially during full moon night, is an extremely mesmerising experience to have in the White Rann of Kutch. However in the month of February, it was impossible for me to experience a camel safari in the full moon night. While I was capturing this beautiful place, I heard some sound. I eagerly turned behind & found few kids who had sat in a group & were loudly singing their favourite song while enjoying their camel ride. I too got a little bit charged up with their happy faces but this camel ride took my breath for a while as I sat comfortably however as soon as our camel got up to move, I realised how tall he was! Camels are extremely laid back hence when they started walking; my whole body was swinging slowly with their every move. Filled with thrill and enthusiasm, camel ride is a traditional and ancient mode of travelling in Gujarat, India. Till now, in most of the rural parts of Gujarat, Villagers use camel to traverse from one place to another place. After 10 minutes camel ride, I safely managed to come down & headed little further in search of another adventure.
The Rann Kutch Festival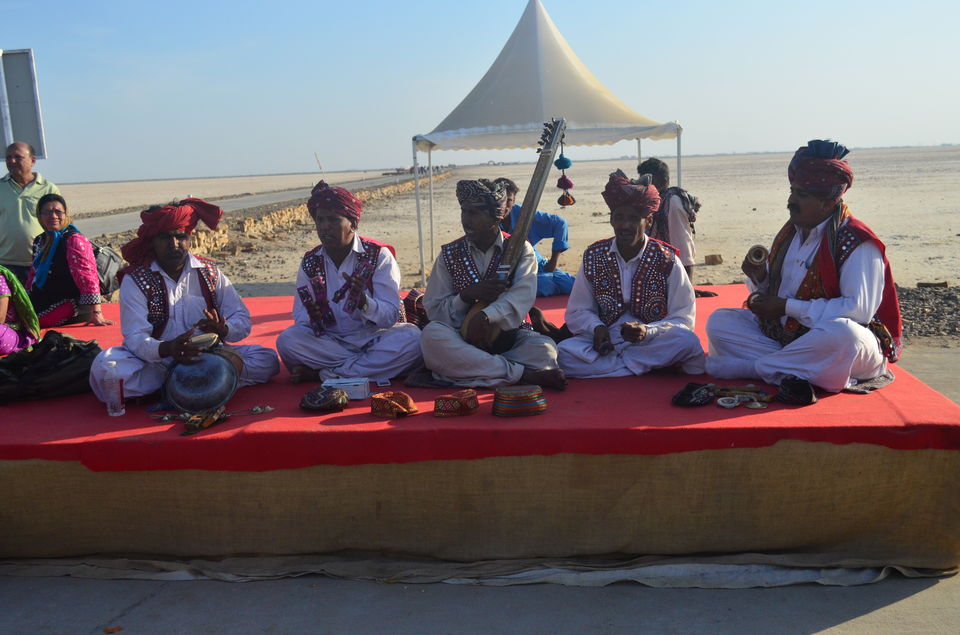 Every year India celebrates "The White Rann of Kutch Utsav" (Festival) which is an epitome of traditional music & folk dance of Gujarat organised beautifully from November till January month. This year, it was extended till February end. Surprisingly, I exactly reached on the last day of the festival however I couldn't get a chance to experience the various vibrant traditional performances. Fortunately as soon as I settled down to relaxed, I saw a group of performers coming towards us. Intensely, I stood up & went closer to the place where these performers were singing Gujarat's folk songs with traditional musical instruments. The energy level of the performers went high when the crowd also started dancing on their vocals. For the real performers like them, the only rewards are audience's appreciation & participation. These performers travel especially from different rural parts of Gujarat to showcase the diversified cultural beauty of India by performing folk dance and music which only requires your time as it's free of cost. Being the largest salt desert in the world, Rann festival contributes heavily to escalate the number of tourist by bringing India's best performers & handmade materials (such as fabrics, ornaments, home decor products which are made exclusively with expert craftsmanship) on one prominent platform. The Rann Festival serves great opportunities to the rural folks of Gujarat to showcase their talent.
Photo Session Point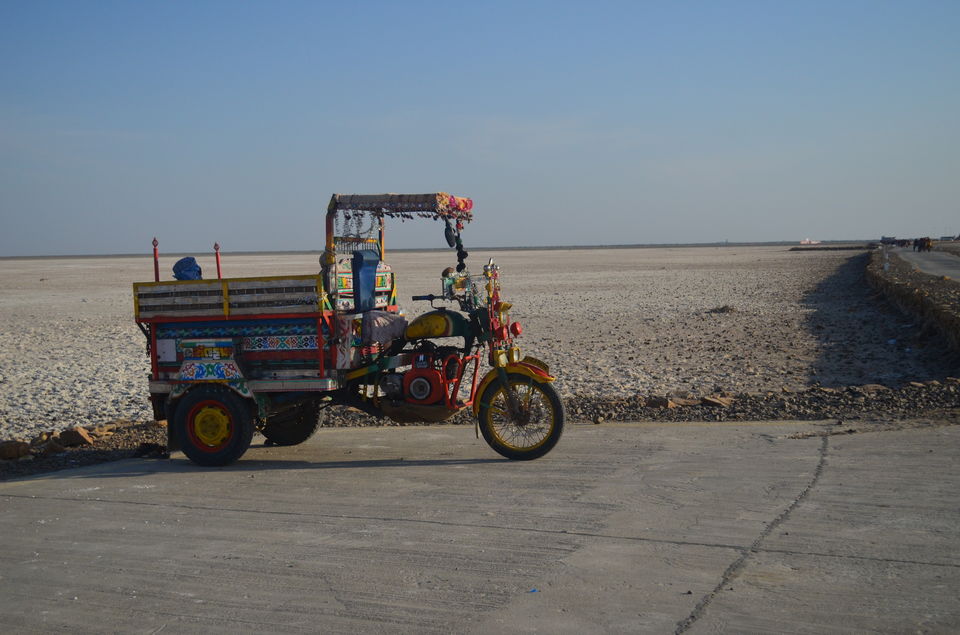 Photo session point is exclusively designed with one fancy vehicle which is called "Chakda" where visitors take funny pictures with some weird poses with their friends or families. I stopped to take a picture with "Chakda" but surprisingly it was chargeable so instead of taking a picture with this vehicle, I opted to take the picture of this vehicle which sounded more sensible to me.
Sunset Point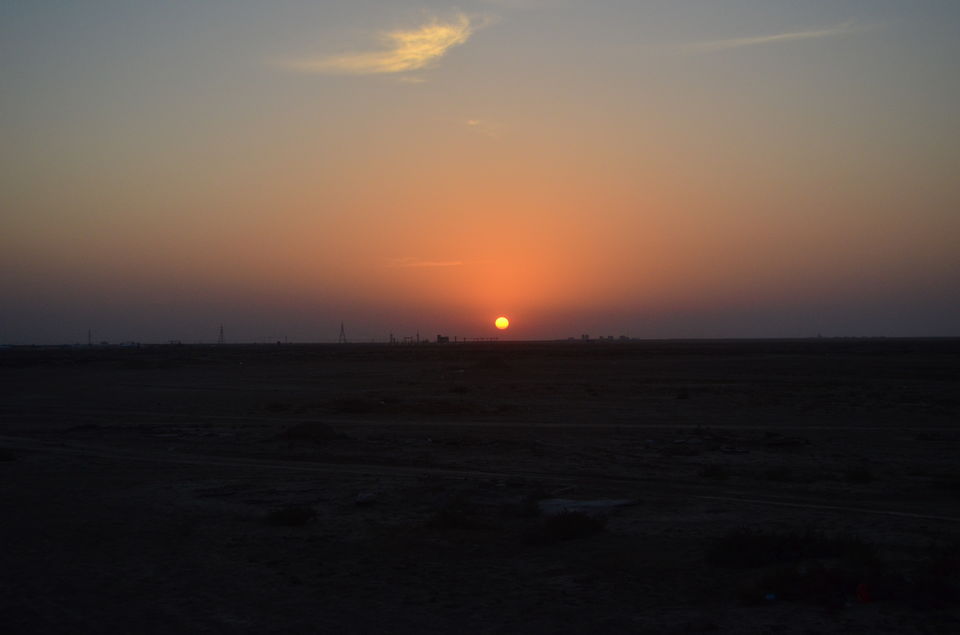 Now it was the moment to check my watch, guess what? I had already crossed my given time limit. Hence, I quickly started walking towards my bus then I suddenly realised that I'm missing something. That something was the beautiful sunset at the White Rann of Kutch where the Sun goes down by spreading cosy wind in the surroundings. I turned behind & felt relaxed in nature's arms by experiencing the slow moving moment of the Sun going down. From far, the soothing peace of saffron colour was quite pleasing to my eyes. Leaving all my worries behind, I reached the bus stop as it was the time to go back.
The Dead Land of Kutch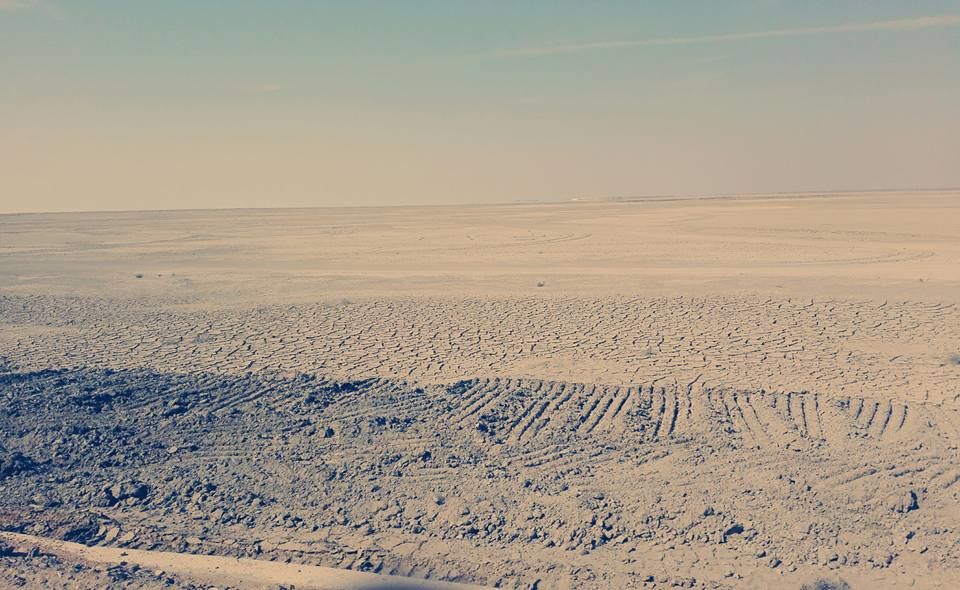 During my road journey to the White Rann of Kutch, I could visualise few painful incidents which might have taken place after the earthquake happened in the year 2001 as you can still find numerous cracks in the isolated land of the White Rann of Kutch. I could barely find any population here as the land is completely dead with no water resources & agricultural activities. It was an unfortunate year, where Gujarat faced such an awful natural calamity (Earthquake) which mainly destroyed the whole area of Kutch (western Gujarat) where numerous people lost their life, lost their shelter, lost their loved ones however the White Rann of Kutch & people of Kutch, every year proudly represent Indian in front of various travellers coming from different continents to explore this place.
Trip cost
Mumbai to Bhuj Return ticket - 3,000
Accomodation - 850 for 2 days
Food - 600 Approx (3 days)
Bus booking - 500 Rs (Kalo Dongar, The White Rann of Kutch & Indo-Pak Bridge)
Haji Peer Dargah Vsit - 120 return ticket (Public Bus)
Miscellaneous Cost - 300 (local rickshaw travel for 3 days)
Places discovered - Bhuj, Kalo Dungar, Indo-Pak Bridge, The White Rann of Kutch, Haji Peer Dargah
you can join my journey on Facebook