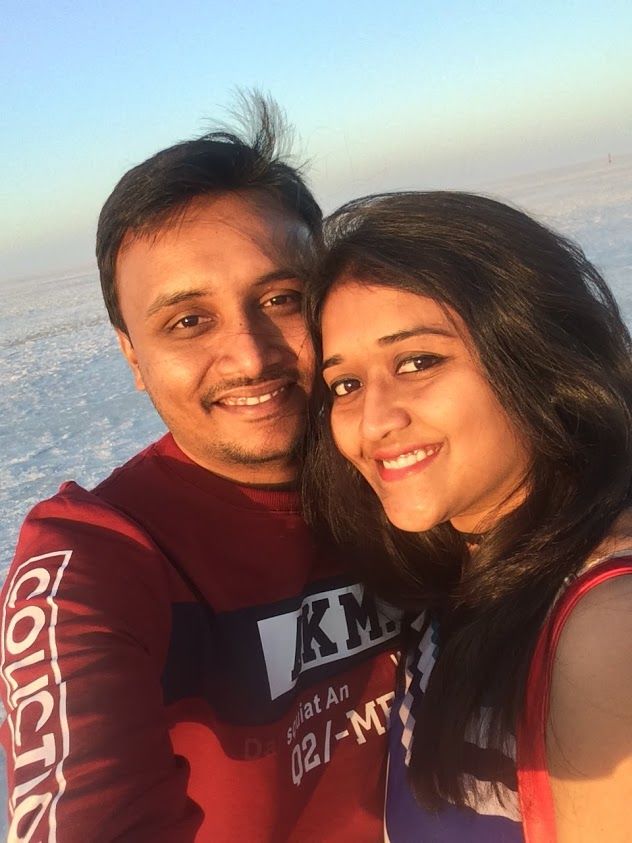 Nature amazes us most of the time with its amazing activities. This post is about one such natural occurring that wonders everyone who visits it and leaves one mesmerized with its Beauty.
Salt desert of Kutch is one such natural wonders. This is located in Kutch district of Gujarat and is a place for festival called Rann Utsav which happens for around 3 -4 months , starting from October to February every year. These salt flats are formed by the evaporation of the water due to desert heat leaving behind the minerals and salt particles, leading to salt deserts.
Being aware of this offbeat destination in India, we couldn't stop ourselves planning a trip for this and explore the amazing places in Kutch.
Come , let me take you all to the journey of Rann of Kutch through the hearts of TravelwithApSid????
A train journey of 15 hours from Mumbai lead us to Bhuj. Before heading to Rann of
Kutch we had brief visit to Bhuj Palace. Just a 2 km away from Bhuj railway station is
a 19th Century Palace called Prag Mahal. You would need a 30 min walk to explore
this place, what amazed us most was the giant doors of this building and huge Durbar hall. Most part this amazing building was damaged during an earthquake but after certain repair its open for public viewing.
Before we would visit the land of marvel, we checked in our Hotel. Though tent city in Kutch is the apt place to stay, there are multiple resorts in and around Rann of Kutch which are more affordable and reasonable than Tent City options.
Most of these resorts gives an amazing experience of Village life by providing cultural activities and traditional food. Almost all of these resorts have a live music played by local Kutchi people with a Bonfire.
After a warm welcome from our hotel staff and fresh up we headed to the land of Marvel. As you are neared to the Rann of Kutch , one will be welcomed by colorful banners about the Rann Utsav.
One should buy an entry ticket and walk towards the main gate. From the main gate its around 1 km to reach the Salt Dessert. One can chose either to walk or to hop on for an Camel safari. As we are a couple who would want to experience everything, one way we chose the camel safari and the other way to walk around peacefully and admire the mother nature of this marvel land.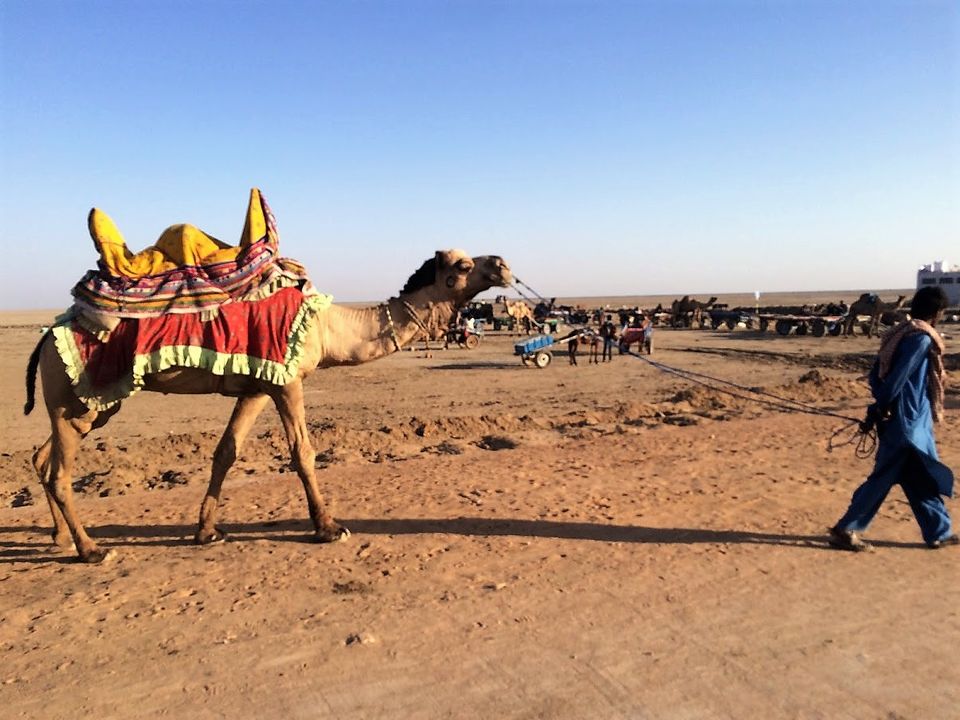 The Salt dessert is a visual retreat. Its a place where you cant find the difference between land and sky. Its just white all around. We were mesmerized to see how beautiful natural phenomenons are. This place is one wonder land and it is an apt place to click some amazing photographs.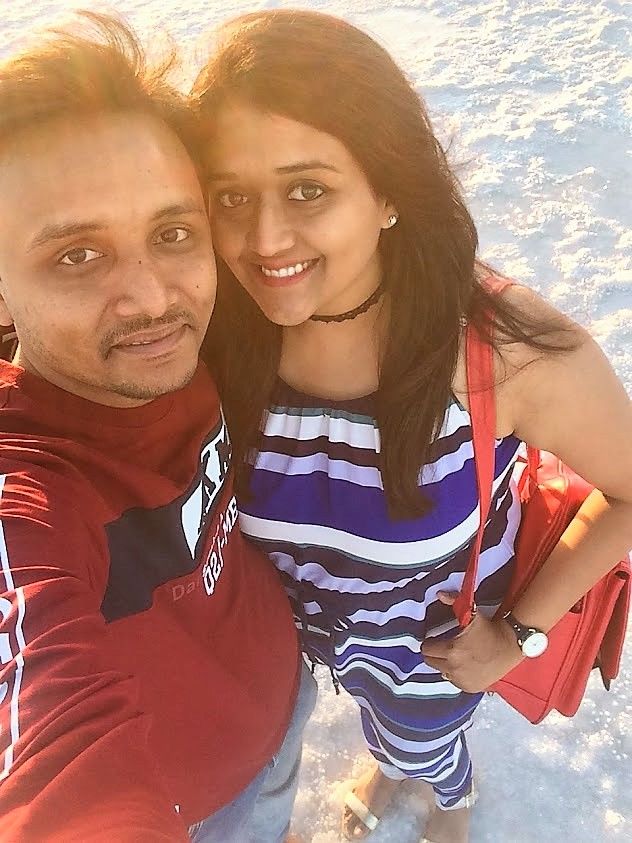 If one think things cant get much better, Sunset at this place proves you wrong. No words can describe the beauty of sunset at Kutch.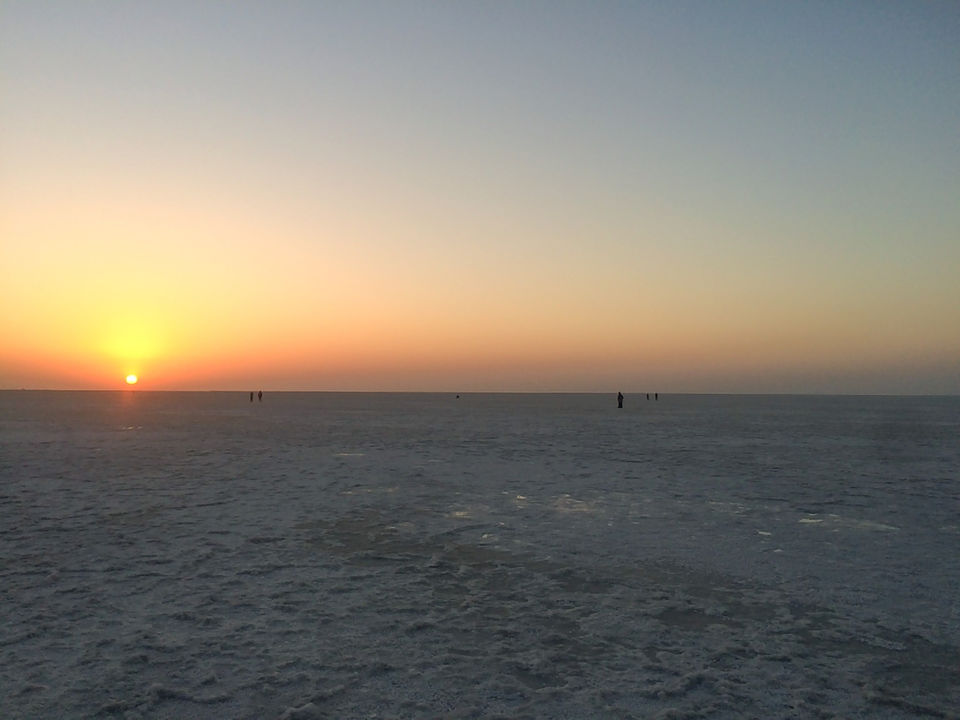 It would be apt to visit this place on a Full moon day. The natural light of full moon is worth a watch in the night. One amazing visualize is to see a sun setting at one side and a moon smiling at you on the other side.
As we headed back to our room, a cultural flea market just at the exit of this place was worth a visit. We had some of the best local food and shopped few local Bandhani dresses and Handmade colorful cotton quilts. While doing all these we could hear Gujarati folk songs played by local Kutchi people.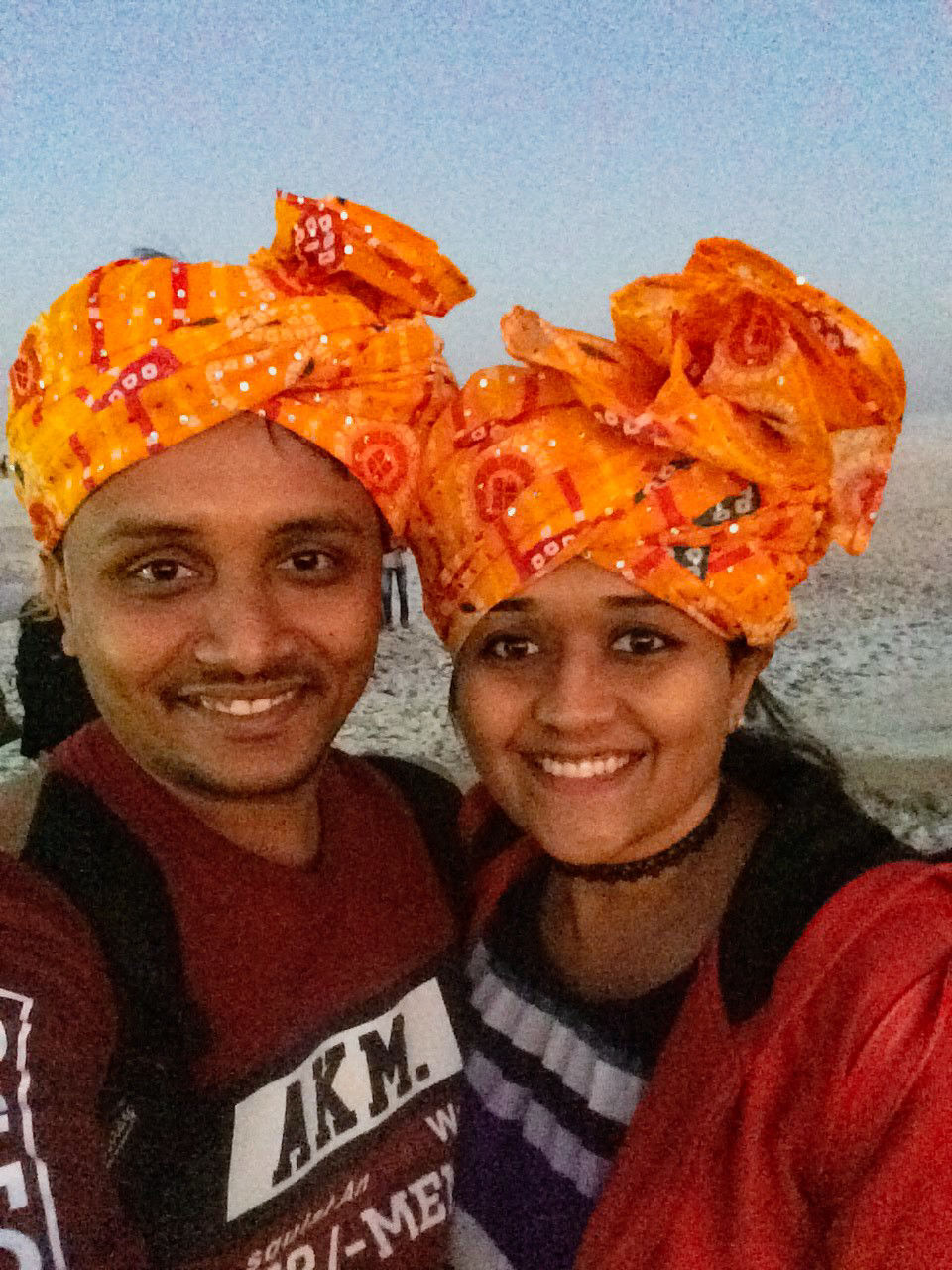 And by doing this we felt nothing less than being a part of the culture of Gujarat????
These colors really make us happy. Thats the best part of being in India. Colors of Cultures and Traditions????
We wrapped up the day with a live music session over a bonfire in our resort and a sumptuous Gujarati dinner.
Our 2nd day had an itinerary planned for places in Bhuj.
We started our day with a visit to Ashapura mata temple and then Koteshwar Temple.
Koteshwar temple is an ancient Shiva temple located in the western tip of India in Lakhap taluka, Kutch district of Gujarat.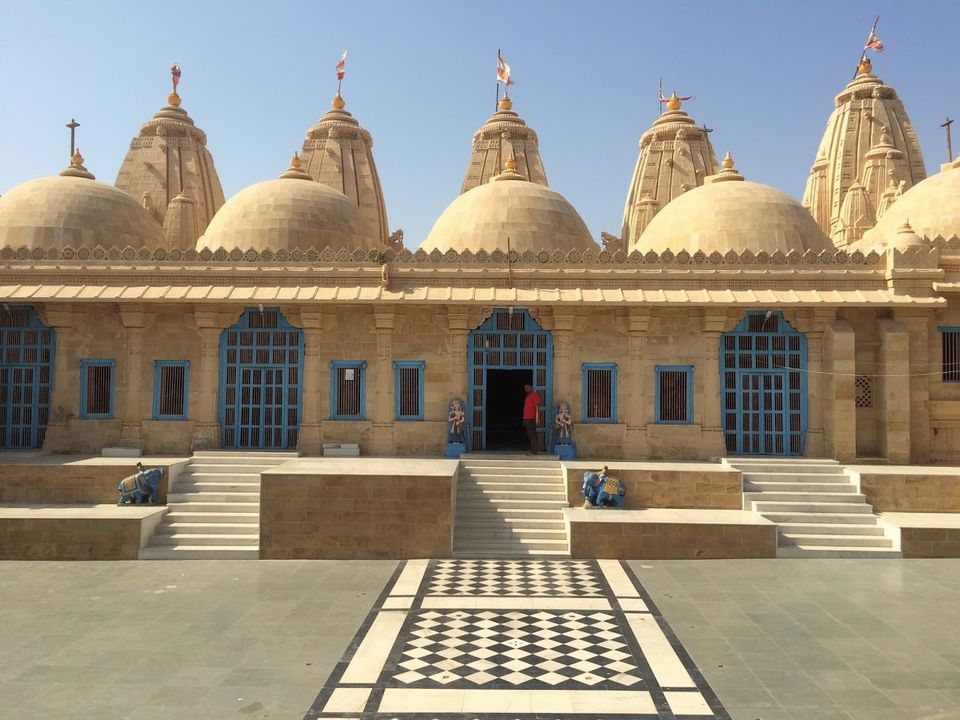 Best part of these visits are the journeys. Most part of the journeys are in the barren lands. For hundreds of kilometers you cant spot a person or a tree, its just barren lands on left and right side of the roads, just like below.
Next day of our itinerary was to visit places in and around Mandvi. As per us this place has to be in your list if you are in Kutch. Mandvi , a town in Kutch of Gujarat is a place to a beautiful beach, temples and Vijay Vilas palace.
If one has seen the glory of a palace in movie - Hum Dil De Chuke Sanam, Vijay Vilas palace is a home for it. Also some part of Lagaan movies is shot at this place.
Vijay Vilas Palace represents a Rajput architecture made of red sandstone. Ground floor of this palace hosts a museum and a part of this palace is a residence for the Royal family of Kutch State. The view from the terrace of this palace is very scenic. One can see a glimpse of Mandvi beach from the terrace of this palace.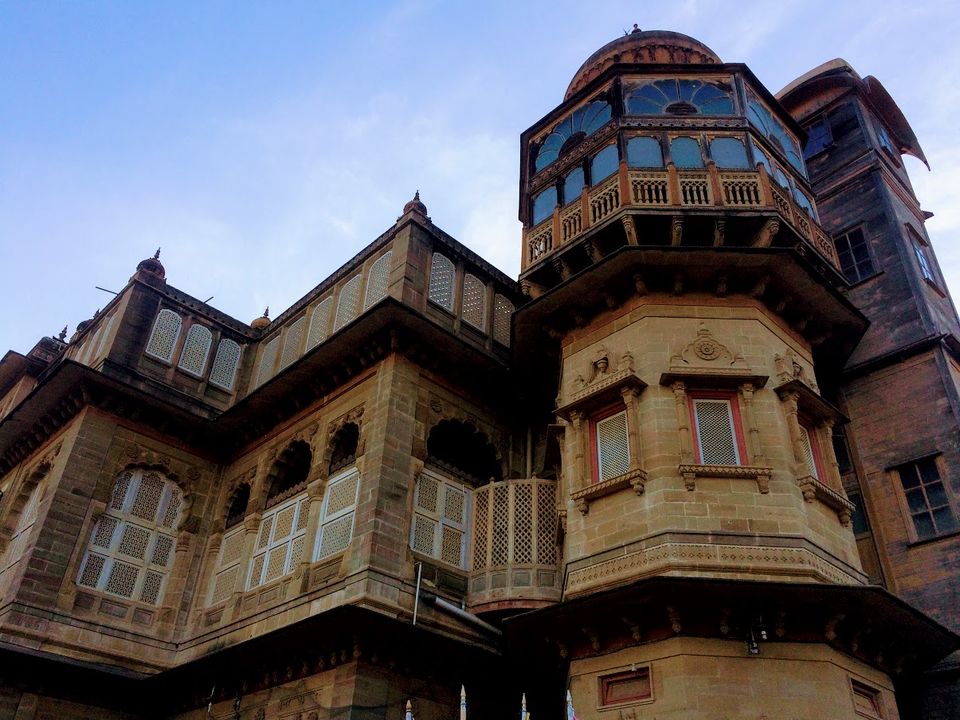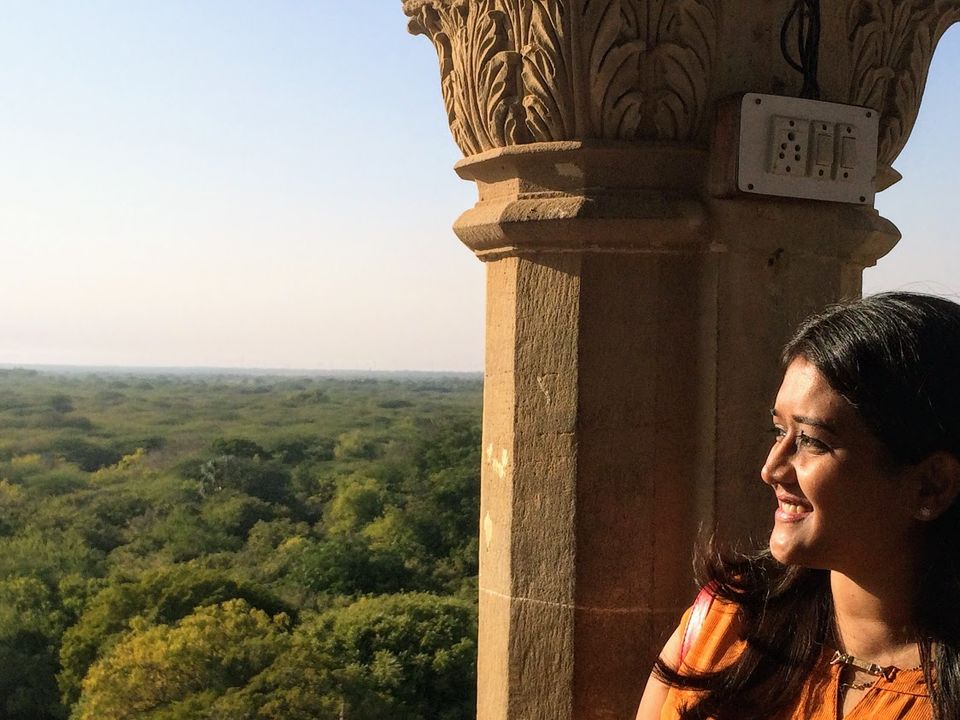 And then we headed to Mandvi Beach!!
One of the serene beaches that i have seen in India. Luck was on our side that day, sky was playing with colors changing every few minutes leaving us amazed with its beauty and hearts with Joy.
This is one of the must visit places in Mandvi. This beach has so much to offer. So many water sports to camel ride to boating. There are so many stalls for some snacks. As you enter the beach you will see enough crowd and not so clean water. Take a walk for around 10 min and reach a secluded part of the beach, it is when you can enjoy the beauty.
The colors of the sky kept changing from Blues to purple to orange. We had one of our best evenings on a beach????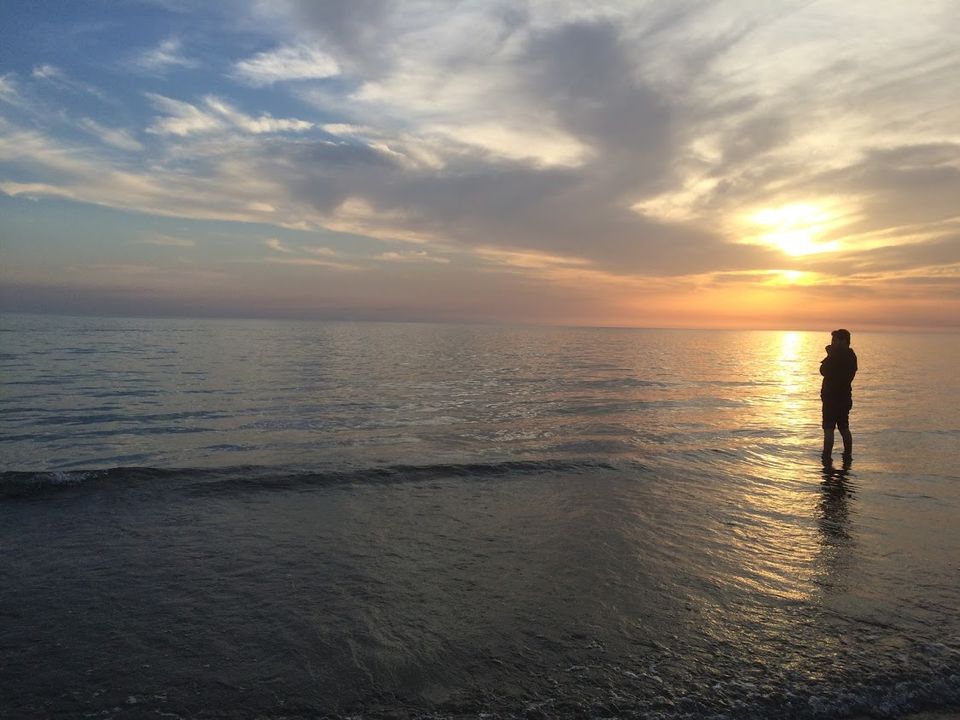 This place is filled with colors. One would encounter ravishing camels in all of their colored costumes over the shores of the beach. Camel ride is one fun thing to do at Mandvi Beach. We were in all smiles in our camel ride :)
Our final destination of the day was to seek blessings from God. We headed to a famous Jain temple in Mandvi - 72 Jinalay Jain Mandir.

Third day at Kutch was to visit couple of places around and one last visit to Rann of Kutch.
We started our final day with Visiting Kala Dungar. Its around 85 KM from Bhuj and best way of transportation is to hire a cab from Bhuj or Kutch.
Kala Dungar/Kalo Dungar is a highest peak in Kutch and a sunset view point. This place gives you a panoramic view of Rann of Kutch. This hill homes for a 400 year old Dattatreya Temple.
While our way back to Rann utsav from Kala Dungar we saw a bunch of enfielders driving on barren lands. As mentioned earlier , journey between different places in Kutch were filled with well maintained roads in between barren lands. These roads are one of our favorites.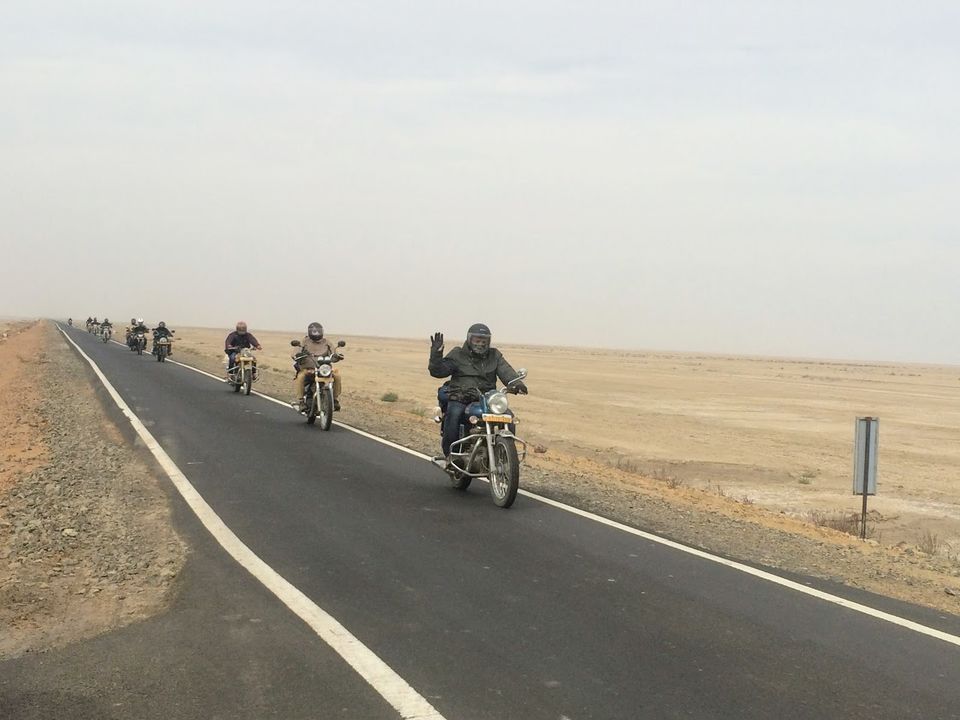 Our first visit for Rann utsav was almost in the evening like around 4:45 to 5 PM. In the last day our touring we visited this place in the afternoons, like it was around 1 pm. As sun was on his peak time and the sun rays hitting the white desert and its reflections made it hard for us to even open our eyes.
I highly recommend to visit this place post 4 PM. One can see it in day light, enjoy a sunset and have moon date???? And it would be a icing on the cake, if its a full moon day!!
Kutch is mostly a barren place, We were quite worried on the safety aspect as we were to hire a cab. After some research in Google we found a travels and booked a cab for 3-4 day itinerary. I must say the driver was one of the best we ever had. So punctual and knowledgeable. He took us to all the places and made this trip a enjoyable one. He did entertain us with some amazing Gujarati songs over the journey. When ever we meet such amazing people we do value them. We keep in touch with them. Below is our selfie before bidding adieu to this place.
He was our one time solution for food spots in Bhuj????
So were then back with amazing memories of visiting a offbeat destination in India - Rann of Kutch.
#TravelwithApSid????
Frequent Searches Leading To This Page:-
Top Gujarat tour packages with price, Best Travel Packages for Gujarat, Gujarat Holiday Tour Packages, Top Gujarat Packages for Family, Gujarat Honeymoon Packages from Delhi, Places to Visit in Gujarat Other Than Beaches