The 4rooms hotel is a new addition to the 4tables Project. The former charred, skeleton shell has now been transformed beyond recognition. Built in a mud-walled, low-roofed traditional home with a sweeping verandah, 4rooms emanates a warm glow through its gaily painted walls and cheery furnishings.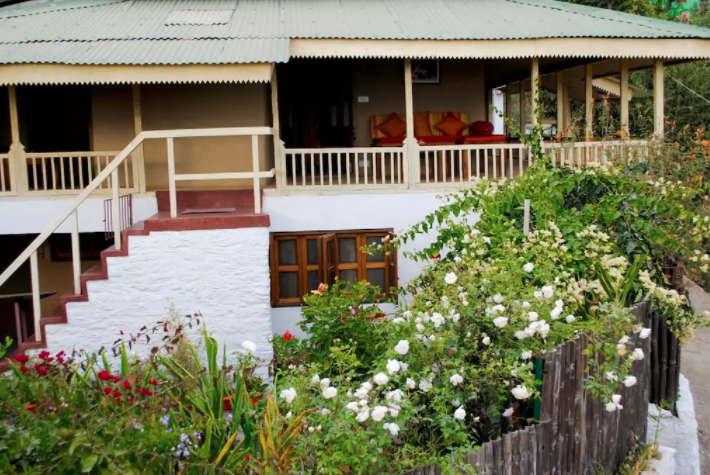 In the heart of Himachal Pradesh's Dhauladhar range, lies a quaint, quiet little hamlet called Gunehar. Through verdant tea-gardens, and babbling brooks, your car will curve up to this village that is almost entirely devoid of tourists. For the most part, it's home to the Gaddis and Bara Bhangalis of the Himalayas. And like every other mountainous township, Gunehar is also parked with little brick dwellings, an assortment of cattle and ramshackle tuck shops.
But, wait! There's something extraordinary about Gunehar that will leave you in awe of the village, that to begin with, can't even be located on a map. When a German Indophile, Frank Schlichtmann, took it upon himself to put Gunehar on the Himachal tourism scene, he ended up transforming the entire village into his canvas and turning its people into bemused participants. Let's delve into the wave of whimsical magic that stemmed from this unique initiative.
Why travel to Gunehar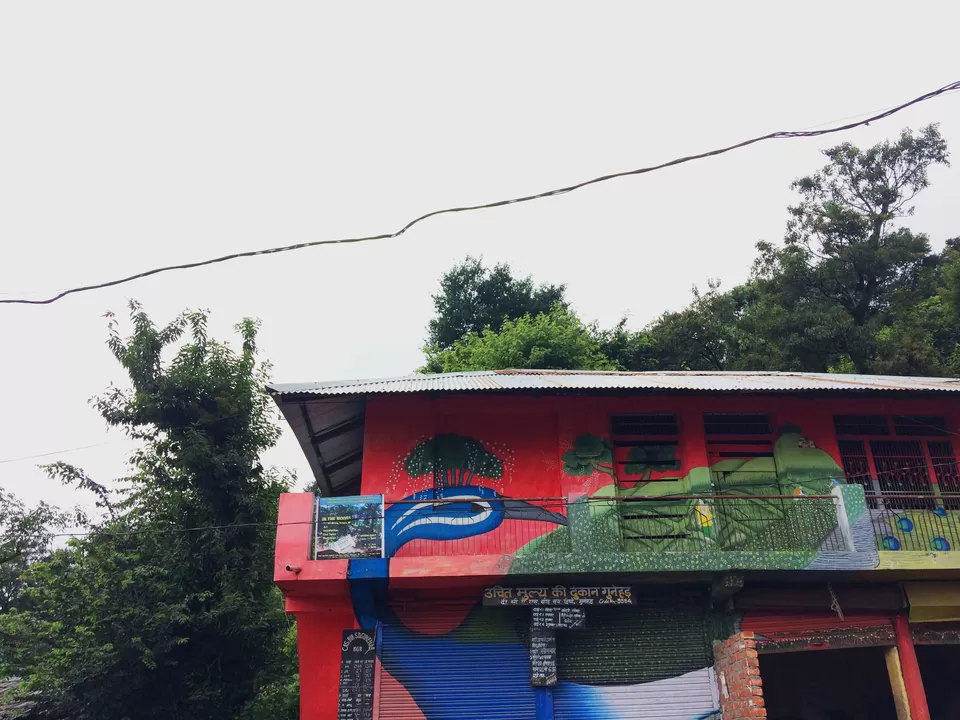 A stroke of absolute genius
Schlichtmann was born in Hamburg to a Bengali mother and a German father. He arrived in India for the very first time, when he was four. Frank's 4tables project, started almost eight years ago, aiming to create a space for alternative and meaningful living. And as a part of this initiative, he has set up a beautiful gallery, a café, an ecological boutique hotel that has henceforth helped in providing employment to the locals, spruce up the village and revitalise its traditional quarters. Regardless of all the modernity, Frank has ensured that the fabric of the village not be harmed in any manner whatsoever.
A stroke of contemporary art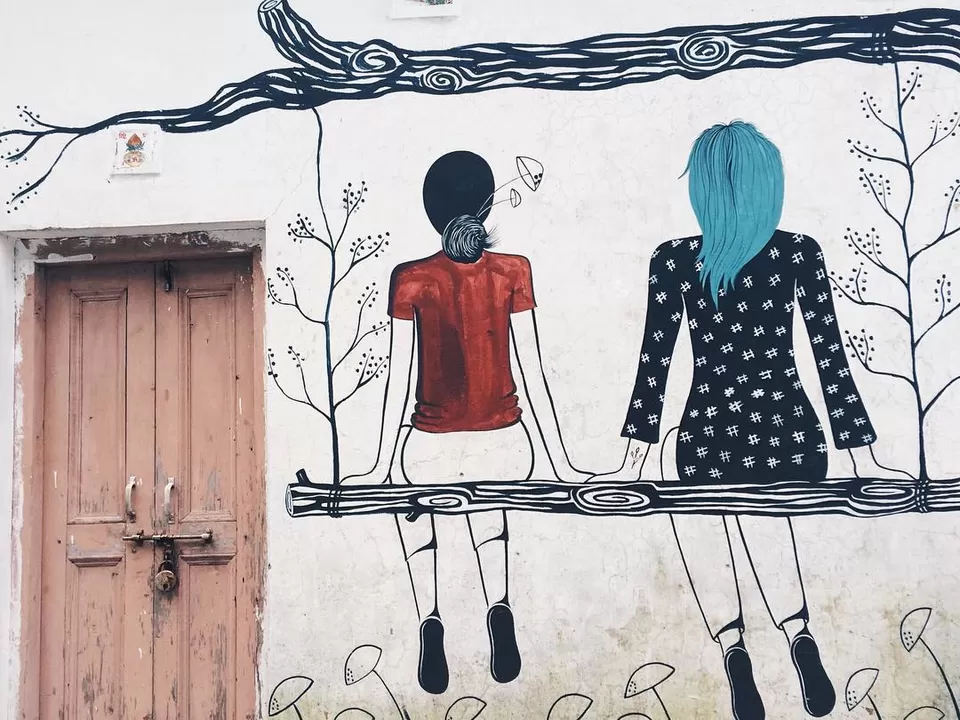 The beauty of any work of art boils down to its core elements. And it's taken a notch lower or higher due to its surroundings. And when the milieu is that of dense jungles and fragrant orchards, the result is somewhat surreal. And that is exactly what ensues, when a one-of-a-kind art residency programme titled "ShopArt ArtShop" takes place in Gunehar every three years. Breaking free from all possible rules and restrictions, Frank invited 13 emerging artists in 2013 to reside in the village for a month, make art projects out of abandoned shops, and take inspiration from both – the locals, and the all-pervading mother nature.
ShopArt was essentially an initiative to fill deserted shops with contemporary art, wherein partaking artists incorporated Gunehar's pastoral way of life into their creations. The creators aimed at blending in the villagers' rural sensibilities into their work and thereby, the residents are all too enthusiastic to be a part of Gunehar's gradual makeover and lovingly refer to the artsy hoopla as their very own mela.
One rupee cinema and other such oddities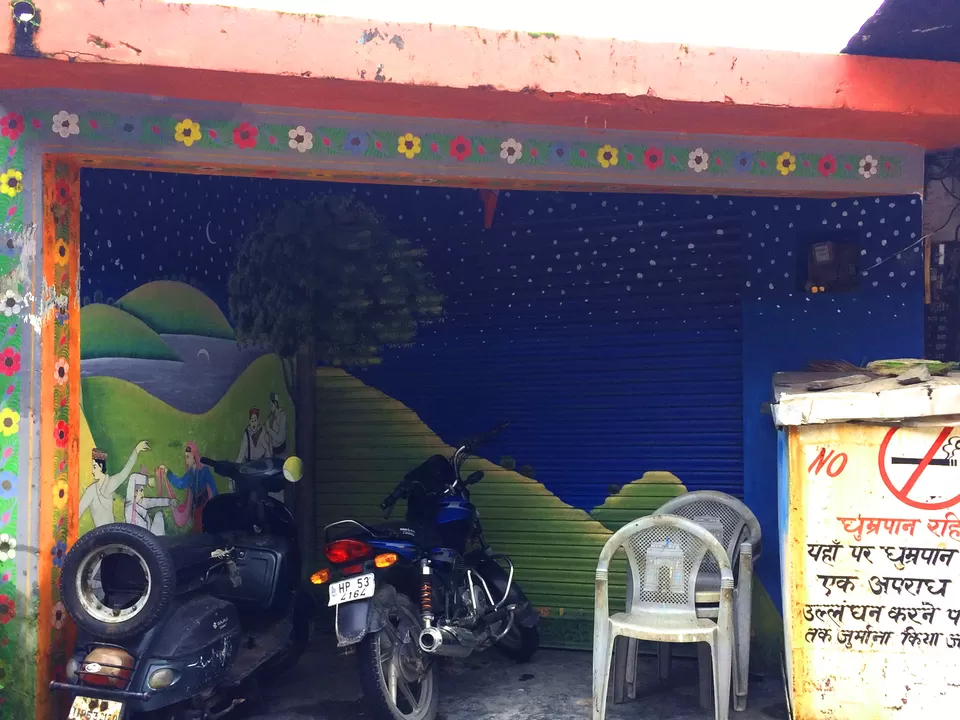 Gunehar's noisiest set-up would've been KM Lo's 'one rupee cinema'. The prolific Singaporean director has held many a workshop on cinema across Cambodia, China, the Philippines, Thailand and Laos. In Gunehar, his corner is the kids' favourite haunt. He teaches children and the curious locals how to make cinema with as little as one rupee, using sly camerawork and other oddball techniques.
Mudita Bhandari, a famed ceramic artist hailing from Indore has transformed many a time-worn wall with her architectural terracotta forms, concocting stone, slate and other materials used in local homes. Her workshop is usually swarming with the village girls hoping to volunteer with Bhandari.
Rema Kumar's Gunehar Fashions Shop is one of the first establishments to come to view as you approach Gunehar. An erstwhile teashop, now local melodies can be heard flowing out of its premises while the women of Gunehar who can sew their way into making the luanchadis, the Gaddi tribe's traditional garb, are incorporating it into brand new designs for the urban crowd.
A river runs through it
After you are done marvelling at Gunehar's art-adorned walls, make your way through the village, crossing many a mooing cow and muddy puddles, to head to the shimmering Gunehar River, that the village has cleverly cloaked so far from any form of pollutant. When I say shimmering, I really, really mean it. It's cradled by misty green mountains and can be seen glittering every once in a while, under the morning sun.
To anyone who is visiting the village, it's a humble request, pack and take back your Lay's wrappers, Bisleri bottles and anything that doesn't belong to Gunehar's wilderness.
Cuisine on offer
The 4tables Cafe (Gunehar's solitary food establishment) whips up some of the most flavoursome, home-cooked meals. Their herb-baked chicken in a beer reduction, served with potato and spinach gratin is a plate served straight out of heaven's kitchens. The cafe's breakfasts are just as legendary boasting of a variety of cheese, fruits, freshly baked buns and a choice of eggs.
When to go
March to mid-July is the best time to visit this whimsical village. With the temperatures ranging somewhere between 22°C and 35°C, the days will be pleasant and the nights slightly cold.
Getting there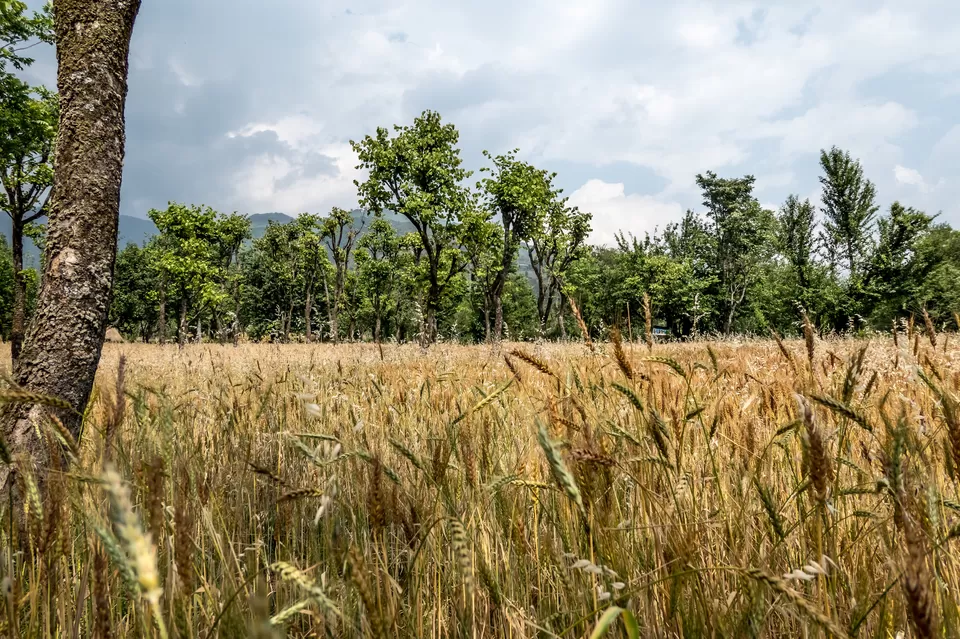 Gunehar is a two-hour drive away from Dharamshala. The nearest railway station is in Pathankot, which is about 85km away from Dharamshala.
Getting around
Gunehar can be explored only on foot. There is no other local transport here.
Accommodation
Travelled to Himachal Pradesh recently? Share your travel journey on Tripoto and inspire millions to travel!
Frequent Searches Leading To This Page:-
himachal pradesh package with flight, himachal tour packages with flight, himachal pradesh yoga retreat, himachal pradesh 10 days package, himachal pradesh 4 days package, 6 nights himachal package