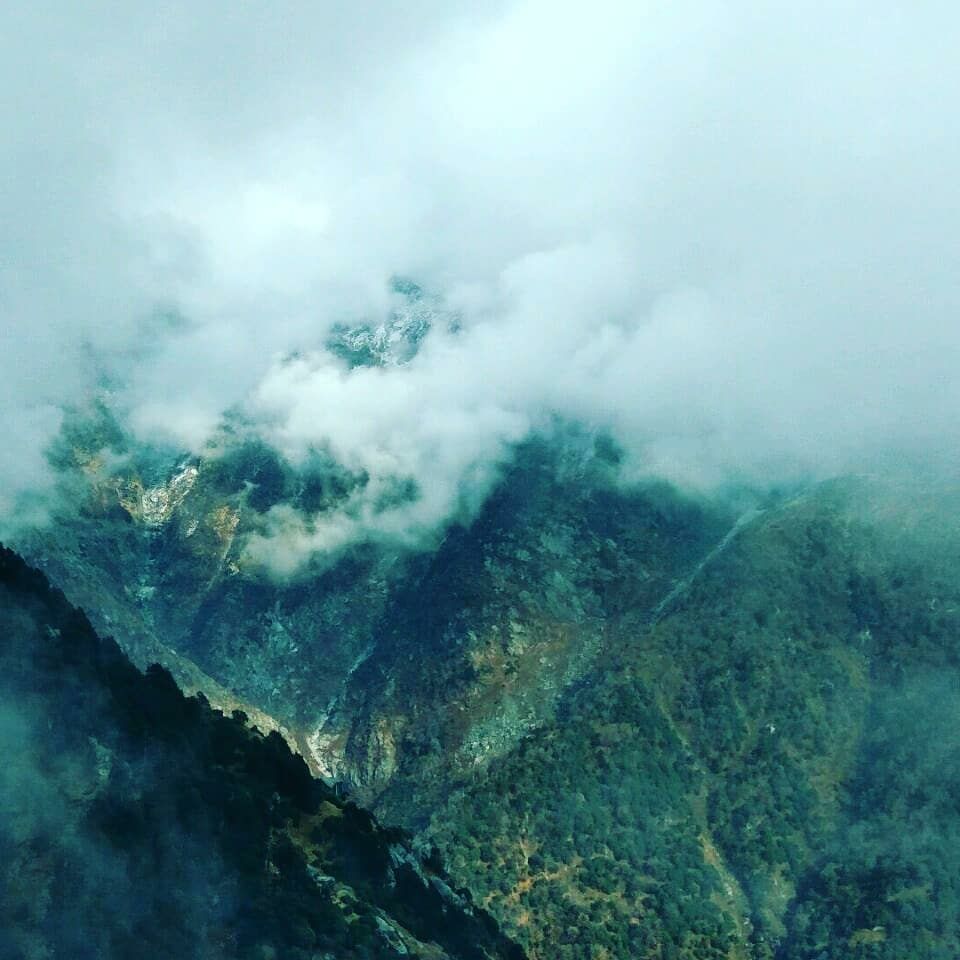 We have travelled to McLeodganj for three days, which we think was enough to visit the beautiful destination. From Delhi we have number of Volvo and Himachal roadways buses that goes from Delhi to Dharmshala and then to McLeodganj. We reached to McLeodganj around 12-14 hours. It was a long journey commonly the reason buses leave during evening to reach early morning.On our way to McLeodganj we have found the ruckus of children.
McLeodganj has a beautiful mountain ranges and waterfalls. Buzzing with travellers, the McLeodganj has a lot to offer for travellers from pristine views to attractive waterfalls.
McLeodganj attracts thousands of international visitors each year.
Ain't it beautiful, the tall trees looked tremendously fascinating? The mountain peaks calling us to go wild with anonymous surroundings. The time we entered to McLeodganj and de-boarded the bus, it starts raining so we all thought to have a Maggi and tea as our hunger strikes up and which is easily available on every point on your visit to McLeodganj. We planned to visit Mcleodganj on the same day but suddenly rain trashed our plans so we booked taxi to Dharmkot to try our luck once again but everyone was saying don't go to Triund as its raining heavely. We started moving to Dharmkot for trekking and see whether we can walk to the slippery roads. Its little slippery but we started anyway. The tangled feelings of fear and excitement before a journey begins.
That was the best decision we ever took otherwise we miss the lovely hills. When we reached magic view, we realized that we have completed nearly half of ourjourney. In the proximity of nature one can fill their soul with adventure.Triund must be an insane calling for those who love the parched peaks.
The beauty of Triund is aeonian (eternal and everlasting). It's a cosy feeling you get when you're enjoying the good things in life with friends. Reaching on the top of the hill, one must feel like happiness only real when shared. I would definitely say, leave the roads and take the trails on that undiscovered roads.
The trek gets little tougher as we proceed forward. Too many rocks thus you should be well prepared with really good shoes as it might get hurt while trekking. It was a warm feeling you get while enjoying the company of great friends and all life has to offer.
We reached at almost 2:00 P.M., the time when sun was its peak just like us on the top of the mountains with umpteen desires.
Pictures may not justify the real experience which we had there and even the thoughts which I'm sharing. It will never satisfy your soul unless you'll chase the beautiful mountains yet so pristine on its own and it could create your desire to visit here at least once in your life. I swear to you, there are divine things more beautiful than words can express.
A warm welcome by mother nature showcasing its lush greenery perfect for keep oneself inspire.
I would probably rate these clouds with luminous shine hugging the mountain as the most heavenly treat to eyes. What a glorious greeting the sun gives the mountains. Endless desires to those high hills, feels like conquering the world.
There is a saying that goes "Mountains are calling and one must go".
That's true and one can never feel alone in vicinity of rocky peaks. When life gives you mountains put on your boots and hike.
When you'll reach to the top of hill, all your tiredness goes away in a blink. The greenery, animals, cute colourful tents and White Mountains making it pristine. Triund is truly a blessing in the lap of Himalayas. Wish to capture the rustic moments with perfection.
I felt more at home in these mountains than I had anywhere in my life, and I didn't want to leave. There is no time to be bored in a world as fascinating as this. There is a world out there, we've got to look both sides of the mountain in your lifetime. Climb the mountains to embrace the challenge, enjoy the air and behold the view.
The joy I experienced at the top of Triund was ineffable. There's something extraordinarily unique and genuine in those ethereal paths that really appeals to me. Fantastic views, fresh air and lovely rocks gazing us. We wander to an enormous mountains in a rocky paths. It's a state of blissfulness and serene calmness.
With every climb I have enjoyed the strolls aimlessly, observing life and their surroundings.
It was most satisfying where the eye encountered all sort of beauty. I've always been in love with mountains. Great things can happen when men and mountains meet. Mountains are the beginning and the end of all natural scenery. Each fresh peaks ascended teaches something.
After enjoying the afternoon at Triund, we started heading back to Dharmkot where we were staying. It's getting dark so we use the emergency light which we carried with us and finally we were in our hotel room. It was a tiring day and we enjoyed every bit of it.Mountains were flour white and brooded over the land.
We were enthralled with calm and sparkling beauty in the woods.
Next day, we Woke up in the misty morning and enjoyed our tea with clouds floating by while you relax in the surrounding with outlooked mountains. It feels like heaven. It will make an ideal retreat for a peaceful gateway.They were sky piercing. The air felt ice cold and soothing. It was an ideal gateway to relax in a peace.
When we were in Temple it was overcrowded so we preferred to avoid taking pictures. Outside the temple there was a pool and many tourist were sitting there and enjoying their leisure time. We moved to bhagsunag waterfall and gathered lot of memories in pictures. Loved the peace surrounded with mountains, leaving the tensions and anxieties behind in our normal life.
Next day, we decided to move to Mcleodganj, The all of us walked slowly along the narrow path, paying more attention to the stalls that lined in. That colourful stalls a welcome treat for us on the way to Bhagsunag waterfall.
Prayer wheels near Dalai Lama Temple to accumulate wisdom and merit (good karma) and to purify (bad karma).
We have explored the markets, Dalai Lama temple, tea garden, etc till noon because we have to leave the hotel before we will be charged for the next day stay and then we started waiting for the bus at Dharmshala bus stop to Delhi. It was a wonderful staycation and wish to visit again.
While leaving the beautiful mountains, I assumed how I'm accumulating a light in an empty corner of my life. God made beauty surprising us with its bundle of goodness and greenery everywhere. I love mountains, lush greenery and fresh breeze at the top. Its is far far from the madding crowd in the nature so peaceful.
Today, we are so stressed with our 9 to 6 job where we have no time for ourselves. We must need a weekend gateway to cheer our soul with calmness, peace and lovely Mountains.