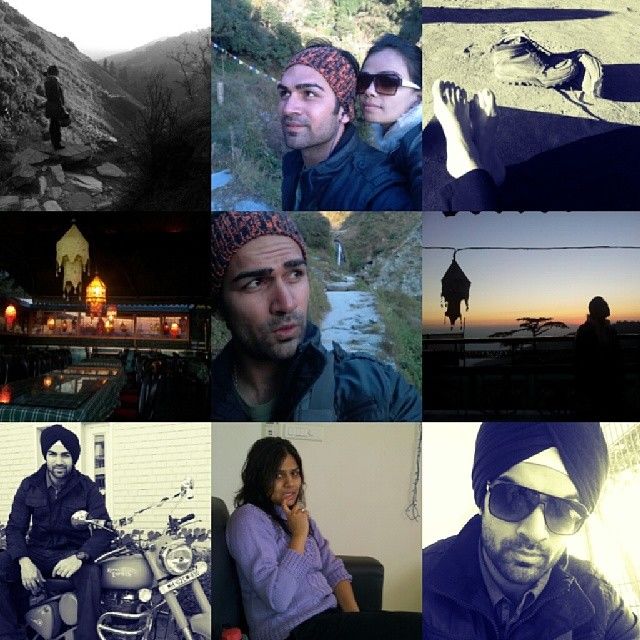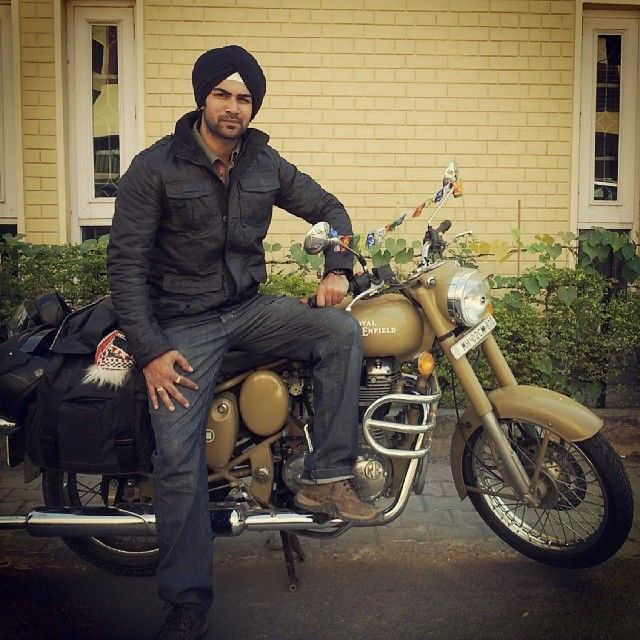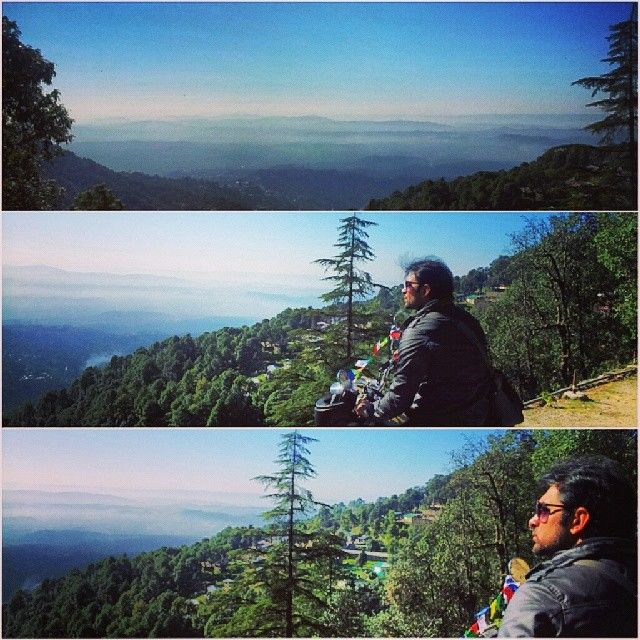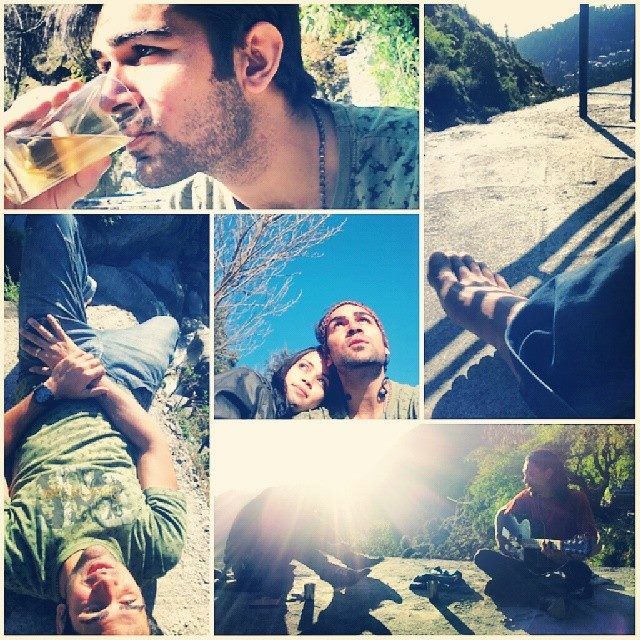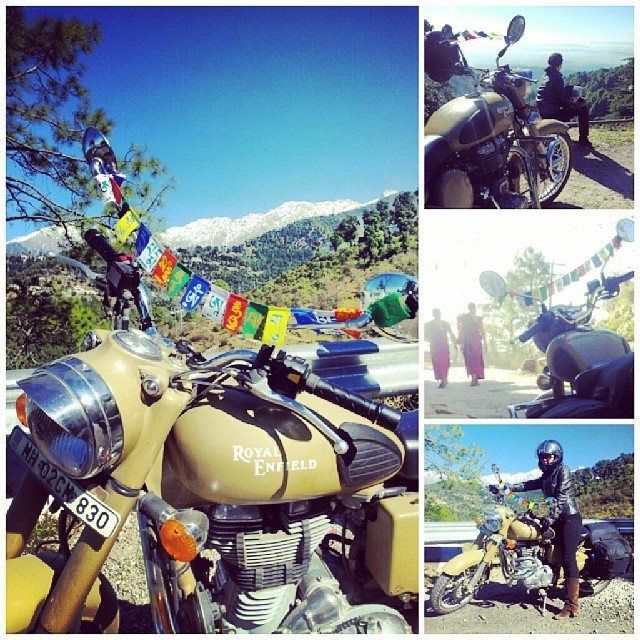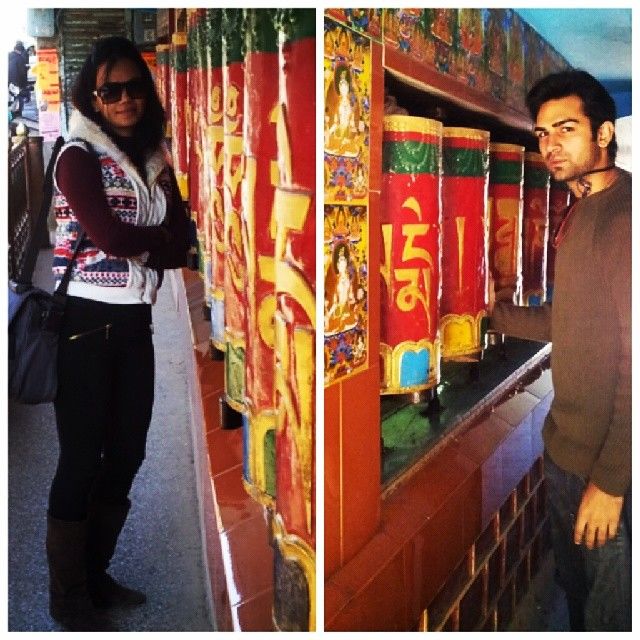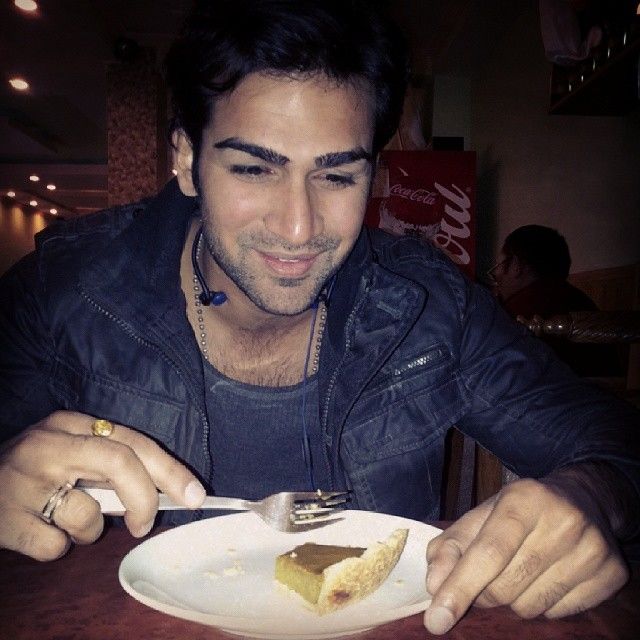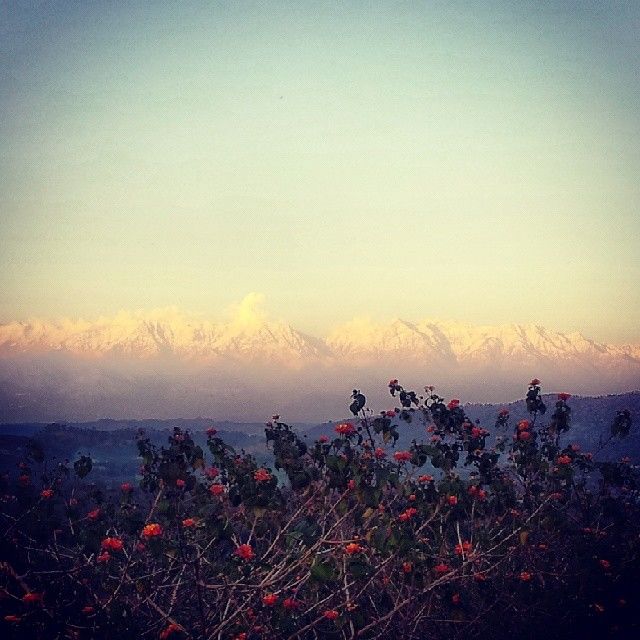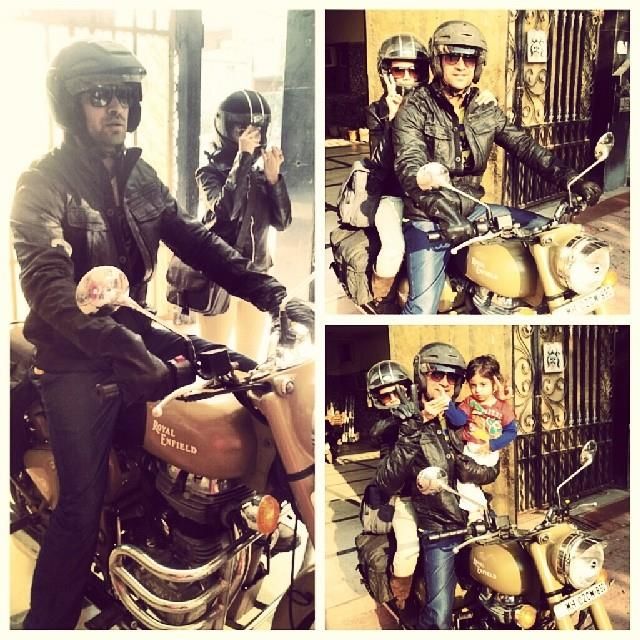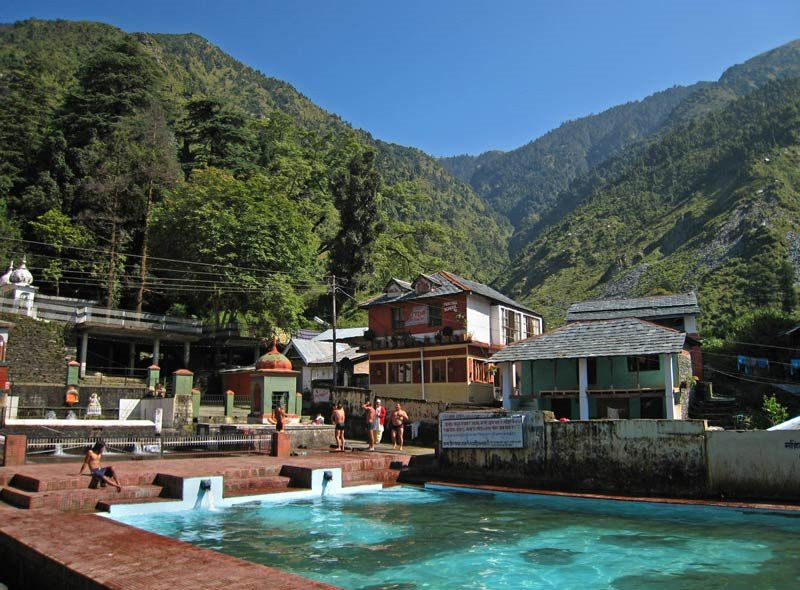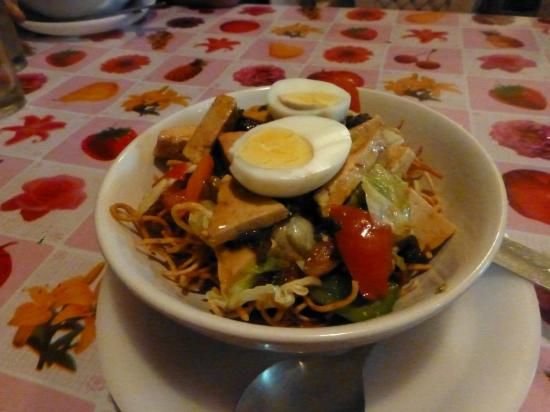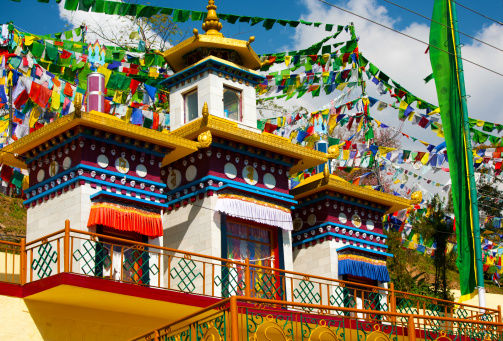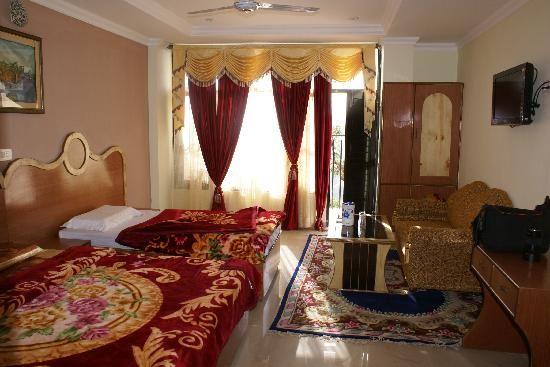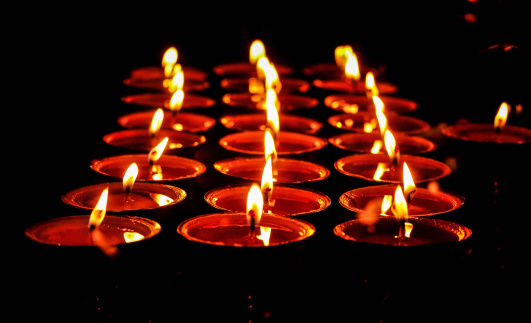 In this unplanned trip to Mcleodganj, we (me and my wife, who are insanely brave travelers) did our 2nd spontaneous road trip on out Bullet the mighty Desertstorm.
We left Faridabad at 3.30 but were stranded in Delhi (Friends Colony) with bike rear tires' brake shoe broken which took around 2 hours to fix. And then without a blink of an eye we rode from Delhi to Chandigarh in 5 hours landing at a cousins place at 11 in the night. Of course, we were tired as we were riding after a very long time. Celebrating the start of our trip with rum and hot water, we dozed off.
The next day, after fixing another issue in the bike (something wrong with the battery terminal) we hit the road again at 12 noon, to reach Mcleodganj through the not-so-great roads of Kangra and Jwalaji. But, the first sight of the place, just took all the pain away.
It is just an amazing place with cafes and restaurants and hotels and lodges and of course, you are first welcomed by local boys trying to fix you in one of the sad hotel rooms. Nevertheless, we followed one just to get an idea of the worst and the best. And as predicted it was a sad place with shady rooms. Usually, I allow my wife to do the honors of checking the room, but after checking one or two hotels I could sense her getting tired stepping up and down on the hotel built on the slope. Finally, we found a decent hotel, Lavish Inn, very close to the main market with just Rs 1500 per night stay (off season).
After a hot-water shower we set out to discover the place. And it was just too awesome. People lazing around in cafes, laughing and roaming on roads, enjoying sumptuous Tibetan and Western food.
With slurpy mouths, we entered a cafe with a decent crowd, Cafe Snow Lion. What caught my eye was the different number of pies they were serving: apple pie, pumpkin pie, lemon curd pie, chocolate cake, blueberry cheesecake. I ordered an apple pie and a pumpkin pie and a cup of black coffee. I just ate the best ever apple pie and although it was my first ever pumpkin pie I am sure it was the best ever as well. What was the real icing on the cake was the ever so smiling owner Dolma. She was just a sweetheart to come and inquire after every dish she served and I tell you there is a reason they say Buddhism is the best religion to teach peace, she had this most amazing smile almost like a mother and I felt like I was home.
Then we checked another cafe, Jimmy's. Great ambience, with bookshelves and film posters all around the walls. The place was famous for Italian and continental food, but it did not come anywhere close to what Dolma's Snowlion cafe offered.
The next day we had our Tibetan breakfast, of course, at Snowlion and then set out to explore the small town and paid our share of religious visit to the Dalai lama monastery. It was calm and peaceful as expected and I did a small reiki session to energize my body. And then was the time to go pay tribute to lord Shiva. The famous or rather infamous Shiva Cafe is the only place where I have sat for 5 hours doing nothing, absolutely nothing and just watching the mountains around, listening to the sounds of water flowing from the waterfall and just being by myself. The 2 km trek to the cafe is easy.
We came back by evening to enjoy the sunset view at the Cafe Maclo, right at the heart of the town. The view was rather moving with chilled apple cider from some local brand. We ate some grilled chicken and then checked out the market for some local shopping experience. As I said, it was an unplanned trip without much info gained prior hand, I thought Dharmshala would be a better shopping experience, which we were to visit next morning and so we just took a Tibetan flag to be tied on the bike. And while tying that I made a pact that wherever I go, I will bring back a memento that will be tied to the bike or a sticker on my helmet. (Check the pic of the bike in my profile).
Next day, to my disappointment, we visited Dharamshala which was like any other hill station with regular handicrafts and stuff and not a sign of any Tibetan culture. I was surprised to see how culture is so confined to that 3 km town of Mcleodganj. I am sure Dharamshala would have given us something interesting, but we were just too overwhelmed with the peaceful Tibetian culture and the amazing town of Maclo (Mcleodganj) that we skipped any sightseeing in Dharamshala and head back home. Of course we did stop in Dharamshala to meet some far-known relatives who served us with authentic Himachali food (Arbi and daal khatta with Makki ki roti and chawal). Finally, with bloated stomachs, we left for Chandigarh to halt the night.
Next day, with paining legs and asses we reached home in flat 4 hours. I know it sounds unbelievable to finish that task (270km from Chandigarh to Faridabad, crossing Delhi at evening peak hours), but I am a self proclaimed 'FINISHER'. If I were to participate in a rally, driving cross country, I would be the one getting my team to finish those last 200kms.