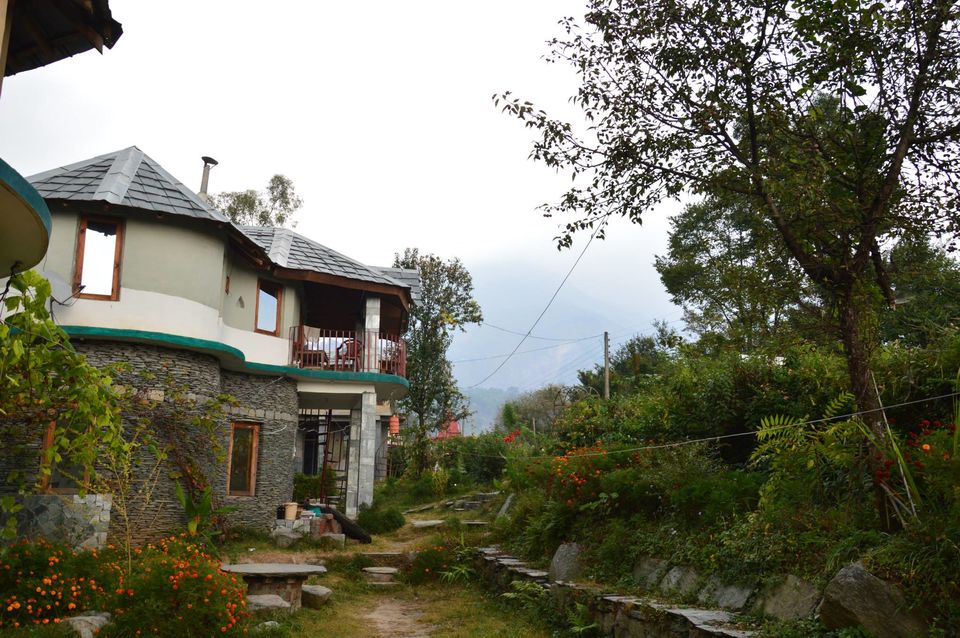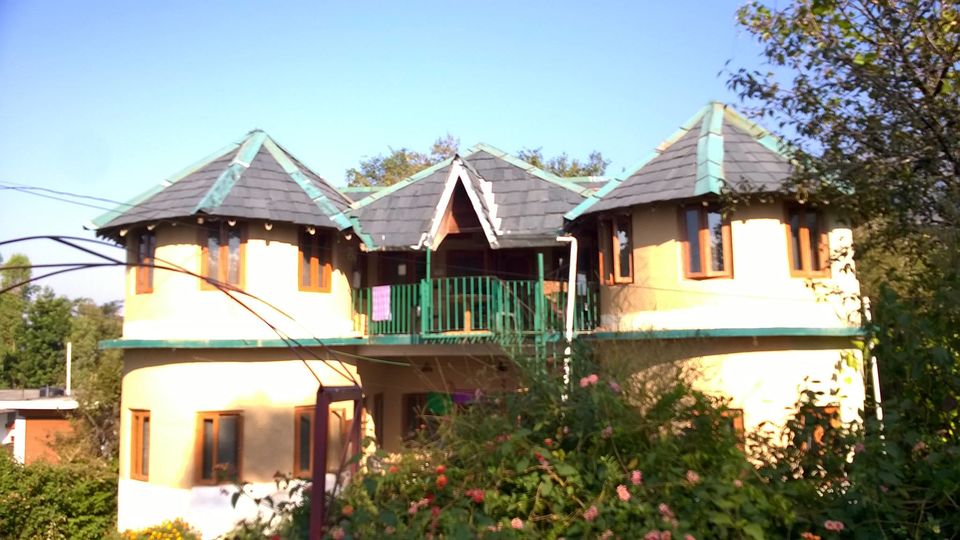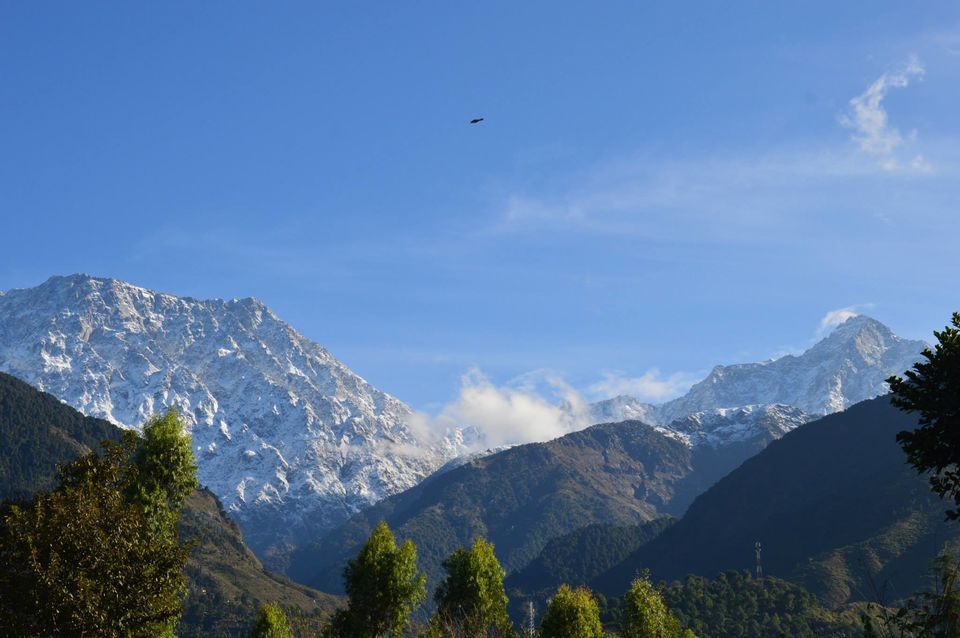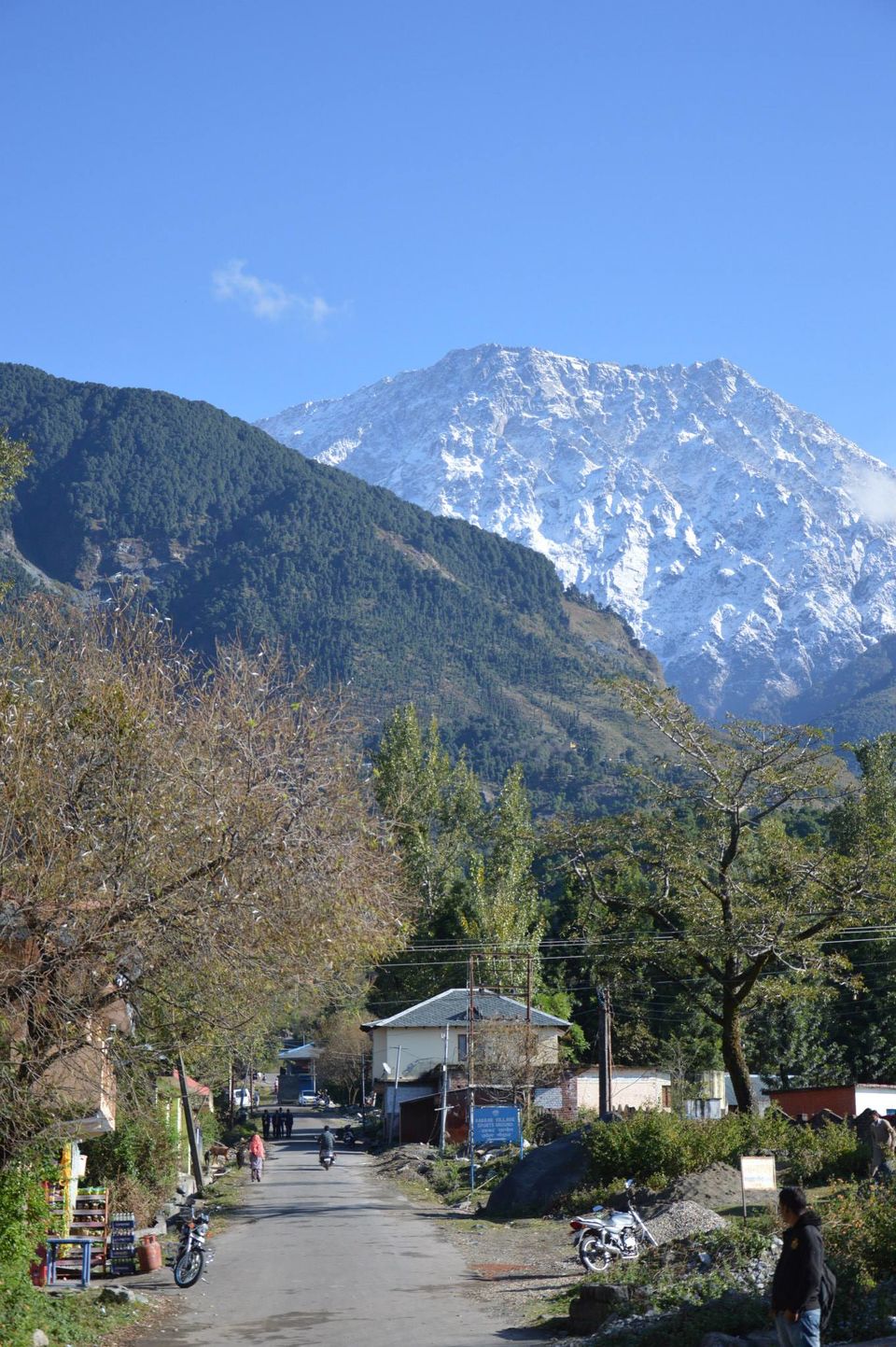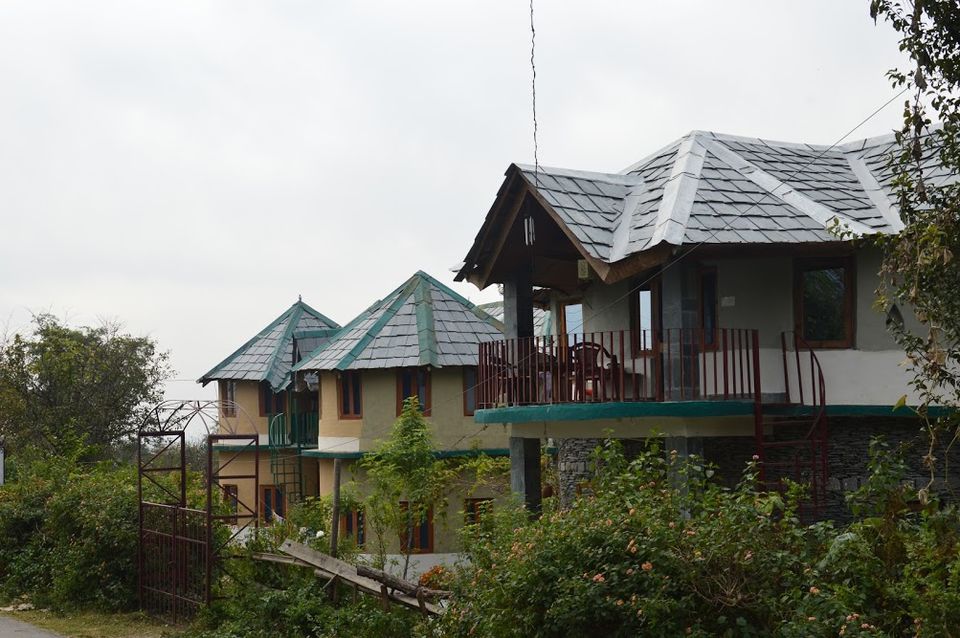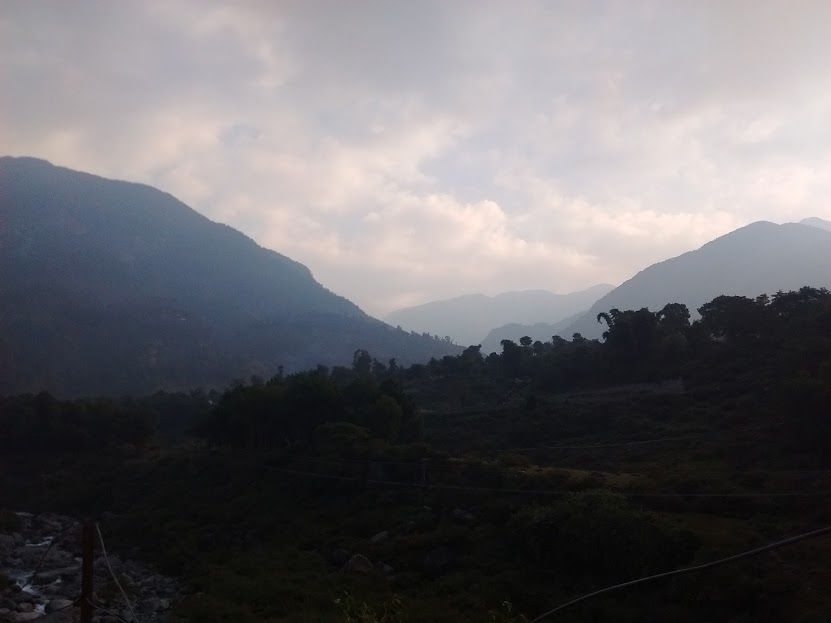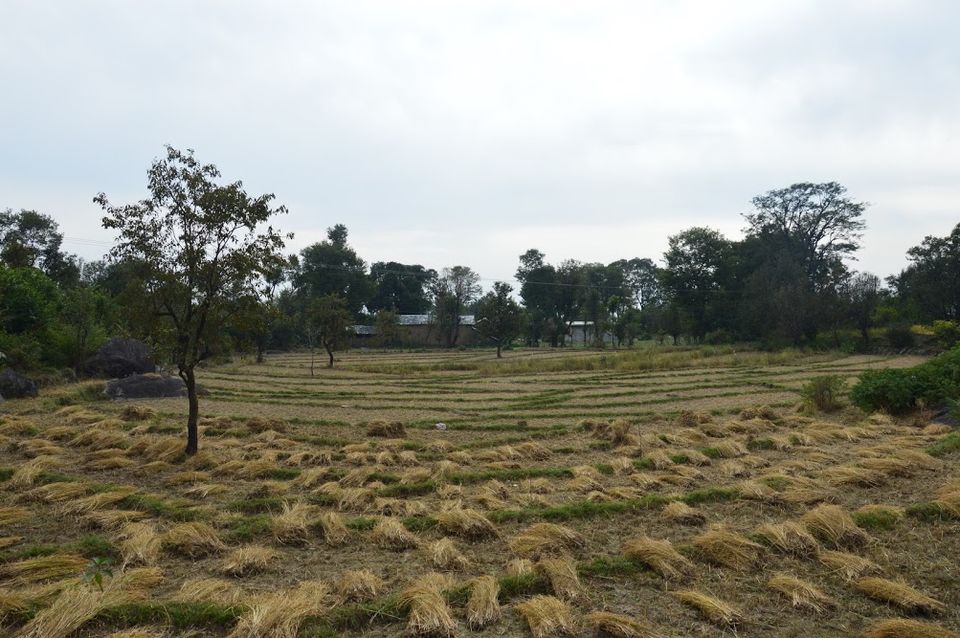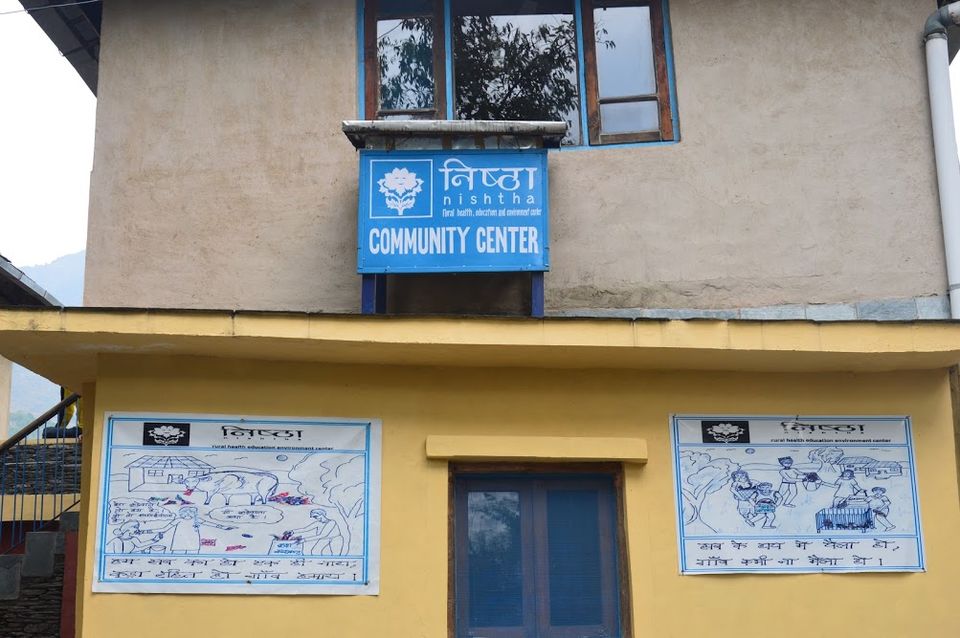 Just as working from home sounded like a curse to me, I headed for Ghoomakad for some motivation. Frankly, I was not sure how it would work out. I wondered how anybody can work from a cold, gloomy place and still stay motivated to work. I took my chance anyways!
The journey
Ghoomakad is located in a village called Rakkar around 10 Kms from Dharamsala. You can hop onto a bus from Dharamsala bus stand and get down at Sidhbari. Ghoomakad is 2 kms walk from Sidhbari main road.
The place
'A home away from home' is a cliched mainstream phrase for the place. For me, it turned out to be the other home, one that I felt I belonged to! Imagine a place on the foothills of Himalayas, away from the chaos of busy towns but not too far away from the conveniences they offer. Well, That's Rakkar, and that's where Ghoomakad is. Right from outside Ghoomakad, you get a breathtaking view of Dhauladhar range of the Himalayas. If you take some of the more remote walkways in Rakkar, you will be accompanied by trees on both sides and mountains just a little far away.
What's more, 5 minutes walk from Ghoomakad will lead you to scenic Manuni river. Take a dip!
Norbulingka Tibetean Art Institute is just a 15 minutes walk from Ghoomakad.
Ghoomakad has a residential block and a coworking space in another adjacent building. Ghoomakad is equipped with internet connectivity and all the basic facilities.
The people
Truly life-changing experiences are hard to come by in today's ever changing life. Visiting Ghoomakad and spending time with some amazing people there was truly a life changing experience. Ayush, who takes care of the Ghoomakad, left a cushy high-paying job in Bangalore behind to start something new in the mountains with an idea to create a place based on the principle of "Learning, exploration, sustainability". The place lives up to the motto. People here are always eager to participate in meaningful discussions, facilitating learning about new stuff and about yourself. As Ayush puts it, Ghoomakad is a ship exploring new terrains in the mountains.
Since Rakkar is mostly inhabited by a Shepherd community named 'Gaddi', staying here is a treat for those interested in listening to folk songs and stories from the mountains. Faujaji, a gaddi himself, is near and dear to everybody staying at Ghoomakad.
I'm short of words to talk about the people I met there, or maybe I have so much to talk that this space won't be enough. You got to visit the place to experience it.
For pet lovers, Ghoomakad has a official dog named Kali and an unofficial one named Macchar.
The food
A local lady named Guddi didi makes awesome food at Ghoomakad. For a change, you can walk for 10-15 minutes and visit restaurants at Norbulingka and Sidhbari. There are some very good restaurants serving Tibetean, Chinese and Indian food. Ask Ayush for more details once you are at Ghoomakad.
Bottom line
Those of seeking to immerse themselves in a truly glocal experience and those who care deeply about sustainability, Ghoomakad is the place to be. Do not forget to drop a mail to ayush to check availability before you make a plan. The place runs on gift system hence there are no set charges. However, make appropriate monetary gift considering the fact that the place takes care of your food, accommodation, and more importantly, peace of mind. The money received goes into operating the place as well as funding some social initiatives. You can find more details at https://wiki.hackerspaces.org/infinity.
Dharamsala - 10 Kms
McLeodganj - 18 Kms
Bir-Billing Paragliding site - 50 Kms
Kangra - 15 Kms