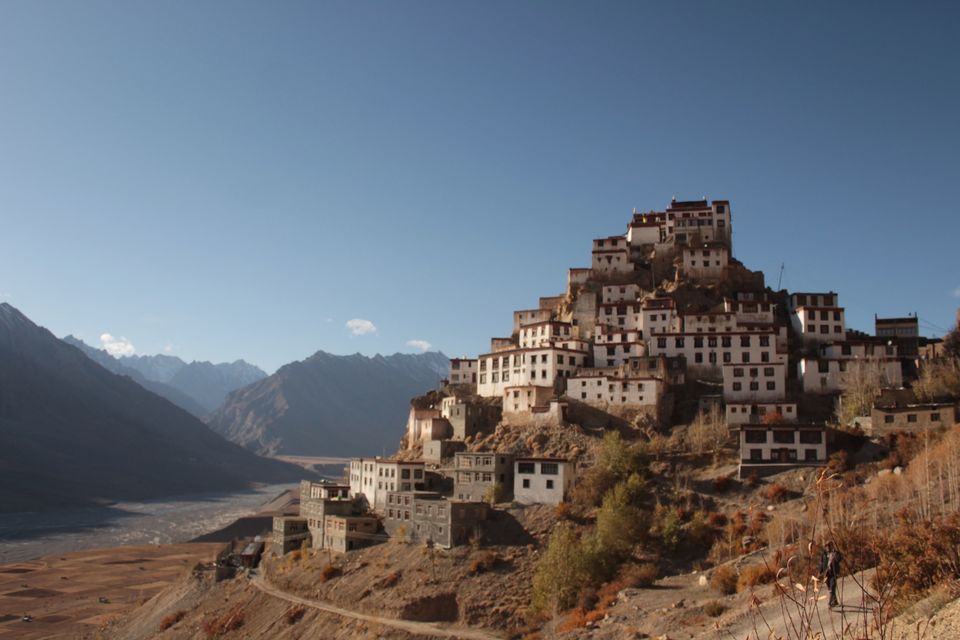 So just after finishing the 2nd midsem exam on 16th Oct 2019 I headed to Shimla at 10:30 pm from Chandigarh. I had to catch another bus from Shimla to Rekong peo (the district headquarters of Kinnaur) at 7:00 am on 17th Oct, but luckily got one at 3:30 am.
The bus dropped me at Karchham at 12:30 pm and my journey began towards Chitkul; the last village on Indo –Tibet border. Chitkul is 41 kms from karchham and I started hitchhiking. Since no one was stopping I decided to walk and keep looking for help along the way. After walking for 3 kms some tourists from Kolkata agreed and I was on my way to sangla. The most important thing about hitchhiking is that don't expect people will stop. You will be wrong in 99.74% cases but remember, no matter how long you wait, the right ride will come! That's the ultimate hitchhiking rule. After reaching Sangla I took lift till Rackhham which is 11 kms short of Chitkul. Since it was getting dark I decided to spend the night in Rakchham. Rakchham is a small village with several small streams, wild life and many apple gardens that add to the beauty of the place. It is nestled between the mighty snow covered peaks and a lush green landscape and looks like an absolute heaven on earth. Rakchham lies at an altitude of 2900 meters and is relatively unknown for many people. I looked for a decent place to camp and ended up camping near the Baspa river. It was already dark so I had no time to collect firewood and had to spent the night without fire. Temp was -5℃ but Things got worse when it started to rain. Thanks to my sleeping bag I somehow managed to stay alive.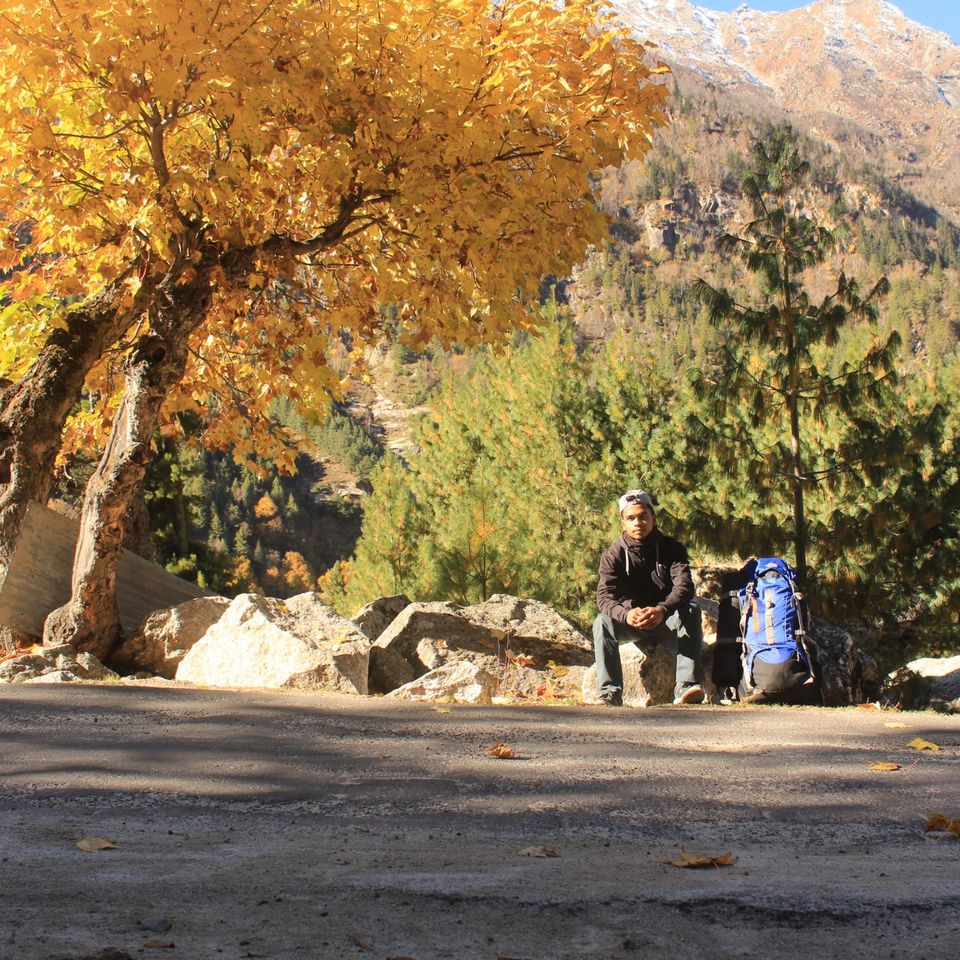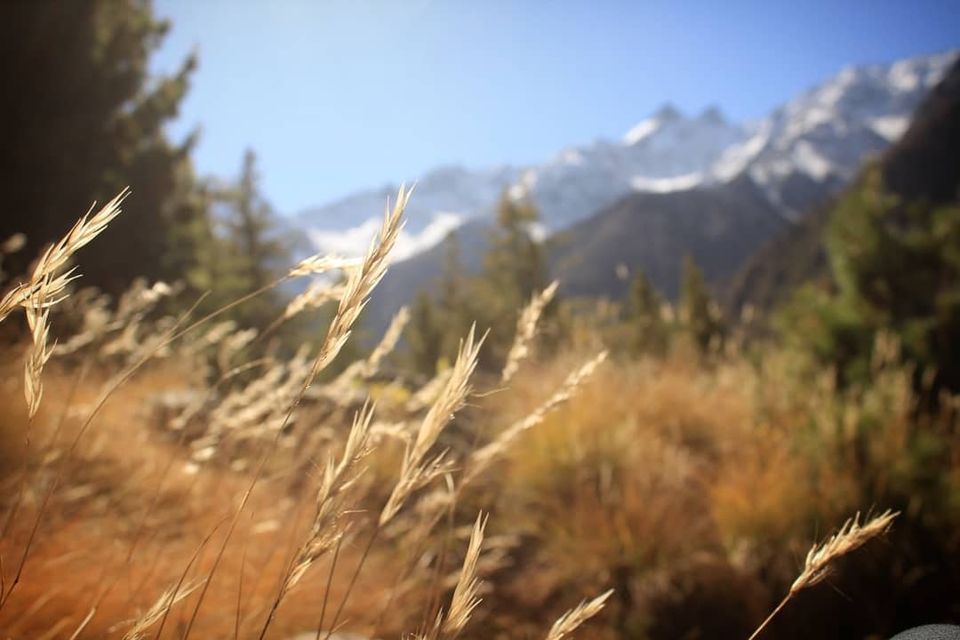 Next morning I missed the morning bus at 8:00 am to Chitkul and decided to walk the 11 km stretch. That was a good decision. This route was out of this world with autumn increasing the beauty to another level. Small streams flowing by, apple orchards, pines and snowcapped mountains in every direction. The trees were in all shades of red and yellow which was breathtaking. After walking 5 kms I got lift from a pickup truck and helped the driver load the truck along the way and finally I reached chitkul. Chitkul is said to be the last inhabited village within the Indian boundaries on the old Indo-Tibetan Road. Situated at the height of 3450 meters. It is like a doorway which opens into an exquisite landscape of breathtaking beauty and a serene environment. There are orchids, mountains, meadows, huge rocks, river, jungle, grasslands and the mighty Rangrik mountain range with the help of which it has made a unique identity for itself. Chitkul has a dhaba famous all around India as "Hindustan ka akhri Dhaba". After having a good meal there I started setting up my tent beside a small stream outside the village and collected enough firewood for the night. There I met two brothers from Gorakhpur who were on a bike trip and were staying at a paid campsite. After we ran out of firewood at around 11:00 pm they invited me to their campsite. The campsite owner who is a local and the caretaker, who is from kullu lighted a bonfire, served us food and the local kinnauri drink 'mouri'. This was one of the best nights of my life. We were all high talking about our experiences and dancing. I made them listen to Assamese bihu and we all started dancing. I have no memory of what happened later.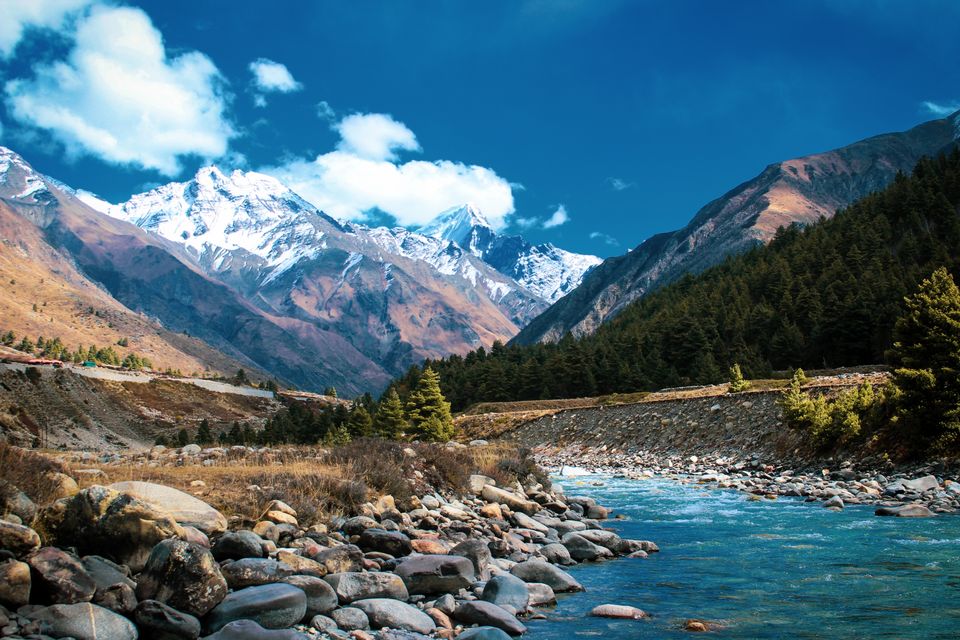 I found myself asleep on my tent in the morning. The two brothers from Gorakhpur were leaving and we promised "kisi din, kisi raaste fir milenge". I had one more day to spend in chitkul so along with another solo traveller from pune we hiked up to waterfall in the rangrik range. The terrain was steep and full of thorns. After climbing upwards for another 2 hrs, we found the glacier but not much of it was left. Then we hiked up to another river that joins the Baspa , took a bath and headed back to my camp.
Akhri dhaba is where I prefer eating as food is great and pretty cheap. After roaming around the village for some time I took a bus to Rekong peo at 2:00 pm. One of my friends from college invited me to her home. Next morning I had to leave for kaza (the district headquarters of lahaul and spiti). There is only one bus to  kaza which leaves Rekong peo at 5:30 am. So I decided to spend the night at her place. It was great spending time with her family. They dressed me up in traditional kinnauri clothes and served a delicious dinner. Put my power banks and camera for charging and I was ready for the next leg of the journey.
At 5:30 am i bid adieu to my friend and her family and boarded the bus to kaza which is 199 kms from Rekong peo. The bus takes 12 hrs to reach kaza and since it is the only  bus there is even no space to stand. Struck by a rock fall at spillow I was stuck there for 3 hrs and reached kaza at 6:00 pm. Temp there was -10℃ so I decided to stay at a place called 'the travellers shed'. A perfect place to hang out for bikers, hitchhikers and solo travellers.
After a good sleep I rented a thunderbird 350x at a decent price and headed to a few so called highest places in the world. First I headed to Langza Village at an altitude of 14,500 ft and visited the famous Buddha statue of langza. My next destination was Hikkim which is the highest post office in the world at an altitude of 14,567 ft and met five other bikers from different parts of india. We teamed up and headed to komic, the highest village in the world connected with a motorable road at an altitude of 15,140 ft. the next destination was a lifelong dream. The famous, key monastery. The biggest monastery in spiti and almost 1000 years old which is home to 300 monks. The monastery is a wonderful example of the monastic architecture that came into prominence during the 14th century because of the Chinese influence. It is famous for its style of architecture called Pasada.
              To be at the roof of the monastery is a splendid experience. Your heart will surely skip a beat or two once you are at the top. On one side is the magnanimous Himalayas and on the other side lies the Spiti river valley set at the backdrop of snow-capped Himalayas. The Key village and its lush green farms nestled on the banks of river gives a majestic treat for your eyes!
 Later I headed alone to a village called Tashigang. This place is really interesting as there are only 6 houses in this village. One thing I loved about kinnaur and spiti is its people. I was setting up my tent outside the village and a person came to me said " Julley! Itna thanda me kyun tent me reh rahe ho? Mera ghar me raho app". You can imagine how I felt at that moment. I stayed with the family of 6 in their home and they served me butter tea and a nice meal. We all sat by the chaktab or commonly known tandoor in the kitchen and talked about our cultures for hours and went to sleep.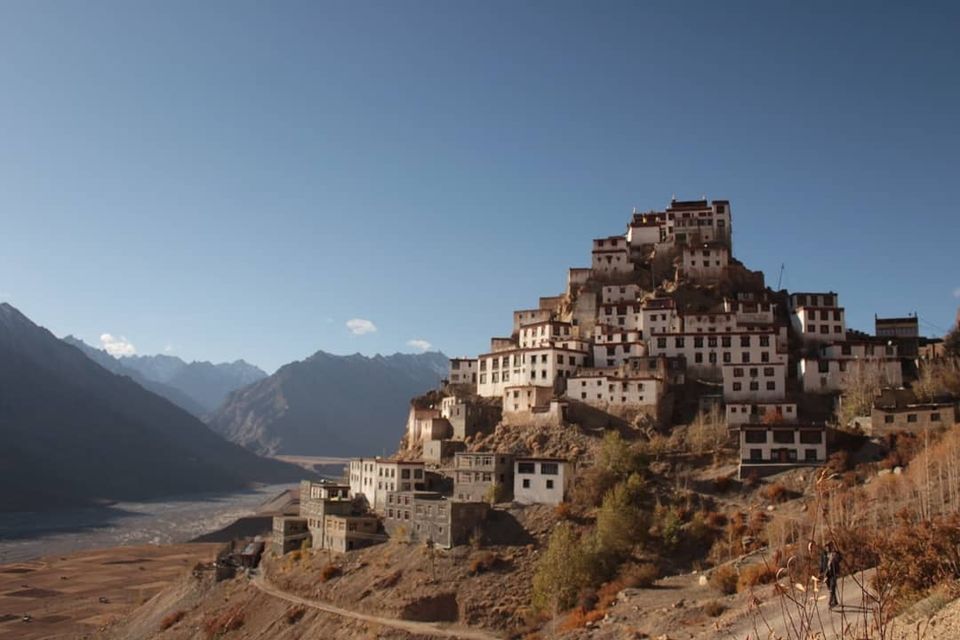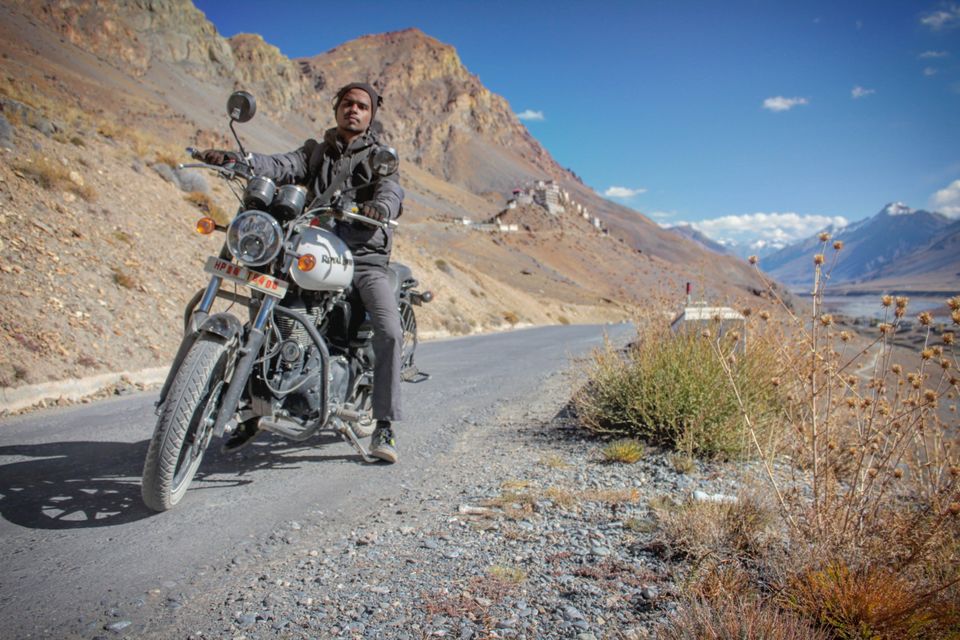 With a promise to visit them again I left Tashigang and headed to kibber village and later chicham. Chicham village is connected with kibber by 'Chicham Bridge' which is the highest bridge in Asia. The bridge is at a staggering height of 13,596 ft . Look down this one and you will find yourself gaping below at a 1000 ft deep gorge. Camped there for the night and prepared myself for the challenge I was going to face the next day.
One of the toughest rides in India is spiti to manali. You have to cross two mountain passes Kunzum la(15,147 ft) and Rohtang la(13,130 ft) in one go if you are not visiting Chandratal Lake and reach manali before dark. Kunzum La offers an incredible 360-degree view of Bara- Shigri Glacier (the second longest glacier in the world), a jaw-dropping vista of Chandrabhaga Range and a spectacular view of the Spiti valley.  It is believed that the visitors have to stop at the temple of Goddess Kunzum Devi, on their way to the pass, to pay their respect and seek the blessing to travel safely through the rugged terrain safely. The tradition is to take a complete circle of the temple in your vehicle. This enthralling view makes Kunzum Pass a photographer's dream.
There are no stay options in between except few homestays and dhabas which close down in mid-october . kunzum pass connects Spiti and Lahaul and Rohtang pass connects Lahaul and Kullu. You can visit Chandratal Lake which is 15 kms from kunzum la but have to take another route so I skipped it. I made it in 8 hrs to manali in one piece and completely exhausted. Generally one has to return the rented vehicle in kaza but I was lucky to drop it in manali.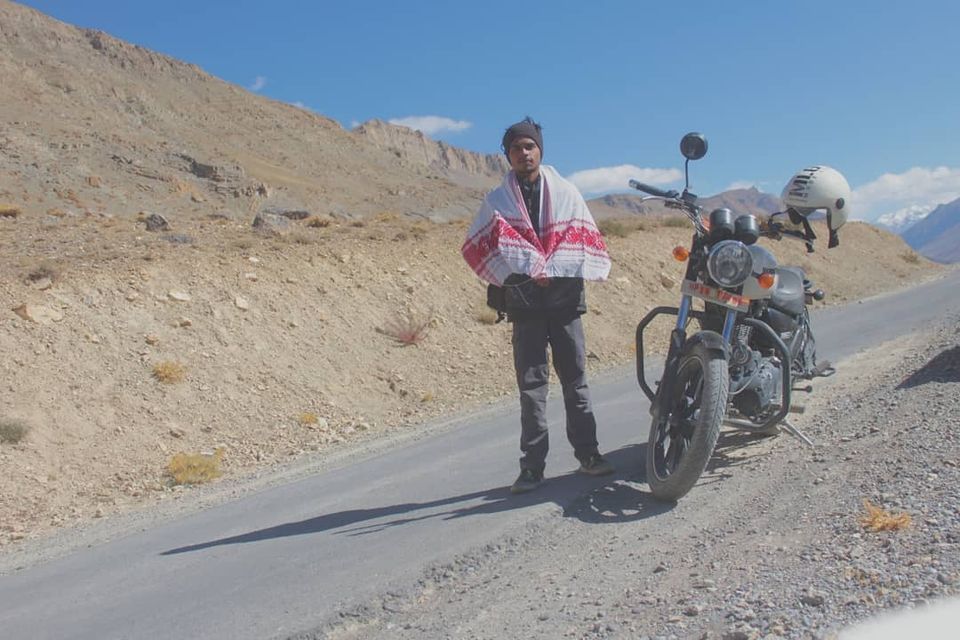 The plan was to return to Chandigarh but a friend invited me to stay at her place in Shimla. So without any hesitation I headed to Shimla. It was hilarious to see my friend not recognizing me due to the condition I was in; tanned and completely soaked in mud and dust. Spent the night there with her family and had a great time and much needed bath and sleep.
I wasn't willing to return and so we went for a day tour around Shimla enjoying the food and cool breeze. Boarded the evening bus to Chandigarh with lots of memories and stories to cherish for years.
So, is this for everyone? This kind of travelling? I don't think so. With all the amazing things this kind of travelling can bring to you, there are also downsides: it's a big chance that you will be lonely and that you will be hungry, sick but it all comes down to your gut feeling. But still after all this if you have the urge to travel then you should definitely do it. Then you should forget about your fears, disregard the fact that you are broke, and just leave. Because like that famous quote says ""Twenty years from now you will be more disappointed by the things you didn't do than by the ones you did. So throw off the bowlines. Sail away from the safe harbor. Catch the trade winds in your sails. Explore. Dream. Discover."