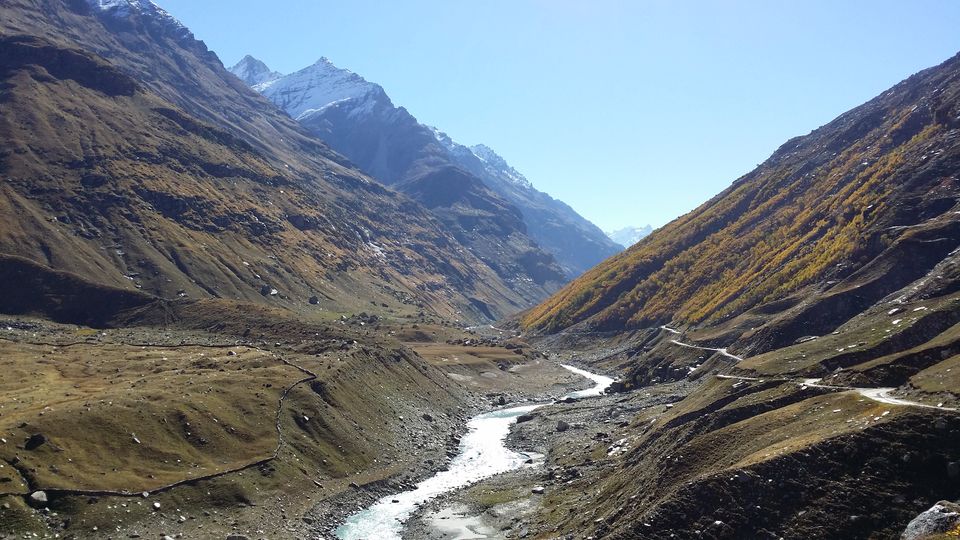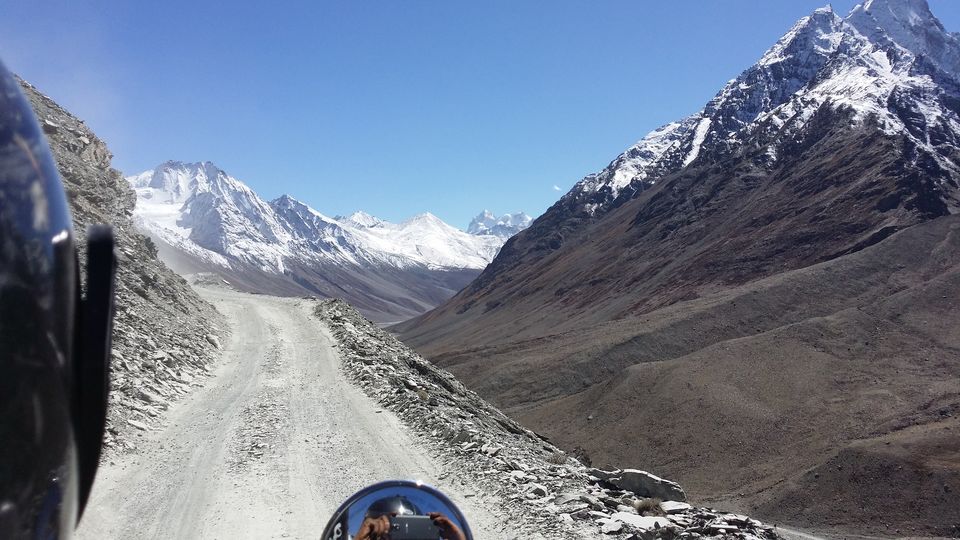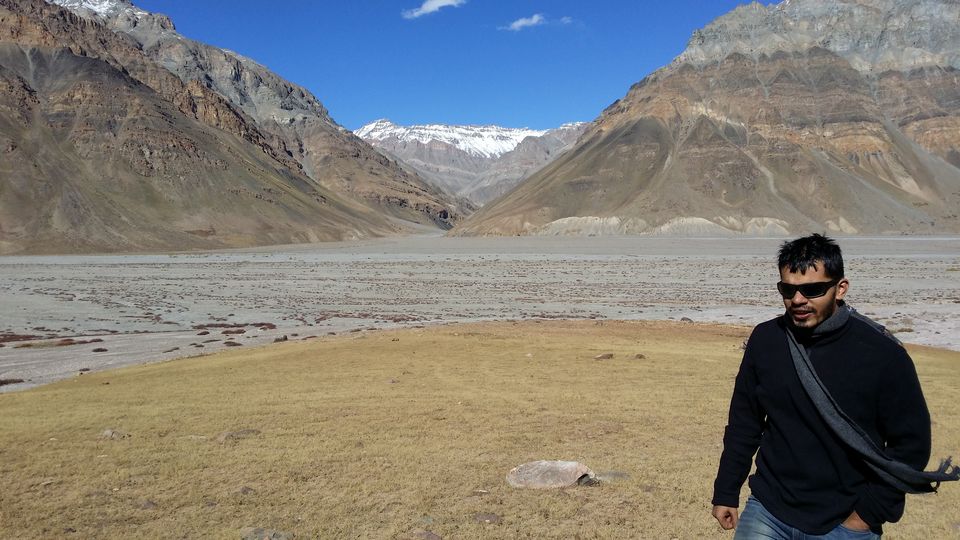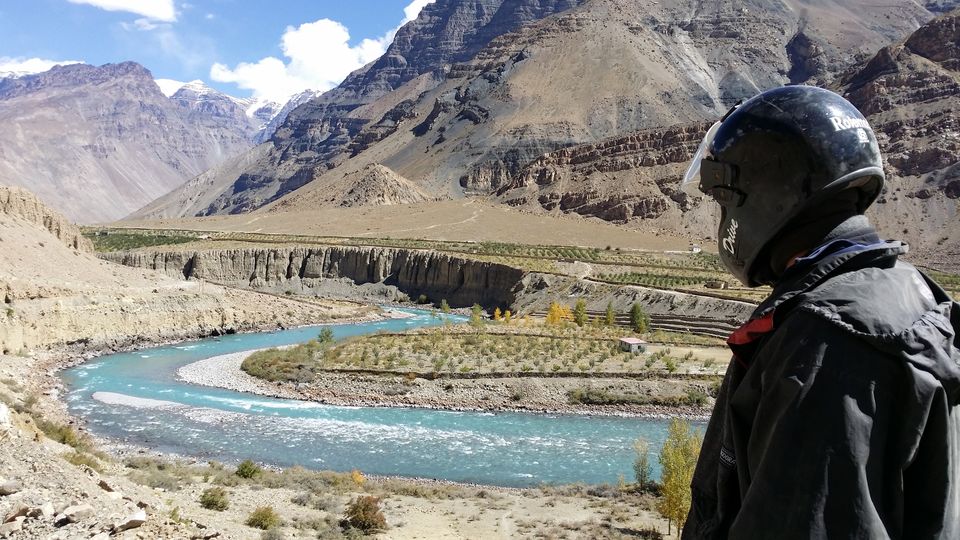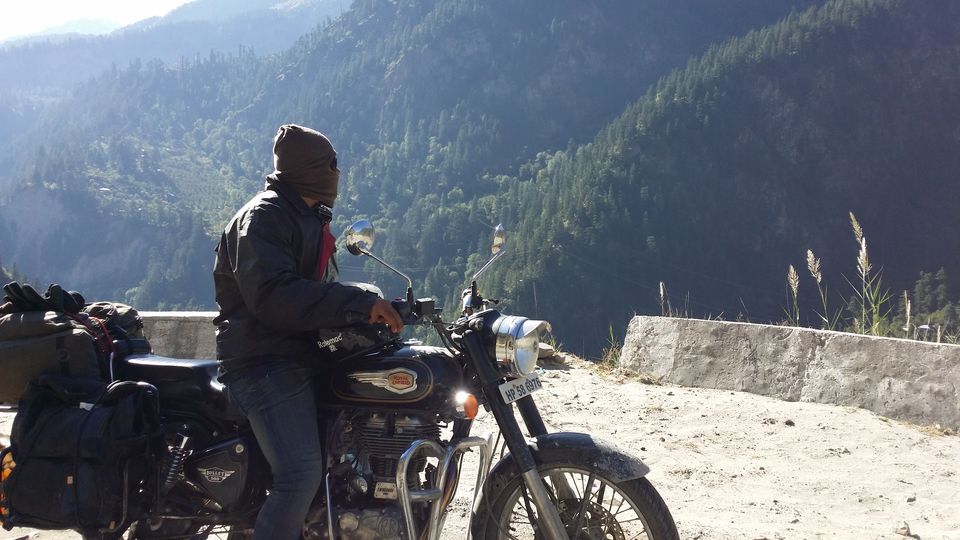 The front tyre looked really rugged and the thump of a single cylinder 500c.c dual bore Enfield with custom exhaust, reverberated in the hills as the clear skies parted to showcase the grandeur of the mighty Himalayas.  We looked at each other and nodded- a subtle gesture but a lasting one.
 A journey is often a discovery- a discovery into your inner soul. A face to face exposure with your insecurities, fears, a realization of often 'taken for granted'- basic human needs. Every time you negotiate a curve in the mountains on the bike, your heart skips a beat- there's fear. Is it fear of dying or fear of pain? Why do we fear death? death isn't an entity we are scared of as such. We are scared of the idea of death. The idea of losing all we garnered, the idea of dying without fulfilling our never ending bucket list. When we are face to face with fear, there's anguish. Perhaps, it is the best of the human emotions; not joy. Joy is a stable state of mind; there are no dynamics involved in it whereas anguish, it is dope! You experience anguish in bouts as your analog meter keeps ticking while the tip of your nose gets frost bitten and turns a little red, making you the clown of the grand mountains:)
 There's something inexplicable about the way you feel when you are surrounded by the mighty hills -you feel small. It trivializes all your concerns and troubles. When you have something which is a result of millions of years of evolution, staring down at your puny soul, you will not drift away, at all. Tabo, Nako have apple orchards all along, dotting the path, like red pearls decking up the lofty snow capped peaks. Apples everywhere! and I have not seen a single soul pluck them from the path, probably because you feel the mighty mountain Gods are looking down on you. You have integrity, without effort:).
I had the best paratha of my life in those hills. Anything you eat there, is 100 times better than the plains. I wondered why, and I felt it is because in the plains, most of us are never really hungry. We eat because we have to, because it is either lunch hour or dinner time. Even in the occasional outings we have with friends or family, food is an excuse for meeting up. How many of us  genuinely enjoy and cherish every meal, each day of our lives?. I appreciated feeling hungry and enjoyed every meal I had. Kunzum pass region has many cafes serving steaming hot, simple food with love.
I wondered often, if the temperament of the people changes according to the geographical location. If you observe people living close to coast, and people high up in the hills, they are always mild and loving. The mighty ocean and hills probably instill humility and love in them; which is unfortunately not conceivable in the cities.When I saw the pristine blue water of Spiti river, snaking it's way around the foot hills, as if, washing the mighty mountain's feet, I felt an urge to quench my thirst  by walking down the slope and sipping  some of the melted "mountain dew" but was warned against it because the river currents could be strong and the water- extremely cold. Rivers, at their origin, in the majestic mountains, are pristine- just like the people in the hills; but as the same river flows downward and diverges itself into tributaries , it's pristine blue waters changes gradually into muddy and then into one polluted gutter.I wondered if I could draw a parallel with the people's disposition too, as one descends gradually from hills to plains, the humility is lost.
Spiti-Kibber-Ki-Kaza-Komik-Lalung-Dhankar route is dotted by quaint gompas (monasteries), nestled high in the hills. Key Monastery, which is the largest and oldest of the monasteries in the region (founded in 11 century B.C) is the star among all the monasteries in the region. Key Gompa is said to have been founded by Dromtön (Brom-Ston, 1008-1064 CE), a pupil of the famous teacher, Atisha, in the 11th century. This may however refer to a now destroyed Kadampa monastery during mongol assistance.We knocked at the Key monastery doors early in the morning with our toes and palms almost numb due to a short ride from Kaza to Key ( located 4120m above sea level). A monk, with a benign look, gestured us to move to the kitchen which was cozy and warm. We immediately got rid of our gloves and made ourselves comfortable around the heath of the kitchen; where, unusually huge momos were being steamed for breakfast post the prayer session. Though I had an urge to grab one and gulp it down, I was overcome by my half  Buddhist principles which I never quite finished reading from the 'Dala Laima and the cat'.The kitchen was already crowded with a group of travellers from Kerala, each one of them looked similar in leather jackets, jeans and beards, of-course. There were a french couple who somehow managed to get closer to the heath for the warmth. I began to think how important is heat and warmth and of-course the company of other human beings in barren mountains
As I looked around, I found a young monk kid dabbling with a long tube like structure and sweating out by pumping the ram into the tube, which looked like something made of oak wood. Later, I came to know that the monk was using a device called as Cha- dong to make butter tea. The butter tea, as we were told, In addition to the warmth it provides, is also an important part of cold, high-altitude diets. Above 10,000 feet, the human body loses water roughly, making the risk of dehydration high. The addition of salt to this tea helps the people stay hydrated in the cold Himalayan Mountains.Making it is a time consuming process. You'll crush it, soak in cold water and then boil it for multiple hours. Once the tea has steeped, it goes into a long wooden churn referred to as a cha -dong. Then, butter, milk and salt are added and churned until thoroughly mixed.
We went to into a prayer hall, where the head monk chanted prayers in Dzonghka, possibly. I was hungry and just waited for the younger monks to serve butter tea and momos. Finally, the tea arrived and it soothed our numbness from cold by providing warmth. We helped ourselves with one more serving and sadly realized that the momos were not for us . We made a humble donation and left after clicking a few pictures. Kaza has several quaint cafes serving lip smacking parathas, samosas and dahi which seems to be the hot favourite there along with some steaming chai to soothe the cold, numb muscles of the riders. The sit outs in the morning are usually outside, overlooking the snow capped peaks with sun shining down on your head and easing your bike's air filters for a while.

Kaza-Kinnur-Rampur-Jalori pass:

The landscape after Kaza changes drastically; sometimes, it's surreal. You have to see it to believe it. It's almost as if, someone planned a set of landscapes to make your trip worthwhile by giving you all possible insights into the beauty and grandeur of the Himalayas. As we gradually passed these beautiful landscapes, we came across a lot of bikers who exchanged smiles and sometimes blinked their headlights as a mark of acknowledgement.After crossing a lot of gompas and OD-ed on Himalayan grandeur, we entered the Jalori Pass after Rampur. There are two ways you can reach Manali after Rampur- via Shimla or the via Shoja. We made an impromptou decision to stay in the off beat path and that turned out to be the best decision (Robert Frost's,'two roads diverged in the wood's', literally came to light) The Rampur-Shojha-Banjar-Manali route is just out of Ruskin bond's novels. There is absolutely no traffic in this route but be warned the roads are extremely bad and you might want to ride in the first gear for most of the journey.(it is  featured in the most dangerous roads in Asia) The route cuts through Jalori Pass, often called as the Iris Country. It was explored by British in 1931. The route is a divine pass with spruce, deodar trees, oak wood, and lilies literally laying a carpet along  the road( depends on the season) The pass offers breathtaking views of Dauladar and Pir Panjal ranges holding you in awe as you try hard to concentrate on the bad roads and a steep incline. If you are lucky, you can spot Iris flowers and red necked pheasant provided you venture a little into the woods.
There are several wooden huts high up in the pass, entirely isolated which made me wonder if Henry David Thoreau would have preferred Jalori pass over Walden had he seen the brilliance at display. I began to contemplate on the possibility of staying in one such wooden huts as I saw the sun setting in the distant pir panjal range. For once, I literally couldn't get enough of it. Shohja has places to stay if one wants to. One needs at least 2-3 days to explore around the pass and the nearby lake. We got back to Manali and went to the cafe overlooking the mountain range, ordered a huge meal and some lemon ginger tea, before we packed our bags back home.


Quick fact sheet of Manali-chandertal-Tabo-Nako-Shojha-Manali circuit:

Duration needed: 7-8 days
Bike rentals: I would recommend 'bike rentals Manali'. These guys know their bikes well and they are very professional. Brand new bullets, they provide bike spares too:)
Approximate budget: 15k / person including flight tickets ( variable based on your stay)
Must take stretches: After Rampur, you can go to Manali via shimla or take a diversion and go via Shojha. The Shojha route is mind blowing, though the road is bad, like any other road in the hills.
Permits: Crossing Rohthang pass needs a permit. you can apply it online one day before or take it offline from the D.C's office. But be warned, this is a must and plan to take it accordingly.

Petrol stations: Map fuel stations and always carry a can. Rely more on local knowledge and less on maps or internet:) because the fuel availability changes.