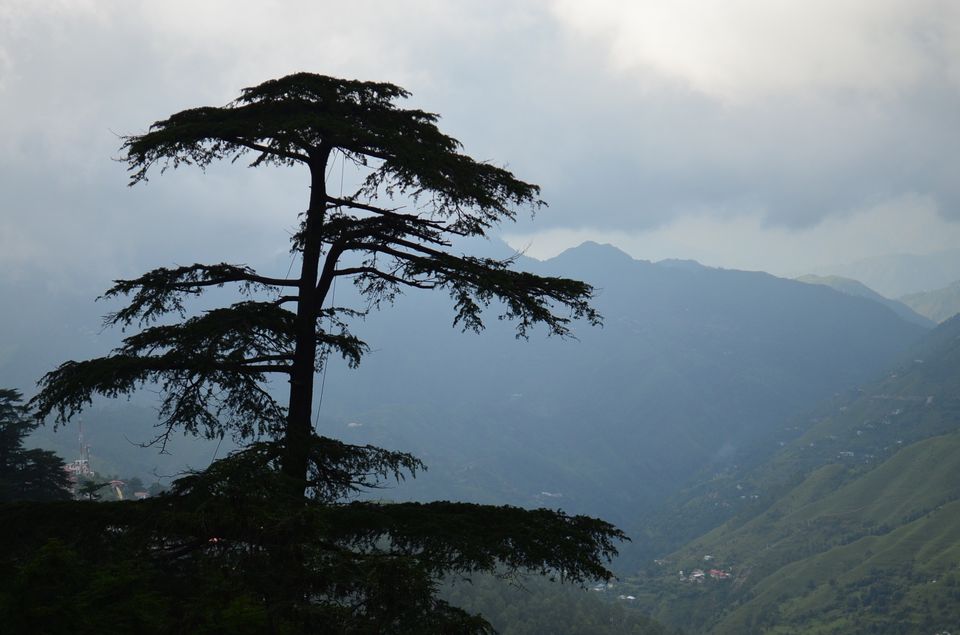 Depart from Delhi : 9 30 pm (kalka mail-12311)
I visited shimla with my family (5 people) and we spent 2.5 days in Shimla.
I highly recommend taking the toy train from Kalka to reach Shimla. Yes, it takes more time than a cab would but it is totally worth it. All the historical importance is one thing, and the spell-bounding scenic sights are another level.Keep your cameras ready as you will definitely be clicking a lot of pictures.
Here's one that I clicked :D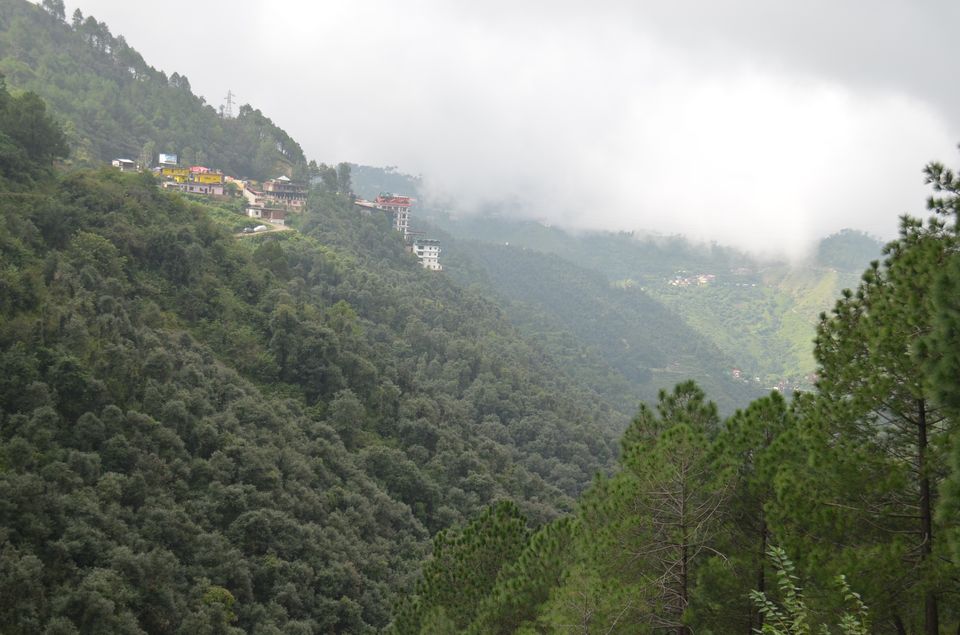 Day 2: Viceregal Lodge, Jakhu Temple, The Ridge
We started off our day late noon. We did not book any private taxi for the whole trip as they were quite expensive. So we booked Ola cab throughout was turned out to be a good and affordable option :). We left for Viceregal Lodge at 2 pm after lunch.
Viceregal Lodge:
This place is inside the premises of Indian Institute of Advance Studies(IIAS). Though we didn't have much expectations from it, but to our surprise, its a must must visit ( writing must 2 times wasn't a mistake :P)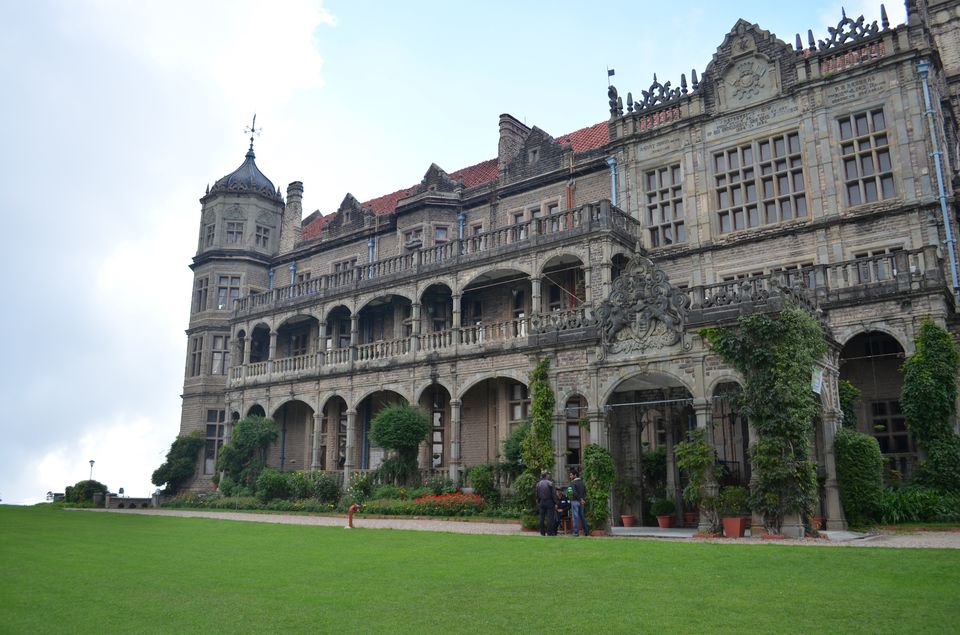 Jakhu Temple
We took a cab from outside IIAS directly to Jakhu temple. You can't take an Ola till the temple but if your cab driver is friendly, he will charge a little extra and take you there.
Also, if you are a fitness freak, try trekking till the temple from the ridge. It takes about 30-45 minutes. Jakhu temple has a huge idol of Hanuman (about 25 ft. tall) which stands strong through the clouds. Quite a sight!
Tip: Be very careful of your belongings. DONOT wear your specs/shades etc. The monkeys will take it away.
This was our last day at Shimla, based on reviews we planned to head to Green Valley first.
Green Valley: This is precisely a view point with lush green trees on all sides and a view of the mountains on the other side of the valley. Personally, I did not love it much. an Okish place.
Water catchment sanctuary: About 500 meters from green valley towards Shimla, this place is a 7 km area. Its the home to about 8 animal species from birds to the cheetah, bear, etc. The entry ticket is Rs. 100/- and cars are not allowed inside. Since we were short on time, we requested the officer there and he allowed us to go till 1 km and be back without any tickets :). Basically, its a walk inside a dense forest and has another view of the Green Valley after about 1 km walk.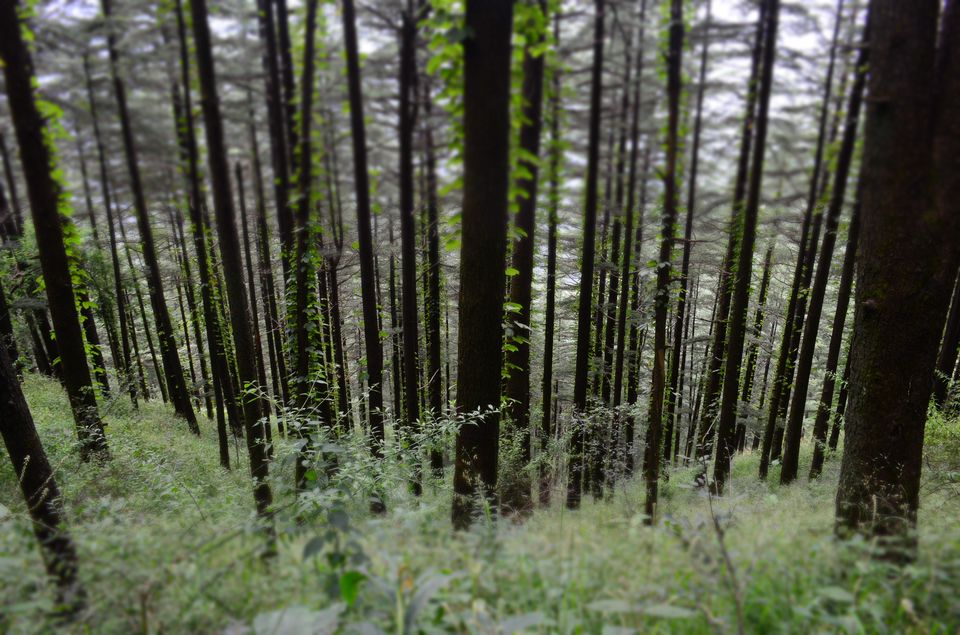 Annadale: One cannot praise this place too much, coz' its one of a kind. Annadale is basically an army museum. Its not just any another museum. It displays unique information of the army, like its uniforms, medals and awards. It also displays the original letter of surrender from Pakistan on Kashmir. Outside the museum, there's a small cafe overlooking a helipad. if you're lucky, you can get to see the landing of a helicopter, we did :). You can also see a varied species of indoor plants, cactuses, flowers displayed here. The cafe serves freshly made items from maggi to sandwich and cold coffee. All in all, a good place to spend some time.
I am tempted to add in a lot of pictures of this place.. but I shall stick to one ....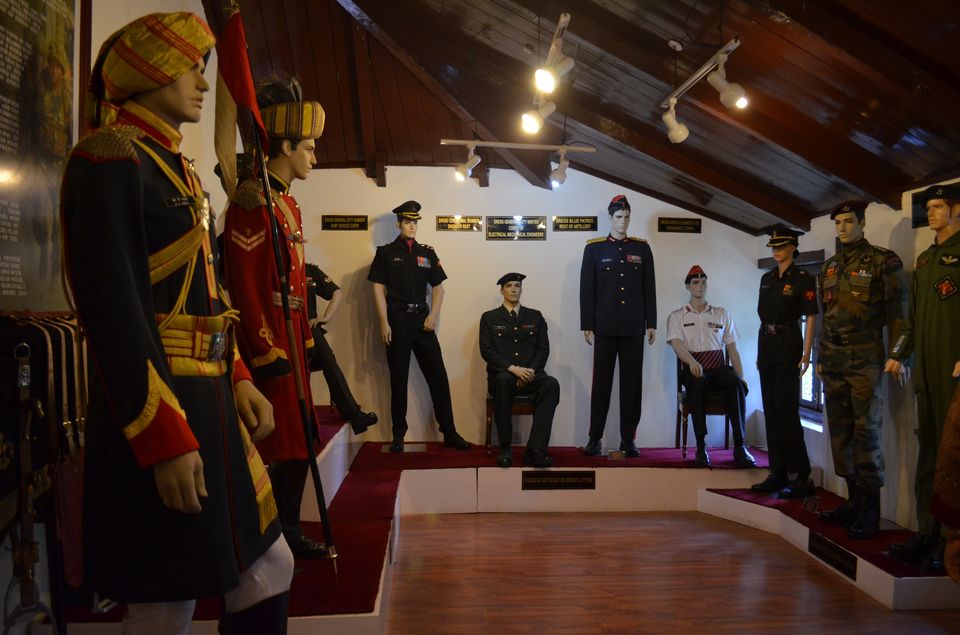 A little tired from the journey, we thought it was a good idea to confine sight seeing to nearby areas for the day. So after having a late lunch @ Singh's tandoor a.k.a Zayaka (small restaurant with very yummy vegetarian food) we proceeded on a long walk to the Ridge, the mall road. We visited the Gaiety Theatre.
This theatre is designed in the victorian style and is more than a hundred years old. You will find a lot of bakeries and restaurant on the Mall road to choose from for dinner. :) We decided to pick up some wine and enjoy it with the valley's view in our room. That reminds me, alcohol is quite expensive, at least wine is.
The Ridge: A great time to visit the Ridge is at night. The church, the national flag, are all lit up beautifully and one can easily capture the moving clouds in the light. Its pleasantly chilly and completely safe to sit here and enjoy the view of the mountains.
Day 3: Green Valley, Water catchment sanctuary, Annadale
We arrived at kalka early morning at 4 30 am.
Its a good idea to pre-book toy train tickets on irctc for 2 main reasons;
1. Its a small train and gets booked quickly.
2. You can select window seats at the time of booking to ensure a great view. ;)
Hot Tip: The view from the right side is quite spectacular.
We reached Shimla at around 12 30 pm. Shimla railway station is super clean.. Definitely welcoming.
Our hotel was 3 Km from the station and the private taxis were charging about 400 rs. to take us there. So, pretty much out of habit , I tried one of the taxi booking apps, and voila, Ola is functional in Shimla.
Check In : Hotel Kapil, Lakkar Bazaar.
The Lodge has an entry ticket of Rs. 40/- which also includes a guided tour of the interior. Gives you a glimpse of the beautiful and luxurious victorian lifestyle during the British rule. This is where people like JLN Nehru, Gandhi, and other eminent people held conferences.
Outside the Viceregal Lodge, there a small souvenir shop where you can buy postcards of rare old pictures of the place from before independence. On your way out, don't miss out the chai at the cafe next to the shop.
From here, we finally headed back to our hotel to collect our luggage and left for Kalka station. We booked our travel back in Shatabdi ( 5:45 pm) It took us 4 hours to reach Kalka including stopping for lunch in between.
POINTERS
-We intentionally missed Kufri based on feedback that it was overhyped.
-Ola is good to travel anywhere within Shimla, but outside you will need to book a private cab. ( Ola drivers are helpful in finding private cabs for good rates)
-2 days is a good time for Shimla. It is a place that beautiful natural landscapes and some important historical sights that are worth visiting.
-We missed the Himalayan Zoo, but I have been there before and its a decent place.
-Shimla includes decent amount of walking as cars are not allowed inside most premises, so wear comfortable shoes and clothing and enjoy the scenic views around you everywhere.
-Be prepared to see huge variety of flowers and trees everywhere. if you're from a place like Delhi, chances are you will come back really happy :). The fresh air, blue sky, vibrant natural hues is to surely make you Aw.
-Would be more than happy to answer any more questions that you may have.
Bon Voyage!