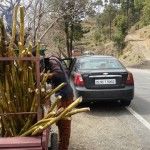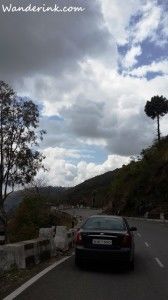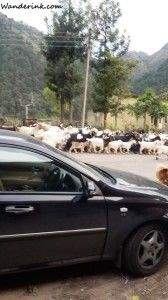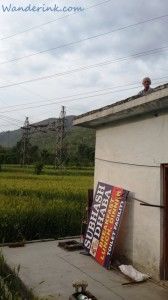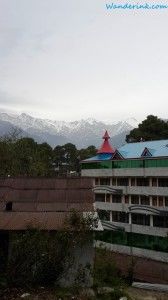 The guide designate – me in this case – doesn't always have to be chatty, anecdotal or brimming with humour. Like any momentous realisation – not unlike Nirvana – this one too did not dawn on me at the start of the journey from Shimla that morning. Close to six hours and 200 kilometres later as we passed Mandi, I said something about 'Shimla ki thandi' and 'Mandi ki randi' (the cold of Shimla and the hookers of Mandi) – being among the more irresistible experiences, at least for travellers of yore. Soon as I said it I was embarrassed and sat a crimson goop while my fellow travellers – my folks in this case – stared stonily as the ribald stillborn flew out of the car window and smashed its head into smithereens against the jutting boulders and descended on the valley below like atomised fly ashes. But we were doing pretty alright till then.
Shimla and Dharamshala both being popular tourist destinations, there are no dearth of connection options; choose your route depending on your vehicle and your love for driving. We were driving a sedan which precluded rough riding from the itinerary. So we exited Shimla via the Bilaspur route like any decent cabbie would and headed on hoping to hit Kangra (230 km) and its lovely fort with the golden rays of the evening sun. About 40 kilometres from Shimla we reached a place called Darlaghat marked by endless rows of snout-faced lorries arrayed on both sides of the road like clipped and coloured whale heads on display at some freak market; awaiting their turn at loading or unloading from a cement factory nearby. The air was ashen, adults and children walked by looking like performers taking an operatic break with the thick white coating on their faces. The road was guttered by heavy machinery. It is axiomatic that badder the road, prettier the drive. But what we were passing through was a nightmare.
Himachal Pradesh is an unrelenting maze of such industrial pockets, cordoned off hydro power projects, dry riverbeds and crispy knolls surrounded by burrowing earth movers. The result is a road network that makes you grip the wheel harder. The bridges have iron rods protruding from them reminding my dad of his fears were I to become an engineer. Bilaspur was yet another town choking beneath an unmoving calcified atmosphere and Ghagus, further on, across a rickety bridge with lollygagging immigrant workers was the crossroad of reckoning. To the left were Hamirpur and Kangra, about which I had plenty of fond memories and was eager to make more. The road was good, the route even tad shorter. The right marked 'Manali' on the gantry signage began with a steep gravelly climb and the promise of more crater-strewn territory would be passing through the historic Mandi once ruled by the descendants of the Pandavas. We would also be going closer to the mountains, traversing next to sharper peaks, warmer slopes and valleys with more than the depressing hanks of grass. Pursuing good roads made little sense in these parts but bad roads held the promise of at least good scenery.
It's surprising how something that was difficult and unpleasant till then metamorphoses into something enjoyable, enriching even after you have chosen it consciously repudiating the other easier and more obvious option. Because you know this is not what most would opt for and you are sure it's going to take a lot more of you and above all, it's not just about you. We blazed along the shadows of the boulder-strewn hills that stared down at us from both sides like unmoving Brobdingnagians. Stockaded little garden patches gave way to clusters of houses, each village bore the look of a frontier town with vast, vacant expanses falling off where the gardens ended. Clouds were massing in the distant horizon but the sky above us was like a radiant sea and it shimmered joyously to 'Jaane jaan, dhoondtha phir raha…' To make sure, I played my collection of Kishore Kumar – RD Burman classics again the next morning as we left Palampur. Most of the songs by this celebrated duo of Indian music sound as if they were made for the road, that too twisting, turning roads going up mountains. Later I even found that many of them have been picturised around snow-capped mountains, pine trees and lush vales. As dusk fell the air became a bit bleary with mist. We stopped for tea at a dhaba by the edge of a celadon forest on one side and a dreamy golden wheat field on the other. Though it was very well after lunch hour and way before dinner Subhash Thakur's son made steaming hot rotis and mixed vegetable curry for us. Topped with several cups of cutting chai. Where was Subhash Thakur? 'Papa is on the terrace, watching the setting sun and listening to old Hindi film songs.' A kind of ritual papa Thakur did every day. Any particular favourite? 'He listens to Kishore Kumar – RD Burman songs.' The surrounds were so sublime it didn't hit me as an earthshattering coincidence but merely logical. The most natural.
With fading light and freezing air, tiredness crept in steadily, stealthily and by the time we reached Palampur (234 km from Shimla) it was dark all around robbing us of all purpose – if not intent – to proceed further. Stopping short of a destination, come what may, is not something I do during my drives. This insistence has its advantages as well as drawbacks, works mostly when you are chasing deadlines. Today I wasn't. And my co-passengers were tired. The short drive – 35 km – to Dharamshala next morning in clear daylight also showed why it is good to loosen up and break rules sometimes.
At Palampur we had emerged on higher ground. The air was thin which left us all a bit breathless. But the landscape was dazzling if you discounted the speckles of occasional brown which were new buildings growing by the minute. The soft contours of the distant undulant hills and the long folded stretches of snow left us all spellbound. 'Next year we will go where the snows are,' my mom used to promise at the beginning of vacations every year when we were in school. Which meant this year (too) we were fated to hang around looking forward to Chitrahaar and Chitramala; the latter only if we were back from the Sunday Mass before it began at 7:30AM. After we grew up she would lap up photographs of my motor biking through Leh and Ladakh and trekking in Mount Kailash making the mandatory tut tuts. Though we had to wait out a hailstorm in Shimla during this trip, this was her first sighting of snow-flecked mountains. And she was suitably excited. She stared, lost. The clear rays of the sun burst through making the wide valley before us bristle and the distant scree twinkled. The mountain was bluer in the clear daylight and the snow looked whiter, almost holy.
Dharamshala could wait.