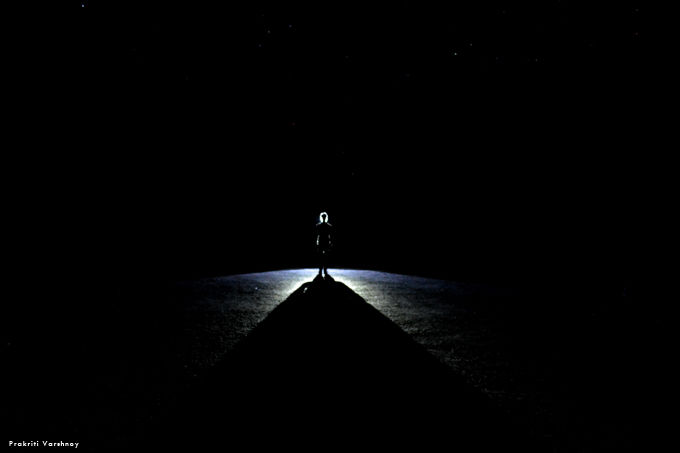 In last post we reached Tabo and charged our gadgets while having dinner. In this post I will elaborate about witnessing galaxies in Tabo, way to Pinvalley and Kibber.
As we walked out of the eating point (that was neither like a restaurant nor a dhaba) moon was nowhere to be seen, just the stars.
Galaxy right above us. And because there were no clouds, it was more amazing! As night descended, it gave us more opportunity to see the miracles of nature. I could spot four different galaxies in a single night.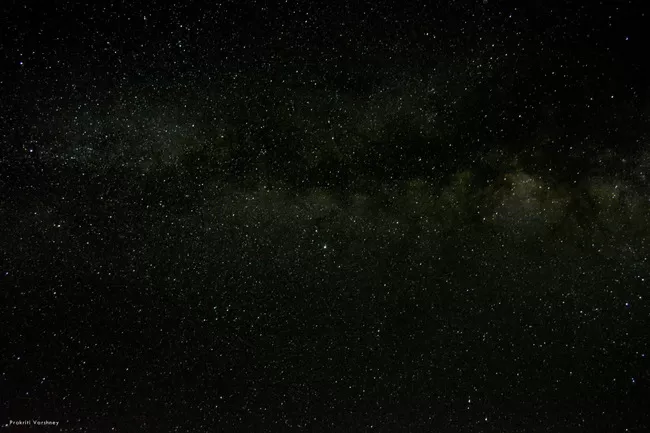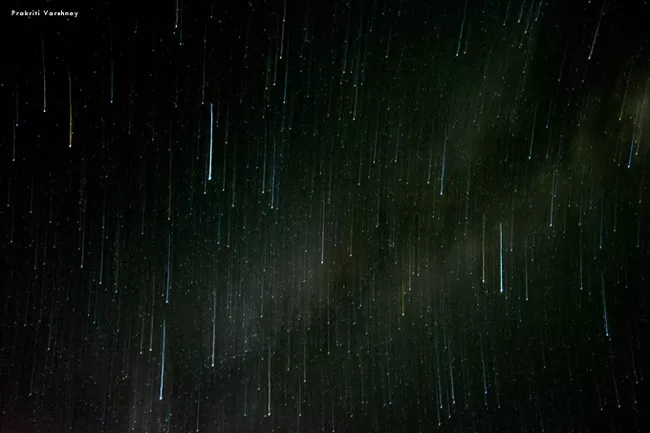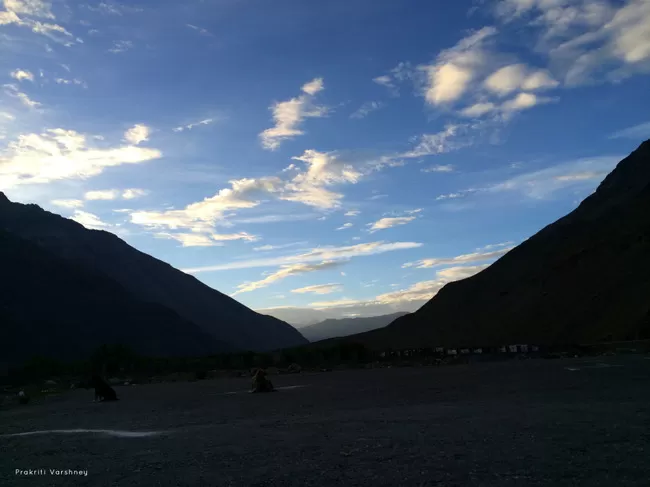 With our ceiling being so beautiful, there was no chance of falling asleep. Moreover, the vast area of helipad left us with no boundary. We were able to walk across the land and feel the beauty of night. There were some people on the other side of helipad playing coldplay's songs. I wonder if it could have been any better than this. So busy with capturing the wondrous galaxies, I didn't realizing it was 12 o' clock until my friends gave me birthday wishes. I can proudly say I turned 21 in the lap of nature.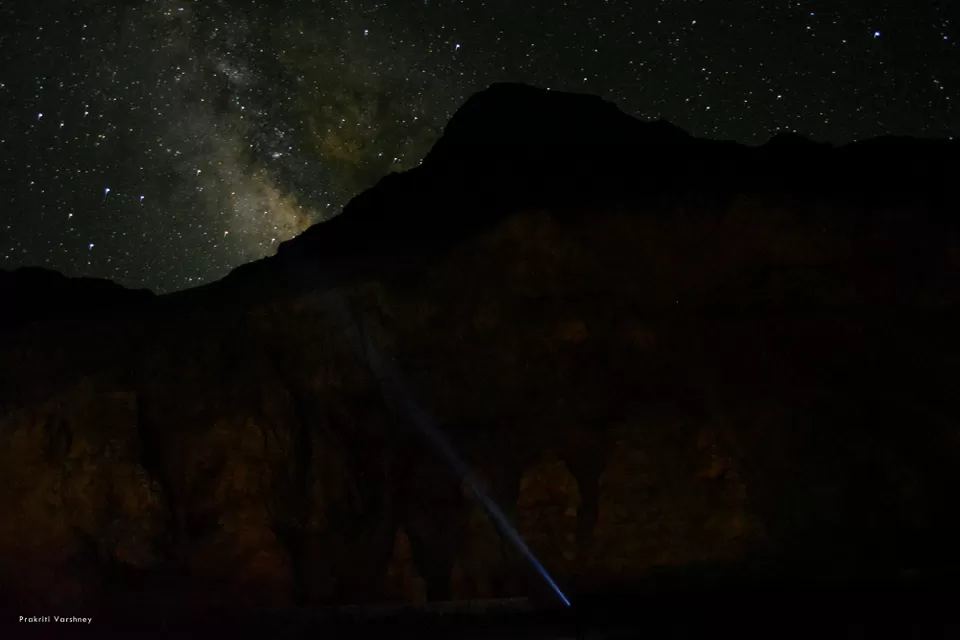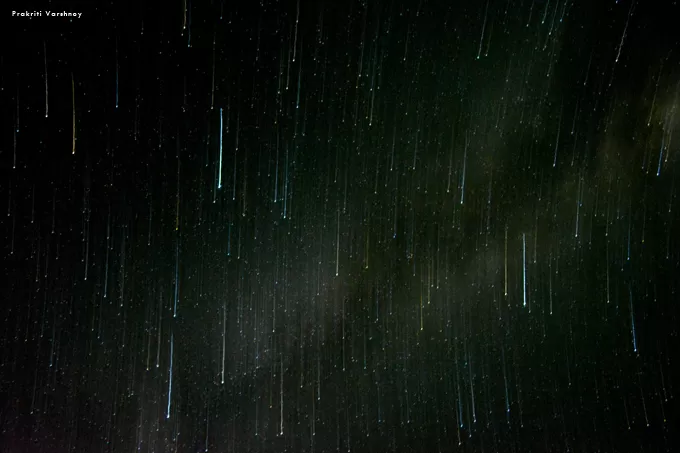 The emptiness of helipad, darkness of the night, light of the stars and cool breeze was more than enough to celebrate my day. I don't have any photograph of a cake, for I didn't cut any. But I am sure visuals of galaxies are more than fine. Right?
Trying to capture galaxies in different ways, I forgot that time is transient. After realizing that it was already 2am, it was hard for me to convince myself to fall asleep. You know, you just want the time to stop and watch different galaxies pass by in the sky because it becomes hard for you to realize whether it's real or just a dream! But I had to give my body some rest so I can be equally active while gazing at the beauty of Pin valley next day.
3hrs of sleep and when I wake up, unzipping my tent, I see wild dogs running furiously across the area. They were in no mood to play but fight, so I focused on the view behind them.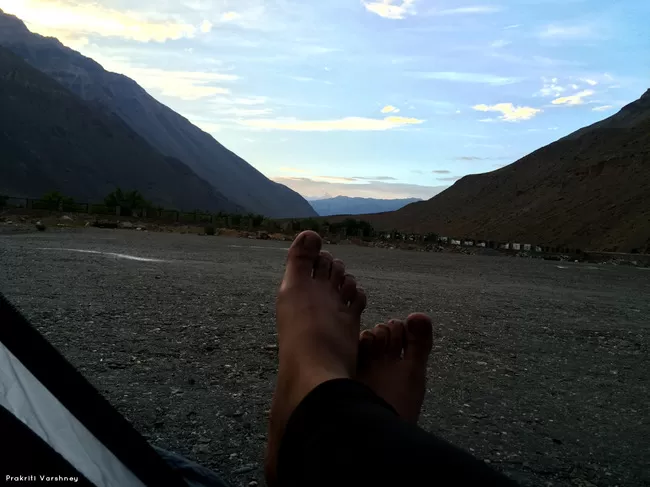 It was like the scenery we all used to make in our childhood. Mountains and the sun peeking through them. If I had a drone, the photograph would have had a river in sight too! Anyways, I woke my friends up so we don't get late for our next destination. With our morning routine done, we left for Pin valley. It is about 45 kms from Tabo. And I tell you, this 3 hr long journey isn't easy.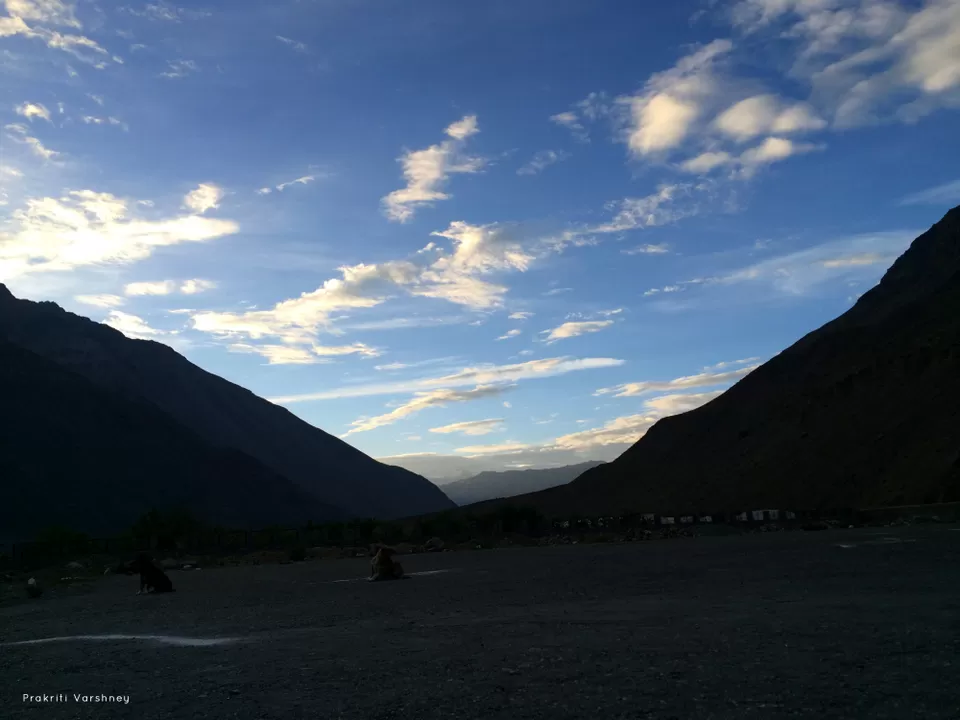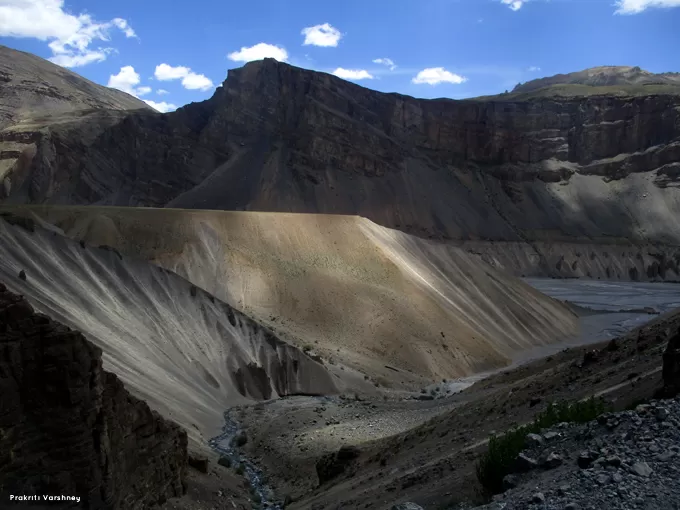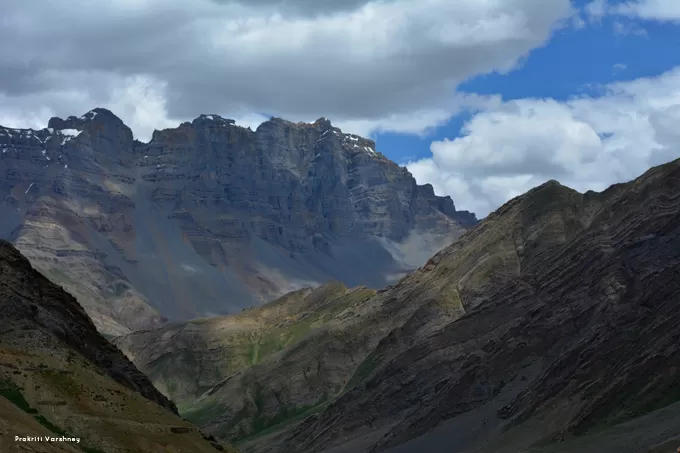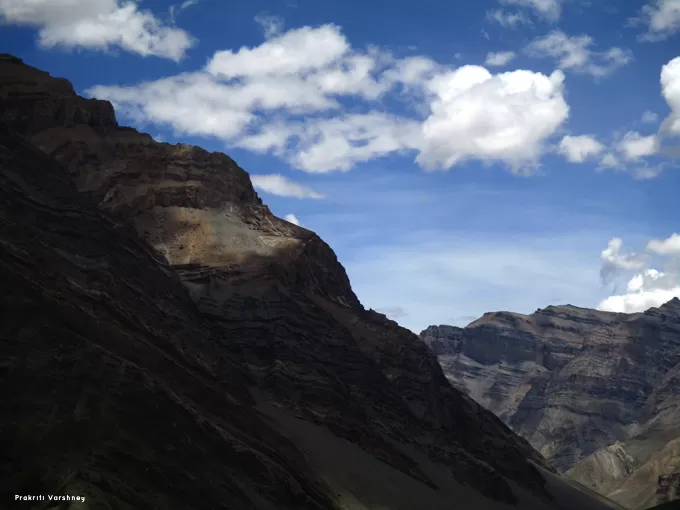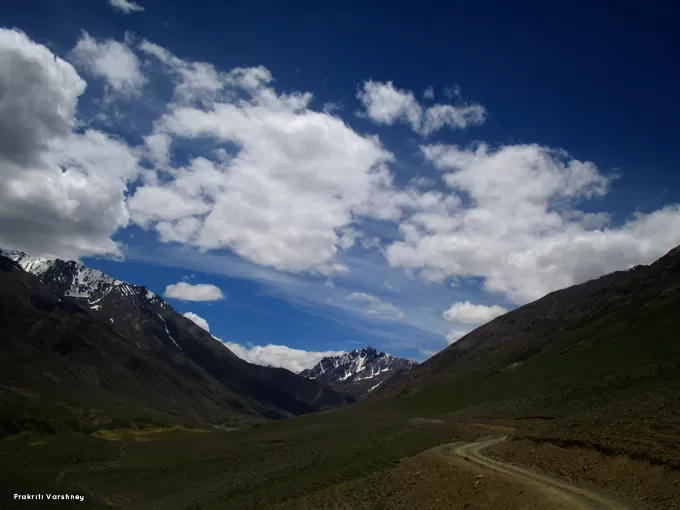 The view roads to Pin Valley offer are more beautiful (I still wonder how it gets more beautiful with every step) with blue sky, mountains closer than before, sunlight making everything shine gold, green fields and cotton like clouds. The vistas were beyond perfect.
Spiti Valley itself is a remote place but I found Pin Valley the most deserted. We passed Mikkim, a village inhabited by only 30 people. We couldn't spot a single human being in Pin Valley. No house, nothing. It was just mountains.. peculiarly green and pink. As far as your eyes wander, makes you wonder whether you are actually standing in India or not.
There was a stream flowing through so we thought we may bathe here. The moment our fingertips touched the water, our whole body started shivering. Glacier's water it was. It was really hard to persuade myself to wash my face with this chilled water, but that gave a refreshed feeling and numbed my senses.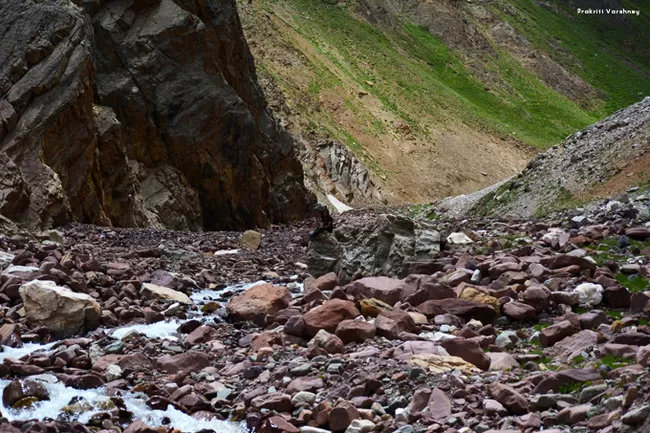 Sitting by that stream, listening to the tinkling of water I felt a raging calmness within. Rush of wind was drowning me deeper and suddenly when I opened my eyes, I felt light as feather. Nature I tell you!
This spell of nature was broken by car honking and I realized we gotta keep moving because Kibber was 40 kms from Pin Valley. We were travelling on the same road we came from, but not even for a micro second I felt that I had crossed this path. Everything was same but it still looked new. A certain mystique surrounds Spiti!
We hardly would have crossed 20 kms and we reached Kungri Monastery. Its exterior wasn't well built and that teaches us we shouldn't judge a book by its cover. The moment we entered in that monastery, I was transfixed. It was an amazing combination of tradition and modernization. Near the entrance, there was a gong and as you enter, you see large cupboards on walls filled with idol. Each cupboard covering 1/3rd of the wall and was filled with same kind of idols. It all appeared so symmetric; a satisfactory delight to eyes.
We sat on one of the mattresses laid out, to observe the silence. Slowly monks started entering the Gompa, one by one sitting on the mattresses laid out in centre. When about 20 of them were assembled, they started praying. That prayer had power! All the monks were reciting prayers in perfect synchronization. It had a buzz that will touch your heart. It was so soulful. Quintessential!
We, after 1 hr of seraphic devotion, got on our way, realizing that we are too small in this big world. And much smaller in front of nature.
We went through Kaza and reached Kibber soon after. I was sitting on rooftop once again. If you get a chance to sit on car rooftop in Spiti, do that! It leaves one exuberant!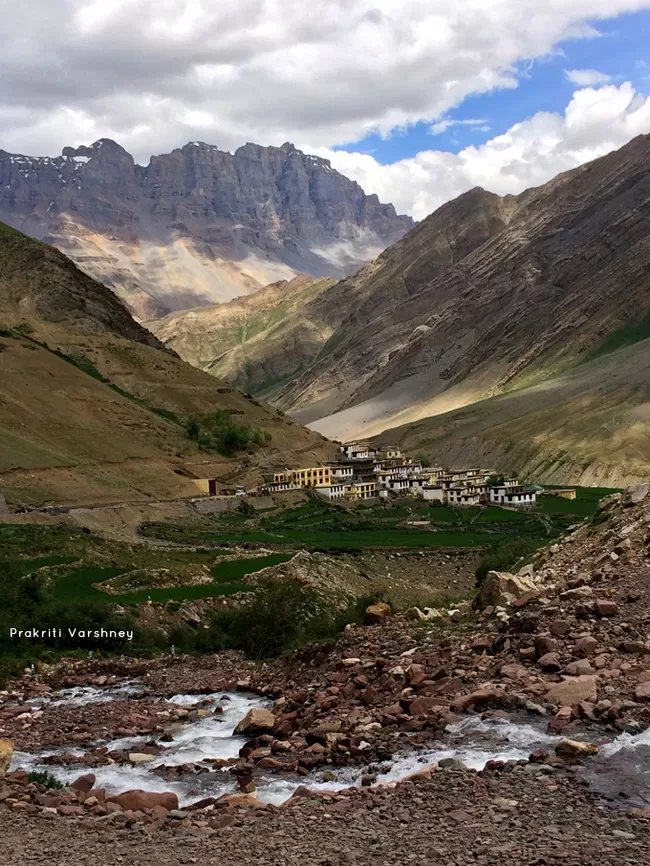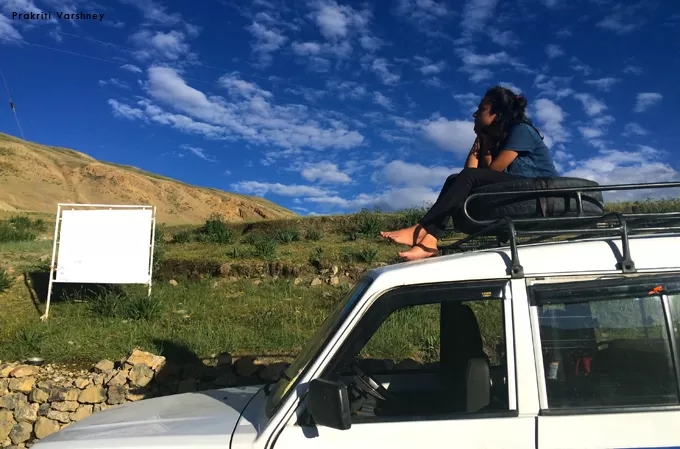 We reached there quiet earlier than I expected. We found a spot to fix our tents at night and started engaging ourselves with locals. Someone asked us to trek to Chicham Village to see a rope-way that stands at a height of about 3 thousand feet or more.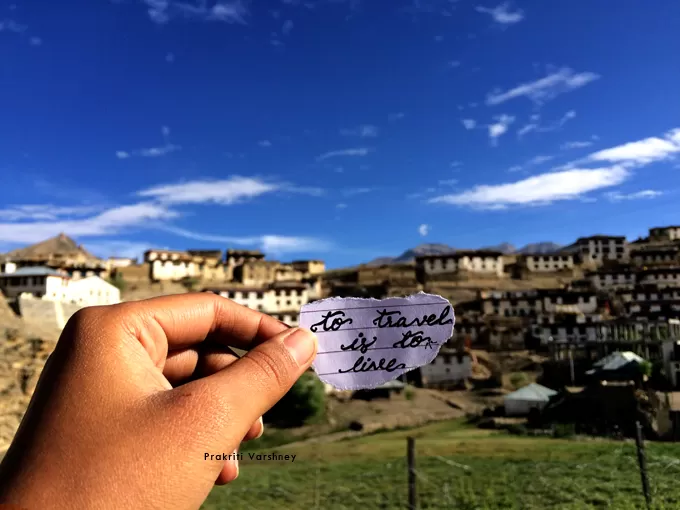 We went there and guess what we saw.... continues in next post! Stay tuned!
This blog was originally published on 'It is in the Name'