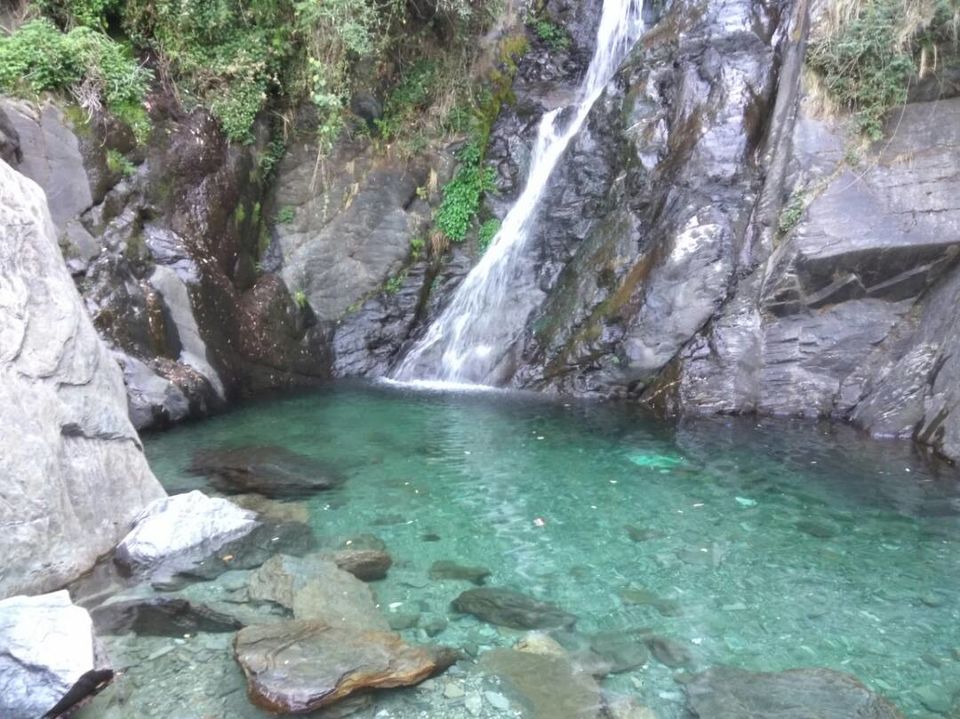 "The Himalayan expedition is a photo blog that documents the beauty of a road trip of Himachal from Delhi. My hubby and I, we both switched our jobs at the same time and the period in between served as a platter for a delicious half month road trip amidst Himalayas. I just hope next time our road trip to be an international one."
MANALI: As we were about to reach Manali after bearing with the scorching heat and awful road condition enroute, I just wanted to stretch out on one of the smooth boulders beside the river with my feet in the ice cold water. And we did exactly this as soon as soon as we found the suitable parking with riverside road, along with hot tea and Maggi.
Next three days in Manali were nothing less than a heavenly retreat for us. After living in Delhi where the temperature was 45- 50 degrees, how it feels to open your eyes and find picturestic snowcapped peaks from your room's window and to sleep in warm blankets in the month of May. After living the busy monotonous corporate lives at Delhi this break was like a dream. To have no fixed itinerary, or to-do list. To get up when you wish to and to roam around on Royal Enfield with full swag, to dress up in bright floral colors and breath the cleanest breeze, just me my hubby and our bike. We picked up our bike and headed off to explore Rohtang. We would stop by a roadside, lay on the hill along a river and just absorb the beauty of the place. Our stay was at 100 mt distance from Vashisht kund, which is a hot water spring. There were small separate pools for males and females. After a small trek to Jogni falls, one of the most beautiful waterfall I have ever seen, we plunged into the sulfur spring of Vashist kund for about an hour, and believe me this natural Jacuzzi will beat many salon of Delhi. After this relaxing spa treatment we went to German bakery and other nearby cafes and ordered steam momos and ginger lemon honey tea, chocolate croissant, cheese cake. It was a perfect bliss after the trek and the relaxing hot water swimming session to get a treat like this.
KASOL: A mini Israel in Himachal Pradesh. Nothing like a nice stroll down and frothing river on one side and looming pine trees on the other. Clean white sand and smooth boulders separate the lush green grass from the tumbling blue-green water of the river. All this is framed with a cackling, churning snowcapped peaks piercing the happy blue sky at the horizon. There is a rickety old bridge which separates the new kasol from the old kasol. There are various small cafes crowded with Israelis, smoking hash and stuff, for which kasol is famous for. It was drizzling at night. Initially we wanted to attend one of psy music festival (a kind of rave party), but since it was raining and we needed to trek inside the dark jungle and also cross a river at night to reach the destination for that party, we declined the idea. After collecting some souvenir we went to a café for our dinner. As you enter you'll find dimly lighted cozy small rooms, one room leading to other and many other small rooms which were packed with Israelis and people smoking marijuana "joint"., with comfortable seating on ground. Mainly there were Israeli cuisine on the menu. I ordered some random Israeli dish that turned out to be delicious. Till the time we got our dinner, the smoke in the room had already started showing its effect on us. We were feeling sleepy. After a short walk to our hotel room we went to sleep.
Manikaran: Manikaran is a pilgrimage center for Hindus and Sikhs. It is located in the Parvati Valley on river Parvati. The area is well known for its hot springs and its beautiful landscape. Since it was my birthday so we decided to start our day with a visit to a holy place. After having lunch at the langar we headed for malana.
MALANA: (has one of the most amazing stories in the world:
The village administration is democratic and is believed, by locals, to be the oldest republic of the world.
The social structure of Malana in fact rests on villagers unshaken faith in their powerful deity, Jamblu Devta. The entire administration of the village is controlled by him through a village council. This council has eleven members and they are believed as delegates of Jamblu who govern the village in his name. His decision is ultimate in any dispute and any outsider authority is never required. Thus Malana has been named the Athens of Himalayas.
People in Malana consider all non-Malani to be inferior and consequently untouchable. Visitors to Malana town must pay particular attention to stick to the prescribed paths and not to touch any of the walls, houses or people there. If this does occur, visitors are expected to pay a forfeit sum that will cover the sacrificial slaughter of a lamb in order to purify the object that has been made impure. The visitors are also made to sign a letter of consent stating that anything that happens in the village of Malana shall be sorted by the village administration and no other jurisdiction can intervene in the process.
Malani people may touch impure people or houses as long as they follow the prescribed purification ritual before they enter their house or before they eat. Malanis may never accept food cooked by a non-Malani person, unless they are out of the valley (in which case their Devta can't see them).
Malanis may offer visitors food but all utensils will have to undergo a strict purification ritual before they can be used again. This is also seen as a technique used by the people of Malana to protect their vested interest in the hashish manufacture / marijuana fields in the mountains above their village, since Malana Cream and other popular, yet costly varieties of the drug come from this part of India alone.
Despite being a part of the Kullu valley, there is a myth that the Malanis have very distinct physical features, and a dialect which is different from the rest of the valley. However, in the valleys of Himachal, there are a significant number of distinct Pahadi dialects, some of them totally different from each other. Hence the physical/lingual uniqueness cannot be proven, given the inaccessibility of the Malana people, except for the trade of Marijuana / Hashish in the Parvati valley.
The judiciary in Malana is different from that in the rest of India in many ways. They believe in a godly approach over the rational one. In a difficult decision to solve a conflict, they make a deep cut in the foreleg of a lamb each of the two parties, poison it, and then sew it back with needle. The person whose lamb dies first is said to lose the case.
There are various legends about their origin. According to one of them, it is believed that they are the descendants of Greek soldiers of Alexander's As the legend goes, some soldiers took refuge in this remote land after Alexander left the country and later settled there permanently. This legend is also inconsistent with the legendary descent of the local people from Indo-Aryans who would pre-date Alexander the Great's soldiers by approximately a thousand years. According to authentic sources, the legend of the Greek origin comes from the Malanese people having a lower-house and upper-house system. This system was observed by someone who co-related this system with the system of governance followed in Greece, and hence formed the legend. Their language is called Hamskad and is the native language of Kinnore.) Apart from the google information the special thing about this old fairy tale village was the friendly people and with beautiful architecture and amazing climate.
The next morning was misty and a bit wild and it really felt like I woke up at the end of the world. It is so peaceful, while I was sipping my hot cup of tea, my mind was buzzing with questions like, is this how societies have evolved? So are we also living by some old rules and customs from the past? So this is how customs were made and we are still believing and living those customs?
I don't need malana cream to feel euphoric in the beauty of this place.
PRASHAR LAKE: With deep blue waters, the lake is held sacred to the sage Prashar and he is regarded to have meditated there. Surrounded by snow-capped peaks and looking down on the fast flowing river Beas, the lake can be approached via Drang.
The temple was built in the thirteenth century and legend has it was built by a baby from a single tree. The lake has a floating island in it and it is said to be unclear how deep it is, with a diver not being able to determine its depth. Mythology says that this lake was formed by Pandawas when they were on their way after Mahabharata with Deity Kamrunag (based on which this entire valley is known as Kamru Valley today) to find best place for their teacher, Dev Kamrunag and Deity love the isolation of this place so much that he decided to stay here for the rest of his life. On his request, Bheem one of the Pandava brothers formed the lake by pushing his elbow and forearm on the peak of the mountain. And that is the reason believed by locals after oval-shaped lake with depth unknown. Many a time in storms an almost 30-meter-tall cedar tree would fall into the lake to disappear.
SHIMLA: For our second road trip we needed to start from Shimla. After a full day drive from Kullu to Shimla we were extremely exhausted. One of my close friend, my college time roommate instead us to stay at her home. I liked the idea of meeting her after so long. After a stroll on the Mall road we went to her place. While we cherished our college memories, her mom cooked delicious dinner for us. We chatted for a while, shared our trip photographs and then went to sleep.
SARAHAN: Sarahan is small picturesque village in Himachal Pradesh of India. It is the site of famous Bhimakali Temple, originally known as Bhimadevi Temple (Bhīmā Kālī), dedicated to the mother goddess Bhimakali, presiding deity of the rulers of the former Bushahr State
CHITKUL: Chitkul, on the banks of Baspa River, is the first village of the Baspa Valley and the last village on the old Hindustan-Tibet trade route. It is also the last point in India one can travel to without a permit. Of particular interest at Chitkul are its houses with either slate or wooden plank roofs, and a Buddhist temple.
As soon as we reached this cold desert kind of place, it started raining with sleet. My heart started pounding with joy when I heard locals saying that it might snow at night. But the night was uneventful. As soon as rain stopped, we took a stroll in the village. Enjoyed the sunset. Visited an ancient temple. And went back to our small wooden cottage for night.
RECKANG PEO: is headquarters of Kinnaur district. We stopped here for lunch. We brought some local dry fruits from the local shops and headed for Kalpa. The road for kalpa was serpentine, narrow with constant elevation.
KALPA: The village with cleanest air in India. It is famous for its apple orchards. It remains closed and inaccessible mostly during winters. Through this place you can catch a glimpse of kinner kailash, most of the time kinner kailash is clouded over, and so when you finally get the chance to see it, it will blow you away, at least it did for me. In the morning we were lucky to get a special kinnauri breakfast, phafra with saag, it was delicious. After Kalpa it was time to head back home. These 15 days in himachal were truly amazing. It was mesmerizing! What a place!
This blog was originally published on 'ANKITA.WANDRER'