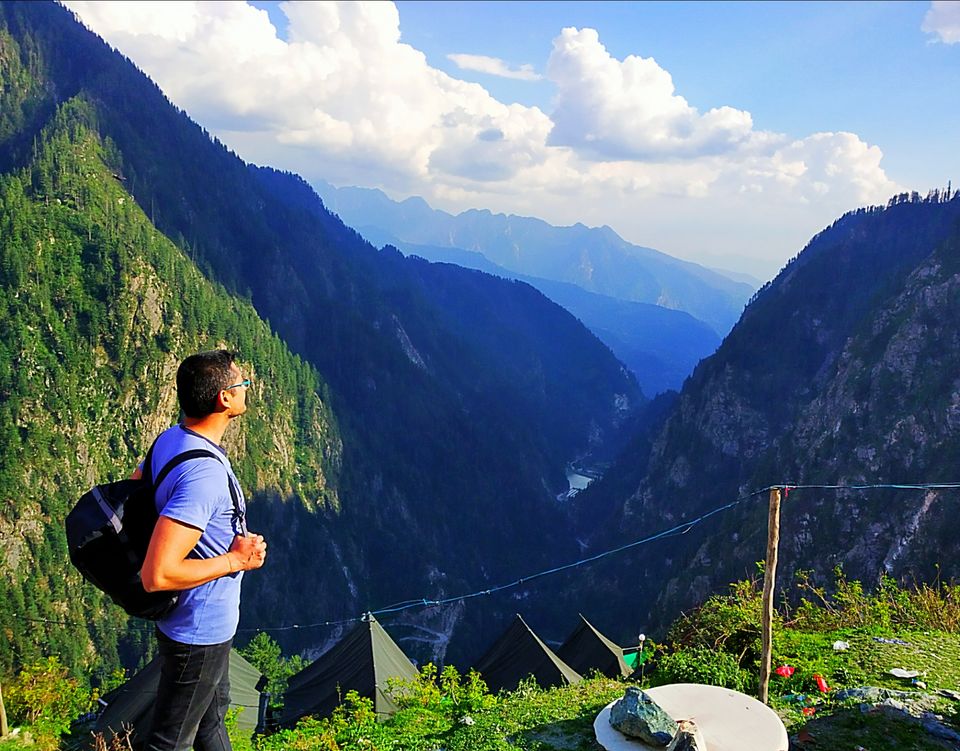 Being the beach bum that I am, I had been planning trips to beach destinations all these years but off late I had been dreaming of visiting the mountains. I felt that the mountains were calling out to me and I had to visit them but every time I began planning a mountain getaway the first thought that struck me was if my better half, Gary, would be comfortable with it. There are so many folks who suffer from bad motion sickness while travelling on hilly roads and I really feel for them. So when Gary finalized her dates to visit her family for a week, I made up my mind to visit the mountains to escape from my thankless job, find some peace of mind and do some soul searching.
Out of all the destinations, I had really wanted to visit Himachal. A close friend suggested that we explore Spiti but after researching extensively on the net and calling up several tour operators, none of them had dates of my preference and all of them would have required more than a week of travel from Mumbai. I came across a website called the Great Next where I inquired about trips in Himachal that would include hiking and camping. They gave me few options out of which I was completely sold for the Parvati Valley tour as it included both camping & hiking and it was recommended for first timers because the treks were easy. It was a short 5 days & 4 night's trip and Parvati Valley was on my radar ever since my college days. This trip would also give me an opportunity to travel like a college boy (I wanted to feel young..lol) and visit other destinations in Himachal as I was taking a week long leave. So, I booked the trip for just Rs.9,600 which included bus ticket (semi sleeper and air-conditioned) from Delhi to Bhuntar (I opted out of the return bus journey which would have costed Rs.900 more), all internal transfers, all accommodations, breakfast & dinner and tour guides. This turned out to be cheaper than my Mumbai-Delhi return air tickets. The tour would cover 4 locations which were Kasol, Kheerganga, Tosh and Malana. It was going to be a group tour and accommodation was on triple or quadruple sharing basis. After making the booking I realized that the Great Next are an aggregator for adventure tours and the actual trip operator was WanderOn (I would recommend them).
I was really looking forward to my first solo trip though I had reached out to some of my close friend asking them to join me but none of them were available which in many ways proved to be a good thing. As I had never been on a trek before, I had to buy all the trekking essentials that included a rucksack which I bought from amazon for just Rs.850. Later I realized that tons of people had bought the exact same rucksack and a few of them were part of my trek group too. I almost picked up someone else's bag at Delhi airport as I was pretty sure the same new rucksack on the conveyor belt had to be mine but thankfully I checked before making the blunder. Do remember to carry a rain coat that can be worn over a rucksack (during monsoons) or carry a water proof rucksack cover in addition to a normal raincoat, torch, Swiss-knife, sports (has to have a good grip) or trekking shoes and a power bank to charge your gadgets. I also carried a small water proof bag (I highly advise the same) for overnight trips as we had the provision of leaving behind the big rucksacks at the Kasol hotel where we were put up. I would also want to highlight that packing a rucksack requires a different skillset than packing a suitcase so I struggled to fit everything after completing work the previous night at 12:30 AM.
Now let me give you all a brief overview of the group I traveled with so you have an idea about the kind of people you may encounter if you take a similar trip. First people I interacted with were a young girl and boy from Mumbai. Then there was a group of 4 doctors from Rajasthan who had just completed their MS degree. Two chaps from Nagpur who had recently graduated and were planning to pursue their MBA. All these folks were part of the original group for the Parvati valley tour. Now the others were part of the Bir Billing tour (just one destination was different between the 2 tours) but their itinerary were clubbed with ours because the tour operator didn't get enough bookings to lead 2 separate groups. The Bir Billing (a famous paragliding spot) group consisted of a girls group (3 of them) from Gujarat, another group of 3 girls from Kolkata and two female solo travelers from Mumbai (yeah, city of the free spirited people) all of them being working professionals. Guess girls are more inclined to do paragliding than boys after joining the corporate life. I was obviously the oldest bloke out of the lot and apart from another traveler, the rest of them were under the age of 30. The group was led by this nice guy from WanderOn who some of us nicknamed as Mr. Monotone as he spoke in just one tone all the time. We couldn't really make out when he was being nice, mean, happy or whatever else.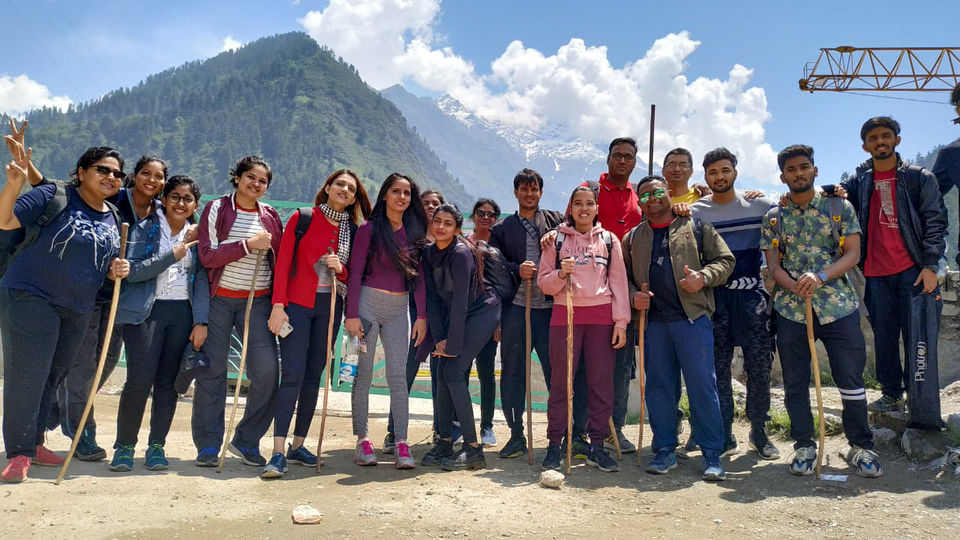 Day 0
A WhatsApp group was created with all the travelers and we were instructed to meet at Vidhan Sabha metro station in Delhi at 6:30 PM as per the confirmation mail we got post making the booking. Later on we were asked to reach at 7:30 and then 8:30…I was like "what the hell" and started doubting the professionalism of the tour operator. Well, we all gathered at 8:30 PM at the meeting point from where we were packed up in auto rickshaws which would take us to the boarding area of our bus. My rucksack was taken in another auto and on arriving at the boarding area, I initially couldn't find it. After panicking, frantic searching and calling the tour captain, I found it lying unattended at some random spot but all was intact. Another fellow traveler faced the same sequence of events.
We finally boarded our bus at around 10:30 PM and like a moron I took the last corner most seat in the bus which wouldn't recline. I told myself that it is okay and it wouldn't make a difference in the 12 hrs journey. Well, I turned out to be right because the bloody bus driver drove like a maniac on drugs and probably considered himself to be a Formula One racer. There were violent turns which could have cracked my neck and close shaves which got my heart in my mouth. Thankfully the driving didn't make any of the passengers shit in their pants otherwise it would have led to a puking catastrophe in the bus. After around 2 hours we stopped at a dhaba for some food where I just had something lite for obvious reasons. In my dazed state I couldn't spot the driver else I would have given him a piece of my mind. I put on my headphones and turned on some rock music to ease my nerves hoping it would help me sleep. Strangely enough the song "highway to hell" by AC~DC played after a couple of tracks which me made feel that the music player sensed my plight.
Needless to say, I hardly slept – max 30 minutes. We took our next pit stop early in the morning at around 5:30 AM and instead of whining about the lack of sleep, I felt lucky to be alive. I finally got to see the mountains after ages, not hills that one gets to see around Mumbai, and that too during sunrise time.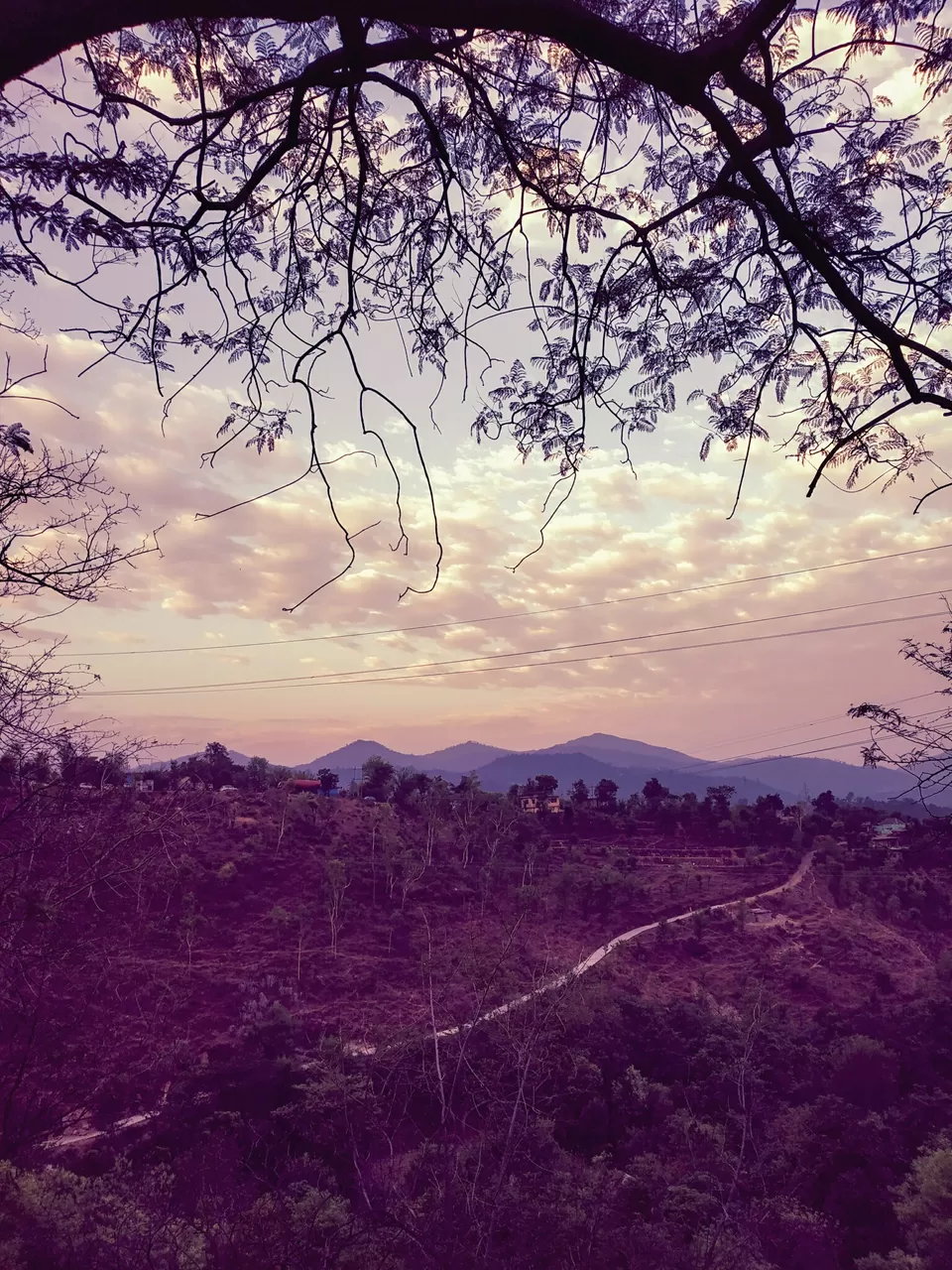 Coffee took ages to be served and in the meantime a visibly irritated Sikh uncle mentioned that he was tired of waiting for his tea after spending hours in traffic. So I asked him where was he coming from to which he replied Manali. I was initially relieved that it wasn't Kasol but then another person waiting for his breakfast said he experienced the same kind of traffic from Kasol…"well, that sucks" I thought.
Once we hit the road again, I didn't even bother trying to sleep and was awake admiring the views. I found the ride through the Bilaspur town area very pretty with views of the Gobind sagar along the way. We got off the bus at Bhuntar (there is an airport here, return flights from Delhi costs around Rs.20k, yeah that's crazy) and got into a cab to head to Kasol which would take another 2 hours. After spending more than 13 hours on road, we finally came to a standstill traffic 5 Kms before Kasol.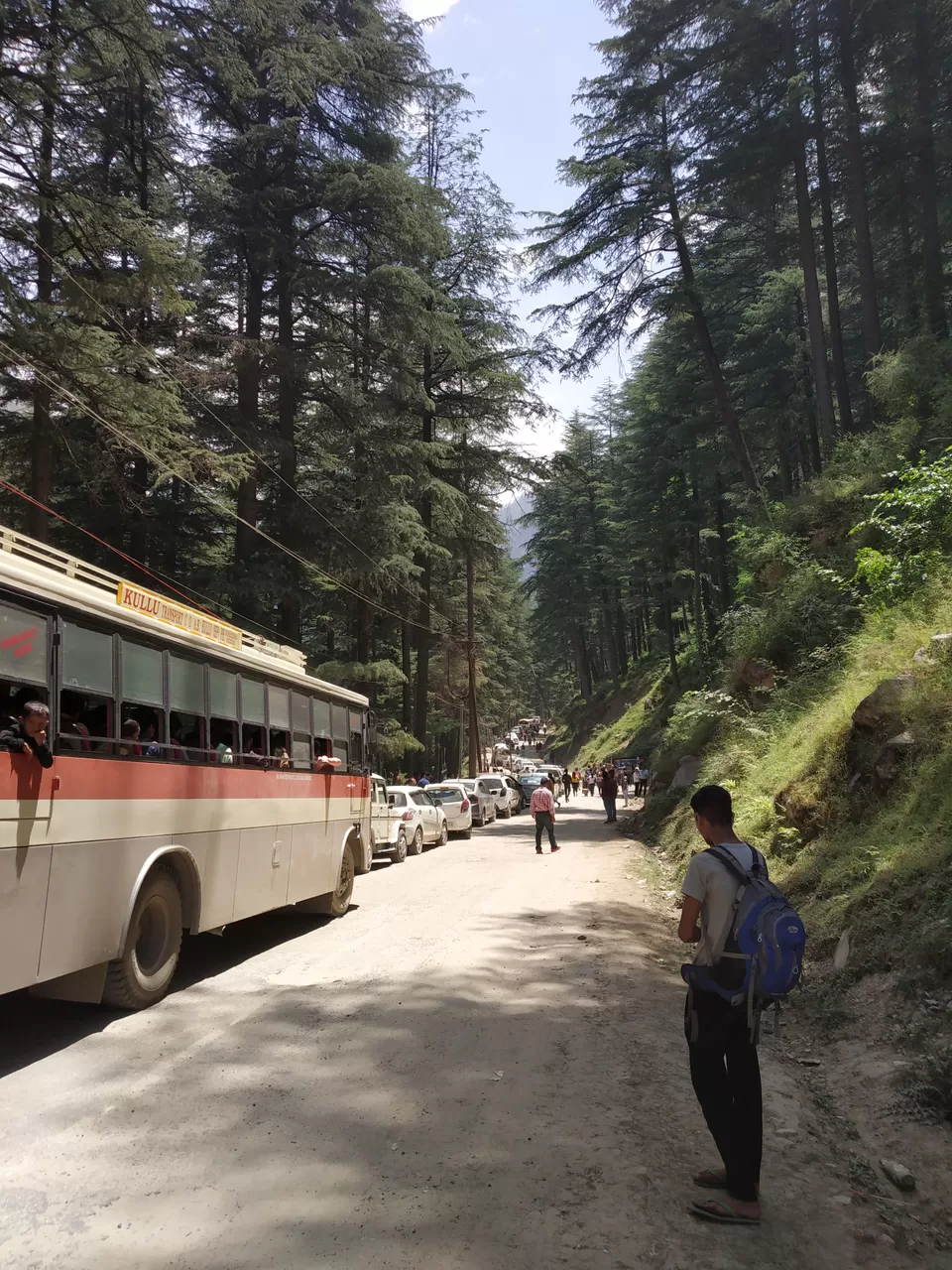 Though I had been warned about it, I was hoping it wouldn't be the case. Looking at the never ending line of vehicles, I decided to explore the area. I climbed up to a spot so I could see how long the line was and to my surprise, I couldn't see the end. After 40 minutes of wait, we finally started moving. So it took us 14 and a half hours from Delhi to reach our hotel.
We checked into Majestic Inn which was around a kilometer away from Kasol town center and next to the Parvati river. To my surprise, the rooms were pretty decent and I had to share it with the guy from Mumbai who was the shortest member of the group and one of the docs who was the tallest person around. I was desperate for a bath so immediately switched on the geezer and we all headed for lunch. The lunch was homely and tasted pretty nice. As a matter of fact, I enjoyed all the meals that were served on this trip. I was all ready for a bath but there was no hot water coming from the taps or shower so I decided to take a bath in cold water which proved to be refreshing (thankfully I had practice from my college days in Sikkim).
We were asked to be ready for our first event of the trip which was a short hike to Chalal, a small hamlet nearby. We crossed over to the other side of Parvati river and then it started to drizzle. I didn't expect it to rain as it was relatively sunny when we left the hotel.
I used my jacket as a raincoat to protect my camera from getting wet and throughout the 15-20 minutes' walk, it either drizzled or rained with medium intensity. We stopped at a camping spot where we ordered tea and coffee while waiting for the rains to stop. After spending a considerable time there, we decided to head back even as it continued to drizzle. On the return journey I took the opportunity to connect with some of my fellow travelers and tried to be the official photographer of the group once it stopped raining. I would have enjoyed the hike if it hadn't rained.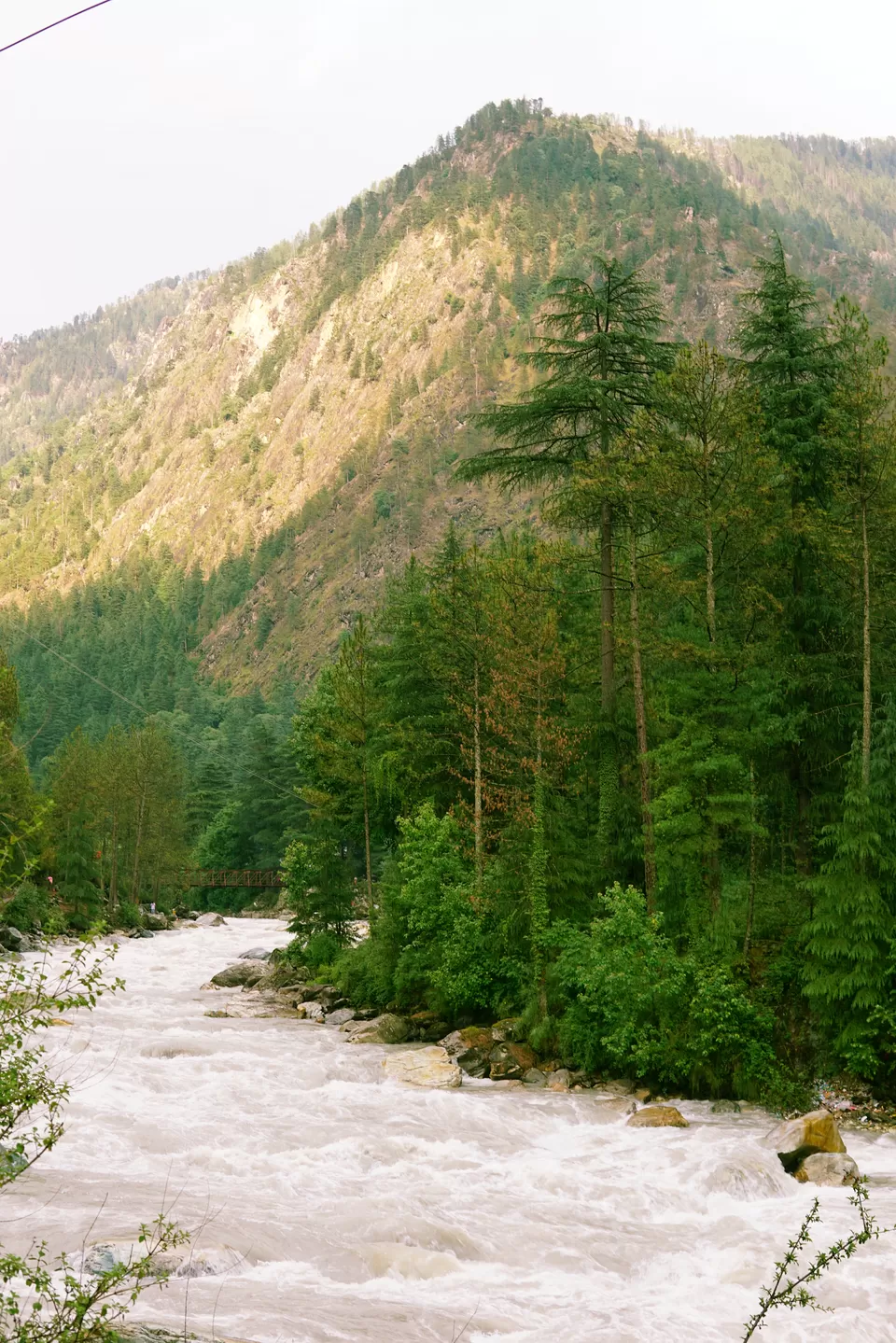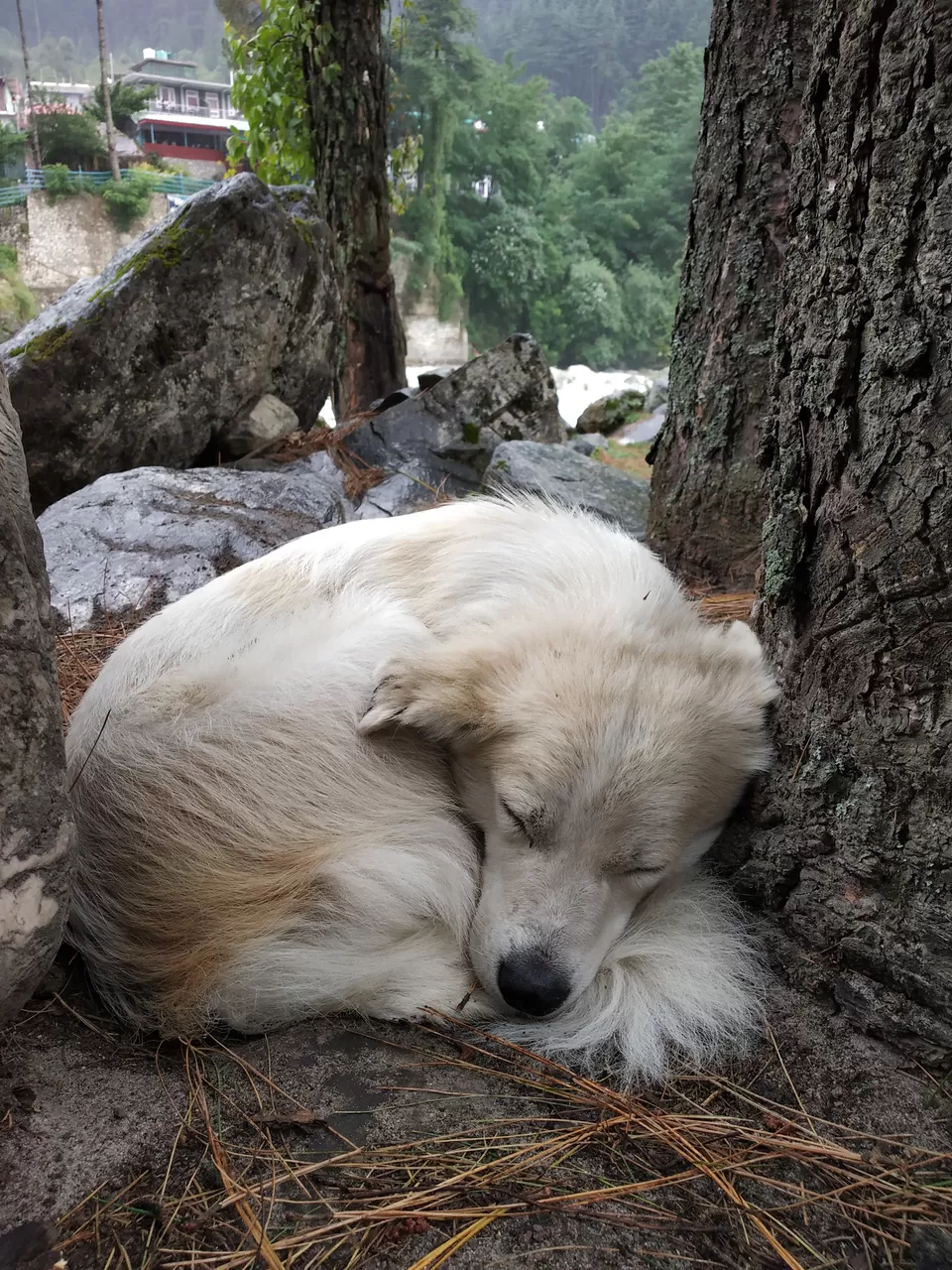 If you are one of those readers hoping to know where to find "maal", all I can say is that don't stress – you will get it everywhere in Parvati valley which is also a hippies paradise. Either people will come to you randomly or you can ask any local shop where to get it. I was told that it can cost you anywhere between Rs.1.2k to 2.5k for one tola or 10 grams here in Kasol. Another thing that was brought to my knowledge is that the Israeli people, many of who have settled here since the last 2 decades (the reason why Kasol is called mini-Israel), had started the culture of LSD consumption so one can easily source the same but I would personally not advice anyone using chemicals to hallucinate.
One thing you won't find here is an ATM. I had asked Mr. Monotone to take me to an ATM so I could withdraw cash as I didn't get the time before, even after being reminded repeatedly by Gary. I gave her another "I told you so" jibe opportunity. So we walked up to the ATM and discovered that it was shut and had been for quite some time now. So how does one get hold of cash here – there are many outlets, mostly travel agencies, who will charge you 5-10% commission to give you cash when you swipe your card (both debit & credit accepted) using their POS machines. For those who want to drink - there is a wine shop here in town center which only accepts cash payments. I bought a bottle of old monk which was perfect for the kind of weather in Kasol and then again it went well with my college boy themed travel.
Next up in the itinerary was café hopping and I had looked up all the places I wanted to visit. The meeting time and venue kept changing so finally it was decided that we all shall have dinner at the hotel and then head out. After dinner, I decided to take some rest as the lack of sleep, the long bus journey, hike to Chalal and few trips to town center and back had got me completely exhausted. So I told my roomies that if I join them, I will do so post 11 PM. After resting till 11 PM I thought that it was better to go off to sleep as we had to do a 12-14 km uphill hike the next day. So I slept off and thank god I did.
The original plan for the second day was to visit Malana but after clubbing the two groups together we were heading to Kheerganga instead. It was going to be around a 12 Km trek that is ideally covered in 4-5 hours.
Once we were up, I first went to the hotel kitchen and asked for a bucket of hot water for my bath – yep, that is how it was done here. I had to pack essentials for 2 nights now as we were going to be in Kheerganga for a night and then in Tosh for another. I again struggled to fit everything I needed in my overnight bag, thanks to my camera's tripod which I didn't land up using at all. After getting ready and completing my packing I went for breakfast and left my rucksack behind in the common room. We had been asked to be ready by 9 AM but then there was a delay, just like on all the remaining days…I think you guys are smart enough to understand why!! Cabs had been booked for us till the trek's starting point which was the town of Barshaini and it took us around an hour to reach. On the way and just about 5 Km. from Kasol is the town of Manikaran famous for its Gurudwara that houses hot springs (legend has it that it was created because of some events related to either Guru Nanak or Lord Shiva) where people come from all over the country to take a holy dip and even visit the several temples here in Manikaran.
After reaching Barshaini we were given a list of "dos and don'ts" on the trek by Mr. Monotone with one of them being that at no time can we walk on our own without him or the guide. There were vendors selling walking sticks and almost everyone bought one. I decided not to as I was carrying my jacket in one hand and the tripod on the other. I thought I heard my doctor roomy complain about his bag being heavy so I offered to carry his which would have weighed 8 Kgs and asked him to carry mine which was much lighter at 3 Kgs. This would also give me a chance to test my endurance levels.
After 30 mins of walking, we sat down and I thought to myself – how the hell did someone rate this trek easy as hiking uphill with a heavy bag was no child's play. Our designated guide for this trip was someone who called himself Shiva and one of the 1st thing he said to me was "maal hai kya (do you have any hash)?" He took out his own stock (which he claimed wasn't of good quality) after I nodded in negative and began rolling a joint. In the interim he told me about a story of how one day he got pissed with his family and cut off one of his fingers. He then showed me that cut finger and it freaked me out. He eventually turned out to be a nice guy and we chatted quite a bit on our way.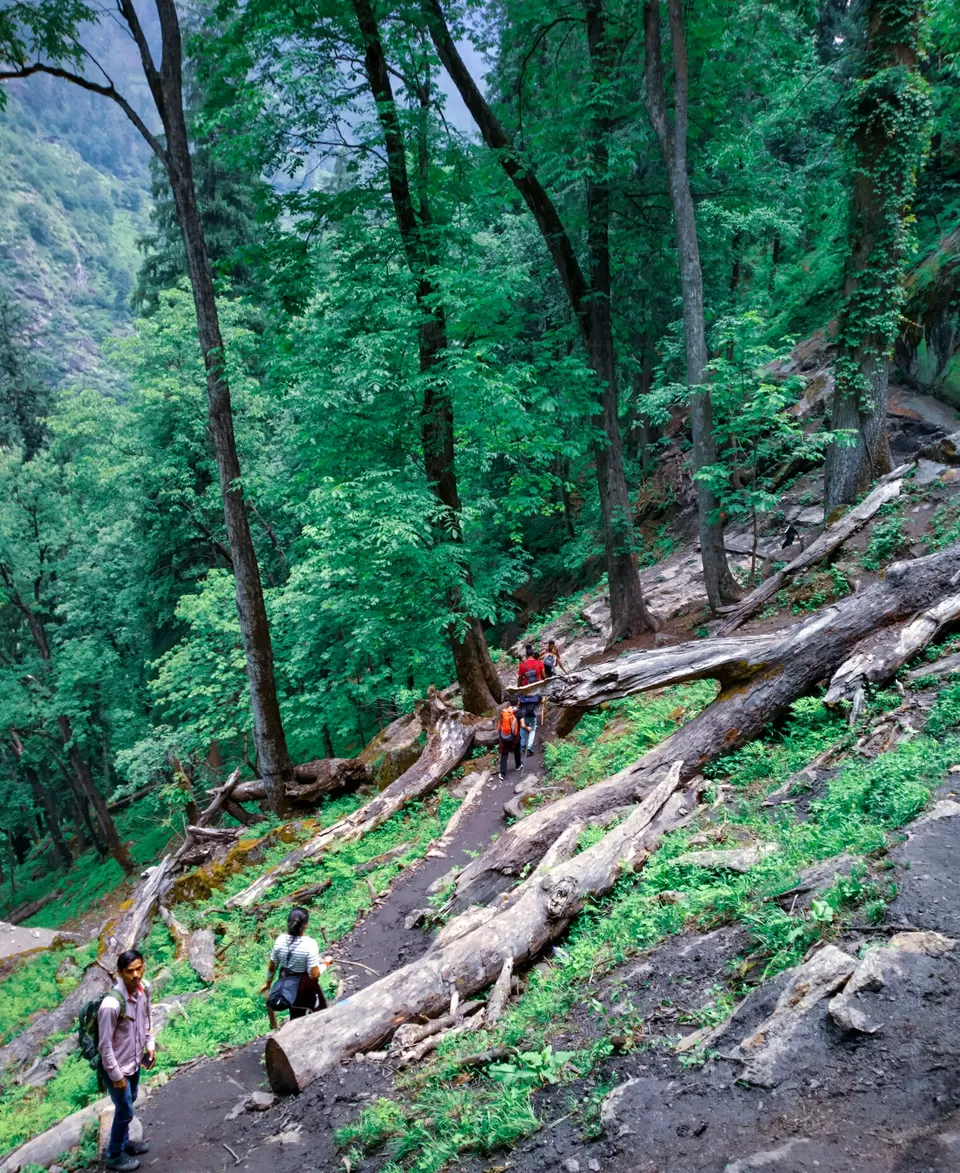 We were recommended to carry our own water bottles on this trek but I didn't feel the need of it as I had it straight from the water streams & waterfalls which I came across. I would still recommend you all to carry a water bottle which can be replenished from time to time from these water sources.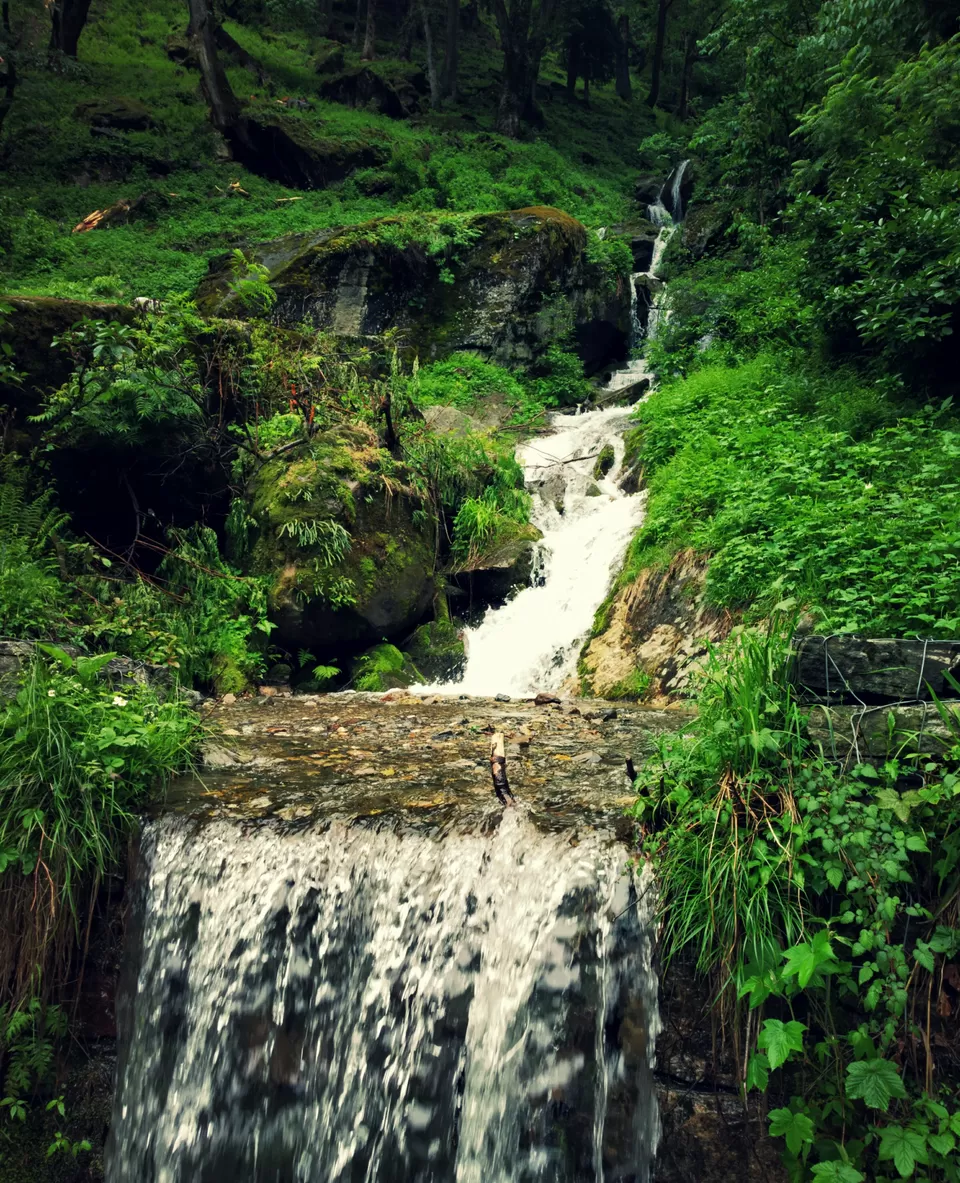 After a short break we started walking and the more we traveled, the more serene the surroundings became. What I didn't expect was a human traffic jam caused by too many trekkers trying to cross very narrow walkways. If it can happen at Everest, it can happen anywhere! Then came the damn rain after a bright sunny morning. It started to pour after an hour making the trek tougher than what it should have been. Thankfully I had purchased a rain coat the previous evening after being coaxed by a fellow traveler. I had a flashback of a news articles a couple of weeks ago stating that a person had died after a boulder fell on him on this very trek and it gave me goosebumps. The hike had many tricky stretches and with the rain slashing down at us, we had to be much more careful as one slip would have landed us in the gorge. Was I supposed to look down to see where I was walking or look up to spot any boulders coming my way!! I told myself "screw this shit, if I die I will do so in paradise so enjoy the hike" and I did just that. We took shelter under a big rock for half an hour till the rain intensity lowered down. My hands were super cold and many experienced the same so when we all reached a café on the way, I waited for a cup of tea just to get my hands around it. I even held Maggi plates for others so my hands could get warmed up but there were many who wanted to do the same.
Then one of the Nagpur boys came up wearing my jacket asking around who had left it behind. I thanked him and told him to keep wearing it as I could make out he was cold. Then I found out that my roomy who was carrying my bag had a bad slip and almost went down the ditch. Thankfully he was fine and so was my camera which was in the bag. The rain had turned into a drizzle and we still had 5 Km to cover after hiking for 4.5 hours. After a couple of hours more with many more stops and intermittent rains, we finally reached Kheerganga. I have to say, the trek was absolutely gorgeous which was mostly through pine forests with such stunning views and natural beauty - it lived up to my expectations.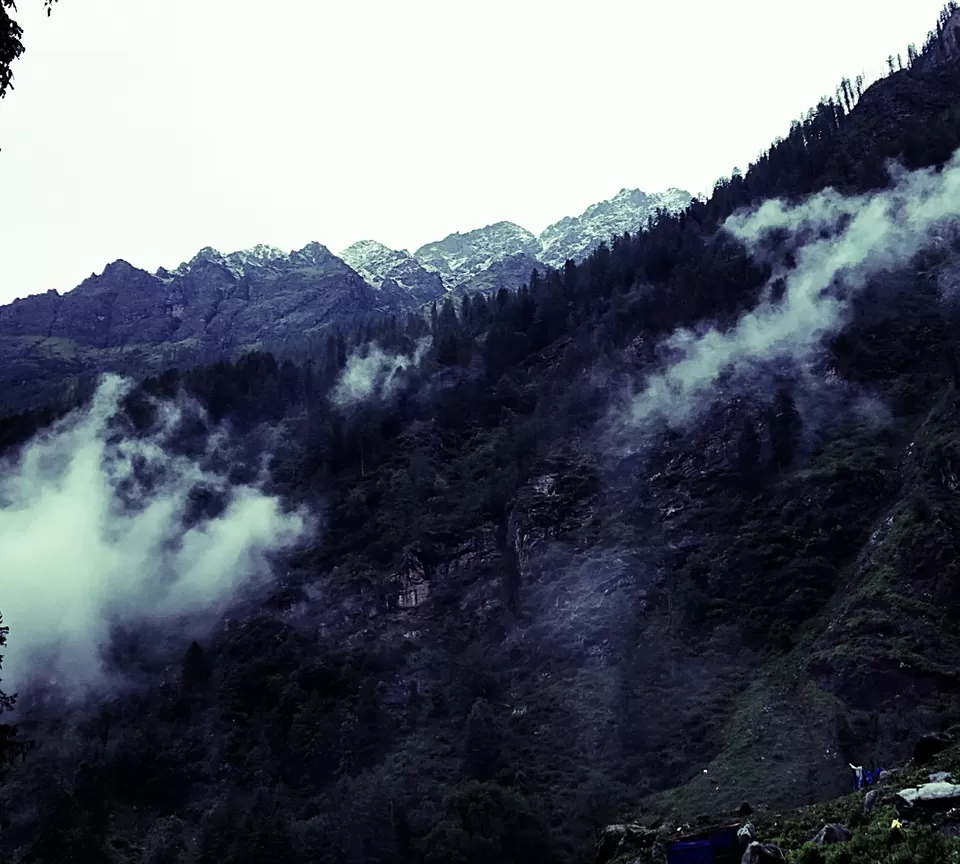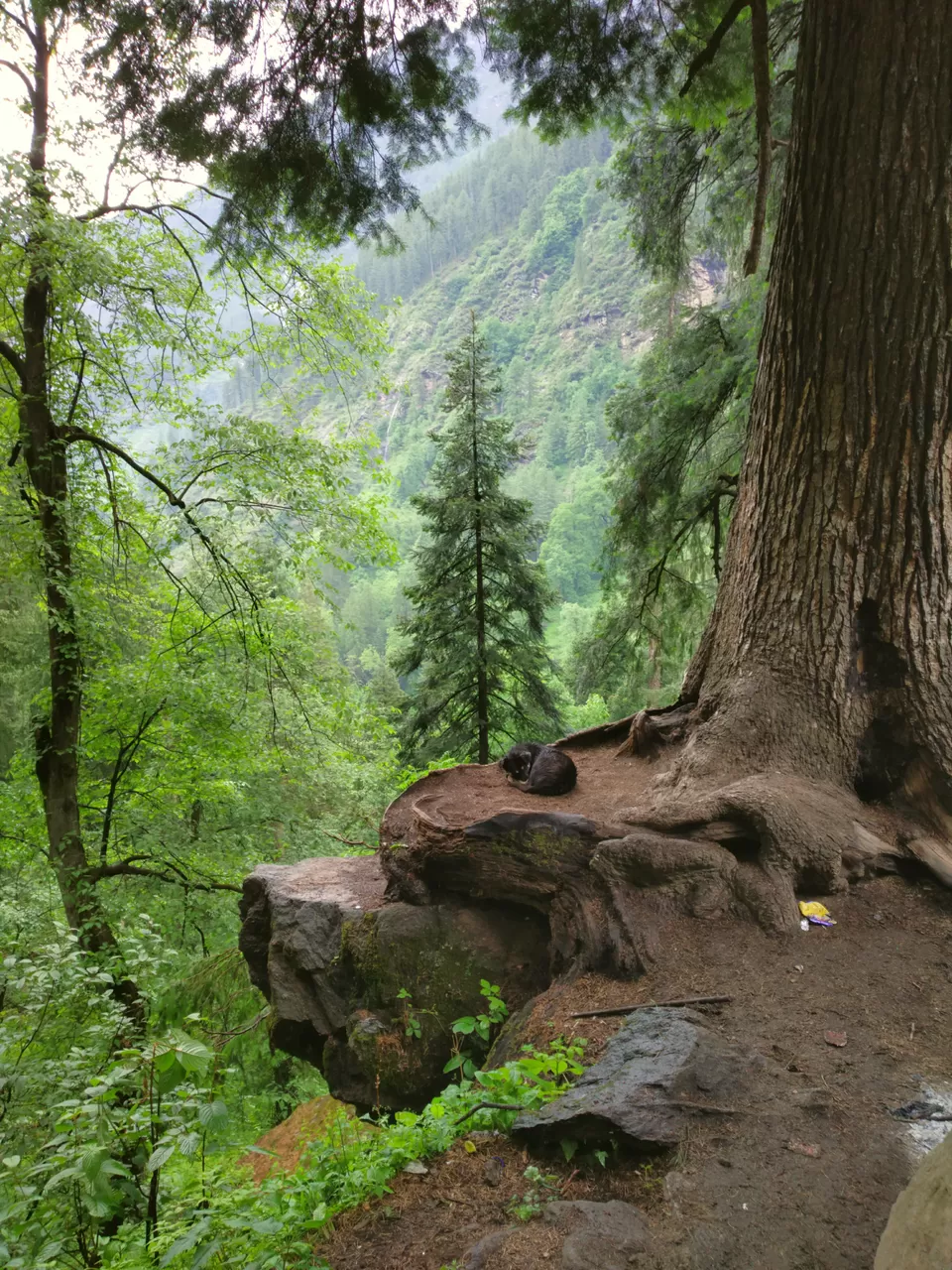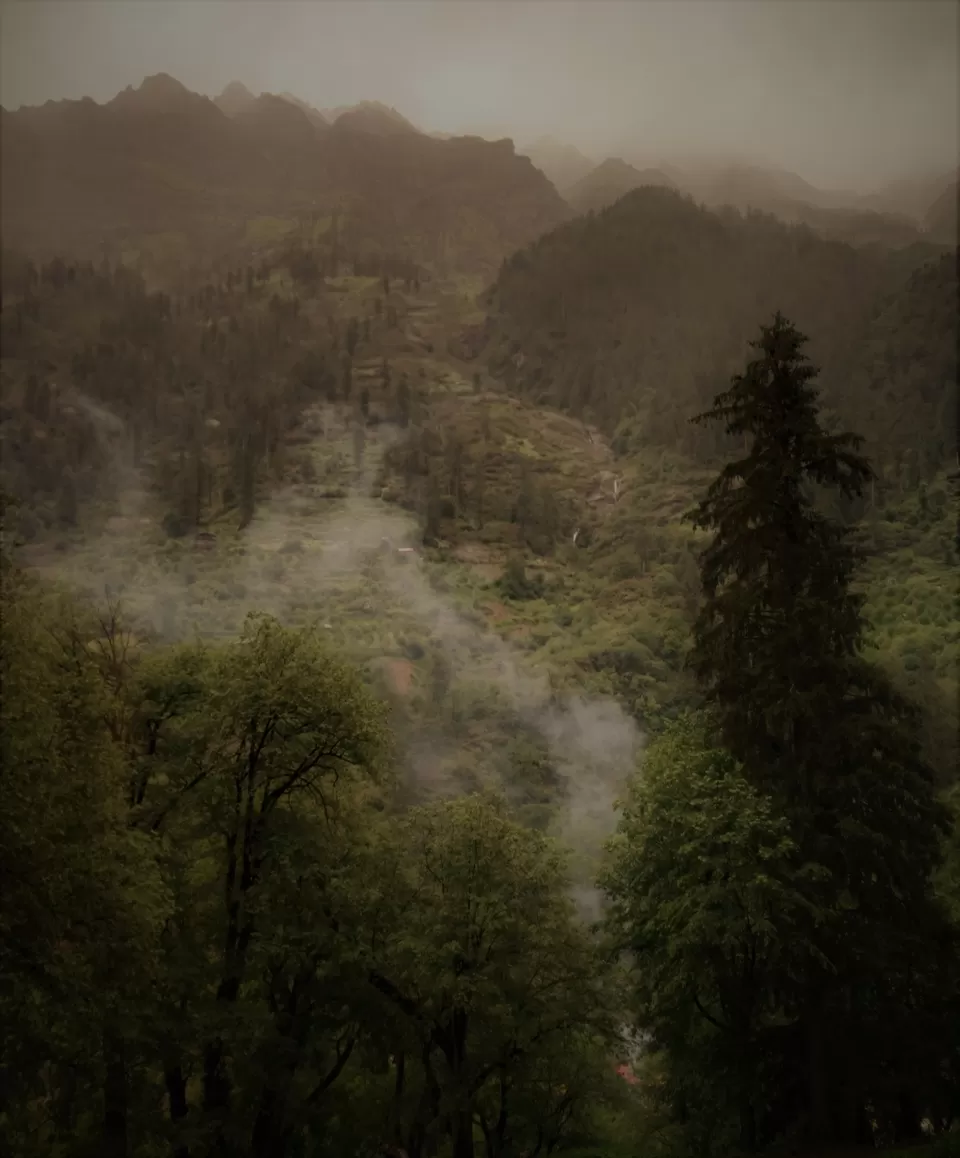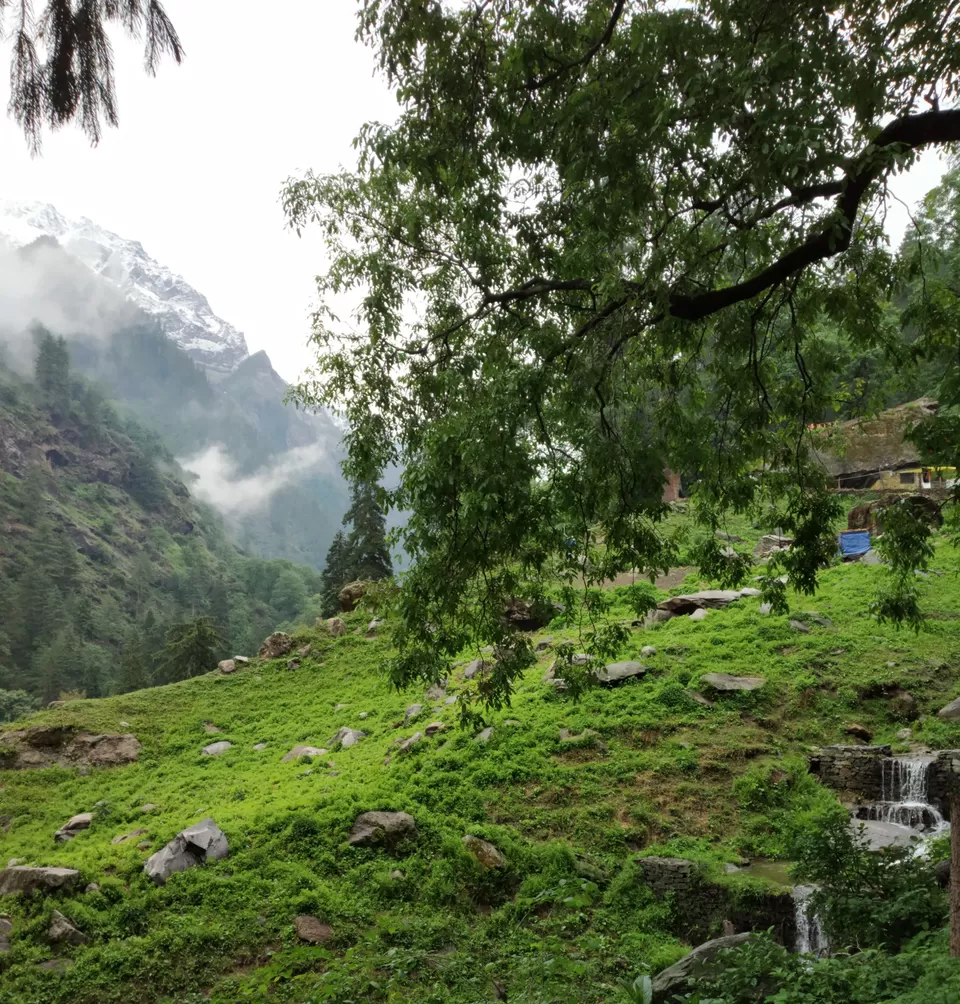 Can anyone do this trek? Old folks, 10 years old kids and obese people did it so YES, anyone can.
I was awestruck with the surroundings of Kheerganga…snow covered peaks around a vast open grassy land. No wonder lord Shiva meditated here for 3000 years. There is no cellphone network here (I hardly found any throughout the hike) which gives you an opportunity to connect with yourself. What cheesed me off though was that the entire stretch of grassy land was full of camps and it was hard to walk around without stepping on animal poop. There were quite a few of these cows, bulls, wild horses and dogs here.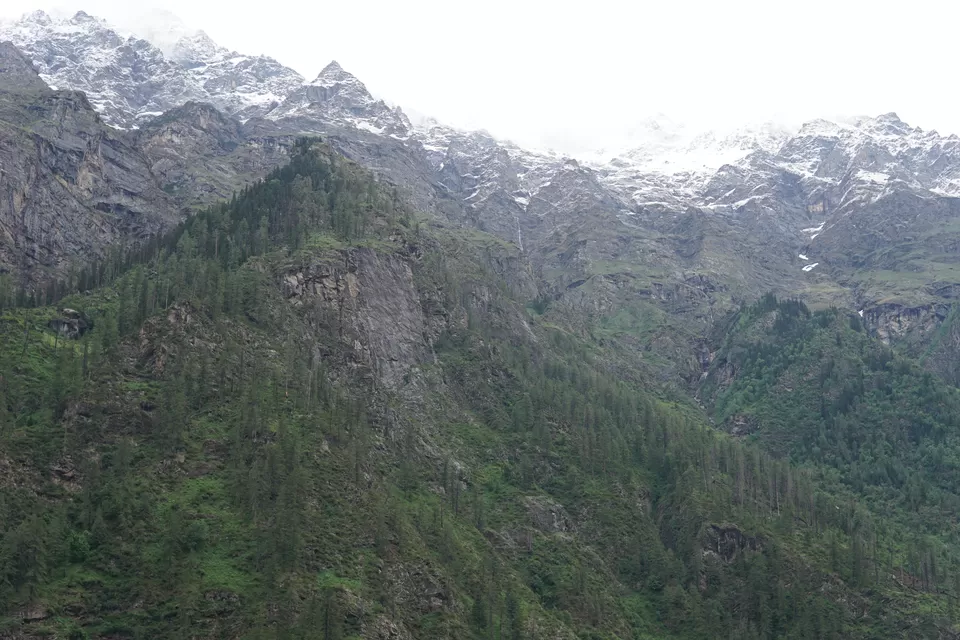 After everyone reached the camp site, we were assigned our tents on triple sharing basis and it was recommended that we head to the hot springs for a dip. It is believed that a dip in the hot springs will heal the body aches and help in overcoming the exhaustion. I was in two minds to go or not as I was pretty tired and I had forgotten to get my swimming trunks with me. I decided to go so I don't regret it later. On hiking for another 10 mins uphill, we reached the hot springs where there was a pool filled with hot spring water, an open changing area and hot water spring outlets where one has to bathe before getting into the pool area. The pool looked a little dirty and every guy was in his underwear. I again hesitated to go in but then made up my mind that I had to experience it. So I changed, cleaned up under the outlets (water was really hot) and went into the pool. Those 20 minutes inside the hot spring water felt so good and I actually felt relaxed despite the 7 hour hike. If you were wondering, the girls have a separate area to themselves.
Post this we all rested a bit and gathered in the common room around a wood fired heater. I got back my jacket but it was still quite wet and wearing it made me feel colder. So I got out my shawl that was forcefully packed by Gary and wrapped myself around it. At more than 3000 meters above sea level, I was banking on the shawl over a T-shirt to save me from the cold but thankfully I have "pahadi" blood so tolerance levels were high. After having dinner, we were to have a camp fire night. The bonfire was really small and a fellow traveler helped in making it better for our big group. Few other campers joined us and we were mostly chilling. I got out the old monk bottle and it did the rounds.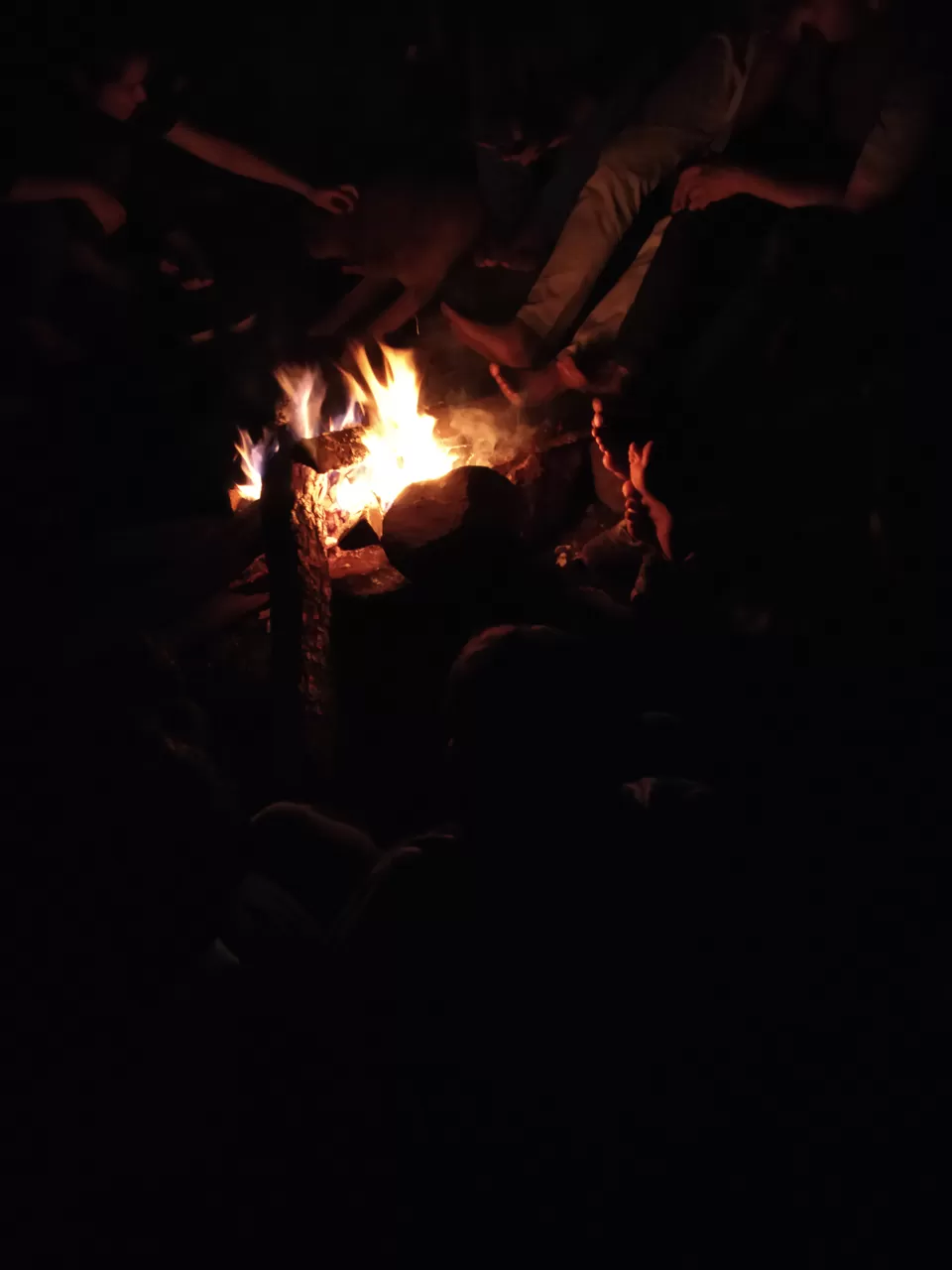 Then we started to listen to music and everyone was given a chance to play a song of their choice. When I said I wanted to listen to "coming back to life" by Pink Floyd, everyone gave me a look as if I was some alien. The song was put on my phone and it was switched off after 10 seconds…well, so much for the democratic process. Now I knew that I couldn't connect with any of my group members on the music front as well. After some singing and "antakshri" session I called it a night.
I had another night of bad sleep because it was really cold and at 3 AM I was desperate to go to the washroom which was situated around 50 feet from our tent. Problem was it was raining (yep…again!!) and I kept waiting for it to stop not realizing that I could have worn my rain coat and gone – my brains don't work when I am sleepy. I eventually went after waiting for an hour but that didn't help me sleep as I found one of my roomies almost spooning me for the remainder of the night.
I finally got out of the tent at around 7 AM with my camera as I hadn't got the opportunity to actually use it properly – thanks to the rains. After going click happy, I just sat on a flat rock and admired the views all around thinking how right my roomy was in saying "yeh jagah toh janat hai (this place is paradise)". When my peace was disturbed by other campers, I headed back to freshen up and get ready for breakfast. Got to hear from the other campers that dogs had entered their tents for a sleepover...so make sure you zip up your tents at night if you don't want their company. Maybe I should have let the dogs into our tent - that way my roomy could have spooned them instead of me.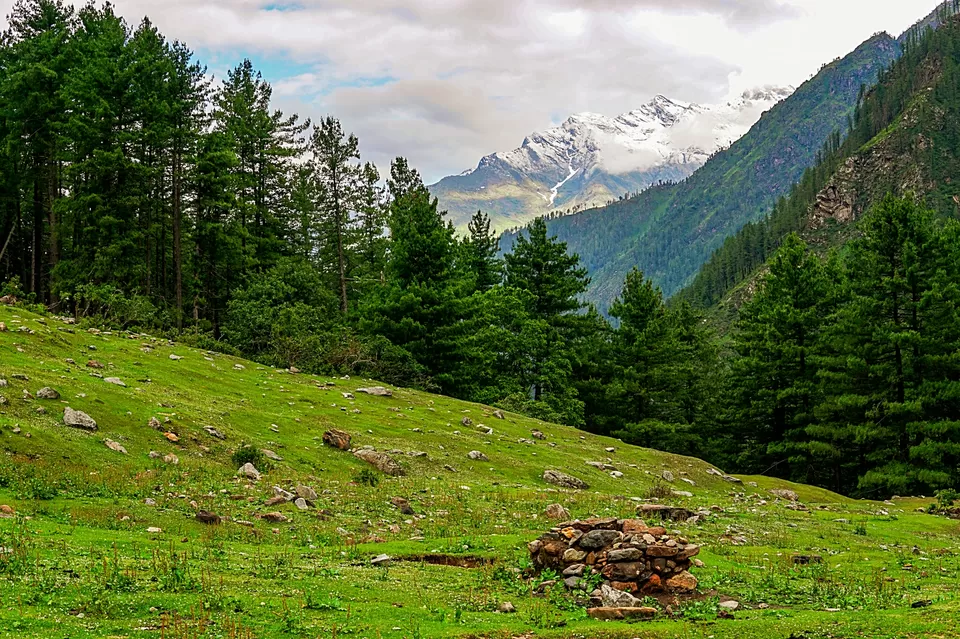 Few of the group members had decided to take a dip in the hot springs before heading back from here which was one of the reasons for our delayed departure this time. The other being the usual – I don't understand why on earth some girls feel the need of applying tons of make-up when they are out on a trek.
Just when we were all ready to leave, it again began to rain…like WTF!! We began our descent from Kheerganga and thankfully after 15-20 minutes the rains stopped. Many people had left their respective camps at almost the same time so the pathways were getting choked. I wanted to break free from all the other trekkers and enjoy walking in the wilderness all by myself but I decided not to do so as we were taking a different route this time to reach Barshaini. On our way to Kheerganga, we had taken the route through Kalga/Pulga and now we were taking the route through Nakhtan which is longer at 14 KMs but more popular. Coming down was much easier and luckily for us, the rains hadn't made the pathways slushy or slippery. At one point we had to cross over to the other side of the mountain and this junction was particularly pretty as there was a nice waterfall and one of parvati river's tributary gushing through the gorge that divided the two mountains. There are some uphill climbs from this spot onwards but nothing too steep.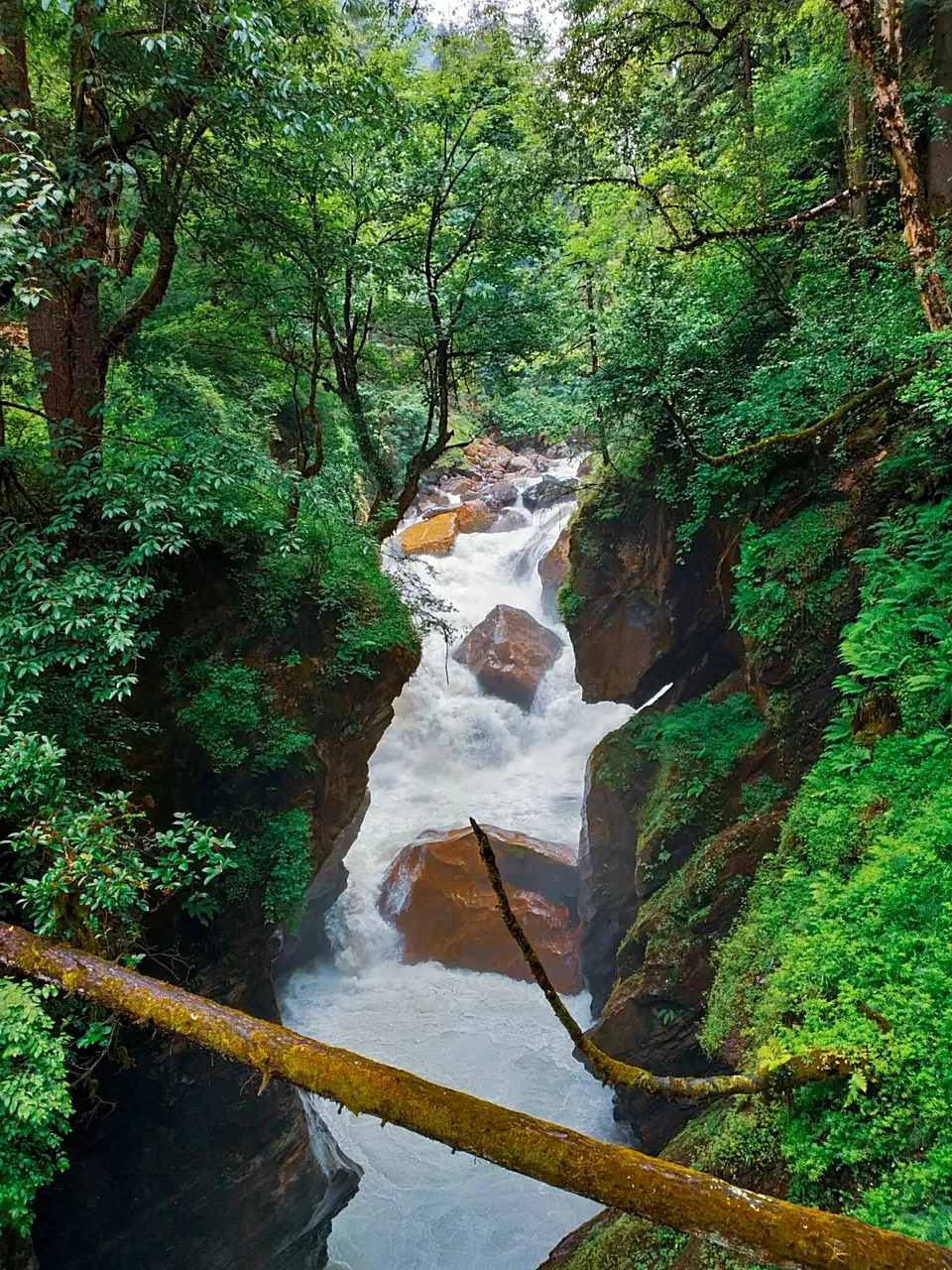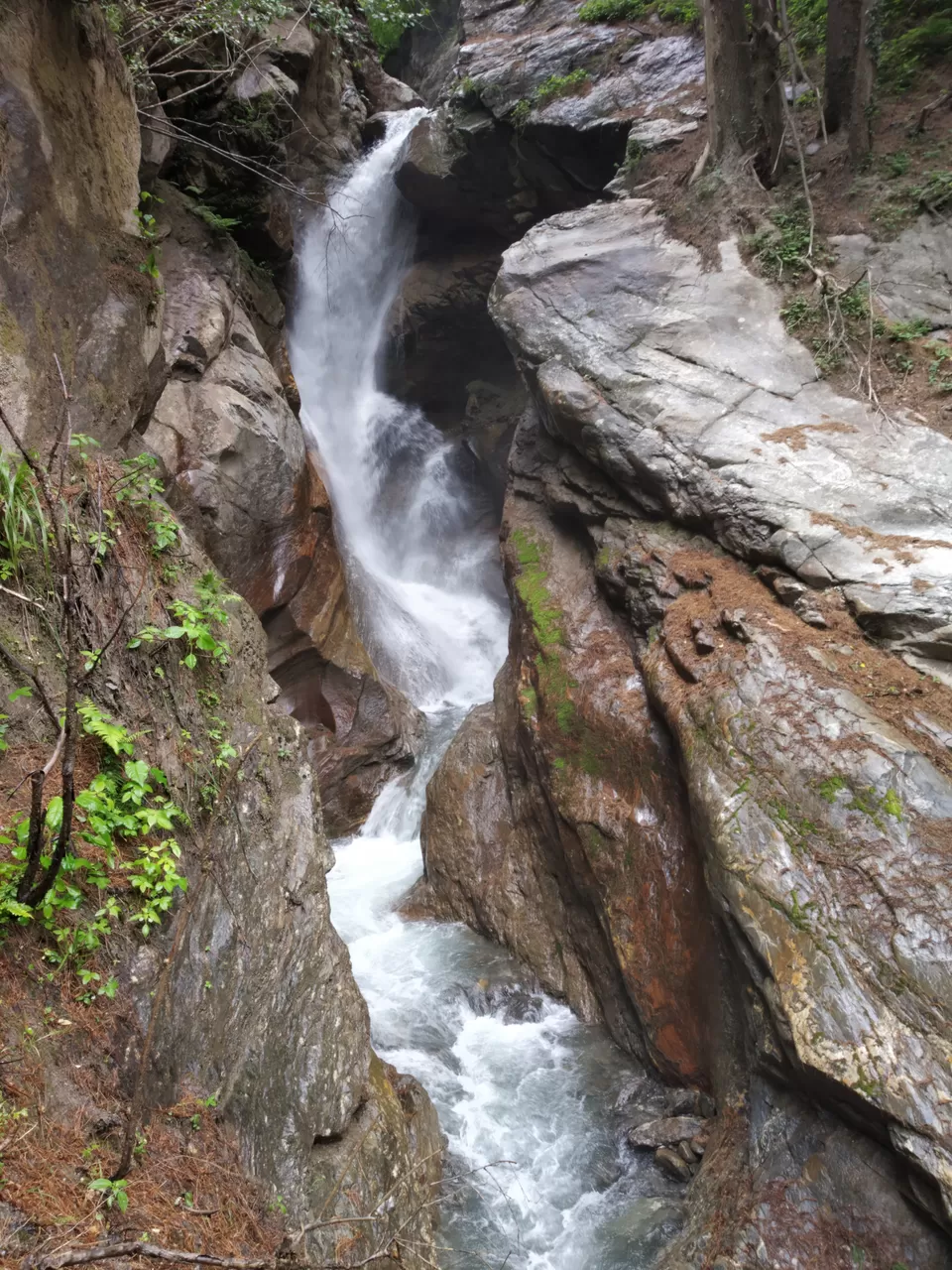 After this we noticed a religious procession up ahead where probably the entire village was participating as it created a big human traffic again. Got to know that this event happens once in 14 years (I may be wrong) where they carry a deity (guessing it is Parvati) from one village to another after some celebrations and lunch that is served to the entire village from a community kitchen. Wasn't sure if I was to consider myself lucky or not.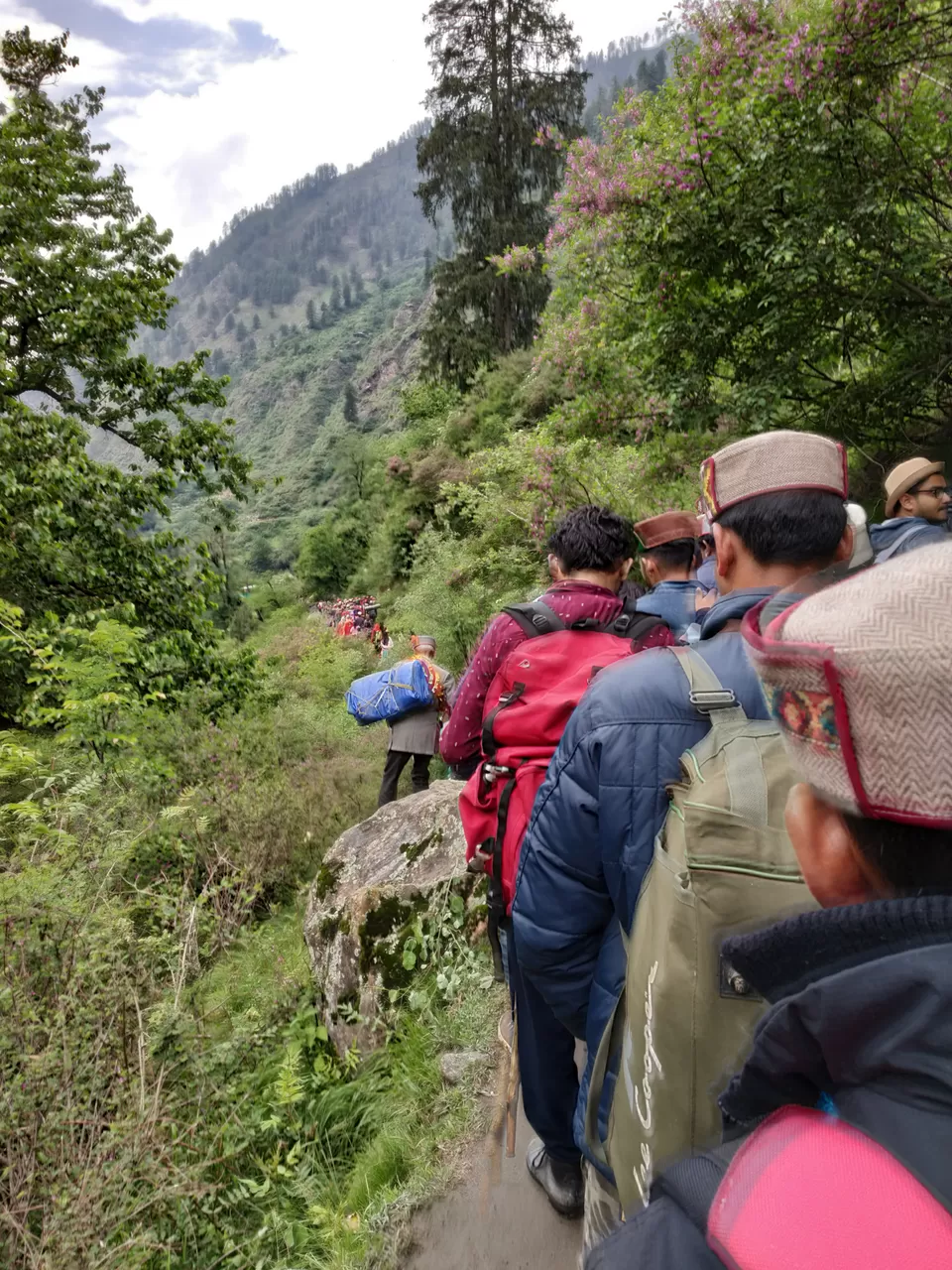 After struggling to get past the procession, it luckily took a different route. I had surged ahead with a fellow traveler and after sometime decided to take a tea break. Got to know the rest of the group had stopped somewhere close by (got a call from group leader as there was network here) and while waiting for everyone to finish their lunch, I saw that the same procession had gone past us…this would mean that we were going to get even more delayed. After getting ready to begin the last leg of the journey, I made up my mind that I am breaking free from the group…to hell with the instructions...guess I was just frustrated with so many people being around which was dampening the joys of the trek for me. So I walked as briskly as I could and after sometime found no one around me. Walking all by myself was pure joy as I was finally at peace with nothing but nature's beauty all around.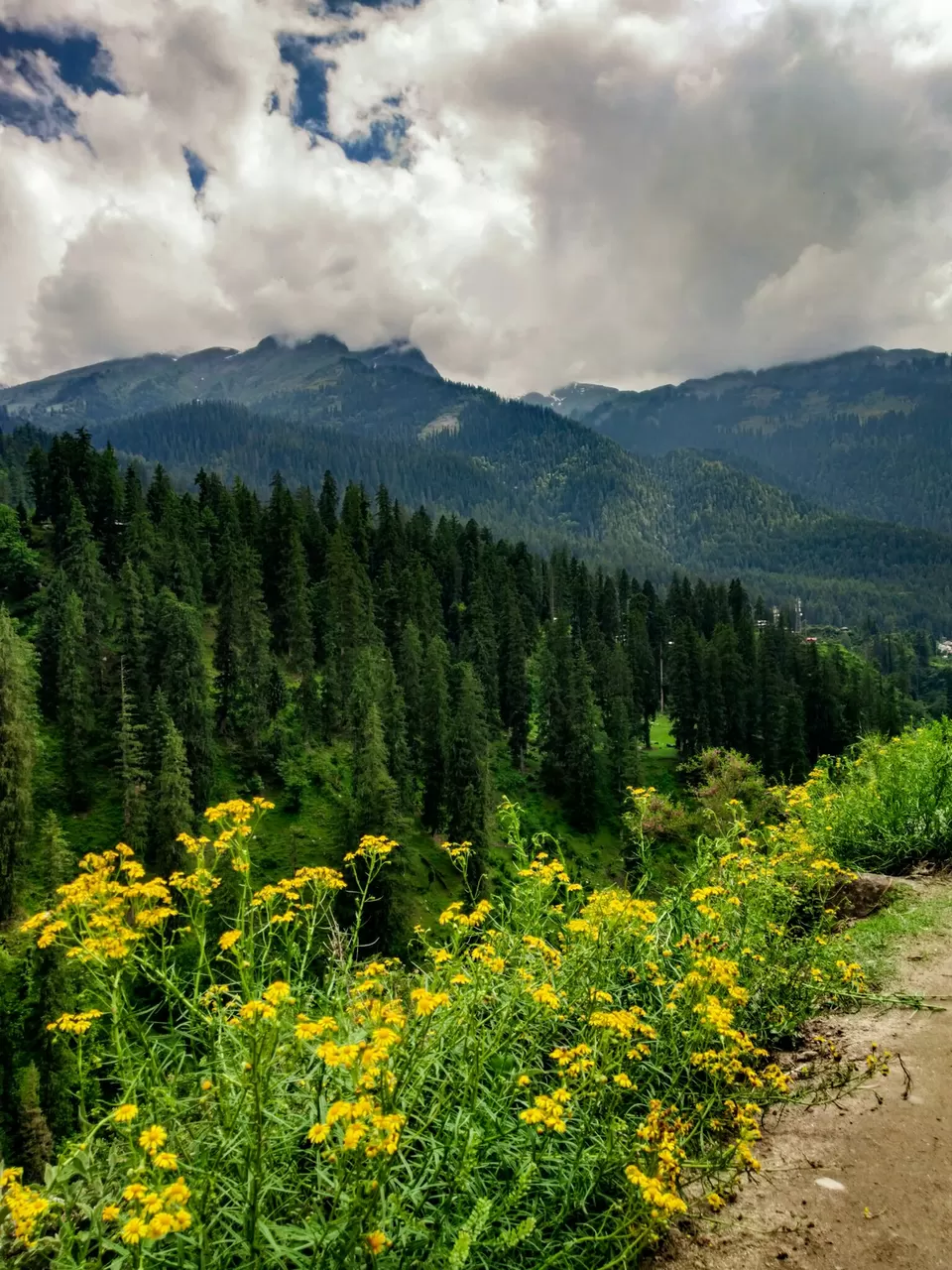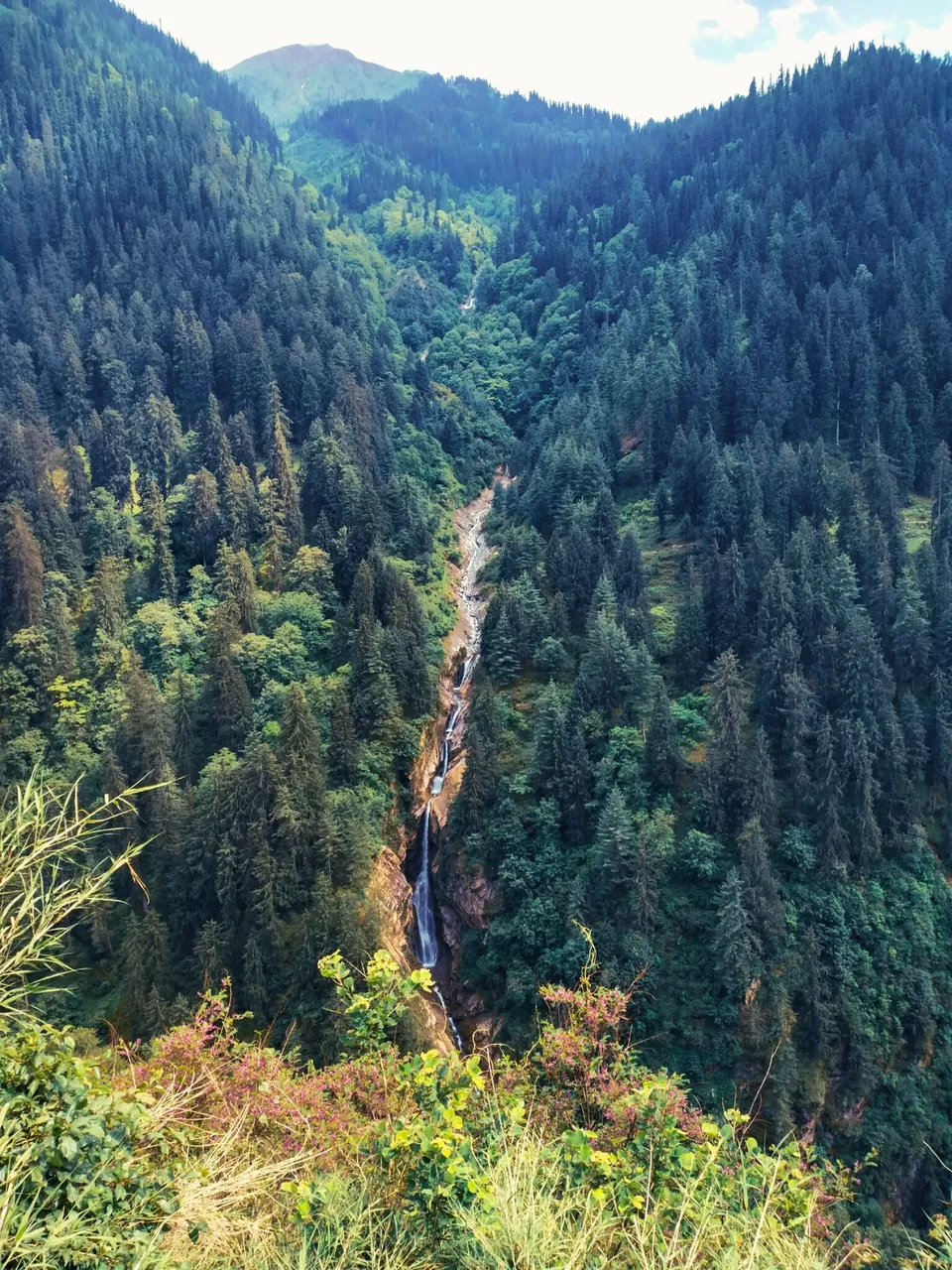 There were times that I could have taken a wrong route but thankfully I didn't. After I completed the trek, I sat at a roadside stall waiting for everyone. They all joined me after 45 minutes and in the interim I enjoyed some delicious egg Maggi.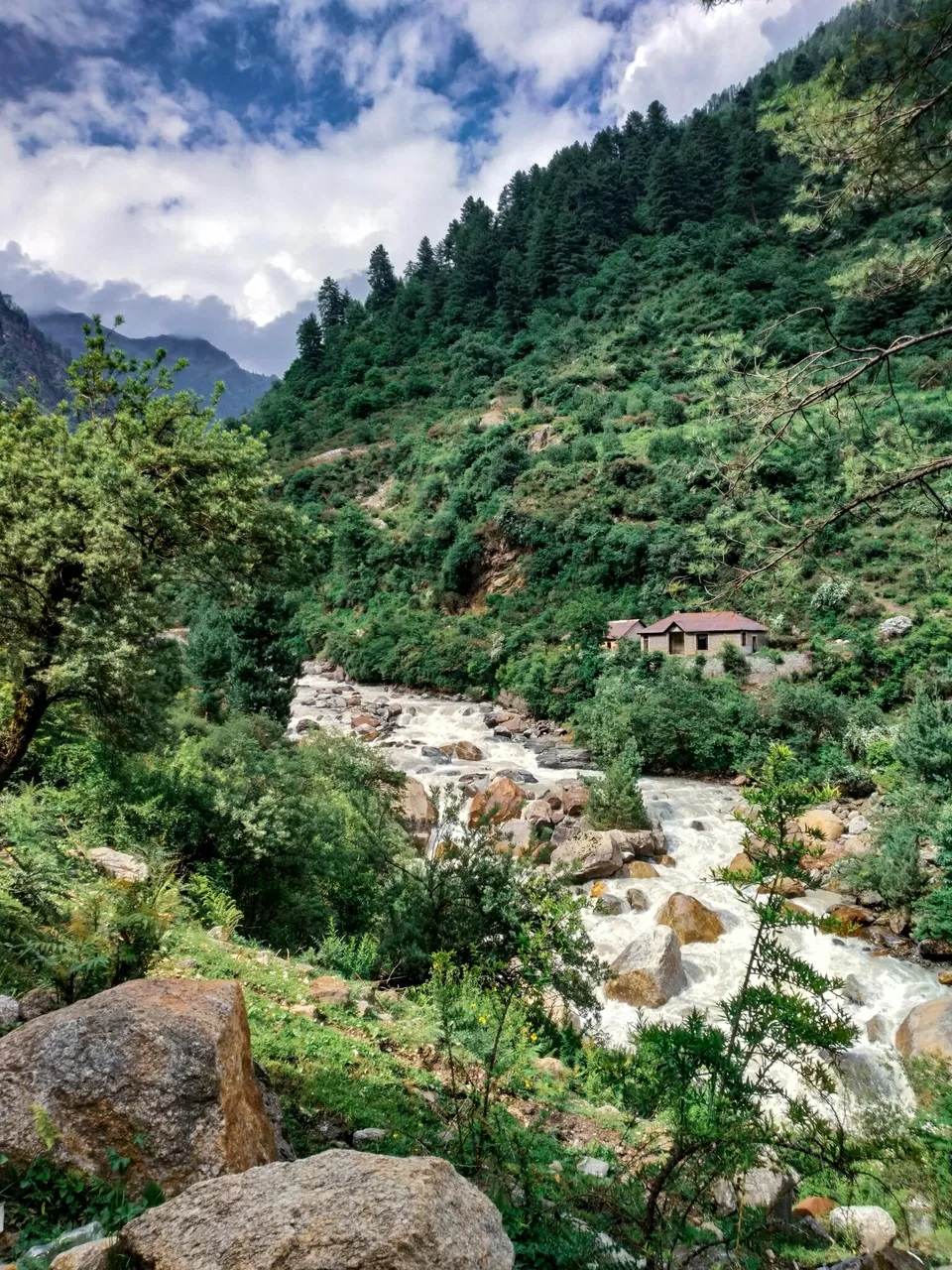 We got into a cab and headed for our 3rd destination which was the village of Tosh.
Here we met another group captain who was supposed to be leading the Parvati valley group from the start but as you know, lot of things had changed. We started to walk towards our hotel and took a pit stop at a place called café 360 degrees that was run by Pinki Didi. This place is supposedly really popular and is said to serve the best food in the entire Parvati valley. I can't personally comment on it as I just had a cup of coffee here but the others enjoyed their food. I thought we will wrap up early, check in to our hotel so I can have a bath, then I go about exploring the area before landing up in Pink Floyd café but to my disappointment, we ended up spending a couple of hours here. Really happy that the group members bonded well together (reason for them not wanting to leave) but I wasn't here to make friends, I was here to explore. I know that many fellow travelers thought I was an arrogant prick as I didn't participate in the bonding session because I am firstly not a social person and secondly I hardly connected with anyone on a personal level. But let me also tell you that barring a handful, the group members were a nice bunch of people. One positive part of staying here was that I got to spot a rainbow once the rain stopped and the clouds started to clear.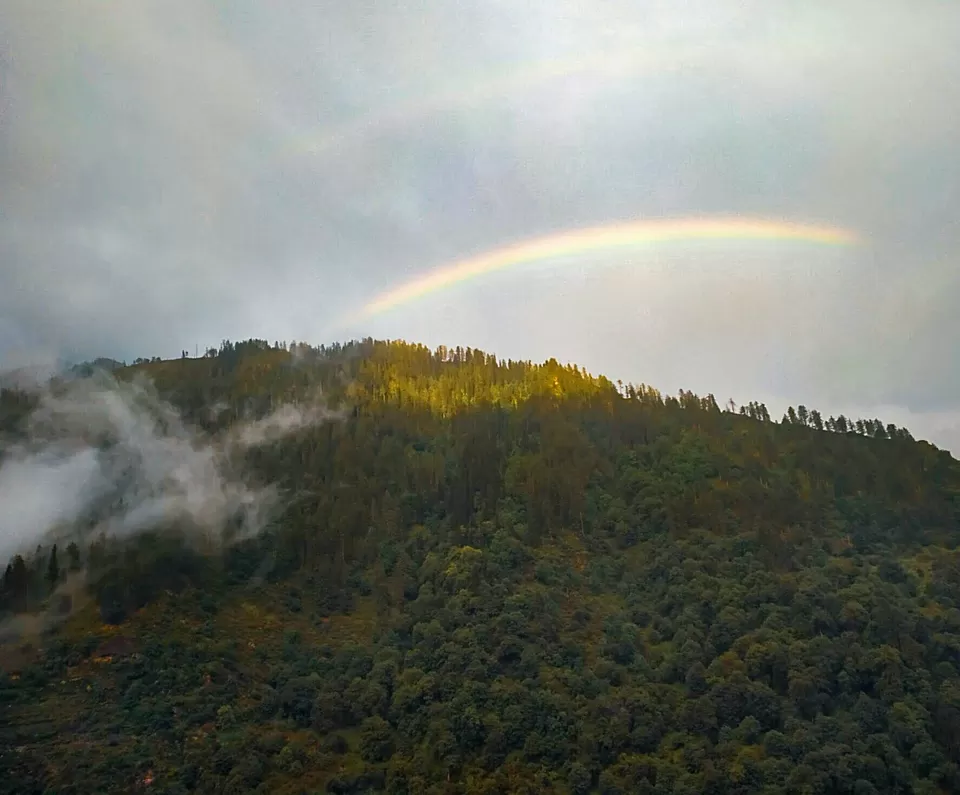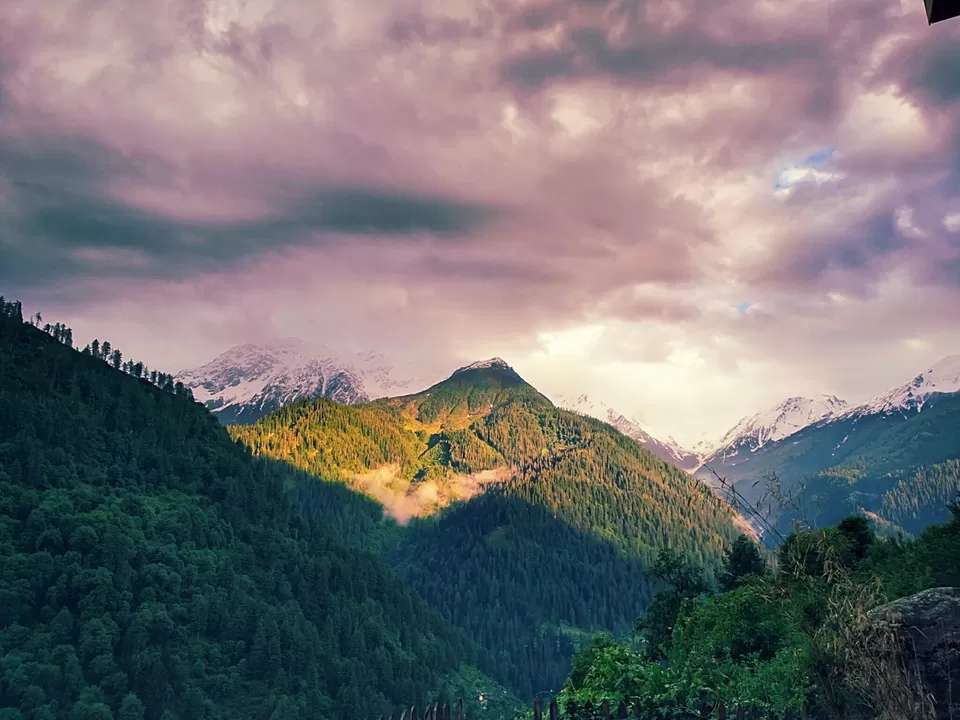 Our booking was done at hotel Blue Diamond, probably the last hotel in Tosh from the taxi stand, which the tour captain claimed was the best place here. This claim was squashed as soon as we arrived because there was no electricity in some of the rooms despite the inverter/generator running and we were told not to switch on the geyser. I was desperate to have a bath so I waited for the lights to come back. When the electricity eventually returned after more than an hour, we found out that the geyser was malfunctioning. So eventually I didn't bathe and decided to do so in the morning. We had our dinner (finally got to have chicken otherwise it was egg curry for non-vegetarians) and then began the chilling session at the hotel's restaurant area. There were these amazing neon based paintings that gave the place a nice psychedelic feel.
I can only imagine how much people would have tripped on it after consuming the hash brownies (some experienced a bad trip so again not recommended) that were sourced from the earlier pit stop. This was going to be the last night when the two groups were going to be together. I hung around till 1 AM and left to retire for the night.
Next morning I got up early again so I could click some snaps. Even if this hotel was not the best in Tosh, it definitely had the best view. In fact, the best view I got to see on this trip was from here.

While I sipped my coffee and admired the mighty mountains, I realized that I had never enjoyed my coffee more.
Post breakfast, I went to the bathroom praying that the geyser works but unfortunately it didn't. So once again out of desperation, I had a bath with cold or rather freezing water. We said our goodbyes to the other group members and then headed back to the taxi stand. Mr. Monotone left to head the Bir Billing group while the other group captain was assigned to us. The two boys from Nagpur decided to join the Bir Billing group because they had developed a close bond with Mr. Monotone and not because of the girls that some suspected.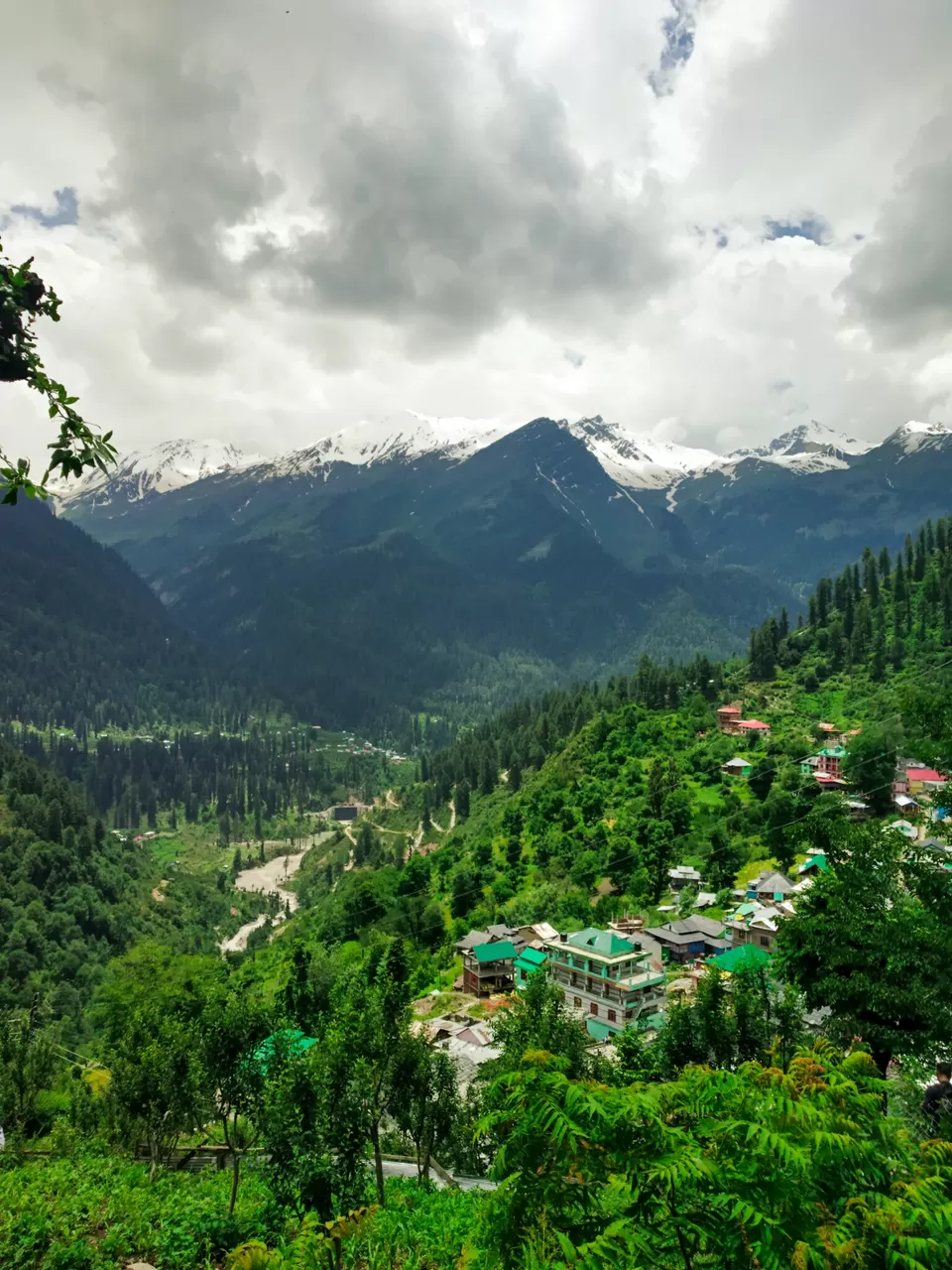 We drove back to our hotel in Kasol where we were to rest for some time and head to our final destination of the trip which was Malana. This place is known the world over for its high quality hash which is popularly called cream. If you were wondering - I didn't try so can't say how it was right at the source & all fresh. Just a note of caution – there is a police check point on the way (after the Malana Hydro Project) and we saw a car being pulled over by the cops who then conducted a body search on the passengers. So if you are planning to buy Malana cream here, just pray you don't get caught with it by the cops. Luckily I had nothing to stress about.
The starting point of the hike to Malana village is situated an hour and a half away from Kasol. We were joined by Shiva the guide, it was nice to meet him again. We went up past the Hydro Project next to the Malana reservoir and Shiva gave a running commentary to increase our knowledge of the place. We were told that the hike would take around 2 hours to complete and I took this as another opportunity to test my endurance levels. We first walked down together and this is where a really old lady carrying dry wood asked me for the time. After I informed her it was 4 PM she said "maal chahiyae (want some hash)?" This took me by surprise as I didn't expect someone who is 80+ years of age to ever do so.
The uphill climb began after crossing over to the other side of the mountain.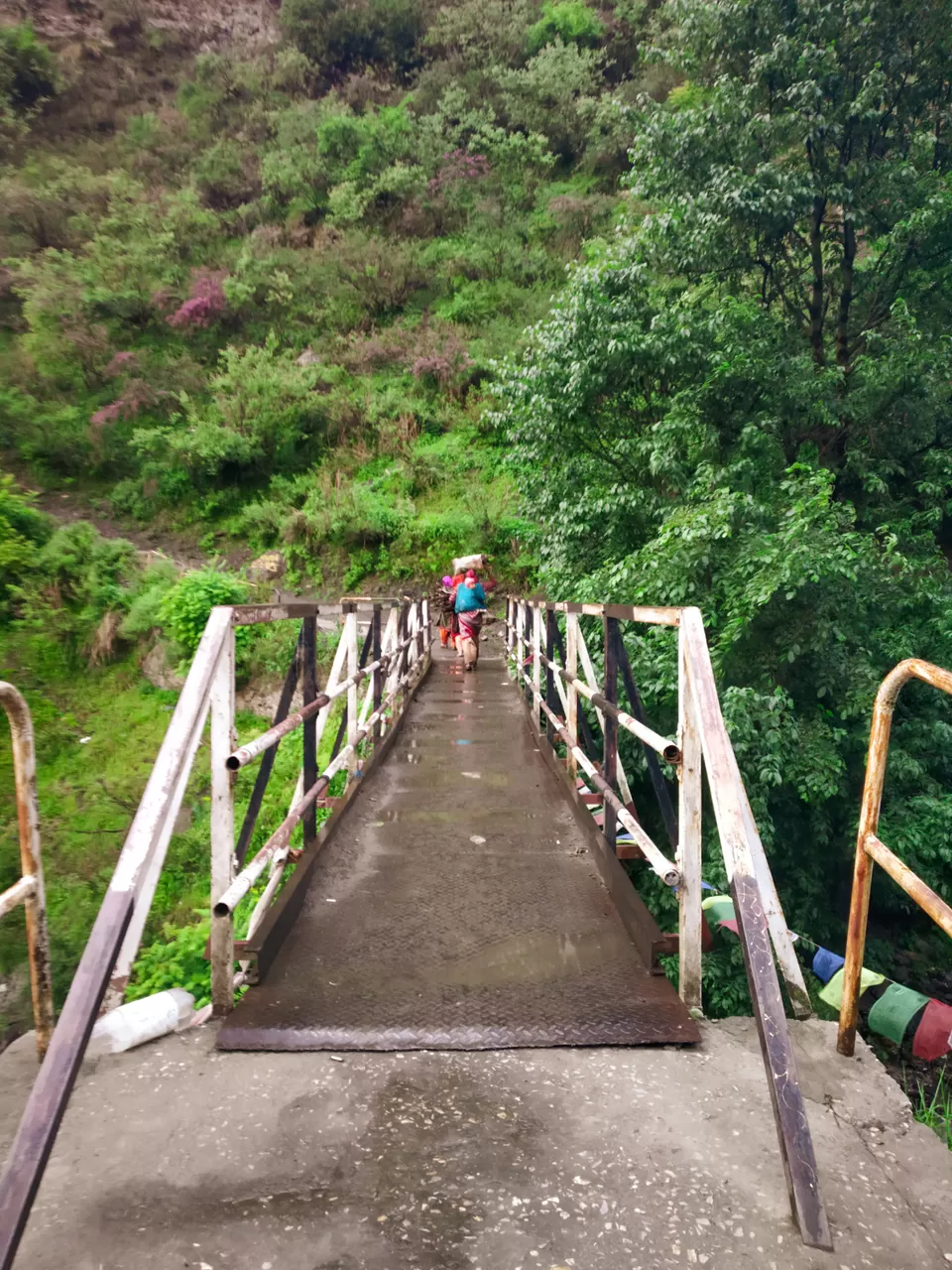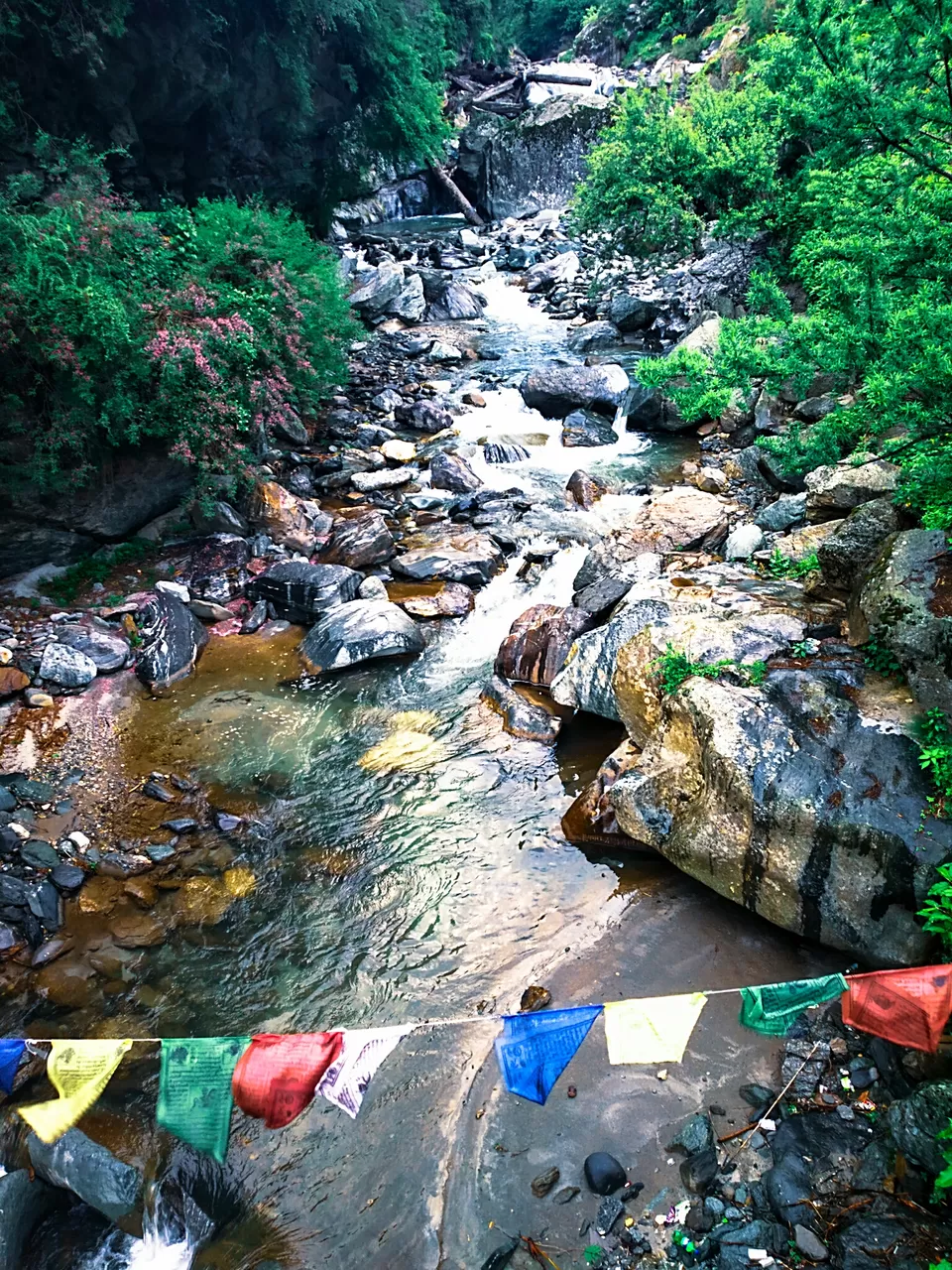 Now I did what I had done before, broke away from the group to be all by myself. The climb to Malana was pretty steep with very few stretches of small inclines.
I managed to complete the hike in 45 minutes and waited for the group at a café while I again feasted on egg Maggi. After 15 minutes I was joined by the rest but the group captain decided to take us to another café with good views of the valley. While clearing my bill I was surprised that the shop accepted debit/credit cards. We went past the main village square and noticed the sign on a temple which mentioned that a fine of Rs.5k will be levied on any outsider who touches it.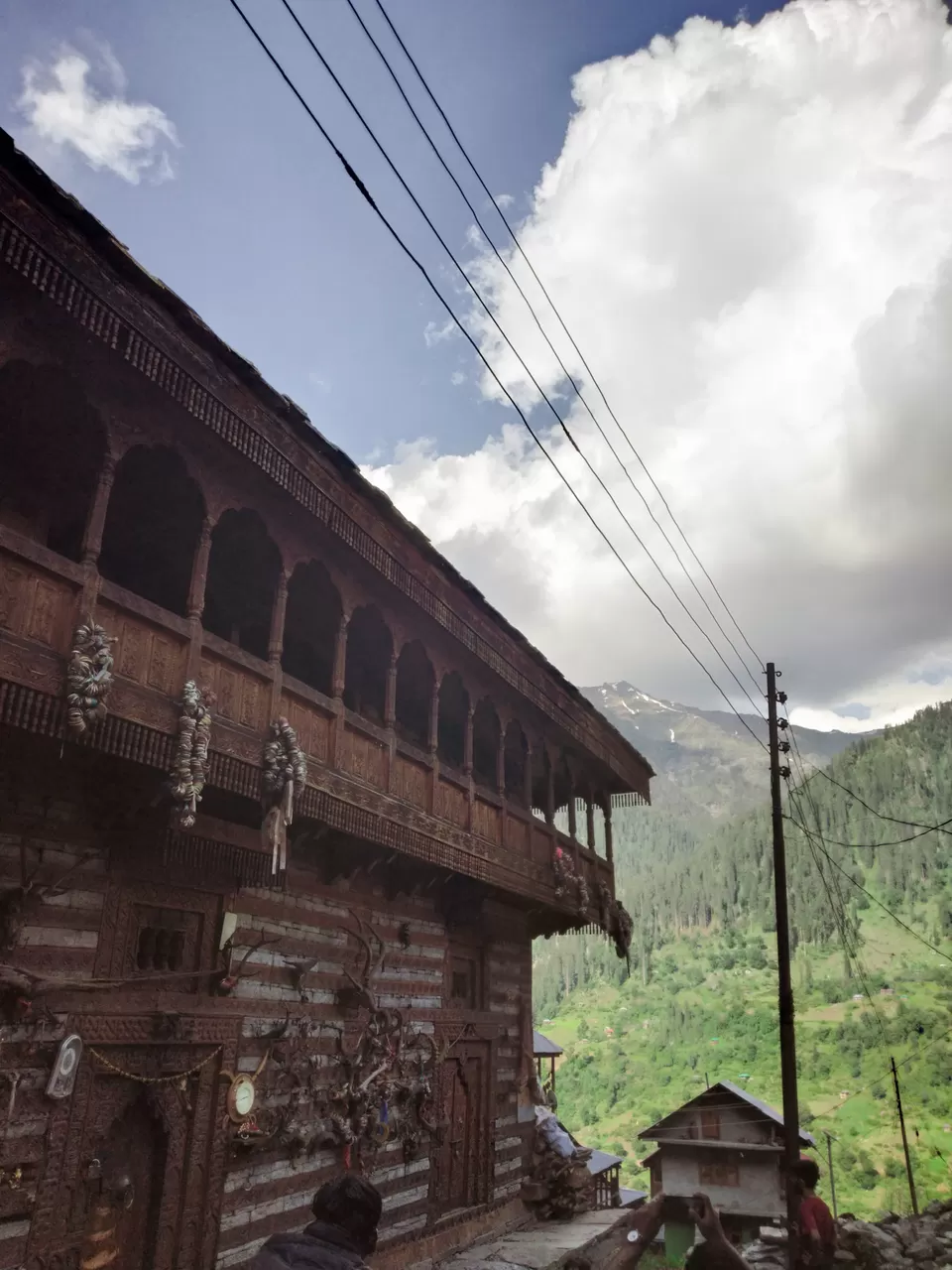 Let me give you guys a background about the people of Malana which is also said to be the oldest democracy in the world. They claim to be descendants of Alexander the great hence consider themselves superior to other humans. We are not allowed to touch the people here or anything they consider sacred. So when you buy something from a shop in Malana, the shopkeeper will place the item on the table and the outside customers are to place the money next to it, get the change and then pick up the item. No direct exchange of money or anything else happens with the village folks. After walking past the main village, I saw this entire mountain slope full of garbage consisting of mostly plastic waste. This broke my heart – we humans have succeeded in ruining such a beautiful place that is so remote. At times like this I feel we are the worst species on earth. I promised myself that I will carry an empty eco-bag on all my future hikes and personally collect thrash I come across which I will disperse away in designated trash bins. A sincere request to all of you who are still reading – please don't litter (sure you have been taught that cleanliness is next to godliness) and teach your children to keep our planet clean.
We then went to a café (can't recall the name) which actually had amazing views. We clicked some group snaps, had a meal and began to head back…yes, I broke away from the group again.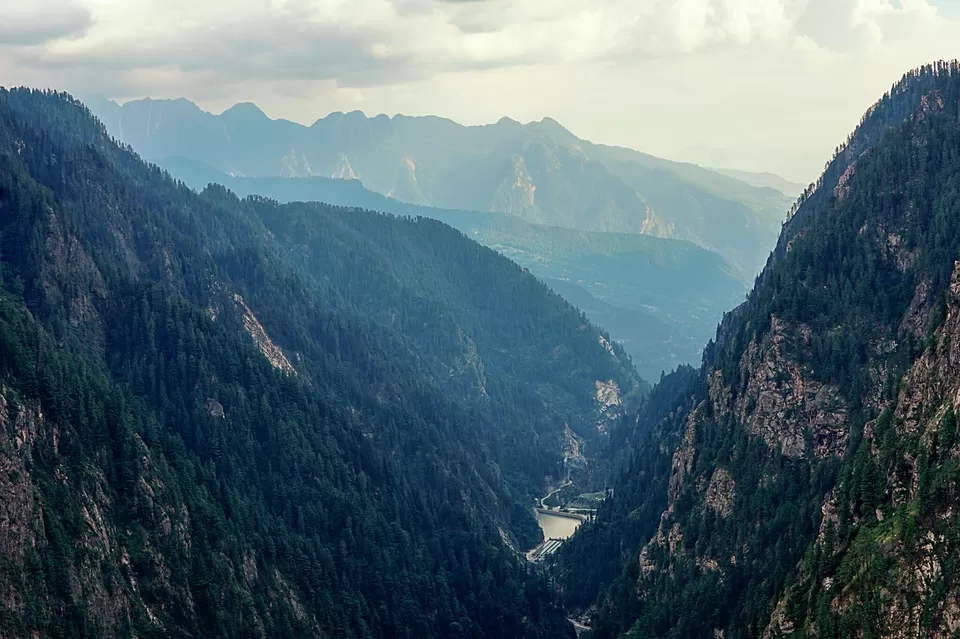 On the way back I came across a group of kids and one of them signaled he wanted to shake hands with me which got me thinking "should I?" knowing we aren't allowed to do so. I was like "what the heck, he is a kid" so I extended my right hand after which he pulled his hand back and the entire group of kids cracked up. I didn't understand what they were saying but it sounded as if they were cursing me but I just smiled and waved them goodbye. I also encountered few groups of ladies who giggled and laughed among themselves after seeing me…I never thought I looked so funny. After seeing the local ladies here, what struck me was how pretty they were, so much more than some of the ladies of our group who thought they were some beauty queens. Post completing the hike, we got into our cab and headed back to base.
Once we got back, my doctor roomy decided to treat us to a booze party as he (and the rest of the docs) had cleared his exam. So he brought a bottle of whiskey and I got the snacks for the final chilling session of the trip. This was a really sweet gesture from him considering that he doesn't drink which I realized later. Post dinner, we all gathered in one room and had a nice chatty session recollecting few highlights from the trip before calling it a night.
The previous evening when I was in Kasol town center, I also arranged a cab to take me to my next destination which was Manali (I shall be writing another blog on it) and it costed me Rs.2600 for the same (rate for a hatchback). I had previously thought of taking a local bus from Kasol which would have costed me around 100 bucks to reach Manali but I was done with the college boy themed travel and decided to indulge a bit now. All this time I had been traveling in the back seat of a Sumo which is the worst so it was time to sprawl and travel. I had called for the cab at 12 PM as I was told that it would take me 4-5 hrs to reach and then traffic to Manali was supposedly terrible. I had read news articles of massive traffic jams and tourists being turned away from Manali.
While I was packing, I realized that my shades were missing and so was my watch. I had tried searching for the shades when we were back from Tosh but thought I may find it the second time. It saddened me that I had lost the shades as they were gifted to me by Gary and I had kept them well for more than 10 years. Now with the watch missing, I did go little berserk and after frantic searching found it in my bag pocket…I really have no recollection how it got there. Anyways, I found it and that was the important bit. All of us finished getting ready (I had another cold water bath), packing, had breakfast and gathered near the river where we had a final happy session. Unlike the others, I was still chirpy because my holidays had not ended. I said my final goodbyes to my fellow trekkers and left for Manali.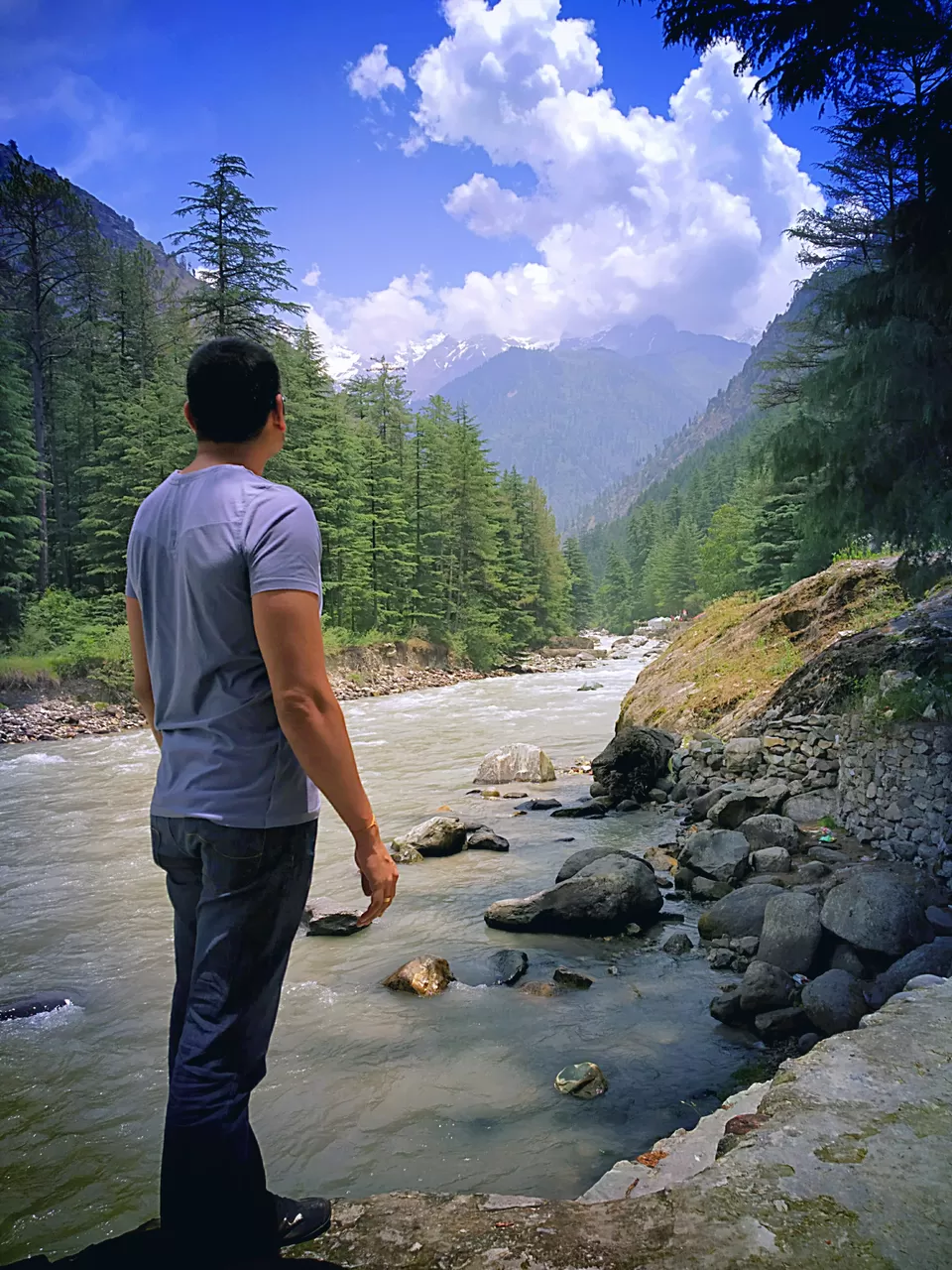 Stay tuned for my next blog where I shall cover the lovely cafés of Manali, my wandering experiences and what this Himachal trip made me realize (remember I had come for some soul searching). Adios till then folks and thank you for reading.