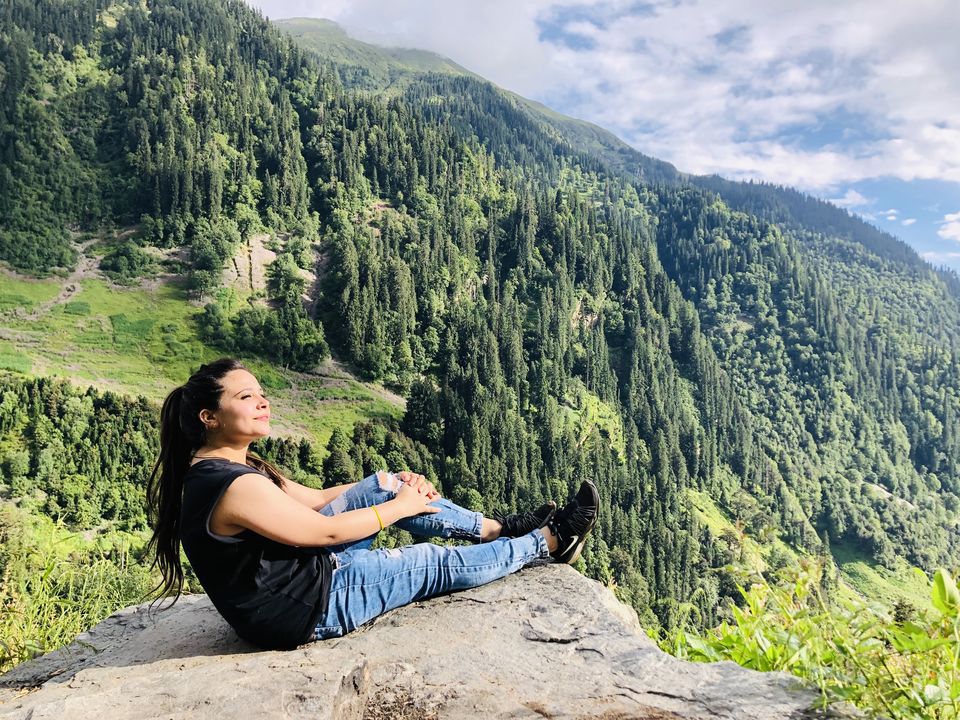 We started our journey from Majnu ka Tila as we were 3 friends so we booked a Volvo From Majnu ka Tila to Bhuntar. Our journey started at 7:30 PM on 31st August. We were super enthusiastic and eager to reach our destination. We started watching movies for time pass and the most amazing thing was this bus was having WIFI no matter your network is available or not you can enjoy your journey by watching your favourite movies or listening to your beloved songs. I never had a thought that travelling from bus could be so comfy and hassle free.
"Wow", what an amazing view i woke up to, it was 6:30 AM and we were about to reach Bhuntar. what an astonishing view i can see outside and after seeing this i can totally relate to this quote which i read few months ago " Sometime's it's not the destination that matters, It is the journey." so true..... And finally in the blink of an eye we reached Bhuntar at 8:00 AM.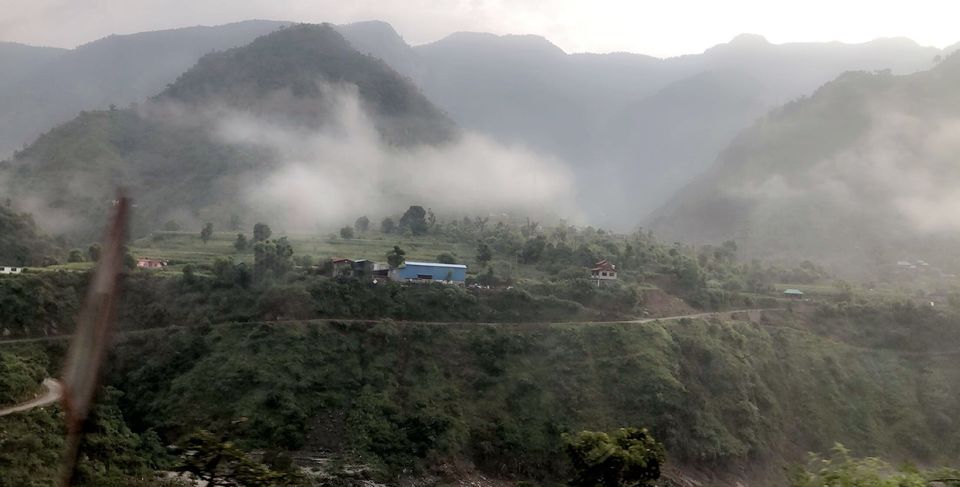 After reaching Bhuntar first thing we did was searching out for ATMs to withdraw some cash and indeed it was a good idea because in Kasol you might found 1-2 ATMs but none of them functions properly. After withdrawing cash we went back to Bus stand and waited for a local bus to reach Kasol. (You must be thinking why local bus you can also hire a taxi but it takes 800-1200 Rs so i would suggest if you are in a group then only go for a taxi otherwise local bus is a good option as it charge Rs 60/person and takes 1 hour to reach Kasol from Bhuntar, Also one needs to be patient as it may take many halt depending upon passenger). 10 minutes later we catch a bus and started our journey towards Kasol. Around 9:30 AM we reached "Kasol A mini Israel of India". It was a same feeling which i had 3 years back when i first time visited Kasol. Later we checked in to one of our favourite resort "Moksha Riverside Cottage". One and only property in kasol located riverside. I would highly recommend this place. They have clean and hygienic camps/cottage, Also the host of this place Mr. Rahul Gandhi himself is such a warm soul, He makes sure of each and every needs to make your stay memorable. Their Veg Biryani is a must try. We took a rest for few hours and later in the evening went to the streets of Kasol for shopping and to binge on some good Israeli cuisine. After roaming for almost 2 hours we were exhausted and reached back to our resort but after looking the view of resort DJ lights, Tranz music, cold breeze and pleasant sound of a river, all our tiredness disappeared.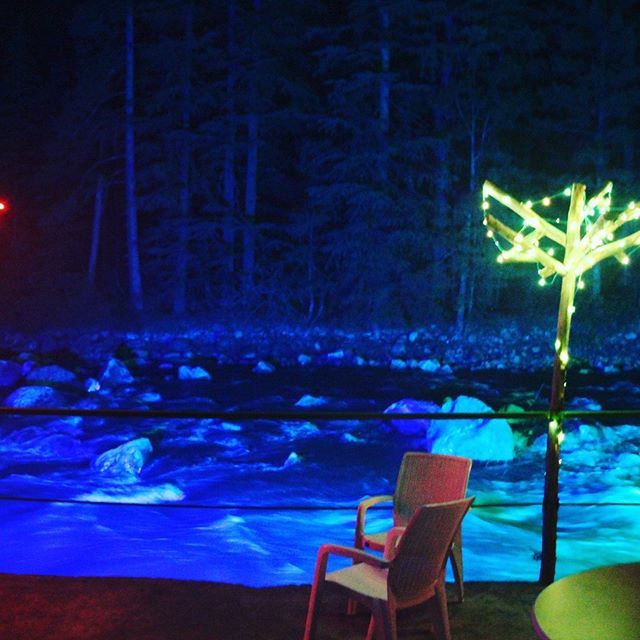 After a fine and deep sleep we woke up in the morning. Had our breakfast not too heavy because we have to go for trekking. It was around 10:00 Am and we were all set to start our journey towards next destination. Suddenly somebody knocked the door and it was Mr Gandhi (host of our Resort). He asked us if we are ready to leave as he was going to Jari and will drop us there. We reached Jari and looked out for ATM to withdraw some cash as we will not find any ATM on the way to Waichin. Also we bought some energy drinks and chocolates as they are highly recommended if you are going for a trek. We took a taxi till dam II (Way to malana village) as the valley does not have proper transport connectivity, and therefore travellers will have to trek 4km uphill from Malana Village (Dam II).this is not an easy trek but definitely worth the effort. You can take breaks while trekking have some energy bars and drinks, click picture, enjoy view.
Things to keep in mind while trekking:
1.Wear Sports Shoes or trekking shoes. 2.Carry extra pair of sock, First aid kit. 3. Carry Umbrella/Rain Coat (As you can't trust weather in mountains). 4. Carry energy drinks/Bar/Water Bottle (And take a bite and sip to be energetic). 5. Try to trek before sunset and avoid unnecessary weight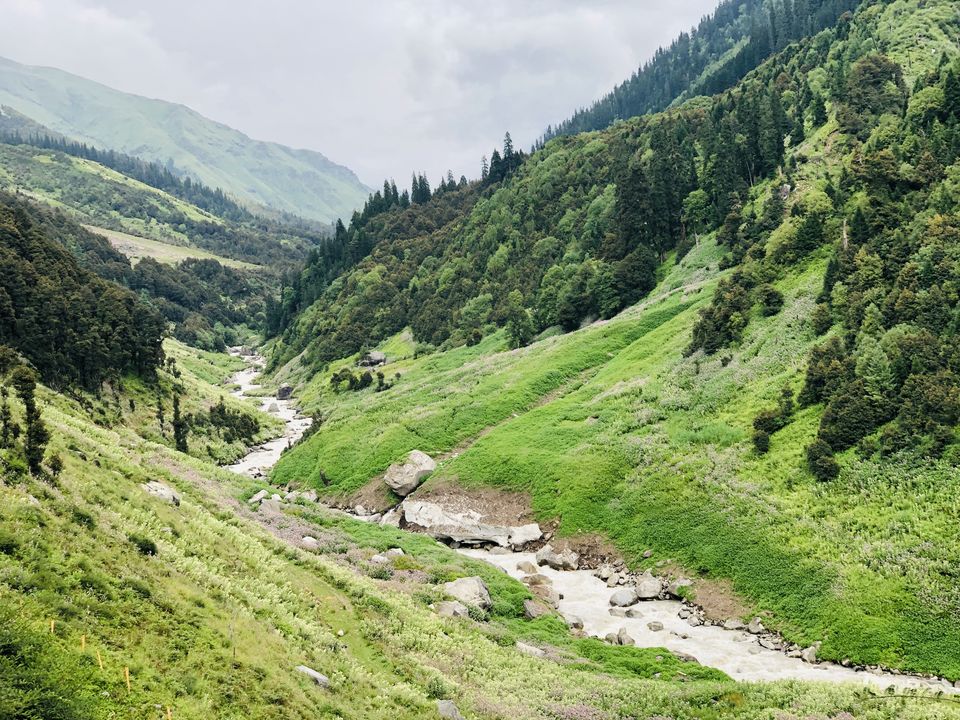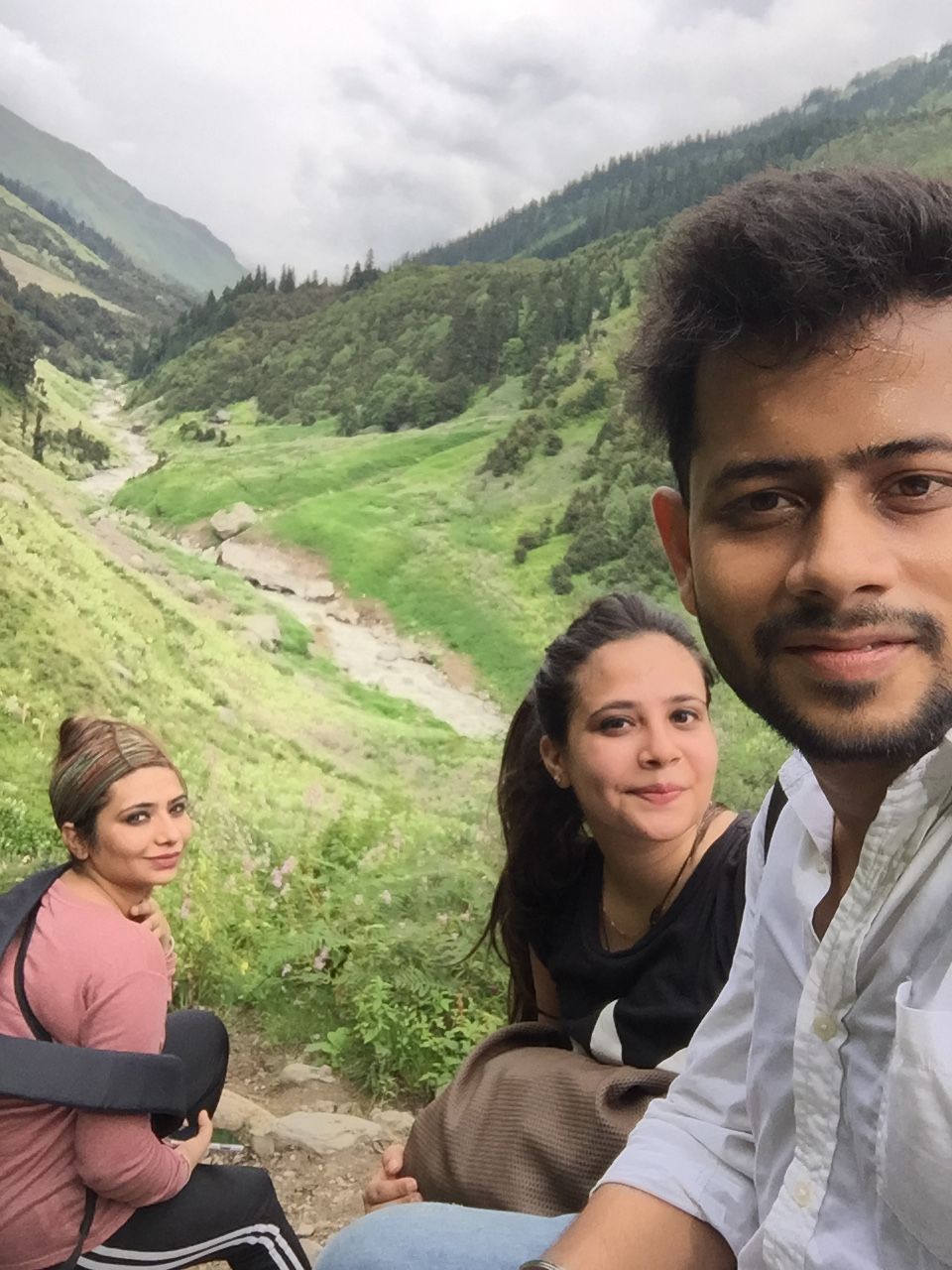 After trekking for almost 2 hours we reached our destination and Oh my my!! What an astonishing view. It was definitely worth the effort & wait. I can totally relate this quote now "Best view comes after the hardest climb". After exploring out for a while we finally found this amazing resort Monk Hut In Bela Moon Cafe. A perfect place with some breathtaking view. Also they have decorated this place so well though there is nothing expensive but all the stuff is cheap and antique.It gives you a hippy feeling. I would highly recommend this place. Also this place is hosted by Mr Viru Choudhary though we didn't get a chance to meet him. But in his absence Yashu (caretaker of this place) was there to look out for everything. We enjoyed the evening by sitting in the balcony, enjoying the view with some tea and maggi. And later we went to a common room which has an amazing setup with Music System, Colorful LED Strip Lights, Heater and what not.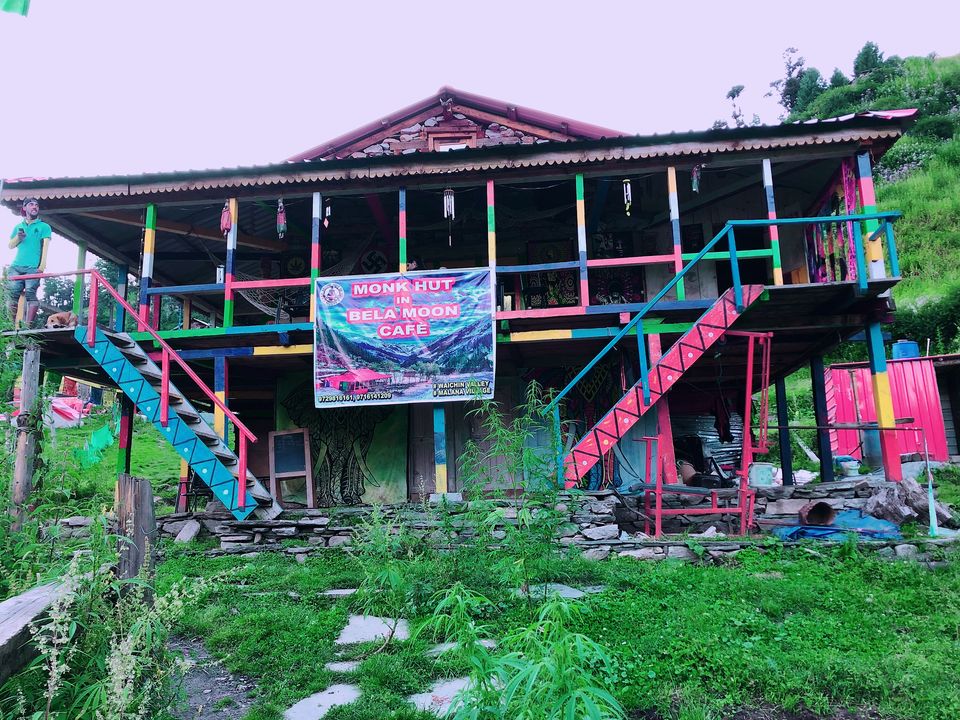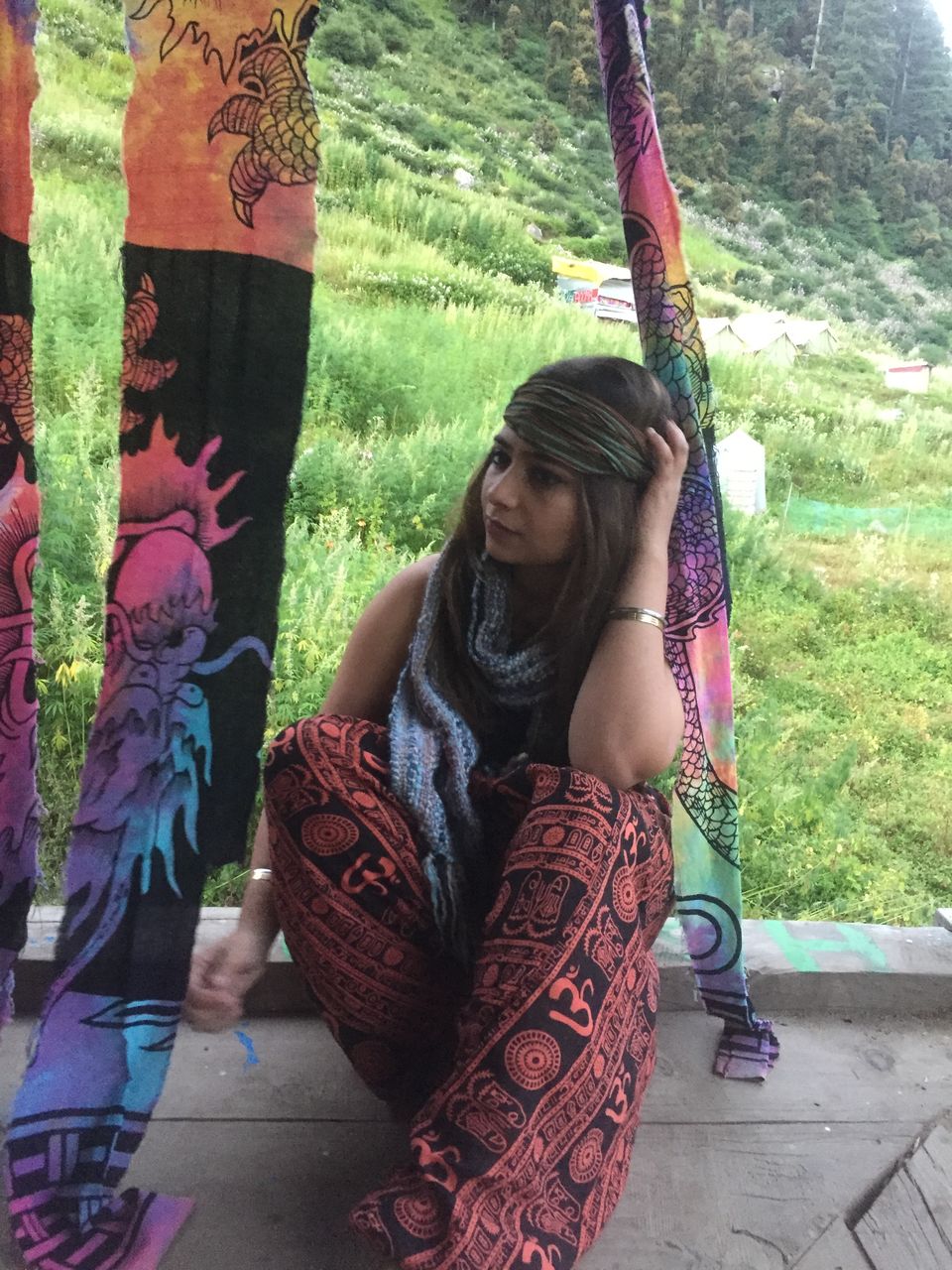 Though we were only 3 friends but we really enjoyed as few of the localite accompanied us and we sat and chatted for hours, tried some malana cream, local alchol and their ultimate local dish Rajma Chawal. Wow one of the best i had till date.
It was 9:00 Am already and sun was on our face swaying windows with cool morning winds. We brushed our teeth, washed our faces, changed our clothes and made our self believe that we are clean and ready to leave. Uff... when i say this my heart sank. I just don't want to leave this place but as we say Life is not a bed of roses. we have to face reality. So now it's time say Adieu to this Magical place. Au Revoir is a french phrase which means "Goodbye until we meet again".